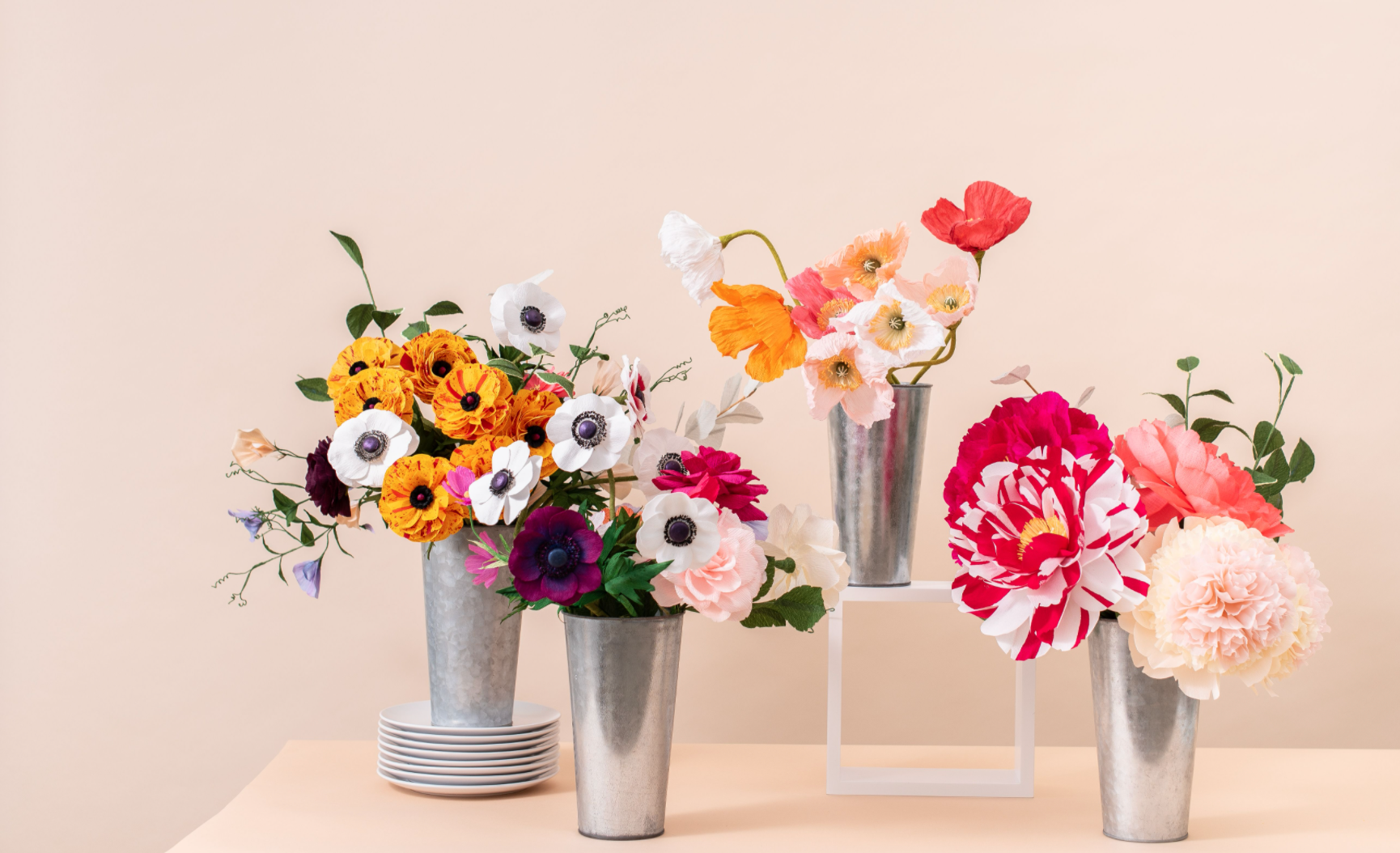 Learn to create lifelike details on your paper florals!
Skillshare Premium Members are invited to join us on Monday, April 19th at 3pm EST for a live online Zoom session with Emily Paluska all about how she adds simple, beautiful details to paper flowers. The session will run for approximately 60 minutes. Click the button above to register!
Throughout this fun and hands-on session, you'll learn how to:
Use pastels to add dimension to paper flowers
Create realistic-looking petals with your hands
Use color and shape to mimic living botanicals
Throughout the session, you'll be encouraged to work alongside Emily and ask questions. Emily recommends the following supplies to get the most out of her class, though of course you can participate in whatever way you find joyful!
Italian crepe paper
Petal templates from Emily's Skillshare class
Pan pastels in a variety of colors
Soft pastel brushes and sponges
Glue, either hot glue or a glue stick
Emily's favorite suppliers, as well as the link to her complete kit, are all available in the Resources section of her Skillshare class.
Emily Paluska is a botanical artist and educator living and working in Washington, DC. She has always loved all things botanical but couldn't keep a plant alive to save her life, and she came to paper flowers in an unusual way.
In Emily's words, "After the birth of my oldest child, I was desperate for an outlet that had nothing to do with my new role as a mother. I was merely existing and flailing in the depths of postpartum depression. In my darkest hour, I needed something to hold onto and making paper flowers in the floor of a nursery ended up being it. I made a paper flower every day for a year. It became a ritual. The ultimate self care. I had finally found light amongst the darkness."
How to Participate:
Click the button above to register for the live session.

On the day of the event, we'll post a link to join the Zoom call. 15 minutes prior to the start time, we'll open up the room so you can access the event. Make sure you're subscribed to "Updates from Skillshare" in your

account settings

to receive an email reminder 15 minutes before the session starts.

Come with your questions, or just listen in!
What to Know About Zoom:
Zoom is a free online video conferencing tool. Download it to your device

here

.

Note: Zoom will download automatically when you join your first call.

Once you've joined the Zoom call, use the "chat" window to type your questions in real time. We'll get through as many as possible!

To make sure everyone can hear, we'll be using Zoom's "mute" feature so that audio is coming through from the teacher's end only.

You are encouraged (but not required) to turn on your camera.

We want to keep Zoom a safe space for everyone — please abide by Skillshare's

community guidelines

throughout the session.