Playback Speed
---
0.5x

1x (Normal)

1.25x

1.5x

2x
Master iPad Lettering with Procreate: Pro Techniques for Artists
Watch this class and thousands more
Get unlimited access to every class
Taught by industry leaders & working professionals
Topics include illustration, design, photography, and more
Watch this class and thousands more
Get unlimited access to every class
Taught by industry leaders & working professionals
Topics include illustration, design, photography, and more
1.

Mastering iPad Lettering

3:46

3.

Gallery Interface

4:06

4.

Canvas Interface

14:08

5.

Letter Guide Sheets

5:48

7.

Importing Brushes

5:07

8.

Lettering Essentials – Getting Started

11:21

9.

Importing Backgrounds

4:55

11.

Watercolor Lettering Effect

9:26

12.

Shading & Drop Shadows

8:59

13.

Adding Highlights

5:35

14.

Effects: Blur, Color, & Noise

5:30

16.

Bonus 1 – Make Your Own Brushes

12:39

17.

Bonus 2 – Custom Color Palettes

2:51

18.

Bonus 3 – The Power of Copy/Paste

3:59
--

Beginner level

Intermediate level

Advanced level

All levels
Community Generated
The level is determined by a majority opinion of students who have reviewed this class. The teacher's recommendation is shown until at least 5 student responses are collected.
About This Class
This start-to-finish class will teach you the essentials of hand lettering on the iPad with Procreate, plus provide in-depth lessons about popular effects (like ombré lettering) and challenging skills (like lettering in layer masks). I show you my favorite techniques for some of the most popular and fun hand lettering effects, and I share tips and shortcuts for a smooth workflow.
Are you a total beginner? Fear not! This class starts at the very beginning with an introductory exploration of Procreate's interface and the cool new ways it interacts with the iPad operating system. I even give you free guide sheets so you can practice your letters.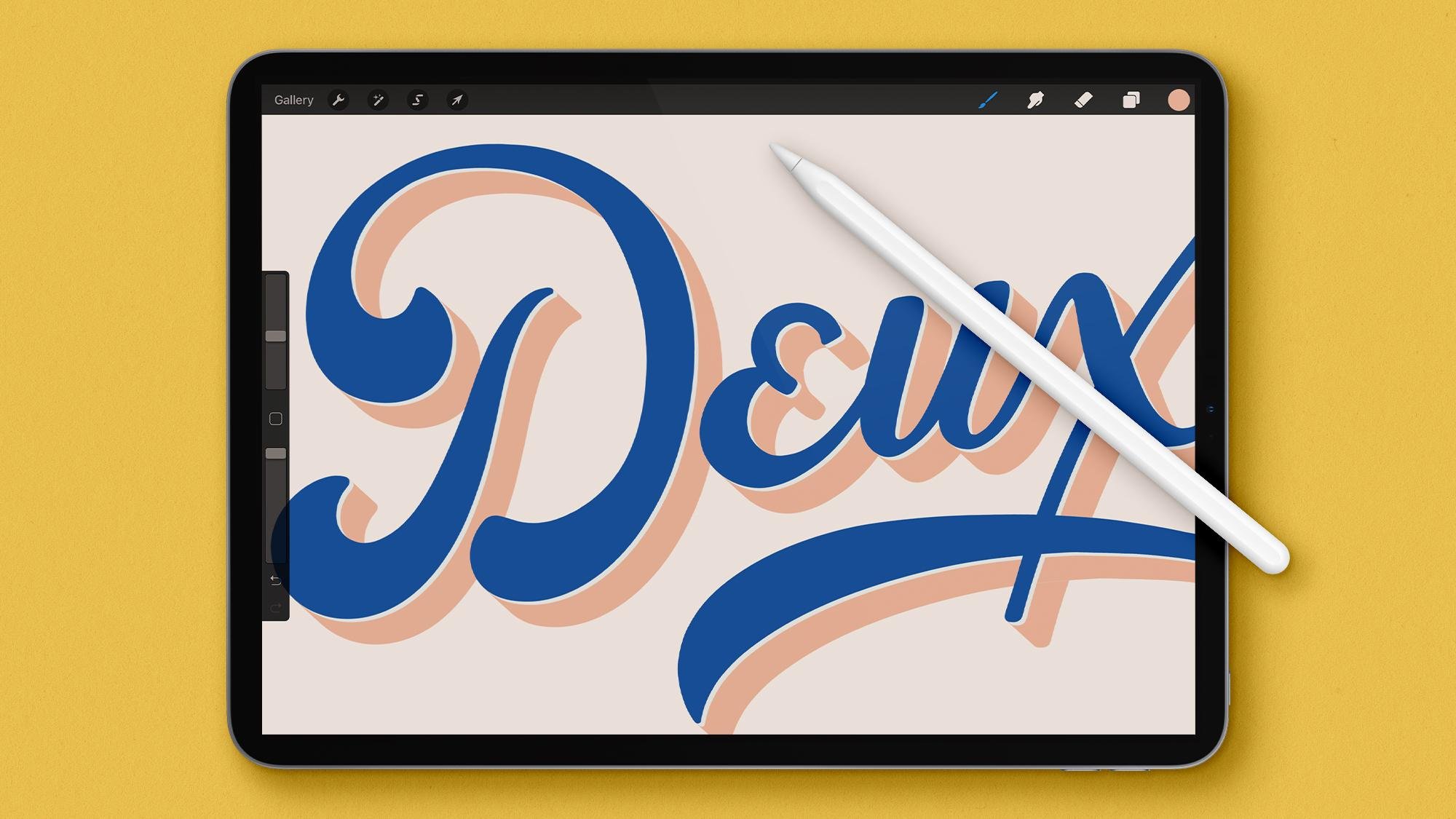 ➤  Topics covered include:
Procreate 4 interface and the Files app
Lettering basics from drawing letters and baselines to selecting and resizing
Brush tutorials on importing, editing, and designing them from scratch
Adjustments for recoloring and adding texture
Effects like ombré and watercolor brush lettering
Dimension, drop shadows, and shading
Highlights

 

and simple text decoration
Alpha Lock for recoloring and erasing with precision
Masking 

for layered effects and nondestructive erasing

Copy/paste tricks to divide up layers and combine files
Color palette customization and shortcuts
I've included 56 MB of free downloads to help you follow along: Procreate lettering practice sheets, calligraphy guideline sheets, and a variety of textured and watercolor backgrounds. These are available in the Project & Resources section.
_________________________
➤  Useful links:
+ Articles: 
+ Procreate brushes & add-ons:
+ iPad Accessories:
_________________________

My Lettering Toolkit is a library of free downloads – from calligraphy practice sheets to Procreate brushes – that expands every month. Subscribe to my mailing list to get lifetime access, plus updates to your inbox about my live events, new classes, and products every Saturday.
_________________________
➤  More tutorials:
+ My calligraphy books offer more lessons and inspiration
+ My YouTube channel is full of free, bite-sized tutorials and demonstrations, and I post a new video every Friday!
+ My other Skillshare classes are all about hand lettering, from how to digitize calligraphy and make flourished layouts, to learning Procreate for absolute beginners.
_________________________
+ Tag me in your projects on Instagram: @mollysuberthorpe. I'd love to have a peek at your work!
+ Sign up for my Workshop News Bulletin to stay informed about my upcoming, in-person classes.
+ Visit Calligrafile.com, my massive online resource guide for lettering artists and creative freelancers, with 1,000+ recommended supplies, books, online classes, and helpful links.
_________________________
➤  Video outline with time stamps:
Tech & Hardware Specs

Intro to iOS11: 0:18
Download Procreate 4: 1:56
My tablet drawing glove: 2:55
Clean your screen!: 4:05

Gallery Interface

Rename and reorder files: 0:30
Stacks: 1:13
Share/duplicate/delete functions: 1:36
Import images from the cloud or camera roll: 2:00
Create a new file/canvas from preset: 2:26
Create custom canvas and save as new preset: 2:52

Canvas Interface

Basics of the design interface: 0:00
Image settings menu: 0:56
Canvas settings menu: 2:24
Sharing and exporting: 3:14
Time-lapse videos: 3:51
Preferences menu: 4:29
Help menu: 4:52
Magic wand menu: 5:36
Making selections: 6:00
Smudge tool: 7:24
Eraser tool: 7:51
Layers palette: 8:07

Layer groups: 8:25
Delete/duplicate/lock: 9:07
Other layer options: 9:15
Alpha lock: 9:51
Merging layers: 10:57
Opacity and blending modes: 11:30

Color palette: 12:46

Letter Guide Sheets


Install

 

my free letter

 

guide sheets: 0:18

Brushes!

Brush menu overview: 0:18
Brush settings and adjustments: 1:45

Importing Brushes


Split screen with Files app: 0:40
Make new brush set: 2:46
Install brushes: 2:56

Lettering Essentials – Getting Started


Background color: 0:32
Draw baselines: 1:42
Starting to write: 3:12
Move and rearrange words: 4:17
Recolor letters: 5:12
Alpha Lock: 9:50

Importing Backgrounds


Place using Files app: 0:30
Positioning and adjusting background image: 1:31
Insert photo from camera roll: 4:28

Ombré Effect


Set up lettering for ombré coloring: 0:20
Bright rainbow effect: 1:19
Subtle ombré: 2:56
Ombré backgrounds: 5:29

Watercolor Effect


Customize watercolor brush: 1:00
Writing in watercolor: 3:22
Finishing touches: 4:16
Bleeding edges: 6:50

Shading & Drop Shadows


3D dimension: 0:52
Hand drawn drop shadow: 3:37
Internal shading: 6:24

Adding Highlights


Bright dimension: 0:35
Hand drawn highlights: 1:26
Highlights as decoration: 3:04
White outline trick: 4:14

Effects: Blur, Color & Noise


Recolor with Hue, Saturation, Brightness: 1:04
Recolor with Color Balance: 2:22
Add noise for texture: 3:19
Blur: 4:50

OMG Masking!


Basics of masking: 0:35
Masked watercolor wash effect: 6:45
Masking placed images: 8:24

Bonus 1 – Make Your Own Brushes


Make a semi-custom brush: 1:18
Make a fully custom brush: 6:20

Bonus 2 – Custom Color Palettes


Import inspiraton image: 0:20
Make custom palette: 0:42
Picking colors: 1:06
Set default palettes: 1:55
A nifty shortcut: 2:15

Bonus 3 – The Power of Copy/Paste


Double borders: 0:39
Divide up layers: 1:47
Paste into new file: 2:57
Some of the links above are affiliate links.
Meet Your Teacher
I design custom lettering for brands and individuals, Procreate brushes for artists, fonts for designers, and freelancing tools for creatives. I'm the author of four books for lettering artists and teach the craft both online and in person.
I'm lucky to have worked with some awesome clients over the years, including Google Arts & Culture, Martha Stewart, Fendi, and Michael Kors. My work and words have been featured in such publications as The Guardian, The Wall Street Journal, Martha Stewart Weddings, LA Times, and Buzzfeed.
I love connecting with my students so please please share your projects with me. If you do so on Instagram, tag me with @mollysuberthorpe so I'm sure to see it!&nb... See full profile
Level: Beginner
Hands-on Class Project
The project parameters for this class are left open to your creativity and interpretation. I invite you to share your own iPad lettering utilizing any combination of the techniques covered. Challenge yourself to try new effects and techniques you've never used in your work.
Remember that I've provided lots of downloadable lettering guides and background textures here in the right-hand column of the Your Project section.
Have fun!
Class Ratings
Expectations Met?
Exceeded!

0%

Yes

0%

Somewhat

0%

Not really

0%
Why Join Skillshare?
Take award-winning Skillshare Original Classes
Each class has short lessons, hands-on projects
Your membership supports Skillshare teachers
Transcripts
1. Mastering iPad Lettering: I'm Molly Suber Thorpe, and welcome to Mastering iPad Hand lettering with Procreate 4. If you're a brand new to iPad lettering or you're here to refine existing skills, my aim is to get you excited about all of the cool things that iPad hand lettering has to offer. In the fall of 2017, Apple came out with a brand new operating system for the iPad, iOS 11. With it, came a brand new version of Procreate 4. Both are jam packed with some cool, better than ever features. I'm going to teach you how to make the most of this technology that's literally at your fingertips. We're going to start at the very beginning with an in-depth exploration of Procreate 4 interface, and a look at how Procreate 4, and the iPad operating system interact better than ever, especially using the brand new files app. Then we're going to take a really deep dive into tons of hands on lessons for hand lettering artists. I'm going to show you how to do some of the coolest, and most popular lettering effects, and, I'm going to share my own tips, and shortcuts for having an efficient, and smooth workflow. We'll start with digital lettering essentials for making baselines to drawing letters, to resizing, and centering your composition will import brushes, and background images quickly, and easily using iOS 11's brand new feature for opening two apps at once. With the basics down, you'll learn to use Procreates handy alpha lock function to recolor, and erase with precision. I'll also show you a number of techniques for creating that popular ombray lettering effect. I'll show you how to hand letter in realistic looking watercolor, and even how to customize your own watercolor brush from one of Procreates default brushes. We'll add dimension, and realistic drop shadows, and shading to otherwise flat digital designs. We'll even cover methods for highlighting, and fun letter decorations. I'll share a number of ways to change the color of your designs, including individual letters, layers, and entire compositions. We will add noise, grain, and bland to our work for texture, and drop shadow effects. One of the coolest new features in Procreate 4, masking, the possibilities are infinite, but I'll share some practical ways to utilize masks for layered affects, non-destructive erasing, and lettering that cuts through a layer like a watercolor wash to reveal the background. I've also included three bonus videos. In the first, I'll teach you how to create your own Procreate brushes entirely from scratch, and also how to customize Procreates default brushes to be better suited to hand lettering. In the second, I'll show you the power of Procreates copy paste functions to divide up layers, rearranged lettering, and combine files. Finally, I'll walk you through creating, and saving custom color palettes, and pulling color schemes from photos or other designs. The lessons presented in this class are made simple, and fun. For a class project, I invite you to share your own iPad lettering utilizing any combat of these techniques. I've even included 40 megabytes of free downloadable files for enrolled students with vertical, and horizontal guide sheets, texture backgrounds, and watercolor washes. 2. Tech Specs: Welcome to iPad lettering with Procreate 4. The very first thing I want to do is to make sure that we're all working with the same operating system and the same version of Procreate. The latest operating system for iPad and iPhone is iOS 11. Here's how to check to make sure that you have it or to see if you don't, so you can make the decision to update if you want. Let's come over here to, Settings, General, Software update. Mine is up-to-date, so it tells me I have iOS 11. If you are not up to date, it's going to allow you to update your iPad. I highly recommend you do this when it's plugged into a computer so that you can back it up to iTunes first and then do the update. This is a pretty hefty update, it can take as long as 30-40 minutes depending on your Internet connection. But I do highly, highly recommend it because there are some new features in iOS 11 that are really worth your while. For example, iOS 11 is the first operating system for Apple that allows you to have two apps open at the same time. We're going to see how this is really beneficial in Procreate because we'll be able to open the new app called "Files", which allows us to browse for files on our iCloud, Google Drive, Dropbox, and within our actual iPad hard drive, and drag and drop them right over to procreate for placing images and installing brushes. If you don't feel like updating it this time, that's perfectly fine. You'll still be able to follow along, but some of the functionality might require a couple of extra steps for you, and I'll address that as we go. As for the version of Procreate, unfortunately, Procreate 4, the latest version is only available for iOS 11. So yet another reason to update your operating system. First of all, to make sure that you have Procreate 4, if you do indeed have iOS 11, let's come over here to Procreate and just click the "Procreate title" up in the upper left-hand corner. This tells you what version you have, I have 4.O.1, so we're all good there. Now the reason to update to Procreate 4, if you're a Photoshop user, you're going to find that a lot of the functionality is much closer to Photoshop than it was before. It allows for lots of different adjustment layers, different functions for grouping, groups within groups. A quick side note, I have a red bar across the top of my iPad only because I'm also filming the screen of my iPad. You're not going to have that red bar, so don't worry about it. Now I'll show you a couple more of the accessories that I'm using today, the first is this tablet drawing glove. I got a pair of these on Amazon for a little under $10, and they're invaluable to me for my work. Now, the iPad Pro does have really good palm detection software, meaning that even with a bear palm, you aren't really going to make an impression in procreate the way that you would if you use your finger. That said, your palm will leave grease and oil spots on your screen, and that's something that personally bothers me and can make your Apple Pencil jump or slide less evenly over the screen. Next, I want to suggest that if you find your Apple Pencil is pretty slick, which many people do myself included, do invest in a grip, they are really invaluable to me because I find that it widens the grip of the pen and also I can grip it better. It emulates more what my calligraphy pens feel like and so it's a more genuine lettering experience for me. Lastly, and because I'm a nerd about this, I'm going suggest that you stop for a moment and clean your screen extremely well. Like I just said, the Apple pencil can skid across the screen if there are oil smudges and it's also just not so pleasant to work with. I stop and I clean my screen all the time. Maybe you don't, but let's just start off all on the right foot and clean our screen, now. 3. Gallery Interface: Now the fun begins. Let's get acclimated with the Procreate four interface. If you've used Procreate in a previous version, you might still want to follow along because some of these are new functions. But if you've never used Procreate, this is really crucial that you understand the interface of the gallery and the individual canvases. Rename a single file by clicking on the final name once, click out of it to exit. Rename an entire group or what are now known as Stacks in Procreate four by clicking on the Stack name once. Rearrange Stacks, let's say within a Stack here, rearrange the files by clicking and holding and then dragging the file elsewhere. Rearrange entire Stacks in your main gallery the same way, click and drag. Be careful not to hover over another Stack because if the Stack turns blue and you release, then you'll actually put the contents of that Stack into the other Stack and it's a little bit annoying to separate them again. To create a Stack from loose files in your main gallery, just click one of the files that you want to Stack and drag it over another file you want to Stack and a new Stack will be created. That can be tedious if you have lots of files to Stack. Another option is to click select and then select the ones you want to Stack together, and just click Stack up here, and there you go you have a Stack. Going back to select here, I'll just randomly select a couple Stacks and you'll see that I can choose to share, duplicate, or delete multiple files or Stacks in mass. That's pretty convenient. Those three actions can also be applied to individual files or Stacks by just swiping left on the Stack or file. Again, then you get shared, duplicate, and delete. Clicking photo up here opens the photo app on your iPad. Clicking import allows you to import all files. If you have iOS 11, that automatically opens up the files app and lets you navigate to Drive, Dropbox, iCloud Drive, if you have any of those, and to look around your hard drive. We'll look more closely at what the files app does in conjunction with Procreate four in a later video. Knowing how to create a new file is obviously very crucial. This plus sign is going to be where you do that. I have a 12 inch iPad Pro. When I see screen size as an option here, that is something that is the aspect ratio of my screen. If you have a smaller iPad, you'll have a different size option there. Going back to gallery, I'll show you some more. You can also select any of these other options, but I'll caution you that if you can conceive that your design will be used in print one day, you're going to want a canvas that's a minimum of 300 DPI. But to be safe, you may want to make it 500 or 600 DPI. You have the option to enlarge the size without pixelation later. Let's go about making a custom canvas that's going to be really high resolution, and save it as a preset for you to go back to later. I have to just click, create custom size. I'm going to make the width in inches instead of pixels. I'm going to make it 8 inches wide and 10 inches high. I'm going to set the DPI to 600 because that's really high and it means I can enlarge it later, larger than 8 by 10, and it'll still print really nicely and I'm changing the name of this preset to 8 by 10 High Res 600 DPI and I'm clicking done. Now, going back to my gallery, if I want to create a new file like that in the future, you can see that that custom preset is right there for me. 4. Canvas Interface: Now I'm going to show you the basics of the design interface. In order to do that, I just opened up any random file. Pinching with two fingers is your zoom. You can zoom out, zoom in, and it's also your rotate. The sliders here on the left, control brush size and brush opacity. The square in the middle is your eyedropper tool or your color selection tool. So if you put your finger down and hold it and then go over the art with your finger or your Apple pencil, you'll see that the color picker selects whatever color you are hovering over. Then if you release, you'll see that up here in your swatches, that particular color has remained selected. Now I want to go through some of the very basic settings here. Not all of them, but just the ones that you might use most frequently. So up here in the Settings menu under the wrench icon, let's start under Image. Here you can insert a file if you have iOS 11 and Procreate 4. Then clicking this, we'll open up your files app, which as I've said, allows you to import from iCloud Drive, Google Drive, Dropbox, whatever. Canceling out of that, Inserting a Photo lets you search from your camera roll. Take a Photo obviously opens your iPad's camera. We're going to get to Cut, Copy and Paste in a second. But Copy Canvas is slightly different. When you copy your canvas it copies absolutely whatever visible layers currently exist on your screen, and it gives you basically a JPEG version of it. So that you can not only go into any other procreate file, but you can go into any other app on your whole iPad and paste it. That's pretty cool. Let's say you want to really quickly send this to a client or a friend or your mom, I can just go over to my mail app, and in the body I can Paste. The artwork that I just copied appears in a brand new email. Like I say, you can do that also with your text messages or any other app. Back to settings, under canvas, perspective guide is relatively new in that the previous versions of Procreate only had a beta version and many of you probably didn't even have that enabled. But now, anybody can have them. It creates starburst guides, which can be really, really helpful for Mandela's and circular lettering. Obviously, Flip Canvas horizontally and vertically creates mirror image transformations. Canvas information is really important. This is what's going to tell you what your image file size is, whether you're in RGB or CMYK, and also the pixel dimensions and physical dimensions. So this is 4,000 by 4,000, roughly 13 by 13 inches at 300 DPI. Share is where you're going to go to export this image as any of these various file types: Procreate, Photoshop, PDF, JPEG, PNG or TIFF. This allows you to export your file in any file type to all of these apps. If you don't see the one that you want here, you can always click "More" and see if the app you want to export to is here, but just not enabled. You can also save to your camera roll, use an avatar for anyone in your contacts, or save or send to Drive, Dropbox, what-have-you. Video is cool, if you've used Procreate before I'm sure that you've seen this, but you can have a time-lapse replay from the moment that you first ever started this particular canvas. You, of course, have to have this enabled, which it is by default. But if you turn this off, it won't be recording what you're doing. You can also do live broadcasts now in Procreate 4, and you can even export that video even straight to Instagram or to any other app, just like before. Under Preferences. Here you can change some basic settings, like having a light interface versus a dark interface. You can change right hand interface, and that actually means that your right hand uses these controls which is better for left-handed lettering artists, so that you can use your pencil with the left hand and these controls the right hand. Now under Help, the only thing I'll show you here is under advanced settings. This actually takes you to your iPad's general settings, to the specific settings for Procreate. Here is where you can set the default storage space for your files, you can select the level of support for palm support, which is what I was talking about. If you don't use a glove, Procreate still does a pretty good job of ignoring your palm. You can set the video quality of your time-lapse recordings. I have mine set as high as I possibly can, so that I always have the option to export them at a really high quality. Then other preferences like your preferred file and image formats. This magic wand icon gives you a bunch of adjustments. If you're a photo shopper, this means that you're going to see that these are very much adjustment layers and blending modes combined in this menu. There obviously aren't as many functions as Photoshop, but you'll recognize quite a few of them. They're fun to play with if you aren't familiar with them, and I highly suggest you devote some time to playing around. This S icon is for creating a selection. If I have it on free hand, then I can create a selection just like I would with the lasso tool in many other apps. In order to close this selection and complete it, I do have to come back and click the gray dot that was at the beginning of the selection. This only selects the content on the layer that I'm on. So if I come over here to my layers palette, I can see that I'm on the pink background layer, which means that now when I come over to my white direct select tool, I can click and move this and I am moving the pink background. Now, let's say I have this direct select tool on free form, which means I can move this however I want. If I set it to magnetic, it moves with smart guides. You can see them appearing there, little blue guides, which means that it sort of snaps to a grid as you go. You have a lot of transformation tools down here and your Undo and Redo buttons have moved down here temporarily, instead of on the side where they were before. To click out of this, you can click the Direct Select tool or either of the selection tools again. If you hit "Undo" now, it undoes everything that you did while in the direct select tool. It's just one big step that gets undone. Over here, obviously your brushes we're going to go through those a lot more in a second. The smudge tool, this little finger icon, is dramatically improved in Procreate 4. This just means that it blends or blurs the content that you have on your screen. In order to get the best and smoothest smudges, be sure that whatever brush you have selected has this streamline option turned off all the way down to none. We'll get more into what streamlining does in a bit, but this is crucial for smudging to look natural. Now eraser has the same functionality as the rest in the sense that you can pick whatever eraser brush you want. Again with streamline turned off, you have the most freedom, your brush won't be jumpy so you can erase whatever you want with precision. Here's your layers palette obviously, whether you're a Photoshoper or not, this is relatively intuitive, but you Photoshopers will find it really intuitive. To move a layer, click it and hold it until it magnifies itself slightly, and then drag it wherever you want. To group a layer, you can either click the layer once and click "Combine down" and it creates a new group with the layer you had selected and a layer that was below it. Then you can click and drag new layers into that group if you want. Then I can toggle this group open and closed. Now if I go to my direct select tool, everything in that group is selected so I can move the whole group at once, that's incredibly powerful and awesome. Groups are new to procreate 4 so we're all very happy that, that happened. You can toggle visibility on any layer or group with this checkbox here, swiping left on a layer, gives you the delete, duplicate, and lock options, same for a group. If you click on a layer or group just once, you get the options to rename the layer, select the contents of the layer, which is cool, because instead of drawing a lasso around it, all the intricacies of this lettering are selected instead. You can copy the contents of the layer, fill the layer with whatever color you have here in your palette, I'll show you that with a different color here. We don't want that though, we'll undo. You can clear the layer which just literally deletes everything on the layer, but it doesn't delete the layer itself. Alpha lock. It's the closest thing now to the equivalent of clipping masks in Photoshop, which means that if I have alpha lock turned on, you know this because the alpha lock has a check mark by it now, and also the background of this layer turns into a checkerboard, which is the symbol of transparency for apps like this, same in Photoshop. Essentially what it does is that it isolates whatever is on that layer so that if you continue to draw or paint on that layer, whatever you're drawing or painting will only be inside of the content of that layer. Just to show you what I mean, I'll now take a brush with blue paint in it and I'll paint anywhere on my layer. I'm being careless, but you see that it's only appearing within the content of this awesome layer, and that's because alpha lock is on. If I turn off alpha lock and I paint again, I can paint over my whole screen, it's not just within the contents of that layer. To merge two layers, meaning combine them into one, to flatten them, you can either click once and click "Merge down". Don't do this very often though. I mean, unless you have to, which sometimes you do, there's no benefit just to doing it for the sake of doing it. I'm going to undo that now. Another way if you have multiple layers to merge together quickly is with two fingers pinching all the layers together. That just merged three layers together. But I'm quickly undoing now because it's scary. This n here, which stands for normal, opens up the opacity and blending mode options for that layer. Here, I can adjust the opacity of the layer, I can change the blending modes, right now it's on normal by default, but I can set it to multiply all options and be sure to click these five circles down here to continue to look at various options. These are just really cool if you're a Photoshoper you'll know them all already, if you're not play around with them because they're really cool. Another way to quickly deal with opacity, which I use constantly, is tap twice on the layer with two fingers, and then you can just slide your finger or your pencil on the screen. You'll see that right up here, the opacity is changing. The most common instance when I use these quick opacity adjustments is if I have applied grid lines or guidelines to my file, and we'll do that in a second, and then I want to reduce the opacity of the grid lines so that they're really faint in the background. Same goes for anything that I'm trying to trace. I really want those to be a light gray in the background, so I just reduce their opacity. Here on Procreate 4, you have all options for picking your colors. This is very nice to play around with and pretty self-explanatory. You have your RGB hexadecimal, all things like that. Here you can input actual numbers from Photoshoper Illustrator, so you can get a lot of precision in your color picking. You can choose from some default palettes that come in Procreate 4 or you can even make your own palette by coming up to in the pallets section, this plus sign. Let's make this called Molly. Now, the Molly palette appears at the bottom of these three options. Let's say I like to pick around some colors, so I've red here. To add this to my palette, I just click in the box in my palette. You're going to have some purple, want to add that there. This is really great and important because if you're trying to create a piece of artwork where you're using the same colors a lot, or you've already created it and you forget what colors you used, you can quickly go and select the colors in your artwork, add them to your palette and work from there like that. 5. Letter Guide Sheets: This quick video is just to walk you through how to use the downloadable, and free guide sheets, and letter specimen sheets that I've given you with this class. If you haven't already come over here to your project section of the class, and find this attached files section. Here, I've given you a PDF of instructions on how to download, and use these, but I just want to walk you through them in a video to make sure that the most important ones aren't going to cause any of you any trouble. Procreate lettering sheets, and guide sheets dot zip are the two folders that contain the practice files that are giving you to use. What this means is that if you want to have some sheets that are going to show you some various letters specimens in scrip, and in print. You can download these, and use them as you wish. Let's just start by downloading these two zipped folder. I'm just clicking on it, and downloading to desktop. Now, clicking on guide sheets, and downloading again to desktop. Here on my desktop now, I see both of these zipped folders, I'll open them both at once. Obviously on a PC, unzipping folders is a little bit different, but it's still not tricky. Now, let's just take a peek at what's inside of these. We have the instructions which I'm giving you verbally now, then also six JPEGs , which I can actually just throw into a browser, and show you quickly. They're basically script, and print guide sheets for you in horizontal, and vertical formats, which I'll show you how we can easily place into Procreate so that you can use them as guided sheets in your lettering there. In the Procreate lettering sheets folder, we have two files that both end in dot Procreate. There are no previous to them, we can't open them because there's no app for them. Procreate is only an app for the iPad, It's not for desktop, but Procreate files can still be shared, and sent, and transmitted, and stored on the Cloud, and in desktop hard drives. While we can look at the actual files here, we can't open them. For Cloud storage, and file sharing. I prefer to use a combination of iCloud Drive, Google Drive, and Dropbox. I'm going to walk you through how I'm going to upload these with iCloud Drive right now. But if you're a user of Google Drive or Dropbox, I'm sure you'll figure it out to upload it to those platforms as well. Here I am in my iCloud Drive, and to get my Procreate files in my guide sheets over there, I'm just going to select them, hold the option key so that a plus sign appears, and drag and drop them into the subfolder of my choice in my iCloud Drive. Same goes here for these guide sheets, I don't want to upload my own instructions, but I'll grab all these, hit the Option key, and drop them into my subfolder. Now, these all successfully uploaded, I should be able to head over to my iPad, and open them up from there. Here I am in my Procreate gallery, and I'm just coming up to the right hand side, and clicking import, and navigating in my drive over to the folder of my choice. Of course on the left you have the Google Drive, and Dropbox options for those of you who prefer them. Now, I see all of the files that I uploaded from my desktop a minute ago. I'm going to start by clicking on this script alphabet practice sheet, and let it download here for a quick second. It's important to know that this is just imported a copy of this file into Procreate. Let's say you mess this up completely. You haven't messed up the original file. You can just go, and import it again, and it will open up like a brand new Procreate document, completely set to the default settings, and nothing will be lost. The purpose of this file is to allow you to have some practice making letter forms, and having a basic script alphabet at your fingertips. Even though I have yet to teach you all of the cool effects, and methods for using Procreate. I want you at this point in the class to know that you have access to these files, and you can be using them if you want to practice your letter forms. Come over here to the Layers palette, and just take a peek. Right now, the only layer that has letters that's turned on is this a through Q layer. But if they turned it off, and toggle on the one underneath it, this has the rest of the alphabet plus the numbers, and some symbols. Then right up here at the top, you'll see that I have the tracing layer labeled for you, which means that if you write on this layer, which I'll do right now, just to show you, then all of this will be able to be turned off, and you can reuse these traceable sheets over, rather than writing directly onto the grayed out lettering that have given you. Now, you see I just trace those R's I can turn on, and off, but the lettering file remains untouched. Going back to the gallery, I'm going back to import, and I just want to show you that the simple alphabet practice sheet has some uppercase, and lowercase letters that aren't script, and then I have these six guideline sheets, and I'll just quickly show you what one of those looks like, but you can play around with them on your own as well. Here I have the basic script guideline sheet. It imports as a layer. I can open up a brand new layer now, and I can do writing directly on this layer if I want. I'm not really following the guides very well right now, but you get the idea, and then you can toggle on and off the lines. 6. Brushes!: Lots of new brushes come with Procreate 4, so let's look at them and look at some of the new settings that Procreate 4 also has to offer. I just have a blank canvas here set to my screen size. Opening up the brush pallet, we see here on the left side that there are lots of folders or categories of brushes that come with Procreate 4 as presets. If you haven't installed your own brushes as well, then probably your brushes will stop right here at the water set and everything below due to this Procreate logo icon on the left you know are sets that you added yourself or that I added in this case here. Starting at the top here, it's really a great idea for you to just go through all of these on your own, all the preset ones and just take a look at them, play around with them, anything that looks weird, have a go see how it looks in different sizes, and different opacities, and different shapes. Just really play around. Get used to what your pencil can do and what each brush can do. Now, if you're a calligrapher or a hand lettering artists, you'll probably be instantly drawn to this calligraphy set. These are pretty good. They're decent brushes. I personally like this brush pen a lot. But there are lots of incredible custom brushes created by other lettering artists and designers and those are worth looking at. I'll talk more about them when we talk about importing brushes. Let's just have a quick peek at what can be done with brushes in terms of their settings to customize even the preset ones. Let's go into this calligraphy brush pen. First and foremost at the very top, some people don't realize this, but you see a preview of the brush up here. But you can customize that preview by drawing in it yourself. So whatever changes you make down here are going to show in the sample at the top and you can play around with that sample to see how the changes that you're making, adjust the flow, and the look, and the opacity of the brush. Let's start now, back at the end. Let's go over to source. I want to show you that every single brush is created from two elements and that is a shape and a grain. You can also think of grain as a texture. The shape of the brush, just think of it like whatever the tip of the brush or the pencil would be. What is that shape? The essence of it. Combined with what is the grain or the texture that is overlaid or repeated through each and every brush stroke. Whether that's going to be a grain that emulates brush bristles or the jagged edges of hard pencil on watercolor paper, whatever that may be the texture comes in large part from the grain that gets placed into the source shape. Going back now to the beginning to stroke, let's take a look at how when you adjust the spacing, it changes from a very smooth line into a line that's really just a bunch of repetitions of the brush source shape, which is this ellipse. But even when you are thinking of making your own brushes, sometimes coming into the presets and looking at what they do and how they do, the effects that they create, that can help teach you how to create brushes that have similar characteristics or how to adjust the characteristics of your own brushes. Streamline is really a cool function that wasn't in the original Procreates, but relatively recent and Procreate 4 I think are really masters at. Here I am in this script brush and I'm going to turn streamlining completely off and show you how a few letters look. Now, you may be a lettering artists who can get perfectly smooth lettering when you're doing ink on paper and find that you've been really frustrated in Procreate because you can't achieve the same smoothness. There's a jaggedness that comes from, unfortunately, the combination of the plastic tip of pencil or whatever stylus you're using and the glass screen of the iPad. Unfortunately, there's almost no way around that but Procreate created this function called streamline that you can apply to brushes and it auto smooths, if you will. It helps you make curves a lot more smoothly and for many of us lettering artists, we find that the final result, even though it's a technological advance that we can't achieve with ink on paper, but the end result looks more like this move lettering that we can actually do by hand. I just turned streamlining on and I'm going to do the same three letters now with streamlining. You may see that there's almost like a lag, slight lag between the lettering that I'm doing and how it appears on the screen. That's part of what streamlining does. It auto drags behind the pen very slightly as it corrects the curve as it goes. This is really great for lots of lettering artists. You can imagine though, that in some instances, streamlining is not helpful and that is often when you're trying to erase, let's say you're trying to erase with precision. I come over here to my eraser and I'll go back to the same brush that I was using in my paintbrush so that we can compare them apples to apples. I have streamlining turned on, I'm in the eraser and I go to try to erase, well, it's forcing the curve to change from what I'm trying to draw with my pencil and that's really frustrating. If you turn off streamlining on your eraser then you come back in, you can have a lot more precision with the eraser this way. Whenever I'm using the eraser, streamlining is off no matter the brush. Same goes for the smudge tool. When you have streamlining on, your smudges are actually quite jagged. They aren't natural looking and you'll see that. But if you immediately turn streamlining off, you're going to find that smudging does actually what it's supposed to do and it looks really natural, like you're actually smudging the screen with your brush. Coming back to the brushes palette, I'm still on the script brush, the preset in the calligraphy category. Playing with all of these is really crucial and you'll quickly see what they do. But jittering adds texture to the edge, falloff, adjust how quickly the opacity reduces to nothing at the end, the final stroke. You can adjust the taper of the stroke to what point it comes to at the beginning and end of the strokes, the overall opacity of the ends of the strokes, etc. Shape will let you adjust the properties of the rotation and the scattering of the shape. Some shapes in some brushes react more or less to these particular settings than others. The grain behavior pertains to, back here in source, the actual grain image that is used with that brush. For example, here, it's very subtle because it's a very subtle grain. But if you have the grain as an actual image, then you can adjust the scale of that image and sometimes that has a big impact on the look and feel of the brush. Dynamics have really changed since Procreate 3 turned into Procreate 4, and this is something that I could talk about forever, but it's much more fun if you play with it yourself. Remembering that you can use this up here to test things out, I want you on your own to look through the difference between the normal glazed and wet mix versions. You can already see that as soon as I switch from normal to glazed, my sample up here at the top changes. The flow of the brush can be adjusted much more in glaze, the dynamics of the opacity, the way that the opacity changes or ebbs and flows can change. Wet mix, how wet your pen is basically or your brush is, and how much dilution of the edges there is and the opacity. All of that can be changed now and it's pretty cool. This adjusts physically how your actual pencil and the pressure that you exert on it adjusts the brush. For example, some brushes change their opacity based on the pressure that you exert on the pen. Most brushes change their shape, meaning how thick or thin they are based on the pressure on the pen. Some of them also can adjust the softness or hardness based on pressure or the bleed based on pressure. That's pretty cool. Many of them also can use the tilt side of the brush to adjust all the same things from opacity to bleed, size, angle, etc. Now this is cool for the brushes that actually emulate real pencils. You're writing with a pencil, you're getting one cup size stroke when you're writing with a tip and when you write from the side, you get shading. Then without even changing my pressure, but just the tilt of my pencil, I can change the size of a single brush's stroke. Let's stay in this pencil here for a second. Doesn't really matter. Just like with shape and dynamics, you should go through on your own the different settings for general, even if it's just to watch what happens to a sample up here when you adjust these different settings. Now, going back for a second to our main brushes menu, let's say you make a lot of changes to the preset brushes and you really feel like you messed it up and you want to reset it to the defaults, that's easy, just swipe left and I just made changes. So it's allowing me to hit Reset. I'm saying yes, I want to reset this particular brush to its default. It only affects this brush not all the brushes in your palate. If you haven't affected the brush at all, then when you do that it won't even let you reset it. That just shows you this is already at its factory default settings. 7. Importing Brushes: I'm back again in this blank document. Now I want to import some brushes that maybe I've bought or I've just downloaded from the internet. If you're looking for brushes of your own, follow the link that you see here on the screen, for some links to other websites and artists who offer iPad brushes. I can recommend Creative Market strongly enough, but the bushes aren't free. Some of the best artists have posted their brushes for sale there and they're well worth it to buy. Importing brushes gets us into one of the coolest new features of iOS 11. Mainly that, you can have two apps open at the same time. Firstly, I need you to do is go to your home screen and make sure that this app called files, which is your new app in iOS 11, and it has this blue folder in it has been dragged down into your doc where you just can adjust all of your apps by clicking and holding until they shake, then drag and drop it into your doc. You just have to do that with this file's app so that you can access it within another program. Now I can swipe up from the bottom of my screen to reveal the doc, and I can tap and hold the file's app, then drag it over my screen. I can now drag it either to the left or to the right side. Look at that, I can drop it and both files are open now, both apps are open side-by-side. You can see that I can adjust the amount here that it is open and closed. Here in my files, I have a lot of stuff on iCloud Drive, Google Drive, and the Dropbox. But for the sake of this class, since many of you have iCloud Drive, I'm just going to show you things straight out of that. In my own computer, on my desktop, I took a bunch of the files and assets that I have, whether they're brushes or graphics, patterns, clip art, stock photography. I organized them into folders, which I uploaded to my iCloud Drive. Because of that, I can access them all, right here and drag and drop any of them into procreate. I have this folder here on my drive called brushes, which contains lots and lots of brushes. Now I'm closing the file's apps slightly so that I can see procreate more and I'm opening my brushes palette. Now I can install brushes in a number of ways. Let's say, I have only one brush that I want to install. Well, that's very easy. I can either go into the brush set that I want to add it to or you can make a new set by clicking new set up here on the very top. Then in this new set, I can click over here in my file's app and drag and drop the brush. There you go. That's how to add one of them. To add multiples, I can either come over here to files and hit "Select", select a bunch of brushes, drag them over here to brushes and drop them or alternately, I can be in any folder, it doesn't matter. Come over here and just click the brush once. What it does is it appears in a brand new file that it will have created or new set called imported and I can just click once and they appear over here on the left and that's amazing. Let's look over at some of these. Now I'm going to close files by clicking this and dragging it shut. Now I see over here I have all of my imported brushes. I can either keep them all together in the same set and just rename this set from imported to whatever I want. Clicking it once, hitting rename and changing to any name that you want or I can now move these into new sets by clicking "Holding" and dragging them to hover over whatever new set I want. I already have all these precious installed in other sets and I don't want them now, so all I have to do is click once and click "Delete" here. Yes, I do want to delete this set. Now, that is how easy it is to upload brushes. If you ever tried to do it before with procreate three or earlier, you probably realized that it was a nightmare and everyone had their own weird, quirky workaround. It took about five hours and it was extremely frustrating and you wanted to pull out your hair. Thanks to iOS 11's new function, this is just incredibly streamlined and we can all thank Apple and procreate for that. 8. Lettering Essentials – Getting Started: Now we're going to start a new document and learn more about what procreate for can do by actually making some art. I'm going to just make a new file that is my screen size. From this preset. I think I want to work with the background color right off the bat. I actually do this on most files I do, even if the background will eventually change to white again, I just find that a neutral mid-range color is easier on my eyes. I come over to the Layers palette and click this background layer. Once, I'll select something, let's say in the blue Q range, the circle for the Q and a, I'll change the saturation and value to be something that's sort of on the medium gray blue spectrum. Coming over to our brushes. I'll choose something that I know we all have. Under calligraphy, let's go with brush pen here. Remember that if you've played around with brush settings in the past and maybe you've adjusted the settings of this and you make sure that today all your settings will look exactly like mine. Swipe to the left, click, "Reset". Now all of our brushes are going to be with the exact same default settings moving forward I selected the brush pen. I'm willing to change my color to black. I'm coming over here to check that my opacity is up to 100 percent. I think that I'll set my buffer size really small at first, something like let's say eight percent. Now, I just want to make some quick guidelines. I can import some guides if I want as an image and I'll show you how to do that. But I just want to make two really quick straight lines on my page that I can use as baselines for my art. Let's just draw out a line. Then without letting go, you see that if you hold at the end of your line for a second, snaps into being perfect line, and that's very convenient. I'm just going to make this eyeball that to make it straight and like go now, quickly, if I come over here and click this direct select tool right after I released the line, then I am able to actually adjust the line almost like it's a vector. Even if I have other items on this layers, even if it's a layer with tons of artwork on it and I drew a line in that layer. If I draw the line and quickly go to direct select, then I can change only the line in that one moment. Now, if I wait for a second and then I go to direct select, the selection that you see is quite different. It selects it just like a regular selection of any piece of art work. I'm going to draw just two really quick lines. Notice it doesn't even matter for me. Get squiggly as I draw it because it pops it straight right there. Now, I'm going to click this direct select to move both of the baselines down just a little bit. Now I don't want these so dark, so I'll reduce the layer's opacity. Let's click "N" here and put the opacity down pretty low. It's a 24-25 percent. Keeping the brush on brush pen will just increase the size to something like, 40 percent. I'll come over and get in my palate. Come and make a brand new layer so that you aren't going to write on your baseline layer. Let's just make a quick design here. Now that I have some words drawn, I already know I want to make some basic adjustments. I don't like how Lavie is centered directly under say, and I can get the whole design needs to be shifted on the canvas. Coming over to the Select tool, aka the lasso tool, I'm going to lasso around line number 2, clicking direct tillage, and now making sure that it's on free form rather than magnetic, I can easily move this however I want around the screen. It was over there. I think I'll move it up and to the right slightly. Get out in the selection, hitting direct select again. Since I have this layer selected, if I hit direct select without having a lasso first, then I select everything on the layer. Again, I'm going to keep it on free form. I'm doing something that's closer to centered on the screen. You don't need my baselines anymore. I'm just toggling the visibility of them off. Now, I want to change the color of these words. I'm going to select a new color from my color picker. Let's say something more like a pale pink. That's something that we'll see easily on this video. Now, I come to my art layer. I tap one time. They hit select. This has selected everything in this layer. Remember the layer doesn't have a background. It's on a transparency. All the art on this layer is just the lettering. I hit select, then I tap it again and I hit fill layer, and it fills the layer with that color. Well, that looks awful, pale pink and blue. What I'll do instead of changing the pink again, change the background color again. Something much darker. Great. If you do not select the contents of the layer, by the way, and you just click the layer once and click fill layer. It's going to fill your whole, entire layer, not the artwork on it. Remember that two taps is undo. Three taps is redo. Now let's say I want to change the color of just one word, like I just want to change the color of this word V. There are two ways. Let's first choose our new color. I'm going to make it a more vibrant, bright pink. I'm going to click and drag this new swatch and hover over the word V. Now how don't let go yet, but you see that what it did was it filled in the word V and only the word V. Up here at the top we see color drop threshold 97.6 percent. What we're seeing right now is that procreate recognized that what I was hovering over on that layer was one connected piece of ink, one because all three of these letters are connected. It filled in just that portion. If I start sliding without lifting at all, sliding my pencil to the left. It's a bit wonky, but you see that because there was some opacity to this brush, it suddenly only filling in the thickest stroke that I was hovering over. Fake go all the way to the right, 100 percent threshold. Then it fills in everything. I'm just coming back to where it was when I initially started just to fill in V. But I have to do it again for the dot on the eye because it only fills in. There you go. It only fills in the particular connected ink that I've hovered over or the whole entire thing. This is a cool trick, but it shouldn't be relied upon to work perfectly all the time. If you knew in advance that you're going to have a designing with words of different colors. Can I highly suggest that you write those words on different layers so that you can easily recolor them with just a couple of clicks. In fact, that's the only way that you will realistically be able to do this if your words overlap. Let me show you what I mean. Without deleting this layer, I'll just toggle off the visibility and create a new blank layer. I'm going to choose another light color and make a new design really quickly. Now that I have this design that has the L and the Y that overlap each other. If I want to recolor just the word you, I'm going to have a lot of trouble doing that. I just made this connected design and I made it two ways I made one version where the connected letters are on one layer together. Then I also made each word separately on its own layer. First I'll show you the easy way, the way you should do it. Here I have love and you on separate layers. I can toggle them on and off. I can go on one layer, go on direct select, Move the layer around if I want. I can easily recolor just one layer. If I come over here to say white, and then I tap, select, tap again, fill layer. You see that I quite easily change the color of one layer and not both. But turning those off, let's say that you did it wrong and you really messed up and you have to come and fix it now. Well, this is where you use that tool that I covered in the interface section called alpha luck. I'll click this layer once and tap on alpha lock. Remember, swipe right on the layer with two fingers. That also turns it on and off. Coming back to my brushes. Remember that for alpha lock, just like erasing and this much tool, it's really better to turn off streamline. I'm turning off stream line. I'm going to zoom in and with my white brush or whatever color I want to recover this artwork. I am just going to start coloring it in, now really have to zoom in here. This is quite tedious because as far as procreate is concerned, these are not separate words. I really have to come in here with some precision and color the, these separately. This is, as you can tell, not ideal, but there's no real way easily separate these layers. That's easier short of selecting and making a new layer. You see there how I changed the Y and I could just keep coming in here and coloring the letter in. 9. Importing Backgrounds: Now let's say that I want to have an image or a pattern of some kind or a texture in the background here. The way that we imported brushes, can also be used to import images or any other kind of graphic file from your Drive, Dropbox or Camera roll even. Let's flick upward and click and drag our Files app over to the side of the screen. Now in my own iCloud Drive through my computer, I have uploaded tons of folders of assets, patterns, textures, stock art, stock photography, watercolor slats, ink slats, things that I have created, things that I've purchased tons and tons of stuff. If you're looking to create your own asset library I do have some suggestions for that in the form of a list of links in the class description section. I'm going to come over here to patterns, and then just choose a simple black and white one. I'll come over to my patterns and let's see. I like this plus sign that seems appropriate for the message of my lettering. I literally just drag it over there and drop it. Now I'm going to close files by dragging it close to the right, and you will see that it was just placed here, but it's still selected. Without even having to select it, I can automatically just start turning in i can enlarge it to fill the canvas. I'm going to make this kind of skew like that, then I will let go, and click direct select to turn it off. What we see here in the Layers palette is that the new inserted image has been placed above this "love you" image that I had previously created, right? If I want to move this, I can click it and hold it until it magnifies a little bit and drag it down. I'll drag it just right above the background layer. Now, I'm going to turn off the "Love You" layer that I created a second ago, turn on these two "Love You" layers. If you are familiar with Photoshop or just good with blending modes, you know that one easy way to delete white from an image is to set it to Multiply and an easy way to delete black from an image is to set it to Screen. So let's play around with those two functions. I'm going to click the N for Normal and change it from Normal to Multiply. You see that that just eliminated the white from the pattern and kept the black plus signs. I can do reverse then going to Lighten and Screen, and now it's hard to tell because the background is gray. If I change the background to some other color, like say "pink", What you see here is that the images white remained and the black was deleted, were eliminated. Making the background color sort of darkish gray. Again, I'm coming back to my image, I'm going to set it back to Screen, but just faded out quite a bit. Very well, the fun of blending mode. Now I have this "Love and You" in two separate layers, and I want to enlarge both of them together to fill the screen more. Unfortunately, I can't select individual layers together unless I group them. But grouping is great. All you have to do is click love layer and I'm going to say combine down, and now there is a new group. I'll rename it "Love" so that It's easy for us to identify what we're working with. I can toggle this On and Off. The group only has two layers, the Love and the You. Now when I'm on the group itself, and I go the Direct Select tool, both of those layers are being selected. It seems it's going to have some silly fun here. Just enlarge that quite a bit centered on the screen. I should mention too, that if a file you want to insert isn't in your files, but it's actually on your camera roll, that's quite simple as well. All you have to do is create a blank layer where your file is going to go and come to Settings, Insert a Photo. Once you choose one, it's just going to appear here in the layer that you created for it. I'll swipe left though and delete that for the moment. 10. Ombré Lettering: Now that we covered alpha lock in a previous video, this is going to lead us right into the technique that's so popular these days of an ombre or gradient effect. I've created some simple large chunky lettering here, which is really perfect to show off the ombre, your original artwork does not have to be black and it doesn't have to be on white background. You can do this really with any piece of artwork, so long as the lettering is either all on one layer or you've merged it onto one layer. I'm going to start by making a copy of this by sliding left and hitting Duplicate and I'm going to turn off my original. That's just so that any edits that I make can easily be undone and I've not destroyed my original in the process. Now I'm swiping left with two fingers to turn on alpha lock, remember, you can tap and click Alpha here. Next, I'm going to choose a brush that's really appropriate for making an ombre effect. There are a lot of them, but some that come automatically in procreate for, will be air brushes for example so let's go into airbrushing, soft brush, I'm going to I click it once, want we make sure that streamline is turned off. Now coming over here to the color, I'm going to choose a fun color to start my ombre with. Let's choose this bright pink. Now I'll zoom out a little bit so that I can easily spray paint or airbrush over the whole image at once. Again, make sure that you're on your alpha locked layer and that your original layer is turned off underneath. I'm keeping the brush. This particular brush is quite large and keeping it at something like 25 percent opacity and then all I did was I just made a streak across the corner and a diagonal. I'm going to keep this really dramatic ombre for the moments, so I'm going to keep the center circle in the same place, that's the value and saturation and I'm just going to move the hue around, change it from pink, let's go to purple now. Another streak. Go more toward blue, indigo yeah, lighter blue, even lighter, now light bright turquoise, bright lime green, and bright yellow green. I know that this is a very trendy technique nouns so I want to show you a few other ways to do it and to make it more unique and more fun. Let's turn off this particular layer, turn on the original, make a new copy of it, turn off the original again so now we're back to where we started without having deleted anything. I'm turning on alpha lock on this one and I'm going to make a really subtle ombre using various shades of the same hue so let's make this green, a neutrally sage green we can start with, and why don't we just for the fun of it, not use this airbrush, instead, let's go to scrapings and use this fat nozzle scraping. Now, I'm going to take advantage on this time around of the fact that my letters are black to start with and I'm going to let a little bit of the black show through. I have the opacity purposefully down to a medium, and I have a brush turned up to something like 75 or 80. Instead of making streaks at this angle, I'm now going to try some horizontal streaks. You see on this particular brush has this nice flattering effect where in this region you can still see some black behind it. That's really fun. Now I'm going to keep the hue the same and I'm changing only the center circle to change the darkness. There you go. That's something a little bit more subtle and remember that I can still go over this any number of times with another color. Like let's say I want to put a bit more brightness into it, I can go over to a yellow, make my brush really large and just send a streak right across. If that's too dramatic or decrease the opacity. Try again, that's nice. Maybe I'll just do it to the bottom and the top left, that's awful. Something like that. Now let me just make it clear how you could do an ombre effect as a background, this should be self-explanatory, but I just want to be a 100 percent clear. When we change the background color before we just clicking the background layer and changing the color. That only affects the overall color of the background. If I wanted to actually draw on the background layer, I have to make a new blank layer and place it just right above the background color layer. Now I have this background here that I can play with, and so on this fat nozzle spray paint, just for the fun of it and I'll paint a little bit over here with some different colors. Now let's do something hideous, awesome. This is like the most horrible thing, and it's also somehow really fun at the same time. 11. Watercolor Lettering Effect: Now we're going to cover another really popular technique, and that is watercolor hand lettering. Obviously, you can't use real water color. So we're going to cover some techniques to make your lettering look as authentically watercolored as possible. Now, I just placed in my file a textured image that I have that emulates watercolor paper. Maybe you can see some of that texture. It's very subtle. This is just an image I have in my own assets folder. If you're looking to create your own asset library, you can start by following the link on your screen. But paper textures are really easy to find online, and I just have this in here because I like how it looks with watercolor art. You don't really need it right now. I have a blank layer started so that I'm sure not to put my art directly on my background and my watercolor paper. Now the brushes that come with procreate include a watercolor brush that comes with the artistic set. Now, you can download tons of amazing watercolor brushes from other artists, and I highly recommend that you do so, but since we're all starting from the same point here, I just want to show you a couple of ways to take this watercolor brush that comes with your procreate, makes some basic adjustments and get an even better one for lettering. So first what we're going to do, because we want to keep this watercolor brush, is we're going to swipe left and duplicate it. Now this icon up here's, that is the procreate logo, and that just tells us that this is a copy or a customized version. So I'm going to tap it. I'm quickly going into general here and changing the brush names, so there's never any confusion. Water color for lettering. Under stroke, I'm going to turn streamline most of the way up 75-76 percent will be fine. I'm turning up the stroke taper at the start and end. You can go to 100 percent, 50 percent somewhere in the middle just so that there's more of a taper at the beginning and end. In shape, I'm turning on a azimuth. That basically means that the brush is going to flow at more of angle that your pen is moving. It can look a lot more realistic for lettering. Under pencil, I want to adjust what happens when I exert pressure on this brush. So I love my brushes to emulate a real brush or a real pointed pen and in that sense, I'm going to change the apple pressure size effect to max. That means that with a little pressure, it's a thin line, with max pressure, it's a much thicker line. Opacity is currently set to max for pencil pressure, but I don't want it that high. I found that putting it back roughly at zero is actually better and that's actually it for now. I'm going to close out of the brushes and come over to my swatches. I'm going choose a medium to dark colored blue. Now just test out the size of my brush and get the size that I want for my lettering. I think that that's good. Now I'm just going to write something but the trick is, as I go, I'm going to reduce the opacity with each and every stroke, or basically after the upstroke that follows a downstroke. I'm only going reduce it a little bit, but this will help emulate how your brush actually runs out of watercolor and then I'll think about when would I re-dip my brush in paint, and I'll boost the opacity back up again at that point. So now I have my word and the next thing I'm going do is come to my smudge tool and I'm going to select the exact same brush. I'm coming to my smudge tool and I'm going to select the exact same brush I had for my paintbrush, namely Artistic Watercolor for Lettering. I'm going to reduce the size though, keep the opacity at max, but just reduce the size. Then I'm going to zoom into all these places where the letters overlapped. I'm going to reduce the size way more, and smudge those out. If you feel like you're smudge is making too much of a blur, you can always reduce the opacity of this smudge. I like to move my pencil in the direction of the bristle flow in the brushes itself which helps keep it looking natural. Next, because I have a pattern or texture in the background, it's going make a very slight difference, if I set this to multiply, it's going to make it look a lot more like it's actually paint absorbed into the paper. So I'm coming over to lettering and clicking Multiply. That works if you have a light colored background of any kind and pattern, it won't do anything if you backgrounds is solid white. I think that that is pretty good in the sense that you could stop there. You could go back and make a few more adjustments if you want to thicken up some lines and make them a little bit more realistically brush-lettered looking. So let's say you want your watercolor to look even more watery, even more blurred into the background. [inaudible] , here's how to do that. I'm actually going to take off multiplying at least for now. Then I'm going to swipe left to duplicate my layer. I'm turning off the top layer for a quick second and on this bottom layer, I'm just going to select it and come over to the magic wand tool and click Gaussian blur. This is a very nice blur and even took over our blurry. It's very, very subtle. If you blur it quite a lot, notice I'm just clicking and dragging right, it immediately blurs into oblivion. We're talking about a very slight blur, maybe,7-8 percent. I mean, even 10 percent is quite a blur, that would be quite a bleed. So I'm going to go with something like 7-7.5 percent. Then because I went and did this to the bottom layer, then when I turn back on my duplicate layer, that's not blurred, what I have is a layer that is the original crest lettering and then underneath it just showing through the edges is a slightly lighter, blurred bleed around the edges. I'm going to zoom in here really closely and show you the before and after. So before, after. You see how it's just a little bit blurry? Again, you know, these aren't on multiply, the reason that they are darker is because the brush itself is translucent. When you double it, it actually shows through into the lettering beneath it. If I set these to multiply, they'd both be even more dramatic. Or, alternately, with them both on normal, I can keep it looking lighter just by reducing the opacity of one of the two of them. So reduce the opacity of the top one. So now that shows through a bit, the blurred one underneath, but it's still does look like quite a realistic version of the very watery type of watercolor. Of course, you can use this for a watercolor washes and backgrounds. You can incorporate the whole ombré effect that is in my other video to change the colors of this or make it look like multicolor, [inaudible] in watercoloring. 12. Shading & Drop Shadows: One complaint that people often have about iPad and digital lettering in general is that it looks pretty flat. Once you have a solid color background without any texture like paper has and you have just flat ink drawn on a digital device, it can come off as looking pretty flat. So sometimes to spice things up, you have to add some depth to your image, some dimension. That can often come in the form of shading, shadows or highlights. So let's look at a few ways to make that happen. Here are my layers' palette. I have a subtle background color, it doesn't really matter what it is. I have sweet that they colored and a medium green. The first and arguably easiest way to add some depth is to copy your lettering design and basically paste it on top of itself or duplicate it. So I'm just going to swipe left on this layer and duplicate what's like the layer beneath it. I am going to select the color that I used here in sweet because I didn't see that in my swatches, but no matter, just hovering over it, selecting it, coding here and choosing a darker version of the same hue. Now in my layers' palette in the lower of the two versions, I am tapping, selecting, tapping and filling. We can't see the darker layer but it is there. So with it still selected, I'm going to direct select. I am dragging this darker layer down. If you drag it just to the right, it has a certain effect that it just has depth in one direction. If you drag it to the right and down, creating almost more of a drop-shadowing effect into the left, means that the drop shadow is going in that direction. Let's keep it like this for now. You could stop right there, but this looks more like it's casting a shadow in a distance. If you want to make the look of depth more realistic, then you're going to have to come over and being on the bottom of the darker of the two layers, zoom into all of these places where the overlap is incomplete and connect them. For example, here on the dark layer, just draw a line to connect the corner of the darker side to this corner of the right side to complete the three-dimensional shape. I want to show you how this looks here after, before, after, before. I'm just going to go around and quickly do that on a few more so that you can see how I go about it. If you ask me, that makes a big difference and it actually gives this some serious dimension. Another way to do a drop-shadow is to actually draw in the drop-shadow underneath your original artwork. So I'm going to toggle the visibility of this dark layer off, but I'm going to make a new layer, blank layer, underneath my original artwork. I'm going to come over here and select a dark gray, almost black. Let's use a brush that's going to give us that fuzzy shadow look. I think that this soft airbrush might do it, so let's try. I'm going to zoom in a little bit. This takes a little bit of trial and error to get the right size of brush. It depends on the size of your lettering and the resolution of your file. What you can basically do is follow the curve of your letters and from underneath your letter, the brush stroke, this fuzzy new stroke, is going to pop out. You should probably do this at full opacity and it will probably be too dark, but know that you can turn down the opacity of the layer. So if you do this with a low opacity brush, you can only then turn up the opacity of the layer so much, but you can always turn it down again if you do it completely full opacity and it's on its own layer. Here we have a pretty dramatic drawn in drop-shadow. I can reduce the opacity and it starts to look a lot more natural really fast. If I have a background color other than white, something darker but not too dark. Now I'm going to change the color of this lettering as well though. So the shadow now, if I turn it on and off, here it is on, off, on, off. Sometimes if you have a pattern or a texture behind, you're going to want to come into your shadow and set it actually to multiply, which just makes sure that it really becomes one with the background and only the blacks of the shadow stay visible. Now let's talk about one more kind of shading, which is internal shading. As opposed to a drop-shadow that falls behind the letters onto your canvas, this is shading that actually comes in from the edge of your lettering towards the center of it. This is going to utilize Alpha Lock, which we've seen before. This is a copy of my layer, as you can see here and I've turned on Alpha Lock. In my color palette, I'm just selecting a shade that's the same hue but darker than the lettering itself. I'm coming to my brushes and I'm selecting. Let's continue with this soft brush in the airbrushed section. Now when I draw over my Alpha Lock, remember, it draws inside of the lettering itself. That's pretty subtle because I have my opacity turned down. Perhaps you can see it a bit more dramatically here coming in from the edges. Notice that I am not writing on the lettering itself because the edge of the airbrush is pretty soft, meaning that it disperses quite a lot. I don't actually have to write on the lettering itself. I can just write on the white that's beside it, and what's going to happen is the just the edge effect of the brush is going to leak into the edges of the letters. All right, this is somewhat imperfect, but I admit that from the angle that I'm sitting at, it's a little difficult to be a perfectionist. If you take some time with this and go around the white edges of your letters on both sides of the letter, so that you have a shadow coming in and choking the letter, it actually adds what looks like a highlight and shading on either side. So that's a pretty cool 3D effect. It can also be combined with other effects that we did before, such as the darker drop-shadow and the dimensional drawing. So all of these combined makes maybe for some overkill, but it's a cool way to go from being flat to dimensional. 13. Adding Highlights: Another way to add visual interest and dimension is through highlighting. The last shading technique that we learned using Alpha Lock and choking the edges with a dark shading created a highlight simply by the fact that the lighter part of the letter remained revealed in the center of each letter and it almost looked like a light was shining on it. Let's still start with simpler methods. One is actually to use the same first method that we learned for drop shadows which we still have here that we created, that dark green backdrop. But instead of making it darker than the lettering, make it much lighter. With that turned on, I'm just going to select a much lighter color that I want for it. Let's try that much lighter pink. I'll select and then I'll fill and you can see that already in a strange way, it's popping out and it has a dimension and it has made the whole thing feel brighter, before, after, and it almost has the weird side effect of looking like a drop shadow at the same time even though it is not. That's one way, we'll be on that one for a second. Another is to draw in highlights using white. Then coming to my brush palette, I'm going to choose something that has a bit of opacity, like this brush pen in the calligraphy section. I have opacity all the way up because I like to work with opacity on the max, knowing that since it's on it's own layer, I can always reduce the opacity of the whole layer later on. I have my brush set at around 20 percent. On my empty layer, I'm just going to draw in some lines. Oh, by the way, I have streamline turned on right now to help me follow the curves of my letters. All I did was draw straight lines down the thicker downstrokes of all the letters. It's a bit too dramatic though, I'm going to come over to my opacity and reduce it a little bit or I can play with some of the lightening blending modes like for example, Color Dodge, which will turn it into a lighter pink, so those are the options. I'm going to turn off this layer for a moment and make a brand new one. I'll come over to my brush palette and I think I'll change from the brush pen just to the script pen, and I'll make sure streamline is turned completely up. Now, I'm going to draw something similar but a little bit more decorative. This is a decorative highlighted serves both purposes. In fact, if you wanted, you could change this from being a highlight to just being some decoration of a different color. If I make it black, for example, that has a completely different effect, that's purely decorative. But as white, it serves a nice highlight purpose. Add some highlight is to give the impression that you have a white outline around your art. We can actually do some trickery here instead of actually doing an outline by hand. If I come over to the top "SWEET" layer here and I duplicate it, and I come in and I turn it white, coming to a which pure white here, by the way, you can know if you're on pure white by coming over to value and you're making sure your hexadecimal has FFFFFF, or all of these RGBs are maxed out. Sometimes when you're in the color picker roll here, you go over to whites, technically not pure white. Just a word of advice. I'm going to just turn this layer, which you can't actually see right now, white and then I'm going to select it and move it slightly to the left. Now, it gives this stacked effect, dark and then white and then the light pink, almost like a light pink, is now a highlight around your lettering. 14. Effects: Blur, Color, & Noise: Now, let's play for a moment with the adjustment layers that exist in Procreate 4. I have a piece of artwork here that's separated onto a number of layers. Among them are a bunch of layered versions of the lettering itself, including a drop shadow, two versions of the lettering, highlights and grunge texture on top. Right now, let's say that I want to work on changing the color of the letters themselves. But instead of dragging and dropping and recoloring from the palette up here, I want to play around because I don't know what color I want them to be. I'm going to come make a copy of the lettering itself. I'll turn off the other two just to show you this is the layer we are talking about; the layer that's whitish beige right now. I'm going to zoom in so that you can easily see. Now I'll come here to my adjustments menu and you might be tempted to hit recolor, don't. Recolor is actually the same function as what we've already been through where you tap your finger on the swatch, drag it over to a section. That's not what we want. We want something more fun; hue, saturation, brightness. Now these come up and I can play with these sliders to change the hue and that beige color. Let's put it over here to the greenish spectrum, change the saturation of it. That's terrible. Here's all the way down to [inaudible] in our saturation. Change the darkness or brightness. You can get any color that's available in RGB from these sliders, and it's a fun way to play around with color when you really don't know what color you want. Now before clicking out of this, notice that you can also hit preview and it shows you the before and after. That's a really great feature. Then of course, Reset sets you back to the very beginning when you open this adjustment layer. Clicking in something out of it, close it. Pretty cool. Another one that's pretty common and fun to play with is this color balance adjustment layer. Over here I have this watercolor piece, and I'm going to select the watercolor wash layer. Now I'll come over here to color balance. I think I will select the shadows to the darkest regions of the picture and I'll make them more yellow and more magenta and less blue. Great. I just immediately changed it to a shade of pink. Highlights [inaudible] like to change in another direction. There now it's like a very vibrant purply pink. Now to more like a coral red. Play around with those. Have a lot of fun. That's another good way to recolor, especially when you don't know what color you're after. Now let's talk about some of the adjustment layers that we haven't talked about in previous lessons, like the ones that don't pertain to recoloring. Here I have a design of the word October, and I don't want the brightest orange in the face of these letters be so flat. I think that they look better if I added some noise or texture. I could place a texture file and overlay it or multiply it onto just this layer, and all of that's possible. But another way is to use the noise adjustment layer. I'm going to click that and duplicate it and turn off the other, just so that I don't make any mistakes [inaudible] can do. Then coming to my adjustments, I'm going to noise. Now I'm going to do it really dramatically so that you can see. Now it was like a noisy TV screen. But somewhere in the middle, gives it noise that's more like a texture, like sandpaper. That's pretty cool and it's a good thing to do with some depth. I actually like to add noise to drop shadows. Let's do this to one of the drop shadows. Yeah, that looks much better. Now the shadow actually looks at grainy the way a real drop shadows should. Additionally, since I just added noise to that dark red secondary lettering, I decided that I want it to be a bit more blurry. I wanted really to look more like a drop shadow. One way to do that is to blur it a little bit, now that I added noise. I'm coming up here, I'm going to Gaussian blur and I think I'll blur it just enough so that the edges really fade into the third drop shadow layer that I created back there. Yes, I think that that looks much more realistic. 15. OMG Masking!: Masking is getting its own video because it's brand new to procreate for and it's utterly life changing for those of us who are used to using masks in Photoshop. If you don't know what a layer mask is, think of it as a way of hiding part of a layer rather than erasing it. This is why masks are called non destructive layers. It's best to actually show this to you though, rather than explain it. I have set up here a colored background with a pattern over top of it that's set to multiply. I have a few layers up top that you don't really have to pay attention to except for this one, which we can use again easily in this masking tutorial. First, let's just add a mask to this layer. All you have to do is select the layer you want to mask, click it once, and then click mask. It's very easy to make them a little bit more complicated to understand them. As soon as you click mask, you're going to see that the mask appears above it and the two thumbnails are connected. You have to look a little bit closely but rather than each thumbnail being individual, they actually are stacked on top of each other and detaching. When you create your layer mask also, your color palette immediately by default, turns from whatever color you are on to black. If I go back to a colored layer or an art layer, the previous color that I had, which was white, let's make it red, it comes back. I'm on my layer mask, its black. You go to an art layer and back to red. The reason for this is that in masking you can only paint on a mask in gray scale. In fact, unless you had a really good grasp on how to use gray in a mask to figure your art layer, then stick to only pure black and pure white for your masking. What's crucial to remember is that black hides and white reveals. When you create a brand new layer mask, the whole mask is white, which means that no masking has actually been done. In essence, when you draw on this mask with black, you're hiding temporarily in a non-destructive way, the art that's on that layer mask. At first I'll show you what I mean. I'm coming over to my brushes and I'm going to select soft pastel from the sketching section. It doesn't matter streamline is on or off for this demonstration, but just do make sure that your opacity is all the way up because with it down, even if you're painting in black, you're in essence painting with gray. Keep your opacity up when you are in layer masks unless you don't want to fully mask your subject. Layer Mask selected brush on soft pastel and now I'm coming over here and I'm painting part of this E. What happened is that the background was completely revealed through the E. It looks the same as if I use the eraser tool set to the soft pastel brush. But in reality it's not the same as erasing because when we come to our layers, we see that now the layer mask has this section of black in it. If I toggle off the visibility of the layer mask, my art appears again. What this means is it's just hiding part of the art. It didn't delete any of it. I'll toggle it back on again and we have it hidden. I come to my direct select tool, whether I'm on the layer mask or the layer itself, it doesn't matter. Direct Select and I move it around. I am moving both the mask and the art layer together. If I apply a blending mode, like let's say soft light or overlay. Again, the layer mask comes along with that effect. It's completely linked to your layer unless you turn it off or delete it. To delete the layer mask by the way, you just swipe left over the mask and hit delete. But let's keep it for now. Let's set this back to normal. What are layer masks really useful for? Well, first off, they are non destructive erasing as I just demonstrated. Let's say you aren't sure that you really want to erase part of your art, but you want to see how it would look if you did. Instead of creating a copy of your layer and erasing part of it and then toggling back and forth between the two layers to see which one is better, you can just apply a layer mask, paint out the parts you would have erased and see how it looks. A layer masks are also great for, as you can see here, revealing a background or the layers beneath your art layer. I'm going to click this layer mask and clear it now, so that it's back to being white. I'm going to demonstrate the main use for layer masks, which is to reveal the art layer or the background layer behind it. I'm just turning off this whole thing and I'm going to make a new layer. I'm going to come over to black in my color palette and then on the new layer, I'm going to fill it with black. Now, if I go over here and I erase this layer, the pattern beneath is revealed, but this was destructive. My layer now has a hole in it. I'm going to undo that and instead I'm going to add a mask. Onto my mask using, let's say this calligraphy script brush. Now, I'm going to write something. There something ridiculous. The crucial thing now is that through this lettering, I can see the background. First of all, I can move around this lettering and reveal the background. I can change the background. You can turn, for example, on and off this pattern. I can change the background color. I can choose the blending mode of this background. I can have a lot of fun. One way that I commonly see this technique used is with watercolor washes, so I'll turn this layer off for a second and I'll just create a brand new layer again. I'm going to turn off this pattern and then I'll come over to my brushes. Let's go to do something like painting water brush. Let's max out the size, let's put the color to something really visible for you at home like dark blue. Now, you can mass this actual watercolor instead of say, painting over it in a new layer, lettering over it rather with white or with the color of your background, or erasing directly on this watercolor layer. Now, you actually have the option of just adding a mask directly to the watercolor, coming over to your brush changing it to something like, I'm choosing brush pen because it has a nice opacity that will probably match the blue nicely. Then painting your lettering ray into the mask. I know what you're thinking now. Can I mask photos and import graphics too? The answer is of course absolutely yes, because that's why this is such an exciting development and procreate for. Here's just a photo of my cat and I already did this for you as a demonstration, but I placed this photograph into my Canvas. Then I created a layer mask where I painted with black to cover the background to mask it out. Then with the background masked out, that meant that and I'll change its color to show you. That meant that that's basically erased but in a non destructive way so that whatever I put behind this photo now is going to appear and if it overlaps with a photo, then the photo will be in front of it. Making that white again, I did a quick little lettering of Marlowe's name and because like I say, it's behind the photo. Now, I can get the photo to overlap the lettering. I don't want to do any erasing. I don't have to carefully letter around his ear. This just really fantastic news and masking is incredibly powerful and they're so many things that can be done with it. Have fun. 16. Bonus 1 – Make Your Own Brushes: Now we're going to learn about making our own custom brushes and exporting them to share or sell or distribute online. I have here just a blank square document. The resolution doesn't matter that much. I just used the square preset that comes with Procreate 4. I'm going to open the brushes, and I want to show you that we're going to create a new setup here that we're calling skill share class brushes. Now I'm going to hit this Plus sign and that's going to give us a new blank untitled brush. If you recall, every brush is created with a shape and a grain, or think of grain as texture. The shape is what essentially the tip of your brush or pen that you want to emulate looks like. The grain source or the texture, is the texture that basically gets rolled through out or stamped throughout your ink flow. Let's just first start by using some combination of the shapes and grains that Procreate 4 provides you in their asset library, which is pretty extensive. Then we'll learn about making our own completely from scratch. Let's select our shaped source. You may want to click "Select Shape", but don't do that, cancel out of it, if you did, we're going to go to Swap From Pro Library. This opens up the Procreate 4 asset library. Now, you'll notice that all of these are white images on black backgrounds that's because just like in masking, which we already learned about white means revealed or visible, and black means hidden. So whenever you make a brush and we're going to get to this with a custom brushes, you're going to notice that the background of the source shape that you should make should be black and you should draw the source shape in white. Here we have a bunch of shapes and I'll just scroll through these really quickly to show you that, it's everything ranging from pre-made grungy shapes to airbrushed geometric shapes, outlines, random graphics, inks splatters. Then we get down here roughly halfway down away from the shapes themselves to a bunch of textures. I want you to see that blank is one of the options. We're going to get to why that's important in a minute. We're just picking some random things here from the library to make it semi custom brush to see how this works. I'm going to select Bloch, and from the Grain Source I'll go again to Swap From Pro Library, and I'll scroll all the way down to the good settings for grains. I think I'll select just this one here at the very bottom, Dirty Paper. Now going back to my source, I can see that I have a very rough brush. None of the settings are input yet they're all just defaults with Bloch and Dirty Paper selected as the Shape and the Grain. I'm just going to go through and do some random things. We're going to test it out and see how it looks and then maybe make some basic adjustments, deciding what we don't like and figuring out how to fix it. I'll set spacing to none, streamline to max, jitter, let's say 10 percent or so. Fall off will keep none. Taper start, let's go pretty high something 90-95. End Taper none. Opacity, let's say 50 percent. Size max of the tip of that taper, let's go to maybe 80. In shape, let's scatter this ever so slightly. Let's turn on Randomize. Let's turn on Azimuth, the shape source, not the grain, the shape source can get turned or randomly stamped throughout your ink flow if randomized is on. That can help you create a more random authentic looking brush shape instead of having the exact same shape repeated at the beginning and ends of your strokes. Azimuth essentially makes the brush move according to the angle that you are moving your hand. For lettering artists, it's a really good one to turn on. Under Grain, I'm not going to change anything for now. Pencil or dynamics, nothing. Pencil, I want to change how the pencil pressure affects the stroke. So one thing I like for almost all of my lettering is that a little bit of pressure makes a thin line and the line width increases with more pressure. Under Apple Pencil Pressure, I'll boost the size up to, let's do, max actually. Maybe 70-80 percent and I can test out here that indeed going from low to high pressure changes the size. I'll come over here now to general, and I'm just going to change the brush name. I'll call it, let's say fuzzy marker because it kind of looks like that already. Now I'll go back and on a blank layer, I'm just going to test it out in a few different sizes and opacities. Well, this is kind of fun, I think fuzzy marker was appropriate name actually. Let's see how it works with lettering. I quite like it actually. I'm tapping once and clearing this layer. I'm going to change the background to black. Then under my layer 1, I have to make sure that that's selected, I'm going to make sure that my color is white. Remember as I told you before, to make sure this is pure, pure white, which is what you want. Sometimes you have to move away from this disc and go over to classic and set your bottom slider all the way to white and your hue, saturation all the way to the left, or do it over here. Same way so that you're sure that it's pure, pure white. I always set it to pure white and then make myself a swatch down here just so that I always have pure white and I do the same with black. We're making our own shape now. Let's do something really simple. I want to make a circle, an ellipse of some kind. That's not your average ellipse. That's maybe a little bit long key and I want to do that without any green on the edges because I want to use my texture or my green to affect the texture of the edges. One brush that we all have that will work for this is under Calligraphy Mono Line. I want to click it once and I think I'll make the streamlining roughly in the middle. I think that's actually where it is by default. Now on my canvas, I'm going to make a pretty loose ellipse. Now I could sit here and fill this in, but remember, you click and drag swatches over to fill in any filled in shape. We used this to change the lettering of some connected letters in a single word towards the beginning of this class. Let's just give this a shot, just like this. Let's just see how it looks because we can always easily change it. Coming to the direct select I'm just going to eyeball this to be in the center of the screen and I'm going to my Settings, Share, Jpeg. I'm just going to hit Save Image and save it to my camera roll right here on my iPad. Now, I'm going to make a custom texture. Just something random. In fact, maybe I'll make a couple. I'm just turning off the visibility on that shape layer, making a new blank layer. Let me come over to something really cool in texture like in charcoals. Let's do carbon stick. Let's turn the opacity midway. Size all the way up. That's pretty random. Let's just see how that will look in a brush. I'll save that as a jpeg to make a roll. I'm going to whip out a few more textures here just so that we can have a few to try on when we're making our brush. Now I'm making a new blank layer which is just the layer that we're going to play around with our brushes on. Again I'm coming over to brushes to my new set that I created and then making a new brush. If I have it on my drive files, my iCloud, Google Drive, Dropbox, what have you. Then I click "Select Shape" and it opens up my file's app. But I have one on my camera roll so I'm going to say Insert Photo. Now I'll insert one of my grains. You can see that right off the bat, this looks horrific. So first and foremost, I don't know why it really this is the case. But the default with grain is that we're coming over here to the third option grain. Under Grain Behavior movement is always set to rolling. I'm just going to turn that all the way down to stamp. Immediately that makes any source that does not go all the way to the edges of the square that you made. Still fill in the whole ink stroke. Before I do anything, I'm just going to try this. It's probably not going to look great. I was correct, it doesn't look great because the edges are kind of shaky and repetitive. Let's go through and make some changes. I want to turn spacing all the way down, streamlining to the middle. Let's keep jitter off actually. Let us change the shape and turn on these two settings. Keep scatter off and rotation off. Nothing more with grain. Let's adjust the size when we use the pencil pressure. Let's effect lead slightly that way and opacity as well. Why not? We'll name this bloch New Number 1. Done for now and we'll try this out again.That's not so bad. It's a completely opaque filled in brush. This has a nice almost looks like the rings of Saturn or something. That's cool. Let's see in a color. Nice. Just like before you can see that I can go on and on and on with this, forever. Changing the shapes, changing every possible setting. I hope that you have fun with this on your own. I really do hope that you look into brushes that other people have made and other people have out there for you to buy because they're really, really worth it. Do buy them, support the artists who design them because they're really some awesome ones out there. 17. Bonus 2 – Custom Color Palettes: I want to show you how to make a custom color palette, something that you can save and use in other files. Maybe pull for a client from some artwork that they've given you. I'm going to click import from my gallery and go to my iCloud Drive and navigate to an image. Of course, this could be a photo graphics, anything that you want. I happen to have it right here in my photos and graphics folder. Let's just choose a nice simple colored picture for starters. I'm coming over to my color palette. Navigating to Palettes, clicking in the plus sign to make a new one, and giving it a name. Navigating back to the disk doesn't really matter. Now, you can see that down here where the actual palette goes is empty right now. This is really quite simple. I'm using this technique where I put my finger down on this little square. Then when I hover over the image, I find the colors that I'm hovering over. Lets just grab the background first. When I have the color picked, all I have to do is tap somewhere within this palette and it adds this swatch. There you have it. Now if I go to Palettes and I set say, a different palette to load, I have to set as default. Then come back to my desk, that other palette's loaded. But the one I just created is saved. I can either navigate over here to palettes and select one of these colors from here. Or if I want easy access to it, set it as default again, and I see that it's loaded over here on the main screen. Another nifty little trick that has to do with colors, but not about color palettes, is that this color swatch can be changed to the previous color that you were on by just clicking and holding. I'm on red now. Click and hold for a second, and it goes to brown, which is the color that I had just before. Click and hold it again, goes back to the red. Very often we do go back and forth between two colors. Black and white being a great example, especially when you're masking. This is a fast and easy way to navigate between those without wanting to open your color palette every time. 18. Bonus 3 – The Power of Copy/Paste: Now I'm going to say a few words about copying and pasting. In some sense it's self-explanatory, but there are some cool tricks that are hidden within the interface that I want to go over. So copy and paste can be used for all sorts of things, but one way that I like to use it a lot is to create double the effects with lettering, like what we talked about in the shading and drop shadow video, where I can paste the lettering over itself and then move it slightly and change its color. So let's say that I want to take the border here, that's around this image, and I want to copy this red border and paste it again and enlarge it to come right out to the edge of the picture. Well, I can navigate, if I want, to the red border which is here, and I can duplicate the layer if I want. But sometimes when I'm really in the flow of things, it's much easier if I'm working on a layer to swipe down with three fingers, and I'm offered the options cut, copy, copy all, paste, cut and paste, copy and paste. So if you just literally do copy and paste, what you get is a copy of your layer pasted onto a new layer right above it. Then if I want, I can just select this new layer and transform it however I want and it was all as easy as a few slides of my fingers. Another way to use this cool copy-paste function, is if you want to divide up a layer. So here I have a file where the white part of the words "zoom" is one layer and "out" is another layer. But I, for whatever reason, want the T of the word "out" to be on its own layer, I don't want it on this layer anymore. So I could duplicate the out layer, get to my eraser, erase the O and the U from this layer and then go and erase the T from this layer. That would work, but instead, I'm just going to go to my original out layer. I'm going to get my selection tool. Select around the T, knowing that even though all the visible layers are still showing, since I'm only on this one layer, technically, that's all that's being selected. Then, with this selected, swipe down with three fingers and you cut and paste. So it's cutting it from its current layer and pasting it onto a new layer right above the old one. Now if we look here, we see that we have O, U on one layer, T on the other. Now I want to make sure that you understand that copy and pasting is universal through Procreate. So if you copy something in one file, it's on your clipboard for another file, the clipboards don't change file to file. So I can come over here to the zoom and I want to copy the whole white word "zoom." So I'm just going to copy that. I'm going to come over and make a new file, actually no, I'll just paste it right here into this image. I don't even have to make a new layer. I just come right into this file and click "paste," and it pasted zoom on its own layer. Now I can select it, incorporate it into my new file, do absolutely whatever I want.