Playback Speed
---
0.5x

1x (Normal)

1.25x

1.5x

2x
Creating A Realistic Rose With Blender
Watch this class and thousands more
Get unlimited access to every class
Taught by industry leaders & working professionals
Topics include illustration, design, photography, and more
Watch this class and thousands more
Get unlimited access to every class
Taught by industry leaders & working professionals
Topics include illustration, design, photography, and more
Lessons in This Class
11 Lessons (2h 34m)
2.

Creating The Inside Flower Of The Rose

13:52

3.

Creating The Outside Petals

21:44

4.

Finishing The Last Part Of Modeling The Flower

23:56

5.

Applying Material To The Panel Part 1

12:53

6.

Applying Material To The Panel Part 2

15:03

7.

Last Touches To The Materials On The Petals

9:20

8.

Modeling The Sepals And The Hip Of The Rose

7:43

9.

Modeling The Stem And The Leaves

16:51

10.

Modeling The Last Parts Of The Rose

11:19

11.

Applying Finish Materials And Settings For The Final Render

18:59
--

Beginner level

Intermediate level

Advanced level

All levels
Community Generated
The level is determined by a majority opinion of students who have reviewed this class. The teacher's recommendation is shown until at least 5 student responses are collected.
About This Class
ey everybody and welcome to the new Blender course. In this course, we are going to model realistic rose, we will model it out by using blender 2.83 that is the latest version of blender. We will start modeling our rose using basic shapes and modifiers.
First, we will model the inside petals, and later on, we will model the wide-open petals. After we finish modeling the flower we will apply the material onto the petals using image texture and also UV unwrap. Then we will start modeling the stamp, sepal, hip of the rose, and also we will model tri leaves. When we finish modeling we will apply materials using nodes and we will create the material by ourselves.
At the end of this course, I will show you how to set the scene for your final render as well as to adjust your final render properties. We are going to render it in render engine cycles because it looks much real and it has more details then when we render it in Evee. Let's create a realistic rose and let me show you how fun and relaxing it is to model and create a rose like this one, that we can use for cool animations, artworks, games, and portfolios.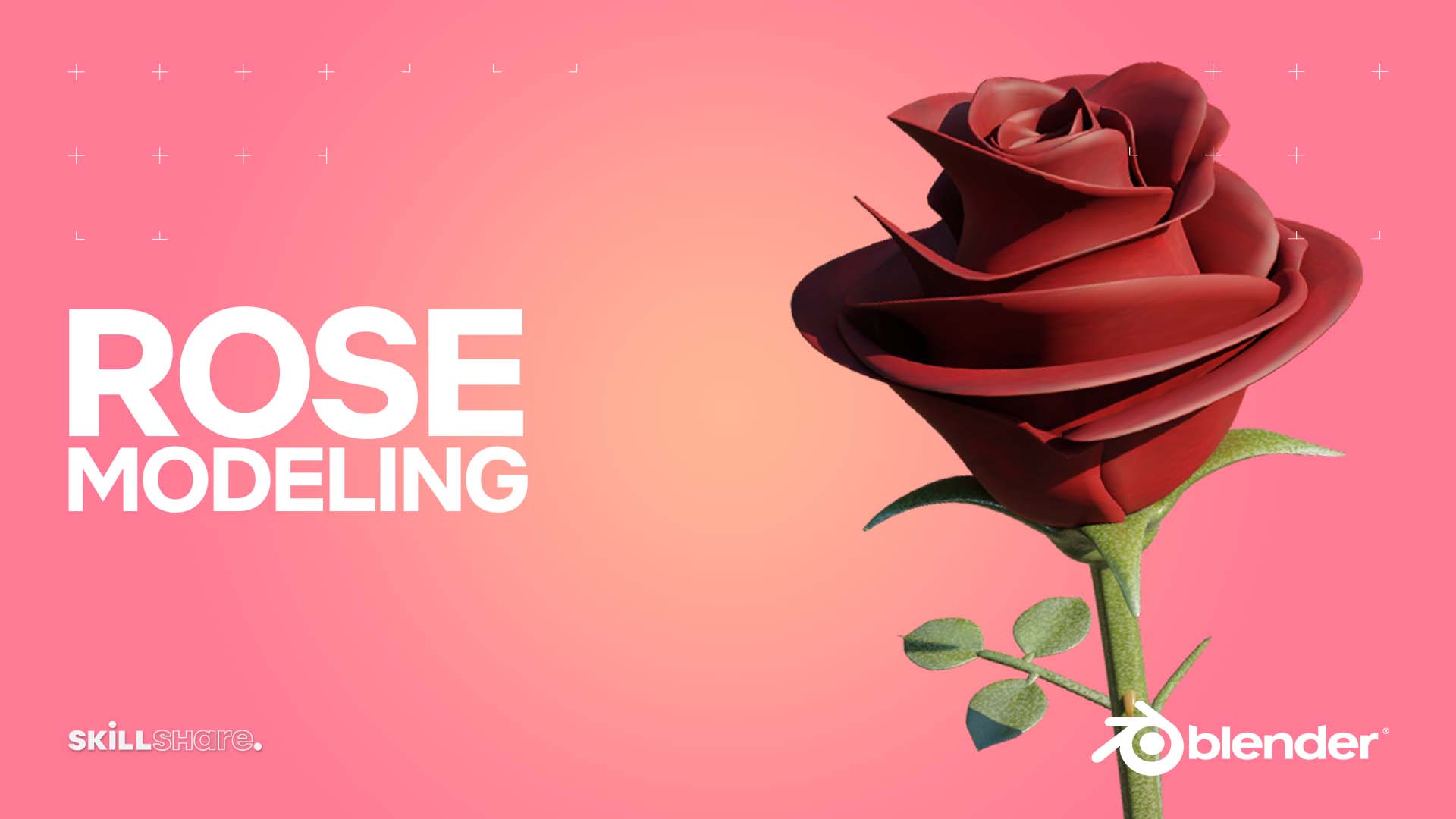 Meet Your Teacher
Hello, my name is Zerina. I am a graphic designer, and 3D artist. Creativity has been an integral part of my life for as long as I can remember; even as a child, I've been interested in art and computers, so I just followed my passion, and today I do what I love. Also, I have a lot of teachers in my family, even my mother, so I was trying to pick up their skills of teaching all my life.
I joined Awesome Tuts to start my journey as a teacher and graphic designer. I have a lot of experience when it comes to teaching computer software for design and Computer Graphics. I preferably work in Blender, and the type of work that I do is, sculpting and modeling low and high poly models.
In my courses, you can expect a practical approach in teaching, which means that ... See full profile
Hands-on Class Project
For the final project of this course, you should :
- Model different flower or for example, you can model a realistic fruit (strawberry, tomato, lemon, Apple, etc.)
- Set output resolution 1920 x 1080 px (Full HD), or set the resolution to 1080px to 1080px if you want to post it on Instagram
- Play with the lights and set your scene to your liking. Add a camera and as well adjust it to your liking
- Adjust your render settings
And lastly, have fun and enjoy modeling.
Class Ratings
Expectations Met?
Exceeded!

0%

Yes

0%

Somewhat

0%

Not really

0%
Reviews Archive
In October 2018, we updated our review system to improve the way we collect feedback. Below are the reviews written before that update.
Why Join Skillshare?
Take award-winning Skillshare Original Classes
Each class has short lessons, hands-on projects
Your membership supports Skillshare teachers
Transcripts
1. Class Intro: Hey, what's up, you guys? Is it in a here? Welcome back to another blender course. And in this course you are going to make this realistic looking rose. So as you can see here, we are going to be using blender version 2.83. The latest version and my advice to you is to download it before you start discourse, we will start modeling this rose from scratch. We will not use a follower reference, but we will google it out the rose and you can see for what we are aiming for. Once we open our blender, we will start with our mashes For the pedals, we will use a couple of modifiers and to our paddles as well as the stamp and the rest of the road. So this sport and these parts, once we finish modeling the flower, we will go and apply our material to it. So we will be using image texture for the pedals as well as you ve unwrapping. So we will you the unwrap all of these pedals and make sure they have this nicer looking texture on them. So when we finish modeling the flower, we will model out this stamp and the rest off their rose. And later on we will add the materials to dis tempt by adding notes. So we will add a couple of notes to make this awesome looking material here, as you can see and also we will we will model out the thorns and make materials for them as well. So at the end, I will show you how to set your final render properties and how to set your scene. So what are we waiting for? Let's create this super awesome Gross. Let's begin by. 2. Creating The Inside Flower Of The Rose: Hello, guys. Welcome to the first video. Now let's begin creating our rose from Beauty and the Beast. So the first thing that we need to do is we need to open our blender. Once the open blender file, it is going to be version 2.83. So be sure. Make sure that you download this version two point into a tree because this is the newest version, and it has a lot of changes that will help you create your artwork. So the first thing that we need to do is we need to go here on general. Here we have our default cube default light and default camera. We're going to select everything and deleted Press one. So let me just turn on my screen. CASS Keys here on the left inner corner. You will see what I do. So the first, because we are not going to have a reference. We need to make sure that it is going to look like a rose so you can go on Google and type down Rose and it will pop out out annual can see the type of roads that we're going to create. So the first thing that we need to do is we need to add a plane. So shift a at a plane. Now we're going to rotate that plane in X axis by 90 degrees, so our X 90 degrees are x 90 degrees. Once we have our playing here, we're going to press tap to go to edit mode. Or you can change here as well, from object to edit mode. Now I will. Right. Click this on this plane and subdivided three times two times. Also, I will change this selection by pressing double week on my keyboard. And I will set it to this to tweak, so select an active item. So bye, Dad, I can move it like this. And also one thing that we need to do is we need to open our promotional editing So you can also use the short good on your keyboard. So it is an O on your keyboard, on and off. So yeah, not once I'm done with that. I will select this one and pull it up. You can change this the size of the circle on the middle mouse. So also it is very helpful. Now I will move this up. So this is the we're now creating the pedals and this is the inside pedal. So, yeah, moving a bit, create that rounded shape like this? Let's grab this one and pull on. Lee that for? To see as well as this one. Okay, once we're done with this, we will have something like this. Also, let's move these Verdecia a little bit up like this. So once we're done with this, we're going to go. An object won't go here. Apply modifier, and we will use this curb. But before that, we need to add a curves. So we will add a circle skill that circle down. So about this size press one and then add occur, but not to the curve, but to the plane here. So add modifier and add occur months. We added it. You can see that it is not distorted now. So we will use this this little things tool here and select our circle. And here we have the it distorted a little bit. Okay. Before this, we are going to add a subdivision surface modifier and increase the number of subdivisions in view port to two. So we have a clean shot. What we are doing here? I will select the circle and I will skillets down a little bit like this. Okay, Once I'm done with this, let's see a couple of changes that I want to make. Press one. Let's move these a little bit. I would see how it looks. Okay, This, uh, this will be good. So we're not going to, I think change anything else. So let's press. Let's go here. Press one, Rotate in that access by 100 rotate in that axes by 90 degrees. Okay, let's apply this curve. And once I go united moment, you will see it. Here it is. Um, Now, this shape is not the plane anymore. Pull these and also what I want to let press one So, like the whole object and rotated in that axis by 180 degrees. So this face is facing me So facing the front was killed us. And now we will press one. Select this part. So the middle point here we will scale it and we will increase the pivot point. So we are going to create flower like so it looks flower like now I will skill this inside . But I will try to make like this. Select this range here over to seize the grab two times. So, JJ, grab two times and you will have something like this. Now what I want to do is I want to select this top here skillet inside, and now change the these Vergis ease and scale it a little bit outside. Once I'm done with that, let's kill the this range inside like this. And let's select a couple of these vergis ease and grabbed him a little bit distorted. Um, inside, because this will be the inside our flower. Okay, let's see how it looks. OK, Now I will select this part here. Shift Dia will duplicate it. Rotate in that active on one by 180 degrees. Mills simply scale it down. Let's do it a couple a few times. So shifty wrote statements that acted by 180 degrees. Scalea Town. Let's do a couple of try shifty rotate in sad axes by 182 piece skillet. Darryl, let's grab it and pull it up. Now What I want to do is I want to select this part here, select this middle Vergis e and grab it. Pull it down like this. Now I will select these two and skill them in axe axes, Then pull them in. Why axes? So we will have a little bit off texture inside. So let me pull these a little bit. Alex, I will skill this inside a little bit. Slow. This one. Okay, so we have that the in the middle point. Now, let's elect this part here. The outside part, we will now select this this edge here, let's dissolve this edge. Select this part of this part. So on Lee, the bottom ones, you can go on X ray mode, change this election to selecting box, grab this in zad axes and pull it. Uh huh. So we will do it one more time, so we don't have thes distortion parts, and also, you can rotate it a little bit and move it in. Why axis like this? Now we can select the bottom the bottom Vergis, ease, Grab them up as well. So it aligns with the inside birth. So let's play with inside as well with Chris one. Grab it in X axis. Pamela, we can also change. So now what I want to do is let's like, first of all, the outside the outside part here add modifier and we will add a solidify modifier and we will see how it looks once it solidified. We need to do this on every on every rose petal here like this. And here we have the Peking paddle. Let's elect this part. Go in edit mode, Select these two. Skill them in AC Sex is first of all announced. Let's grab him in. Why active? So we will pull them inside. Okay, so now once we're done with that, I will simply select this'll outside layer outside pedal and play with the with these parts here. So let's golden distort and meet the different shape Something like this. The student on this side as well. So I'll grab it up, grab it in X axis and then pull it down and we can go down. Changed the size. And also we couldn't do that inside as well. We can grab like this and we can again sell it this inner part and one more time selected, duplicated, rotated in that access for 180 degrees so it created inside like this. But you can also not do it and just pull these a little bit inside like this. And you can create the inside rose. Something like this. So so I can sell like this, Duplicated. Rotate in that axis by 180 degrees. Scale it down. And Willa, I can grab it up if I wanted to. Let's play with this part is well, so we will skillet in acts axis Well, so we created the inside of our rose. Now we are left with the outside. Leers are pedals, so let's start modeling it. See you in the next video. 3. Creating The Outside Petals: it was up. You guys welcome back to the second video in the last. In the previous video, we I showed you how to make this inside Inside Rose here. And what we want to do now is we want to create the outer layer. To do that, we need to select all these all these leaves or oldies pedals and hide. So we will press age and then go to front or too Graphic view. Now we want to add a plane rotated in X axis by 90 degrees, go to edit mount and subdivided three times so as we did with the previous video, the previous flower. And now, once we're done with that, let's change this as selection to to select which week now one send them. With that, I will increase the size of my circle here so I can select a whole range off Vergis Ease. Grabbed is a little bit. We will plate with shape here. So it's not going to be the same as the paddles that we did before. So, like three create some of a shape here like this. Now, once we are down with that, I will simply do like this option H we will unhygienic are rose. We will add a occur that is going to be circle and I'm going to make it this size. Are this Rose? Once I'm done with that, I will select the plane here. Add modifier. I will add a current modifier and applied this curve to it. So as you can see here, let's kill this circle a little bit. So you will see how it looks like. We can select this bottom here and we can dissolve. We can select this this edge here, this all ridges and simply pull this So we have something that looks like this also, we will add a subdivision surface modifier as well. Let's right click shades smooth and it will look something like this. But I wanted to be a little bit more distorted. So let's pull these up. He's down. So let's see now let's see. I like it. So once I'm done with that, let's apply the curve. Yeah, let's go into edit mode. Now we will play around with shape. So what I want to do is I want to select this part here. I want to scale it, but I want to increase the size off and, uh, the circle here so I can select and skill most off these Vergis is up now. Let's like the bottom or disease skilled them down. Let's killed and done. Let's see what we have now. I will grab this and pull it up. So I have something like this. Also, let's elect the two off. The Vergis is here. Scale them in x axis and pulled them a little bit inside of the flower. So we will skill them so that we don't have the distorted part. Now, once I'm done with that, let's press one select old whole object. Rotate in that access by 108 and 80 degrees, so it will point this part to us. Okay, so one send them with that. Let's play around with this shape. So I will select this part here. SZ zero. So I will make sure that it is flat. It is vertical. Now it is horizontal. Excuse me, and I will scale it death. Let's pull it down a little bit and scale it as well one more time. So you can see here that the rest of the body off the road is showing. So I will select this throws, grab it and why Axes and I will pull it a little bit to the back. Okay, let's select these verdicts. Ease here. Skill them a little bit inside, Only a little bit. And we will select this part here. So only these Verdecia that are on the Y axis grab them in. Why? X is just a little bit. And we will have something that looks like this. So for the top petals, I will select them and I will skill them. But I will decrease the size of my circle Here. We cannot play with these. I will. Jean decides of the off the circle and play around with the sheep. Pull it down here. We have double Vergis e. I think that we have Okay, we don't. Let's kill it down. Pull it down. That's grabbed is pull it down. And Willa, So we will have something that looks like this. Let's kill this are a little bit. Yeah. Okay. Once we are done, let's add a solidify modifier. Let's play around more with shape. So select these to grab them in y axes. I will pull them in. Why access Also Dese two happened Pulling. Why Accents? Not that much. What? So one more time? What? No skilled him in XX So we will be closing this part here and we are not going to have much space. Also, let's do that on these grab and by axes, this one as well. So the bottom one. And now let's pull this in white in x axis and then select these two and grab them in. Why axes? So they are in front off this flower in from this pedal inside. So now let's to this decide as well. So we will move it in X axis. Why this and why? Let's select the bottom part bottom Urgency. Grab it in X axis, private and why? And also this part here we will grab it in X and gravity in Why axis? So we have the top all our flower. Let's kill this a little bit down way, don't have any distorted parts. And also what I want to do is I want to go into edit moment, select this bottom here and grab it in Zet axes and scale it a little bit like this. So guys, we have the second pedal. Now let's just duplicated shifty rooted in that access by 180 degrees Little's kill it up and pull it down. So now once I'm done with that, let's scale the outside parts. Grab them in y axes. Let's kill this inside part as well. So as you can see guys, I'm just trying to have to make a shape of a rose. So we are select. Think the vergis ease that are going to create this rose look like so grab it, said axes. So these two and also the side part go in extremo so you can go in extremo by pressing Old Z. Let's sell out these four Vergis ease because they are overlapping with the pedals right inside of it. So I will grab them in X axis, pull them a little bit, and also let's move this one in white access. So we will have something that looks like this also. Let's go to the front. It's going to an X ray mode. Go to box, select. So, like these, we can also Garrett off these a couple of these Verdecia that we don't need select this'll range. Press two. Time J. Grab it and let's like this range Here. Grab in X axis. Let's pull the inside part and moving in excess. Here we have a couple of issues, but we will make sure that we don't have it in a second. So now I will select the outside layer here. All we can do this. Okay, so I will grab it in X axis and pull it out like this. Grab it in X axis, pull it out. And also these are will simply press two times J and grabbed him a little bit outside. Let's do it here as well, so I will create a little cut and skill. It out here are will grab it in acts Saxes and also here like this here we have also won distorted part and we will grab it in X axis only a little bit like this. Now we can play with pedals as well, so I will grab it in. Why axes in that axis and simply move them around and play with them like this? We can create a different shape. Let's pull it down. Well, uh, so let's one more time duplicate this this part here. Can we scale little of it? Okay, we kept. So I will shoot the duplicated Rotate in that access by 180 degrees. 180 please. And here I have the 2nd 1 I will simply move it in. Why Axis? Grab it in tax axes killed up. Grab it in X axis. And also, I will cool it down like this. Now I will play with these. So let's elect the inside part rabbit two times. Pull it down. And also what I want to do is because here you can see the pedal. I will simply pull this off and pull these two inside. So grab them and why access and pulled him inside. And once I'm done with that, I will grabbed us in lie axes and grab it down like once I'm done with that. I will select the inside part and grab it in acts, axes in. Why axes on this? But it is a little bit too much. Pull it back. And also this one from a swell. So now here we can play with these around. So grab it for it inside. And this one. Well, it's elect these forward disease here, grab them up. Bit skills is inside to move your vergis Ease as you like. You don't need to watch me. Do you like this? So you can create the artwork as you wish. So that is the artwork. That's the point. So you can imagine it and do it as you wish. Something like this also. Now, once I'm done with that, let's like the inside point here. Grab it in y axes as well as this one will gravity and y axes only a little bit. So we need to move these. Why access? Let's move it to next exit. And this one is in white. Well, I Okay, now, I can select this part here, and I can increase the size off this circle and move it around to my liking. Okay, I like you very much. So once I'm done with that, let's play around with these Vergis e. So we don't have distorted parts. And also, let's change this, uh, this bottom So it's not going to look like this. Let's grab this in y axis. Okay? Once we're done with that, let's elect this edge here. X dissolve edges and pull these. So pull these edges up by selecting the whole rage. Certainly. Grab it. Accepted now and well. So you can go and make a couple of more rose the pedals. But I don't want to do them right now, so we will create the A few a few more. A few more pedals here, the end, and then hop onto the materials. And then we are going to go and make our stem. But let's select because we have a lot of a lot of here. How would I like to call it? And here we will grab it, move down the middle point on your mouth and move it in y axis. So we're going to close this part. Little it the bottom one rabbit in. Why axes? And also this part here rabbit in why I pull it inside as well as this one. It inside and as well like this. Okay. And also we can do it here as well. But to do that, we will need to add one more loop could here. And I think that it is better for me to add one more look good. So now we have this part here. That looks awesome. We'll grab it in, said exes, and we will create some of a curve here. What? Guys? So we can go and do that on this side as well? At a loop Cut! Select this emergency. Grab it in. Why Axis and a little bit insect. And we love here We have one distorted point. So I also like this and move it in y axis. And also 40. And here point we will move it up so that it is a little bit aligning with this, but not through the whole part. So, guys, we are none. With this, we can select Thies to grab him a little bit up. Okay, let's let this outside Lear off the our flower here. Delete the inside of urgency Select with the box Select here on skid a little bit down. Once we're down with that, let's move these a little bit. Only a little bit. So we have something more like this. Now let's move on, guys, to the last pedals here on the side. And then let's start modeling this. See you in the next video by 4. Finishing The Last Part Of Modeling The Flower: Hey, what's up? You guys? Welcome to the third video. So now let's start modeling the pedal that are on the outside off our rose here. So once we are done with this, we will select everything. But here I can see a little distortion. And we will hide that once we add our flower here. So once I'm done with that, I will simply hide it as I did before. I will add a plane now for this part, I will not rotate it in X axis. But I will go and edit moment and subdivided three times. Then I will look from from the top. I will play with shape here. So what I want Teoh, What I want to make I want to make. I will show you right now once I start making it. So I am simply going to move these a little bit around. So I will move this up. Here it is. Down, Craig eight. So this is the outer outer point. Outer petals. We'll move thes Vergis, He's around. And we have that simple point on our flower here. Once we're down with that, let's add a subdivision surface mortar fire. Let's play around these little like this. So now once I'm done with that, I will select this these two burgesses and I'll simply grab them up and I will rotate them . So graphic and I rotate. Let's elect this part. Here is well, press two times J and pull it up and as well as this part here. So let's going extra mode if it's easier for you. So like this bridge here Ault on a left click like this shift now old H two on Hide your rose. I will skill this a little bit down. Grab it here, grab it up and let's kill it a little bit more down Now you can go like this. Select this box. Look select Select this part here and grab it to here So you can simple do it like that. I will select these edges and I will dissolve them. Dese two grab this one and this one a little bit inside Look from the side and simply applied. So let's move these around So we are basically creating the pedal the outside pedal like this key Once I'm dio once I'm done adding this one I will add a circle. Or I can select this circle here, skillet out like this. Select this rose petal. Let's try if it works like this. I haven't tried this before. Let's let circle and we have something like this and I don't like how it works. So we're not going to use the Kurt. Let's let's make it by ourselves. So I want to select this. Didn't these emergencies and dissolve edges? So I have a less amount of burgesses toe work with on that it is. Then it is easier for me. So I will select these two rows, grab them in. Why axes and pulled them a little bit inside. Now I will skill them in X in y axis and I will have something like this now, Once I'm done with that, I will grab the these in y axis and I will align them with with the rose that I meet. Grab them X axis, Kill them in Why access? But skilled them. So it goes out Now I will wrapped these two times So J J. Two time. Let's elect this part here. Rabbit up sorrow field this circle down and let's move These Virgin sees a little bit more inside. Well, like this. So what I want to do now is I want to go ahead and grab these vergis ease up and pull them in X axis like this so we don't have any distorted point here. Grab it. Also here but in x axis and then pull it down in. Why? And what we can do here is we can skillet down. We can go and scale it down, grab it in X axis, skilled down a little bit more, and we can go also right click loop tools and add a circle. You can activate this loop tools. Add on by going here on edit preferences. Nangle here on Adams and press allude Luke tools. Make sure that this box is selected. So check this box and a Let's go ahead and add a circle. So here you can see that aided It added a circle. I want to rotate it in that axis. So my vergis is are aligned. Good. I will grab it, scale it and then I can make sure that this row is there. We can both this row in x axis and we don't have any distort points here. But let's we will make it one more time. So let's let these stewardesses grab them in. XX is here We have one spare versi, so make sure that you go into extremo to see the distorted parts. Let's pull it up in act Sex is also we can sell it this these points and move them back Saxes as well. So once we're done with that, let's elect he stooped Grab it in Why access so you can see what I'm doing? I am watching and making sure that this axes is why access And then I'm moving it So I first of all see and access what I'm doing and then I make it so once I'm done with that, let's make sure that this side is similar to the other one. So I will grab this virginity and grab it in y axis Onley this Vergis e And also I will do it here as well. If we have any distorted points, I will simply add a little and that will create. And then I will grab it in. Why axes so that I will hide these distorted the story points. Okay, once I'm done with that. Let's these were deceitful. So without them pulled inside, grabbed him in excess. Is that one more time? He pulled them in y axis. I will add one more loop. Good. Here. Here, Let's grab it in X axis in my axes. Excuse me as well as here, here and on talk. Now I will select this point that it is inside here. So this point, let's see this one. The outer point and I will grab it in. Ax ax is a little bit and then grab it. And why we are done with this part here. So now let's make sure that we don't have any distorted points here selling this part. So here we have Vergis. Is that overlap? We will make sure they don't soil select Onley this Verdecia and out press j two times. And let's bring these in X axis. So a lot. We're done with this. Now let's select it shifty, duplicated and rotate inside access by 19 sixties. So we are doing it from the sides. We need to scale it up, pull it down. Let's play around with these distorted points. So grab them in acts axis and make sure that we don't have any distorted points here. Grab it in X axis. Rapid y axes like this Grab it in X axis So that this is, of course, basically how to create a for our realistic rose. So we are going to be creating awesome looking grows here. That's press to time. We can also get rid of this part here so we can dissolve edge so this and bring it up. Now, if we need to have one more row here, we will add and scale it up. But make sure that the endpoint here it is going to be on the center off these roses so I can rotate it if I want you and scale it up it. But it will go inside like this if you can see. Okay, Once I'm done with that, let's add one more. One more rose petal here. But I will add it So it goes inside of this one so shifty I will duplicate it and rotate in acts taxes by 90 degrees. And then I will simply added to here. So I will make sure that this part here is not going to be distorted by my by the pedal inside, so I will go inside. Skill this part here, grab it down. Grab it down as well. Let's see the inside. Okay. I can select these four over disease and grab them in X axis like this. Let's do that same thing here, so I will pull them in. Why? Access and I will pull this stuff. Okay, so once I'm number that I will kill this. Well, pull this a little bit outside y axis in X axis from Let's pull these Vergis. He's a little bit more outside. So I will select everywhere where it is distorted here and here and grab them in fact, sexes way have any discharge points here? We have one. But it is the problem here with these Vergis is we can also change that. So grab them in. Why axes and pull them a little bit out. Let's on to those parts. Let's see where the problem is. So this is the other point and I will grab it up and grab it. And why access? So that is with that. Now, I will grab this inside and pull it in. Why axis? Undo it a few times now. Let's elect this part here and grab it in wax, so we're done with that. Now let's pull it in X axis and make it sure that it's straight. Now let's elect these these four words. He's up. You can see and grab them in. Why axes and make sure that we don't have that distorted point. Also, we can select these for overseas as well, and grab them in y axis. Pulled him out. So these two and grab them inside. Well, I we are done. And now let's simply sought the inside off this part skillet down as well as this one. Pull it up, Grab it in a Y axis. We can kill it in X axis a little bit. So let's move these two x axis and the inside. We don't have to worry. We can Onley. Now. Select this. Let's look from the top. Select this outer layer here, shift deep, rotate in that axis by 180 degrees and grab it and yx. We can scale it in acts Saxes as well. Bring it in and now let's pull it in Y axes so it aligns with a rose here. Now we can play with the outside parts. What's like these? Let's select only this part here. Grab it and x axis in. Select these to grab them in. Exact in next taxes. So deko out as well as this one. Select this Vergis e here and make sure it goes inside because we can also skill this inside. And you can see here that we don't have any distorted points except this one. So let's pull it out. And I think that we will add an under loop cut here in the middle. So let's see if we need to add it. So I will select this point here, grab it in X axis as well. Okay, it looks good for now. Now let's the left this one as well and add and grab it in X axis. Select. Add a little good here on a loop Could here. So then I can simply Thetis x axis. And here we don't have any distorted points like this. Pull this a little bit out. Grab this x axis Onley a little bit as well. Is this one? So, guys, it is a little bit um you need to be a little bit patient for this type of work because we want the quality of it. And that is simply why we do these corrections. And we don't want to have any distorted points once we start applying our applying our materials. And I saw one inside and I will make sure that I that we don't have it two times. And this is the last point here. I think off this Rose, Grab it. Set taxes. Let's bulletin! Why axes alone? And this point here we will pull at this point here will pull ex taxes. Let's make sure it goes like this. We can bring it out this point and grab it in X axis. Most were down with that. Let's add one more look good here and grab it inside. So, guys, this is the last point here. Let's go into X ray mode. Grab it. And egg sacs is Oh, he didn't see this. So let's add a circle a loop here. So let this this point here, moving in X axis and as well as this one can also pull it in x axis and simply pull this down. So, guys, we are done with this outer point off our rose. Let's do a loop tool circle one more times. Kill it down. SZ zero So that is four flattening your flattening your vergis ease. So they are Flett, let's pull this a little bit in X axis. Okay, so we are done with the outer layer. And now guys, we can just see where we have distorted points. And if we can dissolve some edges, let's resolve these so that we have a few less Vergis is than we had before. So it is easier for us to fly our material. So, guys, we are done, I think with the Rose. And now let's see that inside distortion. So here it is not this door did. Let's see, let's kill this a little bit. So we will skillet a little bit in. Why axes only a little bit and skill in that minus. I skilled this point on. Well, guys, So we are done with the modeling with creation off the rose. Now what we want to do is we want to go ahead and apply our materials for the rose. So seeing the next video guys 5. Applying Material To The Panel Part 1: Hey, what's up? You guys welcome back to the fourth video and now let's make some materials for the roads. So before that I want to add a solidify modifier to the outside leers, as I did with the previous ones. So I will add a solidify and the thickness will be 0.1 So I'm not going to change it. It is going to be default and also a less added here, so solidify and also to this one so you can see the incident change how it looks now What I want to do is I want to go here on shading opened shading tab and I can see the rose and it has the the shadows and everything. So let me just select this certain these circles and I will delete them so because we don't need them right now. So once I go here on sheeting, I will select the inside the inside off my pedal Here, go here under material and we will apply them on the material. The texture that I found it on Google so you can just type down a paddle paddle texture and then it will pop out to on the Google and I use it just because I love the results. So let's begin. Let's start applying it so we will add a new material so pressing and here on the right side, when you once you click on material properties, you can see these options here and I will play with the nodes a little bit. So I will add a with shift A. I will select the search keep and I will tie down image texture so you can go also shift a angle here on texture and you have all of these pictures and you can just select the image texture. Now I will select it and connected with base coat. Now, once I'm done with that, I will select open if I go here on my desktop and here I have Rose pill, I will open it. Once I open it, I will simply select all of these pedals that I don't want to use right now. A press shift with all of these and simply press h and I can also do it like this press age and I have the inside part, so I will selected and hide it as you can see here The this is not right. So I will press one Go to edit mode, select this point here, press you but without proportional editing I'll press you and I will mark Aseem So it will divide this flood this pedal to two halfs. And once I'm done with that, I will press a you and then unwrap like this. And here we will move this a little bit up. And let's connect these two. Because we will not need that that point. So here I will open this material. So on that stop I will select this rose petal and then I will simply press you. Let's assign this material. And here we will go to you. The editing now here I have my let's move this. But so this is the basics of UV editing. I will select this. Scale it down so it will not change. The the Vergis is here, but it will change the texture. As you can see here I will zoom in. Once I rotated, you can see that it is changing and I will pull it down. So at this point I will hover above my my burgesses here press l And now I can simply with around. So I will. So here you can see that everything is what except this point which is facing here. So what I want to do now is I want to select the bottom part. Here s Y zero ur we'll grab it skillet and aligning with this, as you can see here. So I will do that same thing on the rest of these. So s Y zero flatten these vergis ease, pull them a little bit as y zero. And basically, that is what I'm going to do to the rest off the perils here. It will take some time. But trust me, you put some music on on. Just enjoy yourself because this is really, really going toe going to help you with the nerves with everything you will be. Really? Really. This is for on distress. Basically, if you have a stress ball, you just move it aside and select this. So what I want to do is I want to grab it, pull it up here. Aligned with these vergis is so horrible. Select these vergis ease and make sure that they are aligned with each other because I will show you one sandal. With this, I will show you what I'm doing. I will tell you what I'm why I'm seeing those things. So let's pull them and align them down with the Firdous ease. So grab them online. Them grabbed him, lined him like this. Let's do the rest, and I'm going to show you. Then why? I mean by aligning them and why it is important to align them skill down. And these are the last steps. Skillet and us do this point here. We will grab it a little bit. Select these Vergis is here, so these inside pulled them up. So, like these to pull them up and let celebrities and pull them up. So once I'm done with that, you can see here that we have a clean cut. So it is not going to be here. We have lines that goes that go on the same way and you can see here that the texture is amazing. And if I, for example, select this whole row here and grab it down, you can see here that we have, ah, line that I really don't like and here we don't have a line That is because we aligned these two textures to be the same here. Because we have a lot of a lot of nerves from the pedal here. As you can see, this one these the little ones and it will hold a full show here. So we added the texture here old age. And we will do the rest of these as we added the inside part. So I will go in at it. Won't go in X ray mode. Select this part here We will go. You Mark seem. Then I will press a on my keyboard you and then unwrap. Once I'm done with that, I will go here on material and add that material that we added before. So once I'm down with that, we can also go ahead and hide the rest of the flower here. If it is easier for you can do that. But you don't have to. Now it's high. This one Make sure that we have this. Now let's select this part here. Rotated scaled down. Grab it here. But grab this one. Rotate rabbit. Teoh, Here it's kelly dot Now we will select the bottom urgencies s. Why zero wrap them down, skilled and down. Now let's do these skill them. Skill them up. So make sure that they are flat. So they are horizontal, not distorted like this. And the last off the bottom is going to be here. Let's scale it up. I like this analogy. Duty up the the second part here. Well, it's elect this row. Here s Y zero. Grab it here. Scale it a line. He's Mr White 01 more time. Grab it down. We don't have to Skillet, but we will need the's where sees a big town as well as this one. I know here we will not that I will select thes and moved in so they align with foresees down below. So that is what I'm going to select and a line like this and guys, because this is going to take a lot of signs to make this I will simply on to the night. On the next video, I will show you the end results off each pedal because they are not going to be. They are not. As you could see, they are not the same size. They're not the same shape. And that is why this this material is not going to be applied the same way. You can also use the nodes to make your own material. But I found it easier for me to apply the image texture and to show you how the image texture works. And I You can also do it like that. But if you launch to make your own texture, you can. So once I'm down with that, it will look like this and it will not have that lined. It grows line on the on the half of it. So, guys, I will do the rest and then I will get back to you. And I saw something that I really don't like. So I will select this edge here. Press X, these old edge and then I will pull these up. So I'm not going to change. Basically, I'm going to change thes points only. So let's elect this row here, grab it in X axis in y axes. So on the shading point I will do the rest off these off these pedals and a d and I will show you the end results and we will do the step here. So let I will see you in the next video by 6. Applying Material To The Panel Part 2: Hello, guys. Will welcome back to the fifth Videos. So now one thing that I want to show you Hear what I came across. So I've pulled these a little bit up, so it doesn't have much space here. So how did I do that? I simply selected this row here. I've deleted it. Dissolved edges, press two times J and pull this up also. I selected the bottom and pull it up as well. Like this. Now you can select this row of these two bottom rows and scale them inside. Or you can simply add one more loop cut. Not there. But here. So command are you can add a little good here. And once I did that, I can simply add I can simply skill these down. And also, I can go from the side and pull these Ah, little back inside. So I will select these throws here, and I will grab them in. Why? Axes and I can also add a few loop cuts here at the front. So I don't have any distorted parts. So that is one thing that I wanted to show you. And also, let's pull these a little bit inside as well. He's this, but this will not be shown. And you don't have to. Um you don't have to do it exactly like me. So don't worry. And now, once I'm done with that, I will press one of my keyboard. Go and front or too graphic view. And I will you mark seem. Then select old you on rap. And here I will add this material battle material. So I will do exactly the same as I did before. So I did a couple of these flowers pedals. So I will show you one more time how to meet this This structure appear on your on your model here. So what I want to do is I want toe S Y zero. I want to scale its 20 this bottom one. And here you can see that some off the Verdecia are overlapping to are going to fix it. Okay, here. We don't have any overlap here. You can see the white spots here. That is because it is a little bit turned out. So how can we change this? We can simply select these two over disease and skill them out. So, like these two Vergis ease unskilled amount as well. So now here we don't have any, Uh, any distortion. Now, here we will do exactly the same thing as we did before. And let's do it here as well. Grab it, pull it up. And what we want to do is we want to skill these as well. So it's like thes four vergis. He's skilled them outside like this, select these Stuber disease and as well as thes skilled them out. And we have a problem here and we're going to fix it. So let's see. Here is a little one. Here is the second row and here you can see that this is overlapping. So this one is here, so we won't move it aside. So here we have old quads that we need to have. We will move thes a lot. So now once we're done with this, we will one more time scale it in the Y direction. So we are going to flatten it up So it aligns with our We are texture material. Super nice. Grab it, Pull it Now This one I want to scale it and ask why Zero aligned And so it is horizontal now with this one. We want to align it just where our connection is here. So we will mooted in XX is a little bit and bring it down so it goes down and once we're done with that, we will have that nasty looking line here. But I will show you how to our how to make it. Do not appear. That is what we did in the previous video. But I will show you one more time so you can so you can see why I'm doing that. So I'll pull this out and here I will select this thes rose, bring them up, skilled them out. And now what we want to do is let's like these two and bring them in. XX is a little bit more and these two as well GX Now I want to align these lines with these lines because now here we have this awful line, as you can see and we don't want to have that. So I will select this thes Vergis is, and I will align them with the with the vergis ease next to them. So basically, I'm aligning those largest teeth. Let's make this apology good. So everything that we do here is going to be shown on the paddle on your right here. So one thing that I want to do as well I want to pull this up so it will follow the weight . This pedal is so as you can see here, we don't have that rough line on the on our pedal here. And yeah. So what we want to do next is we want to apply the material to the rest off these pedals here and also what we want to do as we did with this one. So I want to select. Let's hide these. Let's elect this pedal here. We want to move this a little bit up. Pull it. Let's see if we need to Garrett off some of odysseys. We will see in the minute. Let's pull this up and let's see if any where we have a distortion. Okay. I think that this is quite good. So what I want to do now we can skilled a little bit down. Okay, so we skilled this a row here as well as this one. So let's pull these two xx is and these two Okay, let's pull them in X axis as well. Well, so once we are done with that, let's bring this a little bit up as well on a little bit. And now we can start applying our material. So you Mark seem than a then you and unwrap. So that is what we're going to do. And here on the material, we're going to press this material. So this pedal material and it is going to be shown here. Here we have a double. Uh, we have a face here and we don't want to have faced there. So what we want to do is let's select this whole row here, press X and then delete faces. Once I'm done with that, I will select the whole row and add a circle. Then I will rotate that circle. Let's do one more time. Growth it inside, axes on that circle on. Let's see if we can make it look good. We're going to rotate it, Okay? It is basically going to let's see if we can do it like this shift and okay, we're not going to make it. We're just going to pull it and move it a little bit, so it creates something like a circle. So the half circle that we want to have here, Well, uh, we're done. So you don't need to use the loop tool for this. Like this. Well, uh, I like it. Someone sent down with that eyes go to edit mode, press a select everything, but you can see here, and I can start applying my material, so I will pull this up. Scale it. And now let's start what's killed. This s Y zero. Pull it down as y zero. Scale it up and let's do this one. Grab it up. Now here we have a lot of Verdecia that are overlapping each other, so we're going to move them. So again, these murder sees rotate them a little bit. Okay, Now let's grab peas, X axis. So these three are the last burgesses, so they need to be here now. These two are the second. These three are the third. Let's find it. So it is here, Grab it. Acts axes. How will? So he untangled this part. Now let's do the second half. Let's follow this line. Grab it. But it here No, let's do the second. What? Let's find it. So it is going to be this whole grabbing. It's going to be 2nd 1 and what we're done. So now what we want to do is we want to kill them in Why Axis? So they are flat, horizontally like this, and let's do this one as well, so we will skill it up and bring it down. Once we're done with that, let's move these voters. He's off a little bit like now let's do the arrest of the flower. So let's do this part here like this. Align it with the bottom one, klutzy it is aligned. And now let's do the rest. So we're going to flood in it out as we did before. Scale it up, flatten skillet like that, pull it up. And so basically what I'm using the keys that I'm using, our SG and Daddy's all and for the for the modeling, I use proportional editing. So that is Oh, shortcut. Oh, and also are used a couple off modifiers and well, so now we don't want to have that rush line here is you can see it. We want to move. These Vergis is a little bit on Lee. So in X axis. Let's use it. So if it for example, disappears as this, I simply press h so I hide it and we don't want that. So we want to jail because J. H is next to G. So that is the problem. So we selected D's. Make sure that they are aligned. They don't have to be right on the spot align. But if you want to have a cleaner, clean your material, they need to be right there. As you can see here, we don't have that harsh line. So this is how it is going toe look like and we will play with the roughness spectacular and a little bit of these properties there. So we only have these four more, I think, Yes, for more Last four. And I will see you one is done. See you in the next video by 7. Last Touches To The Materials On The Petals: Welcome back, guys. Stood a six video and as you can see here, I've done everything except this one. So I wanted to show you I for this one. I I will do everything that I did with this one with this pedal on the left so we won't go in at it mode, Go and decide view and we will select this whole row. Here we will delete it. So dissolve edges and we will pull this up like this. Now let's pull these up as well Like this. And here you can see that we created the Lear. But on Lee, it is shorter. Not what we want to do is we want to select this row. These two rows Onley these two and skilled and down by scaling them down and moving them in . Why axes we will created. So it looks like it is right on top of this. This pedal right in front of it. So let's pull it a bit up like this'll in Why direction? Let's see. Ok, and now let's do this part here as well. So we'll scale it down and move it and y axes move it in y axis like this. We will have something that looks like this here. So move this federal to decide here and grab it in X axis ability. Sigh a little bit. And also, I will pull this stuff. Let's move these Vergis ease as well. So grab them a little bit here. So something like this. And also let's play around with this part here is well, so removing in X axis on Lee a little bit. And D's here to call them in X axis down. I want to put this go tell and create this'd effect. Okay, well, let's see how it looks here. We have one distorted point and we got rid of it. So once we're done with this, we will go and side view press tab to going to edit mode. Select this row. Here, you Mark seem and press a and again you on rap. Once we unwrapped this thes reddest ease here. And you the editor, we will go here, applied this material, and this will pop out. So now we want to do the same thing as we did beforehand. So let's rotate this and scale it down. Here we have one overlapping Verdecia Google. Make sure we don't. And now let's start. Let's start with the UV. So here and here we have to vergis ease that are connected. So now we don't as y zero scale it down a little bit like this. Grab it and pull it all the way here. Now we want to align it as we did with the previous pedals. You want to put it here? Skated a little bit more. Grab it. Well, I So now a let's make peace is well and the connecting point is going to be somewhere here . No, we want you so like this Grab it's killing and align it with the bottom one like this. So, like these two rows, skill them if it's necessary. Now let's make sure that the rest um the you ve you ve are flat so that they are horizontal . This out here, pull up skill down Thesis up is well align it with the federal that we have for the UV unwrap for texture. We'll pull this up and not what we want to do as we did with the previous Purnell's Let's for sick dese up here, grabbing them and now what we want to do is we want to select thes Emel, pull them in exactly so g X and moved them a little bit and aligned them with the bottom ones as well as here and here. Now, you can do this if you want to, but I don't want to have a clean playing UV. Here. You can see the distorted part. I don't want that. So here you can see that we don't have a line there. The harsh line and guys, this is the result off our flower. How it looks. We are just going to play with the's just a bit. So kill them inside. Let's see now looks front better and let's move this one in x axis a little bit more. Okay, So, guys, we are done with the flower, and this is how it's going to look like in render long. Let me just show you because we don't have a light. We will add the light. We will add a spot for now, and this is how I was going to look like. But we will play also with the material, and we will make the roughness a little bit more up so let's see upward down so it cooks fresh. If I don't put any roughness on it, it will look shiny. And it's not to my liking. So what's put it as zero point for 80? So it has a glitch off light off this reflection, and now all its please with spectacular making put it like this way are going to render it in cycles. And this is how it's going toe look in cycles and let's change the roughness, little increase the roughness and increased. Okay, I like it like this. So now let's move one and do the stent and let's finish this up. So see you in the next video guys by 8. Modeling The Sepals And The Hip Of The Rose: he would be. Guys will come back to the seventh video in this video. We are going to make the stem, and we're going to make a part off our rose. So the first thing that we need to do is let's set our cursor to the center, so shift. See if your cursor is not in the center, we will add a cylinder. Your cylinder is like this. So it has 32 Vergis is and it looks something like this. And we will change these 36 Vergis ease by going here on add cylinder. And here we have some properties of our cylinder that we can adjust. So here, under Vergis, is I'm going to press five at our will. Our flower is going to have our stem is going to have five Verdecia, so 55 leaves coming out off this area here. So let me go to solid milk here, so I will Skillet, darling, and I will bring it down to here, so just grab it in that direction. Okay, so we will make this part here. The hip, the seat poles. And also we will make this stuff. So this is a step Now let's go here for preferences. I just go on Google time down and I see old pictures off our rose and as well as here I did it the same. Exactly exact thing here. So yet now what we want to do is we want to scale it in Zet axes, pull it down a little bit and add a subdivision surface modified. Once we added a subdivision surface modifier. We want to increase the subdivisions in view port to to And now let's hop on and do the magic. Now we want to go entrance in edit mode transferred X ray, This one here and now Let's start. We will select the bottom first, grabbed two times and extruded once. Now, when we extruded it, we want to scale it down and x shooted one more time down like this. So once we're done with this, we will select the top row. Grab down, pull it down, go from the side and insert the faces So I press ay and inserted faces. Not once we're done with that, we will go here on face elect and select these faces Once we selected the faces we want to go to front here on the pivot point, we want to change it to individual organ. So here you can see pivot around each objects own origin. We want to extrude it, extrude them. But we will go here on extrude individual selected and go here extrude individual extruded up and change this pivot point to media point and scale it out like this Once we are done with that, we are going to be selecting old the front old the top faces here and now change the pivot point to individual origins and scale it down like this Once you scale it down, we want to select old inside parts old inside Vergis ease and edges like this are Leafs face And then once we selected everything like this we will scale down So skillet inside you can go like this Feel it inside Let's bring it up a little bit and will now these are sicker. Once we are done with that, I will go on, decide view and select all the faces from the top side view or the front view It doesn't matter now we will go here individual origins and we will extruded for one more turn and skillet extruded one more time and skill it and bring it down. Let's see if it's good. Yes, it is. So we are done with this part here. Now let's go on to the next to this temple to the hip. So we will go to our get mode press shift, smooth shades mood to make sure that it is. It has. It is smooth. Now let's go to the to the extreme mood. We will add one one, little cut here. And it should look something like this. Now for this part here, we want to add one more loop cut like this, and let's watch it from the bottom. So you can just press, uh, about your tab key on your keyboard. You have a option and just press it. And press body not what we want to do is we want to select all these faces dead. Are that are facing this'll all of these faces except these in dissenter. Okay, these and skill them up. Kill them up. We're not going to extrude that. Okay, let's pull them up a little bit now. We want to select this point here, grab it two times and scale it up. And this one, we want to select all of these Vergis ease and grabbed him inside as well as this. Now let's move this up. And here we have a hip. So the hip off our overheard flower here we can skill the this if we want to. I think it looks much better like this. Now we can add a couple of loop cuts here as well. If you want to, you can add it. I add these. Okay, they are really nice. So now let's hop on and do the rest off our flowers. So the stent and a leaf ceiling the next video by 9. Modeling The Stem And The Leaves: Welcome back, guys today a video and now let's make a stem are flower. So what we want to do is we want to go into edit mode, go to X ray mode, skilled his down, grab it up here, let's make some adjustments to this. Grab it down. So we made it like this. Now what we want to do is we want to go here file and save your file. Make sure your save your file and now let's continue on. So in extreme owed, we will ex shoud this a couple of times after here. I think that is just funny. Okay, let's do one once more. Street it one more time to here, OK, Once we're done, see how all the older roses have like, streets and then go flat here. You can see that heroes So they go. They have a little cur and a little a little connects a Comex part here. So we are going to do that. Let's go and make this belief. So I've added to here. Let's press one. We can do it from the front. I will grab it in X axis a little bit and see how it looks right now it looks much better. So I will hide Hide a camera for a second. Let's go and do one more bend here and at the end is going to be like someone cut it like this. Ok, so now what we want to do we want to go here and we want to select these three thes two thes tour disease. These two edges shift s encouraged her to selected so it's going to be right on the front, or we can go over to see select So left all the three virgin sees shift us and yeah, it is going to be practically to see. So what we want to do now is we want to buy shift A. We want to add a cube is going to be subdivided because we add a subdivision here. So what we want to do is we want to add four loop cuts. So right on across, all right in the middle. So, like this. Now what we want to do is let's look from the side and we want to select the whole cube and feel it in y axes like this. So if I go in object mode. I can see it. Let's kill it a little bit more and more access. Okay. Like that. Now, what I want to do is let's go in X ray mode. We want to select these edges here, grab them up to here so we will create something like this. Now, let's let these four thes four emergencies, these four, and extrude them so we will extrude him like this. That's extruded one more time. Okay? I think this is too long and we can just hear Dissolve edges and well, everything is now. I want this. This'll hand off our of our branch to look slimmer, so I will scale it down and I will grab this part here. So it's going to be thicker here on this part and slimmer. Done. We'll add a couple of little so you can see what I'm doing here. I will dissolve these edges and pull these up once I'm done with that are will shade smooth it. And here you can see how it's going to look like. Okay, so right now we need a weedy beliefs here. So what we want to do is we want to select the body here. Go tab. Select these two and shift as cursor to select it. So we're going to do it on the side here, Shift a But we're going to do it in a shift. A at a cube. So it all becomes one One object. We want to rotate it. Okay. Before we rotated, we want to skillet down. And why Access Rotated, Skilled down in X axis. And now let's start making this little guy. So what would want to do is let selected these thes for emergencies and skilled them in X axes like this. Not we want to go ahead. And so, like these forever to seize and extrude them like this. Once I'm done with that, I will skillet down as well as this one that was killed. These down. Add one more, loop it here and grab it up like this. Now I want to go here, select these four verses, shift us and then cursor to selected. We added a cursor. We want to go here and add a cube skilled at Cuban side like this. Let's see how it looks. We want to scale it in that axis, grab it down and set axes, but it ride in the center here. Okay, Now, once we are done with this, well, let's x shoot this point. So we want to extrude it, Grab it a little bit in X axis, Scale it up now Ex treated one more time skilled down in words And now we can skillet a little bit more and extruded No, Once we are done with this, let's elect this part here at another look cut and we can start modeling the leaf. So how can we model leave? We will simply select this part here. So this part here shift as cursor do selected. Once we added a cursor, we want to add a plain scaled the playing down and right click subdivided way. Want to subdivided 32 times? Okay, like this. And also what else we can do is we are going to be using proportional editing for display. Now let's go at look it from the top from the top here and you turn on your proportional editing. So the shortcut for proportional editing is O on your keyboard. So you just to know and what else I want to do? I want to select a Let's undo the proportional editing. Select this once, grab it two times and pull it right up to here. So this is going to be the beginning of our life. Now let's continue on so we will select. Believe here, grab it in acts, axis. But let's turn on the proportional editing and we want to pull this in X axis. Now you want to go here, select these two and skilled in inside, but without using proportional editing and make sure that the pivot point is media point. Grab it in X axis And now let's use the proportional editing. So what we want to do is let's let these two skilled them. But I'm sure that the pivot point is on median point really down. We will increase the size of our of our circle here a little bit like this. Let's let these two as well, and we can. Skill does insight like this. Now you also like these two and scale them as well. Then, once we aren't done with this, we can just extrude this point here in X axis and we will have something like this. Once we're done with that, I will select believe here and extruded or I can separate advice, election and then applied to solidify modifier. But I will extruded for enough. So, guys, this is look, shades moded and well, so now we can go in edit mode and align it so it looks like it's bending. But we're not going to do that right now. What do that later on? So for now, let's just select the bottom or disease here off our belief and bring it down. It's so in the center it looks bended, and also what else we can do is we can select the top emergencies as well and grab him, hold him in sight. So it looks something like this. Now we are done with the leaves. Let's pull these a little bit off to a little bit up. Well, so now we are done with these. Let's select this part here, so we want to go in Vertex mode, wire free, see where the lines are. So let's elect Onley this part here off our body. Grab it up without the use of proportional editing as well as these. Pull it up. So right now we want to sell it thes skill them any Y axis. Hold them in X axis and golden inside like this. You can't kill it a little bit down as well y axis. Well, so we have the leaves. This is a little bit too, too big, so I will scale it down. What's it like? Only this part here. Skillet in a Why exits? Okay, Once we're done with that, let's select only this part here without this one. These two grab them in. Why? In XX ISS pull them inside. And also we want to select the leaf and grab it in X axis and put it inside of this likeness. So we have one leave and we need 12 more. Let's elect these Vergis ease and grab them two times. So we pull them inside like this. Let's select the leaf with the l and this part here. Shifty. Rotate in X active by 180 degrees. Is that access? Excuse me. Grab it in. Acts axes. Grab it in y axis entirely right across this party. So as you can see here, they are really, really, really small. And we want them to be bigger. So how can we do that you simply select them. So let the whole part here as well this part and scale it up. Grab it, pull it inside, grab it in y axis and you can see that it is a bit bigger. So once we are done with that, we will rotate this around, grab it in acts axis. Also. What else we can do is we can pull it off a little bit like this and let's make one more. So let's press. L l bring these down a little bit shifty. Rotate in that act is by 90 degrees, but rotate in X axis by negative 90 degrees. So minus 90 degrees rotated fire ourselves. So let's pull it in y axes, then in X axis. So after here now, once we added the leave, let's press L l rig it up here, Rotated page more, a little bit more me to rotate it and pull it. Grab it in acts. Sex is and well, so we have the three Leafs and the next thing are the the points here. So we are going to make the the okay. We did the see Paul's hip pedals and all we need to do our thorns. So we are going to make Dorrance in the next video. See, there 10. Modeling The Last Parts Of The Rose: Hello, guys. Welcome back to the night video. In this video, I'm going to show you how to make thorns and also how to bend these See Paul's? So now let's begin. Took like on our stem here. And we are going to be selecting these Verdecia. So these two over disease shift s cursor to select it. Now we want to add a plane here, Scalea down and rotated in y axis by 90 degrees. Once we rotated it, we want to extrude it and we will have something like this. We will select these two burgesses here, grab them up and select these four Vergis ease extrude them one more time and pulled them down. Once they are down, we want to scale them so skilled and like this add one more look good. Here, grab it a little bit. On this way, Let's make sure they are straight like this'll. So in y axes we will move them a little bit like these shade smooth. Let's elect thes two burgesses. Grab them up and grab them in X axis. So, Diego, inside. Uh are you are Rose here? So what else we can do is we can skill this down as well as this point here, we're going to rotate this part like this and kill it a bit more. And, well, we have thorns. And also we can skill this part here as well. So we have a more slimmer, slimmer, slimmer toward grabbed his down and grab this in y axis. Also, we can add one more look good here a year. Let's add one more old cut here and pull it up like this solid mount. You can see how it looks like and I will select these two vergis ease and grabbed him and pulled him inside off the flower. Rotate them a little bit. And here I have my thorn. And what I can do right now is I can separated by selection soil press p separated by selection. And now I can go here at modifier, and I can at a rate modifier, but it is not going to be on the X axis is going to be. I can add it in that access So it goes down like this. I can adjust it as I wish. You can put it like this and also I keep pull it in X axis. But for me, the easier way is just too shifty, duplicated and put it wherever I wanted to be for shifty. I'll bring it in y a. Instead, Axes rotated a little bit rabbit in X axis, rabbit in Y axes. Lola. Done now always to a couple of these on the other side to rotate in that access by No. 180 least rotate a little bit more. Grab it in X axis, rabbit up. And here we have some Dorrans. I will do a couple of D's as well, so I think that that is fine, just fine. So we will have 44 Dorn's for this gross here and now. Let's make some bent on our on our people here. So what I want to do now is I'm going to be adding a look good here on each on each of these beliefs. Seat both, and once I'm done with that, I will select Onley these inside, so I will select the whole road that's going to side. So like this, these visas Well, once it selected, let's press one press C on your keyboard, middle click and drag it up to here. So we d selected everything that we don't want to be. Want to be selected now, Once we're down with that, we only selected the Leafs. Now, change this pivot point to individual origins and we can scale that out. Weighed out the the points here. So let's make sure that we didn't sell like the bulls. This'll scale it. Press fun, Skillet. Let's change it to media point. Okay? We will do it in media poor, not individual larges. And we will create some off the some of the geometry. No. Once we're down with that, I will select this row here This road and I will add Go here. If you want Edit operators search and hook, we want to add a cook. Once you press hook, you will have reset hook re center, hook hook to selected object hooked to new object and all of these and we want to add a hook to a new object dear here as well. So I can also add this hook pressing on control h And here I have all the hooks, Aled, the hook properties. So here I have hooked to new object and I will do that So I will select this whole rope A whole row of urgencies control age hooked a new object. And we'll and also I will do one one more time here on this part, hooked in Europe. Now, once I go an object world and I moved these down, so grab them and moved them down. You can see that they are slowly bending. So that is what we want to make. We want to make the bend here. And let's pull this up here. And what? So we will make a bent like this? Let's grab is actually a little bit so we can make the bend that looks like this. So it is a smooth bent. What Cruelties down, Pamela. So it will look something like this also, you can move it on the axis. So right now I moved it on the X axis and we will do that on each of art stems here so you can watch me as I do it. So control age took control. H you object Control h. And on the last piece here, h took. Okay. Now let's do it. But the doctor pulling town and these are these don't have to be the same. So don't worry if it's not the same. And let's pull this a little bit inside like this. Let's do the three rest off the rest. Our flower had object. Good, transparent. So each and did it. You know what's make thes. So if you're done with these, you can just select them and delete them. I think that we can do that, but it's going to be reversed, so we're not going to do that. What? Select this part here. Grab it down as well as this one here town. We can pull it in X or Y axis if we want to grab it here. Now let's look this board here and Lolita. So we're down with these three. I'll just make sure that this one is a little bit down as well like this. And let's do these two so I will get back to you once we are. Once I'm done with these two. So see it in a couple of seconds. Guys, I finished these as well, and this is the final look off our rose, and the last thing that is left for us is to add a to add a material to the stem and told these down part. So see you in the next video and we will finish this, of course, on doing the materials for the Rose. So let's help on to the next video see their my. 11. Applying Finish Materials And Settings For The Final Render: What's up? You guys welcome back to the 10th and final video off this course how to make realistic wrote. So what we want to do now is we want to pull this up, change it to Shader editor, and also we want to pull a new window here and select the image editor. Once we're done with that, we will select our our body off our rose and press new Now we will not use be SDF principle be SDF. But we will use a lot of notes that will create um, specific texture. So it is going to be complicated for beginning. So I'm just going to go through all of these knows at once. So I will explain how I call now. I will add a texture Editor Dexter Gordon it here and then I will use mapping here. So I will connect now the object to the factor object to the factor. And once I'm done with that, I will shifty. I will duplicate this mapping here and also our will attach object to the factor. Now. Once I'm done with that, I will go here and decrease the size off the set scale to 0.0 0.0 50. And now let's start applying these. So I'm going to add a geometry here and noise texture. Nice job. We want to, um, select point iness to roughness and and connected together. Once we're done with that, we want to check the factor to vector connected together. And then let's see how it looks. Go in render mode or in or in preview mode is going to look so I will be going in a render most for now. So this is how it's going to look like, and we're going to change the scale to one 1000. So once 0.0 and two point zero here for the distortion, we're not going to change anything. And let's just pull them like this, Okay? So not once we are done with that, we will add a color ram color ramp here, and we will set the values as they are all here. So now we will use one more. Colorado soldiers duplicated and changed it values so that black is going to be 50.5590 point 6 560 song and this one is going to be a little bit closer to the black to the black here and now we will add a mix RGB Now we want to change this mix RGB two overlay But before that we want to connect these two to mix RGB and change this mix too overly Now we will increase the factor value to one and let's pull thes two here now once we're done with that, we will add one mix mix RGB one more but now is going to be mixed RGB we're not going to change that. So for now we will use mapping and also here we will add a little, add a separate RGB and connect vector to image and then be to color too connected and you can see here that agreed in color that we want to so on the bottom is going to be darker and on the top is going to be brighter and that is hope for this park. Now we will add a noise texture but above at a noise texture, connect the factor to the factor and then we will add another RGB here, connect the factor to factor and play with these values here. So let's see. Black is going to be do 86 the white is going to be somewhere here, here, like this. Once we are done with that, we will add a new color ramp. So this collar ramp is going to be here and we are going to change the color off these of these little boxes. For that, we will need an image. So this image is going to be the rose and we will select the black part off this color ramp and we will select the third this part. So it's going to be like green green brown color. It's going to be dark car Now we will add on this. Plus, we will add a new color that is going to be darker, green or lighter green. It depends on what you like. And also I'm going to add one more color. There's going to be like this. Okay, so now once we're done with that, I will go here and I will add a green that is a little bit on the brownish side. So this green and for this one I will add a different green. So it is going to be lighter green from this. What's used this. Okay, now play with these values here because you can see here we will move this up a little bit and you can see the greedy. And so up here we will have a different different color. So here on the noise structure, we will increase the size off the off the scale to were trapped 25,000 and on the detail is going to be 2000 and we're not going to change anything else. So because we're done with that, let's move on and continue with these. So now I'm going to add a hue and saturation here and connect these two and I will change the hue to 0.5 480. I will change a saturation to zero point 880 So it's going to be darker color and its value . I'm going to change to 0.600. The factory is going to be one. So as you can see here, once I go like this is going to be darker and we want it. We want to put glossy eso. It looks like the the rain has fall, has fallen to for on our Paros here. So what we want to do? You want to use a glossy beyond the F and connect the Colorado to glossy BIA's. Yet now we will add a diffuse, also diffuse Bs. Yet select these two. As you can see here, it is much, much darker, so we're not going to play with the roughness. But we are going to add a mix shader here. Let's move this up and let's use a mix shader For this mix, Shader R will select these two and connect them to the shade. Er's only these to move these down. So as you can see here we have like grayish color. Now we will add a mix. RTB makes RGB put it right here as connected to factor. Now we will add a layer Wait, connect this friend sell to the first color. You can see that it is a little bit dark and see how this is turning out for us guys. So we will add a few more changes to the notes. We will add another cholera. Let's use this one shifty. Pull it up to here. Let's connected to other Colorado, so we will change the position off this little bit here and this is going to be near it. A connect color to factor and then connect the colora map to the mix. Shader but mix shader. We have to add one more mix Shader here connect these two together. Let's see how it looks like. So we are going to connect the color to factor factor here. Okay, so now it's It's very good. I like how it turned out to be so. We will also add a translucent be stf here translucent Biest Yes, we will connect the color, not a factor, but we will connected to Shader and color to factor. Once we're done with that, we will have something like this. So also you can play with the play with the color here so you can move it to make it greener. And also here on the scale off the noise structure. You can play around with these and have more more off a green color to the spiels. Here also the skew. You can play with the scale of these little dots here and we won't leave them to be one 25,000 like that. So guys we are done with, um with our rose here. And also one thing is left with are are thorns. And for you guys, you can just select this and get a picture off this. Okay? And once we're done with that, we will select these thorns a command, Jay. We will connect them together. Also this one command J and then we will add a new material that is going to be is going to be dark brown. So we will choose this color here. And also what else we can do is we can go here and add a lossy B s. Yes, way can simply make it glossy like this. So here we have thorns that we complete with the roughness on. I don't like this color how it is ready, So make it a little bit darker and play with the roughness. So it doesn't look so much like this. So let me just go here. So, like this color, it's going to be golden, but we don't want gold. Let's increase the roughness a little bit. Changed the color one more time. So you can also change the color here and you can choose whatever called it to want. I want to call. I want to use this color here. So it's going to be similar to adjust to our stamp here and also here. We can't change the details, scale the detail. We can increase to detail if we want to. But we will leave it as to 2000. Let's see what else we can do. Well, let's play with this a little bit. Okay? So I will move this down a little bit so it doesn't look that glossy. I wanted to be darker as it is right now. So guys, I think that we are all set to do our render So we will add our plane. Let's these so that they don't distract us. Maltese go to material out material preview. We can select this skillet down, Pull it down. Let's select this edge here extruded Is that access? Then select this edge and press command Be Now we will add plain that something like this we will shake smoothie and then we can add a material to it as well. So we will adding your material that is going to be darker. I like this color. What? So we can rotate it in inside axes by 90 degrees in negative 90 degrees. So minus 90 degrees. And once I'm done with that, I will go one. I will add a camera. Press seven, Pull it in in y axis right here, Press zero. And now we have a preview off our beautiful rose here So we can watching from the top. And for now, we can use also the for camera here. We can use the thirds here, but I think that is unnecessary right now. So once we're done with that, you can go ahead and Orender your render your rose. But we need to add lights. So let's hop on and do the lights for just one second. So I will on hide the light here, and I will make that light to be a spot by. But I will increase the power to 3000. Let's see how it looks like from the top. Okay, now I will use that same light or we can do area and we can decrease to 1000. Let's duplicated Move it to acts axis rotated two y axis by 90 degrees. Pull it down and we can also pull it what this watch from the top Rotated and we'll. So once we look from the camera view, it is going to look like this. Also, we can for our material here we can increase the roughness so it doesn't look so so it doesn't look so metallic. And also one thing that we can do as well is we can go here on our light settings and we hear disabled this cash shadows. Also, what we want to do is on the render settings we want to add. We don't have to add motion blur. But also, we need to make this, uh, to add Denoix Zinc There, we will go here on your earlier properties, Check the noisy and for our for our output properties. Little go here and choose the file where we want our render to be sent. So I'll make sure it is here except here we are going to We're not going to change the resolution. But if you're wants your file too sad on Instagram, for example, you will change this input for 1000 and 80 to 1 times in an 80. So it is going to be perfect square Now here we're not going to change anything as PNG on Yeah, guys. So that is all for this course. Now, if you want to render your rose, you just go here, apply, render image and you're done. So, guys, I This is the end of this course. I hope you like it. And I will see you in the next course by