2 best mates. 2 bikes. 1 beautiful country. 1 goal. To travel Cambodia dressed as Vikings... on Bikes.
In March 2012, we were sent an email by Amnesty International asking if we would like to ride a bike around Cambodia to raise funds for the charity. We accepted, on one condition. That we could do it dressed as Vikings. Amnesty agreed and after raising 7 grand for them, we were off on a whirlwind adventure around a country filled with poverty, hardship but, above all, beauty. Adorned with our horned helmets and dressed in the colours of the country we were about to discover, we set off for a 500km ride over 10 days, pursuing every possible aspect Cambodia had to offer.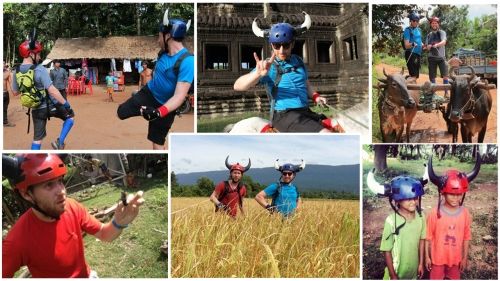 As often happens when two mates go traveling together, we began competing for "who will be the toughest Viking" on the trip (as if riding 500kms looking like idiots wasn't enough). We set out to find challenges that would push us to our limits and what we discovered was that with your mate by your side, you can do a lot more than you think you can. From rocket launching to tarantula hunting, dancing with local ninjas in Phnom Phen to suction cupping my entire body (and that's just a snippet), we did things we never thought possible and met (and interviewed) people who will stay in our hearts forever.
The Viking Biking adventure isn't just about having fun and showing the beautiful people and countryside of Cambodia, it's about two mates learning who they are and finding out what they're capable of. This is a story of friendship, adversity, beauty and inspiration that will not only entertain, but inspire people to get out there and make a difference themselves, to discover the world, to challenge their ideals and to make the most of this beautiful life we are given.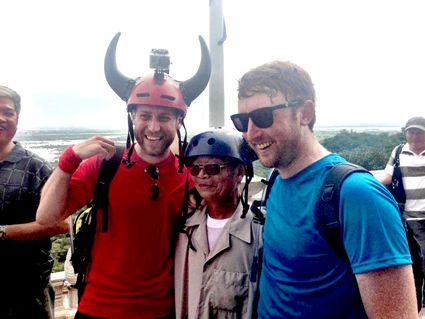 OUR AIM
Our aim is that once this pilot has been made, we present it to as many networks and production companies as we can, and, as it will be the most entertaining and wild pilot anyone has ever seen. Our overall goal is for us to ride six (maybe more) countries around the world dressed in our Viking gear, making new friends and exploring parts of the world many dare fear, filming the entire trip, show you aspects of the world you never knew existed.
We want to open people's eyes to the world, inspire you, make you laugh, entertain you and hopefully add to the current Australian television landscape by producing home-grown, good quality TV that people can relate to.