************************************************************************************************
SECTION 1
************************************************************************************************


1. Mind Map
I thought I already had a clear idea of what I wanted to do for this project, but decided to do the mind map anyway. The exercise proved fruitful, exactly as promised! I ended up with a ton of ideas around the central theme of "food":
Why food? It's my favorite topic, that is all.
I listed out four of the most promising subtopics (circled in blue) and jotted down some items I could iconify. Just when I was about to settle on "farmer's market," I looked at this website.
That got me thinking: it would be more of a challenge to illustrate the four components of the food system: farmers (or producers), transporters, retailers, and consumers. Doing fewer icons will also allow me to focus on each one more and make them better.
So, that is what I will do.
2. INSPIRATION
I've been looking a lot lately at the so-called "flat" style of design that's hitting the world by storm, epitomized by sites like Layervault. I find myself attracted to the simple shapes used in the illustrations and their brightly hued retro/mod color palettes. They have an innocent, child-like quality, reminiscent of wooden building blocks and books that teach the ABCs.
When I think of icons, I usually think of stripped-down abstract representations of concepts, like those found on The Noun Project. But going through this class' Dribbble bucket and looking at the class's example project, I see a lot of examples that are more elaborate and detailed. Though simple, each little icon here looks more like a vignette or view through a picture window, rather than a pictogram.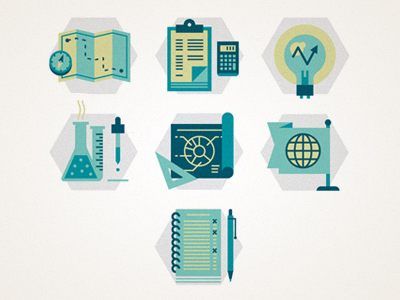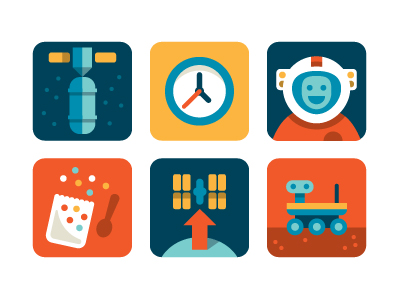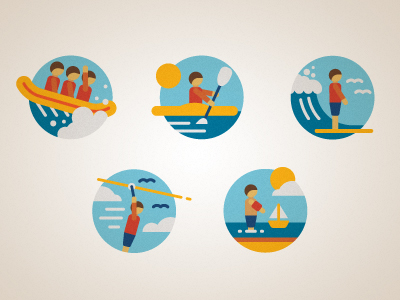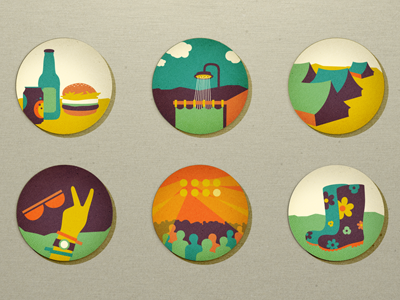 Even one with a restricted palette can be very elaborate: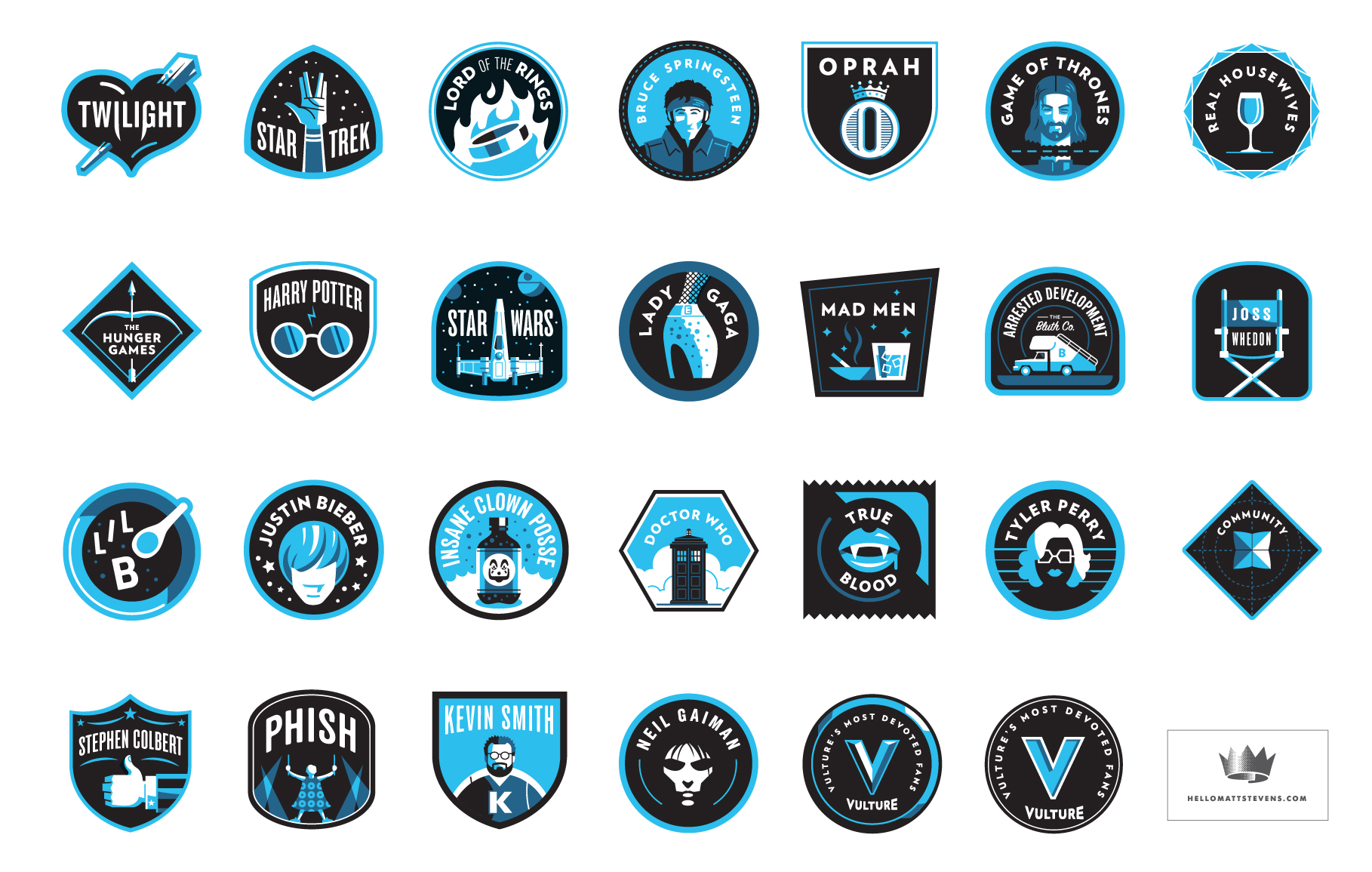 I also like the variety of shapes that these icons are framed in.
Those are just some of the things I'm thinking about as I come up with ideas...
3. Sketches
So... I learned that I am terrible at drawing hands. Which is going to be fun, because my favorite idea involves hands :)
I would like to try and illustrate the 4 roles by showing hands doing things. The farmer/producer is collecting eggs, the transporter is carrying a box full of oranges, the retailer is writing the day's specials on a chalkboard, and the consumer is nomming on a big bowl of salad.
Things I need to work on, other than learning how to draw properly: deciding on a consistent style, figuring out how to "frame" the icon, and balancing the level of detail so that it's still simple but also interesting to look at.
As I do these, I'm realizing how hard it is just to keep things simple. Drawing what you see is easy. Stylizing it, reducing it down to its essence is a whole nother playing field. I can do a decent photorealistic rendering of an actual hand, but man, iconifying it is hard!
4. More Sketches!
Boy am I behind! I've been busy sketching a lot of hands. I'm also still trying to figure out the composition of the icons. Switching to pencil helped. I could make mistakes more easily.
Also my scanner broke :(
I bookmarked a lot of hand reference icons on Dribbble. They are handy to look at....... Oh geez, I should go to sleep.
Thinking about hands in terms of geometric shapes actually helps a lot. I looked at a bunch of tutorials online and decided to go with one that taught a more cartoonish approach to hand drawing. So instead of thinking about the skeleton and the muscle and all that, you start with a circle, then you draw 4 parallel fingers off of that, and add the thumb on the side. So far this has worked well for the poses where you can see all four non-thumb fingers. It gets a little challenging with side views like the one of holding a pencil.
************************************************************************************************
SECTION 2
************************************************************************************************
1. Vector Hands, Take 1

Just for fun, and to try an extremely geometric pose on that one, I busted out the Illustrators:
I kind of like the result on the right, maybe because it's built from simpler shapes and therefore has that "gestaltyness" of circular forms. But it feels a little too geometric for me. I would like to go for some nice balance between pure geometry and pure photorealistic anatomy.
2. Vector Hands, Take 2
After a couple more hours playing around in Illustrator, I came up with this...
Now we are getting somewhere. It's still geometric and orderly, but now it looks a lot more like a hand to me.
3. Icon 1 + Colors
So far, I've only got this one icon. I am so behind! (EDIT: I just realized the class ended! That was fast!)
But not giving up! No, there will be none of that!
Okay... some thoughts...
I'm trying to keep the style open-ended at this stage. I really don't think of myself as having a go-to style. So I'm trying out a couple things...
I think in this case the stroke-less ones work better. The strokes are a bit too distracting. They're very contrasty.
I also wanted to try a colored vs. monocromatic look. I think here the color helps identify what's going on in the picture, but the monochromatic icons are quite dramatic. The bright pink hands make me happy, though they may just be a bit much.
Not sure how to make decisions on style. It seems pretty arbitrary here, especially since these icons are just exercises at this point. Lacking context, it's pretty much up to me to decide, right? Halp!
Well, I do enjoy where these are going, though. I'll work on more in the next few days!