Years ago, I attempted to make a gig poster for Reel Big Fish. I failed. Miserably. It was horrible. I aim to redeem myself this time around.
2/25
Venturing into the world of Half-tone textures. It definately adds something that was missing, but I'm not sure how I feel about using all of it. I am at least happy about ditching the clouds, those were getting painful. It's coming around but we'll see what I trash and what I keep.
2/24
Cut the colors down to four (actually four, not four sets of shades) and played with the background a little (gradiants will vary). After seeing some of the class resource videos on how colors can be mixed, I knew I wanted to see how much I could do with those limitations.
2/22
Small revisions, font alteration, some color changes. Just wanted to submit something for the latest class deadline.The clouds I'm beginning to hate a little bit, removed the stick man from under the whale, still playing with the color for the text as well as some of the allignment. I know I said I wanted to run with fewer colors, and although I have it down to four, I'm not sure having teh different shades counts under that four. What does anyone make of that? I've got the brunt of it down as it is, which leaves me with one week to focus on giving the poster some finesse, perhaps ways to add a minimal amount texture to make the poster seem less flat and give it some polish.
2/21
I decided to play with the poster a little last night, add white lines and grass marks to make the poster as a whole seem less bland and to add some movement to the falling whale (rather than just have it floating). Still not sure what else I can do at this point but I'm not quite happy with how it looks. It needs some more polish, I just don't know what.
As always, comments, advice and opinions are appreciated.
2/20
I've done a lot of work so far trying to trace out and color in the poster in illustrator, while deciding on color options, text placement and font choices, etc. Still have a ways to go before I'm satisfied but I'd like to post what I do have so far.
The font I drew out for the poster (in lieu of just using the RBF logo) turned out nicely, much beter than I was hoping. But I came to a crossroads with it, the top variant incorperating lowercase characters while the lower keeping with all capitals. For now, I'll stick with all caps because of some uncertainties I have with some of the lower case characters I made.
It took a while for me to find a set of colors I could really get behind, although this too isn't completely set in stone. I just think at this point I shouldn't be getting too worked up over color choice. Four colors to work with, plus multiple shades of those same colors that I got from a color harmony generator I use from time to time. (http://colorschemedesigner.com/)
Bob from Indianapolissent me a few color scheme samples that gave me some ideas on how I could properly implement color into my poster, specifically the image above working with creating those shadows by using that dark blue instead of dragging in a black. Still, since this is digital and not completely traditional I know I have a little more freedom with color options but I have to be sure to reign myself in if it gets to out of hand.
So these are my first digital drafts. I can't say I'm totally satisfied with them as they are but I think it's a good piece of progress to have them done digitally and in color. I want to say I'm moving away from the intial colors I chose, I feel the red in the first and earlier draft wasn't responding well with the rest of the poster. It wouldn't surprise me if I cut it out completely and focused on just three major colors. Threw in a couple extra items to the poster, the clouds and the man. Not sure about the man, just kinda having fun with a place holder I made and the clouds sorta make the sky look less empty. I'm not entirely in love with them though.
As always, thoughts and opinions are welcome and appreciated.
2/17
Polished draft, minor color treatment to sorta give me an idea of what kind of coloring I want to give the poster. The little shaky lines on the way are there to emphasize that it's falling, but I'm not sure if they are pulling off the job. Not too sure about the placement of the text either, I don't want to make it too crowded or too spread out. After seeing some of the examples presented in the latest lecture, I wanted to try to limit my colors as much as I could and see how much I could get out of them by mixing them together. Hard to believe that some of those poster have as many colors differences in them for the few colors that they actually used. So I took the Cyan, Magenta and the Yellow and did a little color exercise to see how it would turn out.
The color options were inspired by the art for RBF's album "Cheer Up!" (see below) and some of the background designs for the cartoon "Ed, Edd n' Eddy", which has an aesthetic I'm trying to capture for this poster with bright and summery colors. Nothing really written in stone here, I just thought it would be fun to share what I came up with.
Now I can start making the outlines for the actual poster sometime tomorrow but any and all advice considering color and the placement of the text would be absolutely appreciated. I hope to start picking up the pace soon now that I've reached the digital stage of the project.
2/15
I decided to establish what colors I wanted to run with for the poster design. After looking over some of the album art for RBF's discography, I decided in using a series of bright colors. The idea is to have the poster stand out visually, bright colors tend to have a way to help with that.
At the moment, I have 8 colors that I think would work along with the addition of Black and White. However I have no intention of using all of them for the final poster. Running too many colors would be a printer's nightmare waiting in the wing, so cutting this down to 4 (5 at the very most) should keep me in a comfortable place. Color choices will depend on the design I decide to expand and polish up.
2/13
Never mind that last sketch on the bottom, it was a neat but utimately silly idea. I figured it would be easier to have smaller samples. I decided to keep listening to the band getting ideas outside that of what I was getting online to what my mind made up with the music playing. The falling whale into the pool I feel was heavily based off of some of the posters I saw for the band's various gigs by Scrojo, I was considering a similar treatment for that one. Either falling into a pool or maybe just falling through the sky ala Hitchhiker's Guide to the Galaxy. Out of all the options, I feel it's the safer choice.
The second one is a series of film strips kinda showing various elements and actions of what one might see at a concert. Dancing, drinking, hitting on girls, hilarous shenanigans. Not sure if it's the right idea to move with though.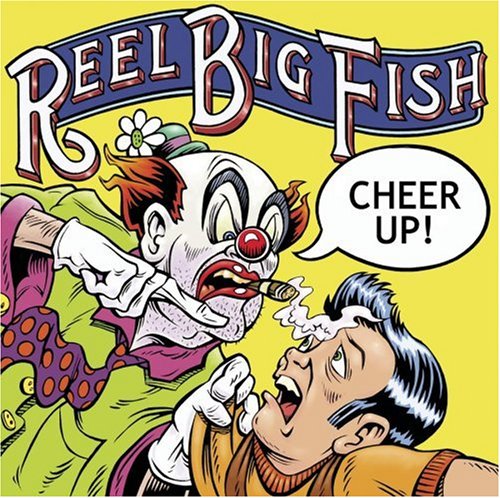 The third is based off their album Cheer Up! Which came out somewhere around 2000-02 (Oh God, that album is more than ten years old). I had been very literal with the other designs I posted featuring a fish of some sort of a brass instrument so I though maybe playing with a different, less direct angle would offer some results. Honestly, I'm surprised with how much I like it. It offers a healthy dose of sarcasm that one might find in the songs. It's important to have that aesthetic with the final result.
2/11
Reel Big Fish is one of the bigger names in the Ska/Punk genre, combining a solid brass section with Guitar and other Rock sounds and they have been doing this for well over two decades. I had the chance to see them earlier last year, so I've decided to use that particular date for the poster. Ska can either work in two ways in images, the subruban ice cream truck of bright and vivid colors with a punk rock sense of humor with pin up girls to cute animals with hand guns or the classic punk two tone look with the black and white checkers. With that in mind, I took a closer look at some of the gig posters the band currently has:
Nice complementry colors, reminescent of an screen printed posters. But since I'm not as crafty with my illustrations, I was hoping to rely on some type work as well to make the poster work:
I've currently sketched out four possible design ideas that can still be worked on in any direction depending on what should be added into the poster to make it a more successful image. I already have my favorites but we'll see how things progress.