Update:
Assignment 2 : Minotaur Sequence
In this assignment, i am experimenting with character positioning(on the corner left) while the rest is dark to describe how dangerous the sequence after this will be.
The Minotaur design is kept simple to make him looks funnier, and it's also to make the horn easily recognizable. I planned to make this a humorous scene, i hope i can describe it properly.
And here's the draft of the assignment and Adriane princess design. Hope you like it.
ASSIGMENT 1:
There he goes again, the winged thief. The cop were at lost of how to catch him because he can fly, but today is different!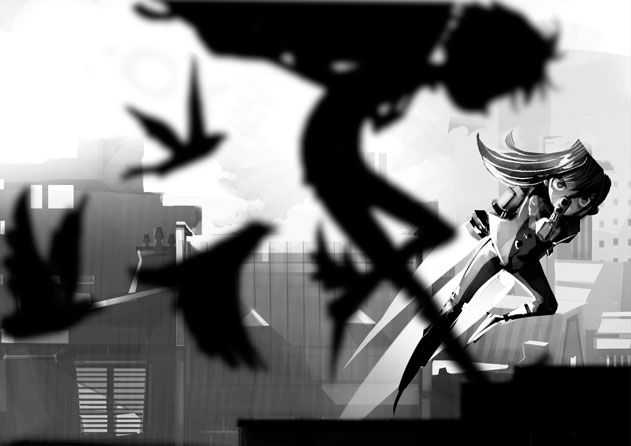 The thief is actually not a bad guy(robin hood kind of thief) that's why i didn't use a lot of pointy/triangular elements on his design. I also add some dove silhouette since it's a symbol of peace.
I found some difficulties in designing the police lady. She was originally hanging from a helicopter but the action line is limited and i couldn't feel the action so i use jetpack instead. My aim is to make the police lady action line crisscrossed the thief, forming an X (to exaggerate the confrontation). I also positioned her lower than that of a thief because of the differences of their "power" --> yeah, the thief is somehow one of the main character here.
After that i give the lady a block color, but i realize that her size is too small. Her existence is losing to those of the birds and even the environment. So i make her bigger.
So after i comfortable with the silhouette, i give a highlight to the police lady(i'm not really good at lighting so this process took me quite a long time) T.T
And i was aiming to add bullet (with the aura like those at matrix) to exxagerate the action. But i realize it messed up with the other element (too noisy that i cannot see the thief silhouette properly). And it makes viewer cannot feel the tension before the action(which is the shooting scene right after this scene). So i delete it...
Last thing, here's the zoomed in version of the police lady. Maybe her zoomed in face would be the next shot before the shooting scene begin. :P
Thanks for stopping by :)
Rianti