PROJECT OVERVIEW
I look at the maps as an abstract art. I love them because what is for someone just a set of lines, circles and squares, for someone else may describe the most beloved place.
I was thinking of starting a "Map as an abstract art" commission project for a long time and this class is a good excuse :) So, how it will work:
Client sends me a few locations which are special for him - for example a place where he lives, where he was born, where he spent holiday as a child. I watch them carefully (on maps.google.com) and try to find area which looks interesting. Then I contact with the client, show him what I've chosen and paint it in the way I like.
IMPORTANT: it is meant to be a piece of abstract art, not a realistic map!
Questions:
Why am I making this map? - At this moment for fun and to check how it works - is it possible to continue it in future in commercial way.
Who is my target audience? - Everyone who would like to have a personal & abstract piece of art (which is usually difficult to connect in one piece ;)
Do I want my final project to be printed or digital? - At this moment (for my classmates) digital.In future - printed.
What level of detail do I need to include? - No details. At the back I will include coordinates.
Dear class, I need your help:
I haven't found such a commission project on web, so maybe it's the first one... please tell me what do you think about it? Isn't it too crazy? Do you think anybody would be interested in making such a commission?
It would be helpful, if you could "be my client", i.e. send me a few of your special locations (and write a little about them, if you like). And I'll try to paint a map for you in watercolor.
HAND-DRAWN MAP EXERCISE
My son got a rash a few days ago. The doctor gave him an ointment and told me to spread it on the places with rash even a few days after it disappears. It would be quite difficult because the rash is in many places so I thought my son's body map will be helpful. Here it is (crosses indicate rash):
MY INSPIRATION
Here are photos of two of my favourite aerial photographers.
Kacper Kowalski:
Marek Samojeden:
Here is another inspiration - a block print of a map - which I found on etsy some time ago. I cannot do such prints, but I like how it looks like: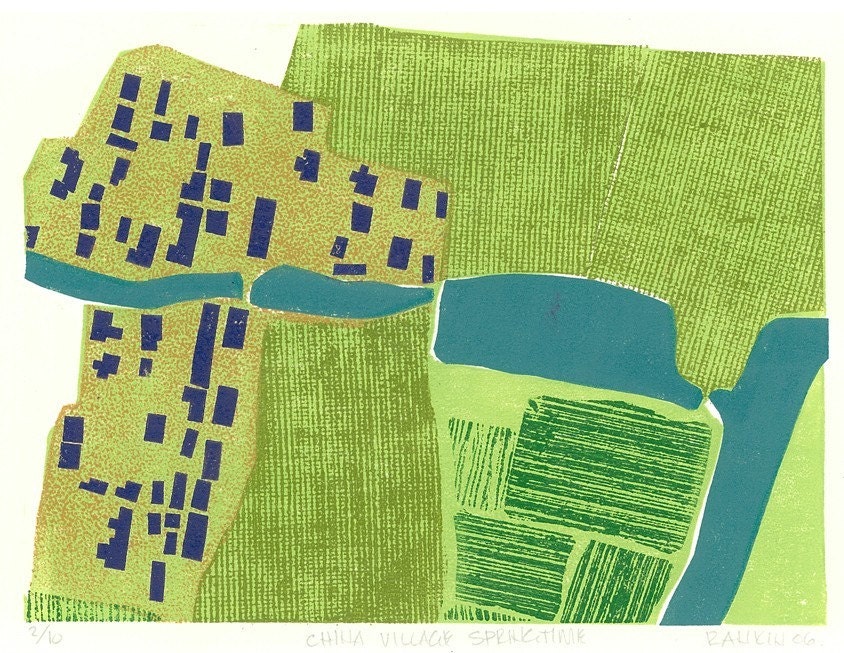 PROJECT UPDATE - FIRST ATTEMPT TO CREATE ABSTRACT MAP
While waiting for special locations from Lauren and Regina I've created my first abstract map of Manila, Philipines, where Regina lives. I'll have to correct a few things on next maps - basically application of masking fluid (you can see some stains on roads and river) & it should be bigger (at least A3 size), but I quite like it :)
What do you think? Please share your opinions, even if you don't like it at all! (so I know I should try different style / technique). Also, if you have any suggestions on style/technique I should try, please share! I have also thought about acrylic paints and collages...
IMAGINARY CITY EXERCISE
For the second exercise I thought I'll create imaginary map for my elder son's favourite book - "Jip and Janneke". It's wonderful story for 3 years old, we read it over and over again (if you are from Netherlands you probably know it).
The map includes some of places Jip and Janneke visit: Mr. Smit shop, hairdresser, Mr. Jansen farm, post office. Map is big enough so my son can play on it and there is left a lot of space so we can expand it when we remind of some other places.
What I have learnt in this exercice: I was only able to create the whole map from bigger blocks (i.e. not from sigle buildings). At first I cut the bigger blocks (navy green and navy gray), placed them on the map and then added single building within these bigger areas. It sounds obvious - this is the way how real towns are planned - but I didn't realise it earlier ;)