Assignment Map - Mishap Map
For the assignment, I decided I wanted to expand on a map that makes out some of the more unusual things I've done in the places I have been. So far on my website I've mapped out all the places I've been and I used Google Maps to do it because it gave me an easy way to link
I couldn't help thinking it's a bit plain, and I like the one on Hejorama better, cleaner looking. This particular map marks where I am at any given moment depending on my tweeted location.
For this particular map, I wanted this map to be a bit quirky, you don't just remember the names of the places that you've been, often they're coloured by certain experiences that you had that, for better or for worse.
So rather than just "I've been to Barcelona, Spain", i want it to reflect "Barcelona where I nearly got duped by chocolate birdshit" or "Hualien, where I swallowed a live jumping prawn"
I am making this map for myself and my website theoccasionaltraveller.com and I want these quirky memories of mine to be a highlight of the map, more so than actual geographical accuracy or the proportions.
Since they're based on my trips and experiences, that makes me the expert, and my target audience are my readers, fellow travellers and worker bees like me that I hope to inspire to travel as well. Nothing gets you moving than a weird travel story!
My final product will most probably be digital - while I wish it had capabilities like google maps to hyperlink to places, I think I'd be satisfied if it was just pretty. Details wise it'll go down to major cities at most,and a one-line anecdote of my weird experience there. Ideally I'd be able to hyperlink to a blogpost or picture that further illustrates the story.
An example list of some of my experiences to map:
- Barcelona - nearly robbed and duped by chocolate birdshit
- Hualien - ate a whole live jumping prawn
- Lembeh - changed tampons on the roof of a boat with naught but a towel
- Taipei - ran into a snake and spent the whole day without knowing I had coffee on my shirt
- Dubai - mistaken repeatedly for a prostitute because I'm Asian
I want the icons to take centrestage, so the map itself can be a bit less detailed, with icons that describe my experiences in icon form and text. I intended for the text to go around the icon, but think this might need some thought as for on screen that could be rather small.
Here's a very quick close-up sketch of what I think it could look like. Would be a combination of hand-drawn icons and finished digitally
I plotted it out on Google Maps for a start to see what kind of spread I had so far:
Now i need to figure out the drawing bits and how to put my icons in neatly and coherently
* * * * * * * * * * * * * * * * * * * * * * * * *
Assignment 1
Here are some 2 of the hand-drawn maps I worked on for the exercises:
Hand-drawn Map 1 - Kampong Glam
This is my favourite place to be and to introduce people to - Kampong Glam is the traditional Arab/Malay quarter in Singapore but has since been transformed into a hip place with a mishmash of old and new. The food around here is fantastic, as is the shopping!
Hand-drawn Map 2 - RTW
I'm planning a long Round-The-World trip sometime soon, and these are a bunch of places I'd like to visit. I haven't narrowed it down or sorted out my budget yet, but I would love to hit all these places at some point in my life. (Also, have no idea how to draw North America, oops)
Assignment 2
I kind of combined the 2nd and 3rd choices into 1 by looking at a particular project done by someone else called Animals on the Underground which a combination of cartography and art, where a guy discovers outlines of animals in the map of the London Underground Stations map.
It's a pretty fascinating and clever idea, and got me thinking about Singapore's own subway map. It currently looks something like that: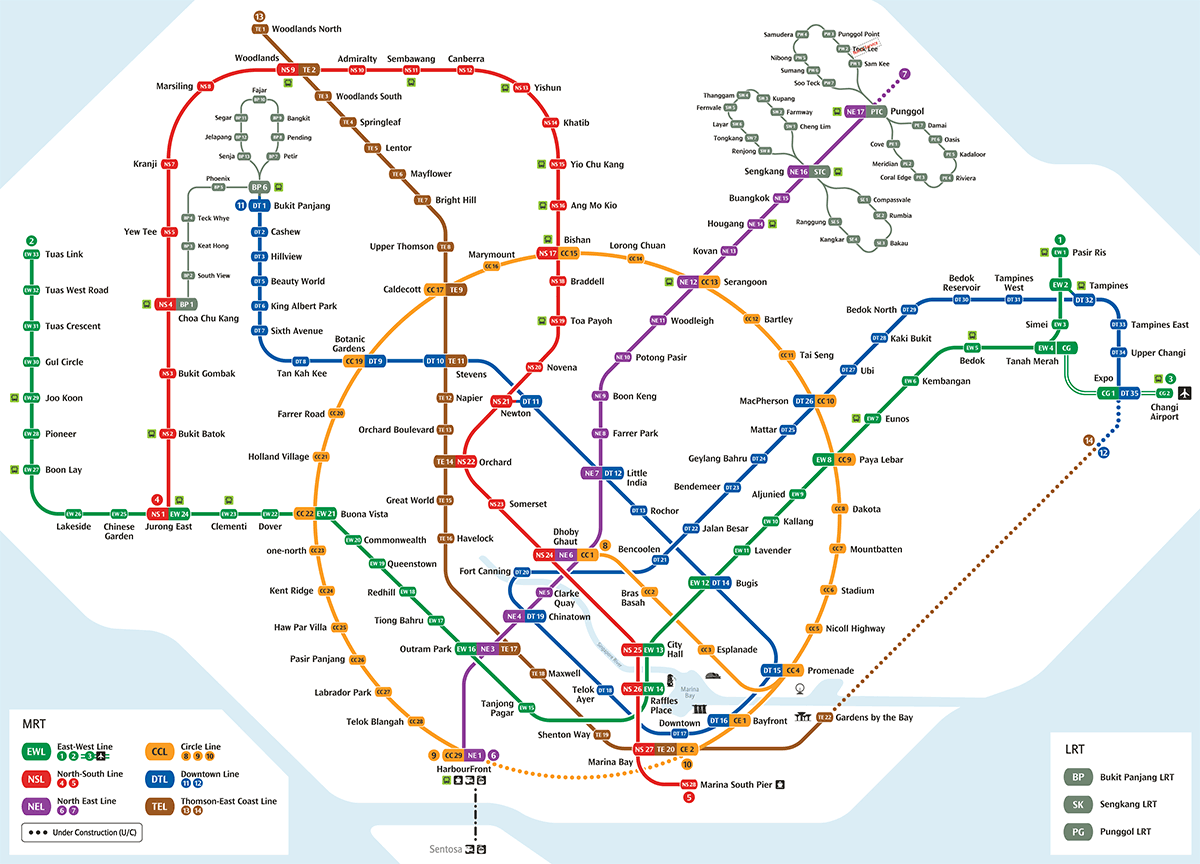 which is not much for animal hunting, but according to plans, it will eventually look like this:
which is pretty much more exciting!
Subway maps are also different from actual map-maps because they don't really give you an idea of distance between stations or actual location. More often than not you're only aware of the general direction stuff is located in (North, South, East, West) and sometimes the station name is not entirely accurate to the actual place it is located in.
I think using numbers to designate stations and colours is a very good idea (when there were only 2 lines in the past, the colours also indicated direction, which was useful back then but not practical for the future with so many more lines!), though there might be issue with ensuring that each line has a distinct colour.