I love the band Hot Chip and when I saw they were coming to the 9:30 Club in D.C. on April 10, I thought it'd be the perfect opportunity to design a poster through this class (despite the fact that DKNG has designed a poster for them (the bar has been set pretty high)). I've been listening to Hot Chip for a while, and there's always one music video that sticks in my head:
Hot Chip, 'Ready for the Floor' - http://www.youtube.com/watch?v=yhASu2OjEcQ Stills below: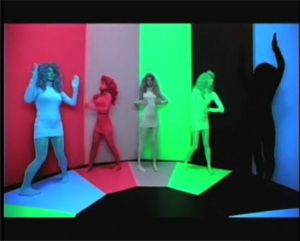 I love the video, and really wanted to use it as an inspiration for the poster: somehow incoporating all of the blinking lights, bright colors, geometric shapes, moving objects, and funhouse theme. One of the reasons I like Hot Chip is because they don't take themselves too seriously and they're never afraid to take chances with their music - I want to capture that spontaneity in my poster but also make it something that's unexpected and beautiful.
I'm also drawing inspriation from tesselations, like in Hot Chip's most recent album cover:
I come from a math/science background, so lines, angles, and architectural details have always appealed to me, so I'd like to incoporate them into my poster. But on the other hand, I'd like to push myself to do something out of my comfort zone so I don't want the poster to be too geometric looking.
Here's a very rough draft of what I've created so far, using tesselations/patterns to create the words 'Hot' and 'Chip' - I'd potentially like to use it as a background for the poster:
IDEA # 1 --- my first idea is to have a circular control board/switchboard with gadgets, shapes, concert info, and maybe some DC monuments coming out. sketch below (sorry - i'm not a great sketcher)
IDEA # 2 --- My other idea is completely different - it stems from the band's name origin, which refers to puny, pathetic french fries accourding to one of the band members who was interviewed. I wanted to juxtapose the fries with the big hulk fist, and then bring the fries full circle with a custom 'Diner' - esque font for the name. sketch below:
IDEA # 3 --- This idea incorporates the women from the 'Ready for the Floor' video and has them spelling out 'HOT CHIP' in a similar fashion to the ymca dance. For this idea, I would keep the lettering of the band name and concert info relatively simple.
More to come soon I hope - I'm excited about where this is heading! Any feedback would be great
UPDATE (as of 02/18/13): I've decided to go with a modified version of Idea #3. I've stuck with the basic concept but i've removed the color blocking pattern because I felt like it detracted from the background. I may try it again once I've completed all of the aerobics women but we'll see. I've also decided I want the women to be rendered in a monochromatic color - a color that will match one of the colors in the background. Draft is below: