== Assignment 4. Submitted on 5.2.'13 ==
Final Turn-In
== Assignment 3. Submitted on 4.30.'13. ==
3rd Round
I know I'm extremely behind the schedule... But,... I'm still up.
I really like the diangnal stripes pattern - but in the end I decided the stripe background is too loud. I want the focus on the figure.
To be continued...
== Assignment 2. Submitted on 4.21.'13. ==
2nd Round Sketches
Digital Sketch
My first idea was to play with the negative space.
I think the negative figure makes the small GIF interesting. But when you look at the full size illustration, it's a little boring. Then I had attempt to use more surprising colors and shading.
I'm not sure where to go at moment.
I think if I want to use more colors, then I should redraw the figure and let go of the negative space idea.
I need some critical comments at the moment. Thank you!
== Assignment 1. Submitted on 4.18.'13. ==
Plan & Objectives
My plan is to make modern and chic posture illustrations out of this fitness ball manual. For this class particularly, I would focus on using geometric shapes and nice color palette to depict the postures.
I would want my illustration outcome to be used in an infographic poster I'm going to design later - which is to turn this instructional manual into a collectable and hangable art piece.
Also I need to keep in mind that I want the illustrations to be animated later, so it would apear on the interactive media.
Mind Map
My mind mainly went to 3 directions: the figure, the ball and the context.
The figure: I thought of using a fat panda as oppose to a slender gymnast - It could bring some humor in it. But I thought it could risk the work to be circus-like. To keep the classy taste I wanted for this project, I decided to go for a slender gymnast.
The ball: The fitness ball is soft and can change its shape to the pressure. I thought I might want to keep the perfect circle shape for the style, and negelect the form change - but I'm keeping this thought open for now, as it will depend on the visual style I'd choose.
The environment: For the simplicity, I'm thinking a flat color with straight lines to represent the wall and the floor. But I also thought about using a decorative background, such as the sky, the floral, the universe or a natural scenery. It could add more drawing challenge (fun) to draw a more decorative background, but it's actually harder to keep things simple than adding stuff in. I don't know.
Initial Sketch
I haven't spend enough time to develop the drawing.
This is how I natually sketch figures. I would like to learn how to further simplify the shapes, and make it more geometrical.
Some Inspirations
My biggest inspiration is the illustraions from Malika Favre's figure drawing. She is alwasy so simplistic. There's no line you could remove or add. She use minimum colors on her palette. Everything is perfectly scrutinized.
And this one from Dan Matutina: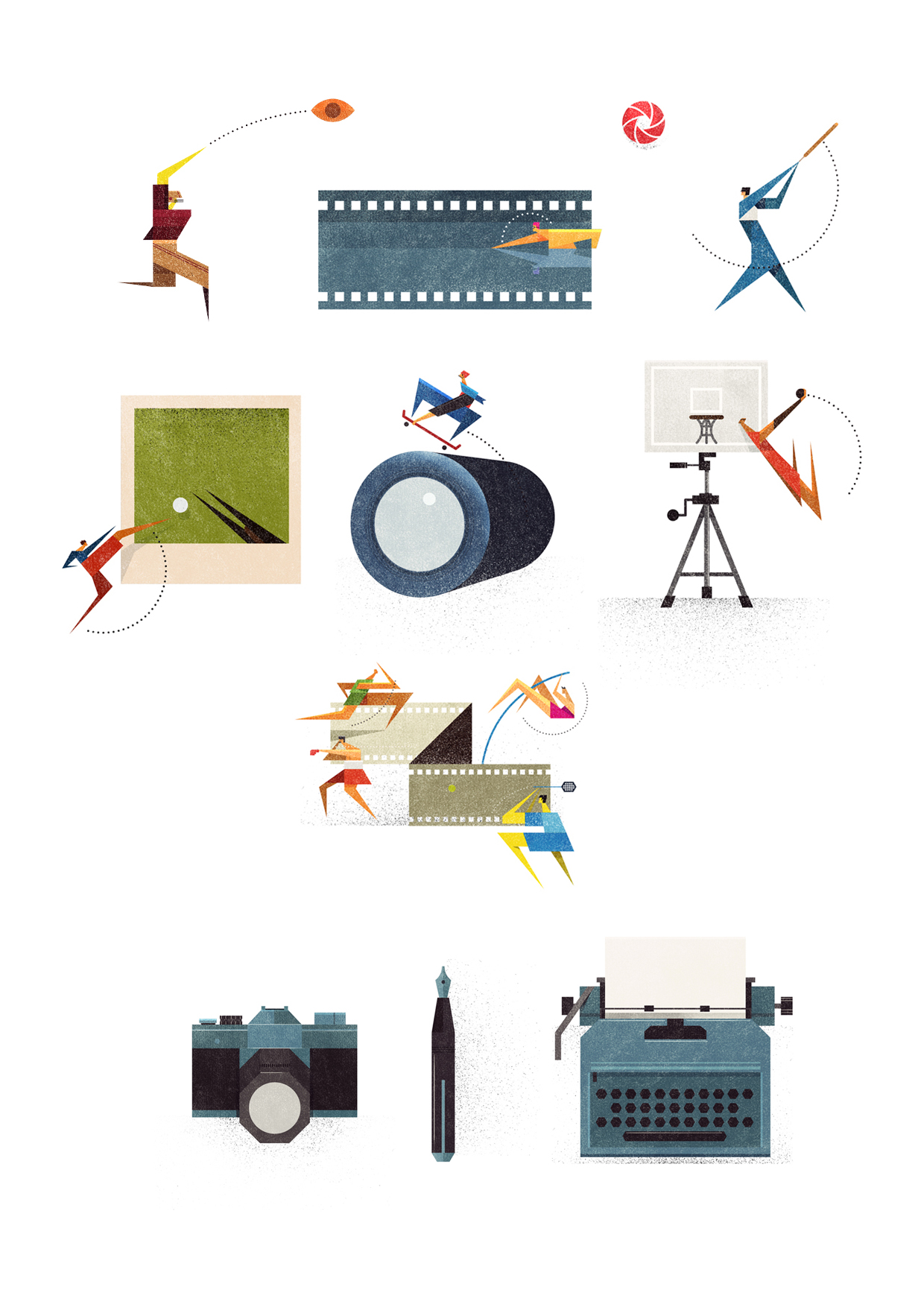 I would say Malika's figure style is closer to how I would draw, whereas Dan's style is very interesting to learn from - just to push myself out of my comfort zone.
As a hobbiest drawer, I haven't found my style at all. If I make a decision, say, I'm going to learn Malika's style, then I could draw exactly like her. But of course I don't want to be a copy cat. I often ended up with a big collection of my favorite aritists with different styles - but I still didn't know how to draw like myself.
Any suggestion on this dilemma?
Thank you all~