Day 1 Currently Listening:
Just started and excited to complete other prompts! Decided to list my top songs of the year instead, given that it 2020 just ended!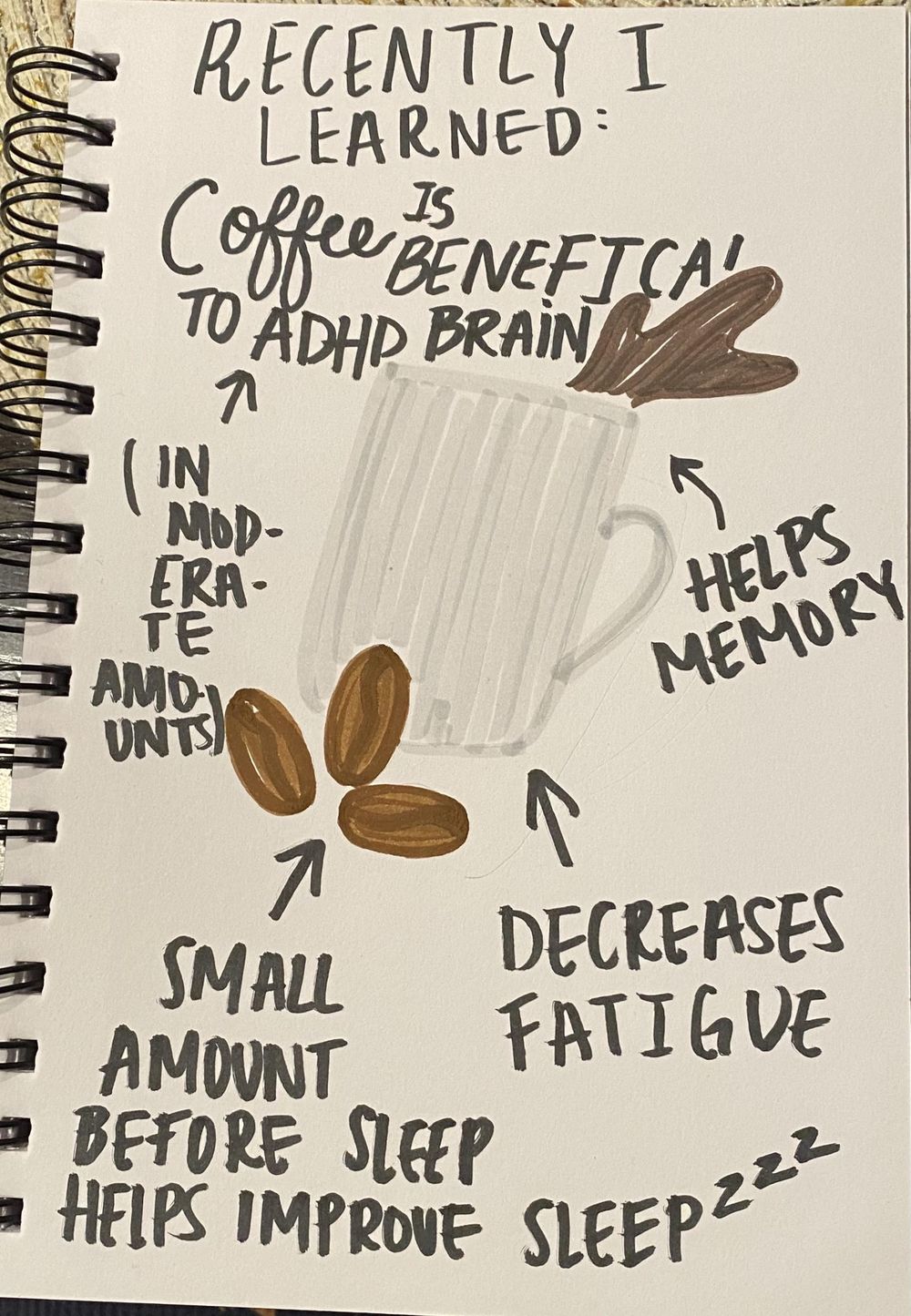 Day 2 Recently I Learned:
I was recently diagnosed with adult ADHD and I recently learned that caffeine can help people with ADHD! Definitely surprised by this fact but very intrigued.
Day 3 Creating With
This one has to be my favorite, really getting into letting go of making everything perfect (even though I still sketch to get a general shape). Had fun adding in the small details and writing in the brand names in their font.
Day 4 Recently Read
I've always had trouble concentrating when reading, so I generally read short stories or blogs. I really enjoyed this prompt, using only two colors again and having fun with the lettering and decorating the spines.
Day 5 Ingredients to my Mess
This is my work desk/at home desk mess. Since I am an accountant I always have a calculator on hand and reports scattered everywhere. I didn't realize until making this prompt that I've had the same 8 items on my desk scattered everywhere.
Day 6 Daily Routine
Quarantine Edition lol! Just because I don't usually wake up at 9:30am, I would get up earlier in normal times. This is mostly my morning routine because it's what I stick to the most. I try to mix it up a bit by exercising or going on a walk but it doesn't happen daily!
Day 7 Currently Craving
Since I am dieting currently (to get to a place where I feel more comfortable in my skin) this one was suuuuuper easy to do lol. Mostly I am craving fast food sprinkled in with some asian food. I left this one pretty simple given that trying to get rid of cravings is already hard but add getting reference photos... I had to stop myself from postmating them!

Day 8 Currently Wearing
For this one I decided to do a mix of quarantine clothes and favorite accessories that I have. My sister actually asked me to be her Maid of Honor with the jean jacket, it has Maid of Honor embroidered under the collar, so that has to be my favorite/go to jacket. I have the reverse tie dye sweater I made during quarantine which is super comfy. I usually wear that with my leggings and Birkenstock's around the house! I haven't worn them in a while but my two favorite pieces of jewelry are my hoops and signet ring with a star on it.
Day 9 Self Care Necessities
I thought mostly of what I do after stressful situations. These help me out but definitely listening to calming music helps me the most, especially the song Claire De Lune (which I got too excited writing because the U turned into an I lol). Usually I do a combo of music and painting or drawing to calm me down, mostly to distract my brain.
Day 10 Grocery Run
This is my most recent grocery run. We tend to run out of this stuff the most, Sriracha, creamer, avocados, limes, strawberries and salad kits! Tried my best with the logos, especially the sriracha bottle with all the writing, I thought simplifying it was better.
Day 11 My Favorite Corner
I must admit this is not my favorite. Its a representation of my favorite corner but not my favorite illustration thus far. I think was threw me off was my black desk, I feel like I should've chosen another color and then I would've been able to fill in the color better but I did learn a lot about keeping things within the perspective I chose.