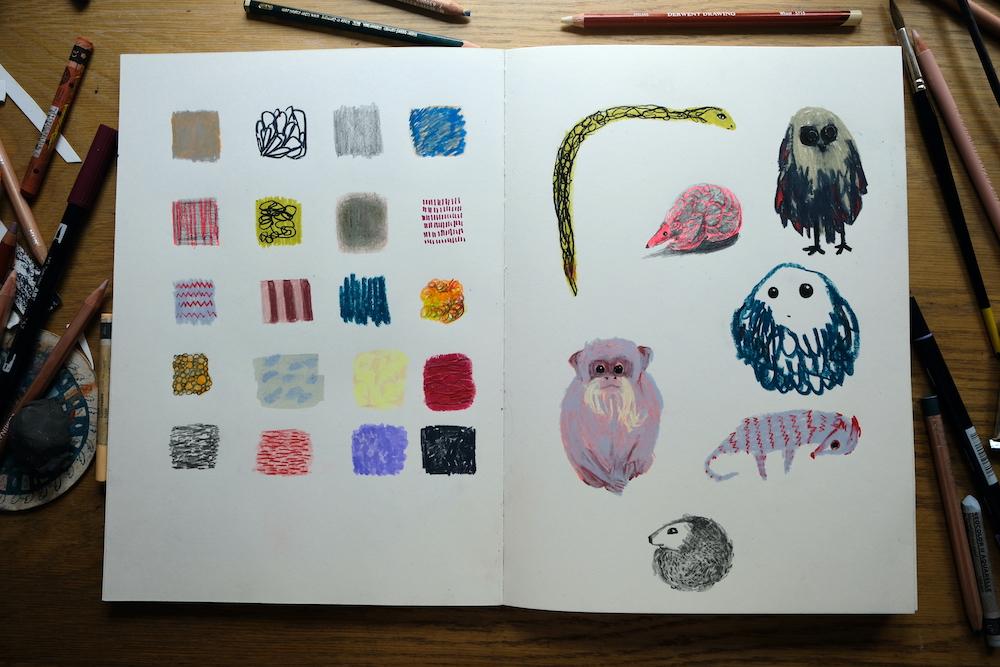 Challenge yourself with sketching fun creatures based on inspiration from nature!
Sketch along with artist Marie-Noëlle Wurm in this entertaining Live session all about creating your very own creature! Using inspirations from patterns, natural and organic forms, and your own imagination, you'll have a sketchbook challenge you can return to long after the session, anytime you find yourself creatively blocked.
Skillshare Premium Members are invited to join us on Wednesday, June 16th for a live online Zoom session with Marie-Noëlle Wurm all about sketching from natural inspiration. The session will run for approximately 60 minutes. Click the button above to register!
This live session will include:
How to spot inspiration from everyday things around you

Ways to incorporate your inspiration into your sketches

Creature sketches inspired by the the natural world
Throughout the session, you'll be encouraged to work alongside Marie-Noëlle and ask questions. All you need is whatever you prefer to sketch with, whether that's watercolor, pencil, pen, or anything else!
Marie-Noëlle is a professional artist and illustrator, and she loves what she does. The idea of being able to teach others what she was taught all those years ago is incredibly inspiring. She knows first-hand the power of these techniques in aligning you with your core, unleashing your creativity, and doing things that you've always wanted to do (especially the ones that scare you!).
Pride Month at Skillshare
Expression is inherent to who we are as human beings, but for marginalized groups, expressing individuality has too often come with a price. And yet, creative expression is the foundation for how we showcase humanity, fight for human rights, communicate our individual experiences, and develop empathy.
This Pride Month, we welcome you to unleash your creative freedom. We see you in your full glory. We want to celebrate how far you've come – this year, this lifetime, this generation! What happens when you take a moment to reflect on your creative power and are given the space to honor it?
In that vein, we're thrilled to present a month of Live programming developed, taught and hosted exclusively by LGBTQIA+ folks. Our LGBTQIA+ teachers and hosts are part of our regular rotation of wonderful, talented folks leading these sessions, but this month we are spotlighting this community in particular. We hope that these classes bring you joy in expressing your creativity and your inner self, whatever form that expression might take. Thank you for joining us, and we'll see you again soon!
How to Participate:
Click the button above to register for the live session.

On the day of the event, the "register" button will change to a "join live session" button at the time the class starts. Make sure you're subscribed to "Updates from Skillshare" in your

account settings

to receive an email reminder 15 minutes before the session starts.

Come with your questions, or just listen in!
What to Know About Zoom:
Zoom is a free online video conferencing tool. Download it to your device

here

. Note: Zoom will download automatically when you join your first call.

Once you've joined the Zoom call, use the "chat" window to type your questions in real time. We'll get through as many as possible!

To make sure everyone can hear, we'll be using Zoom's "mute" feature so that audio is coming through from the teacher's end only.

You are encouraged (but not required) to turn on your camera.

We want to keep Zoom a safe space for everyone — please abide by Skillshare's

community guidelines

throughout the session.