Missed this live session? Check out the recorded class here!
Create a custom thank you card while learning some new lettering and illustration skills!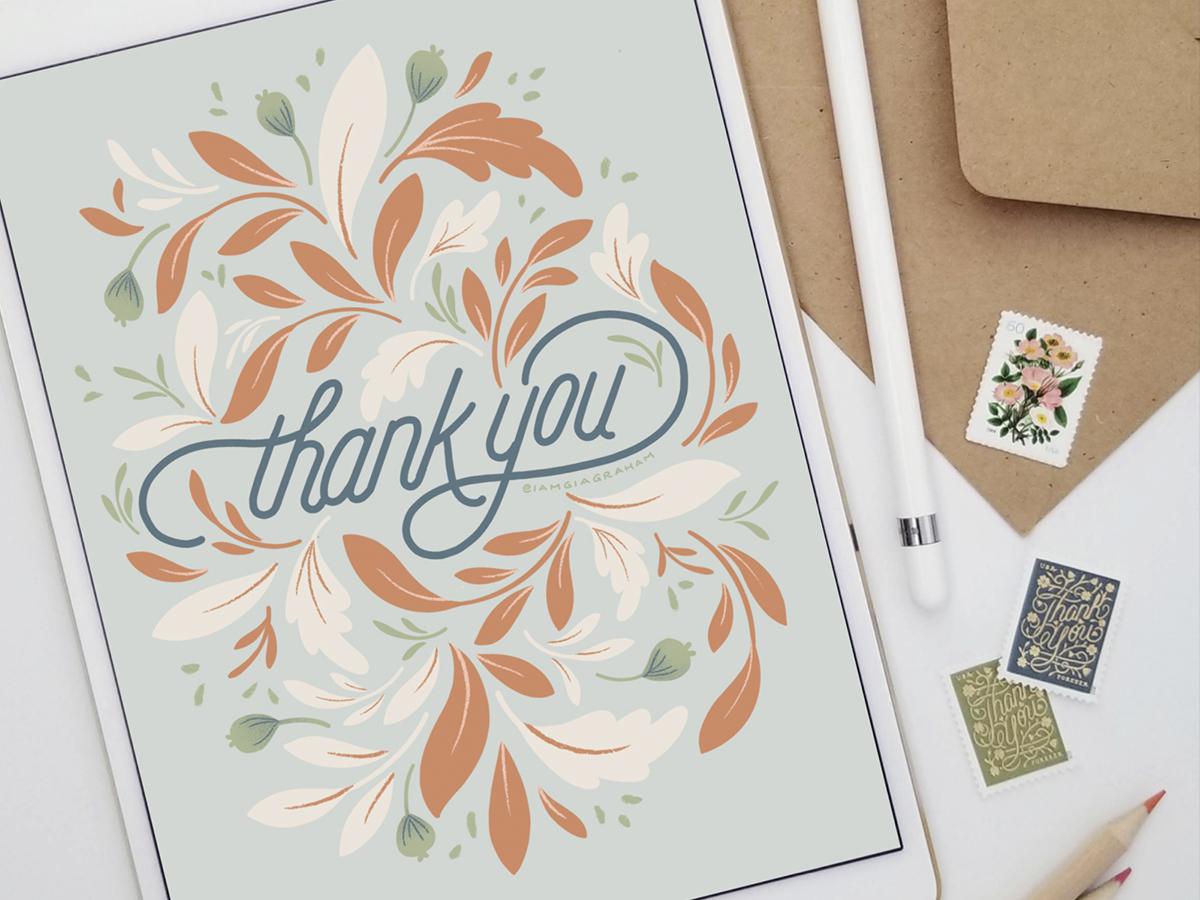 Skillshare Premium Members are invited to join us on Monday, November 23rd at 3:00 PM EST for a live online Zoom session with designer and illustrator Gia Graham all about creating gorgeous thank you cards in Procreate. The session will run for approximately 60 minutes. Click the "Remind Me" button above to register!
Gia Graham is a designer, hand lettering artist, and illustrator who was born and raised in Barbados and now creates beautiful digital art from Atlanta, Georgia. She has many years of experience working across the design industry, but now focuses on hand lettering, stationery design, and pattern design. A Skillshare top teacher, she's shared her handy skills, tricks, and techniques with over 12,000 students.
This live session will include:
A warm up activity to practice some seasonal illustrations to include on your card

A discussion of how to set up the perfect layout of text and imagery when creating greeting cards

A chance to draw along with Gia as you color in your work, add decorative elements, and create a final product to print off and send to the people you're grateful for
Gia will be working in Procreate, though you'll learn something new and walk away with a beautiful card no matter what medium you prefer! If you're creating in Procreate, Gia has created some templates you're welcome to download here. These include:
ThankYouTemplate file with:

The color palette I will be using
Script 'Thank You' hand lettering
Sans Serif 'Thank You' hand lettering

FoldedCardTemplate file with:

The format you will need to use to print and make a folded card
Throughout the session, you'll be encouraged to work alongside Gia and ask questions. Feel free to add questions in advance of the event (discussion forum below) or bring them live to the Zoom session. We look forward to seeing you soon!
How to Participate:
Click "Remind Me" above to register for the live session.

On the day of the event, we'll post a link to join the Zoom call. 15 minutes prior to the start time, we'll open up the room so you can access the event. Make sure you're subscribed to "Updates from Skillshare" in your

account settings

to receive an email reminder 15 minutes before the session starts.

Come with your questions, or just listen in!
What to Know About Zoom:
Zoom is a free online video conferencing tool. Download it to your device

here

.

Note: Zoom will download automatically when you join your first call.

Once you've joined the Zoom call, use the "chat" window to type your questions in real time. We'll get through as many as possible!

To make sure everyone can hear, we'll be using Zoom's "mute" feature so that audio is coming through from the teacher's end only.

You are encouraged (but not required) to turn on your camera.

We want to keep Zoom a safe space for everyone — please abide by Skillshare's

community guidelines

throughout the session.
Related Classes: