Playback Speed
---
0.5x

1x (Normal)

1.25x

1.5x

2x
T shirt Design in Affinity Designer for Desktop
Watch this class and thousands more
Get unlimited access to every class
Taught by industry leaders & working professionals
Topics include illustration, design, photography, and more
Watch this class and thousands more
Get unlimited access to every class
Taught by industry leaders & working professionals
Topics include illustration, design, photography, and more
Lessons in This Class
68 Lessons (8h 55m)
2.

How to get help resources and submit projects

2:02

3.

Introduction to your first T shirt

0:55

5.

Creating your first document

7:19

6.

Sizing for print on demand

5:19

7.

The artistic text tool

9:46

9.

Adding transparency Exporting your design

6:47

10.

Placing it on a mock up

5:39

12.

What is Raster vs Vector art

5:52

13.

Getting the color right

8:13

14.

The different sizes In a T shirt

5:58

15.

Setting up Presets for T shirt work

5:19

16.

Introduction to the Dog Mom T shirt

0:55

17.

Working with Effects and adjustment layers

13:22

18.

Working with the pen tool to create lines

19:35

19.

Working with vector shapes

18:03

20.

Working with Vector clipping masks

9:16

21.

Adding vector shapes and brush strokes

13:07

22.

Adding text and rough blocking

8:59

23.

Polishing exporting and adding to the mock up

10:37

24.

Introduction to section 4

1:34

25.

What makes a good T shirt design

9:43

26.

Different technologies out there in the T-shirt space

6:53

27.

Where to go to find good T shirt designs

7:45

28.

Some diffeerent models for how people create T shirt designs

8:39

29.

A full printed DTG T shirt - Step by Step

11:48

30.

Introduction to the Wave rider retro shirt

0:50

31.

Pulling reference and sketching

9:21

32.

Working in vector using operations

8:14

33.

Adding the surfboard and gradients

12:50

35.

Adding text and adjusting the vector

9:16

36.

Using masks to add texture

12:55

37.

Polishing Exporting and placing in the flat lay

4:23

39.

Gather references and create the artboard

8:47

40.

Selecting the image using the selection brush

12:41

41.

Adjusting the image and adding the major blocks

9:37

42.

Adding background and drop shadow

9:32

43.

Exporting and placing

3:13

44.

Introduction to the Gothic Shirt

1:35

45.

Licenses for pre made vectors

7:23

46.

Laying out and modifying vectors

10:17

48.

Adding background and accents

10:58

49.

Adding blood and texture

11:10

50.

Exporting and inverting for different shirts

4:09

51.

Introduction to the packaging section

1:40

52.

Doing color separations for screen printers Part 1

8:02

53.

Doing color separations for screen printers part 2

4:07

55.

Packaging for shipment

7:55

57.

Introduction to the Oni Ball Shirt

1:05

58.

Sketching and research

11:25

59.

Laying out the base shape

9:53

60.

Setting stroke length and pencil tool basics

10:53

61.

Outlining and adjusting

11:03

63.

Adjusting the base color and shadow Part 1

11:21

64.

Adding transparency- Speed draw

11:13

65.

highlights and duplicating over

15:37

66.

Adjusting the shape and finishing

6:13

67.

Setting variable coloring schemes using artboards

6:47

68.

Wrap up and parting words

1:20
--

Beginner level

Intermediate level

Advanced level

All levels
Community Generated
The level is determined by a majority opinion of students who have reviewed this class. The teacher's recommendation is shown until at least 5 student responses are collected.
About This Class
What is this course:
A complete path from novice to pro in Creating, Presenting and Posting your custom t shirt designs in Affinity Designer.
There is nothing like the feeling of seeing your finished design on something you made, knowing that the concept you had in your brain, you are able to place out there on a physical object, and a T-shirt is the most personal expression of that.
A T-shirt is how we communicate to the outside world, what we believe, what we associate our identities with, and it is also one of the fastest growing markets online….so how do you do it? How do you tap into this skill, this opportunity? The short answer is learning simply with Affinity Designer, that combines the best of illustrator and photoshop into one program.  
Course description
In this course we break down the tools most commonly used by T shirt designers to create 6 T shirts from concept all the way through mock-up in this 8-hour mega course. This is NOT those 2 hour "promise to take you from zero to hero" type of course we are spending 8 hours with you and teaching you ONLY the most valuable frequently used tools you need to learn everything from text to high detailed vector artwork.
This is done by infusing the course into 3 integrated topics.
The technical side of designing a T shirt in Affinity Designer.
The business side of the T shirt making business.
The technological side of printing the actual T shirts
How is the course different from other courses out there …?
We utilize proven learning theory through dedicated studio presets that keep ONLY the tools you use all the time in your tool bar, thus cutting the learning time and increasing the retention on the tools.
We structure the projects in a succession order so that the tool introduced previously are reinforced in subsequent projects.
We add animation and sketching on screen to assist in the retention and explanation of topics.
Included in the course.
8 hours of content – 6 Projects to help you learn how to design in Affinity.
Resources for each section- You don't even have to come up with an idea…. we provide it.
Dedicated support in the event of questions
T shirt mockup templates
Asset packs used in projects in Affinity Designer.
Working files for each design so you can follow along.
PDF handouts for business models and technologies used in printing.
Why this course on Skill Share?
70K students and Climbing.
Facebook communities with over 12K members ready to help answer questions and give feedback.
I design, print and sell shirts ……so I know what I am talking about.
By the end of this course you will have 6 projects, complete with templates, tools and assets that you can use to create ANY design you can think of ….and if you get stuck along the way……ask us if you get stuck on your own projects…. we love to help the community that takes our courses.
Best regards
Jeremy Hazel
Hands-on Class Project
There are 6shirts that create the class project for this course (shown below)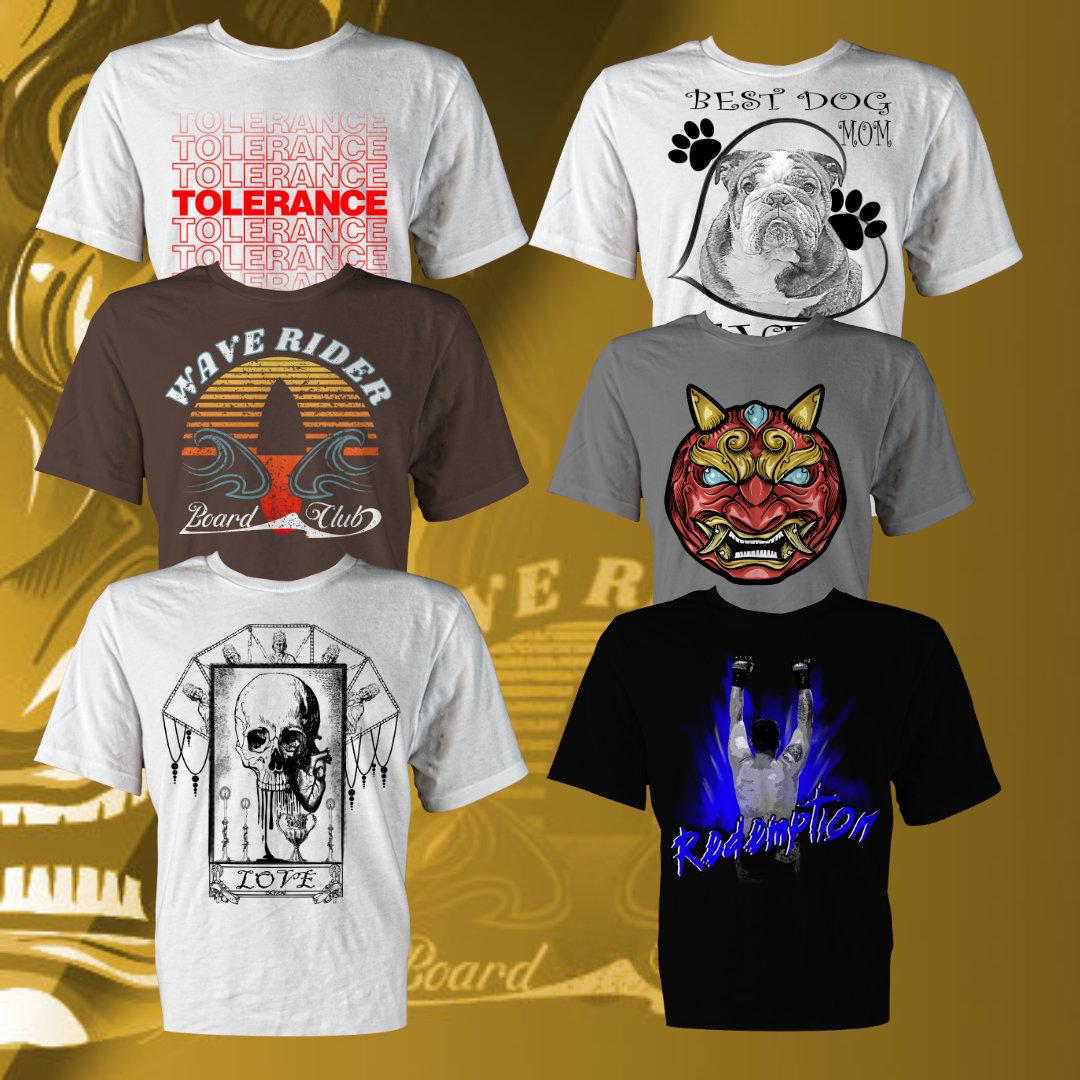 Resources sometimes are larger than the files size Skill Share allows , and so SOME of the resource files are accessible by google drive link due to size. please see the below list to reference the items that are attached as zips vs google drive links 
Section 1- Google drive link here- https://bit.ly/3wnB614
Sections 2-8- Zip files below 
Class Ratings
Expectations Met?
Exceeded!

0%

Yes

0%

Somewhat

0%

Not really

0%
Why Join Skillshare?
Take award-winning Skillshare Original Classes
Each class has short lessons, hands-on projects
Your membership supports Skillshare teachers
Transcripts
1. Introduction : Alright folks, thank you for taking a look at our course. Affinity Designer. How did you t-shirts in Affinity Designer? And I'm sure by now I've come up with a snappier name to represent exactly what's going to happen in this course. But maybe you found us to the preview. What I wanna do in this lesson is I want to cover what this course is, who it is for, what we are going to cover and what we're not going to cover. All right, let's go ahead and get started. Now, the first thing that we're gonna do, we're gonna talk about what this course is. This course teaches you how to use Affinity Designer to create T-shirts. Now, there are two distinct areas of this course. We're going to be doing four to five technical designs in this course, where I will teach you the tools and techniques and affinity designer. Even if you know nothing. And in-between, each technical project will be a fundamental theoretical project where we do cover what makes it a t-shirt symmetry, how to do colors, where to go to get ideas. So this course is about how to design T-shirts using the tools in Affinity Designer. Now, what this course is not, we are not going to cater to screen printers or D TG printers or sublimation printers. We're also not going to cater to print on-demand. So if you are print on demand or you are a screen printer, DTD printer doing the printing yourself. We're not going to cover the specifics of the technologies, okay? So this isn't geared toward one printing technology and it's not geared toward one business model. Now, into theoretical lessons, I will show you for business models around how people print t-shirts. But this is not about how to find profitable designs. This is not about how to use red bubble. Let's say. This is about how to print using Affinity Designer. Now, what is unique about this course? This course is designed even if you have never picked up Affinity Designer before. So if you're brand new to this world, this is a good course for you to start. And what makes it a good course as opposed to a mega course? It's project focused. And we're doing something very unique with the upgrade to 1.9. With 1 nines upgrade, we can now hold the studio presets. So the first thing that I'm going to do when we do our first project, I'm going to ask you to clear out your studio, clear out your tools and start from 0. And then we're going to bring in new tools every project, so that you only learn what you need to know when you need to know it. Now, a little bit about what makes me, me. I run a site called proven ground apparel where I print shirts for fighters in MMA fighting. So that's a little bit about what I do. And I've been teaching now on this platform for several years and have one of the best selling courses. So you're in good hands around learning how to use Affinity Designer to make t-shirts. Now that you know about what this course is and what it's not, I look forward to seeing you inside. Let's go ahead and get started. 2. How to get help resources and submit projects: All right, so let's go ahead and get started talking about how you get help on this platform. Now there are three things that I want to cover in this lesson. The first one is where to go to get resources. The second is where to go if you get stuck with question and answer. And the third one, if there is homework in class, is where to go to place the homework in this platform. So those are the three things that I want to cover. So let's go ahead and get started. The first thing you're gonna do is you're going to go ahead and download the resources. Now the resources on this platform are here. Now, notice where you go to get the resources. This is a downloadable file or link. And so what you're gonna do at the beginning of each section is bring those resources in so that you can follow along. Everything has been included for you. Now, it's not uncommon in an online class that you get stuck. We pride ourselves in helping you get unstuck. So to ask a question on the platform, this is where you'll go to ask your question. We have a full-time TA that answers questions, so your question will be answered expeditiously and she's really good at what she does. All right, the third thing, some classes have homework, some lessons have homework, some sections have homework. Some classes don't have any, so it depends on the class. So if homework is there, this is where you will go to submit your projects. We do take a look at the projects. We do give feedback, so we look forward to seeing your projects uploaded through these specific channels. All right, So last thing that I got, if you want totally optional, we have a phenomenal community around affinity, check us out on Facebook and Instagram, and be part of the community. We get a lot of community responses, a lot of art that's supposed to there were in it moderating. And so it's a really good place to get information plus share your art and get critiques from other students in the class. All right, let's go ahead and get started. 3. Introduction to your first T shirt: All right folks, welcome to the first section of this course. You're going to see my smiling face in every single core section. So let's go ahead and get started. Now, the first thing that I'm going to ask you to do here, we're going to start off with a bare bones minimum in this project, what should be making in this section is the plastic bag vibes, t-shirt, believe it or not, here in 2021. That is a big deal. I've included a couple of examples here from popular sites that proved that this is a trend that is taking off. So this is a perfect opportunity to look at Affinity Designer and get through the very first couple of tools. So we're going to be taking a look at the transparency tool, and we're going to be taking a look at the Artistic Text tool. We're also going to show you the basics of layers, okay? So we want to get you up and running as fast as we can. And at the beginning of each section, there's going to be an intro by me. So let's go ahead and get started. 4. Interface Basics : All right, again and welcome to our t-shirt journey here at Affinity Designer. So we're going to go something that's counter-intuitive to start out, we're going to go ahead and strip down the interface. The way that I want to teach this course is I want to take the tools that you're going to use at the time you're going to use them so that we do not overwhelm you with the interface. So in this first lesson is about getting you set up for success. Now this may be counter-intuitive to the way that you've learned in the past in other courses for other software. But as this is a beginners course, I want to give you every shot of being successful. So let's go ahead and make sure we're all starting with the same interface. To do that, I'm going to come up to view. Now, this is called the File menu here. I'm going to go to Studio. Okay? So I mean View Studio. And the thing I want you to do is I want you to reset the studio right here. Okay? Now we have reset the studio. Now, everybody should have something very similar. What I'm going to do now is I'm gonna take you on a brief tour of what you can expect in the studio. So nothing you have to do here. All you have to do is follow along. And I'm going to use this hot pink here to do this. All right, the big parts of the studio over here, what you're going to see are the tools. Now the reason they're grayed out. Let me just go ahead and go file open. Nothing you have to do here. Don't have to do anything here other than just hang out. All right, so there's our tools. You see when I brought something in abroad it open. Now the other piece of the interface is going to be the actual studio. So I'm gonna move my epic pen out of the way here. The studio is over on the right side. So this here is going to be referred to as the studio. And by default it's on the right. Now, you'll see that there's an area over here on the left. This is also the studio. And certain pallets, certain tabs, these are called tabs are available on the left. So what we're gonna do, we're gonna go ahead and we're going to strip all of this craziness down. Because you see here, what you've got is a lot of different tabs. And so this becomes a little bit confusing for somebody that's starting out. We're going to clear up the clutter here, so don't worry. So the things we've covered so far is you have your tools. You have your studio. And now up here, this little strip right here is what is called the context toolbar. Okay, now what do I mean by that? Let's go ahead and switch between some tools just to show you. Now, keep an eye up here. You see how the context toolbar changes with each tool. The way that I want you to think about it. This little area right here shows you all the options for whichever tool you select it. Okay. So kind of wrapping up here, Let's take a look. We got tools. We've got the studio, we've got the context toolbar. And this last thing here is what is called the toolbar. Okay? So that's this area right here and we can customize this. Alright? So if we take a look around the outside, that's the outside. And then of course, this is your document, right? Whenever you happen to have up. Alright, so let's go ahead and clean this out. So let's go ahead and make this as simple as possible. Okay, I'm gonna go ahead and close this out. What I would like you to do. Now, you're going to do this once. You're going to come over here and you're going to click and drag a tab. Now when you click and drag a tab, this little x is going to come up. I want you to close all of the panels except for the layer. So click drag, click drag x. Now you see the layers panel right here. Leave that. So click on the Effects. I want you to get rid of every panel you have, except for the layers panel. Okay. So don't forget the ones down here. There's some down here. Okay. So you see on my right, All I have is the Layers panel. And the layers panel. Oops, let's go ahead and bring that up. The layers panel is right here. Now the same goes for these over on the left. So let's go ahead and do the ones on the left. Let's grab the assets. Close that out, grab the appearance, close that out. So all you have is layers. And now I'm going to show you how to adjust your tools, because I'm also going to strip down your tools. Let's go to View. Let's go to the customize tools, okay? Okay, here's what I want you to do. I want you to take the Artboard tool and I want you to drag it in. The only tools that I want left. Don't do anything yet. I'm putting all these tools back. We're going to get to them, but I just don't want to get to him right now. Okay. The only tools that I went out, the little black cursor right here will be our calling the move tool. Notice how when you move over it, it gives you the tool name. I want the rectangle tool, the ellipse, the rounded rectangle, and the triangle, as well as the Artistic Text, the view, and the Zoom. When you're done, close this. Okay, these are going to be our tools for the first project. Now, here's the last thing that I want you to do. You're gonna go to View Studio presets. And we're going to go ahead and we're going to call this, add a preset. And I'm going to call this lesson 0 preset. Now, in Affinity Designer, you cannot export and share presets, so I can't give you my lesson 0 preset. So this is what is called the preset. Now, let me show you this. You don't have to do anything. Let's say I go to View and I come over here and I go to Studio and I reset the studio so everything comes back in it's entirety, right? Watch this view. Studio preset less than 0. Bone. Now, only the tools that we're going to use in this first lesson are the ones that are showing. We're going to be building different presets as we go through the projects. So right now what I want you to do, get to the point in your tools panel where these are the tools that are shown. The only panel that you're going to have out here is the layer panel right here. And then using the preset, you're going to come over to studio preset and you're going to create one. I've called mine less than 0. Okay? All right, let's go ahead and call it on this one. Once you've done that, let's go ahead and move on to the next lesson. 5. Creating your first document: Our IT folks and welcome back to our journey here on t-shirt making. Now we are in a new reset studio space. So the first thing we're gonna do here is we're going to get back to our preset. So let's go to View Studio preset and find that less than 0 preset that I asked you to create in the last lesson. Alright, so you see we have minimal tools over here on this left side. The only studio thing we have is Layers panel. And so now the first thing that I'm going to ask you to do is we're going to come over to you File and we're going to click on New. This is how you create a new document in Affinity Designer. Now, we're going to cover templates here and another lesson. I'm not going to teach you the in-depth right now. I just want you to follow along so that we get some semblance of success. And then we'll dig into the deeper stuff in later, more complex designs. So the first thing you're gonna do is you're gonna figure out what unit you want to work in. I'm over here in the States, so I'm going to work in inches. And I'm going to create a t-shirt for the front of a shirt. So this image is going to go on the front. So I like to work very close to the size that I'm actually going to print width. So the width on this one, I'm going to go ahead and I'm going to say is going to be 13 inches. And I'm going to go by 18 inches. Now you can go 16 by 2013 by 18 doesn't really matter. And for right now the color that I'm going to choose is RGB eight bit. Now we'll talk about color here in a later lesson for right now, all I need you to do is make sure that's selected and let's create. So what comes up is a new document. And you'll see over at the top here, you've got what are called rulers. Now if you don't have the ruler and the ruler is showing up right here. There's my zero-zero point and it goes over there. And then it goes down to here. And you'll see that I've got about 18 inches right here in 13 inches right here. Now, if you don't have this, let me show you where to go to get it. We're going to come over to View. And you're going to then click on Show Rulers right there. Turn it off, View. Turn it on. Rulers are going to be your friend when you get into the t-shirt business. Now, the other thing you're going to want to do now, you see how this is a white background. It is not desirable to have any common background when you're designing. So you want to make it transparent. Now we can do this in the initial selection, but I wanted to show you how to do it differently. So to change to utterance parent, go to File Document Setup. And we're going to go ahead then and go to color and hit on transparent background. Boom, right there. Just in case y'all can't see it. This is going to be your best friend. Okay. Let's go ahead and clean that out. All right. And hit. Okay. Now it becomes a checkered background. This is assigned to that you effectively have a transparent background. One of the reasons why I wanted you to create these tools over here. Let's click on the rectangle. Let's come up to the corner. Now you see I have little green and red lines. That's called snapping. Snapping is found up here. So let me just highlight the snapping icon. It looks like a magnet. Click it so that it's depressed. That means that it is on. Okay? Now what snapping does is we're going to click and we're going to drag. So we're going to click and drag. And this gives us a color. Now, this is the first time we're going to use the context toolbar. And remember the context toolbar is right here. Okay? Now the context toolbar depends on which tool you have selected. In our case, we select the rectangle. Now, the other thing I want to show you, move this down out of the way. Let's go to our Layers panel. You'll see that this is formed a layer. And right now it is called a rectangle. A rectangle folks is a shape that is a specific type of layer. Okay. So were you see rectangle, that's a shape. Now it's different than say, a curve or a pixel layer or a mask layer or anything like that. We'll talk about those later. Don't need to know that right now. So let's go ahead and kill this. Now, let's look at the options we have for this rectangle. I'm gonna come over here and I'm going to click You see where it says fill right here in the context toolbar. Right now I'm going to click and this little circle wheel, the color wheel comes up. I want you to click and go all the way down to white with this little area right here, right there, go to white right there. Okay? So once we do that, this should turn this to white. Here's a pro tip for you. Always create a rectangle, the color of the shirt that you are going to be printing against. In this case, the T-shirt we're going to be printing is going to be on a white shirt. Therefore, we want a white rectangle. So I always do this and now I'm going to show you one more thing here. Click on where it says Rectangle. You'll see right here where it allowed me to rename. We're going to go right here. I'm going to click on it. I'm going to type in background. I always type that in when I do a shirt. Okay, it's still a rectangle layer and now it's called background. So we, in this lesson, created our document. We showed you how to find your rulers. We showed you how to turn on Snapping. We created our first layer right here, and it is a shape layer. And we utilized our first tool right here. All right, that was a lot of stuff. In the next lesson, we're gonna go ahead and we're going to lay out a t-shirt design. And I'll show you a little bit about my research process, but rest assured, there are other lessons in here that do deeply into it. All right, We'll see you the next one. 6. Sizing for print on demand: Are getting, so all this talk about sizing. I want to make sure that this course is not about one particular printing method or another. So we're going to be talking about sizing in a general sense, sold you are a screen printer, a printer or a sublimation printer. Some of the information around sizing average sizes and that will be directly applicable to you. But if you are a print on-demand type of person. So let's take a look at printable, say t public or Redbubble. Every one of those sites will have their own image requirements. So what I've done here is I'm gonna go ahead and throw up on the screen. This is a illustration, let's say, and a screenshot from TEA public. So let's go ahead and take a look at this here. Now, when we work with t public, notice that they necessarily do not look to a certain size. They're going to specify the format, which is a p and a G with transparency. And then they're going to ask for 150 DPI. Now. Folks, DPI stands for dots per inch. So the higher the DPI, the more dots you have in an inch, the better your resolution is going to be. So notice here the minimum dimensions of at least 1500 by 1995, right? So they've given you the pixels 15 by 1995, so 1500 year by 2000 here. Okay? Now, if you're going to use it in all products, it's gotta be at least 5000 by 5500 pixels. And all of these sites have the design guide. So very clearly folks hear me very clearly on this. You want to look at where you are planning on printing two and fully understand what they are capable of. Now along this line, Let's go ahead and take a look at another popular site. And again, I don't endorse one over the other. I'm telling you these are the things that everybody struggles with. This is red bubble. And now red bubble again has their own designs. Now they say here, if you would like to use a single image for every product, 76, 32 by 6840, then goes all the way to a king size, do they cover? But you've got to keep the total file size under 300 megabytes, or under 13 thousand pixels in size. Okay? So remember what they're telling you here. Is that a good rule of thumb? High resolution files make the best prints. Notice they said not a massive file, but a high resolution file. So you want to keep the DPI around a certain size. For some printers, some printers are not so picky. So how do we make this happen? Let's go ahead and clear this out. And what I'm gonna do here is I'm going to go ahead and I'm going to shift back here and we're going to open up affinity. Now, previous to this, we were working with inches. I'm going to show you how to reverse engineer this thing. Alright, so I'm gonna go ahead and use t public here. And it's gotta be at least 150. And they're saying 15 by 1995. Okay, watch this. Go to File, New. This time, go to pixels. Keep it at 300 dots per inch. And let's go to 1550 by and let's go ahead and take a look at what was the, what was the size here? 1995. Alright. So let's go ahead and go 19. 1995, right there. Alright, so go ahead. That makes it by default there. And boom, there you go, folks. That is now a template that you could use and it's got the correct dpi. Now, if we were to come into here and we were to go to Document Setup, and we were gonna go to dimensions. Notice here now, we can then go ahead and we can necessarily change from pixels over to inches. And it gives us roughly the inch count at 300 dpi. So OK, and now we're back to inches. So folks, DPI is dots per inch. 300 is what I would consider to be the acceptable level for the print. And each single service will have their own design guide. So definitely go through the design guide once you figure out where you're working with, and then sit your templates up accordingly. All right, that's it for this one. 7. The artistic text tool: All right folks, welcome back to Affinity. Now, one of the reasons why I wanted to constrain the tools in our studio is because we're only going to use these in our initial design. So one of the designs that I think is kind of interesting, that's a big trend in 2021 when this is being recorded is the plastic bag vibe. So if you do a quick Google search, a plastic bag vibe, what you're going to see is a lot of different things that are being done on T-shirts, wall art, et cetera, et cetera. So a lot of this revolves around very simple concept. So let's go ahead and take a look at a couple. One, it's a very short succinct phrase. So good vibes, right? Very simple, doesn't take a lot of time to read. So whatever it is you do in this, it's got to be short and it's a repetition. And in this case they've got an even number of words. However, in this other one, they've got an odd number of words, right? So it depends on which one you want to make solid. So this is actually an actual plastic bag. So there's a lot of different things you can do with this. And it's a very simple t-shirt design, then you can knock off very simply. So let's go ahead and knock it out of the park here, I'm going to teach you the Artistic Text tool. And the Artistic Text tool is here in the tools palette. Now, if you click on it, you see it goes dark. Let's move over to our workstation and you'll see that we get a little cross hair with the letter a, that is a sign. You are in the Artistic Text spot. Now, when you do this, let me introduce you to the context toolbar for this tool. Because remember as you change the tool, the options for that tool are here. So right here, you have the font. Right here. You have any options for that font. Say if it's regular, Bold, Italic, that sort of thing. Here you have the size. Here you have what options may be in the font. As an example, for this one, you can only underline it. Here's the color. I'm not going to worry about these so much. The only other thing that I will use is the alignment. Okay? So if you understand this part, that's really all you need for the Artistic Text tool. So let's go ahead and clear this out. I'll switch back to my cursor and let's get after it. I'll move that back in. All right, When it comes to the Artistic Text, if you click and drag, it will drag out a font. We'll talk more about this later in choosing a t-shirt design. But right now, socially conscious topics are big and t-shirts always have been, always will be. So what I'm gonna do, I'm gonna choose tolerance. And I'm doing that because it's a very simple thing that you can get right off the bat. And it's something that is relatively relevant, okay, So what I'd like you to do is choose your own phrase. Doesn't matter what it is, but don't make it something that they have to read, think about. It's a one and done. It's an impactful punch. All right, Now, when it comes to plastic bag vibes, I like to use Helvetica Black. So if you do a Google search for free Helvetica Black fonts, I'll bet you that you can find a couple. But whatever font you use, I like to use something that is bold and something that is clean. So not a lot of hanky swooshing type stuff. So notice the bounding box. Let's look at the boundary box real quick. Okay, with the bounding box, you'll see you have the same circular handles. And if you want to resize this with the aspect ratio intact, Let's call this aspect ratio. This is the handle that you would use. However, if you want to mess with that aspect ratio, you would use either this middle handle or this top handle. Okay, now let me show you how this works and nothing you have to do here. I'm going to come over to my move tool. And I'm going to click and drag up, see how that changed it. Now, if you don't like what you just did, you can edit undo and that's how you edit undo. So what I'm gonna do, I'm gonna click and drag this up. And I'm gonna make it a little bit bigger. And because my snapping is on, I'm going to go ahead and I'm going to center it at the top. Now. I'm going to teach you a keyboard shortcut. Unfortunately, this is a keyboard shortcut that you're going to have to learn. I don't teach from a keyboard shortcut perspective, but this is one There's no way around. Okay, so I'm gonna go ahead and draw this out for you. Don't do anything other than passively consume right now. We're going to hold control. We're going to hold Alt and we're going to hold Shift altogether. Okay, now I'm gonna put this down here. Shift is used to constrain the image. Alt is used to duplicate the image and the control finished that is used to denote a power duplication. Now what is that? What I'm going to be showing you guys is how to power duplicate. This is an essential skill for t-shirt designers. It is not inherently easy. There's not a magical menu function. This is how you do it. Okay, I'm going to leave this up here now I'm going to do it and then I'm going to undo it and then we'll do it together. So just watch right now. I hold Shift Control and Alt, I drag down. Now notice there is a little yellow line. You see the yellow line right there. I get my spacing right. Once I have the spacing the way I want it, I released the click and then I release my three buttons. Now it doesn't look like anything happened other than the duplication. But the second part of this, just so you know, we're going to hit Control plus j to power duplicate. Now what does this do? It does the last operation. It duplicates it. Okay, Now watch this. So I come back here. Alright, so now I'm just going to hit Control J. Okay, this is power duplication. Now, I'd like to call your attention to the Layers panel. Notice here, notice all of the instances now I have of text. And this is an important thing. Now. I'm still teach in, so hold tight and we'll do it together here again. Notice the different types of layers in the last lesson, this was a rectangle there. It was a shape layer. Anywhere you have the circle a, this is a text layer. It's a different type of layer. Okay? So that's kind of how this thing works. So let's go ahead. I'm going to walk you through it one more time. Okay. Now to undo my steps, I'm gonna come over here with my cursor. And I'm going to edit undo, edit, undo, edit, undo, edit, undo, edit, undo. Let's do one more. Edit Undo. Okay, Move Tool selected, Control Shift, Alt, held, click and drag. Get the spacing right. Release that click, release the buttons, and then Control J. Okay, there we go, 1234567 instances. Now let's come over here, count them out. 1234567 instances. And you'll notice that this is blue right here. That corresponds to whichever one I have selected over here. Okay? So that's the relationship between the layers panel and what we're doing there. Alright, so here it is. Control Alt, Shift, click and drag down with your cursor still in the workspace. Hit Control J to power duplicate, and what it does, it duplicates the last operation. So in this lesson, you learned how to utilize the Artistic Text tool. You'll learn how to power duplicate. You learn how to change some of the color in your Artistic Text. I think that this was a pretty full lesson, folks. I'm not gonna do a lot of keyboard shortcuts. This is one, there's no shortcut way to learn this. Alright, let's go ahead and in the next lesson we're going to show you something new width stroke. All right, I'll see you the next one. 8. Utilizing stroke : All right, folks, Welcome back. So let's go ahead and take the next step. Now. We're going to go ahead and we're going to find in the layers panel right here which one is in the center. So I'm gonna go ahead and I'm going to go to my move. And I'm just going to click until I get to the one that's in the center. And I'm gonna go, and I'm going to call this solid. You know how to rename a layer. Now you know how to identify the layer. Okay, Now watch this. We're now going to apply a stroke. So what I'm going to ask you to do, we're going to change our studio now. We're gonna go to View. I haven't showed you this before. Go to studio. And you'll see that there are all the different studio panels you can choose. The only one that I have you working with right now is the layers. I'm going to have you add in the Stroke panel. Now, it may appear outside like it did on mine. It may appear up here. Watch this. Click and drag, or click and drag. For illustration purposes, I'm going to bring out my Stroke panel so that you guys can see that and it's not convoluted. I like to run it like this. And so what I'm going to do, I'm going to come up to view. I'm going to go to Studio presets. And now I'm going to add a preset. And I'm going to call this lesson 1 preset. Okay? So we've now added to our preset list. Alright, now, with the solid one selected, I'm going to lock this in. I do not want to mess with that. But what I do want to do is mess with the other six. So watch this. We haven't talked about this. I'm going to click and drag this up to the top of the layer. And now you see this is at the top of the layer stack. All right, so I'm going to now grab and select these. Now notice I'm on a area I'm holding Control. Now watch this. This is something I haven't showed you. Right-click and hit group. So what this did in affinity designer's world is it made this a group. Now we can apply a stroke to the group. So watch this. Right now. There is no stroke on this. Okay? So what I'm gonna do now is I'm gonna come over to fill in in the group. I'm going to hit the little white circle with the red line on it. And what it did, it just said, don't fill any of the aspects or any of the people within that group. Now if I click on this again, it comes back, click on it there, it goes away. Now, here's what we're going to do. I'm going to come over to the Stroke panel. And I'm going to click on this little line that let me kind of illustrate this. This little line right here says this is a solid line. This little one here says this is a dotted line. And this one here gives you a brushstroke. For the purposes of this, we are only going to deal with a solid line. This is going to be your line size. And what I'm going to mess with is the alignment. Okay? Now I'm going to show you this and then I'm going to do this together. So don't worry about it right now. Just watch passively and then we'll do it together. So the first thing that I'm gonna do is I'm going to kick up the stroke size. Boom, just like that. Now you can either click here. So I'm gonna make this 5. Or you can adjust the slider. I do bolt. Now notice as soon as you put a stroke on, It's got a black fill. We're going to come over here now to the context toolbar. And that my friends is right here. And we're going to click on this little black area right here. And what's going to happen when we do that? Up comes our color wheel. And we're going to match the color that we had. Now, this is an important distinction. A stroke, by default is equally distributed around the shape. If I want the stroked text to be the same shape as my filled text, I want to align a stroke against the inside. So I come to here. And now notice what just happened. Align Stroke to outside. You'll see how now this little space, let me bring it up a little sooner here. Because we align the stroke to the outside, these things now overlap. That's not desirable. If we align stroke to the inside. Now this n right here is the same size as my red in. And if I align the stroke to the center, meaning half in and half out, it changes again. Stroke adds volume. And the reason why this is important, let me bring this up so that you guys can see this. I'm going to do this blue since we're dealing kind of reddish text. Notice I've got the alignment half in and half out. And look at how little gap I have here. Look at how much gap I have here. Does this look like that? No, that will show up in the viewer's eye as something that is weird. So what we're gonna do is we're going to align the stroke to the inside. Now, let's go ahead and take a look at this. The gap I have here is the same gap that I have here. So this is an important designation. Now if you want to, you can always change the type of joints. Let me show you this. If you go to join, you can change the way that they're joined up. I'm gonna go ahead and I'm gonna keep it there. And you can also change the cap for a closed shape, that doesn't really matter. So what I would like you to do right now is we're going to keep the join right here. We're going to keep the alignment right here. And I want this space to be the same as this space. Okay? Aligning that stroke to the outside is definitely what keeps it consistent. All right, awesome. So we're gonna go ahead and I'm going to clear that out. And I think that we are pretty darn good. So now you know the Stroke panel and what I'd like you to do now, let's go ahead and move that back inside. So you've got the stroke in the layers panel. You've got the solid one up top. You've got the group here, and you've got the background text. Awesome. Alright, so what we're gonna do now is we're going to go ahead and end this lesson. And in the next one we're going to show you a little bit about transparency. And we're going to get this thing ready for export. So let's go ahead and call it, and we'll see you in the next one. 9. Adding transparency Exporting your design: All right folks, welcome back. So we're going to now export this thing and we're going to add in one artistic link here. So what I'm gonna do is I'm gonna go ahead. I am on the magnifying glass here. And I'm just gonna go ahead and I'm going to click and drag to the left a little bit. And then I'm going to use these bars kind of center up. Okay, I'm going to introduce you to a new tool. So what I'm gonna have you do, I'm going to have you go to View. Let's go ahead and go to customize tools. And what I want you to do is I want you to find this little wine glass right here. Click and drag and put it down inside of here. Okay, Let's go ahead and close. Once we've added that, Let's go to View Studio presets and preset. And let's go to section one, complete because this is the last update we're going to make in this and we go, okay. Perfect. And it seems like why do you keep bringing me back to the tools? Because if you start adding them a little bit at a time along with the studio, you get a much better awareness of what each tool is. So you're not dealing with each tool in the complexity of the entire ecosystem. This is what is called the transparency tool. So I'm going to go ahead and I'm gonna make an adjustment on my Layers panel. Now watch this. I'm going to click and drag my layer out here. I like to work with this panel. All right, so the first thing that I'm going to do is I'm going to grab my solid tolerance there. I'm going to uncheck it. I'm going to hold control. And now I'm going to right-click and I'm going to group the entire thing. So this thing is 100% grouped here. Now the way this hierarchy works, let me show you this. I'm going to use this here. These little twirly downs right here where you see the little twirly down. It means that there's indented here a layer and here a layer. And then this has a little twirly down. And that totally down is composed of all of these different layers. So if you ever get kinda lost, confused and you're not sure what you're affecting. Take a look at your grouping structure. I'll bet you that the reason why you're not affecting the layer you think you are, because you're grouping structure is jacked up. Alright, so this entire group now this is going to be a little bit more advanced. We're going to introduce it and then we're going to work with it later, more in depth. All right, so this new tool I'm going to show you, This is the opacity or transparency tool. Let's check this out now, this is totally an option. It's up to you. I'm going to click on this wine glass and I'm going to come over to the middle. Now watch what happens. I've got my entire group selected here and I'm going to center in the group. You see how my snapping is on. Now watch this click and drag. Now you'll see a white circle and a black circle. What I want you to do is I want you to take the black circle and I want you to click and drag it down to the end as well. Okay, see now we've got highly opaque, up to transparent. Now, let's come over here. I'm going to click on this little gray shaded box here. Now watch this. What I want to do is make the red tolerance the most opaque. So in the middle here, I'm going to click in the middle of the line. Now watch this. I'm in the middle of the design. You can clearly see that right here. Take the opacity and crank it up. So what's happening is when it comes to transparency, the end is highly transparent. The middle is not transparent at all. And what I'm gonna do, I'm gonna come down to this white one all the way down here. And I'm going to crank the transparency down on this guy right there. Alright, now if you don't like this, you see these little handles in the middle. They're right here. They're also here. So let me show you where those are. Those are right here. You can adjust those. So let's go ahead and let's adjust them. We'll go ahead and pull this, maybe a little more opaque towards this area, maybe a little less transparent in this area. And if you wanted to pull the transparency, you can even adjust to that. I think that for my money, I'm pretty good. Now, when you are ready, once you're happy with your transparency. And by the way, if you wanted to make it quarter to quarter transparent, you can even do that. You're going to go ahead and you're going to go to the move tool and that locks it in. So this group now has transparency applied. And you'll see by click on the transparency tool, I can make other adjustments. So once you're happy with that, here's what I want you to do. Go to File Export. Now. It's going to give you some options, t-shirts, P and G, Export. And in this case, I just want the selection, but I do not want the background. You'll see the group is selected. Let's hit Export. And now let's call this tolerance PNG with TransE. Okay? And save. That is how you export an image. Now, if I haven't showed you this before, I apologize, Let's go ahead and save our file. Let's call this tolerance mode. And in your downloads for this lesson, I will go ahead and include this. Now, the thing that I will tell you straight up, if you don't have Helvetica Black installed, because this is a font that you will get a different font. So just be aware. All right, let's go ahead and call this one in the next one, we're going to show you how to bring this into your mockup and complete our t-shirt. 10. Placing it on a mock up: All right, folks, welcome back to Affinity. So let's go ahead and put this into our mockup. Now one of the things I added for our teacher course is a mock-up. So let's go to file. Let's open, and let's go ahead to wherever it is you decided to put this course download. And we're gonna go to the front of shirt mock-up. Alright, so this is what comes up. Now, we're going to be putting each one of our designs on a mock-up. And this mock-up is of course free for you to use. And this is a shirt that I actually shot for my t-shirt business. So congratulations, this is a Physical shirt. Let's explore the mockup for just a second so that you know what you're dealing with. All of the things for the t-shirt are in the group. Now, when you open up the group, notice that this is what I mentioned about the twirly downs. That's a technical term by the way, there's the twirly down. This group is composed of a multiply layer and a color layer. The multiply layer only has the wrinkled texture. So I'm gonna go ahead and turn this layer off for just a moment. So notice this is just multiplied where it has all of the wrinkles. Now if I turn off the wrinkle air, notice you just have a color layer. So the wrinkle layer and the color layer, both essential. And the rectangle here is just the background. All right, so there's that. Now if you want to change the color, the way we do that, I already showed you this is the color rectangle. Now you'll see that this is bright red. And if we come up here to the context toolbar, this is also bright red. Well then why aren't we seeing red in the shirt? Watch this. The trick is, it has to do with the adjustment layer. So nothing you have to do here. Just check it out. This HSL shift adjustment is key. So watch this as I increase saturation and as I increase the luminosity, the color begins to come back. And so you can make this shirt any color you want through adjusting this HSL. So if you were gonna do a royal blue shirt, Let's say, we would then drop the luminosity a little bit, make it a little bit darker. And if it was a little bit over saturated, you could come over and reduce some of that saturation until it look natural. There you go. Now, what I'm gonna do, I'm planning on putting this on a pure white shirt. So to me, color doesn't matter. I'm going to take the luminosity, a crank, this bad boy up until I only have the white shirt. So the way you work with this mock-up, the HSL adjustment is your adjustment layer. Any conceivable tone, darkness, lightness of shirt can be achieved this way. Alright, so now let's do this. We went into here. We're going to right-click. And I'm going to do this the, you know what, let's do this the right way. Let's go to File Place and find wherever it is, you put your reference. So there's my tolerance PNG with trends. And bring this just like that. Now, where you put this in the stack is important. Watch this. I'm going to click and I'm going to drag, and it's got to be below the multiply and above the color. So let me highlight this because this is important. It goes underneath the multiply, but above the color. Okay? This is where this layer has to go. And so now it's just a matter of adjusting it to where you want it. All right. There we go. Alright, Now it depends on what you're printing technology is, how this works, all of that jazz. So you can do whatever you want to do with it. But there we go. We have a finished shirt on a mockup. Now you're going to file export. And this one, when you get the background done and you get everything you want to export it as a PNG. I made it square. And I turned down the quality of my mockups because a lot of times on websites, you don't need full on 300 DPI. You don't need that high level of resolution. So I tend to keep my file size is pretty low. File sizes, by the way, folks are right here. Estimated file size, so that it's 264 kilobytes. It's 1500 by 1500. And for your mockups, you really want to utilize JPEG. Okay? So after that, I'll use you to export and away you go. So for each one of the t-shirts we're gonna do in this course. This is going to be the process. Alright, folks hope you learned a little bit about this one. Hope you learned a lot about the text tool. This was the beginning one. This was the simplest one. Let's go ahead and get into a more complex one. All right, we'll see you the next one. 11. Intro to section 2 : All right, Welcome back to Affinity Designer. This is going to be our first theoretical section. Now I say theoretical because it is applicable, but we're not going to be building a T-shirt in these few lessons. This section is all about if you're brand new, even in the world of digital art, what it takes and how we size. Thanks Now I any printer of t-shirts. So what I've done in the downloads for this section is I've included a chart that shows the average placement and the average size for t-shirt designs. Now, if you're a print on-demand folk with print on-demand, again, they're going to tell you what pixel size you need to be at. So in this section we're going to cover things like vector versus raster. We're going to cover color profiles. And we're gonna take a look at how to set up templates and presets in Affinity Designer. Because if you can set up a template or a preset, that is a prerequisite to going pro. Alright, so that's what you can expect in this area. I'm going to be doing one of these every single time. And let's go ahead and jump into this section. 12. What is Raster vs Vector art: All right folks, welcome back to your affinity journey. Now, what I'd like to do here is I'd like to just go over a quick theoretical lesson with you. And it means something in the world of t-shirt design. Now there's nothing you have to do here. We're going to keep this very short, but this is going to be more of a passive lesson. And I want to talk to you about vector art versus raster art. Now, in order to illustrate this, what I've got here in front of you, I've got a 16 inch by 20 inch workspace, okay? And digital art comes in two varieties. There is what is called vector art and there is raster art. Now, vector art is based on math. Raster art is literally based on pixels. So why is this important? If you make your design out of pixels, it is prone to pixelation. Now what is pixelation? Pixelation is when you take an image that has, say, this size and there are this many pixels in it, let's say. And then you blow it up to the entire size here, right? You go through and you blow it up and all the directions. And what happens is that there's no pixels really to stretch. There's no pixels to replace that size. And so what happens? Things get blurry, things get grainy, and things get really ugly when it comes to T-shirts. So you have two options really. The first thing is that most t-shirt designers, at least for some t-shirts, work in what is called a vector. Because vector is based on math. It really doesn't pixelate. Let me show you an example. Now. I've reset my studio again. Nothing you have to do here right now. This is just going to be something we'll talk about. And let's say that I'm looking at the Pen tool. I can draw different shapes. And I can come up here and I can join said shapes. And what happens then is that the math around this shape is held in affinity so that if I bring it up to the size of a business card or I'm blow it up to the size of a billboard. It's still going to be crisp. And why? Because the stroke, the fill color and everything is 110% based on math. Now, vector art is a completely different beast. I'm going to go ahead and I'm going to show you one just to kind of show you what's up here. Alright, so I'm gonna show you kind of what an example of this is. We're not gonna go into anything nearly this complicated in this class, but this is a very simple, elegant design. And you'll see how all of these areas are based on curves. That means it's based on math. This was 100% done in vector. So how is this different from raster? Let me kinda show you guys what's up. So we're gonna go ahead and I'm going to File Place. And again, nothing you need to do here, but I've grabbed a very small type of image off the internet. Now, this image is very super small, right? And as I blow it up to 16 inches, you begin to see what happens. This is pixelation. This happens with raster based images. Now, on the other hand, a vector-based image. Let's go ahead and pull a vector. Let's go to this class, actually one that we'll be doing a little bit later. Let's go ahead and grab this skull. Now this skull, we go all the way up to 20 inches. And let's look at the layers panel here on this. And I'm going to double-click because it's an embedded image. And notice that it is a curve. This is vectorized. And if I go to my node tool, you'll see all the little notes. That means it's based on math, which means I can blow this thing up and put it on a billboard. I can shrink it down and put it on a business card and it will not lose any of its quality detail. So wrapping this lesson up, now that you know what the difference is, there are two persona's, Affinity Designer, there is what is called the vector persona. And I'm going to show you that right here where you got all your vector tools. That's what we've been working in so far. And there is also the pixel persona. Now, we're going to be working with that here in a little bit, all in good time. And when you click on the pixel persona, you get a whole new set of tools right here. So that's kinda where we're at. That's the difference between pixel and vector based art. And remember, pixel-based start is literally based on pixels and in this prone to pixelation. So my best piece of advice, this is going to be a gold star thing. Work close to the size you are going to print on. So if you are going to print a 16 by 20 shirt, do not print on a two by three, okay? That will make it pixelate. Alright, let's go ahead and call this one. I've gone off long enough. Let's go ahead and take the next lesson. 13. Getting the color right: All right folks, welcome back to Affinity Designer. So this lesson is going to be talking about color into the t-shirt space. So in order to do that, we're going to modify our studio again. Let's go to View Studio. And let's go ahead and grab the color tab. Okay, Now notice where the color tab ended up in mine. It's over here on the right-hand side. I'm going to click and drag and I'm going to bring it out. That will help me illustrate my point here for this lesson. And what I'd like to do. Let's go to View. Let's go ahead and go to Studio presets. And let's add a new preset. And let's call this preset to 0.1. Okay? Because we're going to add another one here and a couple of more lessons. Alright, perfect. This color tab is new. Now. There is something that is very unique with the color tab there. And it's something you're going to want to learn early. And the technical term from the community, this is the hamburger menu. The hamburger menu is present in a lot of these studio tabs. So let's go ahead and clear that out. And when you twirl down to the hamburger menu, we can look at the color wheel. We can look at the color as a series of sliders. We can look at the color as a series of boxes with the hue across this band and the lightness and saturation across the lower part. Or we could look at tints. So what I'm going to do for the purposes of this lecture and probably most of the rest of the class, I like to use the color wheel. Now folks, the color wheel has two little circles right here. If you grab the one outside and spin it around, that addresses and adjust what is called the hue. And if you come down and shift the inner circle, you really start affecting say, saturation, you see how if I have the little circles touching and I move over here, the color gets less saturated until I hit gray. And if I move it up and down, I affect the lightness. So with this little adjustment, you can get to any color of the rainbow your heart desires. Now, the other thing you want to learn about this, if we're looking at this and I have this circle with the hollow center selected, that is the stroke. The solid circle here that is bright red is the fill of an object. We're going to talk about those here later, yesterday. In the last lesson, you learned about the stroke and the fill of an object. So we're gonna go ahead and we're gonna clear that out. And now color the real conversation that I want to have today, color comes into two big varieties. The first one I want to talk about is called RGB, which stands for red, green and blue. Now, red, green, blue really represents all the colors that make up your monitor. Anything digital works in red, green, and blue in the RGB color space. And RGB is additive. The more light you add the something, the brighter it gets. So literally black is 000 000 in the RGB scale. And white is all the colors of light all added together. Rgb is additive, so you take the red light, add it to the blue light, add it to the green light, and magically you get white. That's how RGB works. Now, on the other side of the spectrum is CMYK, cyan, magenta, yellow, and black, or called key. These are the colors in your print cartridges. And CMYK is subtractive. So the way this works here to reveal colors, you subtract. So to get to white on CMYK, white is the absence of color. If all the colors are present because they're designed to be printed, they become black. So if all the colors are there is black. What we have to do is we have to start removing colors in order to see them. So you really don't have to understand color theory or how the colors work with the human eye to understand this, what you do have to understand is that if you are printing for digital, RGB is going to be your color space. If you are planning on printing media, then CMYK will be your space. But there is a great unifier, folks. Call your printer. Many printers today allow you to work in RGB and they convert it into a CMYK color space. Now, you may not remember it. It was a couple lessons ago. But when you set up a document, let's just set up a new document for giggles. Right there it asks you RGB or CMYK, the little twirl down menu. I will tell you folks in my career, in my T-shirt printing, I have not used CMYK ever. My printer just does RGB and then converts it. All right, now let me show you something here. Nothing you have to do here. This is a passive lesson here. I'm gonna go ahead and I'm going to put in a very simple circle, and I'm going to fill it with red. Now watch how I fill it. I'm going to come over here. You see where the little white is right here. And I'm going to make little red dots touch. That means that it is read in you. It is fully read like really saturated. This is pure red is a gets. Now I'm going to change the document color space. What I need you folks to focus on, watch the red dot and watch how the colors change on the wheel, okay, to focus points, Let's clear those out. I'm going to now swap over to my cursor. We're going to go to File, and I'm going to go to Document Setup. And all you have to do is passively watch. I'll tell you when. And I'm going to change the color format now to CMYK. Now watch this. I'm going to hit Okay, in just a moment. Got your eye on the color and the wheel. It, you see the subtle change in how the color is represented. This red now a little more muted, and this color wheel has significantly changed its colors. This is the difference in CMYK versus RGB. To illustrate this, I'm going to go back. Go to File. Let's go to Document Setup. And now instead of the CMYK, I'm going back to RGB. Alright, I'm about to hit, Okay. You guys keeping an eye on the wheel in this color? Mom, notice the change. So folks, the general rule is for printing. You want CMYK, but you want to get with your printer and find out what color formats they support. My TTG printers that I use, and even my sublimation printers all asked for RGB values and then do a conversion to CMYK. All right, folks, let's go ahead and call it on this one. Not much more to talk about without going way too deep into color. Let's go ahead and take the next step. 14. The different sizes In a T shirt: All right gang and welcome back to Affinity Designer on our T-shirt journey. So in this one we're gonna take a look at some common things in terms of sizes of T-shirts. So that's the focus of this lesson. And what I'd like to do, I'd like to go to File. And let's just bring this up in your downloads. You've got a T-Shirt infographic. Now, this is an infographic that we made here to help you along your journey. And in full disclosure, nothing is sacred. Alright, what you've got here along the top is a common T-shirt. And what I've done is I have marked common starting point sizes for different designs. As an example, onto this sleeve, it is a 3.5 by 3.5 inch graphic width and tall. So you can go larger than 3.5 if it's a rectangular style graphic and it looks good, certainly change this. Asleep is roughly six inches from here to here. So you might have problems getting it to eight, that kind of thing right? Now, when you go across the full chest, a typical full chest is around 12 inches wide. And I like to start my text at about four inches tall. Now sometimes I'll go eight inches tall. Sometimes I'll go with somewhere in between. It's up to you. The golden rule is, pay attention to your design. Make it look good. So don't hold them a certain sizing simply because that's what came out of the template. And traditionally, front based graphics started around two to 2.5 inches below the neck line. Now, I've had clients that want them lower. I've had clients that want them higher. The general rule is do what makes the thing look good? Now, the blue thing here, that's a traditional pocket T right here. And so a T for say, the pocket there is about 3.5 by 3.5 and a full frontal is roughly 12 by 14. Now these are starting points. They are not designed to be hard and fast guides. I personally do mammoths graphics. And so 12 inches by 14 inches is just a starting point for me. I'll do the whole front of that bad boy. Now on the back, same thing. You've got your cross back right here, and you've got your full back. Now, this can go up to 16, 18. My d t g printer goes all the way to 24 inches as does my heat press. So this thing goes from the top to the bottom, and I even consume this, I go fall back on it. A typical back design is about 2.5 to three inches below the start of the neck. Now if we dotted down this area on the frontier, that's kinda where that is, do not start from three inches from here. It'll be way too low and it looks super funny. Alright? Now, typical t-shirts, and I do say typical, the sizes I give are right here. Now, these are starting points. The reason why I bring it up. If you weren't doing a full chest, a full chest in a small is around 18 inches. Now, if you offer for x, that's 30. If you are rasterizing an image, you know, when you blow it up or shrink it down, that the image may pixelate. So the reason why I plan this in my offering, I don't do anything greater than three x. So I know I'm going from 18 inches over to 28. The distance from here to here is 10. And so when I do a full frontal graphic, I split the difference at five. So I do my design at 23 inches. That way, if I blow it up or I shrink it down, I have some flexibility. If you designed it at the small end and then tried to blow it up for a 28 inch chest. It would probably pixelate. In my experience, depending on your printing technology, you can get away with between 25 and 30 percent of blow-up. If you go past 30 percent, it will easily be seen by the client. They will notice a quality difference. And when I refer to printing technology in this class, It's up to however you want to print. I printed house on a DTD direct garment printer. But if you're going through printable, you're going to want, and that's your technology. And so you're going to want to work pretty close to that. Alright? Now, color settings, when you do a typical t-shirt, know your printer. Some printers require RGB, some require the C, M, YK. We talked about that. And the general golden rule for all printing. 300 DPI, 300 DPI for print. And always check the transparent background box I export in PNG, most t-shirt services allow you to upload and PNG. And you always wanna make sure that you export without the background. So these are some things you want to think about when you're setting up your design. And the reason why we're talking about this. In the next lesson, we're going to take a template and we're going to be making templates of this size. So these are good starting points, but they are not the be-all, end-all of T-shirt sizing. Alright, so a little bit on T-shirt sizing. Hope you like the infographic. This is a good place to start. Let's go ahead and get started. 15. Setting up Presets for T shirt work : All right folks, we'll go back to infinity. So now that we know the basic sizing of a t-shirt, Let's go ahead and set our first template up. Actually I'm going to use the technical term. I'm going to show you how to create your first preset. So let's go to File New. Now, what is a preset? A preset is a pre-determined document that allows you to just open all of these settings and save your settings without having to choose them every single time. So when you bring this up, you'll see presets and templates. Today, we're going to be working with presets right here where the little blue square is. Now, there are different presets across the top. These come preloaded in affinity and you'll see something called my presets. Mine is currently empty, so we're going to create one for the back of the shirt. So we're going to do the back of his shirt pretty set. So the first thing we're gonna do, we're gonna come down to the document units and we're going to choose inches. Now, remember, 300 dots per inch, DPI is the gold standard. And because I want this to be a little bigger than my art and it's a personal preference. I go 16 by 20 on my backup shirts. Now, yours might be smaller depending on if your printer cannot handle that largest size, you may want to shrink it down. The reason I like to do this, if I have to shrink it down or blow it up, what I've found, this is the sweet spot that allows me to do that without losing a lot of quality. Now, the other thing we want to pay attention to, my printer prints in RGB eight bit, and I'm going to click on transparent background. All right, Now, before you hit anything else, we're going to come up to this plus, you see where it says the plus sign right here. We're going to click on this. Okay? Now this gives us an unnamed preset. We're going to right-click and we're going to rename, and we're going to call this back of shirt. Okay? Now what affinity is doing? They are saving my settings. 16 inches wide, 20 inches tall, 300 DPI. It's an inches and it's a transparent background with RGB eight bit. And I hit Okay. Now I'm going to create and up comes our spot. Now, if I close this, nothing you have to do here. File new presets. Now I see my preset. N bone. There it is. So what I'm gonna do now, I'm going to create a couple more presets with you. This is just going to be a couple applications of the exact same technique. File, New, let's make a front of shirt. When it comes to the front of shirts, I'm going to go with about, say, 14 inches wide and I'm going to go by 16 inches tall. Okay. 300 still in inches, still transparent. And I'm going to hit the plus sign. I'm over here rename. And I'm going to call this front of shirt. I know rocket science on. All right. I can spell today, I promise. All right, now let's do a couple more here to get the hang of it. 3.5 by 3.5, you know what I'm gonna do? I'm gonna go to an even 4.5. So I have a little bit of margin, 300 inches, 8-bit RGB, transparent. I'm going to hit the plus sign, right-click Rename preset. Now what we're gonna do is we're going to call this chest and arm. All right, perfect one more and we are done. Width is going to be 14 inches because the graphic is going to be roughly nine by 12 lead site. And I'm going to go up to six inches on my height. I'm going to keep that there. I'm going to come over here. I'm going to right-click. I'm going to rename the preset and we're going to call this, let's call this chest rocker. Okay. Why I'm having problems typing around this Mike today, I swear. Alright, perfect. So now if I decide to create the back of a shirt bone, these are the templates that we're going to be using right now in this class. In a couple of lessons, I will show you how to rock through the art board tool, which will allow you to go from amateur, say just creating presets into pro for a full on T-shirts spread. All right, folks, let's go ahead and stop it here. Gets your presets lined up and we will see you in the next one. 16. Introduction to the Dog Mom T shirt : All right folks, welcome to this section. Now, this section I have a lot of fun with. In this section, you're going to be exposed to the basics of the pixel layer. And you're going to be exposed to the basics of vector. So we're going to be combining vector shapes with photos. And you're going to be working with this photo of my dog should have a Batman and we're gonna make a dog mom T-shirt. So this is not going to be a deep dive into vector. This is the first pass into that world because vector art is very different than pixel art. So you're going to learn a little bit about clipping masks. You're going to learn a little bit about how to adjust paths. And so this is going to be your training wheels in for some of the more complex things that we do later. Again, if you get stuck anywhere along the way, make sure you reach out to us here and we will get you unstuck. Alright, let's go ahead and get started. 17. Working with Effects and adjustment layers: All right folks, let's go ahead and get into doing our first t-shirt. Now, these next couple of projects are going to be a combination of pixel width, an introduction to vector, so that you're not totally lost in terms of moving on to 100% vector and 100% of the time. Now I have the layout from the last section. That's the layout to 0.1. And if you've been following along, you have that. If you just joined us here, we've isolated some of the tools so that the tool that we have are only the ones that we need to use. Now, you might have more tools than we do, but you probably shouldn't have less. Let's go ahead and open. Now in your downloads for this course, we've included my beloved dog here. Let's go ahead and find it. And we're gonna make the classic dog mom T-shirt. Okay, so let's go ahead and open up a picture of chewy. There he is. All right, beautiful boy right there. All right. So what we're gonna do is I'm going to go ahead. I'm going to dock the color back in and I'm going to pull out to the Layers panel. All right? And I'm going to bring this up a little bit. Now, you'll notice that this is a pixel layer. It's right here, says what type of layer it is. And you'll notice that it's locked. So the first thing that I wanna do is I want to convert this into a pencil sketch. Now, what I'm about to show you some of the techniques I'm going to show you very daunting. What I want you to get out of this is where things are in the interface. And the only way to get really truly comfortable is to play with them. So I would encourage you once you know where these things are, take some tutorials, learn the techniques that you want to use in your t-shirts. And this will give me the basis that you need to be successful in other areas. So the pieces of the interface that we're going to learn right now on the layers, we're going to cover the adjustments layers. That's that little half-moon circle. We're going to cover layer effects. Layer effects are where that little fx is. And then we're also going to teach you a little bit about blend modes. Okay? So this is going to be a little bit longer, less than, than usual, because even if you're coming from affinity, or I should say to affinity from Adobe. These are all very common things in digital art. And so even if you're familiar with where they are in Adobe, it helps you identify where they are in affinity. So let's go ahead and clear that out. Now I'm going to switch back to my cursor. And the first thing that I'm going to do is I'm going to right-click on the background and duplicate the layer. Now, I don't teach shortcuts. So there are of course, keyboard shortcuts. Those are up to you to learn. I hated keyboard shortcuts when I learned because they're all in the menus. All right, so this new background layer, the first thing that we're going to do is we're going to go ahead and we're going to prefer an HSL adjustment layer. So come down to the little half-moon. And these adjustment layers, you adjust the layers that you've already created. And I'm going to look for the H ASL. And that folks is right there. That stands for the hue, saturation and lightness adjustment. Now, let's take a look at this because it can be a little daunting. Every time you use an adjustment layer. You get the layer pop-up window right here. And you see where this embeded the adjustment layer. It attached it to this layer up above. So the same way that I showed you, the layer structure works in the last lessons. This layer structure works the same way. Now, if you take this slider here and we shift it to the right or left, it'll adjust the hue. The hue is a fancy way of saying color. The saturation is a fancy way of saying how much color. And the luminosity or lightness is, how dark or how light the color is. So the first thing that I want to do in order to achieve this pencil look, I'm going to use an HSL layer 2 D saturate my image. So I'm going to take this slider and I'm going to push it all the way to gray right there. And you'll see that in effect, we just made a black and white photo. Now. Watch this, we're going to change layers. Right now. This HSL layer only applies to my background pixel copy. So if I close this, you see how it sticks with it. What I wanna do is I want to pull it up above, you see where the little blue line is now. This means that anything below the HSL shift will be affected by it. Aright. So what we did, we desaturated. That's the first thing I want to show you. Now. The second thing that I want to show you is the changing of the blend mode. Now what blend mode does, blend mode, and I'm going to write this down for you, tells the layer how to interact with the layer below it. Now, there are some common ones. As an example, the blend mode of multiply is used a lot of times to create shadows. You will use the blend mode of screen to create highlights. We're going to be doing all this in some other projects. Every blend mode has its own use case. And again, the easiest way to learn them is to just take some tutorials, try some techniques. So what we're going to do, I'm going to introduce you to where to adjust them. And it's over here, right here where it says normal. Let's click on this. In order to get that good pencil. Look, watch this. Don't have to do anything. We're going to just filter through and you'll see how the blend modes change. I'm going to land on Color Dodge. Okay. There's a reason for it. And now I'm going to bring in another adjustment layer. And I'm going to use an inversion adjustment. Now, when you're doing this at home, make sure the inversion adjustment is attached to the background, not up above it. If your layer is up above it, let me show you what's going to happen. Because this is a very common thing for new people. Click and drag and you see you get this weird effect. Click and drag and it goes white. And this thing folks, should be white. Okay, Now we've covered adjustment layers. I've showed you where to go to get Blend Modes. Now I'm going to show you something called a layer effect. And let's go ahead and click on layer effect. And these over here are the different effects you can add to a layer. So the one we're going to be using today is the Gaussian Blur. Gaussian Blur, Gaussian Blur, whatever you wanna call it. Don't really care what you want to call it. Just don't call it late for dinner. Now, watch this. We click on it. I'm going to push this over here. And now I move the slider. Now you'll see nothing's happening. Why we applied the layer effect to the wrong layer. You see how the FX is right here. A lesser effect on the inversion adjustment ain't gonna do nothing when it's white and you blur it. It's just blurred white. So we close out of that. Close out of that. Makes sure now your background layer is selected. And now bringing your layer effect, go to Gaussian Blur. And now watch what happens when you pull the slider. You start to get that really nice style pencil look now it's not great yet. Let's go ahead and close this. And the nice thing about effects layers. You can always come back there right here. They're attached to the layer. And so if I ever want to change the amount of blur again, watch this. I just click on the Effects symbol and notice the slider is exactly where I left it. Now the last thing that I want to do with yet, we're going to add another adjustment layer and we're going to put in what is called a levels adjustment. So go to the little half circle, go to Levels, click on levels. Now what levels does it makes the picture more dynamic. Now watch what happens when I push this black. You see how more of the picture comes out. So I'm going to stick the black right about here. I'm going to change the Gamma to be maybe somewhere right around here. And I'm going to put the output black level. Let's change the output white level to something maybe right around here. I think that that is pretty darn good. Now, how did I know what to do with that? In reality, play with these sliders. The black level is going to make the blacks a little bigger. The left white is going to make the whites a little brighter. The Gamma's going to adjust the overall. And then a subtle adjustment of the output levels will help you along your way. It's up to you how you want to do this. I like these settings for this picture. Totally up to you. Now, when you're done with this, close out your levels. So let's close the levels. And if you ever want to adjust them again, you can easily come over to the layer, Double-click and every one of your adjustments is right back where it was supposed to be. Now, once I've got this levels adjustment folks, I'm going to tell yet, I'm going to click on little effects here. And I'm might scoot this guy down just a little bit. Yeah. I think that that's pretty darn good for a pencil style sketch. Alright, so in this lesson, Let's go ahead and recap for two seconds. I showed you where the blend modes are. There is no way possible. I can go through every blend mode and every use case. This comes with experience in time. I showed you where the adjustment layers live. I showed you where the effects adjustments live. We took a look at how to properly nest. We took a look at the HSL adjustment. We took a look at a levels adjustment, and we used an inversion adjustment to combat the blend mode. All right, that's good on this one. In the next lesson we're going to show you how to isolate this dog from a professional perspective. And the reason why it's a pro perspective, it's non-destructive. This is a key part, folks that I'll leave you with. Notice how every part of my workflow at this point was non-destructive. I can go back and change the Gaussian Blur. I can adjust the levels, I can adjust the inversion. Everything is non-destructive. If I wanted to turn it all off today, I am right back to have in the original dog image that I had. Ri let's go ahead and call it on this one. This one ran a little long. This was not about teaching you all about the blend modes, the adjustment layers and the effects, but showing you where to go to get it. The only way to attain mastery of these concepts is to try them on various projects. We're going to do a lot of projects, so you need to know exactly where it sits. All right, folks, we'll see you in the next one. 18. Working with the pen tool to create lines: All right folks, welcome back to Affinity in our t-shirt journey, it is time to start with the world of a vector. What we've been working on so far is we've got this dog. What I want to do is cut out the dog. Now, there are ways to do it in the pixel persona, but I want to show you a smoother way to do it. We're going to make what is called a clipping mask. Now, to do this, we're going to add a couple more tools to our toolbar. So let's go ahead and go to View. And now what I want you to do is I want you to come down here to customize tools, okay? Now the tools that I want you to drag over, I want you to grab the pen tool, looks like this little pen up here. And I also want you to grab the pencil tool. And I want you to grab what is called the Node tool. Now for some reason, I have two of them. I want you to grab the one with the little white arrow if you have it. If not, you can grab that one. Okay. The last thing that I want you to grab then is the vector brush. Okay? So these four tools, folks, are the vector manipulation tools in Affinity Designer. So let's close this. Let's come up to View, go to Studio preset, and let's go ahead and add a preset and we'll call it section 3.1 because we might add to this. Okay, so that's going to be our new workspace, our new preset. Alright, let's take the pressure off from doing a t-shirt. And these next couple lessons are going to be practice. You want to do the practice, Okay? I know this is going to be terribly long, boring and it's going to be frustrating. You're going to want to throw the computer around the room. I get it. Let's go ahead and create a document. Let's go ahead and go with pixels. Actually, let's just do it this way. File Open. And in your downloads for this section, I've included a practice image for clipping paths. Okay, cool. So this is a pixel image and it's got a lot of squiggly lines on it. Now, this is my practice, boot camp proving ground for vector art. Now, all vector is achieved using shapes, using the curves, using the pen tools. So what we're going to learn to do this lesson is about learning to make shapes with the Pen tool. It is true there are shaped tools over here. You've got them already. We've been using them. But what I'm going to do is now I'm going to introduce you to the pen tool. So let's go ahead and click on the Pen tool. Alright, now to do this, I'm going to move my color tab back over. And I'm going to dry out my layers so that I can illustrate this for you folks. Okay? And I'm also going to bring up my pen here. Alright, perfect. Now, with the Pen tool selected, I want to kind of work you through the context toolbar. Now, what's going to happen when you use the pen tool is it's going to put a little circle or a square wherever you click it. This little circular squares called a node. And nodes form lines. So as an example, if you click the pen tool here, click the pen tool here, click the pen tool here. The line that will be created is here. And each node you'll see has these little handles coming off it. That's the term for them. They're the handles. The handles control the node. So what you're about to see is all vector is made of nodes. And nodes have handles for control. Okay? Now let's take a look at how this works. Nothing you have to do here. This is one of those things you wish it a little bit that you didn't do it because it's just frustrating. Okay, width your device. Let's go ahead and I'm going to click right here. Now you see the little blue circle that's been created. That's a node. Now, I'm going to hold Shift. You'll see the yellow line. When I get to the intersection where I want it, I click again. Now, notice here. Let me go ahead and bring this up. Notice here, this is a square node. This one here, right now is around node. Nodes have different shapes. Around node. Create something that looks like this design down here. A perfectly square node creates a 90 degree angle. Okay? Now, you can change the style of node that is up here into the context toolbar. You'll see there is a square node. So you can invert around one to square. And you can convert a square 12 around. And you can do something called a smart node. Now, a smart node, I will tell you, I rarely ever use Smart Notes, Okay? I use square and I use a lot around. If I add my preference, I would make everything around node. We'll talk about that a bit later. All right, So let's continue on. Now. You'll notice that I've been clicking around and such, and I abandon the shape. The pen tool remembers the last shape. So if I hover over it, you see how that turns yellow. That's the last known point. Watch this. Hold Shift, click, hold, Shift, click, hold, Shift, click, hold, Shift, click. The pen tool. We'll pick up where you left off if you go in and you do some other stuff. Now, why am I holding Shift? I'll go ahead and I'm gonna put this down as well here. Shift equals straight 90 degree lines. It's a modifier. So watch what happens if I do not hold Shift? If I have the pen tool, it will still allow me to pick up a watch this. I can come over here, I can go over here. Meanwhile, I'm going to Control Z this, if I hold Shift, I'm constrained to 90 degrees. So if you're making a very simple geometric shape, 90 degree angles like a square, this is how you do it. Okay? Now, the last thing that I want to show you, notice the type of layer this creates. This is a curve layer. It is not a shape. This thing down here, remember formed a shape layer. We use those tools over here, the blue ones. This is a curve layer and a curve has stroke and fill. So I'm gonna kinda turn this off. And now to adjust the stroke on this thing, watch this. Grabbed my mouse there. I'm gonna go ahead and I'm gonna use a red stroke. And I'm going to turn up the stroke width. There we go. Now, whoa, wait a minute, I just clicked off that animate another thing. This is an important thing. I'm glad this happened. In order to tell Affinity Designer that the shape is finished, you must hit the escape key or go to another tool. This is a huge pain. So I'm going to Control Z this. Now watch this. I hit Escape. And now notice the color of the node. There is the red. This is the finished note. Okay. So Pen tool 90, not even pen tool 101. The shapes or the lines or whatever you're making are made of nodes. This is a square node. You make a line perfectly straight by holding the Shift key. Shift key equals straight line. Now, the second thing I want to do here, because this is going to take a couple lessons, folks. I would like you to practice this. Remember to hit the Escape key. When you do this, if you do not hit the Escape key, it will continue to make nodes and you'll be frustrated. The reason why I created this practice sheet is because this is a life-skill, a 100 percent. As you do this at the teacher designer, it gets better. Now, here's the next thing we're going to do. I'm going to show you how to do this with a soft note. Let's go to the Pen tool. Now watch this. I'm going to click at the beginning. And now you see how this thing begins to crest here. I'm going to click and hold at the crest. Okay, you see now this is a round node. Now, what I want you to do, I'm going to grab my pen here. We're going to talk about this. I want you to be looking. Ahead. Everybody gets confused about where to place the node. The thing you wanna do is you want to look ahead and you want to angle your line down in the direction to the next inflection point. And then we're going to angle up. We're going to put one there. We're going to angle down, we're going to put one there, and we're going to angle here and we're going to put one here. So the look ahead method is an important thing because you want the minimum number of nodes. Let me write that down. Minimum node number. The more nodes you have, the more choppy line looks. Okay, Let's do this. Remember we haven't hit escape yet, so the Pen tool is still looking. I'm going to come down here and I'm going to go to my next inflection point. And I click and drag. Perfect. Now I'm looking ahead. I'm sweeping up. When I get to the hill, I click and drag. Okay, now you see I missed the line there. That's fine. We're going to show you how to fix that. Let's do it on purpose. All right, now I look ahead. I'm bringing it down to the valley. Click and drag. I look ahead, I bring it up to the top, click and drag. And finally, you see this is the end of the line. Watch this. Click and drag do not just click or you will get a square node and it will not work. Now, the last thing that I want to cover in this line is how to adjust. Once you have created the shape, Let's hit Escape. Now I finalized it and now I'm going to come to my node tool. The node tool right here. I'm going to bring this up because I want you to understand where this is. This is going to be a huge friend, EU, the T-shirt designer. The node tool right there. What the node tool does is it allows you to adjust. So if I want to adjust these nodes now, let's go ahead and click on the node. You'll see it turns blue. And I'm going to grab the handle. And I'm going to grab this handle. And I'm going to grab that handle. And I'm going to do a little bit of adjustment. You see how now we've got that. And now I'm going to grab this handle. I'm going to do a little bit of adjustment. And now I'm going to grab this handle. Folks, after you get your hidden lines down, you're going to want to make some subtle adjustments. Notice how I'm going through now and I'm touching each one of these lines. And sometimes you have to move the node. So this little blue node here, I move it up, right? Perfect. We are spot on that line. That line is good. Ok, that last one there. All right, Now I realize I made that look easy. You're going to get frustrated. It's going to be infuriating. That's fine. Now, there's one more thing that I want to show you when we talk about lines. In the next one we're going to talk about shapes. When you want a hard point. You see here I've got a series of hard points all scrawled out in different ways. We're going to use the pen tool. You start the line and now watch this. This key is very important. I'm going to write this down so that you can get it down. When you do this type of thing. Very simply. You're going to want to click Alt. Drag. Okay? Now what do I mean by that? Watch this here. Click. Pull it out. Now hold Alt, that is the modifier. And you see how I'm only moving one handle. And then we release the L, are released the click, and then we release the ALT. That is very important. Release click first. Now, when I said move ahead, click and drag. Click and drag. Now hold Alt. It allows me to swing one handle. Release the click, release the Alt, click and drag. Click and drag. Hold Alt. Move the node, release the current click, release the ALT. There's your other one. Click and drag. Hold Alt, it swings the handle. Released the Alt, release the click. Click and drag. Hold Alt. Move the handle, release the click, release the alt and drag. And lastly, drag. All right, Now how do you adjusted folks? And notice what's been created? Oops, let's now create another one of those. Let's hit Escape. So we finalize it. Notice here it's created square nodes, all of your waypoints here, r square, all of these. Our round. Okay? So this is what a square root node does. It creates firm corners. And to adjust this. And the reason why I did one of these, and this is the one that's really going to vex you. You grab the node tool now. And what you can do is you can suddenly change the inflection points for all of these types of things. And see how moving that changes that folks getting to know this. This is not an intuitive thing. I know this is going to be complicated for you. But if you take an hour, just take an hour and play with the nodes, play with the lines. I guarantee you, you will get very comfortable, at least enough to do a modest t-shirt. Now you see I missed the bar completely on this one. Move that over. Push this node in. Reposition this, push that node a little bit there. Push this note a little bit here. I did these all different ways on purpose so that you could get a really good flavor of having to adjust it. Because if you can practice this way, you'll be good. Sometimes you got to adjust the handle. Sometimes you've got IM, route reposition the node. But these have minimum nodes. You shouldn't end up with more nodes than this. And one thing you could do, check this out. If I click on this node right here, it turns blue and I hit Delete. I can create a nice kind of swoosh there. And by simply readjusting my nodes, I can get a very different shape. So that's another way you can do it. It takes a node out of the equation. You see how this area right in here, let me turn this to blue, since we're working in red. This area here is a lot nicer than this area here. If you have multiple nodes on this line, it will make it look like a stock market term. It's not good. All right. I know this was a long one. I know this is confusing. Give it a shot, get a little bit of familiarity with it. Do not try to master it. Mastery comes with time. And in the next one we're going to show you how to do the same thing with the shapes. All right, we'll see you the next one. 19. Working with vector shapes: Now our eye getting Welcome back to avidity. Now we're going to focus on shapes. The thing that I want to connect with real quick on this, Let's take a look at what the thing we did here created in our layer structure. Notice here we have these three lines and we have three distinct curves. So each one of these curves doesn't just add to the layer. It creates its own distinct layers so that they're constantly adjustable. One thing you might do, and this is just a best practice for me. You can name these, I can call this round the curve. I can call this one square curve. And the reason why I do this, try getting a 100 layers deep in a complex vector design and find out that they're all just curves. You're going to want to practice some naming so that you get that hierarchy right? Alright, so let's now take a look at shapes. Now I'm going to show you something. Nothing you have to do here. Let's start with the square curve. And you remember earlier I said that a shape has both Fill and Stroke. Now the stroke for the shape we've already beat to death that's up here. What we're gonna do now is I'm going to fill this thing for you. Now. When you do vector, I recommend that you have the fill off when you're doing things like outlining and such because it just gets confusing. Now watch this, I'm going to fill this with black. It just gets weird. And the reason why it gets weird is because technically what affinity is trying to do for you. Let me bring something up to illustrate this. It's saying, okay, my line goes this way. Alright? So my line right now it's going this way. So I'm going to fill in this portion. But wait, now you flip direction on me. So now my line goes this way. So I'm going to fill in this portion. And then when you flip it around again, affinity gets confused. And so this is what is largely called an open curve. And open curves don't genuinely, genuinely fill well, generally. So the same is true here. Let's go ahead and I'm going to undo this. I'm going to clear that out, bring this up. I'm going to go to fill and I'm going to hit the 0. And I'm going to show you kind of the same thing here in this wavy style curve. If I fill it, it gets super weird because you've inflected the point. So the question is Jeremy, how do you then fill it? Because you're going to want to fill these shapes. The short answer is you have to create a closed shape. Now, here's what I'm gonna do. I'm gonna do something you don't have to follow along with this. I'm going to come down here. I'm going to grab my pen tool. And I'm going to put a little dot right there. And now I'm gonna come over here and I'm going to put a little dot right here. Now watch this. I'm going to pull that down. And now what I've done is I've created a closed shape for this wavy pattern. Now if I fill it, watch what happens. It still looks a little weird. Well, why? Because now let's look at our curve. Did I really truly add, nope, sorry. Wacom got away from me there. Did I really truly add to this curve or did I create a totally separate curve? Well, it looked like I just closed it but I really didn't. I created a completely separate curved, my wave curve is right here. This blue thing I've got is this weird thing that I just created right there. So what we're going to do, I'm going to show you how to do this. And these are things folks that people experienced constantly. I'm going to Control Z. And so then I come down to this thing here and I'm going to delete that out. Now. What we're gonna do, I'm gonna grab my node tool, watch this on to take my node. I'm going to join it up. And then I'm going to stretch this node out here. Now, let's pull this down just like we did. And now you have to make some adjustments, right? This does some weird stuff. We may be better off here with a square node. Allright, perfect. And if we do this part just like that, and we do this part just like that, we're back in business. See I'll change the node type. Now, let's look at my layers panel. Did I create a separate curve? No, I did not. So what we're gonna do is now when I fill it, Let's go ahead and fill this thing out. Now we get the right Phil. Folks, closing a curve is a complex thing and it will infuriate you and you will hate it. But over the time you will get used to it. I promise. Now to illustrate this, here's what we're gonna do. I've created some shapes down around the base. I hit Escape. And now what I'd like you to do and what I'm gonna do. I'm gonna start with one shape. And I'm going to show you how to create different shapes through this. Let's go ahead and go 1, 2, 3, 4. And now make sure you're reconnected right here. See how it turns yellow. But this is a curve, Let's call this square. Now you and I both know that's a square that in the eyes of Affinity Designer is just a shape. Now, here's what we're gonna do next. This is going to be tricky. Stay with me. Right-click. Duplicate it. Okay, I want you to call this one a star. Now you're saying, well jeremy, we have a star over there. That's okay. Watch this. Here's what I want you to do. I want you to take your square over to the star. Now what I want you to do is use your node tool and manipulate your notes until you get to the star. Now how do you create a node where you don't have a node? Hit just the line and it creates 14. You create one. Bring it up. Create one. Bring it up. Create one. Wearing it in. This one already exists. So let's just move that in. This one already exists. So let's move that in. Let's create one here. Pull it up. And to pull it, I'm just clicking and dragging. Okay, Awesome. See how you can get to any shape from any other shape. Now we're going to do another one here. Here's what we're gonna do. I want you to duplicate the star. And now we're going to call this half circle. Okay? Now, with your move tool selected, bring your star over and position it. Now grab your Node tool and you're going to add and subtract nodes. Watch this. Click and drag. Click and drag. Grab this node here in the middle and hit Delete. Hit this node, hit Delete, hit this node, hit delete. This node, delete this node, delete, this node, delete this node, delete. Hey, looking at a triangle. Now watch this. Click on this top node right here. And now where I want you to go, hold tight. I want you to convert that node from a square to a round. Okay? Alright, let's do it. Remember the node is selected blue. And now I want you to pull those handles and let's drop it into position. Now it's gonna take you a while to get it just the way you want it. All right? And folks, it is not an exact science. It is a little bit of guess and check. Alright. If you're ever doing detailed work, you're really going to want to use shapes if you can, because this is a pain in the backside. All right, let's do this again. Grab the half circle, duplicate it. And now what you're going to do, come over here. And we're going to make a heart with it. Now start the way that you know how to start. Start with the node tool. Let's see. We do not need to nodes down there, so I'm going to delete that. And I'm going to move this as my starting point. And I know that I want the heart right here. Okay? Now, notice where I have some inflections. Plan your attack. You see right here, you have an inflection point, right here. You have an inflection point, right? Those raises go up. So what I would probably do is I would make sure my node tool selected. I would click here and I would move those into position. All right, now this middle ground, I would probably make that a square node because I want a hard edge on it. Cool. Okay? And now notice that you can get pretty darn close with this, just like that. Okay? And now notice I'm moving the node and I'm also working in the handles. You have to move the nodes where you need them. Okay? Now, let's take a look to appreciate what we've done here. We've actually started with a square, made this square into a star, made this star into a half circle, made the half circle into the heart. And now we're going to morph this into a cat. No, just kidding. We're not going to morph the heart into the cat. But the same rule applies. Okay. The reason I put the cat on the sheet in T-shirt design, sometimes you want to do different silhouettes. So what we're gonna do with the cat is it is here for your use. And with the cat, what I would recommend you do, let me just show you what's up. You click here, click here, click here, click here, click here, click there, and drag, click there and drag click there and drag, click there and drag, move it. Notice I'm working in the inflection points. And then we close it. Now, let's take the stroke off this and let's make it a filled shape bone. Just like that. Once you get good with this tool. And of course you can come in with the node tool and you can select and you can adjust, right? I can make that leg a little bigger. I can make that leg a little smaller. This is how you make things like silhouettes and such. You really don't need many nodes. Nothing you have to do here other than watch what I'm doing. I'm just going to show you how I would do this. I always put the nodes in the intersections. So there's one there, there's one there. And I'm following the contour. Okay. There's an intersection there. Now I'm holding Alt. That gives me that nice foot. Right-click, right-click and drag. Click and drag. Click and drag. Now this is Alt. Alt. To get that nice corner. Click and drag. Click and drag. Click and drag. I know I'm being repetitive, but that's why you're not having to do this. You're just watching me do it so that you kinda see how one of these actually works. And you see that I really minimizing the nodes. And I'm only adding the nodes where there's an inflection point. And folks, this is essential for t-shirt designers because a lot of t-shirt design is done in vector. Now you see how I pulled this node quite a bit to get that background, to get that back arch. Okay, That's okay if we mess that up, not a big deal. Okay, coming around this tail, that's okay, not too worried about it. And we combine. Boom, just like that. Now, let's go ahead and adjust some of these nodes. Bringing this guy back, this guy back. Adjust the position. Just that, pretty darn close. Okay. I don't like the way that turned out. I'm just going to put one node here. And I'm going to blow that up to me. It looks a little bit. There we go. That's a lot smoother. Okay? Alright, that looks pretty good. Now let's turn off the stroke. Turn on the fill bone, and then we do the same with leg. Now the last thing that I want to show you in the leg, I'm going to do what I asked you folks to do. I'm going to tap, tap, tap, tap, tap. Notice how I have four points. Watch this. I'm going to come up to the stroke and I like to work in a bolder red stroke, let's say. And now using nothing but these four points, I can make this happen, Katherine. I add a node, I make it round. Even if you only have four points, you can add nodes. You can make them round. I'm going to stretch that the way that it needs to be stretched, bring this in. I'm going to add in around a node. So I add a node and I make it round. I position it kinda where I need it. Same thing with the foot. And I add another node. This time it is round and I make the curvature of the way I want it. Perfect. Turn off the stroke. Turn on the Fill. All right, now you see where I'm missing once I turned off that stroke. No worries. We're gonna come back over here. I think I'm going to add in a node, okay. That works folks. I know this one was a bit long and I know this one is going to be a little bit vexing for you. But realize that we start with lines. Lines get filled into shapes and vector shapes are the basis of t-shirt design. Alright, I'm gonna go ahead and call it. This was probably another 20 minute lesson. I promise you they get easier from here. This was the challenging part that you gotta get over. All right, we'll see the next one. 20. Working with Vector clipping masks: All right, folks, welcome back to Affinity. Now we are done with our exploration of a vector, you know, just enough to be dangerous. And so we gotta get you competent enough to make a difference. So we're gonna go ahead and we're gonna close this practice image because I think we're all pretty much sick of it. So let's go ahead and hit no. And what I'd like to do, you remember a couple lessons ago, we were working with this dog in the entire discussion around vector images, brought up the idea of a clipping mask, which is how we're going to isolate this dog. So everything you've done has led up to this point. Let's do what we know we need to do. We're gonna go to the pen tool. And what we're gonna do is we're going to create a clipping mask. Now let me show you what a clipping mask is. Let's say that I have this circle. Nothing you have to do here. And what I'm going to do is I'm going to take, Let's turn off the picture of the dog. I'm going to take this picture of the dog and I'm going to put it into the circle, a clipping mask. And I'm going to write this down here because this is a big deal. A clipping mask clips the image is inside of the mask. And when do you use this? You use this when you want a clean modifiable mask. Now, could I have gone into pixel persona and selected the dog? Absolutely. But let me show you why you would use a clipping mask. Let's go ahead and bring this up. If I now twirl open my mask and I go to the background and I use my move tool. Watch this. Let's unlock it here. That helps. I can now center that dog anywhere I want. And if I wanted to come back to the mask, I could control alt this thing, or I could shift alt this thing. I could make it a little bit bigger and then I could adjust the dog. And I can shrink the dog and I can position it differently inside the mask. All things are possible. Remember that I practice non-destructive workflow whenever possible. There are times in which you cannot practice non-destructive workflow and you have to destroy the image, but very, very rarely. Okay, I'm going to Control zed, this thing, bring us back to where we were at. We've seen what a clipping mask is now. All right. Let's turn back on all of our other layers. All right, so we're back to where we were. And now what I want you to do is we're going to use the pen tool to create the clipping mask. So we're going to come over to the pen tool. And now this is just my method. I always start in the intersections. And I click hold the Alt, and I click and I hold the Alt. And I click because that ear is a little pointed. And I come around. I click and I come around. And I'm looking at the ears, I'm looking at the head. Okay. And you'll see that I'm just putting in some dots and they're all round because I'm clicking and dragging. I don't use a lot of square nodes except for right there in that heavy crevice. Okay? And what I'm gonna do now, I'm going to go down the body a little bit. And then I'm going to cut across his chest. Okay. Let's see. We're going to go back a step and I'm just going to grab the chest portion. I don't want that leg. Ok. Now, this creates the clipping mask. Now this is just my method. I tend to work in a bright red and I tend to work with a little bit heavier outline, especially when I teach because you guys need to be able to see this. And I want you to use the magnifying glass to get close. Okay? And then I pick an area and I grab my node tool. Now I'm going to start right here. You see how moving that around. And now all I'm going to do, I'm going to clean up the clipping mask. So unlike position this on his ear, Right? Okay. Now you see how this isn't giving me the handles I need. I'm going to select the square node and I'm going to make it round. And just like that, we have an ear. Here we go. Okay. All right. Now, I'm going to follow the dog right about here. Now I'm going to zoom in here because you guys need to see this right about here. You see how we've got a little dip there. Bring in a node, position it right about here. Shift the node into the crevice. And that should just about do it. Yep, that looks good. Now, a word of caution. Do not zoom in super close to do this work or you will never, ever, ever get out of the hole. There is a fine line between being effective with this technique and realizing that nobody will see it. Okay? Like over here in the head, I'm not trying to follow every curvature of the head. I'm literally just making it adjustable here. And folks, there is no way around the fact that this is mind-numbing work. Okay? Some people enjoy this. I personally do not. But there is no substitute for the kind of smooth selection that it makes. So it is essential that look like that. This looks like this. Okay. That looks like there's a there we go. Just like that. Just like that. Like that. Now, if you wanted to include the leg, just stretch the thing out a little bit more, pop in a square node right there because there is a definite transition. And then I'm going to make that a little rounder. Alright, now, here's the trick. Once you get it where you want it, Here's what makes it a clipping mask. I want to come up to the curve and I'm going to call this clipping mask just to help you out. Now watch this. I'm going to take the HSL, take the background, and I'm going to group them. These things are now grouped forever. And I bring it inside of the mask and I turn off the background layer. Oh, sorry. I have to bring in the dog also into the group. There we go. Because the blend mode on this background layer is Color Dodge. It's pulling the colors from the back. Alright, now the last thing to do, Let's take the read off from the curve. So with my move tool selected, I come over to Stroke and I clipped down the stroke. And if I have to adjust my curve, I do it at this point. As an example, there is a spot right about here where the stroke was a little bit crazy. So I might adjust these slightly. I might make a subtle adjustment here. And the nice thing is, this is completely modifiable. If I wanted to expose more of the dog, I can. So right now we haven't destroyed this image one little bit. Okay. All right. I think that that is pretty darn good. This clipped image, this curve is what I am going to drag into our larger t-shirt design. So in the next lesson, we're going to combine this image with some vector and some text. All right, Let's finish this thing up. 21. Adding vector shapes and brush strokes: All right, folks, let's go ahead and lay this thing out. Let's go to File New. And now I am in your presets and you remember that we created a preset for the front of a shirt. So let's go ahead and create. Okay, now we take the Doug. Make sure your move tool is selected. Right-click, copy it, bring it in here, paste it. Okay. Go ahead and scroll this thing down. I am holding control. If you want to. Let's just grab it by the corner and we can then just control the aspect ratio that way. Alright, I'm gonna put it in the middle of the artboard. And now I'm going to be putting this on a white shirt. So I'm going to create a fill that is white and I'm going to be dropping it to the back just like so. All right, now let's talk symmetry for just a second. What I wanna do is I really want to kinda come up with something and I'll just sketch it out here. We want to talk about symmetry. We're going to kind of balance this thing out. So what I think I'm gonna do, I'm gonna create a little vector style Paul right here. And then I think I'm going to create some sort of a heart, but I'm going to turn the heart kind of on its side. And I want the dog to be not here, but I want the dog to break the heart. So I think what I'm gonna do is I'm going to create a heart and then I'm gonna go best dog. Mom. And I really want to align the text with this side of the heart. And then I'm gonna go ever. Okay, We're going to talk a little bit about this folks. But as a general rule, when you do fonts, two fonts, only, using different fonts is a tried and true design method. However, you do not want to have 42 different fonts in there. It has to be identifiable right off the get. So I balanced it this way. I want to have roughly the same amount on this side is I do on this side. And I want to have the same gap at the top as I do at the bottom. So when I think about balancing the design, these are the things that I want to think about. All right, so let's go ahead and take this step. I'm going to go ahead and I'm going to start with what we know. I'm going to start with a heart. Okay? We got a heart tool. This is downward. A little triangle is you see the little white thing here. That's the heart tool bone. Okay, now I'm going to offset this a little bit. Now. You see the little orange area here. If you want to, you can increase any of those little orange handles on a shape. And what I'm gonna do here is I'm going to tilt it now. And I'm going to kind of bring this in just like that. Okay. Now I'm going to bring this down a little. That looks pretty darn good to me. I'm I bring this down even a little more. It's clearly identifiable, it's a heart. But what I'm gonna do to add some visual interests is I'm going to break it. Now. I'm going to add some stroke to the heart. That way I know what I'm working with. And now a heart is a shape. We have to convert it to a curve. So we have never done this before. So this is going to be something new. Right now. I'm going to come up to Layer and I'm going to now convert a shape to occur. Okay, hit convert to curves. Now watch this area right here. You see how it says heart. The minute I convert this to occur, watch what happens. Bone. Now it is a curve. Now it has nodes. So let's go to our Node Tool. Now I haven't showed you this before. If I start manipulating nodes, what's going to happen is this thing moves around because it's connected. What I wanna do is break that node, okay? So the first thing that I'm going to do is I'm going to come over here to actions. And we have not talked about this before. Let's talk about actions. The action area of the context toolbar is here. And this option allows you to break the curve at a node point. So we're going to do that. The first thing that I'm going to do is I'm going to grab my node tool. I'm going to come over and then select this little blue one. You see where my cursor is? And I'm going to break this. Now. This side works independently of the other side. Okay, so that is actually pretty cool. So I, what I'm gonna do is I'm gonna kinda create a stylized sketch type style. And I really want to break up the monotony. So this is pretty much where I want it and I just wanted to move it over just slightly. Now, what do I do about this dog? Right? Because the dog is in front of the heart. Here's what I'm gonna do. I'm going to duplicate the heart. I'm going to move it up above the dog. Look at that. It's filled White data. Turn the fill off. Got to turn that fill off. And now what I'm gonna do is on the piece that is above the dog. I'm gonna go ahead and I'm going to keep this area that I want to be above the dog. And I'm going to break and I'm in the curve that's above this area. Now what just happened? You see in my layers panel, it broke into two curves. Now I can select this piece. Look at that, that's gone. Okay? And now the piece that is in front of the dog, Let's Control Z that bring it back. I want to eliminate the top piece. Now what did I just do? Notice here now, I have a layer above the dog right here. So we're going to put this bottom curve. And I'm going to add in behind the dog. Okay, now, Let's go ahead and adjust the dog. Come over to your Node tool and you remember we have a clipping mask. Watch this, drop this clipping mask so that the dog hides behind that top curve. This masks the dog behind your curve. Alright, now that's kinda cool. I like this. My layering is going well, but now here's the trick. I have to add some interest to this. So what I'm going to do, I'm going to show you something new. This is a curve. And what I'd like you to do is go to View Studio and we're going to add in the brushes tab. Okay, now I'm going to bring my brush and add it to my palette out here. You don't have to. You can put it over here if you want. And let's go to View Studio preset. Let's add a preset and let's call it section three final, because this is what we're going to be doing. This the final one. And we're going to take the curves that we did. So notice I'm on my layer and I'm on the curve. We go to Brush. And now you can apply different brushstrokes to this. So you can get some really awesome brush strokes. These are artistic brushstrokes. These are what are called vector brushes. And in order to adjust these come up to the stroke and you can increase the size. Now you see that it's increasing the entire thing here. Okay. Why is it increasing the entire thing? Because onto this behind the dog curve, we didn't split it. So let's grab our Node tool. And let's go ahead and grab this node. Let's split that right here. Break the curve. Perfect. And now what we don't need behind the dog is the lower section. Let's get that out of here. Perfect. All right. So we have the bottom curve that is in front of the dog and we have the curve that is behind the dog. And now we're applying different brush techniques. So let's see, we were working with this and we were using this acrylic brush. Let's go ahead and use the same acrylic brush for the bottom curve. Bam. Alright, that looks really good. Now, in the event that you want to change this up a little bit, we can come over here and with our node tool selected, we can adjust this curve. Now, notice here the thick part of the brushes here. If we want to reverse it, you can always reverse the curve. Now we're in pretty good shape. All right, so this was a lot here. What we are doing is we have taken a shape, we've converted it to a curve, and then we've applied an artistic brush. Now let's make the brush stroke match. Here we have a 50 point on the top. Let's make the bottom one match the behind the dog curve. The bottom curve. We want this to match 50. Alright? And I want my points to meet. Okay? So I'm gonna make a subtle adjustment here. Now what I might try watch this own. That is pretty cute there I like that. Let's go ahead and try that here. All right. There we go. You see how we just flared out the ends a little bit, added a little bit of interests, made it look a little bit more interesting. Very happy with them. Alright folks, that was a lot. What I'm gonna do, I'm gonna change this to in front of dog. So in this one, let's make sure we understand exactly what happened. We created a heart. We modified the shape into a curve. We then broke the curve using an action up above to get two independent lines. We then introduced you to the brushes tab. And by the way, if you ever want to change that line, it's non-destructive. So you can change this line to anything that suits. You. Just be aware that based on that, you may have to make some subtle adjustments to the point ij. Alright, so overall, very happy with this. In the next lesson we're going to add the text, we're going to add the Paul, and we're going to get this thing ready for export and polish. All right, we'll see you the next one. 22. Adding text and rough blocking: All right, folks, welcome back to dog mom, T-shirt. Alright, so the last thing that I kinda want to cover here is I went through and I changed up to a different brush. I kinda like the way that this looked. And so I really kinda wanted to make that a little bit different. So I went ahead and did that. Now, one thing we're going to talk about here, we're going to add in a pause. So when we do the Pogge, we're going to come down and it's just going to be made of simple vector shapes. So what I'm gonna do now is I'm going to select all of these and I'm going to group them. So these are now one group and now I'm going to make a new pot. I'm going to start with the heart tool. And I'm going to make the pot. I'm going to turn off the stroke and I'm going to turn off the fill. Mom. Now. I'm going to flip the pod this way so that we can work with it. And remember this is still a heart shape. Okay, so if I grab my Shape Tool, you remember that little orange handle that I talked about? Let's make that a little less pronounced. And then let's come over here, go to layer and convert it to a curve. Now why did I do that? Notice this is a sharp node here. I want to change this to a soft note. Now we get an instant pot. That's kind of cool. All right, let's grab an oval. And let's make some little dog tos. Alright. Now, duplicate these, right-click, duplicate, right-click, duplicate, right-click Duplicate. That's the low-tech way to do it. There are others and we're going to spread them out. And so what I'm gonna do now is I'm going to hold Shift and I'm going to intentionally put them at a 15 degree angle. Then these I'm going to go to 301530. Hold Shift 1530. And the reason you hold shift is it constrains them to that size. All right, Perfect. Now let's group them all. Click and drag. Notice my layers panel is all here, right-click group. Let's rename this plot. All right, look at that. Work in it. Alright, let's put it into the design. Now. I want to put it behind the dog. Whoops. Now why did that not work? Because I have to bring it. What is it about this one here? Do I have Phil left on it? I'm checking here. Okay. There's no Phil. Why is this not showing? Oh, because I literally did go behind the dog, did exactly what I wanted to do. Alright, and let's go ahead and pop that bad boy. Right here. Alright, that is super cute. All right, now, here's what I'm gonna do. I'm gonna take this and I'm going to group these. Alright, perfect. Now I'm going to kind of center it out here on my sheet the way I want it. And I'm going to set up for text. Alright, when it comes to text, we've already seen this Artistic Text. Click and drag. And I'm a real best. And I'm gonna go dog. And I'm gonna go Mom. Now, I'm going to try this in this same sort of line. Now, choosing the right font is up to you. I would pick something swirly scroll Lee, what is it that, based on your research you found is selling? Okay. Take a look at dog mom t-shirts. I can tell you that they are 100% brush script type swirly stuff. So it's up to you what you wanna do. I'm just going to run through my list here of norms. And I think I'm really going to settle first and foremost. I really like that. You're going to have different fonts that I am, of course. So don't get too attached to him. And I'm going to start here. And now what I might do, Let's go ahead and duplicate this. Duplicate one more. And what I'm gonna do, this gives me an opportunity to have three different adjustable rows, totally up to you if you want to do that. The reason I like to do this is it allows me to mess with each one together. Now, I might change this text. Let's go ahead and change the text. I turns out I don't like that. I'm gonna go with this brush script. I like that a lot more. Okay? So what I'm gonna do is I'm going to position these the way that it makes sense to me. I might bring that to the center of the image and I might drop this down a Scotia. Okay, Now remember I'm taking a look at kind of balancing it out. And then let's go here. Okay. Now, if I was to take this out and I was to do a little bit with this. How far off m, I should probably scoot those, just squash closer. That one needs to go a little bit further. Right? Alright, now to balance this, what I would probably do now, I would probably add another par, copy, paste, flip and balanced this right beside the other. All right. All right. Overall the big blocking I'm relatively happy with. I might make some subtle adjustments. Like now looking at it, I would probably bring that up just a little bit. And then oriented to that side. Alright, let's go ahead and call it on this one. In this one, you added in a couple of simple vector shapes. We got the font kinda right and we're ready to take it into Polish and adjustment. All right. We'll see you in the next one. 23. Polishing exporting and adding to the mock up: All right folks, welcome back to infinity. So this is the polishing, exporting and adding it in file. So once you get the major blocks down, and then it's always a little bit of a juggling game to make it work. So I'm going to show you a very nonscientific way right now to do that. And then as this course progresses, we are going to get more advanced. So I'm going to show you something called a guide over here. If you go over to where the ruler is, click and drag, a little blue line appears. And we know this thing is 14 inches. So I'd like you to put this little blue line here at seven. This little blue line is what is called a guide. And then I'd like to drag one. And I'd like you to go half an inch in right here to about 13.5, let's say right around in there. It doesn't have to be exact. And I'd like you to go about half an inch into here. Okay? And the important thing is, and I'll draw this out for you, that right now, you have same amount of distance from here to here as you have from here to here, doesn't have to be exact. You just wanted to be the same. And this center line is going to allow us to really position our text. Now as we go through in later lessons, we will get a little more scientific with this. But right now what I want to show you is after we do these initial blockings, we can then make certain adjustments. Now, I went back through and change the font of this. And so you see that snapping is on. What I'm trying to do is I'm trying to get my font to match the feel of it. So I'm lining up my font here. And I'm using a couple of different sizes. And then what I'm doing here is I'm going to make some subtle adjustments because I Strunk this plot down a little bit in the time where we were away. And I wanna kinda balance it out so that I've got the pot. I'm not crowding either the heart and, or the design, but I'm getting pretty close to where it needs to be. And my design here is not quite touching. So what I'm gonna do now, I'm going to go to the group and I'm going to ever so slightly shrink down that group, maybe even a little less. And what I'm trying to do here, folks, I'm trying to balance this out so that we've got a little more room for the text. There we go. Alright, perfect. Now at crowded the dog a little bit, but that's okay. I can go down a little bit on this guy. You see right here. How little room I have between the top of my design and the best area where the T is. I can kind of do the same thing here with the r. So if I line those two up, I'm pretty good. This is all just a balancing act. And you got to think to yourself, what do I want my viewer to see first? So I clearly want them to know that this is for Dog Mom's let say. So I'm going to make subtle adjustments here. I'm going to try to maybe increase the font on that just a little bit. Let's see. Alright. Now it's becoming remarkably apparent to me that I need to change one of these how the heart is working here. So let's go ahead and go down here. Let's go to the group. And I'm gonna do the one that's behind the dog. And I'm going to modify it just ever so slightly. So I'm going to shift this just like that. Okay. That gives me a little bit more room for the dog mom. Okay. Overall. Pretty happy with that. All right. I think that that's pretty good. Now, I'm going to make an adjustment. We're going to come to the group. And remember this is the group with the entire dog. And I'm going to add an adjustment layer. Now we did this before, but I'm going to add a curves adjustment. We have not done this before. Now folks, a curves adjustment. If you read this thing just at a high level from left to right, this is where your darks are. This is where your lights are. And you can add nodes. To, as the piece gets lighter, you can increase the lightness. Or pulling this line down will decrease whatever this is. And the classic example is an S curve. Okay? I'm going to show you what this means here. Stay with me. All right. Here, I want to increase the contrast. So I put a little note here, and I put a little note here. And i up the lights a little bit. And I dropped down the darks. And you see the further I pull like this, the more dark subgraphs. So it's a 100 percent up to whatever you think looks good in terms of where this thing Lance, I personally am a fan of that. I think that that gets my point across without making it look terribly weird. All right, now, the last thing that I'm going to show you, if we go to the behind the dog curve and let's bring out our Stroke panel. You can change the profile of a stroke. So if I click down here where it says pressure, click and you'll see how little dots have appeared. The little dots are, well, that didn't work. The little dots are right here. Now, if you click on one, you see how the dots disappeared. In just one little bit hard to get. And then you're going to scroll that down. Now you see what just happened there. Watch that tail. See that. I'm going to adjust my stroke a little bit. And this is playing with something called stroke profile. This is a pro moved here to get your stroke going the way you want it. Now if you wanted to change a little bit, you can always bring it up this way and now it'll gradually taper. I'm gonna do the same thing with this stroke. Come up to pressure. Click on it. Click on it again just to get the single handle. And boom, just like that. Alright, now, notice what that did for the look of that heart. That thing is pretty cool. Now what I might do just behind, Let's go ahead and make an adjustment. I'm going to try this. I don't know if it's going to work. Try a bunch of stuff, try some stuff. If it doesn't work, it doesn't work. I'm just going to try to kind of touch these points a little bit and make it look a little more like a real heart and not two independent strokes. And folks, there are other ways to do it. I know I'm going to get a lot of hate mail around the way that we did it here. But I didn't want to show you masking. I wanted to show you actual vector adjustment. Alright? Once you have this all together, grab all of this, and I want you to group them. So now this thing is separate from the background. And to export it, go to File, Export, PNG. This is something that we do a lot. You can either export the whole document. I like to do the selection, and we're now going to export. Let's go ahead and put this in your section 3 downloads. Let's call this Export and Save. All right, Perfect. Now let's go to File Open. And you remember in the early part of this class, we included the front of the T-shirt mockup. It's already got the white go to File Place. And let's add in dogma. And I'm bone just like that, that thing is super cute. Now this is of course, a man's T-shirt could be unisex. Who knows? But one of the things that we know is that when you're trying to sell t-shirts, a lot of times they look better and sell better when women especially can see what the tissue looks like on a female model. This is where photo mockups come in. So as we do this a little more, we're going to add in a few more photo mockups so that you can kinda see how this works when you bring them into real life. All right, folks, that's a little bit on the mockup side. If you ever wanted to change the background in this mock-up, you can always come to rectangle and place if you've got an image that you like, say this dog as an example because we just did the dog. You can always come in and change up the background. Very simple to do. I don't think you're constrained only to the gray rectangular background. All right, folks, that's it on this one. Hope you learned a little bit about vector. This was a long one. The others are going to be shorter. They're gonna go a little quicker. But vector is one of those things you have to learn as a teacher designer. All right folks, we'll see you the next one. 24. Introduction to section 4 : All right folks, welcome to this section. Now this is another theoretical section. Now that you understand some of the tactical, you understand basic T-shirt sizing. What I'd like to show you now is what makes a good a t-shirt designs. So we've got a lesson on my four things on what makes a good t-shirt design. We're also going to be looking into the technologies that are used to print t-shirts. And the reason this is important is because if you don't understand the technology that you print, you will be using. You may not be able to appropriately set up your project. As an example, let's say that you add transparency to a DTD image like what I print on. The transparency shows up different. So if you send it over as a transparency, it's going to show up a little bit different, not going to be right. Once we understand that, I'm going to show you some places to go and my process. 25. What makes a good T shirt design: All right, folks, let's go ahead and let's take a look. I thought I'd do something a little bit different with this theoretical lesson. And so this lesson is all about what I would consider the four things that are essential for a good t-shirt. So what I'm going to show you our examples from around the web, examples of t-shirts that have done well, that are common themes. Because if you understand exactly what they're doing, you can replicate these general principles. So hear me very carefully. This is not designed to be, these are the types of designs you rip off. This is, these are the four things that I would consider important when looking for a good t-shirt design. So let's go ahead and go to the desktop. And what I've done here is I've included my four things right down here. So let's go ahead and go to the epic pen real fast. And when we do this part, I'm gonna go ahead and I'm going to circle these. The first one that you're going to see is symmetry. When it comes to symmetrical designs, there is something pleasing about asymmetrical design that makes people feel good. Asymmetrical designs can be used. But here we very carefully on this. First, you've got to know the rules in order to know when to break the rules, okay? Now, the second thing we're going to look at is the use of contrast. So things like how your design stands out from the shirt, that it's under, the way that you use contrast inside of each design. These are things we're going to take a look at in these images. The third thing is it relatable. A t-shirt must be relatable and be understood very, very quickly. If they have to sit there and they have to wonder what it is they're looking at you or probably lost your audience. Remember a T-shirt is like a billboard. And lastly, please, please, please only use two fonts in your t-shirts. I see some t-shirts with three and sometimes as many as four fonts and a t-shirt. Again, there are those that are wildly successful, but you have to know when to break the rules. This is the rule. So I would consider it to be acceptable for two or less fonts. Now what I'm gonna do here, I'm going to switch back out to this. And we're gonna go ahead and look at the side of these, at some of the symmetry and some of these more things that are a little bit detailed. Alright, let's clean that out. Now, when it comes to symmetry, it doesn't matter whether it's a textual design, whether it's an illustrative design, or whether it's a combination of the two. Now as an example, all three of these, and I intentionally pulled some very graphic tees. I also pulled some very name brand t's. Notice how this Nike T divides up. And you've got some symmetry above and below the line, as well as it is well-balanced from side to side. This is a good example of something that is pleasing. Have you ever looked at something that was supposed to be symmetrical and it was a little bit off and it just bothered you. Now, something like this. This is a very graphic illustrated design and if we draw it down the side, you've got symmetry on either side. And if we take an overall shape to this, It's got a good square shape. There's nothing weird hanging out on the side or weird sticking out on this side that isn't on this side. So again, symmetry. And when it comes to even these texts designs combined with some of the circle type shapes. This design here, symmetry above and below. And even here on the one. Oops, I apologize. Let's go ahead and clear that out. Even here on the one. Notice how you've got this side is the same as this side. So symmetry is very, very important. And when you lay out a t-shirt, you want to make sure that it's symmetrical. We as human creatures like symmetry. Now if you're doing a full on graphic tee and you want to go asymmetrical. There's a time and a place. But first you got to know the rules in order to break the rules. Now, let's take a look at the use of contrast. Now, the reason why I pulled these two images, Let's go ahead and take a look at these two. Notice here you've got the black. Do not know why it continues to do that here. Let's go ahead and clear that out. Alright, so this has the black text with a pink rude, not only into their color choices, but look at the difference in line widths here. So the contrast between say, this line and this line, you've got some very bold graphic elements and some very thin lines over here, so there's some good contrast. So there's contrast in the color, and there's also contrast in the line width. Now on the other hand, this use of contrast to deals primarily with color. This is a very graphic image. And so they went with a black and white and they used the contrast of the red to really highlight what was important to them. So notice how they used the red to highlight the words that they really wanted. They were trying to get a point across. The use of contrast helps in the visual communication of the technique. And really folks, that's what we're doing with the t-shirt. We are visually communicating to the person who was looking at our t-shirt. And the use of contrast, whether it's in fonts, whether it's in colors, whether it's in line widths, are all very important to how we tell the story. All right, let's take a look now at one of the other areas here. The related ability. Now, when you look at somebody in a t-shirt, you got like two seconds, right? For them to realize exactly what it is you're all about. Now, we're going to talk contrast to notice here, right off the bat, the use of the word dad. So you know that it has to do with a father. You know that this person probably is a father. This person might have a father, right? Because the best kind of dad raises an accountant. And when we talk about relatability, notice what this t-shirt does. And while this is not a course in how to sell T-shirts, notice this could be given by somebody who is an accountant to their father. So you've got the dad angle and you've got the accountant angle. If you could appeal to more than one group, let's say, then they put you in a different group of sales. And so the related abilities important. One thing that I liked about this one, and this is my own personal fan boy. This one here. I'm a big fan of the movie Fight Club. So they used a quote from the movie to get to relate ability. Now, you want to be careful using different movie quotes. I'm saying just be careful around intellectual property. But I saw this from a mile away. I knew where the quote came from and it related to my nature as a fan of the movie Fight Club. So notice that it isn't even terribly complex, but coming back again to the contrast, a bright pink font on top of a black t-shirt, very eye-catching, very appealing, and able to be seen from across the room. Now, the fourth and final one. This is more of a general rule. I just pulled a couple of examples. Hopefully this one is not want or need to take a lot of time to explain. When you look at fonts, keep your fonts to two, okay? You can use fonts to create contrast. But notice here, this is one font and then the family and the fights is another font. So there's two fonts. Same thing here. You've got some really heavy serifs here on the rock and Southern Pasadena. But then the July is san-serif. So it's very, very simple and they've used it very well. Notice here the symmetry. Again. It's just a symmetrical design. It's pleasing. And folks, there is an interesting phenomenon just as a parting shot here, called the golden spiral, right? And there's a certain ratio that is found a lot in nature. This ratio is present In the length versus the width of some of these designs. So some of the things that are around t-shirt design, I just wanted to take this lesson and show you some examples. Again, these are not perfect examples. These certainly are not my designs. These are ones that I pulled from places that are selling where I wanted to show you what other people may be working on. And to give you the four things, remember it is symmetry, contrast, relatability, and the use of two fonts, max. All right, let's go ahead and get into the next one, folks. 26. Different technologies out there in the T-shirt space : All right folks, let's talk about printing technology now. I thought we could do this here standing at my desk, but I decided to bring you into my work area and kinda do this so that she saw that not only am I showing you how to design t-shirts in Affinity Designer, but I also print them. So figured I'd show you my setup here and we talked a little bit about the five different technologies that are out there if you decide you want to print your own. So this course is not about how to print to a certain technology. That is true. We've got another section on print on demand, just to give you a overview of print on demand as well so that you can make the choice that works best for you. Alright, so up here on the screen, we've included as a download a summary of what I'm going to go through here in terms of the five printing technologies that I consider to be the most valid for somebody starting out or moving into the commercial space. Now if you're a $1 million printer, you already know this stuff. I'm not going to teach you anything new. You already have a business, you already have a method. Alright, so let's go ahead and take a look at the first one. The first one is screen printing. This the one that most people are familiar with. Now with screen printing, the way it works is each color gets its own screen and the screen is burned so that only the color shows through. You then dump plastics, all ink on it, and you use a squeegee to apply it to this shirt surface. Now, at a simple one color style print, this can be done easily with screens purchase from Amazon or anything else. But it does get a little more complex. They can go up to 6, 8, maybe more colors. And so here's an example of one that is a multi-color press. So you just world the color to the shirt and that's the way it works. All right, so the second option is a plastic assault transfer. Now what this is, somebody takes the plast assault ink and applies it in the design the way that you choose. And then they send you the finished sheets. This method only requires heat press. This is by far the simplest method, but there are limitations. What I have up here on the screen is an example of a price breakdown from a plast to solve vendor. And notice that to get onesies twosies, you're going to make 0 money on the shirt and you're probably going to wrap money around to the shirt. Now, what is a plast assault transfer? A plastic cell transfer looks like this, and this is one for one of my clients there, and we use these a lot for sleeve logos. So this is done in Affinity Designer. You just send the sleeve logo over and they replicate it. And every printer has their own size. My printer tends to go with 13 inches by 18 inches as a size. So as many as I can put on what's called the gang sheet, that's what they print. And it usually goes by number of colors. And for people starting out, this one I would say is not the most economically viable because you really have to be in the 50 sheet area in order to make this financially work. And so if you can't sell 50 shirts of your design, at least you got a problem. All right, the third method and the one that is here behind me is the direct to garment printer. So we've got a short video that I'm going to show here on how we work with this. But again, this course is not about GTG or any specific technology. And what d t g Does, this is a shirt printed on a direct to garment printer. So TTG does high quality full color prints and so it isn't advantage over say, your screen print. Now, DTD comes with its own special type of health, right? There's pre-treat that has to be done here on the screen. Then you've got a lot of maintenance to be done in the printer. The print cost though, is pennies on the dollar, but the labor cost is substantially high. The correct application for this, if you can charge between 30 to 25 dollars on a shirt, this would be a good margin for you and you could really sell the full color nature, some of the POD services that we talk about later in here, we'll do this type of thing. Now. The third thing here is a sublimation. Actually I should say the fourth thing, sublimation works on Pali, now, a mask, right? This is a full 100% polyester mask. And notice the white face. What happens with sublimation? There is no native white sublimation ink, and so it will not work on black. Now, an example, what I've got there on the screen is the Epson printer. There are a ton of sublimation printers. Check them out. And you just print it out on sublimation paper and it turns something like that into something like this. So the nice thing about sublimation is that it will die the ink. What happens is the ink then releases once the heat is applied again with the heat press, and it infuses into the garment, so it actually dies. The garment. It doesn't sit on top of it, like a silkscreen or like GTG. Now, the last technology Did you might look at is what is called heat transfer vinyl. And for those that are familiar with those MLK kiosks, this is how they do it at the mall. You use a vinyl cutter similar to the one here. But for a hobbyist side, it is very common that you might use things like a cameo or even your cricket. So you go down, you get heat transfer vital, and you cut the design out. Now in Affinity Designer, that involves using the contour cut. And at that point you then press it onto your garment. And the nice thing about that is there are heat treat vinyls for a variety of substrates. And if you go with something like this Rowland, the print actually creates onto the vinyl. So you get a really nice high-quality print that you can use. Now I do have people much like the mall kiosk where they are doing the commercial printer say, or I should say a residential printer, like just an absent or something. And they are then just moving around the design. Those types of prints tend to last very, very short periods of time. They're not high-quality and it's very similar to buying the iron on transfer stuff that you would get at, say, your local department store. All right, let's go ahead and take the next step. If not, let's move on to the next one. 27. Where to go to find good T shirt designs: All right, getting and welcome back to this lesson in the affinity designer T-shirt course. So this theoretical lesson, this entire kind of section is about certain ways and workflows and things that you can do to identify t-shirt designs, models, that sort of thing. So what I'd like to do is I'd like to take you through how to create kind of how to do my thought process and how I look at different designs, where to find profitable designs. I shouldn't say profitable, I'll say good. And how to get some inspiration in how to get your own. Now, your process may be different than mine. So what I'm going to share with you is for things that I think go into making a widely accepted t-shirt design. So let's go ahead and get started. The first thing that I do here, I'm gonna go ahead and I'm going to go to my screenshot is I do a quick Amazon search. Okay? So when I go to Amazon and I look at Amazon merch, and again, I'm not even on Amazon merge, but it is a good indicator about what is going on and what is selling today. Now, there are entire classes on how to do this profitably. This class is not about how to sell on Amazon merch. But I want you to see even on Amazon merch, how some of the things that I'm about to talk about here will show up in multiple marketplaces. And when it comes to multiple marketplaces, if everybody is doing it and it's getting good reviews and they're selling, you're probably on to something. The first thing that I'll mention here, I usually go to Amazon and I started looking around at high sellers. And this is because one of the first things that I'm going to tell you, you want to pay attention to current events. For some reason, nasa space, that sort of thing, right now, very popular. So we're seeing some of these types of designs IQ in. And so the first thing that I'm going to tell you here is you want to pay attention to current events. So we're in the middle of pandemic here. So I figured why not go ahead and look at coronavirus shirts. And what you're really seeing here is a lot of parody shirts, a lot of text shirts. And for right, wrong, indifferent, right? I survived corona. Alright, here they took a very classic painting and they photoshopped the mask on it. Straight Outta Compton. And WA type of shirt you put straight out of anything on there, right? And all of a sudden it's there. Now, one thing that we'll look at with coronavirus, we want to also look at what people are doing, right? You've got the survivor shirts right here. And then you've got this one which anybody that knows kind of what went on during coronavirus help. I'm stuck at home with my kids. So this brings me to the second thing. A good t-shirt design uses a lot of humor, right, as one of its aspects. So if you've got to parody, you've got PAN, you've got humor. You can take a known slogan and put a spin on it and make it widely understandable. So the first thing you're gonna wanna do, pay attention to current events back in 2020 during the presidential race, people made a fortune off from different Biden versus Trump shirts. And those are widely relatable. Coronavirus, another one here. And when we talk about the use of humor, I'm going to go ahead and I'm going to show you, I looked up, punch hertz. If you can attach something new to something that people already understand, you can then attach to that emotion. So a lot of times you'll use pun in terms of how you go about presenting. So all look to humor to be one of the things that I do. So the first thing I do, I like occurred events. The second thing I do is I try to use a certain amount of humor if it's appropriate to the shirt. And probably my most successful one. The thing that I do more than anything else is lifestyle folks. If you can attach to a lifestyle, this is a highly desirable market for t-shirts because everybody wants to wear a t-shirt with something that they're into in their life audit. Because when you wear a t-shirt like it or not, whether it is a brand, whether it is an image, whether it is textual saying you are displaying your internal, on your external, what you are into. And you want to broadcast that to the outside world as status, what you're trying to do, you're thrown off the bat signal for somebody to identify that, hey, in this case, I like jiu-jitsu. You'd like to just C2. And if you're wearing adjust role t-shirt, you kinda know how that works. Now, notice the linkage back to some designs. That old school 8-bit right there. You've got some very vintage, you know, tattoo style art there. But what I really like here on especially how these folks do it, is they've taken a slogan like just roll. And they're utilizing just a very simple font with it. So they're able to create multiple products using one simple lifestyle slogan. Now, the other thing that I'll mention here, gaming t-shirts. Gaming t-shirts are another lifestyle. And notice the simplicity of a gaming shirt, but the widespread accepted nature of the gaming shirt. So the first thing that I do, I go to Amazon and I say, You know what selling. The second thing that I do is I say what's current. And the third is, is this a lifestyle choice, right? So on my site for proving ground, what we've got is lifestyle. We specialize in fighters. So we've also got certain things that are highly graphic. We've got things that are maybe a little bit more textual. It's totally up to you. So when it comes to the things you want to look at, the last thing that I'll do is I'll pull things that I'm into. So it's not enough to create a t-shirt unless you're really go into just to make a commercial. I like to do a Google search. And in my world, a lot of times Pop art is really cool and really popular right now. So all do a search on Pop art posters to look for different techniques that I might be able to use. Auto t-shirt. So things like half-tones, wild color combinations. You got some Andy Warhol stuff going on there, right? Alright, so that's a little bit on how I do, what I do. Let's go ahead and kill the screen-share here. So when you're looking for places for T-Shirt inspiration, you want to go to where the market is. So I always check the Amazons and I see what's up. Second thing I do is I look at current events. Third thing I'll do, I'll look for lifestyles that I can connect with and the brands that they're working with. And the fourth thing that I do, I always add in a little bit of my own flair with it by looking for inspiration so that when I do this design, it screams something that is uniquely something I would be proud to put out. Now if you're just pumping out textual t-shirts totally on you, you already know how to do that. All right, folks, that's enough on this. Let's go ahead and take the next step. 28. Some diffeerent models for how people create T shirt designs: All right folks, we'll come back and glass. So what I'd like to do in this lesson is I would like to get you comfortable with some of the models that you can use for T-Shirt businesses. Now again, this is not designed to show you how to sell T-shirts. But once you start doing designs, there are four models that are currently used in the industry. What I'd like to do is break each one of them down and show you the pros and cons of each. Okay, So I've included this in your downloads. So you have this for future reference. But there are four models that we're going to be covering. So let's go ahead and get after it. Let's switch over to the screenshot. All right, so let's go ahead and get started. The first and most complex model. This model is what I'm calling 100% all you. So what we've got here are a couple of different boxes. Anything that is in the EU box, you are going to do. So in this model, you design them, you advertise them, you sell them so they come to your interface, right? So your interface, your website, whatever it is you do. So not only are you responsible for the marketing, but you're also responsible for selling it, getting the money from it. Plus then you get the distinct privilege of printing the garment and shipping it out. So this model is a 100 percent entrepreneurial. Now, there are benefits to it. One, it has high margins because you're getting the garments at cost. You are controlling the labor cost. You're controlling all of the costs. There's no middleman to erode the margin. And the other thing is for control freaks like me, you have full control over the quality of your product, the type of product, what you do, how your brand is represented. Now the bad thing, labor. You, in effect, create yourself a job. Now, you can hire somebody to do the labor, but the labor is all you. So not only are you doing the website development, you're doing the marketing campaign, you're doing the sales, you're doing the design, you're also putting in shipping. And in this model, what I have found is your inventory costs are higher. So when you do this part, a lot of the times you may have in my example, for my print on-demand business, I have $3 thousand worth of t-shirts downstairs at any given time. So that's inventory, that's going to get tore up. Plus you have the disposable costs of your printing method. All right, Let's go ahead and take a look at another one. Now. This is where it's your brand and they're printing. And I'm going to use the term integrated. Now the example of this is on Wix. Say I use a Wix website for my business and I integrate through print full to fulfill it. So I am responsible for the design. I'm responsible for advertising my brand. I'm responsible for the way this sales interface proceeds. But once we cross over this wall, they print and they ship. Now, this has some benefits. One, it allows you to be a specialist, right? So say you're not a printer, you don't have to be, say you're super good at marketing, stay in your lane. Now the other thing, you have full control over how your brand looks, largely because they're just printing whatever it is you tell them to do. Now, the limitations on this, your printer will have less products, maybe different products than you want to sell. Maybe they don't have the brand of shirts you want. And because there is now a middleman, you will be taking a lower margin. I'll tell you on common shirts that I ship. Just as an example, I might be able to sell them for 30, let's say 25 to 30. And sometimes I'll pay as high as 18. So my margin is smaller than if I did it myself, and I'm able to do them for 10. So there are benefits to this one. It's less capital-intensive on my site for proving ground where I do everything myself over here, it's a lot easier. But in certain sites where I used the integrated method, I actually don't even have to print or ship the project. So it's very much up to your level of comfort and what you want for your t-shirt business. Now, the third model, this is one we use quite frequently. It's your brand. They're printing. But instead of integrated its local. Now what do I mean by that? I have a lot of shirts that I do that I go out to a local screen printer and they screen print the shirt. As an example, I might sell a shirt with a front logo and a backlit say for 25. But they're going to charge me 18. So margins are slim, right? That's a limitation. Now, when we do this part, they still print it and they'll still ship it. But the high minimum orders make this challenging. I'm gonna go and I'm gonna pause the screen share for a second so we can go face-to-face. There are advantages to this methodology and this model. But when you're doing it with screen printing, you may not have all the colors that you want and they may not have all of the options that you want. So make sure that you understand the benefits and the limitations. Now, a great benefit to this is the opportunity to work and build relationships in your field. I've made some great relationships with local screen printers who then come to me for what I do in DCG and I go to them for screen printing. And if it's a local thing that we're doing, I'll use a local screen printers so that I can advertise local for local. So there are advantages to this. And if we go back to the desktop here, you'll see that some of the advantages like we were talking about is you're able to specialize. If you're a great designer, do not try to become an adequate screen printer, okay, it's never going to work. Now, the last one, this one you have the least amount of control. This is one where you design them. That's it. And then you put them up on marketplaces. So they sell them. Your lane right here, you design it. They advertise their sales interface, they print it, and they ship it. A great example of this red bubble, right? You create your store. They take care of everything. All you have to do is upload designs. Now, the benefits to this, it is really the lowest upfront costs because you have no printing equipment. You don't have to invest in ads and do all the advertising and all that jazz. It's the lowest amount of involvement. Literally, this is the definition of passive income, right? But limitations when I use the term passive income, and by the way, I hate that term because there is no such thing as pure passive income. It is a crowded space. Everybody on Amazon merge red bubble. That's a very crowded space. So you better be bringing the heat in your designs and you better be spot on with what you think your target market wants. So your customer base needs to be well established by you. Are you targeting fishermen in their 20s with two daughters who live in Montana right? Now. The last piece here, really when it comes to your products, you don't have any control. You don't really have a lot of control over how your store looks. You don't have a lot of control over how your products look in terms of the quality and such. You literally upload the design and they take it from there. All right, let's go ahead and kill the desktop here. So this is not a course on how to tell sell t-shirts, but I did want to give you some behind the scenes into this theoretical section of four models that you can look at with the limitations and the benefits of each. Alright, right, hope you learned a little bit about this. Let's go ahead and take the next step. 29. A full printed DTG T shirt - Step by Step: All right folks, bonus lesson. Now, if you are interested, this is totally an optional thing. I have documented the process of doing a t-shirt from start to finish using direct to garment. So if you want to see how I printed this shirt right here, go ahead and check that out now, if you don't and you want to move on to the next technical section. Awesome. But I wanted to give you a little bit of value and I wanted to show you the process for a hand printer like myself, in crafting a low volume artistic style shirt. All right, so if you're interested, check it out. If not, move along. Let's go ahead and get started. All right, folks, welcome to my lab here. So this is where we run the GTG. And we thought since this was a complete guide, the T-Shirt making, if you've made it this far, you might want to see how we go about making the t-shirts that we sell. So this is just a standard Black Belt Canvas T-Shirt. The GTG really works on a 100 percent cotton. So if you have a poly blend, not going to work. So this is the first time I've actually documented the entire process. I am going to time-lapse some of this. But when I switch spaces, I'm going to show you exactly what I do. So the first thing that I'm going to do is I'm going to press this thing for about five seconds to get some of the humidity out of it, the residual humidity. So traditionally t-shirts start around two inches down from the chest. So I'm going to kind of follow that rule and I'm going to make sure that we've got it where it needs to be, and then we're going to press it. Nothing I can do about the squeaking folks. All right, once we have our shirt area, now the next step, we're going to go ahead and we're going to go to a pre-treat. When you do GTG, you've got to pre-treat. So what I'm gonna do, I'm going to spin the camera around, but I'm going to show you my preferred area here. So tonight, the pre-treat area, the plywood keeps the pre-treat from going anywhere else. And this is where we're going to set the shirt. So I'm gonna go get the shirt and then I'm gonna come back and we're going to spray pre-treat. All right, now I've lined up the shirt up here now they make pre-treat machines. That's what we talked about into the different methods. But you can also do a hand sprayer. So the hand sprayer that I use, just your standard Wagner power painter, this pre-treat is going to tamp down to the fibers and form a base for the ink to adhere. So let's go ahead and apply the pre-treat. All right, Once we've applied the pre-treat, now we've gotta roll it down. Rolling helps tamp down the fibers to make sure that nothing sticking up outside of ink. Alright, now we're gonna go back to the heat prep. And here we go, walking into the press. Alright, we center it on the heap press. Now I have a 15 by 15 Platon. This big boy here is 20 by 24. There are different sizes of heat press. Now, when you heat press, we're going to do two things. The first thing we're gonna do is we're going to hover. So in this case we hover for around 40 seconds. Alright, once we do that, now we're going to apply a non-stick paper, a teflon paper, to the garment. But this is going to do is this because it's going to allow us now to apply pressure without burning the pre-treat and again for another 40 seconds. So let's go ahead and time-lapse it and we'll come back in video land after 40 seconds. Alright, 46 because it is, Let's go ahead and see how we're doing. What I want is a dry surface that is good. All right? Now what we're gonna do now is we're going to apply the t-shirt now that we've done the press on to the plantain, that'll run it into the machine. So what I'm gonna do, I'm gonna go ahead and save this here real fast. I'm going to transition, but I'm going to show you I'm working within the same, say, a 100 feet or so for all of this, the pre-treat station, the GTG, the heat press, and then the work table. All right, folks. So this is the work table here. This is a plantain and you put this inside the GTG. So but we have to do is we have to get the shirt on to the Platon. Now this has a cantilever technology in it. You see the blue piece here. So what we're gonna do is we're going to slide the t-shirt over top, leaving the print area. And if you asked me growing up whether or not I would be working like this to go hospital corners on a t-shirt. I would've said absolutely positively not. So what we're gonna do here is we're going to position this where we need it. Just like so make sure that it's there. And then we're going to tuck it inside. So it's very simple on a t-shirt to do. But if you do more complex things like hoodies, yeah. This is a huge pain in the backside. All right. So once you've got this done, the next thing is we're going to load it onto the GTG. So I'm gonna go ahead and cut this. And I'm going to bring you over to the DTC, which is right there. Alright, so here we are, the GTG. What I'm gonna do now is I'm going to load this onto the bed. So coming up here and loading it onto the bed. And I'm making sure that I'm flat, any sort of raised areas going to be a problem. Okay. And I push it in, I raise it up and away it goes. Now watch alone. All right, Now let's cut over to the RIP software. Okay, so we're gonna go ahead and we're going to now go over to the RIP software. I'm gonna show you how to set up the rip. All right, folks, this is the RIP software for the DTD version that I have, so I'm going to be working in a black shirt. Q. In the graphic. Q. I'm going to bring this up. I'm going to come over to my desktop and I'm going to look for wherever it is that I decided to put this magic elephant. Alright, now what I'm gonna do, I'm gonna change the positions simply because I already did that. Makes the graph at about 14 inches. I'm going to unlock this and I'm going to go to an even 14.5. Lock that back in, bring that back to 0.5. All right, so this is going to now HRET, now, just so you know, and this isn't about how to print t-shirts. But since you guys asked, let's talk about cost. Now, in my model, T-Shirt runs me about $3 and 20 cents. Here. Notice that this entire thing, including the pre-treat, is going to run another $2.06. So this shirt so far is about $5.20. Alright, Let's go ahead now. And let's go ahead and print it. All right, what I'm gonna do before I hit print, I'm going to position the camera so that you guys can see this and I can walk you through it. All right, so what this is going to do first, it's going to go ahead and apply a white under base. So what you're gonna see is as the printer moves through, it's going to apply the white under base. And then it's going to bring it back in in order to apply the color. So you'll see it run two passes it with the magic of video editing. I'm going to speed this up because you don't want to watch the six minutes of this head going back and forth. Okay. Now it's going to go back through and it's going to apply the color layer over top of the white under base. So it's going to go back in. And again through the magic of video editing. Away we go. Okay, so we're back. Let's take a look at how that worked out. That is a good-looking print folks take a look at how rich those colors are. That's a good under base, that's a good t-shirt. Chances are you're going to see me where in this bad boy during the intros for lessons like this. So all we really have to do now, we take it and we unfold it. Just like so. And now it's still wet. So the brushes up against something, it's going to be a bad day. And what we're gonna do now is we're going to come over to the heat press. So I'm gonna go ahead and pause this then when I get on the press will redo. All right gang. So while it might be outside the scope of what we're doing with this t-shirt. If you are thinking about getting a DTD or starting this, do yourself a favor. It's the most common size of heap press is a 16 by 20. I have the 15 by 15. Well, because I made a mistake right place to games when stupid prizes. So I'm going to upgrade with 16 by 20 here soon. And then I went all the way to the 20 by 24. Don't get that because it will cut the scenes when you press, it'll show every scene. So the next thing we have to do now is we have to hover for one minute. So I'm gonna go ahead and hover this. We're going to set a timer for one minute. We're going to fast forward this out here in webinar land and we'll be back. Alright, so what I just did, I put down the release paper and we're going to give it a two minute press. Now, this is one of the reasons why a 100 percent cotton shirts are the way for GTG one, the white ink will not stick to a poly under base. As a general rule, there are some other based treatments. And secondly, a polyester shirt will never stand up to two minutes under 350 degree heat, it will literally melt. So that's a little bit about what we're doing. What I'm gonna do here in webinar land. We're gonna go ahead and we're going to fast forward this and we'll come back when we're ready to pull it out of the heat press. Alright, let's go ahead and bring this up here. So we peel that off 350 degrees for two minutes. And there we go, folks, you might see this actually on me here when we do the intro videos, take a look at how crisp that is. Take a look at the different colors. That's a good, good print right there. All right, folks, hope you'll learn a little bit about GTG. Let's go ahead and kill it before my memory card. 30. Introduction to the Wave rider retro shirt: All right folks, this section we are upping our vector game. What we're going to be doing is we're going to make a retro based t-shirt for this surf club. So this is going to use a lot of a vector and we're also going to show you how to create textures. So we're gonna take the basics of vector. You folks remember back to the dog project. With the DOM project, we had a shape, we convert it into a curve, we kind of sliced it up. What I'm going to show you now is how you do operations. We're going to cover things like gradients, and then we're going to modify text is a curve in order to create those cool switches that you see. So we're gonna do some custom text in this one. We're going to make this one old school and we're going to apply kind of a plast assault age effectiveness. All right, this is one of my favorite projects in the course. Let's go ahead and get started. 31. Pulling reference and sketching: Our ageing and welcome back to infinity. So we're going to continue on and, and now what we're going to be making is a retro 70s type vintage surf shirt. So this is going to test our vector knowledge. We're also going to show you something called an operations. Some people call it a Boolean operation, right? And in this lesson, I'm going to show you how to work with art boards. So let's go ahead and go to File New. Now we're in presets and I'm going to do a new design for a front of a shirt. You guys created this already. Boom, there it is. Now, let's go ahead and start with our studio. So I'm gonna go to my preset and we left off with Section three final. All right, so these are all the tools that we had in the last technical lessons. We went through the editing and all the vector stuff. So I'm going to start with adding a couple of panels and then we're going to change up some of the tools. So let's go to View Studio. And in this shirt, what we're going to learn a little bit about is we're going to come in and I would like you to go to the let's do the transform panel. That'll work. And for right now we're going to shove that up there. And as far as tools, Let's see. Let's go ahead and customize the tools. And what I'd like you to do, Let's grab this little thing here called the fill tool. Looks like a little spur here. We're going to go ahead and we're gonna put that down there. And then we're also going to grab the Artboard tool. All right. Let's grab the Artboard tool. All right. I think that is going to be everything we need. Let's go ahead and close this. All right, now, let's go ahead and get this thing started here. Thus far, we have been only working with one document, right? Oh, wait a minute before we forgotten studio preset. And let's go ahead and add a preset. We'll call this Section 5.1. Alright, perfect. All right, Now if we get lost, we got it. All right. Now, we have been working with a document here. But to work as a pro, one of the coolest things that Affinity Designer has, it's a Affinity Photo doesn't as of yet is art boards. Now the artboard tool is right here. Now let's click on it. Now before we go much further, let's take a look at the context toolbar it creates. You can create an art board of any size. Right now we're going to create another artboard the size of this document, so 14 by 16. And all you have to do here now is hit Insert Artboard. So let's go ahead and clear this out. And let's do it. Boom. Now, what just happened? Let's go to the layers and you'll see that now we have instead of a layer, let's say we have an artboard. Think of an artboard at the large container. Now what we're going to do, we're going to insert one. And there it is. Now you've got art board 1 and Artboard 2. Now you rename these just like you normally would. I'm going to call this reference. And I'm going to call this work. Okay? Now you'll notice that it's just a copy of the document. Now, me personally, I find when I switched to art boards, this light gray, just unsettling. I don't like working in the light gray that gets harder on my eyes. So what I do is I come over to Edit and I go to preferences. We're going to go ahead and go to User Interface. And you see where it says artboard background gray level. I drop this down. That's a preference for me. Okay. Now, for the purposes of this lecture, we are going to make two art boards that are the exact same size. One of them is going to be reference, one of them is going to be work. So let's go ahead now and search for references. Now, you can do your own references. Here are the ones that I pull. I'm gonna go ahead and go to File Place. And I'm going to grab some references here. I went in and I searched vintage style t-shirts. And what I found that I liked, I really liked the text onto this one. I really liked the surfboard that we had here. And really this is just part of the process, right? I really liked the color scheme for this one. So we're going to put that down there. I'm gonna go to File Place. And we're going to go ahead and we're going to choose let's do summertime one more. And just like that, I think that that is enough. Now, let me show you a quick trick here when it comes to cropping these images because Affinity Designer does not have a great crop function. In your tools. So here's a new tool, customized tool, grab the vector crop, and let's go ahead and put that in. All right, close that out. Now select vector crop. And you can crop this thing down because it's a vector image. It's similar to putting it into a Clipping Mask. Alright? So what I'm going to ask you to do, I'm going to ask you to go out and find a few reference images. These are mine. You don't have to use mine. Okay. I'm just picking examples of what I like in order to create what I'm going to be working with. Now once I have this reference layer, the way I want it, lock it, and I twirl it down. Everything else. The rest of the work will occur here. Now I'm thinking ahead and I am going to be printing this on a black shirt. So I'm going to be working on black. And the first thing that I'm gonna do now is I'm going to come over and I'm going to grab a circle. Why? Because I kind of like this one right here. I kinda like, I want something in half circle here. So what I'm probably going to do now I'm gonna do some live sketching. I'm probably going to do a half circle here. So we're going to have a half circle. And then what I think I'm going to do, I really like the way that this is chopped up. So I'm gonna go ahead, I'm going to chop this up a little bit. And this is kinda what I do when I plan out t-shirts. Now, I wanted this symmetry, right? So I want the symmetry here, right, about seven. And I'm thinking a good symmetrical item is a surfboard. It is easily identifiable. And so I'm thinking the surfboard is a good thing. Now, one thing I also kinda want, I want to do some texts, so I wanted to do text on path. I'm going to put some text up here. Okay, so that's the plan here. And then what I'm going to do is I'm probably going to do some sort of board Club. Alright. So what do we want to call it? Let's call it the wave rider, wave rider board club. Okay, now I really want to take some things from here. So what I think I'm going to do, I really think I'm going to take this board and I'm going to bring it kind of like that. I think that I'm going to do something kinda cool like that. Kinda tie it into here because I want to balance this out. And I really want that wave right now I do, I don't know if I'm going to keep it, but I think the wave is kinda cool. And then I might even do this EST, 2020. Okay? So I don't know yet, we'll see how this works. But I think that is going to be kinda cool to do. So. I think that's going to be a plan of attack. And so if you ever wanted to remove this art board, by the way, you do it the same way you would remove anything else. Click. Oops, cancel. Let's go ahead and do this. Aereo. Click, Delete and delete them all. Edit, undo. All right, so that's a little bit on how work with art boards. When I do a professional project folks. And we are going to do one where I'll show you how to adjust the size of the art board. I usually have two artboards side-by-side where I have all my references and my assets that I may drag over into my work as part of the blocking process. Alright, let's go ahead and call it on this one and the next one we're going to get down to vector and I'm going to show you the basis of operations. All right, we'll see you the next one. 32. Working in vector using operations : All right gang, let's go ahead and get after his old vintage design. So I'm going to start off with a ellipse. I'm going to hold Shift and it will bring out a big old ellipse. Okay. Make sure you're snapping is on. Make sure you've got your Move Tool selected and center that thing on the Canvas just like that. Alright, so there's our ellipse. Now my colors when I block are always super annoying, right? So what I'm gonna do next is I'm going to have this circle. So there are other ways to do it, but I want to show you the correct way so that you learn the correct way. Rather than taking a shortcut. We're going to come over to our Node tool. And we're going to come over to layer. And we're going to convert the ellipse to a curve. Now the nodes become visible. We're going to click on this little note here you see where it turned blue. Slice it up here with the action, break the curve. Now come over to this node over on the right, and also come to actions and break that curve. Now see what happened to my layer. I now have two curves, the bottom and the top. I'm going to take the bottom and I'm going to delete it. So it just hit the delete key, leaving only the top. Now watch this Right-click. Duplicate this curve. Let's call this text, okay? Just like that. And then I want you to lock it and hide it. Okay, we're coming back to it. We created it right now though. Now the curve that remains, what we're going to do. We're going to create this really cool thing on the front of her Sunstein shirt here. To do this, I'm going to show you how to power duplicate, which I showed you in the very first thing when we did the plastic bag vibe. And what I'm going to do now is I'm going to create a rectangle. Now I'm going to start out pretty thick down here. And I've got the rectangle bigger than this. And I'm going to move it up probably the width of that rectangle. All right, now let's make this an annoying color of green. Okay? So you've got the layers are important, curve, rectangle. Now watch this Control Shift Alt. As a matter of fact, I'm going to write that down for you because this is important. You want to hold Control, Shift and Alt. Okay? This will allow you to power duplicate. Now the shift is going to hold it straight. The ALT is going to duplicate. So Control Alt Shift. Now watch this. Here we go. I've got my thing selected Control Alt Shift. And I pull this up. Now, I'm going to make it a little bit bigger here. Now watch this and then drop it right about here. Now I'm going to release the click, release the buttons, and I'm going to shrink it ever so slightly. Now watch this. I'm going to hit Control J. Okay? You see why that worked? Control J power duplicates. And the reason why you had to hold Control Shift and Alt. The ALT did the duplication. This shift kept them straight and the control told it that your next desire was to power duplicate after the event. And we shrunk these down. Okay. So every time it duplicated, it shrunk them to a lower level. Now, here's what we're gonna do next. We're gonna come down here now. You see how the topmost rectangle is selected. I'm going to hold Shift and I'm going to grab all the rectangles. Actually, let's do this. I'm going to grab the top rectangle. Now I'm going to zoom in for a minute. Grab the Magnifier, zoom in. I'm going to hold Shift. And I want to move this thing up until this is the last piece where I want it. Now what I'm going to do, clear those out. I'm now going to grab all the green ones. I'm going to come up to Layer and I'm going to come up to alignment. And I'm going to tell Affinity Designer to space them out vertically. Now what it's going to do, it's going to space them between the top one and the bottom one. Just like that. All right, Now watch this. This is now going to become a shape. So we're going to use our first operation. Our operations are up here in the toolbar. Now, let me illustrate this for a second. This is one of the first times we're really going to be turned into this toolbar. And the operations are here. The one I'm going to have you use is right here. It is called ADH. And what ADH does, it takes all of these rectangles. You see how these are shapes in different layers. And it's going to make it one object. So it's going to combine. Think of it like combining. All right, so watch the Layers panel now, I'm going to hit Add and bone. This is now one curve. Now, if we just did the ad, I'm going to show you the subtract. Okay? The subtract feature is going to be right here. Now you'll notice it is grayed out. Subtract requires two layers. It requires the layer on top. You're going to subtract from the layer below. So watch what happens. This option will become available once I select two layers. Okay? So I'm coming up with my Move tool. I've got my curves layer. I'm holding Shift, and now I got this layer. Notice that subtraction icon came up. Now watch this. It's going to subtract the green from the red. Mom. And just like that folks, we have a nice sunset type of look there with a nice gradient type of hash on it. Very happy with that. All right, let's go ahead and zoom out so you can see that we just made here. That thing is pretty cool. So in this lesson, you learned a lot. We learned how to convert a shape overdue will curve. We then broke the curve to get this nice half circle. We then created power duplicated rectangles in order to create this, distributed them using the layer alignment function. And we taught you two of the operations for add and subtract. Now there are three other ones. We're going to use some more of those here in the next lecture. But for right now, I think we're done stretch and brains on this one. Okay. So go ahead and step away from the computer for a minute. I understand this one with a toughy. And then when you're ready to come back, we're gonna go ahead and we're going to create this surfboard. And we're going to put the surfboard right inside of that sunset. All right, folks, we'll see you in the next one. 33. Adding the surfboard and gradients: All right folks, welcome back to Affinity. Now, any old picture of a surfboard will do right? I'm going to go ahead. I'm going to come to my reference and I'm going to twirl it down. And I'm going to grab this surfboard picture and I'm going to move it over here. Now. Any picture of a surfboard will do, do not think that this has to be a certain way. Now, I'm going to grab this image and I'm going to create a vector. So we're gonna go ahead and we're gonna grab the pen tool. And I'm going to start at the top, tippy top here, bone. And I'm going to come down here. I'm going to click and hold. I click and hold. And then I'm going to come back here and you see how it's turning yellow. Ma'am. Alright, now let's go ahead and add in our Node tool. And the first thing that I'm going to do is I'm going to try to match this curvature. And if I cannot, we're going to go ahead and we're going to turn that down a little bit, just like that. That is perfect. And it will traverse this just a little bit. Okay? And then we're going to move this over just a hair. And we're going to bring that in just like that. And we're going to move this node just a little bit. And the downward direction and pull that in. Pull this in, shrink that a little. I got a little wide army variety. And I think that we are pretty darn good right about here. K a little bit more there. Hope that got away from me. All right, close enough for horse shoes in and grenades. I didn't tweet that in just a little bit there. Alright. I'm going to turn off snapping there and I'm going to push this just a little bit in the other direction. All right. It doesn't have to be perfect. It doesn't have to be great. Just test to be passable. Alright, so I think that we're pretty good here. Let's go ahead and fill this thing again and annoying green, just like that. Okay? And you see once we get to the annoying green, you can start to see subtle imperfections in the board, right? And just like that. And there were pretty darn good right about there. All right. That is a good surf board. All right, let's go ahead and we'll bring the image back over to Artboard 2, leaving this one. Alright, now I want to put a good sunset here. I don't want to rush it. So I'd say right about halfway down here is where I want to put this thing. Now watch this. This is a curve. This is a curve. I'm going to show you a new operation. I want you to go to the surfboard curve. I want you to hold Shift to grab the sunset curve. Now the operation that I'm going to show you is this one right here. What this one does, it divides everything into its own shape. You can see that here. So this'll be a shape, this'll be a shape, this'll be a shape. What I'm trying to do is I want this surfboard piece to remain, and I want this surfboard piece to go away. All right, Let's try it. We're going to come over with my and we're going to pop it in there. Look at all the pieces that were created. So now what I'm gonna do, I'm just going to go up the list here. And I'm going to just start removing them. Okay. Typically somebody right there. Perfect. All right. That looks pretty darn good. So pretty happy with that. I think that we're in good shape. Now. Let's go ahead. And what I want to do now is I wanted to change the color on this to be the same color of red as the rest of the unit. And what I'm going to do now, I'm going to take all of these leftover. So now this is going to be one solid unit except for that text, right? And I now want to add them. Why do I want to add them? It will become one solid vector. Mom. Now, this is an important designation. We haven't talked about this yet, so might as well talk about it. Now, let's introduce you to the fill tool. Once you have a solid piece, we're going to go to the fill tool. And now I'm going to start at the bottom of this board and I'm going to click and drag upward. And what the fill tool does. The fill tool revolves around this little box right here. Now let's look at the context toolbar. Think of this little box right here as the gradient. Tool, they call it the fill tool. It's the gradient tool. So we are looking at the fill of the object, not the stroke. And we're looking at a linear gradient. Now, watch what happens when I come into this box here. Because it all happens within the context of this box. Notice that coming up here now. Oh, that's not going to let me do it while it's open. Okay. We'll just do it this way. Oh, I did not mean to hit that. Let me delete that out. Let's go ahead and click on this circle. Now this circle you can see is bigger than little circle and we can choose color. So now we can add yellow and it will Grady to whatever color I put in this circle. So let's do it. Click here, come over to this color. And we can adjust the colors. So you can make this white and you can make this a little bit purple. You could do complimentary colors, whatever it is you decide to do. It's totally up to you. Now, how do you color pick? Okay, stay with me here. I'm gonna show you some of the new. And this is another reason why we use our reference. Okay? I'm gonna come over to my art board and I'm going to shrink that down. And I really like some of the colors that we have going on here. So what I'm gonna do, I'm going to come over, I'm going to be on my curve. I have my fill tool selected and notice that it came back. And the first thing that I'm going to do, I'm going to select the yellow, which is where the gradient origin is. I'm going to come to color and you'll see this little eyedropper right here. Click and hold the eyedropper. And it will move into some of these colors. Now what's going to happen when I release it? It's going to give me that color. So if I want to, I can color pick at least from a starting point, the colors that I want to use in my design. So here I might want to go to say a red, but I want it to be a little bit muted. Now, if you want to switch this, watch this, see this little reversal handle. Bone. Now it's switched. So you can choose any color you want. I'm going to choose something that I kinda like here. I think that that's a good color. And I think that for this one here, I'm gonna kinda go something with the red. I think that that is retro enough for me. All right. So we've got the beginnings of a surfboard. You been introduced now to the hill tool, which is right here. And we've used that to color pick some of our colors. So if you liked some of these color schemes, like if you liked that brown or you'd like to this blue with that brown. This is how you can color pick from some of the shrubs that are out there to get that period specific look that you're looking for. Alright, now, the last thing that I'm going to do here, I'm going to show you text on curve, okay? Now once I've got that down, the next thing I wanna do is I want to show you a text on curve, and this is where this curve is going to come up. So let's bring that up. Now, why did that go? Rent will clearly because this is red. So let's turn off the fill. Now. You're going to use your Artistic Text tool for this. So right there is your Artistic Text tool used. Use it a ton of times. Now watch this. You see where the little cross hair is with a watch what happens when we approach the curve? It changes to a little squiggly line with the T. And now this is now text on curve. Notice what just happened here. I'm gonna go ahead. I'm going to type wave writer. Now you can't see it, right? That's because one it's black. So we need to make it white. And secondly, it is super small. So we're going to now move this thing up to an in