Playback Speed
---
0.5x

1x (Normal)

1.25x

1.5x

2x
SUNSETS AND SILHOUETTES - A 30 Day Watercolor Challenge for Beginners
Watch this class and thousands more
Get unlimited access to every class
Taught by industry leaders & working professionals
Topics include illustration, design, photography, and more
Watch this class and thousands more
Get unlimited access to every class
Taught by industry leaders & working professionals
Topics include illustration, design, photography, and more
Lessons in This Class
35 Lessons (8h)
1.

Welcome to 30 Day Watercolor Challenge!

1:51

6.

DAY 2 - Sunset by the Lake

22:38

8.

DAY 4 - The Lighthouse

18:17

9.

DAY 5 - Tropical Sunset

19:06

12.

DAY 8 - Moody Evening

16:55

14.

DAY 10 - Summer Sunset

18:36

16.

DAY 12 - Calm Evening

13:49

17.

DAY 13 - Glowing Evening

21:10

18.

DAY 14 - Wind Turbines

11:02

19.

DAY 15 - Moody Sunset

13:10

20.

DAY 16 - Coconut Palm

16:45

21.

DAY 17 - Gloomy Sunset

13:42

22.

DAY 18 - Arizona Sunset

12:45

23.

DAY 19 - Pastel Sunset

10:44

24.

DAY 20 - Dreamy Evening

10:24

25.

DAY 21 - Fiery Red Evening

9:59

27.

DAY 23 - Turquoise Evening

14:56

28.

DAY 24 - Bold Evening

15:10

30.

DAY 26 - Riverside Evening

12:19

31.

DAY 27 - Golden Evening

13:15

32.

DAY 28 - Glowing Mountains

15:54

34.

DAY 30 - Glowing Evening

15:13
--

Beginner level

Intermediate level

Advanced level

All levels
Community Generated
The level is determined by a majority opinion of students who have reviewed this class. The teacher's recommendation is shown until at least 5 student responses are collected.
About This Class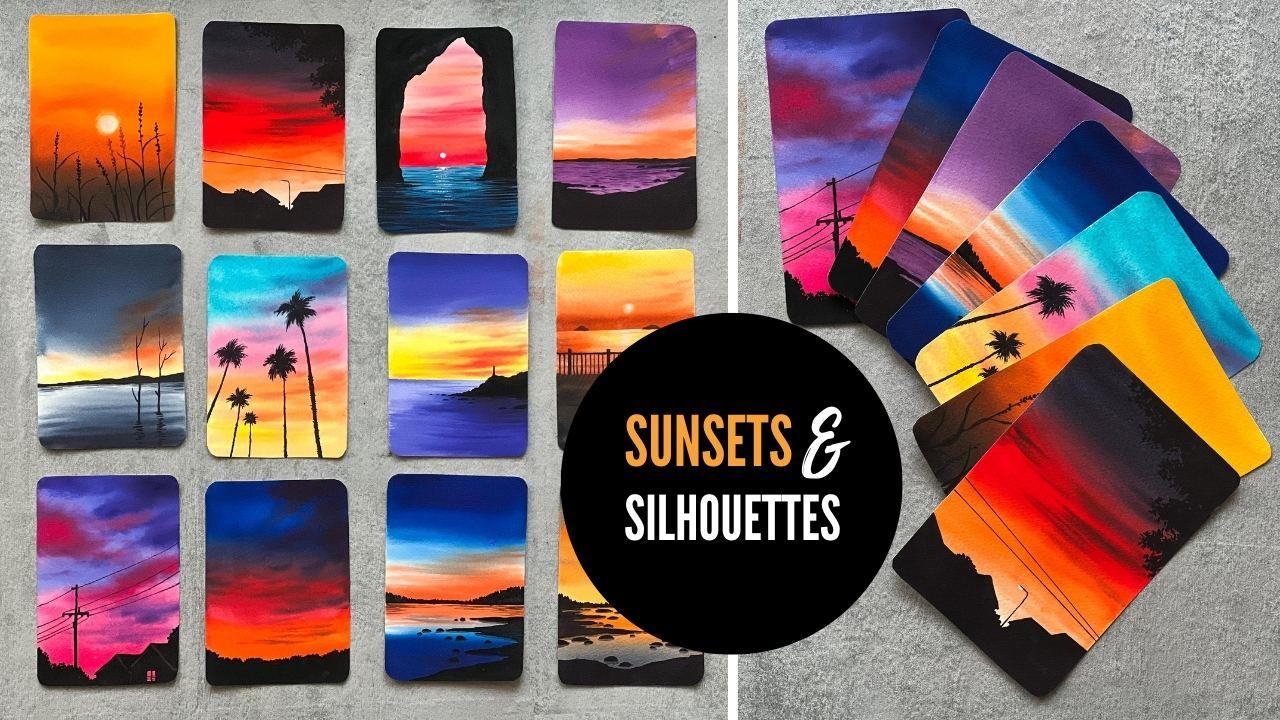 Sunsets are so beautiful, it is indeed a magical moment to witness the sky turning into a huge canvas. Sunset are a great inspiration for all the artists, you can learn about wonderful color combinations, light and hues and so much more. I love watching sunsets as well as painting them, you can do it too.
Every day the color palette of the sky is different and there are endless possibilities to explore. This thought has led me to host a 30 Day Watercolor Challenge to highlight the beauty of sunsets. We will create a collection of striking fiery sunsets, soft evenings, pastel sunsets, and even moody somber sunsets.
I'm super excited to invite you all to a  30 Day Watercolor Challenge where we will be together painting 30 gorgeous sunsets. I have made such a unique collection so that you will have plenty of techniques to learn from each of the paintings. This class is designed as a daily challenge which will run for 30 days, so starting from today for the next 30 days we will be painting a gorgeous set of sunset themed watercolor paintings.
This class is suited for artists of all skill levels, even if you have just started using watercolors this class works perfectly. This entire challenge is power packed with incredible techniques and wonderful class projects. I'm certain that by the end of this challenge you all will be a lot more confident in your watercolor skills 
If you like this class, please leave a review that will help this class reach more students.
I'm so excited to have you here. Thanks a lot for joining :)
Materials you'll need :
Watercolor Paper – I recommend to use an artist grade watercolor paper which is 100% cotton 140 lb cold pressed paper.  I will be using Canson Heritage Cold pressed 140 lb.
Brushes - 1''Wash brush,  Round Brushes Size 12, Size 8, Size 4 and

Flat Brush - 1/2 inch

Watercolors - I will be using Watercolor tubes, the colors are mentioned in the color palette section

A palette to mix your paints.

Masking tape

Any kind of board to fix your paper

Two jars of water

Pencil and an eraser

Paper towel or a cotton towel for dabbing your brushes
Meet Your Teacher
LINK TO THE CLASS - 30 Day of Dreamy Watercolor Landscapes - Embark on a creative journey with me
In this class, I will guide you through 30 days of painting dreamy watercolor landscapes. The projects I have chosen are truly beautiful and I bet you'll have an incredible time each day as you discover new techniques, color combinations, tips and tricks. I believe that everyone can paint, and I am sure we have all had the desire to paint something at one time or another. Painting has a healing, calming and transformative effect on us. It's less about the end result and more about the process and experience. If you have always wanted to paint, or if you'd like to start a creative routine, join me on this 30 Day Watercolor Challenge. I will help you build a coll... See full profile
Hands-on Class Project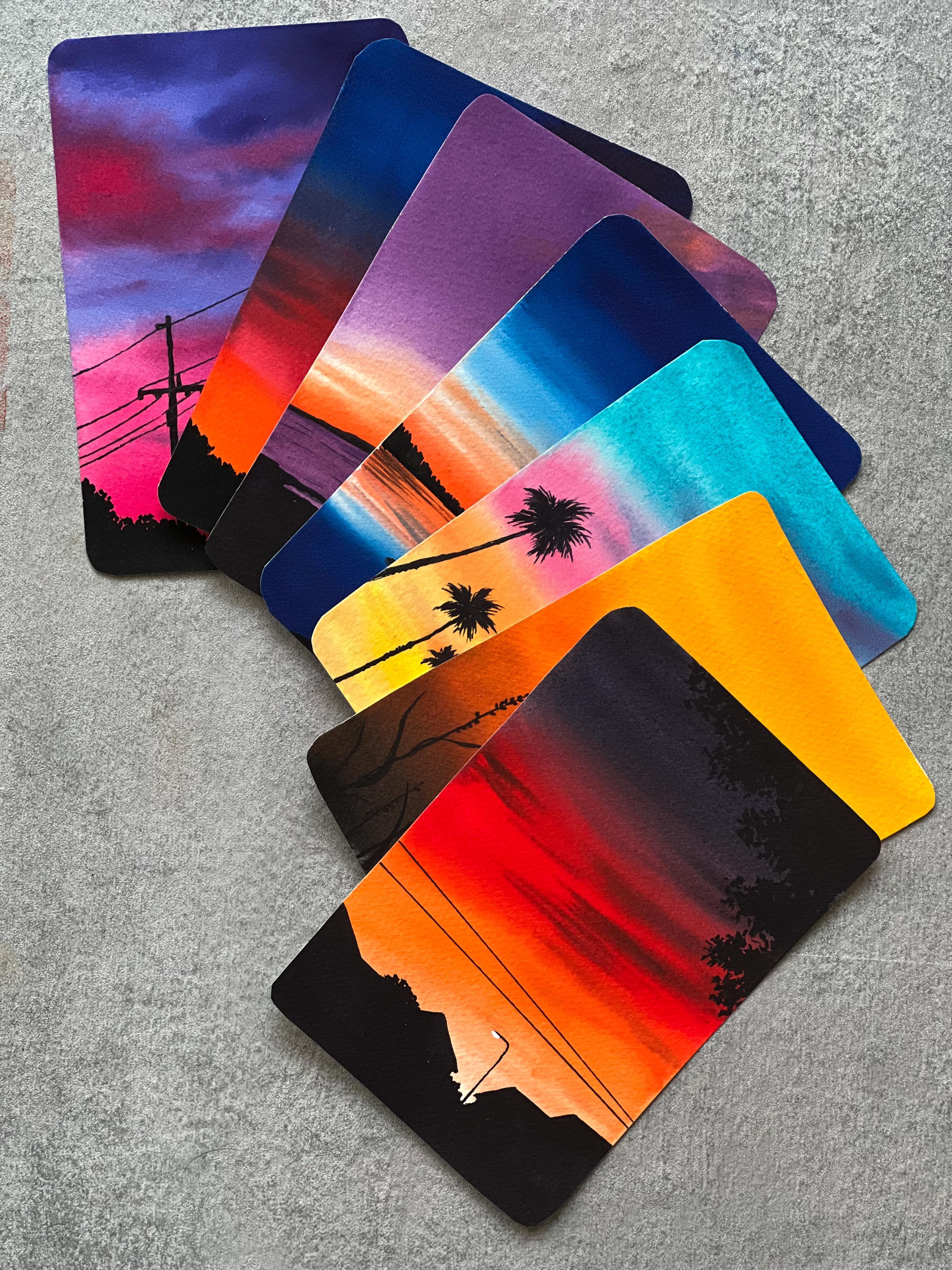 This course is in a daily challenge format, so every alternate day I will be uploading a project which you can do on the same day or you can do them as a whole at the end of every week.
This class is project oriented! Your goal is to complete all 30 Days of Watercolor Sunsets. You can either follow the same color combinations or you can go with your own favorite combination. Follow the techniques and create them in your own style.
In each project we will discuss about
This section will help you understand the project idea as well the colors we are using. We will be talking about alternate color combinations which will help you in your watercolor practice. 
I will guide you through the process in a very detailed and step by step manner giving utmost importance to all the minute details. As we paint you will learn various watercolor techniques, how to choose colors for your project, various foreground and background elements which you can use in your paintings etc. 
Feel free to experiment with colors of your choice and follow along with my instruction, add additional details if you would like to, but most of all, trust the process and paint along confidently leaving all the fear. 
I will be waiting to see your beautiful watercolor sunsets, Do upload your projects here in the project gallery so we all can have a look at each other's work. If you post your work on Instagram, do tag me @aurorabyz so that I can share your project in my stories! 
If you enjoyed my class please consider leaving a review so it can make its way to maximum students!
Thanks for joining and Happy Painting!
Class Ratings
Expectations Met?
Exceeded!

0%

Yes

0%

Somewhat

0%

Not really

0%
Reviews Archive
In October 2018, we updated our review system to improve the way we collect feedback. Below are the reviews written before that update.
Why Join Skillshare?
Take award-winning Skillshare Original Classes
Each class has short lessons, hands-on projects
Your membership supports Skillshare teachers
Transcripts
1. Welcome to 30 Day Watercolor Challenge!: I don't think there's a single person in the entire world who does not enjoy watching the sunset. I always take the time to photograph the sunset. Whether I'm looking out of the window of my house, sitting in my car or somewhere outside. If possible. I always talk and enjoy it for a few minutes and sometimes I tried to paint it to Hello everyone. My name is Anna. Anna Anna feel. I'm an artist and an art instructor originally from India, currently residing in Dubai. Someone who was absolutely obsessed with cancer. And it is one of my favorite subjects to paint at school. Every day. The color palette of the skies different and there are endless possibilities to explore. This part has led me to hostile watercolor challenge to highlight the beauty of Santa. So it's a 30-day watercolor challenge, and we'll paint a collection of striking fury, sunsets, soft evenings, basal sunsets, antivenom, moody blooming sunsets. In shock, we will take advantage of the color palette of nature that called himself has created. This watercolor challenge is designed for absolute weakness. So you don't need to worry if you don't have any prior knowledge in watercolor. I'm here to help you out. We will talk about the materials and the color palette in detail. We will learn to work with colleges color combination, and by the end, you will have a gorgeous connection after sunset. Everyday, we will explore a new color combination. And to complement that, we will add a slot. And the best part is all the paintings stackable do in the Saturday watercolor challenge will take you less than 20 minutes, so it will easily fit in your day. I'm super thrilled and excited to invite you all on the 30-day watercolor journey. If you're excited enough, time you right away. And let's start with the first sentence. 2. Art Supplies: Before we start, let's take a look at the materials you will need to follow this entail watercolor challenge. I will start with the watercolor paper. According to me, watercolor paper is the most important asset lie when it comes to watercolor painting. To get the best effect. For this anti-A challenge, I'm going to use Arches cold press watercolor paper. This one is a 100% cotton and it's a block which is 21 centimeter by nearly 30 centimeter. This paper has got a texture, is just moderately textured. I would recommend going with cold press watercolor paper, which has a right amount of texture. Now talking about the size of the painting. This is the size I'm going, but it is quite small. I have cut my sheet into four equal pieces, and that's the size you see here. This one is roughly 11 centimeter by ten centimeter, I think. Yes. So that's 10.5 and that's nearly 15. So that's a rough size I'm going but I would recommend going with the similar size and also a similar format because I have composed to all the paintings keeping the size in mind. Here's the finished painting. You can see it doesn't have any bottom. I have just cut off the border and I have made the corners rounded. You can make your painting slightly bigger or slightly smaller, but go the similar format and to make the huge size. Okay, so try to go with an artist grade watercolor people, but to solve a 100% cotton cold press and minimum and for DLP thickness. So that's all about watercolor paper. Now let's talk about the watercolors. For this challenge, I'll be using watercolor tubes. You can either use particular tubes of watercolor paints. I'll be using a mix of brands. I'm not sticking to one particular brand. So I'll be using some from Art Philosophy, some from shin hand, some from White Nights and some from them. So it's gonna be a mix of different brands. You don't need to worry about the brand that I'm using here. You can try to go with a color that is similar. In the next section, I'm talking about the color palette, which I have curated for this anti-authoritarian watercolor challenge. You will get all the information about the color palette from that section. And also at the beginning of every painting, I'll be talking about the colors you will need for that particular painting. And also, I will talk about arsenic colors if you don't have the same color that I'm using. Now talking about watercolor brushes, I'll be using five different brushes for this n-tier 30-day watercolor challenge. The first one is a wash brush. This one is a one inch flat brush. I'll be using this brush to apply water onto the entire background. Next, I hope because I strong Trish, this woman's size number 12, Ron Fresh. I'll be using this brush to apply paint onto a larger area. Next I have a flat brush. This one is a half inch flat brush. This one is also to apply paint onto a background, but mostly in cases where I need to apply a gradient wash or litigated wash, flat brushes are really useful when you need to blend the colors. So that's my third branch. The next one I have here as a medium-sized farm fresh fantasize number eight. I'll be using this brush may lead to add the clouds and also for medium-size details. So that's the fourth brush. Then the last one I have here is a smaller sized round brush. This one is size number four. I'll be using this fun to add the smaller details. So that summarize the brushes you will need for this particular challenge. And along with the brushes, I'll also be using a pen. You can see that electric lines, for those kind of details, I'll be using a pen. This one is to try and pin. It is water resistant and it is 0.8. And then take, you can use any black men that have caught. It can be a chaplain or a normal pen. I'll be using a ruler. And I will simply add these electric lines as the easiest way to add these lines. This way you won't make any mistake. Just in case if you are confident enough, you can use your detailing brush. The next thing you will need a pencil and an eraser. Only for few paintings. We'll be adding a sketch. You can see this one. To add this roof line, I'll be using a pencil. And also for some other paintings. You will need a pencil and eraser in case if you make any mistake. The next thing you will need a mixing palette. This one is a ceramic mixing palette. You can use any of your novel mixing palette. For every painting, you will need either three or four or five colors to the maximum. So even a small mixing palette will work perfectly. The next thing might seem a bit silly, but then it's really important to have some scrap piece of paper next to you to try all the colors. You can either use a sketchbook or some old painting. You can use the other side and try out your colors. This is something that I keep with me all the ways. Whenever I'm doing a painting, it is quite important to try all the colors, to know the intensity and how it goes with the other shade. Just grab some scrap piece of paper to test out the colors. The next thing you will need it as a jar of water. I'll be using this glass jar. I would recommend going with two jars of water so that one can stay clean and the other one can be used to run some of the paint from your brush. Or you can keep changing the water whenever it is getting dirty. And last but not the least, you will need a masking tape. For this entire series. I'm going to cut up the border. I'm not going to keep the border for the paintings. So this is how the finished painting is going to look like. But to secure your people onto the board or onto the table, you will need to use masking tape. You can decide on whether you want to cut off the border or you can keep it. That's totally your poster child. Alright, so that's some rice. All the materials you will need for this 30-day watercolor challenge. I cannot wait to get started. Quickly go grab all that supplies and chime in the next section. 3. Color Palette: Alright, so in this section, I'm going to introduce you to the colors that I will be using throughout the study watercolor challenge, as I mentioned in the material section, I'll be using watercolor tubes from different trends. You don't need to worry about the brand. You can go with any color that is nearly similar to the one I'm using here. Let's talk. First, I will introduce you to the yellows and different oranges. So I have cadmium yellow light, permanent yellow, orange, brilliant orange, and yellow medium hue. You can use any other yellow interrupt cadmium yellow light. And also it is not necessary to have permanent yellow, orange and brilliant orange. You can make fell in love yellow with formalin. To create a lighter orange. If you add more yellow, you will get an yellowish orange. And if you add more womanly and you will get brilliant orange. So there is nothing to worry if you don't have these two colors, you can just add a bit of yellow into war Merlin to create these colors. Now, I will quickly spatter these colors. I will start with yellow. This one is cadmium yellow light. These colors I'm using here are from the branch in hand. It's a Korean watercolor plan. As I mentioned earlier, you can use any yellow. It doesn't need to be cadmium yellow. You can use gamboge yellow, primary yellow, or Indian yellow, any of the yellow that you're caught. So that's hopeless color. The next one is permanent yellow, orange. Just like the name says, it's a yellowish orange. If you don't have it, you can mix yellow with vermilion, more yellow and less warmly to get a similar color that's elastic and color. The next one as brilliant orange. Again, like the name says, it's a very bright and brilliant orange. You can see the color that is quite intense. I absolutely love this color because of the intensity. It is highly pigmented and I use it quite a lot. Actually, I use it more than vermilion color. The next one is vermilion, which is a very common color. And I guess you all have it in a slightly darker than thrilling orange. See them. Wherever I'm using brilliant orange, you can use vomiting. Instead. You will get more or less the same result. Okay, so that's a full set of colors. Now, I will show you some paintings where I'll be using this color combination. So here's one of the paintings that we'll be doing. We'll be using yellow and orange color combination towards the bottom and lots of using some simple sunset. Now I have another one here. For this one as well. I'll be using a similar color combination. We can use the same colors in different forms. And here's another one, again with a similar color combination. You can see those colleges reflection and shadows. Now here's another one where we'll be using Payne's Gray along with yellow and orange. There are many more which you will get to see in the upcoming days. Okay, so that's how we'll be exploring different color palette. Now the next set of colors are red, brown, and rules for this painting, I have used a very bright red that is pyrrole red. And that's our next color. It's a bold and beautiful. I absolutely love this color. You can use permanent red or quinacridone red or any other red instead of thyroid, right? If you don't have thyroid, you can just mix a little of crimson with warmly to create a red shade. Okay, so that's our next color. Here's another painting where I'll be using red. See that it's a gorgeous sunset along the thread. I'll also be using some white watercolor to turn that into a peaceful shade. The next color I'm going to show you is permanent rose. If you don't have permanent rose, you can use Clemson or carmine. It's a beautiful color. I'll be using this color quite clot. You can use any kind of rules. If you don't have rows, just go with cramps and our carmine. Our next color is brown. If you don't have brown, you can also use burnt sienna. I'll be using this color mostly with yellow and orange. Take a look at this sensor. So this is the exact same color combination I'm talking about. I'll be using some yellow, orange, and brown for this one as well. It's gonna be the same color combination. Okay, So let me scratch out Brown. Brown has more of a red tone and burnt sienna has more of a yellowish tone. That's the only difference, but both the colors will work perfectly. So don't worry, if you don't have power, you can use burnt sienna. The next color is neutral scent or Payne's gray. Both of them are the same. If you don't have nutrients and you can use Payne's gray. You can use black. If you don't have these two colors. Normally, I don't use black in my watercolor washes. I will only use it to add the details like this allowed to or maybe some small details. But wherever I need a blackish tone in my background, I always go for new transcend or Payne's gray. For example, this painting here, to create a grayish color, I have used new Tolson only in case if you don't have neutral tint or Payne's gray, you can use black. Now the next set of colors, or the blues and violets, I will start with violet. This one is from White Nights. It's a call just violent. It is highly pigmented and it is very bright. If you don't have a wild watercolor tube, you can mix and create your own palette. It's an easy task. You will have to make some crimson or permanent rose with any blue. And you can create a gorgeous Why that. So please don't worry, if you don't have a Violet watercolor tube. Now I will show you some paintings, fair? I'll be using violet for this painting here. I'll be using violet and yellow with some orange clouds. It's a gorgeous painting. And here's another one where I'll be teaching the violet to create a gorgeous purple. Let me show you that. I'm picking a bit of permanent rose and I'm mixing that with violet. It's a gorgeous purple. In case if you're mixing your own valid, you will just have to use more crimson or carmine in your mix to create a gorgeous purple color for that painting. I'm using purple. Okay, Now the next ones are the glue. I'll be mutually using two blues, Prussian blue and blue. Blue is a common color, which you all may have. Blue is not that common. So if you don't have our blue, you can use ultramarine blue or you can use Prussian blue itself. First Evans batch of Prussian blue. The next one is royal blue, or ultramarine blue. Royal blue is a bit more bolder and try to then Prussian blue. For the same reason, I love this color. I use it quite a lot, even more than Prussian blue or any other blue. So that's our next color. Now the next blue you will need as indigo. This one is from Sennelier. I have integrals from different brands, but I have never found anything that is as beautiful as the integral from Sennelier. This is one of my most favorite color. We'll be using indigo for this painting. If you don't have integral, feel free to go with Prussian blue. Okay, so that's our next color. Indigo is a gorgeous color. You can use it for monochrome painting, your cityscape painting, and even a stormy sky. So try it out and if you can include that in your collection, you will never regret. Now, the next blue I have as turquoise blue. We'll be doing few paces skies and cotton candy skies. For that, I'll be using some turquoise blue. Here is one of the painting where I'll be using turquoise blue, maybe doing a tropical sunset. So that's the Linux color. And last but not the least, you will need plaque particular. It can be ivory black beach Black, Marsh black or any other plaque. As you all know, the theme of our watercolor challenge, a sunset sense allowed to add this allows, we'll be using black watercolor. And that means for all the paintings you will need some black watercolor. Now there's one last color that I want to talk about, which is nothing other than titanium white. Obviously we'll be using white what I like to add the sun and its reflection, but not just that, we'll also be using white watercolor in the background to create a special effect. I don't know whether I should reveal it now or whether I should surprise you by the paintings. Anyway, the last color you will need as white watercolor. You don't need gouache, you will just need whitewater color. Maybe I will just give you a small hint. For these paintings here. You can see that basically CRE, I'll be using some white watercolor in the background. And also for this one. You can see those basic colors for all these paintings to create that basal effect, I'll be using white watercolor that are already similar colors available in the market, which you might know already. These are all pestle colors which are readily available in the market. You can see that gray and lavender. And if you take a closer look at the pigment number, you can say it's a mix of paints, gray and white. I will just show you the pigment number for y, so it is more clear. So take a look at these two tubes. For white, it's ASP W6. And if you look at gray, it's accompanies now off another pigment and PW six. So that means all these basal colors are made by adding some white in it. And that's how they have turned that into a petal color. And that is exactly what we're going to do. And this 30-day watercolor challenge. Wherever we are going to paint, baseless guys. You will get to see the technique and the coming days, and I hope you will enjoy it. Alright, so that's all about the color palette. There is nothing to worry if you don't have the exact same color. Please feel free to go with the colors that you have with you, which AMI Allison law. Also, I'll be talking about the colors and a detailed manner. At the beginning of every painting. For every painting we will need three or four or five maximum. It will need more than five colors. Mostly we'll be going with three or four colors only for few paintings, we'll go up to file. Okay, so that's all about the color palette. Now it's time to try out to offer censored. 4. Essential techniques: Before we start with the book critics, it is really important to have a quick idea about the watercolor washes, which is going to be the foundation of the 30-day watercolor challenge. I have divided my paper into six different sections. Now, all the watercolor washes that I'm gonna do here can be done using wet on wet, wet on dry technique. Wet on wet means you will apply coat of water onto the background first, and then you will apply your wet paint onto the wet tobacco. And wet on dry, just like the name says, you can apply wet paint onto a dry background without applying a quota water. If you're going with but on wet technique, the backend will stay wet for a longer time. This one is really useful when you're doing a landscape painting. For the paintings that you're doing in this challenge can be done using wet on dry technique as well as they are quite small. So go the one that you prefer. First, I'm going to try out the solid wash technique, which means you have to go with a solid color and you have to apply that onto a background as an even layer. So I'm using my size two brush here, and I'm going with turquoise blue. I have made some paint here. I have added some water. Now, I'm going to apply that onto the first-quarter. See that you'll simply have to apply your paint onto the background as an even layer. This is called flat wash or solid wash. You can either go with wet on dry or wet on wet. Right now. I'm going to put on try let me into heaven, applying water onto the background and directly applying the wet paint onto the dry background. You can use a flat brush or a round brush. Both of them will work. So that's the first wash technique. Now the next one is gradient wash. First I'm going to apply water onto the second square. I will show both wet on wet and wet on dry. We can go with wet on wet. I always prefer going with wet on dry. The paint is a bit more manageable. With wet-on-wet as you have water in the background, it is not that predictable and it is not that easy to manage the color, it will start flowing in the background. So I mostly prefer wet on dry, especially if I'm painting small-scale painting. Notice can be done better using a flat brush. So I'm using my half-inch flat brush and I'm using violet. On the top. I'm going with a very bright and vibrant color. I'm using wallet and its strongest form. Now as I'm coming down and making the color lighter, my background is wet. I'm not picking any new paint. Now. I'm washing all the paint from my brush. And I'm dabbing my brush on a paper towel. And I'm making the color lighter towards the bottom. That's a gradient wash or a graduated wash. You will have a darker color on the top and it will make the color lighter. As you come down. There's a lot of water on my pack ham, and the paint is just floating. I think I added quite a lot of water. Just go then even Bosch, don't add a lot of water. To get the perfect gradient box. You should always run your brush from left to right in a horizontal way. Don't mix and match any other kind of brush moment. So keep turning your brush and a very gentle way from left to right as horizontal lines. So that's our second wash technique. Now I'm going to do the same thing in Bhutan tricyclic, which means I'm going to apply the wet paint directly on a dry paper. And you will clearly see the difference. For this one. I'm going to use red. I'm going with a very intense and vibrant tone of red. And I'm going to apply that onto the top of my paper. My paper is dry and the pain distinct pair I have applied it, it is not floating. That's the main difference between wet on wet and wet on dry. Now I'm washing out the paint from my brush and I'm going with some clean water. And I'm making the color lighter here as well. I'm running my brush from left to right in a horizontal way so that I have a clean blend. So we have a parietal and fibrin tone on the top and a lighter tone over the bottom. This is called a gradient wash or graduated wash. Next we will try variegated wash. For this one, we will be using two colors. The technique is more or less similar to brainwash, will be running our brush in a horizontal way. And we'll be applying two colors this time. So on the top we will add one color and towards the bottom we will introduce another color. And we will make a clean blend of those two colors. Anyway, let's try it out. I'm going to thread again, and I'm adding that onto the top of my paper. You can see it's a very bright color. I will apply this almost in the center of my paper. From there, I will introduce my second color. I'm washing of the paint from my brush. And I'm going with my second color. For the second color, I'm using orange. I have some brilliant orange here. So that's what I'm going to use. I'm a plan that at the bottom and I'm taking my brush towards the top. Now, let's keep turning our brush from left to right in a horizontal way until we have got a clean blend. These two colors are quite safe colors. You can mix them quite easily. Same way, you can easily mix red and yellow, and yellow and orange. So those are very safe color combination. I have just run my brush from left to right in a horizontal way. And I have got a clean bland. Be shown not go with any other kind of brush moment. It will ruin your blend. So always run your brush from left to right as horizontal lines to get the best plants. Now there is something that you need to keep in mind when you're mixing colors. Not all the colors work this way. There are certain color combinations which you cannot use to gather, especially the complimentary colors. So I'm just trying out violet and orange here. And you will see the color that I'm getting in the middle layer. I'm mixing these two colors that have gotten muddy brown there, which is not really bad at gorgeous color for the sky. So these two colors are complimentary colors on the color wheel. And if it makes them, you will end up getting a muddy color at the middle where these two colors I'm eating. But this doesn't mean you cannot use them in your sky. There is a way how can use it to first-time adding some violet on the top of my sky. And as I'm coming down, I will make the color lighter. Dislike a gradient wash. I'm going with a really pride to know violet. Now I'm picking some water and I'm making the color lighter as I'm coming down. We'd be trying out several skies and the Saturday watercolor challenge using complimentary colors. I really loved to work with complimentary colors. Even though you cannot mix them together, you can make it lighter. Red. These two colors are meeting and it still can you say, I hope I'm making sense anyway, you will get to see that shortly. So I'm making the color lighter at the center and then picking some clean water. And I'm making it even more lighter as I'm coming down. I have made the color lighter. Now I'm picking some orange and I'm adding that at the bottom. And just like I did earlier, I'm going towards the top, but I'm making the color lighter. I have picked some clean water. And we had these two colors are meeting and making it lighter. See that we didn't create a muddy mix where these two colors are meeting. Over here you can see that muddy brown v caught where these two colors are meeting. But on this exercise section, beaten, get that muddy color. That is because we made the color lighter by these two colors we're meeting. Now, I'm going to go the last one, which is a very basic wet and wet wash. Which means I need to apply coat of water onto the entire background and have a need to make it great. Next, I'm going to go with a variegated wash of three colors. I'm starting with red. Then I will pick some orange. And what's the bottom? I will add some yellow. That's right. Now I'm using orange. You can use as many colors as you want in the background. Maybe you can go with variegated wash or five colors are when six colors. But then you have to try out the colors first and understand they go well together and they won't create a muddy mix in between. So that is something you need to try before you choose your colors. I have chosen red, orange, and yellow here, which is a really safe color combination. You can never get it wrong. Okay, So the bathroom wash is ready. Now onto this, I'm going to add some clouds. For that. I'm using my smallest size brush. And I'm going with the darker tone off and picking some neutral scent. And I'm adding some gray. It's gonna be more like a brownish color. And onto the wet background, I'm going to drop in some clouds. Menu adding your clouds so your bathroom has to be still wet. So you have to be a bit quick and consistent. Now simply dropping the darker tone onto the red background. How will you want to? If you want to make your scale of more dramatic, you can add more clouds. And just in case if you feel like the paint is too wet, you can tap the toe on a paper towel and go to slightly dry pins because the background is still wet and if you go with a very watery paint, it will start spreading into the background. And a very vigorous way. It might be bit difficult to control the way the paint is spreading. So good the paint that's not too watery. The same technique can be done using any other color combination that you prefer. We'll be doing plenty of different color combinations and we will try out different dramatic skies. We will add different types of clouds. So there are lot to expect in the coming days. Okay, so that was a real quick run through the essential techniques you will need to follow the Saturday, whatever. Let's give it a try and understand how each of these techniques work and time in the next section that we're going to try before sunset. 5. DAY 1 - Fiery Evening: Here's the first beautiful sunset from the collection. It's an easy one, and we will need three colors for the sky, which is a blue. I'm using royal blue. You can use Prussian blue, ultramarine blue, or any other colored I've got. The second color is red. This one is titled Red. Don't have ready can also use crimson. And the last color you will need as any orange. The one I'm going to use is brilliant orange. If you don't have any orange, you can use warmly. Okay, so that's the three colors I'll be using for this guy. Then for this allowed, obviously you will need black watercolor. So those are the colors you will need for the first painting. Now, I'm going to quickly swatch all these colors so that it can take a look and you can choose colors that are similar to these. So the first color is royal blue. As a beautiful blue. It's very bright and vibrant. It is highly pigmented and I use it quite a lot. So that's the color. You can also use ultramarine blue, which is so much similar to this color, our Prussian blue or any other blood that Jaccard. We just need a bright and vibrant blue. That's the main color we'll be using for the sky. For the base layer will be going with a variegated wash of three colors. So the first color, I'm going to use this blue. The second color is red. The one I'm going to use here is called pyrrole red. You can use any of the red you have caught. If you don't have any kind of radical, also use Crimson. But keep in mind, when you mix blue and crimson, you will get a Wyatt in-between. So that's something you need to keep in mind. Your sky might look slightly different from this. If you're using Chrome cell. Over here, I got a muddy color. It's not valid actually that blue and red is meeting its more like a muddy brown. Okay. So that's the second color. You can either go with crimson or any other Ready Hub caught. So that's our second color. The next color you will need is some kind of orange. The one I'm going to use this brilliant orange, you can use vermilion, or it can just add a bit of yellow tourmaline to create an orange-ish color. These are the three colors I'll be using for the sky. I will start with blue. Then I will covert pirate rate. And towards the bottom, I'll be using a really bright and vibrant tone of orange. You can go with any other color of your choice. Maybe insert off these three. You can go with blue, pink, and violet, or some other color. You can just follow the technique and create your own unique sky. Okay? So that's the three colors I'll be using for the sky. Now the next color is obviously in black, which is the color I'm going to use to add this allowed. If you want to make the black to be really bold and really prominent, you can go with black cohosh instruct black watercolor. If you're someone who don't use black in your watercolor painting, you can use Payne's gray or neutral tint or any similar color. That's a close you will need for our first sunset. Okay, now let's start painting. I have my paper ready here and a clean palette and a jar of water. Now, I'm going to squeeze out the colors onto my palette. The first color you will need is some kind of blew. The one I'm using is royal blue, just like I mentioned earlier. The next one is Ray. I'll be using petrol. And finally, you will need an orange. It can be any kind of orange idea of God. That's a three colors I'll be using for the sky. Now the first step is to apply a clean coat of water onto the enter your paper. You need to make sure the papers even leave it. So go with the flat brush, preferably a bigger one, so that I can apply water onto a larger area quite quickly. And also you can make it even by running your brush multiple times on the paper. I'm using a one inch flat brush here. And I'm applying a clean coat of water onto the anterior people. Before you apply water onto your paper, just be sure the brush is clean. There shouldn't be any stains of other paint from your previous painting on the bread. That's something you need to keep in mind every time you apply coat of water onto your paper. To apply the paint onto the background, I'm going to use a flat brush. This one is a half inch flat brush. You can use a medium-size cloud brush. And I'm starting with a really strong value of blue. I'm using blue and its strongest form. And I'm applying that on the top of my people. Make it really intense on the top, don't add a lot of water. You can see the color I'm using. It is quite strong. Maybe we can make it even more darker. Just on the top. I want to make my sky really bold and vibrant. So I'm picking some more paint and I'm adding that on the top. I have applied blue almost to half of my sky. Now I'm going to wash the paint from my brush. I'm making it clean. And I'm gonna go with my second color, which is red. Just like I said at the beginning, if you don't have any red, you can go with crimson. You might end up getting a while it in-between, but that's okay. You don't need to worry about that your sky will still be beautiful. So just don't worry, if you don't have red. I have cleaned my brush properly and I'm picking a strong version of red. Applying that over here. Now we need to blend these colors well, when you mix blue and red together, you will end up getting a muddy brown. And you can see the color I caught in-between. It's not valid. It's a muddy brown color. But that's okay. I'll be adding clouds over here using some black color. Now, I'm washing off the paint from my brush. And I'm going with my coat color, which is brilliant orange. Again, I'm going with a strong color and I'm adding that at the bottom. You can see the color of their quiet board. Now we need to blend these colors. It is quite easy to blend orange and red. We already have a beautiful blend there. By the area where the red and blue is meeting, its a bit of a mess. We don't have a clean blend there, but that's okay. We'll be adding some clouds over there, so that's gonna be fine. Then we add the clouds. I think we can add some more red here than it does not really visible. So I'm adding some more red and I'm blending that with the blue. So that's our base layer. Now, we're going to add some clouds on to this. To add the clouds go the smaller round brush, the one I'm going to use a size number four. You can use sizing before our six. Now what I'm gonna do is I'm picking a bit of blue and I'm mixing that with some red to create a dark brownish color. And that is the color I'm going to use to add the clouds, which would be the colors you have used for your sky, whether it's blue and crimson, you can just mix those two colors. You will end up getting a purple or violet. And you can use that color to add the clouds with this dark color that goes well with the background. So just use the first two colors that are used for the sky. This is the color I'm going to go with. Now. I'm going to randomly add some clouds onto this background. We will have to do this when the background is too wet. You can go with any kind of shape that you prefer. I'm just adding some random patterns onto the wet background. I'm concentrating more on the area where the red and blues meeting. I wouldn't be adding a lot. What's the bottom? Over there? I will just add few lines, but I'm going to add more on the top. Also with blue is transitioning into red. Because over there we don't have a green plant. But oh, the bottom where the red is transitioning into orange, we have a better blend. So let's not disturb time. So that's the idea I have in my mind. I think it is looking quite courageous already. I have just added some clouds onto the top and few over the bottom. Now I'm going to dab my brush on a paper towel and I'm going to add some more clouds at the bottom. There we have the red and orange. Well here we don't need to add a lot. So just be sure you don't have a lot of paint on your brush. That's the reason why I tap my brush on a paper towel. You can see the color I'm using. Q. It is not as bright as a color I used above. And also over the bottom, I just use some thin lines. I didn't go with big clouds. Now I'm going to add some more clouds. Maybe a little over here. The blue is meeting the right. And maybe some more on the top. If you want to make your sky more traumatic, you can add more clouds. But just be sure not to add a lot over the bottom where you have the orange, you can add more aware, the blue is transitioning into red and also on the top. So go to similar pattern. Let's not disturb the bottom media that you have a clean planet. That's a base layer. Now, we'll have to wait for this to dry completely. Alright, the background has dried and the colors are looking slightly delta1 earlier. Don't mind. Our next task was to add this allowed for that. I'm using ivory black. As I mentioned earlier, you can either use black gouache or black watercolor. Now, I'm going to squeeze out some black watercolor onto my palette. You will have to use a very strong notion of plaque. Otherwise it's allowed, won't be prominent. So don't add a lot of water. Don't go with the watery paint. Go to slightly thicker consistency. This one as my size number four round brush. And I'm loading my brush with enough of black paint. For this one. I'm going with a very simple sellout. Let's make it more complicated and the next paintings, but then they'll start with a very simple one. I'm just going to add some plants at the bottom. So starting from the left, I will just cover this entire area and some plants, which is basically a very random, messy, it, Alessi. And we'll just add some dark pattern on the top to make it look like it's landscape. First start with a thick black, literally a blank band, and then we can start adding those teeny-tiny patterns to make it look more realistic. Alright, so I have covered this entire area. Now onto the outer shape, I'm going to add some teeny tiny batons and from dot to make it look like this, this landscape. And there are some leaves. So just use the smallest size brush and keep adding some thoughts. You just need to keep on pressing the tip of your brush and add some teeny tiny patterns onto the outer shape. And with that, we're done with our first painting. I thought of starting off with a simple so loud. I didn't want to make it complicated at the beginning itself. So in the upcoming projects you will find more interesting so loud. But just in case if you want to add a tree or an electric line or some other topic, you could add that. You don't need to stick to the same thing that I have added here. You can go out of the box and add something interesting. So that's the first sunset. Now I'm going to peel off the masking. T. Be sure you're painting has dried completely before you peel off your masking tape. Otherwise that people may rip off, or you can use a blow dryer or heat too. This will loosen up the clue and you can remove your masking tape quite easily without ripping off the paper. If you're painting hasn't dried completely, wait for some more minutes until it dries out completely. Because I sometimes used to rush and I have ended up spoiling my painting along with the masking tape. The people used to come off. So that's something I don't want to happen to you. Wait for some more minute. Here. Several finished painting. You can see that bold and bright colors. I'm quite happy with we desktop tout. The color combination is cautious. Now it's time to cut off the bottom. This step is completely optional. I just thought of getting rid of that bottle. I wanted to go with a borderless painting for some reason. That's the reason why I'm cutting off the bottom. But then if you want to keep it, that's totally up to you. As I said, it's just a personal choice. You can go, what, what do you prefer for your painting? So I'm just cutting off all the bottom and I will make it rounded corners instead of sharp corners. I'll be doing this for holiday pins, going to be doing the series. It looks really nice as a collection, but maybe you may not prefer it. So just like I mentioned earlier, it's completely optional. Now, I'm going to cut off these corners. I don't want those sharp corner. I'm just making it rounded corners. By cutting off a triangular piece from the corners. I don't know For some reason, I felt like the painting is looking more beautiful than I cut up that bottle. Maybe it is just a visual thing that can happen, right? The painting has to be the same. So it's just ignore that. Just go with your gut and do it if you feel like doing it. Alright, so here's our first gorgeous sunset. We did try either with the same color combination or with a different color combination of your choice. And let me know if you liked it. 6. DAY 2 - Sunset by the Lake: Alright, so here's the next answered that we're painting. First, let's have a look at the color palette. We will just need three colors for today's painting. For this car, I will be using royal blue. Again. I'll have some color left on my palette from the previous painting. So I thought of making use of it. So yeah, if you just ignore that red from the previous painting, we're using dried blue and brilliant orange for this painting. And just like I mentioned earlier, you can use any blue and orange. The two colors, I'll be using, red, blue, and brilliant orange. Instead of royal blue. You can use Prussian blue, cobalt blue, ultramarine blue, or any other blue. And instead of brilliant orange, you can use vermilion, but it's the closest color. Now there is something special about this painting. Over here you can see pixel orange. So to turn the orange into a pixel color, I'll be using some white. This one is titanium white, it is just white watercolor. So that's another color you will need for this painting. Now, I'm going to quickly special disclose. The first color is royal blue. You can use ultramarine blue or crushing blow instructors. We just need a bright and vibrant blue. Now, in case, if you want to try out the same painting with a different color combination, you could do that. You don't need to stick to the same color combination. Maybe you can go with violet and blue, or violet and pink or any other color composition of your choice. Now the second color that I'm gonna go with, orange, I don't have enough paint here, so I'm taking out a bit of paint onto my palette just for this fatty. So that's brilliant orange. It's a wonderful color. I love this color so much. I use it quite a lot. It goes really well with violet, blue, and even crimson. So you will see me using this color quite a lot in the series. If you use the color assets like we did in the previous painting, it has a very strong character. You can see the swatch here. It is highly pigmented, and if you add some white watercolor into it, it turns into a beautiful pasted orange. That is exactly what we are trying in today's painting. Now the third color you will need is black, which is quite obvious that the color we'll be using to add this allowed. You can also use Payne's gray instead of black. Or when you can use black gouache if you want the black to be really prominent. The color palette for this painting is quite simple. You will just need three colors, blue, orange, and black, and also some white vertical. Okay. So let the kids have taped on my paper already. Now, I'm going to apply a piece of masking tape a little below the center of the paper. So the top portion is going to be the sky and the bottom part is going to be the lake. We spoke about the colors already. I had them on my palette, royal blue and brilliant orange. Now you will also need some white watercolor to paint the sky. I'm going to squeeze out a bit of white particular onto my palette. We'll be starting off with blue and towards the horizon line, we will add them by two watercolor. And on top of that white background will be adding some orange to turn that into a basal tone. So I'm just taking out some white watercolor onto my palate. Now the first step is to make your back on. And for that, I'm using a one-inch brush brush and I have another flattish ready here. This is the one I'll be using to paint the sky. So I'm applying a clean even coat of water onto the entire sky. I'm going with the wet on wet technique. If you want to go the wet on dry technique, that's totally okay. As a using a small slice of paper, you can still manage to paint a beautiful Skype, wet on dry technique. It won't dry off quickly because the size is quite small. So how may the people wet? Now using my flat brush and picking a really bold tone of blue. I'm going to apply that onto the top of the sky. I'm using a flat brush here. If you don't have a flat brush, you can also use your own brush. Go the really dark and vibrant tone and apply that will almost half of the sky go The rarely pattern color, because watercolor tends to fade a bit when it tries. So does good to go with the vibrant color in the beginning itself so that it will have a vibrant results. So I have applied in a form, blue onto the sky. Now I'm going to wash the paint from my brush. And I'm switching to white watercolor. Clean your brush. Dab it on a paper towel just to be sure there's no pain stains on your brush. Now, I'm going to grab some white watercolor. And I'm starting from the bottom is just white watercolor. I have just added some water into it to turn that it will lose consistency. Now starting from the bottom, I'm going towards the top. I'm reaching the blue. I'm trying to make it a beautiful gradient wash. Who have a prior tone of blue on the top and a lighter tone over the middle. And some white at the bottom. So that's our base layer. Now onto this, before the white drives, they are going to drop in some orange. For that. I'm using a smaller sized round brush. This one is size number four round brush. Clean it properly before you start adding the paint, we want to be sure that the brush is clean. I'm picking some brilliant orange and I'm dropping that at the bottom. You can see that pistol orange, the bottom along the horizon line, I went with the stronger color. And towards the top, I'm just adding some lines using a pencil tool. We already have some white in the background. So the color will turn into a basal color automatically. You don't need to put a lot of effort. And as you closer to the blue, don't blend the color. Simply add some lines and just leave it as it is. So don't take any extra paint. You just need to leave it as it is. As we have white watercolor in the background. When you mix blue and orange, you wouldn't get a muddy color that easily. But still for the safer side, go to lighter tone. When you're closer to the blue, only towards the bottom along the horizon line, you can go with a stronger orange. Now I'm just adding a few lines where the colors are meeting. You will only need to add few lines using a smallest size brush. This is only to make that transition look more natural. That's the sky. I'm quite happy with the way it has turned out. Now, I'm going to peel off the masking tape. I'm not going to wait for this guy to dry. I'm readily starting with the leg. If you want, you can wait for this to dry and then come back and paint your league. But I'm going to leave a tiny gap along the horizon line. And I'm going to paint the league to paint the lake as well. I'm using my flat brush, cleaning it properly because I'm starting with orange. Mixing a bit of white watercolor with orange. To turn that into a pistol color. For the lake. I'm going with wet on dry technique. So I'm not applying any water onto the background. Now. I'm applying that wasted orange along the horizon line, leaving a teeny tiny gap so that the paint on the sky and the lake won't get mixed into each other. The sky is still wet, so you have to be bit careful when you're applying paint over here. You can either wait or you can leave a tiny cap. So that is a pistol orange. You can see I have applied it only towards the top. I still have a lot of area left at the bottom. Over there. I will be introducing blue. Now. I'm going to grab some white watercolor using another brush and then picking some white watercolor. And I'm applying that right next to the orange. To make it lighter. Once we have made it lighter, will be switching to blue. Just apply some bike to work here. We don't want to mix the orange and blue together. And that's the reason why we are adding some white over here to make it lighter. So we won't create a magic box and it makes orange and blue together. Blue and orange are complimentary colors on the color wheel. They are opposite to each other. So when you mix them together, you will end up creating a muddy color. They are trying to prevent that. Now, I'm using a really bold tone of blue, just like how we painted the sky. And I'm applying that at the bottom of the lake. Now, as I'm getting closer to the orange, I will pick some more white and I will make it lighter. It's the same concept that I explained earlier. We are trying to prevent that muddy mix. So either go with water or with white watercolor and make it lighter. There the blue was about to meet a whole range. We start at all with a basal orange, and then we applied some whitewater color to make it even more lighter. Then towards the bottom we introduced a darker tone of blue. So this is how it is looking right now. Now, to make it a better blend, I'm switching to a smaller size brush. And just like how we did for this guy, I'm just adding some lines. This one is a size number four round brush. Now before the backroom dries, I'm just running my brush back and forth to make it a better blend. Right now you can see the colors are looking like different patterns. It doesn't look like a natural transition. I'm just running my brush left-hand, right? And I'm adding some lines in between to replicate the ripples. So just push and pull the paint into each other and make it look like a natural transition. You just need to add few lines, just like how we did for the sky. We don't need a lot of lines. Alright, so that's a leak, the agenda, the base layer. Now the next step is to add this a lot. But before that, we'll have to wait for this to dry completely. Now comes the interesting part with this, adding some out for that and picking out some black watercolor. I already have a little go there, but that won't be enough. Now to add this loud, I'm using my smallest size brush. This one is size number four round brush. You can go to much more smaller one if you prefer that. First add a straight line and fill up that widened cap. We're going to add some trees over here, a very abstract shapes. We're not going to detail it because this is quite far from us. Okay, So we'll start off with a straight line. You can use any of your smallest size brush. Your horizon line has to be a string. Alright, so I have added the horizon line. Now. I'm going to add some landscape onto this when I feel landscape, but it's not a complicated shape. It's a very easy one. I'm just going to add some random shapes along the horizon line. Towards the right side, I'm going to taller sheep. And as I'm coming towards the center, I'm going to make it shorter. Go the similar size to get the proportions right. If you make it to pick, your painting will go out of proportion. So this is the kind of science you should be following. So first add up decline for the horizon line. If you can go for a straight line, it would be really good. Then onto that, just add some teeny tiny shapes like this. So as I'm coming towards the center and making it shorter. And also you can see on the top of this shape, I'm just adding some random groups and little ups and downs, which will make it look like there are trees far away. Now in a similar way, I'm going to fill up this entire horizon line. At the center. I'm going with a shorter shape. And also towards the left, I'm not going to make it as tall as the right side. I will make it shorter. I don't want to make the entire thing look the same. That's the reason why I'm going at different heights. Maybe we can make the height a bit more taller. On the right side and also on the left side. Onto that extreme ends. I'm going to keep the center part assets. I think the colors are looking so much five-tenths and it has a beautiful contrast. When we add this allowed, you can see that causes our hinge. And even the blue. The color composition is looking really pretty. Okay, So that's a landscape. Now just in case if you want to add some taller trees at the center as well, you could do that. There's no problem, but go to the medium height, don't make it too tall. So now we need to add some bits and pieces of land at the bottom. For that, I'm taking some more black watercolor. First I will add the shape, then we can fill that shape in black watercolor wash or the shape I'm adding here. Even for this code, the similar size don't cover up the entire league. So first I'm adding a line. Now from here, I'm adding a curvy line. That's the thickness I'm going for. I'm not making it too thick. Now from here, I'm adding another curvy line and then bringing it back. So that's a shape. You can modify it a bit. It doesn't need to be exactly the same. And I'm adding another piece here. We can bring back what to bottom. So from this end and bringing that town, I'm adding another Coby line and I'm bringing it down till the masking tape. Alright, so that's a sheep. Now, I'm going to fill this entire shape in black watercolor. Okay, So this is it, That's a major piece of land. Now to make it even more interesting, I'm going to add some small drops onto the water. I'm using the same brush and I'm using black watercolor as a size number four round brush. Maybe you can go to much more smaller brush so that the size of the rock em queen where we can see it as too tiny. Go to similar size. You can add them randomly. You don't need to follow the same spot. He can add as many as you want. But go the similar size. That's something that you need to keep in mind. Maybe you can go with a longer shape or a shorter sheep. Those things are totally a tie. So add as many as you want. You can see the different stores, tiny rocks made. Our painting is looking more beautiful right now. Early on, that piece of land was looking quite weird. Now when we add those tiny rocks, it is looking really courteous. I hope you are also feeling the same way. Anyway, the last step is to add the reflection. For that, I'm adding a few drops of water into black watercolor. I'm going with a slightly watery paint. It is not that opaque. You can see the paint here. Now. Hello. First-time going to add the reflection for those landscape in the background. It's a watery paint. Keep that in mind. It is not a 100% opaque like the color we used earlier to add this allowed. Now using this color, I'm going to add some lines underneath this landscape. Just add some random lines. Go some thin lines. It is just some simple straight lines using a lighter tone of plaque. Towards the left and the right side where you have those taller trees. You can bring them a bit tone. For the rest. You can simply add one or two lines, especially at the center. Over there, we don't have any taller trees. So we'll just few lines are all we need. You can see it is just some simple straight lines. You can add them in a broken way. Some of them can be longer and some of them can be shorter. It is simple step but be sure to go the watery paint don't go with an opaque watercolor. And also use a smaller size brush so that you will get thin and delicate lines. Now the next step is to add the reflection for the rest. We need to add the reflection for the rocks and also for those piece of land. For that as well. I'm using the same paint. It's a watery black. This is also quite simple. I'm just going to add up the client, Anthony the rock, as well as this piece of land. So go the same shape and adducted client using a lighter tone of black. It's a very simple step. You just need to follow the shape of that land as well as rocks. And add a thick line using a lighter tone. Civil rights. Just add a thick line. Antennae the wrong, as well as that piece of land. It's a very simple step, but it has a lot of impact. If you don't add any reflection, it will look a little weird. We don't miss any section. Add a thick line. And that is it. We turn the double blue and orange sunset. It was a quick one, but I really love this color combination. And you can try this with any other color combination of your choice. If you're going with complimentary colors, be sure to add a glow white watercolor over the horizon line. Just use some water and make it lighter where the two colors are meeting. Don't mix them together. If you're not using a complimentary color, you can really make sense. Like if I using pink and purple or maybe yellow and orange to scholars are quite safe. So we can simply mix them without adding white watercolor are making it lighter. Alright, so here's our painting. Now, I'm going to grab a CSS and I'm going to cut off the bottom. So as I said before, this is an optional step. You don't need to do this if you like that bottom. Alright, so here's the finished and I hope you are allowed to. It's a beautiful sunset to give it a try. If I had to try it. 7. DAY 3 - Sunset Cave: Our third sensor is quite interesting. If we look at the techniques, the colors, as well as a subject. It's a beautiful pastry red sunset, which we are looking through a queue. So first let's take a look at the color pallet. Then we can start with what painting right away. So I'll be using two colors for the sky. Let's just spiraled red and orange. I'm using the same red and orange that I used earlier. Alright, and brilliant orange, you can use any red and orange. And this arrow also be using a bit of white. This is titanium white watercolor, gouache or anything. It is just watercolor. Over the top we can see a lighter tone. Over there. I'll be using a bit of white watercolor to turn that into a pastry shade. So that's brilliant. Now the next color is red. You can use any red and orange. It doesn't need to be the same color. You can go with vermilion, are some other read that your card, or it can go the different color of your choice. So that's our second color. The next color is indigo, which is the color I'll be using for the ocean. If you don't have indigo, just go with Prussian blue. It won't affect your painting wet, so don't worry about that. So that's our third color. These are the three major colors you will need for this painting. Orange, red and integrate. It can be any orange and red. Instead of indigo, it can be any other darker blue. Now the last color is obviously black, which is the color we'll be using to add this allowed for this painting disallowed is that key. Alright, so that summarize the colors you will need for this painting. And along with this, as I mentioned earlier, your blog to need a bit of white watercolor. We will be using that for the sky, as well as to add the sun and reflection. Just in case if you want to try out a different color combination, feel free to do that. Let all your creative juices flow. Anyway, these are the colors I'm gonna use. Brilliant orange, pirate, indigo, and black for this allowed. Alright, so let's pick it. I already have the colors on my palette. So first we will need to add a pencil sketch. It is nothing much complicated. It is just a cave and is a very simple, irregular, messy shape. So I guess that's gonna be really easy. Okay, so I'm starting by adding a horizon line, which is going to be a little below the center of the paper. Just add them line a straight line. Now we can add the queue. As I said, it's gonna be a messy, irregular shape. If you want to go that different shape, you could do that. So that's the shape I'm going to go what? You can make it as messy and random as possible. That way it will look more realistic. Now, I'm taking it a little down from that horizon line. And I'm going to end it here. So that's our pencil sketch. You can modify the shape when we are painting. Right now, we're just trying to indicate the location. So we will just need a basic shape for now. You can modify that later as you guys. So already, we're gonna go with red and orange for the sky. And over here, right underneath the key will be adding quite a lot of reflection using black, as well as a really doctrine of integral. Along the horizon line, will be using a lighter tone. So we will paint the sky first. We will apply a piece of masking tape at the horizon line to divide the sky and the ocean. So take out a piece of masking tape and apply that onto the horizon line. Just run your fingers multiple times just to be sure it is properly fixed onto the paper and there is no caps in-between. Alright, so everything is ready. Now we can start painting. I already have the colors on my palette. I'm using orange, red, and a bit of white. I know some people don't prefer using white watercolor in their paintings. So if you don't prefer using white watercolor, you can simply use some water and make the color lighter. This is completely optional. I just want to turn the colors into a pixel color. That's the reason why I'm using white watercolor. In a way. I'm going to start by applying some red onto the horizon line. You don't need to apply any water because the sky is quite small. You can just go with in a medium-sized brush or a bigger size brush. And start with a vibrant tone of red and apply that along the horizon line. That color at such a brilliant red. Now I'm washing out the paint from my brush. I've only added a bit of red at the bottom. Now I'm switching to orange. I'm missing a pretty vibrant color. And I'm applying that right next to the road. And also am just adding some random lines on to the sky. Now I'm washing up the paint from my brush. I can, I'm going with some white watercolor. Take a generous amount of white watercolor on your brush, go to slightly watery paint. And we randomly run your bridge from left to right and blended. It doesn't need to be a clean, smooth plant. You can have some lines in between. This will add a lot of beauty to your sky. It will look more realistic and natural. So don't try to make it a smooth, even blend. It can have some lines in between. So that's a base layer. Now onto this, I'm going to add some lines to make it a bit dramatic. I have picked some red on my brush and then randomly adding some lines onto the sky. This is completely optional. If you want to make your sky look more dramatic, you could do that. Otherwise you can just leave it as it is. This guy is already quite beautiful. So just in case you want to add some tomato it, you can go with this step. Picking some red. And I'm adding some lines as how white watercolor in the background. It is quite easy to blend the colors. The colors will be quite creamy and smooth. So you just need to run your brush back and forth to make it a beautiful blend. I'm quite happy with the sky. Maybe we can make it a bit more traumatic. And picking some orange. And I'm adding some more lines onto the sky. Now at any point, if you feel like you're happy with your result, you don't need to worry about what I'm doing here. You can just ignore it and you can call it a ton. I might add another layer, or I might add some more brighter tones. But that doesn't mean you have to do the same. You have to make decisions for your painting. I'm going to pick some more red and first I will fill all these caps. Then I think I will add one or two lines because my background is still wet. So I thought of making use of the time. So there are two major things when you're painting a sky. The first thing is the water control. Whenever you feel like you're painting is about to try. Don't add any extra paint. It can do in the result you have caught already. So never do that. And the next thing is, whenever you're feeling happy with the result, call it tan, don't overcounting sky. My background has started to dry and also I'm quite happy with the result. So I think it's time to call it. Now, we'll have to wait for this to dry before we go the next term. So let's take a small break and come back in. The backroom has tried. Alright, so everything has dried completely. The next step is to paint the ocean. For that integral, you can either use indigo or Payne's gray or even crushing blow. If you don't have integral. I'm going to remove the masking. T. Be careful and move it gently to paint the ocean. I'm gonna go with my flat brush. This one is a half inch flat brush. You can either use a round brush or a flat brush. It doesn't really matter. First-time going with a really dark and Indians tone of indigo. And I'm applying that at the bottom. Along this masking t. Go the really dark tone. And as you're coming towards the horizon line, you can make it lighter, either by adding some water or by adding a bit of white watercolor. As I have some white watercolor here already and picking a bit of it. And I'm adding that color over here. When you use white watercolor, the color will tend to look more creamy and opaque compared to when you use water. When you're using water, the color will be more transparent. So you can either choose water or white watercolor, which way you prefer. Okay, so that's the base layer. Along the horizon line, you have a lighter tone of integral. And towards the bottom you have a darker tone, will have to make it even more darker. We can do that. Then we are adding some waves and triples. Okay, so that's our base layer. Now to add the ripples and waves, I'm going to go with a smaller size brush. The brush I'm using a size number 410 kilometer, really dark and intense turn off integral. So our next task is to add some ways sent ripples onto the background. We have just applied the paint. Our background is, but this is the time we should be adding the ripples and waves at adjacent lines, some thick lines using a darker tone of Interco. You can randomly add them onto the water. Concentrate more on the left hand or right. And this is where you have the reflection of the k. So you can add more darker tones on either end. We'll have to add some water flexion. For now, we can just use integral and repeat the step. But later on to these two end, we'll be adding some more reflection using black. So go with a darker tone of integral and just drag your brush from either side towards the center and add some reflection on either side. I'm going to add the shortly some cap in between so that the background colors possible don't add them too close to each other. Each and every line has to have some gap in between. If you add them too close to each other, it won't look like waves or ripples. So that's one thing you have to keep in mind. Be sure to leave some gap in between when you're adding these taco tunes. Now you can see here, I have only added those lines at the bottom. I have some area left on the top. Over there. I will have to use a lighter tone. I cannot use the same taco tone. I'm adding some water and I'm dabbing my brush on a paper towel just to make sure the paint is not too watery. Now, I'm just going to add some small lines over here using a lighter tone of integral. There's some small random lines. It doesn't need to have in particular thickness or size. You can simply add some small broken lines. Again, be sure not to add them too close to each other. Try to leave some cap in between so that the background color is visible. Okay, So this is where we have raised, I think it is looking quite pretty hard, ready? We need to add some more ways on to this to bring in that real feel of ocean. For that as well. I'm using indigo, but this time I'm going to really dark tone and I'm using the same brush, go to the smallest size brush, and go with a really dark tone of integral or any other blue that you are using hollywood. First, I'm going to add some lines right underneath the k using a taco tone. Now I'm adding some random waves. These are going to be much more thicker than earlier. And again, you will have to leave some cap in-between. You don't need to add a lot. We can just add three or four waves at the bottom. Closer to the masking tape, towards the horizon line. You don't need to add any. We're going to leave that lighter tone acids. So concentrate majorly on the left-hand and the right-hand. An atom lines over here. It can be a combination of thick and thin lines. And also some of them can be a bit wavy. And picking more integral. And I'm adding some thick leaves at the bottom. You just need to press your brush and make it thicker, and then release it to make it thinner. Our painting is quite small, so keep that scale in mind. You can go to similar thickness for your ways. It doesn't need to be perfectly shaped wave it can be just a thick line. But be sure to leave some gap in-between when you're adding these declines. That is what makes your water look more realistic. So that's something you have to keep in mind. If you add them too close to each other, you wouldn't be able to make out those waves. So keep that in mind. That's quite important. Whenever you are painting an ocean or a sea, you can see that background color here, as well as the waves. You have to go with a similar approach. See here between every line you can see that background color. This is how it should be. Okay. So that was our next one. Now I'm washing off the paint from my brush and I'm going to add this allowed. My background has dried completely. So I don't think I need to wait for any more time. I already have some black watercolor on my palette, but I'm quite sure that wouldn't be enough. Because for this painting, you believe quite a lot of black to fill up that entire cue card. Some more paint onto my palate. So the color is ready. Now to paint the key, I'm going to use my medium-sized brush. Size number eight brush. It has a nice pointed tip when dipped in water. So I can easily draw that outline. An asset is quite big. I can fill it up easily. Asphalt. Maybe you can use the smallest size brush to add the outline, then you can use a bigger size brush to fill it up. So choose your brush wisely. I'm going to start from the right side and I'm going to add that outline. Try to go with the irregular shape, don't make it a smooth line. And also you can add some bumps in between to make it even more realistic. Now we'll have to fill this up. As we discussed earlier, you can modify the shape of your curve. It doesn't need to be exactly the same as the pencil sketch. So feel free to modify the shape if you like. There's a need. Now, as I'm painting the key, I'm also going to add some reflection using the same color and using the same brush. I have some black watercolor on my brush. And I'm going to add some lines on either end, right underneath the key. You just need to drag your brush towards the inside and add some lines. Again, keep in mind to leave some cap in between. Same way we'll have to add some lines on the other side as well. Okay, so first I'm going to fill up the queue. I will need to add the other alkaline asphalt. Then I will fill that up in black watercolor. Then we can come back to the reflection. Alright, so I have added a key. Now, we need to add some more lines right underneath the queue using black watercolor. Again, it is a thick line. I'm leaving some cap in between. And I'm just adding that only on either end. If we use black color throughout, you wouldn't be able to get that field of reflection. So be sure to use black only on either side. Don't add it anywhere else. So that's true. I'm pretty happy with the test tone down. Now, our last step is to add the sun and the reflection. For that, I'm using my smallest size brush. This one is my size number four round brush. And I already have some white watercolor there. So I'm just going to use that. Be sure to go to the smallest size brush or a brush with a pointed tip. I have taken some white watercolor. It's a thicker consistency so that it will be opaque. And I'm adding a small white circle that our sun now lead to other flexion. For that as well, I'm using white watercolor and I'm using the same brush. So right underneath the sun, I'm going to add some lines. Go the pale which is not too watery, and just add some lines right underneath the sun. Again for this as well, you will have to leave some gap in-between. Don't add them too close to each other. See that? Between every line I have left some cap. You can see that blue in-between. This is how you should be adding your reflection. When here, I'm leaving that waves, acids and I'm adding that white reflection in-between those waves. You can see the kind of lines I have added here. It's a dry broken line. It is not too prominent. Go with a similar style. This way you can bring a shimmery filter your water. Alright, so that is it. We are done with our third sentence. Now, I'm going to peel off the masking tape. Then I will cut off the bottom. Healers have a car just sends it to the queue. Now I'm going to cut off the bottom. I'm really happy with the sky. Ask the last ocean. I like the cave asphalt, but it is just a solid color. So I don't think I need to comment a lot about it. Anyway. I'm quite happy with this entire painting. The colors are looking so good together. Now let me quickly cut the border and show you the finished painting. And here you go. Here's our Cardiac Center. I hope you are allowed to do give it a try for you to try it. I'm very sure you're going to love it. 8. DAY 4 - The Lighthouse: Our next sense, it is a very simple here at cars is one. We're going to paint a teeny tiny lighthouse by the beach. And they're also trying a very interesting color combination and this painting. Let's have a look at the color palette. The major clue you will need for this painting as violet, which is quite obvious from the painting itself. The color, I'm going to use this violet from White Nights. If you don't have wireless, you can mix and create your own violet. Now, for this painting you can see the violet I'm using has a basal tone to turn that into pixel shade. I'll be mixing a little fight with it. The spinous wireless. You can use permanent violet or any other value you have caught. Now, I'm going to add a bit of white watercolor into this. And I will show you how you can turn your wallet into a pistol one. See that? You can quickly turn that into a pastry shade by adding some white watercolor into it. You can clearly see the difference. We have got a beautiful lavender shade here. Okay, so I'll be adding a bit of white watercolor with wireless to turn that into a pastry shade. If you want to use, you buy that asset is if you want to skip using white, That's totally okay. If you have a pixel violet with you already, you can use that directly without adding white watercolor. So that's a little fist color. Now, let's take a look at the second color. The next color is yellow. This one is cadmium yellow. Sky is a variegated wash of yellow and violet. This one is cadmium yellow. You can use any of the Louisville have caught. Okay. So that's a second color I'll be using for this chi. You will need one more color. That is orange, which you can already guess from the painting. I'll be using orange to add some clouds onto the sky to make it dramatic. So those are the three colors I'll be using for the sky. Wireless. Yellow and orange. This is the yellow that I'm going to use. It is cadmium yellow light from Shanahan. And this is the orange. I'm going to use the same orange I've been using for the other paintings. Brilliant orange. So choose your colors. It can be either the same color combination or a different one. And finally, to add this allowed, you will need plaque, watercolor, or black wash or Payne's gray or any similar color. Those are the colors you will need for the sunset. It's an interesting color combination which you may not have tried earlier. So this painting is going to be a wonderful experience. You can see that car just chi, the orange clouds and that teeny tiny lighthouse even disallowed, is quite interesting. So I'm very sure you're going to love it. Let's give it a try. I have my paper ready here and the colors are already on my palette. First I'm going to apply a piece of masking tape a little below the center of the paper to divide the sky and the sea. Okay? So it's a little below the center of the paper. So a little more than the half of the paper is going to be this guy, and the rest is gonna be the C. As we discussed, these are the colors. I'm going to use, violet, yellow, and orange. And I'll be starting by applying a color to white watercolor onto the entire sky so that we can turn the violet into a particular shade. So I'm going to squeeze a little bit of white watercolor onto my palette. And I think I will need some yellow too. I already have violet and orange on my palette. Only yellow and white is missing. We'll be using yellow and orange only for the skies. So we don't need a lot, we just need a bit of yellow and orange. The major color is going to be violet. Okay, so let's begin. I'm going to use my size number 12 ground finch. I'm just washing it to make sure there is no other pin since on it. This is a brush. I'm going to use a big brush. Now. I'm going to add some water onto whitewater club. I'm turning that into a watery consistency. Now I'm going to apply this onto the entire sky. See that? I have just added some water and have turned that into watery consistency. Just like how you apply water onto Sky, apply white watercolor and make the sky wet. So I have applied an even coat or white watercolor onto the entire sky. Now I'm going to keep this brush aside. You don't need to wash the paint. You can keep it aside. We'll need it later. When we are painting the sea. To paint the sky and use my flat brush. I just made sure my brush is clean. Now I'm picking some violet and I'm going to apply this onto the top of my sky. You can see that colleges pixel shade at the beautiful lavender. Keep applying that almost half of your sky. You just need to run your brush from left to right in a horizontal way so that you will have a clean blend that a pixel colors already available in the market. If you have them, you can use that directly. You don't need to mix white with it. When you're applying the paint, try to make it a bit lighter when you're coming down. On the top, we can have a medium tone and towards the center, try to make it lighter. Now I'm going to wash the paint from my brush. And I'm switching to my second color, which is yellow. I'm picking a brighter tone of yellow. And I'm applying that from the bottom. And I'm going to work the top. Now. I'm washing all the paint from my brush and I'm making it lighter, just like how we did for the wireless. So where these two colors are meeting, tried to make both the colors lighter so that it won't create any muddy color in the sky. These two are complementary colors in the color wheel. You might end up creating a muddy color, especially when you're using it directly. Right now we have used whitewater color in the background. So the chances are quite less, but still, you don't need to take a chance. We can make it lighter where the two colors are meeting. That's a base layer. Now I'm going to switch to my smaller size brush to add the clouds. Will need to add the clouds while the background is still wet. So don't wait for a long time. So let's do that right away. I'm using my size number four on trash and I'm picking some orange. And I'm simply adding some lines onto the yellow area C that you can go with any kind of shape. It doesn't need to be lines like this. If you want to go with rounded clouds, you could do that. Okay. So I'm just adding some lines onto that yellow area there still wet. So make use of the time and add as many clouds as you want. We can also add a little bear. These two colors are meeting, but we don't need a lot of with air. As we have white in the background. Adding the clouds are quite easy. You will be able to blend it quite well. When you're just watching me paint, it might not look simple, but it is actually really simple. You have to try to understand. We have applied Dakota white watercolor onto the background. Then we went into the variegated wash and violet and yellow. That was the base layer. And now we're adding some clouds using orange, especially over the bottom there we have yellow. So just give it a try. I'm very sure you're going to love this technique. I'm quite happy with the bottom. Now. I'm going to add a few over here as well, where these two colors are meeting to make that transition more beautiful. If you want to make any of the Clouds more brighter, you can go to brighter tone of orange and add some more clouds onto the background. If your background is starting to dry, just live with acetals. Don't add any more clouds. Okay? So that's a sky. Now, I'm going to leave this for trying. This guy has dried completely. Now. I'm going to change liquid off the masking tape and we can start painting. I'll see for the C, I'm going to use violet. I won't be adding any yellow or orange. But before that, we need to add the sketch of the Lighthouse. Just to understand where you have to use the darker tones. The lighthouse is going to be super tiny. So I'm not going to add that right now. We can add it then we're painting this allowed for now. I'm just adding that huge rock where the lighthouse is resting on. We just need a basic shape because underneath this rock, we are going to introduce darker tones and the rest of the area will be lighter tones. I have added a basic shape. I think I can make it a bit shorter. I'm shifting the bottom line over here and I'm going to erase out the rest. So this way I can make it look like it is really far away. If you go to a bigger size, it will look like it is closer to us. That way we will need to add more details. Okay, So that's a basic shape. Now I'm going to start painting the scene. So first I'm going with a basal violet. I'm mixing a bit of white watercolor with violet. And I'm creating a color which is similar to the sky. Okay? I'm carefully applying that along the horizon line. I want a straight line over here because we're not going to add any details or to the horizon line. So try to go with the straight line. This is the color I'm going with. It is not that dark. It's a lighter tone of violet. If you don't want to use white watercolor, you can simply use water to make it lighter. Now, towards the bottom, especially onto the right side, we have the rock. I'm going to introduce a darker tone. Now pick a darker tone of wireless and start applying that from the right side. On the side we have our lighthouse and that huge rock. So obviously there will be some shadows and reflection on the water. And that is exactly what we are trying to introduce by this darker tones. On the left rating that lighter tones. And on the right introduce some darker tones. For now, simply apply that taco tones onto the right side. You don't need to worry about blending them right now. You can see how messy my background is. The only thing I'm concerned about is getting some taco tones over here. Okay? So that's the base layer. Maybe we can add a little more darker tones underneath a rock just over here. Alright, for the next step, I'm switching to my smaller size brush and go to the medium tone of violet. Now simply keep running your brush left-hand side and add some lines onto the water. Right now, it is looking quite clean. It doesn't have any texture. That is what we're trying to bring in now. Children your brush left and right and add some lines onto the water. You don't need to pick any extra paint. You can use that pain we have in the background. In case if you feel like your background is dry, you can pick a little watery white and it'll be the same step. We don't need a lot of lines. Just run your brush one or two times and try to get rid of that strong patches. Now I'm going to pick a bit more violet. And I'm adding few more lines at the bottom, especially where we have that rock. I'm just adding a few more lines over here to make that reflection prominent. If you want to add more lines in the background, go to lighter shade. Don't use this darker tone over there. We want to retain that lighter tones. So pick a medium tone or a lighter tone. And you can add few more lines over here. That looks nice. You can clearly see the difference. Over here. I have use lighter tones and right underneath the rock, I have used a darker tones. Maybe we can add some more taco tones. Like a really dark tone on the bottom line. All right, that looks perfect. Now we have to wait for this to dry. And the last step is to add this allows our background has dried perfectly. Now I'm going to switch to black watercolor to add this amount. I already have some paint on my palette. And to add too loud, I'm using my smallest size brush. Go with the pain which is not too watery. And first weekend fill up that entire shape and black watercolor. Then we can add some small rocks and the water, and also the lighthouse. So that's the basic shape. Now I'm going to add some teeny tiny rocks next to this to make it look more natural. You get Adam asked many as you want, but try to cope with different shapes and sizes. And also go the scattered look, don't add all of them at the same place. You can add some onto the corner and maybe some onto that point at the end. Okay, So Adam variable, you want to just make sure to cover different sizes and shapes. Okay, so that's time. Now the last tip is to add the lighthouse. It's going to be a super tiny titles, but very minimum T2. So first I'm going to add that vertical part. It has to be really small. So go the smallest birth I have caught, or it can go with a black pen. Just to decline. Slightly thicker at the bottom and thinner on the top. You don't need to put a lot of effort. Asset is quite small. We are going with a very basic shape. Now leaving some gap, I'm going to add a small triangle on the top. It's a rectangular piece, then some cap in between at a triangle on the top. Now, I need to connect that triangle onto that rectangle. For that, I'm using a pen. I'm not really sure if I can get that to line using my brush. So I'm using a black pen and I'm adding a small straight line on either side from the triangle to that rectangle. And pad completes our lighthouse. You can see the super tiny go with the similar size to make it look like there's really far from us. Okay, So that completes our painting. Now, it's time to peel off the masking tape. And here's have are called us and said, I really loved the sky and that little lighthouse. I think it's a wonderful color combinations. And now it's time to cut off the border and add it to a collection. Alright, so tap Done. And Harris have afford sunset. I absolutely enjoyed the process and I hope you loved it too. 9. DAY 5 - Tropical Sunset: Our next project is a call just tropical sunset. It's a colorful sunset. You can see there are quite a lot of colors in the sky. So first let's have a look at the color palette. For this guy. I'll be using four colors with this turquoise blue. Then I will be using some permanent rose and then some orange and a bit of yellow. So I'll be using the colors in the same order. I'll start with turquoise, blue. Then I will go with some rows than some orange and some yellow. If you change the order, if you mix blue and yellow together, you will end up getting a green. Same with orange and blue, you will end up creating a muddy brown in the sky. So this is a safe order. We'll start with turquoise blue than some rows and some orange and some yellow, so that your colors blue, fresh and vibrant, and turn them into pastry shade. I'll be applying some white watercolor onto the entire sky, like how we did for the previous painting. There are colors like these already available in the market. This artificial colors. You can see the pigment number SSPR nine and P W6 be W6 is the pigment number of fight, which means this color has some vitamins. The same goes with others. Two colors I have here. You can see that Peter Blue sex and same goes for the lavender. There are two other pigments and along with that there's some white. That means it is okay to use whitewater colonial paintings. I'm saying this because I know there are artists who don't prefer using white in watercolor paintings. But if the pixel colors are made by adding some white in it, I think this method is quite okay. At least for me, I don't find anything wrong in using this method. Now, I'm going to quickly swatch all the colors. I'm starting with turquoise blue. The one I'm using here is from a branch in hand. I think it already looks like a peaceful shade. Okay, so that's all for this color. Now, the next one is permanent rose. If you don't have permanent rose, you can use Chrome cell or any other rules are pink. This is the actual color. You can see on the painting. It looks really different. That is because we will be applying white watercolor onto the background. Now the third color is orange. The one I'm using is brilliant orange. My favorite color has a whole know by now. So that's our third column. And the last one is yellow. I'll be using cadmium yellow. You can use any yellow and orange. We will need two guys, blue, a pink, or a rose shade or crimson, then some orange and some yellow. And finally you will need plaque or Payne's gray to add. This allows just in case if you don't have turquoise, blue, you can use violet or maybe blue. So you can just see that one color. Okay? So that's the colors you will need for this tropical sunset. Now, let's targetable painting. I already have the colors and the people already here. We are going with the wet on wet sky. So the first step is to apply a clean coat of water onto the entire sky. I'm missing my one-inch brush Parish, and I'm applying a gentle coat of water. Keep running a brush multiple times to be sure the water has reached everywhere and CO2 water is even. So I have made the background wet. Now, I'm switching to my size number 12 round brush. And I'm going to apply some white onto the entire background. I'm dropping some water and I'm turning that white into watery consistency. Now let's apply that onto the anterior background. Go with a generous amount. Again, on average multiple times to be sure the white paint has reached everywhere. Okay. Now let's start dropping paint onto the background using the same brush. You don't need to wash the paint. You can use the same brush acids. First, I'm starting with yellow. I'm going from bottom towards the top. So using the same brush, I'm picking some yellow. You can use any yellow you have caught and apply that at the bottom. You can simply dropping that. It doesn't need to have any particular shape or anything. Next, I'm putting some orange and I'm adding tied at the bottom. I can. Now we're not going to get a smooth variegated wash of these colors. You can drop in your paint. How will you want to? Maybe we can add in some more orange. You Skyler, totally depend on how much color you're using and how you're adding that onto the background. I have added two colors. Now, I'm going to wash the paint from my brush. And I'm gonna go with my third color, which is Permanent Rose. Permanent Rose is not a common color. So if you don't have it, don't worry, you can use crimson or carmine. Dabbing my brush on a paper towel. And I'm picking some roles. And I'm adding batch right next to orange. Maybe we can add a few more. And now I'm washing of the paint from my brush I can and I'm good with the last color with this turquoise blue applying that on the top onto that leftover area. Right now you can see I haven't blended the colors. Each of them looked like different patterns. Now our next task is to fix it. I'm just keeping this pressure side and then picking my smallest size brush. This one is a size number four, I'm Trish, you can use any of your medium two smallest size brush. The size doesn't really matter. And I'm picking some more turquoise blue. See that that's a brush. And I'm going to add some clouds. So first, I will add some clouds on the top. This is where you need to be careful about the colors here, choosing onto the pink and turquoise blue, you can use turquoise blue. But as you come towards the bottom, you cannot use turquoise blue because that might end up creating a multicolored sky. So on turquoise blue, you can use ping, ping, you can use turquoise blue. Those two colors are safer color combinations. So I'm adding some pink clouds on turquoise blue. Maybe we can add some more to make it look more dramatic. See that you will get a nice base to wireless if you mix these two colors. So it's very safe color competition. You don't need to worry about messing up the sky. Now the same goes with the pink as well. You can use turquoise blue if you want to add some clouds over there. Okay? So I'm picking some turquoise blue and I'm adding some clouds onto the pink. Now I'm washing off the paint. Now I'm going to brighter rose and I'm adding some more clouds. You can decide on how much clouds you want to add. If you don't want to add a lot, that's totally okay. But the thing is you should be adding them before your background. Dr. That's the only thing you need to be careful about. That looks nice. Also when you add in the clouds, be shown or to put lots of pressure, be very gentle. And just push and pull the color and to each other. Don't distort the background layer. That looks nice. Now, we need to add some clouds at the bottom mastered before it dries. Now, I'm mixing a bit of pink and orange. And using that color, I'm going to add some clouds over here where the rules and oranges meeting. I'm not going to add a lot and we'll just add a few lines. I want a soft bristle sky. I don't want to make it look as automatic. I'll just add some more lines over here using orange. And I think with that, I will call it a ton. It is looking so pretty already. I love this color combination. I think it really looks like a tropical sunset. This guy has started to dry. So I'm picking some white, a little watery white, and I'm smashing the color. I really loved the way it has turned out. My sky has started to try, So there is no point in adding more clouds. I might end up ruining it. So it's time to call it down. And I'm going to go for a sharp walk and I will come back when this has dried completely. Okay, so the background has dried completely and this is how our sky is looking right now. Our next step is to add this allowed. So I'm squeezing out some black watercolor onto my palette. When you think of tropical sunset, the first thing that comes to your mind is obviously palm trees. So that's what I'm going by. Other labs, maybe three or four palm trees. To add the palm trees. Good. Any of your smallest size brush, I'm using my size number four, I'm Trish. And just make sure your background has dried completely. So this one has a nice pointed tip. So it is perfect to add details. First, I will add some reference line using my pencil just to know how tall I want my trees to be. So that's gonna be the first one and that's the tallest one. And I'm adding another line here. And maybe we can add one more. I think I will go with three different heights and add them at different locations. Don't add them close to each other. Okay, So that's a reference line. Now I'm picking a really dark tone of plaque. Am starting with the first one, the tallest 1. First we can add the tree trunk. So on the top make it slightly thinner. And as you're coming down, it can make it a bit thicker. So you can see here, I have made the bottom slightly thicker compared to the top. Now onto either side, I'm just hiding some teeny-tiny lines and some patterns. These textures will make it look more realistic. We are trying to show that skin. If you don't want to add it, that's completely okay. You can just add the tree trunk and you can add the leaves. You don't need to add them throughout the line. You can skip some places and just add few in a very random way. So let's add that onto this entire tree trunk. Only at the bottom. And commonly the top area acids. We're just trying to create some texture here. So go in a very random way and add some teeny-tiny lines. That looks nice. I think now we can add the palm leaves. If you're trying not a palm tree for the first time, adding the leaves can be Petrosky, but it is not that difficult. You just need to start from the center and just keep on adding some lines. So first add your art line, then onto that. Keep on adding some messy lines like this. I'm gonna go with the next one. So first I'm adding that arc line and I'm simply adding some messy lines and I'm filling it up in a similar way. I'm going to finish this enter your tree. I will add the next line. And I will set that up as well. When you look at the individual palm leaves, it might not look that great, but that's okay. If we look at the tree as a whole, it is really courteous. So just keep going and fill it up. If you're not too sure how to do this, maybe you can try it on a scrap piece of paper. And when you feel confident enough, you can come back and add those leaves. It isn't that difficult, you just need to give it a try. You will get to know how a fetus first add your main art line, then onto that. Keep on adding some messy lines until you feel like it has caught completely filled. Okay, so that's all for string. If we want to add more lines, you could do that just in case if you feel like there are some spaces in-between, you can make it look more dense. I'm pretty happy with it. Now I think we can go with the second one. We already have the reference line there. Just run your brush on top of it. On the top you can go with a thinner line. And as you're coming down, we can make it slightly thicker. Then onto the bottom, you can add some teeny tiny lines onto either side to bring in that texture. Just like how we did for the first three. I have added the tree trunk. Now, I'm going to add the palm leaves. So I'm starting from the center. I'm adding an outline. Then onto that, I'm going to add some messy lines and I'm going to fill that up. Similarly from that center point, I mean, that top point, you can add our clients, maybe six or seven of them. And then keep filling each of them by adding some messy lines. And by the end, you will have your card. Yes, palm tree. You have to use a brush that as pointed tip. Otherwise, it won't be that easy to add kin lines. So this one is also time. Now I'm going with the last one at a slightly shorter than the other one. So that means we are going with less detail. So first I'm adding a tree trunk. Now I'm adding the palm leaves. The same technique that we used earlier are dark lines can onto that, had some messy lines and fill it up. If you wanted to add more palm trees, you could do that. Maybe you can add one more taller one onto the left side, or maybe a shorter one towards the center. So compose your painting however you want to. I'm not really happy with this tree, especially the palm leaves. I'm just trying to make it look better by adding some more lines. Let's see if it works. If you're already happy with your tree, don't touch it. Keep it that way. I'm just adding some more lines to make it a bit more dense, so maybe that will make it better. I'm really happy with the first tree, the taller one, and even the third one. This one, I'm not really sure if I'm happy with the shape. Still, I'm not that pleased. Anyway, there is nothing much I can do right now. I just have to accept it. Maybe to compromise on that. I think I will add one more tree, maybe a shorter one over here. It's going to be super tiny compared to the other trees. You don't need to follow the same size and same locations. You can compose your painting however you want to. And if you don't want to add this tree, you can completely skip that. Our painting is quiet, pretty hard ready? So there is no need to add another tree. I just thought of going the different height to make it more interesting. So that's our last tree. In the coming days, we will do a detailed palm tree, not like this one. This one is very basic. I'm not really sure if I liked all the trees. I'm really happy with the first one, the taller one, but the other ones, I'm not really sure. But then overall, I'm happy with the painting, especially the way the sky has turned out. Anyway with that, we're done with our tropical sunset. Now, it's time to peel off the masking tape. Be very gentle when you're peeling off the masking tape. And all means promoted an ankle that you want to pop your people. I think it's a car just chi, maybe I might try the same sky using violet instructor cost flow. Now it's time to cut off the bottom and stare at our colleges tropical sunset. And that's it. We're done. I hope you all loved this technique and tachycardias tropical sky. Give it a try and pay it to try it either with the same colors are a different color of your choice. 10. DAY 6 - Sunset Tree: Here's our next sunset. It's an easy one. It would take you less than ten minutes or maybe 15 minutes to the maximum. So let's take a look at the colors you will need. At the simple color palette for the sky, I'll be using two colors, chromosome and orange, crimson as a common color. And I hope you all have it. You can either use crimson or carmine. So that's our first color. Okay? Now the next color is an orange. I'm going to use brilliant orange. You can either use vermilion or any kind of orange. So that's the two colors I'll be using for this guy. If you want to try out a different color combination, you're free to do that. Now, the next two colors are brown and neutral. The next two colors are prone and neutral tint. Instead of neutral tint, you can use Payne's gray or black. These are two colors I'll be using for this allowed. If you don't have brownie can use burnt sienna, but this isn't the color. So that's our third color. And finally, to add the darker tones, you will need either Payne's gray or neutral tint or black. Okay, so that's the color palette at a simple one, you will just need crimson, any kind of orange and a brown, and a black or Payne's gray. So you will just need four colors for today, sunset. Now let's give it a try. Alright, so I have my paper and the colors ready here. This one is going to be quite quick and you can either go by wet-on-wet technique or you can use wet on dry technique as the size of the papers quite small and going to go with but don't try betweens. I'm not going to apply any water onto the paper. I'm going to apply the paint directly onto a try people. Our first task is to go with a variegated wash of crimson and orange. I'm using my half-inch flat brush, and I'm starting now with crimson. I'm going with a slightly brighter color. And I'm applying that on the top of my paper. So almost half of the sky, I'll be applying crimson. Then I will gradually switch to brilliant orange, which is aren't that I'm using. You can go with any orange study of God, or you can use vermilion as well. So that's crimson. Now I'm going to wash the paint from my brush. I'm going with my second color. The base layer is a simple variegated wash of crimson and orange. You can first apply that right next to chromosome and a new brush in a horizontal way to make it a clean blend. Now, I'm going to clean my brush and I'm going to bit more orange. Again. I'm going with the bright tone. I'm not adding a lot of water. Now as I'm coming down, I'm going to make the color lighter, especially towards the bottom. Sand picking clean water. And I'm making the color lighter just at the bottom. Okay. So that's our base layer. We have added crimson on the top. Then we switched to orange and made it a clean black. And what's the bottom? We use clean water and middle orange. My to. Our next task is to add some clouds onto this background while it is wet. So we don't have a lot of time. We need to be quick, otherwise the clouds that we're adding wouldn't spread into the background. So to add the clouds, I'm using my smallest size brush. This one's a size number four round brush. And then picking a bit tough crimson and adding some Payne's gray to it to create a darker red. That's a color I'm going to use. I have just make some Payne's gray with crimson to create a doctrine of red. Now let's add the clouds. You can use the smallest size brush or a medium-size brush. Now, if you feel like your paint is too watery, you can tap it on a paper towel to remove the excess amount of water. Our background is wet. So if you go with the watery paint, it will spread into the background in a very vigorous manner. And it might be a bit difficult to control the way the paint is spreading. Dab your brush on a paper towel. You can see the clouds formatting here. They're not spreading a lot. So when you add in the clouds, go the pain which is not too watery, you can add them. How will you want to, if you want to make your sky look more dramatic, you can add more clouds right now and adding them on the top. I'll be adding few along the bottom as well. Now the thing is, you should be adding these clouds while the background is still wet. And also, you need to be careful about the size of the clouds because you're adding them on a wet background and it will spread a little. So the size will be a bit more bigger than what we have applied. If you add some smaller sized clouds, they will be a bit bigger. By the time they spread into the background, the same thing goes with medium-sized. If you go to medium-sized clouds, they will be even more because it's not a complicated thing. Only if you are starting out and if you're adding clouds for the first time, it might be a bit difficult. Otherwise it's a simple thing. You will get the hang of it once you have tried it a few times. Now, I'm going to add few over the bottom onto the area where I have orange and that lighter orange over here. I'm going to smaller size. I don't want to make them to pick. I don't want to add a lot. And also I'm using a lighter tone here. I'm not using a darker tone like I used on the top area. I'm pretty happy with the bottom area, but not really happy with that top. I think over here, we need to add some more darker clouds. Some picking some more darker red. And I'm adding some more clouds using a darker tone. Adding this color looks better. Earlier. It wasn't really with suppose. If you want to make it more darker, you can add some more Payne's gray into your crimson and go with a darker red. My background has touted to try. So there is no point in adding more clouds. They may not spread into the background and I might end up spoiling my scar. So it's time to call it. Let's leave it for trying. So here's how this guy has turned out. I think I should have gone with a taco tool for the topic area while adding the clouds. Now mind, let's go the next step. Next task was to add this loud. For that you will need proud and Payne's gray or black. We will need a darker tone of brown. So just add a bit of brown or burnt sienna with a bit of Payne's gray or black. If you don't have Payne's gray and add a shape like this at the bottom. We just need a darker tone of brown. If you have burnt umber, you can use that directly. Or you can just create a darker tone of brown by adding a bit of brown or burnt sienna to Payne's gray or black. I think I'll make it a bit more higher. So I'm picking some more brown and then adding underlying on the top. Just to increase the depth. We have a medium tone of brown on the top and a darker tone at the bottom. Okay, So that's time. Now our next task is to add the tree. For that, I'm gonna go with a darker tone of town. It's a very simple tree. They're not going to add any full v2. We'll just add some branches. First, I'm adding the tree trunk. You will have to use any of your medium to small sized brush. And for the teeny tiny branches, maybe you can go with the smallest size brush or a brush with a pointed tip. That's the tree trunk. I'm going to make it a bit more thicker at the bottom. This color looks better. So depending on the color you have used in the background to make it more taco so that it is visible. So that's a tree trunk. I made it thicker at the bottom and a slightly thinner on the top. Now onto this, I'm going to add plenty of branches. That's our next task and final task. You can add them how you want to. You can add as many branches as you want. Try to go with different kinds of shapes and sizes for your branches. Don't make all of them look the same. The story is going to enhance his car into a different level. If we add more branches, it will look more beautiful. And also you have to use the smallest size brush or a brush with a pointed tip to get them right. The main branches can be thick, but then it is a smaller one, dose thin and delicate bonds, which is going to make your painting look more beautiful. So add plenty of them. If you're not confident enough with your brush, maybe you can switch to a pen and add them using a pen. So go ahead and add as many practice I see one. As I said earlier, go in different kinds of shapes for your branches. This will make your tree look more realistic. So I'm going to add as many values as I can. I have added plenty of branches and I think I'm already in love with this painting, especially the color companies in this bottom left corner is really nice. It really feels like it's glowing here because we have used a lighter tone. Anyway, I'm going to add few more branches. This video will still wet. Luckily, I didn't spread that into the sky. That would have been a disaster, but this one is easily fixable. I'll just add some taco tones over here, especially at the bottom. There you have the rules. I think I will add few more branches, especially on to the top. And the top will be done with the whole painting. Okay, so here it is. Here's have a finished painting. If you want to add more branches, go ahead and add as many as you want. Maybe you can go with the detailing brush or a pen and add some teeny tiny branches. That's going to make your painting look more realistic. Now, I'm going to quickly peel off the masking tape and I'm going to cut the bottom. And it's time to add this one to our collection. Will produce answer. It hasn't dried yet. But I really love this color combination. I think it's a call to his wife. I also as a very easy and safe color combination, it is quite easy to blend crimson and orange. I'm very sure you might have also felt the same if have tried it home with me. Anyway, it's time to cut the bottom. And he also was censored for the day. I really love this color combination, especially the bottom half. Red, oranges, lighter. It really looks like that Ariel as deploying. So give it a try. If I get to try it and let me know if you liked it. 11. DAY 7 - Golden Hour: Our next sense, it is a beautiful golden hour. You can see that glowing sun and that orange shade around it. It's an easy one. You will just need these four colors. Permanent yellow, orange, warm, brown, and neutral scent, and also around the sun to make it glowing, I'll be using a little of yellow. This a teeny bit just over here. And then most of this guy is going to be permanent yellow, orange. Then to make it more brighter, I'll be adding some woman in. And towards the bottom, I'll be using some brown and neutrals and interrupt neutral tint. You can use Payne's gray or black and interop pulmonary yellow, orange. If you don't have it, you can mix a little laugh. Vermilion with yellow to create a yellowish orange, just like the name says, it's a very simple yellowish orange which you can create easily. So there is nothing to worry if you don't have it. For the sunset, I'm gonna go with wet on wet technique, which means you will have to vet to paper. I'm using my one-inch brush brush and I'm applying an even coat of water onto the entire background. Turn your brush multiple times just to be sure the coat of water, so even my papers evenly wet. Now the first color I'm going with this yellow. First, we will need to add the sun. And for that I'm using a smaller size brush. Wash it properly. Just to be sure there's no other paintings on it. I'm going to add my son over here right at the center. So let's start with some yellow. I'm using cadmium yellow here. You can use any yellow, or it can readily start with permanent yellow, orange. Now, the pin that you're going with shouldn't be too watery because of a pattern. Does a lot wet, but we have just made it spread. The paint that you're going width should be slightly dry so that it doesn't spread a lot. If you feel like the paint is too watery, dab it on a paper towel. The very first step is to draw a circle using that yellow paint, leaving some white space at the center, which is going to be your son. If you go the watery paint, the paint will start spreading into the background and a very vigorous manner and you may not get that white circle. So it's really important to go with a slightly tried paint. Don't go the watery paint. Alright, so that's the sun. Now I'm going with permanent yellow, orange. And I'm going to apply that around the sun. I'm just running my brush in a circular way. I'm applying the paint. So I want a yellowish tone around the sun and the rest can be a yellowish orange. Maybe you can make it a bit more brighter. Now, I'm going to switch back to yellowish orange. And I'm going to fill up the remaining space I have on the top and also a little at the bottom. We're trying to retain that people wide at the center to represent the sun. And the rest, we're going to add some yellow and some yellowish orange. We're trying to create that glowing sun and a golden hour. You just need to be careful when you're applying the paint only at the center. There we're creating that sun. The rest of it you can apply. How will you want to if we can create a smooth even gland, that's great. Otherwise also there's no problem. You can have some lines and some patches here and here. That's not going to affect your painting. Now, I'm going to pick much more brighter tone of orange, and I'm applying that at the bottom. Now I'm picking some formalin and I'm making the bottom even more brighter. Just around the sun, you will need a lighter tone. That's why we used yellow over there. And then we used permanent yellow, orange. Now at the bottom, I'm using vermilion. And now I'm going to pick some brown. I'm adding that at the bottom. I think maybe we can introduce some vermilion on the top asphalt. This is just optional. If you want to make it more brighter, you can add some more mulling over here. Otherwise, if you're happy with your permanent yellow, orange, you can leave it as it is. So that's this guy. Now, I need to make the bottom media even more darker. I will need to introduce some taco tones over there. So I'm going to pick some more brown and some new Shelton. And I'm adding that over here to make it look more taco have added some neutral tint. Now I'm going to wash the paint from my brush and I'm going back with brown. I'm using a brighter tone. And dividing that over here and blending net-worth neutral tint, we have a really dark tone at the bottom and a brownish tone over the top. We can add some more over here. So this one can stay as a line. It doesn't need to be blended into the background. So you can just leave that line acids. Now, I'm just picking a paper towel. And I'm lifting the paint from the center. The yellow pain was spreading into that son and I was losing the shape of my son. I'm just dabbing that paint using a paper towel. And I made the Syria dry so that it won't spread into the Sun again. Alright, now I'm going back to neutral tint and I'm adding more darker tones at the bottom. I'm just randomly adding it. See that I want the bottom area to be really dark and the top to be brownish, orange-ish. Now, I'm going to wash the paint from my brush before the bathroom drives. There is one more thing that we need to do. For that you will need a clean brush. Now keep pushing and pulling the paint into the sky to create some random lines like this. Somewhere it will be brownish and somewhere it will be a darker tone. So we'll have a combination of grassy lines here. And it will make our golden hour even more beautiful. If needed. You can pick more paint. Maybe you can go with a darker tone or a brownish tone and add more lines. But first, make use of the paint that you have, the background. Mostly that paint might be sufficient. You wouldn't need to pick new paint. So I'm done with the background. Now, I'm going to leave this for drying. Alright, so here's how I would ask Toronto, it has dried completely. Now we're going to add this allowed for that, you will need a smaller size brush or a brush with a pointed tip. First, I'm going with neutral tint. You can either go with Payne's gray or black. First, we need to add some lines onto the background. You have to make sure the background has dried completely before you go with this step. Otherwise, the paint is spreading into the background and it can ruin your painting. So I have added my first line. You can see how thin it is. Go to similar line. You can use a detailing brush or a brush with applying that to Oregon, use a pen if the breadth and work. Now I'm adding my second line, which is slightly longer than the first. Be careful not to add any lines antennae the sun. Over there. We need to use a brownish tone. So right now you can add them on the left and the right side, not next to the sun. I have left the space under the sun. And I'm adding one line towards the left, maybe another one. And maybe we can make this a bit more tableau to make opening look a lot more interesting. I'm just wondering, should I add more? Maybe I can add more here. I'll go to the shorter line. Okay? So I have added 12345 lines TO now audio tip of these lines, we're going to add some details, some grainy like things. For this asphalt, you should be using a smaller size brush. Now, amateurs try adding some grains onto either side of this line. It's a very small, simple shape which you need to add on either side of the line. You can add them continuously or we can leave some gap in-between. So for this one, I added continuously on either side. Now Amylin some cap, and I'm adding them in a random way. This can be considered as some wheat field or a field or maybe some wild grass. Now, I'm moving on to the second one. For this one, I'm just adding them randomly. I'm not adding it continuously like the earlier one. I think this one looks better. It's a very simple leaf shape. When you add them continuously close to each other, it will automatically look like grains. So I'm done with two. In a similar way. I'm going to add similar details onto the other three lines. Okay, so that's done. Now. It's time to add some long leaves using the same color. You can add them long leaves on to all of these and feel in-between asphalt. You can add an ask many as you want. But just be sure to go the similar size. Don't make it too thick. We just need some long pointy leaves. So start with a thicker line and towards the end, make it pointing. And also when you're adding these leaves go different kinds of arrangements and different orientations. Don't add all of them towards the same side. Some of them can be longer and some of them can be shorter. So go to the variety of shapes, heights, high-tech orientation. Alright, so that's turn. Now our next task is to add one or two right underneath the sun. So for that, you will need to go with a brownish or orange-ish color because the sunlight will be acting on them and they will appear lighter. I'm mixing a bit of brown, but formally making it a medium tone by adding some drops of water. I'm using the same brush, the smaller size number four. You have to go with a brush with a pointed tip. First, add a bit of that line using that brownish orange. Now go with a darker tone of brown and continue the line. And as you come towards the bottom, you can pick some neutral tent and finish it off. Next to the Sun. You have a lighter tone and as you're coming down, you're making it more darker. At the bottom, we can use a darker tone. But onto the area which is closer to the sun, you have to be really careful to use a lighter tone and orangeish or a brownish tone. Now, I'm going to go back to that brownish orange. I'm going to add the second line. I already had some brown on my brush, so I started the line from the bottom. Now towards the top, I'm making it more orange-ish. Okay, so we have the line. Now, we need to add those grains onto this using orange as the same way how we did earlier, but this time we're using an orange tone. You can add them close to each other. And maybe at some places he can leave some cap in between to make it look more natural. But just be sure to go with the orange brown or a brownish orange. Don't start with the darker tones as it coming down. Maybe you can go to Taco Tuesday, maybe a darker brown and add some more cranes like this. Alright. We're nearly done. Now, just in case if you want to add some leaves, you could do that asphalt using brown. So just be careful to use a brownish or orange tone to the area which is closer to the sun. For the rest, we can use a darker tone of brown or neutral scent or Payne's gray or even black. Okay. This is a very simple and easy technique to create a beautiful sunset. The area closer to the sun should have more of a brownish and orange tones. For the areas away from the sun, you can use more often darker tones. Now take a quick look at your painting. And if you feel like you need to add some grassy lines or those grains in-between. If there is a lot of space, you can add one or two. Okay? So that's the whole painting for the day. It's a beautiful land and easy sunset. Now, I'm going to peel off the masking tape and I will need to cut off the bottom. Here's the finished painting. It was an easy one and a simple color palette I've gotten is one tool. Now, I'm going to cut the Bardo and it's time to add it to our collection. Angeles have a supercar, just super efficient sets. I hope you are allowed to give it a try. So he had to try it either with the same colors or different color combination. 12. DAY 8 - Moody Evening: This is actually one of my favorite sentence in the collection. I really loved the color combination. It's a little moldy and gloomy. It is not bright as other color combination, but I think there's still beautiful. I dropped some water on the top. Other than that, I'm quite happy with this painting. Definitely going to try this color combination again on a bigger scale. Anyway, let's take a quick look at the color palette and start with oil painting right away. As you can see here, it's a very limited color palette. I'll be using a purple and orange for the sky. So I have made my purple by mixing a little laugh permanent rose, but Violet. First I will spat out violet. And then I will show you how the color looks like when I add some permanent rose into it. So that's why let this one is from vitamin. I guess you all have y let. Now I'm going to add a bit of permanent rose into it. This is the color I got a call, just purple, something like a grape wine. It's a beautiful color. See that? Instead of permanent rose, you can use quinacridone rose or any other Rosario card. If you don't have any kind of rows, you can use crimson or carmine, makes it a little more of that with wireless and create a similar color. Now, in case if you are creating your own violet, add more crimson than blue, you will get a similar color. So that's all for this color. The next one is orange. I'll be using brilliant orange. That's a color combination I'll be using for this guy. The last color you will need us, either black, Payne's gray or neutral term, but it's the color we'll be using to add this allows this one is neutral tint. Now other than these colors, you will also need some white watercolor. You can see on the painting, the sky is quiet, title and Morty. To get that effect, I'll be using some white watercolor. I'll be applying voltage particular onto the entire sky. Then I'll be using these two colors as a simple technique. We have tried it earlier. I've quite obsessed with that technique ever since I tried it. Anyway, if you don't want to use white watercolor, you can just add water and make your color lighter by adding water, there is no need to use white watercolor. It is totally your call. So I'm starting by adding a piece of masking tape, a little bit loose end of the paper that's going to divide the sky and the sea. Almost three-fourths of the paper is gonna be the sky and the bottom is going to be the same. Okay? I have the colors ready on my palette. The only color mixing as white. I'm going to squeeze out some white watercolor onto my palette and I'll be applying that onto the entire sky. To add white, I'll be using this bigger size farm fresh. And to apply the paint onto the sky, I'll be using a flat brush. I'm just washing my brush thoroughly to make sure it is clean. And I'm starting off with some white watercolor. Add some water and turn that into a liquid consistency. And gently apply that onto the entire sky bridge multiple times just to be sure that the paint histories to empty where the bathroom is ready to repaint it. Now, I'm going to switch to my flat brush. I'm gonna keep this aside. So just like I mentioned earlier, the first step is to mix some violet but Permanent Rose, Scott Thompson, or carmine, and create a purple color. Now just in case, if you're creating your own wireless, add more crimson or carmine into the mix than blue. And we'll be able to create a color similar to this quite easily. So don't worry about that. Once I have taken the paint on my brush, I'm going to directly apply this onto the white background. You can see that color. We have got a beautiful, peaceful purple. Now, just like I said earlier, if you don't want to use white watercolor in your background, feel free to use water. Make your color lighter. Sky might look a bit different, but then you will still get a beautiful the cell. Okay? Now I'm going to wash out the paint from my brush. More than half of the sky. I have used purple. So I have just added the paint. Now. I'm dabbing my brush on a paper towel. I'm making it clean. Let's try to make it a small plant. So I'm just running my brush back and forth to make it a smooth gradient. That looks fine. Now I'm going to switch back to our brush, the same brush I used earlier. It still has some white in it. I have not watched it. But engage with how wash your brush, that's absolutely okay. You can pick a clean brush and pick some orange and apply that onto the white background, you will still get a beautiful, peaceful orange. Now, try to make it a small plant. Try to make it a bit lighter where these two colors are meeting. On the top we have a medium tone off properly. Then over the middle, you have a lighter tone. From there, they are transitioning into orange. So you can see here, I have left some space in between. Then I added the orange. I wanted to introduce some termite to the sky. That's the reason why I left some space in between. Now I'm switching to a smaller size brush and then picking some vibrant orange. And I'm trying to add some lines on to the sky to make it even more traumatic. Some random lines. If you couldn't leave those white gaps in between, that's absolutely okay. It is not going to affect your sky. You still can paint a beautiful sky. So right now, we'll go the brighter tone of orange and simply add some lines, especially on to that bottom area. And maybe a few onto the popularity as well. So whenever you're painting a sky, it is good. If you can play with that people wide. It will add more beauty and more realistic value into a sky. So try to leave some cap in-between whenever you're painting a sky. Now I'm picking some orange and I'm adding some clouds onto the purple area. I'm going with the pixel orange. I'm just dropping in some lines. I'm not going to read a lot. I want a simple sky. I don't want to make it too dramatic. So I'm just adding some lines using orange, a basal version of orange. You're going to love this guy, just give it a try. I'm going to show this technique might be quite new to you. With watercolor, we never lay lighter colors on top of darker colors. It's a gouache technique, but just give it a try. I'm very sure you're going to love it. I was quite surprised when I try this technique for the first time. Just in case either just watching the video and you haven't tried to predict yet, do give it a try. I'm very sure you're going to love this technique. So that is Kai. Now we had to wait for this to dry. Alright, so here's the sky. I cannot tell you how much I love this color combination. And we'd has two on top. Now I'm going to peel off the masking tape. Let's start painting with C. First, we have to paint the base layer of the sea. For that as well. I'll be going with a basal tone of purple. Use the same color that you created for your sky and add some white watercolor into it. And apply that onto the signal. You can apply that almost half of the sea. You don't need to fill up the anterior area, maybe to three-fourths of that remaining area. You can fill this basal purple. Once you have created the color, it is a simple solid wash. You can either use a flat brush or a round brush. Okay, so that's the first step. Now for the next step, I'm going to pick a smallest size brush. I already have my size symbol for Prussia. And I'm picking that without adding any whitewater color. Now using this color, I'm going to simply add some lines onto those bed background. We are trying to create some texture and some leaves on the water. Just have some random lines, some smaller lines. It doesn't need to be too big and too thick. They may spread into the background a bit because it is wet. We have freshly painted the background. That's okay. Don't worry about those things. Just along the horizon line. Maybe you can add some long continuous line. Because over here we'll be adding a mountain. You can skip adding the reflection later. So that's done. Now, I'm going to quickly add some small lines onto this. Enter your background before the backroom Dr. You can go to the medium tone and transiently keep on adding some small lines. Don't worry about how it is looking right now. Maybe at this point it might not look that policing, but that's okay. It is part of the process. Keep adding some small, teeny, tiny lines using a medium tone of Popup onto the background before it dries. We'll be adding a little more details onto this later than the background has dried. We need to try and bring in that real character. Often see this subtle details are not enough. That's done. Now, we'll have to wait for this to dry before we cope with the final details. That is dried completely of a next step. And the final step is to add this allowed. For that I'm switching back to my smallest size brush. I'm going with Naltrexone. First. I will add those small mountains along the horizon line. It's going to be a low line mountain. Don't make it too huge. Go the similar height. And you can add that along the entire horizon line. Or maybe you can break it in between and you can turn that into two different mountains. Or go to continuous line like this. Be sure to go to similar height. Don't make it too huge. That's something we need to keep in mind. These mountains are going to define the horizon line. So in case if you make them bake, you won't get that sense of distance. So try to go to some low height. The next step is to add an irregular line at the bottom. That's a sheep and go inward. You can go with any kind of shape. Now, along with this, I'm also going to add some small pieces of land connecting from the mountain, reaching the bottom. It's going to be some long, narrow pieces of land. For this as well. You can go with any kind of shape if you don't want to add it. That is also okay. I might add some yellow shapes on the other side as well. First, let me finish this side. So that's the first piece. Now I'm adding a smaller piece. You don't need to follow the exact same shape that I'm using. Q, you can try to modify. Maybe you can add few extra pieces as well. So those things are totally up to you. Okay? I think I will modify the shape and its logo here. That looks better. Now, I'm going to fill this interior area and neutral tint, you can either use Payne's gray or black or neutral scent and cover up that anterior area. You can see how beautiful our paintings turning out. And we add that's allowed before I cover up this entire area in neutral and planning to add some longer, narrow piece of land on the side as well. So I'm just modifying that shape to make it look more interesting. Along with us, I think I will also add some teeny tiny rocks. You can go in a very random way. And Adam variable, you want to maybe ever lot fuel in the background as well. Okay, so go ahead and add a random shape at the bottom and define your land and the sea. Then add some teeny tiny rocks wherever you want to. And after that, cover up that anterior bottom area in either Payne's gray or black or neutral. Okay, so that's time. Now the last step is to add some more details onto the water. Right now it is looking quite plain. So for that, I'm going with a medium tone of Payne's gray. I'm adding some water and I'm turning that into a medium tone. You can either use paints gray or black or neutral send depending on the color that your cart with you. So first I'm adding these lines right underneath the rock and also Anthony, those pieces of land. Go the medium tone and simply add some lines, just like how we did earlier. But this time the background has dried completely. That's the only difference. And using a medium tone, once you have added those lines underneath the rock as well as the land, you can simply keep on adding some lines onto the NTSC. See that that is nothing complicated here. Go to medium tone and simply keep on adding some teeny-tiny lines onto the anterior scene. They can overlap and they can be all different shapes. And they can be of different thickness. It will all affect and keep adding as many as you can. But that we are done with all pending for the day. I'm really happy with the sky and the sea and anti-clock companies. Now I'm peeling off the masking tape. The backer hasn't dried completely. Being very impatient here. Anyway, here is the finished painting. I cannot tell you how much I love the sky. It's a beautiful color combination. Now, it's time to cut off the bottom and add this to our collection. And here's our centered for the team. I absolutely love this painting, especially that Moody, gloomy sky. And I hope you loved it to do, give it a try if you're ready to try it, either with the same colors or with a different color combination of your tiles. I'm sure you're going to love it. 13. DAY 9 - The Sailboat: Today we are going to explore an interesting color combination. It is one of my most favorite color combination as well. I use it quite hard for northern lights. So these are the colors we'll be using. Turquoise, blue, permanent violet, and neutral tint, or Payne's gray or black. These are the colors I'm going to use if you want to try out the same sky with a different color combination may be pink or violet. You could do that. Those things are totally your choice. Alright, so I have my paper ready here, and I have applied a piece of masking tape a little below the center of the paper to divide the sky and the sea. The first step is to apply a gradient wash of turquoise blue onto the entire sky. For that, I'm using a bigger sized round brush. This one is size number 12. You can either use a flat brush or a brush. I'm not applying any water onto the sky and directly applying the wet paint onto the dry paper. If you want to go with wet on wet technique, you could do that. I could have taken a medium tone off turquoise blue on my brush. Now, I'm starting from the top. Now as I'm coming down, I'm going to make the color lighter by adding more water. So almost half of the sky, I have gone with a medium tone. Now. I'm washing off the paint from my brush and I'm putting some clean water and I'm making it lighter towards the horizon line. So that's all background layer. Our next step is to add some clouds using violet. We have to do that while the background is still wet. So there is no much time left. We have to be very quick and consistent so that we can manage to create some beautiful fluffy clouds. So to add the clouds, I'm going to use my size number atrial encourage go the NFL medium to small sized trash. I'm not going to use the wider Tacitus am going to average locked Permanent Rose into it. I want the color to be slightly pinkish. I'm squeezing out a bit tough, permanent rows. Instead of permanent rose, you can add some crimson or carmine. So I'm going to squeeze her a bit of permanent rose onto my palette. Just a litter. Mixing that with violet to create a pinkish purple color. Picker, let love crimson or carmine or permanent rose. At that with violet. This is the color that I'm going to use for the clouds. I had tried the same sky earlier and I used while IT assets because I had to cause blue in the background, the wallet was not looking like violet. It was looking more fluid. That's the reason why I decided to add a little luck permanent rose into it so that I can retain the violet shade. Now, I'm going to quickly add in some clouds onto this wet background before it dries. I will add bigger ones onto the top corners and towards the bottom, I will add some smaller ones. Go with either wider Tacitus or go with a pinkish purple like the one I created earlier. And keep on adding our clouds. Towards the bottom there we have that lighter tone up turquoise blue. You don't need to add a lot. That's written that lighter tones over there. And also if you feel like your paint is too watery, dab it on paper towel, and keep adding your clouds. You can add as many clouds as you want and you can add the variable you want to. There's no limit for that. But just keep in mind, it is the turquoise blue color in the background, which is the identity of this painting. And also that is what makes the painting look beautiful. So try to rating that. Don't add a lot and fill up the entire sky. Now, I'm using a clean brush. I don't have any paint on my brush and I'm trying to push and pull that colors into each other to make it look more softer. I'm not putting a lot of pressure and being very gentle. I don't want to distort the background layer and just helping them to look more softer. Also, if you want to add more clout and make yours look more traumatic, just go for it without worrying about the intrasite. But then if the bathroom is starting to dry, it, don't do it. Just leave it as it is. Okay. I'm done with this chi now we'll have to wait for this to dry. Here's how it has turned out. I'm really loving this chi, the color combination has turned out so good. Now it's time to paint the sea for that as well. I'm using violet. You can either use very Tacitus or it can use that purple color you created earlier. Eat a wave starts from a darker tone at the bottom and make it lighter as you're approaching the horizon line. I think the populace not looking back now, I will switch to violet. That's the color I'm using at the bottom. Now. I'm picking some water and I'm making the color lighter as I go towards the horizon line. The several bathroom layer now before it dries will lead to add some lines on to this to bring in some texture. Otherwise it will look quite plain and flat. We have to wait for maybe one or two minutes. It will dry completely, but then it shouldn't be too watery as well. So just take a break, like just a monitor or 1.5 minutes. Now, go to a smaller size brush and pick a darker tone of violet and just add some lines onto this wet background. The background is still wet, it doesn't dry out completely. See the lines are not enqueue, they're spreading into the background, but it is not too watery. That's the only thing. So just wait for a minute or a minute-and-a-half. Then using a taco, don't know why that. Just add some random lines onto the background. We are trying to create some texture here. We'll be adding more details at the end. So this is all you need for now. Now, we'd have to wait for this to dry. Alright, So the bathroom has tried out completely and quite happy with the way desktop on top. I think the color combination is really courteous and I hope you catch allowing you to. Now our next step is to add a same port. For this step, you will need a smaller size brush or a detailing brush. Because we will need to add some thin, delicate lines. So you will either need a brush with a pointed tip or a detailing brush, or I can use a pen to add those thin lines. Alright, so let's add seal pool. Using neutral tint here. I'm going to add the sale port at the center. I'm going with a very simple, basic favoured. You can go with a detailed one if you like. You can look at some sell-out obviously board in Google and find a perfect one. You can follow the shape that I'm adding here. This one is quite simple and basic. I have looked at some images and I combine the details from one or two and created a table of my horn. So that's a base shape. Now I'm going to fill that in neutral tint. Now onto this, I'm going to add the remaining details. First, I'm going to add some teeny tiny shapes onto this. Honestly, I'm not really sure what the shapes and I had looked at few images and I saw some similar shapes. It might be some bundle or engine or some other details. So try to add some random shapes like this, or we can look at the proper image and try to replicate that. Okay, so that's the first step. Now onto this, we need to add some thin, delicate lines. I'm starting from the center. From here. I'm adding a line. This brush is quite useful to add similar details. If at all have a detailing brush, you can use a pen and just use a ruler and add a line like this. We need a straight line at the center. Now I'm going to add some inclined line as well. And now I'm going to add the sale. I'll be just adding one. If you want to add one on the other side as well, you could do that. So that's a long triangular piece. I think it's starting to look like a sailboat now. It was looking a bit too yard. Okay. Now, let's add some more details onto it and let's finish it off. Okay, So that's how I feel. I'm not really sure if I liked it, but I'm quite happy with the sky. So I'm just going to pretend I liked it. Our next task is to add little flexion, will also need to add some details onto the sea. Right now it is looking quite clean. So that's our next step. And the final step, I'm using the same brush. First, I'm going to add some zigzag lines right underneath the port. See that? So go to similar irregular zigzag line. Maybe you can make it a bit thicker at some places. Now, along with this, I'm also going to add some thin zigzag lines right next to this. Be sure to use the smallest size brush or a brush with a pointed tip. Don't make the lines too thick. Now, right underneath the board, keep on adding some of those exact lines. Something once. See that you can go to similar irregular shape. Now once we are done with that, let's add some more lines onto the scene. A combination of the Canton lines, thinner one closer to the horizon line, and thicker one at the bottom. So I'm using the same brush and I'm simply adding some ten lines to give it some more texture. These lines I just random, there is no particular shape or anything that you need to follow. As I said, at the bottom, you can go with a thicker lines towards the horizon line. Tried to go with thin lines. Okay. So once you're happy with the reflection, we can add in more and more lines onto the sea until you feel like it has got some texture. That is nothing to worry here. You simply need to add some lines. So I'm adding a decline right now. I'm just running my brush in a very random way. I'm not really worried about how it is looking or what kind of shape I'm adding here. Be confident and just add some random lines. There is no way that you're going to mess it up. So go ahead and simply add some lines. Thicker one at the bottom and thinner one closer to the horizon line. Okay. That's the only thing you need to keep in mind. Other than that, you can add as many as you want. Alright, so that's tone. I'm really happy with the desktop. Now for the final step, I'm going with a lighter tone of Payne's gray, and I'm going to add a small mountain. Onto the right side. Go to the medium to lighter tone, and just add them along the horizon line. First, I'm planning to link the horizon line and then I thought it would be nice to define it by some mountain. That is a good time with double painting for the day. Other than the state board, I'm quite happy with the painting. I really loved the color competition. It is looking really traumatic. Kindergarten. I hope you loved it too. As I mentioned at the beginning, maybe you can try out the same painting with a different kind of company should. Maybe you can try with Oprah, pink and violet are maybe pink and blue. Or do you mean the color combination of your tires? Alright, so that's a painting for the day. I really hope you guys enjoyed it. Now it's time to cut up the border and add it to our collection. 14. DAY 10 - Summer Sunset: Today we are going to paint an orange and brown center. We're going to play with those typical censored colors. It's an easy one. And we will just need four colors for today. Sunset, yellow, vermilion, proud, and Payne's gray or black. So that's the colors you will need for today. Sense it. Also a little white to add the sun and the reflection. Now let's begin. I already have my paper ready here. I have the colors on my palette. First, I'm going to apply a piece of masking tape, almost of the center of my paper to divide the sky and a lake. You can go with any proportion. I'm applying it almost at the center. If you want most Cai, you can make it a bit more lower. Or if you want more part of your painting to be the lake, you can make it a little towards the top. I have applied the masking tape. Now we can start painting the sky. For that. I'm using my flat brush. This one is a half inch flat brush. I'm just washing it off thoroughly to make sure it is clean. For this painting, I'm going to use wet on dry technique, which means I'm not going to apply a coat of water onto the background first, I am going to directly apply the wet paint onto the dry paper. If you are more comfortable with wet on wet technique, that's absolutely okay. You can go with that. The first color I'm going to use this brown. I'm starting from the bottom, and that will go towards the top. If you don't have to reduce bonds, Sina, go with a medium to darker tone and apply that along the horizon line. Once you have applied bonds in our brown at the bottom, switch to your second color, which is 1 million, and apply that right next to have clean my brush. Now I'm putting some yellow and I'm applying that right next to where Merlin blending them. Well, now I'm switching back to vermilion and onto the remaining area. I will apply that. I started off from the bottom with brown that I supposed to warmly. Then over the center, I used a bit of yellow. Now I'm again using vermilion and I'm trying to make it a clean blend. So that's our base layer. Now, we can add a little up taco to answer the bottom along the horizon line. So I'm picking some more brown, slightly darker shade of brown. And I'm applying that at the bottom. Over here, the rest of the sky, I'm going to leave it Tacitus. I'm not going to add any clouds or anything. Here. I will introduce a slightly darker tone, brown. Now I'm picking up the talk neutral tint mixing pad with proud and have an adult laptop along the horizon line. You don't need to add a lot of darker tones onto the sky. Just a little along the horizon line. This is just a show. There are some mountains or landscape far away. As you're applying these darker sheets on a bet background, when it dries, it will have a blurry look. And we looked like the horizon line is really far. Okay? So that's a very big scale. Now, we can leave this field trying. Alright, so the background has dried completely. Now I'm going to pick up the masking tape and we can start painting the lake for the lake as well. I'm going to go with wet on dry technique, which means I'm going to apply the wet paint directly on the dry paper. As I mentioned earlier, if you would prefer wet on wet, you can apply a coat of water before you start applying the paint. For the link, I'm starting off with yellow. The yellow that I'm using here as cadmium yellow, you can use any yellow, you have COPD. And I'm again using my flat brush, picking a good amount of yellow. And I'm adding that at the center, which is going to be right below the sun. So either use a flat brush or a round brush and apply some yellow at the center. It's just add some zigzag lines like this. It doesn't need to have any proper thickness or any proper shape. Now I'm switching to 1 million and I'm just adding that on either side. So I simply apply this exact line. Now in a similar way, I'm going to add vermilion on the other side as well. So at the center we have yellow and on either side we have applied a medium to normally. Now onto either end, I'm going to apply brown. So I'm picking good amount of brown. I think I might need some more paint. So let me take out two more pain. Let's apply that on either side. So right now you don't need to worry about how your background is looking. It might be slightly messy, but apply paint quickly as your background is dry. So go with yellow first, then on either side, add some vermilion than right next to that, apply some brown and finish off the background layer. You can see how messy my pack anode is looking. I have applied all the colors. Now I'm going to switch to a smaller size brush. This one is a size number four round brush. And I'm simply running my brush from left to right in a horizontal way. Keep doing this until you reach the bottom. The seller loved paint missing on the top. So first I will quickly fill this. Now, I need to keep running my brush back and forth very quickly before the background completely dry. So we need to do this until we reach the bottom. The reason why I didn't make my backroom wet is that I don't want the colors to float into each other. It might get a bit tricky. Because when the bathroom to spread the colors will start floating into each other. And you might not be able to reach in the yellow at the center. That's the main reason why I didn't apply coat of water onto the background. That's what base layer. You can see how beautiful that reflection is looking. Now onto this, I'm going to add some base using a taco tone of brown. I'm using my smallest size brush and I'm picking a darker tone. I'm starting some declines. Start from the bottom. Go with any of your smaller to medium-sized brush. The bottom, you can go with thicker lines, but be shortly some cap in-between. See that that cap is really necessary. Don't add them too close to each other. We don't need a lot, just a few, especially at the bottom. And as you go towards the horizon line, make them to know. These lines has to be prominent only at the bottom. Closer to the horizon line, you can just add them in a really basic way. Over the bottom, there has to be really visible. So maybe we can make it a little more darker. Let's do it quickly before the background dry soil. So American as luck neutral tint that problem. And making these lines prominent only at the bottom. I think when we're making those lines darker, that glowing effect is really prominent. The center part is really Chloe. I'm quite happy with the way it is turning out. So I made the lines darker only at the bottom. And it can clearly see the kappa have left in between. This is how you should be adding them. So that's a leak. I think that is looking quite good. We can leave it to dry. Alright, that is dried completely. Now, our final task was to have this allow. First I'm gonna go with a darker tone of brown. I already have it as lower here. So I'm just using that. And I'm going to add a mountain, the one which is far away from us. So for this one, I'm going to use a darker tone of brown. And for the rest of the details, I'm going to use neutrals and acetone. For this painting. I'm going to add some rocks and some small mountains in a very scattered way. You can add them variable you want to, you can compose your painting however you wish. So first I'm adding a small mountain along the horizon line. Then I will add some small and big rocks on the surface of water. So compose your painting variable you want to, and you can go with different kinds of interesting shapes for your rocks. Make it as interesting as possible. I'm adding few on the right and feel on the left, there is no particular shape or size that I'm falling. And adding some small rocks and some big home dogs. I'm just going with all kinds of shapes and sizes, am trying to make each of them look different from Canaletto. This way, our painting will look more natural and realistic. So go with different shapes and sizes. So right now I'm adding some small rocks. I want to add few more at the center. Over here, there will be the sunlight reflecting on the rocks. For these ones, I'm gonna go with the brownish tone. I'm just mixing a much loved formerly with that taco tone of brown. And I'm adding some small rocks over here using a darker tone of brown. In case if adding any rocks at the center which falls right underneath the sun, be sure to use an orangeish or a brownish color. I think the color I used here is quite dark. Tried to make it a bit more lighter so that the reflection will be more prominent. Okay. I will add few more rocks. And I think with time, I can call it time. And once I'm done, but that the last step will be adding the reflections. Alright, so go ahead and add in more talks if you want to. So that's done. I loved the way that turned out that enclose really visible. And also I can feel the summer sun. The next step is to add some taco tones underneath the rocks we have added here. For that, we will need a darker tone of brown. It doesn't need to be thick and opaque. We need a slightly watery paint. So add a few drops of water and turn that into watery consistency. Now using that color, I'm going to add some lines underneath all the rocks I have added here so-called a slightly watery paint. If it's dewatering to have a ton of paper towel. And let's start adding the lines. Does have some simple lines. You don't need to replicate the shape of the rock. Right underneath that shape. Add some lines. That's all you need to add. Now, let's add these lines for all the rocks we have added. I don't want the reflection to be too prominent. I just want some subtle darker tones. That's the reason why I'm using watery paint. I don't want them to be too opaque and two prominent. Now just in case if you feel like they are not at all visible, maybe you can go with a slightly darker shade and you can repeat the same exercise. So it's a very simple step. I'm just adding some lines using a darker tone of brown attending all the rocks that have added here. But this step has a really good impact on your painting. It will really make your painting look magical. So don't skip this step. All right, We're nearly done. Now. The last step is to add this term and its reflection. For that, I'm going to squeeze out a bit of white watercolor onto my palette. Just a teeny bit. We're going to add a small sign and some sub two reflections. Clean your brush properly. You can use the smallest size brush or a brush with a pointer. I'm using my size number for entourage. Don't add a lot of water, causes slightly opaque paint. First, let's add the sun. I'm going to add that right at the center. Make it right about very added those yellow tones on the water. We can make it slightly bigger. Alright, so that's a sudden. Now we can start adding the reflections. I'm dabbing my brush on a paper towel to make the paint dry. Now using that dry brush, I'm adding some lines on the water right underneath the sun. We don't want the reflection to be too prominent. We already have some yellow tones in the background. So we just need to feel dry lines. Now, just keep adding some random lines, antennae the sun. They can be up different length. It doesn't need to be of the same length and same thickness. They can be really random. You can see the lines I'm adding, they are quite susceptible. There are two prominent go in similar way. So be sure not to use your paint and thick and opaque consistency. So that's turn I'm switching back to Brown and I'm just fixing this part. I accidentally added some white into the sky. So I'm just filling that with some brown. And with that, we're done with our censored for the day. I'm really happy with the way it has turned out. The color palette was quite simple and even the process. I hope you guys loved it too. I can really feel that glow and the summer sun. Give it a try. If I get to try it, it is quite simple. I'm really sure you're going to love the interests that, okay, so here's the finished painting. Now, I'm going to grab a sorceress and I'm going to cut off the border so that we can add it to our collection. And she'll have a finished painting. I hope you all had a lovely time painting the summer sun. 15. DAY 11 - At the Lake: Today's some citizen really easy and a beautiful one. It's an interesting color company ****. And I absolutely loved how the sensor turned out. So you will just need three colors for today's sunset, you will need Payne's gray or black or neutral tint. You will need an orange and a yellow. I'll be using neutral tint, which is the color I'll be using for the sky, as well as for the sell-out. You can either use Payne's gray or black. If you don't have neutrophils, then the next color is orange. I'll be using brilliant orange. You can use formalin or any other orange. Then you will also need some yellow. It can be any yellow. Will just did a lesson. We'll be using that along the bottom part of the sky and also a little onto the lake. Okay. So those are the three colors you will need for today, sunset. Now, let's pick him. First. I'm going to add a line, which is the horizon line. I will add that almost to the center of my paper. So obviously the top portion is going to be the sky and the bottom is going to be the lake. We're going to paint the entire background in one single layer. And we're going to use wet on wet technique. For the centered, we'll start adding the paint from the center will be applying yellow at the center. Then on either side will be applying orange and towards the bottom and towards a tau will be introducing some Payne's gray or neutral send. It's not difficult. It is really easy. You can try to understand how easy it is. First-time starting by applying a coat of water onto the paper. You can use any of your flat brush or a brush. Go to bigger size brush and keep running your brush multiple times just to be sure that what has reached everywhere. So my papers evenly wet. Now I'm switching to a flat brush. So just like I said earlier, we're going to paint the anterior backroom layer, which means we're going to paint the sky and the league together. I'm going to use a flat brush. This one is half inch flat brush. You can either use a flat brush or a round brush. Both of them will work. Okay, So first we're going to apply the paint at the center and picking a bit of yellow, mixing a little of orange with that, I want to orangeish yellow. I don't want to use the cadmium yellow acetals. You can either use permanent yellow, orange or you can just add a bit of orange to any of your yellow. I have applied paint at the center. Now onto either side, I'm going to apply some orange. I apply that on the top. Now I'm adding the same orange at the bottom. Maybe a little more. So make your background evenly wet. Then apply yellow at the center or yellowish orange. Then onto either side, apply some orange. Now onto the remaining area, we need to apply Payne's gray or neutral tint. So I'm washing of the paint from my brush and I'm going to add a line of water on either side. This is just because my people have started to try. Okay, Now, let's go with neutrals. And as I mentioned earlier, you can use Payne's gray. The brand I'm using here. It doesn't have Payne's gray insert, it has neutral tint. That's the reason why I'm using this color is very much similar to Payne's gray. Onto either side, onto the top and the bottom, we can apply a medium tone of Payne's gray. You might get a slightly multicolor when the orange get mixed with Payne's gray, but that's absolutely okay. You don't need to worry about that. Try not to mix that with the yellow on the top and the bottom. I'm adding a bit of Payne's gray. I'm in New Testament. You don't need to go for a clean blend. Just leave it as it is. We'll be adding some clouds on the top and also some links at the bottom. We can pick the background. You don't need to worry about how weird it is looking right now. Okay, so I have applied neutral tint on the top and the bottom. Now I'm going to clean my brush and I'm going to leave it aside to add the rest of the details. I'm going to use a smaller sized round brush. This one a safe number four round brush. Now using this brush, I'm gonna push and pull that gray into the orange to create some clouds. First, make use of the color that you have in the background. Then slowly we can start picking new color to make our sky look more dramatic. First, I will add some lines onto the background. I haven't taken any new paint. I caught it from the background itself. Now in a similar way, I'm running my brush at the bottom to get rid of that. We had nets over here. I'm adding some lines like waves. When you're doing this, have a rough idea about where you want your horizon line to be. So don't push the paint into the sky beyond that point. Now, I'm picking more paint, a much more darker tone off neutral tint. And I'm adding some more clouds. I'm going to make this guy a bit more dramatic. The color I'm using right now, a slightly darker than the color I used to live. The other clouds will be visible. You can add them. How will you want to? So I'm going to add the clouds mostly on the top where I have the gray and also a little into the orange part. I'm not going to add a lot into the yellow area. I'm leaving that asset will have to do this before the background drives. So be really quick and consistent so that you will get some beautiful clouds. That looks perfect. Now using the same color, I'm going to add some lines at the bottom. This is where I'm planning my horizon line to be. I'm just adding some gray on either side to define that horizon line. Right above the horizon line, I'll be adding some landscape. So we can turn this into reflection when we are painting this loud. Okay. So that's our base layer. We are done with the sky and the league. Now, just in case you want to add more clouds, or if you want to fix the shape of the clouds, you could do that right now. Our background just a little bit. So make use of the time just in case if you want to add or modify something. So that's my background. Now, I'm going to leave this for trying. Alright, so here's the background. It has dried completely. Now let's add this allows hello for today sense it is really easy, but it has got a lot of impact on our painting. We'll be adding some very basic landscape along the horizon line. Then on the league will be adding feelings of rocks from smallpox. So let's begin. I'm starting with the horizon line. First. I'm going to add a straight line over here. I'm using a really dark tone of neutral tint. You can either use paints gray or black. And first add a straight line. Be sure to use a smaller size brush or a brush with a pointed tip. Now on top of this, I'm going to add some random shapes to make it look like there are some trees and some plants over there. I'm simply adding some thick clients close to each other. I'm going to fill up this entire horizon line. I'm planning to add taller trees on either end, and I'm planning to make it shorter as I reached the center. Okay. So add them. How will you want to this is the high time going with, I would suggest to go with a similar height. Don't make it too huge. Okay, so that's term we have defined the horizon line. The next step is to add some pieces of land and some drops onto the lake. As we're going to add a lot of them. It might take a bit of time, but then this is going to be the ability of our sunset. Added as many as you can. First, I will add those long, narrow piece of land and fancy, I'm done with that. I will add some small trucks. Okay. You don't need to follow the same shape that I'm adding here. Because it might be a bit difficult to replicate the same place and the same size and same shape. That's not really necessary. You can add them variable you want to, and you can go with any kind of shape that you prefer. And also if you want to add more rocks or if you want to reduce the number of rocks, that is also totally up to you. Okay, so let's continue. As I said earlier. First, I'm going to add those long, narrow piece of land. Once I have decided on those bigger shapes, I will add some small rocks. I haven't tried this color or I don't have any reference image in front of me. I'm just going to add them wherever I feel like. So be free. There is no need to worry. Let the brush take the lead hand wherever it is taking you and you can add some darks and some pieces of land. So this is what I have added too far. Now. I will add few more rocks over here. Having defined the bottom, I don't want a lot of gray to be visible. So I'll be adding a very irregular line at the bottom. Then algal cell that a neutral term. So let me add that line. It's a very simple, irregular line. You can add that. How would you wish? So a shape, I'm going back. I'm actually planning to bring this line towards the bottom. I'm just adding some irregular lines here. And I'm going to bring that down so that we can connect these two pieces of land. So keep adding some irregular lines like this. Just some curvy narrow lines. Let's bring that down. Okay, Now that entail pieces connected. Our next task was to fill this entire piece and neutral tint or Payne's gray or black. And also we need to add some drops on the water. This is the kind of size I'm going, but I'm not going to make them too huge. I'll be adding some smaller size and some in a bigger size. Now let's fill this entire area first. Then we can start adding the troughs. Okay, so that's done. I'm quite happy with the sensor delta-t. Our next task is to add so many rocks onto the late. You can add how much will you want to, there is no limit. You can add them there who you want to go with different sizes and different shapes to make your painting look more interesting. And also, if it can go the smallest size brush or a brush with a pointed tip, you can see the ones I'm adding right now, they are quite small. So some of them can be in that size as far and few of them can be in a bigger size. So go in different shapes and sizes and add as many as you want. You can see how I'm filling up the leg. I'm adding them in a very random way. And some of them are quite small and some of them are quite big. As I mentioned earlier, it might not be that easy to replicate the same size in the same location as I'm adding them in a very random and scattered way. So just go with your gut and Adam variable you want to, It's a beautiful painting. You could try the same with the different color combination, asphalt, I think then we added those clocks are paintings looking really beautiful. Wonderful color combination as well. Okay. I think I have added enough. Now, we can add the reflection. To add the reflection, I'm going to use a medium tone off neutral tint. I'm just adding a few drops of water. And I'm turning that into a medium tone. Now using that color, I'm simply going to add a line underneath all the rocks and all abuse of land I have added here. It's gonna be just a thick line. There is nothing much I'm going to add. Just follow the shape of the land you have added there and also those teeny tiny rocks. And just add a simple decline using a medium tone of Payne's gray or black, just in case if you don't have Payne's gray or neutral. There's just a simple thick line. I'm turning my brush carefully. I'm simply following the shape of the land. And also those tiny rocks touch on one corner and finishing the other corner so that you don't miss any of them. I'm nearly done. And you can see the impact those reflections has made. Does looking so beautiful. The only thing we need to keep in mind is to use a color which is not too dark and not to buy it. It has to be visible. If it's too dark, you won't be able to differentiate between the shape of the rock and reflection. Want to add few lines. You will understand whether you need to make it more darker or more lighter. So just keep that in mind. The rest is quite easy. You just need to follow the shape and add a thick line underneath all of them. Now using the same color, I'm going to add some teeny-tiny lines on either side. There. I have these trees in the background. The reflection that I added earlier, it's not really visible. So I'm simply adding some thin, delicate lines attending the horizon line. Okay. Just a few. You don't need to add a lot. Now. Maybe we can add few points as well. Maybe one or two. Honestly, I wasn't expecting the sensor to turn out this beautiful, but I'm quite happy with it, especially that we can do strokes and reflection. The color combination is really great and I loved the anterior feel of it. Alright, so that's censored for the day. Now, I'm going to quickly peel off the masking tape. Then I will cut off the bottom that we can add this to our collection. Here is the finished painting. I think it is looking really coaches especially the lake and the flexion. I'm really going to try this on a bigger scale. On my card. I'm really loving it. Now it's time to cut off the bottom. All right, my dear friends, here are several finished Sanford. I absolutely loved it and I hope you loved it too. 16. DAY 12 - Calm Evening: Today I'm back with another turquoise blue sunset. It's a common beautiful sunset. And it's the first time I'm using pink and turquoise blue together. So it was a very good learning experience for me. Anyway, let me quickly take you through the color palette and we can start painting right away. So these are the two colors I'll be using for the sky. Turquoise, blue, and permanent roles will be going with a variegated wash of these two colors. You can see how to use turquoise blue on the top and top to bottom harvester, lighter tone of permanent rose. To add the clouds. Are we using Prussian blue? And for the scene, I'll be using turquoise blue, and Prussian blue. Then for the solo albums in neutral tint. So those are the colors you will need for today. Sunset. I'm hoping that you all have turquoise blue and Prussian blue. If you don't have permanent rose, you can use crimson or carmine or any kind of rows or pink. We'll be adding a lighter tone of rows along the horizon line. It can be carmine or crimson if you don't have any kind of roles. How my paper ready here, I have applied a piece of masking tape below the center of the paper to divide the sky and see. The first step is to apply a coat of water onto the entire sky that I'm using my one-inch wash brush and I'm applying a clean even coat of water once you have made the background wet, our next task is to apply a variegated wash off turquoise blue. And I'm using my half-inch flat brush. I'm starting off with a medium tone off turquoise blue. I will apply this almost half of the sky. I'm using a medium tone and I'm running my brush from left to right in a horizontal way so that I can get clean, smooth blend. Now, I'm going to wash the paint from my brush. And I'm going to switch to my second color. The second color, I'm using these tools. You can use crimson or Carmine if you don't have those, or you can use a pair up and gospel. Again, I'm going with a lighter tone. I'm adding that at the bottom. So that's our base layer. I can try to blend these two colors. You can just leave it as it is. Our next task is to add some clouds onto this background. For that, I'm using a medium-size strong crush. This one is size number eight. We need to do this while the background is still wet. To add the clouds, I'm going to use Prussian blue. I have taken a bit of paint on my brush, dab it on a paper towel just to be sure the paint is not too watery. Now keep adding some clouds onto that wet background. How will you want to just keep on dropping that paint? You can add some bigger clouds and some smaller clouds. Just go around and add in as many clouds as you want. As a beautiful color combination. It won't create a muddy mix. So you can be really free. You can add your clouds. How will you want to? Right now, I'm adding some clouds at the bottom there. I have pain. I really love this color combination. I don't know why I didn't try this earlier. Better late than never innovate. I'm going to quickly add some more clouds before the background dries. If you're using a 100% cotton watercolor people, your people will stay wet for a longer time compared to the cellulose paper or the student grade watercolor paper. This is a huge benefit when you're painting a cloudy sky because you want your background to be white until you finish adding those clouds. This is the main reason why I always recommend going with a 100% cotton watercolor paper so that you will enjoy the process and you will learn a lot. Otherwise, it might be a frustrating experience. I'm really, really happy with the way this guy is turning out. I think I can add some more clouds before it dries. Usually when I'm adding the clouds, I don't add a lot of them towards the bottom. But this time, I'm really loving the way that Prussian blue was appearing on the thing. So I think I can add some more clouds over here using a prior to turn off Prussian blue. See that? I think it's a wonderful color combination. I have no idea why I didn't try this earlier. Anyway. Now you will see me using this color combination quite a lot. Anyway, I'm nearly done with my sky. I'm just multiplying these by a slightly damp brush. Looks like my background has started to dry so these ones don't spread into the background. I'm just helping them to get a better look. I'm in a softer look. Okay. I'm just pushing and pulling the paint using a damp brush. That looks nice. So that's my sky. Now, I'm going to leave this for drying. Alright, so that's my sky. The colors as to looking so pretty. It didn't fade a lot. Now I'm going to peel off the masking tape and we can start painting the fee. So just like I mentioned earlier, for the C, I'm going to use. Guys blue and Prussian blue. I'm not going to use pink to paint the base layer. I'm using my flat brush. Let's start with turquoise blue and pick a medium tone. Now, let's apply turquoise blue, almost half of the sea. And towards the bottom we can introduce some Prussian blue to add in some taco tones. So go with the clean horizon line. Be really careful when you're applying paint over here. Make it a straight line. Now let's apply turquoise blue. I mostly half of this section. Then onto the remaining area, I'll be introducing crushing blow. Now onto the same background, I'm going to drop in some darker tones. So I'm picking a little more darker tone of Prussian blue. And I'm randomly adding some lines. Just some random declines are back on the still wet. So you can simply drop them in. Add some darker tones onto these corners as well. The top, right and left corner. I think we can make those lines a bit more darker. So I'm going to squeeze out a bit more paint onto my palette. And then we can add some more lines using a darker tone of Prussian blue. And for that, I'm switching to a smaller size brush, a smaller round brush. This one is my slice number four round brush. And I'm picking a darker tone of Prussian blue. Now let's simply add some lines onto this background. See that it's a really dark tone of Prussian blue. Now just randomly add some lines onto the background. There is nothing to worry here. You can simply add them in. They can be of different thickness and different size. Abdomen while the background is still wet. I'm picking a slightly darker tone. And I'm adding some darker tones over here to this corner. Because right about this, I'm going to add a mountain. So this one we have a reflection. Now, we can add some more darker lines. Just go ahead and add them variable you want to try not to fill up the anterior background. We still need to see that turquoise blue. That's the beauty of this painting. So don't cover up the anterior background. I cannot tell you how much I love this color combination, especially that pink in the sky. Once I'm done with this painting for sure, I'm going to try the same on a bigger scale. Maybe I'll make it a little more detail by adding some palm trees and maybe some extra details. Anyway, that's our background. Now we can leave this for trying. Alright, so here we are. Everything has tried out completely. Now, our final task is to add this allowed. The slot for two re-centered is quite simple, will be simply adding some rocks and the sea and also a small mountain around the horizon line. So I'm starting with the mountain. We have already added the anticodon and the bottom. So right about that at a small mountain. I'm adding this only on the right side. If you want to add another mountain onto the left, you could do that. Don't make it to hue which go with a similar height. That's the only thing we need to keep in mind. Okay. Now I'm going to add some rocks and the water. I'm adding the first one over here. I will go with a long curved shape. You can add them. How will you want to go with any shape that you prefer? I'll be adding maybe three or four of them in different shapes and sizes. The first one is a long, narrow one. Maybe I will try to add some other shapes as well. Okay, so that's the first one. Now similarly, in a very random order, I'm going to add few more rocks. As I mentioned earlier, you can add them variable you want to, there is no need to replicate the same size and the same location. If you want to add big round rocks, you could do that. I just felt like crying with a long, narrow one. It doesn't need to be similar to them. Just go with your gut and Adam variable you want to. The only thing I would recommend is to go with different kinds of shapes and sizes so that your painting will look more realistic. Don't make all of them look the same. Okay? So I have added under two. Now, I'm going to add a bigger one here. That's a big cluster of rocks. Now, I'm going to fill that in neutral atom. Now I'm adding another rock and I think I will see it looks pretty fun. I'm not going to add anymore. Maybe we can add a small piece over here. So I'm just leaving a tiny cap and I'm adding a small mountain that is set. Now our last step is to add the reflection. For that. Just like I did in the yesterday's painting. I'm gonna go with a slightly watery wash enough neutral tint. And I will just add a thick line underneath all the rocks and the mountain. It is just similar to what we did yesterday. So go to watery version. It has to be a medium-term. Don't go with a darker tone and just add a thick line. You can start those lines into the sea. So just spread it out. So simply go with a medium tone off neutral set or Payne's gray or black, which will be the color that you're using. And add some thick lines underneath the rocks and the mountain. And at some places you can script that line into the sea to make it look more natural. Alright, so that's it for the t. Now, I'm gonna quickly peel off the masking tape. It's a really easy one if you want to add some more details and you can add some palm leaves hanging from the top. Or maybe you can add some Modocs to make it look more interesting. I'm pretty happy with the way the semester and especially the color combination. It has a very calm and peaceful vibe and I'm really hoping it now it's time to cut the border and add it to a collection. So let's do that. Hello fellow finished painting. I hope you all had a lovely time painting, calm and beautiful sunset. 17. DAY 13 - Glowing Evening: Today we're going to paint a very beautiful code and evening, and these are the colors you will need. You can use any yellow, any orange, and brown, and Payne's gray or neutral tint or even black. So you will just need full color. The yellow, I'm going to use this cadmium yellow light. You can use any yellow and oranges, brilliant orange. Then I'm using, you can also use bonds in our incident. Then I'll be using neutral tint to add the deeper tones and also for this allowed. So I have my paper ready here. I have applied a piece of masking tape a little about the center of the paper. The top is gonna be the sky and a little lower here we have our league. And at the bottom we will have something like a deck or a platform to feel the sunset. Now, let's talk painting for the sky. I'll be using a variegated wash or three colors. First-time starting with the yellow. I'm going to apply the wet paint directly on the dry paper. We only have a little area. This guy is not that huge. So you can apply wet paint directly on the dry paper. I'm starting off with the yellow and now I'm switching to orange. I'm using a flat brush and I'm blending these two colors. Well, now towards the bottom, I'm going to introduce a little laugh. Proud. I have not taken down on my palette. So let me squeeze harder lesson. We'll be using this color for the bottom as well. The one I mentioned earlier, that deck, for that, the major color is going to be prone. If you don't have brown, you can use burnt sienna. So we started off with yellow. Then at the center, we used some orange and towards the bottom using some brown. Now let's make it a clean blend. I'm just running my way from left to right and I'm trying to make it a clean blend. Now, I'm washing up the paint from my brush and I'm picking up the double yellow. So that's our base layer. In case you want to make your sky look more dramatic, you can add some clouds using the base layer is a variegated wash of brown, orange, and yellow. These colors look good together and he can never get him wrong. So that's our base layer. Now onto this using a smallest size brush, I'm going to add some clouds before it dries. I'm just adding a few lines over the bottom using a medium tone of brown. I'll be adding that only over here. I'm not going to make it a lot dramatic. If you want to add more clouds, you could do that. Maybe you can add some other toe where you have yellow and make it more dramatic. Now, I'm going to wash the paint from my brush and I'm going to dab between a paper towel and I'm going to lift off some paint from the center. So my brushes just lightly wet. It's not too wet. It is just dumb. And I'm running my brush in a circular way and I'm lifting off some paint from the center. Over here. I'll be adding a sun using white watercolor at the end when everything dries. So for now this is what we need. When you're lifting up the pain. Just keep in mind your brush shouldn't be too watery. It should be just done. So that's something you need to be careful about. Now, we can leave this for trying. Alright, so the background has dried completely. Now I'm peeling off tack masking tape. We can start painting the lake for that as well. I'm going to use the same colors I use for the sky. So I'm starting off with some yellow. Again, I'm going to go with a wet on dry technique, which means I'm not going to apply any water onto the paper. I'm going to readily apply wet paint onto the dry paper. Let's pick some yellow and add that right underneath the sun. So we'll just need to add some yellow underneath the sand. It can be in a very staggered massively. See that we just need a letter right at the center. Now I'm picking some orange and I'm going to add that from either side towards the center. It doesn't need to be clean blend. You can keep dragging your brush from either side towards the center. So we need some yellow at the center and orange on either side. It can be a little messy at this stage, but that's okay. Don't worry about it. Now, I'm switching to my smallest size brush and I'm picking some brown. And I'm adding that as well on either side. The center, which is right underneath the Sun, we need to retain some yellow. Then we have some orange, and on either end we have some brown. Now, our next step is to make it look better. Right now, it isn't a massive state. So I'm picking bit of orange and I'm clear on my brush left hand, right? In a very random way. So we can see at the center we have some yellow and on either side we have some orange and brown. And it has a very natural, beautiful glow right now. Maybe you can do the same thing with a bit of brown. I don't want to add anything at the center. I'm just going to leave it as it is. I want a slightly darker tone of brown. So I'm adding a tiny bit of neutral tint and to Brown. And using that color, I'm going to add some lines. Especially at the bottom and onto either side, I'm not even going to touch the center. I just wanted to leave those yellow acids. So we'll just add some lines on either side. And also at the bottom, you can see the color I'm using here. It's not too dark. It is still a medium tone, which is slightly darker than the color of the background. Because these lines has to be visible. If your background is really light, you can use a medium tone. And it's a medium tone or some taco tones, you can use some much more darker tone of brown so that the line to adding will be possible. I hope that makes sense. Now, we can leave this field trying. Okay, now, the next task was to paint the bottom media. For that I'm using a medium tone of brown and I'm using my flat brush. First, I will add that on the top. You can either go with a straight line or a slightly irregular line, go to medium tone, and apply that on the top. Now as you're coming down, we can go with either Payne's gray or black or neutral tones and make it more darker. So only at the center. Over here, we need to retain that brown tones. And on either side we can introduce some darker tones. And also at the bottom we can go with a darker tone. Okay? Try to read in those brown tones at the center, which is right underneath the sun, the risk can be a darker tone. The base layer is similar to how the painter delayed. We started off with. Then on either side we introduce a darker tone. I had to use neutral tint here. You can either use Payne's gray or black. And towards the bottom, I have introduced a much more darker tone of brown. Now I'm going to pick my smallest size brush. I have taken some brown on my brush and I'm just running my brush left and right. Just the same way how we painted the lake. Okay, I think now the pattern looks really nice. Now we can leave this for trying. In the meantime, we can add some mountains in the background using a medium tone of brown. I'm using the same color I used earlier. And I'm going to add some small mountains along the horizon line. I don't want to fill up the entire horizon line. I will just add to what three. Here's the first one. Now, leaving some care, I will add another one. And maybe towards the left side, I will add one more. Now we'll go with the next step. That is one thing I'm planning to do. For that. I'm going back to finish off orange. I'm not going to add a lot of water. I'm using a slightly thicker opaque paint and I'm just adding some lines underneath the sun, this area as falling right? And then in the sun, and obviously there will be some glow over here. And that is what I'm trying to recreate. Go with the, OH, peak and thicker version of orange and add some lines over here. It doesn't need to be so perfect line, so it doesn't need to be completely blended into the background. You can simply add some dry brush lines. It will look really nice when it dries out. Okay, So that's it. Now, I'm committed to this for drying. Alright, our next task was to add this allowed. Today I'm going to add a friends. So first I will add the reference lines using a pencil. Have an abdomen post first. So that's the first one. Then I will add the second one somewhere over here. So I'm planning to add four of them. This is the main division and high TAM going with that, the second one. Now I'm going to add a third one here. I have space for one more. So that goes here. Alright, so I have added four divisions. Now, we'll be adding some horizontal line and also some vertical lines in-between these major divisions. Those things can be done using a small brush. You don't need to add them using your pencil right now. Now, we can switch to old brush. Using a smallest size brush. It is really important to go with a brush which has appointed to go with any of your smallest size brush or a detailing brush. First, we can paint this bigger division. These are gonna be some thicker lines. The other ones, the smaller divisions has to be thinner lines. Add similar lines. If you have more space, you can go with five divisions. Or if you have less means you can move three divisions. Those things are to clear choice. So adamant. Okay. So I have added the major divisions using the AutoSum. Let that dry. In the meantime, we can add the sun and the reflection. So I'm switching to our detailing brush and I'm pulling with some white watercolor. First we can add the sun. So right at the center of the space had created earlier. I'm going to add a small white circle. You can clearly see that glowing effect. This is the reason why I lifted off some paint earlier. Otherwise it will look like a plain white circle. Now it can really see that glow. Now using the same brush, I'm going to add the reflection. It's a dry paint. I haven't added a lot of water. And I'm randomly adding some dry brush lines right underneath the sun. To create that clue. We already have some yellow in the background, so we don't need a lot. Just a little. Keep adding them until you reach that platform. After we are done with this, our next task will be finishing off the fence. For that as well. I'm going to use the same brush because this one has a very nice pointed tip. I'm switching back to neutral. Let's finish out the fence. So you have to go with the brush that as a pointed tip or a detailing brush to get them right. First I will add that horizontal line. Now linear region, the center. Stop it there. We can extend that a little more. Then I'm going to go with brown. The same thing happens on the other side. Asphalt over here will be introducing brown to create that glowing effect. Let's finish off this line and then we can go back to Brown. Okay. So that's the first part of the fence. Now, I'm going to wash the paint from my brush and I'm picking some brown. Now let's complete that line using the medium tone so that that clue will be really the next step is to add the vertical lines. So we need to add them right over here. First, I will use a pencil and add some reference line. Then we have a rough idea about where to add them. So they are equally spaced. Now, I'm using the same brush and I'm using a medium tone of brown. And I'm adding those vertical lines. That's the one at the center, which is falling right underneath the sun. For the next one, we can go with a slightly darker tone of brown, which is going to be right next to this. So that's a darker tone of brown. In a similar way, let's add the other one, which is happening on the other side. So only for these ones you will need to use brown for the rest. You can use Payne's gray or neutral tint or black. Now I'm picking a much more taco tone, which is, it is nearly similar to black. And I'm going to finish up the rest. So you just need to put a little off focus only on the ones that is coming at the center, which is right underneath the sun. For those ones, you will have to use a lighter tone of brown to get that glowing effect. For the rest, we can either use Payne's gray or black. Now, I'm going to quickly add the remaining vertical line and Temkin finish out to friends. Alright, so that's done. Now, I will find the task was to add the shadow for this fence. For that, I'm using a darker tone of brown mixing and Judge laughed new trusted and brown together to create a color which is similar to bond ampere. And I'm adding drops of water. I want the paint that is slightly watery. I don't want it to be too opaque. Now using this color, I'm going to add a shadow. Goes down starting with this one. So you have to add an inclined line. It doesn't need to be a long line. You can just leave it at halfway. Keep adding some inclined line. For the thicker lines go with a thicker shadow. And for the thinner ones go with a thinner shadow. It doesn't need to be of the same length as the fence. Okay. The next one is a thicker one, so I will need to add up the core shadow. And now I'm continuing with the rest. So when you're reading the center, you have to be little careful. From this point, your shadow has to be onto the other direction. So the inflammation will be on to the opposite direction. Okay. So the center, you will have something like a straight line, but it's happening right underneath the Sun. Now, the rest has to be on to the auto detection. Okay, so let's quickly add the remaining and the test will be done, but that was answered for the day. Alright, so here are several censored for the T. Now, I'm going to speed up the masking tape. And I'm really happy with the way this turned out, especially that shadow that is looking really nice. Now, it's time to cut off the border and add this to our collection. Here's the finished painting. I hope you liked it. 18. DAY 14 - Wind Turbines: Today, since it is going to be a really easy one, we're going to paint a bright crimson sky. But to wind turbine, the colors you will need our crimson, the major color you will need for the sunset. Then you will need brown or burnt sienna. And finally, you will need Payne's gray or black or neutral tend to add the deeper tones as well as to add this allowed. So these are the three major colors you will need for today, sunset. Now, along with those, you'll also need violet or blue because to other clouds onto the background, you will need a darker tone. For that. You can either mix a little blue or violet endocrine cell. So these are the three major colors you will need. Now we can start with a wall painting. Alright, my paper is ready here, and I have the colors on my palette as well. So the first step is to paint the background. I'll be going with the gradient wash of crimson. You can either go with wet-on-wet orbit on dry technique, which always we just need a gradient wash of crimson. Go with any of your bigger size pressure. It can be either flat brush or a round brush. And start with a beautiful tune of crimson are Carmine. Apply that to the top of the paper. Now as you're coming down, wash the paint from your brush and pick some water and start making it lighter. Now, I have washed the paint from my brush and I'm gonna go with some clean water to make it lighter. See that? So that's our base layer. You can start with a medium tone. Then you can keep adding some water to make it lighter as you're coming down. Just like I mentioned earlier, you can either go to bet on red or wet on dry technique. Now onto this, we need to add some clouds. We need to add them while the background is still wet. So switch to any of your medium-sized brush. The one I'm using here is size number eight. Now, I'm mixing a little of crimson with violet. You can either mix a bit of blue or violet or even a little of Payne's gray. We just need a darker tone. You can choose to go with any color that will make your crimson I bit darker. So right now I have mixed feelings, love crimson with violet. And that's the color I'm using to add the clouds. You can see the color here. When you're creating your darker red color, the color that is darker than the background, that the clouds will be possible. That's the only thing you need to keep in mind. I have added few clouds on the top. Now. I'm going to add them over the bottom where I have the lighter tone. If your paint is too watery, just dab it on a paper towel. And keep repeating the same step. You can add as many clouds as you want if you want to make it more tomatoes go with a much more darker tone of red and add some more clouds on the top. Okay. I'm quite happy with the Syria where we have a lighter tone. I think on the top but is not really visible. Maybe we have to quote a taco to tumble run it. And I'm adding some more clouds on the top. This color looks better. The one I used earlier wasn't really visible. The same sky can be done using any color of your choice. You can go to violet or turquoise, blue or pink or even an orange. So go the gradient wash then onto that, go to Taco, don't arbitrarily the colonial using to add some clouds. You can create beautiful skies using the same technique. And honestly that's one of my main motor behind this class. I want you guys to be really confident in the way you're choosing your colors. I want you guys to explore all the colors you have to. Sometimes it might not work, but that's absolutely okay. Just give it a try and you might end up exploring a new color combination. Anyway, that's my sky. I'm quite happy with it. It is really bright and beautiful. I really liked the different tonal values of red we have caught here. So that's what a sky. Now we can leave this for trying. Okay, so that's our sky. It has dried beautifully. I'm not really happy with the top area. The clouds are not visible. We should have gone with a much more darker shade. Anyway. There is nothing we can do right now. So let's go ahead and add this allowed. For the next step. You will need either brown or bonds and then you will need either Payne's gray or black on it. So keep them ready. First we're going to add a wind turbine. Will be adding to wind turbines. Wonderful crown and one in the background. The one in the foreground will be huge and the other one and the background will be small. So first I'm adding a reference line using my pencil. I'll be adding two. Then at the bottom we will have a little crown. For that, we will be using some brown and neutral. So it's a pretty symbols and love today. Now I'm switching to my smaller size brush. Just be sure the background has dried out completely. Now, I'm going to add the baseline first. So this one has to be slightly thicker. Go with any of your smallest size brush or a brush with a pointed tip. The one I'm using here, a size number to Ron Fresh. It has a nice point is to add a similar line which is quite thick. Now onto this we will need to add the blades. We will need to add three blades, drying up into binders, quite easy. But then the only thing you need to keep in mind is those ankles. They all have to be at different angles. So maybe you can use a pencil and add the reference line first before you go with your paint. First add a vertical line. Then onto that, we need to add a belly. See that? Now we need to take that line back onto that tip and make it sharp. Okay, so that's the shape of the blade. Now, we need to add two more. Okay, so that's all foods wind turbine, you can see those different ankle. We need to add them in a similar way. Okay. Now, I'm going to add one more wind turbine, a shorter one. It's gonna be a miniature version of the same. So I'm starting with that vertical line. This one doesn't need to be asked to cast the first one as it is in the background. So plus to add a straight line. For this one, you will have to use a brush with a pointed tip. Otherwise you won't get that line perfectly. That's a word you can mine. Now, we need to add the blades. I'm starting with the first one. That's a nine. Now, we need to add that belly and make it sharp onto that end. Now I'm going to add the other two. So first I will add the reference line. So it is much easier. Now, we need to add that thickness. That's the second one. Now, I have one more left on the top. Now just in case, if you want to make your painting look more interesting, you can add some smaller ones in the background. Like super tiny ones. Otherwise you can just leave it as it is. So that's my second wind turbine. Now, our last task was to add the crown. For that. As I mentioned earlier, I'll be using brown and neutral tint. You can either use drown or wanting to paint the ground. I'm switching back to my medium-sized brush. And I'm picking some brown on my brush. Go to really vibrant tool. Don't add a lot of water using that color. Just add a line, a thick line on the top. I'll be using brown. And towards the bottom, I will make it more darker by adding new total. Maybe onto the corners as well. We can use some neutral tone, dark Payne's gray or black. Just at the center where the wind turbines are standing, you can leave those brown tones. Okay, so once you have added the colors, just give a quick run using your brush so that the colors will blend into each other nicely. Okay? So data set that's the most sensitive for the day. It's a pretty simple one. Now, let's peel off the masking tape non cut off the bottom. I'm sure it's a sensitive for the day. I hope you all liked it. It's a really simple one which can be done under ten minutes. So if we had to try it, don't give it a try either with the same color combination or a different color of your choice. 19. DAY 15 - Moody Sunset: Our sense it for the day is a very calm, soft, and a moody sunset. Here is the painting that we're doing today. You will just need to close for today sunset and the permanent yellow, orange and paints gray. Just like the name says, permanent yellow, orange is a yellowish orange. If you don't have that color, don't worry. You can just make filler loved 1 million with any of your yellow and create a similar color. Okay. Well, let's start with the object for the day. For this painting, we are going to paint the sky and the lake together. So it's gonna be one single Bosch. And for that, I'm using a wet on wet technique. So the first step is to apply a clean coat of water onto the anterior background. Go with any of you because I stretch and apply an even coat of water onto the paper. Keep running your brush multiple times just to be sure the water has reached everywhere. So that's my background. Now we can start applying the paint. As I mentioned earlier, I'm going to use Payne's gray and permanent yellow, orange. And to apply the background, I'm using a flat brush. Go with a medium tone and apply that at the center. So this is very horizon line will be apply that at the center. You can see the color I'm using here. It's a yellowish orange. So if you don't have a similar color, you can go with the yellow or you can just add our love, orange to yellow to create a similar color. Next, I'm going with Payne's gray, and I'm applying that at the top and the bottom. Add a new pin quickly before the background drives home. So that's a medium tone of Payne's gray. Now I'm going to apply the same at the bottom. You don't need to put a lot of effort in blending them. You can just leave it as it is. So the center, we have a medium 2.5 yellowish orange. And on the top and the bottom, you have a medium tone of Payne's gray. So just leave it as it is. Once we're done with the background layer, will be switching to a smaller size brush. And we'll add some lines and we will make that transition look more softer. So I have applied the paint. Now, I'm switching to a round brush. I'm gonna keep this aside. Now, take any of your smaller to medium-sized crush a clean brush. You don't need to take any paint on it right now. Make sure the brush is clean. Now just keep pushing and pulling the color into each other using a clean brush. Make sure your brush is clean. You can see the way I'm pushing and pulling the paint. It's a very simple process. We are trying to make that transition look more natural. We don't want them to look like bands. If you want, you can pick a little more Payne's gray and add some lines onto that yellow area to make it look more natural. But don't add a lot. And also don't make it darker. Go with a similar tonal value. We are trying to go with a very soft and come sunset. We don't want to make it dramatic, so be sure to go with a medium tone. Okay, so that's a little background. Now we had to wait for this to dry. Here, to sell background, it has dried completely. Now I'm going to add a horizon line using my pencil. I'm adding that right at the center. Now. We're going to add a mountain. Before you add the mountain, make sure your background has dried completely. Now, I'm gonna go with a medium tone of Payne's gray. Maybe I have a lot of brown to make the color look more brownish. So just a teeny bit of brown. And using that color, I'm adding the mountain. So this one is in the background. We'll be adding another mountain using a darker tone, which is in the foreground. So first add in your backyard Mountain. Go the similar height. Don't make it too huge and you don't need to continue that all the other end. You can leave it somewhere here. That's our mountain. Now we'll let that dry. Meanwhile, using the same color, we can add some lines on the water. To add the lines you don't need to mix any problem. You can readily use Payne's gray. Go with a lighter tone and keep adding some thin, delicate lines along the horizon line. You ready to add a lot of lines on the left side, you can leave that area acid is. Your focus should be on the right side. Keep adding more lines to the right side, will be adding a mountain over here. You focus should be on the right side. So right now I'm adding the lines closer to the horizon line. This one has to be really light and delicate. Don't add tick bolder lines over here. And you can see on the left side I have inherited any lines. Just leave it as it is. So keep adding more lines. And as you're reaching the bottom, make your lines more thicker and bolder. So you can go with a much more taco tone of paint, gray. Keep adding more thicker and bolder lines. See that closer to the horizon line, you should be going with a lighter tone and you should be adding ten lines. But towards the bottom, you can make your color more taco. And also you can go with thicker lines. But be sure to leave a gap in between. When you're adding these lines. You can add them. How will you want to? But then just be sure to leave a gap in between. That is what makes your water look more realistic. So that's something that you need to keep in mind when you're adding these lines. The color I'm using here is still a medium tone. I think we can make it slightly darker. So I'm adding more Payne's gray into the mix. And I'm making the color slightly darker. That looks nice. So we can go with a similar color. And you can see that gaps in between. You can add a new alliance however you want to, but be sure to leave that cap in between. I'm going to finish up this area by adding more lines. The lines on the top are looking to light. I'm just overriding them with a darker tone. I'm just adding a darker tone on top of the lines I added earlier. I just felt like these ones are looking really light and down. That's the reason why I'm doing this. So that now we can add some more lines in between. Then we can call it a ton. Using the same color. I'm adding some more delicate lines. You can see these ones are really thin. And I'm adding a few lines in between to make it look more denser. And a little over here as well. Because over here I'll be adding my mountain. So this ones would be the reflection. On to this corner. You can add some delicate lines. We're nearly done with the background. Now just in case if you want to make some of the lines more darker or through and add some more lines in between, you could do that right now. I just felt like making few of them are taco. I'm playing with a much more darker tone of Payne's gray and I'm just making them darker, not all of them. So I'm just randomly picking few lines and making them taco. That looks fine. I think we can call it time. And we can add in the mountain. So go to medium tone of Payne's gray and add the mountains towards the right side. Don't make it too light and don't make it too dark as well. Go with a medium tone and add a new mountain. So here's how our bathroom halftone tau. Now our last step is to add this allowed. I'm going to add a small bridge before that. If you want to make any of the lines more darker, you could do that. Make the lines darker only at the bottom. The ones which are closer to the horizon line don't make it darker, leave it Tacitus, we should be using a lighter tone over there. Only at the bottom you can go with thicker and bolder lines. That's a little background. Now the last step is to add this allowed for that you can either use a darker tone of Payne's gray or neutral tint or black. And also, before you add this allowed, you will have to make sure the background has dried completely. So I'm using a pencil and I'm going to add three vertical lines. I'm not really sure if it's possible. Maybe you can wait for me to add them and follow the same shapes. So I'm using a really dark tone of Payne's gray. And first I'm going to add the platform. It is just an inclined line. And then you can fill that in black on your toes and our Payne's gray. So add some little inclined line, then fill that in black or pins create. Now onto this, I'm going to add three vertical lines. Okay, so I have added the vertical line. Now the last step is to add a horizontal line. This horizontal line has to be parallel to the bottom line. Maybe you can use a pencil and add a reference line first. Then you can follow the same line using your brush. Even this has to be slightly because that's a line. Now I'm going to make it a bit more thicker. Alright, so we have added this allowed. Now using the same color, I'm going to add some teeny tiny boats onto the sky. Maybe two or three often. You have to use a brush that has a find it too and add some teeny tiny brush like this. Go with the thin, delicate line. Don't make it too dark. Okay. Okay. So with that, we're done with the whole painting for the T. Now, I'm going to quickly peel off the masking tape and we need to cut off the bottom. Alright, so here's Telecom and pretty censored for the team to give it a try. If you get to try it and let me know if you liked it. 20. DAY 16 - Coconut Palm: Today sense it is one of my most favorite from the empty collection. I really loved the color combination and how this turns out. As you can see here, it's a beautiful blue and orange sky along the horizon line. I'll be adding little love orange. The rest is all gonna be blue. For the sky, I will be using Prussian blue and brilliant orange. You can use any blue and orange. So that's a base color. Then onto this to add the clouds, I will be using a little off into Cu and to paint the sea as well, I'll be using Prussian blue and integral. Then to add this allowed, I'll be using neutral tint. Okay, so those are the colors you will need for today, sunset. If you don't have indigo, you can use a taco, do enough crushing blow itself. And if you don't have brilliant orange, you can use vermilion or any other orange. Now, let's pick him. Alright, so how my paper ready here? I have applied a piece of masking tape, a little blues and other people. So that's gonna be our sky. And we'll have our C over here. Okay? So for this guy, as I mentioned earlier, I'll be using Prussian blue and brilliant orange. I'll be going with a variegated wash of blue and orange. Onto that, I'll be adding some clouds using integral. For this. I'm gonna go with wet on wet technique using my one and you wash brush. I'm going to apply a coat of water onto the entire sky. Just a nice shiny cool to water. Make sure there is no pools of water. You can run your brush multiple types just to be sure the code Award receiving. Now to apply the paint, I'm using my half-inch flat brush. You can either go with a flat brush or a round brush. Both of them will work. Just make sure that it's clean. Now, I'm going with Prussian blue. I'm going with a medium tone. I'm applying that starting from the top, almost half of my paper, or maybe till 3 fourth, I'll be applying pressure in blue. And only towards the bottom, I'll be introducing some orange. So keep adding your blue. You all know watercolor fades a letter when it dries, so-called a slightly brighter tone, so that the colors will be vibrant and beautiful. Man who tries, it won't fade a lot. Alright. Now I'm going to wash the paint from my brush. We need to make the remaining area lighter. So I'm running my clean brush over here and I'm making it lighter. Next, I'm switching to a round brush. I have my size number eight round brush here. Again, I'm making sure that it's clean. And then picking a little off orange. I'm going with a medium tone onto the remaining area. We're going to add orange. So start from the bottom, from the horizon line. And as you go towards the top, you can make it lighter. So just by adding some clean water, make it lighter. As you're approaching the blue. You don't need to make it a clean blend. You can just leave it as it is. Okay. So that's our base layer. Now onto this, before the baton tries, we need to add some clouds. For that. I'm querying the integral. I'm using the same brush. I have some indigo here. I'm going with a medium tone. Now, right where these two colors are meeting. I'm going to add some clouds. I won't be adding much over the bottom, closer to the horizon line. I'm just going to concentrate or heal. And maybe a little towards the side. Be really quick and add into for the background tries. That's a color. I'm going with a slightly darker tone. I want some traumatic clouds. Don't go the watery paint, if you feel like the paint is watery, dab the brush on a paper towel before you add in the clouds. So as I mentioned earlier, I'm not going to add a lot on to the orange. I'm going to concentrate on the blue and onto the blue area. I'm going to add some clouds using integral. Also, if you don't have indigo, just go with a darker tone of crushing blow itself. It is not necessary to have integral because that's not a common color. It is income and the normal watercolor set. Okay? So don't stress out if you don't have integral, we can just use a darker tone off crushing blow itself, and add new clouds. Okay? Now add the clouds. How will you want to? You can add some order the topic area onto these corners to make your sketch look more traumatic. I think that looks nice. I don't want to add a law tends point my sky. Right now it is looking quite good. Maybe we can add a little onto the orange using a lighter tone. Just a little. I'm not going to add a lot of work here. So I'm just pushing and pulling that paint. If you're adding mini clouds onto the orange area, go to meet him to lighter tones. Don't go with Taco tones over here. Okay. So that's our sky. Now, I'm going to leave this for drying. So this guy has dried completely. Now, I'm going to pull out the marketing team and we can paint the sea gently, peel off the masking tape. For the fee. I'm going to start with Prussian blue. And towards the bottom, I will be introducing some integral. So on the top you'll have some medium tone and what's the bottom? I will make it darker. So start with a medium tone of Prussian blue. And as you're coming towards the bottom, switch to integral and make it darker. It doesn't need to be a clean blend. It can be rough and messy. We just need a medium tone of Prussian blue, closer to the horizon line. And towards the bottom, we just need a darker tone. As I mentioned earlier, if you don't have indigo, just use a darker tone of flashing blue itself. Now, using the same color, I'm just going to add some random lines onto the sea to bring in some texture. You can add few onto either side as well. It doesn't need to have any particular sites or thickness. It can be just random. We just need some lines on the sea to create some texture. Alright, so that's a background layer. Now, we'll have to wait for this to dry. Alright, so that is dried completely. Our next task is to add this allowed for this one, I'm going to add a palm tree over here, maybe one or two that is dried completely. Our next task is to add this allowed. For this one, I'm planning to go with a palm tree. I'll be adding a huge palm tree over here. Maybe just one or maybe two. I haven't really decided on that. Anyway. Let's start with this aloud and say, How's it going? If you have a lot of space left, maybe we can add one more, or we can just go with one. So to add the palm tree, I'm using neutral tint. You can either use neutral tint or Payne's gray or black. This is the brush I'm using a size number to run Trish. You have to go with a bursitis, a pointed tip, especially for the palm leaves. If you want to get a good result, it is better to go with a brush that has pointed to. So first I'm going to add a tree trunk. It can be a slightly irregular line and it has to be thinner on the top and the bottom. So that's a line. Now, I'm going to make it slightly thicker. Okay, so that's a tree trunk. Next I'm going to add or irregular line at the bottom, which is the ground. So just add a random irregular line, then fill that in black or Payne's gray or neutral tint. The next step is to add the palm leaves. First I'm going to add that skeleton, one and add some line, some curvy lines, maybe six or seven of ten from the tip of the tree trunk. Just add some random lines like this. So far I have added full lines. That's a fifth one. I have space for two more. That needs to have added seven lines. We can add one more heel to fill up that gap. Now onto this, I'm going to add the palm leaves. The palm tree is quite huge and it is taking up a lot of space from the sky. I was actually pretty happy with this guy over here. But look like they could hide that with our palm tree. So right now we have added the tree trunk and we have added those lines. Now onto this, we'll need to add the palm leaves. So this pressure, some really nice pointed tip and it is quite easy to add those long pointy leaves. So I'm just going to drag my brush from this line towards the bottom. And I'm going to fill this enter your lie in some long pointy lines. So I'll start from the end, the bottom end. Then I will go towards the top. Filling that line. At some places you can leave some gap in-between. And at some places you can add them close to each other to make it look more denser. So that's a suicide. Now in a similar way, I'm adding some lines on the other side, asphalt. Don't rush, go one-by-one. It's pretty simple. Once you have added that skeleton, you just need to add some lines heading towards the bottom. If there's a lot of gap in between, you can add some more lines and make it more denser. Alright, so that's the first one. Now in a similar way, I'm going to fill up the second one. So far I have three lines. We have five more left. Now onto all of them, we need to add some little lines. You can add them close to each other. And maybe at some places you can leave some gaps in between to make it look more natural. So just follow the shape of the line, have added, follow that curvy line, and keep adding some lines close to each other using a small brush or any brush with a pointed tip. Alright, so that's trying. Now I'm going to add one more palm leaf over here. I feel like there's some cap in there. Just to fill in that gap, I'm going to add one more palm leaf. That will be done with a palm tree. Just take a look at your palm tree. And if you feel like there's lot of caps in-between, you can introduce more palm leaves or it can add some more lines to make it look more denser. Now, before we finish off the painting, I'm going to add some more details onto the scene. I'm just extending this piece of land and I'm giving it an interesting shape. Now using the same paint. I'm going to add some teeny tiny rocks on the water in a very random way. Go the similar size and add them variable you want to. Okay, so I have added enough of rocks. Now we need to add the reflection for that, willing to go out and meet him to an off Payne's gray or neutral tint, which will be the color you're using. So actual drops of water and turn that into a medium tone. Now right underneath all the rocks you have added there. Add a line, just a thick line. Be sure to go with a medium tone. Don't make it too dark or too light as well as just a thick line. Okay. So pick all the rocks you have added and add a thick line like this. And once you're done with that using the same color, you can add some lines on the sea to bring in some more texture. So it's a medium tone of Payne's gray. And I'm randomly adding some lines onto the water. They are very thin and delicate. And I'm adding them only over here towards the bottom as if having Sadako do enough integral, it looks pretty nice. But along the horizon line it is looking quite empty. That's the reason why I'm adding these lines. Just randomly add some lines using a medium to one-off indigo or either paint scree. Alright, so that's done. Now it's time to pay it off the masking tape and cut off the bottom. Peel off the masking tape but an ankle, don't rush. Be very gentle when you're removing your marketing team. Otherwise you may end up ripping off your paper. Okay, so that's how sensitive the day. Now it's time to cut off the bottle and add this to our collection. I'm really happy with the sky. I think it's a gorgeous color combination with the Cloud. Turned out really pretty. Let me cut off the bottom. Here's the finished painting. I hope you all enjoyed it. Does give it a try. If I had to try it. 21. DAY 17 - Gloomy Sunset: Today, sensitive antidote, moody, gloomy center. You can see those colors I've used here. It's not a very common color palette, but I really enjoyed working on this. I really loved that gloomy field those colors have gotten. So here's the colors you will need for today. Sunset, you will need any kind of yellow and an orange than Payne's gray or neutral tint. We'll also be using some white to create that gloomy gray color. So just like how we tried and few of our other paintings will be applying code of white onto the entire background. And then onto that, we'll be applying other colors to turn that into a pistol and gloomy shade. Okay, so let's begin. I have my paper ready here. First, I'm going to apply a code of white onto the entire sky. Almost three-fourths of our painting is going to be the sky. And just 1 fourth is going to be the league. Start by applying a generous amount of white watercolor onto the entire sky. You don't need to add the background. You can directly apply white paint. So that's our background. Now, I'm going to keep this pressure side and I'm going to switch to a flat brush. This one is a half inch flat brush. Now I'm picking some neutral tint. You can either use neutral tint or Payne's gray. I have picked a darker tone and I'm applying that on the top. As we have white and the background, the color that I'm applying here is turning into a place real gray. We can apply that till almost half of the sky. Once have applied Payne's gray or neutral tint, almost half of your people are maybe a little more. You can clean your brush. Now go with some clean water and make the color lighter as you're approaching the horizon line. To apply the next color, I'm going to go around fresh and then picking some yellow. I'm applying that at the bottom over here. I'm not applying any paint. I want some bright shade over there. I want to read in that lighter tones. I'm just apply more paint on the right side and not on the left. Okay. So just leave that area as it is. Now. I'm picking some orange and I'm applying that right above the yellow. Now using orange, I'm going to add some clouds. The orange I'm using here is brilliant orange. You can either go with vermilion or any other artist that your card. Okay? So just add some clouds. You can see here. How about rating that whitespace? On the left? I haven't applied much paint over here. I have added those orange clouds only on the right. Maybe we can add a little, but I still want to retain most of that whitespace. Now, I'm going to add some clouds onto the gray, AS for just a little onto the right side. So I'm picking some orange and I'm randomly adding some clouds. Our background is still really creamy and so you can add your clouds. How will you want to make use of the time? And if you want to add more, you can do that. I'm just going to add few clouds onto this right side. I'm not going to add any onto the top. Okay? And be very gentle when you add in the clouds. Don't put a lot of pressure and don't scrub the paint. Using the tip of your brush. Gently keep pushing and pulling the color into each other. You can see here, I haven't added any clouds at the bottom. I'm just returning that white and yellow space. I'm just adding them on the top. You can see how soft and beautiful my background is looking. That is because I haven't put much pressure and being very gentle with my brush moment, that's reason why they're looking so soft. So don't put a lot of pressure. When you add a lot of pressure, there will be some brush mark and it won't get that soft wheel. Now I'm adding some more clouds towards the right side. And with that, I will call it time. If you want to add more, you could do that maybe a little onto the left or towards the top. I don't want to make it a lot of dramatic. I still want that calm and peaceful three for this painting. I said that it was Cai. Now we'll have to wait for this to dry. Alright, so that's dry. Now I'm gonna peel off the masking tape and I'm going to apply a color to white onto the entire league. I have not cleaned some trash, so I still have some white paint left on it. I'm taking some more paint and I'm applying a clean, good whitewater color onto the entail Lake. For the league will be only using neutral tint or Payne's gray, which will be the color you have with you. Now using my medium sized round brush on the top, I'm gonna go with the lighter tone. And as I'm coming down, I'm going to make it lighter. So I'm starting from the bottom. And as I go towards the top, I'm making it lighter. We can make it a little more darker at the bottom. Now, don't worry if you don't have a smooth and even gradient, that's not what you're looking for. You can simply keep running a branch left and right and add some lines on the water. Now I'm picking up more darker tone. And then again running my brush left and right. And I'm adding some random lines. So by doing this step, you'll automatically adding some waves on the water. If you feel like your paint is too watery, dab your brush on a paper towel, and repeat the same step. I'm really loving the Moody and gloomy field of this painting. I think the colors are looking so good together. I have never tried these colors together, and I think it's a wonderful color combination. Now, I'm going to pick a little more darker tone of neutral tint. And onto this, I'm going to add some lines leaving some gap in-between. So that's the final step. Onto the same background. You can go to Taco tone of Payne's gray on your Tilton and add some line. They don't need to be perfect. Just add them. How will you want to? But try to leave some gap in between so that it will look like they are waves. Alright, so that's all background. Now, we will have to wait for this to dry. If you want to add more lines, you could do that. You can clearly see the kappa have left in between each of those lines. So that is what makes your water look more realistic. And you can also see that gradual transition from light to dark. I think it has come out really beautiful. Now, we can leave this for trying. Alright, so that is dried completely. Now our next task is to add some out. First I'm going to add a mountain along the horizon line, a little line mountain. For that, I'm using a taco to enough neutral tint. And I'm using my smallest size brush here. Now, let's add a mountain. Just be sure the background has dried completely. Fine to have major that you can add any a mountain. So I have out of the mountain and I have defined the horizon line. Now to add the reflection, I'm adding two drops of water into neutral tint. I'm going with a medium tone, which will be the color you're using, whether it's no trucks and our Payne's gray or black, a few drops of water. And turn that into medium tone. Now, just type some lines on either side using that medium tone. There has to be really thin and delicate and simply add some lines on either side. I'm not going to add a lot at the center. I'm just adding them on either side. I'm not following the same shape of the mountain and just randomly adding some lines. Just go with a medium tone and add some lines underneath the mountain shoulder flexion. So that's the reflection. Now let's add our mean too loud. What is two tree to drive trees? So soon I will add the reference line using a pencil. So that's the first one. So what is going to be slightly long? And the other one is gonna be a little shot. Okay, So just to add to reference line, once you have added that, go with your smallest size brush, brush with a pointed tip. And we can start painting battery. First, we can add the tree trunk, the brush I'm using Cura size number six. It has a nice pointed tip. And you can see the way I'm adding the line. It is an irregular line. It's not a straight line. Go in a similar way. This will make your painting look more interesting. Now, I'm going to go with the second line, this one as well. I'm adding in some little way, it isn't irregular line. Now I'm going to add some branches onto this, something and delicate branches. You can add them. How will you want to? But be sure to go to the brush with a pointed tip. Don't make them too bold. Okay. I'm not going to have a lot. I will just add a few on the top and also at the bottom. Go with different kinds of shapes for your branches. Don't make all of them look the same. And you can add them on to either side. Alright, so the trees are in. Now the very last step is to add the reflection for the tree. For that, I'm using the same brush and the same color. Go to Taco, turn off neutral or Payne's gray or black. The reflection is quite simple. I'm just going to add a zigzag line in a broken way. Just give it a watch. You will know how easy it is. So at some places I'm going to go with this exact line and at some places I'm dragging it down. So that's the first reflection. Now in a similar way, I'm going to add the reflection for the second tree as well. It's very simple, but if you want, you can try it on a scrap piece of paper first and then add that on your main painting. Just add some lines. And at some places you can connect that and make it as exact line. And then continue that. Again, break it, again, make it as exact line. And that's it. So add them until you reach the bottom masking tape. Alright, so that's all centered for the D. Now I'm going to quickly fill up the masking tape and I'm going to cut off the bottom. Hello, finished painting. We can see how pretty of a moody and gloomy center dislocate. Give it a try. If I had to try it. I'm very sure you're going to love it. 22. DAY 18 - Arizona Sunset: The sensor for today is a really cautious Arizona sunset. We're going to paint some casualties and a cardio sunset. So here's the colors that we're going to use today. You will need any kind of orange. The one I'm using here is brilliant orange. You can use vomiting. Then you will need permanent rose or crimson. And then some violet and a color to add is allowed, which can be black or Payne's gray or neutral send. Those are the colors you will need for today's sensor. Now, let's give it a try. So how might be pretty here? I'm going to add a line at the bottom to separate the sky and the ground. Just a random line. I'm going to add that somewhere over here. This means almost three-fourths of your painting is going to be the sky. And just a little at the bottom is going to be the ground. Now let's take all the colors and start painting the sky. I already have some orange on my palette. Now, I'll need some permanent rose and some violet. I think, whilst also I have on my palate. So the only color, I don't have permanent rows. Instead of permanent rose, you can use crimson or carmine or any similar color. And instead of brilliant orange, you can use vermilion or any kind of orange. How the colors ready on my palette? Now the first step is to apply a clean coat of water onto the anterior background. We're gonna go with the veteran wet sky. So make your background even leave it. Use a flat brush or a round brush, preferably a bigger size brush, and apply an even cooler water onto the entail sky. How I made my people well, now I'm switching to my medium-sized farm fresh. This one is size number eight. The first color I'm going with this orange. The one I'm using here is brilliant orange. As I mentioned earlier, you can use any orange that you have got. So go to medium tone and just randomly apply that onto the top of your paper. Okay? So I have just randomly added some orange. Now in-between these, I'm going to add in some rows. This one is permanent rose. You can go with cramps and our carmine or quinacridone rose or any other roast idea of God. Now apply that in-between the orange. It doesn't need to be a clean blend. Just leave it as it is. Don't put a lot of effort and making them perfect. Okay. So that's my second color. Now, towards the bottom, I'm going to add some violet. So clean-up brush properly and go with your third color, which is violet. Now, add that onto leftover area you have at the bottom. Again, just randomly add dentin. It doesn't need to be a clean blend. Okay? So once you have filled up that remaining area, we need to add some clouds onto this background while it is still wet. Okay, so that's the base layer. Now let's start adding the clouds. To add the clouds, I'm using a purplish color, so I'm just mixing a little love permanent rose with violet to make it more of a purple color. So just a little off, permanent rose and some violet. I want more of a pinkish violet. Now using that color, I'm just going to add some random clouds onto the background. So I'm going to add more towards the bottom where I have the violet. And towards the top, I'm going to go with a medium tone. So you can see here how pretty that color is. Just randomly add some clouds while the background is too wet. You can make it even more dramatic by going with the taco tune. Now let's add some auto top as well. Over here, I'm going to add a lot. And also I will be using a medium tone. I'm just washing onto paint from my brush and making it slightly lighter. And using that color, I'm going to add some more clouds towards the top. I'm really happy with the color combination. I think they're looking really cartoons. Actually. I have tried the same Skype before. I use the same colors, but in the opposite direction. I used to start with violet, then draws, and then orange. I think this one looks far better than that. Anyway, that's how sky and I'm really happy with the way it has turned out. Now, we can leave this for trying. If you want to add more clouds, if you're back on the still wet, you could do that. If it's starting to dry. Don't add any more clouds. Just leave it as it is. Okay, so let's leave this for drying. Alright, so the background has dried completely and that's a perfect sky. I'm really loving the clouds and the color combination. Next, I'm going to add a mountain for that. I'm using a medium tone awhile it just make sure your background has dried completely before you add your mountain. Now, I'm going to add that somewhere or he'll just a very normal mountain. We're just going to add a basic shape. Then we'll make it lighter as you come towards the bottom. So first add in the shape. Then you can go with some water and make it lighter as you come down. You can add a mountain. How will you want to? But just be sure not to fill up that entail violet shade you have in your sky. Just leave a little on the top, then add the mountain. Okay, so that's a mountain now willing to wait for this to dry. And once this has dried, we will be adding a sellout. Okay, So the background has dried completely. Now we can add our first allowed. To add this allowed, I'm using a smaller size brush. I think we can add the cactus first, then we can fill up the ground. The brush I'm using here, a size number six, go with any of your medium to smaller size brush. First, I will add a rough reference line just to understand where the crown is gonna be. It's gonna be somewhere over here. You can go with any shape. We will need to fill this NTILE in black or neutral center Payne's gray. But I think we can add the cactus foods so that'd be won't accidentally smudge the color. When we are adding the cacti will be resting my hand on this so that our chances we might accidentally smudge the color into the sky or into the mountain. To avoid that, we can start adding the cacti. Then we can come back and fill this in black. I'm using the same brush, this one as size number six brush. Go with any of your smallest size brush so that you can paint them quite easily. So first I'm going to add a straight line, a thick line. I'm going to add my first cacti over here. So these capillaries are really tall. So just carefully add a straight decline, which is the trunk of the cactus. Now onto this, I'm going to add the arms. I'm going to add them on either side. So the first one is going to be held onto that trunk, add a new first arm. Okay. That's again a straight declined. Similarly, I'm going to add one onto the other side. So that's rule first cactus plant, I think I will make it slightly taller. Okay. So that's the first one. Now I'm going to add the second one. Okay, that's the second one. Now, when we we can add one or two more. I think I will add one more on the right side. So I'm adding a straight line. Now onto this. I'm going to add one arm. The other two has two arms. So to make it slightly different, I'm going to add one on foot, you know, maybe a smaller one here without any harm. It is just starting to count. And finally, I'm going to add a huge one on the left side. So that's going to be really tall. The lines thicker asphalt. It is not really necessary to go with the same locations and the same kind of cactus. You can go to different cheap and you can add them at different places. And if you don't want to add this money, that is also totally up to you. We can just add one or two. Okay. Now onto this trunk, I'm going to add one arm onto the right side. For this one, I think I will add only one arm because on the left side, I don't have enough space. So let's keep this as one. I'm pretty sure some of you have been to Arizona and have seen this cactus entry-level as a wonderful place. I have just seen in images. I have seen some documentaries as well. One day I would really love to this. Anyway, that's our word cactus. So I'm thinking to make this one a bit more taller. And also thinking too hard, but on the other side, maybe a smaller one. If you don't have enough space on the left side, it's okay not to add it only to have some space to school with the small arm. So that our cactus plant. Now I'm going to fill this bottom part. And neurotoxin. We can either use neutral turn to a Payne's gray or black. Just fill that out. Nearly done with the whole painting. There is one last step left. Nothing other than adding some small lines along this top line to make it look more natural, is just some small random lines which I'm adding close to each other to make it look like there are some crossover there. So just add some teeny tiny random lines and just fill that entire top line. Alright, so Tad's, I was censored for the day. Now, it's time to pull it off the masking tape and cut the border. And here's the centered for the day. I really loved how this guy has turned out. The colors are looking so good together. And those cloud tesla. Okay, so now it's time to cut off the border and add this to our collection. And he also added senescence it. I really hope you liked it. 23. DAY 19 - Pastel Sunset: Today, since it is a really pretty easy cotton candy sunset, you can see those gorgeous colors have used here. It really looks see how those clouds, I really loved the way how this has turned out. So these are the colors you will need for today's sunset. I will be using permanent violet, permanent rose, and neutrals tend to add this allowed, okay, So instead of neutral tint, you can use Payne's gray or plaque. Along with these colors. You will also need whitewater color, will be applying white onto the entire background first, and then we'll be applying the colors on top of it. So you will also need some white watercolor. It doesn't need to be guar is white, watercolor is enough. So take out a bit of white watercolor onto your palate, then apply that onto the anterior background using any of your biggest size brush. I'm using a size number 12 brush here. And I'm taking enough or white watercolor on my brush. Looks like when some paint on it, I'm just cleaning it properly. Now picking white watercolor again and applying that onto the end TOP. I think there are still some blue paint on it, but never mind. I'm just gonna go ahead and apply white watercolor onto the entire paper. Okay? So gently apply that onto the anterior sky. For this painting. I don't want to add a lot of detail, so I will just focus on the sky then for this allowed double add some basic plants at the bottom. So feel free to go with any other subjects that you want to add for your zoom out. It doesn't need to be the same. So I have flight white watercolor onto the anterior background. Now I'm starting with violet. You can see that Carl Just pixel color because we have white in the background. So pick some violet and apply that onto your background. Starting from the top, almost three-fourths of your people, you can apply violet. So I can really watch the paint from my brush. It has some white in it. And with the same brush, I pick some violet and that's what I'm applying right now. Now, towards the bottom, I'm going throws the spinous permanent roles. If you don't have permanent rose, gold, crimson, or carmine, or any other similar color. Apply that at the bottom. I think we will need some more paint. This is a gorgeous color. I really love this color. I think how I use it quite hard in the sense that cities, I'm adding a little more at the bottom. So that is all background. I'm really happy with the Skype already. Now. We need to add some clouds on it. So I'm just going to wash off the paint on my brush. And I'm going to switch to a smaller size brush. This one is size number eight. Just make sure your brush is clean before you add new paint. Now, I'm picking up more intense tone of rules. I want the bottom-most area to be a little more intense. So I'm adding more paint over here. That looks perfect. Now we can start adding the clouds. To add the clouds I'm using violet, go the medium tone and dropping your clouds variable you want to, I'm going to concentrate more on the area where the violet is transitioning into pink. I won't be adding a lot at the bottom. I want that fresh, bright pink to be seen, Tacitus. I won't be adding a lot at the bottom. I will be adding over here where these two colors I'm eating and also a little towards the top. But you can add your Clouds wherever you want to and how he went to. Simply keep on adding clouds onto that, that background. It is not like when you use water, the colors will be a lot creamy and it will stay wet for a longer time. So you can easily add new clouds. So we're leaving some cap in-between, Add new crowds wherever you want to. Those casts will make your sky look more realistic. It will have a nice contrast of light and dark. Keep adding more clouds. You can see how pretty it is looking already. That white watercolor, we have a plant in the background is making the colors look really creamy and milky at the beautiful color combination. And it is really reminding me of cotton candy. Now when you add your Cloud so you feel like your paint is too watery, you can't have a ton of paper towel. Then keep on adding the clouds again. And also don't put a lot of pressure. Be very gentle, then you add in the clouds. The backend district really vet. So you just need to use the tip of your brush and keep on adding your clouds. And at some places you can use a lighter tone. And at some places to make your sky look more dramatic, you can use a darker tone. So keep switching from darker to lighter shades and keep adding them variable you want to. As I said earlier, remember to leave some cap in between. Don't add them too close to each other. The background disparate and we using wet paint here, the column is spread LSL and it will become even more pico. So it is good to go with smaller clouds so that you have some space in between. It won't fill up the entire sky. I'm quite happy with the bottom. I think I can add some more on the top. Look at that. Such a beautiful color combination, dried. I really love using white watercolor in the background. It really gives me all fresh and vibrant pixel colors. I don't really need to buy any pixel shader. This is a very easy and cool technique. And it is quite easy to blend the colors. You really have to try this technique. I'm very sure you will fall in love with the first attempt itself. Okay. So my sky is nearly done. I haven't added any clouds on the top left corner. And also at the bottom, we have a beautiful contrast between those clouds and the background close. Okay, That's a sky. Now, we can leave this for trying. Alright, so here's our sky. It has dried perfectly. Look at those colors. They are looking so cartoons. Honestly, I didn't want to add any slapped onto this. I wondered to leave this chaos it is, because it is quite pretty by itself. But then the whole set off Sunset paintings have some slot in it. So I thought I will add something so that it will cope well with the collection. So just for the namesake, I'm going to add some plants at the bottom. And for that, I'm using my size six brush and I'm using a darker tone of neutral tint. You can either use neutral scent or Payne's gray or black. And I'm just going to add some leafy pattern at the bottom. So first I will start with the very basic shape. Then onto the top, I will add some leafy pattern, just some teeny tiny random patterns to make it look like they are leaves. If you don't want to add any disallowed, that's totally okay. And if you want to go with the difference allowed, even that is also okay. Maybe you can add some birds or maybe our electric post or something else. So just add what we feel like. Okay, so just go with whatever you feel high can add that in. I cannot tell you how much I love the sky, especially the colors that pain can while it is looking so pretty together. You can try the same technique with maybe turquoise, blue, and pink event that will look great, or maybe blue and pink. So whenever you find some time to have the same technique with a different color combination, maybe you can add some more darker clouds to make a sky look more traumatic. Or maybe you can try the same sky with three colors. You can go with blue, violet, and pink. I think even that will look great. So if you're interested to give it a try, now, I'm going to quickly finish this alone. Alright, so that's it. Listen to it for the day. Now it's time to peel off the masking tape and cut off the bottom. I'm a 100% happy with this guy, and I hope you guys loved it too. If they had to try to give it a try. And I'm pretty sure you're going to love it. So here's a closer look of the sky. I'm really in love with those clouds and the color combination. I know I'm telling us for the fourth or the fifth time, but I can't help it because I absolutely loved it. And the best part is the finished this painting in less than ten minutes. Maybe you can paint a seascape using the same sky and you can add a C at the bottom using a similar while cheat. And we can add some palm trees and make it really interesting. Okay, so that's a dreamy cotton candy sunset for the day. I hope you all have to do give it a try. If I had to try it. 24. DAY 20 - Dreamy Evening: Today we're painting another ECBC dreamy sunset, which would require only three colors. They are wireless, orange and neutral tint. So the one I'm using here is permanent violet and the oranges, brilliant orange. You can use any valid, and you can use 1 million instead of brilliant orange. And it's dropped neutral tint. You can either use paints gray or black. Okay, so those are the colors you will need for today, sunset. Now, let's give it a try. I have applied a piece of masking tape a little below the center of the paper. And I have my colors ready on my palette. The first step is to apply a clean cold water onto the empire sky. We are going to bet on wet technique and we are going with a variegated wash of violet and orange. First, make your background evenly wet. Then you can go with a flat brush and start with violet. I think I will need some a. Okay, so the colors are ready. Now I'm switching to my flat brush. This one is a half inch flat brush. I'm picking a medium tone or why wireless. Apply volatile almost three-fourths of my sky. Then towards the bottom, I will be adding some orange using a brighter tone, because when the background drives the color will be slightly faded. Let's go with a brighter tone so that the colors will be really bright and vibrant when it dries. I have applied violet as you're reaching almost three-fourths of your sky and make it lighter. Now clean your brush and let's go with our second color. To apply a second color, I'm using a round brush. I'm going to use a medium-sized round brush cleaner properly. Make sure there are some other paintings on it. Now unquote your second color, which is orange, and start applying that from the bottom and go towards the top. You can see here I have applied at only at the bottom. Now I'm washing up the paint from my brush and using a clean brush and just blending this area where these two colors are meeting. At that transitioning part, we have a lighter tone. If you feel like it is really light, you can apply a slightly darker tone of violet at the bottom. We're here to make your sky look more interesting. Okay, So that is I will sky. Now, we have to leave this for trying. Alright, so that's the background. I used to blow dryer, to dry my painting. There were some water on the masking tape and floated back and QME or delta bleed on the top-right corner. Anyway, the people that I used today is slightly bigger than the other paintings. So I can cut that ADR hand. I can save my painting. Other than that, I'm quite happy with the sky. It's a beautiful blend. Now I'm going to speed up the masking t and we can start painting the seeds. For the C. I'm going to go the medium tone of violet. I'm using the same brush. This one is size number e-tron fresh. Go to medium tone and apply that onto the entire. See. If you're familiar with the color wheel, you know, violet and orange are complimentary colors. So when you mix them together, you will end up getting a muddy color. But over here for the sky, we made it lighter. Babies, two colors are meeting. That's why we didn't create any muddy color in the sky. So whenever you're using these two colors together, go in a similar way, make it lighter. Colors are meeting. Okay, so that's the base layer. Now onto this, I'm going to add some leaves using a darker tone awhile. I'm going to use the same brush. If you would like to, can go to the smallest size brush. So go with a slightly darker tone awhile, but let's add some lines and some beliefs onto the background. While it is still wet. You can just randomly abdomen. It doesn't need to have any particular shape or size. Now at the bottom, I'm just adding an angular line. From here we will be adding a brochure wherever you want your show to be an inclined line or an angular line over there. The rest can be just random lines. So that several background. I think I've added enough hotlines. Now, I'm going to leave this for trying. Alright, so the colors have tried perfectly. The colors are really complementing each other. Now it's time to add this allowed for this one, I'm going to add a small island far of the youth and adults will be adding some palm trees on top of it. Okay. For that, I'm using a smaller size strong brush. As you all know, to add this too loud, I'm using Eutelsat. I'm going to really opaque color. And I'm going to add that small island over here. It is slightly below the horizon line and I'm starting from somewhere over the middle. Now I'm making it taller. So first adding a basic shape, then you can fill that in black or Payne's gray or neutral tones. Then once we have added that shape, we can add the palm trees. Okay, So that's the island. Now right next to this, I'm going to add a small rock. If you want to add more, you could do that. Then I'm adding some lines right underneath this. And also on the scene. Just few random lines. They are very thin. So just add few for now. Maybe we can add more later. Now, I'm going to add some palm trees. I'm planning to add maybe five or six palm trees. So first I will add the tree trunk is just a straight line. Wherever you want to add your palm trees administrate line and go with different heights. Now, let's add the palm leaves, which is just a massive Terry sheep. See that it's quite easy to do, literally a massive star shape. So start from the center and keep pushing your brush towards the outside and create a message to reshape their super tiny, which means they are quite far from you. So you don't need to put a lot of effort in detailing them. Now just in case if you feel like there's a lot of space in between these lines, you can add another palm tree. First, add the tree trunk, then add that messiest Horatii. And that's your pantry. I think I will add one more over here. So it's really simple to give it a try. If you're not really confident you can try it on a scrap piece of paper, then do it on your main painting. I'm adding one more or to this end. I think that looks pretty nice. I have gone with different height and have left some cap towards the right end because I'll be cutting off this area because of that 30 bleed. So that's the reason why I didn't add any pump to use towards the end, you can add more. If you want to go with a more intense and thick island, you can add more and more palm trees. Now the last step is to add the short line. The shorelines are simple, irregular line using the same brush. Just add an irregular line like this. We need to fill the bottom part, neutral sense. Before that, I will add some lines onto the sea to bring in some more texture. Once we're done with that, we can fill up the bottom. And with that, we'll be done with about painting. Using the same brush. I'm going to add some lines onto the sea just to make those waves a little more prominent. These are just some random lines. I'm not really looking at adding them and randomly adding some lines using a medium tone often. Don't make it too bold. You can go to meet him to lighter tone and just simply add some lines, just some neutral color line. We don't need a lot of lines. We have already added some lines using a darker tone on wireless. In the beginning. They are really prominent, but this is just to give some more texture data set. Now finally, I'm going to fill up that anterior bottom media in neutral tint. For that, I'm switching to a medium-sized brush, this one a size number eight, and then became a darker tone of your Dalton. And I'm just filling up this entire area. Okay, so that's our final task, the time we're done with the lesson for the day. Now it's time to peel off the masking tape and cut the bottom. Here's a closer look of our sensor. It's a beautiful color combination. The painting hasn't dried completely submitting patient. Now I'm going to cut off the bottom. Maybe you can add some more rocks onto the water to make it more interesting. And maybe a sound and its reflection on the water. So that I'm always to make your painting look more interesting. Okay, so here is the painting. I hope you all liked it. It's a very simple and peaceful center, which we did in less than ten minutes. So give it a try for you to try it and let me know if you'd like to. 25. DAY 21 - Fiery Red Evening: Today, since it is an absolutely gorgeous one and a simple one too. It's an incredibly bold and beautiful center. And these are the colors you will need. You will need any ray, the one I'm using here to spiral red, then you will need frown upon see now I'm finally to add this allowed we can either use Payne's gray or black or neutral tint. Okay, so those are the three colors you will need for 2D sunset. Now the first step is to apply a clean coat of water onto the paper. I'm using my one-inch brush brush and I'm applying a clean even could have water onto the paper. We're going to paint the entire background in one layer. Then the next step would be adding this allowed him with that will be done with our painting. Okay, So my background is evenly wet. Now to apply the paint, I'm using my medium sized round brush. As I mentioned earlier, I'll be using pyrrole red. It's a very bright and brilliant red. If you don't have any kind of rate, you can use crimson or carmine. There are many red which are similar to peddle read, you might have seen permanent red, ocher, quinacridone red. They are very similar to peddle red. Okay, so I have taken out the paint on my palette. My background is already wet. Now, I'm going to pick a medium tone of red. And I'm just going to randomly apply that onto the wet background. I'm just leaving some cap in between at some places and making a really bold and at some places and making it lighter. So there is no particular order that I'm following at some places and randomly looking at more bolder and a template since I'm making it lighter. Now, towards the bottom, I'm going to introduce some brown, right where I have stopped the rate. I'm adding some brown. And then towards the bottom to make it even more darker, I'm going to add in some neutral tint. So we have a bright red on the top. And towards the bottom they had the crown. We have added some problem with the bottom-most end. We are introducing some Payne's gray or neutral tint or black to make it even more darker. Now using the same color, I'm going to add some clouds onto the sky. I'm just dabbing my brush on a paper towel because the paint is a bit watery. The color that I want for the Cloud is more like a reddish brown. If you feel like you want to make it more darker, you can add more Payne's gray. And if you want to make it more reddish, you can introduce a bit more identity, the same mix. This one has a much more darker tone. I'm dabbing my brush on a paper towel, and I'm just marching that into the background because we have Mr. violino bright and vibrant tones of red for the background. If you use a lighter tone or a medium tone, the clouds on releasable, you have to go with a slightly darker tone. So depending on the intensity of the color you have used for the background, you might have to go with a darker tone or a lighter tone for your clouds. I'm just randomly adding some more cloud towards the bottom. I think on the top I have added enough. Maybe I can make the red LED more darker. Now let's introduce some more clouds. So the background is really bet. It's a good time to add in your clouds. Don't wait for a lot of time. Keep talking in your clouds. How will you want to before the bathroom dries off? I'm picking more Payne's gray and I'm adding some more clouds towards the bottom and maybe a little towards the top corner. I think it is already looking quite pretty. But I want to add some more clouds, especially on to the top. So depending on how dramatic you want your sky to be, you can keep on adding more clouds using a taco tone. It's an easy to manage color combination. These two colors go really well together. I think you should definitely include the sky in your future paintings. Maybe you can paint a car just escape. A fury read sensor with the setting sun. It is going to look cartoons. Anyway, that's a sky. I'm really happy with weight as time tau. Now, let's leave this for trying. Alright, so our sky has dried completely. Our next step is to add this allowed. And for that, I'm using my size to mature on crush. So for todays too loud, I'm going to add some very basic tracheids, so it's an empty branches. So this brush has a really nice bonded to. So I can add those thin and delicate branches quite easily. So I'm starting with the first three, just in case if you want to add a difference allowed, if you want to add some palm trees or maybe some mountain, you could do that. Okay, so feel free to cope with what you think is best for your painting. That's my first brand. This one is quite pick. Now onto this, I'm going to add some thin and delicate branches in a very random way. So as I mentioned earlier, this brush has a really nice pointed tip and it is quite easy to add those branches. Now, just in case if you're not able to add those thin and delicate branches using your brush, you can go to the pen. You can use any of your black pen. It can be in pen or a gel pen. Maybe you can add those thicker branches using a brush. And then for those thin and delicate ones, you can use your pen that might be more comfortable. So feel free to go with what you feel is best for you. Okay. So that's what those branch I think I will add two or three more. Maybe one I can add to what? To bottom. Add the one to add to top. So let me go with the second one. The main branch has to be thicker than on to that you have to add some thin and delicate lines and a very random and it'll glow. We make it as interesting and natural as possible. Don't make all the branches look the same at them in different sizes and different thickness and in different directions. So try to make it as interesting as possible. Now I'm adding my third branch. So that's the main branch. Now onto this, I'm going to add some branches. Something branches. Alright, so that was the third one. I think I will add one more, a bigger one. So first I'm adding the main branch. This one is quite interesting. I really liked that shape. Now onto this, I'll have to add some thin branches. This one is quite thick and bigger than the other ones. So onto this, you can add some thicker branches. Okay? And now we can add those thin, delicate branches. Alright, so that's it for the day. Now, it's time to peel off the masking tape and cut off the bottom. And here are several finished sunset. I'm really happy with that bold and beautiful red. I hope you all liked it to the bottom. Media has turned out really pretty. Now it's time to cut off the bottle and add this to our collection. And here does have a theory that evening, I hope you liked it. I think that's in Berlin and bold color combination. You'll definitely have to give it a try, fair to try it. 26. DAY 22 - Sunset Lake: Here is how the census for the day. It's a very bright and pretty sunset at the simple one, we'll be going with a variegated wash of three colors for the sky as well as for the lake. And these are the colors I will be using. Biomass, permanent rose, brilliant orange, and neutral tint. If you want to try a different color combination for your sky and a lake, you could do that. Maybe integral y that you can use blue. Or maybe you can add one more color, maybe yellow towards the horizon line. So those things are totally your choice. Now, let's give it a try. So this is another sensor which will take you only less than ten minutes. So first I'm going to apply a piece of masking tape a little below the center of the paper so that I can divide the sky and the lake. I already have the colors ready on my palette. So I'm starting by applying a coat of water onto the anterior sky. This one is my one-inch brush brush. And I'm applying a clean even coat of water onto the entire sky. That's even leave it. To apply the paint onto the sky. I'm using a medium sized round brush. You can either use a flat brush around Parish. And I'm starting off with a really bright tone of violet. So looks like I don't have Covenant rules on my palette. The color I have here a spiral read. I thought that is Ruth. So I need to take out some paint before we start with the sky. So that is permanent rose. If you don't have common rows, you can use crimson or carmine or any other rules are pink color. Now I'm starting out with a really bright on violet and I'm applying that onto the top of my sky. Almost half of your sky you can apply violet. This one is permanent violet from Shanahan. It's a call just color at highly pigmented. Okay, so that's our first color. Just in case, if you want to make the color more bolder and brighter, you can go for one more layer. That's violet, which is our first color. Now I'm going to wash the paint from my brush. And I'm gonna go with my second color, which is permanent rose. I'm going to apply permanent rose exactly where I stopped the violet. And I'm going to blend them well. Now onto that little area we have at the bottom, I'm going to apply orange. Mix these colors. Well, now I'm going to wash the paint from my brush. And I'm playing with my third color, which is orange. The spinous, brilliant orange. You can use any orange, or we can use yellow. Or you can use formula. That's the sky. You can see that car just blend. I really love using these three colors together. It's a cardiac color combination. Now we had to wait for this to dry. So this guy has dried completely and the colors are looking Sukkot arches. Now I'm going to gently remove the masking tape and we can start painting the lake. For the league, I'm going to use the same colors in the opposite direction. So instead of violet and starting with orange, and to apply the paint, I'm using the same brush. As soon as my size number eight brush. This one is a really small area, so you really don't need to wet your paper. You can apply your paint directly on the dry paper. I'm starting with a medium tone of orange. See that? It is slightly brighter than the color I have used for the sky. Now, I'm washing out the paint from my brush. I'm switching to my second color, which is permanent rose. Now I'm applying that right next to where I stopped orange and I'm blending them well. Now just like how we paint the sky, I'm going to switch my third color, which is violet. Again, I'm going to really pry to know violet. And I'm starting to add that from the bottom. And I'm going to put a top. Now, we can blend them well. These three colors really go well together. They're a wonderful color combination. You can also try blue instead of violet. And maybe instead of orange, you can use yellow. So that way you will have a wide variety of colors in your sky and the league. So that's a base layer. Now I'm going to wash the paint from my brush. And I'm going back with permanent rose. Now using this color, I'm going to add some waves and some lines onto the lake to give it some texture. Right now, we have simply apply the colors. It looks quite flat. So go to a brighter tone of permanent rose and simply add some lines on either side. We can start from the top. So just add some lines on either side and maybe a few at the center as well. Now, towards the bottom, we need to go with a darker tone. So obviously, I'm going back with wireless. Much more darker tones and color we have used in the background. Now you've seen that color. I'm going to add some more lines at the bottom. And that's it. That's a leak. Now, we have to wait for this to dry. That has dried completely. Before we add this allowed, there is one more thing that I need to add. For that I'm mixing some brown. I think I forgot to mention this color and the color palette section. You will need some brown as well, or we can just use your orange. Now you've seen that color. I'm going to add a mountain goat with the similar height, don't make it too huge. So that's a medium tone of brown. Now as I'm approaching the center, I'm going to make it lighter. So I'm just washing up the paint from my brush and I'm picking some clean water and making it lighter. Towards the center. See that? It's darker on the right end and it is lighter towards the center. Now using the same color, I'm going to add another mountain on the left side. I will make it darker on that end. And towards the center, I will make it lighter. I think we can make either end a bit darker. So I'm adding and unlock new trusts and with brown to make it darker. And I'm adding that color on either end of it. Not a lot. That's a DTA is along the horizon line. Now we need to wait for this to dry before we add this allowed. But meanwhile, we can add new reference line. And also we can add some birds onto the sky. So I'm picking my pencil and I'm going to add the reference line. This is where I'm going to add the wooden post. I think I will add three or four of them. I will add a huge one at the center, then a shorter one on the left, and a medium-sized or enforced on the right side of the mountain dry. And after that we can add in the meanwhile, I'm going to add some boats for that. I'm using my size two round brush. I think I will add three or four, but first I'm starting off with an inclined line. Now onto this, I'm going to add another inclined line, a bit thicker one. So that's my first book. It's very easy. Try it on a scrap piece of paper if you are trying. But for the first time, it is just to incline line, which is thinner towards the tip, thicker towards the bottom. Now I'm going to add the second one. I think I will add one more on the top. If you want to add more, if you want to create a big cluster of birds, you could do that. I will add one more over here. I think those mountains has dried so I can start with my salon. So that's my third book. Now using the same color. First, I'm going to add those food and post. Before you add the wooden poles, just be sure the mountain has dried completely, otherwise the color may spread into that. So just be sure about it before you add them. Now using neutral tent or really doctrine of neutral tint, I'm adding those wouldn't post. So this one is that bigger one? I have the center slightly irregular shape to make it look more interesting. Now with the same brush and with the same color, I'm adding the second one. This one is slightly shorter than the other one. The second one. Now, I'm going to add one more towards the left side, which is going to be much more shorter than this. So try to make all of them look different from each other. You can go with different heights and maybe different shape. If you make them different, your painting will be more interesting. That's turn. Now our last step is to add that flexion. For that, I'm using the same brush. You will have to use the smallest size brush or a brush with a pointed tip. Now using the same color, I'm going to add a curve is exactly. Just give it a watch. See that it's a very simple, irregulars exact line towards the bottom. You can make it move for him. Now, I'm gonna do the same thing for the other one. See that? It's a new jugglers exact line. It doesn't need to be perfect. At some places you can break it. And at some places you can make it wider and just leave it there. So that's our second one. Now we have one more left. If you want, you can add these kind of lines on a scrap piece of paper. Just give it a try. So your hand will be more flexible. That's the last one. Now I'm thinking of adding one more board onto the left side. I think this area is quite empty. So let's add one more point here. And that's it. With that, we're done with oil painting for the day. I think it was a really easy and pretty sunset. Now it's time to peel off the masking tape and cut off the bottom. Here's a closer look of our sunset. It's a very pretty color combination. Now, I'm going to cut off the bottom so that we can add this to our collection. Okay, So here's the painting. I hope you liked it. So give it a try here to try it and let me know if you liked it. 27. DAY 23 - Turquoise Evening: Today we are exploring a very interesting color combination, and here's the center, that'd be a painting today. The focus is on the sky. This allowed us pretty simple. We'll be adding some basic plans. So these are the colors I'll be using for the sky. I will be using turquoise, blue, and orange. Then towards the bottom, I'll be adding some brown and neutral tend to add those darker tones. We've had the two colors, brilliant orange and turquoise blue. To add the clouds as well. I will be using neutral tint. Okay? You can just see those clouds. I'll be using a very light tone off neutral scent and towards the bottom as well to make the brown more darker, I'll be using a bit of neutral tint. So these are the four colors you will need for today's painting. Now, let's give it a try. First, we're going to paint the entire background and we're going to use wet on wet technique. So the first step is to apply clean water onto the anterior background. Go to any of your because I scrapped rush around Krish and apply an even coat of water. You can run your brush multiple times just to be sure the code, the waters even. We don't need any ports or water. Okay. So I have applied a clean code of water on the anterior background. Now to apply the paint, I'm using my flat brush. I'm just making sure that it's clean. Looks like there was some leftover paint on it, but luckily it was blue. And I also have a round brushes. So as I come towards the bottom, I'll be switching to a round brush. Now first-time starting with a medium tone of turquoise blue. I'll be applying this almost half of my sky. And from there I will be switching to my second color, which is orange. Go with a medium tone, maybe a slightly brighter tone. Because when the backroom drives, it might fade out. So use a medium to brighter tone. Now, I'm going to wash the paint from my brush and using a clean brush, I'm going to make the color lighter. Just run your clean brush in a horizontal way and make it lighter. Now let's keep this brush aside and let's switch to a round brush. This fantasize number e-tron brush. You can use any of your medium two because size brush. Wash it thoroughly, make sure that it's clean. Now, let's pick a little off orange. The one I'm using here is brilliant orange. You can use vermilion or any other orange that you have got. Now I'll pick a brighter tone of orange and apply that, leaving some cap in-between. We don't want the orange and turquoise glutamate to each other. We want that area to be lighter. So apply your paint, leaving some cap in-between these two close. These two are complimentary colors on the color wheel. So if you mix them together, you might end up getting a muddy brown. So we don't want that. So what should the paint from your brush and go with a clean brush and using that clean damp brush to blend the colors. Now if you want to make it more brighter towards the bottom, you could do that. You can see the color I'm using right now. What is really bright and intense? Now as I'm coming towards the bottom, I'm going to switch to brown. You can use drown or burnt sienna. Now add that right next to the orange. Once you have added the brown switch to a darker tone, you can either add a bit of Payne's gray or neutral, and make the color darker at the bottom. You can make it as dark as you want. Now I'm picking some problem and adding that asphalt. So what I'm painting right now is the ground. We are trying to make it look like this is really far. So we're trying to go with the blurry effect here. We don't want a strong sharp line. Now I'm washing off the paint from my brush. For the background drives, we need to add the clouds. And for that and picking up the tough neutral send a medium tool. And I'm dabbing my brush on people to, just to be sure the paint is not too watery. Now let's start adding the clouds. First, I'm going to add them by these two colors are meeting over here. We have a very short blend. So just to cover up that, I'm adding some clouds here, you can play with different tonal values of Payne's gray or neutral tint. At some places, you can use a taco tool, and at some places you can use a medium tone. This way your sky will be really interesting as you have two very opposite colors in your sky. When you add in the clouds, you might end up picking some orange when you're adding clouds over here. And the same way when you're adding clouds on the top, you might end up picking some blue on your brush. Those things are okay to an extent, only if you're picking a lot of color, you can tap a button on a paper towel. Our wash it if necessary. Otherwise it is okay. You can keep switching from turquoise, blue to orange. That's not going to affect your painting aloft. So right now I'm adding some clouds to the bottom. Now I will add term on the top. You can add a cloud wherever you want to. You don't really need to follow the same way I'm adding them here. And also you can go with a medium tone to a darker tone depending on how traumatic you want your sky to be. Okay? So there are two things which I always mentioned when you add in the clouds. The first one is always be very gentle. Don't put a lot of effort. You might end up lifting up the paint on the background. So be very gentle. Just run the tip of your brush on that wet background. The second thing is go with the paint but just not too watery. If the paint is still watery, it might end up spreading into the background. And it will be really difficult to control the rate of spreading. And it might also create a February effecting your sky. Okay? So if you feel like your paint is too watery, taboo version of paper towel. In case if you feel like your background is too watery, wait for few minutes, maybe like two or three minutes, until the water settles and then add the clouds. Alright, so that's my sky. Now we had to wait for this to dry. This guy has dried completely. And again see the colors are looking quite. Tell Dan earlier, this is what happens with watercolors. So you have to go the practical in your first layer itself if you want to apply to the cell. Now let's add this allowed to add this loud. I'm using my size number Toulon crush. You can go with any of your smaller size brush or a brush with a pointed tip. Because it's a lot that I'm adding to the requests. A small pointed brush. So go with any of your smallest size brush that has a pointed tip. Now first I'm adding a branch and onto that I will add some smaller branches. Then again onto that, I will add some leaves. It's going to be a very simple but uninteresting for loud. It might take a bit of time compared to the time we have used for the sky. So in case if you want to go for a different too loud, You could do that way. I'm starting with the first plan. You have to add a thin, delicate line first. This brush has a really nice point at 02:00 AM. I absolutely love this brush. See that? I never used to get such a time with any of my other brushes. So this one is really my favorite. Now onto this, I'm going to add some smaller branches and some leaves onto it for the lease as well. You don't need to follow the exact same way. Amharic them. Once I've got that idea, Adam, How will you want to? You can just pause the video and just add them. And it's a very small, normal leaf. That is nothing complicated here. You can simply add them in. So I have added three on the top. Now I'm adding a small branch and onto that and again, adding few more leaves. In a similar way. I'm going to continue this until I erase the bottom. At some places, I will make them more denser, which means I will add more leaves onto the same tranche. And at some places, I believe some cap to make it look more natural. Now suddenly we continue that pattern and add in some teeny tiny branches and then add some leaves onto it. Maybe you can add all your branches will then add the leaves. If you feel like adding the branches and then adding the leaves or petals, go with that method. Or we can just add the brand just as you progress and then fill that in leaves. And also there's one more thing you need to keep in mind, go with different kinds of shapes and arrangements. Some of the branches can be made wider and some of them can be shorter. Some of them can be dropping down, and some of them can be facing towards the top. These little things will make your painting look more natural. So it is very important to pay attention to those things. So this is where I have received. Now, I'm going to add few more branches towards the bottom. Double sum that with some leaves. In a similar way, I think, of a lag, one or two more plants. So you can add them either towards the right side or towards the left side. Those things are totally up to you. So that took was planned. You can see at some places I have left some cap and some of the branches are more widow and some of them are shorter. I have tried to make all of them look different to give it a more natural field. Now in a similar way, I'm connected to more plans and we'll be done with the lesson for the day. Okay? We are done with a listen to it for the day. Now, I'm going to peel off the masking tape. When you're peeling off the masking tape, always be sure that baton has tried out completely. Otherwise, it may rip-off your paper. Here's the finished painting. I really loved the color combination. I hope you guys liked it too. Now, I'm going to cut off the border so that we can add this to our collection. Humans have a car just answered for the t. I hope you liked it. If I had to try to give it a try. 28. DAY 24 - Bold Evening: Today we are painting a very bright, bold and beautiful sunset and paint those you will need Payne's Gray titled read and brilliant orange. You can use any red and orange. These are the three colors I'll be using. If you want to change Payne's gray into integral or any other color, you could do that and then add this electric lines. I will be using a pen. You can use any of your blood trying Pinochet open. It is much easier to use a pen and a ruler to add this line with a brush, it isn't that easy. Okay, so that's one thing extra that you will need for today's painting. Now, let's give it a try. So first we're going to paint the entire sky. And for that, we're using wet on wet technique, which means you will need to apply clean could have water onto the anterior background. I'm using the same brushes have been using holiday stays, this one as my one-inch wash brush. Go with any of your bigger sized flat brush or on-prem. Then apply a clean coat of water onto the anterior paper. My papers evenly wet. We can start applying the colors. The solos, my half-inch flat Trish, I'll be using this color to apply the paint first-time, starting with Payne's gray, I'm going to apply this on the top of my sky. You can see the color I'm using. It is quite dark. So 1 fourth of the sky is going to be Payne's gray. Then from here, I'm going to switch to my second color, which is spiraled read. You can go the different proportion if you want, if you want more Payne's gray in your sky and less of red and orange, you can bring it down. Otherwise you can go in the same proportion. So that's Payne's gray. Now, I'm going to wash the paint from my brush. I'm gonna quickly go to my second color. This one is peddled read, it's a very bright and bold red. If you don't have pyrrole red, you can go with any other reddish color. Now, let's blend these two. Well, when you mix these two colors together, you will get a muddy brown in between, which is absolutely okay. So that's Payne's gray and pirate. Right now. My brush has lot of paint gray on it. So I'm washing out the paint from emigration and I'm picking some clean red. And I'm going to apply a little more, just a little more right now, have reached almost center of my paper. And now I'm washing off the paint from my brush. And I'm switching to my third color, which is orange. I'm adding that right next to the Red Sea that blend those two colors well and bring in town. As it coming down, you can pick more water and make the col