Playback Speed
---
0.5x

1x (Normal)

1.25x

1.5x

2x
Into the Ocean: Character Modeling Essentials in Blender 3D
Watch this class and thousands more
Get unlimited access to every class
Taught by industry leaders & working professionals
Topics include illustration, design, photography, and more
Watch this class and thousands more
Get unlimited access to every class
Taught by industry leaders & working professionals
Topics include illustration, design, photography, and more
Lessons in This Class
31 Lessons (3h 12m)
3.

Modeling: Defining the Scale

3:56

4.

Modeling: Using Reference

4:14

5.

Modeling: Blocking the Form

8:20

6.

Modeling: Refining the Form

5:17

7.

Modeling: Subdivision Modifier

3:22

8.

Modeling: Add Geometry & Mirror

6:36

9.

Modeling: Refine Volume

6:33

10.

Modeling: Final Body Adjustments

3:06

14.

Modeling: Pectoral Fin

9:55

15.

Modeling: Duplicating the Fin

2:08

16.

Modeling: Pelvic Fins

6:47

18.

Modeling: Parenting Objects

2:50

19.

Texture Painting: UV's

8:38

20.

Texture Painting: Main Body

10:11

21.

Texture Painting: Eye Markings

8:50

22.

Texture Painting: Body Markings

4:48

23.

Texture Painting: Colour Variation

8:59

24.

Texture Painting: Fins

7:25

26.

Lighting: HDRI Lighting

11:47

28.

Lighting: Adjusting the Lights

3:59

29.

Lighting: Using a Cookie

11:02

30.

Lighting: Final Adjustments

7:16
--

Beginner level

Intermediate level

Advanced level

All levels
Community Generated
The level is determined by a majority opinion of students who have reviewed this class. The teacher's recommendation is shown until at least 5 student responses are collected.
About This Class
The best 3D character animation starts with an appealing model. This class will teach you the essential 3D modeling skills required to bring simple character designs to life in 3D.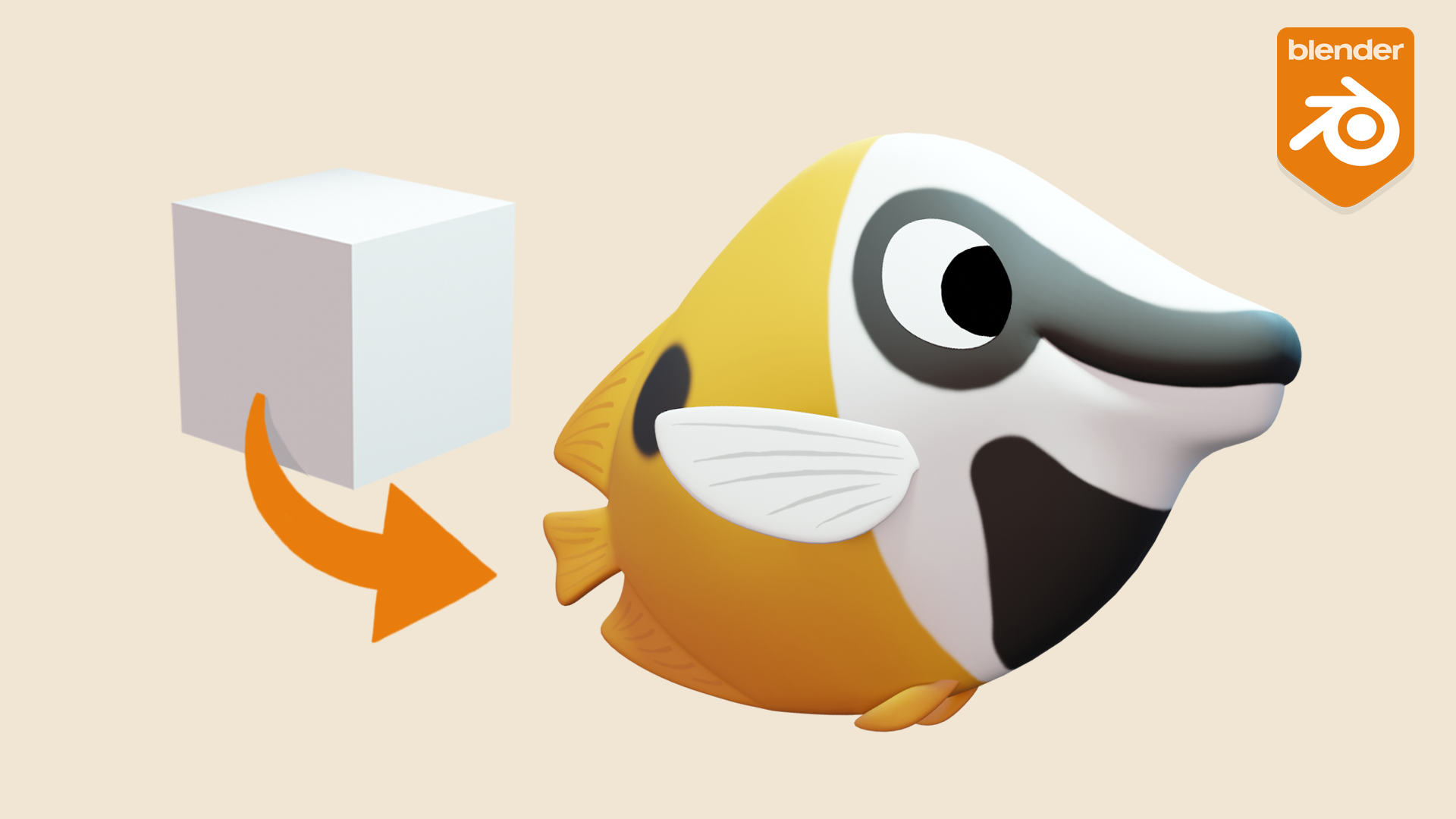 Character Modeling for animation can be time consuming and take many years to master. By starting out with simple characters, you can quickly learn the essential modeling skills which will provide a foundation for all your future projects.
During this class I will share my approach to modeling, texturing, shading and lighting a character based on one of the designs from my Into the Ocean: Character Design Essentials class. We will also go on to place this character into a simple underwater environment.
You are free to follow along using the provided design or, if you have already followed my character design class, you may wish to use one of your own designs.
By following along with the class, you will gain valuable skills which can be applied to modeling many other simple character designs.
What you will learn:
By the end of this class, you will have all the skills necessary to model simple characters of your own.
You will also be ready to move forward into my next class, Into the Ocean: Character Animation Essentials in Blender 3D, where you will learn to add controls in the form of a character rig and fully animate your character.
What you will create:
By following along with the class, you will create a 3D character model and a final, fully rendered, image. 
Good to know:
This is a beginner level class using the free 3D software application Blender.
No prior character modelling experience is required but a familiarity of Blender's interface would be very helpful.
If you are new to Blender, I would recommend starting out with my Into Animation: Blender 3D Essentials for Animators class which will provide a solid foundation to build on.
If you would like to model a character based upon your own design, consider starting out with my Into the Ocean: Character Design Essentials class.
The Blender software application can be downloaded for free from: blender.org
By the end of this class, you will have the essential character modeling skills required to bring appealing characters to life for your own 3d illustration or animation projects.
Let's get started!
Once you have finished this class, don't forget to check out the other animation classes here on Skillshare.
Meet Your Teacher
I love animation and the feeling of bringing characters to life but, when I was first starting out, it was hard to know where to begin.
That is why I decided to create a high-quality series of classes, providing new animators with a clear path to get started in animation, based upon my many years of professional experience.
If you dream of learning character animation, I hope these classes will show you the way!
I'm really excited to see what you're able to create!
To discover more about me, check out my full bio below.
For weekly doses of animation knowledge and inspiration, sign up for my newsletter.
Also, if you'd like to be notified when... See full profile
Hands-on Class Project
In this class you will be able to follow along as I demonstrate how to model a tropical fish character. For your class project I would love to see your version of my character design or how you have applied the demonstrated principles to your own original character designs.
Your final class project will consist of a final rendered character image.
Upload an image of your final project as a .jpg or .png with a resolution of at least 1280x720 pixels to use as your project cover.
If you would like feedback along the way, feel free to upload work in progress images too.
Have fun, and I look forward to seeing what you create!
Class Ratings
Expectations Met?
Exceeded!

0%

Yes

0%

Somewhat

0%

Not really

0%
Reviews Archive
In October 2018, we updated our review system to improve the way we collect feedback. Below are the reviews written before that update.
Why Join Skillshare?
Take award-winning Skillshare Original Classes
Each class has short lessons, hands-on projects
Your membership supports Skillshare teachers
Transcripts
1. Introduction: The best 3D character animation starts with an appealing model. This class will teach you the essential 3D modeling skills required to bring simple character designs to life in 3D. Hello. My name is John Lewis. I am a character animator and animation director, and I've been lucky enough to work in children's television for the last 50 years. The second class of mind creation series, we're going to be exploring character modeling for animation. This is a standalone class and you're free to follow along using the provided design. However, if you've already taken my character design class, you may wish to use one of your own designs instead. Character modeling for animation can be time-consuming take many years to master. Rather, if you start out with simple characters, then you can learn all of these central skills that you need to provide a foundation for all of your future projects. During this class, I'll share my approach to note any modeling. Also texturing, shading, and lighting a character will also then go on to place this character into a simple underwater environment. This is a beginner-level class using the free 3D software application Blender. Now if you're new to Blender, you may want to check out my Blender centrals class to teach you everything you need to know to get started. By the end of this class, you'll have all of the skills necessary to model simple characters of your own, and you'll also be ready to be forward to the next course in the series, where you'll learn how to add controls in form of a character rig, and finally, fully animate your character. If you're ready to dive into the world of character modeling for animation, let's get started. 2. Class Overview: Hello and welcome to the class. In this class, you'll be able to follow along as I demonstrate how to model texture, light, and render this tropical fish character. You can download my concept out from the class project page, or feel free to follow along using one of your own character designs. There are several different approaches to character modeling, but when it comes to getting started, one of the easiest is known as box modeling. In this approach, we literally start out with the 3D cube, and by subdividing it to moving around the vertices, the points on the surface will gradually form the shape of our character. Once a model is complete, we'll then move on into texture painting. For this section of the class, I'd highly recommend having access to some form of graphics tablet or pen display with a pressure sensitive stylus. While this is not essential, it will make the texture painting process both easier and more enjoyable. Once our textures are complete, we'll create a simple environment and set up the lighting required to create a believable underwater image. For your class project, I'd love to see either your version of my character design or how you've applied the demonstrated principles to modeling one of your own original character designs. Once you're finished, just apply a rendered image of your final project to the class project gallery for feedback and to share with the other students. If you'd like feedback along the way, feel free to upload work in progress images too or ask questions on the class discussions page. Now, if you're ready to get started, let's jump into the first lesson. 3. Modeling: Defining the Scale: Before we start to model anything in Blender, it's worth thinking about the scale that we're going to be working at. Now, with a default scene and my cube selected, if I hit the "N" key, I can open up this side panel. That shows me the dimensions of my cube are currently two meters in size. I know that the fish that we're planning to model is about 20 centimeters long. I can adjust that value to 0.2 meters, 20 centimeters, and obviously, I could go ahead, zoom in on that cube, and start working on it and model a fish. The problem comes when we then want to add our lighting to our scene. In Blender, if we work with very small objects, you'll find that we actually have to adjust far more parameters in order to get the lighting to look convincing. That's because by default, Blender is setup to work with larger objects. Now there are two ways to approach this. Obviously, we can go ahead, model our object at the correct scale, in this case 20 centimeters, and adjust all of our parameters to work. Alternatively, we can actually adjust the internal scale system that Blender works with. To do that, if you head over to the Properties panel, you can see the scene properties. If we click on that tab, that will give us a unit section. If you roll that out, you can see that we can change a number of values here. To start with, because we're going to be working in centimeters, let's change our length from meters to centimeters. You can see now that this is updated up here in the Transform properties. But in addition, we have this Unit Scale option. The moment, that is set to one. What I'm going to do here is change this value. I need to divide it by 10. We now have unit scale of 0.1. You see our grid has changed, and the dimensions of our cube now show as two centimeters. If I hit "Alt S" on the keyboard, that will reset my scale. So now, my cube is the same as its default size, but you'll see the dimensions are shown as 20 centimeters. By working this way, now all of our light parameters can be used at their default values and we'll get a far better result without as much tweaking. That's worth keeping in mind; if you intend to model multiple objects or characters and then bring them together into one scene, you do need to work at the same unit scale across all of those objects. For example, if I were to model this fish with a unit scale of 0.1 because that's the easiest way of working, and then go ahead and start to model a shark, I might decide that a unit scale of one was more appropriate for that shark since it's a larger creature. Unfortunately, if I then brought this fish that we're modeling now into the scene with the shark, it would be multiplied in size by a factor of 10. Now it's possible to then scale that fish down to the correct size. Simply scanning it by a factor of 10 will bring it into line with shark that's been modeled in a scene with a unit scale of one. It's just something that you need to be aware of. As a rule of thumb, what I'd recommend is that you use a unit scale which will work for the largest objects in your scene. In this case, we know that our fish is going to be the only object in our scene, so we can work with a unit scale of 0.1 quite happily. As I say, if I was going to combine this fish with a larger creature such as a shark or a whale, I'd work with a larger unit scale and just model this fish smaller because I know my lighting is going to work for the larger scale in the other scene. The other thing to be aware of when you're adjusting your scale is that the unit scale value is specific to our individual scene file. If we were to create a new scene file, it would reset to one. So always check that value before we start modeling something new. Now that we have our units setup correctly, I'm just going to save my file. I hit "Control S", pick a location on your hard drive that you have to save your file, and give it a name and then click ''Save''. We're now ready to start loading our reference in the next lesson. 4. Modeling: Using Reference: When you plan to model something, you can go ahead and do it free from within Blender, but it's actually really helpful to have reference to work from. Makes the whole modeling process a lot quicker and easier. I've created some concept art for this lesson which you can download from the Project Resources section. Alternatively, feel free to create something of your own. If we load it in, what we're going to do is switch to the side view in the Blender. You can do that simply by hitting the number 3 on your numpad. Alternatively, if you don't have a numpad, you can always use this gizmo at the top here to navigate to the different views. What I'm going to do now is open up a file browser and I'm just going to drag and drop my reference file straight into Blender. What we can do, because this has been dropped slightly away from the origin is just hit Alt G, and that will reset its position back to the center here. That my cube and hit the parakeet on the numpad to frame everything up. Now, we want to move this reference into roughly the right place for us to work with. To help with that, I'm just going to change into X-Ray mode. We do that with this little icon up at the top here, alternatively, you can use the shortcut outset. We can now see through our cube. Now, if I select my reference object, which you can see up in the outliner here is called empty at the moment. First, I'm going to rename that. I'm going to hit F2 and rename that to reference. Then, I'm just going to hit G with the middle mouse, constrain it to the y-axis and shift it along just until the fish is roughly centered up with my axis. The next thing I'd like to do is duplicate this reference so that we can have a reference for the front of the fish that we're going to see from the front view. With my reference selected, I can just hit Shift D to duplicate it, I'm going to right-click and that will just leave it back where it was. We can see we've got a new reference up here in the outliner. I now switch my view with my notepad by hitting number one, and move around to the front view. I can now rotate this reference by hitting R to rotate, Z to constrain it to the z-axis, and then 90 will rotate it around, I can Enter to confirm. Then again with the GK, I'm just going to drag that across. It's roughly centered up on those axes. Now if I move around my viewport, you can see these two references are right over the top of each other. The other thing that I'm going to do, I'm going to move these back away from each other. I'm just going to hit G. Let's try this in y and just move this out of the way a little bit and do the same here with this reference. Move that along the x-axis to this, out of the way of my cube. I can move around and see my references there if I choose to. Again, if I hit the one key or the three key on my numpad, you can see I can move to the different views. Now. Looks like I can move this in the wrong direction. I'm just going to come back here and move it again along the x-axis back to the other side of the cube. To make it easier if we jump into our side view, we can see the cube on top of the reference. Now, with our two references created, what I'm actually going to do is select the two of them in the outliner, hit the MK to create a new collection and then we'll name that collection reference. This allows us to quickly turn those references on and off together. The other thing that we can do is change our filters for our outliner. I'm going to turn on the selectability filter. You can see we now have this little arrow check mark here. If I turn that off for the reference collection, you'll see that I'm now no longer able to select those reference objects. I can only select my actual cube. I can now hit Alt Z to turn off my x-ray view, and we'll be ready start modeling in the next lesson. 5. Modeling: Blocking the Form: So far we've been working in the layout view and we can continue staying in the layout view as we start to model. But we also have the modeling workspace which we can switch over to. That will give us just a little bit more room to work with. The other thing you'll notice is we've jumped into modeling view is that it's automatically switched us into edit mode. We can toggle that back-and-forth still using the tab key, which is two. For now I'm going to start out by hitting three on my numpad to jump into the side view and I'm going to frame everything up. I'm also going to have outset to enable x-ray mode so I can see through the mesh. We're going to start out by mapping out the main shape of this fish. Now, something that's really important to understand is that at the moment, we've only got a few points on this mesh that we can move around. So we don't have enough detail to model this fish. You might think that we need to add in a lot of extra detail and we could do that by selecting all of the points, right-clicking, hitting sub-divide. We can keep doing that to add in more and more detail. Then we can start moving these points around to define the shape of a fish. But you'll quickly find if you start to move all of these points around individually, it's going to take a very long time to form the shape of our fish. It's not a very efficient way of working. You will also found it very difficult to end up with a smooth result, so instead, what we're going to do is keep things as simple as possible to start with. With our cube, we will hit A to select all of the vertices, then hit right-click to sub-divide. We're going to start out keeping things very simple with just the one subdivision. What I'm now going to do is start moving some of these points into place. Now, you do need to be in x-ray mode in order to select through this mesh. At the moment you can see as I drag select across that point, I've actually selected right right through the mesh. If, for example, I had extra mode turned off and I tried to select this point, see as I rotate around the mesh I've only selected that one point. I'm going to turn x-ray mode back on and start moving some of these points around. The first thing I'm going to do is actually select all of these points. I'm just going to move them across slightly. What I'm looking for are main markers where the shape of the fish changes direction. I'm moving these points so that they're roughly at the top of the fish here. These points are roughly at the low point of the fish down at the bottom here and just move these points somewhere in between the two. Then I'm going to select these points and just shift them across so that they're roughly in front of the mouth here. Drag that up and these points down. For now, we're not worried about perfectly maintaining the shape. We're just trying to move things broadly into the right place. At the back here I'm looking at the point where the fin start and that's where I'm going to move these points into place. Now, I'm going to rotate around. What you'll notice is as I'm moving around the mesh here, this reference is actually getting in the way a little bit. It's not really all that helpful when we're not in one of the orthographic views, either the side view of the front view. First of all, if we hit "Tab" to change back into object mode, we can now select our reference object in the outliner. Then if we go down to the object data properties, you'll see that we have the image here. Up above we have some attributes which define how this image is applied. At the moment, we have these check marks to show that it's visible in both the orthographic and perspective views. I can uncheck the perspective view. I'm going to do that on my Reference 1 object as well. Now that that's been unchecked I can't see the objects in my perspective view. But if I hit either the one or the three keys, I can once again see my reference. That's really handy to work on the reference this way and then move around the mesh and not have the reference getting in the way. I'm going to select my cube again. I'm going to hit "Tab" to go back into edit mode and I'm going to hit "A" to select all of the points. Now what I want to do is scale all of these in along the x-axis. I can just hit S and X to constraint along the x-axis and drag them in. Now, I'm going to switch over to the front view so that we can see how that's looking. For now I'm not going to worry too much about the exact shape. I'm just going to scale them in a little bit further on x to about here. I'm looking at this point here on the top of the head where we get a little bit of a change in direction. We'll flesh this out a little bit further later on. If I rotate around this again in perspective view, what we want to do is select some of these faces and extrude them out. To do that I'm going to change into face-like mode, so I just hit the number three on the keyboard. I can now shift select each of these front faces. Now, if I hit the "E" key, that will extrude those faces and I can bring them out a little bit. I'm just going to drop them there for now and jump back into my side view. We brought them out a bit at the back here and I'm just going to bring them a little bit further and drop them somewhere around the root of the tail here. One to jump back into Vertex select and I'm going to start pulling these other vertices into place. Again, just hit the "G" key to move these down roughly into position. You can see here I'm not following the shape of the fins at the moment. I'm only interested in the actual shape of the main part of the body and I'm actually going to bring them down to the root of that tail. I'm going to keep these points roughly in the center. We can now rotate it around and I'm going to select these front faces and again hit "E" to extrude them out a bit. In this case, what I'm going to do is drop them again at this breakpoint here and hit the one key so I can select my vertices again and move these into place. Now, I'm going to move these vertices here so I'm roughly following the shape of this mouth. You'll see why in a little while. Again, I'll select those front faces, so hit three for face select and jump out to the side. I can then extrude them out to the end of the rows. Again, we go back in to vertex, select, and start moving these points roughly into place. The other thing we need to do is have a look at this tail. Same routine applies. Select all of those faces at the back there, go back to the side and E to extrude. I'm just going to pull them back to the end of the tail and then move the vertices roughly into place. We'll add some extra detail to all of this and that's one. Now, hopefully you can see as we rotate around, I'm going to turn off x-ray. We've got the main shape of our fish in. Then we can start to create the right volume and then break it down even further. But before we do that, I'm just going to hit "Control S" to save. 6. Modeling: Refining the Form: Now that we have a main shape defined, we can start to add in a bit more detail. But before we go too far into that, I want to actually adjust the volume of our fish a little bit so it's better following the outer contours. The more that we do that with a lower resolution mesh, the easier it's going to be to create the final shape as we add in extra detail. So to do that, I'm going to hit Alt Z to go back into X-Ray mode. I'm going to start out with this tail. So I'm just going to step through and select all the vertices for that tail. Now, I'm going to hit S to scale and X to scale them in on the x-axis, to get that fairly narrow. I can do the same at the front of the fish, and now I'm going to want this to have a bit of a taper to it so again S, X, and bring that intellectual bit. I'm going to leave everything up at the top here button and select the central points because we're going to want to make things a little bit wider. So I'm going to hit the one key to get to this front view, again, S and X, to scale these points and move them out to start defining the overall shape of the fish. You can see also that we need to taper things a little bit more on the bottom. So I'm going to select through again all of those points and scale them in on the x-axis. Now as we orbit around, you can see we're getting a better overall shape. These two points here, we need scaling out a little bit, just so that we're getting a better flow of the shape around here. Now we'll further define the shape as we go along. Might do is just taper those two at the back, just bring them in also. A bit more so that we're getting a little bit of a fall off as we dropped back. I'll do the same up at the top here. Just scale it down a little bit down at the bottom. There we go. We can now start to add in some of the extra detail. So for that I'm going to hit three on my numpad. I'm going to start to better define the shape of the fish. To do that, we're going to add in some edge loops. You can do that by hitting Control R. As you move your mouse pointer around, you can see this yellow line is indicating where you're going to be adding a loop. So I'll start out just by adding one in right hand. Once you click, you'll be able to slide this edge loop around or you can just hit the right mouse button to drop it right in the center, which is what I'm going to do. Now, I'm just going to stick through the mesh again and move these points up to better define this overall shape, again down at the bottom here. In another edge loop pair, Control R. Again, hit the right mouse button to cancel the move, and just move them into place as I choose. At the back here, I think I'm going to add in two loops along this section. So when you hit Control R, by default, it's going to add in a single loop. While you've got this yellow line up here, if you scroll your mouse wheel, you'll be able to change the number of loops that you're going to add in. So I'm going to add in two loops there and again, right-click to cancel the move and then move our points into place. Then I'm also going to sub-divide this tail a little bit further. In the case of the tail, we know we're going to want that to bend as we're animating it. So what we need to do is add in enough geometry to allow this to bend successfully. So what I'm actually going to do is add in a couple of loops and then hit right mouse button again to cancel that. Then I'm just going to again, adjust that position slightly to shape the tail, given a little bit of a curved form to it, so nothing's too even. You'll see again as we orbit around, we're starting to get a more defined shape to our fish here. We obviously need to add some more detail down the sides here, but the overall shape is looking a lot better. Before we start to add in any more edge loops, what I'd like to do is add what's called a subdivision surface modifier. We'll do that in the next lesson. 7. Modeling: Subdivision Modifier: So far we've been adding edge loops to better define our geometry. But if I just jump out of x-ray mode for a minute, you can see that our fish still looks quite blocky. We could keep adding in extra loops over and over, but the more geometry we add into our mesh, the heavier scene becomes, and the more complicated it is to deform the mesh ultimately, therefore, what we can do is work with what's called a subdivision surface modifier. To do that, I'm just going to hit "Tab" to exit out of edit mode. Then we can move over to the modifies tab in the property panel. You see here under the modifiers, if we add modifier, we can move down to subdivision surface. If I click on that, you can see automatically a mesh has increased in complexity. We've got two values here, a viewport level and a render level. If I increase this viewport level up to two, you'll see again our mesh has been further subdivided. If I hit the "Tab" key, you'll see that we still have our original mesh here, it's just been subdivided within that. But if I were to select points on this mesh and move them around, you can see it's moving all of those other points with it. At any point I can go back and I can adjust this viewport level right the way down and we're back to our original mesh. This is a far easier way of working with a high res mesh. We have this low res mesh that we actually manipulate and then we can increase the detail and certainly at render time, increase that detail potentially even further to get a smooth result. The other thing you'll notice is at the moment our mesh is very faceted. If I jump back into object mode, I can just right-click and hit Shade Smooth", and it will smooth everything out for us. Now if I hit the three key to jump back into the side view, you can see that, particularly if I turn on x-ray mode our smooth mesh doesn't quite exactly follow our concept art. To modify that, if we hit the "Tab" key, we can actually select these vertices and start moving them, a little bit above our concept art so that we're actually creating a smooth shape that better follows the design. I'm just going to take a minute here and adjust some of these points until it's following a little bit more closely. As we add in extra geometry, we'll probably need to adjust this yet further. Should do us for now. Don't forget to save. 8. Modeling: Add Geometry & Mirror: The next thing I'd like to do is add in a bit of extra geometry to define the shape of the side of the character. To do that again, I'm going to use the edge loop tool. I'm going to hit Control R again using my mouse scroll wheel, I'm going to add in two edge loops here. Right-click to confirm. Then going to do the same at the bottom here, Control R, scroll up and add in to actually to the bottom. You'll notice we now have roughly square faces throughout this mesh. That's really useful when it comes to both texturing and deforming the character. You end up with shapes that are too deformed from basic square shape, you can end up with some stretching within the mesh or within the textures that can be undesirable. Wherever possible, work with roughly square shapes. Now, throughout the body, you can see our geometry is fairly even. But we've actually got a bit more geometry down at the front hair than I really want. What I'd like to do is get rid of some of this, but still keep the extra detail at the back here where we need it. To do that, what I'm going to do is start merging some of these points together. Now before we start doing all of that, what we're going to do is actually split this mesh in half. I'll show you why in just a minute. If you hit the one key on your NUMPAD, what we want to do is actually select half of this mesh. What I'm going to do is drag Select over all the vertices to the left side of this mesh here. Making sure that I've got everything on the left side but nothing in the middle here. Then I'm going to hit X and delete vertices. Is worth actually checking out that you've not accidentally deleted anything that you shouldn't have. That looks like I've got half of the fish, as I'd like. I'm now just going to jump back into object mode on the top key. Then if we go over into our modifiers panel, we can add what's called a mirror modifier, which we did just here. If we do that, you can see it's added the other side of the fish back in again. That's because it's reflected across the x-axis here. If for any reason your mirror is not working correctly, maybe that your axes are set up incorrectly. It's doing something like this. Well this, just adjust that until you've got the correct axis selected. Now if we hit the Tab key, you can see that by working on just 1.5 of this mesh, if I move the points around, anything I do is mirrored over to the other side. Now that we've done that, set, I want to reduce some of the geometry in here. What we can do is we can select some of these vertices and I need to select them in the correct order. I'm going to select that first one, the second vertex, and then the third one. I'm going to collapse all of these down into that single vertex at the bottom. You can see that final one is selected, it's in white. Now if I hit M, that will allow us to merge. We have a number of different options here, but if I choose, At Last, I know that that will merge down into that final vertex that we selected. If I click that, you can see all of those vertices have collapsed down and we kept the location of that bottom vertex. I'm going to do the same just here. Again, selecting an order M, At Last, let's collapse that down. I'm going to the same thing just here as well. M, At last, and let's collapse that down. Now, you'll see that we've reduced the amount of geometry at the front here. We've evened that out a little bit. But at the moment you can see that we've introduced the star point here. It has a lot of different edges radiating out from it. We actually have two faces here which are triangles rather than the quad shapes that we've got throughout the rest of the mesh. Now, because these two are triangles, what can actually do is go into Edge mode and just select this one edge down the middle. I'm going to right-click, and then I can choose Dissolve Edges that will remove that edge but leave me with one face, which actually has four sides. If I just go back into vertex select, I can grab that one point and just move it back a bit. You'll see that we actually have a chord shape here. By doing this, we're creating a flow of faces that comes around the bottom, comes up, and over the top of the nose there. Then we have these separate faces on the front here. This is something that you want to think about generally as you're creating your mesh. You can see here that I shaped these points here to follow the shape of the mouth. Jump over here and you'll see that a little bit better. The reason is we're actually going to create extra geometry in here to define the shape of that mouth in more detail as we go on. If we weren't paying any heat to the shape of these underlying features, then it'd be very difficult to add in the extra geometry. Now that we've reduced the geometry in here, I actually want to add in one for an alleged loop around the nose here. Just going to hit Control R, to add that in click to confirm, and right-click to stop that sliding. That just gives us a bit of extra geometry to help shape this nose a little bit better. Let me pull these points forwards. These ones under the mouth, I'm just going to drop down a little bit further because as I say, I'm going to add in some extra geometry here and as well pull that back a bit to help to find that shape a little bit better. Here we are. 9. Modeling: Refine Volume: Now that we have all of this extra geometry in place, it's worth taking a look from the front and seeing how things look. Because at the moment we haven't adjusted the volume at all from the side. We're going to want to push some of these points out. It's slightly easier to do that by looking at the perspective view here. You see we've got quite a flat side to it here. What we can actually do is holding down the Alt key and clicking on one of these edges will select the entire edge loop. With that done, we can actually scale these out from the center. What I want to do is actually just checkup at the top here, my transform pivot point. If I change that to be the 3D cursor, which is right in the center of the three axes there, then I'll be scaling out from that 3D cursor. If I now hit S to scale an X, that will actually allow me to scale these points out away from that center point and better define the outside edge to the fish. One thing I should note here before we start moving things around too much, if I select one of these points along the top here and hit G to move, I can actually break this measure part. If I just right-click to cancel that move. If we go over and have a look at this mirror modifier, we have an option here called clipping. If I enable that, and now try to move that same point by hitting G, you'll see it stays stuck to the center. That means we can't ever introduce a break into the mesh there. I'm just going to hit right mouse button to cancel that move, but that's an option that's worth leaving on. I'm now going to Alt-click on this edge loop here, and again S and X to scale this out, again, to introduce a bit of volume into here. I'm just going to jump into the front view and see what this looks like. Say S and X, I think I want to pull that in a little bit, and then I want to just let my next edge loop real quick and scale that one out a bit more. I'm just trying to get this oval shape. I'm going to select some of these vertices at the top here now, and I'm just going to move them in and down a little bit to help better define this shape. Again, moving around can help with this. What we want to avoid are these flat planes across the top here. I'm actually going to select a number of these points and I'm going to just go into the side view and bring them down a little bit. It will help to round out the form. When you choose the same at the back here, you can bring them down, doing in a slightly more rounded shape. We'll do the same along the bottom. You select each of these points. Of course, the bottom here just shifts left, and then I'm going to nudge them up a little bit. Just under the chin, here again, same thing. That really helps to round out the form. Now not seeing here one of these points feels like it's pushed in a little bit too far, and this one is not pushed in far enough. So anything like that then you see you can go in and tweak the shape. We're looking around the form to try and create smooth curves, to define the shape of this fish. The more you move around in perspective view, easier is to see that shape. Look here from the front, I think I can afford to select some of these points, just nudge them in a little a bit then create this shape that we've got here in the concept art. I think what I'm actually going to do is select all of these points down at the bottom here, and again, scale them out in X a little bit further, same as for this, gives us a bit more volume at the bottom here to better match the concept toad. There we are. Rounding out that not slightly, I quite like the slightly squared-off but soft shape that we've got there. I didn't want this to be too square from the front, so bring some of these points in a little bit. There we are. Don't forget to save. 10. Modeling: Final Body Adjustments: We're almost ready to start adding in the fins. But before we do that, there're a couple of things that I'd like to address first. First of all, I just like to change the order of the modifiers that we've added onto this mesh and I'll show you why. If we rotate around the mesh. If I select one of these points at the top here, you'll see as I move that in, we creating a really sharp point at the top here. Now, the reason for that is because the order that these modifiers are applied in Blender affects the end result for mesh. At the moment, because we're working on half of the mesh, we're actually applying this subdivision modifier to half of the mesh, and then we're mirroring that result over to the other side. If we grab this little icon here and slide our mirror modifier up to the top, what we're now doing is we're mirroring our mesh over to the other side, and then we're applying the subdivision modifier over the top. What that means is if I move this point now, we get false me the fall off on the deformation of our mesh. This better approximates the end result that will get once we've removed the mirror modifier, and duplicate our mesh over to the other side. The other thing that I'd like to adjust is the shape of the mesh at the back here where the tail joints. You can see if we jump into the side view that we really need a far sharper crease just in here. In order to achieve that, what we need to do is add in an extra edge loop. If I hit "Control R", I can actually then slide this down much closer to the edge loop at the end of the body. You can see by doing that, that gets rid of the stretching at the top, and bottom of the mesh. I'll say, what we were adjusting, the points on the top and bottom of the mesh. We didn't adjust the shape of the tail, so I'm going to do that as well now. I'm just selecting these points at the top here, going into the side view, and just pull them down a little bit. We'll do the same at the bottom. We're going to lift these points up, and where we're about it. We should do the end of the tail, just preliminary squared. That would just better round out the form here, give them more natural feel to it. Actually just going to adjust some of these points a little bit here as well. Once again, just adjust that shape of that tail slightly better matches the concept. Here we are. 11. Modeling: Dorsal Fin: We're now ready to start adding in our fins. If we go into the side view, you can see that because of where we place this geometry originally, we now have three faces on the top here that we can actually extrude out to create the shape of this fin. In order to do that, I'm just going to rotate around and select these three faces here. I'm hitting three and face select to just select all of those faces. Now if we were to just extrude these out, the fin will be extremely wide. What we actually want to do is add in a little bit of extra geometry here through the middle of these faces. But we still want to obviously keep our quad shape faces, what we do say. To help with that, we've got a tool called the insect tool, which you can activate by hitting the I key on your keyboard. When you do that, as we slide the mouse, you can see it's adding an extra face in the middle of the existing faces. Obviously, we don't want two fins side-by-side, we want this extra geometry to be added right along at the center edge. What we can actually do with this tool still active is hit the B key, B for boundary. That now means we'll be insecting towards that central boundary. Now just be aware because of the shape of these faces, if you move this too far, we're actually cutting through the mesh down at the bottom, close to the tail there. I'm just going to keep this a little bit larger initially. I'm going to click that so that we're not creating any bad geometry down at the bottom. Having done that, what I can now do is going to vertex select mode. I'm going to select these vertices across the top here, these three. Now we can hit G to grab, instead of just moving them freely around, if we hit G the second time, that will allow us to slide them along an existing edge. We can actually slide them closer to the center there. Just let these to the top and do the same with them and slide them a little bit closer still. There we are. What we can also do is slide these a little bit further down. With that done, I'm now going to head back into Face Selection and select those three central faces and hit E to extrude them. Just bring them out away to start with. You can see because of the angle of the faces, they're actually growing wider as we've extruded them out. To resolve that, I'm just going to get back into Vertex select, hold down Alt and click this one edge which will select all of those vertices, S to scale, and X and we scale them in towards those central points. Having done that, I can hit three on the Numpad and we can start to shape this fin. I'm just going to roughly pull these points into place. I'm not going to get it too tight just yet because we're going to add in a little bit of extra geometry as well to help. With that done, I'm going to hit Control R to add in an edge loop, just drop that in the middle. Then again, we can start moving these points around to fully define the shape of that fin. Looking fairly good. Bring these points down in a little bit. Orbit around and see what we've got. I'm just going to hit Alt Z, that turns off x-ray mode, we can better see the shape of our fin here. I was a little bit pinching down at the bottom here, so I want to move some of these points around slightly. I'm just going to hit Alt Z again so that you can see through what I'm doing. I'm just going to tweak those slightly. We have a slightly smoother fall off at the back here. I think that will do it for now. We can nudge these points back ever so slightly. We have got a little dip in the mesh here that we didn't really want. Always trying to keep a nice smooth shape. [NOISE] 12. Modeling: Anal Fin: Now we can just go ahead and repeat the same process for the fin on the bottom. Again, we're going to select these three phases, of course, the bottom here, get back into x ray and side side view here. Again, they nicely match up with the base of a fin. That's why we're very careful to put in those edge loops in the right place, in the first place. Once again, we want to insert these phases. Just I to insert. We still got the boundary mode on. Again, B will toggle that on and off. I'm going to click to drop that. Again, we'll go to vertex select, I'm going to select these three vertices, G and G again to slide. I just want to in a bit further at the front, this one too. Again phase select and I'm going to exclude this out. Click on the edge to select just those vertices and scale them in on x. Then again, we'll jump into a side view to shape the fin. General shape first, which we can then refine further once we've added in the extra edge loop. Control R to add that loop. Well, what I might actually do, I'm going to undo that. I'm going to hit Control R and add in two loops here. Because we ultimately want to be able to deform these fins having the extra geometry will be helpful as well as helping us to better define the shape of the fin just here. I'm going to pull these vertices in, it's looking fairly good as an oval shape as to get to lumpy at the front here. I'm just going to pull some of these vertices back, rotate around, see how that's looking. I'm going to hit Z to toggle the x-ray mode and see this is slightly pinched here. Sorry, I just want to adjust this a little bit. This point, after that all trying to get a smoother fall off of the front of that fin. Helps a little bit. Then, what we'll also do is add in an extra edge loop up at the top there, on that top fin. Then Control R is going to drop that around there, then I'm going to only click on the edge above, hit G and G again, and that will let me slide that edge G up a little bit. Now we can, again, better define the shape just by moving these vertices around a bit. That will give us an extra bit of geometry in here which will really help with that deformation when we actually want to animate the fish later on. Spacing these vertices out a bit more evenly, move it around, that's okay. I'm feeling these points are a little bit high so I'm just going to tweak them down slightly. What I want to actually do is just bring them down the back a little bit here. Getting a smoother flow to the edge here. Slightly better define that shape. Probably do the same at the bottom here as well. Just note these back around a little bit bring this down towards the backslash model. That should do it stuff. 13. Modeling: Mouth: The next thing that I'd like to do is start to define the mouth of our character. First of all, what I'm going to do is slightly adjust these points around the mouth to better even them out, because we're actually going to add some extra geometry in here. I'm tweaking these down a little bit to give us a little bit of space in here. Now, the next thing I'd like to do is actually select all of these faces around the front here. Setting right Right to the front of the nose there, and then we're going to insert these. Again, we're going to hit "I" to insert. Again, just double check that you've got boundary mode on this one to go right through to the other side. Now I'm going to pull this in quite a bit. Just click to create the geometry there. We're going to move some of these points around , tied it up a little. It's going to move some of these points around a little bit. I'm trying to create the basic shape of this mouth here. I'm going to keep this fairly even. You can see here we're creating a little bit of a lip in here, which is good. I'm going to pull these points to the front, just back a little bit. To better define that chin shape, I'm just going to nudge these down a little bit as well, get a better shape to the front, which is that. Now with that main mouth shape defined, what we can do, and again, go back into our face select, and I'm going to select these faces one more time and again to insert them even further. Again, I hit "I| to insert. We go down, and we actually want to push these into the mesh a little bit. What I'm going to do is hit "S" to scale them in a little bit. Again, go in and tweak this further. We can either use vertex select or we can actually go in and select individual edges here as well and move those around. Just trying to get a little bit of a recess in here. Putting edges in, pushing them up slightly as well. If I turn off our X-ray mode, you can see we've got this nice crease shape here now defining our mouth. Now, it's a little bit pinched around here like a little bit more of a cheek shape around here, so we can try and pull some of these points around again a little bit. Actually take this and lift it up and push it out a bit more. Maybe take these points here. Just X-ray mode back on, and pull them in a little bit further as well. Just moving around the mesh, having a look at it from all angles. Turn that X-ray off again to see if it's giving us the shape that we like. I think overall that's working fairly well. I might actually take couple of these points here and move them out a little bit. Let's brighten up our lips slightly. Maybe nose these out and down to round out the top of that nose. I'm going to bring these points on the chin in a little bit as well, just to get a bit variety so slightly pulled in underneath the chin here. I think that will do. 14. Modeling: Pectoral Fin: With our main body defined, what we now need to start to do is take a look at the other fins. Whilst we could extrude them out from the main body mesh, what I'd like to actually do is build them as separate objects. This will give us a lot more flexibility when it comes to animation. Before we do that, I'm just going to go up into the Outliner and select our cube, which is actually our fish body, and hit "F2" to rename it, and we'll just call that body. I'm going to hit "Tab" to exit edit mode. Now we're going to create a new object for our fin. We can just hit "Shift A," and I'm going to start out again with a cube. We can scale that right down to a slightly more sensible size to work with, and I'm just going to go back into our side view here for a minute and enable x-ray mode. Now, what I'm going to do is just move this cube until that origin point is somewhere around the base of the fin, somewhere around here. Then I'm going to jump into edit mode. Now, you can hit "8," select all of the vertices, and I'm just going to move them of over here to start with. Next thing I'm going to do is move these vertices to create the overall shape of the fin from the side here. Again, we're going to add in a lot more geometry as we go. I just want to create a basic shape to start with. I'll now hit "Control R" to add in a net loop. Again, just use the scroll wheel to add in some extra edge loops. In this case, because we're going to be deforming this object, I'm going to actually go ahead and add in four edge loops. Right-click to leave them in place, and now we can start moving these vertices around to where we want them. I'm just trying to rough in the overall shape of the fin and trying to keep my edge loops evenly distributed along the length of this fin here. I'm also going to add him one edge loop down the middle here, and just move these points on the end of this part. Obviously we've been working on the one side of it, so you can see it's far too wide for a fin. I'm just going to scale this down in x until it's much smaller. Around there should be fun. At the moment you can see I'm leaving this in the middle of our fish. That's fine. We can even turn off the visibility of our body so it doesn't get in the way. If we jump back to our side view, we can actually see what we're doing. Before I go any further, what I'm actually going to do is hit "Tab" to get back to object mode. We're going to again add a subdivision modifier to this. Now we can go out through the menu and add our modified there, or just with the object selected, you can hit "Control and 2" on your keyboard, and that will actually add in a subdivision modifier with two levels of subdivision. Again, if I go back to our side view, you can see this is squashed it down a little bit, so we go back into edit. We can move these vertices round again just to better define our shape. [NOISE] Now the other thing that I'd like to do here is to add in some extra geometry at the end here. I'm going to select this face on the front and I'm going to extrude it out. I'm going to do that a couple of times to give us a little bit of extra geometry to work with. This geometry here we're just going to bend round and push into the body so that we have the impression that the fin is actually connected. Again, just moving some of these vertices a little bit further. Creating a nicer shape to our fin. [NOISE] The other thing that we should do, just hit "Tab" to get back into object mode and right-click and shade smooth just to get rid of that faceted look that we had to jump through before. Now that I'm happy with the overall shape, I'm just going to once again hit "Tab," and then we'll select these points at the front here. What I'm going to do is just move these slightly in x to create this bend that we want here and rotate those points. We choose medium point, rotate around z, you can rotate those. Then I'm going to select this edge loop just with clicking on the loop, then again and rotate those in z, so we're keeping up that volume as we bend around the corner here. I think I'll also do is just select that face on the end there and just extrude it one more time, just to short distance. Just to give us a more solid end here, and subset, that sloppy. There we are. We tap back out into object mode, and we can rename this object. I'm going to call this fin_r, for the right. Let's bring up body back into place. I'm now going to take this fin and I'm just going to move it in x out to the side here somewhere. It's roughly in position. Then what I'm also going to do is just rotate this on the z axis slightly. If we go to our front view we should be able to see it here. Let's move this back in. Again, I can rotate that on z, better matches our reference. Now if we jump into the side view, you probably see here that our fin slightly shorter because it's rotated. I think what I'm going to do is just select everything. We rotate round to the top here. We can actually scale this along its local axis by going to Local, then scale it, you can see I can constrain my scale to the y-axis here. I'm just going to scale it slightly on the y till it better matches my reference there. Now we jump between the two views, just go out of edit mode. You can bring it a little bit closer, and can always rotate this slightly in as well to help from the front view. There we go. We have our one fin in place here. In fact, if I turn off x-ray mode, what you'll see here is as it's coming into the body here, the geometry has being cut off, extra pieces bent around inside. I think I'm going to move this ever so slightly further out, and change back to global, and then move it on the x-axis slightly. Then what I might actually do is rotate it slightly as well. Rotate it slightly on the y-axis and that will better align it to the shape of the body here. Here we are. 15. Modeling: Duplicating the Fin: I'm happy with that now, so what we can do is actually duplicate this frame. To do that we can hit Shift D and that'll give us another fin here. I'm just going to right-click to leave it in place and go to the outliner and rename it. We just change this to fin on score L for the left. Now if you hit the N key, we can open up our transform panel here. One nice feature in Blender is that we can actually just roll over one of these values. So in this case, its X location, and I can just hit the minus key, and it will mirror it across. So we now have a negative value for our X location here. The other thing we can do is to scale it on the X-axis with a negative value. Again, I'm going to roll over X minus and we've scaled it in X. We also need to do the same with our rotation because we rotated it around the Z-axis. So rollover there and hit minus there, and that should pop it out the other side. In fact, we also need to add a negative rotation on the Y because we'll rotate it in Y as well. There we are, and that should match. Now one thing you might notice here is our scale values are not set to one. We select our body mesh, all of our scales at one, but our fins are not, because we scaled that cube down initially and we didn't reset the scale. Now that can lead to problems later on, so it's always worth resetting this. To do that we can hit Control A with the object selected and then apply scale. That will reset everything to one, most leaving the object as it is. We'll do the same on the other side, Control A apply scale. Once you've done that, you can save your scene. 16. Modeling: Pelvic Fins: We're now ready to add in our two remaining fins. Before we do that, I'm just going to hide all of our other geometry, jump into our side view, and we'll add a new object to start from. Once again, let's just add in a cube, we can S and scale this right the way down and move it roughly into place. Hit "Tab" to go into edit mode, Z for X-ray, and then once select my vertices. Now I'm going to scale those down still further. Move them roughly into place. I can just select these bottom ones and skew them across a little bit to the right basic shape, and then we'll add in an edge loop, control R to the middle there, and one more across just like that. Select everything, and we actually want to scale this down again. S and X scale is right in, it's quite narrow. Three again, and let's hit "Tab" to get back to object mode and I'm going to hit "Control 1" in this case, to add a subdivision modifier with a single level of subdivision. Because this is quite a small object, that would probably be sufficient. I'm going to turn my Render subdivision level down to one as well. I'm going to hit "Tab" to go back in, and again, let's move some of these vertices around into place. As we did previously, I also want to take this face at the top here and extrude that out. I need to extrude, and I can just offset that a little bit and rotate it around, and I'm going to do that again. We got a little bit more geometry to work with. I'm going to hit "Tab" again and right-click and shade smooth so we can see our shapes moving down. Now, it's looking slightly faceted so I think I will bump that subdivision back up to two. It's a little better. I can start viewing here. Just going to tweak these points slightly further, just a Some bit more. Volume here. Otherwise, it's looking fairly good. I think that will do us. As we did before, I want to take these vertices and just move them across a little bit. I'm just going to move them along the x-axis. This is what's actually going to end up poking in through the main body of the mesh. I'm going to get back to object mode. I'm going to enable both my other geometry and then we can move this fin into place. Now, I'm just going to hit one and move this across on the x-axis. Now, make sure we're in roughly the right place. I think we can afford to move that in quite a bit on the x-axis and will actually rotate it out a little bit I think, so I'm better matching this angle. I'm going to hit "R" twice to free rotate it out a little bit. Move it roughly into position where I would like it. Check from the side again a little bit high, down and rotate that a little bit. I don't want it to be cutting into the geometry if I just hit Alt Z. It's clipping in slightly here. Let's just rotate it a little bit further. Something more like that. Looks good. It matches up very well that. I want it a little bit lower than we were in the reference there. Not to worry. Maybe nudge it out slightly, split the difference. There we are. Again, we need to apply the scale. Hit "Control A" to apply that scale. I'm going to rename this. I'm going to hit "F2" and actually rename this to overcome, to score R. These are the pelvic fins of fish, and I'm going to duplicate that, shift E, right-click to cancel the move, and let's rename that pelvic left. Again, we can mirror this across to the other side. Once again, we're just going to roll over our X location value, hit the minus key, and then we can do the same with our X scale. Scale it across, and then we need to do the same with our rotation. Our rotation in Z needs to be mirrored, and then our rotation in Y will need to be mirrored as well. Because we've got this negative scale value here, again let's just hit "Control A" and apply that scale. Those are our fins complete. Just hit "Control S" to save. 17. Modeling: Eyes: The final thing that we need to model are the eyes. There are a number of different ways of doing this. But for this stylized approach I've chosen for this character, we're going to actually work with flat planes. I'm going to go to the side view. Again for now, what I'm going to do is turn off our body geometry so that it's not getting in the way at all. I'm going to hit Shift A and I'm going to start out with a plane. Now that's created a very large plane. Let's scale that down, and go back to our side view. It's also obviously rotated on the wrong axis. We can just hit R Y 90, and that will rotate it around the Y-axis 90 degrees. We can now move that up roughly into position. I'm also going to rotate it so it better aligns to the orientation of the eye, hold Z so that we can see through it. With it selected, let's hit Tab to enter Edit mode. I'm going to need a bit more geometry in here obviously to create the shape of the eye. I'm just going to right-click and hit sub-divide. Now I'm going to select each of these points on the outside. Then just going to make sure that I'm on median point here for my pivot point for the scale and hit S to scale. That will scale them all in. Now I'm going to hit A to select everything , just local orientation. Now, I'm going to hit S to scale and constrain that to the Y-axis so that I can squash it in. I'm going to scale out everything slightly larger because once we sub-divide this again, we're going to shrink everything down a little bit too much. Now with all of the vertices selected, I'm going to sub-divide this one more time. In this case, I'm just going to select these, points here. I'm going to scale them in slightly, to round out that shape. Hit Select everything, just get it up slightly. Nudge it slightly into position. Hit tab. Again with this object selected, I'm going to hit Control 2, to smooth out when the subdivision modifier. Now I'm not going to worry too much about the exact shape of this at the moment, and you'll see why in a little while. With this object selected. Let me go and rename it here in the outliner. I'm going to call it Eye_. Now what we're going to do so that we can see this is we're going to add a basic material to it. I'm going to go into the materials tab. I'm going to hit New, to add a new material and I'm going to rename this to, EyeWhite. For now, all I'm going to do is change my base color and I'm going to move it up just to a pure white color. What now I'm going to do is duplicate my eye. Right-click to cancel the move. Now I'm going to hit G to move, and I'm going to move this over so it's centered where the pupil will be. I'm going to hit S to scale this object down a bit. It's overlapping with where the pupil should be. Don't worry that at the moment it's overlapping, I won't. We're going to fix that in a minute. But what I'd like to do now is with this selected, let's rename it first to Pupil. I should rename that to Pupil. Then here we need to actually create a new material. This number 2 here indicates that at the moment the eye white material is applied to two objects. If I just click on that 2, we'll create a copy of that. We're going to rename this to Pupil. I'm going to change my base color here. Just click on the color and I'm going to change that to pure black. Now at the moment, you'll see we can't actually see those colors because everything at the moment is flat-shaded in gray. What we actually need to do if we want to see them within this viewport, is we need to change the Viewport Display color. Down at the bottom of the materials tab here we have Viewport Display. You can see our color here. Let's delete default. Let's move that down to black for the pupil. If we select the eye up at the top here, we can do the same here and change that to be fully white. The next thing I'd like to do is select both of these objects. I'm just going to move them off to the side here. They're away from the body of the fish. Let's enable the fish body. What we're going to do is use a shrink-wrapping modifier to actually stick these onto the side of the fish. I'm going to move them so they're relatively close, but not actually touching the fish. I'm going to offset the two from one another for now. We can turn off our X-ray mode. Now we going to select our eye and we're going to go to the modifies tab. We're going to add a modifier here. In this case, under the deform section, we want to get down to shrink-wrap. Then we need to target object. We can click on this little eyedropper here, and then we can click on our body object and you can see it's moved that mesh cross and it's stuck it on over the surface of that body. The moment it's intersecting slightly. We can fix that. First of all, what I'm going to do is just select the fish, so that we can better see the difference in the color. I'm going to change the base color on this fish. For now, I'm just going to change it to yellow color. I'm going to roll over this color here and hit, Control-C, go down to our Viewport Display, and hit Control-V. Now we can better see the difference and the colors. I want to re-select my eye. We need to change the settings here within the modifies tab on our shrink-wrap, so that it's no longer intersecting. We have a number of different options here which define exactly how our object is shrink-wrapped onto the main body of the fish. The ones that we need to look at are the snap mode and think for that, picking above surface will generally yield a better result in this case. What we also need to do is look at this offset value and we can just increase this slightly. Number one at the moment is sufficient to push that out. You can see at the moment that we've got quite a faceted result. Now there are a couple of things that we need to do to help resolve this. First of all, again we need to apply our scale. Let's hit Control A to apply our scale. We'll do that with the pupil as well. We're about it, apply our scale. Now back to I worked here. Again, we've got the order of modifiers to think about. At the moment our object is being subdivided and then it's being shrink-wrapped on. We can have a look at the way we do this. If we switched these over and have a shrink-wrapped first, you see we actually get a far cleaner result to the edge of our mesh. But we're intersecting more. We can look at our offset again here and just by increasing that slightly, we can move it out of the mesh there. That's looking far cleaner. Let's also right-click on here and hit shade smooth just to make sure we don't get any faceting. Now we're going to switch over to the pupil and do the same thing. Again, let's shade smooth on that. We're going to add a shrink-wrap modifier. In this case, we're going to pick the eye white as our target. You can see it's now clipped it to the edge of the object, this Shrink-wrap tool which is really handy. In this case, we can leave on surface as our snap mode just once again increase that offset. Now we have a slight trade-off to make here, because with this shrink-wrap after the subdivision, we've got this rather jagged result. But we do have a clean edge to it. If we drag this up above the subdivision modifier, we get a far cleaner result but we don't get quite as clean an edge. We increase the offset on that again, so it's not intersecting. You can see the result. It's up to you which way you want to go. We can actually have a look at adjusting the number of subdivisions within our mesh. Sometimes increasing them can help us, but it's still not resolving the issue fully. If we increase the subdivisions of the object it's intersecting with. Again, that's given us a slightly cleaner result again. Actually, if we're far enough away from the fish, we're not going to notice any of those little imperfections there. It's up to you whether you want to keep that look or if you swap these modifiers over and you just have a slightly different look to the shape of your pupil. What I would like to do is adjust the shape of these objects now because if we hit 3 and let's hit Alt Z, you can see that now that we've shrink-wrapped our object, it's actually quite different in size to the original. I'm going to select my, EyeWhite to start with. I'm going to hit, tab. Now, I can scale this to try and adjust the final shape that's shrink-wrapped onto the surface. I'm going to scale the whole thing up a little bit and move it around a little bit until its more or less lined up. We can even rotate the object itself slightly, to help. Let's have a look at our pupil. Again, we're going to need to, scale it a little bit. I'm scaling it out on the Y-axis. Let's move it around till it's more or less lining up. Again, if I move around here, you'll see that we are inserting a little bit again. If I select that, again, have a look at my offset, I can push that out slightly to resolve that issue. That's a little bit closer to our original concept. Now, we can try swapping those modifiers over and you can see how that looks. The benefit of using the shrink-wrap modifier, is that now if I select this pupil and I move it around, you can see as it gets to the edge, it just cuts out wherever it happens to be. Obviously, we can see we're revealing that white and there's a bit of a gap there so I need to select that EyeWhite again and just push that a little bit further still. That's giving a clean result. I think I'm going to swap this back. I think that's going to give us a better result overall. Jump out to the side. The one thing I'm not so keen on is the shape of that pupil isn't looking quite right. I'm just going to try and modify that slightly. Just feeling a little bit too square for my liking. Round out slightly more. There we're. When you're happy just save your scene. 18. Modeling: Parenting Objects: The final thing that we need to do for our model is to duplicate our eye. So for that I'm going to select my eye and my pupil. I can hit Shift D and then just right-click to cancel the move. I'll select my eye and F2 to rename that to eye left. We can roll over its x location value. Hit minus key, and that will mirror it over to the other side. We're going to do the same now with our pupil. So let's find our pupil, rename that to pupil left. Again, we're going to hit the minus key over its x location to mirror it over. Now we have the same on both sides. At the moment all of these parts are separate. If I select my fish and I move it around, everything else gets left behind. The eye swims over the surface. We don't want that obviously. So what we need to do is to parent all of these objects to our main fish body. So what we're going to do is we're actually going to parent our pupil to our eye. We can do that by selecting the pupil first. Let's shift select the eye white, hit Control P to parent and set parent to object. Do the same on the other side. Select the pupil, shift select the eye white, Control P, Object. Now we want those two eye whites. So we can select both of those. Shift select the body, Control P, parent to object. So now as we move our fish around, the eyes follow. Do the same with the fins. I'll set all four of those fins. The final object that we select is our body and we hit Control P, set parent to object. I have to make sure that the final thing we select is the thing that we want to parent to. Then as we move around, everything will follow with it. You can see up here in the outliner, now we have our body of our fish. If we roll that down, we see our other objects underneath. We see our eyes and all of our fins, underneath each of the eyes there's a pupil. That shows the hierarchy relationship between these objects. Then hit Control S to save. 19. Texture Painting: UV's: With our fish model complete, there are a couple of things I'd now like to do. First of all, to keep everything tidy, I'm going to right-click on my body and click "Select Hierarchy". That will select all of the objects within our fish model. Now I'm going to roll over the outliner and hit "M" to create a new collection. I'm going to call this fish, hit "Enter". What that means is we can now toggle the visibility of our fish quickly and easily if we want to. The other thing we're going to do is version up our scene. Let me hit "Save As" and just hit this plus icon next to our scene file name or add version 2 and hit "Save As". That means we'll always have a version to go back to if anything goes wrong. With that done, I'm going to de-select my fish and hide it because I wanted to explain a couple of things before we proceed. We want to paint an object, we first of all need to define what are called UVs. Now this lets us essentially unwrap an object to make it possible to paint it. To help demonstrate that, I'm just going to add a basic cube to the scene, and I'm just going to move out a little bit. When we want to paint this object, blender needs to know exactly what we're painting onto. If we go over into the UV Editing Workspace, we can see, if I, again, frame this up a little bit. With our cube selected let's hit the "Tab" key to select all of the vertices. You can see here, our cube has been unwrapped, and this is done by default for us with a basic objects like the cube. This is a flat 2D representation of our object as if it was a 3D box that had been unfolded. For now, I'm just going to go back into object mode and remove that. If we enable our fish collection here, I'm just going to frame that up again with a period key. Still in the UV editor here with my mesh selected. If I hit the "Tab" key and "H" to select all of the vertices, you can see this is something of a mess in here. Because we started out with a cube, and we extruded it and moved all of our geometry around. This isn't giving us a correct unfold of this particular mesh. What we need to do is to create a set of UVs for this fish. There are a number of different ways that we can do this. To start with, with the whole fish selected, we go up to the UV menu up at the top here, we have some different options here. We can create what are called different projections, so we can project in different basic shapes around it. We have this smart UV project. We have some other unwrapping options. For now, I'm just going to hit this Smart UV project and just hit "Okay". You can see what it's done here. We have the basic shape of our fish from the side, but we have a number of other separate portions. Now, we can paint onto the fish and the color will appear on all of these different parts. But with it divided up like this, it can make it slightly more awkward for us to work with. But given the design of our fish, I'll just hit the "3" key on our Numpad, you can see this texture, doesn't really require lots of detail up at the top or the bottom. What we really want is just to be able to paint one side and essentially have it show through to the other side and be a mirror image. We can actually do that with our fish selected, and our view sets the side like this. If we go up to the UV menu, we can actually hit "Project from View". If we do that, you'll see our fish appears here. If instead, we select "Project from View (bounds)", you'll see it expands out to fill the whole of this space here, but it does introduce some stretching from top to bottom. Whilst that makes good use of our space here, instead what I want to do is change it back to project from view. Then I want to scale this up so that it fits the whole viewport. We can select everything here and just hit "S" as normal, and we can just scale it up until it fits more or less within this space, and that should be sufficient for us. Now that our UVs for our body are defined, we can take a look at the UVs for our fins. I'm just going to hit "Tab" to exit it out into object mode. We don't want to duplicate work, so I'm actually going to work on just one fin, and then we'll re-mirror that across to the other side of the body. I'm going to select my right fin. I'm going to hit "Tab." Again we can just project from view. A in this viewport and S to scale this up, so it's about your size. Again, that should do us. Finally, let's tap back into object mode, select our pelvic fin, hit Tab again, I select everything, and again, we will project from view. Let's just scale that up a bit. Tab to go back to object mode. The other thing that we should do, and I'm just going to flip back to our modeling tab for now. Because we want to duplicate these over to the other side, keeping those UVs that we've just defined, what I'd also like to do is properly set up the materials for each of these objects so that those materials are mirrored over as well. For now, let's hit the Materials tab. Let's hit "New". We're going to name this material so let's call that pectoral fin, and for now we'll just give it a white base color. Go down to the bottom here, again, hit "New" and let's call this pelvic fin. In this case, I'm going to copy the material color that we had defined here on the body. I'm going to hit "Control C", select my fin, and hit "Control V" to copy that in and will duplicate that onto the viewport display as well. I'm just noticing my main body material is just still defined as material, so let's rename that to fish body, and we've already defined materials for the eyes. With that work done, we can now actually duplicate these fins back over to the other side. I'm going to select these two fins and hit "X" to delete them. I'm going to select my pectoral fin here on the right, Shift D to duplicate, right-click to cancel the move. We'll mirror that in X just by hitting the minus key over the X value. We're going to scale this in X, and we're going to mirror the rotation in Z and on Y. That should do and hit "Control A" to apply our scale. Did the same down at the bottom here. Shift D, right-click to cancel, or an X, scaling X, and then our rotation on the Z and Y-axis and Control A to prior scale. Now if we take a look in the outliner, you can see that these fins have inherited the position in the hierarchy of the objects that we were duplicating, so they're already following the fish if we move it around. All we need to do is rename them. Hit 'F2". Just adding a left on each of these. There we are. Now all of our UVs are properly defined, and our hierarchy is setup correctly here and save our scene, and we should be ready to start texture painting in the next lesson. 20. Texture Painting: Main Body: Now that we're ready to start texture painting, we're first going to select the body mesh for our fish. Then we're going to jump over into the texture paint tab. You'll notice a couple of things. First of all, our body obviously looks pink. That is because no texture is currently defined. We can also see on the left here all of the UVs that we defined for our fish. That's going to be important because that shows exactly where we're painting on the fish in a 2D form. The first thing that we need to do is to define a texture. This will be separate image file that will save separate to our blend file. Not with a 2D texture that is being projected onto the fish using the UVs that we defined earlier. Over here on the right in our properties' panel where it says no textures, we've got a little plus icon there, so we can hit on that. We can start adding texture to affect different properties of our material. The one we're interested in is the base color. The name of our texture here is defined by default as fish body-based color. We can leave that as is, then we can adjust our size of our texture. I'm actually going to double this. Take it up to 2048 for both of those values, and we can pick a default color. For now what I'm actually going to do is I'm just going to set a mid gray tone. This will be the background color of our texture. Then we can just hit okay. For now you can see that everything has changed to gray. Over on the left-hand, nothing has changed. What we need to do is just click on this little drop-down, click on our fish body base color. We can now see that our entire texture is gray and that is what is being projected onto view over here. Now you can see as we move our mouse around in this right-hand viewport, we have our brush size defined here. We can still move around our viewport as normal. With a color selected down here. We can then paint onto our mesh. You can see it appears in 2D over on the left here, as well as being able to see it in 3D. Just going to hit Control Z to undo that. That's our basic paintbrush. But we have other things that we can use down the left here. To start with, I'm going to define the overall yellow color of the fish. To do that, I'm going to first choose a color here. I'm just going to make this a little bit darker. Somewhere around there should do. I don't get to pick this fill option here. You can see our color down at the bottom here hasn't remained. I'm just going to redefine that. Just reduce that a little bit. Somewhere around there should do it, I think. Now if I click on the fish's body, you can see it's all yellow. Over here on the left, you can see that the original gray color that we defined remains on the outside of the mesh. Everything within the mesh has been colored yellow. To give us a better representation of how our fish is going to look, I'm also going to change my view from the shaded view over into material preview. That gives us some better general lighting on our fish to see how it might look in the real world. I'm going to switch back to my brush tool for now. Then I'm going to define the front section of the fish, which has that white color on it. I'm just again going to change my color here. Then we can adjust the size of our brush by holding down the F key. That will interactively, let us adjust the size and when we click, that will give us our new brush size. Alternatively, if you right-click, you'll have this pop-up appear where we can both change our color, but we can also adjust the radius of our brush or the strength of it. For now I'll leave it somewhere around there and I'm going to start defining the white area to the front of the fish here. Now, if you only have a mouse, you can still paint with it. But you're not going to get the benefit of any pressure sensitivity for control of its strength or the radius. Now at the moment, I'm just going to undo this. Because you can see we're not applying a full value here. At the moment our pressure sensitivity is set to strength, and it's not set on radius. If I turn that off, you'll see as I paint, I'm getting a 100 percent of my color laid down. If that's active and I'm using a pressure sensitive tablet here, I can actually paint on with a light color and I can press harder to get more full color. For now, I'm going to disable that because I want to paint fully white at the front here. We can also enable pressure sensitivity for the radius. That way I can adjust the thickness of my line. Again for now, I'm going to leave that turned off so that I'm treating this more or less as a mouse at the moment and just applying a solid color. Now let me just define an even thickness of line and boundary here to the edge of my white. Then we can just fit in the front of our fish. You can see anything I paint on the one side is projected through to the other side. We can rotate around our fish to make sure that we're painting all areas of it. Paint across the top here. Make sure that we've got an even boundary there. Again, making sure that we're getting everything down at the bottom as well. I'm just going to make sure I've painted underneath the eye. You can see on the left here, this will show you clearly what has and hasn't been painted. The other thing is you can actually paint within this view as well. If you want to clean up a line, you can paint in there as well. This will actually allow you to go outside of the lines if you choose. Only any color that is actually underneath these UVs will show up on the mesh. We can see just here is we've got a little area that it's actually hard to paint. Sometimes just adjusting your angle will allow you to paint that over. You can see also here, underneath the lip, there are a few areas there that also haven't quite being filled in. Sometimes you find it's actually easier to move in on the 2D version. If we actually paint some white in over this area here, then you'll see it's colored in that area. Now the reason for that is because of our projection type, we've got a lot of vertices over the top of each other here. Sometimes it's harder to actually make sure that everything is painted properly when we're painting in this view. That's the benefit of properly unwrapping your mesh rather than using the simple method that we've chosen. But in this case, just painting over it in the 2D view will do the job. You can see here we've defined our basic splitting color here between our white and our yellow. You can go in and further refine that line if you choose. If, for example, you want to select this yellow color and paint a bit more back in over the white. You can actually sample a color by just hitting the S key. Any color that is underneath your cursor at that point in time will be selected. You don't have to click. See down in the corner here where our color picker is that we've actually selected that yellow color. I'm going to now go ahead and just paint a little bit of that yellow color back in again. I just want to adjust the shape of this, just painting over the edges. It doesn't really matter. I want to bring this forward a little bit. Where that pelvic fin is, I'd like that to be joining into the yellow part of the body. I'm just getting a bit of an arc to the shape here. Going a bit too far on the top there. Again, let's just hit S to sample that color. Paint it back a little bit. We try and make sure that's going to shape it. That should do is for that basic split between the yellow and the white. I'm just going to save that now. Control S. We can start defining the black areas at the front here. 21. Texture Painting: Eye Markings: I'm going to take my value right the way down so it's not fully black but it's getting very nearly there. Then we can start to define these areas around the eye and above the mouth. You can see here we want this patch around the eye. I'm going to lift it slightly higher up at the top here. You can see with this large brush we're getting quite a soft edge to this. That can be desirable, but I think I want something that's slightly sharper here. Rather than being zoomed out, you see it as we get a bit closer to the mesh our brush is smaller relatively and you can see it's got a sharper edge to it. I'm just going to undo some of that. I'm just going to work with a slightly smaller brush on the mesh. What I might actually do is zoom out and just reduce my brush size. I'll just hit F to make that a little bit smaller. That will give us the sharper edge, but I can still work zoomed out. We want to bring this black color all the way around to the front here wrapping it over the nose, somewhere around there. At the moment I'm going over the edge of this mouth, but I'll clean it up again in a minute blocking in the basic shape to start with. Bring this a little bit there. I'm trying to keep roughly to the shape of the eye. Zoom in. I'm just adjusting my brush size to keep it fairly consistent. I'm going to clean up the edges a little bit here. Blacken underneath. Again, we can work in the 2D view as well. I'm just going to fill in that area behind the eye in black. I'm going to make sure that everything is black across here where those lips are. Then I can sample my white color again. I can go in and start cleaning up where I've overlapped. You can see sometimes again because of the overlap in the geometry, we get some of these strange artifacts, which again, we can clean up in just a minute. If we have a look at here, we can actually try to work in this view, paint in the white a little bit. I'm just going to adjust my brush size down, sample the black color. Just paint back a little bit back-and-forth to try and get this working correctly. Part of the problem is these points really are overlapping a bit more than is ideal. We're going to have a bit of a problem here trying to clean this up. What we might need to do is go back and just tweak those UVs slightly. I'm just going to save that there. I'm going to jump over into the UV editing view. What we can do in here, if I zoom in a little bit, these are the points that are causing us the problem here. If I select these overlapping points in the UV editor, I can just hit G and move them up a little bit. You can see here in the 3D view, they've stayed in the same place but here we no longer have that overlap. That should make it a lot easier to do with our painting. I'll do the same round at the front here because I can see there's some points here overlapping a bit more and it's helpful. That should again, make it a little bit easier to paint this region and up at the top here as well. Just tweak these points slightly. Nothing is overlapping anymore. If we jump back into our texture paint window, you can see that's all been smoothed out. Now, if I just select the white here, I can paint that in to this area here. You can see we're getting a much cleaner line. I can also just go back into my 3D view at this point, adjust my brush size a little, and get back to painting in the 3D view without any overlap. I'm just trying to keep it white below the mouth and black above. Getting as clean a line as I can. Just going to clean up this corner of the mouth so that it's clear and defined as possible and sample the black color. Just get a nice sharp corner in there. That would be the smile. Just lift this black up a little bit higher here so we're keeping an even width to this black band. Just float through into the top of the eye there. We can further go in and refine the shape if we want to, but that should do us for now. Let us save. 22. Texture Painting: Body Markings: Then I want to define this patch that fits in at the bottom of the body here. Again, I'm going to pick a slightly smaller brush to start with. Roughly in the shape of it. Wraps around underneath the chin here. That comes around towards the back here as well. We lift that a little bit higher too. Again, once we've got our basic shape in place, I'm just going to increase my brush size again and just fill in this space. We can paint on either side of the mesh. Really doesn't matter. It's mirrored across either way. The black has come a little bit far back there. I'm just going to paint white in across there again. I always find myself jumping around between the 3D view and the 2D view. I think it's most appropriate for what I'm doing at the time. The other key marking that we need to add in obviously is the blotch at the back. I'm going to place that mark here. A little bit larger. Those are our main colors in place. To give it a bit more interest, I'd like to add a slightly darker tone to get a bit more color variety in here. I'm just going to save that where it is now. One thing to be aware of before we do that is that whilst we might be saving our scene, we have to remember to also save our texture. At the moment, we can see over here, our image menu has this little asterisk next to it that shows us that our texture has not been saved. I'm going to go down to Save As. Then I'm going to create a new folder which I'm going to call Textures. Then we can leave the default name for our image file which by default will also be saved as a PNG file and hit, "Save As." You can now see the asterisk has disappeared, which shows that all saved and up-to-date, which means we're not going to lose it. Anytime that we make changes though to our texture, if we paint anything more, we need to remember to save that image fall out again. 23. Texture Painting: Colour Variation: I'd now like to add some subtle coloration to this body. What I'm going to do is pick a slightly darker color than we have here at the moment. We get a little bit more orange here and I'm just going to darken this down a little bit too around about there. Some reason we got onto the filter tool. Let me get back my paint tool and select the color. We're going to adjust this down to slightly darker orange color. Somewhere around there, that's pretty good. I'm going to increase the size of my brush. It's actually quite large, but I'm also going to decrease the strength. You can see at the moment it's got this strength of one. What I'm actually going to do is use my pressure sensitivity in this case, so I can paint on quite lightly. If you're trying to do this with a mouse, you could drop that strength down to a low value and just paint it gently in. But by using this large soft brush, I can now just add in a little bit of some color variation across the bottom here, which adds a little bit to it. Adding a bit over the end of the fins. Just gently brush it in over the bottom of the body here making sure again, we've got it right up to the edges so end of that tail and touching on those fins. I'm trying to solidly color them in with just hint a little bit of a darker tone to it. There we are. I'm just going to zoom in on my 2D view here. You can see as we zoom in, we're not necessarily got right to the bottom here. So I'm just going to reduce the size of my brush. Just painting across the bottom edge here. Just to make sure that we're getting more solid color in there right around the edge of the fin as well. It looks like we've actually missed some color there previously so I need to adjust that we can actually see painting our orange color over the top of that a little bit. Came around the edges here, filling in those gaps. You can see there we've got a much lighter color along this edge, which we don't want. Again, I can just paint it in here in the 2D form I can impersonate on the 3D version. You can get gray that was peeking through there for whatever reason. We don't want this bright yellow all the way across the top here, so let's brush in some of this orange. Fade it out of it but at the top there. I'm very happy with that. Try to save. Final thing that I'd like to do on this body is just adding a few lines to indicate the detail of the fins. To do that, I'm just going to use this orange color again. I'm just going to darken it up a little bit more. In this case, I'm going to reduce my brush size quite a bit. I'm also going to use a pressure-sensitive radius and I can turn off the pressure sensitivity for my strength there. This way, if I zoom in on the the fins, I should be able to paint some strokes in here using the pressure sensitivity. What I want to do is some strokes that taper out as they go towards the edge of the fin. Now if you are trying to use a mouse to paint this in, you'll probably find it quite difficult because you don't have the pressure sensitivity. but you don't have to copy this exactly. Had some details down at the bottom here as well. Now we'll just add a bit into the tail too, setting a bit of extra thickness to the end of some of these lines. Taper out nicely. It's going to do the same down at the bottom here, we've got slightly wider lines. Tape around. I think I will do. 24. Texture Painting: Fins: The next thing I'm going to do is to paint these pelvic fins down at the bottom here. To do that, we need to first select that object. At the moment we're in texture paint mode, so we can hit "Control Tab" to give us this prime menu. Let's just switch back to object mode, and then we can go and select our fin here, and again hit "Control Tab", and then go back into texture paint mode. Now you can see obviously we have no texture defined again for this object, so let's go and add a base color. We just picked up on the fact that it's the pelvic fin, I'm just going to add our base color. We don't need this to be 2,048 pixels, so I'm going to drop this down in size to 1,024 by 1,024 because it will never be too large on the screen. Default color doesn't really matter, but again I'm just going to set that to a gray color for now. We need to also change our display over here, because whilst we've got our UVs for this fin, we're showing the wrong texture; we're showing off fishbody base color so I need to switch back to the pelvicfin base color. Now we'll be able to paint on this. In fact what I'm going to do is I'm going to switch to the fill tool, and then to define our color, I'm going to switch back to the fishbody base color, as to pick that color, and then we'll switch back again to our pelvicfin base color. I can now click on the fin to fill it with that color, and I will get far better match to what we got above. What I'm also going to do is pick this yellow color. But you can see if I pick it from this view, I'm actually going to pick it with the lighting applied and I don't want that. So I'm going to switch back to my fishbody base color and pick this yellow color from up here but I need to be in Brush mode first. I pick that there, I'm going to switch back to my pelvicfin base color and increase the size of my brush. Now I'm just going to turn off pressure sensitivity and turn on sensitivity for my strength, and just lightly brush in some of this yellow color, again, for a little bit of variation. We might have a little bit too much of the yellow there. Again, let's sample that orange, and brush a bit back in. That is reasonable there. I think that should do it for that. Take it down at the bottom now. Again, we need to save this image. Image, save as. We're now at textures location, so again, pelvicfin base color, just save as. But what we didn't do is probably save our fishbody base color, so I'm going to flip back to that and just hit "Save" on that image as well to make sure that's fully saved too. There we are, and I'll save my scene 2. We now just have the one fin to go. Again, control tab, lets us switch back into object mode. I'm going to select my pectoral fin, control tab, back into texture paint mode. Again, we need to add a texture to the base color, 1,024 by 1,024 will be fine, and we're going to switch again up here to make sure we're on our pectoralfin base color to match up. Now, at the moment, we have a white color in here. I'm just going to actually switch back to the fishbody base color just to sample the white that we had here, just to make sure that we're using the correct color, and I'm going to change my fill tool actually first and sample that. Then let's switch back to the pectoralfin base color, and then we'll fill that fin just to make sure that we're using the same white color. I'll go to my brush tool. In this case, we're going to, again, go for our pressure sensitivity on the radius, but not on the strength, and I'm going to adjust my color. In this case, we want a lightish gray, let's take our brush size right down. I'm just going to add in some stripes here to again indicate some detailing on the fin. Just tapering this out a little. Thickening them out slightly in the middle. There we are, and that should do it. Once again, we have to remember to save this image, save as, same location as the other textures and save as info. Now if we jump back into our layout view, we can change to our material preview, and we should see all of our textures appearing. 25. Shading: Eye Shader: With the texture is now complete, I would just like to take a quick look at the materials that we're using. At the moment, we've used the same default values for all of the materials, for the eye and for the main body of the fish. This means that light affects all of these elements in exactly the same way and that's not what we want. At the moment, I'm actually fairly happy with the look of the fish itself and the way that light falls off on it. But when it comes to the eye, I feel it's catching too much of a highlight, so I'm going to select the pupil here and go down to the material properties. Now, there are lots of different values that we can adjust here. In the case of the eye, really, I just want to get rid of this highlight. We can do that by adjusting the specular and roughness values. I'm actually going to drop this specular right the way down and increase the roughness. That means we now have this very matte black look to the eye. I think the value is here on the eye, whiter looking, generally okay, and as I said, I'm quite happy with the look of the highlights that we're getting on the fish here on the main part of its body. I think we can leave the rest as it is. With that complete, before we move on into working on the environment for the fish, I'm just going to version up one more time. Say "File," "Save As," hit the "Plus" icon, and again, click "Save As." 26. Lighting: HDRI Lighting: We're now ready to add an environment for our fish character. To start with, what I'm going to do is just right-click on the boundary here and click on Vertical Split. Because I want to add in an extra viewport here, so we can actually see our scene camera, I'm going to hit N that viewport just to hide that panel, T to hide the tools, and then we want to jump into our camera view. You can do that just by clicking on this icon or hitting Numpad 0. We can hit the Home key within this window just to frame up that camera nicely, and then we don't really need to see all of these extra gizmos here. We can turn all that off by clicking on these two icons. Now, if I move out in this viewport, you can see that our camera's positioned over here behind the fish at the moment. What I'm going to do is just reset that position and rotation start with, and you can do that just by hitting Alt G to reset its position and Alt R to reset its rotation. Then just going to move it out a little bit along the x-axis. We actually want to rotate that back into place. I'm going to rotate that. I'm just going to hit R Y 90 to rotate it back towards the fish, Z 90, so we're now aligned nicely to our fish from the side. Now to move around our camera, we can actually do that within the camera viewport. I'm going to hit the N key here, go to my View Options, and turn on camera to view. If we do that, we can then actually move around within our viewport. I'm just going to pull back a little bit to frame up the fish somewhere in the middle here. In the moment, we've been using the material preview for our viewport shading, but I actually want to switch that over and use the rendered view now. We can see what our final lighting is actually going to look like. At the moment, we have a one default light within the scene. That's casting some light and shadows, but what I'm going to do is just select that and delete it. You see now that we still have some light within the scene, and that's because of our world settings. You can actually see that over on the right here. If we select our world properties, you can see we have this color value here. If I set that all the way down to black, you'll see we you can no longer see our scene. Now we can add in lights in order to define all of the lighting in our scene. We also have another method which we can use to control the overall lighting of our scene, which is by using what's called an HDRI image. Now there are a number of different places that you can download these images online, or you can actually create some yourself. But for the purpose of this class, we're actually going to use some of that ship with Blender. When we're using the material preview mode, we're actually viewing lighting that's created by an HDRI image. If we go up to the top right here and click on this drop-down, you can see what that image looks like. It's a 360-degree image which accurately captures all of the light from a particular scene, and we can swap that image out just by clicking on this ball here. We can pick different lighting setups. What I'd like to do is make use of one of these as the initial starting point for the lighting for our rendered scene. In order to do that, we can go over to the World tab over here and click on our Color Input. From here, we can select Environment Texture. When we click on that, obviously everything change to pink because we actually have no texture input at the moment. If you click on Open, you can then navigate to your Blender install directory. Within your install directory, you should have a folder called data files. In there, we have studio lights and then world. These were all the different HDRI images that we were able to swap between for our material preview. I'm just going to pick this sunset option and click Open Image. You can see now in our render preview, we now have lighting that matches what we have over in the material preview. But we also have this backdrop in here, and we don't want to see that. In order to control that, we're going to have to jump over into the Shading tab. Here in the Shading tab, I'm just going to adjust our viewports just a little bit to make it easier to work with. I'm just going to right-click on this boundary and join areas because we don't need that file browser. I'm going to do the same down at the bottom here. What I'm going to do though is split this viewport, the vertical split. Again, we can bring in our camera. Again, I can just hit Numpad 0 in this viewport and home to frame that up. Again, we can just turn off all of our overlays and gizmos here in the viewport. Something that can also be helpful if we select our camera over in the outliner here, go down to the camera properties. We have our Viewport Display options. Here where it says Passepartout, we can turn that up to one. You now have these black bars above and below, so we can clearly see exactly what will be captured when we render our scene. I'm going to switch this viewport over to render view, and we can see exactly what our outputs likely to be. Down at the bottom here, we can actually change from object mode to world. You can now see we have this sunset HDRI image that we dropped into our background earlier. What we want to achieve is making use of this lighting for the character and the environment, but we don't want to see the image as a backdrop. Instead, we want to introduce a new backdrop for our render. In order to do that, I'm going to start adding some extra nodes within this viewport. We can move around the node editor just by holding down the middle mouse button here. I'm going to hit Shift A to add, and then I'm going to click on the Search Box, and I'm going to type in color ramp. I'm going to drop that within the viewport. I'm also going to add what's called gradient texture. Again, it's quicker just to search for these things rather than digging around throughout the menus. To start with, I'm going to take this gradient texture output. I'm going to drag from this color and drop it into the factor here on the color ramp, and then I'm going to initially take the output from my color ramp, and I'm just going to drop it into the background. For now, that's going to disable our HDRI image. But don't worry about that, we'll bring that back in again later. Right now, once we're defining this gradient as being between black and white, currently all we can see is this black on the background. We need to control exactly how this gradient is being mapped onto the background here. To do that, what we need to do is add in a couple of extra nodes. Again, hit Shift A and search, and we're going to search for texture coordinates. The quickest way to do that is to actually type in coordinate, and it will pop up. We're actually going to take the coordinates of our window, and we're going to drop that into the gradient texture. You can see now we have a gradient applied from left to right, black to white. If we adjust this color ramp, you can see we're adjusting the result that we got on the background there. What I'd actually like to do is to create a gradient from top to bottom. In order to do that, we need to find a way of transforming the values that we're getting out of these texture coordinates before we put it into our gradient texture. We can do that with another node called the mapping node. Again, I'm going to hit Shift A, search for mapping. You can find that here. If we just drop that node over this connection here, it'll automatically be plugged in. With our mapping node in place, we can now adjust these values in order to reposition our coordinates. The first thing that we need to do is to actually rotate these coordinates. We're going down to the rotation section here. If I start to rotate this around the z-axis, you can see that we're getting the result that we're looking for. I'm not going to rotate this around minus 90 on the z-axis. You can see we're now working from bottom all the way up to top. But I don't really want a black and white gradient here, and that's why we introduced this color ramp node. This allows us to remap the colors. At the moment, we have our black and white, and we can change those values. I'm going to start out by clicking here on the black. I'm just going to make it slightly lighter, and I'm going to make a dark blue color in here. Somewhere around there should do. I'm going to click on this little white checkmark here, and that allows me to change the lighter value. I think we'll go somewhere around there. We're getting this light to dark blue gradient. I'm going to take my dark value here, and I'm going to lift it up a little bit. You'll see here we're getting this very harsh divide between the two colors. We can actually change this interpolation here from linear to B-spline. Now we're getting a smooth fall-off between the two. I'm happy enough with that, but you can see we've lost our lighting on the fish. What we want to do is to bring back this lighting that we defined with the HDRI image to affect the fish, and we want to use this to affect the environment. If I just plug this back into my background, you'll see we just switch between the two. We need to find a way of blending sensibly between the two. In order to do that, we have what's called a mixed node. I can hit Shift A and search mix, and then we're going to drop that in here, and then I can bring my color ramp pin to the second color. At the moment, it's literally blending the two together, and you can see this factor allows us to blend between the full HDRI image or the full-color ramp. What we need to do is control this factor based upon what the light rays are doing within the scene. In order to do that, we add in another node, Shift A, and search, and we're looking for light path. I'm going to drop that in just over here. We have a number of different rays that we can make use of. In this case, what we want to do is use this Is Camera Ray option and drop that into the factor value. What that means is any of the light rays that are bouncing around. If they're being used for color, then they're going to affect the object itself. If they're just being displayed to the camera as is the case in the background here, then instead we're going to make use of this color ramp. We now have a more nicely lit fish, and we have this basic gradient which starts to create the look of our underwater scene, but we need to add some more lights to make it appear a bit more believable. To do that, I'm just going to jump back into the layout view and save my scene. 27. Lighting: Light Beam: Now before we actually add our lights into our scene, I just want to check our render settings are correct. I'm going to go over to our render properties in the properties panel. I'm going to make use of the Eevee rendering engine. For now, I'm going to leave the sampling as set by default. I want to enable ambient occlusion. This will give us some extra shadowing in these areas that light can't normally reach which helps to increase the believability of our image. I'm going to turn on screen space reflections and I'm going to roll out this shadow section. Now I want to increase the shadow cube size. Now I'm going to increase it to 2,048. By increasing that cube size to 2,048, that will just increase the detail in our shadows. The other thing I want to check is under this volumetric section and I just want to enable volumetric shadows, which will become important a little bit later on. Now before we actually start adding the lights, I'm also going to rotate this fish a little bit. I'm not so happy about looking at it perfectly side on here, so I'm just going to rotate it around the z-axis. It's maybe around minus 30 degrees, somewhere around that. At the moment, once we've got this nice even lighting all the way around our fish, I feel it can benefit from a little bit more directionality. We're going to add in an additional light here, a key light to define our main light direction. I'm going to hit Shift A, I'm going to get down to light and I'm going to add in a spotlight. Then the properties panel, we can actually access our light properties here down at the bottom of this little light bulb icon. If I move this light up a little bit, this is very low-powered at the moment. I'm just going to increase this to 100 watts. Now you can see we're actually adding a little bit of light onto the fish. The other thing I'd like to do is just make this slightly bluer. Somewhere around that should be fine. Because we're working with quite a small object here, I want to just decrease my light radius at the moment. This is quite large wide light. I'm just going to take this down a little bit. Maybe just drop it down to around five centimeters, something like that so we have a slightly more focused light. I'm going to increase this blend value down at the bottom here quite a bit. This will just give us a softer fall-off so we don't end up with a sharp edge to our light beam. Most are going to roll out this shadow section here and turn on contact shadows. This will just increase the quality of the shadows that we're producing with the light. Finally, I'm just going to reposition this light towards the front of the fish a little bit. I'm just going to move it out a little bit here in x and maybe a little bit along the y-axis as well. Then I'm just going to rotate it so it's pointing broadly our fish. Next thing I'd like to do in order to create a more convincing underwater look, to actually add some light beams cutting through the water here. But for any light beam to show up, we actually need to add what's called a volume. To do that I'm going to hit Shift A. I'm just going to add in a cube and I'm going to scale that down. I'm going to scale it down maybe about 70 centimeters. I'm going to move it back until it's just poking out ahead at the front of the fish. Now, this isn't quite wide enough for our camera. I'm just going to scale this along the y-axis a little bit, maybe more around 100 centimeters. This is going to act as our water volume. If we just jump over into the shading tab for a minute and change our view at the bottom here from world to object, at the moment we don't have any material defined for this object. I'm just going to click on New. Currently, we have this principle BSDF node, which is plugged into the surface of our material. What I'd like to do is just select that node and hit X to delete and then we're going to hit Shift A and search. We start searching for volume, you'll see this principled volume shader comes up. I'm going to select that and drop it in the view. Now I'm going to plug it into the volume section of the material output. You can see now we have this cloudy effect and our light beam is showing up as well. I'd like to do is reduce this density down though so I'm going to drop that to about 0.25 so the effect is a bit less intense. I'm going to take my color and I'm going to drop that down a bit as well, so it's a little bit darker around there will do. With our volume defined, I'm just going to jump back into our layout view. We can start to add in our main beam of light, which is going to cut down behind our fish character. As well I'm just going to scale this volume up ever so slightly so it's not cutting off so much at the edges and then I'm going to hit Control A and apply the scale. Most I can rename it up in the outliner by hitting F2 and change it to volume. To add the main light beam, I'm just going to hit Shift A and once again adding another spotlight. As before, I'm going to drop the radius value down to about five to enable contact shadows and I'm going to change the light color and I'm going to make it quite a bit more blue this time, so around that. I'm going to move it up just above the volume, then over to one side. This time I'm going to rotate it around so it's cutting across the fish, but I want it to be angled just a little bit behind the fish as well. It's just clipping the edge of the fish here. The moment you can see, we can't really see the effect of it because our value for our power is extremely low. What we want is actually a very high value, so I'm going to push this up to about 15,000 watts. Here we get far brighter beam that was cutting through at the back here. I'm going to increase this blend value a bit so that we've got a slightly softer fall off and maybe just drop my beam size down a little bit too, then rotate it around a little bit. We want a nice bright beam that's just cutting through behind the fish here. I'm just going to rotate it slightly more towards the fish. It's overlapping a little bit. Then you can see we are introducing the shadow here where the fish is blocking the light slightly, so it's quite nice. I'm just going to save that there. Then I'm going to rename this lights up at the top here, just so that we know what we're controlling in the future. I'm going to rename this one as Beam and the other one I'm going to rename to be Key. 28. Lighting: Adjusting the Lights: Now, at the moment, if I select my beam, the light is very intense all the way down. We want to create the effect of a fall-off as the light gets deeper into the water. With the Eevee render engine, we're able to do that by actually controlling the custom distance of the light fall-off. With my beam selected, I'm going to enable custom distance and roll that out, and we can adjust this distance here. We will have to drop that value down quite a bit, maybe drop it down to [NOISE] 100 perhaps. We can maybe don't drop that a little bit further. Maybe we touch higher, it's probably [inaudible]. That way we get this nice strong light at the top and it's falling off towards the bottom. What I'd also like to do is create the impression that there's more light coming through up at the top as if we're close to the water surface. In order to do that, I'm going to add in another light, and this time I'm going to add in a point light. I'm going to shift A to add light. We're going to add an A point light. Once again, this is really quite large. I'm going to drop the radius down and actually just drop this down to 2.5 rather than 25. Then we can actually move this back and up in our scene a little bit. I don't think we'll move it across a little bit as well, closer to that light beam. Once again, we're going to need to increase the intensity of this light. Maybe try a 1,000 watts. You see at the moment we've got this very gray look now to our scene, so we need to change this color a bit. Something like that looks good. But again, I want this light to be focused really up at the top. I'm going to do it again, turn on my custom distance. Let's go for something like about 50 centimeters. We're just adding some light at the top. I'm actually going to increase that strength a bit now that we've got that fall off, so we're getting a little bit of a brighter light up at the top here. Maybe with that light down a little bit, maybe push this up a little bit to 60 centimeters, something like that. We're getting a bit of let's build throughout the scene. Let's try 70. There we go, so we're getting darker down at the bottom here, but we've got this nice bright light up towards the top. Maybe not just in a little bit more. Once we're done again, let's turn on our contact shadows to make sure any shadows that we're casting from that light are working correctly. I'm still not liking the fall-off on the volume at the edge here, so I'm actually going to adjust my volume size a little bit further. I'm just going to scale it up a little bit on the y-axis. Or maybe I just get it vertically on the z-axis as well. Just to make sure we've got more even lighting towards the edges of our scene. That looks good. Again, I'm going to hit "Control A" and apply that scale, and save my scene. 29. Lighting: Using a Cookie: At the moment with our light beam cutting through our volume effect creates a convincing underwater look. But the beam of light itself is quite even. To make it look more convincing, what we can do is create the effect that's being cast through a rippled water surface. Note to do that, I'm going to add in a plane. I'm just going to scale that down. Space, maybe around 60 centimeters, control A, and apply that scale. Now I'm going to jump across into the shading tab. For now, switch back to material preview within our camera viewport. What we want to do is add an effect to this plane here that will allow us to cast light through it and create the effect of water ripples. To do that, I'm going to hit "New", to add a new material. Now I'm going to hit "Shift A" and search for wave. We want this wave texture node. If I plug this into the base color, we'll see at the moment it's just creating this stripy effect. But we can adjust the parameters down here to achieve a more interesting result. Started, we can play with this distortion value. You can see already we're getting something a lot more interesting here. These other values can also adjust our detail levels and scale of our detail as well. You can experiment with the values to quite an effect that you like. I'm going to decrease the scale a bit. What else I'd like to do is add in the color ramp. If I "Shift A" stamped typed up, it should pop up. I'm going to drop that in-between here. Now this will let us adjust the falloff between the black and the white. I'm going to bring the black up a bit, start to drop the white down. I'm actually going to change this from linear to ease. That gives us a better result. Bring the white down quite a bit, back up a little bit more. I'm trying to create this quite graphic look that we have here. When we have a black and white image like this, we can actually plug it into the Alpha value of a material. That will actually affect the transparency of our material. I'm going to drag from our color, from the color ramp down into the alpha here. This way we can allow light through part of this plane, but not all of it. That will hopefully create a broken up look to our light beam. If I enable the render view, you can see at the moment our light beam is coming down, it's hitting this plane, and it's not passing through a tool. Now the reason for that is within the EV render engine, in order for Alpha transparency to work, we need to change some additional values. If we go to our material tab here, scroll down to the bottom. You'll see this blend mode and shadow mode here under settings. What we want to do is to change this to Alpha Hashed. You can see now that our light is passing through, but currently we can't see through the object. If we wanted to see through it, we'd also change this blend mode from opaque to Alpha Hashed and then we can actually start to see through these black areas, they've now become transparent. You can see that in both the rendered view and in the material preview. Obviously we don't want to leave this plane in the middle of our image. Let's jump over into the layout view, and we can reposition it. Now again, I'll change that back to material preview. We're just going to lift it up and rotate it. What I may mean to do is to block this light beam, but not really have it interfering with our key light. We also want to ensure that it's not showing up within our camera viewport tool. That will do for now. Let's see how that works. Let me turn on our render view. You can see we now have this light beam that is being broken up. I'm going to just scale this down just a little bit. Drop it down a little bit further, just keeping it just out of the viewport. Let's say if I jump over into the shading view, you'll see we have this phase offset value. Just to help with previewing this, I'm just going to turn back into material preview. This phase offset value. You'll see that our texture actually moves here. This will allow us to actually animate this effect in the future to create a rippling water effect in our final animation. For now, you can just adjust that phase offset until you're happy with this main light beam. Just bear in mind that at the moment, because we're using a low number of viewport samples, the effect will be quite broken up and blotchy. Our final rendered view should look a lot nicer. It looks like it's just peeking into the corner of frame there a bit, so I'm just going to again, just nudge that up and out. I don't want that to appear. Now I'm going to rename it in the outliner and in real-world film lighting, an object like this would be known as a cookie. That's what I'm going to call it here. At the moment we have this nice light beam falling behind the fish, and that's our main bright light. I also wanted to create the effect of some other light beams that are less intense off to the side. In order to do that, I'm just going to save my scene once again and select my main light beam. Let's jump back into the layout view. Again, change that to material preview to speed up our performance quit bit. What I'm going to do is just duplicate this light, move it back along the z axis. At the moment, I'm in local mode. I'm going to move it just a little bit higher than the original light beam, but I'm going to increase its spread quite a bit. We can adjust its size here and get it nice and wide. Maybe go up to about 70 degrees. Because we've moved it up a little bit, I'm also going to just increase that custom distance a little bit. Let's push it out to 100. Now we're not going to want this beam to be anything like as intense as our main beam. For now, let's just drop that down to 1,000 watts and we'll see what that looks like. That's giving us a little bit of extra light off to the sides here. I think I can take this point light to just position a little bit. Lift it up to the sided touch. It feels like it's tying in with this main light beam. With lighting, there's lots of trial and error moving things around to see if we're getting the result that we're after. Now, I think we're in a fairly good position. I'm just going to tidy things up a little bit. I wanted to select my volume and each of my lights. This cookie object. I'm just going to move all of them to new collection. Within the outliner, I'm just going to take the MK and rename this to environment. This just helps keep everything nice and organized. With that done, let's save our scene. Then we can do a test render by either heading up to the render menu and picking render image or just hitting "F12". There we go. Feel free to go in and adjust your lighting further. Maybe tweak some of the materials settings if you want to. But for now, I'm happy enough with that. If you would like to save your image out, then you can go up to Image. Save As. I'm just going to create a new folder which I'm going to call render. We'll call this FishRender 1. We're saving as a PNG file. We don't actually need it to be an RGBA image because there is no transparency in this image. The RGBA is fine. Click "Save As". There we are. Just make sure that you've saved your scene file. We're done. 30. Lighting: Final Adjustments: Now, looking at my render, I think I can afford to make this light beam a little bit wider, and I'm just also going to tweak my camera position slightly. I'm just going to rotate slightly down, so I'm looking up at the fish a little bit more. Make sure that we don't get that cookie cutting into the view. I'm just going to nudge that position up a little. There we are. I think that creates a slightly more pleasing look as we're looking at the fish. I should do this. But then I want to adjust this light beam angle a little bit. I'll select my main beam here. Let's increase its size a little bit. Maybe let's try pushing that up to about 50. I'll do the same with my other beam, let's push that out [NOISE] up to 80 so we're getting a nice spread on that. My main light beam as well, I think I'm going to increase that custom distance. [NOISE] I'll make that 100 centimeters. See how that looks. Light is still falling off, but it's getting a bit further across into the bottom corner of the frame there. The other thing is, I think that the light intensity currently of our key light on the front of the fish is a bit too high. I'm going to drop the power down maybe to about 80 watts, and see what that does for us. Let's just check how much intensity is coming from that. We've got a certain amount of intensity that's coming from the other light beams overlapping the fish so what I think I'm going to do is I'm going to just switch this back to material preview for a minute. I'm going to select my light beam, this wider beam, and the cookie. I'm going to just move them slightly back away from the fish a little. Let's see how that looks in the render. We're still going to have this light beam effect. Let's just put it there. Up into the left a little but without quite so much light on the front of the fish there so we're not blowing out the highlights too much. Because we've moved those, again, I'm going to adjust the falloff on the light just that little bit further. Maybe we increase this distance up to 110 centimeters and see what that does. Let's push the falloff on the white beam. Maybe go to a 130 on that one. All my cookie is creeping back into the edge of frame again. I'm just going to nudge that up and out of the way. I'm also not too keen on where that point light is located. It's a bit too intense here. I'll lift that up a little bit to soften out the way. But again, let's increase this custom distance. Let's try 120 on that. It's maybe a bit too much. Maybe get it back down to a 100. I'm going to move it up and to the right a little. Now if we jump over into the rendering tab, we have our initial render here. If I hit the number "2" key, you see we move to slot 2. We still have our original render showing but if I go into slot 2, then when I hit "F12" to render a frame, it will drop into this second slot. What this now means is that we can flip between the two slots by hitting the one and two keys to see the difference between our two renders. Now, I still think that we've got a bit too much light on the nose hair, so I'm going to tweak things a little bit further. I'm going to hit "3" jump over into my third slot. Let's go back into layout again. Remember, I think I want to take my point light. I want to bring it back down into the image a little bit. I'm going to select it. Let's move it down a little bit because I do you want it to be nice and bright up at the top. I'm also going to push it back a little bit. I'm going to decrease its custom distance again. We're keeping the effect focused up towards the top of the image. I'm going to save that. Let's hit "F12" and see what we've got. You can see here is we've flipped between the three images as we adjust these light values, we can make subtle adjustments to our lighting. You can go ahead and make further refinements to your lighting if you choose to, but otherwise, I think we're done. I'm going to save out this final image as Render 2. We'll call that complete. Don't forget to save your final scene file as well. 31. Final Thoughts: [MUSIC] Thank you so much for joining me in this course. I really hope that you've enjoyed learning about character modeling and following along as I share my process. If you've been following along with the class, either using my character design or one of your own, I'd love to see your work. If you're happy to share, then please do upload it to class project gallery. I really look forward to seeing all of the class projects and I can't wait to see what you create. Finally, you may want to check out my profile page where you'll be able to find my other classes and learn a bit more about me. If you'd like to, you can also follow me to be notified of every new class that I publish. Having the skills to model your own characters can really add an extra dimension to your work. I really hope that this class has given you the skills and knowledge that you need to start bringing your own projects to life. Thanks again for taking this class. I really hope to see you again soon. [MUSIC]