Playback Speed
---
0.5x

1x (Normal)

1.25x

1.5x

2x
Into the Ocean: Character Animation Essentials in Blender 3D
Watch this class and thousands more
Get unlimited access to every class
Taught by industry leaders & working professionals
Topics include illustration, design, photography, and more
Watch this class and thousands more
Get unlimited access to every class
Taught by industry leaders & working professionals
Topics include illustration, design, photography, and more
Lessons in This Class
34 Lessons (3h 59m)
8.

Rigging: Weight Painting - Intro

10:37

9.

Rigging: Weight Painting - Body

12:27

10.

Rigging: Weight Painting - Fins

4:32

11.

Rigging: Parenting the Eyes

2:17

12.

Rigging: Rotation Orders - Intro

6:57

13.

Rigging: Rotation Orders - Setup

10:16

14.

Rigging: Scene Cleanup

1:48

15.

Rigging: Eye Controls

4:27

16.

Animation: Analysing Reference

3:45

17.

Animation: Scene Setup

7:27

18.

Animation: Setting Preferences

2:34

19.

Animation: Swim Cycle - Body

10:09

20.

Animation: Swim Cycle - Fins

10:46

21.

Animation: Swim Cycle - Clean Up

8:51

22.

Animation: NLA - Overview

9:07

23.

Animation: NLA - Time & Influence

11:53

24.

Animation: NLA - Pectoral Fins

11:31

25.

Animation: NLA - Breaking it Up

5:38

26.

Animation: Path Setup

10:06

27.

Animation: Adjusting the Speed

9:26

28.

Animation: Varying the Cycle

10:10

29.

Animation: Pectoral Fins

8:54

31.

Animation: Final Adjustments

12:22
--

Beginner level

Intermediate level

Advanced level

All levels
Community Generated
The level is determined by a majority opinion of students who have reviewed this class. The teacher's recommendation is shown until at least 5 student responses are collected.
About This Class
Seeing your own characters come to life through animation is a magical experience. This class will teach you the essential 3D character animation skills you need to get started.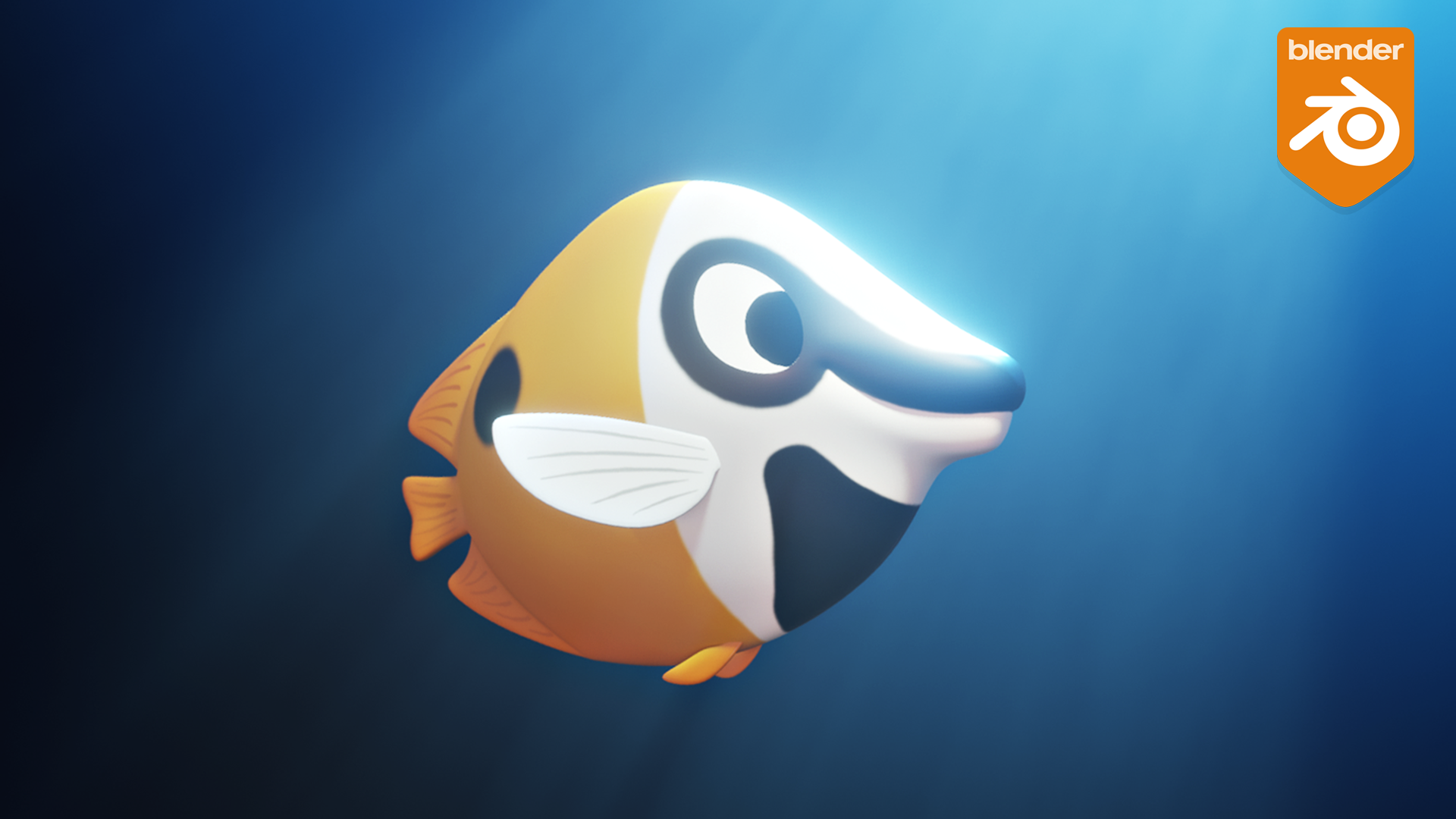 In this class I shall first demonstrate how to build a 3D character rig in Blender. This rig contains all the controls which are essential to be able to successfully animate your character.
Once the rig is complete, we will go on to analyse how a fish swims, using that information to help create a simple looping animation cycle.
Finally, I will show you how to make use of that cycle as an element within a longer animation which will truly bring your character to life.
Whilst this class builds upon the previous classes in the series, it also functions as a standalone class. If you'd simply like to learn about character rigging or character animation, you are free to follow along using the provided models as a starting point.
If, however, you have already taken the earlier classes in the series, you will be able to apply everything that I demonstrate to bring your own character model to life.
By the end of this class, you will have all the skills necessary to both rig and animate simple characters of your own, giving you everything required to start bringing your characters to life.
What you will learn:
How to create a simple armature and control its influence using weight painting.
How to analyse reference footage for animation.
How to create a perfectly looping animation cycle.
How to use the Non-Linear Animation editor to manipulate animation.
How to control animation along a path.
How to break up a cycle to make it believable.
How to render your final animation.
What you will create:
By following along with the class, you will first build a character rig for your own character or the provided model.
You will then go on to create a fully rendered 3D character animation of a swimming fish. 
Good to know:
By the end of this class, you will have the essential rigging and animation skills required to bring appealing characters to life for your own 3D animation projects.
Let's get started!
Once you have finished this class, don't forget to check out the other animation classes here on Skillshare.
Meet Your Teacher
I love animation and the feeling of bringing characters to life but, when I was first starting out, it was hard to know where to begin.
That is why I decided to create a high-quality series of classes, providing new animators with a clear path to get started in animation, based upon my many years of professional experience.
If you dream of learning character animation, I hope these classes will show you the way!
I'm really excited to see what you're able to create!
To discover more about me, check out my full bio below.
For weekly doses of animation knowledge and inspiration, sign up for my newsletter.
Also, if you'd like to be notified when... See full profile
Hands-on Class Project
In this class you will be able to follow along as I demonstrate how to rig and animate a tropical fish character. For your class project I would love to see your finished character animation.
If you are looking for my rabbitfish model or rig then you can download them using the link to the right. Save ProjectFiles.zip to your computer and extract the files inside to work with them in Blender.
Your final class project will consist of a your final, rendered, fish animation.
Feel free to upload work in progress for feedback rather than needing to wait until you are finished with the class.
Render or screengrab a still image to use as your project cover image and then export your animation as an mp4 file with a 1920x1080 resolution.
Your rendered image can be uploaded to Skillshare directly, but your animation will need to be posted to YouTube or Vimeo first if you'd like to share it in the project gallery.
Have fun, and I look forward to seeing what you create!
Class Ratings
Expectations Met?
Exceeded!

0%

Yes

0%

Somewhat

0%

Not really

0%
Reviews Archive
In October 2018, we updated our review system to improve the way we collect feedback. Below are the reviews written before that update.
Why Join Skillshare?
Take award-winning Skillshare Original Classes
Each class has short lessons, hands-on projects
Your membership supports Skillshare teachers
Transcripts
1. Introduction: [MUSIC] Seeing your own characters coming to life through animation is a magical experience which I never get tired of. This class will teach you the central 3D character animation skills you need to get started. Hello. My name is John Knowles. I'm a character animator and animation director, and I've been lucky enough to work in children's television for the last 15 years. In this third class of my Into the Ocean series, we're going to be covering character rigging and animation. While this class is designed to build upon the previous classes in the series, it also functions as a stand-alone class. If you would simply like to learn about character rigging or animation, you're free to follow along using the provided models as a starting point. If however, you've already taken the earlier courses in the series, you'll be able to apply everything that I demonstrate to bring your own character model to life. In this class, I'll first demonstrate how to build a character rig. These are all of the essential controls that you need to be able to animate a character. We'll then go on to analyze how a fish swims using that information to help create this simple looping cycle. Finally, I'll show you how to make use of that cycle as an element within a longer animation, which truly brings your character to life. This is a beginner-level class using the free 3D software application Blender. If you're new to Blender, I'd recommend starting out with my Blender's Essentials class which will teach you everything you need to know before continuing with this series. Character animation is a complex skill to master. I'll be covering everything required to bring your fish character to life in this class, but if you'd like to dive deeper into the subject, my Character Animation Fundamentals class is also worth checking out. By the end of this course, you'll have all the skills necessary to both rig and animate simple characters of your own. If you're ready to start bringing your own characters to life, let's get started. [MUSIC] 2. Class Overview: Hello, and welcome to the class. This class is split into two sections. Initially, we're going to be taking our character model through a process known as rigging. This is where we add all of the controls necessary to bring it to life in animation. Was any individual object can be animated in Blender. In order to create flexibility within a model, we need to add what is known as an armature. This is formed from a collection of bones which together create the underlying skeleton of our character. Once a character rig is complete, we move on into animation. This is the front part which we've been building up to throughout this series. It's here that we'll really start to bring our character to life. We'll start out by analyzing the motion of a fish, which we'll then be able to apply as we create this cycle of a fish swimming. Once we've got that sorted, we'll then make use of that cycle within a longer piece of animation. If you don't already have your own character models to work with, you can download the provided model from the class resources section. Character rigging can be a technical process. I'll be keeping things simple and straightforward as possible during this class, but if you do find yourself struggling, I've included a rigged version of the character model. You'll be able to make use of to either analyze its structure or if you want to jump ahead past the rigging section into the animation section, then you can make use of my rig to do so. For your class project, I'd love to see your final character animation. Once you've finished, be sure to upload your work to the class project gallery for feedback and to share with the other students. Also, if you'd like feedback along the way, feel free to upload work in progress, or ask questions on the discussions page. If you're ready, let's get started with the first lesson. 3. Rigging: Scene Setup: The same file that I have open here is one which you can download from the Class Resources Section. However, if you've already modeled your own fish, then feel free to start with your own scene file instead. Before we get started, I'd first like to rename this scene file. I'm just going to go to Save As, and I'm going to change this name to Rabbit Fish Rig Version 1, and Save As. Next before I actually start on the rigging, I'd like to tidy up a few things in the same file. At the moment, we've got Material Preview on. Before I hold down the Z key and switch this to Solid Shading, you'll see that we can no longer see our fish, and the reason for that is that this volume object that we have is not transparent in solid view. To work around that, what we're going to do is head over to the Properties Panel and we can open up the Object Properties, attempt to View Port Display. If I scroll down, we have this Option Display as Textured, and we can change that to Wire, and now we'll be able to see through the object. While we're actually working on our rigging, we don't actually need to see all of these lights and other elements. For now, I'm actually going to disable this environment collection in the Outliner. One thing that was nice about the Material Preview is that we could actually see all of the textures on our fish. Now if I head up to the top right of the Viewport here, you can see next to these different Viewport Shading Modes, we've got this Drop Down. Whilst we're in the solid shaded mode, we can go onto this color section and change to Texture, and that will enable our textures simply within this viewport. We can do the same over here in the Camera View as well. Next thing I'd like to do is reset the rotation of this fish because we don't want to build the rig for it with it skewed off axis. You can do that simply by making sure that your fish body is selected, and then hitting "Alt R" to reset the rotations, and you can see that's returned to zero. I'm now just going to hit the Number 3 key or my Numpad to jump me into the right orthographic view. We don't actually need to see our Reference now either. So I'm going to disable that collection as well, and I'm going to click on the "Fish Collection" that we have here. Let's just rename that actually to Rabbit Fish. I don't really need to see my camera here in the right view either. So let's turn off its viewport visibility here. I'm also going to rollover this viewport and hit "Alt Z" to enable X-Ray Mode. I'm just going to save my scene and will be ready, start adding our rig in the next lesson. 4. Rigging: Main Body: A character rig is a collection of controls used to manipulate a character for animation. Within Blender, a rig is formed from a collection of bones contained within what's called an armature object. It starts out, and just double-check that you have your rabbit fish collection selected. That ensures that when we add the armature object, it will be created within this collection. We're then just going to hit Shift A, and then we can go down to Armature. When we do that, you'll see a single bone has been created. We now need to hit the Tab key to enter edit mode. Now we can start manipulating our bones and adding additional ones. For now, what I'm going to do is leave this bone exactly where it is. I'm going to select it and hit F2 to rename. I'm going to call this Root. This will be the master control which lets us move around the entire rig and reposition in the scene if necessary. I'm now going to hit Shift A. Once we're in edit mode for an armature, that will actually add in a new bone, and it's created it over the top of that original one. If we just click to select, you can see up at the top here that we've selected a bone called bone, so it's not a root object, which means we can now hit J and we can move this bone and reposition it within our scene. What I would like to do is just move it over to the side slightly and down a little bit as well. What I'm looking to do is place it somewhere around here, so it's in line with this central line that runs through between the nose and the tail. Now, with the bone selected, I'm going to hit F2 and we'll rename this one, Torso. Now, there are three parts to the button. We've got the main bone itself and we also have this head and tail control. We can use those to manipulate the bone and resize it here in edit mode. But if I select this head part of the bone, I can then hit the E key, and that will extrude a new bone from it. I'm just going to then hold down my middle mouse to constrain that movement to the y-axis. I'm going to drag that out and drop it partway along the head here. Then hit E again, and that lets me extrude another bone, which I'll bring out to the tip of the nose. Again, select these bones and rename them. Rename this one to head. This one we can call nose. I now want to go back. I'm just going to zoom in a little bit so we can see more clearly. Again, select the head of this torso bone here. You can see it's the slightly larger circle of the two. I'm going to hit E to extrude, middle mouse to constrain it to my y-axis. I'm actually going to drag that all the way down to the root of the tail and click. Now, what I'd like to do is actually split this so that we have more than one bone in this chain coming back along the back of the body. I'm just going to select this bone. If we right-click, we have the option to sub-divide. That will split it evenly in half. If you go down to the bottom of the viewport here, you'll see this little pop-up here, and that tells us that we have just a single cut. I can increase that number to two cuts and that will give me three bones running down the back of the body here. You can see because we excluded them from this bone which would rename to torso, we now have a bone named torso 1, torso 3 and torso 2. It's not very logical naming. I'm just going to select them in turn, hit F2, and I'm going to rename these to just to torso_1, 2 and 3 in order down the chain. The next thing I'd like to do is define some bones for the tail. In this case, I'm not going to extrude them from the end of this chain here because I'd like to add two separate chains, one for the top and one for the bottom of the tail. That would just give us a little bit more flexibility within the tail when we're animating. Instead, I'm just going to hit Shift A to create a new bone. I'm going to select that bone and hit G to move it. Just double-check up at the top here that you're moving the correct button. I'm going to drop it around about here in the upper part of that tail. I'm going to select the end of that tail and then just hit G, and rotate it down and into place. I'm now going to select the bone, hit Shift D to duplicate it, lets move it down to the bottom of the tail and grab the end of that and move it down into place. I'd also like to increase the number of subdivisions here, so I'm just going to right-click on each of these bones and hit Subdivide. I'll select the lower one, right-click and subdivide as well. Once again, I want to rename these so that we're not left with a whole load of bones which are undefined. I'm just going to hit F2, and we'll call this, Tail. Tail_Up_1, Tail_Up_2. I'm now going to hit Shift A to create another bone, which we're going to move over and we're going to use for this dorsal fin up at the top here. I'm just going to move the top-left bone down and into place. Somewhere around there, that's good. Then before we subdivided that, I'm actually just going to select the bone and hit Shift D to duplicate it because we're going to need another one down at the bottom here as well. We can then once again select each of these bones and sub-divide it so that we've got a bit more flexibility. Let's rename them dorsal 1 and 2. This fin down at the bottom is actually known as the anal fin. We call that Anal 1 and Anal 2. Don't forget to save. 5. Rigging: Fins: Now so far we've defined all of the main bones that run along the center line of our fish. But we're also going to need controls for both our pectoral and pelvic fins. To add that again, I'm going to start out just in my side view here and I'm going to hit Shift A to add a new bone. Add that bone and move it over to where my pectoral fin starts. Now what we can do is just move into our 3D view. I'm just going to hit G and I'm going to slide this out along the x-axis, just roughly in line with the ridge of this short part of the fin here. I'm going to grab the tip of this bone here and just hit G to move it down and into place. You have to keep moving around in the 3D view to make sure that we've got things aligned as we need. You can keep going in and tweaking each part of the bone to make sure that they're in the right place. Now, I'm trying to get this as close as possible to where I want the rest of the chain to extend from here. That's looking fairly good. We can move the whole bone obviously by selecting it there. The other thing that you'll find as you start to move bones around within the 3D view like this, sometimes the orientation of that bone is not exactly as you'd like it. We can control that with this roll attribute here. I can pull up back a bit so it's a bit better aligned with the rest of my mesh. Once you're happy with that, just select the end of that bone there, and we once again, we're going to extrude this out. I'm going to hit E, and I'm going to pull this out and try to drop it roughly around the tip of my fin here. Once again, it's worth moving around in your 3D view just to check that things are lined up as they should be. Again, select that bone and check that the roll value is correct here. I'm going to take this right back somewhere round here so it feels as if it's actually aligned to my fin. Once you're happy with the placement of your bone, we can sub-divide it to give us better control over the vein in animation. Again, I'm going to right-click, Subdivide and increase my number of cuts to two. This once again, double-checking everything is in a correct place there. Now I want to rename these bones again. I'm going to select this one at the root of the chain and hit F2. Then I'm going to rename this to pectoral_1. I'm just going to copy that, and then rename each of the others in the chain. There we are. For now we're just going to work on the fins on the one side of the body, and you'll see why and as well. Now I'm going to move to the pelvic fin. Again, I'm just going to jump into my side view and will add another bone. I shall move down again roughly into place before we go into the 3D view to fine-tune that. The first thing I'm going to do is define this initial bone. Always moving around, check it from all angles and make sure it's working correctly. I'm just going adjust that roll slightly. That should be fine. Select the end of the bone here. You can see I'm aligning my viewport roughly to the same angle as this fin before I extrude the bone out. That just means I won't have to move things quite so much once the bone is created. It's more or less in the right place, but you can see the roll of this is not so great. That's just that. It's a bit better. Once again with this, I think I'm going to subdivide it to give me a bit more control. I just right-click and subdivide. One subdivision is sufficient here. Let's rename our bones, so hit F2. Call that pelvic_1, 2, that's 3. Now the reason we were only working on the fins on the one side is that we can mirror them over to the other side of the rig. But before we do that, we need to ensure that Blender knows that these are controls that need to be mirrored which means we need to define them as being either left or right controls within our rig. Now to do that, if we have a look at the pectoral fin first, you'll see I named each of these bones without defining whether it was a left or right. If I select all of those bones in the chain and we head up to this Armature menu, we have an option here under the Names menu, to Auto Name left/right. If I click on that, you can see up at the top here it's added a.l at the end. In this case, we actually want this to be named as the right bone rather than left, so we can do that again up in the Armature menu. If we head back down to that Names menu here, we've got Flip Names. If I click on that, you can see that our names have been changed.R. We can just click through those and you can see each of them has that.R suffix at the moment. We'll do the same down at the bottom here and select all of those bones for the pelvic fin. The Armature menu, Names, Auto Name, and then again, we have to go in and we need to flip those names. Should have renamed each of those correctly. That done, we can select all of the bones here for our pectoral fin. If we go up to Armature, we have this Symmetrize option. When we click on that, it's now generated a chain on the other side. Each of these bones on the other side has been named to match the bones we first created on the right side. We can now go ahead and do the same down at the bottom here with our pelvic fin. I select all of those bones. Armature, Symmetrize, and it's dropped everything into the right place with the right names here as well. [NOISE] 6. Rigging: Parenting: Now that we've defined all of the bones for our character, we need to ensure that they're connected together in the right way. Now to check out how things are moving at the moment, we can move out of edit mode and into pose mode. You can do that up at the top here, or alternatively, if you hit Control Tab, you'll get up this pie menu and you can select it from there instead. In pose mode for first select this route bone, and then just translate that around, you see that nothing follows it. We actually want the entire rig to follow along with that route bone. Same guys, if I select this two side bone, nothing follows. Let's see if I rotate this head bone my nose follows along. Now if I select this bone at the root of this chain and rotate it, these two bones are connected as well as because we extruded each of these bones from one another or subdivided the chains, so you'll see the same works for each of our fins as well. So I'll just hit the tab key that's going to take me back into edit mode here. Now we want to start connecting things together. So I'd like this torso bone to control both of these two main change through the body here. I'm going to select this head bone, and then I'm going to shift select my torso bone. I'm going to hit control pate parent and I'm going to select make parent keep offset. That shows the bones word pop to a different location. I'm going to do the same here, I'm going to select torso 1, shifts left torso, control pate and keep offset. Inside my torso bone now, and shifts my route again, hit control P, and keep offset. This way when we move the root, it will then move this torso bone, which will in turn move these two chains with it. So we now need to work out where we're going to connect each of the fins. It start at the back here. What I'd like to do is connect each of these chains at the back here that are controlling these fins, to this bone at the end of this torso chain. That ensures wherever this ends up as we're rotating the body around, these other bones will follow with it. So again in turn, I can just select each of the root bones of these fin chains, shift select the button I'd like to parent it to and hit Control P, keep offset. You can see each time I do it, it creates this dotted line which shows the relationship. So I'm just going to go through each of these other chains and connect them up. Now, looking my pectoral fins here, if I select the first bone in the chain here, you can see that it's fairly well aligned with that head bone, so wherever the head bone turns, I'm going to want this to follow along. I'm going to select the first bone in the chain here again, shift select that head bone, Control P to parent and keep offset, I'll do the same on the other side too. Now when we're looking at pelvic fins down here, we've got a decision to make. You can see they align fairly well with the center point between a head and a torso chains. In this case, I think what I'm going to do is connect it to the torso chain. As the fish is swimming, I'm expecting this to be moving around more than the head, and having these fins follow along with the back of the body would make sense. Again, the first bone in the chain shifts left torso 1, and Control P keep offset, the same on the other side, and that should be everything connected. Once again to test, we're going to hit Control tab, and going to pose mode. Now if I select this route control and translate it around, you'll see my entire rig follows with it. I can select this torso control, and again that moves everything below it, but leaving route control, which is exactly what I would like. If I select my head bone and rotate it, it's moving those pectoral fins with it. If I select the ridge of this torso chain here and rotate it, again, it's moving all of those fins at the back along with the pelvic fins below. So it looks as though everything's connected as we would like. I'm just going to hit Control Tab and that's going to take me back out in this case into object mode, and I'm going to go up and rename my armature. So call this rabbit fish rig. Let's save our scene. 7. Rigging: Gizmos: So far all of our character controls share the same bone object's shape. Sometimes it can get a bit confusing when all of these bones are layered over the top of one another, particularly with a complicated character. Also, if I disable the X-ray mode here by hitting Alt Z, you can see sometimes it can be difficult to select our armature when it's hidden within the character mesh. Now, what we can do within blender, is change the display of any of these bones to use a different object instead. If I hit Control Tab to go into pose mode, I'm just going to enable X-Ray mode here as well. You'll see if I select this route bone here and I go up to the properties editor, if we go down to the bone properties here, under viewport display, you'll see that we have the option to add a custom shape and add a custom object to define that. For now, I'm going to hit Control Tab to go back into Object mode, deselect everything, and I'm going to hit "Shift A" to add a new object. I'm going to add a mesh circle. We can actually just hit "S" to scale that down, just a bit larger than our fish here. That should do for now. Because we have this scale value on here, I'm going to hit "Control A" and apply the scale to reset those values to one. I'm also going to go over into the Outliner. I'm going to hit "F2". Let's rename this to control object. Then with the objects selected, I'm going hit "M" and add a new collection which we're going to call gizmos. That's moved our control object into this separate collection. Now, I'm just going to click on my "Rabbitfish Rig" to select that and hit "Control Tab" again. With my root bone here selected, I'm going to head over to this bone properties tab and the custom object. If we click in there, you can see all of the objects in our scene and I can go down and pick this control object. Now what you'll notice, is it's swapped out our bone display and it's replaced it with this circle here. But obviously its orientation is different to that which we created originally. Now we've got a couple of different options here. We can actually manipulate the transforms of our custom object here. I could go ahead and I could add some rotation in, rotating in this case around the x-axis. But instead of that, what I'm going to do, is I'm going to hit "Control tab" to go back to object mode, and I'm going to select this control object and hit "Tab" to enter edit mode. Hit "A" to select all of the points here and then I'm going to rotate them 90 degrees around the x-axis. You can do that just by hitting off rotate x to define the x-axis and then 90 and hit "Enter" to confirm. Once we've done that, if I hit "Tab" again to exit out, you should see that our gizmo is now rotated in this orientation, but we have our root bone with this custom display object, which is now oriented as we'd like it. To make things less confusing, we can now hide our control object just by disabling this gizmos collection completely. If I go in and select this, now you see that I'm selecting the whole of my character rig, which is far easier than trying to select individual bones which are hidden by the mesh. If I hit "Control Tab", that takes me into the rig. I can still manipulate this custom object further if I choose to. For example, I could scale this down on the x-axis, so it better matches the shape and size of my fish here. Now I hit "Control Tab", and that will take us back out into object mode. Let's save our scene. 8. Rigging: Weight Painting - Intro: Now that our rig is complete, we're ready to actually connect the mesh of our character to the underlying controls. Before we do that, I just like to version of my scene 4. Now Blender has a number of different ways in which we can connect the mesh to the underlying rig. One which can be quite handy sometimes is to connect with automatic weights. If I select the fish and then I shift select my character rig, I can hit "Control P" to parent. But in this case, what I want to do under this Armature Deform section is pick with automatic weights. Now, that will automatically assign an influence from each of the bones to the points on the mesh. Unfortunately, that's not necessarily what we want in the case of this character. Because we have these fins as separate objects, we have bones here, which really we only want for controlling these fins. Remember what you'll find if we select the rig and hit "Control Tab" also I can select, for example, the nose and rotate that. You'll see it's doing the right thing. If I select one of these fins, for example, and I start to rotate that, it's moving around the side of the face, which we don't want to happen at all. You'll also find that we're probably getting the same effect down at the bottom here. In fact, we're getting all sorts of strange movement towards the back here as well. Instead, what we want to do is manually assign the weights to certain bones within this rig. To do that, I'm going to hit "Control Tab" to exit auto pose mode. What we want to do is remove the influence that we've just added here. There are two things that we need to do to achieve that. If I select the mesh itself and go to the modifies tab, you'll see we have this armature modifier which has been added in here. We can simply click "Remove Modifier" to remove that. Now, if I select my rig and hit "Control Tab," you'll see if I start to rotate any of these bones, it's no longer influencing my mesh, which is great. But there's something else that we need to do. I'll get back into object mode and select my mesh. You'll see if we go down to this Object Data Properties tab, we have these vertex groups that have been created. This is how the relationship between the bones and the specific points on the mesh is defined. What we want to do is hit this little arrow drop-down here and click "Delete All Groups" to remove those vertex groups. That way we won't have any conflict between the weights that were auto-generated and the new ones that we're going to create now. Once again, if we select just our fish body object and shift select our rabbit fish rig, we can hit "Control P" to parent. But this time instead of hitting Automatic Weights, we just want to select Armature Deform. If we do that, and I, once again, just select my mesh, you see we don't have any vertex groups created here. But if I go into the modifies tab, we do have this armature object, which is creating the relationship between this mesh and the rabbit fish rig. Now, what we need to do is go in and assign the weights that will control the points and connect them to the bones within a rig. To do that, first, select the rig object and then shift select the body mesh. Important to do that in this order, because we're now going to be editing the weights on our body, but we also want to have this rig selected. Having done that, we can now enter Weight Paint mode. Again. You can do that with this option up at the top here, or hit "Control Tab" and you'll see that we now have weight paint as an option within this menu. I'm going to click on that. Now what you should see if you selected those two objects in the correct order is that our fish is here with a solid color on it. But we also have the option to view each of these bones. If we hold down control and click on any of these bones, you'll be able to select them. That's how we'll select the bones and paint an influence for each of them. But to make life a little bit simpler, first of all, what we're going to do is Control click on this first nose bone, and then Shift click on each of the other bones along the torso. We can then also shift click on each of these bones for the fins and the tail. If you accidentally select something like that route there, just shift click again to remove it. We're not selecting either our pectoral or pelvic friends, and we're also not selecting either a root bone or this main torso bone. With those bones selected, what we can now do is go up to our weight menu here and click Assign automatic from bones. This will give an automatic assignment, but just from those bones that we have selected, that will make our life just a little bit easier. You can see whichever the last bone is that you have selected, you'll see the influence from that bone. We can now control click on any one of these bones to see the area of influence. You'll see as you click through, anything that's red has a full influence and that fades off through yellow and green into blue, blue being zero influence from that bone. The other benefit of working in weight paint mode, having first selected our character rig, means that we can actually rotate each of these bones to see the influence on our mesh. You can see at the moment it's actually squashing some things right up at the top of the mesh there that we really don't want. If I right click, I can cancel that rotation and I can go and check out each of the other bones. If I select this one and rotate it, you can see that we're really got this problem right at the very top of our head there, where these points are being crushed up. If I rotate this bone here, again, you can see things are not doing exactly what we want up at the top there at all. What we can do is start painting in a little bit of influence ourselves. To do that, you can see this circle that we have around our cursor, that's the area that we're going to be painting an influence. Up at the top, you can see these different values. We have our weight and each of our points on our mesh will have an influence between zero and one, one being fully affected by the bone, zero having no influence at all. Our radius simply controls the size of our brush. If you have a pressure-sensitive graphics tablet, you can click on this icon here, which will enable pressure sensitivity to affect the radius of your brush. Then Strength allows us to dial in how much influence we're painting on gradually. For example, with a strength of one and a weight of one, anywhere I click on the mesh will get 100 percent influence for that particular bone. For example, if I start clicking here, you can see these red marks here show that I'm getting 100 percent influence. I'm just going to undo that for now. If for example, I dial this strength right the way down, maybe to 20 percent, as I paint, I'm going to be gradually increasing the strength up to this value of one. Again, if you have a graphics tablet, we can enable pressure sensitivity here. At the moment I can see with this bone selected that most of my influence is very localized here. Really, I would like to paint some influence throughout the whole of the fish's body up at the top here. What I'm going to do with this strength set relatively low is just start painting in along the body here. If you hold down the F key, that will interactively allow you to adjust the radius of your brush here. I can make it a bit wider and start painting. You can see that as I paint across the mesh and gradually adding influence. You can adjust the strength value if you wish to make it a little bit higher, for example. One thing that I should note though is that whilst I said that each of the points can have an influence between zero and one, to a particular bone. Is possible to end up with a situation where some points don't have a full influence to any bone and therefore will be left behind when the rest of the rig moves. Other points can end up with an influence of greater than one in total between different bones. Both of these situations can create a problem for us. In order to get around that, there's a function called normalize, which will take each of those points and ensure that even if its influence is connected to multiple bones, the influence will only add up to one in total. What we can do is actually head up to the Weights menu. First of all, let's hit "Normalize All." That should ensure that each of those points is averaged out. Then under our painting settings here, if I hold down the middle mouse, so I can slide this along. You'll see we have an option at the end here. We have auto normalize. So it's worth checking that on to make sure that we're not painting in a way which will negatively impact the final result. 9. Rigging: Weight Painting - Body: I'll go in and start painting a bit more influence in here. I'm going to paint down through the rig as well, down to the bottom here. Just keep moving around in the 3D view if you're finding some areas are hard to paint onto. Maybe the angle that you're approaching the mesh from. We are going to now control select the next bone in the reg. Again, I'm going to do a similar thing. Paintings influence up to the top here. You'll notice as I'm painting on the one side is currently mirrored to the other side. That's because we actually still have our mirror modifier on. Now if I select that nose bone, obviously we have a lot of influence up at the top here, which we don't really want. What we can actually do is paint in a weight of 0 in this case, I can tell that right down to 0. I can start painting in here and you can see that we get this darker blue instead. Anytime again, you can just hit R to rotate each of those bones to see the influence that he's having. Control click to select a bone, an artery rotate. You can see that we've now got a slightly smoother fall off on the top here. It's not perfect yet, but we will refine that further as we go. Again, I'm going to select this bone. Take my weight backup to one, and start painting in some influence for this bone here. Now in this case, we do want the influence to be associated a little bit more in this area. Let's rotate to see how we're doing. Because we obviously want to be able to control these fins independently, but we don't want that fin to be pulling up on this area too much. I'm going to control click on that bone. Just painting a bit more influence up to the top and down to the bottom here as well. I'm overlapping the ends of those fin slightly a bit more controlled by this bone. Again, there's just select one of those bones and rotate it to see what's happening. Again, I feel that squashing the rest of the body down a bit too much, we can actually select a weight of 0 and paint that in over here because you can see it was affecting some of this body when it really shouldn't be a tool. We only want the influence to affect the fin. Let's try down at the bottom here we've got the same problem here. Painting weight of 0 down at the bottom. Still got a bit too much but Bolger up at the top that I want to get rid of. Reduce the influence on the top. I'm going to paint in a bit more influence here. Let's change that back to 1. I leave that for now because we've got a couple of things that we can do to help out with these problems around here. Let's just have a look at this tail. Again, we don't really want that bone to be influencing the area outside away from the tail. Let's select a weight of 0 and paint that in. If you need to just have to reduce the size of that brush, we can remove all of the influence from the upper fin. I don't look at what's going down at the bottom here. As we rotate this, you can see our influence is constrained to a tail. Once again hit one on the weight. Just paint in a little bit more influence at the bottom of this fin here. Now, up at the top here, particularly you can see this area is looking a little bit messy and when I rotate this bone, we're getting this area crushing up a little bit. There are two things that we need to do. One thing at the moment, our armature is being evaluated in the wrong place. Really want to move that up above our subdivision modifier. If I slide that up and into place. Now as we rotate, you can see that the end result is far smoother. You'll notice that as we move throughout the rig and if the areas that we're squashing up, particularly this area up at the top here. You can see our deformation is now far smoother than it was before. That's because a deformation is being applied, and then our subdivision is being applied at the top of that. The other thing that we can do to try and help with these problem areas, such as the mesh crushing up just here, is we can apply smoothing to our results. I'm going to select each of these two bones at the root of the fins. Also this bone that we have here at the back of the torso. Then under weights, I'm just going to head down to smooth. You can see that softened this influence. If I rotate this bone here, you can see that that defamation is a little bit better now. I think what I'm going to do is just drop this strength down to 0.1, and just see if I can paint in a little bit more influence from this bone just here, so that we're getting a better fall off along here. See how that looks for rotate. Just add in little bit up at the top here. That's looking a little bit better. Bear in mind is while we're not going to be moving this fin to drastic angles. As long as it's working well, when we rotate it at small amount that should be sufficient [NOISE] for any of these individual bones. I can just go in and click "Smooth." That should help average out those weights. We're taking just a little bit of time moving around. Just move around your rig, and checkout the deformation from all angles. Make sure that it's working as you expect. Well, it can also do, if I "Control" click this bone and "Shift" click the other ones in the chain. I go up to my Transform Pivot options here and make sure that I have individual origins selected. I can now hit rotate and I'll get this distributed rotation along the length of that chain, which is really useful for testing how this fish is going to look as it swimming. I think those weights are looking pretty good now. We've got everything set up for the main body, and we can move on to the fins in the next lesson. Let me just hit "Control S" to save. 10. Rigging: Weight Painting - Fins: We're now ready to move on to the pectoral fins. I'm just going to hit "Control tab" to exit out of weight paint mode, and into object mode, and I'm going to select this pectoral fin. Once again, we want to shift select our armature, and hit "Control P" to parent with armature deform. With that done, deselect everything because we need to select things in the correct order. Let's select our armature first, and then shift select our pectoral fin. We can now hit "Control tab", and select "Weight paint mode". Now, before we go any further, I'm going to grab this armature modifier, and again move it up above my subdivision modifier to make sure that we have a smooth end result. I'm going to control click first bone in that chain, and then shift click all of the others. We'll go out to the Weights menu, and click "Assign Automatic from Bones." Now if I control click each of these bones, we can test out the influence. That looks like it's doing what we want. Again, let's shift select those other bones in the chain, and I can rotate them with that distributed row. That looks like it's doing what we want. I'm just going to undo that, and that should be all we need to do for that fin , so control tab. Let's go back into object mode, and we can do the same over on the other side. Select the fin shift, select our rig, "Control P", armature deform. Then select our rig. Shifts select our mesh, control tab to enter weight paint mode, select that first bone, and shift select each of the others in the chain. Weights, assign Automatic from Bones. Again, let's just do a quick test by selecting these three bones in the chain, and rotating them. That is fine. Again, Let's move the armature object up above the sub division. That gives us a smoother result, and control tab back into object mode. Let's repeat the same process for these pelvic fins down at the bottom here. First, let's select the fin, shift select our rig "Control P" armature deform. Rig, shift select our mesh control tab into weight paint mode, select all of our bones, Assign Automatic from Bones. Quick test again, and you can see again here, just how badly that is deforming. But if we move our armature up above our sub division, and rotate, we get a much smoother fall off there, which is what we were after. Control tab out again. Do the same on the other side, and select things in the correct order to get back into weight paint mode. Select order of bones, and one final time, Assign Automatic from Bones. Let's reorder our modifiers, and check out the result. Here we are. Back into object mode, and our character weights are all correctly applied. Now, let's save our scene. 11. Rigging: Parenting the Eyes: Now whites are all applied. If we select our character rig and hit Control tab to enter pose mode. As we start to rotate controls around, you'll start to see that we've got a problem here with the eyes, the way that they're slipping over the mesh. You'll notice that if we grab this torso control, if I rotate that, then the eyes are slipping and sliding all over the surface. To avoid that, what we need to do is make sure that the eye is actually parented to one of these bones. To do that whilst we were imposed mode, select this head bone, and then exit out of pose mode back into object mode by hitting Control tab. What we can now do is select this eye white here, and then we're going to parent it to that bone. To do that with the objects selected, let's shift select our armature and hit Control P. But this time instead of using armature deform, we're going to pick bone and it's important that we select our bone first so that blender knows which bone is we're trying to connect to. That's why we pick that head bone when we were in pose mode. If you do that and we hit Control tab, you should see now if I start to rotate this bone around, our eyes stays locked to our head. When we rotate the head bone, the same is true. We will still get some stretching occur if the movement around the eye is too great. But for the most part, this should work nicely. Again, let's just make sure that we've got that head bone selected in a pose mode, control tab back out to object mode. We can do the same for the eye on the other side. You select the eye shifts, let our rig Control P to parent, and this time select bone. Again, Control tab in and check out that that is working correctly. Looks as though it is. Let's head back into object mode and save our scene. 12. Rigging: Rotation Orders - Intro: Before we complete our rig, there's one last thing that we need to talk about, and that's rotation modes and rotation orders. In order to explain that a little bit better, what I'm going to do is first uncheck my Rabbitfish collection and I'm going to hit "Shift A" to add in a cube. Just going to frame that up. By default within Blender when a new object is created, you can see we have our X, Y, and Z rotation axis. Below that you can see what is called the rotation mode here. In this case, X, Y, Z Euler. I can rotate this object around the X-axis, or the Y-axis, or the Z-axis. As I'm rotating individually around the axis, I'm getting a very predictable result here. If I enable this rotation gizmo at the side here, and I actually change from local mode here into what's called gimbal mode, that will better show us what these rotation orders are doing. What you'll notice, if I rotate around the Y-axis and I rotate this to around 90 degrees, you can see now my X-axis and my Z-axis have actually aligned with one another. At this point, if I rotate around my X-axis, I get the same result as if I rotate around my Z-axis. In fact, there's no way for me to rotate around this one axis without manipulating multiple axes all at once. I can do that here and you see that all of these values are changing to get the end result. This is a circumstance known as gimbal lock. If I just reset this rotation, what you'll notice is rotating around the Y-axis has that result of lining up these axes. If I rotate around the X-axis here, it appears that these axes haven't moved at all. All of a sudden, if I rotate around my Z-axis, that's still aligned to my global coordinates. If I undo that, I start out by rotating my Z-axis, you'll see that's rotated all axes and they're still matching up with the cube. The reason for this is we have an order in which these rotations are calculated, and that actually works backward through the sequence here. It's essentially a hierarchy where the Z rotation works first and the Z-axis axis will move both the Y-axis and the X-axis with it. The next one in the sequence working backward is the Y-axis, so as I rotate that, that would actually carry the X-axis with it without having any influence on the Z-axis. Finally, if I rotate the X-axis, that has no effect on either of the two that are higher up the hierarchy. That's important to understand because if I reset this rotation, we can change this order. Instead of evaluating X, Y, Z, we can have a different order. If for example, we know we are regularly going to be rotating around the Y-axis here, we don't want to end up in a position where these two axes quickly overlap. We can change this order so that Y is not in the middle. Whichever axis is in the middle of these three is the one that will end up creating this gimbal lock situation. For example, if I change this X, Y, Z-order so that instead, we have Y at the end of the chain, so X, Z, Y, that means when I rotate around the Y-axis, both of my other axes will be carried along. That means wherever I rotate this Y-axis too, I still have full access to both my Z and my X-axis. Obviously, because my Z-axis is in the middle, rotating now around my Z-axis will ultimately lead to a gimbal lock situation. With the Euler rotation mode, there's no way to avoid that. One of these axes will ultimately get you into this gimbal lock situation. Within animation, that can start to create problems, so it's worth taking some time to set up the correct rotation orders at the start so that we minimize the likelihood of hitting gimbal lock. Whilst there are ways around it, it just makes life a bit more complicated in animation. Now there is one other rotation mode that you need to be aware of. If I reset the rotation here, we can see we have this quaternion mode and that gives us an extra rotation value in here, we have W, X, Y, and Z. Now, instead of having what we're used to, which is degrees of rotation from zero round to 360, instead, as I rotate around the Z-axis, you can see as we get up to 180 degrees, we're closing on a value of one here. You'll also notice that the W value is changing all the time as I'm rotating. Once I get past 180 degrees, you'll see that my Z value is now actually decreasing back down to zero and again my W value is changing all the time. The same is true if I rotate it around any of the other axes. This mode is designed so that we never hit gimbal lock. You'll see, even though I'm in gimbal mode here, whichever axis I use to rotate around, I still have full access to all three axes and they're aligned perfectly to my object. This is great because obviously you never have that problem where we're hitting gimbal lock but within animation, these values become very hard to understand because every rotation is a combination of multiple values. When we're manipulating animation curves, it becomes almost impossible to get the result that we're after. As a result, for animation within our rigs, it's better to stick with the Euler rotation methods even with their limitations. With all that said, let's hit "X" to delete our cube and re-enable our Rabbitfish_Rig. I'm just going to hit "Home" to frame that up. In the next lesson, what we'll do is set the rotation orders on our fish so that they're useful for animation. 13. Rigging: Rotation Orders - Setup: So, if we first select our Rig and hit ''Control'' tab, what you'll notice is that any of the bones we select actually have this Quaternion rotation mode by default. Now as I've explained, it's actually going to be better to work with one of the Euler rotation modes. For now, what I would like to do is switch all of these to the default XYZ Euler rotation mode. Now if you select, for example, two bones here, you might think that if you then go and change this to XYZ Euler, that would change for both of these selected bones, but actually, it's only changing for the last bone selected. If I go ahead and select this bone here, you can see it's still set to Quaternion. But there is a way around that. If we first hit A to select all of the bones in our Rig, if we hold down the ''Alt'' key and then go and change this to XYZ Euler, still with ''Alt'' selected. If we click on any of these bones now, you'll see the XYZ Euler is now the selected Rotation mode and that works for any value within Blender. If you have multiple bones selected, and you want to enter a value here for multiple bones, just make sure you have the ''Alt key'' held down before you make the change. Now with everything in Euler mode, what we now need to do is make a decision on which of the actual rotation orders we want for each of the bones in our chains. So, to do that, let's just select one of these bones and with Gimbal mode selected up at the top here, let's enable our rotation gives way ahead, so that we can see exactly what's going on. Now in the case of these head bones and torso bones, most of our rotation as the fish is swimming is going to happen on the z-axis. As we're moving that tail from side to side. So that's going to be our primary axis of rotation. As a result, really we want that to be the final one in our chain. And that's exactly what we've got with the XYZ Rotation order. You can see as I rotate this bone, both of the other axes are coming with it. After that, obviously, if we rotate on the y-axis, we're going to be bringing our x-axis down towards this z-axis. But on the whole, that's not going to cause us a major problem. So, we will still have access to both our X and our Y Rotations regardless of where we rotate our z-axis. Actually this XYZ rotation order should work just fine for these bones. And if we check our torso bones at the back here, you can see that's exactly the same. The z-axis is the one that we want. Obviously the same will follow through with our tail bones as well and these fins at the top and the bottom. Again, XYZ, should work just fine for us. What we do need to look at though, is this main torsal bone. This is the one that's going to control the direction that our fish is swimming. Since we're generally going to rotate it to point in different directions, you can see here we quickly closing on Gimbal lock. Once we rotate 90 degrees, we'll no longer be able to easily rotate around from side to side. That's because this bone has a different orientation to these bones. So, in this case, we're rotating around the z-axis, but here would be rotating around the Y. That means we need to change our rotation order so that the Y is at the end of this sequence. Now we could pick either XZY or ZXY. I'm going to pick ZXY. That means that as we rotate around the y-axis, all of our other axes are aligned and if we rotate around the z-axis, we still have our x-axis that we can rotate on as well. We rotate on X top down or z-axis is actually going to be aligned to our fish correctly. So that all seems to work pretty well. Let's just reset these rotations and as a result, I think we're also probably going to want that same ZXY rotation order for our route bone here. So let's change that now. Next thing we need to do is look at our pectoral fins. Now this route bone here of the chain is the one that I'm generally going to use to rotate this fin around up and down. So I'm going to be using this Y rotation quite a bit. I'm also likely to rotate this in Z, but not so much on the x-axis. As a result, let's check out the ZXY rotation order. If I rotate on the y-axis, you can see I still have direct access to both of these other axis. If I rotate around Z, I am however, losing my y-axis. What we want is our Y to be at the other end of the chain. So let's instead try YZX here, if I rotate my z-axis, you can see I still have access to my Y wherever I am. Whilst that is closing us on Gimbal lock, we're unlikely to want the x-axis rotation at that point. So, I think that will work well for us. I'm just going to change that on the other side as well, to YZX. Now looking at this fin here, it's likely that as I'm bending this fin, I'm going to be rotating it along the x-axis primarily. I may also want to twist it on the y-axis. Now, whilst I can do both of those things at the moment that further I rotate that X, you can see that my axes are being left behind, I'd like that X value to be the final one in our rotation orders. So it's actually evaluated first. So, I'm going to try switching this to ZYX instead. Now if I rotate on the x-axis, you can see that my other axes are still aligned correctly. I can rotate around Z, I can rotate around Y and that should give me the control I need. You can see that I've only changed this one value here, ZYX. So let's go ahead and change these others in the chain also to ZYX. So, again you can see that X rotation is giving us exactly what we want. Let's just select all three bones on the other side. And again with the ''Alt'' key held down , let's pick ZYX. Just double-check if that's being applied to all of these bones. Let's have a look down at the bottom here. Once again, we primarily wanting to rotate around this y-axis here. And possibly also around the x-axis and having that y-axis stay aligned. It's the same sort of thing that we were wanting to do up at the top here. What you'll notice is our z-axis is now aligned differently to this one up at the top. So, in this case, I think YXZ is probably what we're going to want to work with. So as we rotate in Y we still have access to the other axes. If I rotate in X, I still have my y-axis correctly aligned. Figuring out some of these rotation orders can be tricky sometimes and even if you leave everything, the default XYZ it's still fine to work with. Just in extreme cases, you might find yourself hitting the Gimbal lock situation a bit more often, but there are ways of working around that in animation. Finally, let's check out this chain. I think on the whole, I'm going to be rotating on Z and on X here and I think we could get away with just leaving that with the XYZ rotation orders. Let's just make sure that we've mirrored this over to the other side. So we had YXZ selected, so let's do the same on this side as well. Here we are, and that should be our rotation orders all set up correctly. So, just going to hit back to object mode and save my scene. 14. Rigging: Scene Cleanup: The final thing that we want to do is little bit of tidy up. Because what we want to do is set up the scene scene in such a way that we can then load elements of it into a fresh scene file to work on the animation. So, in order to do that, I just want to clean up some of the naming here in the outliner. First of all, this collection, let's just hit "F2" and rename that camera so it's clear what that's for. I'm going to turn my environment collection back on again. I can just collapse that up for now. Then my rabbit fish itself, I'm going to select "The Mesh". At the moment, the subdivision level is set to two. That's fine, but I think we're going to get a cleaner result if I actually increase that up to three subdivision levels. You can see it's actually given us already a smoother outline to our character. It'll certainly help with the definition once we're actually animating the character. If you're seeing it gets a little bit heavy when you're working in animation, you can always head over to the scene properties tab. Then if you scroll down, we have the simplify option. Under that, if we enable it we can set a maximum viewport subdivision level which will override the subdivision levels on the mesh. By doing that, we can work in animation with a lower subdivision level, but just disable this result whenever we need to see the full res mesh. We can also have a different subdivision level for viewport and render use. For now, I'm just going to disable that. I think everything should now be ready to go. I'm just going to save my scene for one last time. 15. Rigging: Eye Controls: Also, I had said that we've done with rig for the character, it would actually be nice to add in some control objects that we can use to manipulate the eyes. With the setup that we've gone for is possible to select the geometry of the eye, and actually animate it directly. However, for animation, it would actually be simpler to have a control that's built-in to the rig. In order to add that, let's just once again disable our environment for a minute. Jumped into the side view. I'm going to hit Z, and select my armature, and hit Tab to enter edit mode, I'm going to hit Shift A to add a bone and then select it, I move it over roughly into the position of the pupil of our eye. Then I'm going to set it up that bone and translate it down. We can now, select her bone and I'm going to jump into my front view, and translate it across sets just inside the eye there, are now F2 and rename that to eye. I can shift select this head bone, and then hit Control P to make parent and keep offset. Now, I'm just getting to head up to the armature menu with my eye selected, go down to names, auto name, left and right. Once again, it's given it a left suffix and we want to change that, right. Let's go down to names and flip names. At which point we can then go into armature and pick symmetrized. We now have a bone on each side to control our eye. It's going to hit Tab to exit edit mode and let's actually hit Control tab, go into pose mode and I'm going to select the bone just on this side, and hit Control Tab to go back to object mode or I want to select my pupil. One quick tip, if you have multiple objects over the top of one another like this, and you find you clicking on something and selecting the wrong thing. If you hold down the Alt key before you click, you get this little menu up here and then you can pick the correct object that you want from that menu. With my pupil selected, I'm going to Shift select my armature, hit Control P to parent, and then we want to parent it to the bone. I'll do the same again on the other side. I need to work to again go back into pose mode, select the bone that I want to connect this other eye to, then we can go back into object mode, Select our pupil. Again let's just use that holding down Alt and clicking to bring up this little menu, set my pupil. Then shift select my armature control P and parent to burn. Alt Z to get out of x-ray mode. Now, if I go into my pose mode, see we have these bones here which should follow along with our head correctly as we rotate. If I select one of these bones and move it around, it will move my pupil with it. What I'm noticing here is that we're actually revealing a small hole in the eye white there, which we don't want. In order to fix that, we're going to do is just go back into object mode we'll set the white in my eye. Then we're going to get to the modifies tab and then I'm just going to increase this offset value slightly on my shrink wrap modifier. I'm going to increase that to 0.06, and let's see if that's done the job. Let's move that bone around and you can see that hole has disappeared. We just need to get back to object mode and do that on the other side as well. Select this all white, and change that to 0.06 [BACKGROUND]. There we are. I'm now going to re-enable my environment collection, as we had before, and we can save our scene. 16. Animation: Analysing Reference: Before we start to animate anything new, it can be really useful to study reference footage in order to fully understand the movement of the particular species that we're going to be animating. Analyzing reference footage helps us to avoid any preconceived notions about how a particular species moves. In the case of a fish, we can obviously assume that it's going to be moving its tail and its fins as it swims, but how exactly does it do that? Now the more reference footage that you study, the more you'll realize that this varies from species to species. As we watch this footage of the Foxface rabbitfish that I recorded in an aquarium, you'll notice that as it's moving its tail, there's quite a lot of movement along its body. If you look at its head, you'll notice that its movements counter the movement of the rest of the body. As the fish slows down, we get less movement throughout the body. Then as it wants to accelerate off, you'll see these faster tail movements, which help to propel it through the water. One thing that's really useful to analyze are the movements of the pectoral fins. It's quite common to see animation of fish where the pectoral fins have been used as arms to propel the fish through the water, but that's not actually the case. Pectoral fins instead are generally held up by the side of the body, and then are pushed down and forwards through the water. This actually helps to create lift at the front of the fish and can be used to both help the fish to rise and fall throughout the water. But also, by adjusting the amount of lift on each side of the body, they can be used to help with turning. Also, by pushing those fins forwards, it can help with deceleration. You can see quite well on the turn here how the fish is actually making use of those fins to help control the turn. By analyzing different footage, we can see how the fish is using those fins both to control its speed and to control its orientation within the water, either turning left and right, rising and falling. It's also worth noting how the dorsal and anal fins are used as the fish is swimming. What you'll notice is, as the tail move side to side, the dorsal and anal fins generally move along with the rest of the body from side to side as well. Even if you don't have access to footage of the particular species that you're going to be animating, it can be useful to analyze footage of other fish instead. But it's worth noting that not all species move in exactly the same way. You'll notice here that this yellow tang swimming around at the moment makes very little use of its tail when compared with the Foxface rabbitfish that we were studying earlier. Also, if we take a look at this blue tang here, as it moves towards the bottom, it makes a lot of use of its pectoral fins, both to keep itself from hitting the bottom and to change direction and to rise back up again. The other thing that you'll notice as the blue tang is swimming away, is it makes very little use of its tail once again. This is actually something that the animators working in Finding Nemo realized when they were using the blue tang's reference for Dory. Initially they created animation which closely matched the movements of the real fish, but when the animation was played back, it appeared strange and unbelievable. In the case of Dory's animation, what the animators actually did was to introduce far more tail movement. They would be natural in real life. It actually created a far more believable result. It's an important reminder that in character animation, what we're trying to do is to create something that's believable rather than realistic. We can actually caricature motion to create something which feels more true to life than if we were to copy it exactly. What's useful though to take away, are things like the way that the pectoral fins are used to create lift, rather than using them to swim through the water for propulsion, since that propulsion is mainly coming from the movement of the body in the tail. I think we're now ready to move on and put some of these principles into action in the next lesson. 17. Animation: Scene Setup: If you've already worked with rigging section in the class, then everything should be prepared and ready to go. If however you've skipped ahead and you'd just like to get stuck into the animation side of this class, then you can go ahead and download this file from the class resources section. Whereas we could now go ahead and select our fish character rig and go ahead and animate it within this scene. A better way of working is actually to create a new scene file and link this character rig into it. That means that we can keep making new scene files and we'll always have our character that we can bring in to work with rather than just creating our animation within the original scene file. It also means that any changes that we make to the rig will be propagated throughout all of those scenes. In order to do that, I'm just going to hit Control N to create a new scene file. I'll just pick general here. I'm going to go ahead and select both my cube and my light and hit X to delete them. I'm now going to go to the File menu and choose link. If you navigate to the folder where you've saved your rabbit fish rig, we can select that file and click link. We'll then be presented with a list of the contents within that scene same file. We want to open this collections folder. Now you can see each of the collections that we created within our scene file. By naming them correctly, makes it far easier to actually find what we're looking for. In this case, obviously, we want to link in the rabbitfish and there it is. The other thing that I'm going to do is link in my environment. Again, I'm going to go up to File, link and click on the environment collection. Let's bring that in too. For now, I'm just going to disable the visibility of our environment so it doesn't get in the way. I'm going to select my rabbitfish. Because we've linked this rabbitfish in, we don't initially have access to the character rig. If I was to hit Control tab here, you'll see we only have object mode available. That's because as we've seen in the outliner, all we have is this one link to the separate file. In order to get around that, with our fish selected, we can go up to the Object menu, down to relations, and click Make library override. Make sure you also click this confirmation box. Once we do that, you'll see that we now have access to our rig. If I open this up within the outliner, you'll see that we can see all of the contents of our rabbitfish rig. Now that we've created our library override, I'm just going to jump over into the animation tab where we are going to be generally working. You can see our camera at the moment is looking at the back of the fish. I'm just going to roll over this camera viewport and get to the View Options. Turn on camera to view. Again to get rid of that. Now I can use my regular navigation controls to move the camera around somewhere off to the side of the fish here. You can see as I'm moving around within this viewport it's moving my camera within 3D space there. I'm also going to enable my textures by clicking on this little drop-down and turning on texture. We'll do that for both viewports. The other thing I'm going to do is for now I'm just going to enable my environment again. If I turn on the rendered view within my camera viewport, you'll see that we brought across all of the lights that we generated within the other scene file. But you'll notice that the shadows are harsher here than they were when we originally set up a file. That's because if we go over to the world properties, these properties are stored within the specific scene file. We've lost our HDRI that we originally had plugged into our environment. I'm going to set that back up again now. Before I do that, I also want to change the display of this camera viewport. I'm just going to click on my camera up in the outliner. First of all, I need to switch to object mode. I'm just going to hit Control Tab. Again, select my camera. If we go down to the camera properties here. We have a look at viewport display. I'm going to increase this passport two value up to one so that we have black outside of the area that will ultimately be rendered. That makes it far clearer what we're ultimately going to see. We can now go back over to our world properties under color here. Just going to click on this little color dot and we can add an environment texture. I'm then going to click open, navigate to my blender install directory. Here if I go into the data files folder, we can find studio lights world. Then we can select one of these EXR files. In my case, I'm going to set this sunset EXR and open image. That's now corrected the lighting on the fish. But we need to get rid of this image in the background here. In order to do that, I'm just going to jump over into the shading viewport and I'm going to change the display down here to world. I'm now going to hit Shift A and click on Search. I'm going to load in a mixed RGB node which I'm going to drop just on top of this connection here. I'm now going to hit Shift A once more and search for light path node and drop that in. What we're going to do is use this camera ray output here and we're going to drop that into the mixed factor. This will allow us to mix between our HDRI image, which will be used for the lighting within the scene. But the background will simply take on whatever we have in this color input here. For now, I'm actually just going to put in a dark blue color in here. I'm just going to zero here to change my camera view and change to my rendered view to see how that looks. Now you can see that we've lost this texture in the background here, and we just have this color here instead. You can adjust that to your liking. I'm going to jump back now into the animation tab. I'm going to switch back to Solid View. For now, we don't need to see the render. I'm going to turn off my environment, so it's not getting in the way. Finally, we need to save this scene file. I'm just going to come in here and change it to rabbitfish animation one. We should not be ready to start animating in the next lesson. 18. Animation: Setting Preferences: Now, before we get started on animation, it's worth checking some of our preferences to make sure that they're set up in a way that will make our lives as easy as possible. As we work, we're going to be making use of "Auto" key. But before we enable that, I just wanted to go up to edit and preferences to check the way that's set up. If we go into the "Animation" tab here, you'll see under this auto key framing section, I'm going to check the "Only Insert Available" option and close down my preferences. This means that when we have auto key enabled, and we can do that now, when we start to move controls around, they won't automatically get keys unless we've already set a key on them first. This prevents us from accidentally animating things that we don't want to be animated. Now, the other thing that we need to do to help with our Auto key is, if we go into this keying menu down at the bottom here, we can change our active keying set. If I click in that, we have a number of different options available to us. In this case, since all of the controls that we'll be animating will either require location or rotation keys, I'm going to pick that location rotation option. This means that whenever we set a key on something or we set it on the location and rotation controls only. The other thing I'm going to do is go to my playback menu down at the bottom left here as well. If we click on that, we have this "Sync" option which says play every frame. That's worth changing that to frame dropping instead. This was left to play every frame, as you're playing back your animation, blender will favor showing you every single frame rather than playing it back in real time. That can really mess with your perception of how fast that particular movement is. Instead, by selecting frame dropping, this means that the speed of the movement that we see on screen will be accurate even if blend is unable to show every single frame to us. As we start working, you'll see that we actually end up with a representation of the frame rate up in the top left here. Now, to help with that performance, what we're also going to do is head over to the render properties tab and we're going to enable the "Simplify" option. If I turn that checkbox on and drop it down, we can drop this max subdivision level down. For the moment, I think I'm going to leave that set to one, gives us a smooth enough representation of our character without it being too heavy when we're animating, and you can adjust this up and down as you choose, depending on the performance of your computer. With that all done, we should be ready to start animating in the next lesson. 19. Animation: Swim Cycle - Body: We're going to start out by creating a simple fish swimming cycle. To do that, first let your character rig and hit "Control tab" to enter pose mode. Then Alt Z will enable X-ray view and allow us to see all of our controls. To start with, what I'd like to do is just work with these central controls in the body. We can worry about the animation of the fins later on. I'm actually going to hit "Seven" to go into top view here. Because we're going to be moving the tails side-to-side. This will be the easiest way of saying exactly what we're doing. I'm going to start out by creating an initial pose. First of all, what I'd like to do, is just like these three bones along the length of the tail here. Then what I'm going to do is headed to my transform options up at the top here. I'm going to change my Transform Orientation to Gimbal, and I'm going to change my transform pivot point to individual origins. This means that as we rotate, these bones will get distributed rotation along the length of the chain. To start with, I'm just going to hit "R" to rotate. I'm going to rotate this off to one side of it. Now I can select the two bones in this head chain, and I'm going to rotate them in the opposite direction, a small amount. Something like that should do. The other thing I wanted to do is select all of these bones for the tail and the fins. De-select that bone now. I'm just going to move around and check that I've got everything selected here. I'm going to rotate them as well. For now, I'm not going to concern yourself with the other fins. What I'm going to do here is just hit "A" to select everything and "I" to insert a key. Now you can see down in the dope sheet, we've dropped the keyframe onto all of our controls. Now going to move along the timeline to frame 24, which is one second. It's worth actually just double-checking, and your output properties that you are working at frame rate of 24 frames per second. That shows that things are kept consistent. Here in frame 24, I'm just going to hit "I" again to insert a key for all of the controls. You can see because we changed our keying option down at the bottom here in our active keying set, whose location and rotation, you can see that we've just dropped in. Key-frames have a location and rotation only, not for scale. Next thing that I'm going to do is I'm just going to click on this first keyframe here. Click at the top of the summary track, and that selects everything below it. I'm going to hit "Control C". I'm going to move to frame 13 here. What I'm going to do is click "Shift Control V", and that will allow us to paste these keyframes in, but paste a mirrored version of them. That's really useful feature within blender allowing to mirror pose very easily. Now if I just change my N frame here to 23, which is one French short of our final pose here. That will mean that, as we play back, our animation should loop correctly. Reason for that is, once we get to 23, we will circle back to frame 1, which would be the same as frame 24, meaning that that cycle should playback smoothly. If I press ''Space'', we can see what we've got here. We've got this basic movement, from side to side. Up here in the top left of our viewport, we can see the playback frame rate. At the moment that's hovering around 25 frames per second. It's trying to maintain at 24 frames per second. If this value is red here, it shows that we're dropping frames. If it's white, then shows it's playing back every frame. What I can do here is to jump back into my render properties, go down to simplify by actually increase this subdivision level 23 and play it back. You'll see here our frame rate is only displaying around 12 frames per second here. Even though the speed is playing back, is actually still 24 frames per second. Let's drop that back down to one so we get a smooth playback. Once we have a basic fish swimming motion here. It's currently not very convincing. What we need to do is actually create a bit of drag through the body here. The motion will start at the root of detail and it will gradually propagate down the tail, so we get a little bit of an overlapping motion at the back of the tail. In order to do that, what we first need to do is with all of our control selected, we're going to head over into the graph editor. You can do that by rolling over the dope sheet and hitting ''Control tab''. Just going to hit ''Home'' to frame this up. I'll just zoom back a little bit so that we can see exactly what's happening here. Again, with all of our controls selected, I'm just going to hit "A" over the viewport here to select all of our curves here. If we hit "Shift E" over the graph editor here, we can change our keyframe extrapolation. The moment it's set to constant, which is why we have these straight curves before and after a reaction. If I hit "Shift E", I can change that to make cyclic. You can see now our motion continues before and after the area that we've actually key framed. What that allows us to do now is to select individual bones. I'm going to select this one in the middle of the tail here, and we can offset these curves slightly. What I'm going to do is, with all of these selected, I'm just going to hit "G", and with my middle mouse held down, I can constrain that motion so it's only moving along one axis and I want to move this just two frames to the right hand. This means that the action is happening two frames after the bone above it. Then select the next bone down the chain here. In this case, we'll do the same thing, select everything and G middle mouse to constrain it. In this case we're going to move it four frames. Then we can select these other bones here. Let's select each of these root bones of these chains. Select everything. Let's move them six frames along. Finally, we'll slip the loss bones at each of those chains and will move those eight frames along the timeline. Now if I just hit back to my top view and hit Play, you'll see that we have this formal or natural-looking movement on the tail here. In this case the tail and these fins are really dragging behind the rest of the body. We can also try just to get even more flexibility in here. I'm just going to select the top two tail bones here. With all of these curves selected, I'm going to hit "G" and I'm going to move that back one frame. We have an offset between the upper and lower parts of the tail. Now I'm going to select the lower part and I'm going to move all of those on one frame. Lets see what we get there. You can see now that these two parts of the tail are offset from each other, so we're getting a little bit more flexibility in there. The other thing I'm going to do is select this anal fin and I'm going to actually move those on a frame as well so they're offset from the fin at the top. We can now do the same thing at the front of the fish. We're going to select this nose bone here and just move those curves on two frames. Now, if we look at this from the top, at the moment, the center of our fish is staying very still. What I would like to do is get a little bit of sideways movement in here as well. In order to do that, we're just going to select this torso bone here. I'm going to go to my first frame, I'm going to hit "G" and "X" and just move it slightly along the x-axis. Just going to hit "Control tab" over my graph editor. I can select that first key frame, just for the torso here. I'm going to hit "Shift D" and I'm going to move it and drop it on top of frame 24. Then I'm going to select that first key again, hit "Control C" and again go onto frame 13, "Shift Control V" to mirror that frame. You can now see that as we play this back, we have some movement across the x-axis here on the main part of the body. I think that might be slightly too much, so I'm going to hit "Control Tab" to go back into my graph editor. I'm going to hit ''Home'' to frame all of this up. Now I can just drag over my X curve here, which is my X translation curve. I'm going to scale this down. What I'm actually going to do is hit "S" to scale. That would scale everything together, which is not what we want. I want to constrain that to the y-axis here in the graph editor. I can just hit "Y", and that will now allow me to scale it vertically. We can pick an arbitrary number here, or I can just type in note point five, that will scale it by 1/2 of its original value. Let's play that back and see how it looks. I think that's actually not quite enough now. I'm going to again hit "S", "Y", and let's try 1.5 and see what that gives us. I think that's a nice compromise, then get to save your scene. 20. Animation: Swim Cycle - Fins: Now that our main body animation has been worked out, I want to take a look at these fins because at the moment they're feeling rather unnatural, stuck onto the side of the fish here. What I'm going to do is just head back to frame 1 here, and start out by selecting this first bone in the chain. On frame 1 here, I'm just going to hit R to rotate, and lets just move it back in alongside the body a little bit. I'm going to hit Control Tab over the graph editor to head back to my dope sheet, select that key frame, hit Shift D, and drop it again over frame 24. Now as we move to frame 13, I'm just going to rotate this bone slightly forwards. You can see that we now have a basic movement of our fin in line with the body here. What I think I'm also going to do now is select these three bones in the chain, and I'm actually going to rotate them slightly out on this first frame, only quite subtly. Once again, I'm just going to select this first frame, hit Shift D, and overwrite that final frame. This frame in the middle, let's just rotate things slightly back, and in the opposite direction. Let's play it back to see what we've got. Once again, this looks stiff and robotic. What we need to do is loosen things up slightly. What we're going to do is once again hit Control Tab to go into our graph editor, home to frame this up and zoom out a little bit. Again, I want to delay the animation on these bones, so I'm going to select the first one in the chain, hit A to select everything. Once again, hitting G and holding down my middle mouse button, we've got two frames down the timeline. We'll do the same for the following bones and A, G, and we've got four frames, and select the final bone and we've got six frames. Let's play back and see what we've got. I'm actually going to take this final one, and I'm going to move that a couple more frames so we're getting even more drag at the tip there. I think that's working fairly well now. Now that we have one of our fins working correctly, I want to copy that animation over to the other side. We can start out with this bone at the root of the chain here. What I'm going to do in the graph editor here is just hit A to select everything. Control C, select the bone on the other side, and hit Control V. We can now select the next bone in our chain. In this case, we're working from frame 3, so I'm going to go there, A to select everything, Control C. I'm going to select this bone, and what I actually you want to do is just select all of these key frames. Let's just hit G to move them also to frame 3, and then hit Control V to paste in our new key frames. Do the same on these other bones in the chain. This starts at frame 5, A to select everything, Control C. Let's move all of these key frames to frame 5, and hit Control V to paste. We'll do this for the final bone in our chain as well from frame 9. Copy those frames, move these key frames to frame 9 and Control V to paste. Now if we play this back, you'll see that both fins are coming in at the same time and going out. Coming in, going out. Now this motion might not be exactly what you're expecting. At the moment, it looks like these bones here are mirroring one another, but the bones at the top of the chain are not, and we can see why that is. If we select these two bones at the top of the chain here, I'm going to hit the T key to open up our tools and bring up our rotation gizmo here. Now if we're in Gimbal mode, what you'll see, if I rotate this in Z, two bones are both rotating in the same direction here. If I select these two bones here and the next bones in the chain, and I rotate them here on X, you can see they're actually mirroring one another. This is down to the rotation that these bones had when we initially set up the rig. It's something that we need to work around here in animation. For now, I'm going to leave this top bone as it is, I'm just going to hit the W key to go back to selection mode, and T to get rid of those tools. I'm going to select these lower three bones in this chain here. At the moment, these key frames startup from frame 3. I'm actually going to move them halfway through the cycles so they start at frame 15. I can do that just by hitting G, middle mouse to constrain, and I'm going to move that along the timeline to frame 15. It looks like I've missed a curve there, so I'm just going to hit Control Z to undo, hit A to select everything, and once again hit G and move that back on the timeline. Now as we play things back, you can see that our two fins are properly opposing one another. I also want to do something with the pelvic fins down at the bottom here. You can see as we're playing back there, they're moving in and out of the body, so we want to counter that. I'm going to select this first bone in the chain here. I think what I'm actually going to do is select both of these bones at the top of the chain here on frame 1, try a front view, it might look a bit better. On this first frame, I'm just going to hit G and X. First of all, I need to change to global orientation. G and X, and I'm going to move them slightly across on the x-axis on that frame 1. Let's just move around. You can afford to do that little bit more, G, X. Let me move that across. It balances it up a bit better. We move to frame 13. Again, hit G and X. Let's move them back. Once again, we're fairly evenly balanced. Now my dope sheet. Once again, I'm just going to copy this first frame, Shift D, drop it my last. Now as we play back, we no longer have the fins cutting into the body as they were. What we can do though is select these two bones, and then I'm once again going to head into my top view. What I'm going to do is make sure I'm in gimbal mode here, so with my individual origins, I'm going to rotate them in slightly here on frame 1. Frame 13 we can rotate it slightly out. Again, duplicate frame 1 over frame 24. Again, let's jump into the graph editor. Let's let this first bone in the chain, A to select, Control C, bring it on the other side, Control V, and do the same for these bones here. What's going on here? At the moment, it's not getting the effect that we expect because once again, we need to select these two bones, A, and I'm just going to shift that down the timeline to frame 13. Now we should have these fins moving from side to side. Once more, I'm just going to offset this key slightly, so I'm going to select that end one in the chain, hit G. I'm going move that two frames, do the same with this one. Do this to add a little bit of flex to those bones. There we are. If you ever want to see your animation here without the bones over the top of it, you can just go up to the top here and click on this overlays icon and that will turn all of that off. Then you can move around your view port and see your fish swimming. You can turn those overlays back on, and save my scene. 21. Animation: Swim Cycle - Clean Up: Something that's important to be aware of. Is it the method that we've chosen to animate this fish where we've actually been offsetting curves along the timeline in the graph editor. I only really holds up whilst we're making use of this continuous cycle. If I select all of my bones and go to the graph editor here, you can see that this cycle continues into infinity in either direction. If for example, I was to hit, "Shift E" and clear this cyclic modifier. You see now the different body parts start moving at different times. If I were to extend my timeline back out, we will end up with different body parts finishing at different points in time as well. This makes it very difficult to reuse this cycle as an element within a more complex animation. As a result, what I'd like to do is create curves that start at Frame 1 and end at Frame 24 but we'll still maintain our cycle. To do that, I'm just going to change this end frame back to Frame 23 and we're going to work through control by control. If I select this Torso control and just hit the Home key to frame everything up. You can see at the moment, all of our keyframes are in the correct place. It'd essentially be true if we select either of the first two bones in these chains. If we select this nose bone, for example, it starting two frames later and continuing to frames later down the timeline. For now I'm just going to eight select everything because I wanted to re-enable that cyclic modifier [NOISE] A in the graph editor, "Shift E" and make cyclic once more. If I now select that nose bone. What we want to do is to add a keyframe here at Frame 1, one at Frame 24, and we want to remove this key frame, this Frame 26. If however, I simply add in a keyframe here on Frame 1. [NOISE] I can do that over the graph editor by hitting "I," selecting all channels here. You can see that this is currently breaking our cycle, and it's actually changed our handles at the other end of the curve here. I hit "Control Z" that will pop back into place. What's best to do is actually, first, let's change that to Frame 24 is our N frame, we head to Frame 24. [NOISE] I'm going to hit "I," all channels here. You can see I've now introduced this extra keyframe here, but left the orientation of our final keyframe the same, which is kept our curved shape exactly the same. What can now do is hit "I" again select everything and go back to Frame 1. Hit "I," "All channels" to insert that keyframe. Now I can remove that final keyframe just by selecting all of those keys and then you can hit the "Delete key" to remove them. Our curve now should match what we had previously. If we were to remove this cycle modifier since our first frame, our last frame are exactly the same, we can still loop this animation correctly. I'm not going to work through the other bones and do the same thing. I'm going to select this "middle torso bone" here. Again, I'm going to go to "Frame 24," "I," "All channels." We can now do the same on "Frame 1," [NOISE] "I," "All channels," and then just select [NOISE] "Frame 26" and hit "Delete." Moving down the chain here, you can see that we're now offset even further. I'm going to go again to Frame 24 still "I," "All channels," [NOISE] same to Frame 1 and to the S final case. I'm just going to move now through all the bones here and repeat the same [MUSIC] process. Now, in the case of these two bones, because we've offset these curves so far, we actually have two sets of keyframes are passed our cycle. We're going to have to handle that slightly differently. [NOISE] In this case, our Frame 25 should be the same as our Frame 2. What I can actually do is go to "Frame 2" hit "I" to insert a key. Now when I delete Frame 35, we're back to our cycle as it should be. I can now go to "Frame 24," hit "I" to insert a key here and one on Frame 1, delete my Frame 25 and now I cycle continuous correctly. We'll do the same for this frontal bone in the chain. Again, Frame 27 is repeated here at Frame 4. Let's hit "I," "All channels" and delete that final keyframe. Then once again, we're back to being able to set a keyframe on Frame 24, one on Frame 1 and remove that final frame to ensure that our cycle continues correctly. Now we can just hit "A" to select all of our bones. If I hit "Control Tab" to go back to the dope sheet. That will allow us to see if we have everything complete. We still got the petrol fence to do. I just go back here "control tab" to each of these in turn. [MUSIC] Once again, on this far side, we need to treat things differently. Again, I'm going to go and set a key on Frame 4 because it's the same as his Frame 27. Then delete this keyframe and then repeat our standard process. [MUSIC] Once again, if I select all of my controls and head into the dope sheet, we can now see from the summary track, hit the "Home key." Everything is between Frames 1 and 24. As we move down, we'll see that our keyframes are distributed around within this, but everything is keyed on Frames 1 and 24. That will make our lives an awful lot easier in the future. If we now hit back to the graph editor. I'm just going to hit "Eight," select everything, and then "Shift E" [NOISE] and clear this cyclic modifier. Now without that modifier enabled I'll change my N frame to 23, we should still be able to press play and cyclists within the view-port without anything stopping or starting where it shouldn't. That will looks correct. [NOISE] We'll save our scene and then move on to the next stage in the next lesson. 22. Animation: NLA - Overview: Now that we have a properly looping animation cycle, we're ready to start doing some more interesting things with it. To do that, we're going to make use of something within Blender called the non-linear animation editor. But before we jump into that, I need to explain a few things about how animation is organized within Blender. So far, we've been working with both the graph editor and the dope sheet. If I select my character here and head over into the dope sheet, you can see up at the top here, once we can change our viewport type here to dope sheet or graph editor, within the dope sheet, we also have this additional drop-down. That lets us move to something called the action editor. Here we can see our same keyframes that we had in the dope sheet, but we have some extra features within here. All animation within Blender is stored within what is called an action. Its a container that all keyframes are held within. You can see the name of the current action up at the top here. We can rename that action if we want to. So I'm just going to call that SwimCycle. Now to better explain how actions work within blender, I'm going to actually first hide my rabbit fish, and let's add a cube to our scene. You'll see here in the action editor, currently there is no action enabled at all. What I'm going to do is just hit ''Eye'' with this cube selected to drop in a keyframe, and it automatically creates this cube action, which is the container for all of our animation curves. If we actually take a look at our cube here in the outliner, you can see here under animation, we have our cube action here. What I can do now is move to font 23, and I'm just going to translate this along the y-axis. Because we have auto key enabled, we now have some animation in here. From the action editor we can still hit ''Control tab'' to jump over into the graph editor and see the curves that are controlling this motion. What I'm going to do is just rename this action from cube action to Y_Move. Then I'm actually going to hit this little cross icon, which will actually remove this action from our cube object. You can see that's disappeared. There are no longer any curves and our animation has being removed. But it's not currently been deleted from the scene. If we click on this little drop down here, you can see we have our Y_Move and we also have a SwimCycle action in here as well. If I select this Y_Move again, it draws back onto my cube, and once again, my cube is moving. For now I'm going to get rid of this action. I'm going to hit ''I '' to set a key again on this cube. Now, I'm going to move to the end frame, and I'm going to translate this up. In this case, let's rename this to Z_Move. We now have our action that's moving the cube up and down. I can swap this out to my Y_Move, and that will again swap to the other animation. What's important to note is that the action that's currently connected to this cube will be saved with the same file. But anything in here that has a zero next to it, that means it's not connected to any object at the moment. That means that when Blender restarts, that action will be removed from the scene completely. In order to prevent that, what we can do is add what's called a fake user. With this Y_Move selected, if I just click this shield icon here, I guess this is would take that's added this so-called fake user. I can then remove it from my cube, and you'll see in this drop-down, it has this little F next to it. That means it will be saved within Blender when we restart the scene, even if it's not connected to an object, I'm going to do the same here with my Z_Move. I just click that shield icon, and then I can remove it if I choose to. For now I'm going to re-enable my Y_Move. What I'm going to do is I'm actually going to add in a new editor here. I'm just going to right-click on this boundary here. I'm going to add another horizontal split. Let's move this up a little bit so we can see what we're doing. Down at the bottom here, I'm going to change this viewport, I'm going to change it to this non-linear animation editor. You can see here we have our Y_Move action, which is the current action up at the top here. Next to it we have this little icon, that allows us to take this animation that we have here within the action editor and place it as what's called a strip down here in the non-linear animation editor. We can do the same using this push down button up here in the action editor. If I click that, you'll see again our animation has been removed from the action editor. But we now have this stripped down here on this non-linear animation track, and it also says that we have no action currently loaded onto our cube. But, if I move my timeline, you can see we now have a Y_Move action still controlling our cube. But if you look up here, it shows no keyframes currently on the selected object. That's because nothing has been loaded in here to the action editor. Now the non-linear animation editor allows us to treat our animation in a similar way to editing video within a video editor. The animation at the moment is contained within this container, which is called a strip. I can move this along the timeline. Now you see that our animation starts later on. There are other things that we can do with this, which we'll explore a bit later, such as scaling this strip to enable us to speed up and slow down a piece of animation. For now, what I would like to do though, is up here in the action editor I'm going to add my Z_Move back in as an action on the cube. You can see we now have keyframes on the cube again, and if I head into my graph editor again, we have our Z curve affecting our cube. Now the moment we just have our Z translation affecting the cube. We've lost this Y movement, even though it's displayed here as a track. The reason for that is if we go down into our nonlinear animation editor, each of these layers is placed one on top of the other. Initially they obscure one another. So whatever the top track is will block out everything that's underneath it. But we can change the way that works. If I click on this Z_Move and hit the N key over the non-linear animation editor, you can see we have this blending mode. If you're familiar with things like Photoshop, it's a very similar concept, so at the moment, this top track is completely replacing everything underneath it, its blocking it out as if it's not there. But we can change this from replace to combine. At that point, as I scrub the timeline, you can see that we both have our cube moving in Z and then Y. The Z movement is coming from these keyframes here. But the Y movement is coming from this non-linear track. Now that we have our Z_Move here as an action, we can once again push this down to the nonlinear animation editor. You can see it's added in an additional track here with our Z_Move on. Having done that because we'd already changed our Z_Move to combine. That means as we move our timeline, we have these two strips here combined. Now, we'll dive into more of what the non-linear animation editor can do later as we're starting to work with our fish. But that gives a good basic overview of how animation is stored within Blender and what we can do with it. One thing to note is that even once animation has been moved down to this non-linear editor, we can still always return it back onto this cube if we want to. We still have our animation actions here available to load back in. I can always select a track down here and hit ''X'' to delete it. We're now back to nothing in the non-linear editor and just our Y_Move that's controlling our cube. But I think that gives us enough background to work with. I'm going to just hit ''X'' to remove my cube. We can re-enable our rabbit fish. Then we'll be ready start working with non-linear animation editor in the next lesson. 23. Animation: NLA - Time & Influence: If we re-select our fish character rig here, you can see we already have our action loaded in our swim circle. Here in the Action Editor. We can now hit "Push down" to move it down into the nonlinear editor. For now, I'm going to extend my timeline out to 240 frames, which is 10 seconds. I'm just going to re-frame things here, so that we can see everything nicely. Now, over on the right here, we have these various options which can be toggled on with the NK. If we go down to strip here, we have options that relate to this current strip that we have selected, which contains our SwimCycle action. Now, what's worth noting is that this strip has been called SwimCycle, but we can actually rename it to anything. It actually contains an action clip which contains our SwimCycle action. Just so happens that it's being given the same name here. For clarity, I can just rename this to SwimCycleStrip, so that differentiates it from our SwimCycle action. Over here, we can also rename our tracks if we want to, so just by double-clicking on that, I can rename that to SwimCycle, or in this case maybe SwimCycleTrack. This is really just for organizational purposes. Now if I scrub through my timeline, you'll see that our fish is swimming once we're over this strip, but once we go beyond it our SwimCycle stops and our fish stays in the final position that it reached. If I just hit "Control Tab" to go back into pose mode. You'll see that if I select any of these bones here, they don't actually have any animation on them. This green color here shows that the values have been overridden with the library override, but not that we have actual animation on here. Because the animation itself is stored within this separate action. If we'd rather the fish returns to its default position, once we've gone beyond the boundaries of a particular action strip, we can change that value over here, so under the strip properties here, we have this extrapolation option which is currently set to hold. That will hold the final position. If we change that to nothing, you'll see that the fish is returning to its default position. You can see as well here in the non-linear editor that the color that we had beyond this strip has disappeared. Now, there are other things that we can do with this SwimCycleStrip here. Just going to increase the size of my editor a little bit here so that you can save it better at the moment, these frames, start and end values correspond to the start and end values of the position of this strip on the timeline. We can edit these if we choose to, but that will also manipulate the length of this strip. Instead, a better way of working is if we move down under the action clip itself, we have this repeat option. You can actually increase that repeat, say for example, 23, and you see it's dropped in three versions of the cycle here. As we scrub through, you'll see our cycle continues smoothly all the way through to the end there, and we're currently popping back to our default position because we changed our extrapolation value up here to nothing. Now, that pop, in animation is going to be quite distracting. It's probably better just to leave this on hold. I'm going to move this strip back to frame 1. I'm going to go down to the bottom here and I'm going to increase this repeat value. For now, I'm going to go ahead and increase this repeat value up to 20, which take it way beyond the extent of our current frame range. You'll see why and also while. At the moment, as prescribed through our fish swims with full duration of the timeline. But as you have noticed when we were studying our reference footage, originally, a fish very rarely swims at the same exact pace all the time. A fish will obviously speed up and slow down and change the intensity of its movements. What we can actually do is we can animate those values. Let me see over here in the strip options that we have this animated influence and animated strip time. I'll roll these things down. Our animated influence will allow us to change how much of the animation we're blending in or out over the top of the other tracks or over the top of the default values in this case. If I turn this on, by default, we have this influence of 0, which means nothing is happening at all. We also have a keyframe already set here on frame 0 that's shown by the yellow color and this little diamond icon next to it. If, for example, I move forward for 1 second and change it's influence up to 1, you can see it's automatically added in a keyframe here, and you can see here over the top of the strip, we have this curve here, which indicates that we're increasing our influence. If I play this back, you'll see that we gradually start to increase the speed of our animation from nothing up to full intensity. This allows us to play with this intensity over time, as we speed up and slow down our animation. It might be that we want to stay fully intense for a while, and maybe I'll go along here from 94 and key that influence. Then move a few frames on the timeline and let's drop this influence down say maybe around 0.5, perhaps a little bit lower even. Before we then once again ramp up to full intensity again. For short time. Let me just click this again at full intensity, and then we'll drop it right the way down to it's very low-intensity towards the end. I'm just going to disable my overlays here and play this back. You can see the effect that it has full intensity. We slowed down a little bit. We increase our speed again and again, taper it off towards the end. Some reason that's not tapering at the end. I'm just going to go back in and make sure that keyframe is set at a low value here. That's how we affect the influence of a clip. We can also change the speed of it. Just did that we work with the animated strip time. I'm just going to roll that down and enable the animated strip time. This value here directly controls which frame we're displaying throughout the timeline. If I set this on my first frame to one, and then go to my end frame here from 240 and set that to 240, this will actually keep the same speed throughout the animation. The only thing is, you'll notice if we go, for example, to frame 80, that's showing a strip time of 62. The reason for that is we have an animation curve attached to this, which is not linear. If I get back to my graph editor, you'll see we can now see our strip time and our influence, and they're defined by curves here. My strip time is this green curve. If I select that and hit the "VK," I can change this to have vector handles which will point at each other and give us essentially a linear path. Now you can see here on frame 80, we are displaying frame 80 of this animation strip and that will continue right the way through wherever frame we're on, we will get the same frame here. That way, once we play it back, you should expect to see this animation cycling throughout the rest of the timeline. But for some reason it's not. The reason for that is that we need to enable this cyclic strip time option. Once we do that, our animation will cycle correctly along with this strip time. Once we do that, you can see that our animation is cycling again once more, and we still have our animated influence effecting the animation. Now that we have this animated strip time set up, you can adjust this curve to also adjust the speed of our animation. For example, our influence increases over the first 24 frames. We probably want our speed to increase over that time as well. To do that, we can set a key in here and we can actually just dial that back a little bit. We'll start off slower. Might increase our speed at this point. We're getting faster. We can then set another keyframe here. As our influence decreases, we can slower our animation down a bit as well. Maybe a bit further still here. Then as our influence increases again, we probably want to speed our animation up. You can see the curve that we're creating here with our slowdowns as the curve flattens and then we're accelerating again, here as we get a bit steeper. And because we increase the number of cycles here, we don't need to end on frame 240. We can actually hit "G" and move this up, so we can increase our speed quite a bit, perhaps through this section. Then have the speed turning off towards the end here. Let's just play this back and see what we've ended up with. You can see here that we're both varying the speed of our animation and the intensity of it, simply by adjusting these curves here. But our fish animation still isn't looking fully convincing. There are some more things that we can do to affect that, which we'll look at in the next lesson. 24. Animation: NLA - Pectoral Fins: Now that we've completed our basic animation cycle, I'd like to go in and start adding some extra elements which will help to break up the cycle and help to make the animation feel a little bit more realistic. Now we've already added some subtle movement on the pectoral fins, but what I'd like to do is go in and animate some larger moves that the fish uses in order to gain lift as swimming. Before we do that, what I'm going to do is head down to the nonlinear animation editor and disable a swim cycle track. That means that we won't have any animation on the fish which will distract from the animation that we're going to add to these pectoral fins. If I just scrub through the timeline, you can see that nothing is moving at the moment. We're now going to re-enable our overlays so that we can see all of our controls, and we'll select this first bone in the fin chain. I'm going to hit I in order to set a key here on Frame 1 and then I'll do the same on Frame 20, so I and set a key. Now here in the Graph Editor, what I'm going to do is disable visibility of the influence and strip time and then hit the "Home" key so that we frame everything up. We're now going to go back to around Frame 8 and up here in the Viewport, I'm going to hit T to enable my tools and enable the rotation gizmo. Now, I'll just make it slightly easier to work with this fin as we're animating. Now I'm going to rotate it forwards on the x-axis and rotate it down a bit, insert as well. If you remember from the reference, the fish actually pushes its fin forwards and down in order to gain that lift. We can hit the "Home" key again in this Graph Editor so that we can better see our curves. As we scrub through, you can see that we're moving forwards and backwards, but we're moving forwards and backwards along exactly the same path. I want to break that up a little bit. Around here, Frame 12, I'm just going to drop it down further on the z-axis here. Now as we scrub forwards, the thing goes forwards and down, and then it drops a little bit as it's returning back into place by Frame 20. Now we're going to move on and select the other two bones in the chain and then select the two of those together. If we just double-check here in individual origins, that will mean that we can rotate these together and get distributed role along this chain. I'm actually going to start animating these just maybe here on Frame 2. I'm going to hit I to insert a key and then scrub along a couple of frames after maybe Frame 23. I'm going to hit I and insert another keyframe. I'm now going to scrub through it. As we're moving forward, I want to start dragging this part of the fin behind, so you maybe around here at Frame 6 and rotate these two bones back along the x-axis. I'm also going to drag them a little bit at the bottom as well, so I'm going to rotate in the y-axis too. As we scrub forwards that fin is bending backwards. Maybe just a little bit more and then as the fin is coming backwards here, we're going to do the opposite. Here around Frame 14 we're going to rotate that in x back in the other direction and again on the y-axis, we're going to drag the bottom part of the fin, so we're pulling that back in the other direction as well. That should give us a nice bit of overlap then on that fin. I think that's gone a bit too far though on Frame 14, so I'm going to pull that back a little bit. We can play that back and see how that feels. I can look at it from different angles as well, and that looks as though it should do the job. What we also want to do is copy this over onto the other side. I'm going to select this first bone in the chain and go back to Frame 1 here. Just maybe out slightly in my Graph Editor so that we can see everything. Hit 8 select and Control C to copy. I'll go over to the other side. Again, I want to hit I to set a keyframe here on Frame 1 to start with, and then we can hit Control V to paste those curves into place. Now if I scrub this forwards, what you'll see is whilst our x-axis is doing what we want, our z-axis is mirrored. What we need to do is select our Z curve here. Then if we right-click, we can bring up this mirror option here. What we want to do is mirror these values here up over the zero value. We can actually hit Control M here instead to bring up that menu and then we want to mirror By Values Over Zero Value. If we click that, it should be perfectly mirrored to the other side. We now need to copy the animation from our other two bones here. If I select those two bones here together, go to Frame 2, hit A and Control C. Go over to the other side and select those two bones and hit I to insert a key on Frame 2. Then we can go into the Graph Editor and hit Control V. Now once again, we're going to have issues with the mirroring. You can see again, our x-axis is working fine, but our y-axis is not doing what we want and it's actually working in the opposite direction here. Again, if we just select those white curves, we can hit Control M and again, mirror By Values Over Zero Value and then we'll flip those curves and now everything should be dragging correctly. Now that we have those fins animated, if I hit Control Tab, I can return back to my Action Editor. If I just hit A over the Viewport that will select all of my controls. You can see the only controls that have animation on at the moment are those pectoral fin controls. We can rename this action to pectoral fins and then we can hit this "Pushdown" button to drop it down into the Non-linear Animation Editor. Once again, all of our animation has been removed from our controls up here in the Viewport, but if we scrub through, you can see that we have that animation down there in the Non-linear Animation Editor. Now that we have this animation track down here, go ahead and rename the track if we like just by double-clicking on it. We can re-enable our Swim Cycle track. Now if we hit "Play", we see our pectoral fins animated at the start here over the top of our Swim Cycle. If we want to, we can add in more instances of this pectoral fin action along the timeline throughout our animation. If we select this pectoral fin strip, we can hit Shift D to duplicate it and drop it somewhere else in the timeline. There we have two instances of our pectoral fin animation. The only problem with doing it in this way, if I select that first strip and head down to the bottom over here, you can see that the action that's been dropped in is Pectoral Fins, but if we select the second one, the action is actually Pectoral Fins 001. That's because if we duplicate one of these strips, we're also duplicating the action behind it. What this means is we're going to end up with far more actions here than we necessarily want. If we want to go back and adjust our pectoral fin animation, we would have to adjust it every single instance. That's not going to be very useful to us. Instead, I'm going to hit Control Z to undo this, so now you can see we only have the one instance of our pectoral fin action. Now with our pectoral fin strip selected, instead of hitting Shift D, we can hit Alt D. That appears to have done exactly the same thing. But with this strip selected, we click on it and go down to the bottom here, you'll see that the action is actually still that same original Pectoral Fins action and we haven't created a duplicate in here. That way if we ever want to go back and adjust the animation, it will update for each instance that we have on this timeline. Again, I can with this selected hit Alt D and you'll notice it always drops it in on a new track up above, but we can drop it back down onto the track that our other pectoral fin instances are on. We can go ahead and drop several of these in throughout the timeline with a bit of variety in terms of where they're placed. Now if we, once again, disable our overlays up here and I can hit the W key to return to Selection Mode and T to get rid of our tools. If I play this back, you'll see we now have our swim cycle, but we have these extra moves from the pectoral fins laid in over the top. Now, I'm just going to shuffle these slightly because we don't really want one of these in this section here where the rest of the animation is slowed right down. It'll look strange to have this pectoral fin moving at the same time and what I'm actually going to do with that strip selected, I'm just going to hit the X key to remove it. Again, let's see how that works as we play the animation back. You can see as I move around that the pectoral fins are working on both sides here. Let's save our scene. 25. Animation: NLA - Breaking it Up: One thing that you might recall from when we were analyzing the reference footage, is that the pectoral fins of the fish are not always used exactly the same time. Sometimes the fish will favor the fin on the left or the right in order to help with turning. At the moment, we've combined the animation for both of the pectoral fins into a single action. What we can do is split that up into two actions, one for the left and one for the right side of the fish. In order to do that, once again, I'm going to go down to the non-linear animation editor, and I'm going to disable these tracks here. Once again, as we scrub through there is no animation on the fish. I'm now going to go up to my action editor, and I'm going to add the pectoral fins animation back onto the fish here. Let's enable our overlays. We can see all of our controls here. What I'd like to do is create a duplicate of this pectoral fins action. We can do that simply by clicking on this number 5 here. The number 5 simply refers to the number of places within blender that that action is currently in use. You can see that it's used down here in the non-linear animation editor, as well as up here. If we click on that, you see we've created an entirely new action here with a new name. I'm going to do is rename this, to Pectoral_L, and then we'll pick our original pectoral fins action and rename this one to pectoral underscore R. In this case, what we can do is select all of these bones on the left side of the fish. If I just drag across this summary tract to make sure that everything's selected in here. I can hit the X key, and hit Delete Keyframes. Now as we scrub through, only the fin on the right side of the fish will animate. If we now switch back to pectoral left. We can do the same on the other side. Set all of the right-hand side bones with everything selected here, we can hit X and Delete keyframes. Now it'll just be the left-hand side that animates. What I'm now going to do is go back down, into the non-linear animation editor. I'm going to re-enable my tracks here, but I'm actually going to select all of these existing pectoral fin strips, and just hit X to remove those. Now the Pectoral_L action selected, we can push down, to drop that down into the non-linear animation editor. I'm just going to drag that down onto this PectoralFinsTrack. Let's rename this to Pectoral_L_Track. Now go back into our action editor, and select the Pectoral_Right, and we'll do the same and push that down. We can again rename that track just for organization. Now if we play this back, you'll see once again, we have both of the fins animating. Once again, we can hit Alt D to duplicate these and drop them in where we would like them. Do that for both the left and the right, if I just offset these slightly, just by a frame or two from each other. What you'll see as we play it back, is we end up with a slightly more natural result, with the two sides offset from each other. The other thing that's very noticeable as you play this back, is that the fish is very still from the side view here. It doesn't move up or down throughout the water. A simple way to fix that, I'll just go back to frame 1, is I can select this main torso control here. If I just hit eye here on frame 1. Let's get onto our frame 240, and hit eye again, and we can go somewhere around the middle, and just translate this up a bit on the y-axis. This way if we play it back, we'll have this subtle rise and fall, on the main body of the fish here. It makes the whole animation slightly more believable. If we want to, we can even translate this slightly along the y-axis, and see how that looks as we play. Slight rise and a little bit of a fall back on the camera there. Makes it look slightly more believable than the fish is swimming underwater. Now this works okay from the side here, but we can do a lot more, in order to break this up and make a far more believable animation. I will start working on that in the next lesson. 26. Animation: Path Setup: The next thing that I'd like to do is get our fish swimming through our environment. But before we start with that, I'm just going to version up our seam file. Just head up to File, Save As, we're going to hit the plus icon to increase in version number and hit Save As. Now I'd like to do is to actually create a path for our fish to follow. But before we do that, we added some animation to this torso control here. I just hit the Home key here over the action editor, we can make sure that all of these keyframes are selected. Just hit the X key and delete keyframes. You can see up here that all of our animation has been removed from that torso control. Next thing that I'm going to do is just roll over this viewport and hit seven on the numpad. We can move into top view here. I'm just going to zoom out a little bit. Because we're going to create our path here for the fish to follow. To do that, and we have to first make sure that we're back in object mode. I'm going to hit Control tab and then hit Shift A, and we're going to go down to curve and path. When we click on that, you can see this NurbsPath is been generated here in the outliner. Now, zoom back in just for a moment so you can see what we've got here. If I hit the Tab key to go into edit mode, you can see this path here has got five points on at the moment. We can just grab those and move them around. Because this is just a NurbsPath, what we're actually doing is moving this set of points and then it creates a smooth curve between those points. If I zoom out a little bit to do is just start to move these points around here. Now, I do want the fish to swim in an up to camera here. If our curve is not long enough, what we can do is just hit the E key to extrude with a point selected at the end of the curve to extend that out further. Go ahead and hit again and bring this out, move back out again and I'm good to you again straight this right back off and over here somewhere. Then I don't want that fish to swim up to camera, but then swim often passed. In order to see what we've got here, we're going to want to actually connect our fish to this path here. I'm just going to hit Tab to get back into object mode. For now, I'm going to drop down here into the non-linear animation editor. I'm going to disable all of these tracks that have animation on them. Next thing I want to do is select the rabbit fish rig and hit Control Tab to go into pose mode. Just to make sure that we've got this bone here selected, this torso control. That's the one that we're going to then attach to this path. With that bone selected, I can go down into the Property Panel and to the Bone Constraint properties and under at Bone Constraint, we can add a follow path constraint. We need to add a target object here. If we just click in here, you can see are NurbsPath is available. If I set that, our fish pops off to the end of the path. Now if I scrub through my timeline, you can see at the moment that the fish is not animated. In order to make the fish follow the path properly, what we need to do is to exit pose mode, hit Control tab, and select our NurbsPath. Here in the Properties Panel, you can go down to the object data properties here where it says Path Animation, have this evaluation time attribute. Now if I just set a keyframe here on Frame 1 with a value of zero, then I moved through to the end of my timeline from 240, then increase this evaluation time to 100. That will take the fish through to the end of the path. Now if we scrub through, you'll see that the fish is following this path. But it's not turning to follow the path. In order to fix that, what we want to do is go back into the constraint that we set up. I'm going to once again select the rig Control tab and go to the Bone Constraint properties. We have this option here, Follow Curve. If I check that on, you can see that our fish is now facing along the curve. As I scrub through the timeline, it should follow along nicely. You can see when we look upper our camera viewport, it starts off in the distance, swims towards us, turns, and then swims out of frame nicely. What I'd like to do is start with a fish just out of shot. Go back into my top view here. Once again, just going to return to object mode, select my curve and hit Tab to go into edit mode. I'm just going to select this point here and just move it back and out of frame a little bit. That way our fish will start out of shot, come in, turn nicely, and then head out of frame. But at the moment, if you look in the camera view, everything is happening flat to the camera. We can make this look far more interesting, more dynamic. To achieve that, what I want to do is start moving some of these points up and down. We can start with this point at the back here, and let's just move it up on the Z-axis to start with. That way our fish will come down and into frame. I'm going to stop there just a little bit lower than that. These two points here, again, I can push them up a little bit. Then I think as it's getting close to camera, drop this point down slightly. Then I'd like it to rise up quite a bit as it's leaving frame. We can screw up through our timeline to get a feel for how it's working. Now what you'll notice is now that we've moved these points up and down, our fish is starting to lean to one side. We can actually control the way in which it tilts and leans as it's going through the animation by selecting each of these points and adjusting this tilt value here. For example, as it comes towards this corner here I might want it to actually lean in a little bit more. We can select this tilt value and we can actually adjust the angle of the fish here. Maybe as it's coming in, I like it to actually be bank slightly the other way, leans through this curve, straightens up. We've already got a nice little bit of tilt here. Perhaps push that a little bit further as it's coming around the corner. I wanted to straighten up a lot more at this point. Just that slightly, it's going up nice and straight. You can play with these values as much as you'd like to get the look that you prefer. Little bit of banking through the corners just gives us a bit more belief ability there. 27. Animation: Adjusting the Speed: Now if I play this back, you'll see that our fish starts out quite slowly. We then have a fairly constant speed coming through here, and then it actually eases to a stop at the end here. The reason for that, if I just hit the "Tab" key again to get back to object mode, let me go to our object data properties. This evaluation time, we added in a key-frame at the start and the end here. Now if I roll over this action editor and hit "Control Tab", we can go to our graph editor and see what's happening. Here you can see our evaluation time and we're easing at the start and at the end of this curve, what I can do to start with, I need to select everything. If I hit the "V" key, we can change that to vector, which means our handles point to one another and now we have a linear speed throughout. But this is going quite slowly and I want to get some variety into the speed of our fish as it follows longest path. We can introduce some extra key-frames here and adjust the speed to speed up and slow down as the fish is following along this path. I think what I'm going to do initially, I'm going to have the fish come in a lot faster. Let me just grab this handle and push it up a bit. When it gets to this corner, however, I want it to really slow down quite a bit. I'm just going to hit "I" here and just hit "Selected Channels". That will introduce another key frame here on the curve. Just move this down a bit, give us a bit more space to work with on the graph editor. If I select just this handle here, I can flatten this section out a little bit. The fish will be going more slowly through this section here than it is through this section at the start. I then want the fish to accelerate up before slowing again through this corner here. I'm just going to hit "I" again and add in a key frame here. Now what I can do is actually if I just select this key, hit the "G" key, and I can move that sideways, that means I'm going to get to this point sooner. I'm speeding up this section in between. Then we can flatten out these handles a little bit so that we slow down as we go around the corner. I think I'm going to keep it quite slow through this section here. I'm just going to go to around here and hit "I", "Selected Channels". This position that we've got here is the point where I want the fish to then start accelerating and zooming off. I'm going to do it to delay this key frame. I'm just going to again hit "G" and move this along the timeline. Just around 190, something like that. I'm going to select my handles here and adjust them so we've got a flatter section through here. The fish will go nice and slowly and then we'll start to accelerate often out. I can actually take this final key-frame that was set to 100 and I can just move that up. You can see a fish just moved beyond the end of the curve here. We can get a nice acceleration off. I can move that up quite a bit. Let's just play this back and see what we've got now. We've got some nice slow sections, but we need a faster move through the middle here. I can do that by adjusting my curves a little bit hold this slower for longer and speed it up. I think I can also pull this point back a little bit as well. Just aim to get here a lot sooner. Get rid of this kink in the curves now. We should have a nice quick move there through this corner. Perhaps a little bit too slowly at the moment. Let's tweak that curve a bit there. I didn't want it to actually stop through this section here. What we might do is actually just to get to around here a little bit sooner. Again, I didn't add an extra key frame. Let's just drag this across. Turns a little bit too quick. It also can take a little bit of time to work with these curves and get the exact field that you're looking for. Getting some of that variety in the timing, the speed that the fish moves in at, say, it's not constant all the way through, but it speeds up and it slows down. It accelerates out rapidly at the end. All of that variation adds to the feeling of life in the character and feeling of believability, as well as the overall appeal of the scene. It's worth spending that little bit of time getting used to the graph editor, adjusting those points and handles until you're comfortable and you can get the right right of motion. I really want this to accelerate off quite a bit at the end here. I'm just going to get nice big change there. I can take a little bit of tweaking and adjusting these curves to get something that you're happy with, just try again and see what we've got. Just going to introduce another keyframe here. I really want to slow down that turn a little bit, pull these points back. We're going to this point at the start of the turn, quite quickly. See see the steeper the curve, the faster we're going, get to the start of the turn, and then we're getting round quite slowly between these two key frames. Then into the slow section here, just drifting past the camera and then accelerating off and out. I want to just adjust this slightly again, flattening out this and this slightly ramping into this acceleration off. But then I really want to speed it off at the end of that as well. Sorry again, I'm just going to take this final position. I didn't move it right the way up. Again really nice fast move. We can just single friends through this to see with the left and right arrow keys. See how fast we're moving at any one point in time. Back again. I think that should work fairly well for us. Then we can move ahead in the next lesson to start layering everything back in over the top of this. 28. Animation: Varying the Cycle: With a path setup, we're now ready to add in our animation cycle over the top of it. I'm just going to bring up our non-linear animation editor again. Initially I'm just going to enable this swim cycle track. If we play that back, you'll see that our fish is now swimming nicely over the top of our path animation. The problem is, because we've already animated the influence in the speed of this swim cycle strip. The moment the slower parts of our path animation, the fish is swimming quite quickly, and when it should be swimming quickly, it currently isn't. We need to go back into this swim cycle strip and edit those influence and strip time parameters. I'm just going to select my rig here, which should bring up the graph editor, and we can enable our influence and strip time curves here. For now, I'm just going to work on the influence, and I can just hit the "Home" key to frame all of that up. At the moment our fish is swimming in, but we have zero influence at the start so we have no animation and we build it up to this first key frame here. I'm just going to take that key frame and just move it up. What we want is the full influence when we have quick moves. For example, this here, we're going to want our full influence in the middle hand, just going to grab this key frame and just move it along the timeline to around here, and back here, as we're getting more slowly, we don't need nearly as much influence. Only I select to channels and add in an extra key frame here. Then I'm just going to move that down so that we have less influence as we're going through this corner. Then as we're accelerating off, we have a lot more influence. I want to bring this key frame up here as well. But then again through the corner, we want to be backing off on the amount of influence that we have. Same all the way through this section until we're ready to accelerate off here. Again, I'm just going to hit "I" o channels and add a key frame here. Then I'm just going to select this key frame back here and drop that right the way down. We will want some movement through this section. The fish still seems alive. I think we can delay that key frame a little bit as well. It's going fairly slowly and then it will start to accelerate off. Doesn't really matter since the fish is out of shop, but we can up our influence at the end there as well. Just going to light this key frame a little bit. We want to get up to full influence before it leaves because it will start to push itself forward to accelerate out. Just going to drop this down a little bit here, don't need the full influence. That is just gently moving in. Now I want to get to my strip time and have look at that one. Just hit the "Home" key to frame that up. Now this, if you remember, is influencing how far along these cycles we are. How quickly we're moving through the actual cycle. Again, we shouldn't be starting out from nothing here. I can actually just increase these little bits and we're getting a faster movement through here. Doesn't want to be too fast, I'm going to save that for [inaudible] in gentle movement. As the fish is coming in, you want to really slow things down into this corner. Again, flattening out the curve, before we get a quick acceleration at this point. Just going to move this back a little bit. We start that acceleration for the fish is moving quickly. I want to keep it going for a little bit longer. Through that section, I'm going to slow everything down. We still want to keep it moving. Then we want to speed up through this last section here. I want that to be going a lot faster, I know it's ramp up in intensity. It starts to head out and it's going a bit too fast do as it hits that corner. These and drop them down a bit. I do want a little bit more speed through this section here. I think we're ramping up just a little bit too soon. That's combination of the speed and the intensity, I want to save that for that real acceleration at the end there. That's a little bit better, that's perhaps going too fast. Bring that back a little. I want to again, look at my influence now, we've adjusted that speed. I just hit the "Home" key to frame that up. Do that slightly further. I'm going to start ramping up into it. Maybe not hit full influence just yet. I'm going to load the influence a bit here so we're not moving quite so much. We have a gentle movement coming down through there, before we get to the faster movements as we're accelerating out of the corners. There's always a bit of back and forth with these things. Since both the strip time and the influence have both linked together, and they always have to work well with the existing path animation. I'm going to lift this one slightly quicker at the start. Then we're gradually slowing down a bit more again. We're getting that bit of variety. I think that works a bit better. That should do us there. We'll save that and then in the next lesson we can start adding the pectoral fins back in again. 29. Animation: Pectoral Fins: The next thing that I'd like to do is to add our animation back onto our pectoral fins. So to do that, obviously, we can re-enable these two tracks down in the non-linear animation editor. Then as we're stripping through, you can see we have our pectoral fins moving once again. We don't want to just drop them in arbitrary locations, we want to use them when it makes sense to do so. So initially, what I'm going to do is actually delete all of these except for the first two. I just select them and hit "X". I'm going to select these first two and drag them a little bit later in the timeline so that our fish has actually come into shot before it uses its pectoral fins. I indicate them slightly offset from one another here as well. The other thing that I'd like to do which we didn't do when we first added them is to change this blending mode. At the moment it's set to replace, and I'd like to change that to combine. In the case of these fins, it will probably make just a subtle difference. But at the moment with replace, is replacing all of the animation on the fins with the new animation within this clip. We did add some subtle animation onto the fins within our swim cycle and we want to blend the two together. Changing this from replace to combine will do just that. So now we have the pectoral fins being used as the fish first comes in, and then as it's coming to slow down, I like to use them again here. So we can select our strips there and again, hit "Alt D" to duplicate them, and move them into place. So that will help our fish to slow down. As it's turning, what I like to do is make use of this right-hand pectoral fin again, hit "Alt D" to duplicate that strip, and drop it into place because the fish can make use of that fin to help it with the turn. It's going to bring that strip back a little bit. Because the fish is slowing down as well, it's going to start dropping a bit. So it makes sense to then once again, use those pectoral fins straight afterwards to just give it a little bit of lift so it comes down and into this corner. Again, in this case, we use that left-hand pectoral fin. Again, let's duplicate that, drop that down its place, just handle this turn. That's probably a bit too much. What we're actually going to do is delay that and delay this left-hand one. That way is just making use of that to finish that turn there just by offsetting our right and our left slightly. Having these two fins offset from one another once again, it creates a more believable motion there through that turn. Because we're going quite slowly, we can duplicate that right-hand one, drop that in here. So we're just adding just that extra little movement there before we then start to accelerate off. One last one in here as the fish is leaving, see if we can just bring that back. So it's using those fins for lift as it's starting to accelerate off and out. Let's play that back and see what we've got. We can maybe drop this so that overlapping a little bit, and that will help us there on that exit. Makes it feel a bit more believable that we're starting to use them to push the fish up and out. The other thing I feel is the movement of the fins here is quite rapid, at the start here, and it could be a bit slower. What we can actually do is select any of these strips here. If we scroll down, we can adjust this playback speed. If I change this from one up to two, you see it extended this strip out so we'll get a much slower movement there on our pectoral fin. I just shuffle that back slightly and we can do the same here on the right-hand side, change the playback speed again here to two, then we'll see how that looks. Again, we're getting a little bit of variety in the speed of how we're making use of these fins. What I might actually do is these ones here, I'm just going to extend them slightly. So maybe we'll just up this to 1.25, maybe shuffle them back just a couple of frames, and see how that looks. That way we've got a slower movement on the fins followed by a slightly faster one as the fish starts to exit. That one might use speed that up even more. So you can try bringing that back to maybe 0.75, the same here. You can see we get a quick movement and then a faster one there before we exit. I'd like to just pull us back a little bit further so it's really dragging behind as we exit. I might bring these back slightly as well. I had to change these back to one, I think they're getting a little bit too fast. Change them to one and just bring them back slightly. It's looking good. So I'm going to save my scene now, and then we'll add a little bit more detail in the next lesson. 30. Animation: Eyes: One thing that really adds to the believability of any character are its eyes. What I'd like to do in this lesson is to add some eye movement so it appears that the fish is looking around and it gives some more believability to the scene. In order to do that, we're going to first select our fish rig and hit "Control Tab" so we can go into pause mode. We added these bones in here to control the eyes. Now you'll see that we have our strip time and influence curves here and I can just disable them so that they're not going to get in the way. What I'm going to do is just add in a couple of eye movements here as the fish is coming in, up close to the camera. I think initially when you set a key frame here, a frame 110, and I'm just going to do it on this one side that's facing us. I'm just going to hit "I" to insert key frame there. I think we can actually delay that a little bit. I'm just going to hit "Control Tab" to flip back to the drag sheet and just drag that back. I think may be okay for frame 113 and then frame 115. I'm just going to hit "G" and move this eye so it's looking back over to the right here. It just has this little eye movement over a couple of frames, looking where it's going. We'll key that again, frame 119. I will just hit "I" once more then I'm going to select that first key frame that we had and I'm going to hit "Shift D" to duplicate it and we'll move it down the timeline here. Again, we're having it moving back to the front as we're starting into a turn. I can probably delay both of those again, just ever so slightly, which I just jump and can move them along the timeline so it's just starting to look forward as it turns. Then as it turns around the corner, we are going to start working on the other side. I switch to the other eye here just like that, I am going to hit "I" to insert a key here at frame 145. We've got an eye movement here that's looking more towards the camera. I just delay that again just slightly. As I'm positioning these eyes, I'm positioning them so that the pupils are overlapping the edge of the eye. If we have them towards the center of the eye without white all the way around, it doesn't look quite as appealing as if we have it clipping into the edge of the eye there. I am just going to set another key frame. Once again, duplicate that first key, "Shift D", and bring them. The fish starts to look forward just as it's about to accelerate off and out. Do like that up to there. Let's see what we've got. As we're quite fast through this section, I'm going to adjust this slightly so that we can read it a bit more. I'm just going to grab those keys and move them back a little bit so the fish goes to the side a little bit sooner. I had to delay that eye that's looking forwards a bit as well. That feels a bit better. It tends to look at us and then it looks forward just as it's deciding to accelerate off and out. Very well, save our scene. 31. Animation: Final Adjustments: Our animation is now almost complete, but I just wanted to see if we can add in a few extra subtle details to add one more layer of believability to it. To start with, I'm going to slip the character's head. As the fish is coming in around this corner, the head feels a little bit stiff to me. I think we can just add in a little extra subtle movement to give it a little bit more life. What I'm going to do is just come around here and hit "I" to insert a key frame there. Then through this turn, I'm just going to stop rotating it slightly, so I'm just going to hit "R" twice and that gives me this ability to freely rotate upon. We're leaning into that turn a little bit more. Around here, I'm just going to pull even further round so that I'm really twisting into it. Before straightening up, I'm just going to slip that first key, Shift D, drop that in. I can pull it out a little bit further along. I think I want that to be quite so straight there, so I'm just going to again rotate that around a little bit. It's getting some subtle twist and lift in the head here. I can now scrap that first frame and bring that back to here, so we're straightening up a little bit. I think that's getting on there a little bit too far away. I'm just going to drop a key frame there and hold it and then just rotate slightly off to the side. Bring that back a little so the head is starting to turn. I just laid that move. Then we start to turn to look where we're going. Then again, I'm just going to straighten this up again, and here, so we're going out. That little movement there is a bit too harsh. I think I'm just going to select this key frame here X and delete it. That twist is quite abrupt there as well, so let's see if we can soften that a bit. Lay this one as well. I'm just going to rotate that down a little bit further so we're getting a little dip and a rise up into place around that corner. I think we can lift that slightly as well. I can divide that by a couple of frames. That's a bit more natural now. The other thing I'd like to take a look at are these pelvic fins down at the bottom here. As with pectoral fins, these can be used to help the fish to adjust its position in the water to speed up and slow down. I think I'd actually just like to get some extra movement in breaking them up so they don't feel like they're just stuck to the bottom of the fish here. I think what they're doing is fine all the way through this early part of the animation, but as we come into this turn here and we're slowing right down, I think we're going to make use of them to indicate some breaking before we then drop them back into place as we accelerate out. I'm going to select all of those bones on the pelvic fins to start with. I want to keep them as they are right through to around frame 120. I'm just going to hit "I" to set a key on them there and I know I want them back into place around frame 190. Again, I'm just going hit "I" and set a key, but as we're turning here, I want to start moving them out and making use of them for some breaking. I'll just hit period key to frame that up. I think we can pull this out to the side a little bit and drag that behind up on this round so it's starting to fly them out. Come out to the side and then this as well, getting just a little bit of overlapping there. Then start moving them back into place a little bit here. I want to bring this rear one up a little bit sooner, so hold down a little bit longer. I think we can tuck these back in just a little bit sooner. Select all of this and bring it back a bit on this frame 190 and bring right away back to the 170 and see how that looks. There we are. We're just throwing them out a little bit as we come around that corner. We might even bring these key frames back, so we bring them out a little bit sooner. See how that looks. Brings them back. Making sure they drag nicely. I think what I'd like to do is, again, just select all of them. I really want to tuck them in as we're exiting out, so I'm going to split a key there. I think I'm going to just fly them out slightly at this point. Then really tuck them back here as we're exiting out. Pull them in nice and close to the body. There we go. Then pull them in a little faster [inaudible] grab this and move it back a bit. There we go. Pull that in sooner. I think this rear fin is just coming down a little bit too far. I'm not liking through that turn. I'm also going to delay that a couple of frames just to make sure that the two fins are nicely offset from one another. I think that should do it for now. Save our scene. 32. Rendering: With our animation now complete, we can start setting up our scene, ready to render. We're going to make use of the EV render engine. To start with, I'm going to head over to the property panel, and look at the render properties. First thing I want to do is enable ambient occlusion, which improves the quality of our shadows. What I'm going to do is just head over into the camera view port, just holding down the Z-key. I can switch to rendered view, and we need to re-enable our environment over the top here, so that's visible. Then we'll be able to see the changes that we're making here in the camera viewport. I'm going to enable this bloom option here. You can see how that changes the lighting, gives us this glow around any highlights. There are a number of different settings that we can adjust here if we want to. I'm just going to leave those and the defaults for now. Then going to move down and enable screen space reflections, that will improve the quality of any of the reflections in the scene. Then I'm going to have a look at this volumetric section. At the moment our scene looks quite bright, and that's because volumetric shadows haven't been enabled. I'm going to check that on now. You can see now we get a bit more depth within our scene. Just close that up, dropping down to shadows here, we can increase this cube size if we want to enable more accurate shadows. For now, I'm just going to drop it slightly to 1024. Disable our simplify option here, so we can see our fully smooth mesh, and that will do this for now in the EV settings. If I move back along the timeline, to a point where the fish is off in the distance, you'll see as it comes in, is really quite sharp still, what I'd like to do is enable depth of film on the camera, so that the fish will be blurred out in the distance and we'll come into sharp focus as it approaches the camera. In order to do that, we need to select our camera object. But first I need to switch to object mode, I'm just going to hit "Control Tab" of the viewport, and go ahead and select my camera. We go down to the property panel to this Camera tab here. We can enable depth of field. Roll this down. We can set a focal distance, and we have some other attributes that we can adjust. We can either set this focal distance manually, or we can adjust our focus to focus on a particular object. That's what I'm going to do now. I'm just going to hit "Shift A" and I'm going to add an empty to the same plane axis, that will be added at our origin here. If we move ahead through the timeline, we want our fish to be in focus when it's up close to the camera here, which is just where we've added in the empty object. I'm just going to rename that empty object, and call it camera target, and re-select our camera. Now on the depth of field, this focus on object. If we click on that, we can pick our camera target object. Now this f-stop by default is set to F2 0.8. If you know anything about cameras, then that should give a fairly shallow depth of field. But because our objects are so small, even when our fish is off in the background here, it's still fairly sharp and focus. I'm going to drop this value right the way down. Let's try F1. We can even go a bit lower. Let's try 0.8. Our fish is out-of-focus at the back there, and it'll start to come into more focus as it's closing on the camera. Then when it gets up nice and close, then it should be fully in focus. Now, that's our main setup complete. But at the moment, this shaft of light, which is broken up to give the impression that it's broken up by the surface of the water, is not animated. That looks fine for us still, but because we want our animation to believably feel as if it's underwater. I'd like this shaft of light to be broken up and move over time. The way we can do that, if I just enable our material preview here, is to animate this texture here on the cookie. Fortunately because we've linked our environment in, if I try and select that cookie, I'm just going to select the entire environment. If currently no way of adjusting this texture over time, and you'll see as I scrub through the timeline, the texture doesn't change at all. However, because we've linked in this environment, we can actually return to the original scene file that the environment exists within and edit it there. Then when we return to this file, it should bring across the animation with it. That's what we're going to do now. I'm just going to save this scene where we are right now. Then I'm going to load up the reg file, that contain this environment scene. My case, it's rabbit fish reg 2. Here within the reg file if I select, again my cookie here, let's enable our material preview, so we can see that. What I want to do is animate this texture. To do that, we need to head over into the shading tab. Here we have a wave texture, and we can animate this phase offset value. What I'm going to do is initially I'm just going to jump into the animation tab. I move myself back to frame 0. Then the shading tab again, I'm going to set a phase offset value here of 1, and just right-click on there, and insert a key frame. Again, I'm going to jump back to animation where we've got a timeline. I'm going to move on to frame 10, back to shading, I'm going to change this to a value of 1.5. Enter and again, right-click and insert key frame. Now if I head back to the animation tab, let's just again enabled material preview here so that we can see what's going on. If I roll over the dope sheet here and hit "Control tab" we can bring up our graph editor, aimed to frame that up and you can see that we have this default easing here at the moment. What I'm going to do, is select everything, hit "T" and change this to a linear curve. That means we will have a constant change over time. At the moment, as we move through from frame 1-10, there is a slight change there, but you can't see much at the moment, because it's very slow. What we need to do, is ensure this movement keeps going, and we can do that by changing the extrapolation type of the curve. If I hit "Shift E" we get these extrapolation options. The moment we have a constant extrapolation, is why the curve is flat here. If we change that to a linear extrapolation, they'll continue to curve up and beyond off to infinity. As I scrub forward over time. You can see up here in the viewport how our texture changes. That should give us a subtle change to our lighting to give the effect of light coming through rippling water. I'm happy with that. I'm just going to head back to frame 1, and we can save our scene there. I can now go and re-open my animation file. Now, as I scrub through the timeline, you can see that because we've linked our environment, it brings in the changes that we made within that linked file. Now that our setup is complete. All that remains is jump over into the output tab here, and check our settings there, so resolution is 1920 by 1080. We have a frame rated 24 frames per second, and our start and end frames are correct at frame 1, 2, frame 240. What we need to do is pick an output path. We can just click that, to pick a new location for that. Navigate to the folder in which I've been saving my files, and I'm going to add a new folder called render. Within that, let's give it a name, RabbitfishAnimation, and I'm just going to put an underscore at the end and then it will add on the frame numbers after that. I'm just going to hit "Accept." and drop that in here. We can save this as a PNG. We actually don't need it to have an alpha channel, because we don't have any transparency in the background. I'm just going to change this to an RGB file. All the other settings are absolutely fine. I'm just going to save my scene file there, and we're ready start rendering and to do that, we can just head up to Render and Render Animation. 33. Export: Once all of your friends have finished rendering, we can close down this render view. Then if you want to play back your rendered animation, you can go to Render, View Animation. Now load up the built-in player and you'll be able to watch your animation through. Obviously if you'd like to go back now and adjust anything, you can do, I'm happy with the animation that we've got here. At the moment, everything is saved out as individual PNG files. Once we can play those back within Blender, it'd be useful to save them out as a video file that we can play back anyway. In order to do that, I'm just going to press "Space-bar" to stop playback and close this. Now you can take all of those individual image files and compile them together within any video editing software. But we can also do it within Blender. If we go up to the top here and hit this plus icon, we can add in a video editing workspace. If we go down to the bottom here into the sequencer, we can click "Add, Image Sequence." If we do that, and head into our render folder, you'll see all of our files here. I'm just going to select my first file here, go down to the bottom, and shift select my last one, and click "Add Image Strip". I can now press "Space" if I want to , and play this back. Just confirm that we've got everything that we want. It looks like we're on Frame 2 for some reason when we added this in, so I'm just going to shuffle it back. One frame, so we get back to Frame 1. We now need to go up to our output settings. I'm going to scroll down. While we had our file format set as PNG previously, we can change that to FFmpeg video. If we roll out this encoding section here, and change the container type to MPEG-4 and leave the codec as H264, and the other sections should be fine as well. At the moment this is setup to save that to the same location as our individual frames. Now we can just head back up to the render window. Once again hit "Render Animation". Again, let's close down this window. Then if you navigate to the folder in which your renders were saved in, you should find you have this MP4 file, which you can open within any standard media plan. I'm just going to save my file for one last time and we're finished. 34. Final Thoughts: [MUSIC] Thank you so much for joining me in this course. Really hope that you've enjoyed learning about character rigging and animation, and following along as I share my process. If you've been following along with the class, either using my character design or and if you're in, I love to see your final animation. If you're happy to share, then please do upload it to the class project gallery. I really look forward to seeing all of the class projects. I can't wait to see what you've created. Character animation is a complex skill to master. But if this class is interesting to you in regard to deeper into the subject, my character animation fundamentals class will let you do just that. It takes an in-depth look at the principles of animation before applying them to a series of different projects. Finally, you may want to check out my profile page where you'll be able to find my other classes and learn a bit more about me. If you'd like to, you can also follow me to be notified of every new class that I publish. If you've been following along with the full series of Into the Ocean classes, you should now have all the skills necessary to take your own simple character designs all the way through to a finished 3D character animation. I hope that you now feel a bit confident and inspired. Start using those skills to create projects of your own. Thanks again for taking this course. I look forward to seeing you again soon. [MUSIC]