Playback Speed
---
0.5x

1x (Normal)

1.25x

1.5x

2x
Fashion 101 | Learn the History of Colors!
Watch this class and thousands more
Get unlimited access to every class
Taught by industry leaders & working professionals
Topics include illustration, design, photography, and more
Watch this class and thousands more
Get unlimited access to every class
Taught by industry leaders & working professionals
Topics include illustration, design, photography, and more
Lessons in This Class
11 Lessons (36m)
2.

Fashion History of Black

4:27

3.

Fashion History of Red

3:40

4.

Fashion History of Green

3:35

5.

Fashion History of Blue

3:37

6.

Fashion History of White

4:03

7.

Fashion History of Purple

4:03

8.

Fashion History of Orange

3:57

9.

Fashion History of Grey

2:49

10.

Fashion History of Yellow

4:14
--

Beginner level

Intermediate level

Advanced level

All levels
Community Generated
The level is determined by a majority opinion of students who have reviewed this class. The teacher's recommendation is shown until at least 5 student responses are collected.
About This Class
Are you interested in learning color history in fashion? If so, this course is for you!
Welcome to another course of the Fashion 101 Series! My name is Veronika and I'm your instructor.
In this course, I will be teaching you the fashion history of color. We will look at the history of every color, each lesson focusing in on a different hue. We will look at its existence in fashion throughout time as well as its influence on fashion today. This course will have many visual examples to help illustrate the colors in fashion throughout history. If you are interested in fashion design or styling, learning about the fashion history of color is SUPER important. It makes one understand how one color trend at a certain time in a certain place has influenced another color trend in a different time and place. It's only because of this understanding of long-term patterns and repetition in trends, that one is able to do a perfect forecast for the next season. The study of the past also helps us to compare as we start recognizing the patterns from the past. It enhances our observation and thinking skills therefore developing your taste for design.
Hands-on Class Project
Find a painting depicting a fashion look from any time period. Analyze the colour used in that piece and determine its meaning and significance related to the time period. Determine the difference in how this specific color garment would be interpreted in today's day and age versus the painting you chose.
Example: (Analyze the painting below)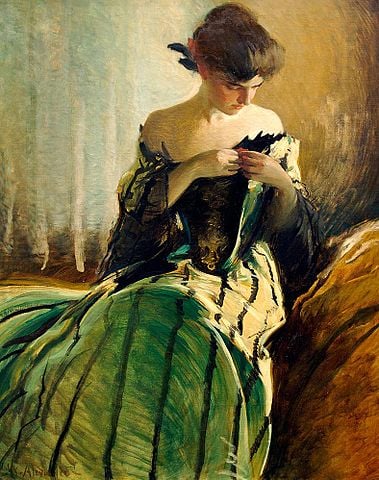 Class Ratings
Expectations Met?
Exceeded!

0%

Yes

0%

Somewhat

0%

Not really

0%
Why Join Skillshare?
Take award-winning Skillshare Original Classes
Each class has short lessons, hands-on projects
Your membership supports Skillshare teachers
Transcripts
1. Welcome!: Hey, are you interested in learning about the history of cover and fashion? If so, well, this course is for you. I'm Veronica, and in this course I'll be teaching you the fashion history of color. In this course, we will be looking at the history of every single color, stemming from ancient times all the way through our modern-day age. In every lesson we will learn about a different type of view. We will look at its existence and fashion throughout time, as well as its influence on fashion today, this course will have many visual examples to help illustrate the colors and fashion throughout history. So if you were interested in fashion design or fashion styling, learning about the fashion history of color is super important. It makes one understand how one colored trend at a certain time in a certain place has influenced another color trend and at different time and place is only because of this understanding of long-term patterns and repetition of trends that one is able to do a perfect forecast for the next season. It enhances her observation and thinking skills, therefore, developing your tastes for the sine. And so I would love to teach this to you. I can't wait for today's class. Let's get going. 2. Fashion History of Black: Hello everyone and welcome back to another lesson on color psychology. In this specific lesson, we'll be looking at the history of the color black and fashion. There's actually no official start to the modern popularity of black and European and American women's fashion. So there's many, many pivotal moments in history that led it to become so popular today. Let's talk about that. Historically, it's been a signifier of grief dating back to at least the ancient Greeks. As Critic John harmony notes that though the Romans principally dyed clothing back for morning, there are indications that they prize it for its styling business as we do today. While in the 14th century, expensive black clothes, I got adopted by up-and-coming European middle classes as a way to address luxuriously. By the way, colors work by law reserved strictly for the nobility. During the 14th century. By the Protestant Reformation, it had picked up a new symbolism. Black became the color of Calvinism. This is a protest against lavish splendors of Catholicism. It was a sober color of choice of those first Pilgrim settlers in America. When it comes to the 16th century, there was a vogue for black clothing among Europe's wealthy, which was of course very, very expensive. But by the late 1800s, people both in Europe and the US had begun to fall under the CFO of witchcraft, spurned by religious fanaticism, they began to see evil and black giving the color It's superstitious and dark associations even today. However, black became exceptionally popular in 1926 with the introduction of Chanel's famed little black dress. But just prior to that period, black was a standard uniform color for domestic servants. And the sharp girls who staffed retail shop floors, Coco Chanel actually set herself. I have said that block has at all white to their beauty is absolute. It is the perfect harmony. Social norms have ever, we're changing the concept of formality in fashion. So people started to dress us formerly spores service becoming more popular and how minds regrowing higher. As young society woman moves away from Aras of lavish and are strict of gowns to something more comfortable and accessible. By the early 1900's, social whites who wanted to appear especially youthful and edgy, Don little black dresses and wanted to marathon more often. In addition to fashion block hut, actually another powerful force that really helped it stand out and become so popular. That force was the age of black and white film. The other great promoter of the little black dress was the camera, especially the movie camera. After 1926. Next pivotal moment as the London of the seventies and eighties, we saw a huge subcultural explosion at fashion. We started to see torn fishnets and bondage trousers as Punk became, and it didn't just extend to clothing. Hair was died and eyes and lips recorded in dark paint and lipstick in the US later we see goth culture was championed by ALT mag propaganda, which pioneered the style long after London. In 1981, the course of fashion history was changed forever. When famous designer recover Cuba, it made her Paris. They Butte labor, come take our song. Darken color and red in with halls. Anti fashion garments were immediately labeled by the fashion press as being Hiroshima chic. But of course, it also helps assert black as the color that belong in wardrobes. Ok woman, as fellow Japanese designer Yamamoto has asserted, block is modest and arrogance. At the same time, black is the lazy and easy, but also mysterious. But above all, black says this, I don't bother you. And you don't bother me. 3. Fashion History of Red: Today we will be learning about the fashion history of one of the most ancient colors, the color red. The first pigment used by human beings because red was made by grinding hematite are also called iron ore. In order to make red ocher, a practice that dates as far back as 7,000 thousand years ago. It was likely use as body paint. Bread was one of the three pigments used in Kmart. The others were black and white. Bread was therefore used to depict hunting scenes to make handprints. Mitch would make sense. If we look at the Romans, they use mercury or to make vermilion of color warm by brides as a shawl called a Fleming. Victorious gladiators, an army generals for also painted head to toe and read and celebration. It was a very popular color for the Romans 7 thousand years ago in China, red was using pottery, palace interiors, and bridal attire. The Mayans, meanwhile, are thought to have painted their faces read during human and animal sacrifices. And people in India has also been crushing on boiling the Ruby a plant for centuries to dye cloth. While married Hindu woman mark their foreheads with red. To this day, Catholic priests who still wear skirts in order to denote early murders. Since the Middle Ages, the members of the European OEMs were willing to pay astronomical prices for precious bullets. Taffeta us, sleek satin and tapestries. Red help both religious significance as a color of the blood of Christ and the fires of ****. And also it held the secular meaning as a symbol of love, glory, beauty, and passion. Yet during the Protestant Reformation, began to decline and status viewed as indecent and immoral and also linked to luxury and excesses of the Catholic Church. Read quickly fell out of favor amongst elites. Emperor Charles the fifth, and the Spanish aristocracy started insurance to favor black, override. Spanish tastes for black became pervasive and think quickly impose a new fashion on all of Europe. Read continue to persist as recorded in documents and portraits. However, it was used mainly for draperies, curtains, and upholstery. As shown in paintings were red, gives prominence to the figures and life to the composition. After the French Revolution, read Game new respect as a color of progressive movements and radical left-wing politics. However, today, bread is not as symbolically charged as it was in the past, but it's still not a color for everyone. It is a difficult color to wear. Red requires a certain amount of self-confidence. Still today, it has connotations of strength and power. The history of the red of the modern fashion world should therefore start from the legendary fashion designer, Cristobal Villegas, the Aga, who was inspired by the Cardinals, painted by realist because Goya, similar to Balenciaga designer Valentino, has made the color red, has absolute trademark. His red is iconic, elegance and grant read with its intensity, has been tested by time and persist with being one of the most powerful colors in today's day and age. 4. Fashion History of Green : Hello everyone and welcome back to another lesson of fashion history and color. Today, we will be looking at the history of the color green and fashion. People have tried for centuries to make a truly green pigment. In ancient Egypt, green was a symbol of regeneration and rebirth. They tried using the copper mineral malachite in order to paint onto walls. However, it was very expensive and easily turn black over time, the ancient Romans came up with the solution to soak copper plates and wine in order to create vertebrae. A green pigment that comes after her brother and metal. This is the same green hue you would see today on paginated metal roofs. Old coins are sculptures. The ancient Romans use this pigment for mosaics, frescoes, and stained-glass. This early Hugh was also used by medieval monks to color manuscripts. And if you look at the Middle Ages, the color of clothing indicated a person's social rank and profession. Rudd was worn by the nobility, while brown and gray, this warm by peasants. Green was Warren Brian, merchants, bankers and the gentry. In 1775, Swedish chemist Karl Wilhelm Scheele invented a deadly bright green hue. And it was made with a toxic chemical, arsenic, also called shoes green. It was so popular that by the end of the 19th century it had replaced to earlier mineral and vegetable dyes. But its invention came with a huge price. Shields Green was used on paper, law hangings, fabric, and even children's toys. Some 19th century journals contained reports of children being ill and bright green rooms and ladies and green dresses becoming sick from consuming the toxic vapors. Green was also Napoleon's favorite cover. And thanks to Napoleon, green knew the glory days under the name of imperial green. Use in decoration and fashion. Historians also believed that the pigment actually caused the death of French Emperor Napoleon Bonaparte in 1821. A suspect your wallpaper featured that, that the hue, For whatever reason, be that vanity or simple refusal to face the facts. The middle and upper classes carried on adoring this deadly shade of green. Despite all the modern advances I'm colored technology producing green dyes and pigments is actually still difficult and many hues continued to future some toxic substances. To this day, green dye has a bad reputation amongst seamstresses. Women who worked with fabric section now believe that it is linked to bad luck. Fortunately, though, the green dye on your coding is no longer made with arsenic. In our modern world, green is imposed as an insulin way and street fashion, a color that will be fluorescent and noticed. And all designers offered different shades of green. Because if the street which impose the green or the designers, difficult to say, but it is a colored that is clearly visible today on all looks different styles from formal wear to street and sporty. This is probably because greed inspires today more than any other color today, wearing green is inspiring and soothing. 5. Fashion History of Blue: Hello everyone and welcome back to another lesson of fashion history and color. Today, we will be looking at the history of the color blue and fashion. So scientists generally agreed that humans began to see blue as a color when they started making blue pigments. Cave paintings from around 20 thousand years ago, like completely any blue color, since blue is rarely present in nature. So therefore the cover Bu did not exist at that point. The color of the sky was seen as no color. About 6 thousand years ago, humans began to develop blue colorants. Lapis, a stone mine in Afghanistan, became highly prized among the Egyptians. They adored the bright blue color of this mineral. And so they use chemistry to combine the rare lobbyists with other ingredients such as calcium and limestone. And they ended up generating other saturated blue pigments. It was at this time that an Egyptian word for blue emerged slowly, but surely the Egyptian spread through blue dice throughout the world, passing them on to the Persians and the Romans. The dice for expensive and only royalty credit for them. Thus, blue remained rare for many centuries, though, it slowly became popular enough to earn its own name in various languages. When it comes to ancient times, blue was considered barbaric. Germans and salts would rub their bodies with blue to fight their enemies. In Rome, wearing blue was usually considered demeaning, eccentric, or a sign of mourning. The history of blue has a color for everyday man began when the Catholic Church made an important move. And the year four hundred thirty one hundred AD. At this time, the church decided to color-code the Saints. Married was given a grow. Over time, the shade of blue that Mary war became what is now known as navy blue because Mary stood for innocence, interests, worthiness. The color of blue later was seen as a positive light. This same navy blue was adopted by militaries and police in order to convey a similar essence of trust, Blue became associated with royalty when the monarchy in France began regularly wearing the color, a fashion trend and that was adopted by royals from other countries in the 12th century. It became part of the Royall coat of arms or France. Paintings of the mythical king Arthur begin to show him dress in blue. During the Protestant Reformation, clothes were always seen as somewhat sinful adornments and embellishments. Luxury makeup and ostentation were considered expressions of the most suspicious pride. Blue was not as strong symbol and was neither approved or conduct. It was simply considered to be like almost a neutral color, especially if it was a darker shade of blue. The history of blue as a color for boys is an even newer notion that primarily arose after the post-World War II baby boom. It came about as a complete marketing scheme. As manufacturers could sell more close. It's somewhere distinctly for boids and others were the single for girls. And so today, just like the ancient Egyptians, people adore the color blue, it is used widely and interior design and fashion. And not only is there a word for blue, there are hundreds of words for various shades. 6. Fashion History of White : Welcome back everyone to fashion history. Today we will look at one of the most popular and timeless colors and fashion. The color white. Let's get to it. White dresses have existed since ancient times. The Egyptian ropes peanut in the tombs of precincts, the pharaohs were white, most likely a symbol of purity and royalty. Many tunics were white in ancient Greece and Rome, the white Togo represented Roman citizenship. In the Middle Ages, after the spread of Christianity, the white dress became a symbol warming to religion rather than to society. Certain virtues were identified with it, and it was used for outer garments, mainly by monks and priests. The Pope has a warm white since 5066 as a symbol of purity and sacrifice. And it is worn by pilgrims and Islam and the Shinto religion of Japan. Interestingly enough, in Europe, White was also the color of mourning for widows right up until the year 601st white dress with its own identity, unrelated to religious meanings and symbols, is a chemise, a letter it launched by Marie Antoinette, who after having admired and studied a painting from her picture gallery with her painter, decided to pose in the same way as a subject of that painting. Natural without too many ornaments, the dress was, of course, whites and became hugely, hugely popular as Marie Antoinette was seen as a complete fashion icon. We all think of light as having a place at weddings. The white trusts worn by brides symbolizes of original innocence and New Beginnings. Interestingly though, what used to be reserved solely for royal weddings, non-royal just wore their Sunday best. Up until the 19th century, I'm going to clean Victoria Police wedding dress inspired a new fashion for white. It was not the first ever white wedding dress, but it was certainly the one that had the most resonance and influence. At the time, it was completely customary to use a very precious stress to get married. Silver, gold jewelry, embroidery were the most classic choices. Tutorial, however, wanted to make a clean break with the past era. And she also wanted to show that this was not a marriage of power only, but if I love, in fact, she was really in love with Albert and this made her choose address that for this first time. Perhaps too simple. It was the beginning of a fashion that continues today. Since then, what has never completely abandoned fashion. We find out during the bell at Coke addresses rich and flood sense lease drapery and silk and the Art Nouveau era and brush with natural motives, imaginative applications, shells, pearl speeds even later and I wonder from a drape dresses of Menachem gray and going up until the present day, honorable mention goes in particular took period of the early 20th century. Image should assumed a particular meaning. In those years. In fact, the white dress was chosen by the American and British suffragettes as their symbol. They've worked together with two other colors. Usually you weren't on a stash, whereas about purple, a symbol of loyalty and gold are in England green, which represented hope. It was an extremely widely strategic choice. Invite made it possible to stand out in the photos of the time in black and white. It was evident on the pages of the newspapers. It was also a color that symbolize purity and innocence. So it could not be criticized by those who claim that suffragists were eccentric or rebellious. Just like the color black, Coco Chanel, praise white. So she said, white has at all its beauty is absolutely perfect harmony. 7. Fashion History of Purple : Welcome back to another lesson of fashion history. Today we will be looking at the color that is regarded as the most royal color in history. The Color Purple. Purple is said to have first appeared in art during the Neolithic era, the prehistoric artists and France, you sticks of manganese and hematite powder in order to draw and paint animals, as well as outlines on the walls of their caves. These works have been dated back to between sixteen thousand and twenty-five thousand BC in ancient mythology, it was actually the dog of Hercules that discover the color purple after picking up a mirror EQ snail from the beach and developing purple drill. The color purpose ties to kings and queens. These back to the ancient world, where it was price for its bold Hughes and often reserved for the upper crust. The Persian king Cyrus adopted a purple tunic as his royal uniform. Some Roman emperors forbade their citizens from wearing purple clothing under the penalty of death. Purple was especially Roberta in the Byzantine Empire, its rulers workflow in purple robes and sign their ethics in purple ink. And their children were described as being born in the purple. The reason for purple's regal reputation comes down to a single case of supply and demand for centuries to purple dye trade was centered in the ancient city of Tyre, in modern day Lebanon. This Tyrion purple came from a species of sea snails also known as Bolinas Brenda Paris. And it was so exceedingly rare that it became worth its weight in gold. To harvest it by makers had to crack open the snail shell, extract the purple producing mucus, and expose it to sunlight for a precise amount of time. It took as many as 250 thousand mollusks to yield just one ounce of usable die. The result was a vibrant and long-lasting shape. Purple clothes made from the diver extraordinarily expensive panel purple world costs more than most people earned an a here. They naturally became the calling card of the rich and powerful. The royal classes. Purple monopoly finally waned after the fall of the Byzantine Empire in the 15th century. But the color didn't become more widely available until the 1850s than the first synthetic dyes hit the market. Or pulse exclusivity also carried over to the Elizabethan era from 1558 to around 1603 in England. Queen Elizabeth, the first sanctuary laws forbade anyone except close relatives of the royal family to wear purple. In addition to colors, the century laws also regulated which fabrics and close could and couldn't be worn by different classes within English society. Finally, an 1856 British chemist named William Henry Perkin made the color more accessible to common or when he created completely by accident, a process for synthetic purple. He was trying to concoct the treatment for malaria. Pillars name was later changed to map, based on the French name for the purple mallow flower. Just a year later after this discovery procedure, neither wife of Napoleon the third, was one of the leading trendsetters in Europe. On one occasion, in the summer of 1857, she dressed in a plane lilac silk dress and a charming hat trim with a small tufts of lilacs. Ladies of fashion all around Paris emulated her. Today, purple is still regarded as a bit of an O color, perhaps because of its heritage, it has never been a mainstream choice. But then also because of this, it's never lost its panache either. 8. Fashion History of Orange: Welcome back to another class on fashion history and cover. Today we will be looking at the history of one of the most vibrant colors, the color orange. Use of the unofficially named color began all the way in ancient times when Egyptians would use a yellow orange mineral called Rio GAR in order to paint onto walls highly toxic due to extreme arsenic levels. Real garb was also used by the Chinese to repel snakes. Perhaps this is one of the many reasons we view the color orange. Immediate reaction, It's backgrounds, some from one of the toxic natural minerals and danger, which is suitable for how we recommend another yellow, orange toxic mineral misuse in ancient Rome as a way of valuable trade. In addition, it was used in medieval times as a way to allow certain manuscript to be eliminated. Before it was even given a name. The color orange was given an image of value, danger, and vibrancy known as yellow, red, and saffron. Way up until the 16th century. The importation of orange fruit trees from Asia to Europe. Path the way for this new name common in Asian culture and religions, monks and holy men are often seen in, in q, which the color itself is known as a symbol of transformation and Confucianism. Saffron from mission named stems is considered the most expensive dye in both China and India. Once again, you're seeing this colour given an image of high-value with significant meaning. It is also prevalent in the Buddhist religion. Representation of high illumination and perfection. The color can be used to signify quest for knowledge, as well as a sign of fertility and abundance and warm by Pomona, the goddess of fruitful abundance, one famous artists Monet often uses vibrant view in nature in order to capture a sense of excitement and warmth. Today, we see variations in the color. Darker, warmer shade gives a sense of comfort and ease gonna associated with the fall season. I brighter, more vibrant shade would elicit strong emotions with eye-catching capabilities. Popular examples and clothing would be safety vest, life jackets, US prison jumpsuit and other uniforms. We also see this trim and sports equipment such as basketballs, ping-pong balls, and certain brands at tennis balls. These examples call a need for attention and alertness. The 1960s was known for its mode culture. Orange was a prevalent color in these times. From furniture and clothing to automobile IDEO, an album covers. This hue reached out his hand among every shade. A tangerine orange was most prevalent in the earlier years of the decade, eventually turning into a darker orange for the Bohemian style in the 70s. Here we see a carriage orange bio code from 1965. Andre corrosion was a French dress designer, has been like the August 1st assistant and eventually made his reputation through Parisian fashion in the 1960s. He was mainly known for his futuristic youth oriented style. This just stood here with large open puppet thoughts assigned by Rudy, garden rake, node network designer, thing for unisex asides. Next is so print mini dress. But Emilio preachy and Italian designer noted for his abstract prints in the late 1960s. Today, orange is considered a confident, warm, happy, and energetic color. Although it might be tricky to pull it off one pair of the right way. It is super eye-catching up, daring. It makes a variable statement that you are not afraid to be seen. 9. Fashion History of Grey : Hi and welcome back to another lesson of fashion history. Gray has existed in Western coaling for centuries, mainly because it was the color of undyed wool, which made it a popular choice for the proletariat. It became extremely fashionable in the 18th century for mid-level nobleman and was occasionally seemed fashion. It's a woman stresses. Gray has also been somewhat a Christian color formed by monks and nuns, especially the followers of St. Francis of Assisi, who were also known as gray friars because of their dress. It symbolizes morning. Ashes in the month of Lent, great became a highly fashionable color in the 18th century, both for a woman stresses and ferments waistcoats and coats. It look particularly luminous coloring the SOC and certain fabric warm by the nobility and the wealthy. Women's fashion in the 19th century was dominated by Paris, while men's fashion was set by London. The great business suit appeared in the mid 19th century in London, light gray and the summer and direct rate and the winner, replacing the more colorful palette of men's clothing early in the century, several artists of the mid 19th century used tones of great to create memorable paintings. John Baptiste Camille curl use tons of green, gray, and blue grades give harm we need to his landscapes. And James McNeill Whistler created an especial gray for the background of the portion of his mother and for his own self portrait in world history had a color. It would probably be great industrialization and wore the palette of Picasso's Guernica and listservs, grim landscapes. It has also been the color associated with worker bees of every economic phase. But there is a sticker sets, factory girls dressed in green in nineteenth-century Paris. The quintessential man in the gray flannel suit from the 1980's America, slogging everyday to get his family and the country out of the Great Depression. One of the multitude of software federalism, great t-shirts and tracks somewhere in the world. The color gray has belonged to the worker that drives the economic engine of the moment. Grey has found a universal contemporary appeal, perhaps because it is timeless. It adapts to the occasion, to people and their moods. It lends itself differently to different textures, versa, toe, a transforming itself seamlessly. Agree. Middle skirt can feel floaty. Ligands SoundCloud the same gray on so gleans like steel, where a gray will in pants. You're a sharpened pencil, lead race satin will remind you of a stormy sea. 10. Fashion History of Yellow : Hey everybody, and welcome back to fashion history. In this lesson, we will be looking at the history of the color yellow. Yellow pigments survive from clay soils rich and ocher reduced as early as 45 thousand BC for decorating human bodies and cake balls. Because it was widely available, the yellow ocher pigment was one of the first color is use an art. For example, the Lascaux Cave in France has a painting of a Yellow Horse, 17 thousand years old ocher. And our pigment pigments were used to represent goals and skin color in Egyptian tombs. Then later in the bureaus and Roman villas in ancient Egypt, yellow was associated with gold, which was considered to be imperishable, eternal, and indestructible. The skin and bones of the gods were believed to be made of gold. The Egyptians use yellow extensively in tomb paintings. They usually use either yellow ocher or the brilliant or permit. Though it was made of arsenic, course, was highly toxic. A small paint box with our permit payment was actually found in the tomb of King Tutankhamun. Men were always shown with brown faces. Women with yellow ocher or cold phase of the ancient Romans use yellow and their paintings. A cold and also in skin tones. It is found frequently in a Bureaus of the ancient city of Pompeii. During the post-classical period, yellow became firmly established as a color of Judas, the disciple who betrayed Jesus Christ. Even though the Bible never described his calling. From this connection, yellow also took on associations with envy, jealousy, and duplicity. Ella was seen as a color of heretics and of contempt. Until medieval times in Christian culture. In the 16th century Spain, those accused of heresy and who refused to announce your views were compelled to come before the Spanish Inquisition. Dress in a yellow cape. On the other hand, yellow was also considered to be a royal cover in China. Therefore, all Chinese emperors or yellow. The 18th, 19th century saw the discovery and manufacturer of synthetic pigments, dyes, which quickly replace the traditional yellows made from arsenic, cow urine, and other substances. There was a great deal of interest in this sodic spreading Europe. And people started to use yellow as a fashionable color circa 1776, John on array for gonorrhea and painted a young girl reading. She is dressed in a bright saffron yellow dress. And this painting is considered by many critics to be among the hundreds most appealing and masterly during the Victorian era, yellow was believed to be the color most similar to light, with shades ranging from the palest butter to the liveliest lemon. It was suitable for morning dresses. They dresses evening gowns and seaside where fashion magazines and color experts of their day recommended restricting clear, bright yellows to spring and summer. However, shades of yellow could be seen unfashionable address throughout the years. Often in the form of gloves, decorate a fan, fairly parasol, or simply establish shot. In 1903, distinguished fashion designer Paul puree, remove the petticoat. And three years later, the course set his actions, free the woman from all physical restraints. Pauper Rey drew his inspiration from the Japanese kimono, the Greek chiton and baggy pants from the Middle East. Thanks to pauper who's creations, the yellow color both stablished itself in a fashion under the name yolk, yellow. For palpatory. According to property, the choice of shades from other designers were boring to his quote, confirms his opinion. The ray of sunshine and my pastels is like a new dawn. 11. Thank you!: Hey, and congrats on completing or fashion history and color course, you now know the basis of meaning and significance that each color has held throughout our history. And you also know how these meanings have changed throughout time. This now will help you expand your knowledge on cover the key components of fashion. In my next class, we will be looking at the psychology of color and fashion. We will look at the moods, qualities, and emotions associated with each shape. Really hope you enjoyed this course and remember, if you have any questions, any comments, feel free to always message me and ask away. I'm always here to help and answer any questions that you may have. Thank you so much for being my students and I hope to see you soon. Bye.