Playback Speed
---
0.5x

1x (Normal)

1.25x

1.5x

2x
Design a Digital Planner in the Affinity Publisher 2 iPad App
Watch this class and thousands more
Get unlimited access to every class
Taught by industry leaders & working professionals
Topics include illustration, design, photography, and more
Watch this class and thousands more
Get unlimited access to every class
Taught by industry leaders & working professionals
Topics include illustration, design, photography, and more
1.

Course Introduction

5:00

2.

The Course Project

1:02

3.

The Basics of Publisher - Exploring the interface

6:55

4.

The Basics of Publisher - Exploring the Tools

13:33

5.

The Basics of Publisher - Exploring the Studios

15:35

6.

Setting up Your File

4:24

7.

Building the cover design - part 1

10:22

8.

Building the cover design - part 2

15:48

9.

Adding tabs to your cover design

4:37

10.

Creating the tab details

7:19

11.

Linking tabs and creating master pages

7:44

12.

Animating your tabs

7:59

13.

Designing your monthly layout

10:49

14.

Designing your weekly layout

11:16

15.

Designing your daily layout part 1

11:37

16.

Designing your daily layout part 2

14:54

17.

Designing your sticker page layout

2:04

18.

Exporting your final planner

1:28

19.

Working in Goodnotes

13:30
--

Beginner level

Intermediate level

Advanced level

All levels
Community Generated
The level is determined by a majority opinion of students who have reviewed this class. The teacher's recommendation is shown until at least 5 student responses are collected.
About This Class
Class Description
Maybe you've heard about digital planning or maybe you are new to the idea of planning and scrapbooking on your iPad. Maybe you are a pro and are looking for a more streamlined way to design your digital planners keeping the entire process on your iPad. Or maybe you just haven't found planner peace and think that designing your own planner with your own custom spreads is the way to go. If you fall into any of those categories, this class is just for you. I'm excited to walk you through the journey of creating your very own digital planner in the all new Affinity publisher app on your iPad.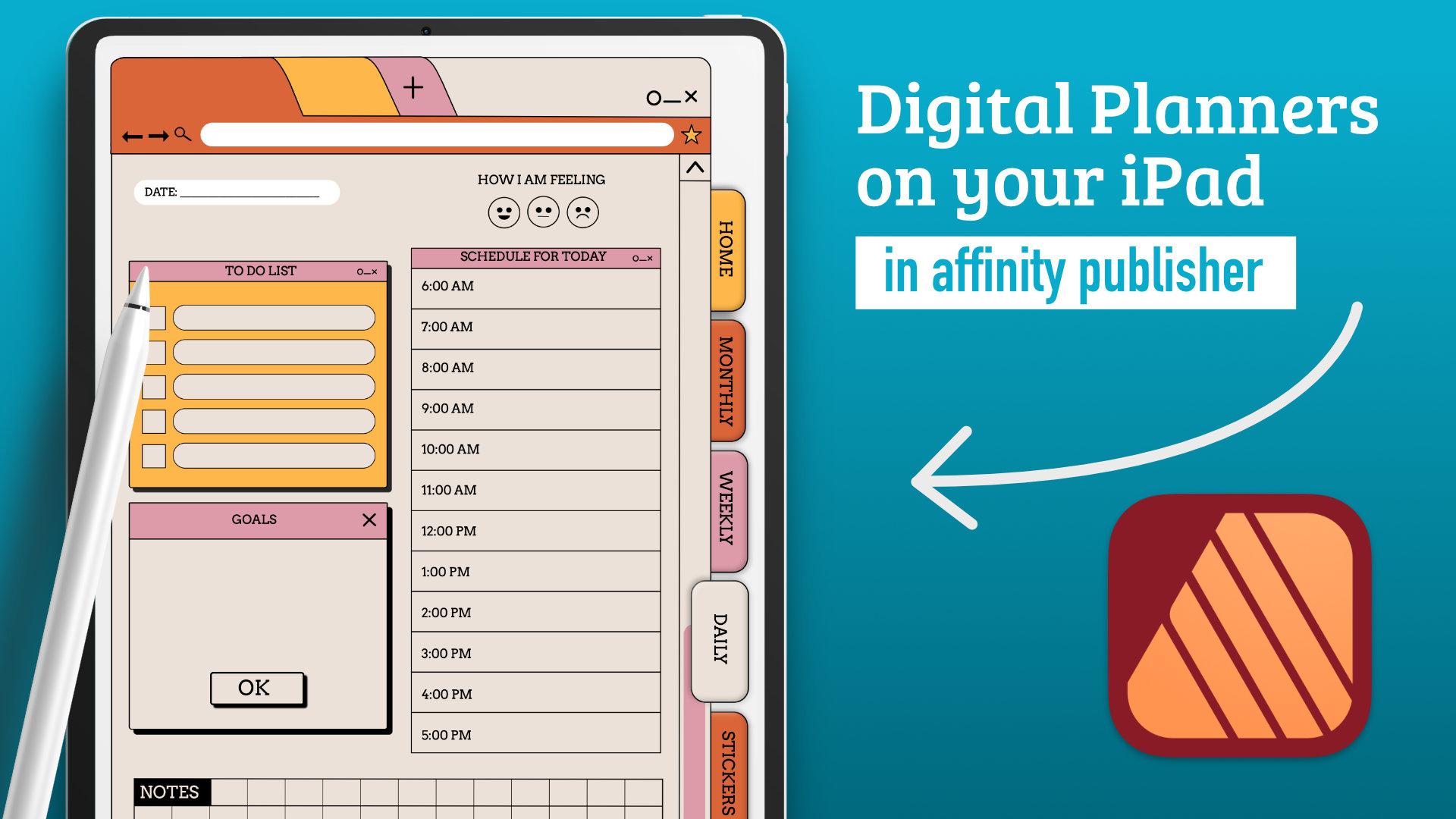 Aside from my work in fashion and graphic design, I really enjoy planning! In addition to paper planning, I have a fond appreciation for digital planning. Some of my top selling products are my digital planners and stickers sets in my Etsy shop and on Creative Market. Which is why I am excited to share this next class with you. Building a digital planner in Affinity Publisher is not nearly as hard as you think. I wanted to share some tips, my knowledge and help you build a digital planner that you can customize to your needs. I also find that digital planners are less intimidating as you don't feel so much pressure when creating spreads in them because you can always undo. Finally, digital planners are a bit more eco friendly than your traditional paper planners as you can reuse them over and over again. 
Hello everyone! If this your first class with me, welcome! If you are a returning student, welcome back! I'm so glad to have you here. I am Jen and I will be guiding you through this creative course. I'm a freelance graphic designer, illustrator and educator based out of the midwest and I run Bella + Sophia Creative studio. If you want to learn more about me, you can visit me online at: www.bellasophiacreative.com and you can check out my youtube channel: The Creative Studio. There, you will get a behind the scenes view of the work I do as a creative freelancer and educator  as well as access to a huge library of additional free tutorials relating to art, design and illustration.
What the class is about
In this class, you will learn how to create a linked digital planner in the all new Affinity Publisher  app on your iPad! I have been a huge fan of the affinity products and one of my top digital planning classes walks students through the process of creating a digital planner in Affinity Publisher version 1 on the desktop. When I heard about the update and the fact that Serif was launching the app version for the iPad, I knew I had to revamp the course and walk users through the new app.  I really enjoy using Affinity publisher for creating planners and printable because it is so easy to design layouts, create precise shapes, space them evenly, add vector effects to the shapes, It's also easy to add dates to the planner and keep the numbers and shapes properly aligned using the align tools. Most importantly, though, you can link all of your pages to prepare them for your digital note taking app in the same program. You don't have to jump into another program to do this, you can do it all in one go using Affinity Publisher. 
You can choose to create either a dated or an undated planner as your class project. For this class, though for the sake of ease, we will be creating an undated planner and 4 simple layouts. Not only are you learning design concepts and how to create a planner, this course is a fantastic class to also get comfortable using Affinity Publisher - as I will be walking you through the basic process of creating in the program and you get a tangible project that you can use after you are done. 
A few of the skills students will learn
You will learn how create your own digital planner in Affinity Publisher on the iPad. We will start with the basics of understanding the interface and getting acclimated to the tool bars and functions in the Affinity Publisher workspace, then we will start to build out our digital planner. You will learn how to design basic layouts, create pages, get an understanding of the layers function in the program, learn how to create tabs and how to link those tabs to pages in your layout. We will also go over how to use the shape tools, the line tool and how to use the the move and align functions. You will get a better understanding of the layer FX tools and how to add things like embossing and shadows to make items feel more 3-D. We will learn how to create basic buttons and icons. Finally, we will go over how to export your file for use in note taking apps like Goodnotes and how to load it into the app on your iPad. We will go over some simple tasks in Goodnotes like how to write on your planner, how to add text, how to add digital  stickers  and how to duplicate pages and spreads. 
You can use the planner you create in this class to offer as a free download if you are trying to build an email list, sell it on your website or a site like Etsy or Creative Market. To make things easier, I will also be including the class project affinity publisher template that you can edit and get acquainted with before you start your own. I will also include a PDF version that you use can use in Goodnotes as well.
All you need to take this class is your iPad, The Affinity Publisher app and The Goodnotes app. 
Who the class is geared toward or if any prior knowledge or experience is required
This class is geared towards beginners. You don't need any prior experience using the Affinity Publisher app as I will be going over the basics to help you get comfortable using the software. 
Let's get started! 
Find me online: www.bellasophiacreative.com | YOUTUBE
Other Digital Planner Courses
Design a digital planner in Affinity Designer and Keynote on the iPad
Design digital stickers in Affinity Designer on your iPad
Building Digital Planner Stickers in Affinity Designer Desktop for Use in Goodnotes
Meet Your Teacher
I am a Chicago-born Latinxer (I'm a proud Puerto Rican and Mexican American) millennial, an educator, and a freelance creative with experience in graphic design, digital media, illustration and surface pattern design. I am also a mother of two who is in on a mission to reach all the creative goals I've set for myself while trying my best to be a positive influence on the world.
I have 15+ years of experience in the fashion and creative marketing industry in both the corporate world and teaching as a professor in Higher Education. I am working on building course offerings that bring people a new perspective and opportunity to take your design and art to a new level. I am pushing for continued growth, running... See full profile
Level: Beginner
Hands-on Class Project
An overview of the class project
For your class project, we will be creating your very own digital planner. You will create a 5 spread layout featuring a cover page, a weekly spread, a monthly spread, a daily spread and a blank page for you to add any digital stickers for ease of access.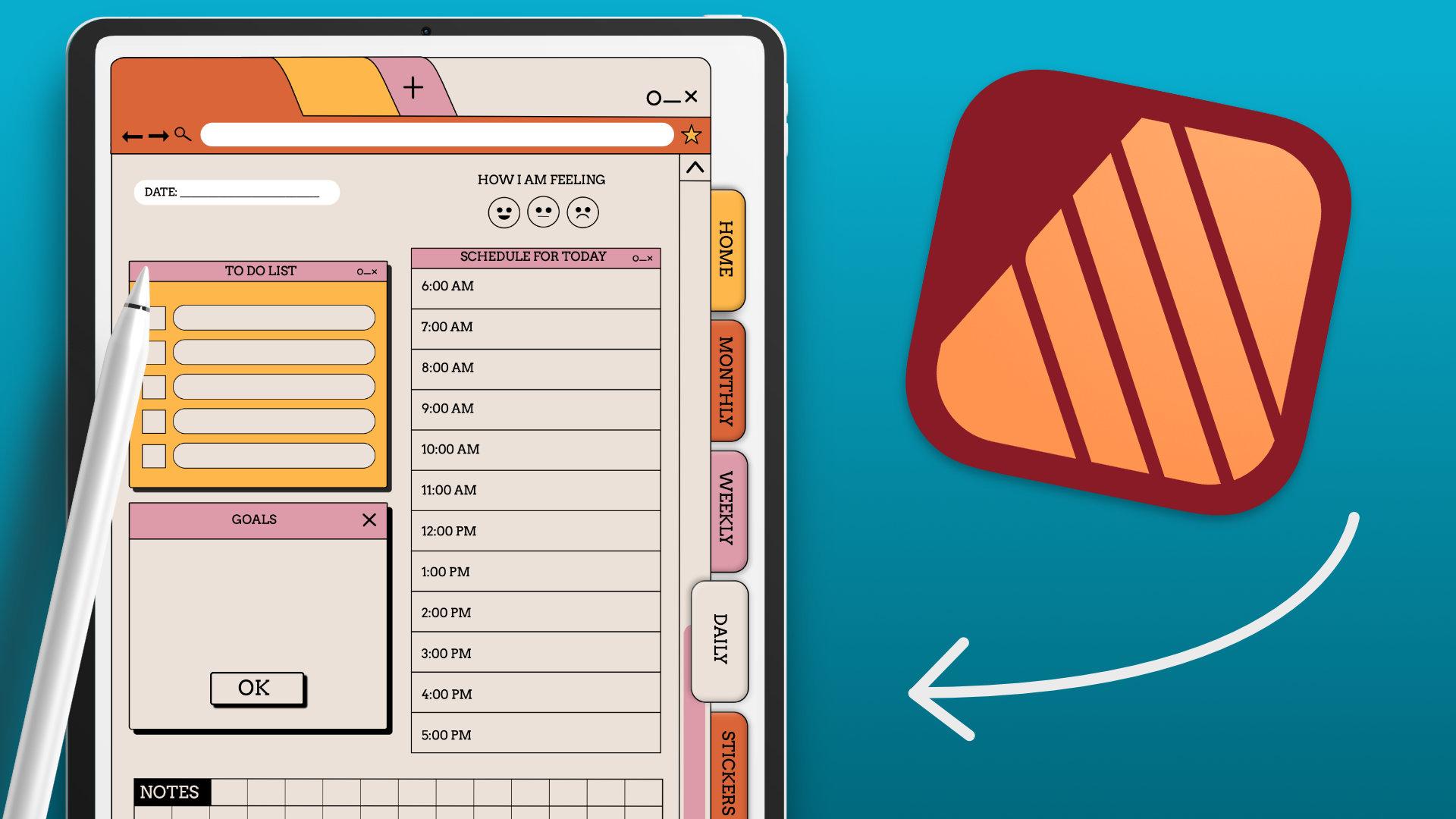 Deliverables
The planner file may be too big to share to the course forums, so instead you can share the following:
Screenshot of your cover spread
Screen shot of 4 spreads
Optional - Download link to the goodnotes version of your planner
Resources can be found in the resource section of the class
Use my Affinity Publisher Planner templates
Download the Goodnotes version of the class project planner
Download the PDF version of the class project planner
Creative Market - to explore more of MY digital planners and digital planner stickers
Class Ratings
Expectations Met?
Exceeded!

0%

Yes

0%

Somewhat

0%

Not really

0%
Why Join Skillshare?
Take award-winning Skillshare Original Classes
Each class has short lessons, hands-on projects
Your membership supports Skillshare teachers
Transcripts
1. Course Introduction: Maybe you've heard about digital planning or maybe you are new to the idea of planning and scrapbooking on your iPad. Maybe you are a pro and you're looking for a more streamlined way to design your digital planners, keeping the entire process on your iPad in one app. Or maybe you just haven't found planner peace and think that designing your own planner with your own custom spreads is the way to go if you fall into any of these categories, this class is just for you. I'm excited to walk you through the journey of creating your very own digital planner in the all new Affinity publisher app, right, on your iPad. Aside from my work in graphic design and illustration, I really enjoy planning. In addition to paper planning, I have a fond appreciation for digital planning. Some of my top selling products are my digital planners and stickers sets in my Etsy shop and on Creative Market, which is why I'm really excited to share this next class with you. Building a digital planner in Affinity Publisher on the iPad is not nearly as hard as you think. I wanted to share some tips, my knowledge, and help you build a digital planner that you can also customize to your needs. I also find that digital planners are less intimidating as you don't feel so much pressure when you're creating because you can always undo. Finally, digital planners are a bit more eco friendly than your traditional paper planners, as you can always reuse them over and over again year after year. Hi everyone. If this is your first class with me, welcome. If you are a returning student, welcome back. I'm so glad to have you here. I am Jen, and I will be guiding you through this creative course. I'm a freelance graphic designer, illustrator, and educator based out of the midwest and I run Bella and Sophia Creative studio. If you want to learn more about me, you can visit me online at www.bellasophiacreative.com. And you can also check out my youtube channel, The Creative Studio. There you'll get a behind the scenes view of the work that I do as a creative freelancer and educator, as well as access to a huge library of additional free tutorials relating to Art, design and illustration. In this class, you will learn how to create a linked digital planner in the all new Affinity publisher app on your iPad. I've been a huge fan of the affinity products and one of my top digital planning classes walks students through the process of creating a digital planner in Affinity Publisher version one on their desktop computer. When I heard about the update and the fact that Serif was launching the app version for the iPad, I knew I had to revamp the course and walk users through the new app. I really enjoy using Affinity publisher for creating planners and printable because it's so easy to design layouts, create precise shapes, space them evenly. You could even do things like add vector effects this shape. It's also really easy to add dates to the planner and grids and keep the numbers and shapes properly aligned using the align tools. And most importantly, though, you can link all of your pages to prepare them for your digital note taking app in the same program. You don't have to jump into another program to do this. You can do it all. Design, link in one go using Affinity Publisher on your iPad. When we're designing our Planner today, you can choose to create either a dated or an undated planner as your class project. For this class though, and for the sake of ease, we will be creating an undated planner. Not only are you learning design concepts and how to create the planner, this course is a fantastic class to get you comfortable using the Affinity Publisher app. This is because I will be walking you through the basic process of creating in the program. And you get a tangible project at the end that you can use after you're done. So when it comes to the skills that you'll learn, you will learn how to create your own digital planner in Affinity Publisher on the iPad. We'll start with the basics of understanding the interface and getting acclimated to all the tool bars and functions in the Affinity Publisher workspace. Then we will start to build out your digital planner. You will learn how to design basic layouts, create pages, get an understanding of the layers functions in the program. Learn how to create tabs and how to link those tabs to pages in your layouts. We will also go over how to use the shape tools, the line tool, and how to use the move and align functions. You will get a better understanding of the layer effects tools and how to add things like embossing and shadows to make items feel a little bit more 3D. You will learn how to create basic buttons. And finally, we will go over how to export your file for use in note taking apps like Goodnotes, how to load it onto the app on your iPad. We will also go over some really simple tasks in Goodnotes like how to write on your planner, how to add tax had add stickers and how to duplicate pages and spreads. When you're done designing your planner, you can use the planner you create in this class to offer as a free download if you're trying to build an email list, sell it on your website or a site like Etsy or Creative Market to make things easier. I will also be including the class project affinity publisher template that you can edit and get acquainted with before you even start on your own. I will also include a PDF version of the planner along with some special stickers that I've made that you can use in Goodnotes as well. All you need to take this class is your iPad, The Affinity Publisher app, and The Goodnotes app 2. The Course Project: So when it comes to the class project, for your class project, we will be creating your very own digital planner. You're going to create all four spread layout featuring a cover page with the notes area, a weekly spread, a monthly and a daily will also add in a blank spread that you can utilize for your digital stickers for the sake of ease of use. And to keep in mind size parameters for different people's iPads. For this particular class, we're only gonna be making one layout of each of these spreads. Once we get into the Goodnotes app, I'm going to show you how you can duplicate your monthly spread 12 times for each month of the year. So this class is geared towards beginners and you don't need any prior experience using the Affinity Publisher app, as I will be going through the basics to help you get comfortable using the software I'm looking forward to creating with you today. Let's get started. 3. The Basics of Publisher - Exploring the interface: So before we even begin the designing process, I want to take you through Affinity Publisher two, just so that you can get used to the app. So once you've downloaded the app to your iPad, this is the icon you see, you can tap on it and it'll launch it. Once you are in the app, you may not have anything within your gallery. This is where all of your files live. I have been working in it for quite a bit since I first download it. So I have a bunch of projects already in here, but you may have nothing in here. To set up a new document. You would just go to the left-hand side, select New, and then you can select new document. You can select New from clipboard if you've copied something. You can also create new from a template or a new project. You can also open a document by just selecting open, open document are important document and you could open them from your file system. You can just select anything that you've downloaded are saved to your file system and open it there also you'll be able to access the sample projects here by clicking on samples. And then you also, you get a sample project. So you could kind of like explore and play around in the app. Once you've downloaded. I'm just to kinda see how Affinity has set up their file system. And then to get back out into your gallery, you can just tap on this little arrow on the upper left-hand side. You can adjust your preferences by tapping the little icon towards the bottom that looks like a sprocket. You have all of your preferences and your interface. So you can select user interface. You can adjust the background gray level. You can turn on whether or not you need it to be left-handed mode. You can also adjust the tools that you're using. Set up your color profiles, and then in general, you can also update different options here, like for example, show touches. So when I'm tapping on something, you'll get a little blue highlight. So I like to use that when I'm filming for classes just so people can see where my pen is going. Then if you go into pencil, you'll be able to enable things like double-tap, adjust your pressure. And then for your double-tap, when I double-tap, I just undo. That's what I like my action to be, but you can adjust those actions there. And then you could also, is this something new that's here. You can see the installed fonts haven't sold anything for this particular software. So I'm not going to have anything here. But you may have that for your projects that you need to add in additional fonts that you've downloaded, things like that. But what we're working on, I'm just going to use what is available in my system. Once you're done with all of that, you can just hit Done and it will update it. And what I want to work on first is just setting up new document so that we can get used to the interface itself. So I'm going to select new, new document. And then I'm just going to do an eight-and-a-half by 11, which is my general press ready file that's already within this setup. I'm going to make sure that my facing pages are turned on so you can see what that looks like. Basically facing pages are two pages next to each other. Rather, if you turn this off, it'll just be single file pages. I'm just going to turn off facing pages. I like to arrange them horizontally so that they go from left to right. I tend to start on the right, similar to what you might see in a book. I'm just going to set up for pages to adjust the number of pages you can just hit negative or the positive to increase or decrease the number of pages. Depending on if you want to print this or not, you can adjust the color format. I'm going to change this to RGB 16 because this is gonna be a digital planner, so we're gonna be seeing it on an app. And then I'm going to select prefer linked because this, when it comes to my image placement, preferred linked basically allows your file to be much smaller. Whereas if you embed your, your photos within your file, if you were to add any type of images in this file, it would bulk up the size of the file because it's embedding the image and the information from that image within your file. So it just increases the size. So I prefer linked. I have this on as my default master and then I can just hit, Okay, then it'll set up a new file for me. So this is the first page, but as I said, we have this as facing pages. So that means that you'll see two pages. It's like a to AP style layout. So what we'll do is just kinda get used to the tools and the different studios that we have. My first tip that I suggest when you're working in this program, if you're ever wondering what something is, is utilize this little question mark and the lower right-hand corner. If you tap on it, it's going to show what each of the items in your menus is hauled and what it's for. The menu up top is your main menu. On the left-hand side is your toolbar menu. And then on the right-hand side are your Studios. So up here you'll have your different options for things like export, packaging, print, your document, setup it, say you need to change something. You can do that in here. Hit Okay. If you need to change your persona, if you tap on your publisher icon, you'll be able to go between the three different persona's. So Designer and photo, you do have access to tools from those apps in your Publisher app, if you toggle between the different personas, will stand publisher for now, this little three dot menu is your edit menu. If you tap on that, you'll be able to access your clipboard doctrines like your duplicate cut copy paste. You'll also access some of your operations like group and ungroup. And then you'll be able to access your insertion targets. So inserting behind, inserting on top, things like that, your Zoom options are here. If you tap on that little spyglass smear. And then you'll also be able to turn on and off your magnetics, which allows you to utilize snapping. This is your preview mode. You can turn it on or off by tapping on to that. You don't see those blue little preview outlines. Some people prefer, I don't necessarily need them. If you are utilizing any type of margins that you need to stay within. This can be really helpful. If you want to turn them off though. You can just tap on that little preview mode icon 4. The Basics of Publisher - Exploring the Tools: So what I'm gonna do is add in a shape so that we can preview some of these tools on the left-hand side. So if we scroll down to our shape tool, it looks like a square. We tap on it. You'll get different options if you hold down, get this popup. I'm just going to select a circle for now. And I'm going to create a circle. And what you'll notice is these little lines appear. That's because I have magnetics on. If you tap your finger when you're making a shape, after you've created the shape, your pen is still on the screen and you tap your finger down, it'll create a perfect shape. So I'll keep my finger down, lift my pencil, and then lift my finger, and it all create a perfect circle for me. So I'm gonna update the color by going to our color studio on the right-hand side, selecting that little icon. It's right at the top. It looks like a great circle. And you can adjust the color of your shapes. I'm just going to make it something that's easy to see. And you have your fill, which is this big circle and then this kind of like doughnut outline is your outline of your shapes. So I don't want an outline. I'm just going to turn it off. But if you did want an outline, you can just select a color and then you can select your stroke studio here, which is right underneath your color studio. And you can increase or decrease the width of that outline. So I'm gonna go back into my color studio and then I'm going to remove that outline by going down into my Quick colors and selecting the white square with the blue dashed through it and it's going to remove the outline. So let's look at a few more of these tools here. If we select this white arrow, that's our Node tool, it'll allow us to adjust based on the nodes within our shape. We can also adjust the node style. So if we go up to the top, we can convert our circle to a donut and we can also convert it to a Pi shape. So if we tap on any of these, it'll adjust. If I double tap, it'll undo. Click on that and I'll change it to a doughnut. Select undo by double tapping. We can also add in some text if we wanted to buy going to the left-hand side, right underneath add node tool is our text tool, so we tap on it. I'll just give us our frame text tool and you can just create a frame. And then whatever size you want that frame to be, that'll be the width that your texts will be limited to. So we can also update our fonts and our sizes so we can select area, we can update it to whatever you have in your file system. And then you can increase the size by selecting that little number icon. You can increase it a bunch before you tap into your frame tool. And then your little keyboard will pop up and you can just type in. Then as you see, because our tax is limited to this frame or texts disappeared. So all we have to do then is just go into our Move tool, tap on it, and then you'll get these little edge nodes. And then you can just adjust the width of this to allow everything to the end or he wanted to keep it that size. You can just increase how long that textboxes. I'm just going to keep it. Besides, it's easy to see, you can also double-tap your texts to select everything, or drag across, tap and drag across. And then you can update the color of your text in your color studio. You can also utilize your eyedropper tool, which is that little tool right at the bottom, it's your last tool. And if you select your color picker and you tap in, say, on that circle that is that magenta. It will update the color of your text to match it. The next tool I want to utilize is our Artistic Text tool. In the past, in Affinity Publisher on the desktop. The artistic textual was housed within the within the frame text tool, but it's its own option here. So if you select this little a, it will give you the artistic type tool. And what that does is just allows you freedom with what you are creating in terms of placement. Like you don't get limited to the size of a frame you create. You can just add it based on kinda like eyeballing. It can type in whatever you want. And what you'll notice is it will go on and on and on until you hit Return or Enter to create a new line. So I'm going to tap my color studio and so that we have some more space. So to pull your options back and you just have to tap on the studio and I'll pull it in. The next thing I want to look at is our table. We can add tables, which makes things so easy. You don't have to utilize the pen tool to create any type of grid work. You can just add in your own table by selecting the table tool and then just dragging with your pen tool. And it will give you a table and you can double-tap to adjust the size, the width How big things are, how wide they are. And it just makes adding kind of like trackers and things like that in digital planners so much easier. So I'm just going to pull this, pull this up and over to the side here and resize everything. Just so that it's here. You can also adjust the width of the strokes of your grid here by tapping on it and then going to your stroke studio. And then you can just adjust the strokes that go down and across or tap on the ones that go over. You can adjust the width here too. Alright, for now, I'm just going to keep it small and pull it to the side so we have more space to work. Alright, now that we've looked at the grid, we can also play around with the pen tool. So it's the little icon that looks like a pen. And basically this allows you to create shapes using Bezier curves. So the easiest way to explain it is you can utilize point to create the size of your shape. And then by holding your pen down, you can adjust the curvature of that point. So I'm gonna zoom in a little closer so you guys can get a better view of this. I'm going to adjust my points so that we can see it a little bit better. So I'm going to tap on one side of my screen, tap on the other, and then you'll see a line segment is created. I'm going to keep holding that down and then I'm going to move my pen. And then I'm able to create a curve within that line segment. So this is really great for outlining artwork. If you want, like a vectorized feel, creating designs with logos, you can combine it with the shape tool to create different imagery. I wouldn't suggest designing logos or designing imagery within Affinity Publisher because it's more of a layout of more of a layout app layout program, but you can do a lot of stuff within it. And it's nice that they have the vectorizing options by having the pen tool within it. So you can utilize it and create different shapes and designs with it. You can pull an artwork that you've sketched or you created in something like Procreate or a raster app like Affinity Photo or even that you scanned in because you made it on regular pen and paper and you want to vectorize and you can do it in Affinity Publisher. But I do suggest using Designer for those kinds of options because you have more capabilities within that software, but you do have access to that here. So I just wanted to make sure we could highlight it. Alright, now once you've created everything, say wanted everything to stay together. My suggestion is to group elements. So say this little eyeball. I want it to be one thing. Alright? I'm going to add another circle inside for the iris. I'm going to make sure that there's a fill and not an outline. Alright, so I'm going to keep all of the, all of these pieces together. So I would select my move tool, drag over all of the elements so that they're all selected. Go into my layer studio right here on the right-hand side, It's right underneath that stroke studio and it looks like a pile of papers. I'm going to tap on it. And then you'll see all of the different pieces of this element are all selected. So what I will then do is select my group option, which is this little folded paper BCE. And it will group everything together in one folder. If you tap down on that little drop-down, you'll see all the different pieces together. But what's nice is once it's grouped, I can just select it and move everything without worrying about all of the individual pieces moving together. Alright, so I'm going to move this up here. We've already looked at our shape tool. We can also add picture frame tool. So this allows you to create a frame of where you would want to place an image. That image will fit within that frame. There's also the ellipse, so a round picture frame tool. So let's select that one I'm going to create around frame. And then I'm going to tap on the Place Image icon below. It looks like a picture. So I'm going to tap on that. And then I'm going to place an image from photos. I'm just going to pick a picture of something that I have. And then once I've selected it, it will place it directly within that frame. We can also just place an image by itself and kind of group that, group that image within, say, a shape. So let's create a shape by going to our shape tool. I'm going to select a heart shape. If you don't see the shapes that you are looking for, just drag your pencil up and then that we can scroll down. So I'm going to select the heart shape. I'm going to create a heart. Tap out of that heart. If that heart is still selected, just tap out of it. You'll know it's selected because it's outlined in blue. I'm gonna go to my place tool and I'm gonna get this popup. I'm going to select Place from photos. I'm going to pick that same picture. Then once I've selected it, nothing's gonna happen. We have to do is take your pencil, your Apple pencil, and drag it across your screen, and then let go in order to actually place it. So then I'm going to move it so that it goes above that heart. And then I'm gonna go into my layers studio here. And I'm going to take that photo that I've created. And I've placed in and I'm just going to drag it right on top of the heart at my layers so that the heart layer is highlighted in blue and it's going to place it within that shape. I can resize the image so I can get more of what I wanted to see. But those are different ways you can place a photo, but then you could also just leave it as is by itself and resize it using that move tool. You can also crop different things using the vector crop tool. You can utilize the fill options. And this is nice because you can actually utilize T. You've made patterns. If you've taken any of my other classes, you might be interested in surface pattern design. You can fill a shape with a repeat. So what I'll do is I'll select this fill tool. I'm going to make sure I have my shape that I wanted to fill selected. So I'm gonna fill this pink one. I'm going to tap on it. You'll know it's selected because it's outlined in blue. Then I'm going to select my fill tool in the upper menu will see all of these additional options. Right now you'll see something that's a solid, but if you click on the little arrows to the left and right, you can scroll two different types of Phil's, like radial, clinical, different types of gradients. Or you can select Bitmap and when you select Bitmap, you'll get a pop-up. It gives you the opportunity to select from your already saved files. So I'm gonna go on my iPad, I'm gonna go to my Affinity Photo files and pull in a repeat file. So I'm going to select my Tropic Kali print and it's going to fill it in here and you may need to adjust. You get these two arms. So when you pull those arms in, it'll re-size the print, the repeat. And it will also adjust how it's placed on the shape. If I zoom in, you'll see it's a perfect repeat. 5. The Basics of Publisher - Exploring the Studios: Now that we have a better understanding of all of the tools on the left-hand side, Let's play around with the options. On the right-hand side here are Studios, so we know our layer studio. If you tap on the options below the layer studio, it looks like to pages with a dog geared corner. If you tap on that, That's your pages studio and that's all of your different pages. So what will be likely working with a lot here are not just the pages and the order of the pages, but also your master spreads. Whatever you put on a master spread will show up on all of your pages. So by selecting these little arrows, so let's tap on the right-hand arrow. It'll take you to our masters and then we're going to double-tap into that master page and it's going to pop up a blank spread. So whatever we put on this spread, it is going to show up on all of the different pages within our file. So whatever we put on this side, which is our left-hand side, will show up on our left-hand pages and whatever we put it on this side will show up on our right-hand pages. For example, if you're doing some sort of like magazine or a set of promotional booklet or something like that. You may want to add numbers to your pages. So what I like to do is just select my frame text tool, zoom into the corner, then create a frame. And then I'm going to tap into it. Then what I wanna do is add in a page number. So making sure that's selected, go into your document menu and then select, Insert. And then you'll be able to insert filler tax breaks symbols. If you select fields, you'll get an additional pop-up. And what you'll wanna do is select page number. If it's not popping up, it could be because the size of your number is quite large. So what you'll wanna do is just double tap into that and then adjust the can adjust the font. I'm just going to select Argo for now. And then I'm going to bring this down to 15 point. And then I'm going to give it enough room so that if I need to have double numbers, I can and it won't, it won't disappear because there's not enough space for it. So once I've done that, you'll see this little number sign pop up. And that's how you know you have your number field at it in. I'm going to place it exactly where I'd like it. And then I'm gonna go into my edit menu. Icon is selected. I'm going to go into my edit menu. I'm going to select Copy, and then I'm going to scroll over to my right hand page, zoom in a bit, and then I'm going to select Paste, and it'll paste it in for me. What I want to do is just kinda makes sure it's in the same position. And I can also adjust this and align these numbers. I have magnetic setup, but I can also use my, I can zoom out. And I can use my move tool to select over both pages. And then I can go into my align options up here and the upper menu, you'll see like, kinda looks like graphs on its side. You'll tap on that and you can all line up top. Then it'll make sure that these number icons are all lined up top. Now, when we go back out to our main pages, these should be applied to all of them. So let's go in by tapping into our main pages. And yet you'll see the numbers now pop up. So if there's different elements that you're adding to your design or your layout that needs to be on all the pages utilizing your master spread is a fantastic way to go about this. I want to show how the align panel works a little bit more in detail by adding in some shapes so you can see better how it works. I'm just going to do some rectangle shapes. I'm going to Create a few of them and then we can work on alignment. I'm going to actually remove the, the pattern fill here. And I'm just going to change it from bitmap to just a base, basic solid fill. Then I'm going to update the color and my color studio here. Alright, now I'm going to copy this and paste it. I'm going to make sure it's selected and go into my document are my edit menu. I'm going to select Copy and then I'm going to paste it twice. So we have three total. And already we're aligning things because we have magnetics turn-on. But if we were to not have magnetics or we want to have very specific Adjustments in terms of detail for how we're placing these elements. We can do is utilize our alignment tools. So I'm going to select, I'm going to place these all funky. And then I'm going to select them with the move tool by dragging over all three of the elements. And then in my top menu, I'm going to select my align functions. I'm going to align them to the bottom. And then I want to make sure that the space between them are equal. So I'm going to select that a line tool again. And then I'm going to space them horizontally so that the space between each of these three squares is equal. You can utilize these to get very specific detailed placements. Then I want to go back to our Studios and I want to play around with our effects tools are what the FX Studio. So I'm going to tap on my color Studio, Pull it in, go towards the bottom and select the icon that says F and X. So here we can add things like embossing 3D element to add shadows, Gausian bowlers and things like that. So I'm going to select one of these squares and we're gonna give it just a basic shadow and outside shadow. I'm going to tap on the outer shadow towards the bottom, I'm going to toggle it on. Then once it toggled it on, what we wanna do is tap on outer shadow and you'll get these options to the left-hand side. This is where you can adjust how wide and how dark the shadow is and how offset you have it. And this allows you to play around with these more 3D feeling effects. That's the cool part about working digitally. Even though it's not an actual 3D, a 3D environment, you can still make things look and feel a little bit more realistic using these 3D options. You can also, once you're done with that, just tap on your Move Tool again. Then you can turn on, say something like a bubble or an emboss. Once you've toggled it on, tap on the words, and then you get your options to the left here. And it's just a really simple drag tool. And you can adjust it so that it looks more like a button. And it gives more of that kind of like 3D feel to a shape. You can also apply Gaussian blurs. Just once you tapped on it, you can increase or decrease how blurred you want something to look or feel. And if you don't want it, you can also turn it off by just toggling all of these options off as well. Alright, once you're done, you can just tap out of it and you can leave it as is. The next thing I want to look at are the transform tools within the transform studio. So on the right-hand side, right underneath our FX Studio is our transform studio. This will allow you to adjust the order of your elements. It will allow you to adjust the position and the placement rotation. And you have access also to the alignment options here to, by just selecting alignment options, Let's go to a shape where you'll be able to see the difference once we flip and rotate. So I'm going to select this heart when we're in these transform tools. If you select flip and rotate, you can flip and rotate vertical. You can also flip and rotate horizontal and change the placement of your elements here. You can also change the order. So say you wanted this square to be behind this heart. I'm going to move it around so we can see this a bit better. So what we would do is select the square and then go into our transform studio and select the order. So you can adjust the order by sending it behind, moving it to the front, sending all behind, and playing around with your placement here. You can also adjust the position of where your elements are on your screen based on the X and Y position. Same thing with the rotation. You can rotate things using the rotation option. And one thing to keep in mind when you're exporting, especially if you're doing something for print or even if it's just digital, you want to keep in mind things like bleed hazards. You'll be able to see pre-flight errors in the preflight studio. And that's just telling you that there's potential bleed hazards. So issues were things will get cut off. So in this case, it's the numbers are too close to the edges here. You'll know because it says M, which is masters. So I just go back into my pages Studio, go into my master spread, double-click, and then just move my numbers so that I have ample space between the side and the bottom. And then I can go back out into my main pages. And that looks good. All right. So you just want to make sure that things are within your required Spacing. So anything that is outside of, for example, if we turn on our preview again, anything that's outside of those blue lines would be considered a bleed issue. So again, you might want to adjust how wide these are in your setup. But also kind of like play it by year two. I know that this is not gonna be a bleed issue because I'm working in an actual digital file. But if I were to print it out, as long as I have enough space between my top edge, in my edges, I should be fine. But that's what these guidelines are there for to help ensure that you don't have any issues with your bleed. Actually cutting off elements of your layouts height. So now that we've gone through pretty much the Basics of the tools and the Studios and your menu bars. Let's export this. You can know how to save, and then we can jump into setting up the file for our actual planner. So to save the file, you'll want to go into your document menu and you can export and you can package. So typically packaging a file includes saving all of the image and the fonts and whatnot within a folder so that wherever you're shipping it off to, There'll be able to access it in case anything needs to be fixed. So this is really more of a print process. I just wanted to mention it, but what won't be doing is exporting our files for use in something like Goodnotes to export as a PDF. So we're going to select Export, and then we're going to select PDF. And then what you'll wanna do is select PDF, digital high-quality. Or you could do PDF digital small size, because depending on how big your file is, a will have an impact on how easily you're able to use that file within an app like Goodnotes, so you don't want to have lagginess and things like that. So you'll likely want to save it as a smaller file. Pdf, digital, small sizes, a good option. You'll want to export as not spreads, but all pages. Because you want them to be individual pages where laying them out up in that kind of facing style so that we see what they look like when they're next to one another. But we want to export them as single pages. But we'll touch more on that one. We're actually exporting our final file. But for now, just select all pages RGB. I like to re-sample as by cubic because I feel like you'd get a better crisper image with that re-sampling option. Then once you have all of your options selected, you can update your file name. I'm just going to name this sample because this is like our sample practice. And then we don't need any of these. But if you were to send these to a printer and they wanted things like crop marks from printers marks you could turn these on as well and then hit Okay, and then decide where you want to save it. I'm going to save it on my iPad in my Affinity Publisher file and then select move. And it will save that file within that file in my system. So I'm just going to, to kinda pull this out, an X out of this. I'm going to pull up from my dark bar and then tap on my file folders, go to my iPad, and then go to Affinity Publisher. And my sample file is right at the top. So that's how I know it, it export it and saved properly. You can also go back out into your gallery. I'm going to pull in these options. I'm going to tap on that little arrow to go back out into my gallery. And you'll see this little hamburger menu. You can select, Save As, and save it as an Affinity Publisher file that's editable in case you want to pull it over to something like an external hard drive. I'm going to name the sample and it's gonna be a dot AF PUB. I'm going to hit Save. And then I'm going to go into my files on my iPad, select Affinity Publisher, and move it here that I have the editable version in there. And this is just a great way to backup your files. Once I've saved them out of here, I can then transfer them to something like an external hard drive and save them there as well. Now we don't have to have all of these files taking up space on my iPad. I can close them out. So for example, I can just hit the X and I can close it out saving because that was just like a sample page that I was opening up and I don't need it anymore and it's no longer going to take up space. You can also swipe across and you'll be able to save, export or duplicate your files as well. So I can hit that little double and it'll duplicate. This will save. And this little down Save. This will be saved and then Save As. So. This is just a quick action that you can utilize to save, Save As, and duplicate if you're done, if you don't wanna do any of that, just tap and it'll go away. 6. Setting up Your File: Now that we've worked in Affinity Publisher on your iPad, you have a bit of the basics down. Let's start building our planner. So we are going to go back into our gallery view. We're going to select, on the left-hand side, knew were going to select new document in that pop-up. And then we're going to update our dimensions. I just want to highlight some details on the sizing parameters. So Goodnotes has specific template sizes that if you want to make sure that your planner fits perfectly within the parameters of the Goodnotes app. You're going to want to follow these. So if you go to support that goodnotes.com, you can search for articles relating to the page dimensions of the built-in Goodnotes, templates. So this is one way to go about finding the dimensions of what you need. Obviously, other apps may have other dimensions. They may have some similar details like this. A Google search is gonna be your best friend in this process. So what I'm gonna do is I'm going to basically utilize the A4 template. Again, I like to go bigger because in the off chance that I may want to print something, I don't want it to not be of the best quality when I'm looking through it. So I'm just going to select the A4 Goodnotes option. And if we look at the dimensions, they show it in pixels and then they also show it in inches. I'm just gonna go by inches. And I'm going to select that 8.27 by 11.69 inch template. And those are the dimensions I'm gonna put into my setup here. You can choose to do whatever you would like. Um, I'm gonna be creating a vertical, like a vertical portrait style planner. If you would want to have a planner that lays horizontal when you're looking at your app like this way, how you see it on the screen. You can do that as well. Just keep in mind these dimensions if you're working in Goodnotes, that way you don't have any issues with the size to I'm just going to go for a4. My dimensions are gonna be a point to 7 " by 11.69 ". And again, it's going to be a vertical portrait style template. So I'm gonna go back into my Publisher app. In my dimensions. If your document units or something else, you can just tap on document units and then select inches. And then I'm gonna go into my page width, tap on it and then type in 8.27 and then hit Okay, and then tap on my page height and select 11.69 and then hit Okay. Also keep in mind your DPI is going to make a difference in terms of quality for printing. But since we are looking at this onscreen, I'm going to adjust my DPI and lower it a bit to 192. You can go even lower if you'd like. Just you don't have any issues with lag on your file. So the obviously the bigger your file size is, I'm, the more likely you might get some lag in the app. But I found that when 92 is okay, 14472. Sometimes I feel like the quality is not as high as I would like it to be. But some people do opt to optimize it. Once I've updated my dimensions, I'm going to make sure that I have facing pages turned on. I want to arrange them horizontally. And I'm going to start on the right. You don't necessarily have to do this. It's just, I like to see what things look like next to each other. But you can also just turn off facing pages and basically it'll be individual like one page above another. Whereas facing pages shows to pages together. I'm just going to create five pages because I want to have a cover and then for pages inside of my planner. And I know you're thinking that's all you're creating wall you can duplicate pages with in Goodnotes. I'm going to show you how to do that that way our file size is a little smaller. And again, this is just so that you get, you get familiar with the process of building the planner versus having to recreate the whole entire thing. In this class. You want to change your color format from CMYK to RGB. Then I'm gonna hit OK. And it's going to set up our file 7. Building the cover design - part 1: This is what our fell looks like and this is what I mean by having facing pages. Basically, both of your pages are going to be shown next to each other. So this is gonna be our cover, are first to layouts and then our second to layouts. So now that we have our file setup, we could do is also rename this just so that it's not just a random untitled document. I'm gonna go back out into my gallery. I'm going to select the, the first untitled file that we have here. I'm going to tap on that hamburger menu. And I'm going to select Save As, and then I'm just going to update the name. So I'm just going to call this 2023 planner. Then I'm going to hit Save. And I'm going to save it in my Affinity Publisher file here. And then I'm gonna hit move, and then it'll save it and it'll rename it. And then I'm going to tap back into it and it's going to open up the file. On this first page. What we're gonna do is create kind of like a cover. I'm gonna show you an example of this project that already started working on because it put wanted to get an idea of what I wanted to do. So I'm going for kind of like '90s Y2K feel with the overall design. That whole a computer. The computer document window, trend or that style and imagery is very trendy right now. So that's the vibe we're gonna go for. I pick this color palette, but you can obviously create a color palette of your choice. So this is gonna be our cover and then all the other additional layout. We're going to play off of this. So let's go back out into our original file. So what we'll do to create this is just utilize a lot of the shape tools. The first tool we're going to want to use is our rounded rectangle tool. So remember if you tap on your rectangle tool and you hold down, you'll get a pop-up with different options. So will all want to select this, this rounded rectangle. I, then I'm just going to create a shape that goes all the way across. If you notice that your rounded corners are very, very round, don't worry. What you'll see is if you zoom in, there'll be a little red dot. And if you tap on that and pull it out, you can adjust how round your corners are. Then I'm just going to select my black arrow tool, tap on my shape and then kinda re-size everything and pull it in so that I have some space on the side for tabs and then give myself some room. So feels more screen like versus pulling it all the way out to the edges. And I'm gonna update the color just so you can see. Once I've done that, what I wanna do is add an outline to this shape as well. If you look on our color studio on the right-hand side, tap on that little circle that has a color option. You can go in and you can adjust the colors here. You can also tap on your outline options and you can adjust the color. I'm going to just keep it a black outline, but right underneath our color studio is our, is our Stroke Studio. So I'm gonna select that stroke studio right now to zero point. I want to increase it just a bit so that we get a bit of that kind of like 2D style fact with the stroke. I'm going to keep it at one point and then hit. Okay, Let's see how that looks. Think I like that. Alright. Alright, so now that we have our main shape here, I'm going to update the colors so that it matches the overall design concept that I had originally. Export this color palette so that you guys will have it with the class project. Once I've done that, then we can start to build out the tabs. So we want this to feel like a menu bar. So we're going to use a combination of the pen tool as well as the shape tools and the geometry functions, the kind of build everything together. So I'm going to tap on my rectangle tool. Then I'm gonna go into my rounded rectangle option. I'm going to update the color so it's a darker orange so we can see what we're doing. And then I'm going to create a rectangle here. And I wanted to be tall. And I'm going to have it so that it fits the roundness of this original corner here. And I can just zoom in so I can make sure everything fits in there. And if you're having any issues, you could turn off magnetics if you still have it from our practice earlier that I'm going to zoom out so we can see what this looks like. I know it doesn't look that great yet. Don't worry, we're going to create everything that we need here Now that I've done that, what we're gonna do now is use that rectangle tool again, except we're going to use the regular rectangle tool. And we're going to create another rectangle on the bottom that goes all the way to the edge. From the left to the right. We wanna make sure that it goes flush with the bottom of the rectangle that we created here. And what I want though is for this just to go at an angle, but we'll get to that in a minute. I just want to make sure that this is tall enough that we can make it look like a search bar. Once you've created these two segments here, we'll wanna do is go into our layers studio here. And it looks like a bunch of papers piled on top of each other. And we're going to select our rectangle by tapping on it and then dragging over the smaller rectangle and then selecting the smaller rectangle by dragging right over that layer. And they'll both be outlined in blue. And then in the top, what you'll notice is you'll have these options to merge or group different elements. So we're going to select our geometry tool right here. And we'll be able to add, subtract or intersect the shapes. So what I wanna do is add so that it creates one whole shape together. And you'll notice the curve is updated in your layer studio here. Once we've done that, then I can go in and select our Node tool, which is that small white arrow. And we can play around with this corner here because I want to create it so that it's more of an angle. So we can do is adjust that corner by tapping on those tabs or by tapping on the node tool and then playing around with the shape of the nodes here. Once I have it, the shape that I'd like it, then I can go in and add an outline to this. So I'm going to tap on my move, told you that black arrow tool, I'm going to tap on the new shape and then I'm gonna go into my color studio, tap on my stroke, and then select black. Or then I can just go into my stroke studio, which is right underneath my color studio, and double-check the width, which should be one point, which is what the rest of this is. Alright, once I've done that, then I can go in and add some additional tabs. I'm just going to add some more to play around with the color theme that we have here. And just so that we have some variety. So I'm going to, I'm going to update my color. So what we're gonna do now is add the additional tabs. I'm going to select my rectangle tool again, I'm going to select rounded rectangle. Then I'm going to update my color. Then I'm going to create the shape to go next to this. Then I'm going to tap on my node tool so that I can adjust the nodes here. So once I've created a shape, I'm gonna go into my color studio. I'm going to select my stroke, update the color to that black. Double-check to make sure it's a one-point stroke. And then I'm going to adjust the placement of this. So I'm gonna go into my layer studio, so lack that rounded rectangle and drag it to that it goes behind the updated original design here. So I'm going to adjust the size of this now that I have it in place. And then I'm actually going to adjust this curve here so that it matches the curve of the original tab. So to do that, I'm going to select the shape. I'm gonna go into my edit menu. I'm going to select convert to curves. And then I'm going to select my node tool and then adjust the placement of that curve. Once I've done that, I'm going to copy this. I'm gonna go into my edit menu, which is at three dot menu, making sure that I've selected it with my move tool first. And then I'm gonna go to that three dot menu. I'm going to select Copy and then go back into that three dot menu and select Paste. And then I'm just going to drag it over and I'm going to update the colors by going into my color studio, tapping on my fill and then updating it to that pink color. Then going back into my layer studio and I'm going to pull it so that it is behind the orange curve. What you'll notice too is that you can play around with the overall layout by tapping on the arrange function here, and it's at the top. It's right next to that arrow. If you tap on that, you'll see move to back, move to Ford, move back one move to front. You can utilize that as well for a quicker way of doing this. And then once I have all of those placed, I can just go in and double-check layout, makes sure that there's nothing overlapping or showing that doesn't need to be. Once I've done that, then I can select everything using my black arrow tool. And then I can group it together by going into my layer studio and selecting group. That way nothing moves around 8. Building the cover design - part 2: Once I've done that, then I can go in and add the text and some of the little icons and shapes. So because this is meant to look like a search bar, what we'll do is add a whitespace here to type in the search. So we're gonna go into our, go into our shape tools here. I'm going to select the rounded rectangle again. And then I'm just going to create a long version of this. And then I'm going to update the colors so that there's no strokes. I'm gonna go into my color studio, remove my stroke by tapping on the stroke outline and then tapping on the white square with the blue dash. And then going into my color fill and updating it to white, I'm going to zoom in and select my node tool and adjust the notes so that it feels more like a circle on my edges here. I'm going to tap on my color studio to pull it in so you can see. And then I'm going to adjust the placement of this. And I'm going to pull this over because I want to add a little star icon. When you think about like favorites and things like that, you tap on that. So we're going to use this here and then we're also going to add in kind of like a little, a little search icon and then two arrows. So to do that, what we'll do is utilize our shape tool once again, I'm going to tap on this tap twice, and then I'm going to select the arrow tool. And you'll get these options at the top here. You'll have one side as an arrow and then you want to have nothing on the other side. So that is just like a directional arrow. What we wanna do is update the color fill from white to black, and then drag across the screen and you'll see your arrow start to be created. Will have to adjust this again. We want one side of this arrow to be just a plain, kind of like straight 90 degree angle. So we're going to select this and we're going to make sure that when this is selected, you tap on your arrow tool again and you'll get your options at the top. On one side should be arrow, the other side we want it to be none. And then you'll see that removes the other double arrow. You can also adjust the thickness, the thinness of the middle part. I'm gonna pull it down to about 29, and then I'm going to re-size this so that it is a bit smaller, so that we can have two here. So we're going to drag one on one side of the screen and then we're gonna go into our edit menu by tapping on our three dot menu, select Copy and then paste or you can just select Duplicate. And then we're going to rotate the arrow that paste it on top. There's a little rotator. You zoom in, you'll see at the very top, there's a little rotator arm here. And we'll hold our finger down and rotate this so that it goes 90 degree. Once you have it rotated directly facing the opposite side, zoom out and we'll pull it to the right. And then to make sure that they're both aligned, will go into our Layers menu, the first arrow and then drag right over this second arrow. And then we can go into our Arrange options up here. We can select our align functions and we'll want to align top, and then they'll both be aligned at the top. I'm going to pull these so that they're a little bit closer together than we will add the little search, kind of like looking glass icon. So to create that, we're going to use the circle options, but instead of the regular ellipse will utilize the doughnut shape. So once we've selected that, we can just drag. And if you put your finger down as you're dragging out, you'll get a perfect circle. Once you have at the size that you want it, you can release the pen and then release your finger. And then if you zoom in, you can adjust your nodes inside as well. There's two red nodes that allow you to adjust how thin or health Vic you want the doughnut shape to be. Once I've done that, then I'm just going to select my pen tool. Then I'm going to tap on one part of the circle that I want, like the handle to be pulling out of. And then I'm, and I'll put my finger down to create a straight line. Then I'm gonna go into my stroke options. I'm going to increase the stroke Width of the stroke here. Then I'm going to adjust the placement. Then I'm going to use my group functions again. So I'm gonna select that stroke that I made with the pen. And then I'm going to highlight my donut and then I'm going to select group so that it stays together. And then I'm going to move it so that it's next to these two arrows. And then I have my search bar here. Now, I want to add that star on one side. So I'm going to zoom in and then I'm gonna go back into my shape tool again. I'm going to change it from donut to star. Then I'm going to hold my finger down to create that perfect shape. Then I'm an update the color from that black to a yellow, and then I'm going to have a black outline and then I'm just going to make sure that it's the it's a smaller size in terms of the width of my stroke. I'm going to bring it down to one. And then I'm going to adjust the placement of this and say I've adjusted it. And they have everything where I'd like it. I'm going to select all of these by selecting my move tool and then dragging over all of those shapes. I'm gonna go back into my Layers menu select group once more so they're all grouped together. And then I'm going to select my layers options by tapping on this little three dots icon here. And then I'm going to select a lock so that locks everything in place and it can't move. So now I'm gonna go back out into my layers. I'm going to pull the layers in and we're going to add some additional elements to this. Like I want to have a little plus here. So I'm just going to use my Pen tool and I'm going to create a plus icon here. So I'm just going to tap on one part of the pink, hold my finger down and then tap on an directly below it so that it gives me a straight line. If you notice that the line is angled, that's okay. We can just adjust it with our Move tool. And then I'll go into my stroke studio and adjust how wide that stroke is. I think two should be good for this once I've created the size that I want to adjust everything. And then I'm going to go into my Edit menu, select Duplicate, and then I'm just going to rotate this so that it is 90 degrees across. And then I'm going to select both of these curves and my Layers menu, group them. And then I can adjust the placement. So I'm going to utilize my shape tools again. I'm going to select my ellipse tool and I'm going to create a circle and then hold my finger down to make sure that it's a perfect ellipse. And I'm gonna go into my color studio. I'm going to remove the fill by tapping on it and then selecting that that square with a blue line through it. Then I'm gonna go into my stroke tool. I'm going to update the color to black. Then I'm just going to re-size it so that it smaller until I've created that, I'm just going to adjust the placement by using the Move tool. And then I'm going to select my pen to create a line segment. Next to it. I'll tap on one side, hold my finger down so they get a straight line, tap on the other. Then I can adjust it as needed. And then I'm going to use this plus as an accent. I'm just going to select it and then hit duplicate and drag it over to the other side of my page and then rotate it and then adjust. Once I've rotated it, I can just adjust the size. And if you notice that when you adjust the size, your stroke width changes, you can always just go into your stroke after you've placed it, double tap into your nodes so that you can actually go in and individually adjust the line width for each of these. Once I've done that, I want to add a scroll to the right-hand side. So I'm just going to re-select everything including the locked group. So I'm gonna go into that group, tap Unlock. I'm going to select the group, tap on my three dot menu and my layers options. Select the locked, unlock it, go back out into my layers here, select that group and then drag right across all of the additional elements that I've added to that design. And then select group again so that everything is grouped together. Go back into my layers options, then select lock. This just ensures nothing gets moved while I'm working. Once I've done that, I'm going to add this little sidebar here. So to do that, what I'm going to do is just utilize my pen tool to create some line segments. So I'm going to zoom in tap right towards the end of the search bar. And then I'm going to hold my finger down to create a straight line and then tap towards the bottom. And if you notice your line is not straight, That's okay. Can go in and adjust with your Node tool or your move tool. And then you want to just make sure that the stroke width of your line matches All of the others. So I'm gonna go into this stroke studio and then I'm going to tap where it says two and I'm just going to change it to 1.5 and then hit Okay, that way it matches everything else. Then I just want to zoom in and make sure that it overlaps appropriately with the rest of the line work. And then the same will go towards the bottom. So I'm just going to utilize my pen tool once again. And then I'm going to create a line to break up this section up here. And then I'm going to create the carrot that points upward. So I'm going to select my pen tool, create a line segment on the left side and then another on the right. Then you can adjust this by selecting the node tool. You want to have it a different width or height. And then you can go into your Stroke Studio as well and adjust the how wide the stroke is on this Chu. Once I've done that, I can just select that one and copy it and use it for the bottom. Same thing with this line segment. So I'm going to select the line segment. I'm going to go into my Edit menu, select Duplicate, and then I'm just going to drag it down to the lower half of my design. Once I've done that, then I can select the arrow. I can go into my three dots, Edit menu, select duplicate, and drag that down as well. And then all I have to do is rotate it. Then I can just rotate it so that's facing down. And then what will you need to do is add in something that makes it look like the scroll option is being used. I'm going to select the white area of our search bar. I'm gonna go into my layer studio. I'm gonna go into that group menu. And then I'm going to, I'm not going to ungroup everything, but I'm going to open up my drop-down menus to get to that rounded rectangle. I'm going to select it and then I'm gonna go into my edit menu. I'm going to hit Duplicate, and then I'm going to select the duplicated version and pull it out of that group. And then that way I don't have to unlock anything, but I can move this around. And then I'm just going to rotate it 90 degrees. And then I'm going to pull it into this area here. I may need to adjust the width of it and that's fine. Then I'm going to update the color from white. So I'm going to my layer, I'm gonna go into my color studio. I'm going to tap on the color fill and then I'm going to update it from white to that pink. Go into my shape tool again, select my rounded rectangle. And then I'm going to create a window here. And then I'm going to adjust how rounded my corners are here. And then I'm going to adjust the width of my lines by going into my stroke studio and pull everything down to one instead of two and then hit Okay, and then update the color from that pink to more of a white color or like that, really, really light off gray. And then once we've added that in, will add some type. So we're going to select our frame text tool. And then we're going to create a frame within this window. And then I'm going to update the font to, I'm going to use this Argo font and then I'm going to tap into my frame. And then you'll notice your keyboard pops up and I'm just going to name this digital planner. And then I'm going to re-size this. I'm going to also recolor my font here from this orange to just that black that we have been using for our outlines. And then I'm gonna give myself, I'm gonna duplicate this title here by making sure it's still selected. By tapping on the black arrow, move tool, select the title and then going into my Edit menu and selecting duplicate. Once I've duplicated it, I'm going to resize the font down to 15. And then I'm gonna give myself a little inspirational quote here. Let me give myself a little inspirational quote here that says channel your creative spark. So I'm going to tap on my keyboard Menu and then I'm going to write that little quote here. Once I've done that, I'm going to re-size the frame around it. And then I'm going to move its placement so that it goes right underneath the digital planner title here. And then I'm going to select both of those. Then you can eyeball it or you can turn on your magnetics. And then I'm going to figure out where my middle is, then this placement, and then then then adjust the placement of everything. Once I've done that, I can add a little area for your name this planner belongs to, so I'll just you use the same that I've used in here. And I'm going to select that smaller title, that little quote. And then I'm going to duplicate it and my edit menu, drag it down. And I'm going to re-size this once more to ten point font. And then I'm just going to type in This planner belongs to. And then I'm going to utilize my underscore option by hitting Shift on my menu. And you'll see another option with a number sign a plus M equals sign. If you tap on that, it will give you additional options. And I'm going to use the underscore here. And then I'm going to drag this little piece that says planner belongs to towards the bottom of the layout 9. Adding tabs to your cover design: Now that we have the general layout done, now let's add some tabs to the side. And then those tabs will basically take us to our monthly and are daily and weekly layout. And we'll repeat those within the overall design. On the inside of the planner. I gave myself some room on the right-hand side, what we're gonna do is just utilize our rounded rectangle again to create some tabs on the side using our color story here. So I'm going to select my rounded rectangle once more. I'm going to update my colors. I'm going to use the orange first. Then I'm going to keep the black outline with a one-point stroke. I'm going to create the first tab here. And then what I'll wanna do is just make sure that this tab is behind all of the different layers that we currently have. And I kinda wanna align it up with the scroll bar here. I'm gonna give myself enough room to that. I can add some text to this. So once I've created one, I'm going to select it with my move tool. Then I'm gonna go into my edit menu, which is at three dot menu and select Duplicate. And then drag that down. And then duplicate it once more. So that I have four total tabs. And you can have it so that they are up close to each other so that they overlap if you want, even I'm going to keep them separate, but I want to make sure that they're equally spaced. So what I'm gonna do is select all of them using my move tool. Once they're selected them, I'm going to utilize my align options here. So that little kind of looks like a good measurement bar. I'm going to tap on that. And then N is select space vertically. That way they're all spaced evenly in-between each other. Once you've added all those in, I can go in and update the colors so that they each have different colors for the fill. So I'm going to select my color studio and then tap on my fill, and then update the color for the second one to that orange tap on my third tab, tap on my fill, and then update the color to that pink. And then tap on my fourth, and then tap on my fill and update that color to kind of like that Bg gray. Once I've done that, then I can add in some text here. So I'm gonna select that quote text and I'm going to go into, I'm going to select it with my move tool, that black arrow. Then I'm gonna go into my edit menu. I'm going to select duplicate. Then I'm going to update the text to say home, monthly, daily, weekly. So I'm going to double-tap inside of it and then I'm going to delete it so that it clears it out. I'm going to turn on Caps Lock. I'm going to type in home for this first one. And then I'm going to rotate it 90 degrees. Once I've rotated at 90 degrees, I'm going to drag it into this first tab. What I'm gonna do then is just select it and then duplicate it three more times. So I have four total. And then I'm just going to drag those down into the next tabs. Once I've done that, I'm going to update each of the tabs to be named for its specific function. In this case, this is gonna be the monthly and then I'm going to adjust the placement and then I'm changes to weekly and then I'm going to change this one to daily. And feel free to add any tabs that you want or any additional layouts that you want. Once you get the process down. Don't feel limited to what we're creating in here. This is really just to help you get acclimated to the whole design process within the app on the iPad. Now, we are done with our cover page. Once we begin working on layouts for these additional designs, then we'll go back through and start linking these tabs so that when you open them up and Goodnotes, you're able to use these as hotkeys. So when you tap on the tab, it'll take you directly to that page or that layout. But this is the beginning of the process. We're done with our cover page. Now let's jump into designing the rest of our layouts. 10. Creating the tab details: Now that we've added our tabs to the side, what I wanted to do before we actually jump into creating our layouts is actually linking our tabs. So basically, each of these tabs, when passed, when you're in the Goodnotes app, will be a hyperlink that will take your tool to a different page within your planner layout. We have our Home tab, which essentially will be this main cover, and then we'll have a monthly tab, a weekly and daily. So essentially, each of these pages will be associated with one of those tabs. Then we'll do a monthly, weekly, and daily. So I'll just go in that order. This next page will be monthly, this page will be our weekly, this will be our daily. And then we will then this will just be a blank page that we can perhaps add our digital stickers to some basic stickers, icons, things like that. I'm actually going to add one more tabs. I'm going to select one of these tabs here, and I'm going to duplicate it by going into my edit menu, selecting Duplicate, and then I'm just going to drag it down. Then I'm going to tap on my text here by just using my black arrow tool, tapping on my text. I'm then going to my edit menu. I'm going to select duplicate again. And I'm just going to drag that text down here. And we're going to rename this Stickers by just double tapping to select it all. And then typing in Word stickers. Again, if your bird cuts off, you just have to adjust frame here, then you can adjust the placement. Then I'm going to update the color to repeat that first orangey yellow color. So I'm going to tap on my tab. I'm gonna go into my color studio, which is that round circle. Then I'm gonna select my eyedropper tool on the left side toolbar. It's the last tool here. I'm just going to tap on that orange and it'll fill that color for me. So now that I have all of the tabs created before we actually go into linking them. I'm just going to add some additional effects to create some 3D feeling to this overall layout so it doesn't feel so 2D. I'm going to select my move tool, that black arrow. I'm going to tap on my first tab here, and then I'm gonna go to my right-hand side and I'm going to select my FX Studio. And this is where you can play around with things like bevel emboss, 3D, outer shadow, inner shadow, things like that. So I'm going to turn on my outer shadow, and then I'm going to turn out my other shadow byte by tapping on that little switch so that it moves to the right. And then I'm going to tap on the word itself, outer shadow. And then you'll see on the left-hand side you'll get these options pop up like we saw when we were working with our practice file. And you can play around with the different options here. Includes your offset, how dark the shadow is, how blurred it is. Then if you zoom in, you see this just gives us a bit more of a shadow effect that pulls the tabs off of the page if you want it to. You could also go in and you could also go in and play around with things like Bevel and Emboss. See what that does for you. It adds a bit of a pillow fact to this overall icon here. And it makes it feel a bit more like a button as well, which I think is kinda cool effects. You can keep that if you wanted to, or you could turn that off. And then the thing you want to keep in mind is just remembering, you can write down the amounts that you've adjusted your slider to for each of these options so that you can apply the exact same style to each of the additional tabs. So for the Bella emboss, I have it at 5.7 pixels, F17 pixels, and 17 pixels. And then for my outer shadow, I have 83%, 31.3%, and 14.3%. So this is for how blurred the shadow looks, how dark it is, and then how offset it is. So now that I've written these down, I can go and adjust each of these additional tabs so that they look similar. So I'm just going to select my Move tool, tap out of my selection, move my scroll my file up, tap on my next tab, go into the effect studio again, select my outer shadow and my bevel and emboss. I'm going to tap on my outer shadow and then I'm going to adjust so that it matches the rest of the tabs here. Once I've updated my shadow settings, then I can go in and I can go select my bevel and emboss and then update those as well. Also, what we could do just to make things a little easier is just instead of going back through and adjusting each tab individually, we could also just select the tab that we've already added the effects to and duplicate it by going into our three dot menu, duplicate and it'll duplicate the entire tab along with the effects that were included. So I can tap on these tabs that I didn't want and then select the trash can and it's just going to delete the tabs and not the text. So I'll tap on it with my black arrow tool, hit the trash can. And then I can just drag the new tab that I've created. And then I'm going to duplicate it again so that it goes over daily. And then I can duplicate it again, just making sure that it's selected. Then go into my Edit menu, select Duplicate, and then drag that down and put that over stickers. And then I can just go in and update the colors, have all the tabs matching in terms of the layer effects that I've added. Then, like what we did with this upper area, we're just going to group all of these elements so that they stay together. I'm going to select my tab and then the text with it. I can go into my layers studio and do this. Or I can just use my move tool, drag over both the tab and the text. Once they have them both selected, there'll be outlined in blue. And then I'll go into my layer studio and select group. Do the same thing with each additional tabs so that everything stays together. I'm not going to lock them quite yet because I may need to adjust or edit and revise. So before I do any of that or before I lock it, I want to make sure I do any of that 11. Linking tabs and creating master pages: So now that we've created the tabs, we've added our effects of the facial a little bit. 3d can add some of these effects as well to the actual planner area as well. But I just like playing around with the tabs kinda make them feel like they're popping out of the screen just like buttons or little actual tabs that you would grab and turn. Once we've done that, then we can link. To link. We need to link each of these tabs to each of these pages. So we know this first page is our home. The next page is gonna be monthly, so I'm just going to type in monthly so that I remember what it is. I'm going to select my frame text tool, create a frame texts, tap in it, and then I'm going to increase my font so it can read it. You can either use the plus icon or the negative icon to increase or decrease the size of your font. Or you can just tap on it and scroll and find a preset or type in your own. So I'm going to type in months. Then I'm just going to duplicate this. And duplicate it again by tapping on it with my move tool and then duplicating it again by selecting my three dot menu, selecting Duplicate, and then dragging those frame boxes into the additional pages. This first one is monthly, the second one will be weekly. I'm just going to type in month, week, day. So I remember this next one will be daily and then this one will be for stickers. The reason why I'm doing this is just so that I can keep track of what pages, what so that I can properly link these. This is page 123, page 4.5. So once we finalize everything, we're going to start to add our link. So first we will select our move tool, which is our black arrow tool, are going to tap on our first tab. We know that's our homepage, it's page one, and we're going to add a link to this whole icon so that one, anyone tabs on this specific tab, it'll take them to the homepage. Alright, so now to set our hyperlinks, we're going to select our black arrow tool. We're going to tap on our first tab. Then we are going to scroll down all the way to the bottom area of our right hand Studios. And we're gonna see these three little dots. I'm going to tap on those dots and it's gonna give us additional options. We're going to select hyperlinks. And then for our settings, we want to select page one so that we can select individual pages. And then we want our type to be page. And then we're going to add a hyperlink to this. So we're going to add a hyperlink Tillis and we're going to select a little plus icon. And we're going to make sure our R-type is to page and then we're going to make sure are page numbers one. And then we're going to hit Done. Then we're going to select our monthly tab by tapping on it. We're going to go back into this hyperlinks area and we're going to select plus again, we're going to change our page number 1-2 by hitting that plus icon. And then we're going to select Done. And then we're going to tap on our weekly and then we're going to hit plus and the hyperlink section again, keeper paid or keep our type page and then change our page number to three and then hit Done. Then we're going to select daily. Then we're going to select the plus icon in our hyperlink section to add another hyperlink. Keep our type the same and then change your page number TO four and then hit Done. And then select stickers, add another hyperlink, keep the type the same, and then change our page number to five and then hit Done. And all of our tabs are now linked to specific pages. Now that we're done linking everything, we can select all of our tabs here and group them altogether. In our layer studio, you'll see each tab individually. And what we could do also is rename these layers. So what you'll see is each of these tabs grouped. What we can do is rename them so that we know what each actual grouped element is. So say we want to rename each of our tab elements. We can go into that group selected in our Layers menu, go to our three dot menu and changed the name by tapping or it says group, and then changing the name to whatever that tab is. So in this case this is a stickers tab. Hit Okay, then hit Okay. So that way I kinda have all of my layers organized. So I know what is what. I have. All of these key layers that I know belong to the page that I want it to be included on. Now to select everything, I'm going to tap on my scroll bar. And then I'm going to swipe right over my main menu, over my page background and over my sidebar menu. And I'm going to group these and then rename that group page layout and then hit Okay, and then I'm going to go out of my layer options. With that page layout layers still selected, I'm gonna go into my three dot menu, my edit menu. I'm going to select Copy. Then I'm going to tap into my master spreads to remember we created a master spread before. It's basically that's where all of our page numbers are that we want to add to. What we're gonna do is go into ART pages. Studio here, It's right underneath our layers. And then we're gonna go into our master's pages. So if you look at the very top of this option, you can tap right or left. And if you select right, you'll get into your master options here. You can select your master pages and then you can tap into them when EDR design. So these master pages, so that it basically adds that design to all of the pages in our layout without us having to do the actual work of copy and pasting and things like that. So now that we're in the master page, we can go into our edit menu and select Paste, and it's going to paste it into the left side. And then we can paste that again. And then just drag that over using our black arrow move tool. Drag that over to the right side. And then what we can do is select both of them by dragging over both the layout designs going into our alignment options up top, we can align them at the top so that they are placed in the exact same place. Once we've done that, if we go back out into our pages, you'll see we go into page to page three, page for page five. All of those designs have been added and we can go in and select the extra texts that we added on top and delete it. And remember, this is going to be a vertical style portrait style planner. So it's going to go scroll up and down. You're not going to have like a side-by-side view. So don't worry if this looks a little funky when you're looking at it with a two up design. Like I said, I just liked to be able to see to spreads at a time as I'm designing. Now we can go through and actually start to design the layouts within each of our monthly, weekly, daily and sticker pages 12. Animating your tabs: So before we jump into designing each of those individually layouts, what I wanna do really quickly is do some quick little adjustments so that you can kinda have like an animation sequence as you are tapping on each of your tabs. So for example, since you were I'm alone page, we want to make sure that that home tab is at the top. Alright, so we're gonna go into our page one layout here. We're going to select our sidebar menu here. And we're going to select this little drop-down arrow. And we're going to tap on our home icon here. And we're just going to drag it so that it goes above the page. And what we're gonna do is adjust the effect so there's not so much of the shadow here. So I'm going to tap on FX. And then I'm going to tap where it says outer shadow. And then I'm just going to adjust the shadow over all. And then I'm going to adjust the pink scroll bar here so that we can move it down a bit. I'm just going to tap on that scroll bar group and then select my dropdown and then go to that rounded rectangle. Select my move tool and just drag it down. And if you're having any issues with it kind of lacking to certain areas, you can just turn off magnetics. Then you'll be able to adjust it a bit more easily. This way you'll know you're on home and then you can tap on monthly. And when you're on the monthly page, that monthly tab will be to the top. And it kinda gives you a bit of a little animation. And I'm actually going to adjust where the text is once that is pulled up. Alright, so now that we're done with that first set, what we'll wanna do is go in and edit the additional layouts here. So in order to do that, we have to detach these elements specifically on these pages from the master spreads so to be able to edit them, well, we'll wanna do is select the correct layer that we're on. If you'd go into your pages options. The first thing we'll wanna do is select our master spreads that we have on pages 2 and 3. Then we're gonna go into our layer selection option. So it's the icon right next to this place we're going to tap on it, will get this drop-down. And what we'll wanna do is select Edit detached. And what that does is detaches any of the edits that were making on these specific spreads from any of the rest of the master pages so that we can edit and revise each page individually. Once we've done that, we can select the little drop-down arrow so that it pulls out our pages. We can also update the page names to make it easier for us to know where we are within our layer system. So we'll tap on the first page layout, and that is our right hand layout. And then the second is our left-hand layout. So with that page layout highlighted, you'll see that it's in blue. We're going to select the three dot menu, so that's our layer options. And then where it says page layout, we're going to tap on it. And we're going to change this to our weekly page layout. And then hit Okay, we're going to select this back option out of our layer options so that we're back into our Layers panel here and we're going to select the second page layout, which is our monthly, and it's her left hand side. So you'll see this little blue stroke around everything. That's how you know that it's selected. Then we're going to make sure that that layer group is selected. And then we're going to tap on our three dot menu. And then where it says page layout, we're going to change it to monthly. And then hit Okay, then what we're gonna do now is tap on that monthly layout and we're going to update it so that the tab comes forward. So we're going to select our monthly layout and then I'm going to tap on this drop-down arrow on the left-hand side, we can adjust your scroll bar if you wanted to. So I'm going to tap on scroll bar, tap on the little drop-down option here, that little drop-down arrow, select the pink rounded rectangle. And then I'm just going to adjust the placement. And then what we're gonna do is close that layer group and then go into our sidebar menu here and then tap on the drop-down arrow. And then I'm going to tap on that monthly icon and then I'm going to drag it so that it goes above the scroll bar. And then I'm just going to adjusted just a bit. If you want to adjust your layer effects the shadow you can, you can just select the FX Studio, tap on our outer shadow, and then you can adjust your options here so that it's not so glaringly darkened. One is pulled up to the top, and then I'm gonna go back into my layers here. And then I'm going to adjust my text. I'm going to select my black arrow tool, the move tool, and I'm just going to center the word monthly that's updated. You can zoom out to kinda see and make sure that none of the other pages have changed and if they haven't, then you're good. Then we can go to the next one are weekly. So I'm going to close the monthly page, the out-group, and then I'm going to tap the drop-down arrow to open up biweekly page layout. Again, I'm going to go to that scroll bar drop-down and then select the rounded rectangle. And I'm just going to move it down a bit so that it's just past the monthly. And if you need to resize it, that's fine as well. Alright, once I've resized and adjust the placement of the scroll bar, then I'm going to tap on my sidebar menu, select my drop-down, tap on weekly, and then drag that layer so that it goes above my scroll bar. Then again, do the same process, select the weekly text, center it. Then if you need to go into your effects studio, select your rounded rectangle. And then if you need to go into your effects studio tap where it says outer shadow and then adjust as needed so that the shadow isn't as strong. Then we can go back into those layers, close those groupings, and then you can zoom out and double-check that everything's okay. Now that we've done these first two, what I would like for you to do is pause the video and then you can go try the next two on your own. I will do a time-lapse though of me doing this same process for the next two tabs so that if you need to continue to watch, alright, now that I have all of my tabs in the proper place, then we can go in and start to build our designs for our monthly and weekly and daily layouts 13. Designing your monthly layout: So to start with, I'm just gonna do a simple grid for our monthly. I'm gonna give myself enough space for 30 or 31 days. When you're done with all this, just makes sure you turn off your editing master spread. And then we can begin to build out our page layout. So what we're gonna do is create a really simple monthly layout. Want to make sure I have enough space for 32, 31 days. And the easiest way to do this is by utilizing our table tool on the left-hand side, right underneath your text toolbox is the table tools. You can tap on it. And then what you'll do is drag across the area that you want to create a table on. And obviously this is a big table. What we are going to do is edit the number of rows and columns that we have by tapping on the top menu and the side menu. On the left-hand side, what you see at the very bottom is a double arrow. If we tap on that will get a pop-up with a number. So we can decrease or increase the number of rows that we have in columns that we have by using this. So I think the easiest way to go about this is to give myself five rows and seven columns. So seven days a week in five weeks total, so that we have enough space to add additional numbers. So I'm gonna change this 44-5 by just tapping on that negative sign and don't worry if it looks very small. And then I wanted to make sure we have seven columns here. So right now we have six. I'm going to tap on the double arrow on the top menu here and then change it 6-7 by hitting plus. Then what we can do is re-size by dragging out the corners of this, we could also adjust the size of our rows by tapping on the number menus here and tapping on the lines in-between the sections to adjust how tall or how wide we want these sections to be. And then the same thing with the columns. And when we re-size it, you can also tap out of the the editing menu and utilize your move tool and tap on your black arrow tool and adjust this way as well. And aural just the entire grid itself. So what you'll wanna do likely is give yourself some room to write in the month and the year. So what I'm gonna do is once I've re-size everything to my liking, I can also go in and adjust my actual width of the lines of the grid. So you can just tap onto the inner line work and it'll highlight in blue like this. And then you can go into your stroke options and you can adjust how thin or thick you want those strokes. I think keeping it at about 1.5 will work nicely. And then I'm going to tap the outside strokes as well and update those to 1.5. And then I'm gonna do that for each side by just tapping on it. And then when I'm done, I can tap on my move menu and tap out of this. I'm done with that. Then I can zoom in and add some text to of point where I want to add my written like month I can type it in. Or if you want to make multiples of these, obviously you can make 12 of these total, or you can just create one to start with and allow yourself to write on it. And what you'll do is just select your frame text tool, create a frame and then tapping it, and then pull up your keyboard. And then and then type in monthly. And then make sure you update. Before you type them monthly, make sure you update your font size right now I still have it at 96. I'm going to bring it down to I believe 12 should be good. And then I can hit a space. And then what it can do is either utilize the pen tool to kind of give me a line that will allow me to write the month. Then what I can do is either use the underscore to create a line where I can write the month on or use my Pen tool to create a line. For now I'm just going to use the underscore because it's easier. So I'm going to give myself a couple of spaces and then I'm gonna go into my numbers options and then I'm going to swap my symbols. And then I'm going to tap on my underscore a few times to give myself space to write the month. And then what it can also do is just select that text there Go to my Edit menu, select duplicate, drag that to the side and then change it to be year. So we can write the year. And as well, I'm gonna delete some of the underscores. I'm going to adjust the frame size and then I'm going to change the month by double tapping so that I highlight it and update it to say here. Then if I need to, I can adjust the placement and then I can tap on the year and then hold my finger down and tap on the month so that both of them are selected. Then I can utilize my alignment options here at the top. It looks kinda like a sidebar graph. And then I'm just gonna align it so that it'll lines at the bottom. Then I'm just going to adjust the placement so it's more centered in that space. And that is our simple monthly layout. We can write in the numbers or we can also add the numbers. Say you want to add additional 12 pages, or you say you want to add more pages of just this layout. You could then go in and manually enter in your numbers for the month. And then you can just utilize your frame text tool, create a frame, and then tap in it. You'll get your keyboard pop-up going to your numbers and then just add your numbers in like that. Then you can just duplicate that and drag them and then update the numbers so that they are the numbers of the days of the week. You'll also want to add titles for the days of the week. So depending on what your option is, you can start on Sunday or you can start on Monday. I like having my weekends together, so I'm gonna do a Monday start. And what I'm gonna do is, so things kinda pop out. I'm gonna give myself a kinda like a black bar across the top of this layout. So I'm going to select my rectangle tool and then I'm going to go into my color studio here and make sure I have a color fill, remove my outline and then tap on that fill, and then tap on the color studio to pull it in. And then I'm just going to create a rectangle that goes right across at the very top of this. And then I'm going to select, I'm going to tap on my Move tool, select the rectangle and the grid. Then I'm just going to group them together by going into my layer studio. Here, I have both table and the rectangle selected. And then I'm going to tap on that little folder icon to group it. And then I'm just going to add some text boxes here and put Monday, Tuesday, Wednesday, Thursday and so on. So I'm going to select my Text Frame Tool. I'm gonna go into my color Studio first, update the color from black to white so that it's easy to see. I'm gonna select that. And then I'm going to create a textbox. And then I'm going to tap in it. And then I'm going to Caps Lock. And I'm going to type in MON for Monday. I'm going to update the placement of this and then I'm going to duplicate that and drag it and then continue, then continued to duplicate this so that I have six additional textboxes so that I have seven total. And then I'm just going to update the placement so that everything is centered on. Then of course, we can also utilize the alignment tools if we need to, but we'll get to that in a moment. Let's update the texts though to Tuesday, Wednesday, Thursday and so on and so forth. And of course you can put the whole the whole word if you want as well. I just like the abbreviated versions because it just gives me more space and it's just a little easier. So what we'll do now is adjust the placement so that it's centered over each box. Then we can also select all of them using our move tool and dragging across. If you notice anything else gets picked up, just tap your finger down and deselect it. Now, all of our text boxes are selected there, highlighted and rounded and blue. And then we can utilize our alignment options here. We can then align it up top so that they're all aligned to the top. And then if we want, we can also align them across the middle, or we can space them horizontally across the middle. So if we select space horizontally, it will make sure that they're all placed smack dab in the middle of the layout. And then we'll wanna do is go into our layer options here, select the folder and group them. Select that three dot menu, tap where it says group and just update it. So it says days of the week. That way you're keeping your layers and your groups organized and you know where everything is. So you ever had to like, maybe you're doing this for client work and you need to send it out or you're working on it again in the future. Just so that everything is a little bit more organized and easy to find. Alright, so this is our monthly layout. And now we can jump into creating our weekly layout 14. Designing your weekly layout: Now that we've created are monthly layout, Let's jump into our weekly layout. I'm going to keep this really simple. But keeping along the lines of this concept of computer screens, I think I'm gonna make some additional windows for Monday, Tuesday, Wednesday, as well as just overall, simple weekly outline with a to-do list and things like that. Alright, so let's start with designing our first box here. We are going to utilize the rectangle tool and I'm going to create a slightly rounded rectangle. So I'm going to select my rounded rectangle. I'm going to create a box. I'm going to zoom in, really close here and drag my corners out so that they're just slightly rounded. I'm going to update this color to the light pink. And then I'm gonna duplicate this rectangle here, the square, I'm going to duplicate it. And then I'm just going to update the color to that off-white and then I'm going to re-size it so that it goes right into the center of this. So we kinda have a bit of a border. I'm going to pull this down a bit because I want to give myself, I'm kinda like another bar at the top here. So I'm going to duplicate this rectangle that I have here are the square that I have here going into my three dot menu, my edit menu, select Duplicate. And I'm going to drag it up, re-size it, zoom in so I can pull these to the edges here. Then I'm going to update the color to that orange that we have. So it's kinda like a multi-color concept here using the color themes that we've already incorporated. And then I'm going to re-size this so that I have an even border. And then I'm going to add outlines to this by tapping on my color studio, tapping on my Stroke, updating the color to this black color and then going into my stroke menu and resizing it down. Doing the same with the outside part of this square going into my color studio, tapping on my Stroke, updating the color and then resizing this down. This stroke is a 0.9. So we're going to tap on the outer stroke. Tap on the Stroke Studio. Tap on, can either use the scroll bar to update the width or tap on the size here and just type in 0.9 and then hit Okay, and I think I want to outline the inset box as well. I'll just gives it more of a graphic feel. So I'm going to tap on my stroke again. Tap on where it says 1.5 and then just change it to 0.9 and then hit Okay, then I'm going to actually reuse some of the elements from this initial design here, like the circle underline and the X. I'm just going to go into those layers, select the drop-down, tap into my main menu, and then just select each of these by dragging over going into my edit menu, selecting Copy. Then I'm gonna go back into my new page layout here, tap into it, tap my Layers icon so that it pulls it back and go back into my Edit menu, select Paste, and it may have just pasted it the other page, so I just have to drag it over, then I can place it here, but I'm going to re-size this so that it's not as big. So holding my finger down and then dragging from the corners. I can resize this. If you find when you resize that your stroke, it's a little funky. That's fine. Just drag it where you need it to be. Then you can go into stroke studio and adjust it so that it's smaller. You can just adjust the placement of where you want these elements within your initial square here. This is our first. I think that should be big enough so that big enough, yet small enough that it'll be able to fit within this layout. And if it's not, we can always adjust. Let's add text for the day of the week. And we can just select our frame text tool, create a frame within that top part of the menu. Then tap into it, and then just double-check your font information. I think 14 might be too big, so I'm going to bring it down to 12. Then I'm going to type in Monday I'm going to update the color so that it is that black color that we've been using. So it's easier to see. Then I'm just going to drag over this with my move arrow, the black arrow tool. And then I'm gonna go into my layer studio here and I'm going to group these altogether so that everything moves together. And then I'm going to copy this six more times. So I have seven days of the week. And if I can't fit that many here, I can just resize it. So let's just duplicate and see if we can fit them all in. Actually, as I look at this, it looks like it's gonna be a little big. So I'm just going to undo this by taking two fingers and tapping to double tapping to undo. I'm going to take this now that I've grouped everything together, I'm going to re-size it. If you notice that when you resize, your lines get funky, you could always just go back in and double-check the sizes. But as long as you keep your finger down, as you're pulling in from those corners, it should keep everything in proportion. So now that I've done that, but this might be a little too small, but this should be good. Now I'm going to duplicate this and drag it down. And I'm going to duplicate again and it should power duplicate would be, which basically is all it does is repeat the same functions that I did before, so duplicated and dragged it down. And then when I duplicate again, it's going to power duplicate and just drag it the same amount. Drag the square the same amount down from the last placement that I made. So now that I've created these, I'm going to select all of them. And I'm going to slightly resize so that it fills this space a bit better. Then I'm going to duplicate this entire set by hitting my three dot menu, selecting Duplicate. And then I'm going to drag them to the side here. Right now that we're done here, we can go in and update each of the days of the week. So I'm going to select my frame text tool. I'm gonna go into the second box, tap it, double-tap it so that it highlights, pull up my keyboard and update it to say Tuesday. And then go to my next box, select my frame text tool, double tap on where it says Monday, select my keyboard and update it. So it says Wednesday. And then repeat this process for the rest of them. And from my last one, I'm just going to have it be kind of like a little notes section and I'll add some little checkboxes. Now that we've updated all of the days of the week, Let's go down to our little notes section. I'm going to actually change up the colors so that I know this isn't like a part of my days of the week, so I'm going to select the orange, change it to pink, and then select the pink here and change it to orange. Then I want to add some checkboxes here. So I'm just going to go into my rectangle tool. And then I'm going to add some checkboxes on the inside of this, so I'm going to remove the color before I create a box. I'm going to make sure there's no fill. Then I'm just going to have the black outline. And then I'm just going to create some boxes. Remember if you hold your finger down after you've created your shape, it will snap it to a perfect square or circle or whichever shape you're working with. I'm going to create a simple square. And then I'm going to duplicate this about Format times still have five total. So making sure it still selected by tapping on the black arrow tool, I'm gonna go into my Edit menu and then select Duplicate. And then I'm going to drag it down. Then I'm going to use that power duplicate again so that it basically copies and pastes and drags down in the same distance that I have done this first one. I'm gonna go into my Edit menu, select duplicate, duplicate, and then duplicate so that I have five total. You can add lines if you want or you can just keep it blank. I think this works as is. If you feel like you're, your squares aren't lined up though, you can go into your layers and select those rectangles in your layers by tapping on the first and then dragging right across the rest than the series. And you can go into your align functions here. And I'm going to align to the left and then I'm going to make sure my centers are aligned as well, so align amongst the centers. And then I want to make sure that everything is spaced evenly. So I'm going to tap space vertically. Then I'm also going to group these in the layer by selecting that folder icon so that everything is grouped together. And that is our simple weekly layout. You have each of the days of the week. You can add notes for each of those. You can also add the date on what we can do is utilize our pen tool to add a line right next to Monday. Or we can just utilize our our text tool double-tap where it says the day of the week. And we can tap on our keyboard, give herself a space, and then go into our numbers and symbols and just select a backslash so that you know, you can add the date after it. So I'm gonna do that to finalize each of these. And that will complete our layout for the weekly layout. So our weekly layout is now complete. Now we can jump into designing our daily layout 15. Designing your daily layout part 1: Now that we've completed our weekly layout, Let's start planning out our daily layout. So what we'll want to focus on for this type of layout is an area for time blocking, notes, goals, and a to-do list for the day. I would like to utilize some of these squares that we are ready-made and then create some longer versions over on that side so we can keep with the similar themes. I'm going to select this square from our weekly layout. You'll know it's selected because it's outlined in blue. I'm going to tap on my three dot menu here, which is my edit menu, select Copy. Then I'm gonna go back into my daily layout. Tap on my edit menu, select Paste. I'm gonna pull that down a bit and then I'm gonna get started with our header area first. So let me give myself an area for the date. And then, and then maybe a mood tracker. So I'm going to select my rounded rectangle tool. I'm going to tap on my rectangle tool here on the left hand sidebar, select my rounded rectangle. And I'm just going to create an area for the date. I'm gonna go in and tap on my color studio, remove the stroke tab on the fill and update it to white. Me zoom in a bit so that I can adjust the curve of that corner. I'm going to tap on my node tool, which is not white arrow tool. Then I'm just gonna, I'm gonna pull in my corners just a bit so it's more of a rounded edge. I'm going to pull that to the left and then I'm going to select my Text tool. And then I'm going to create a frame inside of that rounded rectangle. And then I'm going to make sure that my text is small enough. So I'm gonna go into my editable variables up here. And then I'm going to tap into that frame that we've created. And I'm going to type in date. Then I'm gonna go into my numbers and then my symbols on my keyboard, and I'm going to select my underscore. Then I'm going to adjust the placement. Now want to make some emoticons to create a mood tracker that we can utilize for the daily planner. So I will be using our shape tools to create these. So I'm gonna select my ellipse tool, which is just the circle tool that I'm going to create a circle. Remember once you create a shape, if you put your finger down, it'll create a perfect shape. And then I'm going to take away the fill and just keep a keep an outline. And then once I've created that, then I'm gonna go back into my shape tools. I'm going to select my ellipse tool again and create two smaller circles inside of larger circle, update the colors so that it matches the outline. Let's have created one. Then I can just go into my three dot menu, select Copy, and then paste and drag the other one. I want to keep these more in the center of the face so it has more of like a cute tea feel to it. Once I've done that, I can select both of these, go into my align tools here and align top. And then I can go into my Layers menu and then select the little folder icon and group them. And then I'm gonna go back into my shape tools. I'm going to select a segment and then I'm going to create a segment that goes underneath. Then I'm going to use the little rotator tool, which is this little arm. And I'm going to rotate it around 180 degrees. And then I'm going to zoom in and you'll see these little red markers. This allows you to adjust the shape of the segment. So I'm going to adjust it down so that it's kinda like a half circle, so creates more of a smile. And then I'm going to move it up. And then I'm going to select all three of these little elements. I'm gonna go into my Layers menu here. I'm going to select the folder icon to group everything. Then I can adjust the placement within the circle. I essentially did the same thing for this kind of like middle, sort of worried looking face. But instead of using the Shape Builder tools, I can just use my Pen tool to create a straight line, to create more of a worried face and then go into my stroke, go into my color studio. So I've my stroke change the color to black and then I can go into my stroke studio here and adjust how wide or thin that stroke is. And then I can adjust the size and the placement. And then to create a frowny face, I can literally just select the happy face with my black arrow tool, select everything. So everything's also lacked it. Then I'm going to group them first, go into my layer studio. So I've got folder icon Group it, and then I'm gonna go into my Edit menu, select Duplicate. And then I'm just going to move it over here to the right. And then I'm just going to go and edit these sections. And then I'm just going to turn that smile upside down to create a frown face. You can also use the doughnut tool to create some of these mouth shapes as well. Say you don't want to have kind of like this. Looks more scared than brownie. So say you want to create more of a lined upside down curve. We can utilize the doughnut shape here. And then we can go into our stroke studio, adjust the width of that. Then we can select our Node tool. And if you notice, if you zoom in, you'll see two little dots that will allow you to adjust how wide or thin that line is. And then the line on the outside allows you to remove a segment. So I'm going to basically remove half of it. And then I'm going to select my move arrow tool and I'm going to rotate it. So that's more of a frown. And then I'm just going to re-size it. And then I can go into the frowny face, select that half circle here, delete it, and then select my frown doughnut segment. And then if I need to adjust, I can adjust. You don't want it to be such a long frown. And then you can just adjust with the little rotator arm. And then we can adjust the placement. And now we have finally base. Then what I'm gonna do is select the text that I have. And I'm going to select Copy and then paste and then put this over those icons and then double-tap to update it to say how I am feeling. Then of course, if any of your texts disappears, you just have to adjust your text frame. Alright, I'm going to move the how I'm feeling so that it goes underneath my date area here, that I have more space for like a daily schedule. So once I've created that, then what I'm gonna do is update this outline. I'm going to create a to-do list and then a section for goals. And I'm going to use this as the basis, but I'm just going to adjust a few things. I'm going to go into the group for this design asset. I'm going to select my dropdown menu. I'm going to select my rounded rectangle. And I'm going to adjust how wide it is and how long it is. And then I'm going to remove the inside rectangle by tapping on it and then hitting the garbage can. And then I'm going to adjust that yellow rectangle. And I'm going to also adjust the placement of a little window icons so the backs circle and line, I'm going to pull those over to the right. I'm going to change what this says from the day of week two to-do list. And then instead of having it left aligned, I'm going to center it. Then the next thing I wanna do is change and invert these colors. So instead of having this be yellow, I'm going to have it be pink. And instead of this be pink, I'm going to have it be yellow. Then I'm going to give myself some lines and checkboxes. So I'm gonna select my shape tool. I'm going to select a rectangle. I'm going to change color. I'm going to remove the outline and then I'm going to change the color to that off gray color that we had originally. And then I'm going to create a box. I'm gonna give myself five to-dos. Then I'm gonna give myself a space to write because I don't know about you have a tendency to write at an angle, but if I have an area kind of straight that allows me to write within it and makes a difference. So you could either add a line if you want, but I think I want to play around with these rounded white boxes. I'm going to select the date one and then hit Duplicate. And then I'm just going to drag it down here and then adjust as needed. Then you can either keep it white or you can match it to what you're checkbox is going to be, which was that grayish color. If you prefer to have it with an outline, you can do that as well. Select the outline, your color studio, and then tap the black color and it gives it more of that graphic fields. So I think I'm gonna do that with the square here as well. Once I've done that, then I can drag over both of these elements with my move tool. I'm going to go into my layer studio. I'm just going to group them. And then I'm gonna go into my edit menu, that three dot menu select New, and then I'm gonna do that power duplicate. So I'm going to select these little elements, go into my Edit menu, then select Duplicate, and then drag down. Then I'm going to use that power duplicate function, where basically duplicates and repeats the stuff that I just said. So the dragging of that layer down. So I'm going to select Edit, Duplicate, edit, duplicate at it, duplicate, and it'll fill it with all five little elements. Then I'm going to select everything with my black arrow tool, go into my align functions and then I want to make sure that they're all aligned left. And then I can tap out of there and then just kinda like play around with placement to make sure it's centered in the box. You'd also turn on your magnetics if you need to write once that to-do lists is completed, and I'm going to select it all. And then I'm gonna go into my layer studio and I'm going to group everything. And then I can move it as I need to 16. Designing your daily layout part 2: Then what I want to do is add an area for goals and then some notes. And then I'm this side. I think I want to create my schedule until Let's create that schedule first. So what I think I'll do is add in a grid similar to what we did for our calendar. But for on a 12 hour day. For a 12-hour day starting at 06:00 A.M. and ending at 06:00 P.M. you can do whatever works best for you. So what we're gonna do now is tap out, make sure we don't have anything selected. Just tap outside of your workspace. Then we're gonna go on to the left-hand side. And we're going to select our table tool. And we're just going to create a table with 12 rows and just one column. So we wanna make sure that it is that you have just enough space between the sides and the items on the left-hand side. Alright, so now what we wanna do is change it to one column. So I'm gonna go into this top grid area, select that double arrow and tap on the Minus to bring it down to one. And then go to the bottom and then change this 45-12 and then hit Okay. And then we can re-size it as needed. Then if you want to re-size the width of each of these rows that we can do is just tap on it so that you are in edit mode and then drag your Apple pencil all the way across the cells and then tap on the lines in-between the numbers here. And then you can drag up and down to resize. Then I'm gonna give myself a little label. And this is gonna be our daily schedule. So I'm actually going to take elements from this little to-do list. And I'm going to select the little top portion that is pink, that has the texts and has a little, It's kinda like the menu bar. I'm going to group it. And then I'm gonna go into my three dot menu. I'm going to select Copy and then paste in them and drag it over so that it goes above my schedule here. And then I can go in and edit as needed. So I'm going to select my rounded rectangle, re-size it, and drag it in so that it matches up the right-hand side of this grid. Select my little shapes here, bring them in. And then I'm going to update the to-do list title here to schedule for today. I'm going to re-size my frame here so that I have enough room for my text. Double-click to highlight and drag across to select the rest of the text. Tap on my keyboard Menu at the bottom, and then update my texts to say schedule for today. Then I can adjust the box and then just center this within this area. And then the next thing we'll wanna do is actually update the width of the lines in this table here. So currently, I'm using a 0.9 for all of the outlines. So we're going to probably want to adjust our table so that it matches that. So just double-tap in here. And remember to change the outline and the lines within. You just have to tap on those edges. You can also just tap on when you're in edit mode, tap on that top menu where it says a and then I'm gonna go into my stroke studio, tap on the width and then type in 0.9 and then hit Okay, and it should update the outline. And then to get the lines in-between, tap on that selected area so that you see the lines get highlighted in a darker blue. Go into your Stroke Studio once again, tap on the width and then type in 0.9 and then hit Okay, and then everything should be the same width. So once I've created my schedule, what I wanna do is group the header with the grid. So I'm going to select my black arrow tool, my move tool, and then drag over both the top portion as well as grid. So your table, along with your header. And then once I've selected that, I can go into my layer studio tap group so that everything's together and we can adjust placement. And now that I think about it, I think I'm going to move my how I'm feeling so that it goes up above my schedule and then adjust my to-do list so that it lines up with the top of the schedule and pull my little like date, highlight down a bit I'm gonna go in and add the timeline here. So I'm just going to tap into my top menu here so that I can copy that scheduled for today text to get to what you can just double triple tap or you can just go into your layers here and open up your drop-down menus to get to that layer. Then I'm going to select my edit menu, select Copy, and then paste. And once I've copied it and pasted it, I'm just going to drag it and makes sure that it's not still embedded in my, in my group here. So to do that, I'm just going to select it and then drag it out so that it's out of the group. And then I'm going to move it back to where I would like it placed in my grid. Then I'm going to update the time by selecting my frame text tool and then tapping in it to highlight it, and then tap on my keyboard. I'm going to change the text to 06:00 A.M. then I'm going to adjust the frame so that it is a little bit closer, but still will give me enough room once they have double-digit times. So now I have this first one set. I'm going to utilize that power duplicate. So making sure that still selected can tap on the Move tool, tap on the time, go into Edit menu, select Duplicate, and then drag it down to exactly where you'd like it in the next box. Then we're going to power duplicate. And it's going to do that same exact process, dragging down the copied version into the next box. And I'm gonna do this. So I have all of the boxes within the table filled and then I'll go back in and edit the times. Now that I've duplicated everything and then the exact place I would like it and I can go through and update the hours. I'm gonna select my text tool, tap into the time and change each one. Now that everything is updated, I'm going to select my move tool, my black arrow tool, select over the grid as well as the times. And then I'm gonna go into my layer studio and group everything so that it's all together. And if I need to adjust or move, it will all move together. Now I'm going to add a little section for goals and then some notes. I'm going to make my goals window looking warlike, a little error window. So I'm going to again utilize this original box, go into that layer group would end my layer studio here, select the rounded rectangle, go into my Edit menu, select Copy, and then paste, and then I'm gonna drag it down. I'm going to change the color so that it is that orangey color at the top and then more of this tan with a shadow for the rest of this. So the rounded rectangles still highlighted. I'm going to go into my color studio. I'm going to change the fill from that orange to that tan. And then I'm going to go into my effects studio and eminent give myself an outer shadow. And then I'm going to turn on that outer shadow tap where it says outer shadow and then I can adjust placement and the offset of this. And I want it to feel more graphics so I don't want the shadow to be blurred. I want it to look more like 2D versus like blurred out. So I'm going to pull that blur all the way down to zero. And then I think I like how this looks. Then I'm gonna go back into my layer studio, select the Header Menu, top of the menu bar design here. And then I'm gonna go into my edit menu, copy, paste, and then I'm going to drag it down. Then I'm going to change how big this is. I'm going to adjust the width of it. So I'm going to select my drop-down within that group, select the rectangle itself, adjust the size, and then I'm going to change to-do list two goals. I'm going to double-tap to highlight and then drag to highlight the rest of the word. Tap on my keyboard and then update the text to say goals. So once I've edited the word, changed it to goals, I'm going to remove this little circle and underline and I'm just going to keep the X. So I'm gonna go into my layer group here. And then I'm just going to select the layer that I wanted to remove and then make sure it's highlighted in blue and then select the little garbage can to delete it. And then I'm going to select the little X, and then I'm just going to resize that a bit and then pull that over towards the center here. And if I need to, I can always resize the outlines so I can go into my stroke studio and then increase or decrease as needed. I kinda like how I added the little drop-down Or high added the little drop shadow. It's a more harsh drop shadow. I think I'm going to add that to my to-do list. So I'm gonna select that in my layer studio. And as you noticed, I have all of my layers labeled, all of my group folders labeled so that I know what is what. So this is to do goals, the date, how like how I'm feeling, my schedule layout, things like that. It just makes it easier on what I wanna do is go into my to-do lists, select that little drop-down arrow, then go down into the rounded rectangle. And I'm gonna go to my FX Studio, churn on outer shadow, tap on outer shadow so I get my options on the left-hand side. And then I'm gonna give myself a shadow and then I'm going to adjust how dark it is. And then I'm going to tap out of this now that I've added in all of the little elements that I wanted to have for my goals and my to-do list. I just want to add a little area for notes. We could keep it simple and just add notes or we can add some more like FUN effects. So what I think I'll do is kinda create more of like a grid paper effect towards the bottom for the note section. So what I'll do is add in a table, tapping on my table tool, dragging across. And then what I wanna do is change the number of rows so that I can make these bigger than a, add more columns so that they're more square-like. So once I've done that, I'm going to tap in their add more columns so it's more of a square and then adjust all of the widths of these. They're currently rectangles to make them more square-like by selecting across all of them. Using my Apple Pencil, I can just select across a all the way through K and then I can adjust width. And then same thing with rows. Select one through six, and then just adjust the width by selecting one of the lines here and adjusting how tall they are. Once I've done that, then I can adjust the placement of this and then resize it as needed. And then I can add more rows to fill up the space a bit better. So I'm going to tap on it again so that I can edit and then go into, I'm going to add more columns so that fills the space. So I'm going to tap into it by just double-clicking. Then tap on that top menu and then add some more and then resize it so that it gives me more of a grid paper feel. So once I've done that, then I can select them, select all of my columns, go into my stroke studio, tap the stroke tap where it says width and change it from 0.52, 0.9. Once I've adjusted, I can add a little, I can blank out a corner section using my rectangle tool, so I'll tap on rectangle, go into my color Studio, makes your outline is removed and that Phil has black. And then I'm going to fill in a corner here and then add text on top. I'm going to select my goals text, select the Edit menu, select Copy, and then paste. And then I'm going to move this out. I'm going to re-size it just the bit. I'm going to double-tap it, select my color studio. I'm gonna change it to that beige color. Drag it so that it goes over the area that I just blocked out. If it's behind it, you can just select it in your layers and drag it to the top here. Then change it by double tapping or triple tapping to highlight everything. Select your keyboard and then type in notes. Then you can re-size this little frame as you need. Alright, that is our daily layout. That gives me that kind of PFK-1, very like productivity focused design, but in a fond and funky Y2K 90s computer screen kind of style. Now that we're done with our daily layout, we are going to jump into creating our layout for our stickers and 17. Designing your sticker page layout: Alright, so to create our sticker page, I'm going to keep it really simple. I'm just going to create a wide little window here. And then we'll place our elements on top of that once you've created them. So to do this, I'm just going to utilize one of the shapes that I've already created here. So instead of using the days of the week options, I'm actually going to use the Goals option here with the Okay button. I'm going to select it. And I'm going to go into my three dot menu select Copy. Then I'm going to move over to my stickers page, tap into it, and then select my three dot menu and select paste. Drag this over. And what I wanna do is just resize this. I don't want to resize the text so much as I want to resize the window itself. So I'm going to select in my Layers group here, drop-down menu. And then I'm gonna go down to my rounded rectangle and to my menu bar here. So I'm going to select the rounded rectangle first. I'm going to create it so that it's more of a portrait size and laid out like page here. Then I'm going to adjust the width of this little top menu bar and then adjust placement of all the elements within there. I'm going to update the text that says goals and I'm just going to change it to stickers and I'm going to center it. And then I'm going to drag that Okay button towards the bottom. And this should give us enough space to add our little sticker icons here. So now our layout is done and completed for the planner 18. Exporting your final planner: Now I'm going to take you through exporting your actual planner as well. We're going to select our document menu. And then we're going to select Export. And then we want to export this as a PDF. You're going to select PDF digital. You can select high-quality or small-sized, identical with high-quality in the off chance that you want to print this in the future. But if you want a very optimized small file that doesn't have any lag. I would suggest selecting digital small size. You can keep everything else as is, and then change your area from current page to all pages, not spreads. Because if you do spreads is going to do to up and you want it to be individual pages and then hit OK, select where you're gonna be saving it. I'm going to save it in Affinity Publisher. And then I'm going to hit Save. That will export my planner into my file system. So I'll go on my iPad, go to my Affinity Publisher app file, and then you'll see my digital planner is there. Now that we have everything, export it, we can jump into the final sections which are getting everything into Goodnotes and working through the Goodnotes app with your planner 19. Working in Goodnotes: Now that we're done exporting our planner, let's open it up in Goodnotes so we can see the functionality and play around with it. So we're going to launch The Goodnotes app. Once The Goodnotes app is launched, you will likely have a gallery of documents. If you don't have anything in there, that's okay. We're going to add in your planner. So on the left-hand side, we're going to select this plus icon and we're going to select Import. And then we're going to import from the file that we saved our planner on my case. I saved it in my course 30 project file. I'm going to select my digital planners. Select Open. When you open up your planner, you can swipe through it using your finger. You can swipe left or right to go through your pages. If you want to turn on your functionality for your tabs, go into your icon on the upper right hand side, next to the three dot symbol, you're gonna see a pencil that looks like it has a dash through it. Tap on that so that it has a circle around it. And that will turn on your click functionality so you'll be able to tap on each of your tabs and it'll take you to that specific page. The next thing I want to highlight are the different tools that you can utilize. So I'm going to turn off my tab functionality so that I can get all of the different tools that will be utilizing. There's your pen and eraser, highlighter, shape maker, lasso tool. Then there's also these little icon tool. So what we're gonna do really quickly is I'm going to import some stickers that I made that I will include for free in this class for you that you can utilize. I do have a class that shows you how to use Affinity Designer to create your own digital stickers is the version one though, and I will have a class in the future walking you through version two on your iPad, but you can check that one out. It's a fairly similar. The interfaces are just a bit different. Now, if you select the icon with the star and you get this little pop-up, what you'll wanna do is scroll to the left. And then you're going to select this little plus icon. And then you can add elements from your own folder. So I'm going to import from, and I'm going to select my stickers that I've created that you can use from my folder. These are all just inspired by that kind of Y2K computer vibes that you see a lot of Gen Z are using. So I've created a bunch of little icons that you can use in your planner here. Once you've imported all of them, then you can just add a title. I called it Y2K sticker set and then select Create. It'll create a collection in your elements library here. So to use these, all you have to do is tap on your elements and you can tap on one, it'll add it in as it has a transparency. You can layer things and you won't have that white background. You can add them anywhere on your planner that you'd like. And then you can utilize the planner tools like your pen tool. You can tap on that pen tool and then you can select the different styles. You have a ballpoint pen, a fond dependent, a brush pen. Then you can adjust the different settings as you need. Then I find the easiest way to write on, right dead to write digitally is just a zoom in. If you like your handwriting or if you don't mind things looking a little sloppy, you can just write by hand or you can also add in tax. So I'm going to select the T icon here. Then you'll see to the right, you have different options for the different types of texts that you can use and you can adjust your text size. And then once you've edited your options and you can tap wherever you'd like to write, then you can type in your options and you can write in different colors, type in different colors if you want to adjust the color here, you can just double-tap to highlight everything and then go into the upper right-hand corner here, select the color options and then update your color. You can adjust the width of your frame here by just pulling out the sides. And then to move it, you just tap the center of the texts and then you can type in rather than writing, say you want to remove this icon from your page, all you have to do is tap your lasso tool and then select over it. And then hold your finger down. And then you can delete, and it'll delete everything from that area. You can also add images. So if you select this little picture icon, you can pull in images from your photo roll. Then you can adjust and place them wherever you want. You can also crop them if needed. So hold your finger down on the image, you get a pop-up, select Crop, and then you can crop as needed. And then you can resize so that it fits wherever you would like that image. You can also add shapes. When you're in the shape tool, you can hold it down and you can select Advanced Options and you can snap to other shapes. You could also fill it with a color. So when I create a shape, it's going to, so for example, I'm going to create a circle shape. It will, even though my circle is not the most perfect circle here, it will still create a perfect circle. I can remove an outline. So to update the color, all we have to do is go back to that shape option. You can turn on or off your stroke by selecting the stroke options here and just having everything pulled down to zero. And then updating your color fill here. And then you can create your shape and then it'll fill it for you. If you write something. When using your Pen tool, you can also adjust the stroke width by selecting your stroke options which are to the left of your color tools here on the right-hand corner. And then you can create a thinner or thicker stroke. If you want to undo something, you can just double-tap with your finger. Or you can select the little back arrow, the undo arrow at the top of your screen and say you added something that you didn't want. You can also utilize your erase tool, which is right next to the pen tool, and you can just erase all of it are part of it. You can also utilize the highlighter. You can highlight over text. So I'm going to select the highlighter tool, which is to the right of the eraser. You can adjust how thick or thin or how big or small your highlight is. So I'm just going to select the medium. I'm going to keep that, I'm going to keep that soft pink. And then I'm going to highlight over my text and it gives me a nice highlight. And then again, if you don't want that, you can erase with the eraser or you can double-tap to undo. Another thing I like to do. So then I don't always have to place my stickers in. The, in the elements library is suggests place my Stickers in a sticker page within my planner. So you can do it by just dragging and dropping your sticker files. So I like to do a side-by-side view of my planner and The Goodnotes app and then my file's app. I just drag it up and then pull it to the right. I can just select all of these elements and drag them in. So once they have the side-by-side view open, I can just drag and drop my elements I holding and dragging them onto the page. This process is a little bit more tedious, especially if you have a file with a ton of stickers. Sometimes it is just easier utilizing the elements option because you can just select a bunch and then pull those in. But it does take a little bit more time. So once I've got them into my page, then I can just tap on the element and re-size it. When I'm done resizing, then I can just tap out of it. So select my next element and then I'll just resize it by pulling in the corners. You can rotate this way as well. Then I can just place these elements wherever I'd like them on my page. And to move them, remember you have to have your pencil on the center of the element. If you're having trouble de-selecting, all you have to do is tap outside the selection box and it'll deselect. Once I've placed everything that I can reuse these elements over and over again to say I want to add in a goals element to one of my other pages. I'll select that Lasso tool. I'll zoom in a lasso. Lasso, the goals icon, you don't have to be perfect with it. Hold it down, and then select Copy. And then I can go into say my monthly page if I needed to. And then I can hold my finger down, get this pop-up, select Paste, and then resize as needed, and paste it wherever I want it on that screen. And then I can utilize my pen tool to write over it, or I can use my text tool right on top of it. Then once I'm done writing that, just tap in the middle of the texts that you've just created to move it around and then tap out of it so that it's finalized. And then you can do something like highlighting it. And you've added a little widget to your layout design here. Alright, the last thing that I wanted to show you is how to duplicate spreads. As I mentioned, I only designed to one layout For each of the spreads monthly, weekly, daily, you obviously may want to add more and have 12 months total in your planner. And the easiest way to go about this is two. And to keep file size in mind is to duplicate your spreads in app. I find that just makes the file size much more, much smaller and it's more optimized because you're doing it within the app versus having 300 pages added into the Goodnotes app. You can do that, that's fine. You can do that all in Affinity Publisher as well and export it and then load it. I just just, just for the sake of this class though, I just wanted to make things easy for everyone. And then you can add in duplicate as many of these layouts as you'd like within your planner. So once you're in your planner, if you want to duplicate or add additional spreads, will go to this square icon. It looks like four-square grid. It's on the upper left-hand side. We're going to tap on it and it's going to show a thumbnail of all of your pages. If you want to duplicate pages, What's nice is each page you can select it. So say we want to have 12 months for the year. And we'll select this little drop-down arrow and we're just going to select duplicate. We can duplicate this page as many times as we want. It doesn't break your links. You will have to scroll through to get to the additional months. So now that we've duplicated this monthly, Let's see what that does to our planner. So I'm going to turn on my top function. I'm gonna go to my homepage and then I'm going to tap monthly and it's going to take me to the first page in this spread. Obviously it's not going to take me to anymore. So to get to those additional monthly because I had them duplicate and stay behind this page. All I have to do is scroll and I'll be able to access those additional duplicated pages. I can do the same thing from a weekly and for my daily as needed. So I'm gonna go to my daily spread, go to that Foursquare option. Select my daily spread, make sure it's outlined in blue. And then I'm going to duplicate it a few times. I'm on my daily spread here. And then if I scroll to the right, it's gonna give me the additional duplicated version, even with these duplicated pages and added spreads my link or not broken. So I can still add pages and keep the functionality of the links. Obviously, if you design your tabs so that you can get to each specific week, week, one, week to three, or you create a whole page that's just dedicated to those links so that it's easy for your users. You can tap on them. I'm versus having to scroll through hundreds of pages. That makes things much, much easier. But just for the sake of the class and the sake of ease of use, I just wanted to show you through the process, um, then you'll be able to add and design whatever you want as you see fit based on the skills that you've now gained. Alright, so that is it for designing digital planners and Affinity Publisher. I hope you find this helpful. And like I said, this is a great app. Most of the functionalities work really well within the iPad 20. Course Outro: Thank you so much for creating with me this month. I hope you found this course helpful as you navigated the planner design process and that you are more comfortable working in the Affinity Publisher app. I hope you can begin creating the digital planner of your dreams and that you find it is customize to your own unique needs. Please make sure that you share your work in the class gallery. And if you're open to do so, feel free to share on social media and you can tag me at bellasophiacreative. I would love to see what you create an if you need it, offer feedback. Remember if you want to learn more about me and my work, you can visit me online at bellasophiacreative.com. And finally, if you want to get behind the scenes view of the work that I do as a creative freelancer. Make sure you follow along on YouTube at the Creative studio. Thank you so much for learning with me today. I will see you in the next one. Bye