Playback Speed
---
0.5x

1x (Normal)

1.25x

1.5x

2x
Crochet Your Unique Character: Basic Amigurumi Doll's Body
Watch this class and thousands more
Get unlimited access to every class
Taught by industry leaders & working professionals
Topics include illustration, design, photography, and more
Watch this class and thousands more
Get unlimited access to every class
Taught by industry leaders & working professionals
Topics include illustration, design, photography, and more
Lessons in This Class
9 Lessons (57m)
2.

About the Class Project

1:42

6.

Let's Crochet the Main Part of the Doll's Body

8:44

7.

How to Make the Head of the Doll

11:18

8.

Let's Crochet the Arms of the Doll and Sew Them

11:11

9.

What Can You Make with Your new Skills?

1:15
--

Beginner level

Intermediate level

Advanced level

All levels
Community Generated
The level is determined by a majority opinion of students who have reviewed this class. The teacher's recommendation is shown until at least 5 student responses are collected.
About This Class
In the class we will make a basic amigurumi doll's body.  You'll then be able to customize it and create your own unique character.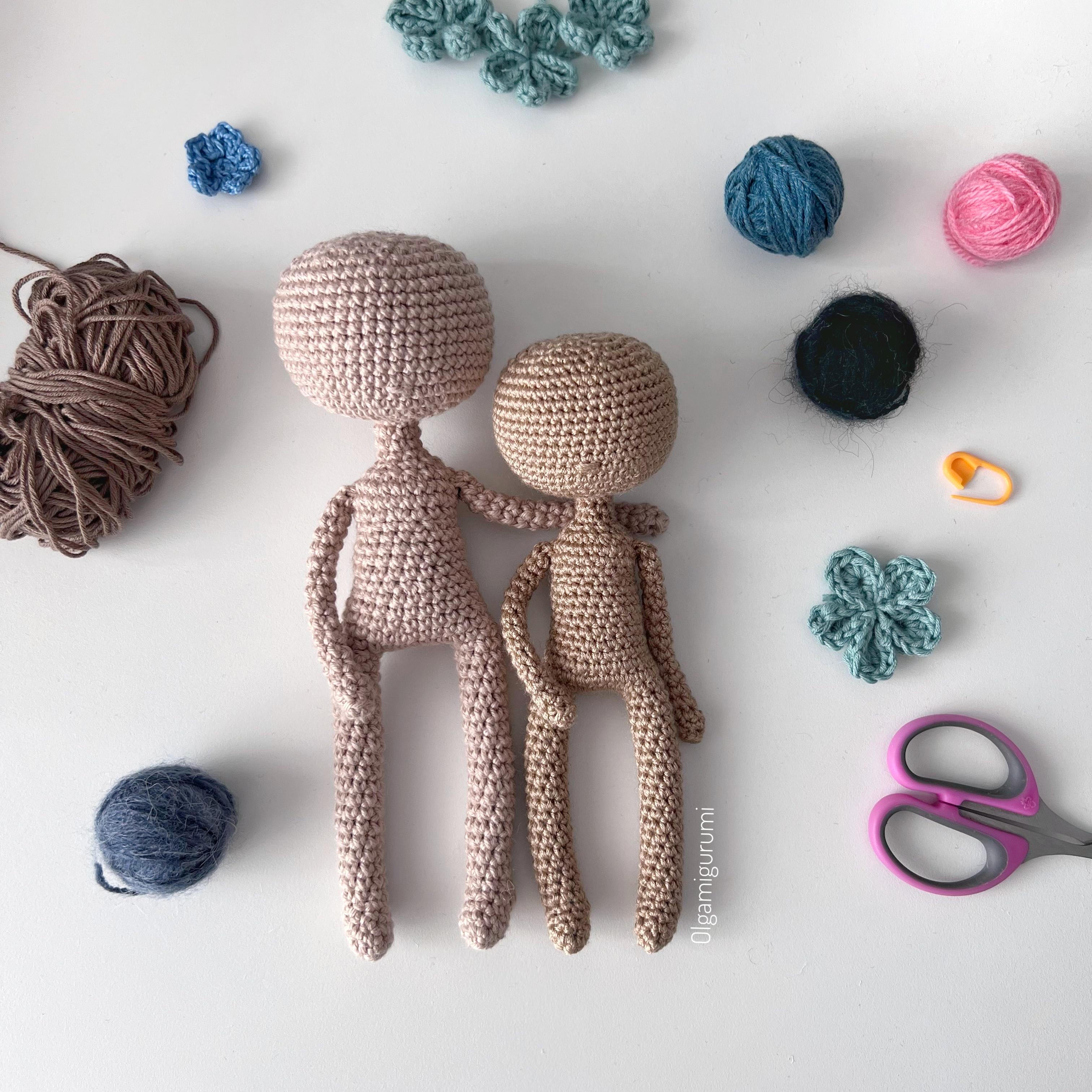 Amigurumi dolls are very popular and you can have a lot of fun making them. You can feel yourself as a child creating clothes and accessories for your tiny crocheted friends.
This class is great for you, if you like to crochet and you want to try amigurumi. Or if you are already familiar with amigurumi and you want to make more cute characters.
It would be great if you know how to crochet. My class is for intermediate crocheters.  You can learn about the main crochet stitches in my Skillshare class for beginners. But I will show you all the process "step by step", so you can definitely try it if you are not very familiar with crochet.
What materials you will need to follow me:
A ball of yarn of the skin color. You can choose any color for the skin. Your character can be a human, an alien… Any color you want.

A crochet hook suitable for your yarn. 

Stitch markers or a piece of yarn of a contrast color

A yarn needle to sew the arms and hide the threads.

Fiberfill to stuff the body of your doll.

Scissors 
You will be able to make cute handmade dolls for yourself and your family. You can customize them and make custom dolls for sale.

This is the first class of the set about doll making. See you in the next classes.
Thank you for crocheting with me!
Meet Your Teacher
Hi! My name is Olga. I'm a Russian programmer living in Spain.
Also I'm a crochet designer and a dollmaker. I make dolls for sale, offer premium and free crochet patterns, share video tutorials on Youtube and Instagram. Also I love to draw and colour!
I can't live without learning and I would like to share my knowledge with you!
You Can Find Me on:
Instagram
My Youtube Channel
My Etsy Shop
My TikTok
My Facebook
See full profile
Hands-on Class Project
In the class we will make a basic amigurumi doll's body.  You'll then be able to customize it and create your own unique character.
First I will show you how to make a foot, then we will crochet the leg's part, stuffing it in the process and  then join two legs together. 
Then we will continue to crochet the main part of the body: waist's part, shoulders, neck. And finally - the head. 
Separately we will make the arms and sew them with the body. I will explain to you why I do it this way.
You can download written instructions on how to crochet the body in the Project & Resources tab. You can have access to that tab only from your computer. To open the pdf file it is required to insert a password. You can find the password in the second video of the class.
You will have a full crocheted body of the doll that you can customize: make her hair, face, clothes and accessories. How to customize your doll, I will teach you in my next classes.
Feel free to share with me and with other students all the steps of your process in the Class Project Gallery. Which color do you choose for the skin of your doll?
Class Ratings
Expectations Met?
Exceeded!

0%

Yes

0%

Somewhat

0%

Not really

0%
Reviews Archive
In October 2018, we updated our review system to improve the way we collect feedback. Below are the reviews written before that update.
Why Join Skillshare?
Take award-winning Skillshare Original Classes
Each class has short lessons, hands-on projects
Your membership supports Skillshare teachers
Transcripts
1. Introduction: [MUSIC] Hello, My name is Olga. I am doll maker, eco-friendly designer and a teacher. I started to make dolls in 2017 when I was breastfeeding my baby boy almost all day long. I wrapped a hook and made my first doll. I published photos of my doll on Instagram and people started to ask me for the instructions. So I learned how to write instructions for other people. Now I sell my own patterns on Etsy. I make dolls for orders for people from around the world and I create tutorials on YouTube, Instagram and Skillshare. Amigurumi is very popular now. You can make almost anything just using the crochet hook and a bit of yarn. When I was a girl, I was making paper dolls and designing their clothes and accessories. I was having so much fun. Now I make the same, but instead of pencils and paper, I use crochet hooks. You can feel yourself as a child creating tiny characters and their clothes and accessors. Throughout this class, I'll teach you how to make a basic doll's body. So then you will be able to customize it and create your own unique character. It would be great if you know how to crochet. My class is for intermediate crocheters. You can learn about the main crochet stitches in my Skillshare class for beginner. You can find the link in the class description. But I will show you all the process step-by-step. You can definitely try it if you are not very familiar with crochet. You will need some simple materials and tools; A ball of yarn of the skin color and crochet hook suitable for your yarn, stitch markers, or a piece of yarn of interest color, a yarn needle to suit the arms on the doll and hide the ends of yarn. Fiber fill to stuff the body of the doll and scissors. You will be able to make few timid dolls for you. You can customize them and make those for sale. [MUSIC] 2. About the Class Project: [MUSIC] In the class, we will make a basic Amigurumi doll's body. You'll then be able to customize it and create your own unique character. First, I will show you how to make a foot. Then we will crochet the legs part, stuffing it in the process, and then join two legs together. We will continue to crochet the main part of the body. Waist part, shoulders, neck, and finally the head. Separately, we will make the arms and sew them with the body. You can download written instructions on how to crochet the body in the Project and Resources tab. You can have access to the tab only from your computer. To open the PDF file, it is required to insert the password. You can see it on your screen. You will have a full crocheted body of the doll that you can customize. Make your hair, face, clothes and accessories. How to customize your doll I will teach you in my next classes. Feel free to share with me and with other students all the steps of your process in the class project gallery. You can share which color you choose for the skin, or your doll, or you can show your finished doll. [MUSIC] 3. How to Make the Foot: [MUSIC] [FOREIGN] starts with a magic ring. Let's make it. Make a big loop with your yarn. Pull the yarn for the loop. Now you have a little on the loop end of the yarn for this little loop. Now, make four simple crochet stitches into the magic ring. [MUSIC] Pull the end of the yarn to close the ring. Now, let's make four increases. To make an increase just to work two simple crochet stitches in the same stitch. [MUSIC] Now make two rounds of eight simple crochet stitches. In the future, you can play with the number of rounds so you can make more rounds and the photo futile will be longer. I put my stitch marker always on the first stitch of the round. [MUSIC] I make the second round. [MUSIC] Now make one chain stitch and turn your work. Keep the chain stitch and make four simple crochet stitches. Turn your work. Skip one stitch and make one single crochet stitch then, make a decrease. I want to hide this thread into the foot. Now let's finish the foot. Make one stitch in the mortar. Then make four simple crochet stitches, interface stitches. [MUSIC] One stitch in the border and two less stitches to finish the foot. The foot is ready. So now you can staff it a little bit. 4. Let's Finish the Leg: [MUSIC] To finish the leg, we'll just need to work 18 rounds of eight simple crochet stitches. I will show you how to use this piece of sewing thread to mark your rounds. I think it is very useful, and you shouldn't count your rounds. I put the thread on the first stitch of the previous round, and I start to work. I make my first round. Now I pull the shorter end to make it longer. Now I put this longer end on the first stitch of the previous round, and I start to work. I make the second round. Now you can see a red line, and I know that I made two rounds, so one line is equal to one pair of rounds. For example, if I see three lines, I know that I made six rounds. When I see nine lines, I know that I made 18 rounds. To finish the leg, we just need to work 18 rounds. I recommend you to stop every six rounds, and stuff your leg in the process. I work this way. I make three pairs of rounds, then I remove the yarn, my marker, I stuff the leg, and then I continue to work. Do not stuff too much the leg. Make a sleep stitch to secure the yarn, and cut the yarn, but only for the first leg. Now make the second leg, but do not cut the yarn of the second leg. In the next video, we will join them. 5. How to Join the Legs: [MUSIC] Let's join the legs of the doll. I prefer to put them this way, the toes inside. It looks cute and childy. To join the legs we need to make several single crochets stitches if it is necessary, of course to come to the center of the inner part to the second leg. In my case, I make two stitches. Now I make six chain stitches, and find the center of the inner part of the first leg. The last stitch that I made I mark with a stitch marker. Now I just work around round the first leg eight stitches. Hide these thread into this stitches that you are making. [MUSIC] Then six single crochets stitches around the chain of six. Carefully find the chains to not to miss any of them. [MUSIC] Then I work eight stitches around the second leg. [MUSIC] Add six single crochet stitches around the chain of six on the other side of the chain. [MUSIC] This part of the body was a little bit tricky for me at the start but with practice I got the trick. You just need to use stitch markers and control your stitches and chains. In the next lesson, we will continue to crochet the main part of the body, making the waist, shoulders, and the neck. [MUSIC] 6. Let's Crochet the Main Part of the Doll's Body: [MUSIC] Now we will crochet the main part of the body using increases and decreases to make natural curves of the body. Stuff the body little by little. Do not over stuff it in the process because you can get the pieces of fiber fill by hook and mix them with your yarn. The stuffing should stay inside, not outside of the body, of course, if it isn't a part of your design. From the second round we'll start to decrease. Now we will make the waist part. In the next video, we will make the neck and the head. [MUSIC] 7. How to Make the Head of the Doll: [MUSIC] Now we will make the neck because I think it is very important, and then we will make the head. But before I would like to stuff it more. I think it needs more stuff to make the neck just work for rounds of eight simple crochet stitches or 32 simple crochet stitches. Bigger head and smaller body look much cuter. You can experiment with the sizes of the body and the head. Choose your own favorite proportions. You can find the return instruction of each part of the doll in the project and resources tab, so you just need to increase then you work 10 rounds without increases or decreases, and then you decrease to finish the head. Use your favorite stitch markers to mark the start of the round. To make the head stable, I use cotton swabs, for two or three into the neck. Also, you can use wire or you can use wooden stick. I think there are a lot of materials that you can use but I prefer cotton swaps. If you have another idea you can share it with us. In this step you can start to stuff it. Staff it more. The last round just eight decreases. Leave alone tail and cut the yarn. Now we need a needle to close the hole. Taking only front loops on the stitches rock this way each of eight stitches, and then pull the yarn to close the hole. I use the same thread to broad the nose of the doll. I search for the last increase on the head and then go up two rounds on this level I make the notes for my doll. Two stitches to the right, I make a stitch. Then another one, and I finish the head of my doll. Now to secure the yarn, I make a knot and I hide the yarn into the head, you can repeat this one or two times more. Cut the yarn and let's go to the next video where we will make the arms of the doll and we will sue them to the body. 8. Let's Crochet the Arms of the Doll and Sew Them: [MUSIC] To finish the body of the doll, we just need to make the arms and sew them to the body. Let's go in the middle crane, we will make five simple crochet. [MUSIC] The next round, we will work only in back loops of the stitches. [MUSIC] Round three, I make say simple crochet stitches. [MUSIC] Round four, I decrease and for simple crotchet stitches. [MUSIC] I don't start the arms. I prefer them to be softer and more flexible, to be able to put on the clothes without any force. Now, let's hide this end, and now work 12 rounds of five simple crochet stitches. Use your stitch markers to mark your rounds. It is very important, so you will not lose any stitch. If you miss even one stitch in your round, your arm will be too narrow or too long. At the yarn, even though long tail for sewing and make the second arm. Now let's sew them. Fold each arm in half and sew work in the stitches the two literals. I prefer to sew the arms because sewing, you can put them on the same level. Another option, you can crochet them before the body and then working with the body, you can crochet them into the body. But as we work in spiral, so one arm will be a little bit lower than the other arm. Sewing the arms, you can fix this. You can use pins to mark the place when you should sew the arm. [MUSIC] Our doll is ready. Look at it, isn't it already cute? Now it's time to think about its personality. Is it a girl or a boy, what color of the hair should he/she have? What details of the face? Freckles, birth marks, etc. What clothes would you like to make for your character? What's next? 9. What Can You Make with Your new Skills?: [MUSIC] Now you can make amigurumi dolls. You can play with proportions and make your own doll's body. You can customize it and add personality so each doll will be unique. Share your characters in the project section, I would like to see them. Let's make the project sections full of little creatures. Now you have a little character that needs your help. She or he needs to have a face, clothes, and maybe little or big house with furniture. Let your fantasy fly. You can make custom dolls and sell them on web pages for handmakers such as Etsy or Amazon. You can design and make your own buttons and share them for free or sell them. This is the first class on the set about doll-making. See you in the next classes. Thank you for crocheting with me. [MUSIC]