Playback Speed
---
0.5x

1x (Normal)

1.25x

1.5x

2x
Build Your Shopify eCommerce Store Step By Step (0 coding) - Shopify Online Store 2. 0 - Updated 202
Watch this class and thousands more
Get unlimited access to every class
Taught by industry leaders & working professionals
Topics include illustration, design, photography, and more
Watch this class and thousands more
Get unlimited access to every class
Taught by industry leaders & working professionals
Topics include illustration, design, photography, and more
Lessons in This Class
53 Lessons (8h 30m)
2.

What Is Shopify and Why to Use It

5:44

3.

How to Create a Shopify Account

4:12

4.

How to Remove Your Store Password

2:25

5.

How to Add Currency and Time Zone

1:57

6.

Quick Intro to Shopify Dashboard

5:59

8.

How to Set Up Your Shipping Information

9:35

9.

How to Add a Branded Domain Name

4:11

10.

Setting up Your Domain Name and Get a Free Professional Email Address for Free

5:48

11.

How to Create and Manage Collections

14:45

12.

How to Add Products to Your Store

11:01

13.

How to Add and Manage Product Variants

2:36

14.

How to Choose Your Store Theme

6:23

15.

How to Backup Your Theme and Work Offline

2:56

16.

How to Change Your Theme Fonts and Colors

11:05

17.

How to Create a Logo for Your Store

12:11

18.

Brand colors and fonts

14:03

19.

Intro to Shopify Online Store 2

6:52

20.

How to Search for Themes and What to Look For

25:11

21.

How To Manage Your Navigation Menus

24:47

22.

How To Customise Your Homepage Dawn Theme - Shopify Online Store 2.0

32:16

23.

How To Customise Your Homepage Focal Theme - Shopify Online Store 2.0

25:18

24.

How To Customise Your Collection Pages - Shopify Online Store 2.0

7:16

25.

How To Customise Your Product Pages Dawn Theme - Shopify Online Store 2.0

26:30

26.

How To Customise Your Product Page Focal Theme - Shopify Online Store 2.0

11:07

27.

How To Customise Your Pages - Shopify Online Store 2.0

5:48

28.

How To Use Page Templates - Shopify Online Store 2.0

4:28

29.

How To Customize Your Theme Text And Language

2:04

30.

How to Create and Manage Discount Codes

7:46

31.

How to Manage Your Inventories!

2:56

32.

How to Create Blogs on Your Store and Why

7:05

33.

Must Have Pages on Your Store

9:32

34.

How to Read and Analyze Your Shopify Analytics

11:42

35.

How to Increase Your Average Order Value

8:55

36.

Best Free Shopify Apps for Social Proof

9:42

37.

Best Free App for Post Purchase Upselling and Cross Selling

17:43

38.

Additional Free Apps to Level up Your Store Performance

8:18

39.

Practical Examples of Cross Selling and Upselling

5:51

40.

Pre-Purchase Upselling and Cross Selling Shopify Apps

9:50

41.

How to Retain Your Customers

11:52

42.

How to Collect Your Customers Leads

5:42

43.

How to Reach to Your Clients via Emails

4:22

44.

Klaviyo: General Introduction

6:36

45.

Klaviyo: Sign up Forms , Lists and Segments

14:51

46.

Klaviyo: Coupon Code and Email Templates

8:34

49.

Introduction to Omnisend

9:16

50.

Create Your Store Popus Using Omnisend

17:37

51.

Create your Autmomated Flows Using Omnisend

14:57

52.

Create your Email Campaigns Using Omnisend

8:23
--

Beginner level

Intermediate level

Advanced level

All levels
Community Generated
The level is determined by a majority opinion of students who have reviewed this class. The teacher's recommendation is shown until at least 5 student responses are collected.
About This Class
** This Course Was Updated To Shopify Online Store 2.0
With this course, you will be able to create your own Shopify Store within days or find areas for improvement in your existing Shopify Store. This course will help you to build a well optimized store with a better conversion and retaining rate.
This course is your road map to a Shopify Store that can Attract, Convert and Retain New Customers!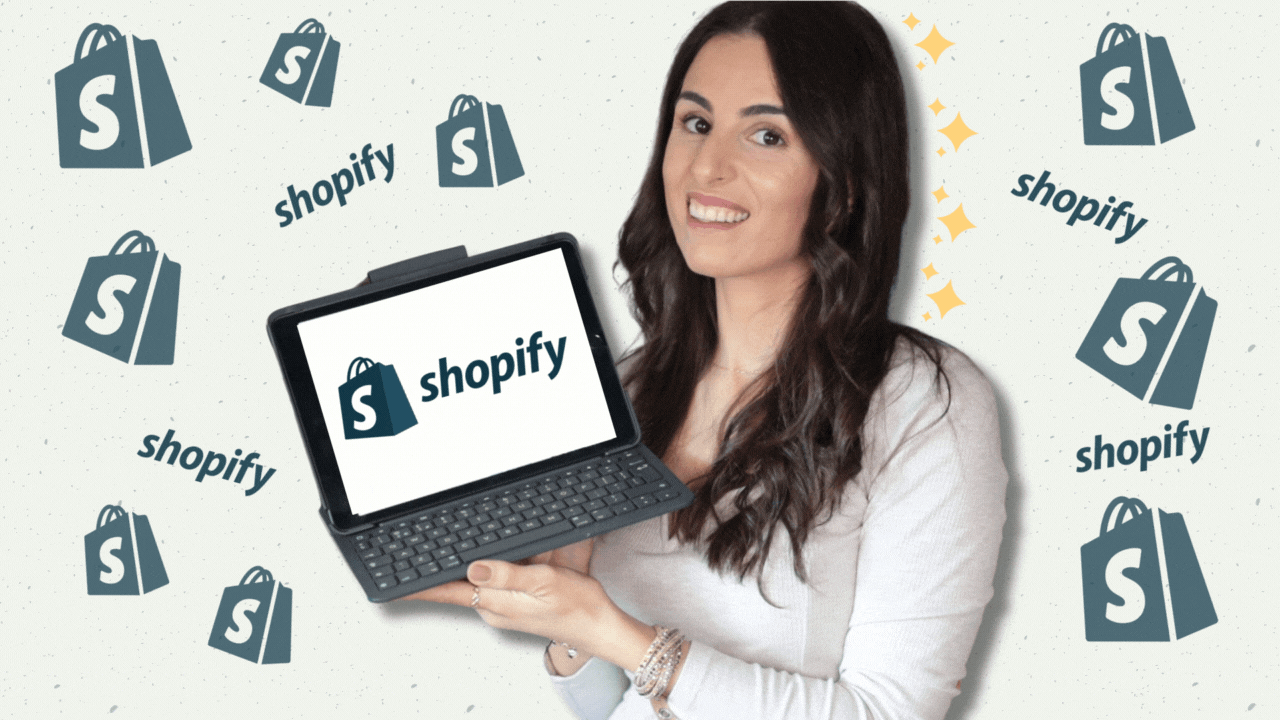 Shopify is currently the most famous eCommerce platform and it is without any doubt the perfect solution to easily build your online store, without any coding.
Creating your own online store will help you to be on top of your business. You wouldn't need anymore to rely on other platforms to make sales and grow your business.
Any product-based business should have its own online presence. So even if you are already selling your products on Amazon, Etsy or maybe Instagram, creating your own website is the biggest step toward creating a strong and sustainable eCommerce business.
In this course, I consider that you are a total beginner so I walk you step by step toward building your store. But this class will remain relevant for you if you have already a Shopify store and you are looking to improve it!
By watching these lectures and applying what you have learned in them, you will be able to create or improve your own store within days.
But not only that...
In addition to building your storefront, I also show you how to optimize your store, what marketing strategies you need to adopt to increase your sales, and how to convert and retain more customers through email marketing.
In this course, you will find everything you need to build your Shopify Store.
This course was recently updated to Shopify Online Store 2.0... So yeah, I got you covered! 
 I will always be here to support and help you! So please don't hesitate to leave your messages in the discussion section!
Meet Your Teacher
Hello, I am Rihab
I am an eCommerce marketing coach, an entrepreneur, and a full-time mom!
As a business owner, you might be forced to wear many hats. Like creating your online store, putting your marketing strategies, managing your brand social media profiles, running paid ads campaigns, and much more... Not only is this normal, but also it is healthy!
You must walk every step of the journey before starting to hire people to help you out... Otherwise, it would be tough for you to manage your business.
My courses are meant to elevate your skills as a business owner and help you understand every aspect of your e-commerce business.
I was in your shoes once. I... See full profile
Hands-on Class Project
n this course, you have learned exactly how to create an amazing Online Store for your business! Now is the time to see you applying what you learned to your work.
Share with me your store link once it is done and I would be more than happy to send you my feedback!
Can't wait to see you applying what you have learned!
Class Ratings
Expectations Met?
Exceeded!

0%

Yes

0%

Somewhat

0%

Not really

0%
Why Join Skillshare?
Take award-winning Skillshare Original Classes
Each class has short lessons, hands-on projects
Your membership supports Skillshare teachers
Transcripts
1. Introduction: Hi there and welcome to this course. I want to start this course by saying, thank you, thank you for choosing me and thank you for choosing this course between all the other available courses here on Skillshare. The second thing I want to tell you is that this course was taught any updated in 2020 one. So all the lectures that you are going to see in this course are 100% in u, which means they wear the updated to meet the e-commerce market updates and the Shopify updates. So everything in here is up to date and everything in here is the dedicated to make you succeed. Now let's start by discussing what you are going to learn in this course. This course I'm going to show you how to create your store using Shopify. And I'm going to show you that step-by-step. This means that if you are a complete beginner and if you don't know anything about Shopify, this course is also perfect for you because I'm going to walk you step-by-step. In addition to show you how to create your story, I'm going to show you how to optimize your store and order to make it highly converting because creating any stored is not enough anymore in order to succeed, you should be creating a highly converting stored, a very well optimized store. And this is exactly what I'm going to show you in this course. So in this course, I'm going to walk you from the basics up to the most advanced techniques. And I'm going to show you that all step-by-step. So whether you are a complete beginner or if you already have some experience with Shopify, this course is perfect for you. Now before moving to the next lecture, I want to invite you to follow me here on Skillshare, because in this way you will get notified first when I publish a new course. Second, I want to invite you to follow me on Instagram, to subscribe to my YouTube channel, to add me as a friend on Facebook, on all of my social media profiles, I share valuable content. So don't forget to check me out and add me as a friend and to follow me. In addition to that, I want to invite you to check my website and then I list all the services I offer for my clients. You can go and check my services and see if any one of them is suitable for you in this case, please don't hesitate to reach out to me, whether on Instagram or on Facebook. Now, let's start with this course and let's move to the next lecture. 2. What Is Shopify and Why to Use It: Hi there and welcome to this lecture. And this lecture we are going to discuss what is Shopify and why you should use it to create your store. Well, the first idea we should be discussing is what a Shopify. Shopify is a subscription-based online software that you can use to build your story. Which means that in order to use Shopify unit to pay a monthly fee. Now, why Shopify is, in my opinion, the best platform you can ever use? Well, there are so many reasons that make Shopify your best option to build an online store. However, in my opinion, the most important reason is how easy it is to use Shopify. You just need to sign up. This is it. You don't need any other complicated or something else. You just sign up and visit, you start using Shopify. Now, let me name more of the reasons of why. In my opinion, Shopify is the best platform to create your e-commerce store. Let's start with our first reason, and it is that Shopify hosts your website. I'm not sure if you are familiar with WordPress, but in the case of WordPress, for example, you need a third party host to host your website and Shopify. You don't need this. Everything is hosted on Shopify, So you just sign up and you start working. The second thing is Shopify gives you a clean and smooth dashboard to modify your store. And he had you have to know something. Shopify is a software that's meant to create stores. However, WordPress is a software that's meant to create any kind of websites. Which means that everything in Shopify is meant and organized in order to help store owners. However, this is not the case with WordPress because WordPress is meant for any kind of websites. Let's why, why you are using Shopify. You will notice that everything is in place in order to help you because Storify, dedicated for store owners like you. In addition to that, Shopify offers many fee and the paid adjustable teams to design your story. And all of the teams provided by Shopify on mobile friendly, which makes, which makes your work way easier forth, Let's Shopify, lets you add an infinite number of products and gives you an infinite data storage capacity. So you don't have any problem with your data capacity. In addition to that, also, shopify offers you sidestep and the product reports when you are running good e-commerce business, it's very important that you always keep monitoring your numbers. And Shopify gives you the ability to do the actual seeing shopify analytics dashboard. For swore, I recommend you to add Google Analytics to store. However, what Shopify offers is very good because phi gives you a lot of information related to store, for example, the conversion rate by returning customers that cause the orders, everything. So inside of Shopify analytics, you will find a lot of important numbers that will help you run your business and the best way possible. Also. So P5 offers a wide range of free and paid apps that make your store stand out. So for example, if you want to add something to the store and this feature that you want to add is not included inside of your store theme. You can always go and pick an app that does that. And there are many free and paid apps on the, on the Shopify App Store, and many of them are highly reviewed, so you can know that you are adding a good actual story. Also, shopify offers a very simple integration with Facebook and Google channels, which means just by a few clicks, you will be able to have a Shopify, a Facebook shop, and then Instagram shop, and the Google shop, just a few clicks. Nothing complicated because Shopify has a lot of direct integration with these platforms. And finally, Shopify is the quick to go platform, which means in just a few hours, you can create your own. And now, let's discuss what you are going to learn in this course and this course, I will walk you step-by-step through how to use your store to how to Shopify to build your story. Even if this is your first time working online, you will find everything you need to do in order to create an awesome story using Shopify. Just follow my instructions and everything would be very clear. Now discussing the Shopify pricing plans, as I told you before, there are different pricing plans and each plan is different depending on how big your store is and all of these details. We have the basic Shopify plan, which is $29 per month. The Shopify, this one which is $79 per month, and we have the Advanced Shopify, which is $299 per month. It depends on your business and you can check the different options of these pricing plans on the Shopify website. However, if you are just starting out and you are new to this, I guess the basic plan would be more than enough. And always remember that with Shopify, you get a 14 days free trial. So go to the description, click on the filing, get a 14 days free trial with Shopify and start building your store for free. And after the 14 days, you will start worrying about paying for Shopify. You have to know something that this trial, the 14 days to three trials come without even entering your credit card information. So you don't have, you don't need to worry about anything. So this is it for this lecture. I hope it gave you a good idea about why you should be using Shopify. And the next lecture I'm going to show you how to sign up to Shopify and helped start working with it. So stay tuned and meet me there. 3. How to Create a Shopify Account: Hi there and welcome to this lecture and this lecture I'm going to show you how to sign up to Shopify and how to get your 14 days free trial. So here I am on shopify.com and I just need to enter my e-mail in need and to click on Start free trial. I'm going to enter my e-mail and I'm going to click on Start free trial. I'm headed now to this page in here I should be having I should have my email in here. In here, I should enter my password. And in year two, I should enter my storming. If you already have a brand, either maybe on Etsy or maybe you have a brand on Instagram or maybe you have a retail and real life, it would be better to put your brand name in here. However, if you are just starting out and you are not 100% sure about your band name. I recommend you to put the closest possible to your brand name. So put something that's ready related to when you pick your brand name, this name will still make sense. This name is the one that should be five will use in your domain name, which means when we create the store, we would get this name dot shopify.com. However, through this course, I'm going to show you how to change a different Shopify name and replace it by a brand and domain name because this is better to look professional and to look like a true brand. So I'm going to put my store name. Let's say for example, I'm starting a store where I sell missing accessories. I'm going to call this stored notching and needles. Okay. The name is not taken, so I'm fine. I'm going to click here on Create your stuff. So now Shopify will be creating my store. It will take few seconds, and this is it. Okay, So here I am inside of 45 and now I can fill this form. I can skip it. Depends on you. I'm going to fill it already selling you reply. I'm I'm going to say that I'm just playing around now, Shopify will be recommending things to help me. If you want help with any of these things, you can, for example, pig or you can skip that. In here you put your current revenue and in here you put your industry. I'm going to pick other, for example, and I'm coming to click on Next. And now I need to put my address because this is something Shopify requires from store owners to get paid. I'm going to put my address in here and I'm going to click on Enter my store. And this is my store will be created. Few seconds and Shopify will take me to the Shopify dashboard. So as you can see, I'm inside of the Shopify dashboard in here at my store is created. Let me minimize this a little bit to show you how my URL looks like. So now my study ALL is knitting needles, but my shopify.com. That's why I told you to name this something close to the brand name of journeys. But if you have a brand name and by YouTube land Ni, by replant name for sure. So this is now my default URL, but I'm going to change that to look more professional. Now if I take this address and I go to another, another browser, let's say Firefox. I can see that my stored is password protected, which means that no one can see my store because they need to enter a password before being able to see it. This is not defaulting given by Shopify when you are just starting out with a trial plan, this is what you get as a beginning, but even in the future, if at some point you want to modify things in your store and you are not still running the store for you. I'm not receiving any traffic. You can protect your store by a password and then you go live with your story. So in here, I can enter my password if I have one, or this is how other people will be seeing the stored because it is password protected. And the next lecture I'm going to show you how you can remove this password so you store will be visible to anyone. So the set for this lecture, stay tuned with me and let's meet in the next one. 4. How to Remove Your Store Password: Hi there and welcome to this lecture as we have seen before it, after we create our stall using Shopify, I will start was left password protected. Now let's see how we can remove this password so we can get our store life. You go in yet your face to your Shopify dashboard. And under online store, you go to preferences. And under Preferences, you go to password production. In order to be able to remove the password protection, you should first select a Shopify plan. You will not be paying anything until their free trial ends, but you should be filling your credit card information in order to submit to a Shopify plan, to pick a Shopify plan. So either you click in here and you pick your plan. And in this case, when you pick your plan, you will be able to enable their password and you will be able to get your store live without any two entering any password. Or you can select a plan from here, and this is it. So you go to online store preferences, password protection, and you pick a plan and you enable that password. Let me click in here on pick a plan. And as you can see, these are the different Shopify plans. Let's say I'm going to choose this plan. I go in here and I pick either to pay each month or maybe every year and I save thirty-six dollars or maybe if every two years and I save this much, every three years and I save this much. I want to tell you something if you already have a brand and you are going to sell on Shopify, no matter what I recommend you to go with the biggest one because you will be saving money. Okay? And then here you either enter your credit card information or your PayPal information. And this is it after you select your option from here is a lecture options from here. And you will get your plan active and live. And remember, you will not be getting paid until that trial ends. So no need to worry. Okay? And when you, once you finish that, you can go back in here to preferences, password protection. And now this should be blue and you would be able to remove that password. So this is it for this lecture. I hope you enjoyed it. Stay tuned with me and let's meet in the next lecture where I'm going to take you in a trip over the Shopify dashboard so you can get a little bit familiar with the software. 5. How to Add Currency and Time Zone: Hi there and welcome to this lecture. In this lecture I'm going to show you how to change the time zone and the currency for your story is actually very important because later on when you start receiving orders, you want to make sure that you have the right currency and time zone is very important for you to keep track of your orders and to make sure that you don't get things like mixed up or something like that. So in here in Shopify dashboard, you go to Settings. You go in here to general. In here you scroll down and you will see that these two options, and here you have to choose your time zone. You choose your unit mass system metric. What is, whether it is metric or not? And in here you choose your default weight unit if you are selling in us a, if you are located in your essay, you might need to change this, for example, to pound. If you are you selling in Europe, you can keep that as grams and kilograms and depends on where you are actually studying or what, what you are used to. So I'm used to metric and kilogram. I'm going to keep that. And in here I can change how my order number would be, so I can change the format of my order number. I'm not going to play around with that. In here. I can choose my stored currency and I can even change the formatting. And this is when I finish this, let's say for example, I'm picking a dollar, keeps going. So this is it. I click in here on Save, and I changed my time format, my time zone, and I changed my currency. So this is it for this lecture and the next lecture I'm going to introduce the Shopify dashboard for you. And I'm going to show you how to use it and how to proceed with creating your story. So stay tuned the VALS need at the next lecture. 6. Quick Intro to Shopify Dashboard: Hi there and welcome to this lecture. And this lecture I'm going to show you that Shopify dashboard. And I'm going to make you a little bit familiar with this dashboard, especially if you have no experience with creating websites over all stores before, this might be a little bit challenging, although after this lecture everything would be extremely clear. So in here you have these different options. You have the home, the orders, the products that customers analytics, marketing, discounts and apps. Then you have your online store. So you'll homepage and here you will be seeing usually things related to your store like the live sessions, things like that. But for now, since we didn't start yet with the store, we see these options to add a plan at a product, customers that team at a domain, and so on. When you click here on orders, you see the orders you have received. So you see the orders in here and here you have the drafts, and in here you have the abundant checkouts. Those are people who reach the checkout phase by but didn't buy. So in here Shopify shows you who are the people who reached check-out free and their emails but didn't proceed. So this is actually very important because later in this course, I'm going to show you how you can reach out back to those people and convince them to buy from you in order to gain these lost sales. So after the orders, you have the products and he obviously you add your products. I'm going to show you how you can add your product. And here you have your inventories, and here you have your transfers. And in here you have your collections. And in here you have your gift cards. You don't need to worry about that because we are going to see most of these later in this course. Mainly if you are just starting out and things are not yet that complicated. You will have to add your products. You will have to manage it inventories to make sure that everything is on hand and you have a good idea about what products are still there and what products are out of stock. And you have to work on your collections and gift cards. It's not usually something all stores do, but something that also you might do. Okay. Here you have after products, you have the customers. Those are people who bought from you. And here you have the analytics and there is a lecture in this course where we are going to discuss this dashboard in here. Don't worry about that. You have the reports, the reports given by Shopify to show you your store results. Here you have that eye view which may lead to who, how many people are now on your store where they are located, things like that. And after analytics you have the marketing. Which means if you want to send abandoned checkout emails, there are there are amazed that you can send by default through Shopify. However, I don't recommend that later in this course, I'm going to show you how to deal with these lost sales. And in here you have, if you are creating campaigns inside of Shopify, you can see those, but I don't usually use Shopify and marketing are used a third party app to do that. And I'm going to show it to you at the end of this course. After marketing, you have discounts. So if you want to create a discount code, you do it in here. And in here you have the apps. As I told you before, Shopify has a Appstore that's full of free and paid ads. And many of them are very useful. And don't worry, also true this course we are going to see what apps you should be doing. What apps are important. But the most important idea that you have to keep in mind that you shouldn't be adding a lot of ads because absolutes really slow down your story. So you should be very cautious about how many apps you are adding and you should only add the most important apps to store. So don't rush out and start adding any actors thought this is not the right thing to do, you should only use the apps that you must use. Okay? And here, Shopify recommends some of the top apps, the most famous apps. You can go in here and check them out. After that, you go in here to online store. And this is actually where do you start with defining what defining the appearance of your story? First, you have the themes. I'm going to show you. There is a lecture about themes and this, of course, here you have your blog posts. If you are publishing blog post, here you do it. Here you have the pages because there are difference between a product page and a normal page. So also we are going to discuss that in this course. Here you have dynamic navigation, which are the menus also, this is a topic for one of the lectures. Here you have your domains. As I told you before, I recommend you choose a professional domain name. And here you do that. And here you have their preferences, which are things that you should be modifying and changing. And also we are going to discuss this. After finishing with this section, you go in here to settings. And here you have your restore settings. So you have the genital, the locations, the store or language, things like that. And you should be going over all of these settings and make sure that you are setting them up as per your conditions. I mean, each country's differential taxes will be different than mine you were at. For example, billing will be different than mine. Your payments would be different than mine. So you should be going all over these and you should be managing these and what was suitable for your case, for your location and for your brand. So this is it for this small dashboard and the coming lectures, we are going to discuss all of these and I'm going to show you how to modify all of these. So don't worry, stay tuned with me and let's meet in the next lecture. 7. What Payments to Use?: Hi there and welcome to this lecture and this lecture we are going to talk about payments. And here there are two things that I need to talk about before starting this lecture. First, you have to know that your payments depend on your location, which means that what works for me might not be working for you. So you have to do your research and see what payments are available in your country and the peak. This is the first thing that you should be considering. The second thing that you should be considering is that you should be giving your customers at least two options to pay. At the same time. It shouldn't be giving them thousands of options. Usually two to three options to pay is enough, enough. And you have to give them the ability to do express, which means to pay directly. And I'm going to show you how to do that. So you're going here to settings and you go in here to payments. The first thing you have is that PayPal Express Checkout. And this is something I highly recommend to you is because people usually like PayPal and they have their bank account linked to PayPal. So it's easier for them to pay using PayPal and usually prepared as very trustworthy and people trusted. So I recommend you to activate your PayPal Express Checkout. You simply go in here, you click on Activate, you link it to a PayPal account. And this is it. I'm not going to do that because I'm not going to actually link my PayPal and here, but this is something you can do. After this, you will have different options. You will have a third party providers and the alternative payment methods, and you have the manual payment methods, okay? The first thing I need you to check is this 1 third party providers. And in here you can see multiple options and you need to pick the ones that work for you between these options. Maybe it's EPA, maybe it's to check out, maybe it's I count I'm not sure what works for you. So you have to go in here, do your research and see which one of these statements work for you. And there's also at Stripe for sure going here back and we in here that we have alternative payment methods. You click in here and you also can choose between these alternative methods. It's up to you if you don't have, if you didn't find anything here that CAN works for you, you can pick from the alternative payment methods in here, Okay? And in here you have the manual payment methods and they are payments that they are processed outside of your online store. For example, if you are a female payment on delivery, cash on delivery, you can be picking one of these. So as you can see, you have these options. And in here I need you to make sure that this is set up to automatically and the systems. Finally, the, I still want to talk about something. If you advocated in any of these countries, you will be able to Shopify payments. If you are not located, you will not be able to use any of these payments. The good thing about Shopify payments is that you pay less fees with them then you pay with third party providers. However, if you are not located on these places, you don't have any other option but to go with that third party providers and with PayPal. So this is it for this lecture, as I told you before, you need to do your research and you need to make sure that you are picking the payments that work in your country and that you can actually use The setup for this lecture. Stay tuned with me and let's meet in the next lecture. 8. How to Set Up Your Shipping Information: Hi there and welcome to this lecture and this lecture I'm going to talk about shipping and delivery. But before moving to Shopify and starting to set this up, I need to tell you two things. First, shipping and delivery are very related to business, which means that everything I'm going to talk about in this video is general. I can go into details because you are shipping conditions, your rates are very related to where you are shipping from and to where you are shipping to. So you have to go back to your own shipping conditions and apply them inside of your Shopify. The second thing I want to talk about is that while selling online, you have to know that paying extra fees, which include paying, which includes paying for shipping, is one of the biggest objection people face while buying online. People don't like to borrow, to pay for shipping. They don't like to pay extra fees. So providing free shipping is always, always something that would increase your conversion rate even if you need to increase your product price in order to cover the shipping. But your customers don't like to pay extra fees in addition to your product price. So if it is very difficult to you to offer free shipping, I recommend you to offer free shipping with conditions. And in this course I'm going to show you and I have that will help you do that even more. But I recommended to offer free shipping with conditions. For example, you can offer three domestic shipping. You can offer free shipping for orders above $100 for certain countries and so on. However, the ultimate case, the perfect case, the case with that will get you the most of sales is to offer free shipping. But each business is different and each product is different. So at depends on your conditions, however, would keep this in mind that providing free shipping and free shipping conditions will most probably increase your conversion rate. So in order to access the shipping and delivery section on Shopify, you go to settings and you go to shipping and delivery. Okay. So so before I first decide the location, they're looking at delivery, the location where you are sitting, where you are actually located. And and provides several options like local pick pick up, like local delivery, and so on. Let's start with the shipping first, okay, Here we can manage shipping rates. Maybe you are doing worldwide shipping. If in case you are doing worldwide shipping, it means that you have to precise the shipping value for different countries, okay? For example, you might want to have the same shipping fees for all of Europe and the French shipping fee for USA or for Canada. So you have to precise that in here. Okay. So this is my location. I am shipping from here, let's say, and I'm shipping to the rest of the world. This was set up by default, brushes, Shopify, shopify by default gave this shipping rate. Now let's say for example, I have different shipping conditions for Europe. So I need to have a shipping zone. I need to create a shipping zone, which is Europe. I'm going in here and I'm calling it Europe. Then I'm going in here, and I'm going to also choose Europe. I'm not sure why it's not showing, but if you scroll in here, you will be able to see Europe. Just 1 second. This is Europe. Okay, So in this case I'm precising that I have a shipping zone which is Europe. And I'm going to precise the rates for Europe, which means each time someone from Europe buy a product from my stall, this rate will be applying, applied at the checkout phase, going to click on Done. And now here you have to add it. So either you add that it by yourself or you use your carrier or app to calculate the rate. Okay? If you go with your set up your own rates, you have to call the array, let's say it Europe. Then in here you have to precise the price, okay, but you might be saying, but what if my price is related to the package size and weight? You go and read and you click on add conditions. And your precise how your price will be will be specified based on the ultimate weight or based on the older price. So let's say it will be based on the order rate. So I will say that minimum weight is 10. Ten is too much 0.1. The maximum weight is one. And I'm going to say that the price for this shipping is for example, $10, okay? And I'm going to add this one. Okay, Now let's say I want to add a new condition. Let's say for example, for packages above one kilogram, I'm going to increase our price. I click in here also, I added it, I call it, for example, Europe too. I precise in here. But the conditions that this is applicable for atoms a fine 0.1 up to two, and I will right near $15. Okay, and so on. I add my rate same for the other shipping zone. I precise, mock precise my shipping zones and I precise that it's now let's say I want to add a rate that's calculated by the carrier or the app to calculate the rate, I click in here, and in here I choose my delivery. For example, I can show us UPS. It's a very good delivery. Delivery accompany. You can, for example, choose DHL. It depends on nu, Let's say I pick this one. In here, you precise the services. And as I said before, this is very related to what kind of contract you have with your shipping company. So you can precisely service you want. Let's say I want to prefer you UPS standard. If you want to know what is UPS standard, you go in here, you go to Google and you try to understand what are the UPS standards, shipping conditions, what are the services they are, they are they are offering so you can precise which one of these fits you better, okay? And you have to know that prices of these services are different. So for example, this service might be less expensive than the service and so on. Okay, If you scroll down in here, you can add this one to add the future services, a fuel if you wish. And in here, you also can add handling fees if you have had the late fees, if you want your customers to be paying handling fees, and you click on, Okay, so this is how you prove size you're shipping zones and your shipping rates. Okay? I recommend you an order to make things as simple as possible and if you want to other, It's manually. I recommend you to group people for example, you, this, for example, for this ten countries, I'm going to offer free shipping for these 10 countries. I'm going to offer $10 shipping and so on in order to make things easier for you. Now, going back to our our condition, our shipping and delivery in heat and Shopify. First you have local delivery, let's say you often local delivery, you have to manage in heat. Here you have local pick up also if you offer this option and here you can precise the package size, okay? So this is a normal default package size. And here you can add a package of gay, whether you are offering boxes, envelopes, software packages, you precise the size that way and you give it a name. Okay? And in here you precise the carrier packaging. If you have one and you click on Add package. Here, you can choose between those available. She can shift shipping and here you can check on your rates. As I told you before, that is DHL UPS, USPS. I love UPS. They are very good. They provide good process. You can use them if you wish, or you can use DHL. And also you can create your labels. For example, when you receive an order, you can directly pick, create a label on Shopify and added to the product to the order. And in here you have other options that also you can customize. So these are the shipping and and delivery conditions. As I said before, you have to keep in mind that they are very related to your business. And when you start setting up your business, you might be doing going as simple as selling products from your house. So you might not be, things might not be that complicated. However, these are things that you should be deciding on and implementing here on Shopify. So this is it for this lecture. I hope you liked it and I hope it will help you to add your shipping and delivery conditions state you're in with me and let's meet in the next lecture while we are also going to talk about very important things related to creating your own Shopify store. 9. How to Add a Branded Domain Name: Hi there and welcome to this lecture. And this lecture we are going to talk about how to use a brand and domain name and how to add it to your Shopify store. It's very important to have a brand that domain name, because it's very important to have a store that looks professional. These small details like having a branded domain name, like having a business location, a business phone number, like having well-organized social media profiles, these small things, although they are small, but they give that impression that your brand is a trustworthy brand, that it's a professional brand. So I highly recommend you to go with all the things that will make her store professionally. And whenever you are hesitating whether you should be doing something or not, I always recommend you to go to big brands and your niche or other issues and see what they are doing and learn from them. So having a branded domain name, having a branded email address is a part of being and looking professional. So in order to add your domain name, either you choose to buy it from outside of Shopify from websites like 99 seal for example. Or you decide to buy it directly from Shopify. You go in here to online store, you go to domains. And in here you click on buy new domain. When you are starting an e-commerce store, it's very important why you are picking the name of your store. It's very important to make sure that the name you are choosing as available. You have to make sure that their domain name associated with your business name is available. Because if it's not available, it means that you can't name your website with your business name, which is something very bad because people will be going to Google and they will be typing you the brand name in order to find you. So imagine if your website has a different name than your brand name. So it's very important whenever you want to name your business, it's very important to make sure that the domain name of your business is available, and especially that that.com name is available. Okay. Let's say it this available and let's say you want to buy it. You click in here on binding domain. You write your domain name. Let's say it's knitting needles. And I'm going to see if it is available. It seems that the name is available and I can buy it. So I click in here, I buy a domain name and I associated with my store. When you buy a domain name directly from Shopify linking, it is very easy because you just have to follow the steps and it will be linked. I'm not going to buy the domain because I don't want to buy it. This is how you do it. You go in here, domains, you buy your domain name and you added. Now let's say for example, you don't want to buy a domain name, you want to add a new domain that you have. So you click in here on Connect existing domain. Let's say you are moving from another domain. You put your domain name and you click on Next, and you connect your domain with this Shopify account. Okay, so this is extremely important to look professional and it's extremely important for your business. Connecting your domain name to a Shopify depends on your original host because I'm not sure from where you have already bought your domain, but that depends on your original host. And the second lecture, I'm going to show you how you can buy your domain name Cielo, and how you can associated with your Shopify account. However, if you are using a different host names 0, you can follow the procedure. It's very easy and you connect your domain, your Shopify store. So this is it for this lecture and the next lecture, we are going to start seriously by reading your soul, by talking about collections, how to create them, how to add exam, and everything related to them. So stay John and less need there. 10. Setting up Your Domain Name and Get a Free Professional Email Address for Free: Hi there. And welcome to this video In this video, I'm going to show you how to add a Brandon domain name to your store. As I told you before, having a Brandon domain name will make your store look more professional And it will help you make your clients trust you more. As you see when you sign up to Shopify, you will get this link as your shop. If I store you, l you don't want to give that we want toe by a branded domain name toe by a branded domain name. I'm going to use our website called names alone. A casino is a very good website. It's ship and the most important thing it will not only get you a Brandon Doman name, it will also give you a professional email address for free. That's why we are going to use name zero. You will find the link on the scores description, please click on it and see name zero and sign up to an account. The first thing to do is to sign in or to send up. I'm going toe log in. I have already an account, so I have already so I have signed into name Cielo. Here you put the domain name you want to use. You have first to search. You might think about domain names that are already existing, so you have to toe try some names before finding an available one. Let's say I'm going to name my website. My knitting heaven? No, that that come name is not available. I always recommend you to use and they don't come extension. It's it's better. So I'm going to use to try a different name. Let's say my knitting of I don't know garden. So it's available that come is available and it's available for $6.99. It's perfect. You click on this in here and you register check out domains. So all the privacy settings here you choose privacy and this is it. I'm going to the least this one. I'm not going to buy it. Okay, so this is now my order. I want to buy this domain name and this is it to click on. Continue and you can buy your branded domain name. I'm going to copy this. Spend the domain name first. Then I'm going to click on continue. You endure because it card or your payment information and this is it. You add your payment information and you buy you bend the domain name. Now I'm going to show you how to add this branded domain name to your shop. If I store you go back to certify that sport in here you click on online stores, you scroll down, toe the maze, you click on it. Here you have two options. Either you choose to buy other my name from Shopify. What you choose to connect existing domain name domain names from Shopify are a bit expensive. That's why I use Nemsila toe by my domain names. So I'm going to click in here. I'm going to write my branded domain name and I'm going to click on next. So now you see this You have to change the name Sheila Settings Toe fits with these requirements. Don't worry. I'm going to show you how to do that. So you go toe Nemsila in Here you go toe domain manager. You click on your domain name you click on then a sicker than here. He's screwing down to find Shopify. This is it. This is Shopify and you click on, apply template and you click on Accept. And this is it. You go back to your ah Shopify store and you click on OK and you don't forget toe, keep the, um, direct all traffic toe. This domain name checked Shopify needs 84 hours a process to domain name. So you just have to wait until you domain name will become available in your start. Okay, when it's available, which is something like this. Now I'm going to show you how to get a branded in the address from Name zero. As I told you, it's a free branded email address. It's very professional, and it will look good on your store. So how to do that? You go back toe, manage my domains, you creek on your domain name, and you get back to this page. And here you click under email forwarding. You click on confident, okay, and you choose to add an email address. You can choose, for example, contact. Add to the store name. You want all the emails sent to this email to be four border to your email address or Gmail or whatever you re client will see this they will send their emails to this email, but that females will be in reality going to your email address. So just like forwarding emails from any mate another one. You're right here. Your email address, like this one, for example, blah, blah, blah, and you click on submit and this is it. Now we will have a branded email address. You will add it, and you can add a tour store. So now we have seen together how to add a brand, a domain name and how to get a brand of email address. I'm going to show you how we're to add your email address and the next video, and I'm going to show you how to start working with Shopify in Easy and Quick Way ST John and meet me in the next video. 11. How to Create and Manage Collections: Hi there and welcome to this lecture. And this lecture we are going to talk about collections, how to organize them, how to create them, and many other things. The first thing that you should keep in mind while creating good collections and while organizing good products into collections. Collections are meant to help your customers navigate your store. So this means that because your collections should make sense to your customers and to help your customers to reach to what they are searching for. So for example, if you are setting candle's at perfume and face masks, for example, you should be organized in good collections in a way that makes customer journey easier on your store. Which means you should be putting their products, that they have the same purpose or that they are similar and the same collection. It's very important to organize your collections because if you have all your products everywhere without collections, you will make it very hard for your customers to actually enjoy the experience on your store. So always remember to organize your collections in a way that makes sense to your customers and in a way that makes your customers experience better and easier on your store. So to create collections, you just go in here to products. And under products, you go to collections. This collection is the homepage collection and by default here, don't touch it for now. Let's now go in here and click on Create Collections. And let's say for example, I am on my knitting and needles stored and I'm selling knitting yarns and knitting needles and eating accessories. So my first collection would be, for example, I would create a, create a collection for for, let's say your arms. Okay. But not only that, I'm going to make my collections even much more precise. Let's say I have a lot of yarns that they are made out of special kind of fabric. Or maybe let's say for example, I have a lot of red the arms. So I would be creating a collection. And I will be calling this collection with the name of this, this type of products. So let's say, as I said before, I have a lot of yarns that they are organic. So I'm going in here too tight it and I'm going to name my collection organic yawns. Aki. So this is my collection title. If you are optimizing good steward for SEO and if you are trying to rank higher on Google, you should be taking very good care at your title and description and every word you write inside of any of your pages. But there's another topic for another course. It's not the topic of this course. Let's say this is your collection title. Now in here, you are going to fund your collection description based on your theme. Some themes support text inside of a collection page. Others don't, but let's say you theme does. So in here you should be adding your collection description. And inside of this description you should be telling good customers why you haven't. Collection. What's, what are the products that they can find inside of this collection? So my collection is for organic yards. So for example, I can tell my customers that in this collection they can find yours and multiple colors. They are all organic. They are, for example, I can't talk about the different colors, the different projects that they can made out of these yarns and so on. Even inside of this description, you can link to other connections, you can link to other products and so on. But the most important thing is to add a description that's meant to help your customers. Always keep your customers in mind while you are doing anything or your story. Your biggest asset as your customers, your customers are your through fortune. So you have to treat them in a very good way. And you have to always keep in mind that you are here to provide value to them, to help them, and to make them love you and love your brand. So in here you write to description, I'm going to write anything, let's say check out. So I have written is very small description. But if you are, this is actually a store that I'm going to use. I would be writing a bigger description, much more organized one, I will be adding more information about the collection and so on. If you want to get inspired about what to write inside of your collections, I recommend you to go to big brands and new niche and to see what they are putting inside of your data collection pages. And to get inspired, always remember that big brands and big names, they always hire copywriters to help them out with writing the text. So it's always good to search for them and get inspired from them and learn from them to see what you should be including inside of your collection pages. So in here I have the title and the description. Now let's say I want to modify the stacks and commit to organize it. For example, let's say I want to change the text size in here, I can choose between these different styling. I recommended to keep the default style, which is paragraph. In here. You can make some words in bold, for example. In here you can make it italic, and in here you can underline. And here if you have several points, you can click in here to make them bullet points same for numbering. In here you can add out dent and indents. Let's say for example, I want to add an outlet and here I didn't, then in here I do like that. And here I put it back to its place. In here I can choose the alignment of the text always for big paragraphs. For big text, I recommend you to keep the left alignment because in this way, you make it easier for your customers to read your text. So don't choose the center aligned. Use the left-hand line that inhere can choose the color of your text. You can even choose a background color for the text. And if you want to add a link, Let's say for example, I want to link for where, especially on, in this collection, I go in here, I select the word and I click on the link in here. And I insert my link in here. I can choose between showing this link directly on this window or on a new window, which means when I click on this word in here, either I am taking, taken to a new window or I stay in the same window. And in you and your website opens. And here you can choose to add a table. Let's say I want to answer, insert a table, usually in collection pages without tables, but let's say in a product page and you want to insert a table, you click in here and you answered that table. And a few have already a table. You can change that, that say I have this table, for example, I can modify the size like that. And I can, for example, choose to add a row. I click in here and I click on Insert row above. I can choose column before, so on. So this is how you change your table. But as I said before, use and collection pages, you won't be adding any table. So let's remove this. Now let's say I want to add an image inside of a collection page. I click in here and I insert an image. I have first upload the file and I insect damage. If you have already products, you can add a product image from here, or you can choose to put the URL of the image and that will be uploaded in here. If you want to add a video, same thing you have, you have to add the embedded snippet, snippet box inside of here. If you are hosting good videos on YouTube, when you try to share a YouTube video, YouTube gives you the option to copy the embedded code if you are using remains the same. We may give, gives you the option to copy the embedded code. You put the code in here and the video will be showing in here. Okay? And in here, you can choose to clear formatting and go back to the normal formatting. Okay, After you finish all of that, you finish writing your collection page. You go in here, collection description, you go in here and you choose your collection type. You can choose between manually creating the collection. And you can choose between creating automatic collection. When you choose manual collections with it means that you have to add your products manually to the collection. Okay. When you choose automated collection, you mean it means that you are using some kind of a rule to add the product, your collection. I like to create automated collections because are easier and they save me a lot of time. Okay, I can choose any heat, for example, my condition to be, I can't choose any condition on all conditions. If I pick on all conditions, it means that for a product to be added to this collection, it should verify all the conditions listed here. If I put any condition, it means that it's enough that a product only verify one of these conditions to be listed in this collection. So in here you can choose between choosing the product title that can contains, for example, yarn. So in this case, I'm saying that if a product title has the word yarn on it. It should be added to this collection. I can, for example, choose u to be equal to exactly. But this doesn't work in the case of a title because you wouldn't name autofill products, yarns. It can be starts with, ends with does not contain, and so on. Now, let me add a different condition. Let's say for example, I want to have a product type. It should be equal to a. This works when you have different product types and you have already entered your product types. Inside of your product. The products you go. And here you can also choose products price. For example, let's say we are creating a collection for products below $100. We can say for example, here, at any product that has a price lower than, for example, $100. In this case, each product that has a price less than $100 will be added to this collection. So you can see you can create multiple ways, multiple collections with a lot of conditions. The most important thing is, as I said before, to keep your customers and mind while creating these collections. Okay, after you finished with the conditions and here you go in heat and you edit your website, SEO, title and Meta description. As I said before, this is a whole topic, but if you are doing SEO, it's where you place your page title, your description, and in here you add, add. Let's say for example, you're changing, you're changing direction of your collections, which is something I don't recommend. But let's say for example, I'm changing this. I can add, for example, like for example, red, let's say so, something like that. So now I have a different URL then that octet. But if you want my opinion, have the title as you want it to be, include the same title in here and occluded and here, you have to know that this one in here is the title that shows on Google. So it can be bigger than this one. Okay. Because it's the one that shows in Google when you search for something, It's not the same as this one. Okay, So you enter this, you click on Save and even at the future and the future, if you go in here and you change, they are L Shopify will be redirecting directly from the audience, from the object L to the new URL. Okay? In here you can choose to clarify, clarify why where this collection is available. Maybe it's available on your online store only, maybe it's available on your Instagram shop, maybe on your Facebook shop and so on. You select from here, he had to select a collection image. Also depends on your on your seam. Something supports images, collection images on the collection page. In this case, you have to add an image. If your theme doesn't support a collection image, you can skip this part, but I highly recommend you to add an image in here and to modify the text of this image in order to optimize collection page for SEO, I'm going to click here on Add Image and I'm going to show you quickly how you change the alt text. Let's say for example, this is my collection image. I go in here, I click here, and I change the alt text. Okay, So this I'll, text should be, should contain the keywords I'm working on. And to be describing this image, after you finished everything in here, you click on Save, and now you'd collection is created if you have chosen the automatic rules, your products would be directly added to this collection and you won't have any problem. Okay, Now going back to our collection, now in here you can see my first collection and you can see the product conditions. You can create as much collections as you want, but also one more time, create the collections that can help your customers. In here you can choose to select, for example, this and do bulk editing like if you want to make collection available, collections available at the same time, or maybe delete collections or maybe added collections. You can do that in here. I'm going back in here. Here you can filter the results by the availability. And here you can filter by type and you can sort it by alphabet and so on. Or you can even go in here and search for your collections. So this is it for collections. Collections are very important for your store performance and for your customers experience. This is it for this lecture. I hope it will help you to create awesome collections and to always keep in mind that your main purpose is to make your customers happy and satisfied. State on with me and let's meet in the next lecture where I'm going to show you how to start adding your products to store. So stay tuned with me and let's meet in the next lecture. 12. How to Add Products to Your Store: Hi there and welcome to this lecture. And this lecture I'm going to show you how we can start adding your products to store. And I'm going to add a product produced so you can see all the available options and you can see how you can do this and the best way possible. So going back to our Shopify dashboard, we go in here to products, and you go to all products and we click in here on Add a product. Okay, So we are adding our products in here. The first thing that you should be filling is your product title. Your product by title should describe what your product is about at the few, if any brand you name your products like each product has a different name, you should be putting your product name in here as well as some details about the product, but keep it short and keep it straight. Let's say for example, and here is our product I'm adding is red organic yards. I'm going to click in here, red lights in here. That organic cotton yarn for example. So this is my product title. Once someone read this title, can easily know what I'm saying in this space, what this product is about. After your product title, you should be writing your product description. If you are optimizing your store for SEO, you should be taking a lot of time into writing big descriptions. But even if you are not doing that, even if you are not optimizing for SEO, stellar descriptions are very important and it's estimated that adding a good description can increase your conversion rates, which means the number of sales by 70 percent. So it's not something that you can play around. You have to write good product descriptions and I highly recommend you to take that time and to rising. This description is not the same as with the collection page in here. You can actually write the descriptions and people are used to have big descriptions inside of product pages. However, while writing this description, take good care of formatting, which means use boiled, use bullet points she was numbering anything to make your description easier to be read. Okay. So you add your description in here and you modify it. I'm going to write anything and I'm going to show you how to modify it. So okay, So I DO this one description for this product for food, if you are a product that you are adding just told you for me, taking much more time and to writing the description, you should be going to big brands in your niche. Search for their descriptions, see what they are saying. Get inspired, include everything you found that inside of this description. So you go in here, I'm going to organize this a little bit. So for example, I started my description with a question. I'm going to make it bold and ongoing, for example, here toward but the fact that it is 100% organic, I'm going to show you something in here. I mentioned that this yarn has different colors, although in this product I'm only including one color, which is that at this is a red organic cotton yarn. But why I did that? Because in here I can simply. Select, and I can link my black organic cotton yarn in here product because what if someone landed on this page and she wants, for example, to buy the black yarn, It's very nice to link to the blackboard and here also to the white 11. Let's say for example, an additional offering yarns. I'm also offering patterns and I'm selling patterns are going here and I'm link two of my patterns, patterns that I have did using the same yarn. This is what we call it interlinking. When you mentioned other products or other pages inside of your description. And this is something very good because it increases your a pageview and people start going from a page to another on your store. So as I said before it, if this is an actual product that I think to my store, I would be taking much more time into writing the description and into including everything that I should be including inside of this description. Each niche is different. So if you are running a store where you sell iPhone covers, you will be talking in a different way than if you are running a store where you sell water bottles. That's why when you pick, when you know your niche, when you know it very well, you should do your research. See how to talk with your target audience, what you should be including inside of your description and what your target audience interested about. If I am editor, I would I be interested in the length of the arm, maybe on the feeling on their own, maybe on the colored degree, and so on. So you have to do your research, you have to know your market, you have to know your customers, and you have to write a description that includes everything you audience wants and needs. So this is it for the description editor, and he works in the same way as the collection page. After you finished in here, here you add your product images. Okay. I recommended to have several photos for the same product because when people are shopping online, they are not being actually, they are not actually able to see the product. It's not like stopping and real life. So what are they miss the most is the ability to actually feel the product and to make sure that the quality is good, definition is good, all of these details. So giving, providing images will make your users experience that battle because your customers will be able to see the products from different angles. They will be able to judge the products. They will be able to see the details that they will be able to understand when, what this product is about and how it works and so on. And also by providing a lot of details, You make it easier for you because you will get less the questions from your customers and you will get lower refunds and numbers and returns numbers because your customers made much more informed decisions. So include a lot of photos for your products. The more complicated your product is, the more information you should providing and the more details you should be providing. Keep that in mind. Also including lifestyle photos is very good because they give a different feeling about their product and they show the product in real life. So in here you include your photos and as the same, the same thing that we did for your collection images in here also, you should be adding the alt text of your images and order to include keywords related to what you are setting. So I gathered some random images from the Internet from Pixabay and I'm going to add them as if they are my product images. I'm going to click in here on Add Files. And I'm going to add these images. So these are random images, okay, Remember that? So I'm adding them in here. It's better if you name the images files by something that makes sense. So it can be, for example, cotton yarn, that cotton yarn and so on. After you add them in here, the first one in here, the image you put in here is the one that we'll be showing on your store, the first one. So it's better to have your direct product shot in here. Let's say for example, I'm going to put this one. And in here I can click and I can add text in here you should be including irrelevant keywords, something related to the image at your product, okay? And you can add as much as you want images into future if you wish, and so on. If you click in here, you can, for example, read this image or delete multiple images at the same time. After you add your images in here, you go down in here and you put a pricing. So here you have the item price. If this item is on sale, you put the price and the compared to price. If it's not on sale, you simply put the price, let's say it's $10, Okay? And in here, you put your costs if you wish. This is what helps you to deal with financial, financial side. If you wish, you can put it and you can click on charge taxes on this product here and here you can manage your inventory. So you put your stock keeping unit in here and your barcode and use abuse, so on. Okay, Here you can choose between letting Shopify Treg the quantities, or between selling even when you are out of stock. So you can decide, for example, to sell this item even if it's out of stock and you tell your customers that it's out of stock and it needs some days, two more days to arrive. You can do that. And in here you add quantities that they are available and the weight of the product for the shipping, you add some other information in here, and in here you add a variance. This would be another topic for another lecture. But in here you change the variance. So if you have a product with three colors, for example, you can be doing that in here. In hero change that SEO information about your product, the page title, the description, and the URL. So once you've finished with everything in here, you go to this bar in here. In here, you can choose a product type. If you didn't enter any product type before, you can start adding your product types. And in here you change the vendor if you want. And in here, you can add this product manually to a collection if you wish. Or you can add a tag for this product so you can add it manually to a collection. So for example in here you can address and you can create a collection that combines all that adds yarns on it. So for example, you create a collection with a condition where every yarn with that attack will be included inside of this collection. So thanks, can help you to create collections. You can do that from here. And this is it in here. You can choose whether to activate a product or to keep it as a draft. And in here you can choose your sales channel, whether you want to sell this product on Shopify only or maybe on Instagram or maybe on Facebook and so on. And you click on safe. And this is a, so this is how you create your products. And the next lecture, I'm going to show you the variance and help set them up. So stay tuned with me and let's meet in the next lecture. 13. How to Add and Manage Product Variants: Hi there and welcome to this lecture. And this lecture we are going to talk about variance and how to add them to your product. So here I am again inside of my product page. I scroll down in here two variants and I click in here. Variance means different options of the same product. For example, if you are offering the same product and multiple colors or sizes or so on, you should be adding this inside of variance. So I'm going in here to choose, for example, colors. You can choose between all of these type of variance. I'm going to pick color and I'm going to write in here, for example, red, yellow, pink. Okay, so I'm adding my colors. Great. I'll go in here and I save this. After saving, I go back to the variance in here, I click on the variant and here I changed everything about the variant. So for example, I can add an image for the variance. So once someone is choosing this variant, he would be showing, seeing the image associated. And I could change the price, the details in here that shipping and so on. And I can do the same for all of my values. And this is how you modify variants. You can add multiple variants, not only the color, so you can have colors, sizes, and so on. So this is a tort of this lecture. I know it's a very small lecture, but providing variance is actually something many people are interested about. Some brands prefer if they have, for example, multiple colors and they prefer to have one product image, one product page for each of the colors. So for example, in the case of this yarn may prefer to have read your product and yellow yarn a product, a product, other brands prefer to keep all the ions. For example, if this is the same ground and multiple colors, they prefer to have all the ions inside of one product page and offer variance depending on the color. So depends on how you are running your business. I prefer to have all the colors and inside of one product with what offering variance. Unless you are optimizing for SEO and you are targeting for color based keywords. In this case, it would be a totally different subject. So this is it for this lecture. I hope it will help you to create variants for your products. Stay tuned with me and let's meet in the next lecture where we are going to talk a little bit more about how to assign products to collections. And I'm going to make this super clear for you in case something is left on clear until now. So stay tuned and let's meet in the next lecture. 14. How to Choose Your Store Theme: Hi there and welcome to this lecture and this lecture I'm going to show you how to choose your store theme and what to look at and the theme you are picking out. So the first thing I want to say that with all the themes available on the Shopify Theme Store and also the themes available on third party websites like Inventor market and so on. It seems a little bit difficult to decide which theme to go with. That's why I don't want you to linger too much on this decision. I wanted to make it way easier for you to make this decision. So in this lecture, I'm going to point out the most important things that you should be looking at when you are browsing between themes and picking your theme. And in the next lecture I'm going to walk you through how to explore themes on the Shopify Theme Store and how to pick the theme that might be the best for you. So let's start with this lecture. The first thing you should be looking at when you are choosing your theme is to make sure that the theme you are using is responsible at mobile friendly, this is actually very important because mobile users make up to 50 percent of your total users. That's why it's very important to make sure that your store looks great on all devices. And this includes mobile, tablet and desktop. That's why whenever you want to go with the theme, take the demonstrator and tried to check it out on, on your mobile app, make sure that it is, it looks good. Or you can always check other stores who are using your same theme and see how their stores look on mobiles. And under next lecture, I'm going to show you how to find out the stores who are using certain themes and so on. Now moving to the, to this fact, as I told you before, if 50% of all online sessions are coming from smartphone devices and this happened in 2020. So you can't ignore the importance of mobile version. Many store owners, many e-commerce stores owners focus mainly on how their stores looks on PCs and laptops. And they totally ignored the mobile where in reality mobile version, the mobile version at the most important one. So moving now to the second, you should be taking good care of it is to make sure that the theme you are using loads fast on desktop and mobile. And this is something very important because people hate to wait. So when they land on your store, they don't want to wait more than two or three seconds to see the page loading. If you waited a few loading time is very big. People will be bouncing out and they would be leaving. Think about people who are at a restaurant and there is a huge queue in front of them. Money people will not be waiting in the queue and they will leave. And this is exactly what happens on your store. So you have to make sure that you install loads very fast. And the theme you are choosing has a great influence on your store speed. That's why this is something that you should be taking good care of. Now to you to understand how much the thing we are picking is good. Either you go to websites who are using your same theme and you check out their speed on Google PageSpeed or being pink down or on geometrics. Take that they must store it and also you check the speed on these devices. It's always important to pick a theme that already loads fast because in this way you make sure that at least your theme will not be the thing that's slowing your store. Now after that, the third you should be focusing on is to make sure that the theme you are using has at least a recently viewed section or related products section. While having these two sections or one of them is very essential for your store conversion rate, for interlinking and for many, many things. That's why every store now has a related product section or a recently viewed section. It's way better if you are ready. You are already using a theme that offers these two options. So you don't need to use apps to add the options because adding too much apps will slow down your websites. So our aim is to avoid using apps as much as possible. Let's worry, it's better to make sure that the team you are picking has at least recently viewed section, all product or related products sections. Now moment that point on before and it is to make sure that the theme you are using looks than it is to what you are aiming for. And this is actually very, very, very important, okay? So each one of us, while creating the store, has an idea about how he wants or she wants the store to look like. So think about what you ought you want to have in your store and search for that theme that looks the most like what you are aiming for. I highly recommend you to check out your competitors, see what they are offering, how their stores look like, see how the feeling is that what are the things that they are offering and they tried to find something that is familiar to what they are doing, but at the same time tried to stand out. So while picking your theme, you have to search for something that looks the most like what you want. Because, because this way you will make it easier for yourself to customize the theme and to reach the goal you want. And remember, we don't want to use a lot apps. So when you pick a theme that looks the most like what you want, you will be avoiding adding a lot of apps to adjust the team. So these were the main points in my opinion, you should be focusing on. However, here I have to say something very important. Picking a good theme for your store will change totally the user experience on your store, especially when it comes to navigation, to how the pages load and everything else. However, if you are on a budget and fewer, if you don't have money, you can go with a free themes at a start and then you can move to a more professional theme, okay? The most important thing is even if you are using a free theme, is to always keep that professional and look branded look branding is more important than paid theme. However, pay theme has had a lot of good points and good things that they can add to your store to make it better, to make it convert better, and to make it low trusted and so on. So this is a term for this lecture and the next lecture, I'm going to show you how to explore the Shopify Theme Store and how you can find that if you are looking for. So this sit for this lecture, stay tuned and let's meet in the next lecture. 15. How to Backup Your Theme and Work Offline: Hi there and welcome to this lecture. And this lecture we are going to talk a little bit about how to back up your theme. So I know that most of you are just starting out so you don't need to backup your theme. But let's say you've already installed the theme when you store it and worked a little bit about on it. So how we are going to back up your theme. So either you duplicate the theme and here you go to action. You'd replicate that theme and you work on the offline version or you download the theme files, you keep it on your PC and then you will have a backup plan. I usually do both. I downloaded the files and I duplicated themes and this way I would have two options. So after, after downloading your theme file, you can, whenever you want to restore your backup, go in here and upload the theme from here. So let's say, for example, this is my current team and I want to change it. What I can do is I can go in here Actions. I can go to duplicate. And now I'm creating a copy of my theme. So let's say you paid for ethene and this team now is offering an update, okay, so you can replicate your existing, existing theme and you can update the offline version. In this way, you will have time to manage the new update and to manage your storefront. So I am replicating this div. It's taking a little bit of time. So as you can see now I have my beauty theme, which is the live one. And now I have a copy. I can go in here and I can choose to rename it. Let me rename it for example, backup theme. I'm usually not that cautious with Shopify themes because I've never had a big problem with restoring any theme or with an ID of having a backup. But if you have some experience with WordPress, you would know that some websites sometimes crush. So we do in order to keep yourself safe, it's always better to keep a backup for the store. So now as you can see, it's taking a little bit of time because everything is happening at the same time. So this is my life theme and this is my offline theme. What I can do now I can go in here action and I can change inside of this theme instead of changing my life theme. So if I have a life theme that's working, I can change the backup or changed a copy. Then when I finished, I can publish it from here. Okay. I'm not going to do that because I don't have a theme already. I'm just starting from 0, but I'm showing, showing you that in case you are already in here and you already have restored and you don't want to mess. You live with your stored live while customers are visiting it. So this is it for this lecture and the next lecture we are going to start with a serious word. We are going to start with customizing your theme. So stay tuned and let's meet in the next lecture. 16. How to Change Your Theme Fonts and Colors: Hi there and welcome to this lecture. And this lecture, I'm going to show you how to start customizing your theme. And the first thing we are going to customize as your fonts, and later on we will be customizing the colors, everything else. Let me start from here. So I have added this team to my store. It's definitely we have big together. Here I have several actions, whether to preview, whether to rename, whether to replicate, whether to download the theme editor code or other languages. Well, concerning editing that God, this is something that you don't usually mess with unless you are doing something that you know about. So if you add a little bit familiar with the code, or if you need to want to need something that's related to Google Analytics autoclave you or something like that. It's okay to play around but don't mess with that unless you know what you are doing. Okay, and you can click on Customize to go to the editor section. Okay, let me start by previewing the theme. So you can see how my store now looks like. So now my store looks like that because I didn't actually done anything. This is the default theme as it was installed. So I'm going to close the preview and I'm going to start working on it. Okay, so I'm going to close the preview and I'm going back to my Shopify dashboard. Back to my online store, back to themes. Okay, back in heat. So this is a preview here. I have these other options but I'm not going to pick them. I'm going to start customizing the theme. So this is the theme editor and I'm going to explain to you a little bit how this works. So here you can know where you are working. So you are working on the homepage. You can choose to work on their password page, on the product page of the collection page, on the collection list, or on the blog, or on their card, or on the 404 page. So here you know what page you are customizing, okay, So this is the first thing you should know. Here you can undo and redo. Here you can exit. And here you can choose whether you are seeing the mobile version, the desktop version, or the full, full screen. So here I'm seeing them over. Here, I'm seeing that desktop, okay, and I know that I'm changing the live version. Okay, So this is the dashboard from here. From here I have my section That's actions that they are available inside of my homepage. Okay, So those sections are in here. Okay. And in here I have the header and the footer under her. I have the sections in between. So this is the header. These are all my sections and this is the footer, so Hadar sections, footer. Okay, this is something very important. Here I have my theme settings. If I click in here, I go, I go to this page where I have my different settings. Let me go back for a moment here I have the actions, whether I want to edit the code languages, view or view document documentations, okay, some themes offer documentations to help you customize the theme and we make it better. So if this is your case, always check that documentation's wherever you want to add something that's not added by default. Theme. Okay, So getting back to theme settings in here, I can change the colors. I can change the typography, I can change. I can do things with the surge, the social media, the phosphagen, the Add to Cart notification, that checkout, and the theme style. Okay, let me go first to the theme style. Here I can choose between default and between light. Something's offered different teams dies. This one doesn't offer something that the front. If I go in here two colors, I can see the colors that I can't be modifying. If I go in here too. Pornography, I can see how to change the typography and so on. In this lecture, I'm going to start by changing the topography of your, of your store. Actually, each brand should have a set of colors and should have some fonts. So if you are trying to look like a professional brand, you should sit down, take your time deciding what colors you should be using for your brand. You should, you need to pick a some accent color which has some strong color, some light color at the same time in order to have like a palette of colors that you can work with. So it's a very important, too precise your brand colors. And it's very important that you decide them based on your niche. So do a little bit of research, check out what are the best colors. For example, you should be using for an accessory store, or for a pet store, or for a cell phone store. So check out, do your research, pick your colors depending on that same folder. Fonts don't go with the phones that come by default with a theme because believe me, when you change the font, you would whole stored feeling will be totally different. So in here I can change the font, the font for the heading and the buttons. And this is the font of the body texts by heading and buttons. This is the heading and buttons. And this is the body text. Okay, so let me go in here. This is the default one which is the Helvetica bold. I don't have anything against the Helvetica bold. However, I prefer always to work a little bit on this and the tools. Some phones with a little bit of more like, good impression. Let me say for example, I'm going with Emily and I'm going to pick the amoeboid. Remember each niche, if even that your niche will be different depending on you would, even You'd fonts will be different depending on your niche. If I'm going with our very techniques, high techniques, I would be picking different colors from if I'm going with anything store. Okay. Because my audience is totally different. See, so you have to do your research to see which fonts are better for each type of audience and so on. Okay, so I'm going to select this here. You can change the size if you wish, of the adding it takes a little bit of time to load. I'm going to keep it a little bit lower, maybe like this. Let me see how it looks. This looks good. And here I can change my body text. I'm also going to change it to Amelie, but I'm going to pick regular. I'm going to click on, Okay, and as you can see, all my text on the page is now different, okay, some themes, the more professional when one's offer more options in here so you can modify, for example, the heading, subheading the buttons, the body tags. So the more complicated, the more professional your theme is, the more options you will be seeing in here. But it's the same principle. You can change the font of your texts. As I, as I said, sometimes offer more options. So things would be like one flexible. However, with our theme, we only have these two options to change and we have changed them. So this is how we change our typography. Now let's go back and let's talk a little bit about colors. Same four colors, okay, This section will be different depending on what theme you are using. But usually all themes offers offer you the option to change your title, okay, So your colors, so he didn't have the heading and link colors here you have the body text, heap, you have the sales price. Here you have the primary buttons that primary labels and the secondary labels and borders. I recommend you when you pick your brand palette to always give your buttons you're strongest color, the color that must that at a demo stand out because you want your customers to be able to spot your color easily. So if you have, for example, brown, white, and orange and your brand, I recommend to give the orange color to your buttons and always give all of your buttons that same color. Because in this way, you will always be leaking the orange color to their call to action and to the decision. So it's always better to keep this consistent and even in your image, even if you're all marketing, you should be always sticking with your brand colors, brand parenthesis, very important for the branding. Okay, after that, you can change the form fields, which means where people enter their email or their name or things like that. Here, you can add image overlays. Image overlays. It's when an image we have tried using elements. The theme is adding an overlay over the whole image. It's like to lower the sharpness of the colors. You can choose the background, the color text, and the opacity. And here you have borders and lines for the pictures. I'm not going to change anything from that from here, but you can do that later on when I'm starting building my theme, I will see if I need to change some colors, but mainly this is it. Okay, so in here you change the colors and the fonts. And let's see if there, if you have anything on their search, we have enabled product suggestions. I recommended to keep it. It shows you saw vendor surprise. You can do that. You can depends on what you want. Okay, here we have social media and this section, you can link all of your social media pages to your store so you can put your Facebook, your Instagram, everything in here. And we go back in here. And also here you can allow people to share their posts, to treat it on Twitter, autopilot on Tantalus. Here we have the favicon. Fabien is the small little image that shows on that Tabs. Okay, let me show you. So I'm going to leave my view screen. This is the fabric and Aki, if you have a logo you have again, should be a smallest size of your logo or maybe the first letter of your stored or something that's that easy at that nice. I'm going to show you how to create a logo later on, maybe in the next lecture. So stay with me, I'm going to talk about that. So you add that having a year, but you have to make sure that it should be scaled down to 32 by 32. So I recommend you to keep it the simplest possible, maybe your small logo, maybe the first letter of your brand. And this is it. Here you have the Add to Cart notifications. It's a straightforward here you have the checkout, it's if you want to customize the checkout and this would be a topic for another lecture and this is it. Okay? So this is mainly wet. You are going to change and the overall settings of the theme. However, in the next lecture we are going to talk about how to create your logo and your polygon so quick and upload them to our soil and we can start with actually customizing the story. So stay tuned with me and let's meet in the next lecture. 17. How to Create a Logo for Your Store: Hi there and welcome to this lecture. And this lecture I'm going to show you how you can create a logo for your story. Actually, that in my opinion, the best option would be to go to Fiverr to hire someone to do that for you because this would give you the most professional option. And I also recommend you to go with several freelancers, not only to go with your first option, because this way you will get several options. And also it would be better if you can offer some inspiration for the people who are doing good logo so they can know exactly what do you want. But let's see stare, you want to design new logo by yourself and you want to take the shortest road. And to make things very simple, the first thing I recommend you to do is to go to hatch full from Shopify. It's a place where you can create logos and seconds for your brand. So you go in here and you click on Get Started. And here you pick your industry. So if you are in fashion, health and beauty, home and gardening, and so on, actually, my industry is not very clear in here. So I would pick it as maybe in here. Let me see. And maybe this one maybe it's between these two. Let me see if there is something else I can add. I think this is it. I'm going to click on Next. Okay, here I'm adding a virtual styles. So visual style like what are the things that I'm looking for? I'm looking for something like that or like that and so on. So I would pick something that looks like what I like. Actually, it's none of the above. My business name as knitting needles. My slogan, I don't have one. I can create one if I have, but I don't have one. So I'm going to click on Next. Here, tell us where the logo will be used. Some, I'm going to pick online store or website, social media. I don't use the discard large surfaces. I don't think physical store, I don't think. And I'm going to click on Next. So they have made these logos for me. Well, let me see if there is something that I like and I can go with something that might actually be nice. Very simple, Very nice. Let me see what other options do I have? Maybe this one is nice, but it's a little bit big. Let's say for example, I decided to go with the one I liked above. Let's say this one. Now I can change that a little bit, okay, so I can modify some things in here, not everything, some things. So I go in here two fonts. I can't change the fonts. For example. If I want to pick this one or maybe this one, and so on. Year I can change the handwriting. And here I can go to colors, and I can change our colors to make them fit my brand colors. Okay. It's not that good, not that good. Let's say something like that. So now I have my logo. I can click on Next and I can download the logo. But as I told you before, I don't think that with this option you will get very professional logos. However, if you want to go with it, if you think that you can find what do you need in here, this is an option that you can use. Okay, I'm going back now and I'm going to show you a different tool. This tool, it's called Canva and I use convert all the time. I use all the time. It's one of the tools either tie lot and it allows us to create logos. I'm going in here and I'm going to click on logo. And I'm going to click on logo and general. And see the templates provided by kava. Kava has a free version and a paid version. And even with a fever virginica, you can do a lot. So I recommend you to try it out. It's an awesome tool. So as you can see here, there are many options that you can start with. Many of them are way nicer than the first tool I have showed you. Let me try to see if there is actually something that's related to anything. So as you can see, there are many things that are related to eating. Maybe this one or this one, or maybe this one. They are very nice. I'm going to pick simply this one. And I'm going to modify it. So this is my logo. It looks very good. If I want to change it, I'm going go in here and see what they are suggesting at other options. Okay? And also I can scroll down and see other options, but I'm very satisfied with this option. Okay, I'm going to change this to my brand name. I can't do it like that. Okay, Sure. If you, if you are designing your own your own logo, you should be taking much more time into doing that. I'm doing that quickly just as an example. And here I have my editing. If I want to change this to fit my blending colors here in combat, you can go in here as you can go to your homepage and you can choose your branding kit, which means you can choose your colors and your brand colors. Saved them in here and you blend fonts and save them in here. C2s them directly whenever you are designing something and you why this is important, because then you are designing social media. Social media posts when you are designing good emails, the graphics, and you are doing anything related to your store. It's always good to stay consistent with your brand, colors and fonts. So here I am. I'm going in here to Styles, and I'm going to click in here on my, my, my brand colors. And as you can see, everything is changed, changing by my colors blend. However, for the header section, we need a logo without a background, and we need something like that for the Facebook page and Instagram page. Okay, so I'm going to download a toolbox ready to copy this one. And I'm going in here, I'm going to show you how we can download this without having the background you go and you to download. And in EDA choose to have a transparent background and you simply download the download this image. Now, I will be having a PNG, not a image with a background. I will make this a little bit bigger. And I'm going to download it like that. I guess I didn't mention that I want the background transparent. Yes, I need that. And I'm going to download this one. So now I can download this one in here, and now I have my logo. Okay, so now I'm going back to my Shopify in years, so my theme editor. And here inside of header, I'm going to select a logo. And I'm going to add my logo. So now I have my logo in here. If I want my logo to be like to have a horizontal, horizontal layout, I can go back in here. And instead of having the square shape, I'm going to do that again. I can go on to resizing and I can choose to resize it. I can simply make it smaller, like this. Okay, and simply download it another time with a transparent background. First-world, if you are doing SEO, you should be changing everything to match your keywords, which means you should be putting goods store name in here, Let's say it collects knitting needles, logo. Okay, and I'm going to back to my Shopify store. I'm going to upload the Senior Design. Okay. I should have clarified before let me drop it before. Let me drop it because we didn't resize it on Canvas, so it would be better FE, crop it in here like that. Going to save. I'm going back to in here, I'm going to upload. And I'm going to upload my new logo. It's a little bit small, maybe. Let me see. Okay, this looks better for sure if this is a store that I'm working on, I would be going back and forth with that, but I'm doing this super-quick. Okay, So this is my logo. Now, let's say I want to take this small ion as my fav again. So what I'm going to do, I'm going to remove this. I'm going to resize this and to 32 bytes to because this is the requirements of Shopify. And okay, it should be 40. I can't decide it online or not a problem. Okay. And I'm going to click on resize. Okay. I'm going to make it alphabets like that. Be good. Ok, and I'm going to download either you keep the background or you remove it. Let me say I want to remove it. I'm going to download this. So now I'm downloaded my fav again. Let me call it fast again. Let me go in here. 25 again, select Image Upload. So let me now try to preview my store to show you how this may say first. Let's go in here. Let's go to view. And as you can see now I have my logo in here and I have my fav again in here. So these are very small things that you can do an automaker store look better. I hope this lecture will help you to create awesome logo. But remember I always recommend to your command you either to use Canva all to go with a freelancer to create a professional logo for your story. So if you have some clear, some skills with Photoshop or with Jim, and you are good with that for sure. Go and design UDL, go by yourself. But if you don't have any scale, when it comes to designing, It's always good to hire someone or to use Canva. So the set for this lecture, stay tuned with me and let's meet in the next lecture. 20. How to Search for Themes and What to Look For: Hello there and welcome to this lecture. In this lecture I'm going to show you how to use Shopify themes stored in order to find the perfect theme for your store. Well, the lecture you are watching now has been updated after Shopify online store 2, because now we have so many new themes to choose from. And in this lecture I'm going to show you how to explore these themes and how to find a fifth theme is good for your business or good for your store, so you can choose it. Well, this is the homepage of Shopify themes. And as I told you before, I prefer if you pick a theme from this website because it's a Shopify theme, it was validated and approved by Shopify. I prefer if you don't use anything from a third party. Because even if the theme you are buying is very fancy and expensive and it's coming from a very well-known web developer company. It's still not approved by Shopify, it's still not here. So I prefer to pick one from the themes in here. Their prices are okay. They are usually vetted, verified, and they perform very well on desktop, on mobile. And they always they are always updated because to stay on the Shopify Theme Store, they need to be updated. So for example, a bunch of phone lines start to 0 happened all the themes inside of Shopify Theme Store where updated to be to be equivalent or to work with the new update. So this is the homepage and as you can see, this is one of the first Shopify free themes that you will meet. It's called taste. And there are six different free themes provided by Shopify. I guess they are either six or seven. We are going to see them in a few minutes. So this is the first team and as you can see in here, they invite you to explore or themes. In here you can explore if you are by, let's say by category. So you have selling in person, selling internationally, then you have the style, then you have browse by industry. If you want to directly go to a theme related to your industry, what I do usually is to go in here to all themes explored from here. You can always go in here to choose from here, to start from here, or to start from here. These tabs and environment to help you to make your work easier. But I prefer to go in here from all themes and start from here to filter my results to find what I want. Well, first, you need to make sure that the team you are choosing is equivalent or it works with online store 2. But first you need to make sure that the team you are using was updated to Shopify online store 2. So this option is a must. You need to filter the themes by this option. This is the first thing I need you to do. Then in here, you can choose to see the free themes or to see only the Pythium. It's a paid themes, It's up to you. Well, this is one of the questions I received demos, should I go with a free theme? Or it is enough to go with a free theme, or should I pay for a professional theme? Wet? As a personal preference, I always prefer to invest on a good thing because I think that creating your store is a job that takes time. And I prefer if you do it once and you will do it right? So you go directly with a professional theme with all the options you are looking for. However, if you don't have enough money and if you are not willing to invest, it's fine to go with a free themes, especially after online store 2, because now you can even make better stores with these themes. But I repeat, if you have some money to invest, I recommend you to buy a professional theme. And remember it's a onetime payments, so you only pay once and that's it. At most of the Shopify themes, prices are between $250 to $350 and that's it. It's a onetime payment. I will start by showing you the free themes. Then we will go to explore the P Themes. And I'm going to show you my favorite themes in here. Now, let's start with a free theme. So as you can see in here, you can see the list of all the available free themes and you can explore all of them that don't theme is the first theme Shopify released after Shopify online store 2. And it's one of the very best teams in this collection. You can try to explore all of these different options, but I'm going to start with this one. Since this this is the oldest one, in my opinion, the best one. When you go in here you can see that this team is free. You can check out the free demo and you can check out, let's say the most important points about this theme. As you can see, it's great for clothing and accessories. It's suitable for any catalog size, and it has this special features for anything you are exploring inside of Shopify themes, you will see these options. So you can know if you are choosing that option for your store. When you scroll further down, you will see the main key elements of the theme, as well as some more features in here, you will read the reviews and you will see if there are any support and recommendations. If you scroll further down, usually you will see more themes by the same developer if it's not a free theme like this one. So for example, here we have more themes by Shopify. And if you aren't exploring a professional theme, paid one, you will see other stores that are using the same exact theme. So you can get a feeling about how your store will look like. We're going to see that also in few minutes, but stay with me. Going in here to view them are stored in order to explore this theme. Here, I am checking out the desktop view. If you scroll down, you can find, you can check out the homepage, see what sections they have, and so on. Why God checking if the aim, what I recommend you to do the most is to check the homepage, make sure that it has all the sections you want to have inside of your store. So for example, if you want to have a shop, they look section inside of your store. And if the theme you are checking out doesn't have this section, don't buy the steam and don't go with it. If you sell clothes or if you sell items that go together, choose a theme that has the option you want, which is sharply and they took all bundled together or so on. Also, the second thing I recommend you to do is to check out the product page. The product page is one of the most important pages on your site. So go to the product page. Some things have very big placements for images and photos. So if you can provide high-quality photos like these ones, for example, maybe it's not the good choice to go with that don't seem because you can't provide this high-quality photos. I'm going to show you actually a theme. I guess it's called let me check out. It's a paid one, actually, but it has a very huge placement for photos. So unless you can actually go with this huge photos, your store will look very bad. It's called, I guess, showcase, if I'm not mistaken. Yeah, It's this case theme. When, for example, you explore it. If you go to any product page, you will see that the size of the product image is extremely big. So let me show you. So can you see the resolution than in that resolution is extremely big. So unless you can provide such photos, I don't recommend you to go with a theme that showcase that much. You would photos of our huge images. Same if you go, for example, with this name, this view in here, it's another option. You will see, for example, that for the product page, they have this huge placements for photos. Unless you can take huge like ls, you can produce such photos. Non go with this theme, go with a theme that has simpler placements or smaller placements for photos. Let me go back to that old theme because this is the theme you are checking. So going good on all themes, going to this one. So the product page of the adamantium is actually good. It has in here than needed information also, you had the tabs are so you can add sections. Well, the good news after Shopify online store 2 is that any page, any, any page digitally on your store can be modified and can be improved. So before Shopify online store 2, we were only able to add sections inside of the homepage. So we were able to design our homepage as we wish. But when it comes to the product pages, to the collection pages, to the normal pages, we were forced to use one template which was provided by default by the team and it was very basic. So you have the photos, you have the product information, and that's it. Now with Shopify online. So 2, you can modify your product pages in the same way you modify any landing page or your homepage. So you can add sections, you can add elements, and I'm going to show you all of that later through this course. So that's why using finite installed to 2 is very important because it allows you to create a better product pages with more information. We're showing more photos, more perspective of the product, providing more information about the product. So you can help your customers to make informed decisions whether to buy your products or not. Okay, in addition to checking the desktop view, I always recommend you to check the mobile view. As you can see, for example, that don't theme is that okay team, it's not a bad thing, but it doesn't provide any of the advanced options I look for while I'm checking. Let me show you, for example, the difference between this, the difference between this team and another professional team that I usually use. And I'm going to show you why I always go with the professional paid themes. Going in here, going back in here to all themes, I would precisely choose the paid themes. And I will look for one of my favorite themes in here. Let's see if I will directly find her, find it or if I need to search Google. So let me go to the second page. It's not yet here also. Maybe I have missed it, but anyway, I'm going to search for it on Google to find the directory. So this is the theme. Focus is actually one of my favorite Shopify themes because it is very professional and it offers so many options that I like starting my year. You can try the theme for free. You can download it to your store. Try it out. Have a feeling about how your skull, your store will look like before even purchasing it. You need only to purchase it when you want to make it live. So when you need to publish it. If you scroll down in here, you will read and know more about this team. And if you scroll further down, you can see a store is using focal, which is something I told you about before. So you can see other stores that are using your same, the same theme. And then here you would find more information and then hear more and more. Let me go to the demo store to tell you exactly why I like this team. So you can know how to choose the theme for your store. As you can see, when you will end in the store, you can notice that they have the slideshow, which is common between all themes. And in here in the first slide, I can see, for example, that they are providing two different buttons. So I can have one slide linking to do different things. But usually I always prefer to have one clear call-to-action button. But if you sell, for example, man and woman closing clause and you want to directly read your customers toward the right collection. This is perfect. You can put a woman and man button, buttons, and that's it. So this is this slideshow. This is nothing fancy. It's common between all themes. In here, I have the header and these are the mega menus. So these usually that may go and use you only find them on professional teams. I don't think any of the free themes have these mega menus. They are amazing because they showcase a product inside of the navigation menu in a very elegant and in a very visually attractive way. So, yeah, Megan news is one of the things that I like about professional themes going in here. As you can see, I can, I have the navigation divided between topics. We are going to see how to do that later through this course. And in here you have the collections. If you scroll down in here, you can notice that they have in here a section showing the different collections. I like this section because it allows me to showcase different collections while only taking the same states placement from my homepage. I liked this section, but this is not the reason why I use this theme. One of the reasons why I use this theme is that when you hover over the products, you can directly add them to cart in here from the homepage without accessing even the product page, I can click here on Add to cart. And I will have my product added to cart as simple as that. So my product now is added to cart. Now, if you check another demo store from the same theme, you will notice that they have a driver card where you can see the items you have inside of your card. If you want to check out, you can check out directly. We are going also to see that. As you can see, this is my cart and I have two items at the theme tells me if I'm already eligible for free shipping or not. So as you can see in here, they are telling me that I'm eligible for free shipping. So why setting up your theme settings? You can tell them, for example, that you offer free shipping or over all orders for all orders above $50. So in here I will know that actually that I have free shipping. If my item is below the free shipping threshold, they will tell me how much I still need to add to my car to get the free shipping. Also in here, you have some product recommendations, which is amazing. You can change these that are coming by default using Shopify. I go to them, but they are already very good. And when you click it on checkout, you can check out that actually. This is one of the reasons why I like this theme. If that product you are choosing has variants. So instead of adding directly to cart, you can click here on quick view. You can view it that actually in here and added to cart as simple as that. Okay. Now scrolling further, this is another section which is an amazing section to talk about your brand or talk about different topics or maybe about your brand mission and so on. And here you have the shop they look or bite together section. It's an amazing section because it allows you to increase your average order value. So for example, if you are selling bags, you can show a photos, showing the bag with a matching shoes and you can tell your customers to buy them together. So here when I click on the point, I can directly click on quick view and I can add the product directly from here without the need to go to the product page or to check the product page. I can do everything from this section. And the good news is everything you've seen here. Everything, all the sections you need, you see in here are sections that you can add to your product pages. Inside of your product page, for example, going back to the bank example, you can add a section showing the bag with the shoes. And in this way they will be adding the shoes to their purchase and you will be increasing good average order value. So this section is amazing. I like it so much and it is very good for so many types of industries and so many businesses. If you scroll down in here, you will find the blog, you will find more sections and so on. Now, if you, if you choose to see the mobile view, that is also something I like so much about this. This theme is that when you scroll down, you can tell them to keep the Add to Cart button in here. So when this appears, I have down below, which is very good for user experience that allows customers to buy easier. It's something very, very recommended. And also, if you go to the homepage, you can see that the shop they look or the product recommendation sections also works like a sharp. So when you click in here, you have that quick and nearby you click Add to Cart and you buy it. And then here you have the card, It's perfect, everything is clear. You also have that you may also like in here section if you want to add more products to the cart. So this is one of my favorite themes because it provides so many sections and so many options related directly to the marketing, related directly to increasing the average order value of the customer. Related, related directly to improving my Cs. It's not only about the design, remember, it's also about the smart techniques that you use in order to push customers to buy more from you. Now adding to the collection pages, for example, if you go in here to the iPhone cases, okay, when you land on this collection page, as you can see they have in here the smart filter with images, which is also an amazing option. Unification is very important because the easier and more visually attractive it is, the easier for your customers to buy. If I can directly find what I'm searching for. This is amazing. This is what you should be looking for while you are organizing your navigation, while you are organizing your collection pages, you'll forget everything else. You need to make sure that your customers are able to find that they are looking for these, let's say virtual menus. These visual filters are very good because they help their customers greatly. Also in here you have more filters. If you go to the product page and here you have the photos in here, that sizes are very normal. They are not very huge. Well, yep. Customers can always zoom and see more in details, but it's still a very acceptable size. In here you have the tabs, so you have the description that tag the review you have in here some product recommendations, which is also amazing because if I'm buying this product, for example, you are recommending this, these to me, most probably I will be adding them to the card. Remember, this is very similar to what Amazon do when you go to Amazon. They suggest related to products, frequently bought together products in order to help the customers to find things they need. And at the same time in order to increase the average order value. Well, the good news is after Shopify online store 2, things like this, the bite with section that the text specifications, they are now dynamic, which means that for each product page, for each product, I can have different content inside of the sections. For example, they buy it with, for this product, this iPhone would be different from another product I have on my store and I can do that using something we called metaphase. I'm going to show you how to use with their fields. And they are amazing. Believe me. They are a little bit not complicated, but I'm, I'm very sure they are new to any of you, so just stay with me. I'm going to explain to you everything in so much details. But as I told you now after Shopify online store 2, you can create dynamic sections inside of your product pages, sections that differ from a product to another before Shopify online store 2, the only dynamic sections where the product photos, the title, the price, and the description. Now we can create as much as we wish of dynamic sections. And not only that, we can have photos, we can have text, we can have PDF files, whatever we wish. I'm going to show you all of that later through this course. So this is the product page. It has a frequently asked questions section, which is something this theme, an option section this team provides and so on. So as I told you also before, after Shopify online store 2, now we can add sections to our product pages and the same way we used to add sections to the homepages. So we can also modify and optimized our product pages in a very amazing way. So we can add as much sections. As I told you before, after Shopify online store 2, now we can add sections to the product pages. So these sections are all in here. We can add them, we can remove them, we can replace them with other sections. And we are going to see all of that through this course. So this is one of the themes I liked, but this is not the only thing I liked that aren't many good things on the Shopify Theme Store. When you're going into all themes. And if you decide to go with a P theme, you can after the filtering by their paid filter by the industry. So if for example you sell home and garden, you go that I came here to home and garden. And you explore these themes. Usually when you filter by industry, you will see specific sections related to the industry itself. So foreclosing, maybe you will need chocolate, they look maybe for garden and Tom, you will need something else. That's why I recommend you to use the industry as one of your filters. It makes your life way easier. And not only that, when you see something or products similar to what you sell, you will be able to get a better feeling about how you store will look like using this theme. Yours is also one of the themes I like. It's a very good thing. Actually. It's, it's it's new to the team, so I guess it hasn't been released after Shopify online store 2. It is amazing. It offers so many options. I really like it. If you go to the demo store, you can see how professional it is. You can see the amount of options it has. It's a very, very good theme and it even has one, I guess, one demo with a one product store. So if you sell only one product, this is gonna be a very good inspiration store for you. Okay? So, there are so many options in here and so many themes in here to choose from. I'd recommend you to take your time to explore by industry, to explore by, in here, what are the options you are looking for? So for example, the layout that design that catalog style. Not long ago we was able to adhere to even filter by the options like if you want to shop there, Look, if you want to, if you want a section about delighted to buy it together and so on. I'm not sure why they have removed this from here, but it was very, very useful. So what I recommend you to do is to go in here and explore the themes, see what you like. Make sure that the theme you are choosing has almost all the sections you want to have inside of your store. Remember, you can always check the demo source. You can always throw anything you are seeing before even buying it. One final thing I need to say before finishing this lecture, and it's actually one of the most common questions I received whenever you, I've taking ethylene, whenever you are checking, everything you see in one of the demo store is something you can do in your, in your, in your neuron stone. Here, exploring the prestige team. So let's say for example, for the alert, then we'll store, I saw that they have, for example, this section, even if you don't see it and the other demos, you can still apply it, okay? Demos are different ways of how they use the theme to create stores, but you can combine features from them. They are just a different way to showcase that theme. The option you see in one of the demo store is applicable for any them or you start with. So that's it for this lecture and the next lecture I'm going to show you how to add it mean for your store and how to start using it. So that's it for this lecture. I hope you enjoyed that. Stay tuned with me and let's meet in the next lecture. 21. How To Manage Your Navigation Menus: Hello there and welcome to this lecture. And this lecture we are going to talk about the navigation menus. And usually on any store we have two main navigation menus. First it's the one we have and the header, and the second one, the one we have in the footer. Well, these two menus are different and they serve two different purposes. The main menu in here, which is the navigation menu we put on the header section, is the most important menu because it's where new visitors go to explore. But your store offer all to find what they are searching for. So this is an example from pipette. Pipette is a brand that offers a wide range of products related to shampoo, to skincare and so on. As you can see, when I ran on this store, the first thing or the first place, I usually go to an order to understand what is happening is the navigation menu. And then here they have divided their products by collections. So I can find easily what I'm looking for if I'm a mom, for example, and I'm looking for products for my babies or for my kids. I can directly go in here, click on kids or hover over kid. And I can see all the different categories they have. Same for baby if I'm a mom, this is where I find the products related to me or simply by checking the header from here, dam and you bought from here. I knew directly that this brand sells products related to babies, kids, moms, and dads, and so on. Well, if I'm a father for example, I would know that actually that I have no products in here for myself. This navigation menu play plays the role of a map. So imagine like you audit a piece and you want to reach your destination. This is how you should do organising good menu. You should be organising your menu so you can help your customers find what they are searching for. Or if they are not searching for a specific thing to help them know what you said. Usually when any visitor lands on your store, this is the first place where they would be going. This is how we behave when you go to install, we go to the menu, we try to find what we are looking forward in that I need you to think deeply about your menu and how to organize your items, and how to organize your products inside of this menu. One tip I always like to give all my clients is to go to big brands in your niche. They don t need to be selling your same exact product, maybe something similar, but choose brands that target your same audience and see how they have organized their menu bars and learn from them. Going back to this example in here, as you can see under baby, they have organized their products by the type of the product. So we have in here the shampoo, lotion, the bond that also that ocean. But here they have divided the product by the problems. So if I'm a mom and I want a solution for my baby, he has a dry skin. The first place I would go in here to baby, then I would go to this section here because I know and I find the solution for my problem. Or if I'm a mom of a baby with a sensitive skin, that's what I would go to the sensitive skin. But if I'm a mom and I won't lotion for my baby, I can find the solution directly from here. So as you can see inside of this tab in here, they have led me to their products in two different ways. The first way is by showing the problems. So if I know my problem, I can directly find the solution. And the second way is that type, because people who are lending on the store searching for products for their babies, they either know exactly what they want. So either they know the product they want, or they have a problem and they want the solution. This is a very smart way of organising the menu. Going back to kids, we have the same thing. Going back to moms, we have the same thing and so on. As you can see, they have started their menu bar with their bestsellers. And this is also, in my opinion, smart. Always starts your menu bar with the most important thing to you. Bestsellers are wrestlers for a reason. People like them for a reason. So if you have a big catalog of view of products and you don't want to confuse your customers. And you want director to give them what they are looking for. Having a bestseller tab in here is amazing. The same tab, I recommend you to have it inside of the homepage. I recommend you to have a bestseller section inside of your homepage. We will talk about this when we reach the homepage lecture. But this is very important. And here they have their sets which lead directly to that Sets collection and about, and then here they have divided it by more information about the brand and so on. Now, let's see another example from another brand and let's see how they organized that header section. The second example we are going to see is a low yoga. Yoga is a very famous brand and they sell sports outfits, as you can see. And we are going to check the menu bar. The first item they have is then u, n, and inside of this item they are linking to that in US collection. In the previous example, we have seen the best sterile collection at the beginning. And also this is another smart option to include the new end because if a brand have so many collections. Brand always come out with new products and new inventions. It's very good to have a new and collection. This is usually very recommended for clothes brands, for shoes brands because they have up to four different collections during the year. They have their winter collection, the summer or the fall collection and so on. So having a new collection is actually very good because usually when people land on a store, if they are repetitive customers, especially they are looking to the newest things like when you go to Zara, the first thing you will be looking at is then New and collections. Same in here for a clothing brand. So after, for a close bond, same in here for this brand because they sell clothes. After that they have woman, men, and then they have beauty and dwellers and they have a, they have swept. As you can see, they have divided in here that products between their main sections, the main collections. So a woman, man, gear, beauty, wellness, and swim. These are the main collections. If I'm a woman, I would know directly that I should be going in here to find what I'm looking for. So I landed in here. And in here they have first the trending section, which is also a smart thing. Then they have their eyebrows and tubs. They have the buttons, they have that jackets, they have the accessories, then they have the active activity. Because if I do yoga, I might not be sure what brushes I use with what lagging and with what accessories. So what they have done is they helped me by allowing me to search products or to see them by activity. This is the same thing to what pipette that they have divided the product between problems and between product types. And here they are doing the same. They have the product types than they have the activity. Here. They have that trending, so they have the new arrivals that the bestsellers also they have shocked by color if you wanted to find something in a specific color, and as you can see, they have pattern and the prints and so on. So if I am a woman lending in here, this menu in here can help you, can help me to find exactly what I'm looking for because it answers all of my questions. First, I have my own collection under it. I have everything I'm searching for. Same if I am a man, same for gear, and so on. This is exactly what you should be doing inside of your navigation menus. I see so many people thinking that this is something they took for granted. It's easy. They just named some collections and that's it. That's not the case. You shouldn't be thinking about your navigation menu in this way, your navigation menu is one of the most important elements of your store. You need to think from a customer perspective, from a visitor perspective, how they should be seeing your products, what kind of organization or what kind of setup. So you should put yourself in your customers shoes and you suit find the best setup that will help your customers to find what they are searching for through the navigation menu. Because if your navigation menu get them confused or if it doesn't reply to their questions or help them to find what they are searching for, they will leave without buying. And if a new customer is standing on your store, and if the navigation menu didn't help them to understand what your store sells, that's it. You lost a customer, you lost this visitor at maybe for ever. So, take good care of organizing your navigation menu. And as I told you, I highly recommend you to check out big brands and new niche to learn from them and to apply something very similar in your store. Now we've been moving to Shopify to see how we are going to create a navigation menus inside of Shopify. So you can learn how we can create your own navigation menus. So here I am inside of Shopify and this is a demo stored and it has only four different products in here. They are all related to hair and skin care. What I'm going to do first is to create my collections. So let's say for example, we are going to apply the same example we have seen before about dividing the products by type and by solution. So the first collection I would have is to have a collection for hair and to have a collection for skincare because I have both types of products, I'm going to need to collections. I will create a new collection and I will call it skincare. Okay. I will choose this to be manual, but you can choose it to be automated. When you choose automated, you create a condition and based on this condition, your products will be added to the collection. So for manual, I will click on Save. This is my first collection. Then I will go and create my second collection. And this time the collection would be haircare. Now I will go back to my product and I will assign our divide them between these two collections. So let me, let me before just create some other collections. I'm gonna create another collection, but this time it's based on the problem. So I'm going to create, for example, a one for sensitive skin. I will create one, for example, for another one related to skincare, let's say dry skin. I will move in here and create a collection, for example, for what else do we have under skin? Maybe we have a dry, we have sensitive. Let's say we want to add a collection related to hair for, let's call it For example, this time it's divided by type. So shampoo. Let's put cream as another collection. So let me go back to the products in here. So starting by this product, I'm going to assign this product to two different collections. That first collection is gonna be the skincare because it is related to skincare. Then I will have it under let's say this is for dry skin, under dry skin and also it is a cream. So I'm gonna give it also this collection. Okay, it's now under three different collections. I'm going to save it. I will move to the second product. Now, this is the one in here. I will choose it under dry skin. I will who is a skincare? And I don't have a type, and I will click on Save. Let's move to the next product. This is a shampoo. So in here other collections, I will have hair care, I will have shampoo. You can have so many other options, like, for example, the hair type and so on. It's just an example. In here. I will put it under cream, I will put it under skincare and sensitive skin. Okay. So these are my four different products and I have assigned that I'd collections for all of them. Now what I need you to go to do is to go to the online store and to go to Navigation. And what we will be changing as the main menu, It's the homepage menu. So now it has home, it has catalog, it has contact. You can have a Home tab, but it's not necessarily honestly, the catalog is a tab, I guess that shows you that showing you everything. But we are going to delete all of this to start with something else. We didn't create a bestseller collection. Let me go to the products in here to the collections that may create a bestseller one. So create collection, I'm going to call it a bestseller. I will go to the products and assign this collection maybe to this one, for example. So in here, I will add bestsellers. Save, let me pick another one to add to the collection. So it's also a best seller. Okay. Going back to online store two navigations. And then he'd go into the main menu. The first step I'm going to create, it's going to call it a bestseller. And in here I will be linking to the collection that's called best-sellers. So this is my first step. Now let me create another tab. This time it's going to be skincare. If I don't want it to link to anything, you can add the hashtag like this, and it's not been linking to any link. But instead I will link it to the skin, skin care collection. Then I will add the other main menu, which is the haircare collection. I'm not sure if this is one word or two words. I'm going to keep it as it is. So now we have our main collections. What I'm going to do is to create sub-collections. So under the skin care, I will have another collection. This time it's gonna be shocked by problem. For example. I will make it like this so it doesn't link. So anything I would click on Add. I will move it to be under skincare. So now it's a sub collection. Now I really create undershot by problem and other sub-collections. This time it's gonna be shop by type. Also, I'm going to add the hashtag. Click on Save. So what I need to do now is to create sub-collections for the sub collection. So I'm going to click here on sensitive skin. I will choose the sensitive skin collections. So in here, this is the one. I will move it like this and put it under it. So now it's a sub collection. I will add another one that's say dry skin. Same for the show by type. I'm going to put shampoo. Shampoo. It's not even in here. I'm going to put the cream and I will link to that cream collection. Okay? So this one is gonna be under here, under clean. You can do the same for the hair care. I'm not gonna do that. I will click on Save Menu. So as you can see now I have these 123 main types and under it as skincare, I have the sub collection which is shocked by problem. It has these elements. Then I have the shop by type, and it has this element. I would go back to my online store. And in this case I'm using that don't theme, which is the one that comes by default. As you can see, this is my menu in here showing on the header. If you click on header, you can see that I need to include my logo. But you can also see that the menu I'm linking to, and here is the main menu. You can change this and replace it by another menu if you wish. But that is no reason because we have updated the main menu. So when you click in here, you can see that I have this sub menu. Then I have the sub menu in this free theme, which is that don't theme, this doesn't look very good. But if you are using a professional theme, this is gonna look different. It especially if you can use mega menus. So when you click on the header and here you can see all the elements that you can change. So you have background, the colors. You are going to see that in the next lecture. Okay, I'm going now to see how this may differ if you are using a professional theme, we're going to use the focal theme as an example. I'm going to download the trial and show you how this is gonna look inside of the focal themes. So stay with me. This is the focus theme I want to use. I will click on Try theme. Here I will put my URL and click on Login one more time. So now the theme is added to my, is being added to my store. And I will have it under the themes section. So as you can see, this is the theme trial. What I need to do is just click on Customize. You don't need to pay anything unless you want to publish a theme. Okay, So this is the theme. If you go in here to the header, you can see that we have selected our main menu. What I needed to go is to go with what we call add mega menus. This n option that's used widely available for all professional teams. So you go to mega menu. And here you need to precise for which of these elements, of these menu elements who are creating the mega menu. So let's say I'm creating it for the skincare. Okay? Then I need to choose the, what I'm going to showcase inside of this mega menu. So let's say I want to showcase one of my products. I will pick this one. Let's say this one. So I figured that photo and I can add heading, I can add text and I can link to my products. I can click in here towards the product. Let's say this is the one and I will have my products. Well, let's put, for example, face cream. So this is a good place to show your main products or your bestsellers, for example. So I'm going to add in other, in other products. Let's say now this one. You can also write in here whatever you wish. So face serum in here you link to the product, so you go to products willing to it, for example, I guess this is the one, and that's it. You click on Save. So now as you can see, let me stop this. As you can see when I hover over it here, I see my sub-collections And I see my mega menus. You can do the same with the hair care. You can do the same with all of your makeup of your menu items. Okay? So I think that mega menus are very useful and they make your navigation way, way better. And this is one of the features that I like about the professional teams. However, you need to keep in mind that mega menus are usually not available on mobile. So on mobile. Well actually available. However, I need you to keep in mind that for some themes that may govern news are not available on mobile. It's okay for this team, for example, let's check if there are now available. If you click in here, well, yes, they are available, which is amazing. So you can also have them on mobile. This is about navigation and how to organize your navigation menu. The second menu you need to take care of. So this is about your main menu. Now we are going to see that footer menu. This is the menu you have in here. And usually in this menu you need to put all of your use for links. So let's go back to one of our examples to see what they have put in there. This is the alloy yoga store, and if you scroll down to the footer collection, you can see that they have linked to the customer service, to their account information, somewhat information about the brand, a form to sign up to their newsletter, their social media profiles. And that's it. You can do exactly the same. No need to link back to your collections. No need to link back to your products in here, use this section to link to the other pages you didn't link to in the main menu bar in here. Put all of these information in here. But between even though they have in the menu bar and here they don't have an About Us section. I like to have an About Us tab. And here this is one of the things I look at whenever I'm visiting a new store. So you can use must add an About Us section in here with a loyal gases they are, they are a very well-known brand. People know them already. The About Us section might not be as important as for a new small brand that's just starting out or have been for another market for a small time. People don't know your brand yet. So people don't know your brand yet and they need to know more about it. That's why I recommend you to have an About Us section in here. Okay. Now let's move back to Shopify to see how to modify your footer menu. So going back in here, you got also the navigation. And one more time you go in here to the footer menu this time, and you change the menu from here. It's exactly the same way you do the main menu. You put your main tabs, you put the sub-tabs and inside of them and that. So that's it for the navigation menus. I highly recommend you to take your time deciding how to divide your products and what is the best way to set up your navigation to make it easier for your customers to find what they are searching for. Your navigation menu is extremely important. Good care of creating a good one. That's it for this lecture, I hope it will help you to create amazing navigation menus for your store. Remember, your navigation menus are extremely important. So take your time creating them and setting them up. In the next lecture. Bye bye. 22. How To Customise Your Homepage Dawn Theme - Shopify Online Store 2.0: Hello there and welcome to this lecture. And this lecture, as I promised you, we are going to see how to change and modify your homepage. And then this lecture we are going to use that don't theme, which is the free Shopify theme as an example, the next lecture we are going to do the same work with a focused theme, which is a professional paid theme. Going in here to Shopify dashboard, you go to online store and you go to themes. Here you have multiple actions that you can choose from, but we are not going to touch them now, I'm going to click on Customize. Whenever you are installing a new theme, the first thing or the first place I want you to go to is the theme settings that are so many things that you can set up in here. And that will help you to see how your store will look like. So you need to start first with the colors. Then you need to go to the topography to put your typography. And we will see after that how we are going to modify the homepage. Let's start by the color and let's use the brand book we created in the previous lecture to add our colors in here. So this is my brand book in here. And as you can see, these are the different colors I have. This is my text color and this is my logo. So I'm going in here to the colors first. And this is the primary color. It's used as foreground color on accent colors. So if you are, if you have an accent color in Shopify, you can have one main color, which is for example in here that the white and you can have another accent color, okay? So in here you are choosing the accent color, which is the second color. And then here you are choosing the color of the button that comes over the accident, the first accent color. I don't want you to get lost with that. Okay. Does fill in the colors and you will start seeing them in the store and it will start adjusting them as you go. So for the accent one, I'm going to choose this. Let's see the slight blue. I'm going to copy the hex. And for the first accident one I'm going to paste it in here. Okay? Then for the, you can add the gradients. I'm not gonna do that for the second accent. I'm gonna pick this one for example. Okay? Now for the buttons, I will keep, you know, something, I will keep the orange for the buttons because it's fun. It's my strongest one. I will give this color as the second accent. Okay. Now in here I'm changing the tax, tax. So I'm going back in here to copy my text hex already, I know it already, but I want to show you how to do it from here. So you copy that, paste it in here. And this is my color text. For the outline button, I'm going to pick the orange. Okay. Let's say for this one, I pick the pink. Okay, This is too much, so I'm gonna keep it as what? Huggy, let's see this one in here. How will this will look like? Okay, that's why I always recommend you to fill everything. Then you start modifying as you go. For example, I didn't like this in here, so I would go back to the white. Okay, these options differ so much on the theme you are using, okay? So it depends on the theme you are using. After funny that colors in here. The second thing I want you to do is to go to the topography and fun in your typography. So for titles, we have chosen lobster. For the text. We have chosen this one. Okay? So we have put the colors in here. Later on, we can come back in here and modify them if we didn't like them. So I think that the topography you have the layout so you can change the page width, you can change the vertical spacing between sections. You can also change the grids if you wish, and so on. Let's keep this for later. Now. Let me go in here and start creating my homepage. So we'll start. So we will start by creating the homepage. Then as we go, we will be filling out the settings from here whenever we need to. Okay, let me start for example. Let me start first by saving the theme. Then I was starting here by the first element I have in the homepage, which is the announcement. But by the way, you can light this on to activate inspector, using this, you can inspect each section. So when you click on it, you would know the name of it. You can modify it if you wish. Okay. I'm not gonna keep it activated. I don't actually like it so much. So you click on the announcement bar in here. This is a place where you should be putting any important announcements, like for example. Free shipping on all domestic orders. You can change the color. I prefer to change the color actually, and you can choose between the colors you have put inside of your eye, color settings of the theme. So let me go back in here to see what I have put. So I have x and one, x and two, I have the background one and the background too, I guess, which all are white. Let me try to modify this to pink. No, I prefer it as white. So I'm gonna choose x and one for this announcement bar. Okay? If you're already using like a more professional theme, usually you can change the accent color for each element without Nadine to choose one of the themes settings. I don't exactly like the colors in here, so I'm going back in here, two colors, and in here I'm just going to change this to w, okay? Because I want to make this legible. I will see if I can add an image in here. Let's see fireworks or something, or stars. Yes, I can do that. I can copy this and add it at that. Okay. So we have this in here and below it, you can add other announcements, so you can have multiple announcements. Let's say I want to add another announcement. You can have it below. I don't actually like this. This I don't like the idea that the announcements are coming one after the other. I'm not sure why Shopify is the wing that usually for professional teams announcement would be like scrolling, scrolling one after the other is showing like a slide bar, which is something very elegant. I'm not sure why we don't have the option in here. Hopefully we will have it soon. Then we have the header. The header is this section here. If you light and your inspector, this is the header. Okay, what I'm going to do is to first upload my logo because it's going to be in here. Then I will work out on these elements. So let me start in here. As you can see, this is the color scheme. I can change it in here, their colors if I wish. I can make it blue. I can make it orange. Background, one background too. I would actually keep it as white. And I would choose in a logo. So this is my logo. I will choose my local. I don't want you to worry about this option you saw in head. Or if you remove this one, this option, we are going to talk about dynamics versus dated through this course. Just ignore it for now at the homepage. You don't need it. So let me choose this one. Again. I'm going to make it a little bit bigger, maybe a little bit more. I like it now. You can center it top-left. You can center, top center, or you can center it middle left. I prefer this position in here. Here you choose their menu. So this is our menu, the menu we have created previously. As you can see, we have the below menus are menus. In here. You can choose if you want to use my gamma news or drop menus. So this is the Omega menu option. This is actually a new option and that don't seem okay. So let's see what we will see in here. We will see something like this. I guess this is even better. Okay? You can show separator line. So you can enable sticky header. This is good. Now we don't have anything to change in here. You can also change top and bottom padding if you wish. So if you want to minimize this whitespace you have in here, I'm going to make both of them, let's say ten. I guess this is a reasonable type is also good. Okay? This is my header for now, as I said before it and the header section, you should be putting all the most important information so you can put the best seller, the skincare, hair care about us and so on. And remember, in order to change things in here, you need to change your navigation menu, which you'll find under Themes and navigations. I'm gonna save this for now. So now I have my announcement bar and I have my sections. These sections are common between all of your pages. Okay, So that's why you have this line in here because these elements are common. So if you've gotten here and you go to a product page, for example, they will remain the same. They are common between all pages. Let's go back to the homepage. Let's start with these sections one after the others. These actions were actually added by Shopify by default, these came in here. You can remove them and start from scratch or you can keep them for now. The image manner is this first image you see in here. This is the place where your customer's land first. So this is a place where you should tell your customers what your brand is about. Okay, for this section in here, you need to use an image that looks good and that allows your text. To look at appear good, Okay, if you go, for example, to PayPal.com, which is a store we have Sobe saw before. As you can see in here. Just let's wait for it to load. Okay, they have the image, they have a very clean space to put the text. We can create the same image or something very similar using Canva, it's very easy, it's very straight forward. You can create this image, keep an empty space in here. I'd put your text in here. But for this example, I'm going to use an image that I have found over the Internet. So I'm gonna click on Select Image. And I will upload my image, which is this one. Okay, now I have my image. The first thing I want you to do is to always place your text even, even in the middle and data center or in heat or even preferred in here because people use when you read from left to right. So it's easier for them to read the text if it is in here, don't put it in here, put it in here, make it the center of attention. Okay, now let's select, I would show, show you how to change the text position in 1 second. You can also add a second image. And when you do that, the screen will be split between two images. I'm not going to do that. Here we have the overlay capacity, and as you can see in here, we have a black overlay over the image. If I lower that to 0, I have no overlay. If I increase this, I have dark black. Because it's a baby store. I want colors. I want vivid colors. I prefer if I don't use the overlay at oil, but since my text is white and now I will see if I need to change this. I would keep it for a few seconds. So by their height is either small or large or medium. I prefer medium or I prefer to make it adapt tied to first image size. So the size of the image, since this one is very high. So either I need to crop it before uploading it, or I simply choose medium instead. Okay, now for the text's content position, I'm going to put it on the left and I'm going to put the center, let's see, left, center. The left. Okay. It's okay. Let's center the text to the left. Okay, so this is what I have now. Let's choose another color. Okay, it's not, it's further containers. So for this one, now, I'm going to put a container. I don't like it. What other options we have? We have the mobile layout, which is amazing if you would want to check them all by layout. This is how this is going to look on my way. I still think that this text should be in blue and white. It's not contrasting well, it doesn't grab attention, so I'm gonna change it mostly probably in here. If you have multiple images, you can choose to stack them on mobile or short also the container on mobile, I don't like to show the container. The container, it's this element. I don't like to show it. I prefer to keep my texts it as it is. So I need to go back to the theme settings to change this color. So it should be at me, figured out where it should be. So I tried to figure out a way to change the colors of the stacks, but unfortunately, I didn't find a way. As I told you, that this is some of the problems you face when you use a free theme. Customization is limited. The only way you can change the colors in here, if you go to click on Show container on desktop, and you change the options in here between accent one, accent to x, background one and background to be exactly like this. So I prefer to remove the container desktop and instead of using a photo with a light background, maybe I use a photo with a dark background that will look good with that text in here, the white text in here. Okay? So if you go back in here to the overlay, we can maybe lower it a little bit. No, it looks worse actually. So we can do only this for now. Okay. This is unfortunate, but as I told you, these are the limitations you face when you work with a free theme. Unless you can do some coding and you can change the colors in here, you need to stick with what you have. If you click here on image banner, as I told you, you can change now. Okay? Now below this section, which is this whole section, we have the elements, okay? So this is the section and these are the blocks. You can hide. The blocks. You can remove them if you wish, like from here, or you can keep all of them. In this section, as I told you before, you need to put your most important idea, what your brand is about your customer's land on your store. So this is the place where they will decide where to go or if they like your brand. So make sure that in this section you included your unique selling proposition. So in my case, I sell organic skin care for children. He had, instead of putting this, I would put, for example, organic, 100% clean, clean, and under it I will put in the slogan, for example, choose the best for your little ones. Okay, so these are my heading and my subheading. Subheading, I have a very clear call to action, which is to shop. Now, I can change the subtitle in here and make it bigger or make it uppercase if I was in here, okay. I will keep it as this because I think this is how it looks the best. And I have in here the button that should leads to either my boss started collection or to all my products or to all my collections at depend if you have a very big catalog. I prefer if you make it link to your collection list. If you have a small catalog, you can link directly to all of your products. Okay, So this is the first section in here, and this is how far you can go with the image banner section on Don theme. In the next lecture where I show you the focal team, you will see the difference between the pit at pay theme, a professional team and the free themes and how far your customization can go with a paid. So after that we have Rich text. This is a section as I told you, if you've provided by default by Shopify, I usually prefer under this section to add some kind of social proof. So if your brand was mentioned in some magazines, or if some people talked about your brand, or if you have some kind of certifications, this is where you need to put them. For this, I usually use a section called Logo list. Let me see if we have this section that don't seem awfully so let me search for logo. I can't actually find that. I'm not sure what I can see the sections. I'm going to save and refresh, and click again on Add sections. Okay? So you can scroll in here to find or to see, check all the available sections. You can add any of these sections and if you wish All of them to your homepage. But in my case, I would like to have their logo list. So what do we have in here? We have block boss, we have colored collage for photos, we have collapsible content. So this is tabs. We have collection list, contact form, custom liquid, mason app featured collection, featured product image banner, which is the one we have used. Image with text. We are going to see it multi column, page, rich text, Slideshow and Video. So the options are pretty limited. I don't have even a logo, a list. I will try to see if I can use the multi column section instead of it. The idea is to have something similar. Let me see if they have it in here. The idea is to have, no, They don't. Let's go to another brand. So let's go, for example, to this brand to see if they have it. So the idea is to have, hopefully you will see the section somewhere. It's like it's S in collection as thin-section. So let me see if they have it in here somewhere. Yeah. The idea is to have a section similar to this one, okay, Usually if you are using a professional theme, you will have a section called Logo list or something like that that you can use. So I will try to recreate this using the columns section in here. I will see, I don't promise to you. Okay. I'm gonna remove this because it seems I already have one. I'm going to simply drag it like this and drop it. As you can see, I can simply move it like this. Or if you are using, activate a specter, like in here, you can, whenever you hover over a section like this, add a new section, okay? So you click in here when you have the plastic click on plus to add a new section or add a block. Remember, this is the sections and these are the blocks, the ones below it. Okay, I'm gonna move this one above that. It's text actually. I will see if I can put a title for it. Yeah. Let's put in okay. Let's I'm centered the text. It seems that I can send it the text. This is that mobile layout. I can center the text. I would love to be able to center the text. Let's keep it as it is because this is what we have. Let's see if we can add small images. Yes, we can do so. Let's download these images simply and try to copy them. So I can't. Let me go in here. Search for example, for, for example, Vogue logo. But for four, please don't invent these. Makes sure that you are using authentic. Authentic reviews, okay, we don't want to spam people. We just want to show the things we already like, the things that I would own. Social proof, social proof. So I'm going to select the logo I've just downloaded. I'm going to go to downloads. Okay? So this is acceptable. Let me remove all of this content in here and have only the image. This is not the perfect case scenario honestly, but since this is the method, the options of these themes, themes are limited. So we are trying to play around with what we have as much as possible to get the best out of this theme without doing any coding for sure. Okay, and now I will do the same in here, remove everything at the logo. Okay, let's add another column to see what we will have. Oaky, and that's it. So in here we have three columns and the fourth is on the other line. Let me see if I can put four. Yes, I can go up to six, I guess. Okay. So this is not the perfect case scenario, to be honest, but this is acceptable. For now. I would have loved if I can move this SCN in here to them and they let me see if I can do anything about it one more time. This is to change the image size. So yeah, this is not perfect. But let's skip this for now. Okay. Okay. So this is their second section. After that, usually I like to put directly my best sellers products. So I'm going to in here to click on Add section. And this time I'm going to add a collection, which is a featured collection section. I should have it in here. So it's in here. I will move it up here. And I should choose my best edited collection to fill in here. So I would put in here, check out the sellers. Okay. Select. Okay. Let me see if I can send that text. Okay. Okay. I can center the text. This is funny. Okay. What else I can do? I can add, I can change the number of products shown. I can change the number of columns on desktop and so on. So I can't, unfortunately, I can send it with the x. I don't have this option even with the most updated Don't theme version, so I need to stick with it. I can add a description if I wish, but I'm not gonna do that. I have products in here. I can make the products full-width, but I don't see any big difference in here. You can add, if you are a solid bottom, if you have multiple products in here and they fill out the first line so you can add if you All button, I definitely recommend you to do that. You can change any other colors if you wish, of the section, I usually like to do that. I usually like to have sections and different colors so people can stay consistent with me while checking and watching and seeing the homepage. So you can add this one, change this accent or change to this accent. I like this one. Actually, it looks nice. Okay, after that, we have, for example, this rich text section. You can use it in here to talk about your products or your brands. So for example, in here you can put something like power for clean, Let's say organic. And in the description here you can put, for example, the best skin care products for your little ones. We provide. We we can add something like, for example, our products will help you keep your kids. Keep your kids safe. And sound for sure. If I'm creating this page, I would take much more time into thinking about what I'm going to put in here. But the most important thing is to focus mainly on the benefits of the brand, of what makes your brand different. It shouldn't be possible to change the color accent for this section. You can do it, but since I already changed the color accent for this section, I'm gonna keep this as white. Or I can move this up, for example in here below the multi column section. And I can, I should be able to add padding. Yes, in here, I can add padding. Padding, is there whitespace to add below this section? I will make it 40 as per the top, so it looks better. Okay. After that it is not. I prefer to be in here. Okay. This is also another featured collection. This is actually it looks better than this one because it has multiple products. So let me, instead of choosing the best seller, choose another one to give you a better feeling about how this is going to look. So let me choose skincare. Maybe. It seems all my yeah, this one is fine. Okay. So let me remove this section in here. I'm going to click on Remove. I will also remove this one. I'm not using it. And what else we have AKI, so this is that it's text. After that, I can add my collection lists, so I'm going to click on Add section and I will add the collection list. Okay? So for the first collection, I will select, for example, my cream collection. Then for this one, I will select another collection. For this one, I will select this one for the title I would put in here, shock by collections. And you can check all the options in here. So you have the heading size, the image ratio, the number of columns on desktop, background accent. If you want to change this for example, or if you want to keep it wide, you can do that. Okay? And you can enable of you all as well. And in here you chose how this is going to look on mobile. So if we move to the mobile preview in here, this is how it's going to look on mobile. Let's see if we choose this one. What you will get, will get the scrolling feature. I guess this is better on mobile because it's small, friendly user to see their collections one after the other unless you have so many collections. And it's better than to use this option. Okay, going back in here, you can add also, you must add also another section about your brand. For this, you can, for example, use the image with text sections. So let me save. First. You can use the image with text section. So you add, for example, an image of you or behind the scene image. And you talk about your brand and your link to your About Us page. So let's me go, for example, to the image with text section. Okay? So for the image you can choose an image related to your brand. I prefer it if it's, for example, your team image or an image about your suppliers, anything that's related to your brand. Let's say, for example, I'm not going to choose one of these. Let's say I'm choosing this one which is not really that I fought for displacement. But let's say I chose this photo in here. Okay, in this section in here, I need to fill the information. And the button, for example, could lead to learn more about us. And in here you link to it About Us page on the pages you link to the About Us page. We're going to create the About Us page yet to link to it, but this is how you do it. And after that, you can have the sign-up that newsletter sign-up form. So you can have this one. You can change the color. Let me choose, for example, accent, one. We didn't use it yet somewhere else. So I have everything in here. Okay. Going back in here, you have the footer. The footer is where you put your links. So we have talked about the navigation when it comes to Footer, before, you click in here, you can change a color. You can, um, make it change the titles. You can change their menu. There are linking to. So under each of these you can link to a different menu as you can see. And you can remove these if you wish or hide them with the same logic we have done for the other sections. Okay. The footer is also a section that's common between all of your pages. So you do it once and that's it. This is to how we created this page using the dawn theme. So that's it for this lecture and the next section, I'm going to show you how to do the same work. But this time we are going to use the focal theme, which is a paid team. I highly recommend it's one of my favorite themes effort. So stay tuned with me and let's meet in the next lecture. 23. How To Customise Your Homepage Focal Theme - Shopify Online Store 2.0: Hi there and welcome to this lecture. And this lecture we are going to see how to create your homepage using a professional team. And as an example, we are going to use the focal theme. As you can see, I have downloaded the theme trials, so I didn't pay for the theme yet. It's just a trial. I will click here on Customize. You can publish the theme before buying it. So this is the only point and your work where you need to buy the same, it's one you decide to publish it. Here are the theme settings you can click and you can do the same work we have done with, I don't think. But first you can start by choosing changing things in their appearance. You can even change the theme style. So when check the foci theme demo store, let me go in there for color theme. You will see that they have four different styles. You can start by one of them directly. It doesn't matter. You can start with the one that looks the most like what you are looking for. So this is the second style. This is that third style. This is the first or fourth style. Sorry, I'm gonna pick the second, the third one actually. So I'm gonna go with chords and I would click on Change Style and safe. Okay, with the same logic, we are going to do the same thing, but this time using this theme, going to Appearance first, we can change the icon thick, thickness, that button, border-radius, the block border raises their vertical spacing, so on. These are very general settings. You can keep them for later. Let's go to colors and this is where we have worked before, and I don't think this is the main background color, this is the secondary color. I'm going to keep them as they are. Here. You have the colors for the success message and the error. I'm going also to match that these with my brand colors for the success, I'm going to use the green one. So I'm going to click in here, click on the green face that hex. For the error, I'm going to use my strongest colors, which is strongest color, which is the orange. Okay? Now for the header in here, you can precise the colors from now, or you can wait until you're changing the header and you move down in here. And from here you can click on theme settings and change the sex section that's related directly to the header section of the team. Either you change them directly from here, from the colors. All you wait until you change each of the sections and you change the colors. I'm gonna keep these for now. I'm not going to play around with them because we are going to modify them as you work on dissections one after the other. Let me go to the topography. And now as you can see, I have the topography of the heading and the topography of the body. For the heading, I'm going to choose lobster like we have done before. Okay. They're heading size, I'm gonna make it large, but I'm not going to use uppercase. I'm going to use normal. Okay? For this one, I'm going to change it to our selected color. As you can see, this is very, very similar to what we have done before. Okay, You can also change that color text if you wish, size so it can make it bigger if you wish. Okay, now, heading to the Announcement bar, which is the first section in here, I'm going to change this background to match our blue colors. So we're going to copy the hex from here and paste it in here. Okay, the first thing I'm going to announce is that I offer free shipping on all domestic orders. Free shipping on orders. Okay. In here you can have a text. So if you have a button, you can have a text, you can add an image, you can add more details, links and so on. I'm not gonna do that. You can also add another message this time. And as you can see, and I don't think the passages where like collapsing one after the other, stacking one after the other. Now we have these arrows to move from one announcement to another. Let me make this free. So the second announcement could be 100% return free or something like that. Okay, so in here you need to announce your most important information. So for example, maybe you are doing 20 per cent of all of all products. And you call your name, they said maybe it's some mercy. So I'm going to start like this. Summer sale. Maybe put in here a fire or maybe stars to make people notice this. Okay, and that's it. You can, for example, if you are doing the same on one collection linked to this collection in here. When you go to the Announcement bar in here to change the settings of the whole announcement bar. So you have this position, you can have it sticky. So if I scroll like this, it's still in there. Or you can have it like this which is non-sticky or you can have it sticky on mobile only or sticky every wet, I'm gonna make it non-sticky. I'm going to the we have the pop-up option in here. So if you want to have your pop up from Shopify directly, not choosing another software, you can have your pop-up. However, later through this course, I'm gonna show you how to use a software called clavicle to create your email marketing system. And I'm going to show you how to use the pop-up from Clavier. Just disregard this section in here. You can also use it if you wish, and link it to a crop view. Now go into the header section, which is the section in here. We need to add the logos. I'm going to select a logo. We are going to change the image width. And as you can see, for example, for this team, we can change the width for more by then for desktop so we can make it bigger on mobile and smaller on desktop, which is amazing because mobile and desktop has different, let's say layout. They perform in different ways. For the navigation, we have this and we have the main menu. Okay? You can select another menu for my book, for them abide, which is totally different than the menu for the, for the desktop, which is also very nice. So if, for example, in your mobile menu, you want only to mention the most important two elections to make your stored user experience better. You can do that. I would keep the same menu, so it's going to be the main menu for now. Okay, You can change the position same way. Put it on the left. I'm going to keep the logo left, navigation centered. This is my favorite. You can show icons, you can reduce padding. Padding is a few words. And in here, you can add these if you wish. At countries I don't like transparent header, but this is a section where you can allow transplant untethered. I don't like it. You can do it. I believe when you do it that everything is not readable, is not legible. So I prefer to not use this option in here you can for the search, instead of having a default search bar box have like a menu for the search, okay? So when they click on the search, they see a certain menu. So as you can see, this is different from what you have seen and that don't. And in later, and this, previously in this course, actually we have used a mega menus, as you can see. Now, I have the mega menus in here and they appear on mobile as well. So if I go in here, skincare, I can see them. Okay, so these are the other options from here. Now, if I want to change the color of the header instead of white, either you continue scrolling until the end and you click on theme settings so you scroll in here, you can change the text color. I'm gonna make it our blue. So this is the one I guess. Yes, to be consistent, I'm making it blue. You can see the background color of this header. I don't like to do that, but you can do it. You can change it. You can also change the icon thickness. You can choose the card drove a car type. So if you want to draw it, you can have the driver which is recommended. You can have it message or you can have it page. I will show you later what these are. But drawback is when you click on an item to add to cart and you see a driver coming from the right or from the top. It's usually very good for user experience. You can change the cart. I can add an icon in here. I'm not sure why it's not a building. Maybe because I don't have any item in the cart. So we will do we will check it later when I add something to cart, then you have the heading style and you have items. Show last, and that's it. Okay, So this is the header section. And when you add in here changing everything related to that, a general theme settings related to the header section. Okay, Now after header you have the cartilage rubber, which is this Robert I told you about. You can in here change the settings in here. We will check it out when we have the production on the homepage and we can add a product to cart and see how this is going to look. As with a team, everything you see in here is common between all pages. Same for this section in here that footage, everything in between is related to this special page which says the homepage. So starting with that first section and here we have the slideshow. It's when we show several pages, one after the other. I don't like is really to have slideshows. I prefer to have one image so I can use the image banner with banner or something like that. So as you can see compared to the team, this team has so many other sections that don't team didn't have. As you can see, we have so many sections to choose from. Let me check concerning images. I have imaged with dogs, image with textbook or image with text overlay. I guess this is the one I will use for. This is the one I would use for the main section in here if I don't want to use the slideshow. So I'm going to move it up in here. And I will. Hide this one. And I would choose in here to select my image, which was this image. In here. We can change the sub heading, the heading tags, everything. Let me add a Shop Now button and this button lead to all products for now. Okay, You can change the style to have it as a button or the simple link. I will have it as a button. Medium, texts position. Let me put it middle left. Okay. Now you can change in here as you can see the color texts for this section. And this is amazing because it means I can modify this section of precisely without the need to modify everything on my store. I'm going in here to choose my blue. For the button background, I would bookmark, pick my orange. And for the button tags I will chose also my blue. And for the overlay, I can choose the blue and the white actually, but I'm going to remove the overlay totally because I know I can see now everything. Okay. And everything in here is adjustable. You just go to this section and you write your information in here and you will have everything in here. If you want to have these texts, for example, broke into two lines. So you can go in here, click Shift and Enter. One second. If you click on the enter like this, you will have a lot of spaces. But if you go and click Control and Enter actually or Shift and Enter, Shift and Enter, you will have them into two separate lines, but without having spacing between them. So as you can see with this section, for example, the amount of customizations that we could reach with Don theme is way fewer than what we can do with a professional theme, like a focusing. I could do everything and he changed everything. That colors, the buttons, Everything. Okay, So in my opinion, this is amazing. And if you go to the theme settings, for example, if you've got two colors and you want to change something else about your primary button, for example, you can change all your buttons in here. So if I want the orange background to be for all my primary buttons, I can do in here, do the same in here for the text. And for the secondary button, I can keep the blue with a white text. Okay, So this will be applied, applied to all of my buttons. But still I can modify this button alone by itself without modifying all the buttons and my store, usually I recommend you to keep the same. Button. Styles are overused stored. This is way better for user experience and to keep your store feeding consistent. Now after this, we have the slideshow I have had hidden this section. I'm not going to use it, but with the same logic you gotten here, you change the blogs, you fill in the images. You can also have a different image for mobile. I'm not pretty sure if we have this option with this section or we don't have it. So if your image doesn't look good on mobile, you can use a slideshow section instead, you remove the second slide like this, you keep only one slide and in this case, you can have an image uploaded for that, for the desktop. And you can have another image, totally different image for them or by, let me show you. So when I go to the mobile, I have a different image. You can do that if you want to make sure that your image look good in both. If you have an image that doesn't look good in both, actually in both devices and on desktop and on mobile. You can use the slide so section and have only one slide and have an image for the mobile and then other image for the, for the desktop. Okay, you can do that definitely. I'm gonna remove this. As you can see, this is an option that we didn't have and I don't see him. Now, let me go back to the desktop view. So after this we have in here that are featured collection. I'm going to do something else. I'm gonna do the localist section I have told you about. I'm not pretty sure it's in here. So I'm going to edit. So you click here on Add section. And this time I'm going to search for the logo list. So it should be here. So this is the one. Okay, I'm gonna move it up in here under this section. And as you can see, it comes exactly as I wanted. It has a replacement for each logo like this. You can even add a link, you go to the next one, you select the logo. It has the exact job. I'm I'm looking for it, but for the team and the two play around in order to create a similar section to this one, I'm going to remove the remaining blocks and only keep these three. Okay, now for this section, if I want to change the background color, I can do that. I can click in here and make it, for example. Or I can make it blue, or I can make it orange. So as you can see, I can modify each section without the need to. Work with accents or with limited options I had with the dawn theme. Now, also, you can change the text color, the button color if you have everything, okay. You can also change in here, add subheadings and especially button for this section and so on. I'm gonna keep this white for now. Okay? That is also something that I want to know. If you don't want to enter your colors, your brand colors. Each time you are modifying the sections, you can create your brand kit and linked to add dynamically from here. So when you click on Connect dynamic source, this is one of the new options available after Shopify online store 2. You can click here on Edit brand and you can assign the colors for each of these colors. So when you click on primary colored in here, you are assigning the primary color for this section, but you can change these colors. So click on Edit brand. In here. Inside of the brand section, you can fill out your Blend brand logo, a square size of your logo, your colors, the cover image, that slogan, that sort description, and even your social media links. So Facebook, Instagram, Twitter and everything. This will help you to have the information directly in that instead of the need to fill them out each time, okay, So you can hear it. Click plus and add your colors. Okay, you need to put the contrasting color in here, which contrasts with this one. So it's gonna be used for the text most probably same for the secondary column, a color and so on. I don't use this yet. I still think it's much more comfortable to me to change colors in here by myself. But if you think that this is a good option for you, you can use it. It's, it's a new option and it's meant to make your work easier. But I'm still not using using it that much. I said prefer to have direct control over each of the sections I have on my store when it comes to colors specialty. So after their logo list, the second section I'm going to introduce is the best seller section. In here you can add multiple featured collections. I will start by adding my first one, which is the most important one to me and it is the best seller. So I'm going to link to my best data collection like this. This is my bedside look best seller I can in here at the title, for example, our all-time favorite. Or for example, shout our all-time favorite. You can add other sections are the collections if you wish, but I prefer to only have the best data collection in here to highlight the section. You can also change the background color like this, or you can keep it wide. It's up to you. But as I said before, I prefer to have like different colors in this section. So somewhat so the person can still scroll, see the sections. Understand when I say section starts and when it ends. Okay, So let me give this section the blue color like this. Moving down, we can start creating the same, the homepage with the same logic we had, we have done with, I don't think. But instead of that, I'm going to show you the different available sections in here so you get a feeling about how far you can go with a professional theme, like the focused theme, for example. Let me start with this first section. It's called image with text. And it allows you to add an image with a text and another image with another texts. When people choose between these different texts, the image will change as well. So if you go in here and you select, for example, this first image for that first text. You got in here, you select another image. So now when you scroll down in here, you have two different texts, two different images. This could be in a perfect section to talk about something special about your brand, or to show two different collections. Or maybe to talk about your brand history or mission, anything. But it's an amazing section actually. It looks very professional. It allows you to deliver information in a very good way. Now after this section, we have this section which is shoved a look and it's one of my favorite sections ever actually, in this section you can take a big photo like this one, for example, of all food products. I'm going to upload actually another one. So we don't have the same image twice. Let's see. I've added this one and you can take up to three different products inside of this section. So for example, I can move this when you click in here. So this is the first product. You can move the points location, as you can see in here. And tag a product. It is specific product and it does. I'm just trying to make it reach this product. I'm going to select a product, let's say this one. Okay, so now when I hover over this, I can see the product and they can directly add this product to cart. When I click on Add to Cart, I can see my product and cart. And I can see other products that I can add to cart as well. I can see how much is I send it to reach the free shipping and I can directly check out. This is amazing. This is something amazing. And if you go to the mobile view, this is, this still looks very good actually, it still looks very professional and very good and it is very user friendly. Okay, going back to the desktop view, so this is one of the sections that I like the most. It's amazing in order to increase your average order value by showing multiple products and allowing customers to actually add a product that costs directly from here without the need to go to the product page even on mobile view. If you go in here, for example, you click, you have that quick view in here and you can directly add to cart. Okay, So this section definitely was not available and they don't theme, you would never find this section and a free theme. I don t think so. And I don't even think you can find it an old pit teams. So if you want this section, make sure that while you are browsing for ethene for your sword, you make sure that they have this section in that demo starts. After that we have the blog posts. So this is a section showing your blog posts. It's anonymous session. You will find that in most of the, of the themes, you can modify it in here some of the specifications, and here you have image with black text. This is also another way to show your images with text. As you can see, you have multiple options. You have the image, that image with text overlay the image with text block. You have the two images section that we have seen before and so on. After that you have the collection, Let's, which is a collage sewing multiple collections at the same time. You have this nice testimony in section where you can include testimonials of your customers. And we have this timeline. The timeline is very nice actually to tell a story about your brand. So you can show different things about your brand. Maybe you can talk in one section about your suppliers, how you prepare the products and packaging your behind the scenes and so on. It's a way, or maybe you can tell that I'm lying about how you created your brand. It's a very nice section to talk about your brand, I guess is the best place actually to talk about your brand, then you have the future, the product section. I usually don't use this unless I'm an R1 product store, so I'm going to hide it. Then you have this section which is text with icons. You can choose the icon from inherit if you wish, and the change that content. So if you're offered a free shipping customer service, these are amazing things to mention in the homepage. And finally, you have the newsletter in here for people to sign up. Also, same idea, you can change colors, content, everything. And if you click here on Add section, you will see that you can have a huge list of sections that you can add from. You have customized HTML, custom liquid, Frequently Asked Questions section, which is a very important section you can use this section definitely need product pages. You have so many images sections, multi column, press section. You can like try around and test these sections and see which ones are good for you and use that. As you have seen with a paid theme, you have so many options that you don't have with a free theme. And not only that, you can customize your theme in a way, and I'm much better way because you actually have potential of customizing everything without the need to do any coding. So if you are looking to customize your stored, if you want to make your store amazing, I highly recommend you to go with a PE team. Remember, this is something you pay once and that's it. So one life payments, it's a small investment that I highly recommend you to take. But still, if you don't have the money, you can go as, as I start by with a free theme, like Don't theme. And then this course, I'm going to show you how to use it and addition of showing you how to use a paid theme. So stay tuned with me and let's meet in the next lecture where we are going to see how to work on your product pages using that don't fit statement. And let's meet in the next lecture. 24. How To Customise Your Collection Pages - Shopify Online Store 2.0: Hello there and welcome to this lecture. And this lecture, we are going to see how to customize your collection pages. I have created some collections in here. If I go to products, I can find my collections in here. What I need to do now is to go to online store. And I'm gonna go to that. Don't aim to customize. From here. I need you to choose collections. To go to the default collection where the same logic for the collection pages. You can create different collection pages, templates, you can use metal fields. It's the same procedure we have used for the product pages. For the collection page, we have by default the announcement bar, the header, and the footer. These are the comments sections with all the other pitches. And here we have the collection banner, which is this part in here where we can see the collection name, their collection description. And if we have an image for the collection, we are going to see it here as well. And in here we can choose the color, background color of this section as well. So we can change the color if you wish. Okay, After that you have the product degrade. And this is the grid that shows our products, the products inside of this collection. We can change how many products you want to see per page. We can change the number of columns on desktop so we can have them too. For example, we can change the image ratio. We can show the second photo on hover, and this is important. We can show vendor, we can show product ratings. We can enable a Quick Add button which has a nice feature to allow customers to buy easily from you. Then we can enable filtering and cheese filter layout. These options will differ depending on the theme you are using. But for don't theme, we have the option to have the filter in here. And you can change the filter. The filters themselves. We are going to talk about filters in a later lecture. But this is where you can see your filters. So you can filter by price, you can filter by in stock or stock, or you can create your own festers. Okay. After that, we can also disable the fill. So I think if you wish, in here, you choose how this is going to look on mobile. So if I have this, I can have two products or I can have one column product. I think two columns products is fine because it shows multiple products in a smaller area. I guess the two columns layout as good, and it still looks good on mobile. It shows more products and sell the products look good. Let's see how the filtering actually looks on mobile. This is the filter. It's nice. It works fine. Now, if we move back to the desktop view, as we have noticed before, as with all the new pages on Shopify online store 2, now we can add new sections to their collection pages. You can add any of the sections that were available for the homepage or for the product page. With the same logic, you can also use metal fields. Let's say for example, we are working with this one image with text. For the image in here we can have a metal field, but this time, instead of creating a Meta field for products, we are going to create a method for collection. So let's click in here and let's click on Add Meta fields. This time we are going to the collection section and you are going to add the finishing. And we are going to name it collection image one for example. And we are going to give it the file type. And it's going to be an image. Now when I go to the collection pages, for example, for this one in here for the best seller, that is enumerator field, which is the collection image. Let me select one. Let's say this one. I will click on Save. Going back in here, I will save this. And in here for the photo exactly which is this one, I'm going to select the metaphase. So as you can see, this is the omega field I have created. Okay, you can do the same with the text, with the button content, with everything, okay, metaphase are here to help you out, customize it. You collected pages with the same logic you have used for your product pages. With the same logic when you want to assign a certain collection page to your collection, you go in here and you change was the theme template. We can create as much templates as you wish and you can link to them from here. While you're creating your collection pages, there are some things that you need to take care of, and this is one of the common questions I received. What should I include as information inside of my collection page? Well, is that a few collection page you need to tell your customers what makes this collection special? Why people would explore this collection? You don't need to write a lot of texts, but you can write a few paragraphs explaining what makes this exact collection better or what's the story behind this collection? What your customers will find inside of this collection. You can also include a photo for the collection. For example, the list of products if you wish. The filter in here is extremely important because this is what will improve the user experience, especially if you have a very big catalog. If you said a lot of products when people land on your store, it would be very confusing for them to filter your products. So you need to have filters in here to make their lives easier. Let's go back to the store to see if they have used the filters in here. When you go to the baby collection, which is a big collection, they have in here, the sort by bestseller and the price they have in here some sub-collections to choose from in order to make the browsing experience better. Let's scroll down. They don't have much filtering, which is something I look in the command. They don't have a lot of filtering, so this is not the perfect example for us. But still they have in years I'm a small sub-collections to help their customers. So this is h was a brand, a very famous one. And I guess they're filtering experience is one that we can learn from now taking out this shoes brand and here you can see that filters they have first a colorful feathers and they have their size filters. For sure is, these filters are extremely important because if I'm exploring this collection and I want to know if I can find a black shoes with my size. I can easily know that using that fitters. So that's it for this lecture. I hope that it will help you to create amazing collection pages for your stored. Stay tuned with me and let's meet in the next lecture. 25. How To Customise Your Product Pages Dawn Theme - Shopify Online Store 2.0: Hello there and welcome to this lecture. And this lecture we are going to see how to modify your product pages. I need you to watch this lecture carefully because product pages and how we modify them changed a lot after Shopify online store 2. So this is one of the most important lectures ever after Shopify online. So 2, now we can customize and modify product pages a totally different way than what you used to do before Shopify online store 2. So please watch this lecture carefully because it will greatly help you to create amazing product pages. And you must know that product pages, your product pages are the most important pages on your store. It's where people will make the decision whether to buy from you or not. So take good time watching this lecture, even re-watching it if you need it, make sure to create an amazing product page template for your products. What? We all know that to add a product, to go in here and you will find oil fuel products and you can click on Add a product. I know that this is basic, but I need you to stay with me. When you go to a product in Shopify, there are some inflammation that you can fill. This information are the title, the description, and then you have the images, you have the price, the inventory. If you have variance, you have to wait for shipping, so on. And in here you have the search engine optimisation section. This is what you have by default, okay? So for each product you can have a different title at the front description, the front photos, different pricing. All of these fields in here are dedicated and addressed for products only. This is what we used to have and this is what we use to work with. And inside of our product pages, we used to see these inflammation and that's it. Now, things are different. Now we can add new fields like this one. So instead of heading, having a title field, we can, for example, have a specification field. You will find it in here inside of this editor page and you can fill it, and it can be different from one product to another. Let me show you how to do that first so you can get a better feeling about what I'm talking about from your Shopify dashboard. Go to settings. From here, go to the section called Meta fields. Wet Meta fields are things we can create an ordered to add dynamic sections inside of our products. Stay with me. Going here, two products, because in this lecture we are going to see how to create a metaphor for the products. So you go to products and from here click on Add definition. And let's stick with the specifications metaphase examples. So I'm gonna call this specific applications. For the description, I'm going to keep this empty, but for the content type, I'm going to choose in here multi-line text, because first specifications I might have different ideas that I want to fill and so on. So I'm going to choose multi-line text. You can hear patrols about the minimum, maximum and regular expression, something like that. I'm not gonna do that. I'm going to click on Save. Then I want you to go back again. And this time I will be creating a new metaphase, but it's not gonna be a text. It's gonna be, for example, an image. Let's say I want to add a small image showing the sizes of my products. So in this case, I'm going to call this size. And for type, I'm going to choose phi. And under file in here I'm going to choose images. You can also add videos, but for this example, I'm going to choose images. Now, just to click in here to see the different options that you have. You can have a single line text, a multi-line text, and then triggered a decimal, a product. Maybe. We use this if you want to recommend a product and other products, I'm going to show you how to do that also, you have filed this is the one we use to the images. You have date, date, and time, weight, volume dimensions. This is product, product variant. Also I'm going to show you how to do that single line, multiline. You have colored rating to all fours and URL. Okay, Let's go back to our metaphysics. So we advocated to metaphase, one of them is image, which is this one and another one is specifications. If you recall. When you went to the product page before, we only had these fields to fit. Now, if we scroll down in here, we can see other fields that are in here. These are the fields we have created ourselves. The size, for example, I'm going to go to canva actually in here. I will add my product page, my product image, and I will add sizes just to show you an example. So going in here to this file, let's say I'm talking about this product. Although for this product size is not only, is not even a, something to stop at, but let's say I have this for example, I'm going to remove the background. I'm going to add dimensions. Let's see if we have something under dimensions in here. So maybe we can have an arrow or something to use this one. For example. Let me put it in here to make it bigger for sure. Try to create a better design design than this one. So I'm gonna put, for example, 30 centimeters. Let's say like this. Then I'm going to copy this. Please make your designs better than this one. It's not professional at all. I'm only using it as an example. And I'm going to put in here, for example, it's not even three. Let's put five by ten by seven, for example. But this is seven. And this is five centimeter. Okay, I will rotate this text. What I can do now is to download this image like this. I can click on downloads. I'm going to download this PNG on it, this one, not everything else. And I will upload it inside of my first metaphase. Going back in here, I will choose for this image, I will select an image and I will upload the image. So from here, I will choose this one. Then for the specifications. And here I would write my product specifications. So I would use the check mark like this. So I will put, for example, let's say vegan. I would put organic, Let's say perfect for sensitive skin or something like that. Perfect for sensitive skin. This is just an example, please in here, put another specifications on nearby that but the benefits also, and if it's a specification that should be like more number oriented about the materials, stuff like that. I'm going to click on Save. Now if you go to any of the products in here, any of them. So for example, this one, you will see these fields in here. So you can't, so you need to fill them. You can skip them if you wish, but you want them to show inside of your product page, you need to fill them in here. So let's go back to this product which is the face cream. And let me preview it to you, I guess now you will see that don t think preview, which is the basic one. Let's see it together for 1 second. So we have the title, we have the subtitle. We would see if we can change this. We have the price, we have the descriptions, these steps and some other sections. Let me now go to the customization tab to see how far I can customize this page. So from online store you go to themes to customize. Dear, I need you to go to product page. And you either start by modifying, modifying the default product page, or you can create a new template for you that you change. If you go in here, let's go back to Shopify in here. If you go to products, for example, for this one, we have told phase Shopify that the template for this page is the default product. But if we created a new template and we call it, for example, my initials, we can start this product based on the different product page and click on Create Template. Now we have created a totally different template for the product page. So if for example you have shoes and bags on your store, you can create a product page template that you use for your bags and another one that you use for your shoes. And each of these templates can be totally different. The only thing that you need to do is to go in here and to assign the right template to the right product. I'm going to refresh this page and assign that I template for this page. I'm going to assign my new template. In here, I'm changing only my new template. I'm not changing the default product page template. I'm changing my own template. So as you can see, with the same logic, we have changed the homepage, we are changing now the product page. So the first section we have in here is that product information. And then here you find the most common information about the products. But we used to have usually inside of the altarpiece by theme. So we have the images that title the price, everything else. When you start moving on between these blocks, you will start to see the difference. So for example, this first text is a metaphor that shows the vendor. If you want to show the vendor, I'm not going to include thi