Playback Speed
---
0.5x

1x (Normal)

1.25x

1.5x

2x
Acrylmalerei für Anfänger: Male ausdrucksstarke abstrakte Bilder
Watch this class and thousands more
Get unlimited access to every class
Taught by industry leaders & working professionals
Topics include illustration, design, photography, and more
Watch this class and thousands more
Get unlimited access to every class
Taught by industry leaders & working professionals
Topics include illustration, design, photography, and more
Lessons in This Class
17 Lessons (1h 43m)
2.

Überblick & Kursprojekt

4:40

3.

Welche Materialien du benötigst

7:33

5.

Wie du Acrylfarben verdünnst

7:42

6.

So mischst du Acrylfarben

7:14

7.

Von Weiß bis Schwarz: Der Tonwert

8:30

8.

Der Tonwert von Farben

7:22

9.

Eine Farbpalette erstellen

7:13

12.

Expressive Spuren: Malmesser

5:12

13.

Kräftige Pinselstriche

8:35

14.

Zarte Muster & Pinseltechnik

7:27

15.

Emotionen wecken: Bewegte Linien

6:14

16.

Collage & Komposition

6:14
--

Beginner level

Intermediate level

Advanced level

All levels
Community Generated
The level is determined by a majority opinion of students who have reviewed this class. The teacher's recommendation is shown until at least 5 student responses are collected.
About This Class
Gestalte farbenfrohe abstrakte Bilder! In diesem Acrylmalkurs für Anfänger und Fortgeschrittene lernst du alles was du über das Malen mit Acrylfarben wissen musst: ihre Eigenschaften, das Farben mischen, die Grundlagen der Farbenlehre und den Tonwertkontrast als wichtiges Gestaltungsmittel jeder Komposition. Du stellst eine Farbpalette für dein Kursprojekt zusammen und übst verschiedene Maltechniken, wie Spachteltechnik, Trockenbürsten und Lasur. Zusätzlich werden wir Mixed Media-Elemente mit Zeichenwerkzeugen und Collage einbauen und so eine Serie aus vier ausdrucksstarken abstrakten Bildern schaffen.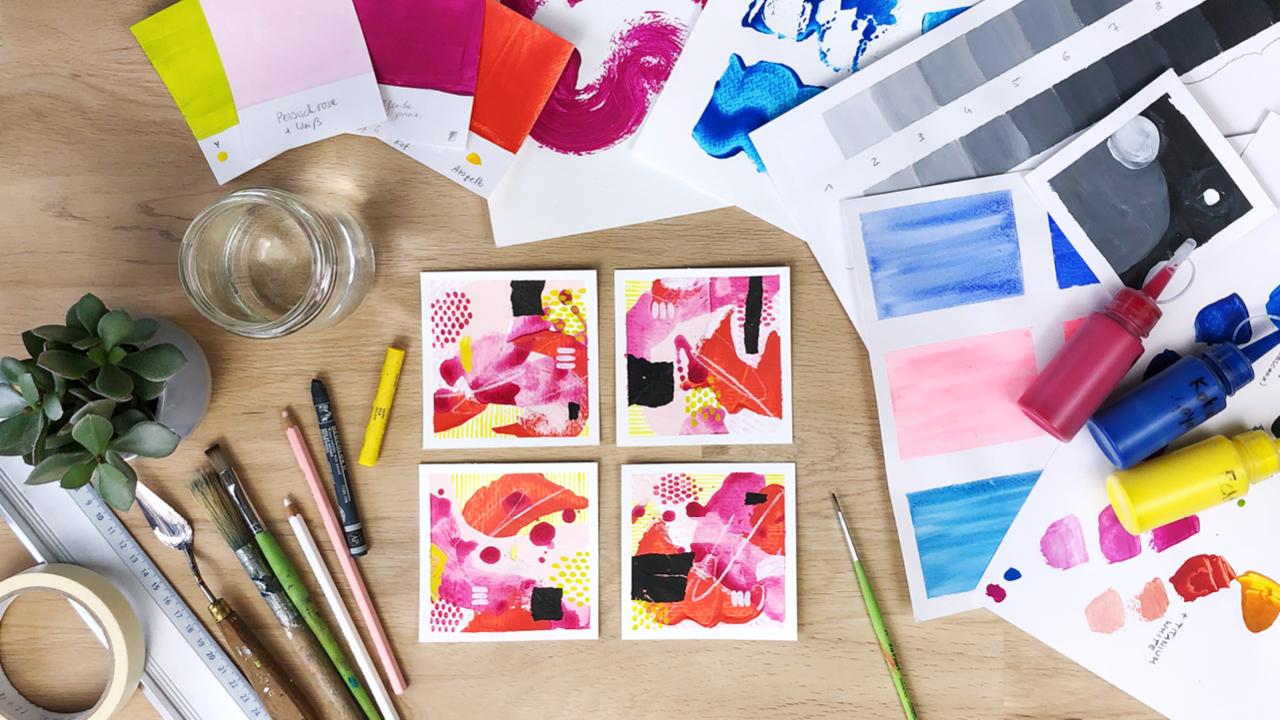 Dieser Kurs eignet sich 
für Anfänger, die noch nie mit Acrylfarben gemalt haben,

für Fortgeschrittene die mit der abstrakten Malerei beginnen wollen

und alle, die Lust auf ein kreatives Malprojekt haben.
Die Theorie und die Techniken die du in diesem Kurs lernst bilden eine ausgezeichnete Grundlage für deine weiteren kreativen Projekte und Kunstwerke.

Übersicht der Übungen:



(a) Viskosität & Transparenz, (b) Farben mischen, (c) Tonwertskala & Tonwertverteilung, (d) Farbe & Tonwert, (e) Farben harmonisieren & Farbpalette erstellen, (f) Malmesser, (g) Trockenbürsten, (h) Lasur, (i) Muster, (j) Gestische Linien


MATERIAL:
Du findest die Materialliste auch als PDF im Menü "Projekt & Ressourcen".
Acrylfarben
3 Grundfarben (Cyan, Magenta & Gelb / Blau, Rot & Gelb)
Weiß, Schwarz

Papier
Aquarellpapier 200 g/m2 (für die Übungsblätter)
Acrylmalpapier 400 g/m2 (z.B. CANSON® Acrylic Acrylmalkarton / FABRIANO® Pittura Acrylmalkarton)
Alternativ: Mixed Media Papier oder Aquarellpapier mit mind. 300 g/m2
Malwerkzeuge
Flachpinsel ca. Nr. 10
Rundpinsel ca. Nr. 2
dicker Borstenpinsel / großer Flachpinsel / Malerpinsel aus dem Baumarkt
Malspachtel / Plastikkarte
Zeichenwerkzeuge
Ölpastellkreiden / Buntstifte / Bleistifte / Acrylmarker / Pinselstifte / SENNELIER Acrylfarbe Abstract Liner

Collage
Klebstoff (Matt Medium / Gloss Medium)
Alternativ: Bastelkleber auf Leimbasis (z.B. uhu Bastelkleber)
Seidenpapier / strukturiertes Papier / Zeitschriften
Diverses
Palette (Teller / Abreißpalette / Plastikfolie)
Wasserbehälter
Sprühflasche (optional, um die Farben feucht zu halten)
Schneidematte / fester Karton
Lineal (idealerweise aus Metall mit Schneidekante)
Stanley-Messer / Schere
Bleistift
Krepp-Klebeband / Washi-Tape
Karton (z.B. von einem Paket)
Du willst mehr lernen?
Besuche doch auch meinen Kurs Unlock Your Creativity: Mark Making with Everyday Objects um dir noch mehr kreative Ideen für deine abstrakten Kunstwerke zu holen!

–––––––––––––––––––––––––––––– 
Track: Hawaiian Weekend — Igor Khainskyi [Audio Library Release]
Music provided by Audio Library Plus 
Watch: https://youtu.be/7O0WVaaB_x8 
Free Download / Stream: https://alplus.io/hawaiian-weekend 
––––––––––––––––––––––––––––––
Meet Your Teacher
Hi! I'm Cornelia, an abstract artist and designer based in Austria. After over 20 years of experience as an art director and graphic designer in the advertising industry, I am now a full-time visual artist and educator. My passion lies in exploring mixed media techniques, primarily using acrylics, charcoal, pencil, oil pastels, and collage elements.
In my classes, I offer a diverse range of subjects including mark making, acrylic painting, mixed media, and collage. While most of my classes are held in English, I also offer two courses in German, my native language. My teaching style is focused on making art enjoyable and accessible to everyone, regardless of their skill level.
If you're curious about my latest projects and creative process, I invite you to follow m... See full profile
Hands-on Class Project
Das Kursprojekt ist eine Serie aus vier kleinen abstrakten Bildern. Kleine Formate (ca. 10-13 cm) haben große Vorteile. Einerseits kommt die Angst vor der großen weißen Fläche gar nicht erst auf, andererseits beschränken sich die Materialkosten auf ein Minimum – das wiederum hilft dir, mutiger und experimentierfreudiger zu sein.

In deinen Werken wirst du verschiedene ausdrucksstarke Striche mit zarten Mustern, gestischen Linien und Collage kombinieren. Die Bilder werden aus 5-6 Schichten aufgebaut und für jede dieser Schichten wirst du eine andere Technik verwenden. Zuerst übst du auf einem extra Blatt und dann wendest du die Technik gleich in deinen Bildern an. Am Ende des Kurses hast du eine zusammenhängende Serie aus vier abstrakten Kunstwerken und hoffentlich ein großes Erfolgserlebnis.
Die Schichten
1. Schicht: Malmesser

2. Schicht: Trockenbürsten - großer Pinsel

3. Schicht: Lasur - großer Pinsel

4. Schicht: Zarte Muster - feiner Pinsel

5. Schicht: Gestische Linien - Zeichenwerkzeuge

6. Schicht: Collage (optional)

Geschafft!
Erstelle ein Projekt und teile deine Erfolge mit uns! Du kannst nur deine fertigen Werke zeigen, idealerweise aber auch die Zwischenstände und die Übungsblätter. Wenn du dein Projekt auf Social Media teilst, tagge mich bitte @cornelia_zb_design! 
Viel Spaß bei deinem Projekt! Ich freue mich schon auf deine Bilder!
Class Ratings
Expectations Met?
Exceeded!

0%

Yes

0%

Somewhat

0%

Not really

0%
Why Join Skillshare?
Take award-winning Skillshare Original Classes
Each class has short lessons, hands-on projects
Your membership supports Skillshare teachers