Playback Speed
---
0.5x

1x (Normal)

1.25x

1.5x

2x
30 Day Watercolor Challenge : Let's Celebrate World Watercolor Month
Watch this class and thousands more
Get unlimited access to every class
Taught by industry leaders & working professionals
Topics include illustration, design, photography, and more
Watch this class and thousands more
Get unlimited access to every class
Taught by industry leaders & working professionals
Topics include illustration, design, photography, and more
Lessons in This Class
41 Lessons (12h 33m)
2.

About World Watercolor Month

0:51

6.

Day 1 - Purple Flower Field

27:26

7.

Day 2 - Green Valley with Red Poppies

27:40

8.

Day 3 - Escape into Nature

28:37

9.

Day 4 - A Walk through the Flowers

27:43

10.

Day 5 - Lavender Fields

25:11

11.

Day 6 - Flowers by the Ocean

28:52

12.

Day 7 - Bluebell Forest

25:54

16.

Day 9 - Summer Sunset

20:12

17.

Day 10 - Summer Fields

19:25

18.

Day 11 - Lighthouse by the Beach

25:02

19.

Day 12 - Purple Sunset

19:28

20.

Day 13 - The Summer Glow

24:07

21.

Day 14 - Summer Road Trip

29:58

24.

Day 15 - The Golden Yellow Maple

19:29

25.

Day 16 - Orange trees and Snowy mountain

25:18

26.

Day 17 - Autumn Morning

27:20

27.

Day 18 - Birch Forest

26:42

29.

Day 20 - Autumn trees on Lake

23:54

30.

Day 21 - The Green Lake

26:25

34.

Day 23 - Snowy Mountains

23:54

35.

Day 24 - Northern lights

23:17

36.

Day 25 - Snowy day at the Lake

18:56

37.

Day 26 - Winter morning

26:41

38.

Day 27 - Camping Under the Northern Lights

24:56

41.

Day 30 - You can be a career artist!

10:20
--

Beginner level

Intermediate level

Advanced level

All levels
Community Generated
The level is determined by a majority opinion of students who have reviewed this class. The teacher's recommendation is shown until at least 5 student responses are collected.
About This Class
This past year we have all discovered different ways to stay indoors and somewhere we have lost the connection with nature. A year has passed, 4 seasons have passed. Nature changed its color palette and we could only watch it through our windows. As we are celebrating world watercolor month, I thought it's a great idea to travel around the world to witness all the seasons with watercolors.
This class is designed in a daily challenge forma which will run for 30 days, every week we will be exploring a new season and we will do 7 beautiful watercolor paintings.
Watercolor is a beautiful medium which is known for its transparency and unpredictability. I have been using watercolor since my childhood and every-time I start a new painting, I feel as excited as I was when I started. This course is not just about creating 30 paintings but it is more about learning new techniques, its a power packed course where you will learn so many tips, tricks and techniques which is definitely going to be an asset for your future art practice. 
If you like this class, please leave a review that will help this class reach more students.
I'm so excited to have you here. Thanks a lot for joining :)
Materials you'll need :
Watercolor Paper – I recommend to use an artist grade watercolor paper which is 100% cotton 140 lb cold pressed paper.  I will be using Canson Heritage Cold pressed 140 lb.
Brushes - 1 1/2 Wash brush,   Round Brushes Size 8 and Size 4, Flat Brush - 1/2 inch
Watercolor - There is a color palette section included , please refer to that to get the complete list

A palette to mix your paints.

Masking tape

Any kind of board to fix your paper

Two jars of water

Pencil and an eraser

Paper towel or a cotton towel for dabbing your brushes

Hands-on Class Project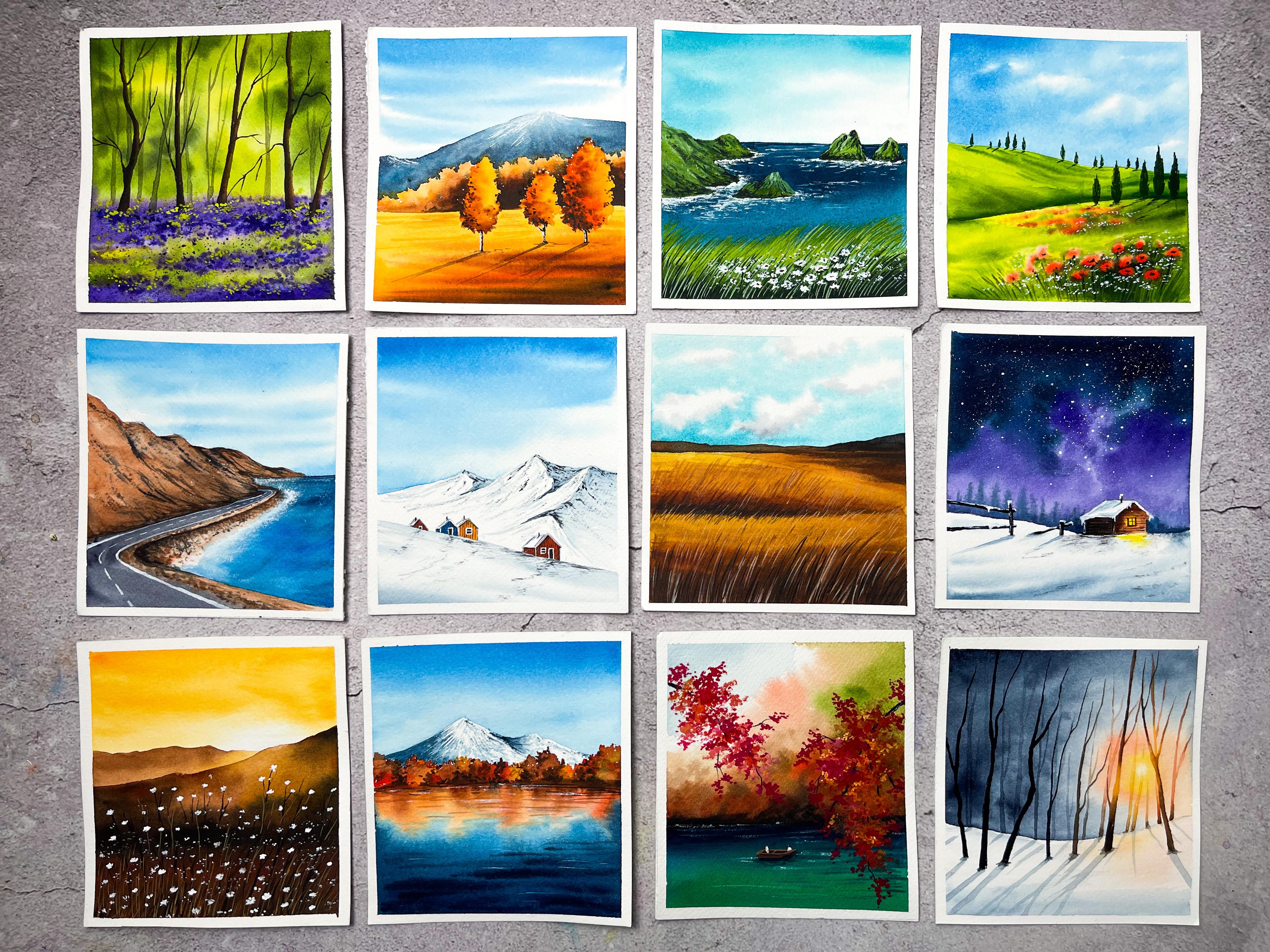 This course is in a daily challenge format, so every day I will be uploading a project which you can do on the same day or you can do them as a whole at the end of every week. By the end of this course you will have 30 paintings.
You can choose to upload your paintings everyday or you can upload as a collection of paintings at the end of the challenge. I will be waiting to see your beautiful watercolor landscapes, So please upload your projects here in the project gallery so we all can have a look at each other's work. If you post your work on Instagram, do tag me @aurorabyz so that I can share your project in my stories! 
If you enjoyed my class please consider leaving a review so it can make its way to maximum students!
Thanks for joining and Happy Painting! 
Class Ratings
Expectations Met?
Exceeded!

0%

Yes

0%

Somewhat

0%

Not really

0%
Why Join Skillshare?
Take award-winning Skillshare Original Classes
Each class has short lessons, hands-on projects
Your membership supports Skillshare teachers