Talk Ain't Cheap – Public Speaking for Profit & Business Dev.
5 Videos (3m)
Finding Forrester & Nemo. Who are you speaking to and what is your message?

Vitamin Wieners & Delivering a Memorable Presentation. What do you say and how do you say it?

Marketing to Your Audience. How do you approach your customers?

Moving beyond the stage. How do you use speaking to bring you business?
About This Class
Most people in this world would rather swan dive into a swimming pool filled with hypodermic needles than speak in public. Why is that? Because public speaking is scary. That's why. What most people don't realize though is that public speaking is one of the best ways, if not THE best way, to grow your business and create a world of new business opportunities. Most people fear public... Read More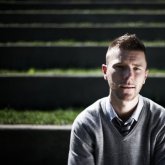 Ryan Porter, Founder. Speaker. Author.
I am a TEDx speaker, a SXSWedu speaker, a lover of great Japanese food, a world traveler and the founder of RaiseYourFlag. com -- a website dedicated to helping work-bound high school students find a career they love. In 2004 I embarked on a quest to... Read More