Playback Speed
---
0.5x

1x (Normal)

1.25x

1.5x

2x
Spring landscape & soft clouds. Watercolor
Watch this class and thousands more
Get unlimited access to every class
Taught by industry leaders & working professionals
Topics include illustration, design, photography, and more
Watch this class and thousands more
Get unlimited access to every class
Taught by industry leaders & working professionals
Topics include illustration, design, photography, and more
Lessons in This Class
5 Lessons (14m)
2.

Step 1: pencil drawing

1:19
--

Beginner level

Intermediate level

Advanced level

All levels

Beg/Int level

Int/Adv level
Community Generated
The level is determined by a majority opinion of students who have reviewed this class. The teacher's recommendation is shown until at least 5 student responses are collected.
About This Class
Hello!
My name is Katya. And I have been painting with watercolor for almost 6 years. During this time, I made more than 60 offline workshops. And now I want to share my knowledge with more people. I believe that everyone can paint and I want you to believe in this too!
This lesson is perfect for watercolor artists of all levels.
If you just start painting, then you will learn the "wet on wet" technique and how to paint clouds.
If you already paint with watercolor, you will improve knowledge of watercolor techniques and learn how to paint with clean water.
In addition, I will explain you how to:
- prepare paints before painting;
- use wet on wet technique;
- paint clouds;
- paint with clean water;
- add small details with white gouache and watercolor pencils.
In the end of the lesson, you will get a new watercolor painting. Also you will get the skills that will help you in the further study of watercolor.
You can find reference photo and my paintings in the attached files.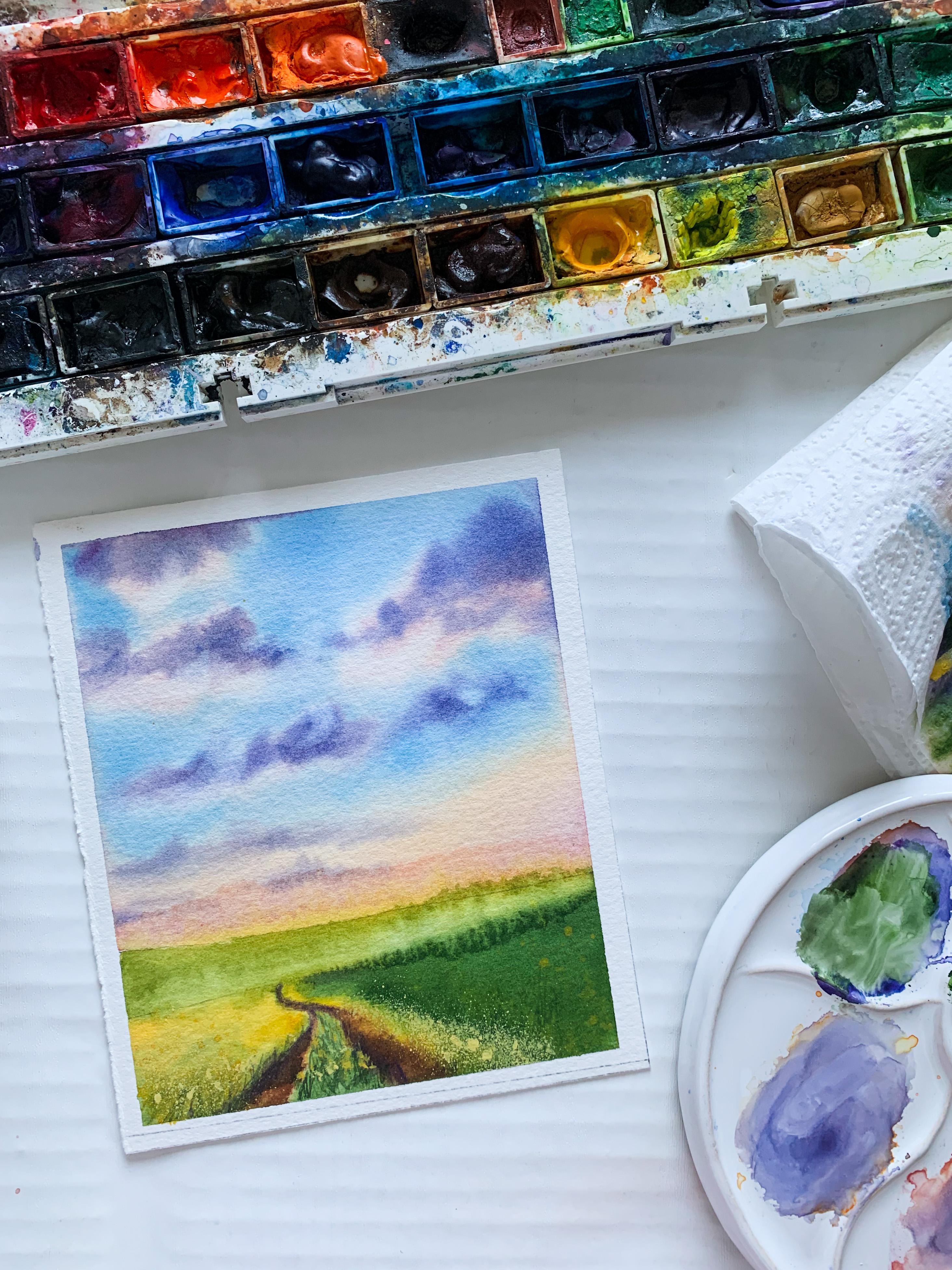 Meet Your Teacher
Hello! My name is Katya.

And I have been painting with watercolor for almost 6 years. During this time, I made more than 60 offline workshops. And now I want to share my knowledge with more people. I believe that everyone can paint and I want you to believe in this too!
I live in Saint-Petersburg and this city always inspires me to painting!
See full profile
Hands-on Class Project
I will be happy to see your paintings! Just share it with us.
Do not be shy about your works, because this is a part of you. It is your unique sensation and vision.
Class Ratings
Expectations Met?
Exceeded!

0%

Yes

0%

Somewhat

0%

Not really

0%
Reviews Archive
In October 2018, we updated our review system to improve the way we collect feedback. Below are the reviews written before that update.
Why Join Skillshare?
Take award-winning Skillshare Original Classes
Each class has short lessons, hands-on projects
Your membership supports Skillshare teachers
Transcripts
1. Introduction: Hi guys, my name is Kate and I had been painting with watercolors for six years. You can learn more about my creativity on my Instagram page. This is my nickname. I will be really glad if you subscribe. And today I prepared a new watercolor lesson for you. We will append spring landscape with soft clouds. In this lesson, you will learn how to prepare watercolor before painting. How to use the wet-on-wet technique. How to paint clouds, how to combine and mix colors. How to bend a real clean water. How to add small details with white gouache and watercolor pen. So let's get started. 2. Step 1: pencil drawing: I start with a pencil drawing. I don't like to do complex pencil drawing in landscape painting. I draw the horizon line and the line dividing the heels. Next, I draw that are all to depict perspective. It is important to read them. They're owed at the bottom of the sheet. Before starting to paint with watercolor, I make the pencil drawing less saturated. If you have to keep this step, then the pencil lines, we'll show strongly through the layers of water column. 3. Step 2: sky & clouds: I will use wet on wet technique for painting. On my opinion, this technique is the best for painting soft and light clouds since cerebri, whether paper with clean water that the bands spread very easily over the sheet. Thanks to these, we can convert the softness of the clouds. While pay absorbs water, I prepare that pains. I drop a drop of clean water into each color that I really use as that painting Sky from the lightest colors and mix the yellow, orange, and kinetochore don't. So I get gentle peach shape. I band through this column near the horizon line. Then add some orange color. At this stage should reform that clouds by painting over this guy. Next, I band shed, those are the clouds and makes kilogram codon, cobalt and orange to get deistic Bhopal column. Using this band shadows on the top of the clouds. It does a bottle to look at and reference on this step. This way we can bend the clouds more nature rather than to smoothly blend the shadow color into the clouds. I blow the color wheel my fingers. Also, if you need to remove column, you should use a wet, clean brush. This way, I shape the clouds again and the make them soft. 10. Okay. While it's still wet, add some dark shadow spots. 4. Step 3: field: Now I tend to painting the field. Let's wet the area only the field, really what Tim? I also start from the lightest colors. At first, I band theory, the saturated yellow color on the tops. Oh, the heels. This real show. Then the heels are illuminated by the sun. Next, I add olive green color, though the phi heel mix, olive green color with green with a saturated green color. I bent over the heel in the foreground. We have theta remains of green paint on the brush. I band though with a heel on the left. And they bent over the grass between the role, it's really the same green column. Also. Now we can create this structure on the grass while the paper is still wet. The donates use chaotic vertical strokes. Now, I tend to paint their old, I take mars brown color and mix it with amoeba. Then I band or whether road, notice that they make vertical strokes in yellow, the grass that's banned do that. There aren't Zetian of the integrals, one naturally. Along the right side though they're old, I paint the yellow line to imitate the flowers as Alipay, but has already begun to dry. The British colony begins to push the previous layer out of the bay and leaves unusual button. Take this moment and band align along the Bordeaux the nearest he'll read the clean wet brush. So our painting became unusual and picture sick. They want to push the pigment out of the paper and lift bizarre stains that resemble grass and flowers. I mix of interest over the Bhopal on the pilot with brown to paint a shadow on the rod. I dry the painting with a hair dryer. 5. Step 4: small details: Now we move on to the last step, painting the details. I use semi dry brush and green color with the vertical tower took strokes. I add grass in the center until along the h over the heel. It is better to add such details on the, to the foreground to further emphasize the perspective in the picture. Now I'm mixing yellow watercolor with Kitano, white goulash. I spread this color using a Bristol brush with a belt on what to gallop pain. So the shadow on the road. And I add a few spots of light yellow paint to depict the deaf flowers. That's all. Thank you for watching my lesson. I really appreciate it. It drives me as a teacher. Don't forget to subscribe to my Skillshare count here every month, I make new watercolor lesson. Also, AOB, really glad to see your paintings, just applauded in student's project section. I hope to see you soon. Bye.