Playback Speed
---
0.5x

1x (Normal)

1.25x

1.5x

2x
Solve Rubik's Cube in 4 days - Day 1 First Layer
Watch this class and thousands more
Get unlimited access to every class
Taught by industry leaders & working professionals
Topics include illustration, design, photography, and more
Watch this class and thousands more
Get unlimited access to every class
Taught by industry leaders & working professionals
Topics include illustration, design, photography, and more
Lessons in This Class
14 Lessons (18m)
8.

Step 2 - Top Corners Demo

0:36

13.

Day 1 Recap - The Whole first layer

4:35

14.

Project 2 : Doing the first layer

1:09
--

Beginner level

Intermediate level

Advanced level

All levels

Beg/Int level

Int/Adv level
Community Generated
The level is determined by a majority opinion of students who have reviewed this class. The teacher's recommendation is shown until at least 5 student responses are collected.
About This Class
This course is about getting you to solve the most famous puzzle in the world, Rubik's cube. If you tried to solve it in the past and failed, worry not...I am here to guide you step by step through my unique method.
I will be using 3D model software in most of my lectures instead of a real cube. I found out that it makes you see the moves far better than if I used a real one.
The good news is that I will not be using notes! Yes, that's right… I did not learn with it, so I will not teach it. Instead, I will show you the moves with arrows and shapes.
I believe anyone can solve the cube if he learned it as I did, that is learn a few moves and then practice it for a day, and then a few moves and so on, and that's exactly what I will be doing with you.
As the title says, you will learn to solve the cube in 4 days... but that does not mean you will be FAST in a week! NO, it will take you some time depending on how much you practice, to solve the cube in 3 minutes or less, and you will learn in a way that will enable you to memorize all the steps in 4 to 7 days.
So why take this course? Because it's unique, it's simple, and I don't use the cube's notes.
Hands-on Class Project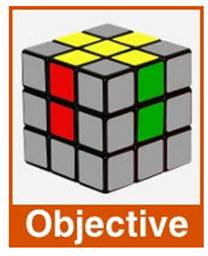 Do a cross like the one on the right. Try to make at least 3 crosses.
Make the first layer. Try to make at least 3 colors before moving on to Day 2.
Class Ratings
Expectations Met?
Exceeded!

0%

Yes

0%

Somewhat

0%

Not really

0%
Reviews Archive
In October 2018, we updated our review system to improve the way we collect feedback. Below are the reviews written before that update.
Why Join Skillshare?
Take award-winning Skillshare Original Classes
Each class has short lessons, hands-on projects
Your membership supports Skillshare teachers
Transcripts
1. Welcome: Hi. Welcome to Master Rubik's Cube in just four days. First, I would like to say thank you for purchasing my course. My name is Henny. I live in Egypt. I'm a photographer and a musician, and I'm in love with the Rubik's Cube. This course is designed for the three by three Cube and that cube that you see in the picture here. I started solving the cube in 1985 almost 30 years ago when I saw a friend of mine doing it . And Ah, I kept asking him how he you know, solving it. And in 1985 the Cube was much much popular than now. But still, after 40 years, I think from Ah Rubiks invention the Cube still popular. And it's the world most famous puzzle. So this course will show you how to solve the cube in about four days. And ah, again, I would like to welcome you to Ah, very short journey. Hopefully that will be fun for you and enjoying. And I will see you in the next video. Thank you. 2. Know your cube: the centerpieces. There are 61 for each face, and there's only one for each color. The rotate around themselves, and they don't change their position, so they are always in the correct position. Centerpieces colors are always opposite to each other. White, opposite yellow, orange opposite red and green opposite blue. The corners. They are eight of them, each one with three different colors. The edges. They are the pieces between the corners. There are 12 ages in the cube, each one with two different colors. 3. Step 1 - The Cross: the first thing you have to do is choose the color you'll be starting with. You can choose any color I'd like to start with. The yellow face from this point on will be using yellow to talk about the first face color and white for the opposite face. This first step consists on solving the Yellow Cross and the top face of the Rubik's Cube. In order to do this, we have to place the yellow edges into the respective position one by one. So we're going to do this four times holder Rubiks Cube, so the top faces yellow and the bottom one is white. Search for a yellow edge on the bottom layer. Pay attention to both colors of the edge. If you can't find any, go down to case. Three. There is not any age on the bottom layer section. Rotate the bottom layer until that age is underneath its position. Right now I'm looking for a blue yellow edge, and now this ages correctly underneath the center. Apply one of the following solutions 4. Cross Case 1: Okay, We have three cases in which the edge will be located. Case number one when the edge is looking down in this example is the blue and yellow edge. All you have to do in this case is to rotate the front face twice like this. And there you go. The yellow blue edge is correctly positioned. 5. Cross Case 2 : in case number two. The edges facing front in this example is the yellow orange edge. So in order to do this, we're going to retain the bottom layer to the left. And then it would take down the middle layer and Onley the middle layer. We'll take back the bottom layer to the right and then rotate the middle layer up again. And there you go. We have the edge in its place and we didn't touch the first edge, which is the blue and the yellow. 6. Cross Case 3: I will come back. Case three. There is not any edges on the bottom layer. That means Dedge is probably on the side or on the top. Let's take the 1st 1 If the edges on the side, we need to rotate the front face at the bottom like this. And now we have the edge facing front. Now you know what to do. Left center down. Right. And ah, if the edges on the top in this example the yellow red edge here, all you need to do is to rotate the front face twice. And now the itch is facing you by now. This should be easy for you. Bottom left sent her down. Bottom right, center up. And there you go. We have the cross finished. 7. Project 1 : The Cross : well done. You are halfway to finish the first layer. But before we go any further, I want you to make a cross on at least three faces. And you can pick the color this time. Take your time. Watch this tutorial again if you needed to. And I will see you in the next video by 8. Step 2 - Top Corners Demo: after finishing the cross. Now we need to finish the rest of the first layer and we go to do this by putting each corner piece in its place. We shouldn't place them wherever we want to, because each corner has a specific position in the Rubik's Cube. Like the last step. We're going to do this four times, one for each corner. By the end of this tutorial, you'll be able to solve the first layer. Now, remember, at this stage, speed is not our focus. I want you to focus on memorizing the steps, so I'll see you in the next video. 9. Top Corners Case 1: holder Bix Cube in a way in which the yellow face is the top on and the white phase the bottom one. Search in the bottom layer for a corner with the yellow on it. Pay attention to the three colors in each corner. If you can't find any Goto case, for there is not any yellow corners on the bottom layer section. What did the bottom layer until such corner is underneath its position Right now, I'm looking for the yellow, green and orange, and I put it underneath its position. Apply one of the following solutions. Rotate the bottom layer to the left like this, then rotate the face that has the yellow orange edge down. Rotate it back the bottom layer to the right and then up like this. That's it. 10. Top Corners Case 2: in case to yellow looking to the right. First, you'll notice here by accidents that I have already yellow corner on the top. But it's not the correct yellow corner. You know why exactly? Because we have the wrong colors. I am looking for a yellow, orange and blue corner, and I already have it underneath its correct position. So here first, we're going to start by rotating the face that has the corner down. We're going to retain the face down. Then I'm going to rotate the bottom layer to the left, replacing the old corner with the new one and then rotate the face back up. I'll see you in case three by 11. Top Corners Case 3: in case number three, We're going to repeat case to after a few moves. First, in this example, I'm looking for yellow Orange, green corner. So now I found it. I'm going to retain the bottom layer to the left so I can position it underneath. It's correct position. Now it's under the correct position. First, I'm gonna start with imitating this face down. Then I'm going to irritate the bottom layer twice to the left, one to, and then you take the face with the yellow orange up and then I rotate the bottom layer one time to the right. Now we have case too, which is the yellow is looking to the right. I'm positive that you still remember how to do case to face down bottom layer to the left face up. And there you have it. Case three is exactly like it's too, with just adding a few moves, see in the next video by 12. Top Corners Case 4: case, for there is not any yellow corners on the bottom layer here. In this example, we can clearly see that the corner that we're after, which is the yellow blue orange, is in the correct position but wrong oriented. So we need to take it away from the top player, and we're gonna do this by first lowering the face down and then rotate the bottom layer to the left, rotate the face back up and then rotate the bottom layer one more time to the right. And here we can clearly see that it is gays to again. I'm sure you're very good at it now, but sometimes it's going to be Case three. So depends on the case. You're going to repeat Case three or case, too. I'm going to demonstrate gays three very shortly, but let's try again. Little case to one more time. Face down, rotate the bottom layer left, face up another example off case for you can see that the corner is in the correct position . But again in the wrong orientation, and the yellow is actually looking to the left, not the right. It doesn't matter if the yellow is looking to the left or the right as long as the corner on the top. So we're going to repeat the same movements again. And this time we're going to end up with case number three, which is the yellow looking down on. I'm sure you can still remember how to do this. One face down, bottom layer left twice. Face up bottom layer to the right. And now we have case, too. Repeat case, too. And there you go. So this one combines case for Case three and case two together. A little bit difficult, but I'm sure you can do it. Anyway. Next video, I'm going to do with the whole layer from A to Z. So see you then. Bye. 13. Day 1 Recap - The Whole first layer: Hi, guys. Welcome back to how to master a Rubik's Cube in four days. This video. I'm very excited because I'm going to show you what we've learned so far how to solve the first layer. Now, before we start, there's a couple of things I want to say. Number one, both of us. We're not gonna have the same shuffle of the Cube. So it would be very hard for you to keep up with me because we don't have the same shuffle . But that doesn't mean that you don't follow along because sometimes I'm going to face Case one, and at the same time, you're going to face the same case. So, uh, that's the first thing The second thing is always thought with something easy. Don't go to the hard cases like this. Number three or four. Okay. So, um, something easy will be, For example, this one. We're just going to irritate the Cube twice. Sorry. With their face twice. And now we have the yellow blue place. Um, let's see now. This is easy enough. The yellow orange. What else? Uh, green and yellow. Okay, so we're gonna rotate. Ah, the layer in the middle we'll take this one, and then we get back in the center, okay? And just making sure that everything in order rates and last but not least, is this one. There's no any yellow pages at the bottom. So we're Tates the face twice. And now the yellow and the bottom left. Center down rights and move up. And now we have the cross. Let's move on to the corners again. Same thing applies with the corner. I'm not. I don't start with this one. Usually start with something easy like this one. It's already in place yellow, green and red. And actually, it replaces the wrong one. So it's, ah, doing two things at the same time. All right. And then it's very easy case, remember, how do you solve this? Rotate lifts face down. What a trite. And up there you go. And now we have This one is free. Uh, we can do it. And the yellow blue read, which is right next to it. Okay, um, I hope I'm not eso fast so you can keep up with me. Um, left down rights and up. Okay, two more to go. Uh, I see one here. So again. I always leave this one to the end. Yellow, blue and orange here. So I'll just irritates, I think the bottom layer twice. Okay. And now we have this case. Just case one very easy. Okay. And now, uh, this is case four, So Ah, Down then. Left up. Right. Case three So or take is three. And now it's case too. And there you go. We have the capital t in place, every goods. OK, this is looking good. Thank you for watching this video. I hope you follow the long and you are finished with me at the same time. See you in the next video by 14. Project 2 : Doing the first layer: Congratulations. You have finished the first layer of the cube and you must be exhausted by now. I didn't want to break this step into two days because it's vital in this early stage to become familiar with the Cube if you made mistakes. Oh, you still can't do any steps without the videos. Don't worry. Rome wasn't built in a day. And so is your muscle memory. If you follow the whole tutorial in one session, you need a break. Seriously, go for a walk or take a hot bath and relax. You work very hard and you need a rest. If you follow the tutorial and several sessions, that's okay. You already for the action step which is doing the first layer from A to Z. I urge you to practice while the cases are still fresh in your head. Ah, quality. 30 minutes is enough to do the job. Remember, Speed is no the objective in the station. Take your time and go slow and I will see you in the next video by