Playback Speed
---
0.5x

1x (Normal)

1.25x

1.5x

2x
Powerful Social Media Marketing for Beginners
Watch this class and thousands more
Get unlimited access to every class
Taught by industry leaders & working professionals
Topics include illustration, design, photography, and more
Watch this class and thousands more
Get unlimited access to every class
Taught by industry leaders & working professionals
Topics include illustration, design, photography, and more
Lessons in This Class
76 Lessons (8h 50m)
4.

Marketing Myths Debunked

9:03

6.

Social Media Introduction

4:21

7.

Business vs. Personal Social Media

7:04

8.

Organic vs. Paid Social Media

3:52

9.

Which Platforms to Choose

6:01

10.

Twitter for Beginners

3:36

12.

LinkedIn For Beginners

3:47

13.

How to use LinkedIn - Personal

10:42

14.

How to Use LinkedIn - Company

2:33

15.

Facebook for Beginners

4:38

17.

Instagram for Beginners

8:10

20.

Pinterest for Beginners

3:40

25.

YouTube for Beginners

6:30

29.

What Makes a Powerful Brand?

6:03

30.

Create a Brand Identity Kit

5:20

31.

Content Marketing 101

4:25

32.

Get Endless Content Ideas

8:04

33.

Find Free To Use Content

9:20

34.

Design Powerful Graphics

11:53

36.

Master Compelling Copywriting

9:28

37.

Why You Need a Strategy

5:51

38.

Get to Know the Business

5:52

39.

Develop Customer Personas

8:15

40.

Collaborations and Partnerships

7:31

41.

Your Engagement Strategy

3:04

42.

Leverage User Generated Content

5:25

43.

You're Halfway There!

1:22

44.

Present Your Strategy

9:19

45.

Create a Content Calendar

12:07

48.

Scheduling Your Content

4:48

51.

Later & Canva Scheduling

8:53

54.

Project Management Tools

7:17

57.

Fundamentals of Facebook Ads

4:35

58.

Set Up Business Manager

6:49

59.

Choose the Right Objective

12:47

60.

Audience, Placement & Budget

14:05

64.

Why Engagement Campaigns?

8:26

70.

YouTube & Competitor Analytics

4:54

72.

Digital Marketing Funnels

9:38

74.

Make Social Media Better

8:59
--

Beginner level

Intermediate level

Advanced level

All levels
Community Generated
The level is determined by a majority opinion of students who have reviewed this class. The teacher's recommendation is shown until at least 5 student responses are collected.
About This Class
Exceptional social media marketing is a key aspect of succeeding online for any business. So whether you're looking to learn this as a skill to grow your own business or you want to become a social media manager and work for businesses all over the world - this course is for you!
This course is designed in a way that will take you from being a complete beginner in the world of social media, to an absolute pro using only free online tools.
All of the content you will find here, is based on the exact tips and techniques I wish I knew about when I first began working online as a social media manager, combined with the latest knowledge of the rapid-moving social media world.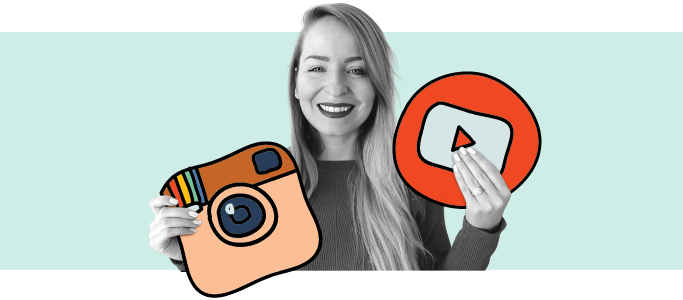 This is a longer course so I have divided it into the following main sections to make it easier for you to break your learning down into chunks:
Setting Up for Success
By the end of this section, you'll have the confidence that no matter what your current skill level is in this area, you absolutely CAN succeed in becoming an exceptional social media marketer.
Social Media Platforms
This is where we'll cover how to use each of the main social platforms for business instead of for personal use and how to get the most out of your time spent on each platform.
Branding and Content Marketing
Here, you'll discover how to develop powerful brands, create beautiful graphics, and write compelling content.
Social Media Strategy 
You will learn the importance of having a strategy in place and how to develop an invaluable strategy for any business. 
Optimise Your Workflow
Get to know handy scheduling tools, project management systems and other handy tools that will help you get more out of the time you spend online. 
Paid Ads
In this section of the course we'll be diving into the world of Facebook Ads as well as how you can easily advertise on other social platforms like LinkedIn and Pinterest.
Measuring Success
This is where you'll learn how to measure the success of your efforts and make adjustments going forward based on what's working and what isn't.
What's Next?
In the last section of the course, we'll dive into understanding your client's business outside of just their social media content. This is where you'll supercharge your knowledge and start thinking about how everything fits together in the business and marketing space. 
And of course, you'll have your handy course guide with links to all the tools and resources we'll be using throughout the course and a few additional ones I thought might be helpful. Make sure to download it from the Projects & Resources section before you begin!

Thank you for wanting to learn from me and I can't wait to see you on the inside!
Meet Your Teacher
Hey I'm Maggie. I'm a digital marketer and your creative instructor!
Back in 2016 I was introduced to the world of social media marketing. I was SO excited about the possibility of working online and being my own boss but I was really struggling with the lack of honest, authentic, and high-quality information out there for beginners. So after learning the ropes the hard way and becoming a successful freelancer, I set out to help make things easier for creative overachievers like myself.
So, I went ahead and created everything with you in mind.
My classes are made by someone who knows exactly how intimidating it can be to be trying to master 20 tools at once and stay on top of constant updates with each of them. And my hope is to take away some of the o... See full profile
Hands-on Class Project
Your project will test your skills from this course by allowing you to strategically analyse a brand's social media presence and provide suggestions for improvement as if they were your real social media marketing client.
If you don't already have a Canva account, make sure to go ahead and

create a free account here

as we'll be using it quite a bit throughout this course.

You'll then be able to

add this project template

to your Canva design library and make it your own!

As a reminder, for your project you can use yourself, a client or any brand online as an example to complete your project.

In the template, you will be asked to think strategically about the online presence of your chosen brand and where you can see areas for improvement.

Once you're ready to share this in the Projects & Resources section, head to 'Share' in your Canva document, and make sure where it says 'Link will be shared publicly' the settings are on: 'Anyone with the link' and 'Can view' and copy this link. This is to make sure no one is able to make edits to your beautiful project. (See screenshot below)
Please remember that the aim of this project is not perfection. The aim is to get you to put all of your newfound knowledge from this course into action and get some feedback from me so that you can feel confident in your skills once you're doing this for paying clients.
I can't wait to see your project, and remember that if you're getting stuck - you can go in and have a look at my own project for reference any time as well :)
Happy creating!
Class Ratings
Expectations Met?
Exceeded!

0%

Yes

0%

Somewhat

0%

Not really

0%
Why Join Skillshare?
Take award-winning Skillshare Original Classes
Each class has short lessons, hands-on projects
Your membership supports Skillshare teachers