Playback Speed
---
0.5x

1x (Normal)

1.25x

1.5x

2x
Play BLUES SCALES at the Piano
Watch this class and thousands more
Get unlimited access to every class
Taught by industry leaders & working professionals
Topics include illustration, design, photography, and more
Watch this class and thousands more
Get unlimited access to every class
Taught by industry leaders & working professionals
Topics include illustration, design, photography, and more
Lessons in This Class
14 Lessons (40m)
--

Beginner level

Intermediate level

Advanced level

All levels

Beg/Int level

Int/Adv level
Community Generated
The level is determined by a majority opinion of students who have reviewed this class. The teacher's recommendation is shown until at least 5 student responses are collected.
About This Class
Do you know that Pentatonic Scales are key to imrovisation in Blues and Rock´n Roll?
This volumen is dedicated to learn:  Blues Scale.
Even that this class is not about how to improvise, is a fact that knowing these scales WILL help you to know what to play when you start improvising, it will give you RESOURCES.
Through 100% practical videos you will learn:
All the 12 major Blues scales.
The correct fingering.
The notes of each scale.
Tips on how to play them with a good technique.
Downloadable PDF.
Each video has the notes in the upper part of it so you can follow the notes and fingering while the instructor is showing how to do it.
Enroll in this class today and enhance your piano technique and get ready to play the Blues Scale.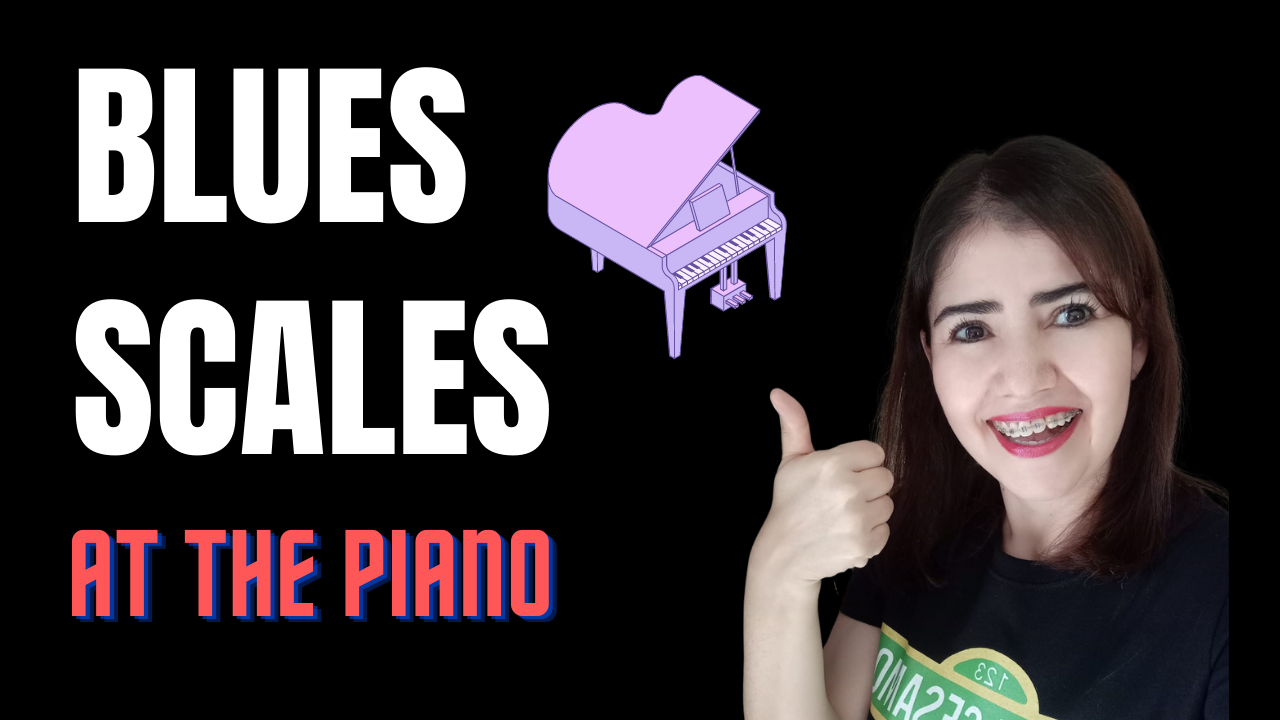 Meet Your Teacher

Hello Skillshare community!!
My name is Ilse Lozoya I am a pianist and educator, I love to teach online because I can share about music, piano, and education with student around the globe and I think this a wonderful thing in our days.
My Skillshare classes are dedicated to music students, if you are a beginner or a advanced student I am pretty sure that you will find a class that can help you in your music journey, you will find classes basically about piano, music theory, ear training and education.
Here are the links to my classes:
PIANO TECHNIQUE CLASSES:
Piano Technique 101 #1 - The 7 Min Routine - https://skl.sh... See full profile
Hands-on Class Project
Welcome to this class!
 This class is dedicated to learn how to play Blues Scales, remember:
Follow the fingering
Do not play fast
Go at your own pace
 If you have any question please let me know and I will be very happy to help you.
Enjoy your piano journey.
Ilse Lozoya
Class Ratings
Expectations Met?
Exceeded!

0%

Yes

0%

Somewhat

0%

Not really

0%
Reviews Archive
In October 2018, we updated our review system to improve the way we collect feedback. Below are the reviews written before that update.
Why Join Skillshare?
Take award-winning Skillshare Original Classes
Each class has short lessons, hands-on projects
Your membership supports Skillshare teachers
Transcripts
1. Introduction: Hi. Welcome to this class. My name is in Selous. Oye, I'm a pianist, Music teacher, Aniline indicator and I want to invite you to join this class today. This class is the number tree in a series of classes dedicated to learn how to play pentatonic scales. And in this class, we are going to learn how to play the blues scale. Maybe to like this gender. Would you like to play Blue's? Do you like rock and roll? And you know that it's important to learn how to improvise. But even that this class is not about how to improvise. Well, if you know how to play, the blues scale is going to be very useful, very helpful when you get to that point off your playing. John, this class today in this class is 100% practical videos and you will learn how to play following the correct fingering all the juices scales. You are going to be able to read the notes while I'm teaching you how to play. When you while you are watching me, how I am playing, I'm going to give you important tips so you can follow a good fingering and you know, Don't play too fast. Go at your own pace. This is very important. If you have any questions, please let me know and every very happy to help you. Welcome to this class. 2. A Blues Scale: Let's learn how to play the blues. A scale beginning with a notice is going to be the a mind the pentatonic minor But converting this a scale to the blues scale. How are we going to do this? Well, remember, you have to be really well, if you follow my suggestions by now you must be able to play the minor pentatonic scale a minor, the pentatonic scale and what I'm going to do. Well, I am going to add the blue note, which is the the the note, which is a 50 note off the scale. I am going to play this not only the natural one, but I'm going to play it. Ah, half step lower. I'm going to decrease. There's no to So I'm going to play the e flat. So is going to be a see the e flat and then a natural a So the fingering that I used before Waas one to treat one. Well, now I want to play one to treat than four. So I am playing the the blue note here and they're going to pass my thumb and it's ready as I play before What? I'm going down. I'm going to play here with finger number four. My recommendation is to play this slow, articulating a little bit so you can learn this better in a more automatic away. 4321 Play one more time passed your song articulated and always relax old your fingers after do you play? Then you relax. This is important. You start playing and keeping Hold your fingers like this, racing your fingers. That is not correct, because that means that you are playing with tension and we don't want that. Now what I'm going to when I'm going to play this with my left hand I am going to use instead of using five. Dream to one, I am going to play 543 and then my finger number two is going to play the blue note and then I pass finger number 21 So I'm going to play this one more time. Slow articulating. 21212345 What you play this one more time. 5432121 Then going down, passing my song e recommend you to play several times. Don't play too fast when you want to play If you are capable to play without any mistake, well, you can increase the speed and do don't articulate anymore so you can play that is going to help you to play faster, but always at the beginning. Slow. No mistakes articulating so you can really understand and learn your hand. Your muscles can learn and play actually by memory without thinking which finger you are going to use. 3. E Blues Scale: Let's learn how to play the blues scale. Beginning from the e note, we learned that the pentatonic Minor the E pentatonic minor scale has this notes e g a. Being the e. The change here is that we're going to add this. No, that is called the Blue Note. So I am going to play the fifth grade. In this case, the B note. The B note is going to that be decreased half step, so it's going to be e g A B flat and then natural be e g a B flat, natural being. And the fingering is going to be 123412 tree. So I'm going to play. This is lower, always at articulate, and so do you can and make sure that you are learning this and you're Mosul's. Your most muscular memory is going to be. It is going to redevelop here. So 1234123 You're going back And 4321 I'm going to play this true times 123 one more time. Now I'm going to play this using my left hand. The change. When I played the pentatonic minor, I was using 5321 The change here is I'm going to play 54321 So I can play this. Why there, Blackie? He right here, which is a B flat one a 5432121 to play this one more time for you. 5432121 I passed my son one more time. Remember, played many times sometimes is really necessary to play one hand and more times in this case, Maybe if you if you write with your right hand, maybe the left hand is the one that is going to need more practice. So take your time and go at your own pace. 4. B Blues Scale: Let's learn how to play the blues scale beginning from the B note. Wait play before the pentatonic minor, The B pentatonic minor scale and the notes are being the f sharp. A big If we want to play this as the blues a scale we're going to add another note on. We're going to play the natural effort here. So it's going to add that characteristic sound to the blues. A scale. So what I'm going to play? I am going to suggest you to play with this fingers. 12 Then I passed my thumb right here. I play the E note with my finger number one so I can easily play if natural. If, if sharp and then go to the next. Be 1212 Dream for five. Maybe you will feel that right here. Do you need to put together, You know, bring together all the fingers and then here stretch a little bit. But that's the way the this scale it's so just go at your own pace. Don't play too fast and articulate. 1212 Tree for five for tree 2121 e. I want to play this one last time. Now I'm going to play with my left hand. So which fingers I am going to use? My suggestion is five. Dream to one on then f sharp with my finger number trio s Oh, my thumb is going to play right here. And when my f natural f and natural be so you need to keep this in mind. Really? When you are playing this five tree to one tree to one and then you press your song 12 tree five. What you played is one more time always passing my thumb fast so I can anticipate the movements and this is going to prepare me to play faster in the future. So don't play too fast. God, your own pace. Always without mistakes and playing with the same finger. And And this waas the blues scale beginning from the being note 5. F# Blues Scale: Let's learn how to play the blues scale beginning from F sharp. So this is the F sharp Eliza scale we played before the minor pentatonic. We played F sharp, A, B, C, sharp E and F. What we're going to do, we are going to add another note. We're going to play the natural, See? So what I am doing? I'm playing the C sharp, But first I'm going to play the natural seat. So the fingering that I'm going to use is 21234 So right here it's going to feel so natural because I'm going to use finger 1234 If you have, you know, larger fingers or kind of wife fingers will. Don't worry, but do need to be able to play this so don't play too fast. Slow so you can really learn how to play Use in the correct fingering for trees 212 I am going to play this ties articulating passing my song for tree Teoh. Now I'm going to play this with my left hand. Well, my recommendation here ISS using 31 then 432 so you can play here. The blues, the blue note, which is a characteristic note of this scale. Tree 14 tree to one tree. 12341 drink. I'm going to play this twice. Take your time so you can really learn the fingering and the notes off the scale. Take your time. Don't play too fast without any mistake, always at your own pace. 6. C# Blues Scale: I am going to show you how to play the blues scale beginning from the C sharp note. You may think that it is less common, but it's necessary if you want to really master all this technical exercises. And of course, this is scale you don't want to need to in the future. If you need to play this a scale and you have in practice, well, it's not a good idea. So just is my suggestion to keep practicing just from any note, note as its roots. So we play before the C sharp minor pentatonic scale. The difference. If we want to play this a scale, ask the blues scale while we're going to do well. Instead of playing right here on Lee F Sharp and G sharp, we are going to play natural g two and this is the blue note, remember? So what I'm going to do, I am going to play with my finger number 31 and then 123 and four right here. This is important. Actually, you can do exactly what I'm just it so you can get familiar with this off course. If you have larger fingers, your your hand. My hand is not that big. Actually, it's kind of medium hand, but it's just a matter of practice. Whether do you have watch your fingers or larger fingers will just practice. Don't get desperate if you don't feel comfortable at all of the beginning. Playing this so 31234 Then 13 43213 I am going to play this twice. 31234131432133 Ah, boy, playing like this threshing the rest of your fingers You need to bring all your fingers close to the area where you are playing so you can play like this And this fingers want five needs to be really relaxed. Now I'm going to play this with my left hand and my suggestion instead of playing 31 tree you're going to play right? He would finger number four so you can practice this'll Chromatis from here when you play the blue note. So 314321 314321 And then you play number tree and you go back 12 tree for one tree. I'm going to play this two times Tree 14321312341 Tree! Take your time especially When do you need to play this right here? So practice several times Don't play too fast on Did you really feel comfortable? And you think that you have mastered this This waas the blues scale from C sharp 7. G# Blues Scale: Let's learn how to play the G sharp blues a scale. Remember that we are first learning how to play the minor pentatonic so we can just add the blue note and it's going to be kind of easier. So the minor pentatonic here beginning from G sharp Was this what I am going to do? I'm going to add the the natural d remember that this is this is going to be the fifth note that it's added. This is a blue note so g sharp being c sharp than the natural. The then right here. This is the G, the g sharp, which is part off the court. So But if I do this, then it's going to be a little difficult to play leg. Otto. So what I'm going to suggest you is 212 Then again, you pass your thumb here and you're going to play the natural deal with finger number one on. Then you can play 234 on and you are going to be able to play leg. Otto, this three black keys so you can also play with finger number three right here instead of two. I am. I chose the number two, but you can if you want to play from the number 3212 one, 34321212 I am going to play This tries now. I want to play this with my left hand. I'm a recommendation here. Here. I'm going to begin with. From the number three, you can begin with finger number two, but especially when I am using the left hand. I prefer to use number three so it can bring me a me. I can feel more, uh, more secure plane. That is so 31 31 and then Or do you want to do for tree to one tree? One tree tree 1314 Treen 2341 Dream one tree I am going to play This tries one last time Play this slow and always be aware of the finger and notes. So this waas the G sharp blues scale 8. D Blues Scale: Now I'm going to play the blues scale The deep blues scale. Remember that this a scale comes from the minor pentatonic. What I am going to do instead of playing the ng f g a. What I'm going to do, I am going to ask The blue note in this case is going to be a flat this one and my recommendation would your right hand is going to be to play 1234 And then I passed my song and I play 123 1234123 Take your time Bring your fingers closer to the area of the keyboard and to the finger that it's actually playing. Don't play like this because is going to make you play Ah, slower. And you won't feel that, um that control over your fingers over the notes and over the sound that you want to produce when you are playing. So always bring your fingers closer to the finger that is actually playing So 1234123 floor 3 to 1. I am going to play this twice thing one last time. Now what about my left hand? Well, my recommendation to you is used 54 tree to one in this Just open here and 54 tree to one. Then you play to one and then you go back and you play the a note with finger number one, 23455432121212345 I am going to play this twice, articulating so I can really have control off. Ah, all my fingers over my fingers And what I am playing a member Tha the's de blues scale to your time practice and watch the finger is and always think about the notes that are part of this scale while you are playing. 9. G Blues Scale: Let's learn how to play the GI Blues scale. Remember that we are playing before the G minor pentatonic scale, which is this Ah, what I'm going to do? Well, I am going to add the blue note, which is a characteristic note in this. A scale in the blues scale It's in this case is the flat. So right here I am going to add the flat and then the natural be so my recommendation to you is to play 131 to dream four, 51312345 Damn! Going back. 1312345 And want to play this twice. One last time with your left hand. My recommendation is play with finger number of 54321 So my thumb is going to be playing the and then finger number two on one So my thumb is going to play the n g 5432121 I'm going to play this twice. Don't play too fast. Go at your own pace. Place lower If you need that, you need so And this is the GI blues scale. Take your time. God, you're in place at your own pace. Don't play too fast 10. C Blues Scale: in this video, I am going to show you how to play the sea blues scale we played before the C minor pentatonic scale. Which notes are C B C E flat F gene B flat and C C E flat F G b flat and see what we're going to do. We're going to adhere the G flat. So this is the blues scale. The blues note. This is the blue note. So when you have here, you have this Really? You're going to have this characteristic sound off the blue scale. So that's why this is called the Blue Note. So my recrimination to use finger 13123454321311312345 Did you go back? I want to play this twice now with my left hand. My recommendation is finger 54321 to one. So my thumb is going to play G and C and from here are just going to play with all my fingers. 5432121 212345 And I'm going to play this choice And this is the blues. A scale beginning from the C note 11. F Blues Scale: I am going to show you how to play the F blues a scale Remember, we played before the F minor pentatonic scale. What we're going to do This is ah, minor pentatonic way we're going to do We are going to add that blue note. This is a blue note from the blues scale. This is the characteristic the typical note and we were going to do We are going to play see Flat do amazing that see flat is big So why am I telling you that we are adding See flat? Because theory Kelly, this is correct. When we talk about music theory, this is C flat because we need to decrease Have stepped from the fifth grade In this case, this is C flat off course. This is an harmonic would be with the natural Be so it is too early. Okay, if you think about this like B But the correct answer talking about theory is C flat So Mary combination to you when talking about the fingering is going to be 1234 than your pastor. Some 13 and four You can actually play here. You can play here one Teoh you get played with finger number two here a number 3123 for one tree for you. Remember, you can't make some modifications, but just make sure to play always with the same fingering. So one to tree for one treat floor one last time tree for 31 I want to play these with my left hand. It's going to be 54321 to one. So my thumb is going to play C and F 54 tree to 1 to 1, and I pass. 5432121212345 I am going to place this twice way and this is the F blues scale. Take your time. Always think about the notes that are part of the scale on the finger. Inquired you are practicing. So when you are thinking about this, do you are really improving your memory and really understanding? What are you playing 12. Bb Blues Scale: in this video I am were to show you how to play B flat, the blues a scale Well, while you are going to do we previously play the B flat, minor pentatonic scale while you are going to do now is we're going to add the blue note, which is the f we are going to decrease have steps, so it is going to be F flat. So this scale has B flat, the flat e flat, F flat and natural F as well. A flat and beef Let you may think, well, f flat. Actually, it is. Naturally, the thing is that yes, f flat is going to be played right using the same key than e the natural e. But where we're talking about theory, we need to say that this is f flat. So that's why I'm I'm going to call this as I'm going to name it as a flat. But don't get confused if you want to think. And naturally, that's start all the okay to just need to be aware off wide the explanation when I say f flat. So my recommendation to you is going to be 2341234 So now my thumb is going to play in the F flat. 2341234 I'm going to play this twice. 2341234 Now we're going to play my left hand. I want to play this with my left hand and my recommendation is to play for tree to Juan. So my thumb is going to play the natural e and didn't going to pass and going to play the natural f with my finger number four. So this is a I'm going to use to the F flat or natural. Eat 4321432 one more time. 43214 tree to I am going to play this twice. And this is the blues escape beginning from the B flat note. 13. Eb Blues Scale: I'm going to show you how to play the E flap blues scale. We play before the minor pentatonic scale. And I played it like this. 123123 What I'm going to do, I am going to ask the blue note. Remember that the blues a scale has this characteristic note in this case is going to be the fifth grade. I am going to ask him to play the twice, But the first time I'm going to play that decreasing half step. So in this case, when we're talking about e flat, the B flat is a 50 note off the scale. So what I'm going to do, I am going to decrease another half step. So I am going to play be double flat. May it may. Sounds were in my sounds were and maybe you you can say, Well, this is natural A n jewel, right? Actually, you can think Ah, when you are playing this, you can think that this scale has natural a But when we're talking about music theory, we need to write a name it asked, be double flat. So this scale has the flat G flat a flat beatable flat B flat, the flat and e flat off course. Really? It sounds more difficult that actually how it is when you play this. Actually, you cannot get lost because this scale, it's all about the black Keys to just need to know where the blue scale. The blue note. I'm sorry. Well, the blue note ISS So my recommendation to you is to play 12312341231234 I am going to play this tryst now I'm going to play with my left hand there. Couple of recommendations. A couple off, fingering that you can use according to the large off your fingers. So it's up to you. Really? My recommendation. Teoh is 54 Tree one, but you cannot actually play 432 or 532 It's up to you. 54313215431321 I am going to play this choice, okay? And this is a e flat blues scale 14. Congratulations: Congratulations. You are now at the end off this sculpture class. Thank you for letting me share with you about the beauty off, whether music, piano or education. Thank you. My name is Jill Salo's. Oye. Again. Thank you for being part of this class in this community. Gives You want to check out the rest of my classes to just go to the next? Plaster is recommendable for this one that you have just finished. We'll check out description off this class, you will find all the links there. You have any questions, please? You know, I will be very happy to hear about your comments and your suggestions off this class. And you want to know which glasses recommendable for you now was just let me know and I was very happy to help counter to lay just and I can't wait to see your in another class