Playback Speed
---
0.5x

1x (Normal)

1.25x

1.5x

2x
Learn to Sketch Drinks in Ink and Watercolor | Food Illustration
Watch this class and thousands more
Get unlimited access to every class
Taught by industry leaders & working professionals
Topics include illustration, design, photography, and more
Watch this class and thousands more
Get unlimited access to every class
Taught by industry leaders & working professionals
Topics include illustration, design, photography, and more
Lessons in This Class
8 Lessons (1h 23m)
--

Beginner level

Intermediate level

Advanced level

All levels

Beg/Int level

Int/Adv level
Community Generated
The level is determined by a majority opinion of students who have reviewed this class. The teacher's recommendation is shown until at least 5 student responses are collected.
About This Class
Today, we are sketching an easy and fun summer Illustration: Cold Drinks in Ink and Watercolor.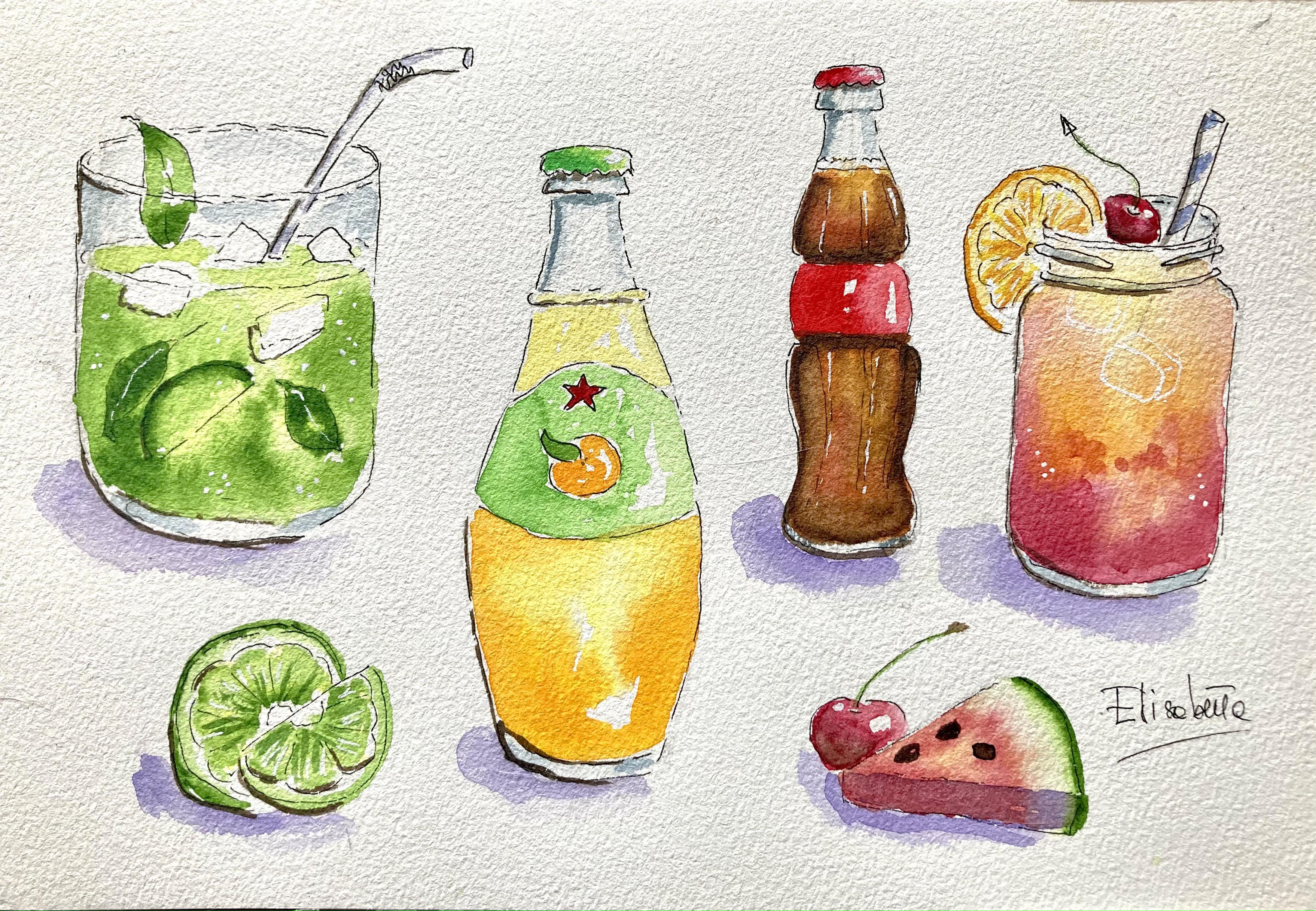 I am passionate about food sketching and Summer Drinks are irresistible to paint! They have incredible colours and look delicious....
In this class, not only you will have fun, but you will also learn various watercolor techniques, that you will never forget thanks to repetition!
You will learn:
to paint wet on wet 
to paint wet on dry 
to find inspiration in everyday life for your sketches
to layout your drawings in a pretty composition
to simplify and memorize your drawings through repetition
to mix colors in an organic way
to paint glass and liquids
to sketch in a simplified yet realistic way
Repetition and practice are the best way to learn a skill and never forget it, and watercolor is no exception!
That's why painting this pattern is not only cute and fun, but also very educational.
The class is detailed step by step, that's why it's suitable for beginners as well as intermediate students that want to learn something new.
So, without any further ado, grab your supplies and start sketching with me!
Meet Your Teacher

Hi! I'm Elisabetta, an Italian watercolor artist based in Turin, where I live with my husband, my dog and two cats.
I started painting later in life, after a long career in Marketing and Advertising.
When my son left for college, he gave me a watercolor set for my birthday. I started sketching and I never stopped.
I love sketching the world around me: corners of my beautiful city, street scenes, everyday objects around my house, and the food I cook. Sketching is really a self-care routine for me!
I am mainly a watercolor artist, but I also love gouache, oil pastels and colored pencils.
I firmly believe that in art talent is overrated and that anyone can learn!
Practice is key: so let's start sketching together... See full profile
Hands-on Class Project
For today's class, we will be sketching a composition of different cold drinks:
a Mojito
a fruit cocktail
a Coca Cola bottle
an Orange Juice
summer fruit fillers
I will upload reference images in the project section but I encourage you to search your own reference image on Google or Pinterest: there are so many different summer drinks to sketch!!
I have used attached images more as an inspiration rather than a photo to be copied exactly. I have simplified a lot and also added details drawn from imagination.
MATERIAL
Watercolor papers: but you can choose any paper, or even your sketchbook, as long as it is watercolor paper. Some cotton content is very good as we will be painting wet on wet.
Paint: a watercolor set, better if it is at least student grade. 
Watercolor brushes of different sizes - synthetic is perfect!
A HB pencil
An eraser
a pen  - make sure it's waterproof!
2 jugs of water
paper towel
a white gel pen, with a large nib (size 10)
Class Ratings
Expectations Met?
Exceeded!

0%

Yes

0%

Somewhat

0%

Not really

0%
Reviews Archive
In October 2018, we updated our review system to improve the way we collect feedback. Below are the reviews written before that update.
Why Join Skillshare?
Take award-winning Skillshare Original Classes
Each class has short lessons, hands-on projects
Your membership supports Skillshare teachers