Playback Speed
---
0.5x

1x (Normal)

1.25x

1.5x

2x
How to solve the Rubik's Cube | 7 steps for beginners
Watch this class and thousands more
Get unlimited access to every class
Taught by industry leaders & working professionals
Topics include illustration, design, photography, and more
Watch this class and thousands more
Get unlimited access to every class
Taught by industry leaders & working professionals
Topics include illustration, design, photography, and more
Lessons in This Class
8 Lessons (21m)
1.

Introduction Rubik's Cube

0:41

3.

Step 2 - White corners

3:51

4.

Step 3 - First two layers

4:07

7.

Step 6 - Yellow corners v1

2:12

8.

Step 7 - Yellow corners v2

2:55
--

Beginner level

Intermediate level

Advanced level

All levels

Beg/Int level

Int/Adv level
Community Generated
The level is determined by a majority opinion of students who have reviewed this class. The teacher's recommendation is shown until at least 5 student responses are collected.
About This Class
In this class you will learn to solve a 3x3 Rubiks Cube even if you are a complete beginner.
The guide is split up into 7 pieces, which makes it easier for you to learn how to solve the Rubik's Cube.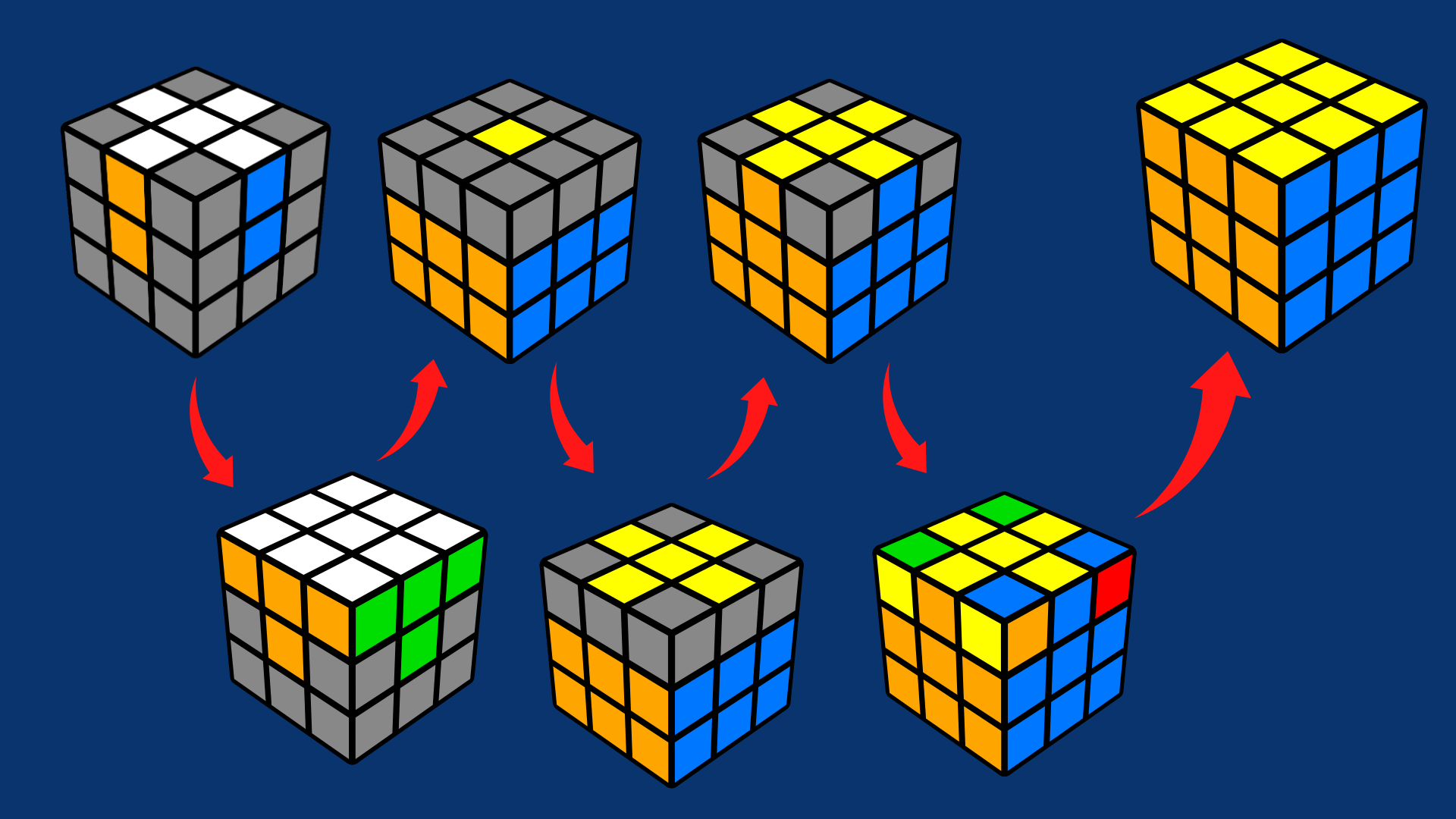 THe class includes an explanation of how you can use algorithms when solving the cube.
I hope you will enjoy it!
Hands-on Class Project
Post a picture of the solved cube, and write how long it took you to learn it!
It took me 2 weeks, to solve to cube for the first time. Did you do it faster?
Class Ratings
Expectations Met?
Exceeded!

0%

Yes

0%

Somewhat

0%

Not really

0%
Reviews Archive
In October 2018, we updated our review system to improve the way we collect feedback. Below are the reviews written before that update.
Why Join Skillshare?
Take award-winning Skillshare Original Classes
Each class has short lessons, hands-on projects
Your membership supports Skillshare teachers
Transcripts
1. Introduction Rubik's Cube: Hi there and welcome to this class. We'll be teaching you how to solve the three by three Rubik's Cube. Solving a cube like this can be quite overwhelming. That's why I've decided to split up the process into seven easy steps, which really just makes it easier for you to follow along. Throughout the process, you will have to learn a few algorithms, but I'll make sure to display them on screen to make it easier for you to follow along. And remember, solving accumulate, this isn't an easy task. But if you just focus at one single step at a time, I'm sure you're made. And I think that's all for the introduction. So I'll just see you in the first step, which is solving the white cross. 2. Step 1 - White Cross: The first step in solving the Rubik's cube is to make this white cross. And you do so by finding all the pieces that have white on them. And you didn't line image, so it both matches with the white center and the other color on the piece. Okay, and let me just show you how to make the white crust. We want to find the edge pieces, which are these pieces with two commas. And you'll obviously want to find those that have at least one, oh, one white side on M. And then you want to align the white side with the Irish sensor. And you can do that by holding the cube late. This where whites on top and white on the bottom and yellow is on top. And then searching for the white edges here, m. And then you can simply just move them up. So they are lined by this. There's another one here. Just move it up like that. And we also have one here. This one. You can see that if I move that one, I will just remove another one. So what we do here is to turn the top first and then move it up like that. And then the case is the same with this one. It's just move the top first and then get the YP. So legacy we have all four H's matching with the yellow centre. And I'm just going to scramble it to show you some other examples. Em, up, down. And then for instance here you can see that we have an HP which is already up here. So what you want to do here is just to move it down to the second layer m in between. And then you can move it up. And we already have this one up here, was there from the beginning. And then I'll also show you what to do if the white pieces on the bottom like this M and it's kinda similar, you just want to make sure that this bud off he has free by rotating it. And then you can move it into the second layer and then just do as before and move it up. And once you have all the white pieces up here, you need to align the other color with the center. So here I'll just search for the orange one. And once they aligned, you can just rotate it two times m. And I can see that it matches up perfectly. And you'll do that with the other ones as well. For instance, this 12 times. And they match as well. And here, and here. Now you can see with the white crust, wide kras and all the colors here, the line as well. 3. Step 2 - White corners: Okay, so the second step is to fit the white corners into the right places. And for this step we do need an algorithm. And an algorithm is basically just a certain sequence of moves. And that could, for instance, be r prime d prime r. And I'll just quickly explain what these letters mean, m. So let us just referred to one side of the cube. And the prime means that you have to turn the side counterclockwise. And if it's, if it's just the letter, you obviously have to turn it clockwise, m. And here you can see what all the letters mean. So r is the right side and L is the left side. If it's the front. B is the back. D is down and you is up. Okay? And I'll just let you, I'll just show you how this algorithm works. So it's a prime, D prime. And the way you want to use this algorithm is to put him one of the corner pieces down here, up here, m, c, you just find a white corner piece. For instance, this one, which is why the green, orange. And that has to fit up here between the orange and green center m. And then you place it here on the bottom right and perform the algorithm. So r prime, d prime r. And then you can see here that it isn't really oriented, it dry m's. You can just use the algorithm to take it out again. So r prime, d prime. And then you just move the piece down below once again and perform the algorithm again. So far prime, D prime. And then once again, it's not oriented right? So you just continue the same movement are prime, D prime, and then bring it to the bottom right corner. Do it again, r prime, t prime. And I can see it isn't replace m. And here you can see this one is actually the right place, but it's orientated running. So we'll just use the algorithm to take it out R prime, D prime, and then bring it to the bottom right corner and perform the algorithm again, R prime, D prime. And now we just need the last two corners here, m. This one is in the wrong spot, him, so we just use the algorithms, take it out. R prime d prime phi m. And now you can see it is right here between the red and green center. So we'll just use the algorithm to take it up here, r prime, D prime. And just do it again. Bring it down here in the right corner and our prime, D prime. And now when you need the last one here, m, and it is right here, blue, red, blue red wide M. So we do the algorithm r prime, v prime. And this you can see now we have made the entire first layer and also competed the white side. 4. Step 3 - First two layers: The third step, what you want to do is to complete the first two layers by filling in the right edge pieces em. So it's these four pieces M. And the way you do that is by using two algorithms actually. But as you'll see, the algorithms are actually exactly the same. One is just flow using the algorithm on the right side or the right side and one on the left side. The first thing you want to do is to find an edge piece up here which doesn't have yellow on it. Because all the yellow HP's are supposed to be appear. And we want the rest of the pieces that are supposed to fit into these four places. So for instance, here we have a green and orange when, and then when you have found that, the next thing we want to do is to match it up. So this column matches with the center, like this. And then you want to determine m, on which side the pieces supposed to be. And here it's obviously supposed to go to the right because that's where the orange colored eyes. So we will use the right algorithm. So it goes up, right? Of prime ry prime, r prime for unprimed up and front. And now the HP is in the right position. And here we have another HP which doesn't have yellow on it. So we'll just match this Colo with the sensor like this. And then in terminal, which side needs to go, which is the right size M. So now we will just use the algorithm for the right side. So that's up, right, up, prime, prime, prime, front, prime, up and front. And now this is also in precision. And we just need to continue doing that with all the HPs, SOPA m, and we've got another one here are in blue. So we match it up. Arrange to orange, has to go on the right side. So we use the right algorithm. So that is up, right? Of prime, y prime, prime, front prime, up and front. And now we just need the last piece. But as you can see here, it is actually already em, precision. So we can't really light it up like before. So the thing we want to do here is actually just to use one of these algorithms to put a piece down here because then this one is forced up m. We just put this piece down here. So we just use the algorithm for the right because it has to be here on the right side. So out, write r prime, right prime, r prime, front prime, up and front. And as you can see here, it's not in this button anymore. We can just find it up here and then do like before, where we say it has to go down to the right side. So now we just use the right algorithm edit as it's lined up here. Okay? So lead is up, right, up prime, ry prime, up prime, from prime up and front. And that's it for the first two layers. 5. Step 4 - Yellow cross: Step four is to create the yellow cross on top. And when you're done with the first two layers, receive either of these four patterns on top. And then you have to use this algorithm to go through the steps one by one. So if you, for instance, start with the line, you only have to perform the algorithm once to get to the cross. And you can actually also just get the cross right away. And then you can just skip this step. Ok. So I'll just show you how to do it. In this case, I have the pattern with one dot, which means I have to perform the algebra three times. And when you start with the data, it doesn't matter where you are in the cube when you perform the algorithm. So I just have like this, then it goes front, right, up, right prime of crime, front prime. And as you can see, we have just gone to the next pattern. When you have this pattern, it's important that the one yellow piece tends towards you and the other one turns to the right. And then you can just perform the algorithm once again, front right up vi prime, prime from prime. Then we get the line M, And then we hold the cube so that the line goes across. So we are in this way. Then we can perform the algorithm the last time. Front, right, up five prime, r prime, front prime. And that's it. Now we have completed the crust and we're ready for the next step. 6. Step 5 - Yellow edges: It's the five you want to solve, the yellow edges. And when you have solved the yellow edges, it's actually only the four corners that are left until you have solved the entire cube, m. And when you are solving the yellow edges, the first thing you want to do is to see if you can get two of the edges to match up with 1s m. And you want two edges that are side-by-side em, like if these two were for instance. And you will be able to do this in most cases. But there are some times that you can only get them on two opposite sides. And then, and then step, you only need one algorithm. And if you can't get two H's matched up side-by-side, then you just perform the algorithmic rhythm. Religious doesn't matter m, where the tub is and how you are entered. You just perform the algorithm. And the algorithm is right up, tries write prime, prime, right up prime, right prime, prime. Now we should be able to rotate tub until the two edges match up like this. And once we have done this, we need to earn to cube so that the two missing edges, m are on the front and on the right. Because what this algorithm actually does is that it changes in these two places. And say once the cube is oriented like this, we can just perform the algorithm right up, up right prime, phi prime, right? Up prime, prime, prime and R prime. And now all these M yellow edges align. So the only thing we need now is default corners. 7. Step 6 - Yellow corners v1: In step six, we're putting all the corners in the correct positions. And that means that we make sure that the corner is in between the grey colors, but the color isn't necessarily orientated, right? That's what we do in step seven, m. And when you get to step six, you can have one of three different situations. In one situation, you all economists are actually in the right place already and you can just move on to step seven. And the other two situations is that either one or none of the corners and decorate position. And in this case, none of the corners are in the correct position. And that means that we just performed the algorithm once. So it goes left prime up, right, up prime, left up, right prime of prime. And now we should see that one of the corners is in the correct position. And as you can see here, the colonists actually orientated, right? But it could just as well have been there, twisted. When it gets to the situation where one color is in the correct position, you hold it. Matured hit is here to the right, closest to you. And then you can perform the algorithm again. So it goes left prime up, right of prime, left up ri prime, and prime. And now you can see that we actually need to perform the algorithm one more time because the economists, and yet in the correct position. So make sure to hold the correct corner to the right closest to us. And then do the algorithm again. Left Prime, Up, up, left, up, right prime and prime. And now all the corners and the correct position. And as you can see, it's actually only two of them that aren't oriented right as well. 8. Step 7 - Yellow corners v2: Okay, so step seven is the final and exciting step where we actually finished a cube. And in this step we actually need to use a quite long algorithm to rotate the corners. But fortunately, the first part of the algorithm is actually almost identical to the algorithm we used in step five. The only difference is that we don't turn the tub in the end. So I'll just show you how you can use the algorithm. What the algorithm actually does is that it rotates the two corner pieces on the right side. So in this case, rotate these two pieces. Weighed, rotate them, is that if the yellow is facing to the right, it will put the rotate repeat until the y position. But if the yellow is facing towards you or away from you, then you need to perform the move twice. Because the first time we perform the algorithm, it will rotate the, the piece of that yellow faces this way. And the second time you can put it into the right place. So in this case, I see that if I perform the algorithm with the yellow facing this way m, I'll fix there. This side here. This one will be rooted in the right position and then this one will be destroyed. But fortunately him, I'll have to M the deck and put it on the right side together and rotate them at once. So I'll start by performing the algorithm by orientating the cube like this. So the algorithm is right up, up by Prime, Prime, flight, up prime, y prime. And then the second part, left prime, unprimed swipe. Left, up, left prime up, and left. And as you can see, this corner piece has been rotated into the right position. And now we only need these two M. And as you can see, the yellow is facing to the right. So that's perfect because that means we only need to use the algorithm once to actually solve the cube. Okay? So let's go right up, up bright prime, r prime, right up prime, ry prime. And the second part, lift prime a prime, a prime. And