Playback Speed
---
0.5x

1x (Normal)

1.25x

1.5x

2x
How to Make A Modern Wedding Stage Design in 3ds Max & V-ray in Hindi
Watch this class and thousands more
Get unlimited access to every class
Taught by industry leaders & working professionals
Topics include illustration, design, photography, and more
Watch this class and thousands more
Get unlimited access to every class
Taught by industry leaders & working professionals
Topics include illustration, design, photography, and more
Lessons in This Class
16 Lessons (4h 43m)
1.

Modern Stage Design Introduction

1:35

2.

Modeling Arches For Backdrop.

13:08

3.

Modeling Quilt for Arches.

17:09

4.

Modeling Metal Grill / Jaali.

13:29

5.

Modeling Vase and Arch Border.

16:21

6.

Modeling Hanging Lamps for Center.

7:10

7.

Modeling Stairs for Stage Front.

9:11

8.

Modeling Main Sofa and Side Sofa.

22:45

9.

Modeling Unique Floor Candle Holders.

15:50

10.

Placing Flowers on our Stage.

25:30

11.

Applying Textures & V-Ray Materials.

34:57

12.

Simple Yet Effective V-ray Lighting Setup.

14:54

13.

Final V-Ray Rendering Setup.

14:17

14.

Making Different Options of This Stage Design.

26:36

15.

Bonus: 01 Creating Entrance & Walkway for This Stage

36:06

16.

Bonus: 02 Rendering Setup for The Entrance & Walkway.

13:45
--

Beginner level

Intermediate level

Advanced level

All levels

Beg/Int level

Int/Adv level
Community Generated
The level is determined by a majority opinion of students who have reviewed this class. The teacher's recommendation is shown until at least 5 student responses are collected.
About This Class
In this course you will learn the concept behind creating a Beautiful Modern Wedding Stage Design using 3ds Max & Vray. This course will provide you with knowledge on creating the foundation of simple yet beautiful stage or set design. If you are new to the event industry then this is a must have course for you. You will learn all the basic concepts of wedding stage designing and all the process involved in making one. You will also learn how to do creative lighting using V-ray.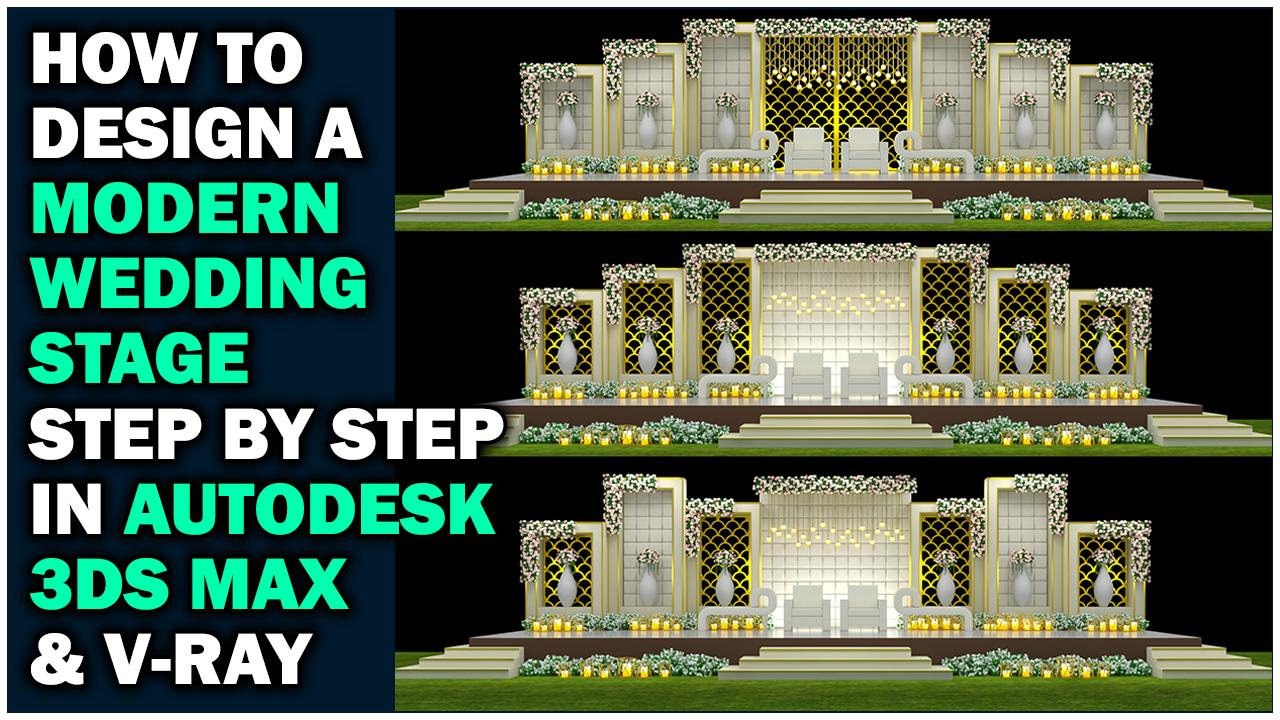 Meet Your Teacher
Hello, I'm Chandraprakash.
have more than 11 years of experience in the field of 3d Animation & Graphics Design. I have worked on more than 1000 stage designs and have also worked as a Professor at Maya Academy of Advanced Cinematics and Arena Animations.
See full profile
Hands-on Class Project
Create a Modern Stage Design using all the steps learnt in this course.\
Final Max Files for All the options of this Stage Design are provided in the attachment
Try using different color theme (like red and beige color) for the stage.
Class Ratings
Expectations Met?
Exceeded!

0%

Yes

0%

Somewhat

0%

Not really

0%
Reviews Archive
In October 2018, we updated our review system to improve the way we collect feedback. Below are the reviews written before that update.
Why Join Skillshare?
Take award-winning Skillshare Original Classes
Each class has short lessons, hands-on projects
Your membership supports Skillshare teachers