Graphic Design Fundamentals for Non Designers
Play Speed
0.5x

1x (Normal)

1.25x

1.5x

2x
6 Videos (15m)
Short History of Graphic Design

1:52

Sum up of what we learned

2:42
About This Class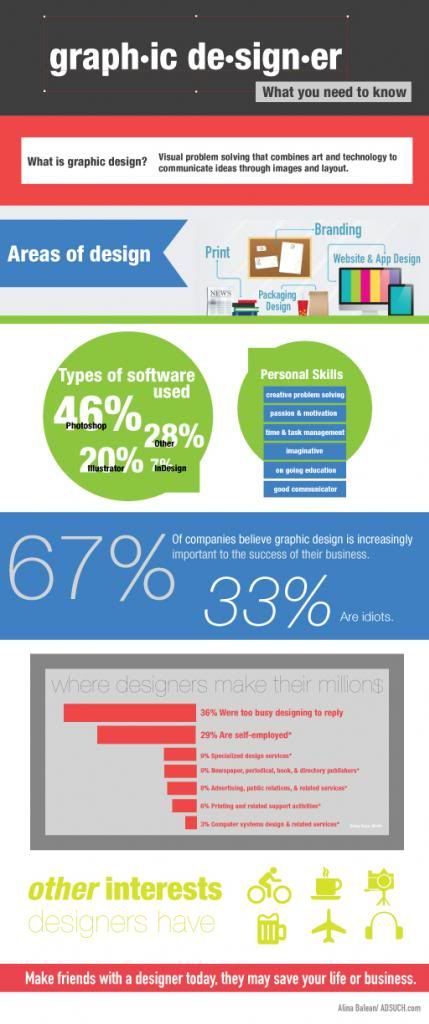 This Class is For You if...
If you're a design-curious non-designer interested in getting a basic understanding of graphic design, this class is perfect for you. You'll walk away from this class with working knowledge of the fundamentals of graphic design. Skills you can implement immediately in your own work or in working with designers. 
Really, no prior design experience or tools needed!
This Class Will Cover a Ton!
To help you understand the scope of this class, here are some topics you'll learn...
The basic history of graphic design in modern communication
What is the Golden Rectangle and Golden Ratio?
Everyone loved Vocabulary in school: Design Terminology
Space, balance, scale and the wow factor
Colors (RGB vs CMYK + others you never heard about)
Typography: Fonts, kerning, leading and how it makes your brand look legit
The creative process!
Bringing those ideas to life: Layout: print, web, wireframes (sizes, orientation, grids, master pages).
What software to use for what type of project
JPeg what? File extensions
Communication tools: How to communicate to your graphic designer, programmer or printer. 
This Class is Project-Based
You'll be applying the skills you learn to your own basic project. Along the way you'll collect samples of what you or your fake brand will look like. You'll use fonts, colors and other key visual elements to describe your brand to myself and fellow classmates - the perfect way to start the creative process. We'll have a ton of fun sharing our work and giving/ getting feedback. 
7 of 15 students recommendSee All
This class helped me understand basic graphic design terms and processes which is essential for my profession as I work with designers on a daily basis. I also learned how design relates so closely to the printing process and how decisions during the layout stage can either make or break a project when it goes to the printer. In terms of the final project, I think it can be tweaked to incorporate more of the key points covered in the class. The creative brief is only a slight mention within the course material. Therefore, I think I would have benefitted more if I was required to create a digital art piece or envisioned creating one and had to explain why I chose RGB over CMYK or how I applied the Golden Ratio. Still, I appreciate Alina's time in developing this course and sharing these basic principles.
I thoroughly enjoyed the class and got quite a bit out of it only one comment as a mature aged person it need a general tips page purely for the computer illiterate wanting to go ditial
Designer by destiny, Entrepreneur by blood, Wanderlust by choice. I have over 5 + years of professional and freelance design experience. I've worked on print & web design projects such as magazine layouts, conference & festival branding, Android & iOS UI and a ton of Wordpress website customizations. I also once climbed a glacier in New Zealand and won a Hackathon in Miami.