Playback Speed
---
0.5x

1x (Normal)

1.25x

1.5x

2x
Floral Collage: from painting and cutting to repeat pattern (mixed media paper & digital techniques)
Watch this class and thousands more
Get unlimited access to every class
Taught by industry leaders & working professionals
Topics include illustration, design, photography, and more
Watch this class and thousands more
Get unlimited access to every class
Taught by industry leaders & working professionals
Topics include illustration, design, photography, and more
Lessons in This Class
16 Lessons (1h 58m)
3.

Papers: Collecting & Painting

6:14

4.

Papers: Layering & Stamping

10:29

5.

Scanning Before Cutting (optional)

3:00

6.

Cutting & Constructing Flowers

17:07

7.

Cutting Foliage & Fillers

10:33

9.

Digitising Paper Elements

3:52

10.

Digital Isolating & Cleaning

13:49

11.

Digital 'Cutting' with Clipping Masks

3:03

12.

Digital Pattern Methods

14:43

13.

Digital Pattern Design

15:52

14.

Artwork on Paper & Storage

9:11

15.

Tips for Your Project

1:11
--

Beginner level

Intermediate level

Advanced level

All levels

Beg/Int level

Int/Adv level
Community Generated
The level is determined by a majority opinion of students who have reviewed this class. The teacher's recommendation is shown until at least 5 student responses are collected.
About This Class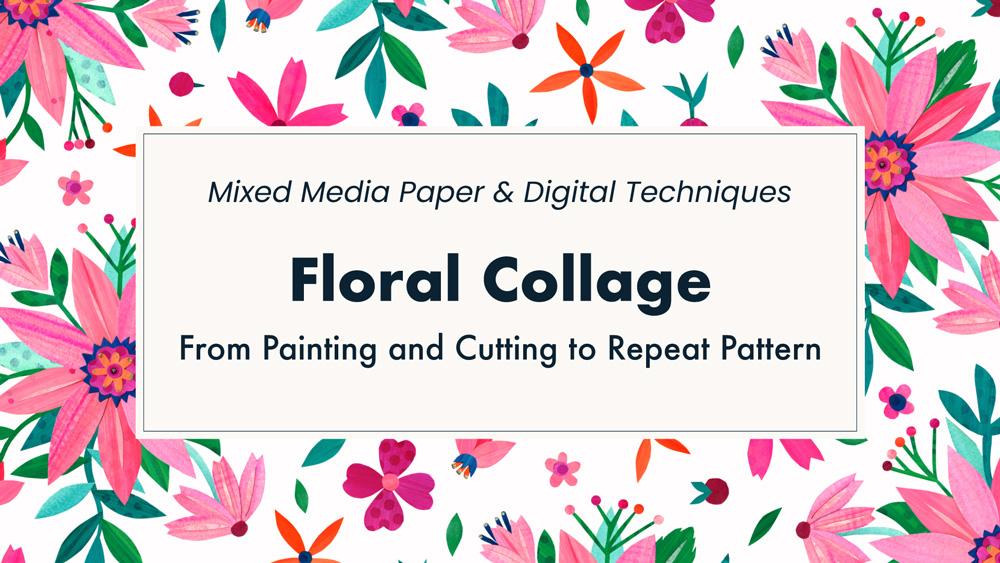 Hello and welcome to Floral Collage. Lately I've been finding that cutting flowers from various papers is a relaxing and inspiring way to create florals, and I think you'll enjoy it too. 
This class is suitable for everyone, from those wishing to dabble in collaging and have fun with basic materials, to those who'd like to explore the topic deeper and perhaps create a portfolio piece.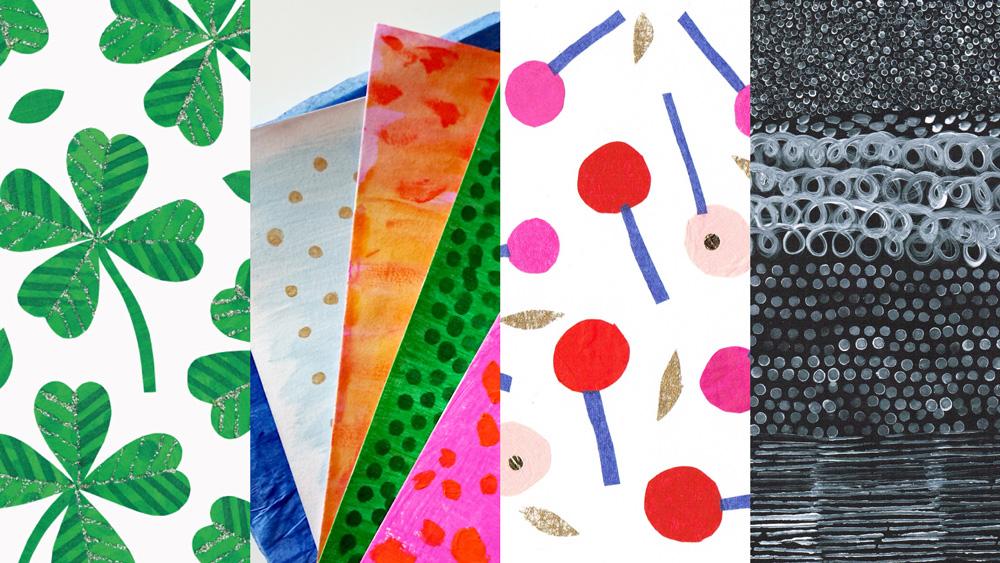 The project provides options to create a collage in the traditional sense, so a finished artwork stuck down on paper, or alternatively to digitise elements and make designs such as repeat patterns. I'll cover all of the processes step by step. Just pick up the lessons that suit your needs and develop your project in whichever direction you prefer.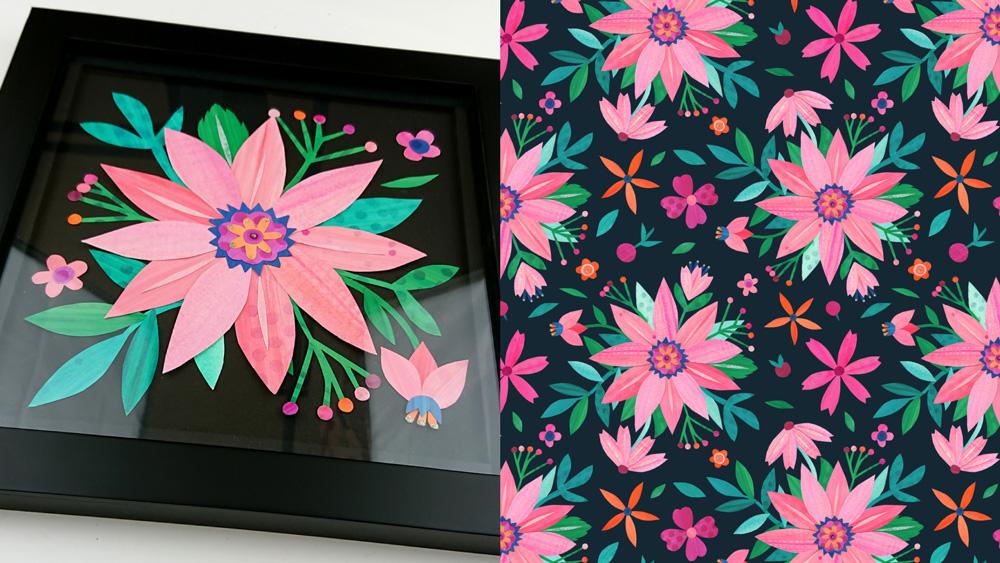 I've chosen florals as the subject for the project because petals and leaves are easy shapes to cut but with loads of scope for variety. However, the techniques are transferrable to other subject matter so feel free to modify the project if you wish.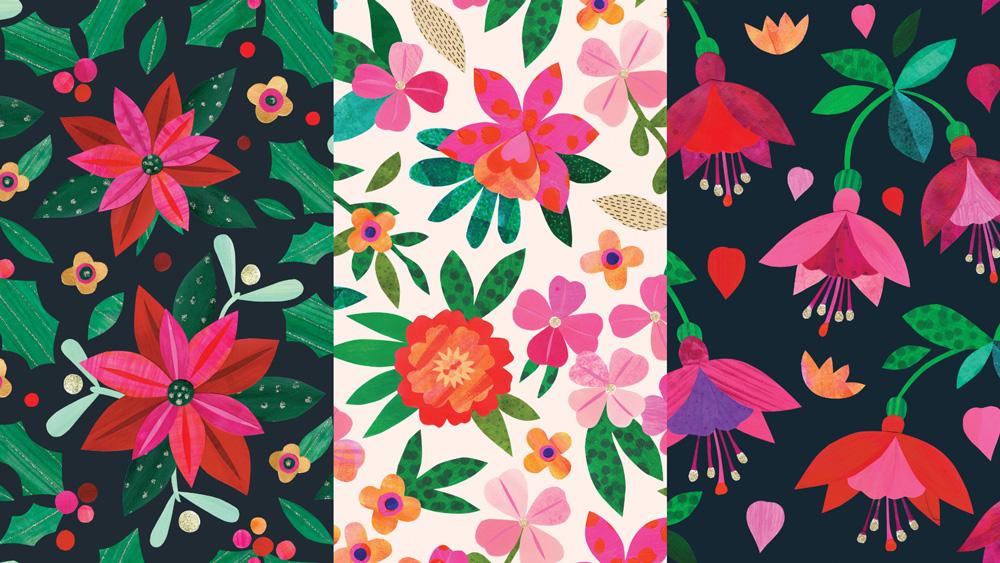 I'm excited to share my floral collage process with you, so let's get started.
Meet Your Teacher
Hi, I'm Sue Gibbins (aka Rocket & Indigo), a British surface pattern designer inspired by my surroundings, travel and nature. My artwork style mixes graphic shape with hand-drawn line, often using bold colour palettes. I especially enjoy drawing animals and plants. To see more of my art and to chat, let's meet on Instagram @rocketandindigo.
In addition to designing, I have also been a teacher and instructor in one form or another for many years. I'm passionate about sharing what I know and seeing how others take that forward with their own projects. I hope you enjoy my classes and share what you make with us in the project galleries. Have fun!
See full profile
Hands-on Class Project
OK folks! So for your project I'd like you to make a floral collage. It can be a design made from paper elements and finished digitally, or a piece of art on paper. To help you get started, you'll find my complete materials list in the Resources section.
The joy of creating comes through in artwork, so remember to have lots of fun making papers and exploring shapes with scissors. Feel free to put your own twist on the techniques I have shown you, so try different colour combinations, make textures in new ways, or work at a different scale. There's plenty of scope to make something absolutely unique to you. If you decide to go digital, the trickiest step is probably isolating the collage elements after digitising, so be patient with that in order to get a good finish. If you are making a paper piece, take your time to plan the arrangement before sticking so that you achieve a lovely composition.
Please do post in the project gallery here in class so that I can see and comment on your work.
If you are new to posting projects on Skillshare, here's a quick guide to images:
Add a cover image so there is a preview of your project in the gallery. Cover images get cropped and will become landscape format. Choose a size that is approximately 3:2 ratio, for example 1500px wide by 1000px tall.

Images within the project can be any dimensions. It's recommended to save with reduced file size for online viewing. You can use the File > Export > Save For Web feature in Adobe Photoshop if you wish.
I'm really looking forward to seeing what you create!
Class Ratings
Expectations Met?
Exceeded!

0%

Yes

0%

Somewhat

0%

Not really

0%
Reviews Archive
In October 2018, we updated our review system to improve the way we collect feedback. Below are the reviews written before that update.