Playback Speed
---
0.5x

1x (Normal)

1.25x

1.5x

2x
Diseño de interior con Acuarelas y Marcador - Interior Sketching Watercolor
Watch this class and thousands more
Get unlimited access to every class
Taught by industry leaders & working professionals
Topics include illustration, design, photography, and more
Watch this class and thousands more
Get unlimited access to every class
Taught by industry leaders & working professionals
Topics include illustration, design, photography, and more
Lessons in This Class
13 Lessons (1h 13m)
1.

PRESENTACION y PROYECTO

2:00

2.

MATERIALES (What you need)

0:54

4.

DIBUJAR Plantas (Drawing)

10:28

5.

REPASAR Plantas (Inking)

9:23

6.

PINTAR Plantas Pequeñas (Watercoloring)

7:12

7.

PINTAR Plantas Grandes (Watercoloring)

11:49

8.

DIBUJAR Muebles (Drawing)

4:29

9.

REPASAR Muebles (Inking)

3:15

10.

PINTAR Muebles 1 (Fornitures)

8:13

11.

PINTAR Muebles 2 (Fornitures)

4:09

12.

LUGAR ACOGEDOR (Cozy Place)

6:51
--

Beginner level

Intermediate level

Advanced level

All levels

Beg/Int level

Int/Adv level
Community Generated
The level is determined by a majority opinion of students who have reviewed this class. The teacher's recommendation is shown until at least 5 student responses are collected.
About This Class
[ENG below] Todos necesitamos de un lugar acogedor donde relajarnos cuando estamos cansados, donde leer un buen libro o simplemente gozar de un momento de paz.
En este curso vas a aprender cómo crear el lugar acogedor de tus sueños, lleno de muchas plantas, luz cálida y tazas con café, usando acuarelas y un marcador de punta fina.
Para pintar el lugar de tus sueños, primero hay que analizar los componentes por separado:
- las plantas en maceta
- los muebles
- la composición final
Te enseñaré unos trucos para dibujar de forma muy simple la hoja de Monstera, que dará un toque tropical a tu obra. 
Cuando tu creación estará lista, la podrás llevar siempre contigo para que en cualquier momento te sientas en un "lugar acogedor", o podrás hacer un regalo a tus seres queridos.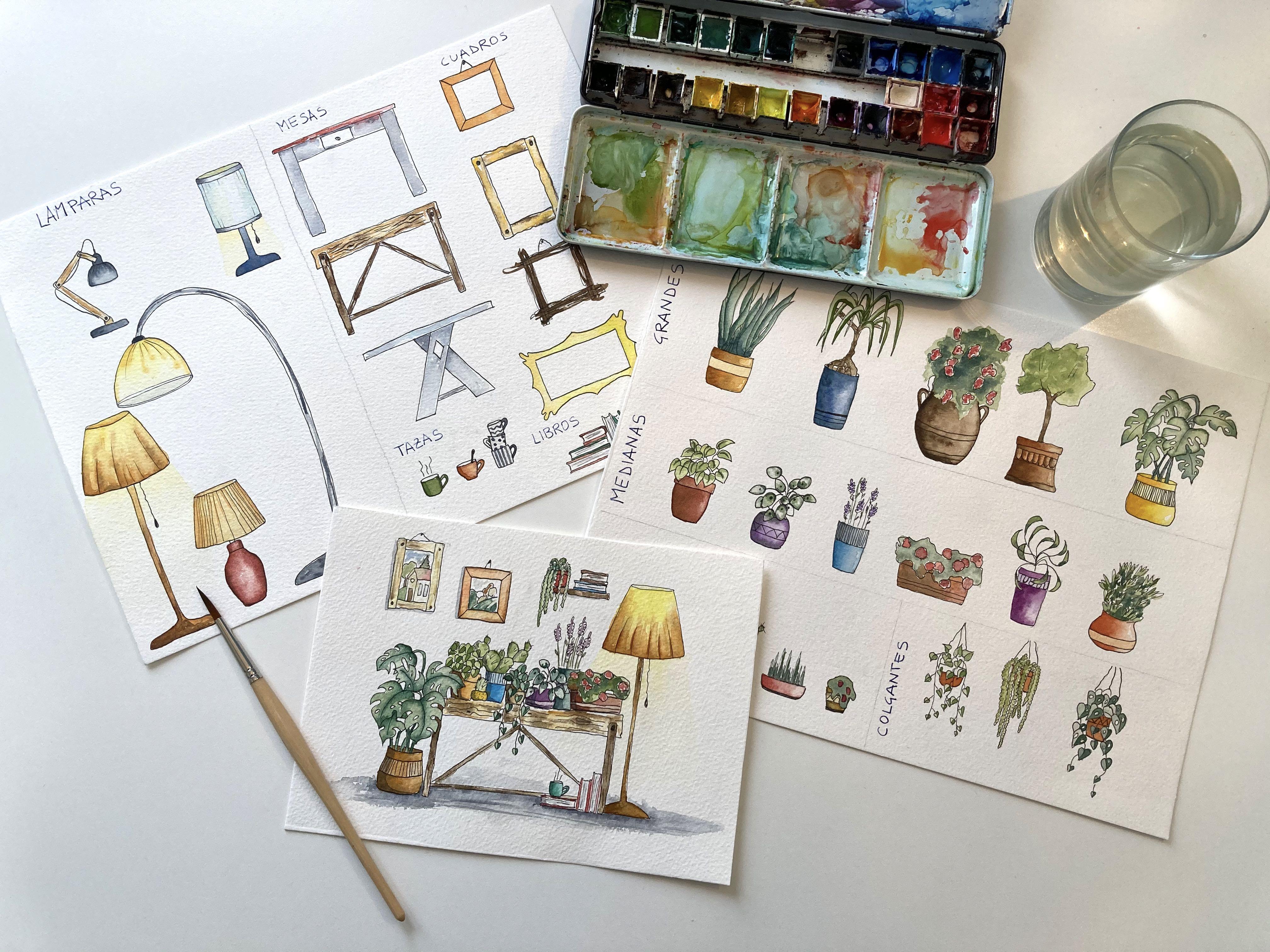 Como material vas a necesitar:
un lápiz
un borrador
un marcador negro de punta fina (0,30 mm) resistente al agua
tres hojas de papel para acuarela (300 g/m cuadrado)
acuarelas (de la marca que tu tengas)
pincel mediano de punta fina 
dos vasos de agua
toalla de papel 
Espero que lo disfrutes !!!
-----------------------------
We all need a cozy place to read a book, to rest or simply enjoy a moment of peace.
In this course you will learn how to create the cozy place of your dreams, filled with lots of plants, warm light, and coffee cups, using watercolors and a thin marker.
To paint the place of your dreams, you must first analyze the components separately:
potted plants
furnitures
the final composition
I will teach you some tricks to draw the Monstera leaf in a very simple way, which will give a tropical touch to your work.
When your creation is ready, you can always take it with you, so that at any time you feel in a "cozy place", or you can make a gift to your loved ones.
As material you will need:
a pencil
an eraser
a fine point (0.30mm) water resistant black marker
three sheets of watercolor paper (300 gsm)
watercolors (of the brand that you have)
medium fine tip brush
two glasses of water
paper towel
Hope you will enjoy it!
Meet Your Teacher
Hi there! My name is Laura and I'm a self-taught artist, educator and scientist.
YOU CAN PAINT, by Laura Scalvenzi is my personal contribution to a better world. It focuses on inspiring people to take care of themselves through painting. Painting is a tool to restore the soul, find a balance and be more confident in yourself. The word «YOU» is the key inspiration for the brand's conceptual identity, invoking the sense of «anyone can». So, lets feeling peace, hope and balance.
Nature inspires me. I've been a Nature lover forever, but I became an artist when I was going through a difficult moment in 2017 and needed a way to go ahead and find a new balance.
I&rsq... See full profile
Hands-on Class Project
Como proyecto puedes crear tu lugar acogedor favorito, seleccionando las plantas que más te gusten y también los muebles. Si prefieres puedes replicar el lugar que hemos hechos juntos en esta clase. Lo importante es que lo disfrutes y lo sientas tuyo! 
As a project you can create your favorite cozy place, selecting the plants that you like the most and also the furniture. If you prefer, you can replicate the place we have made together in this class. The important thing is that you enjoy it and make it yours!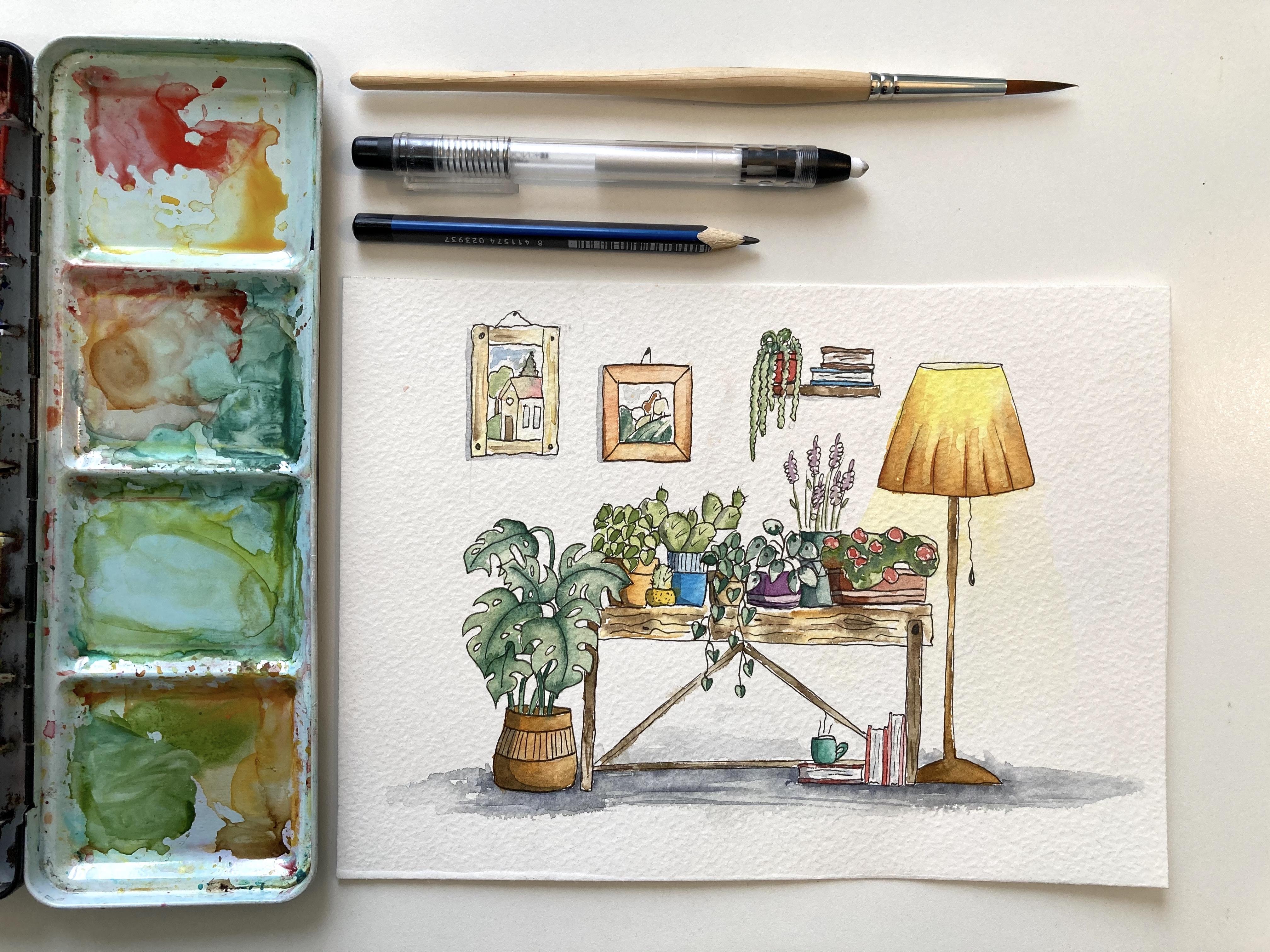 Class Ratings
Expectations Met?
Exceeded!

0%

Yes

0%

Somewhat

0%

Not really

0%
Reviews Archive
In October 2018, we updated our review system to improve the way we collect feedback. Below are the reviews written before that update.
Why Join Skillshare?
Take award-winning Skillshare Original Classes
Each class has short lessons, hands-on projects
Your membership supports Skillshare teachers