Playback Speed
---
0.5x

1x (Normal)

1.25x

1.5x

2x
Bumblebee. A Free-Flow Watercolour Master Class with Jane Davies
Watch this class and thousands more
Get unlimited access to every class
Taught by industry leaders & working professionals
Topics include illustration, design, photography, and more
Watch this class and thousands more
Get unlimited access to every class
Taught by industry leaders & working professionals
Topics include illustration, design, photography, and more
Lessons in This Class
10 Lessons (56m)
10.

Bumblebee Bonus Extra

14:43
--

Beginner level

Intermediate level

Advanced level

All levels

Beg/Int level

Int/Adv level
Community Generated
The level is determined by a majority opinion of students who have reviewed this class. The teacher's recommendation is shown until at least 5 student responses are collected.
About This Class
Have you always wanted to create beautiful, quick flowing art in watercolour with the simplest of touches, then let me show you how! 
In this class I will show you how create this bumblebee in just one layer, it's a technique that I've perfected over many years, along with the lavender. As with my other classes we paint wet on wet, it's such a liberating technique, and will certainly put a big smile on your face.
Even if you're new to watercolour this bumblebee is a lovely introduction into wet on wet and my style of painting. Though if you want something a little easier try my beginner classes which can be found on my channel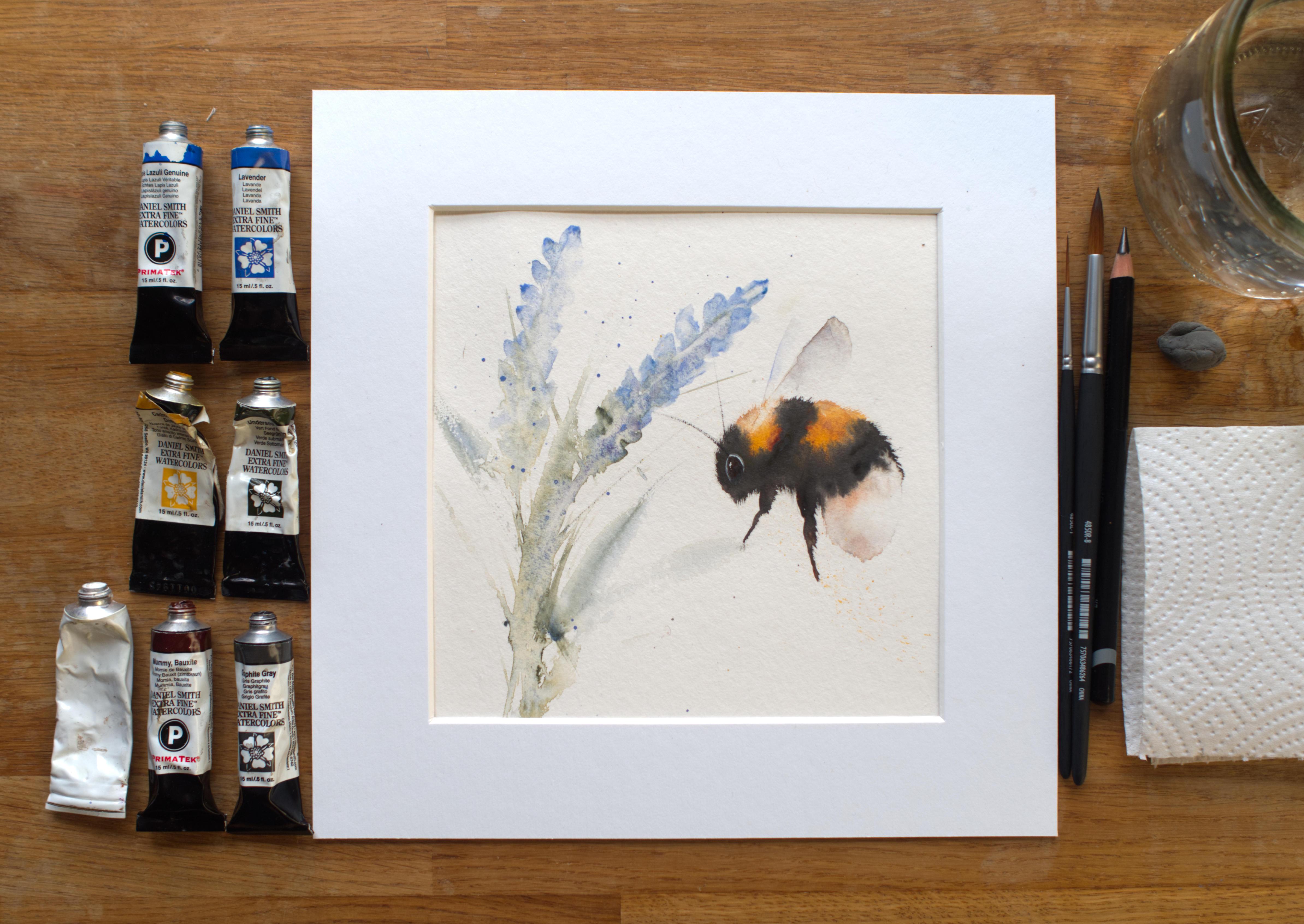 I will show you:
How to create the bumblebee in just one layer, by adding colours on top of one another

 

How to achieve those wonderful loose lavender stems
How to work quickly and confidently with wet paint, by getting the timings right
How to use one brush with many different paint effects

 

How to pull the painting together with the smallest of tweaks at the end
You will be painting this fuzzy bumblebee and lavender and be amazed and inspired to add these simple techniques into your future artwork with confidence
Past reviews
"There is only one word to describe Jane Davies' classes - MAGICAL!"
"My favourite tutorial to date on Skillshare. Jane Davies is amazing--thank you for for teaching me how to create something I love"
"Highly recommend this class. Jane has a different way of painting in watercolor, straight from the tube. For me, this resulted in the best watercolor painting I have ever done. She gives clear instructions, step by step, and works at a pace that is not overwhelming. I cannot wait to try another one of her classes"
"Thank you sooooo much! I've been waiting for your class to start. I'm thrilled. Love you're easy to follow style. As a beginner, it means a lot to me to be able to follow the lesson well. Looking forward to the next one"
"This is a great video class by the very generous teacher Jane Davies. I really enjoyed attempting this with Jane's unusual but effective technique. Thank you Jane"
"Wonderful class. Jane is an excellent teacher, guiding you through each stage with clear instructions and demonstrations. I love her friendly, informal style"
"I already adore Jane's work and this class couldn't be different. She has magical hands to bring beautiful images to life in watercolour, and this beginner's exercise is a great way to get rid of our fear to work with this medium. I had so much joy, it was relaxing and I got confident of using paint on wet without that feeling that "I'm gonna ruin everything"
Music by Audionautix.com
Meet Your Teacher

Let me tell you a bit about myself...

I'm an international selling artist specialising in painting pet portraits and wildlife. I live, paint, teach and walk my lovely spaniel in the beautiful South Downs National Park, England


Over the last ten years, I've taught myself the watercolour techniques you see today. Not having been to art school, finding my own way has been fun and sometimes daunting but has allowed me to develop my own unique style
In 2016 I began teaching my free flow methods to small groups of beginner artists. After a move in 2018, I was fortunat... See full profile
Hands-on Class Project
Assignment 
Your class project is to paint the fuzzy bumblebee using the watercolour techniques that we cover. Hope you have a lot of fun painting him, and remember to work quickly, and not fiddle :)
I have a great phrase I like to tell my students "be a fairy in big boots" So be bold of heart and light of touch! 
Materials
Seven watercolour tubes. These are best, but pans will do.
The paints I used were Daniel Smith's
Mummy Bauxite
Graphite Grey, I found this to be the best for the body, but if you've not got this colour another strong non-granulating blue/black with work well too
Lavender
Lapis Lazuli Genuine
Cadmium Yellow Deep Hue
Undersea green

 

White gouache
Hahnemühle Bamboo 125lbs 24x32cm watercolour gummed pad
Two brushes 
Princeton Aqua Elite round size 8
Princeton Aqua Elite liner size 1
Pencil
Rubber
Jar of water 
Kitchen roll/paper towel
Getting started
I'd suggest watching the whole class once through, then grab your materials and paint along with me! 
Share your artwork 
Can't wait to see what you've created. Upload your masterpieces onto "Your Project" which can be found on the "Project and Resources" page and don't forget if you have any questions I'm here to help :)
Please note
I've put these classes carefully together for you, and have shared many of my own personal techniques, tips and tricks to help you along on your own watercolour journey. With this in mind, any work you produce is for your own personal use. They aren't intended to sold, exhibited or entered into a competition. See Skillshare terms and conditions 
Thank you
Class Ratings
Expectations Met?
Exceeded!

0%

Yes

0%

Somewhat

0%

Not really

0%
Reviews Archive
In October 2018, we updated our review system to improve the way we collect feedback. Below are the reviews written before that update.
Why Join Skillshare?
Take award-winning Skillshare Original Classes
Each class has short lessons, hands-on projects
Your membership supports Skillshare teachers