Playback Speed
---
0.5x

1x (Normal)

1.25x

1.5x

2x
Botanical Series [Part II]: Bouquet of Watercolor Lily Flowers for Advanced Level
Watch this class and thousands more
Get unlimited access to every class
Taught by industry leaders & working professionals
Topics include illustration, design, photography, and more
Watch this class and thousands more
Get unlimited access to every class
Taught by industry leaders & working professionals
Topics include illustration, design, photography, and more
Lessons in This Class
13 Lessons (1h 53m)
2.

These are your materials

5:58

3.

Color palette to paint this bouquet

4:01

5.

Creating first layers and first lily

11:16

6.

Painting a second lily

11:07

8.

Finishing up with first layers of flowers

15:14

10.

Creating depth in flowers

9:06

11.

Continue adding depth

9:03

12.

Finalizing your work with shadows

11:04

13.

Adding final details on lilies

7:29
--

Beginner level

Intermediate level

Advanced level

All levels

Beg/Int level

Int/Adv level
Community Generated
The level is determined by a majority opinion of students who have reviewed this class. The teacher's recommendation is shown until at least 5 student responses are collected.
About This Class
Take upon a challenge and paint a bouquet of pink lilies. This is the second part of my Bontanical Series where you get the chance to apply the skills you've gained in the first part. Now that you know how to paint a single lily - time to level up!

Here you will use mixed techniques, paint on a professional 100% cotton paper, pay special attention to composition, work on lights and shadows and organically add a background to your bouquet.

INSIDE THE COURSE
- sketching a bouquet of lily flowers.
- choosing the right colors and mixing paints for your flowers.
- using wet-on-wet technique to create loose lilies in watercolor.
- using the layering technique to add volume and depth to each flower.
- mixing loose and realistic approaches, choosing a focal point, and working on details.
If sketching a bouquet of flowers is too challenging (or boring) I am happy to offer a downloadable outline. Just print it or trace it on watercolor paper and color it in!
The reference photo and downloadable outline are attached in a Class Project section.
If you prefer to start from painting 1 single lily, here is the first part of my Botanical Series:
*******************
Don't forget to follow me on Skillshare!
Click the "follow" button above the video and you will always get notified when I release a new course!
********************
Follow me on Instagram: https://www.instagram.com/yanatravelart/
Check out my website with original artworks: http://yanatravelart.com/
Meet Your Teacher
Born in Ukraine, raised in travel.
I am a professional watercolor artist, full-time traveler and a salsa lover ;)
After a burnout in the office, I hit the road without any plan and since 2014 I've been travelling around the globe, visiting different countries & settling down for a few months (sometimes years) in different cities. My watercolors are inspired by places I've visited and people I've met.
You can follow my travel-inspired adventures on Instagram.

My original paintings and prints of those are available for sale if you appreciate art on your walls ;)
I am open for commissions and happy to create an artwork that will inspire you, have an impact on your family or become a gift for beloved ones. Just hit me a message.
...
See full profile
Hands-on Class Project
Hope you had fun painting this bouquet of lilies!
The class project for today is to paint a bouquet of flowers with a background.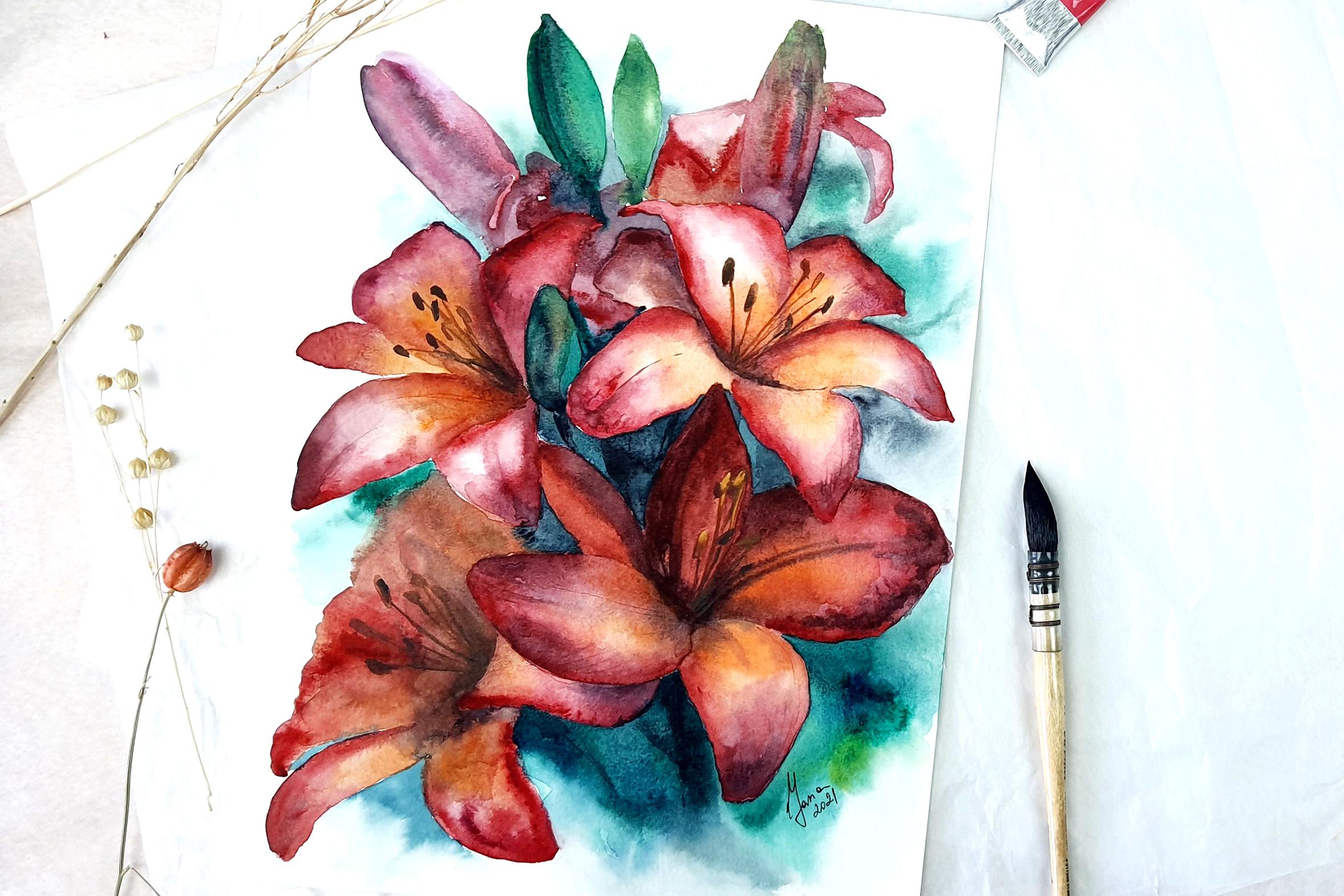 Class Ratings
Expectations Met?
Exceeded!

0%

Yes

0%

Somewhat

0%

Not really

0%
Reviews Archive
In October 2018, we updated our review system to improve the way we collect feedback. Below are the reviews written before that update.
Why Join Skillshare?
Take award-winning Skillshare Original Classes
Each class has short lessons, hands-on projects
Your membership supports Skillshare teachers