Playback Speed
---
0.5x

1x (Normal)

1.25x

1.5x

2x
Acrylic Painting - How to make Beautiful Landscapes (part1)
Watch this class and thousands more
Get unlimited access to every class
Taught by industry leaders & working professionals
Topics include illustration, design, photography, and more
Watch this class and thousands more
Get unlimited access to every class
Taught by industry leaders & working professionals
Topics include illustration, design, photography, and more
Lessons in This Class
21 Lessons (3h 23m)
2.

Lake Landscape Materials we need

1:04

3.

Lake Landscape Composition

2:01

4.

Lake Landscape Background Colors

14:31

5.

Lake Landscape Creating Clouds and Sky

12:18

6.

Lake Landscape Creating Fields

16:13

7.

Lake Landscape Highlights and Finishing

16:53

8.

Mountain Landscape Materials we need

0:46

9.

Mountain Landscape Composition

5:23

10.

Mountain Landscape Background Colors

17:29

11.

Mountain Landscape Creating Highlights

17:31

12.

Mountain Landscape Lights and Darks

17:37

13.

Mountain Landscape Shades and Finishing

14:10

14.

Valley Landscape Materials we need

0:34

15.

Valley Landscape Composition

2:40

16.

Valley Landscape Background Colors

12:19

17.

Valley Landscape Creating Rocks

8:21

18.

Valley Landscape Lights and Darks

17:06

19.

Valley Landscape Creating Highlights

12:15

20.

Valley Landscape Shades and Finishing

12:31
--

Beginner level

Intermediate level

Advanced level

All levels

Beg/Int level

Int/Adv level
Community Generated
The level is determined by a majority opinion of students who have reviewed this class. The teacher's recommendation is shown until at least 5 student responses are collected.
About This Class
In this class, I teach you how to paint three Beautiful Landscapes with acrylic paints. I show you how I sketch a composition. Then I teach you how I add details and highlights that make your painting really pop by keeping the essence of realistic painting.
I have listed all of the paint colors and supplies I used for this class below but, feel free to use your own colors and change up the paint palette to your liking.  
SUGGESTED SUPPLIES
Canvas Size 8"x8" or 12"x16 or any size " or Canvas Paper
Large Flat Paint Brush
Medium Angular / Flat Paint Brush
Small Round Paint Brush
Water cup for rinsing
Pencil
Rag or paper towels for drying
Palette for your paint
Acrylic Paint ( Cobalt Blue, Light Green, Crimson Red, Deep Green, Titanium White, Mars Black and Brown )
Paint along with the video lessons to create your own version of my Landscape painting. Take your time, have fun! Feel free to pause the class as often as you need to work at your own pace or to complete this painting over multiple paint sessions.
Practice is the best way to improve your skills and this project will get you painting and learning! So grab your supplies and paint along with me!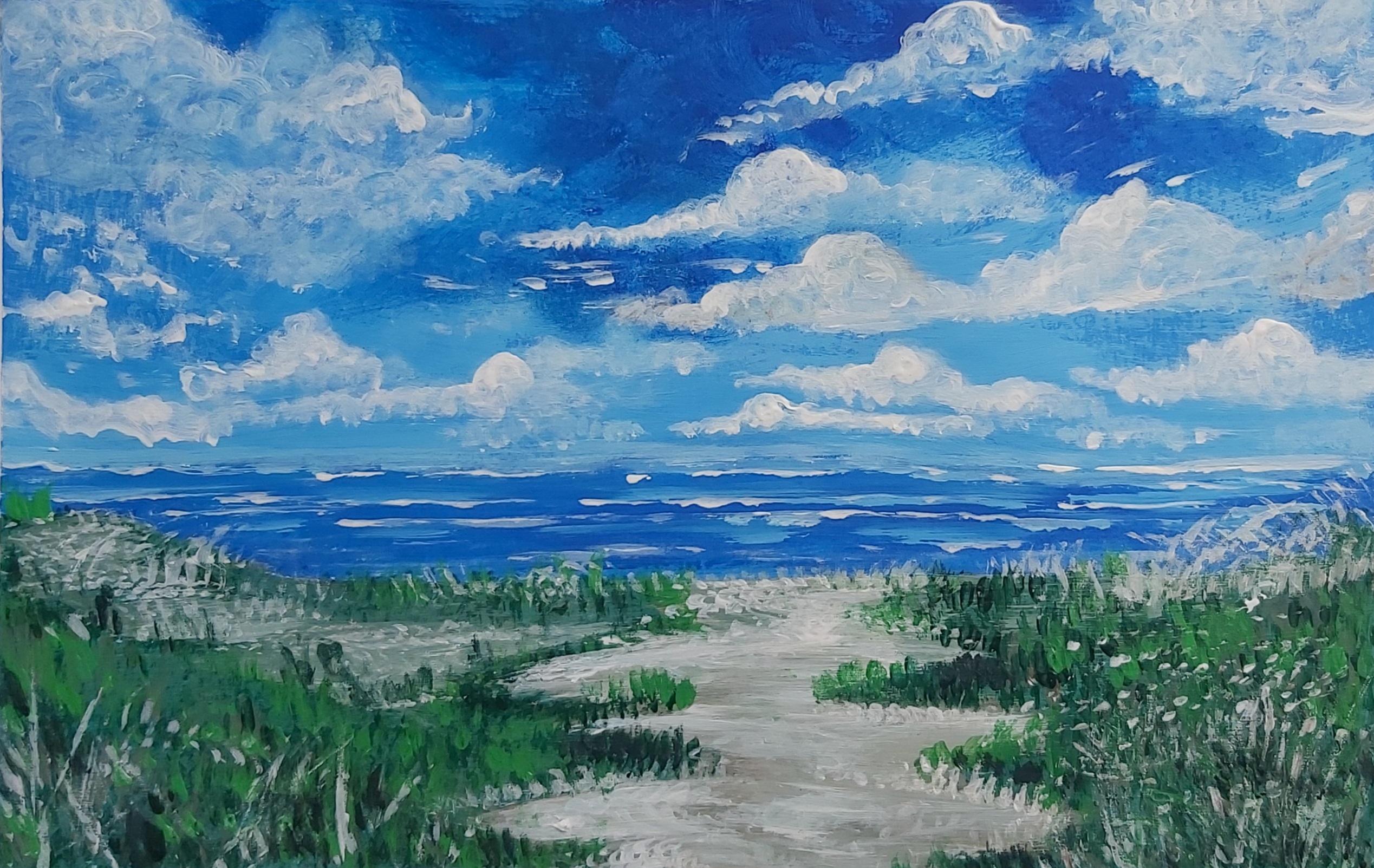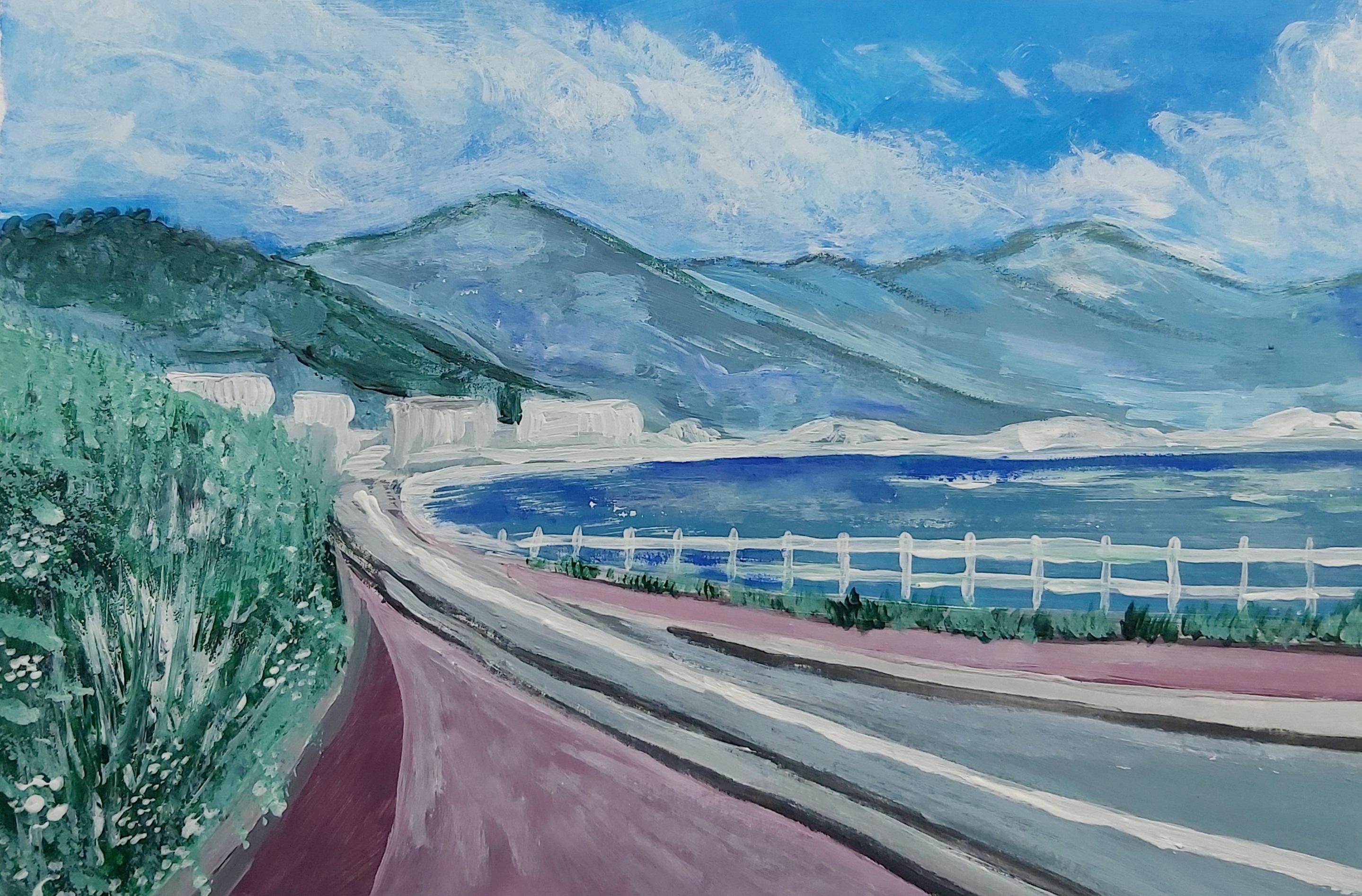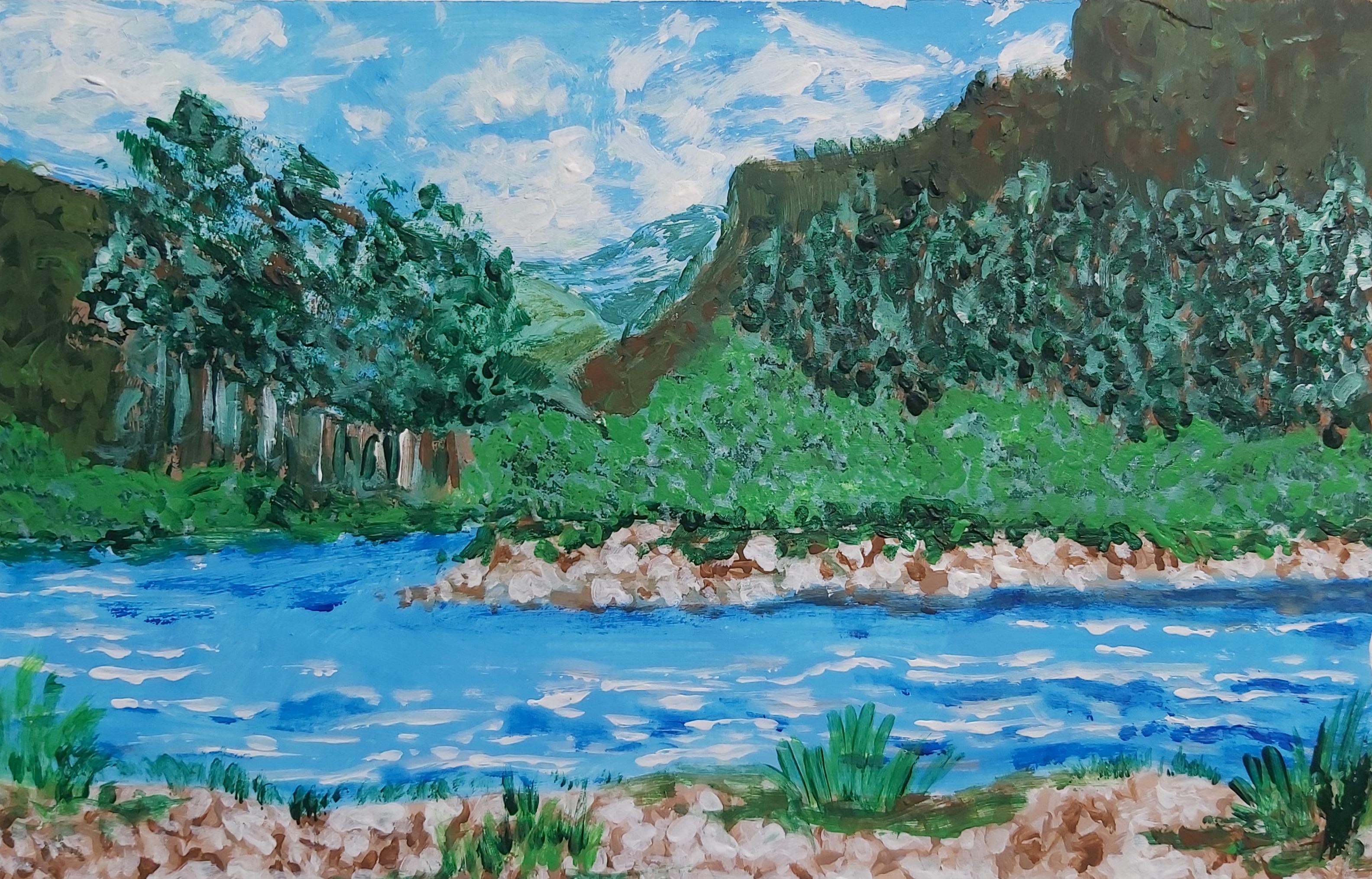 Meet Your Teacher
Munazzah Farhan goes by "Mooni". I am a Canadian based Finger Painting artist of modern impressionism and textural expressionist creating my masterpieces with oil and acrylic paints. I started doing paintings in 2010 and sold through commissions. My work is comprised of Landscapes and Cityscapes but I also loves florals. I also love making paintings on Digital Softwares, Oil Pastels and Watercolors. For me, art is a great way of scratching the soul through textures, colors, depths and giving a vision of life through an Artist's eyes. When words are not enough then stroke speaks.
See full profile
Hands-on Class Project
For your Project, attached is the reference picture to get your skills practice.
I would love to see your painting when you finish! Please share a photo in the projects tab!
Class Ratings
Expectations Met?
Exceeded!

0%

Yes

0%

Somewhat

0%

Not really

0%
Reviews Archive
In October 2018, we updated our review system to improve the way we collect feedback. Below are the reviews written before that update.
Why Join Skillshare?
Take award-winning Skillshare Original Classes
Each class has short lessons, hands-on projects
Your membership supports Skillshare teachers
Transcripts
1. Introduction: I am alumnus of money from Toronto. I'm going to show you how to paint acrylic landscape painting from start to finish. There are lots of details in this demonstration to help specific steps and details that you really need to make a beautiful landscape paintings. There are lots of techniques that I will be using. Acrylic painting, Coase, how to start up the painting, the Linda background layers and getting beautiful landscape. So if you want to see how to take your painting to another level, even up to the professional. This would be so helpful for you to make beautiful paintings because I will be walking you through all three steps off the way. You will be seeing you applying paint and mixing the paints together. So joining me and I hope to see you in this painting. 2. Lake Landscape Materials we need: These are all the materials we are going to use today to make this beautiful painting. There we have a canvas paper. You can take canvas or a panel. A pencil to sketch, paper tape to meet the broader lines. 3. Lake Landscape Composition: There I have a paper and pencil to sketch. And I'm going to make the center of the line and pointing over here, just in the middle of fifth. And the same base on this side of my paper. So now I have two points on my paper. There. I'm taking one more point just below the center. We're here and the same on the other side. And I'm trying to join these two points and to meet the horizontal line. Over here. I'm not worrying about if it is not straight because I'm not using any ruler to make it straight. So very rough, straight line the habit. And now I'm trying to make a new line. Just want to sketch something on a paper and show that this would be my lake. It's very far away from the real data. So very small in size. And there I'm trying to make a very wavy lines on the both sides of my canvas. Then here I will plot some fields to go over here to where very wavy lines. So that's corral all this cash we have on the top, the horizontal line, and we have a lake section and the fields section. 4. Lake Landscape Background Colors: So here I'm taking the big brush just to crash. And it should be slightly dumped. Not so much with the blue color, dark blue and the white one. And I'm trying to make these two colors together, taking some blue, mixing it with white, taking lift a little bit more blue color. And now I'm going to put it all the way on the top half of this canvas. Making a very smooth strokes. You can try to make strokes little bit from the both sides to give it a very Patreon look to your sky. Mixing here are some more white, some more blue. Because I'm trying to make us sky blue color. That is not so much the light, but still I'm adding more white color. So it's all up to you. If you want to make your skies super smooth, you can make it. But here I am taking small strokes and mixing some more paint begin. I have to go the whole top section of the Canvas and making this blue color just on the top of this horizontal line. I'm taking very tiny, tiny steps. Because once the paint will get dry, it will leave it to patreon on this guy. So now the top section of this guy is all, most complete it. And there we have this chi, mediums by blue color. I'm adding some more white in this sheet. It's a bit more blue color. And stroke it on the remaining section of my input space. On this chi. So now I'm taking some more white color and whatever declares remained on my brush. I'm just likely mixing it up to make it little bit more lighter color. Here I'm making a very light structure of clouds on the top of this horizontal line. And these clouds are so much far away from the horizon that, that is why we have a very less portion to draw something over here. White coloring makes fit and that's make the color mode lighter. So we can easily differentiate between the light blue color and the dark one. Adding some more white color to make Neil color a little bit more lighter and again, applying it just on the top of the horizontal line. So I have some light blue color on the horizon and dark little bit medium, dark color on the top of it. I think the moral right? And again, putting a very, very rough strokes. I think some more right here. And trying to put it little bit on the horizon line to differentiate between the colors and whatever declared its remaining. On my brush, I'm making a very curvy strokes on the top of this chi the brushes very dry. That is why it's giving me a very, very dry brush strokes on this guy. You can still see the color underneath. And this is the beauty of having Dr. pressures. So very rough. Clouds are coming on this guy. Here, I'm taking the medium brush, still slightly jumped and taking some blue color, a little bit more right color, mixing in blue shade and applying it just on below this horizontal line. And the color is little bit darker because I did not take a lot of light color in this dark blue shape. I wanted to differentiate between this. A little bit cloudy and Italy. I make, I'm just putting all that paint just at the corner of my coastlines. So I have a very small space to paint for delete. Just blend the colors you want to. I'm adding some more white color in the previous sheet. And you get a very soft hand. I'm making the tiny, tiny horizontal lines and they will be my leak, the waves on the leak very far away. That is why you have to make sure that you are making these horizontal lines in a very distantly. Now, here I'm taking again the big brush, whatever the pain was. So key, I'm taking some white color, some brown clerk make my color a little bit light brown. So it's just trying to make it and want to achieve that kind of shade. I want it a bit more brown color in the white. Just applying the shade will be closer to a vole from one site. And making some strokes at the bottom of my canvas. Just the back-end code. To make the smoothness or the fields. Taking some more white to color in delight prone. And the same way I'm going to find it on the other slide. Oftenly starting it just to the closer Delete and now making bigger strokes at the bottom of it. So if I did not wash the brush, that is why you can still see some blue shades. It's mixing in light brown shape. That's what I wanted. Some more ground color in my previous treat, some more white to color and applying it nearest to the lake. And just at the front Canvas and the middle one. Because that would be the pathway. I want to make it more highlighted. That's why I'm just making these strokes in the middle of the canvas. Here I'm taking to 10 brush. Slightly dumped. Not so much spread. There. I have the dark green color. Mixing it with a brown color to give it a very muddy. Taking some white clear in this tree to make it lighter. So taking all this paint in the thin brush and now trying to point out wherever I can add something too at the border off the fields. So keeping my hand ready, you've already solved. And in a very elusive time making these wavy lines and the both sides of the canvas. Taking every time very less paint on my brush. Now I have a border line on the both sides. Now I have an idea that I have to go with the flow only on these two sections. Taking some strokes just to Conor ultimately. Taking here, again, here are the medium brush, taking some light. And I didn't get into previous shade, adding little green color and mixing it. So now I have a new shade, taking some more green color to make it more dark. So there you have to make a little bit tiny steps of strokes close to the league. And slightly, slightly putting this sheet close to the line that I sketch it. And now I'm fitting it to this paint all of the one section off the fields. Try to take every time a very less paint on my brush and just filling the whole section with it. Adding some more green color in this previous shape, some more white color to make it a little bit more lighter. And doing the same thing on the other side. Starting closer to the league. And glides these slightly bringing the brush close to the bottom of the canvas. So I have something at my background and I will try to make it more prominent are the fields making strokes at the boundary of this wavy line. And now I have to put the color on this section. So now my camera and can be differentiated in three parts, the sky. And there we have the C section. 5. Lake Landscape Creating Clouds and Sky: Taking, adding some white in color, some blue color. And trying to make it making it more lighter by adding some more color. And trying to apply this kneel on the top of the line. The very soft 10. Every time I'm taking very less polar. Under arrest 12, this horizontal line, some more color just on the top of it. So now there's a difference between the clouds and delete and taking the same color and making tiny lines in this section off the lake. Just I'm trying to make so many ways and this little section, that is why all leaks are closer to each other because they are so far away from the region. Adding some more white color. Now I'm trying to build up some faded clouds on the top of this horizontal line. This is the very top to make the clouds. Here I want to make this test off the clouds because on this, I will make many, many clouds. But always take very less paint on your brush and screw up your brush. And take every time less white paint and pointing some clouds just on the top of this horizontal line. Because I'm so far away. That's why they're so tiny. Making a more clouds. On the top of that. There's the second layer off the clouds. Keeps swirl your brush to help you to make the clouds. And the same RAM putting some clouds and baby strokes on the one side of the canvas and now putting it some on the other side after horizontal line. Just rule your brush on the tuples every layer or through a cloud. And screw up your brush on the surface of a canvas. Making some more clouds on the risk tossed off the canvas over here. Adding some more white color. We're on the tin brush making some clouds in the middle of the second layer. So basically this is going to be my third layer of the clouds. Leave some space on every layer to differentiate them. A bunch of clouds on the top of it. If I'm getting some more white color on the timbers, I'm trying to spread it out. Not to make a lot of paint on your brush. Making some line here, and trying to rolling my approach and giving you the shape of clouds. Every time I'm taking some white color, but with a very soft and I'm touching the canvas and keep rolling my brush. So basically I'm giving it a very misty effects on the clouds. Taking some more white color on the brush. Very short line. And again, starting scrubbing the fresh from one side and lifting the paint in the middle. And there I can easily get the shape of clouds. And whatever the paint is remained on your brush to spread it out, taking some more white color and making more cloud in the middle of these two big one. Again, keep roll your brush. Whenever you feel that there I have less paint on my brush. I again dip. Why? Ten brush and a white pea and making where you really tiny strokes to make these clouds very small. So more white-collar just at the corner of the canvas and just rolling the pressure on the top. So more white color. In order here I'm just trying to sketch out spreaded clouds. And I will fill this section and with the help of this white paint. Because this cloud is just at the corner, the top corner of my canvas. And just putting all the white paint. And it keeps going until you have very, very less being left on your brush. Making tiny, tiny dots. And keep moving my brush and spreading whatever the pain to put it on the canvas and scrubbing it to give it a very misty effect on the clouds. Taking some more white color. And the same rate, I'm scrubbing the branch, push or fold, trying to make some outline but with more white color in that particular section of the Cloud. And now I have to put all this white color on the top corner of a canvas and scrubbing the brush. Every time, very less paint and just spreading the paint with the help of the 10 brush. So ten brush is leaving its mark as well. That's why it's helping me to give us 30 minutes. Do you think softer clouds? Rolling my brush and giving giving you the shape of clouds. Because we have a bunch of clouds. On the top section of this guy. Taking some more white paint and putting some white color in the middle of the sky. But in a way, shot tiny strokes because I have already build up the top big clouds on one side and now I'm trying to get the bigger cloud on the second section of a canvas. A tiny dots I'm trying to make it. And the bottom of the big clouds. And this is indicating me that these clouds are not souvenirs. That's why they're so tiny. And so this process will make you more easier to paint these type of clouds and new landscape. Every time, very less paint and whatever the remaining on the brush just probate. Now I'm taking the medium brush and it's all cleaned and dry, taking some dark blue color, adding a little bit white color in it. And we'll put this pain just in the middle of this guy to show some darkness just in the center. Because I have the clouds on the both sides. It's indicating me that the sky is very much in shape. And in this section we have no clouds. So dark there. Taking every time very less paint and just Gerben diverge again. The same way I did it for the clouds. The brush should be dry. It should not be right. Every time taking very less paint on my brush and just scrubbing it. Some chi sweep along the blending. Because this is the process where I'm keep blending, but adding the details as well. Adding some more color on my brush and trying to put some darkness in the middle top section off a canvas. And whatever the paint is remained on their brush. I'm just keep rolling my brush. And that's me. My skies were dark. 6. Lake Landscape Creating Fields: The fan girl putting this friend broke into dark green color. And the, with the help of this, I will try to me feels in a very rough strike. First of all, trying to make some marks just at the corner of my sketch. Make sure you're taking paint. Fan brush is very helpful in making the field sections that I'm taking very less paint every time and making some lines because the shape of Sandberg is giving me this simplicity. Making the fields in this way. I have to go for the section of my free drug green color and my using the same brush. Keep you and ready to light and make tiny, tiny lines at just sketch section and also closer to you, Lee. And whatever this section is remained in descendant in the middle or the bottom of your canvas, just the tiny, tiny strokes like that. So basically I'm trying to build up my feet and starting give the drug green color. And the same way I will do under seconds, half off the field section, tapping my brush closer to the lake and slightly slightly adding some more color and trying to add the seal structure closer to the leak. And now getting my brush of these rami, we can flip your brush as well. Because some paint can be left on the other side of the fan brush, but keep tapping the brush. And every time less pain and typing just closer to the end fields. Now I'm putting some lines at the bottom of the canvas and slightly, slightly trying to add some more green color on my friend brush. Keep dabbing your brush. And now I have left to cover it up with to help with this drug range rate. So this is going to be the first layer. Are keeping up your brush. Every time. Trying to dab my brush closer to the end. Taking some more paint, putting some more, adding some brown clutter on the same Sandberg. I did not clean the brush and mixing some brown color and drug green sheet to give it a very muddy slope. Picking this paint on my brush. And again, I'm just tapping the brush on the top of the dark green surface. So it will help me to locate some dark sections, all the fees and some little bit lighter. But keep dab your brush. Make your brush strokes very soft and very light. Take every time, very less paint on your person, whatever the color is remained on your brush, just grew up it just in the middle section I'll feel free to use, especially on the pop week, because I am trying to make it more combination of realistic. So whatever the closest remain on, just keep scrubbing the brush. In the very last section of the pathway. Here I'm taking again the medium brush, taking some brown color, taking some green color and some white color in it. Making a new shape. Just mix this color tool help me to get a very tone of the fields. Brown, light, and dark green, adding some more ground color to make it more dark and mixing it. And now I'm dabbing it by keeping the position of the medium brush in our longitudinal wave in trying to make it simple bushes and the fields and tiny, tiny strokes every time keep dab your brush. Make sure taking very less paint on your brush. And again on the top, just fill the same section with this new shape. Simple, taking less pain, deep debate. And the same thing I'm going to applying it on the other side of my fields. Keep tapping your brush and fill this whole section and some lights and darks. That is why I took the dark green color in the medium. Here I am taking some white to colors, some brown color. And whatever the color is remained on my brush. I'm just mixing it some more white color. I'm adding in it. There. I am getting some lightest shade of the Medea. Greenish, brownish shape, taking this color and just applying it in this section of the pathway. I put a lot of paint on my brush and that is sufficient for me to spread it all the way in this section. So in this way, the pathways going to be more highlighted. I'm taking care of the lights and dark because in this pathway I have some light is falling over there. That's making the parts being more prominent. So adding some more white collar industry and slightly with a very soft and I'm just spreading this paint all the way in the middle of the pathway. And just slightly taking the brush strokes at the bottom of the canvas. Again, letting some white color and just spreading it all the way. Please. Some more white color at the corner of the fields. Here the light is falling. So gradually, gradually I'm adding some more white color in the previous state. Adding some more white color on. Here, I have highlighted section to make my pathway more prominent. And whatever the paint is still on your brush or just spread it with a very soft and very light. We did brush and strokes like that. Taking some dark green color and the previous shade, whatever the white color is left on my brush, I'm just mixing it up. All will be adding some more white color here if a new shade. So I wanted to highlight some themes sections as well, because these are little bit far away from the vision. That's why it's more slit way. This is Section close to the lake. That is why it's very small. And the same on this slide. Just curbing their birth. And because this is the way my fields are getting the very realistic version. So whatever the paint is, still, I'm taking some white color to make the Greenland more prominent because the light is falling on the top, that's make it more lighter and flat because this is more far away from the region. Here are the ten brush and the leaf green color, adding some here, the green, dark green color. And putting a very, very tiny dots with the help of this 10 brush. That's making me very tiny, tiny fields on this dark green color and very tiny, tiny steps. I'm just making some Mars. I keep dabbing my brush. This giving me a very stems of these fields. So we're getting some more dark green color and just putting it at the closer to the end of the fields, giving you a very sharp look at the corner of every sketch. To make this section we'll dark. That's why I'm using here to 10 brush. Slightly, slightly. I'm writing more dark green color and dabbing the brush all the way closer to the end and some closer to the lake as well. So more green color and all the tiny, tiny feels the help of the teen birth. In the middle section of the fields. And also on the top nearest, totally the same way I'm gonna do it on the other side of the field section, starting it just in the middle of it and trying to add some more fields at the corner of the sketch line. To give it a more realistic version. Try to take every time less main idea here I'm adding some more leaf green color and mixing it and the dark green color and trying to make the lines on the one section of the fields. So this will give me a vision of some lights and some darks. And making some are very curvy lines closer to the bottom of the canvas. And also some we are in the top. How often feels where the light is falling, adding some more green colored leaf green color and the dark green sheet and making some strokes closer to the lake slide. So I have some dark greens, some light greens, some muddiest green colored in this section of the fields. Adding some more green color to make the color more lighter, just closer to the line where the lightest falling there. That is why it's more lighter shade there. In the same way I'm gonna do it on this slide. First of all, trying to put these lines in the sketches, feels closer to the lake as well. And again, just at the bottom of the canvas. So these are the sections that is highlighted and making the vision super light and shade. I'm just taking the leaf green color and trying to make some marks by simple making the lines in the second half of the section. Every time trying to take very less paint on my pin branch. Closer to the bottom of the canvas. Some highlighted over here. And also just in the middle of it. Every time you take less paint and trying to lift the 10 graph on the upper section. And this will give you a very tiny, tiny strokes and lines by simple lifting it up every time. So modally green color every time on the brush. And as much lines I'm going to make it because this is the very realistic, closer to the realistic vision. 7. Lake Landscape Highlights and Finishing: Adding some leaf green color closer to the lake as well because the light is falling there two weeks for things like during section of the fields. Keep doing it until you get a lot of fields. Lines in this boat. Spotify's taking the fan brush again, whatever the paint is left on your brush that's almost dried. You I'm not going to read the brush, just taking a little bit of white polar closer to the end of the fan brush and trying to lift my brush every in every strokes and making the strokes very, very lighter. So keep your hands where you solved and making some highlights. Over here, I want to put some lights. So I'm putting the light closer to the end. Sketches off the fields and also nearest to the lake as well. And just dab your brush. And it will give you a vision that there must be some tiny, tiny white flowers are on the top of these fields. Make some strokes. And that section of your painting to life is happening there. Every time. Take very less paint on your FanGraphs and highlight the section closer to the league. Keep moving your brush and both sides. In this way you will get some strokes like the Christian cross strokes line closer to the LEA because there must be some fields and they are so light and color. All white, they're putting some more white color and not doing the same thing on the next section also feels trying to follow them bright and off the field, splitting some white-collar even on the pathway to make the pathway more lighter. And the light is falling on the ground. And I can't closer to the lake. Every time less paint. And just simply just lift your pressure, keep dabbing your brush. Even on the lighter section of the fields where the live section is very flat because this is not so close to the vision. And keep dabbing the brush with a very soft pen and whatever the color is. On my brush, I'm taking all the paint on the brush and keep dabbing my brush on that section. Some more white color. And again, trying to dab my brush to give it some highlights in the dark field. Trying to just make my fan brush within the longitudinal way. You can make the crews and crossed lines like that. So these are the fields that are more highlighted because the light is just falling and the top. And the thing we, I'm taking some more white color and making some lines close to the bottom of the second half of the fields or here. Every time very, very less paint on your brush, taking some more white-collar and trying to make the pot Three more highlighted. So slightly, slightly, I'm writing some worldwide clerk to get the lights and darks and the painting. Keep your Sandberg in a very flat way and just make some lines, horizontal lines are very curvy lines like that. Here I'm taking the 10 garage, It's super dry. Taking some white color on the top, I'll say. And I want to make the clouds a little bit more highlighted. So I'm just putting the white color only on that section of the clouds where I have already put some misty effects of the clouds. So every time I'm taking very less paint on a white on the ten brush. Slightly, slightly just making some marks on the same way. Once I did it before. Because we rarely colors dries very quickly. So they are almost dried. And I'm putting the signal, you're on the top of all these clouds and tried to add just the white color just on the top section of the clouds where I am. I want to put some lights on the clouds. So that's why I'm taking very less being white color on the thin brush and just putting the white clerk somewhere on the outlines and little bit, selling it in the old section of the globe to make it more prominent. So keep rolling your brush, but this time we don't have to screw up the brush births just spreading the white color all the way on the fight sketches. You can roll your brush at the corner of your brush off your Cloud because in this way you can take out the very rough structure of the clouds. Just close has no shapes are very different kinds of shapes. Every Cloud is different. So I'm simply taking less paint every time and just spreading it on the top and slightly, slightly. I'm taking a difference in my painting. It's more highlighted. I'm going darks and lights the painting. Simply adding some white color and trying to spread it. And in some more white color. And putting a very wavy line just on the top section of this chi. Keep rolling your brush and trying to give them a very nice defects on the clouds. So more white color and putting it to the corner of the canvas to make it more highlighted. Now putting some more white color and adding the same way on the other section, I'll keep rolling your brush, keep moving it, and spreading gain by making smaller thrills. Some more white color and putting it at the top section. Although Canvas. And there was a time when you take lot of paint on your brush to try to spread the white color and spread it all the way closer or in the middle of the clouds. In this way, I'm not getting a lot of paint. So this is the trick by using the Kraljic things to create a very nice defects of the clouds. I'm now putting some more white color on the top of their horizon line, where I have a very tiny, tiny clouds because they're very far away from the lesion. And these are all the layers of the clouds to I on the state. I'm working on the third layer, and sometime I'm working on a secondary as well. And display. I'm trying to build up my clouds, taking some white color and putting it just close to the horizontal line. So here are some more white to color. And putting a very, very tiny dots here. Somewhere in the Cloud section or even the dogs section of chi. Wherever I want to show some very tiny small clouds, they're so far away. That is why they are not so big in shape. And saying We, I'm putting some dots on this section of my cloud or here to keep roll your brush whenever the paint is left, just keep spreading it all lovey. I'm to eat here some more white color and trying to put this white cleared only on the top of the misty white waves on the leaf. Then I mark it before swine just want to, I just wanted to make it more highlighted. That is why I'm trying to put this second layer of waves on the top of it. Every time taking very little color. And wherever I sketches, I'm trying to build up some more highlighted waves on those sections. So there is a very Remy clique leaves. And giving you a very real for this landscape. Trying to put some white colored closer to the end of the lake where all the waves are coming towards the ground. I'm trying to put it all the way at the corner of the both sides of the leaves. Adding some black color over here. And trying to add some dark green color to make my color little bit more warm and some more black chloride added. Here. I'm taking the 10 brush and putting some dark shadows at the corner of the fields where because the light is falling at the bottom of those things, but on the top there's so much dark. That's why I'm putting very less paint every time, but simply dabbing the brush and putting this color all the way up into sections, adding some more dark green color here and mixing in this shape some more black color and just mixing it. And here I am taking all the paint on my brush and now gonna play it at the bottom of the fields. And some there in the middle of the field as well because some are dark and some are light, sweet feel balanced. Lights and darks and the fields as well do the same thing. On the other section of the fields. I'm not touching you on the top of the white lines. I'm just putting the color a little bit away from the white strokes. That's makes things more darker. Adding some more green color and making and lifting up every time my ten brush and also make tiny, tiny dots just closer, the lightest and the sled surface all to feel sections. Giving it a vision that there must be some freedoms as well. So trying to give it a shape of the fields there. So keep doubling your brush, lifting your brush and trying to put these brush on the other section, I just cleaned the tin Burj, putting some white-collar again on my pen brush and I want to make the clouds more related. That's why I'm just putting some white-collar at the closer and of the clouds every time taking very less paint and that's all sorts to make the clouds more later. So every time I'm putting you on and a half section of the clubs to make to make it show that the light is just falling under half section of the clouds. So more white color. This time. I'm not adding all the way on every cloud. I'm just pointing out some highlights there. So keep rolling your browser and whatever the paint is left, I'm just spreading it all the way. Every time less paint on the timbers and scrubbing you on the top of every cloud. A half section of the Cloud to make it more brighter. Light is coming from the left side of the canvas. That is why every cloud is more highlighted just from the left side of the canvas. So these are all the things and making your painting full of lights and darks. And again, making just tiny, tiny strokes and dots on every cloud that are not so closer to the horizontal line. Adding some white paint again here and the tiny, tiny lines to give it a very real structure of clouds. Putting some more white clergy in the middle section of the clouds to make it more highlighted. And on the top section of this guy here, the rest of the sky so much dark. But I'm trying to put the Cloud little bit more brighter. So that's all for this painting that remediate. And I just remove all the teeth on the corner. The border lines. And there we have a beautiful landscape. They have you have a cloud, the lake C to Part B, and the more highlighted clouds. I'm pointing it with the help of my ten girls to cloud structure, the leaks to fly. The highlighted section. 8. Mountain Landscape Materials we need: So now we're going to start to be the second landscape. For us to follow the canvas paper you can take canvas of big a fan brush, a medium brush, a pencil to sketch, and 10 grams. And these are all the chronic pains, the similar pains, blue, white, dark green, and brown. So we will use them. And now we're going to start that beautiful landscape. Let's begin painting. 9. Mountain Landscape Composition: Here I just taped it on their own, the paper. And now I have a pencil to sketch. And then I take the center of both vertical lines. So here I'm marking just in the center. And the same way I will mark it on the other side. So now I have two points on the both sides and not taking just the central point in the middle of this canvas. If this is my point in the center of the vertical line, I'm just taking one more wind below it and I'm having a straight horizontal line at that point. And the same way, I am going to extend this line little bit away from the center of the canvas. I'm trying to make a curl free lake over here. Because we have to make in this landscape the point we made a horizontal line. I'm just taking one more point, little bit away from it and trying to join this curvy line with that point. So now I have four here. I'm here trying to make one more curvy line below this new line and crying to join this point from the second curvy line. Now, that's why sketching helps a lot to make something on a canvas. I'm here making another curvy line just in the middle of these two curved lines. And again, trying to make another fault curvy line just below the curve line. It means that the line is a little bit of V from the center point of the canvas. And now you're, I'm trying to make the mounting structure just above the center line of a canvas. And so very curvy line again and joining it at the bottom of the canvas. Because in the middle of these boats curves, I have to make a road in the middle of them. So this is just for idea to sketch. Here I'm again trying to make another line little bit towards the left of my canvas. You're able to grow some thrills. We're here. And again, the curvy line just below that line, making, making some more lines just in the middle of these curves line at the right side of the bottom of the canvas. And here I'm trying to make a really structured fraud the fields, because I will take an idea that you have to meet lights and dark in this section. Now if this is the center of my canvas, I'm trying to make the mountains starting from this center and taking the point above the center and giving you the shape of mounting because they're so far away from the lesion. That is why they are smaller in size and trying to build up some more round teens that are behind all of it. So we have a very beautiful vision. You have mountain lakes and very really structure for the mountains up and down. Now joining it somewhere in the middle and trying to meet some buildings at the corner of the league and in the center of mountains and lakes as well. So up and down buildings like that. Some are smaller, some are bigger. 10. Mountain Landscape Background Colors: Now I am pleased, some paint on the palette. This is my big brush. I have blue, white, and black color in the palette. I'm trying to make blue and white all the way together to give it a light blue shape. And I'm keep adding some more blue color and shape to achieve the color that I wanted is a bit more white. And now I will do this paint on top of the sky. Every time. I will try my best to take very small pectins with the help of the big brush. Because I want to break the colors. Make sure your brush should be a little bit dumped, not so much red. Or it should be a little bit of template. Leave the mountains and just fill this color, all the VM that section, adding some more blue color, adding some more white color to give it a consistency to paint. I'm putting some outlines closer to the mountain, so I have more space to paint very freely. On the top section of a breaks down the patrons by making small patrons of the brush. And there I have more to cover up this guy with this shape taking some more blue colors, the more white colors, while I'm gradually, gradually increasing the peat. Doing the same thing on the other side of the canvas. Starting to build just to outline of these mountains and fields. And now I have a good space to just fill the color in that section. I'm moving my brush from and, and I'm trying to flip the brush back and forth to get the texture with the help of this brush. Here I added a little bit more white color in this sheet. So that's why the color becomes very light. Just left corner of the canvas. And whatever the paint is left on that version and keep scrolling up brush on that section. And this way I have some darker areas, some lights selections. And this is the way to build up the sky because on the top of it I will make the clouds. Here. I'm taking the medium brush. Again. It should be slightly dumb. I have taken here the dark blue color in my palette and trying to mix it with some weight and pinch of black clerk in it to give it a very dirty dish. Medea blue color. Adding a little bit more white color in this shape to make it a little bit more later. And trying to put it just in the middle of the mountane. The very soft 10. I'm barely touching the canvas. And making the outlines of the mountain over here and fill this color just second mountane of my canvas. We can get align closer to the ending of this mountain and just filling this color all the way. And this section, I'm trying to blend the colors. That is why I'm making back-and-forth strokes with the help of my medium brush, taking some more paint and making a closer line just at the corner of only 20 these lines together. Now you have very little section to print. And there I have the middle mountane of this tree. Now I'm adding more white color in this shape to make it more lighter. And there I'm going to put this color and to the next, after mounting little bit closer to the ending section. So now I have more space to fill the color and the remaining section of the mountains, trying to build up the edges of the mountains where a much clear. And whatever the pre-industrial mean to on my brush and keep selling this section with this new shape. Making outline closer to the league. There. I have the second mounting to the dark montane next to it. So now I have two mountains with differentiates, the dark and lighter. Now adding a little bit more white color in the previous sheet and making it more lighter. Adding a little bit more whiter than the previous step, the color become so light. And now I have one mountane left. I'm trying to build up the outer line of these mounting and trying to fill this color in this section. Again, trying to build up the closer the line that is very close to the fields section of my sketch. And whatever the theme, I'm trying to leave the section for buildings and remaining. I'm just filling that coloring that taking this color closer to the LEA and flipping the brush to make the line very 10 closer to the lake. And now we have three mountains in the picture. Here I am adding some more blue color in my previous trade off, that last mountane to make this polar little bit more white print, adding some more black color in this shade to make it more darker. Mixing the color very nicely, and trying to fill this color in my section. So now I can see the difference between these four sheets. And now filling this color closer to the mountain. I did not get the brush. The brush is almost dry and I'm keep adding just the paint on them to give it a very smooth finishing. Taking the line of my league and filling with this color, making in boundary, boundary closer to go Lee. So I have space to fold this color and the remaining section of fully adding some more blue color, some white color. So more weight cleanses, shade, and whatever the section has mean and just trying to fill this color and there's friction, but it making the outline of the lake very much clear. And there we have a leak or here. So basically we are trying to build up the background colors for this beautiful landscape. Here I'm taking the medium brush again, just clean the brush with the help of paper toggle. And there I'm writing some white-collar, some black color, mixing it all the way together, trying to meet a light gray shade by adding some more black Thorin this shape. Again, slightly adding some black color to make it more dark. And here I'm going to paint the outline of a road. Once I have outline, then it would be more easier for me to fill the color in the remaining section of the road. Seemingly I'm doing is filling the color and their section of a row, taking some more paint, working at the bottom of the canvas, filling this color all be closer to the edge of the road. On the other side. Taking some more white color over here in this sheet. So more black color, slightly, slightly adding them and just mixing it. Moving my brush and trying to make the outlines on the both sides of the road. And making a very similar step to fill the color in this section. And there I have a road over here. Whatever the color remained on the brush, just keep blending the road section with the help of the medium brush. Now taking the medium brush again, just clean the brush. And in the previous trade, I'm trying to add some more black color and trying to mix it. So now I have a new color in my palette. Medea, reddish tone. I didn't hear some more white-collar industry to make it lighter. And trying to make a path we closer to the LEA. Every time I'm taking very 10 step to just blend the color in this section. Wider and rights corner of the canvas. And the way we are going far away from this left side is getting smaller in size. The same way I'm going to build up to layer. And just add the left corner of a canvas over here where I have to grow the fields. Just the outline and filling all the way this color in this white section of the fetus. So my blue color, the previous shade is already mixing it up with this new shade, adding some more blue and black color and some white color in this shape. It a little bit more red color. And there is a new colors becoming more here and just making a tiny strokes all the way in the pathway section to make it more dark. Trying to build up the outer the line closer to the field section. And here I have to create the shades for here. That's why some section is dark and the remaining section would be more lighter in color. Adding some more red color in this shade, just trying to make it. And we can tiny strokes. The remaining section of the pathway. Just blending the colors. Adding some more white color in this previous tree, just trying to make it and the color becomes more light range. At the narrow side of the pathway, I'm trying to build up more curvy line and whatever the color remained on recursion, I'm trying to fill this section with the lightest tone off the reddish color. So here I can differentiate between the lights and darks. Taking some more color on my brush and working closer to the LEA because the light must be falling over there. At the narrow space we have the pathway trying to put this lighter shade of reddish dawn on that section. So it's more darker from the right side and more lighter at the left side of the canvas. Here, taking the medium brush again, just cleaned it off, adding some dark green color. We're here trying to add some great color in this shape into a bit more white color and just mixing it to make it lighter. And now with a very soft 10, I'm trying to follow the outline of these fields. This section, I will make it more darker. That's why I am drawing the outline. And SOP I'm going to close the path which is making the article here. And I have very white section to fill this colored all of the debt section. Just adding the dark green color, adding some white color, just mixing it. And just filling this section with stone, adding more dark green color. And the remaining section is going to fill it with this shape. Closer to the end of the pathway. There we have the dark green section in the field section or whatever the color remained, just make a blending strokes with the help of medium pressure. To make everything smooth. Adding some more darker in color, adding a little bit more whiter color in the shade, make their color more lighter this time than the previous one. And trying to make the outline first at the other section of the field that I will make it more lighter. So here, closer to the end and there I have a good space to just make 123 strokes on this section over here, closer to the drug crane. And again, working on the top over here. And there I have the lightest shade of green color, making a little bit slightly curve to differentiate between the light and the dark. 11. Mountain Landscape Creating Highlights: Here I am taking the 10 brush lightly damped, adding some white color over here, adding some more black color to make the color tone little bit gray. Slightly, slightly adding more white color in this shape, a little bit more white color to make it a light shade of gray. Taking this color. And I'm here trying to make one very tan line just in the middle off the path we end the road. Because it's light in color by adding some worldwide because light is falling on that section of the pathway. And asked over, yeah, I'm going closer to the end of it. It's become more lighter in color. That's how I'm making a very 10 pathway over here, closer to the end. And taking them at the right side of the canvas or the bottom is trying to move. The brush strokes over here, adding some more white clear on the top of it to make my colored more brighter. And there I have it. Adding some more white color in this sheet and doing the same thing on the other side of the road. Here are the light is falling below the Shockley. I'm trying to fill this section with the lightest shade of gray. Just filling the color closer to the end of the pathway. Taking my brush towards the lighter section or here. So now I have two sides of the dark corrode, adding some more white flower and just trying to finish it. Here, I'm taking the big graph. It's fully dry. I think some white colored the previous narrative was lightest gray, adding some more black color in the previous sheet to make it a little bit more darker. And making a very soft strokes the wider section of the dark road to bring some light. And the right section of the Canvas, adding some more white in this color. Just making very, very soft strokes with the help of the big brush. Some more white color. And making the white color all the way on the half section of the dark road. And whatever the color is remained on the Persian keep making the strokes on his dark road over here. And also putting some highlights at the narrow end of the road here as to the leak. So the light is also falling from this side, coming towards the right. So I have some dark sections, some light section. That's how it's making the road so beautiful. And this way, make sure the brush should be dry. And every time I'm taking very less paint on my brush, making a very smooth finishing on the root, on the top of the dark color. That's how I'm creating the highlights over here. Slightly, slightly adding some more color and just grabbing the approach closer to the end of the pathway. So more white color on the other side of the road. So now here I'm taking my 10 brash, adding some black color over here to make the color a little bit more darker. That's why because I have to create the dark shades just below the pathway. So I'm tricking the 10 garage and making very thin line just closer to the pathway section because light is not pulling your hair. That is why I took just a dark black color on the top of it. As you're getting closer to the narrow end of the road, make sure your brush very lightly done and it makes you easier to make the tan line on very small section. Put some more black color. And looking again, when more narrow line over here on the other side of the road. Again, it's dark in color. When the both sections of the chart, we have the lights in the middle of them. So now whatever the color is remained on the 10 brush. I'm making the lines super, super smooth. And that's how it's working. Just mixing the more color on my tin. And the same query I'm going to do the same work on the other side of the road. Making the tiny pin line closer to the end of the road. And slightly is twice the adding crystalline more bigger. Every time. I'm taking less paint on the 10 grams. That's how it's making. So smooth line all the way over here. I'm making the dark line just closer to the lake because there are no light on that section and that's making it so much dark. So whatever the color remains in your precious, keep, making a slight smooth finishing, adding some more white color. And the previous. And to make it a little bit more lighter and making the outline just on the top of the dark line. Because light is falling. That's why it's low. The first line is lighter than the dark and then we're at, we have to populate. Every time. Take very less paint on your brush. Just make a smooth curvy line at the border of the leaf. So here I'm adding some more color in the previous shape. Little bit more red to make it a reddish, greenish lightest color. And trying to fill this color closer to the end of the fields, adding some more red color. So I'm like these slides see adding some more red color in this sheet to achieve that color. And adding like very tan line closer to the end of the fields. And trying to blend it. Adding some more black color and shape to make it a little bit more warmer. So whatever the color is remained under pressure. I'm just trying to make this color and I'm trying to make another curve are applying just below the lightest shade of the rubbish. Lightest gray color. Just wanted to highlight it. Here I'm taking the medium brush, taking some white color. For here. The pressure. We try adding some more black color in my white color to make the lightest gray color. And this time I'm trying to fill this color only and the building section. Very careful. Putting the art closer to the LEA. To give it a very nice finishing line. And whatever the color is really not know Persian key making strokes and filling the highlight section of these buildings that are just closer to the leak in the middle of the mountains as well. Adding some more white color and trying to highlight the shapes of the buildings. Some shapes are wider and small. Adding paint every time on the medium brush and giving you a very rough structure of the buildings. Because these buildings are so far away from the late. That is why there are so smaller in size. Light is falling on the top of these buildings to make them more light range date. That's how good I am again, putting some white color to make the second layer on these beliefs. Am adding a white color every time at the edge of the brush. And there I have the buildings some more white color and making very smaller curvy lines closer to the end of the lake. That is showing the vision that there must be some buildings over there making now playing off the lake at the corner or here and just to make them highlight to you is light is falling over there. So now I have a very nice shape of the curvy line up these leaks over here and making ups and down large, lightly touching up the corners of the lake to make sure there must be some buildings as well. I'm trying to make ten layers of white tone in the later section to give them a look of the waves and lonely. So whatever the color is remained on the 10 and the medium garage, I'm just trying to make some horizontal lines on the top of the lakes. Just trying to give the highlights of waves in this dark Lake. Having white color just at the corner folate to make the curvy line that up with more prominent. And the same on the other side of that is closer to the root section. Slightly, slightly adding the Mars, but make sure the press should be dry. That's how the dry techniques are working. They were here. Every stroke is very soft color. So. Adding some more white color to make my new shape some dark blue color here I'm taking to make the color more lighter. I'm slightly, slightly adding some more white-collar and trying to add a pinch of black color and the shape. Adding some more blue color to the color, adding some more white to color over here. So there I have a new color, blue shape. And I want to make the highlights on the top section of the mountains. That's why the colors more lighter and in trade. Here, the light falling on the top, most mountane, so slightly closer to me, I'm just growing up brush closer to the end of mountains and slightly adding it in that way, little feet. Just scroll your brush. Make every time where it lives, paint on my brush. And whatever the clergy remained on the top just making the highlights and making every time very soft strokes on it. And keep roll your brush, scrub it closer to the lake. So there I have some dark section of mountane. And with the help of this color is making more lighter, taking some more color. And the same thing I'm gonna do on the other section or for mounting, starting from the top, making the boundary over here. And now trying to make the edge of the US Code mountane and whatever the color means, I'm scrolling get all go the closer to the end of the long teens and little bit in the middle of it. Adding some more white color in this shape to differentiate the color between these mountains and making the edges more prominent. And slightly, slightly taking the brush strokes towards the end after mountains. So whatever declaratively and just keeps growing web brush, that's making my mountane more highlighted some darks and with some lights. It's very much light in color closer to the end of the LEA. Little bit dark in the middle. So I'm here taking some green color and mixing it in my previous tree to show some green creating some black and some red color in this shape. And now I'm going to work on the left of the mom team. I keep dabbing the approach to give it a vision also feels on the top of this mountain, slightly, slightly dabbing. Make sure the brush would not be flooded with a lot of paint. Leaf to section off the buildings that keep dabbing the brush. On the top left section of the mountain. 12. Mountain Landscape Lights and Darks: Here I'm taking the 10 brash, taking some white-collar crime to make the boundary off to sleep. So here I'm making one straight line and leaving a little bit space between total white section there if the blue and now again, I'm taking studying the panel line just from the narrow side of the leg and we can tell white lines prominent over here. And now I'm trying to build up the word vertical lines on these two horizontal lines to give it a shape of bond. So every time taking very less paint on the ten brush and making these verticals small lines on the top of it. Make sure your brush should be slightly dumb. So it would be easier for you to make your pink lines in a consistent way. Adding every time very less painted as the ram closer to the end of the narrow line of disk lake, the vertical lines are getting smaller and smaller. That's how it's giving me a region that there is some these bonds are so far away from the broadest side or the right section of the Canvas. I think some more light clear in the pin brush. And now I'm making the white line just in the middle of the road. That's why the remaining section of the road is more darker. And now this is just in the middle of the road. It's more highlighted. And if we time taking less paint and just give it to more highlighted line in the middle of the road. And, um, just keep highlighting the same white color on the same sketch line that I made it previously. The very lightest tone, and now I'm making it white color on the top of it. Here I'm taking the medium growth. It's all dry, adding some white color. And the dark green shade, adding some more dark green color to make the color lighter. And now I'm going to work on the fields. So here I'm taking the vertical lines, but keep dabbing the brush. Just giving it a section of fields to grow them. Make sure depression, I'm holding it in a vertical section. And keep dab your brush. And I took very less paint on the brush. Here I'm taking the FanGraphs, adding some dark green color on the top will fit by simply flipping it and putting some drop fields at the corner of the dark section of the fields. Every time taking less paint and trying to lift the brush. Making tiny, tiny strokes with the help of this fan brush, very helpful. And some green color and just keep dabbing your brush. Some horizontal directions. I'm very curvy lines with keep moving the brush to make it a very rough structure of the theories. And also I'm working just on the top of the light green section of the fields because there must be some dark greens as well. So whatever the color is from weight under Persian, keep dabbing it. Here I'm taking some red color, mixing some dark green color and the shape, adding some more red colored, some more green color to make feels color little bit more niche green color. So with the help of it, I'm just keep lifting the brush and trying to make some different sheets of fields over here because there's so much dark on this section. Keep lifting your brush as you come closer to the edge of the fields. Taking some white-collar on FanGraphs and just making the edges highlighted because they're the field some lights and dark. Keeping my fan brush in a vertical direction. And just keep lifting the brush all of the closer to the lightest shade off the fields. And as well. I'm trying to put some shades also on the dark sectional disease as well. I'm trying to make the fan brush stroke more right and the left side. Because these are the fields and they are growing everywhere taking some green color on the top of white color to make the white color a little bit more warmer. So whatever the color is from Wayne again, wreaking some highlights, just keep moving the brush, taking here the medium garage, taking some white, some green color, just mixing it, adding some more white color over here and make my color more lighter and tried to dab my brush just closer to the end of the lightest section of the fields. Yes, I have to show that there must be some fields over here as well. That is why I took very less paint on my brush. And I'm trying to just dab my brush on the top of the dark section as well. So some lives and some drugs. And that's giving me a sense that there are some flowers on these dark green section of the fields. I'm just going to dab the brush closer to the edge of the fields because some leaves are, must be falling down on the edges of the road. So that's why it's helping me just keep dabbing the brush all the way over here. That's made some darks and some light as well. Adding some ten. We're here. And with the help of white color, I'm trying to make the buildings little bit more highlighted. So basically, I'm doing it at taught dime on the top of these buildings to make it more brighter. Because I'm taking care of the white section, the highlights over here. Just trying to build the white color on the top of the buildings where light is more falling on the top. Every time, taking very less paint on the ten brush and just keeps spreading it. So every time I'm taking very less pain on the white paint brush and just putting the highlights on the top of these buildings that are so far away from the lake. Slightly adding some more highlights closer to the curvy line of the lake. That's making the buildings more highlighted. Taken some more white color just at the bottom of these buildings. And trying to make it a good adding some more curvy buildings over here. Right-click over here, adding some dark blue color on the top of it and trying to make the color lighter. So I'm getting the very lightest shade of dark blue section and trying to make some tiny, tiny strokes on the mountains that are closer to the buildings. And the other on the other section of the mountain as well. Adding some more white color over here and putting the paint just on the top of these mountains somewhere and the top will fit and some of you are on the bottom as well. I think some more white color. Putting this highlighted at the top section of the of the mountains. Because light is falling over here. Trying to build up the edge of the top left mounting. And again, making the edge to second mountane to give it a very curvy, smooth slope of this long days and trying to build up the outlines of mountains just on the one side. And now working on other side of the montane to make it more highlighted. So more white shades. Trying to make the slopes on these mountains adding some dark green color. Look a bit more dark green and red color. I'm mixing different colors together. And with the help of this quarter, I'm trying to make the fields on the top of the left side of the mountain. And you'd buy at the health of using the pen brush. It's helping me to make tiny, tiny fields on the top of it. So whatever the color is remained on the brush. I'll keep scrubbing approach and keep lifting the brush and making the very smaller fields on the top of this and making some dark highlights closer to the end of the buildings. So more closer to the building as well. We're here adding some black color closer to the things and making the edge to curvy line over here. Now here I'm taking the medium brush, clean, dry, adding some white color over here. And now I'm trying to make the outlines of the clouds on the top of sky and in the middle of the mountains as well. So there are so many clouds I'm going to make it just on the top of the mountains. Deserts. That is why the top section of the mountains are more bright during shape. And every time taking very less paint on the brush and just grabbing the brush on the top of the sky and filling the section closer to the mountains. And now I'm just merging the outlines very quick. The marks I put here, dark stroke and help up to a white color, and I'm trying to watch this color every time. So this is so helpful If we have to work under section of the sky but putting some word clouds. So every time taking very less paint and just grabbing kids by keep rolling the brush on the top of it. So more white color and just watching it all the way. Now putting some white color on the top of the second mountane, slightly, slightly mixing the white color with the previous on the top of the white tone. So it's not so much white closer to the edge of the mountains. Make sure the brush would be super clean and dry. That's how the dry techniques work over here. Taking some more white color and making some highlights with the help of the white color on the top of the mountain. Every time taking very less Paden, slightly, slightly building the light on the top of these mountains. Working on the second montane closer to the edge and keeps curbing the brush. Taking some more white color and trying to build up more highlighted section of the clouds. And let on the left section of the Canvas, again, working on the top left of the mountane and just scrubbing it on TV. I think some more white color. And now I'm going to outline of the Cloud in a very dark farm and I am getting some more white color on the right section of the Canvas. Keep smudging the brash. And whatever the color is remained to keep making swells. On the top of this guy. I think some more white color on the top of the right section of the mountain. Here the light is falling on the top. That's how we are getting the art on the sky by the shape of the clouds. And whatever the clarity when just keeps smudging and scrubbing the garage, making swim outlines. Some marks on the clear. Just in the middle of these two bright section of the clouds, taking some more white color and strike least wisely building up the clouds the same way I did it on the left side. I'm going to work on the right side. We're here slightly, slightly adding some more white color on the top of the mountain. And whatever the color is remained on the brush and keep moving the brush on the top of the mountain as we're taking some more white color and trying to highlight some clouds section, making some lines and just trying to smash these lines. His clout has no shapes. Who they are, the branch of clouds and trying to make it over here. 13. Mountain Landscape Shades and Finishing: Slightly sliding, add some more white color and just making some marks on the top of the sky. That's how the Cloud section is more highlighted. Now. I think the more white-collar on the other right section on the cloud, keep scrubbing the brash, making some frills. Here I'm taking the regression again, adding some light green color, some black color in the previous shape. Here I could add the green and the black and trying to make the outline of this mountain. Keep mixing the paint. And I can't, I'm putting just at the center of the mountane trying to build up the outlines. Little bit more color adding and making this time just a tiny slopes on these mountains to give them a look of many mountains and adding again some color and making the outlines on the second one team from the left side. Adding some green color here. Make the outline a little bit more brighter. Keep your hands Suma solved, adding some more green color. And every time very small and very soft strokes with the help of these tame garage and trying to build up the outlines of the slopes as well. Some green color here. Taking this green color and trying to make tiny, tiny feet at the bottom section of the bond nearest to the LEA fields as well. So with the help of the dark green color, I'm trying to make tiny fields. We were here by keep lifting the brush, leaving some space and then we go up, damn, I'm trying to make a CV as well. Fees closer to the edge of the pathway. Hence they are going far away. There's more smaller in size. Every time, very less pain on painting brush. Keep dab your brush and whatever the colors remain, just keep lifting the brush. That's how it's making a vision that they are so far away from the right side of the canvas. Adding some white clergy in the previous green color to make the color lighter and trying to make some highlights on the top of the dark green section. That's how I have some dark field, some light fields. The light is falling on the top of it. Having some weight color, and making tiny, tiny dots on the fields section to make them a vision, there must be some white flowers over here. Some white flowers. I'm trying to put it at the edge of the pathway as well because they are flowers are some popping up from the edges of the fields and also trying to make tiny, tiny dots on top of the dark section of the fields to make them more highlighted. Because there is a dark green color at the background and white clear. It's trying to give it a very beautiful vision of the flowers and the fields. Every time t gray lesbian and whatever the paint is left on the brush keep making tiny, tiny dots. And this section also I'm taking the white color and trying to build up the second layer on the bond nearest to the li. Just trying to make them more highlighted to make the horizontal line little bit more prominent and broader. So that's why every time taking the paint on the painting brush and just putting the same white paint on these previous lines to make them a more prominent cloak. Because light is more flying over here. That's making something very lighter. And whatever the color is remained on my brush and slightly adding the white fresh on the ten brush and trying to meet the waves more highlighted. Taking some dark blue color. We're here and trying to make some parts of the leaves more darker. That is why I am just putting the dark blue color closer to the end. After Lee. And I'm coming towards the curve lying not the ligand trying to, adding slightly dark blue color on the top of the lightest blue shade that the previous, slightly adding some white color and trying to smudge the white color on the top of blue color. That's how the some parts of the lake is dark and some pods is light blue color closer to the right side of the section of the Canvas because light is not there. So I am keep making the outline of the lakes very much clear. Here. I'm taking the dark blue color on the brush and making the outline of the oblique, smooth, darker. And likely to jump between the spaces of the farm. We are, we can see the little bit of view off the lake between each bond, trying to make it more darker. With the help of the dark blue color. Taking every time we're a list here, some blue and white all the way together and scrubbing my brush. Just on the top of these mountains. Look closer to the buildings and as well as in the middle of the mountane. Taking new color, mixing it with some previous shade. Keep rolling my brush every time taking very less paint, some more wave colors, some dark blue color. Putting it on the top right of the mountains. Adding here a little bit of white clearer, and a little bit of black color to meet the clerk integration tone. And to help also 10 brush. I'm just highlighting the edges of roads to give them a little bit of highlights. Tails or here, putting some white color and making another effect on the road. And keeping the tin as much closer to the end of the dark line. In this previous sweet little bit more white color and making the line more prominent. Adding some more black color to make it a bit more darker. And now doing the same thing on the other side of the road. I'm trying to make a shadow of these pathways. That is why the color is more lighter than the dark tone. Keep blending the colors and it will help me to meet throughline more water and straight. And whatever the colors from the Persian keep making strokes in the Middle Ages. And now I'm putting just a white clergy rate just on the same line in the middle of the road to meet the previous white line. More prominent. So these are the tiny details that I'm putting it to the end of the painting. And also going to touch up strokes and the buildings. And also whatever the left keeps grabbing the brush and delete. Taking a more weight on the thin brush and making some highlights on the pathway section where the more light is falling north here. Making some lines. Score being brash. Adding little bit of red color and white shape, making highlights at the closer edge of the dark lines. So disclosure is more helping us to highlight the section here, the light is more falling or here. Every time, pretty less paint on the brush. And now I'm trying to make just strokes line in the wider selection of the pathways. Make sure the pressure to be dry because if they're pressured we dry, it would be more easier to make the misty effect on them foc wait. I'm just grabbing the brush. We're here. It's correctly slightly adding this a bit more highlight in the middle of the pathway. And if I'm getting the strong line, I'm just trying to smudge it with the help of the 10 brush. Adding some more white color and mixing it with some red tones. And I will do the same thing on the other side of too close to the lake side. Trying to make that poetry little bit more highlighted. Every time. Very less paint on the brush is helping me not to create the mess and a painting. I hope that you enjoyed it. Here I just removed to tape all around. 14. Valley Landscape Materials we need: Here I'm going to start to paint the painting. You need a canvas, paper or canvas to paint. A big grab my medium, grab a pen and paper tape. Pencil to sketch. And these are all the chronic pains. Similar, blue, white, brown, dark green, light green. So there's all we needed to be in this beautiful landscape. And let's begin the painting. 15. Valley Landscape Composition: Here I just take the canvas and just taped it all around. A pencil to sketch. I'm taking the center of the vertical line and taking the center on the other side as well. So I have two points over here on these two vertical lines. I'm trying to take another point away from the center. And the same goes onto the other side. And here I'm trying to make a little bit straight horizontal line. Trying to combine these two points together. There we have a horizontal line a little bit away from the center of the canvas. I'm making a little bit sloped down and joining it to the right side of the canvas. And if this is the endpoint of my canvas, so I'm taking a little bit really line free from the bottom of the canvas. Now, I'm trying to give it a pledge of fields over here. The bigger the bigger graphs I will try to make it on the top of the horizontal line, cleaving a little bit space. And it's likely taking the wavy line on the other edge of the canvas as well. Here I'm trying to make them mountains that are so far away from the region. And the big mountane, the edgy mountane. I'm gonna make it starting from a little bit center of the canvas and trying to take energy curves line at the top surface of the canvas. And small montane debtors from division. I'm trying to make a little bit rough sketch over here. Now I'm trying to highlight the edges of the mountane. We're able to take care of the dark and the light fields. 16. Valley Landscape Background Colors: Here I am taking big brush and the pallet paper. I just take some dark blue color and white paint. So I'm taking some white color and mixing it in dark blue color. Taking some more blue color over here and adding some more white color, make sure the brush should be a little bit dumb. And I think some more white color. And making a very nice bluish color. And with the help of this color, I'm trying to cover this guy with this shape, leaving the edges and slightly, slightly making very rough strokes, trying to flip the brushes well, so if I have some paint left on the other side of the brush, it will have me to paint in this section. But make sure that every time you take radialis paint on your brush, I'm not going to move this guy. I'm just trying to make small patrons were here. Once the paint will get dry. Leaf edges on the left side of the canvas. Let's click least likely making closer to the horizontal line as well. So this is all the color that is all adding up to a blue shade on the top of this guy. Adding some more white clearer in the previous sheet now is a little bit more blue color, trying to mix this color. And now I'm going to fill the layer section over here. Make sure that I'm moving in a very flat way. So in this way, I am barely touching the canvas and paint every time and every stroke of the brush. So in this way, I can take some dark and light colors in the lake. White color in the previous trade and some more blue color we're here trying to add more white clear because I want to differentiate between this guy and the LEA. First of all, I'm adding some paint at the corner of the horizontal line. And that's it's like helping me a lot to feed it freely in this section. The same way I'm making some horizontal line just on the both of the bottom section. And putting all the way into sleep. So basically I'm building my painting and pointing out which color is going to be on this section. I'm taking here the medium, lightly damped, adding some white-collar, taking some brown color, crying to mix this shade. I want to make a very light color of the brown. Let's do some ground and mixing it. I'm putting the line on the horizon and this is the slope here. I will paste it. So just fill this section with this light brown shade. Adding every time we're less paint on the medium brush and just making very smooth finishing. The background of the colors are these rocks. And now I'm putting the same color at the bottom of the canvas. Stones over here, trying to make out to the line. So it would be easier for me to fill the remaining section over here. I'm not smooth thing the paint strokes, I'm trying to make very tiny preference with the help of the medium. And doing the same thing on the other side of the canvas. All the pain from the palette and filling this section with this light brown sheet to fill this in here. And that is all for this section because all the light brown color is covered here. Now I think you're with more white color in this previous shape, adding some more brown color. And this time the color is going to be more vibrant, more darker than the previous sheet. I'm trying to add more brown color and we're here to make the color more darker. Again, I think some were round clerk is trying to make and now I am putting this color on the edge e mountains. We're here. So the selection of the color is really helpful to build up the painting is helping me that this section is going to be dark and light. I'm leaving the green resection closer to the leaf and just focusing on the, on the edges of the mountains. Now doing the same thing on the right side of the canvas, starting from the top and slowly, slowly making the lines closer to the edges. And this is how it is showing me that section will remain dark as well. I'm keep flipping the pressure as well. So every time I'm taking less paint and I still paint left on the other side of the Persian is helping me to just meet this MOOC strokes on this section. And I'm not having a lot of paint adding some more brown color that I just sketch it toward here to make this section with a bit more darker. Because here I will grow some prese. A bunch of trees over here are going to be paint here. So for that, I need something dark color. So the brown color, I'm here, I'm taking and just filling this section with the whole shape, leaving the green resection. Take every time, taking very less paint, brush and just reading it all the way closer to the green section. And there I have done it. So now in the palette, I'm taking some dark green color, taking the medium brush again, and whatever the color is, I did not wash it. And now putting this dark green color on the top of the green resection, starting from the left side. First of all, putting this color only on the edges of the green section and now making a very straight line just on the top of the league. Taking very less paint every time on a paintbrush and making a very tiny strokes closer to the leak. Some more green color on the brush. And now I'm filling all this dark green shade. We're ice cream resection on the top of the rock. Surface. Warming my brush very slow when I go towards the edge of the green section, it's helping to meet the green resection. We're here. Some more green color I'm taking. And the same way I'm working on the right side. Also Canvas. And now I have this section is left on the top of the rocky surface still making their horizontal line on the top of it and filling the section. And the same V at the center of a canvas. Now I have a pretty good we'll have to grow the green resection author landscape. Taking some weight clear over here, taking some green color. So I'm they came to light when she goes farther mountain that is not so close. And just making the background color for it. That's how the painting is divided into different sections where I can see the rocky section, dark and light, mountane, and some green section. 17. Valley Landscape Creating Rocks: So that's all for the background color here. I'm taking the thin brush, adding some white color over here. And now making small circles on the rocky section of a landscape. Taking every time where you less paint on and making small circles. Over here. These are the rocks and I will keep highlighting them during the painting process. But right now I'm just marking them and sketching a tiny stones. So basically they are the group of stones over here. Make sure that you're pressured, be slightly damp. Brush to work and very consistently. Here I'm starting just in the middle of This section, trying to build up more circles. And I'm going to join these two lines together. Some rocks are small and they have different kinds of shapes over here. I think. Every time I'm taking with keeping the brush soft wheat. And it's really very helpful to make these kind of tones with the help of the white crash and the white paint on the top of it. So the whole section is going to be covered with this tiny little rocks. I'm trying to give it a structure over here. So I have something to paint on. The top portion is left to fill the rocks in this section. And that's all for this section is already covered. So many tiny rocks were here adding some more right curve. And then I do the same thing right under the green resection. There we have a very slow there. I'm making some tiny rocks. Over here. Again. I'm trying to give it an oval shape because there's a bunch of ropes. So when I have something in a bunch of things, so give it a group of shape over here. Here I'm taking some more white color, adding some brown clay to make it a bit more dark. Paint, dark brown shade and the thin brush making marks on the top of these rocks. So it's indicating we that DR. potions red light is not falling. That is why they are the dark sections. And keep moving way ten brush and slightly, slightly adding the paint on it and making some marks all the way. Keep adding on the rocky section as well. Getting some lights and edges of the logs. And now it's fully covered. And now I'm going to do the same thing on the right under the green resection and again, taking some slightly, slightly marks on some points off the rocks. The light is not falling Daryn sections, they are so dark. So and then this way, by this, by using this technique, I have a beautiful image of the rocks that how we can please number of rocks in a landscape, adding some more brown color. And making the third layer for these rocks. And slightly like the making the marks on the top of white color and the light brown shade. Now it's all about the dark brown color, making the sections that are more darker. So in this way we have three combinations of colors in these rocky sections. More brown color and spreading it and making some works by keeping the spaces between each mark and taking some brown color. And this portion is going to be all covered with lights and dark and moody darker sections. So more brown color. And I'm gonna do the same thing on the other side of the leaf. So dark marks with the help of the brown color. And whatever the color is remained on the brush. I'm keep scrubbing the upper right at the bottom of these sections to create some shadows. 18. Valley Landscape Lights and Darks: I just clean the garage, taking some white-collar again on the thin brush. And now I'm trying to highlight some rocks with the help of white paint. And this is indicating the deck light is only falling on this section where the rocks are more white in color. Adding every time very less paint, brush. So the more lighted rocks are going to be more prominent. By adding simple white color. Only on that section where I did not put the brown and the drug brown color. And the same goes on the other side of a section. So more white clerk, closer to the end as well. Because light is just coming from the front. That's why the bottom section of a painting is more white in and that's how this whole section is colored with some bright dark. The dark is she. And now I will do the same thing on the other side of the lake, adding some more white colored, touching up some white sections or here closer to the lake. And now I'm working on the other slide, some white dots I'm trying to create because they're very far away from the vision. And that's why it's not so much prominent. Sunlight. To bottom of the league. Nearest to the creme de section. I'm keep moving the white paint. And every time we're less paint over here to a white the midst of a paint. And that's how the both sides of the rocks section is developed. So taking some more white color and now I'm trying to make waves in. So again, there are so many ways in this section. So trying to get, every time less paint on a 10 brash and trying to make a curvy lines. To give it a lesion. That's why there is some up and down strokes. Over here. There are so many ways just closer to the bottom side of a canvas. I'm trying to make as many waves over here because they're all just coming towards the front. And very less. I'm trying to make it as closer to the green resection. More white color. I'm adding and making tiny, tiny waves in the middle of these online to give it them. Group of waves coming towards the front. And little bit of white highlighted section. I'm going to make it right under the section of the greenery. Just to highlight them that the light must be falling over there as well. And whatever the color is read on the version. Keep making strokes over here. And keep moving the thin brush. And now I'm adding the dark blue color over here. And trying to put this dark blue color right under the white ways to give them a vision that there must be some dark on the top of the brightest side of the waves. We call them the values of a painting. That's why I'm trying to make them highlighted section, as well as trying to make the dark sections of a painting over here. So just a dark blue color. Very less paint. I'm putting every time we're here on the ten brush and adding these tiny strokes at the bottom of the waves. And doing the same thing on the left side of a canvas on grade under the every wave. So in this way, finally combine the group of waves in the league section. It's giving me a vision. So some lights and darks and keep scrubbing the branch. On the top of the dark blue, adding some more blue color for here, and just trying to touch up closer to the end, often leak. Adding some more blue color right under the bottom of the rock section. And trying to make some shadows also on the left side of the greenery. Because if there is some light, there must be some dark as well. Adding some more blue color and just moving a brush and a very rough strokes right into the bottom of the rock section. Taking a MOOC, blue color. And there we have created some shadows on. These are the shadows. We're getting it from the green section. Putting some blue edge of the rock section. Now here I'm taking the medium brush, I just clean the brush. I'm adding some white color on this medium brush. And now I'm trying to make clouds on the top of this guy. First of all, getting it just a very rough outline and making very small marks under the sketch lines. So more white color and putting it on the top of the mountain. And gradually, gradually I'm increasing the intensity of a pain by putting some more white clergy on a brush and trying to spread the white color all the way on this guy. Where I just mark the outline to more white clerk at the edge of the canvas on there. There are bright in color. Why? Because the more light is falling over there and doing the same pain on the other side of the mounting. A very rough style inclined to create cloudy look on the sky. And now whatever the color is remaining and just keeps spreading the color all the way. In this section. Taking some dark green color over here, adding some white color in this dark orange shade. Trying to meet the light color of green. Adding some more white color. Here. I'm mixing the paint. And now I'm trying to keep dab the brush on the green resection because light is falling over here that by now going to be the light color on the top of this rock section. I'm making. That every time I'm taking less pain and whatever the color is on the verge and key, dabbing the brush, dabbing it the closer edge of the rocks as well, some greenery is dropping on the top of it, trying to give it a very rough structure. For this section. I'm flipping the brush because I have little bit being left on the other side of a brush. And now I'm just keep dabbing the brush over here. Some strokes or horizontal somewhere. I'm taking the vertical. And I'm filling all the section with this color. Adding here some more green color and trying to dab my brush and keeping the structure of trees in a vertical lines. So basically I'm creating the vertical lines on the top of the green section because this section is going to be more darker. So I'm just adding some more ground color, same brush and keep dabbing the brush on these vertical lines that I draw with the help of the dark green color. So basically they are the stems off the trees. Adding some more dark green color over here. And trying to dab my brush and giving you the shape of trees in a very cone style. Very 10 at the top and now going bottom side. Every time taking less pay them, keep dabbing the brush. So the medium brush is helpful to me. These sort of dabbing technique by creating the numerous amount of leaves. And the trees were here. Every time I made on a brush and making keep dabbing the brush on the both edges of the vertical lines to give it a shape of a bunch of trees over here. So I have very less section is left to fill this same technique over here, adding some more green color. And I'm just flipping the brush and making trees with the help of this dabbing technique. And there we have already covered all this section is full of trees. And whatever the color is really, and I'm keep dabbing it on the top of the dark brown color that we use it with the background. And whatever the color is named on the birth, some white and some greens. I'm still trying to dab it. And this is how it's giving me o vision that they are not so much dark with still some light is falling over here. I'm still dabbing the brush, adding some work print shade. And the same way I'm gonna do this on the other side of a canvas. Tapping the brush on this green resection. And as I'm coming to the closer and often late, I'm still keep dabbing it because there must be some fields that are dropping Gulf underlay. Taking some dark green color over here. And over here again, I'm making some stems for to leave. Some are shorter lines, some are bigger lines. And just keep dabbing my brush. Because here I'm trying to create the trees that are just little bit more closer to the vision. That is why I can see the shape of trees as well. The white paint for the clause is still wet, but it's still, I am keep doubling dump, brush on the top of it. Leaving some space in between every tree. And keep dabbing the brush with the help of the dark green color. Adding here a little bit of brown color. And now dabbing this brown color on the top of the dark green shade of trees. Every time less pain the ground color and keep taking a bit of green. And some parts of the trees where the light is falling and the brown colors only, the darks are going to be highlighted. Putting the dark green color in between the spaces of these trees. So more green color on the top left side of the canvas over here. And just trying to build up some leaves on the top of these trees over here. That's how it's giving me a bunch of trees over here and also is coming all the way to the end of the other side of a mountain. 19. Valley Landscape Creating Highlights: Adding here a little bit of brown color. And now dabbing this brown color on the top of the dark green shade of trees. Every time less pain, the ground color and keep debit of brush now taking a little bit of green. And some parts of the trees where the light is falling and the brown colors only, the darks are going to be highlighted. Putting the dark green color in between the spaces of these trees. So more green color on the top left side of the canvas over here. And just trying to build up some leaves on the top of this trees over here. That's how it's giving me a bunch of trees over here and also is coming all the way, joining the end of the other side of a mountain. Heading here, some brown color over here, taking some green color. And this time I'm going to mix this color in the pallet. So taking this color and scrubbing the branch on the top of the dark section that I pointed it with the help of brown color in the background. And I'm trying to fill this polar between the trees as well. Because life is not approaching over there. That is why it's so dark. And doing the same color, putting the same sheet on the top right edge of the canvas. Taking some more brown color over here and some more green color and slightly adding it in the palette and now putting this color over here, the right top for Candace or here. So basically the brown color is helping me for the background color. That is why it's more dark and shape because of the background is more darker. Moving the brush to the edge of the mountains. That's how it's already fully covered. And now indicating the dark side of the painting. And there we have some green reflection. Delete the mountains, the rock section nine here and taking the painting brush and putting some light greens in my palette and trying to make tiny, tiny dots only on the top front of the green section. The terrorists more light is approaching over here. That is why it's more in the leaf green shade. So with the help of this Ten brush. It's helping me to point out with the numerous amount of fields over here. Leaving some space weather dark section and the other section is going to be all filled up with this light green sheet. Very less paint every time on a brush to not to create a mess. Over here. Also putting this color at the edge of the rock section. Somewhere closer to the trees as well that are so far away. Grab a green color. I'm going to put it on there. Thanks TAF. Of this green section. I'm making sure I'm making very tiny, tiny dots on the top of it to give them a vision of a bunch of leaves over here. And ten brushes helping me to give the illusion of bundles of clean section. So I have some lights and darks and some very lightest shade in this section. Keep taking the leaf green color and I have very less section is left to put this color all the way over here. Adding some dark green color over here. And putting this dark green sheep closer to the horizontal line that I made it in a while starting the painting. So some dark leaves are falling over here on the, on the rocks. That's how it's debt. There's no light is falling right here. Just taking the dark green color and trying to build the edges more rough. And whatever the paint is, key. Making some marks with the help of this dark green shade. And now the rock section is already covered with it. Adding some leaf green color again on the brush. And putting some color on the top of this dark green color to highlight some section of leaves. And the same way I'm taking the leaf green color again on the ten brush and making tiny dots on the left side of a canvas. Here I have plotted some green section here as well. Keep dabbing my brush. And also somewhere closer to the leaf, the trees as well. Adding some more dark green color and putting some shapes just at the top of the league, I have to create some shadows. So that's how the landscape is going to be more in a farm. Where I take the light and the dark green color over here and putting some green color on the top of somewhere on the leaf green shade. So I have some darks and lights. Here. I'm taking just a dark green color on the thin brush and trying to make tiny, tiny dots on the top of these highlighted green resection. Because the back of these trees are little bit more darker. So slightly adding some light green color on the top of the stark sections. And gives them a more vision of trees adding some more white clear here. Dipolar, more lighter. So some light is falling over here into section as well. And doing the same thing on the rest of the trees. So we're here. Let's make sure every time rate less bend on brush. With the help of this technique, I'm trying to give a shape of these trees because now it's more in a prominent family and everything is rushing together. So I have so many trees in this particular section where I have plotted both trees were here. Keep going wet brush to give it a very rough structure for leaves, the streets as well. Adding some more white color in this shade. Adding some dark green color. And trying to put it just on the top of the trees. And the remaining fiction is going to be filled with this color. Here's some more dark green color on the brush. And trying to put this dark green color here, I plotted some light green lights and darks. Trying to make some more dark green just at the bottom of the trees. Your light is not falling there. And the same B on the other bottoms of these trees where the light is not approaching in their minds. And lightly touch up at the top of the trees as well. Adding some dark green color to define the green highlighted section. Taking some light green shade, the help of Biden green and trying to make them leaves on these trees little bit more highlighted on the left side of the canvas. So some will remain dark and some other means, public more brightest. 20. Valley Landscape Shades and Finishing: Also putting some color just in the middle of every tree. There are pushing there as well. So bread, making some marks and adding some white color to highlight this dam of these trees. And trying to smudging up. So it's giving me some more brown color over here in between every white color. So it's giving me a bunch of trees in this section. So more dark green color, I'm adding it on the top. Adding some more dark green color is closest to the montane. That is, this would be far away from the vision that in some brown color over here. And now describing the brush on the dark is section of the mountains. As you look the trial and just put into brown color on the top of it. Because light is not falling there. That's why this section is so dark. But I'm trying to make a vision of numerous amount of trees over there as well. Taking some light green shade, mixing it with some ground clutter. It's giving me a color a little bit more lighter, somewhere in the middle of the dark brown and delight tree. Trying to make the edges of the montane with a bit more structure because there must be some trees as well that are not so close to the vision. And also coming down to the mountain as well. Adding some green in brown clerk and just keep scrubbing the brush and keep dabbing diversion this section to give a bunch of trees over here. Adding some brown, adding some leaf green color over here. Take some brown color over here and trying to mismatch numerous amount of colors in this section. Some are very dark and some are somewhere in the middle of the dark and light. And with the help of this leaf green color and brown color, it's giving me a very muddy greenish tone. Adding some more black color, the brown color over here. Adding some more leaf green shaped, trying to make some more brown color. So very earthy tone color. And making tiny, tiny dots over here and also closer to the bottom side of wantonness well, and whatever the color is remained under Persian key. Taking the paint on the brush and putting the very messy look on the other side of a Canvas. Here I have less space for this mounting. So now it's all fully covered with the help of this early tone color. And now I'm just making some highlights with the shade on the mountain. Not so close. Just trying to put some shade. We're here adding some dark blue color and shape to make the dark blue color darker and adding some white as well. Somewhere in the green, bluish tone. Adding, picking all the green and brown color and this blue and white. Trying to make some wavy line over here because there must be some mountains over there as well. Trying to make some outlines. So on the top I have some clouds and some dark and light sections over there as well. So now I just cleaned up brush and with the help of this leaf green shade and trying to build up some fields just at the bottom of the canvas. Some are nearest to the lake. So there are numerous amount of fields I'm trying to grow by leaving some space between them. Now on the left side of Canvas, closest to equally. Now I'm taking them dark green color on the same pen brush. And keep lifting my brush and spreading this dark green color on the top of the light green shade. That's how I have some light green colored, some dark green color. And trying to build the shades over here as well. Right under the bottom of these fields. On the top of these rocks. Keep adding the dark green color on the remaining fields and trying to make sheets as well. And there we have the last field closest to the LEA. And some shapes right under the bottom of here as well. I'm taking some brown color and also trying to just touch up these fields because I have to create the shapes. So with the help of this brown color is mixing this color on the top of the green sheet. I'm trying to highlight the boundary of the lake. We're, I'm trying to grow some very small fields with the help of the dark greens that there must be some fees as well. Just add the closer to the leak. Just cleaned up version that in here, the white color again on the paintbrush and trying to highlight the ways or here. So I'm just spreading the white color right? Where I plot the white waves previously to make them more highlighted. Closer to the rock section. Somewhere over here. Very thin brush strokes I'm making. I'm highlighting the edge of the lake as well. Searches coming closer to their AAC section. So more white color over here. On the top of blue. There I'm writing some more white-collar, some more lines. I'm trying to make it to give it a very ready look of the waves. Basically, these are the old tiny details that I'm going to implement at the ending of a painting. Because I want to highlight them with the help of more white paint. And at this point I'm trying to add more waves over here, taking some more white color and trying to highlight the clouds as well. So this time it's more work of tiny details on the top of this guy. So where I'm putting the more white clear, it means that the light is just coming over there. That's why these clouds are getting more prominent on this chi, keep rolling web version, scrubbing it as well. Leaving some space. And these clouds and very less section of the clouds, I'm trying to make it more highlighted section on the top of the mountain as well, and closer to the trees. And the same goes on the right section of the mountain as well. Just on the top of it. Taking some more white color and trying to make some words just in the middle of this guy that there must be some clouds as well. Trying to smudge it and spreading the white color all the way over there. Taking some more white paint and trying to highlight my mountains just at the bottom of a canvas. Because I am trying to make the intense white color just on these rocks. Not every rock and trying to plot it, just leaving some space and spreading just the white color on different sections on the rocks as well. And also giving you a little bit touch of white tone closer to the green section. And that's how it's beautiful painting is made. I just removed the table at the corner of the painting. And I hope you had a wonderful time with me. I really enjoyed this painting as well. 21. Thankyou: I'm beautiful, different landscapes with the help of themes. I tried my best to me, every step more easier, firm, stuffed ending. And I had a wonderful time while making these landscapes. I hope you enjoyed it as well. I would love to see your paintings as well. You can take an idea with the help of image in their project. And stay tuned for more. Thank you. Take