Playback Speed
---
0.5x

1x (Normal)

1.25x

1.5x

2x
ASL | Second 120 Basic Signs | American Sign Language
Watch this class and thousands more
Get unlimited access to every class
Taught by industry leaders & working professionals
Topics include illustration, design, photography, and more
Watch this class and thousands more
Get unlimited access to every class
Taught by industry leaders & working professionals
Topics include illustration, design, photography, and more
Lessons in This Class
181 Lessons (6h 32m)
2.

Explore | Group 1 Signs

0:39

3.

Learn | Sign for ACCEPT

2:04

4.

Learn | Sign for AGREE

2:11

5.

Learn | Sign for ALMOST

1:59

7.

Learn | Sign for ANSWER

1:50

10.

Learn | Sign for BATHROOM

1:27

11.

Learn | Sign for BECAUSE

1:40

12.

Learn | Sign for BELIEVE

2:00

13.

Practice | Group 1 Test

2:37

14.

Sign | Group 1 Signs ⏲ 3s

2:42

15.

Understand | Group 1 Signs

2:11

16.

Explore | Group 2 Signs

0:37

17.

Learn | Sign for BETTER

2:00

18.

Learn | Sign for BOOK

1:11

19.

Learn | Sign for BOTH

2:36

20.

Learn | Sign for BRING

1:28

21.

Learn | Sign for BUSY

1:51

24.

Learn | Sign for CHANGE

2:05

25.

Learn | Sign for CHEAP

1:59

26.

Learn | Sign for CLEAN UP

1:55

27.

Sign | Group 2 Signs ⏲ 3s

2:33

28.

Understand | Group 2 Signs

1:59

29.

Explore | Group 3 Signs

0:36

30.

Learn | Sign for COLOR

1:08

31.

Learn | Sign for COME

1:08

32.

Learn | Sign for COMFORTABLE

1:26

33.

Learn | Sign for CONVERSATION

1:39

34.

Learn | Sign for CORRECT

1:15

35.

Learn | Sign for DEAD

1:28

36.

Learn | Sign for DIFFICULT

2:07

37.

Learn | Sign for DISLIKE

1:47

38.

Learn | Sign for DRIVE

2:41

39.

Learn | Sign for EASY

2:08

40.

Sign | Group 3 Signs ⏲ 3s

2:39

41.

Understand | Group 3 Signs

2:05

42.

Practice | Groups 1-3 Test

2:18

43.

Sign | Groups 1-3 Signs ⏲ 3s

7:33

44.

Understand | Groups 1-3 Signs

6:05

45.

Explore | Group 4 Signs

0:39

46.

Learn | Sign for EARLY

1:48

48.

Learn | Sign for ENOUGH

1:38

49.

Learn | Sign for EXAMPLE

1:33

50.

Learn | Sign for EXPENSIVE

1:41

51.

Learn | Sign for EXPLAIN

1:34

52.

Learn | Sign for FALSE

1:39

54.

Learn | Sign for FAST

1:57

56.

Sign | Group 4 Signs ⏲ 3s

2:38

57.

Understand | Group 4 Signs

2:05

58.

Explore | Group 5 Signs

0:36

59.

Learn | Sign for FIND

1:24

60.

Learn | Sign for FIRST

1:25

61.

Learn | Sign for FOLLOW

1:29

62.

Learn | Sign for FORGET

2:23

64.

Learn | Sign for GROW

1:52

65.

Learn | Sign for HERE

1:22

66.

Learn | Sign for HOUSE

1:17

67.

Learn | Sign for HURT

2:03

68.

Learn | Sign for IMPORTANT

1:53

69.

Sign | Group 5 Signs ⏲ 3s

2:41

70.

Understand | Group 5 Signs

1:55

71.

Explore | Group 6 Signs

0:42

72.

Learn | Sign for IMPOSSIBLE

1:56

74.

Learn | Sign for INCORRECT

1:28

75.

Learn | Sign for INTERPRETER

2:04

76.

Learn | Sign for KEEP

2:19

77.

Learn | Sign for KNOW

1:29

78.

Learn | Sign for LAST

1:46

79.

Learn | Sign for LATE

1:17

80.

Learn | Sign for LEAVE

1:29

81.

Learn | Sign for LESS THAN

1:17

82.

Sign | Group 6 Signs ⏲ 3s

2:29

83.

Understand | Group 6 Signs

1:50

84.

Practice | Groups 4-6 Test

1:50

85.

Sign | Groups 4-6 Signs ⏲ 3s

7:30

86.

Understand | Groups 4-6 Signs

5:39

87.

Explore | Group 7 Signs

0:36

89.

Learn | Sign for LIVE

1:25

90.

Learn | Sign for LOOK FOR

1:29

91.

Learn | Sign for LOSE

1:32

92.

Learn | Sign for MAKE

2:30

93.

Learn | Sign for MANY

2:04

94.

Learn | Sign for MEANING

2:28

95.

Learn | Sign for MORE THAN

1:48

96.

Learn | Sign for MOVIE

1:38

97.

Learn | Sign for NEAR

1:36

98.

Sign | Group 7 Signs ⏲ 3s

2:38

99.

Understand | Group 7 Signs

2:04

100.

Explore | Group 8 Signs

0:33

101.

Learn | Sign for NEVER

2:04

102.

Learn | Sign for NEXT

1:34

103.

Learn | Sign for NEW

1:21

104.

Learn | Sign for NUMBER

1:51

105.

Learn | Sign for OFTEN

1:37

106.

Learn | Sign for OLD

1:32

107.

Learn | Sign for ONLY

2:09

108.

Learn | Sign for OTHER

1:14

109.

Learn | Sign for OUT

1:31

110.

Learn | Sign for PLACE

2:33

111.

Sign | Group 8 Signs ⏲ 3s

2:30

112.

Understand | Group 8 Signs

1:58

113.

Explore | Group 9 Signs

0:40

114.

Learn | Sign for POSSIBLE

1:36

115.

Learn | Sign for PRACTICE

1:51

116.

Learn | Sign for PREFER

1:19

117.

Learn | Sign for QUESTION

2:06

118.

Learn | Sign for REMEMBER

1:39

119.

Learn | Sign for REST

1:46

120.

Learn | Sign for SAY

1:03

121.

Learn | Sign for SEND

1:56

122.

Learn | Sign for SICK

2:02

123.

Learn | Sign for SIGN

1:50

124.

Sign | Group 9 Signs ⏲ 3s

2:32

125.

Understand | Group 9 Signs

2:06

126.

Practice | Groups 7-9 Test

2:03

127.

Sign | Groups 7-9 Signs ⏲ 3s

7:19

128.

Understand | Groups 7-9 Signs

5:39

129.

Explore | Group 10 Signs

0:35

130.

Learn | Sign for SLOW

1:39

131.

Learn | Sign for SOME

1:26

132.

Learn | Sign for START

1:51

133.

Learn | Sign for STAY

1:56

134.

Learn | Sign for STILL

1:58

135.

Learn | Sign for STORY

2:24

136.

Learn | Sign for TELL

1:39

137.

Learn | Sign for TEXTING

1:02

138.

Learn | Sign for THAN

2:07

139.

Learn | Sign for THEN

1:36

140.

Sign | Group 10 Signs ⏲ 3s

2:38

141.

Understand | Group 10 Signs

1:57

142.

Explore | Group 11 Signs

0:38

143.

Learn | Sign for THING

1:17

144.

Learn | Sign for TIRED

2:28

146.

Learn | Sign for TODAY

2:35

147.

Learn | Sign for TOMORROW

1:23

148.

Learn | Sign for TRUE

2:12

149.

Learn | Sign for TRY

2:21

150.

Learn | Sign for UNTIL

1:45

151.

Learn | Sign for USE

1:56

152.

Learn | Sign for VISIT

1:39

153.

Sign | Group 11 Signs ⏲ 3s

2:31

154.

Understand | Group 11 Signs

1:51

155.

Explore | Group 12 Signs

0:43

156.

Learn | Sign for WALK

1:40

157.

Learn | Sign for WATER

1:29

158.

Learn | Sign for WEEK

1:50

159.

Learn | Sign for WILL

1:38

160.

Learn | Sign for WORK

1:30

161.

Learn | Sign for WORST

2:35

162.

Learn | Sign for WRITE

1:21

163.

Learn | Sign for WATCH

1:33

164.

Learn | Sign for YESTERDAY

1:21

165.

Learn | Sign for YOUNG

1:27

166.

Sign | Group 12 Signs ⏲ 3s

2:35

167.

Understand | Group 12 Signs

2:00

168.

Practice | Groups 10-12 Test

2:15

169.

Sign | Groups 10-12 Signs ⏲ 3s

7:10

170.

Understand | Groups 10-12 Signs

5:42

171.

Practice | Test Format

2:53

176.

Practice | Test Format

2:56

181.

Conclusion & Thank You

0:29
--

Beginner level

Intermediate level

Advanced level

All levels

Beg/Int level

Int/Adv level
Community Generated
The level is determined by a majority opinion of students who have reviewed this class. The teacher's recommendation is shown until at least 5 student responses are collected.
About This Class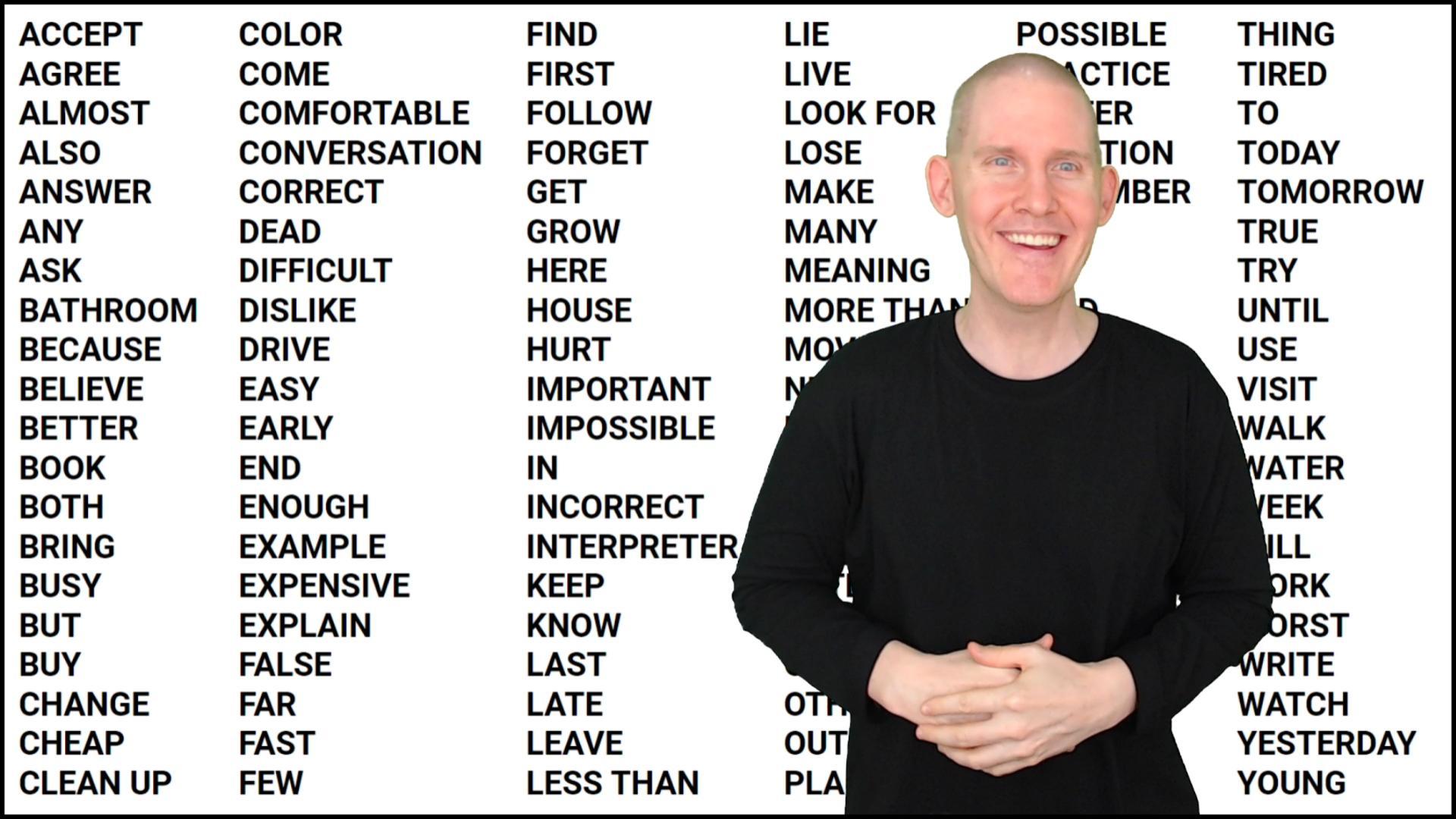 IN THIS COURSE, you're going to learn to sign and understand one hundred and twenty (120) basic signs in American Sign Language (ASL). The signs are divided into twelve groups of ten words. Each individual sign has its own video lesson where students can learn and practice. Each group has its own review and testing where students can demonstrate their signing and recognition skills. As the course progresses, the review becomes more advanced and includes testing for three (3) groups at once. At the end, students are tested on ALL one hundred and twenty (120) signs learned throughout the course.
*** This course is designed to INCLUDE complete beginners without any prior knowledge of ASL. Previous ASL skills are welcome but NOT required.
IN THIS COURSE:
Students will learn to sign and understand one hundred and twenty (120) basic signs in American Sign Language (ASL)

Group 1 signs: ACCEPT, AGREE, ALMOST, ALSO, ANSWER, ANY, ASK, BATHROOM, BECAUSE, BELIEVE 

Group 2 signs: BETTER, BOOK, BOTH, BRING, BUSY, BUT, BUY, CHANGE, CHEAP, CLEAN UP

Group 3 signs: COLOR, COME,COMFORTABLE, CONVERSATION, CORRECT, DEAD, DIFFICULT, DISLIKE, DRIVE, EASY

Group 4 signs: EARLY, END, ENOUGH, EXAMPLE, EXPENSIVE, EXPLAIN, FALSE, FAR, FAST, FEW

Group 5 signs: FIND, FIRST,FOLLOW, FORGET, GET, GROW, HERE, HOUSE, HURT, IMPORTANT

Group 6 signs: IMPOSSIBLE, IN, INCORRECT, INTERPRETER, KEEP, KNOW, LAST, LATE, LEAVE, LESS THAN

Group 7 signs: LIE, LIVE, LOOK FOR, LOSE, MAKE, MANY, MEANING, MORE THAN, MOVIE, NEAR

Group 8 signs: NEVER, NEXT, NEW, NUMBER, OFTEN, OLD, ONLY, OTHER, OUT, PLACE, 

Group 9 signs: POSSIBLE, PRACTICE, PREFER, QUESTION, REMEMBER, REST, SAY, SEND, SICK, SIGN, 

Group 10 signs: SLOW, SOME, START, STAY, STILL, STORY, TELL, TEXTING, THAN, THEN

Group 11 signs: THING, TIRED, TO, TODAY, TOMORROW, TRUE, TRY, UNTIL, USE, VISIT

Group 12 signs: WALK, WATER, WEEK, WILL, WORK, WORST, WRITE, WATCH, YESTERDAY, YOUNG

Students will learn signs individually to ensure comprehension, correct hand shape, and hand position

Students will be tested on their ability to sign and understand ALL material taught in the course
AFTER TAKING THIS COURSE:
Students will be able to correctly sign one hundred and twenty (120) basic ASL signs.

Students will be able to understand and recognize all of the one hundred and twenty (120) signs.

Students will have a larger vocabulary of signs to use when interacting with the Deaf community.

Students will feel more confident as they continue improving their ASL skills.
REQUIREMENTS:
A desire to learn, improve, and be more confident signing in ASL

A desire to enrich your ASL vocabulary and communication skills

A computer, tablet, or smartphone to access the study material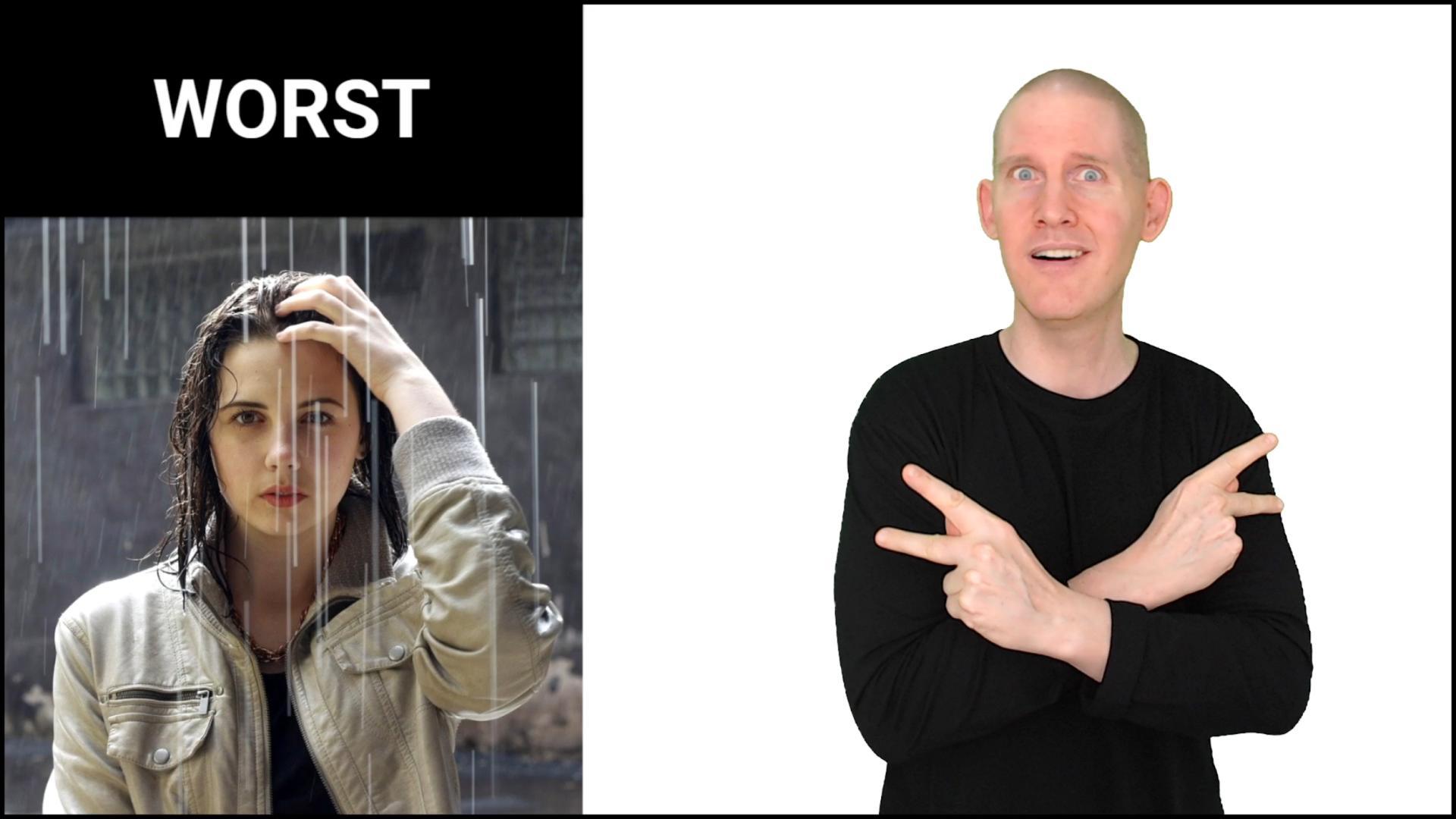 QUESTIONS:
What is the main focus of this course?
This course focuses on learning many basic but essential signs in American Sign Language. Students will learn one hundred and twenty (120) of the most common signs used in ASL.
Do I need to have prior knowledge or experience with ASL before taking this class?
No. This course is designed to include complete beginners without any prior knowledge of ASL. All necessary signs are taught step by step in the course.
Will this course test me on what is taught?
Yes. This course contains multiple review and testing sections where students have the opportunity to demonstrate their ASL signing and recognition skills.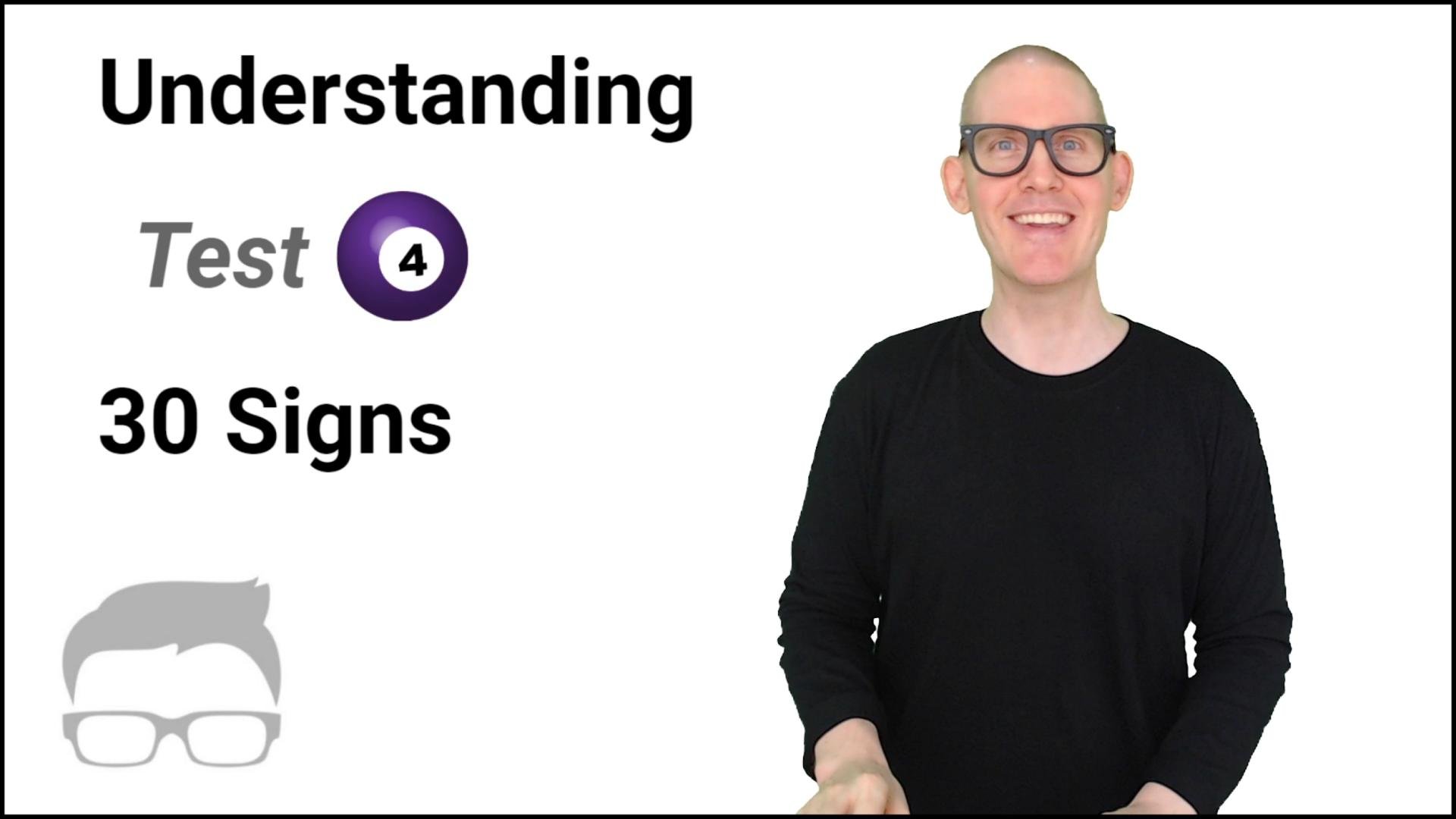 ABOUT THE INSTRUCTOR:
Hello! My name is Michael. When I was three years old, my younger brother became sick with spinal meningitis. In the process, my brother became deaf with an almost complete hearing loss. This difficult situation provided a unique opportunity for my family and I to become fluent in American Sign Language (ASL). My brother was not sent away to a deaf or hard of hearing school. He grew up with us, his hearing family, and we were active in the deaf community.

As a police officer and federal investigator, I often used ASL to communicate with and interpret for witnesses, victims, and perpetrators. I decided to create ASL courses because it's a useful and practical skill to have. Like learning any language, it opens your mind and creates the ability to communicate with a whole new group of people.
CLICK HERE FOR ALL OUR CLASSES

Hands-on Class Project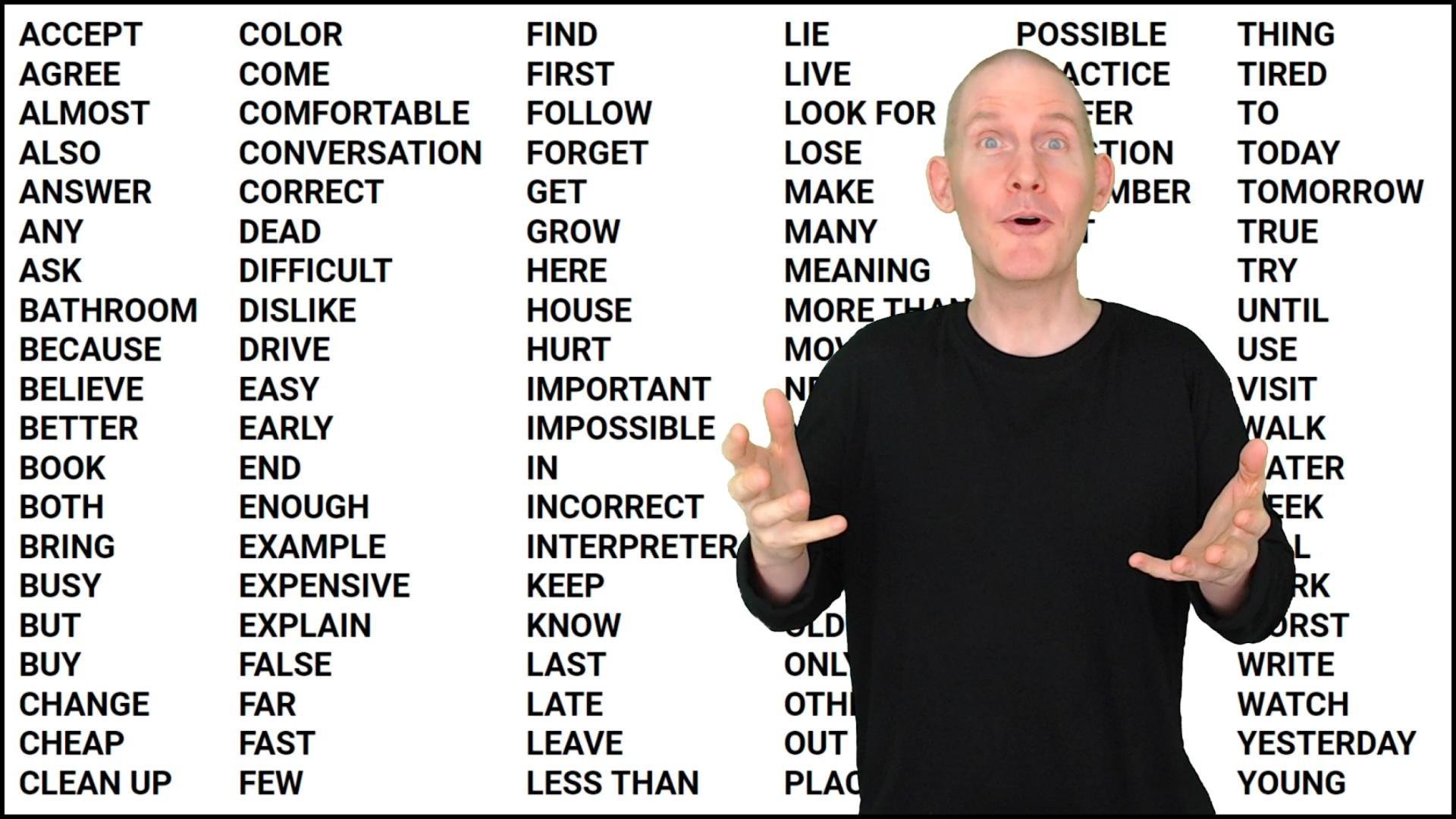 ASSIGNMENT
Put your new skills to the test and share your awesomeness with everyone.
STEP 1: Choose at least ten of your favorite signs from this course.
STEP 2: Practice the signs. Practice again and then practice some more.
STEP 3: Record a video of yourself signing the entire list of signs.
STEP 4: Upload your video to the Skillshare project gallery and share your accomplishments with everyone.
Have fun!

Continue your ASL studies with the following class:
Class Ratings
Expectations Met?
Exceeded!

0%

Yes

0%

Somewhat

0%

Not really

0%
Reviews Archive
In October 2018, we updated our review system to improve the way we collect feedback. Below are the reviews written before that update.
Why Join Skillshare?
Take award-winning Skillshare Original Classes
Each class has short lessons, hands-on projects
Your membership supports Skillshare teachers
Transcripts
1. Course Introduction: So we already created a first 120 basic signs course in our students are like, ooh, nice. So we're like, hey, why not create a second 120 basic science course? So here we are. Now the format is quite similar to the first one. There's one big difference that we've added a picture to go along with each son. Now this will give you a visual component to help boost your memory, right? And of course we are going to have mini review, mid review, and then total review. I'm going to test you on you're signing in understanding skills multiple times for all of the signs in the course? Yes. And we picked signs which are useful. They're going to help you out there. Common fundamental, essential. We didn't pick signs which are so obscure that nobody uses them, right? We picked signs that people actually sign. Okay, now let's jump in. Let's do it. 2. Explore | Group 1 Signs: Oh boy, it's group 1 signs. Yes, the journey begins. Okay, So in this section we're going to learn these signs. Except agree. Almost. Also answer any ask bathroom because and I believe. Right. So we have a separate video for each sign. We're going to explore it, practice it. We're going to learn like crazy. All right, let's jump in. 3. Learn | Sign for ACCEPT: Here is the sign for except. Okay, we're going to use both hands. The hand shapes will be the same for both hands. We're starting with open hands and we're coming into our body and closing up our thumbs in our fingertips. Okay, so the first hand position, the hand shapes just kinda loose my green and maybe kept something fingers spread apart, just loose, just hanging out there. Now bring the hands in towards your body. And as you do that, the fingers, the tips of the fingers are going to come together and end in this handshape. Okay? So we're going to be like this, except, alright, so except this is the end handshape right here. Just pressing lightly against our chest. Right. So except like you're accepting something, you're taking something in her except from the sine, except from the other side. Except right from the front again, except, except. Okay, so let's do it three times from the rest position. You might say What the heck is the rest position? Well, if you ever watch sign language interpreters when they're not signing, when they're not interpreting, their hands are usually hanging out around here. Why? Because it's already great place to start when you need to jump into action and start signing, Okay. All right, so let's do the sign for except three times starting from the rest position, sign with me. There we go. Except except. Except. Okay, good, good. So remember you're starting out a little ways from your body, loose hand shapes and bring them in, bring the tips of the fingers and the terms together, put them on your chest. All right. Except except. Okay. Wonderful. We just talked about the sign for except. 4. Learn | Sign for AGREE: Here is the sign for Agree. Okay. It's going to be a two-part sign. Literally its think happen. The hand shapes and this sign, It's all about the index finger, right? The pointer finger. How do we make it? Well, go like this. But these two fingers gripping or down the thumb in front, It's also the number one. In sign language, we can say the pointer finger, the index finger, a hub. So first we're going to assign think. And all you're gonna do is take your dominant hand, I'm right handed. Use that index finger, tap on the side of your forehead. If you're a lefty, go to the other side. So I'm right-handed. I have think and then I have the sign for happen. So literally its think happen. All right, So when we're doing the sign for happen, same thing. Index fingers start like this. Now we're just going to turn over down. So that is happen from the sign. Happen from the other side. Happen from the front. Happen. So you're just rotating downwards when you finish, the palms are facing down, palms facing each other. Notice rotate down. So together, agree. Agree. Agree. Okay. From the side. Agree. From the other side. Agree. From the front again. Agree, I think happen. In other words, agree. Let's do it three times, starting from the rest position, sign with me. Here we go. Agre. Agre. Agre. Okay. Index fingers start with just your dominant hand. I'm right handed here. So I'm gonna go think now I'm going to sign happen. And together that's agree. I agree. Okay. We just talked about how to sign agree. 5. Learn | Sign for ALMOST: Here is the sign for almost. Okay, we're going to use the same hand shapes are both hands and it looks like this. Now start like this. Fingers together with thumbs alongside. Now we're not stain rigid like a karate chop something or other. We're going to lose tsunami. Alright, so we leave it loose like that little curved in a little bit. Now I'm right handed. So I'm going to take the first handshape with my non-dominant hand. For me, lefty, non-dominant. I'm going to put it down here, make a little platform a-ha with my right hand, I'm going to take that one, put it underneath. So these part of, this part of the fingertips are touching the back of these fingers. Alright, so it's down here. We have a platform. Looks like that. Okay, so that's where we start to continue the sign. We're just gonna take the dominant hand for me, my right hand. And I'm just going to slide up almost almost almost from the side, almost from the other side, almost from the front again. Almost. Okay. So starting from the rest position, Let's do it three times. Sine with me. Here we go. Almost, Almost, almost. Alright? Now if you want to add in a facial expression to fit the situation, right, you're anticipating something happening in and it didn't happen. Alright, so almost, right. Almost. All right. So remember hand shapes like this, nice and loose. None of that karate chopping stuff, just lose their one down here. The other one a little bit behind it right here. And now just slide up. Almost. Almost. Ok. We just talked about how to sign almost. 6. Learn | Sign for ALSO: Here is the sign for also. Okay, the hand shapes are the same. Both hands on this sign, we're going to use the index fingers are very popular. And how do you make an index finger? Well, put these three fingers down, DMS in. We can say it's the number one. We also say it's index or the pointer finger or something like that. So what we're going to do is we're going to take our index fingers first, put them about here. Now bring them together, move them over here, bring them together again. So we have one bump, two bumps also. Also from the sign. Also from the other side also. Okay. So let's do it from the front again also. All right, Starting from the rest position, sign with me. Let's do it three times. Here we go. Also. Also. Also. All right, so a couple of things. It's not to movements in the same location. It's not like this is one here. Move over a little bit, one there. So also and don't pause in between, don't be like very fluid, just one to also, now this concept works for T W O T O, O is also two. It also works for as well. I'd like to get that one as well as well. And as we learned it here, it's also also okay, index fingers 12. We just talked about how to sign also. 7. Learn | Sign for ANSWER: Here is the sign for answer. Okay, going use both hands, index fingers is what we're going to use for the hand shapes. All right, so go like this, three fingers down, dumps in front. We have our index fingers. Okay, so I'm right-handed. I'm going to take that first index finger and I'm going to put it about here, right? So have it resting on my chin. We can see on our lips, the tip is about the level of my mouth. My other one, my non-dominant hand, I'm going to put it here. So they're both pointing straight up ones in front, ones at my mouth. Now I'm just going to drop straight down. Answer. The answer from the side. Answer. Answer. From the other side. Answer. Answer. Okay. From the front again. Answer. All right. So my right hand, my dominant hand and putting it right here, non-dominant right here. Now I'll just point forward. It's not as slow like that. It's just drop it down and you're giving an answer. Answer. All right, So starting from the rest position, sign with me. Let's do it three times. Here we go. Answer. Answer. Answer. So this concept answer also works for the English concepts of response, respond, answer. And index fingers there we are, right? I'm dominant. My dominant hand is right hand, so I'm gonna put it about here. When other one a little bit in front and ideal way in front, just a little bit in front. Now just drop it down and new end up pointing forward. So pointing straight up, drop them down. There's your answer. Answer. Okay, good. We just talked about how to sign answer. 8. Learn | Sign for ANY: Here is the sign for any. Okay, we're going to use the hand shape of the letter a, like an alphabet, a, B, C. Okay, How do you make an a? Well, go like this. Fingers together. Put all the fingers down, put your thumb tight alongside. Alright, so that is in a pure signing the a by itself, it would just be a, alright, so we're gonna take that a, we're going to put it about here. The palms facing away in that direction, the thumbs pointing up. Now we're just going to arc down. All right, So we have any any Alright, so when you start palms face in a way, when you finish palms facing down, now we have this arcane motion here, which is any from the side, any any from the other side? Any any from the front again? Any All right. Let's do it three times from the rest position. Sign with me. Here we go. Any any any. All right. Remember the handshape is letter a from the alphabet a, B, C, a, stick it here, palm facing away like that. Notice let it slide down. And when it finishes palm facing straight down. Any any Okay. We just talked about how to sign any. 9. Learn | Sign for ASK: Here is the sign for ask. Okay, we're gonna use both hands. The hand shapes look like this. So if you start with an open hand, fingers together, thumbs alongside, all right, now take those, put them together and put them down here. That's going to be our first starting position. Fingertips pointing straight away. Now the second part is to go like this. Ask. So the fingertip start pointing away and then they end up pointing straight up. Ask from the side. Ask. Ask. From the other side. Ask. Ask. Right from the front again. Ask. So starting from the rest position, Let's do it three times. Sine with me. Here we go. Ask, ask. Ask. Now this concept of ask also works for requests. Like you're requesting you want someone to do something, you requesting your asking, asking for it, ask a 100. Remember the hand shapes are the same, pretty basic. Pull them together. Tips of the fingers pointing forward the star with notice pivot up. Ask. All right. We just talked about how to sign. Ask. 10. Learn | Sign for BATHROOM: Here is the sign. Poor bathroom. Okay. We're going to be using the hand shape of the letter T in the alphabet like TUV. Now how do we make it t? Well, start like this. Take your thumb and you're going to put it just on the other side of your index finger and now squeeze down. All right. So there's one finger on the left side of your thumb. Okay. So t if you're lefty, just do it over here like this t, That's fine. Alright, so I'm right-handed. We have a t. Take that T cold over here now, just shake it a couple times like a rattle t bathroom. Now it's not a forward shake, it's a side to side shake. Bathroom. Bathroom from the side. Bathroom. From the other side. Bathroom. Bathroom from the front again. Bathroom. All right. Let's sign it three times. Starting from the rest position, sign with me. Here we go. Bathroom. Bathroom. Bathroom. Okay. Handshape of letter T. How do you make the tea again? Start like this thumb just on the other side of the index finger. Now bring it down. That is a t. All right. Put the tea about here in shake back and forth bathroom. We just talked about how to sign bathroom. 11. Learn | Sign for BECAUSE: Here is the sign for because okay, so use your dominant hand. I'm right handed, so I use this one. We're going to first make the index finger. All right, the pointer finger like that. Now put it at the side of your head and you're going to pull out in Azure pulley. Now you're going to form the letter x. Alright, so because now how do we make the letter x? Great question. All right, go like this. These three fingers down for the thumb in front on top of the middle finger. Now you're going to hook that index finger like Captain Hook. That is an x. If you were going to assign it to someone, you just go like this. X. Alright, so as part of our sign for because star with that index finger decide to your head. And now we're going to pull it out and form the hook of the x. Because because from the sign because because from the other side. Because because from the front again. Because because all right. Let's do it three times, starting from the rest position, sign with me. Here we go. Because because because All right. So start with that index finger, the side of your head, pull it out and make the hook of the x. Because because all right. We just talked about how to sign because. 12. Learn | Sign for BELIEVE: Here is the sign for, I believe it's a two part sign literally its think Mary Mary like marriage. So we have believed, think Mary believe. Okay, So the first part, we're going to use our index finger like that pointer finger. Now we're going to put it up here, right, just the side of the finger. They're just they're tapping on the side of our forehead. Now we're going to come down and go like this. Now when we sign this part, the hand shapes are kind of cupped like that. So starting out like that fingers together and I'll bring them down right now your non-dominant hand, I'm right handed, so my left hand, I'm going to stick it down there. My right-hand same handshape on and put it on top. Bring it down. Literally means Mary or marriage hut. Okay. So altogether we have the index finger up there and bring it down together. It believe, believe, believe, believe. Believe. Believe. From the front again. I believe. Okay. From the rest position, sign with me. Let's do it three times. Here we go. Believe, believe. Believe. So two parts sign, literally think or thought up there, come down to marry marriage. So we have believe the hand shapes down here are going to be like this. One down there, other one on top up here, it's just the index finger. So together we'll leave. All right, we just talked about how to assign belief. 13. Practice | Group 1 Test: Okay. So it's time for review and testing. What? Yes, that's right. Tests. Okay. You may want to pay attention because this format that we're going to use for review and testing is pretty much the same throughout the course. All right, so in this section, we're only going to focus on group 1 Sons. All right, so you've already learned them. Now I'm going to test you on them. Aha, the first part is where you're going to sign. All right. So see that hand down there means your going to sign. So I'm going to put something up there. You're going to look at it and you sign. All right. So I'll put it up, start the timer. It's for three seconds. You can raise the timer or you can pause the video and take your time. All right, so let's take a look. We're gonna do a quick practice MiniTest to so you can get an idea how it works. Here we go. Okay, So I showed it to you. I started the timer. When the timer is up, I did the sine, right. So you can compare your answer with mine. All right, so that is the first part where you have the hand down there you're signing. In the second part, there's no timer. There will be that guy with glasses. So this time I'm going to sign. All right. So you're gonna take a look at how he's doing something, right from group 1 signs, right? Uh ha ha. So when you figure it out, when you understand what I'm signing, shout it out loud, say it out loud. Now. I'm only going to sign it once. So if you need me to repeat, pause the video and rewind and have me repeat as much as you need. Okay, So let's do another quick test so you can see how it works. Here we go. Okay. So what did I sign? Let's take a look. I signed. Okay. So that's how the testing will work. In this specific section, we're only going to worry about group 1 signs. All right, So there are two parts. One where you sign, second part is where I sign and you try to understand. All right. And as we go in because it's review, I'll be wearing my glasses and I won't be talking. We're going to communicate in sign language is going to be a quiet lesson. Silence. You can do it. Alright, let's boost and show your skills. Here we go. 16. Explore | Group 2 Signs: All the cowards group 2's signs. Let's take a look at what we'll be learning. Better. Book. Both. Bring busy. But by change. Cheap, clean up. Oh, okay, so we're going to look at each one. Each one has their own video and we're going to learn like crazy. We'll do a practice, explore the signs, hand shapes, all of that great stuff. All right, let's jump in. 17. Learn | Sign for BETTER: Here is the sign for better. Okay, use your dominant hand. I'm right handed, so I use this one. I'm going to start with this handshape right here, fingers together, thumb alongside. I'm going use the inside part of the fingertips right now I'm going to lightly brush my chin, kinda lower lip area, right? Lightly brush it, pull off to the side, pull my fingers in. All right. Better. Better. So we go off to the side and you end up with like thumbs up, hey, it's wonderful because it better from the side. Better. Better. From the other side. Better. Better. Okay. From the front again, better, better. Let's do it three times. Starting from the rest position, sign with me. Here we go. Better. Better. Better has useful information. When you're going across, it's good to go straight over just a little bit up. Now if you go too high up, it becomes another sign. If you go like this, it means best. So your thumbs up their hides best, it's the best. Now look at the difference. Here's better, better, best. All right, See the difference. Better. Best. Hut. Other, another thing to note, when you touch right here, it's, it's up to you whether you touch your chin or if you just go in front, It's up to you. Better. Better. Okay. Handshape like that. Use inside part of the tips of the fingers. Lightly brush your chin or just come across there. Come straight across, close up your fingers, thumbs up. Better. Better. Okay, Wonderful. We just talked about the sign for better. 18. Learn | Sign for BOOK: Here is assigned for book. We're going to use the same handshape. Sure. Both hands. I ha looks like this. Take your fingers, put them together, thumbs alongside. Now you have two halves of the book. Put them together in open twice. Book, book from the book. Book. From the other side. Book. Book. From the front again. Book. All right, so starting from the rest position, Let's sign together in sign book three times. Here we go. Book, book, book. Alright. This sign is very straightforward and pretty easy to remember. Wonderful. So hand shapes like this, two halves of the book. Now this open twice, 1, 2, so we have book. Okay, we just talked about how to sign book. 19. Learn | Sign for BOTH: Here is the sign for both. Okay, we're going to use both hands and they're going to have different hand shapes this time. Okay. So I'm right handed with my non-dominant hand, my left hand, I'm going to make the letter C. How remake the letter C? Well, go like this, fingers together and now curve down into AC, right? Leaving looks like a C. Wonderful. Now we're gonna take that c and we're going to put it about here. All right, So we can say it's a cup or something maintaining, keeping that C-shape right now at the right hand we're going to make the letter V. All right, how do you make a V? Well, it looks like this star like this. Get rid of your pinky and ring finger. Put your thumb on top of your middle finger. Fingers apart, piece man v. That's what we have. Now we're going to turn it into a u. So to make a, you would just go like this. This is a V, This is a u. Okay? So start with the V, Turn it around so the palms facing in, put it inside your C. Alright, so we have that C over here. Put the v inside, all right, palms facing in. Now you see the two bunny ears sticking out, that's the V. Now we're going to make it into a u as we pull it down through. Both. Both. Now it makes sense, right? Because you have two options up here, but we don't just want one of them, we want both. So we're putting it together, pulling it down. Both both from the sign. Both. Both from the other side? Both. Both from the front again? Both. Okay. Let's do it three times. Starting from the rest position, sign with me. Both. Both. Both. Okay. So different hand shapes, non-dominant hand get Dead Sea over here, put it out there. That's our opening because we're going to take the v, v, turn it around, put it inside. Now we're going to pull down in close up our fingers or make the you both? Both. Uh-huh. And I have seen this sign where people close up the sea after they get it through so they squeeze. That's fine. Both. Both. Okay. We just talked about how to sign both. 20. Learn | Sign for BRING: This is the sign for bringing. All right, the hand shapes are going to be the same. Both hands looking like that. Like this fingers together, thumbs alongside. Now turn them so palms are facing up, put them off to one side of your body. They're flat over there and now just bring them over, bring, bring. So you go from one spot to another spot. You can pretend you're carrying something, you're lifting something, whatever, but you're transporting it. You are bringing it from the side. Bring bring from the other side. Bring ring from the front again. Bring. Okay, Let's do it three times. Starting from the rest position, sign with me. Here we go. Bring, bring, bring. Okay. So this sign, this concept also works for carry, works for delivered to bring 0. Okay? So hand shapes are the same. They're just making a couple of platforms down here, palms facing up. Now just bring it over. So you have something in your hands and you just bring it over here. Bring OK. We just talked about how to sign bring. 21. Learn | Sign for BUSY: Here is the sign for busy. Okay, we're going to use both hands, different hand shapes this time. So I'm right-handed with my non-dominant hand. I'm going to make the letter S. We would also say just making a fist. How to make an S? Well, go like this. All the fingers down together, thumb in the front. There's an S. Now I'm gonna take that S and I'm going to put it down here, palm facing down. Alright, so the knuckles facing forward off to the side. So there we go. We have the platform. Now with my dominant hand, I'm going to make the letter B in the alphabet, a, B, C. How do you make a be well, star-like this fingers together, put your thumb in front, that is a b. Now we're going to use this part, basically the base of the hand, the palm here. And we're going to rub on top of backup our fist. Alright, busy, busy. Busy. Busy from the other side. Busy. Busy from the front again. Busy. All right, so just small quick movements here and make some friction. We're not going way back and forth, which is small right here. Okay. So starting from the rest position, sign with me. Here we go. Busy. Busy. Busy. So hand shapes are different. I'm right-handed, non-dominant hand, I'm going to make a fist or the letter S, stick it down there, right? The back part is facing up and I'm going make a b with my dominant hand. Now this part right here, I'm just going to touch in row back and forth a few times. Busy thinking of a busy bee busy or the workers are busy. Okay. We just talked about how to sign busy. 22. Learn | Sign for BUT: Here is the sign for, but okay, we're going to use our index fingers, both hands. Now. I'm right-handed, so I'll put one right here. My non-dominant hand, I'll put it here. So my right hand, my dominant hand is on top. Now we're just going to go out like mini windshield wipers, right? Just one time. But but from the side. But but from the other side. But but okay. From the front again. But let's do it three times, starting from the rest position, sign with me. Here we go. But but but, okay, some important information. This is also the sign for different. It's also the sign for however. So we have different. We have however and we have but now how are you going to know if it's blood door for it's different the context, alright, so wherever you are talking about is going to make sense of it's different than it'll be different. It makes sense for a but then it's going to be, but either way we're going to use your index fingers, crossed them and now just bring them out. But okay. We just talked about how to sign, but but 23. Learn | Sign for BUY: Here is the sign for by 0. Okay, we're going to use both hands, different hand shapes. Now I'm right-handed, so with my left hand I'm gonna make this hinge shape right here. We're going to put the fingers together, thumb alongside. That's going to be my platform palm facing up. Okay. With my right hand, that's my dominant hand. I'm going to go like this fingers together and bring the tips of the fingers down to touch the thumb. So here is the handshape. Right? Now, flip it over so the back of the fingers are going to touch our open hand. We're going to go like this by like you're holding the money and you're sticking it out there because you're buying something. Bye. Buy from the side. Bye. Bye from the other side. By phi, from the front again by, okay, Let's do it three times, starting from the rest position, sign with me. Here we go. Bye. Bye. Bye. All right. Quick review. Handshape, non-dominant hand. This one, make your platform their dominant hand. Tips of the fingers coming down making that handshape. Flip it over. One too. Bye. Bye. Okay. Good. Good. We just talked about how to sign. Bye. 24. Learn | Sign for CHANGE: Here is the sign for change. Okay, the hand shapes are the same. We're going to be using the letter x and both hint. Now how do we make an x? Well, start like this. Get rid of these three fingers. Put your thumb in front on top of your middle finger, curve your index finger down and make a hook. Ha, that is an x. If you just wanted to sine x by itself is a letter, you'd go like this, x. Okay, so now we need two axes with both hands. How do we do it like that? Dms in front makes them hooks or HA, now I'm right handed. So I'm going to take my right hook and I'm going to put it right here. My right X palm facing that way. With my left hand, my non-dominant hand, I'm going to put the palm facing the opposite direction, right? Kinda like an x here we have, right. Now we're going to flip, which that is chained. Something is changing. So maintain the X hand shapes throughout. Change from the side, change. Change from another side, change. Change from the front again. Change. Okay, Starting from the rest position, Let's sign it three times sine with me here. Real change, change. Change. Okay. Some information I have seen where people don't actually touch the hands at all, they just get close and then they do a flip. I've also seen other people and this is how I do it. I lightly touch the basis of the hands right here, and then I flip. So I touch lightly and then I flip other people, they don't touch it all up to you. Okay. Hand shapes, remember their exes, put them down here, they're facing each other, palms are facing each other. Now just flip teams. Okay, we just talked about how to sign, change. 25. Learn | Sign for CHEAP: Here is the sign for cheap. Okay. We're going to use both hands. I'm right-handed, so my non-dominant hand, I'm gonna make this handshape right fingers, the other thermo alongside. Now it's open and is straits rigid? Put it over here. Palms spaces to the side, fingers pointing straight ahead. All right. Leave it there for a moment with your dominant hand. I'm right-handed. I'm going to make the letter B like an alphabet. A, B, C. How to make a bee fingers together. Thumb right in front. Okay, I'm going to take the red's of my beam and I'm going to brush it against the bottom part of my open hand. All right. So we have cheep, cheep. Cheep. Cheep. Cheep. Cheep. Cheep. From the front again. Cheap. Cheap. All right. Let's sign the other three times, starting from the rest position, sign with me. Here we go. Cheap, cheap, cheap. All right, so imagine like gets a price and you're chopping it off because it's a discount. Aha, 50% are cheap, cheap. Okay? This sign, this concept also works for inexpensive, inexpensive, cheap, inexpensive. So remember there is contact between a ridge here and the bottom part of the hand. If you don't want to make contact for whatever reason or if you miss, it's okay, just get close. All right. Cheap tea. So non-dominant hand, put it out here. This handshape open, dominant hand, make the letter B. Now just go down. Cheap. Cheap. Okay, we just talked about how to sign cheap. 26. Learn | Sign for CLEAN UP: Here is the sign for clean up. Okay, we're going to use both hands and the hand shapes are the same like this, right? So fingers apart, put them together, thumbs alongside. Now I'm right-handed with my non-dominant hand. I'm going to make a platform palm facing up with my dominant hand is that same handshape. I'm going to make two motions like this. One too. Like I'm cleaning the floor of the table, whatever it is. 1, 2, we have clean up from the side. Clean up. Clean up from the other side. Clean up. Clean up from the front again. Clean up. I'll do it slowly. Clean up. All right. So I'm making contact with this part, whereas sliding on through one too. All right, Let's do it three times. Starting from the rest position, sign with me. Here we go. Clean up, clean up, clean up. Some extra information. You could do small movements. Clean up. If you want to make him more flamboyant, you could do clean up, right? You're kinda upset, put it in your face. Clean up. Kids are okay. Also, there's a similar sign which is clean and nice. Okay. So we have clean up the double movement, right? And we have clean and we have nice in case you were wondering, so this sign is not clean, it's similar. We go clean up, right? That's the concept. So we have two movements and you can see that it's a bit more flamboyant. There's some action there. You're doing stuff, you're cleaning things up, okay, So hand shapes like this platform will appear and go 1, 2. So we have clean up. All right. We just talked about how to sign clean up. 29. Explore | Group 3 Signs: Well, goodness golly me. It's grouped three signs. Let's see what we're going to be learning. Color. Come comfortable. Conversation, correct? Dead, difficult. Dislike Dr. easy. Okay. So we're going to practice each one, explore the hand shapes, the motions, everything for each sign, each one has its own separate video array. So let's jump in and let's learn these signs. Here we go. 30. Learn | Sign for COLOR: Here is the sign for color. Okay, use your dominant hand. I'm right handed and now we're just going to take our hand, leave the fingers spread apart, turn the palms facing towards us, put the feet and fingers themselves in front of her mouth and just wiggle. Twiddle, Twitter your fingers. And this wiggling back and forth. Color from the side, color. Color from the other side. Color, color from the front again, color. Okay, Let's do it three times. Starting from the rest position, sign with me. Here we go. Color. Color. Color. Okay. Probably noticed I'm not actually touching my face. I'm just getting close and then I twiddle the fingers, I will have fingers. Alright, so dominant hand. This is the handshape. Put it in front of your mouth or your lip area and just go color. Color. Okay. We just talked about how to sign color. Color. 31. Learn | Sign for COME: Here is the sign for comb. Okay, we're just going to use your index fingers, both hands. How do we make an index finger? Well, go like this. Because fingers down dominant front, it's just your pointer finger. Now we're going to take those. We're gonna point forward, both of them pointing forward, and we're going to come back. And when we finished we're pointing at ourselves. So come come from the side. Come, come from the other side. Come. Comb from the front again. Come. Okay, So let's sign together starting from the rest position, sign with me. Here we go. Come. Come. Come. Okay. Index fingers. I'll just point out and now bring them around and come in. When you finish first you're pointing out and you finish, you're going to point at yourself, come. Okay. We just talked about how to sign comb. 32. Learn | Sign for COMFORTABLE: Here's the sign for comfortable. Okay. We're going to use both hands. Now. I'm right-handed, That's my dominant hand. I'm going to loosely grab my left hand, the back part right here, just loosely in slide down. Now I'm going to do the same thing with my left to my right. So it's a two-part motion. We go like this and we go like this. And together it's comfortable. Comfortable. Look at the picture. Nice relaxed motions, comfortable. You can have a serene look on your face. From the side. Comfortable. Comfortable. From the other side. Comfortable. Comfortable from the front again. Comfortable. Alright, let's sign the other starting from the rest position. Sign with me. Here we go. Comfortable. Comfortable. Comfortable. Okay. So remember both hands down with your dominant hand. I'm right handed, loosely grab the other one, slide down. Now do the opposite with your non-dominant hand. Slide down. So together, comfortable. Comfortable. Good, good. We just talked about how to sign. Comfortable. 33. Learn | Sign for CONVERSATION: Here is the sign for conversation. Okay, the hand shapes are the same. Open hands there. We're not going rigidly straight, just kinda loose a little bit. Now put them out here. Maybe you're holding up a big, huge watermelon or something and we're just gonna shake twice. 1, 2, conversation. Conversation from the side. Conversation. From the other side. Conversation. From the front again. Conversation. Okay. Let's sign together starting from the rest position, sign with me. Here we go. Conversation. Conversation. Conversation. Okay. I have seen an alternative way to sign conversation and it uses the index fingers and it goes like this conversation, conversation. Now you may have seen this sign per talk, talk to someone. It's right here. Talk very straightforward, our target. So if you choose that option, make sure to put the index fingers outside conversation so it's not talk, it's conversation. Well, in this course to be consistent throughout, we're going to assign conversation with the open hands. So we're going to go like this conversation. Conversation. Okay, remember, open hand shapes, not rigid. This nice and loose, put about here you're holding up their big watermelon is go conversation. Conversation. Okay. We just talked about how to sign conversation. 34. Learn | Sign for CORRECT: Here is assigned for correct. Okay. We're going to use the same handshape for both hands. It's the index finger. Ha, How do we make it? Well, we go like this. Put those two fingers down, DOM in front. Right now it's just a pointer fingers. I'm right-handed with my non-dominant hand. I'm going to put that pointer finger down here, so the tips pointing forward. Okay. Now my right hand I'm just going to go one motion on top. Correct? Correct. From the sign? Correct. From the other side? Correct. Okay. From the front again. All right. Let's sign together starting from the rest position. Let's sign correct. Three times, correct? Correct. Correct. All right. Some other concepts for this sign are accurate, right? And as we know, correct. So remember index fingers, one down here, the other one single motion on top? Correct. Okay. We just talked about how to sign, correct. 35. Learn | Sign for DEAD: Here's the sign for dead. Okay. And same handshape or both hands like this. All right. Start like this, fingers together, TMS alongside. Now I'm right-handed someone who my first one here, palm facing down. Now my non-dominant hand, I'm going to put it over here, palm facing up. Now we're just going to roll. We're going to rotate. Dead. Dead from the side. From the other side. The head from the front again. Okay. Let's do it three times, starting from the rest position, sign with me. Here we go. Dead. Dead. Dead. This concept is sine also works for pass away or die. Death, dying, and of course dead. Okay, so quick review. Hand shapes are the same. Your dominant hand, I'm right handed. Put it here, palm facing down. Non-dominant hand put over here, palm facing up. Now just rotate maybe like the rolling over in their grave, I don't know. Did dead. Okay. We just talked about the sign for dead. 36. Learn | Sign for DIFFICULT: Here is the sign for difficult. Okay, we're going to use both hands and the hand shapes are the same. We're going to be using the letter V that is bent forward. So first how to make a V? Well, go like this. Get rid of their pinky finger, ring finger, thumb in front on top and the middle finger. And you have the v. Now those are like bunny ears, so bend them forward. All right, so that's what you have. You need two of those. So dual with the other hand as well. Now, I'm right-handed. So with my non-dominant hand, I'm going to put my first bent over Bunny, bunny ears down there. Okay. Now my right-hand, dominant hand, I'm going to go like this. Difficult. Difficult from the sign. Difficult from the other side. Difficult. Difficult from the front again. Okay. So starting from the rest position, Let's sign together. Let's do difficult three times. Here we go. Difficult. Difficult. Difficult. Okay. So you have bunny ears then forward, and that's what you're using. Now this sign difficult also works for the concepts of hard, hard to do, you know, a difficult. Right. Okay. So we just talked about how to sign difficult. One more thing, hurt. Put it in your facial expression to better describe the situation. If you've been playing this Rubik's Cube or trying to finish it for hours and hours, you're probably not going to go probably going to go, right? Difficult, right. And if it's not that big of a thing, but it's kind of difficult. But add in facial expression to help measure the amount of difficulty in this situation. Okay. 37. Learn | Sign for DISLIKE: Here's how we assign dislike. Okay, so use your dominant hand. I'm right handed. So we're going to first sign the sign for like, alright, so use the tip of your middle finger, the tip of your thumb. And we're going to make this motion right here. So like now you're here, now you grabbed it and you're throwing it away, right? Dislike. Dislike from the side. Dislike. Dislike, other side. Dislike from the front again. Okay. Let's do it three times, starting from the rest position, sign with me. There we go. Okay. You probably notice my face is not stain like a robot. All right, I'm putting it in a phase which shows that I dislike something that does not please me, whatever it is. I just don't like it. So dislike. Now if you have a happy your dislike, wonderful face doesn't really fit for dislike, right? If you sign like, right, you like something, well, great. But if you like what, you dislike it but you have a happy face. Doesn't make sense, okay? So put in a facial expression which fits the situation. Okay, So remember, use your dominant hand and we're going to start by using the tip of your thumb and the tip of our middle finger. And we're assigning like but then we're throwing it away. Dislike. Okay. We talked about how to sign dislike. 38. Learn | Sign for DRIVE: Here is the sign for Drive. Now that's about as straightforward as sine is. You're going to get, now just use your hands both hands. Pretend there's a nice steering wheel here, right? Because you're sitting in your car, you're going to be driving a hub. So you grab the steering wheel and you just do a few turns. Alright, so we have drawing from the side drive other side drive. From the front again, Dr. okay. Let's sign together starting from the rest position 3 times 3 times sine with me. Here we go. Drive. Drive. Dr. So we're just making fists. You could say the letters S where you say like, you know, put up your dukes. Those are S's. Aha. So one on either side of the steering wheel and drive, drive. Okay, Something interesting. This is the same sign, the same concept for car. Now you're thinking, how can we have Dr, how can we have a car be the same sign? Well, let's go back to English for a moment. If I just say the word TO YOU, Pi. Now in your mind, are you thinking, wow, cherry pie, banana, banana, cream pie, whatever, you know, delicious food. Or are you thinking the mathematical concept of pi 3.14? Whatever the number is, right? What do you thinking now in English, very rarely do we get just one word by itself. And then we're expected to figure out what it means. No, it doesn't usually work that way. You get a context where you get a whole bunch of a series of words. And then it's clear that I'm talking about Cherry Point. I'm not talking about the mathematical concept. So, okay, back to American Sign Language. It's the same thing. So just some random person walks up to you. It's very unlikely that their good just going to go and expect you to know whether they're signing drive or car, right? When they sign it is going to be in a sentence is going to be an contexts. You don't my car, you drive. There's gonna be more information. Alright, Just take away from this lesson that this sign for DR, and that's what we're going to be tested on in this course. Dr is the same thing for car, right? And the context shall make it clear. Okay? So once again, two fists grab your sides of the steering wheel couple of times back and forth. That's a sign for Dr. okay. Good. Good. We just explored and talked about the sign for Dr. 39. Learn | Sign for EASY: Here is the sign for easy. Okay, we're going to use both hands. Now I'm right-handed. So with my non-dominant hand, I'm gonna make this kind of handshape right here. Alright, so pingers the other, like that. We're going to put it down here, leave it there for a moment. Now with my right hand, my dominant hand, I'm pretty much going to make the same handshape. Now I'm going to go like this one too. All right. So the tips of my fingers are touching the back parts of these fingers down here. It's 1, 2. So we have easy. Easy from the side, easy from the other side. Easy. From the front again. Easy. Okay, Let's do it three times, starting from the rest position. Here we go. Sign with me. Easy, easy, easy. Ok. Now you may be thinking this sign looks pretty much exactly like another sign we've already learned. Almost a half. Remember the sign for almost well, let me show it to you. I'll sign almost and then I'll sign. Easy. Okay. See if you can tell the difference. Here is almost right here is easy. Notice now the movements themselves are quite similar, right? The tips touching the tips, right? But in almost we're just doing it once. Okay. So like that. All right. Almost now an easy do it twice. And I might even say it's a little bit quicker, easy, easy, easy. Okay, So we're talking about the sign for easy here. So we're going to use these kinda hand shapes here, but one here. Now this one, tips. Do it twice. Easy, easy. Okay, good, good. We talked about how to sign easy. 42. Practice | Groups 1-3 Test: All right, so you've already learned this signs from groups 123, way to go, that's 30 signs. Look at you. Okay. I think it's time for some testing, of course, right? You have 30 signs. Need to show your awesomeness ahead. Okay, so the first part, you're going to sign. See that hand down there. You're going to sign. So I'll show you something. I'll run the timer and you can raise the timer to try to sign before the timer is up. Or you can pause the video and take your time, go to your leisure, up to you. Okay, let's do a quick test so you can see how it works. Here we go. Okay, So I showed something to you. Start the timer when the timer is up. I did design. So you can compare your answer with mine. All right, so I'm going to show you all three signs from groups 1, 2, and 3 one at a time. Random order. What an opportunity, right? So that's the first part where you're going to sign what you see. Second part, no timer. You have that little guy down there and you'll have me. So I am going to sign and you're going to look at me doing something from groups 1, 2, or 3. And you try to understand, figure out what I'm signing it when you do just shout it out or yay, say it. I'm just going to assign it once. If you need to have me repeat, you can rewind the video. Okay. So what am I signing? All right. So what did I sign? I signed. Okay, once again, all 30 words from groups 1, 2, 3, random order. In this section, you watch me and try to understand in the first part, use sign, alright, in both parts. So we weren't my glasses, I won't be talking. Silence. Silence is golden and the opportunity of bounds for you to show your Awesomeness. Okay, let's jump in. Let's do it. 45. Explore | Group 4 Signs: Oh yeah. It's grouped bores signs. Let's take a look at what you'll be learning. Early. Enough. Example, expensive. Explain, false. Far, fast view. Okay, so we have a separate lesson for each individual sine. We're going to practice. We'll do a hand shapes, hand position and all of that essential stuff. Then we'll put them all together and do testing and review. But before we get to that, let's learn the signs. Here we go. 46. Learn | Sign for EARLY: Here is the sign for early. Okay, we're going to use both hands, different hand shapes for each hand. Now, I'm right-handed, That's my dominant hand. So with my left hand I'm going to make this handshape. Alright, so fingers apart, put them together, them alongside. Now I'm going to make this my platform. Put it here, palm facing down. Okay. Just leave it there for a moment with my right hand, my dominant hand. I'm going to go like this, fingers spaced apart. Now I'm going to bend down my middle finger, just my middle finger. I'm going to be using the tip and I'm just going to run across my knuckles of this hand over here. So early. Early. All right. So I am making contact with this finger over the over my knuckles. Okay. So we have early from the sign early. From the other side? Early. Okay. From the front again. Early. Okay. From the rest position, sign with me. Let's sign it three times. Here we go. Early, early. Early. Okay. So just starting on one side about the knuckles right in there and just run over to the other side, then lightly touching as you go. All right. Dominant hand is going to be that middle finger. We need the tip of the middle finger, non-dominant hand. Just put that platform down there, then you run across. All right. We have early. All right. Good, good. We just talked about how to sign early. 47. Learn | Sign for END: Here is the sign for end. Okay, we're going to use both hands. Now I'm right-handed with my non-dominant hand. I'm going to make the letter B hub, or we do it. Well, start like this. Fingers together. Take the thumb, put it in front. That's a b. Now I'm take the b and I'm going to put it here so that the ridge of the hand is running this way. Fingers facing forward, pointing forward with my dominant hand, my right hand for me, I'm going to make this handshape, right fingers together, come alongside. Now I'm going to put it here. Pompeii's in indices start. And I'm going to ride along the ridge till I get to the end and then chop. So a writing going, going, going, it's over. So the idea of, you know, something's happening, happening, happening. It's the end from this side and from the other side. All right. From the front again and end. All right, So starting from the rest position, Let's sign together. Let's do this three times. Sine with me. Here we go. And end. And okay, so remember, dominant hand, this hand shape right here, non-dominant hand is going to be a B. Would that be down here? So we can write the ridge, right? Take this one, going, going, going down. And okay, Wonderful. We just talked about how to assign end. 48. Learn | Sign for ENOUGH: Here's the sign for enough. Okay. We're going to use both hands. I'm right-handed, so that's my dominant hand. With my non-dominant hand, I'm going to make a fist. We can say the letter S. How to make an S? Well, go like this fingers together and put them down, film in front. All right, so that's an S take that S put it down here. So the palms facing towards you, the knuckles are facing forward. Okay, so that's our platform. With your dominant hand, we're going to make this handshape, right? Fingers are apart, put them together, thumb alongside. Now we're going to go 1, 2, write enough. You can pretend maybe it's like a cup of ice cream or a cup of something and you're topping it off because it's enough. 12. So we have enough from the side enough. From the other side, enough. From the front again. All right. Starting from the rest position but signed together. Let's sign enough. Three times. Signed with me. Here we go. Enough. Enough. Enough. Oh, okay. Quick review. Dominant hand. We're going to make this handshape, right? Non-dominant hand. We have the fist, put that fist down here. Now, top it off twice enough. Okay, terrific. Readers talked about how to sign enough. 49. Learn | Sign for EXAMPLE: Here is the sign for example. Okay, so I'm right-handed. This might dominant hand, non-dominant hand. I'm going to make this handshape. Okay. So fingers together, thumb alongside. Now stick it down here. Like you're you're about to give someone a high-five, just leave it there for a moment with your dominant hand. For me, my right-hand, we're going to make the index finger, the pointer finger. How do we do it? Well, go like this. Dom in front. There you go. Now take the tip of that finger and stick it to the open part of your hand. Bow in the middle there. Alright, now we're going to go 1, 2, 1, 2, which is example. Example. All right, From this example. All right, Other side example, right from the front again, here we go. Example. All right, Starting from the rest position, Let's sign together, sign with me. Let's do it three times. Example. Example. Example. Okay, so dominant hand, index finger, non-dominant hand, fingers tied together thumb alongside, put it about here, stick that finger in there and go forward twice. 1, 2. Example. Example. Okay, Sounds fantastic. We just talked about how to sign example. 50. Learn | Sign for EXPENSIVE: Here is the sign for expensive. Okay, so I'm right-handed with my non-dominant hand. I'm going to make a platform. Alright, so this is the handshape right here. Fingers, the other thumb alongside, put it over there, the palm facing up. Alright, so with my dominant hand, I'm going to go like this fingers together. Now I'm going to put them all down so they're touching my thumb. Right. So that is the handshape right there. Like this. Okay. Now we're going to flip it over, put it on or open hand. We're going to raise it up and throw it away. We have expensive. I guess the concept, the idea is that wow, it's like I'm throwing away some money because it's so freaking expensive. All right. Once again, expensive from the side. Expensive from the other side. Expensive. From the front again. Okay, So starting from the rest position, Let's sign this sign three times sine with me. Here we go. Expensive, expensive, expensive. I'll write dominant hand. We're going to be making this handshape right here. Non-dominant hand or putting their platform right there. Flip this one over, put it here, raise it up the other way. Expensive. Expensive. Okay. Lovely. We just talked about how to sign expensive. 51. Learn | Sign for EXPLAIN: Here is the sign for explain. Okay, we're going to use both hands and the hand shapes are exactly the same, wonderful. They're going to be the letters in the alphabet. Well, how remake an F? Well, we just take our thumb, index finger, bring the tips together. Now we have two apps. Now we're going to put them down here. So the tips of the thumb and index finger or pacing together, we don't have to touch, just get fairly close. And we're just going to go back and forth up to you times. Explain. Explain. So they're not going together. They're alternating. Explain from the sign. Explain. From the other side. Explain. From the front again. Explain. Okay. So starting from the rest position, sign with me. Let's do it three times. Explain. Explain. Explain. Okay. Both hands. We're going to use letters F. I put the f's down here, tips right here facing each other, not touching this fairly close. Now, alternate forward and back. Explain. Explain. Okay, good, good. We just talked about how to sign. Explain. 52. Learn | Sign for FALSE: Here is the sign for false. Okay, use your dominant hand. I'm right handed, just going to use the index finger. Right. Go like this. Fingers down, DOM in front. It's your pointer finger. Aha. Now we're going to use the tip of the finger and we're just going to flick the front of her nose once. False. False. False. From the other side. Pulse from the front again. False. Okay, Starting from the rest position, Let's sign false three times sine with me. Here we go. False. False. False. Okay. You may have been noticing my facial expression usually when something is false and it affects us, were not that happy about it, right? So you can put it in your face. You don't really like it. False, false. Now this sign, false also works for fake. Not authentic. Artificial. False. False. Okay, index finger, dominant hand. Use the tip and just flick. The tip of your nose is rubbed pass quickly. And that's it. You don't want to touch your nose, at least go close in front and add a facial expression given the complete package when you're communicating. So we have false. All right, we just talked about how to sign false. 53. Learn | Sign for FAR: Here is the sign for far. Okay, Reduce both hands and the hand shapes are the same. Aha, going to use the letters in the alphabet like a, B, C. Now how do you make an a? Well, fingers together, put them down, thumbs alongside. Now take those two A's, put them together so they're touching right here. Okay, Now we're going to take your dominant hand. I'm right handed and I'm going to go out. So this is where we're starting from, then we go out. So that is the sign for far far far from the other side. Far from the front again. All right. Rest position. Sign with me. Let's do it three times here. We go. Far, far, far. Okay. So you can play with it, adjusts the sign embellish if you will, depending on the context. Now let's say it's like an hour away, 30 minutes away. So it's kind of far, but it's not really that far. You can be like All right. Now it's like 16 hours away and it's just so pre-Qin far. Right? Just put the basic sign is the same, but we get to embellish with our body movements in our facial expressions right? Far, or is it far? Okay, So the hand shapes are the same. We're going to use the letters a in the alphabet. There are a's, stick them together, your dominant hand. So I'm right-handed. Put it out to show it far away. Far. Okay. We just talked about how to sign far. 54. Learn | Sign for FAST: Here is the sign for fast 0 Kp. The hand shapes are going to be the same. We're going to use the letter L for both hands. Now how do we make it like the loser? We go like this, put the last three fingers down and voila, magically we have two L's. Now take those L's, put them here. So I'm right handed, so I'm going to have my right hand in closer to my body. Okay. So it's kinda like you're aiming a gun and what we're gonna do is we're going to pull in and pull the trigger. So the fingers are going to go like this as you pull in, right. So you're out there, the L's are straight pointing right? And push. Alright, so you just draw it in and pull the trigger. Fast. Fast from the sign. Fast. From the other side. From the front again. Fast. Okay, So starting from the rest position, Let's do it three times. Sine with me. Here we go. Fast, fast, fast. Okay. You might have noticed I'm kinda moving my body and having some facial expression. Now you could just sign it like this. But why do that when you can add in facial expression and showed that, you know, like this is freaking fast, right? So it was just a little bit fast, you know, okay. Fast. But if it's like holy cow, that was really fast. Fast. Okay, So hand shapes are going to be the L. Same hand shapes. Put them here. So I'm right-handed. I'm gonna put my right hand on the inside. We're aiming that gun. We're going to pull the trigger as we come in. Fast. Fast. Okay, Wonderful. We just talked about how to sign fast. 55. Learn | Sign for FEW: Here is the sign for few. Okay, use your dominant hand. I'm right handed. So first we're going to make the letter a, the handshape a, how to make an a. Well start like this. A, leave the term they're tied alongside. Now turn it around. So the palm is facing in, the tip of the thumb is pointing up. Now we're going to go in this motion. And as we get about here, we're going to let the index finger and the middle finger come out. All right. So like this few pew. Pew. Okay. So the end hand shape, when we get to the end, It's similar to the number three in American Sign Language three. But the end handshape actually has the index finger and the middle finger bent down a little bit. So that's how you finish. So here we go. Phew view. We notice how the index finger comes out before the middle finger. Kinda like you're counting that there are only a few left view from the side view. From the other side. View from the front again. All right, So from the rest position, sign with me. Let's do this sine three times. Pew, pew, pew. Now if it's a negative thing or you just want to put in some extra facial expression. You can kind of go like this. Yeah, There are only a few left. They're delicious, but there's only a few left. View. You. Oh, okay. So remember when you start the hand shape is the letter a. We're turning it in the palm, spacing in the tip of the thumb spacing up. Now start going in this direction and let your index finger and your middle finger flop out a few. Q. Oh, OK. We just talked about how to sign a few. 58. Explore | Group 5 Signs: Mamma Mia is group five signs. Let's see what you'll be learning. Find. First, follow. Forget, get, grow. Here. House. Hurt. Important. Okay, So we have a separate lesson for each sign. That's right. We're going to explore hand shapes. Hands positions, do practice and eventually put it all together and do review. All right, First let's jump in and learn the signs. Here we go. 59. Learn | Sign for FIND: Here is the sign for find. Okay, use your dominant hand. I'm right handed. We're going to make the letter F in the alphabet like FGH, right? F. How to make an F star like this? Put your thumb and index finger down so the tips are touching. Now we're gonna put that effort in front of us, right? Put it down a little bit. And when you add the bottom, open up the index finger and the thumb so they're not quite touching right? So they're down there. As you raise it up, bring them together. Alright, so it'd be like that, like that. So pretend there's a quarter or coined down there on the ground. You grab it, you pick it up because you find it. Find, find from the side. Find from the other side. Find from the front again. Find. All right, Starting from the rest position, sign with me. Let's do it three times. Here we go. Find, find. Find. Okay, so remember the handshape is a letter F when you start when you're at the bottom, it's open. When you get to the top, it's closed, right? So find. Find. All right. We just talked about how to sign bind. 60. Learn | Sign for FIRST: Here is the sign for first. Okay, so I'm right handed with my non-dominant hand. I'm going to make the thumbs up, right? Way to go. Thumbs up, dude, go like this. Fingers down, leave that thumb hanging. We're gonna put it right here. All right. So the bottom of the thumb is just pointing that way with your dominant hand. So I'm right-handed. Index finger or we can say the number one pointer finger, whatever. There we go. Alright, now we're gonna take that index finger and we're just going to go against the surface of our thumb. Alright, first. First. First. First from the other side. First. From the front again. First. Okay, So starting from the rest position, Let's do it three times. Sine with me. Here we go. First. First. First. So non-dominant hand, you have that thumbs up, stick it down their dominant hand. I'm right-handed. Index finger now, just put it in. All right. So you're actually making contact at the end? Just first. All right. We just talked about how to sign first. 61. Learn | Sign for FOLLOW: Here is the sign for follow. Okay, we're going to use both hands and the handshape is a letter a, a hub, same for both hands. How do you make an a like in the alphabet a, B, C. Well, go like this. Ring the fingers down, thumbs in alongside. Okay. So I'm right-handed. I'm going take my first a and put it here. Non-dominant hand. I'm going to put it here in front. So they're lined up here. And now we're just going to follow each other. Follow, follow from the side, follow. The other side. Follow. From the front again, follow. Okay, Starting from the rest position, Let's sign follow 3 times sine with me. Here we go. Follow, follow, follow. Okay, quick review. Hand shapes are A's, right? So I'm right-handed. I'll put my first one here in close. Then I'll go like this. If I was lefty, well, then I would put my lefty one right here and then I'd go like this and then we would do follow. But I'm right handed, so I go like this, that one in front and we go out. They're moving together. The backbone is following the front one. So we have follow. Okay, good, good. We just talked about how to sign follow. 62. Learn | Sign for FORGET: Here is the sign for forget. Okay, use your dominant hand. I'm right handed. First. Make this handshape. Right fingers together, thumb alongside. Now bend it in. So it's kinda concave, curve if you will. All right, we're gonna take the inside of the tips of the fingers, put them up here at our forehead. You can lightly touch your forehead. Now we're going to wipe across and we're going to bring the fingers in. All right, So when we finished the handshape is actually the letter a or how nice. So we have forget, forget, forget from the sign. Forget, forget. Forget from the front again. Forget. Okay, So starting from the rest position, Let's sign together. Let's sign forget three times sine with me. Here we go. Forget, forget, forget. All right, a couple of things. One, you can lightly brush your forehead. That's how I do it. Or if you don't want to touch your forehead at all, that's fine too. Another thing is that you can put it in your facial expression, right? Like this picture here, it seems like I was expected a candle and you're like, I forget. Forget, right, add in the facial expression to show, you know, if you really sorry about it, it could be like, oh forget, it's not a big deal. You don't really carry like forget. Okay, so handshake once again, starting like this, kinda concave their tips of the fingers on the inside right here, wipe across, open the letter a, right. Forget. Forget. Okay. Now you might be thinking this hand motion looks familiar, I swear. And I'd be like, Aha, you are correct. All right. So forget I'll put the forehead. That is forget if you put it at your chin, it becomes better. The sign for better. Alright, better. So remember the chin, It's better. What we need here per forget it's going to be up at the forehead. Like it's is leaving your mind. Oh, forget. Forget. Okay. We just talked about the sign for forget. 63. Learn | Sign for GET: Here is the sign for get. Okay, we're going to use both hands and we're going to start out here with open, loose hand shapes, kinda like this. Like you're waiting to catch a ball, right? You're waiting to catch something. Now I'm right-handed, but my right hand here on top, Pompey's in that way, non-dominant hand for me, my left hand put it underneath. Okay, so the palms are facing in opposite directions. Now we're just going to pull in and make fists. We can also say the letter S's. Alright, so my right hand is on top, my dominant hand, non-dominant hand on the bottom. So starting out and you grab it, right, you grab a new pull it in because you are getting something, right. Get from assign, get from the other side, get right from the front again. Get. Okay, Let's do it three times. Starting from the rest position, sign with me Here we go. Get get, get. All right. Make sure you're pulling it in. You're not just out here squeezing something, you're grabbing and you're pulling it in because you want it, get this sign. This concept also works for obtain, acquire, and of course get. All right. So both hands, starting with open loose hand shapes, dominant hand on top, non-dominant hand over there. You're going to grab it, pull it in, and when you end you're going to have two fists. Get 0. Okay? We just talked about how to sign. I get. 64. Learn | Sign for GROW: Here is assigned for grow. Okay. We're going to use both hands. My right hand is my dominant hands with my left hand non-dominant, I'm going to make the letters C. How do we do it? Well, like this, curve it down. It even looks like a C magical. Now take that C, put it down here. It's your cup. Maybe your plant pot. Now with your dominant hand, right hand for me, we're going to put all the fingertips together. So they're touching the thumb all the tips together, like our seed, right? So we stick it in the plan holder there, the plant pot, whatever it is. And we're going to push it through. And as we push it through, bloom into a flour and two leaves or whatever, right? So we have grow, grow, very visual. Grow from the side, grow from the other side. Grow. Row, right from the front again. Grow. All right, Starting from the rest position, sign with me. Let's do it three times. Here we go. Grow, grow, grow. Okay, so dominant hand is going to start as that seed and you're basically going into a beautiful flower or plant or whatever right? Now with your non-dominant hand, you're going to make the letter C shape, and that's going to be your holder, your plant holder, plant pot, whatever you got, right. But it underneath and grow, grow. All right. This doesn't only work for plants, trees, the way that it works for humans. Anything growing, growth. Okay, we just talked about how to sign grow. 65. Learn | Sign for HERE: This is the sign for here. Okay. The hand shapes are the same and they look like this. All right. Fingers together comes alongside. Now we're gonna put them down here, palms facing up. Now we're gonna do to outward circles two or a few, you know, whatever fits here. Here. So where is it? Well, it's here from the side here. Other side here. From the front again. Let's sign together, starting from the rest position, sign with me three times. Here we go. Here, here, here. All right. So hand shapes are pretty basic, right? Like then put them down their palms facing up, couple outward circles, right? I have seen where it's signed with inward circles. Don't worry about it too much. Synthesized both ways to be consistent in this course, we're going to do outward circles, so that's how all sign it every time. Okay, so once again, here, we just talked about and learn the sign for here. 66. Learn | Sign for HOUSE: Here is designed for house. All right. We're going to use the same handshape or both hands. It's the letter B, like in the alphabet, a, B, C. How do you make a B? Well, you start with an open hand, fingers together, take your thumbs, put them in front while we have two Bs. Now we're going to bring them together. All right. We're going to make the roof of the house slide down and make this sides. So what is tracing outline of a house? House. House. House from the sign. House. House. House from the front again. Let's sign. Okay. So sine with me, Let's do house three times. House, house, house. Okay. The hand shapes are the letters B. Both hands. Bring the tips of your fingers together to form the roof of the house. Now bring them down and make designs. Roof sides, house. Okay. We just talked about how to sign house. 67. Learn | Sign for HURT: Here is assigned four hurt. Okay, we're going to use index fingers for both hands where you'd say the number 1 or the pointer finger. Now, I'm right-handed. That's my dominant hand. I'm going to put my first one here, my non-dominant hand left one over here. Now the tips of the fingers are pointing at each other. The right-hand motion is going to be tilting. We can say twisting forward just in a quick movement kinda abruptly. But non-dominant hand is going to be twisting backwards, alright, like that. And so together the tips are going to stay pointing towards each other. Now they're just going to be twisting in opposite directions. And as we twist, we come in together just a little bit. We're not gonna touch with just in a little bit. All right. So we have hurt hurt. Hurt from the other side. Hurt from the front again. Hurt. All right. Starting from the rest position, Let's sign together. Let's sign hurt three times. Hurt, hurt, hurt. All right. Feel free to add in a facial expression. You're sitting at the playground watching the kids playing. You see this little boy over here and you cringe because you know, it hurts, hurt. This concept is sine also works for pain, right? Like this kid may be experiencing pain. All right. So hurt. Remember index fingers? I'm right-handed. I'm gonna put one over here, one over here. Now my right hand's going to be tilting forward. My dominant hand tilting forward. The non-dominant hand tilting backward is going to be at the same time. So we're pointing at each other and as we twist, come in a little bit, hurt. Hurt. Oh Kate, we just talked about how to sign hurt. 68. Learn | Sign for IMPORTANT: Here is the sign for important. Okay, we're going to use the letters F for both hand. How do you make them? Well, go like this. Thumb and index finger tips come together. Now put the tips of the thumbs and index fingers down here, pretty flat across the top. Alright, now we're gonna make a circle starting here, come around in, touch again on top. So we have important. When you're at the bottom is pretty flat across the top once you get to the top, tilted in a little bit. So we have important, important from the side, important from the other side. Important from the front again. From the rest position. Let's sign together three times. Here we go. Important. Important. Important. Okay, feel free to not be a robot and put more facial expressions on your face, right? If you're a robot. Now the sign, the hand motion is great, but you're losing so much communication by not putting any facial expression. Okay, so something that is top secrets like wow, it's frequent important, put it in your face, show how serious it is. If it's like, you know, it's important but not so much in putting your face. Really important. Okay? The hand shapes are going to be the letters F, right? Come down here, touching, make a circle. Touch again. Important. All right, we just talked about how to sign important. 71. Explore | Group 6 Signs: It's group six signed. Well, let's take a look at what you're about to learn. Impossible in incorrect interpreter. Keep know last, late. Leave. Less than individual lesson for each sign. That's what we're gonna do. We're gonna do a practice hand-shaped hand position. All of that great stuff. Then we'll put it all together. Have a test, sounds like a party. Okay, Let's jump in and learn each individual sign. Here we go. 72. Learn | Sign for IMPOSSIBLE: Here is the sign for impossible. Okay, we're going to use both hands, different hand shapes. Now I'm right-handed, That's my dominant hand. So with my non-dominant hand, my left hand, I'm going to make this handshape, right fingers together, tom alongside. Now I'm going to put it about here. Hmm, I'm facing this way with my right hand. I'm going to make the letter y, Aha, in the alphabet X-Y-Z. How do you make a Y? Well, start like this. Which are middle three fingers together, put them down, thumb and pinky sticking out, hanging loose. That's a y. Okay, Now take that Y and go like this. Alright, so we're gonna smack it down 2 times on our open hand. Okay. Impossible from the side. Impossible. From the other side. Implausible. From the front. Impossible. Alright, from the rest position, sign with me. Let's do it three times. Here we go. Impossible. Impossible. Okay. Hopefully you noticed that I haven't only been doing this sign, I've also been putting something on my face. Right? Impossible. Unlikely. It's not possible. You don't think it's going to happen, so I'll put kind of a unbelieving look on your face. Okay. So non-dominant hand, this handshape right here. There's our platform dominant hand for me, I'm right-handed. Make the letter Y. Right. Two taps to smacks 12. That is impossible. Okay. We just talked about how to sign impossible. 73. Learn | Sign for IN: Here is the sign for in. Okay, we're going to use both hands, different hand shapes. Now I'm right-handed. So with my non-dominant hand, I'm going to make the letters C. How do you make a C? Well, go like this. Now curve it down into a C. Now I'm going to tighten it up so it's like it's getting to be an O, but it's not quite an OH, it's not quite as C. It's just closed up like a tight C. Now I'm going to put it here. Alright, kinda your cup that you're holding with my right hand, that's my dominant hand. Fingers together. Put all the tips down and touch the thumb. Alright, so this is the handshape right there. Now we're just gonna go like this in, in a Huxley, have a hole down there, whatever it is. And you're putting something in in from the side? From the other side? In. Okay. From the front again in. All right. Starting from the rest position, Let's sign together and sign in three times. In, in, in. Okay, so non-dominant hand make that C handshape which is tight. It's like a cup down there, a container, a holder, whatever. Dominant hand, fingers together, tips together, come down, touch the thumb. Now just stick it in. In. Okay. Good, good. We just talked about how to sign in. 74. Learn | Sign for INCORRECT: Here is the sign for in, correct. All right. Use your dominant hand so I'm right-handed. We're going to make the letter Y in the alphabet y, z, y. How do you make a y star like this? Middle fingers together, put them down, pinky and the thumb hanging out there like hang loose, right? That is a y. Now take that y and we're going to go like this on our chin. Incorrect. Incorrect. From the sign. Incorrect. From the other side. From the front again. Okay. Sign with me starting from the rest position. Let's sign incorrect. Three times. Incorrect? Incorrect. Incorrect. Okay. So this sign, it works for the concepts of wrong, a mistake, inaccurate, and error, and of course incorrect. Alright, so useful sign just to say that there's something is not right, it's incorrect. Alright, so remember your dominant hand. Make the letter y. Now turn it around palm facing in and just go to your chin once? Incorrect. All right. We just talked about how to sign in, correct. 75. Learn | Sign for INTERPRETER: Here is the sign for interpreter. Okay. Literally were signing interpret person. So together becomes interpreter. All right, so for the first part, interpret, we're going to be using the hand shapes of the letters f. The letter F. How do we do it? Tip of the thumb, tip of the index finger together? No, bring them together here and we're just going to pivot them, twist them a little bit like that. We're not going up and down at the same time. They're alternating. Alright? So interpret, interpret from the sign, interpret from the other side. Interpret. Okay, Now the second part person, because we have interpret person, is just using these hand shapes here. Alright, fingers together, thumbs alongside. Now we're going to start up a little bit and bring it down. Down. So we have person, person. Okay, so we put it together. Let's do it interpret and we'll put person, alright, interpret person, which means interpreter. Interpreter from the sign. Interpreter. From the other side. Interpreter from the front again. Okay, So let's sign together three times, starting from the rest position. Here we go. Interpreter. Interpreter. Interpreter. So two parts sign literally It's interpret, person together. Interpreter. First part, use the Fs here, put them together and go back and forth. Interpret, interpret. Now Person, hand shapes like this, top of the box, slide down. It's just person. So altogether we have interpreter. We just talked about unexplored the sign for interpreter. 76. Learn | Sign for KEEP: Here is the sign for keep. Okay, we're going to use both hands. The hand shape is the same, even though the hand placement is a little bit different, we're going to be used in the hand shapes of the letter k in the alphabet like JKL, right? So how do we make it k? Well, we're going to need two of them, so we have both hands. Now get rid of your pinky and your ring finger. Take your thumb, stick it in between your index finger and your middle finger, and push a little bit more against the middle finger. Right? There is a k. You can see it. All right. I'll format again. Here we go. Pinkie, ring finger down, thumb in-between but pressing against the middle finger. All right, so there is a k. Now we have our k is a ha, we're ready to go. So I'm right-handed. So that's my dominant hand, my non-dominant hand. The first one, I'm going to put it here. Now the second one, my dominant hand, I'm going to put it on top. A little bit of space in-between, a little bit out from the body. And when we sign key, we're going to bring it in and make them connect. All right, so you're going to be going in, so there'll be touching at the end. Keep, keep. And visually makes sense if there's something out there and you're getting it and you're keeping it for yourself. Keep keep from the side. Keep from the other side. From the front again. Keep. We want to turn your body just a little bit to show that it's, you know, it's mine. That's fine. Keep or just go straight in. Keep. Alright, from the rest position, sign with me. Let's sign keep three times. Here we go. Keep, keep, keep. Alright. We're using to k is 2, k is right. Get rid of those fingers, thumb and between pressing against the middle finger, right? One down below non-dominant hand, one on top, dominant hand, now separated a little bit, bring them in and connect them. Keep. Keep. Okay. We just talked about how to sign keep. 77. Learn | Sign for KNOW: Here is the sign for No. Okay. Use your dominant hand. I'm right handed, so I use this one. What we're gonna do is start here, fingers together, thumb alongside. Now we're going to bend all of the fingers down a little bit. Alright, so something like that. We're going to take the tips of the fingers and we're going to tap twice on the side of our forehead. No. No. No. From the other side. Know. Right from the front again? No. But signed together starting from the rest position. Sign with me three times. Here we go. No. No. Maybe that was for but who cares more? Practice the better. Okay. At the same time, if you'd like to really emphasize it, like you think someone is doubting your intelligence and they tell you something and you're like, All right, you can put it on your face, right? Like you already know that a primitive movement as well. Okay, so the handshape once again, start like this, bended forward a little bit. Take the tips, double-tap on the side of your forehead? No. Okay. We just talked about how to sign. No. 78. Learn | Sign for LAST: Here is the sign for last. Okay, we're going to use both hands in the hand shape is the same, wonderful. It's going to be the letter I in the alphabet. So how do you make an eye? Well, these three fingers, index, middle, and ring finger going to go down. Now the thumb is going to go in front and just leave your pinky up there. That is an I and we need two of them, right? So I'm right-handed. My dominant hand would be right here. So with my non-dominant hand, I'm going to put that one right here, still in the eye shape handshape, right. So right there. All right. So the pinky sticking out there at the bottom of the stack of fingers right now I'm going to take my dominant hand the other eye, and I'm just going to go and touch the tip, the tip of the pinky to the tip of the pinky. The dominant hands not moving, just leave it there stationary with this one dominant hand. I'm gonna go down to that is last. Last from the side. From the other side. Last from the front again. Okay, So starting from the rest position, Let's sign three times sine with me. Here we go. Last, last, last. Okay, So two, I hand shapes like that one down here, another one here, bring it down and just flick the tip if you miss it and you don't touch the tip, I think you'll still be understood as long as you're close is really way out here. That's not going to be really understood, but just try to flip the tip of it. And that's how you sign last. Okay. We explored and practice how to sign blast. 79. Learn | Sign for LATE: Here is the sign for late. Okay, use your dominant hand. This is the handshape. Okay. Fingers together, thumbs alongside. Now we're just going to move it over here and swing it down. Late, late, late from the other side. Late, from the front again, late. And see how we kinda have that 90 degree here with the elbow, put it up and swing it down. Okay. Starting from the rest position, Let's sign together three times. Here we go. Late, late, late. If you want to add extra information to the situation, add in a facial expression. If someone's latent, it's really pissing you off. You probably wouldn't be like a robot. You probably be like, right, It's not a big deal. You just need to communicate the sign late. Late. Okay. That's the handshape. Use your dominant hand, so I'm right-handed. Put it up here, swing it down late. Okay. We just talked about how to sign late. 80. Learn | Sign for LEAVE: Here is sign for leave. Okay, use your dominant hand, so I'm right-handed. I use this 1 first. We're going to start with this handshape right here. Like you're going to try to catch a ball, just a loose handshape right there. Now as we bring it over to off to the side of our body, we're going to close it up all. So when you finish the handshape, it looks something like this. You want to form it? You just go like this fingers together, put all of your tips together, right? Right. Like that, something like that. So you start here and it goes off to the side. Leave leave from the sign. Leave from the other side, leave from the front again. Leave from the rest position, sign with me. Let's do it three times. Leave. Leave. Leave. Okay. So this sign also works for the concepts of go out, take off, get out of here. I'm going to leave. You're going somewhere, you're leaving, right? So handshape at the beginning like this, palm is facing off to the side of your body. Start like that. And as you move over to the sign, close it up. So at the end, all of the fingertips are touching. Leave. Leave. Okay. We just talked about how to sign leave. 81. Learn | Sign for LESS THAN: Here is the sign for less than. Okay, we're gonna use both hands seem hand shapes. So start like this, fingers together, thumbs alongside. Now there's strait right now, but we need to bend them over just a bit. All right. So I'm right handed with my non-dominant hand, my left hand. I'm going to start here, like that's the standard that we're comparing to right now. I'll take the other one and I'll put it right up underneath so the fingers are touching. And with my dominant hand, my right hand, I'm just going to go down. Less than less than from the side. Less than from the other side. Less than from the front again. Okay. Sign with me. Let's do it three times. Starting from the rest position. Less than. Less than. Okay? I don't think it takes a visual genius to understand what's happening here. You have that standard member. This is the handshape right up there. Stick this one underneath. Now we're showing less than. Less than. Okay. We just talked about how to sign less than. 84. Practice | Groups 4-6 Test: Here we are. It's time for testing and review. You completed groups 4, 5, and 6. That's another 30. Signs are hot. Okay. So the first part will be use signing, right? So you see something, I start the timer and use sign. You can raise the time or you can pause the video and the sign when you're ready. Okay, let's take a look. Here's a quick practice test. Okay, So I showed it to you. I ran the timer and then I signed it. Alright. Compare your answer with mine. Okay. So that's the first part where you're going to sign what you see, alright, with the hand, the next part will not have a timer. And we'll have that guy down there with glasses, which means you are trying to understand. Uh-huh. So I am going to sign take a look at what I'm signing, try to figure it out. Cedaw allow what am I signing? Okay. Here we go. Quick little test. Okay. What did I sign? Remember I'm only gonna do it once if you need to pause the video and go back and have me repeat, that's fine. Okay. So what did I sign? I signed last. Okay. So that is the second part where you try to understand what I'm saying. The first part is you're going to sign right? In both parts. Of course, I got my glasses and I won't be talking. We'll just communicate in sign language. We're only going to focus on groups 4, 5, and 6. So only signs from those three groups, random order, all of them. Great opportunity to show your skills. Here we go. 87. Explore | Group 7 Signs: Just like that, We're a group seven signs. Well, let's take a look at what you'll be learning. Lie, live. Look for, Lose. Make many, meaning more than movie, near. Okay, We have a separate lesson per each sign. That's right. We'll be covering hand shapes, hand position. Do you practice? Then we'll put them all together and do some testing. But right now let's just learn the signs. Here we go. 88. Learn | Sign for LIE: Here is assigned for Lai. Okay. Use your dominant hand. I'm right handed. Start like this. Fingers together, abdomen, front. Does that look familiar? It should. It's a letter B from the alphabet. A, B, C. Okay, so take that be, now take all the fingers and bend them down. Alright, so we have that bent position here, right? Put it up here to the side of your chin. Just go in front. When I do it, I lightly graze my chin, right. So lie from the sine y. From the other side? Lie from the front again. Okay, Starting from the rest position, sign with me. Let's do lie three times. Y. Y, lie. Okay. You notice it's not just a nice flow in motion across here. Usually the situation when someone's line or it's a lie, it's not such a wonderful thing. So just quick lie. You really want to show your disapproval, put it in your face. Why You lie? I have seen lie sign with using an index finger instead of all of the fingers. So index finger bent over and then they go like this. All right, So that's another version, lie to be consistent throughout this course. We're going to assign it with the B, the bent over b like that. So like this lie. All right, so quick review. Make the letter B band all of the fingers down, palm facing this way right now, just run it in front of your chin, lightly touching your chin. Lie. Lie. Okay. We just talked about how to sign line. 89. Learn | Sign for LIVE: Here is assigned for live. Okay, so we're going to use both hands and the hand shape is the same, is going to be the letter a. All right, from the alphabet a, B, C. So how do we make it? Well, start like this. Fingers together, bring all the fingers down and dumb alongside. All right, those are some A's. Now we're going to start with the palms facing in store at lower here, kind of vet your abdomen area and we're just going to slide up. That's it. Live. Live. When I do it, I'm lightly touching the front of my body right here. Suppose you wouldn't have to be out a little bit to skip close enough to make sure we can clearly see live from the side. Live from the other side. Live. All right. From the front again. Okay. Starting from the rest position, sign with me. Let's do it three times. Here we go. Live, live, live. Remember the hand shapes are what? The letter a right from the alphabet. Take those A's, put it about here and just ride him up. Live. Live. Okay. We just talked about the sign for live. 90. Learn | Sign for LOOK FOR: Here is assigned for, look for, okay, our hand shapes going to be the letters C. Use your dominant hand. So I'm right-handed, I'm going to make a C. Well, how do we make it? Well go like this brings together curve down. And it looks like a C magical. Take that C, put it over here, just to the side your face. Now we're going to make a couple of circles in front of our face. Look for look for from the sign. Look for from the other side. Look for right from the front again. Okay, from the rest position, Let's do it three times. Sine with me. Here we go. Look for, look for, look for. Okay, now this sign, this concept also works for search. Like search for something. Seek something, you're looking forward. Quick review. The hand shape is the letters C, right? Take that C. Put it about here and just do a couple circles in front of your face. Look for Okay. We just talked about how to sign. Look for. 91. Learn | Sign for LOSE: Here is the sign for lose. Okay, we're going to use the same hand shapes. We're going use both hands. Now the starting hand shape is going to be the letters O, but squished down. So first how to make some owes? Well go like this. Fingers together, bring all of the tips of the fingers together and you have all those, take those O's squishing down. Alright, there's still a gap in there, but they're just squished 0. Now put the fingertips together right here, put them down here in our skin to let her hands drop down, open. Lose, lose, lose. Lose. From the other side. Loose. From the front again. Okay, from the rest position, sign with me. Let's do it three times. Lose. Okay, quick review. The hand shapes going to be the 0 that is squished rights we have the OSE, OSE squish them down, put the tips together, put him about here. Just dropped down into empty hands. Alright, so the hand shapes down here that just kinda limp. You had something but you last did lose. Okay. We just talked about how to sign lose. 92. Learn | Sign for MAKE: Here is the sign for make. Okay. Can you use both hands and both hand shapes are the letter S? Yes, like in the alphabet S. Quick way to do the S. Like you're putting up your dukes, you're ready to box, you're gonna fight whatever. Voila I'm holding two Ss yes. Longer way. Go like this. Fingers together. Bring all the fingers down, put your thumbs in front. You're holding two Ss. Yes. Now I'm right-handed. So with my non-dominant hand that S right there. I'm going to put it right here. My dominant hand, I'm going to put it on top. Now we're just going to twist twice. Twist twice is make from the side. Make from the other side. Make right from the front again, make 0 Kp starting from the rest position. Sign with me. Let's do it three times. Make oh, okay. So you might be thinking there's another sign that I've seen. I swear it seems familiar and it might be this sign. All right. Do you know that sign? Coffee, right. Like coffee you drink in the morning. So let me show you the difference first, I'm gonna sign make, and then assign Coffee. See if you can see the difference, make and coffee. Okay, So the big differences make stays here. Now we twist, there's some motion, but we're staying lined up like you're grabbing that pole or whatever. Twists twice. Make. Now Coffee. Think of a coffee grinder. You're grinding, your grinded out that coffee. Coffee. All right. Another way to remember make is, you know, those long pepper grinders, I think they're called pepper shaker, pepper grinder, whatever it is, you grab it with both hands you like. And then the pepper comes out the bottom right? So that's a way to remember make, make, make. All right, So coffee, bonus sign and make. All right, so quick review, letters S non-dominant hand down their dominant hand on top, twists twice. Okay, we just talked about how to sign, make. 93. Learn | Sign for MANY: Here is the sign for many. Okay, we're going to use the same hand shapes are both hands. We're going to start with the letters in the alphabet, right? Like this, fingers together, fingers down, thumbs in front there, just fist. Rarely put up your dukes. Okay. Take those Ss, turn them into the palms are facing towards you. Have him about here, about level with your chin. Now we're just going to go out and open up our hands. So we have many many. The end handshape is kind of like you're going to catch a ball, just a loose handshake, lose CLI you can say two ends like that. Many from the sign. Many from the other side. Okay. From the front again. Many. Okay. Sign with me starting from the rest position. Let's do it three times. Here we go. Many, many. Okay? So this sign, this concept also works for lots of, all right, lots of balloons or whatever. Many, lots of them. Now if there's just a ton of them, There's so many, right? You can just embellish the sign and put it in your face. All right. Right. I can't believe that there there's so many. Wow. Just a regular amount, you know, it's enough to say many now like a huge amount but more than a few. Lots of many. Many. Okay. Quick review. We're going to start with the letters S, right? Yes, sir. Here palms facing towards you about right here. Just open up your hands and let them drop forward. Many. Many. Okay. We just talked about how to sign many. 94. Learn | Sign for MEANING: Here is the sign for meaning. Okay, we're going to use both hands. The hand shapes will be different, starting with your non-dominant hand. So I'm right-handed. My non-dominant hand, I'm going to make this handshape okay? Fingers the other terms alongside its like a platform but we're going to turn it on its side so the palms facing out that way. All right, leave it there for a moment. With your dominant hand. We're going to make the letter V like an alphabet, U, V, W. How do you make a V? Well, start like this. Get rid of your pinkie ring finger. Take your thumb and put it on in the front laid on top of the middle finger. That is a V. Easy way to say it's peace man. Or the number to a 100, two fingers, right? So we have V. Now take that V and we're going to bring it over to our platform, which has been hanging out here. And we're going to stick it like it's a fork. And now we're gonna take it out and stick it back in, but we're going to twist first. So it's two movements, 1212, so meaning, right, so when I do it, I'm not twisting backwards. The second movement I twist forward and then back in. So basically poke in your hand twice, but you're twisting each time. Meaning meaning from the sign, meaning from the other side. All right. From the front again. All right. Let's do it three times for the rest position. Sign with me. Here we go. Meaning? Meaning. Oh, okay, good, good. Let's review the hand shapes. Non-dominant hand. This is the handshape. Put it right there. Dominant hands of what? The v, right? Like Peace man. Now it's basically we're going to use it as a fork, put it in horizontal, take it out. Now, stick it back in vertical. Meaning meaning they don't have to come way out. No, no, no, no point for that. Just to a close, but make sure you have two bounces in a minute. And the second one, when you pull it back, twist forward, go back in. Meaning. Meaning. Okay, we just talked about how to sign meaning. 95. Learn | Sign for MORE THAN: Here is assigned for more than okay, we're going to use both hands and the hand shapes will be the same. So start like this, fingers together, thumb alongside. Now we're going to bend our fingers forward a bit like that. Okay. So I'm right-handed my non-dominant hand them a sticker right here, little platform there that's bent a hub. Take my dominant hand. I'm going to put it on top. Same handshape, put it on top, fingers touching it. Now I'm just going to go up because it's more than a 100. More than from the side, more than more than others. More than from the front again, more than 0. Okay, So starting from the rest position, sign with me. Here we go. Three times. More than more than more than. Now, if you want to embellish to show that it was like a tiny amount and someone else had just a ton more than them. Well, you can embellish the sign. You could go put in your face. I go. It was just so different. More than just a regular amount? More than okay. Quick review of the hand shapes. Start like this. Bend the fingers down. Non-dominant hand sticker, right? Their dominant hand, put it on top. Notice go up with your dominant hand to the non-dominant hand. Just going to be hanging out that whole time not moving at all. More than okay. We just talked about how to sign more than. 96. Learn | Sign for MOVIE: Here is the sign for movie. Okay, we're going to use both hands and the hand shapes will be different. So we'll start with our non-dominant hand. I'm right handed, so this is my non-dominant hand. I'm going to make the letter B Hunt like in the alphabet. And how do we do it? Well, fingers together. Put your thumb in front. Okay. Take that put it down. So the palms facing down that two platform with your dominant hand, I'm right handed. Just make the number 5 like the five and the alphabet or just fingers spread apart. Now take the base of the hand, stick it up against the ridge of the non-dominant hand and just move back and forth. Movie, movie. All right, So the connection point where we're touching, it's a bottom-line knuckles here, stick it up there and back and forth. Movie from the side, movie. Movie, from the other side. Movie. Alright. From the front again. All right, three times starting from the rest position, sign with me. Here we go. Movie. Okay. Review the hand-shaped non-dominant hand. Make that be stick it down. There is a platform dominant hand just open there and the number 5 and American Sign Language 5 spread apart the base, stick it alongside, back and forth. Movie. Movie. Okay, we just talked about how to sign movie. 97. Learn | Sign for NEAR: Here is the sign for near. Okay. We're gonna use both hands and the hand shapes will be the same. Yes. So start like this, fingers together alongside. Now we have the flat hands here like the knife top, top. We're going to bend down the fingers just a bit. We're not going way down like that. We don't need a 90 degree angle, just bent down a bit. Okay. So I'm right-handed with my non-dominant hand. I'm going to stick that firsthand shape right about over here. Okay, now I'm gonna take my dominant hand and I'm going to go here. And then I'm going to go in, when I say in amine in close to the other hand, near, near, near, from the side. Near near other side. Near from the front again. Okay. From the rest position sign with me. Let's do it three times. Near. Okay, So this sign also works for the concept close to something is close to something else and this is the something and we're showing that it's close to it and it's near. All right hand shapes. Once again, we have those bend down the fingers just a bit, but one over here, one starting here now go close to it. Near near. All right. We just talked about how to sign near. 100. Explore | Group 8 Signs: Group aid signs, Rue La La, let's see what you'll be learning. Never. Next. New number. Often. Old. Only. Other out place. Okay, separate lesson for each one. Hand signs, hand position, hand shapes, all that wonderful stuff. And then we'll test you on all of them. Okay, Let's jump in and learn the signs. 101. Learn | Sign for NEVER: Here is the sign for never. Okay, use your dominant hand. I'm right handed. So go like this, bringer see other thumb alongside. That's our karate chop hand. And that's basically what we are going to be doing with the sign for never. So startup here. Now we're going to curve a little bit then chop it down. Never. So curve at the top. Chopped down, you can kinda notice it takes the form, the outline of a question mark, right? So this and then chop it down. Never from the side. Never other side. From the front again. Alright, from the rest position, sign with me. Let's do it three times. Never. Never. Okay. You can have some fun with this one or just sine how you feel in this situation. Let's say someone asked you for something or they ask you a question and you're just, oh, my goodness, I cannot have kinda believe they asked that. And you're responsible. Never. Never. Okay. Maybe it's just something random which does not a lot of emotion. You know, how often do the geese fly through here, whatever you give me. Never. Or if they ask you a question which is so offensive and you're like, ah, pissed off Rob, volcano of emotion. Never, never. Okay. Alright, so the handshape once again like this, that open hand go like this, dumb alongside. Now we're going to trace the outline of a question mark and chop down because we have the karate chop hand shape. So up there, curve, chop it down. Never. Okay. We just talked about how to sign. Never. 102. Learn | Sign for NEXT: Here is assigned for next. Okay, both hands on this side and the same handshape. So let's start like this fingers together, thumbs alongside. Now that's a rigid hand which is been forward just a bit. Okay. So I'm right-handed my non-dominant hand. I'm going to put it down here, palm facing in. Now my dominant hand, I'm going to start here and then a leap frog jump over the non-dominant hand. So we have next, next from the sign. Next, from the other side. Next. From the front again. Next. Okay. Sorry, from the rest position signed with me. Let's do it three times. Next. Next. Next. Okay. Couple extra pieces of information. My hands down here aren't actually touching. Right. That's how I do it. Next. If you touched her, you bumped, not a big deal. We're just trying to show that this is what's happening in the next one is next, right? Next. So hand shapes once again, that comes alongside. Now don't even rigid. You could just seems kinda robotic, but just bend them forward a little bit. There we go. One down there. One started at the bank in hop defense. Next. All right. We just talked about how to assign next. 103. Learn | Sign for NEW: Here is assigned for new. Okay, we're gonna use both hands, same handshape, start like this brings alongside DMS together. Now, we're not going to stay rigid like karate chop. Just let him loose. And I'm Ben pour just a little bit, not alive just a little bit, so they're loose. Now I'm right-handed my non-dominant hand, this one, I'm going to put it down here, okay, with my dominant hand, same handshape. I'm just going to slide in and scoop up new, new. So the back of this hand is going to be sliding for a moment against this hand before it comes up. New, new, new, new. From the other side. Nu nu from the front. Knew right from the rest position, sign with me. Here we go. 3 times nu, nu, nu. Our right hand shapes like this don't even rigid curve down a little bit. One down here, other one just scoop up nu, nu. Alright, we just talked about how to sign new. 104. Learn | Sign for NUMBER: Here is the sign for number. Okay, hand shapes are going to be the same star like this. All right. We're going to take our fingers, put them together, bringing them down to make O's, right? Now, take those O's and squishing down. That's the hand shape that we need. So there's still some gap in there, but they're just O's that are squished down. Okay. So I'm right-handed. I'm going take my first one and put it here. My non-dominant hand, I'm going to put it here. Now we're going to come together, come back out, twist forward, come back together again. So altogether it number. Alright, let's slow it down. My dominant hand, I'm right-handed, right here. It's kinda backwards because I'm going to be moving now forward. My non-dominant hands open a big sound when it backwards. So we have number. So first come straight in, come back out, twist and come back together. Number from the side. From the other side. Number. Number from the front again. From the rest position. Sign with me. Here we go. Number. Number. Number. Okay, hand shapes. Remember got those O's, whether all that is squished down, right? Take your dominant hand, put it here, it's going to be twisting forward. Non-dominant hand over here It's going to be twisting backwards eventually. First bring them together, bringing them out, twist coming again altogether. All right, we just talked about how to sign number. 105. Learn | Sign for OFTEN: Here is the sign for often. Okay, we're going to use both hands, different hand shapes. Now I'm right handed with my non-dominant hand. I'm going to go like this for years together. Thumbs alongside, that's the handshape. Now stick it down here. That's our platform. With your dominant hand, I'm right-handed. I'm gonna go like this, similar at the beginning, but we're going to bend it forward. Alright, so we have that. Now we're going to start here. The tips of the fingers start at the back of the hand. Now we're going to go up and go forward. So we're touching twice just in different spots. One to move forward a little bit. Though we have often from the side, Often from the other side. From the front again. Okay. Rest position, sign with me. Let's do it three times. Often. Often. Okay. Handshape re review non-dominant hand. Make that platform sticker down there, right. I'm right-handed, star-like this but bended forward and we're going to take the tips. One back here, one forward. Often, often. Now it's not going to be a long time between Tuczyn style like now, just go 1, 2, 1, 2 often. All right. We just talked about how to sign. 106. Learn | Sign for OLD: Here is the sign for old. Okay, just use your dominant hand. I'm right handed as we start at the top, our hands gonna be kinda open, loose, right? We're getting ready to form a fist because Homer, open, we're going to pull down into a fist. So imagine you have a beard here and you're going to grab it and slide down, like you're contemplating something or whatever. It's going to be two motions, starting open hand, open like that and pull down into a fifth. So you're going to close up your hand one to o from the sign. All from the other side. From the front again. Okay, so sine with me starting from the rest position three times. Here we go. Old. Old. Okay. So quick review. Pretend you have a beard and you're just grabbing it, starting loose on the top, pulling down, making your fist type and do it two times old. Old. When you finish your hand shape will be in the shape of a fist or you say the letter S. So loose and closer, close it, close. Oh, okay. We just talked about how to sign. 107. Learn | Sign for ONLY: Here is the sign for only. Okay, we're going to use our index finger of your dominant hand. So I'm right-handed. Make the index finger like you're going to point or the number 1, right? What we're gonna do is we're going to pull it down here, palm facing towards us. And we're just gonna use the tip to trace a few small circles in the air. Only. Only from the sign. Only from the other side. Only from the front again. Only. Alright, from the rest position, sign with me. Let's do it three times. Here we go. Only. Only. Only. Okay. You might be thinking, well, this sign seems similar to something I swear, and you'd be right. There's another sign always which has a similar handshape but actually has bigger circles. What I mean by Bayer circles, let me show you the difference. First. We'll do only, only. Now, always 0 is 0, okay? See the difference? Only 0 is 0, right? So pretend there's a pizza platter in the chair, in the air and you're tracing, that will be always big circles. All is right, only is small. It might be a little softer there and you're tracing around it only, only. So remember once again, always bonus sign, okay? And we have only now the concept this sign for only also works for single, like a single person there is only one, only. Only. Okay. So use your dominant hand. Take that index finger, stick it down there a little bit lower. Palm facing towards you. Make some circles. Only. Only. Okay. We just talked about how to sign only. 108. Learn | Sign for OTHER: Here is the sign for other. Okay, use your dominant hand. The hand shape is the thumbs-up sign. Our ha How do you make it? Well, give a thumbs up or you can go like this fingers together, put them down, sleep the thumb sticking out there. Put it down here. A there it is. Now go like this. This basically laid it over to the sign other other from the side, Other from the other side. From the front again. Other so it's not this one, it's the other one. Other from the rest position. Sign with me. Let's do it three times. Here we go. Other other other okay. Hand-shaped, dominant hand, thumbs up. Thumbs up, dude. Right. Put it right there. Just laid over. Other good, good. We just talked about how to sign other. 109. Learn | Sign for OUT: Here is the sign for out. Okay. We're going to use both hands. I'm right-handed, so with my non-dominant hand, I'm just going to make this loose, hand-shaped down here. Fingers spread apart, just sticking down there, right? And I'm gonna take my right hand, my dominant hand, and I'm going to put it inside the handshape which is loose, kinda like Dat stick it inside. Like you're sticking your hand in the candy jar and you're taking it out. All right. When you take it out, close up your hand and your fingers end up like this. Alright? And the hand down here is going to close up like it's a trap. Venus flytrap. Stick your hand in the candy jar, pull it out, out, out from the side, out out, other side. Out. Out from the front again, slowly out. All right. Rest position. Sign with me. Let's do it three times. Out. Out, out. Oh, okay. So non-dominant hand, the one that's down here, lose handshape. It's a cookie jar. Dominant hand loose at first because you're trying to grab one of those cookies. Are moms come in, take your hand out. Out. Out. Good, good. We just talked about how to sign out. 110. Learn | Sign for PLACE: Here is the sign for place. Okay. We're going to use the same hand. Shapes are both hand. They're going to be the letters P, like in the alphabet P, Q, R. All right, so how do we make a p? Well, start with your hand like this. Get rid of your pinky and ring finger, index finger and middle finger spread apart. Take your thumb, stick them in between and press against the middle finger. All right. Now you may be thinking this is already assigned and it is, it's the letter K. Alright, so this is a letter K. But when we make a p.sit, we're just taking a k and we flip it down. All right, so p, Let's make the k Again. I will flip it down into a p.sit like this down thumb and the middle pressing against that middle finger. Now flip it down. So there is a p.sit, nice p. Okay, so we need it with both hands. The palm down. Now we're going to point them towards each others were used at tips of the middle fingers. We're going to come together once and then do a circle, come together again. Okay, so place, place. Alright, let's make the K, drop it down. Now that's a P. If you really wind could just say take those k's and put them together, middle fingers touching, bring them together. So make a circle, place, place from the sign, place. From the other side. Place, from the front again, slowly. Place. Okay. So sine with me, sign with me starting from the rest position, Let's sign it three times. Place, place, place. Okay, so we're going to be making the letters P, or you could just say K, that's fine to go like this. Domain between pressing against the middle finger, that's the K. You want to say it's a p because p and p For place to take those Ps. Put them like this. We're going to touch the middle fingers, the tips of the middle fingers, bring them out, make a circle. Now touch the middle fingers again. Place. Okay, good, good. We just talked about how to sign place. 113. Explore | Group 9 Signs: Here we are a group nine signs. Let's see what you're about to learn. Possible practice. Prefer, question. Remember, Rest, say send, sick, sign. Okay, We have a separate lesson for each sign. We're going to explore handshape, hand position, do some practice, and then we'll put them all together and test you. Ha ha. All right, Let's learn these signs. 114. Learn | Sign for POSSIBLE: Here is the sign for possible. Okay, we're going to use both hands and the hand shape is the same. It's going to be the letter S, right? The quick way is to say, Put up your dukes a half. Those are S's along way. We go like this, bringing together all the way down dominant parent. We have two S's. Now take those Ss and put them about here, about shoulder height. And we're just going to go down twice. 1, 2. Alright. Possible. Possible. From the side. Possible. From the other side. Possible. All right. From the front again. From the rest position, sign with me. Let's do it three times. Here we go. Possible. Possible. At the same time, you could give a facial expression, a head nod. Do you know given extra that it is possible or maybe someone just arguing against, you know, there's no way to do it in like No, it's possible. Once again, the hand shapes are the letters S there, just fist. We're going to put them about here, palms facing kinda tilted down and forward. Right now we're just going to go down twice, 1, 2. So we have possible. We just talked about how to sign possible. 115. Learn | Sign for PRACTICE: Here is the sign for practice. Okay, good. Use both hands with different hand shapes. So I'm right-handed with my non-dominant hand, my left hand, I'm going to stick a my index finger. Now we can say the number one. How do you make it? Well, just go like this. These fingers down, thumb in front. There you go is the pointer finger. Now I'm going to put it right here, so it's pointing off into the distance. Okay, So right there with my dominant hand, I'm going to make the letter a, like in the alphabet a, B, C. How do we make an a? Well, star-like this fingers together bring him down, thumb alongside. So there's our a our right. So we're going to go like this a few times on our finger. Just use the fingers right here, this part outside part here, and just rub against the index finger. Practice. Practice this, go back and forth a few times. That's fine. Practice from the side. Practice. From the other side. Practice from the front again. Practice. Okay, Starting from the rest position, sign with me. Let's do it three times. Here we go. Practice, practice. Practice. Okay, once again, the hand shapes dominant hand is going to be the letter a. I'm right-handed, dominant hand for me, a non-dominant hand, index finger. Put that index finger here, take the a, used the fingers and just rub against, slide back and forth on top your index finger. Practice. Practice. Okay, Wonderful. We just talked about how to sign practice. 116. Learn | Sign for PREFER: Here is the sign for prefer. Okay, use your dominant hand. I'm right handed. Just make this open hand shape, leave it flat. Take your middle finger and bend it forward. Okay, we're going to use the tip of our middle finger and tap twice on our chin. Prefer. From the sign. Prefer. From the other side. Prefer. All right. From the front again. All right. From the rest position, sign with me. Let's do it three times. Prefer, prefer, prefer. Okay. This sign also works for the concept of favorite, like your favorite food at the buffet, whatever works for favorite. And of course it also works for prefer. All right, so quick review. Use your dominant hand. I'm right handed, flat hand. When the middle finger down, notice tap twice on your chin. Okay. Good, good. We just talked about the sign for prefer. 117. Learn | Sign for QUESTION: Here is the sign for question. Okay, very quickly you're going to notice that the movements that we're making, they're stunningly similar to an actual question mark. Okay, So the hand shape I'm right-handed. We're going to use our index finger, the ever so popular index finger. How do you make it? Well, go like this. Fingers down, leave that index fingers sticking up is the pointer finger. Now use the tip and first we're going to trace the top of a question mark. Now we're going to pull that index finger in and stick it back out to make the dot. Alright? So if you notice on the question mark it curves, goes down and it's not actually connected to the bottom piece. So once again, here we go. Question. Alright, so trace that part, bring it in. Stick out the dot. Question. Question. Question from the other side. Question. Question from the front again, a little bit slower. Question. Motivate quicker question. How about regular speed? Okay, Starting from the rest position, sign with me. Let's do question 3 times. Question. Question. Question. All right. So the handshape once again, index finger of your dominant hand, I'm right handed. We're just going to trace the top part of the question. Mark, pull it back in and do the dot question. Right now you don't have to make a huge gain and then a huge Pao, just regular, normal about maybe this size right in front of you. Question. Question. Okay. Good, good. We just talked about how to sign question. 118. Learn | Sign for REMEMBER: Here is the sign for, remember. Okay, the hand shapes are going to be the same. We're going to use the letter a from the alphabet a, B, C right? Now, how do we make an a? Well, start like this. Fingers together, bring the fingers down. Now put your thumb along side. We have an a, we're just going to sign it once you'd go a. Alright. So we have those A's. I'm right handed with my non-dominant hand. I'm just going to stick that first one right here. So the palms facing down in a way right there we go. I'm right-handed once again, take that first a minuss the tip of the thumb. I'm going to tap on the side of my forehead. Now tap on the thumb of the other finger. So forehead to thumb, tip of the thumb right there. So altogether it remember remember from the side. Remember from the other side. Remember from the front again. Remember. All right, Starting from the rest position to sign with me. Let's do it three times. Remember? Remember. Remember. Okay, hand shapes are what? The letter a, right? Both hands, non-dominant hand, put it down their dominant hand, you're going to use that tip of the thumb. Touch society forehead, come down and touch the other thumb. Remember? Oh Kate, we just talked about how to sign. Remember. 119. Learn | Sign for REST: Here is the sign for rest. Okay, we're going to use these handshape stuff in Titus loose hand. I'm right handed. So I'm going to put my first one right here, palm facing in. Second one, we're going to put it over top or right. It kinda given ourselves a little hug here. Now we're just going to raise up our elbows just a little bit. Maybe tilt back your head and now just go down. Rest. Rest. All right. You can breathe in at the top and breathe out when you come down. That's fine. Rest from the side. From the other side. Rest. Rest from the front again. Rest. Okay. From the rest position. Rest position. Sign with me. Let's do it three times. Here we go. Rest. Rest. Rest. Okay. So once the end you can breathe in and breathe out when you come down because breathing helps with our relaxation, our rest. Aha. This is also the sign for relax. Alright, so you have rest and you also have relax. Okay? So we're going to use both hands and both arms. Take your dominant one, stick it inside. Non-dominant, put over here, kinda giving yourself a nice little caudally hub there, right? Take the elbows, raised them up, maybe lean your head back a little bit now just come down. Rest. Rest. Okay. We just talked about how to sign rest. 120. Learn | Sign for SAY: Here is the sign for say. Okay, simple and straight forward. Use your dominant hand. I'm right handed and we're just going to stick up our index finger, like you're pointing at something right? Now. Use the inside part of the tip of the finger and tap twice below your lower lip. Say from the sign. Say from the other side. Say from the front again. I'll write from the rest position, sign with me. Let's do say 3 times. Say Say say. Use your index finger of your dominant hand. I'm right handed. Inside part of the tip of the finger. Tap twice below your lower lip. Say. Okay, we just talked about how to sign. Say. 121. Learn | Sign for SEND: Here is assigned poor send. Okay, we're going to use different hand shapes. I'm right handed, so with my non-dominant hand, I'm going to make the letter S, right? It's just a fist. How we do it like this, bring us together, fingers down, DOM in front. Now there is an edge. Now I'm gonna stick it down here, palm facing down, That's my platform, right? So with my dominant hand, I'm gonna do that thumbs up. Hey man, right. We go like this fingers down, leave that gum hanging out there. Now take the back part of the fingers, placed them on top of our platform here. Now we're just going to flick out all of the fingers together at once. Looks like this. Send, send. At the same time while you're flicking the fingers out, move forward a little bit with the dominant hand. Send. So imagine like mail is being sent out. Whatever, send, send from the side. From the other side. Send. Send from the front again. Send. All right, rest, position, sign with me three times. Here we go. Send sind. Sind. Ok, quick review. Dominant hand is going to be the thumbs-up sign. Non-dominant hand is going to be the letter S or just a fist. Put that fist down, palm facing down. Take your dominant hand that thumbs up, place it on top. Now bend out the fingers, flick out the fingers and move forward a little bit. Send, send, kinda like a turning it into a letter and it's flying away. Sinned. All right. We just talked about how to sign send. 122. Learn | Sign for SICK: Here is assigned poor, sick. Okay, we're going to use both hands. The hand shapes are the same even though the positions will be different, right? Go like this. Take your middle fingers and bend them down. Those that's all we're going to use. We're going to use the tips of the middle fingers. All right. I'm right-handed, That's my dominant hand. So I'm going to place the first one here on my forehead and the second one here on my stomach. And we're going to do it at the same time. Alright, so we're not just tap in and going away, it's kinda place them and just have a sick look on your face. This please look on your face. Sick from the sign. Sick. 123. Learn | Sign for SIGN: Here is the sign for sine. Okay, we're going to use the same handshape or both hands. It's the index finger a harm to say the pointer finger. All right. Take them. We're going to put them about here, tilted in. All right, Now we're going to make backwards bicycle motions alternating towards our body. Alright? So we're not going to gather the same time. Just pretend you're pedaling a bicycle backwards. Alright, so we have sine from the sine, sine, other side. Sine. Sine from the front again. Sign. Okay. Starting from the rest position, sign with me. With me. Let's do it three times. Here we go. Sine. Sine, sine. Okay. It's worth mentioning that you might see it. I have seen some people do forward motion, forward bicycle motions for sine. Okay. Did there are regional differences people sign in different way in this course to be consistent, we're gonna do the backwards bicycle motion. But just keep in mind, you might see some people doing it that way. That's all right. So throughout this course when we do testing, I'm going to be sign it like this. Okay, So index fingers put them about here, tilt them in. Now, alternating backwards bicycle motion sounds very scientific, but just watch the hands. So we have sine. Okay. We just talked about how to sign sign. 126. Practice | Groups 7-9 Test: All right, So you've learned this signs from groups 7, 8, and 9. Way to go. Now I'm thinking it's time for some testing and you're like yes, testing. Okay. So the first part, you're going to sign, see that hand down there. You're going to sign. So I'm going to show you all 30 signs in random order one by one, right? So I'll show it to you. Start the timer. It'll be for three seconds and you can raise the time or you can pause the video and sign whenever you're ready up to you. All right, let's do a quick little test so you can see how it works. Here we go. Okay, So I showed it to you. I ran the timer and then when the timer is up, I did the sign. Alright. So you can compare your answer with mine. Oh, okay. Okay. That is the first part where you see that hand down there so you're going to sign, right? We have the timer in. The second part is going to be recognition, in other words, understanding. And you get to look at me. So I'm going to sign and you're going to be like, hmm, yeah, I know is doing something it looks familiar. Aha, right. Just say it out loud when you understand the sign, you can sign with me. That sounds great. Okay. I'm only going to do it once. So if you need to pause the video and go back and have me repeat, That's fine too. All right. So let's take a look. I'm going to do is sign. What am I signing? Try to understand. All right. So what did I sign? I signed. All right. So that's the second part where you understand first part you're going to sign in second part understanding in both parts I won't be talking, got my glasses. Xue, we'll communicate in sign language. And yeah, let's do it. 129. Explore | Group 10 Signs: Well, look at that. It's Group 10 signs. Let's take a look at what you'll be learning. Slow. Some, start. Stay. Still. Story, tell, texting. Then. Then. Okay, you know, you had a separate video for each one. We're going to go through to hand shapes, hand signs, all that wonderful stuff. And then we'll put it altogether to test you. All right, so let's learn the signs. Here we go. 130. Learn | Sign for SLOW: Here is the sign for slow. Okay, the hand shapes are going to be the same. Go like this. Fingers, the other thumbs alongside. I'm right handed with my non-dominant hand. This one. I'm going to put it right here. Okay. Stick it out there with my dominant hand them and take the fingertips, the inside part of the fingers and just rub up slowly. Because we're assigning slow, slow, slow. Slow. From the other side. Slow. From the front again. Slow. Okay, from the rest position, sign with me. Let's do it three times. Here we go. Slow. Okay. It's worth noting that it's not worth it to go too fast, right? You wouldn't want to be liked. It doesn't quite fit the contexts we're going for PER slow. Alright, so this start and just make your way up slow. Okay? So once again, the hand shapes same like this non-dominant hand. Put it down there, palm facing down, dominant hand used inside the tips of the fingers. Start about here a little bit. Buyer knuckles and just wrote a book. And that means slow, slow. Okay, we just talked about how to assign slow. 131. Learn | Sign for SOME: Here is the sign for some okay. Hand shapes are the same for both hands. All right. Go like this, fingers together, thumbs alongside. I'm right-handed. So with my left hand I'm going to make a platform down here, palm facing up. With my dominant hand. I'm going to be used in the bottom part like it's a sock, right? We're going to start over here and we're going to slide it back. Some some from the sign, some other side. From the front again. Some some. All right. Starting from the rest position, sign with me. Let's do it three times. Here we go. Some. Some. Okay. So remember, hands like this, those are the hand shapes, one down there, other one like a knife like you're cutting this sign, the concept some also works for part portion and of course some. So the sign also works for all three some part portion. Okay. We just talked about how to sign some. 132. Learn | Sign for START: Here is assigned for start. Okay. Both hands, different hand shapes. I'm right handed with my non-dominant hand. I'm going to be going like this. All right. Start like this. Fingers together TMS alongside. Now I'm going to put it down here. Okay, We'll just leave it hanging there for a moment. My dominant hand, my right hand. I'm going to use the index finger. Index finger, the pointer finger right? Now I'm going to take that finger and I'm going to slip it in between the index finger and the middle finger of the hand down there, the non-dominant hand, right? I'm gonna put it there. Now I'm going to pretend like I'm starting a car. It's my key, I'm putting it in and alright, so that is start. Start. Makes sense like starting a car, putting your key and start from the side here. Start from the other side. From the front again. Okay. From the rest position, sign with me. Let's do it three times. Here we go. Start. Start. Okay. Once again, dominant hand, index finger, non-dominant hand like this. And you're going to be opening it up so you know, a printer can go in, put it down here, stick their finger in there but underneath the index finger on the other hand, and just twist. Start. Start. Now the sign also works for the concepts of begin, initiate. And of course, start. How useful? Okay, we just talked about how to sign start. 133. Learn | Sign for STAY: Here is the sign for stay. Okay, we're going to be using the letters Y for both hands. Alright, like an alphabet, X-Y-Z, right? So how do you make a Y? Well, start like this through middle three fingers together. Now bend them down like hang loose, man, right? Those are wise. Okay. Now we're gonna take those wise. We're going to put them about here. Now, just drop them down. Stay stay. Stay. From the other side. Stay from the front again. Stay. Okay. From the rest position. Sign with me. Let's do it three times. Stay. Stay. Stay. Okay. Now there are variations to this sign and I'll share a few that I've seen where we have the one that I just showed you where we go like this, right? I've also seen it where it's done twice like a double-tap first day. That's another version I've also seen in like this, where you go like this and then you just drop one down. Stay. I've also seen it done with just one hand, your dominant hand, stay. Stay. To be consistent throughout this course. We're going to sign it like this. Stay, right? So just one movement down, stay. And once again, the hand shapes going to be the letter Y for both hands. How to make a Y like that? The y, put it there, just drop it down. Stay. All right. So that's how I'll be signing it whenever you see a protesting throughout this course, I'll just do it once. Stay. Okay. We just talked about how to sign stay. 134. Learn | Sign for STILL: Here is the sign for still. Okay, the hand shapes are the same for both hands. Wonderful. Going to be the letters. Why? Like in the alphabet, go like this. Middle three fingers together, drop them down, hang loose. Those who are wise, okay, now put the wise about here. Palms facing down just a little bit. Move them forward in, tilt them up. Still. Still from the sine, still. Other side. Still from the front again. Still. Okay. If starting from the rest position, sign with me, Let's do it three times. Here we go. Still, still, still. Okay. Now you might be thinking, hm, these hand shapes in the motion seems similar to the sign. Stay. Well, you tell me if you can see the difference. Okay. First I'm gonna sign is still. Okay. Still, right now, stay. All so the hand shapes are the same but the motions are quite different. So we have still, which pushes out and tilt up. Stay like Don't move is just dropping down. Okay, once again, still. Stay. All right, so for this lesson we're focusing on still, still. And just to make sure in case the image didn't make it clear, we're talking about still as in continuing action, it's still going on, you still running. We're now talking about something that's not moving, like still stationary, right? We're talking about movement. Still going on is continuing. All right. So we have still we just talked about unexplored the sign for still. 135. Learn | Sign for STORY: Here is the sign for story. Okay, the hand shapes are going to be the same and they're based on the letter F. How do you make an F? Well, start like this. Fingers spread apart, index finger, the thumb, bring it tips together. We have two f's. Now as we start the sign, we're going to open up just a bit, right. So we're not going to be together. Be opened up. I'm right-handed, That's my dominant hand. So I'm going to put my first one there, my non-dominant hand. I'm gonna put it here. All right, so open pa