Playback Speed
---
0.5x

1x (Normal)

1.25x

1.5x

2x
ASL | 120 Common & Useful Nouns | American Sign Language
Watch this class and thousands more
Get unlimited access to every class
Taught by industry leaders & working professionals
Topics include illustration, design, photography, and more
Watch this class and thousands more
Get unlimited access to every class
Taught by industry leaders & working professionals
Topics include illustration, design, photography, and more
Lessons in This Class
194 Lessons (7h 52m)
2.

Explore | Group 1 Nouns

1:03

13.

Explore | Group 1 Test

4:18

14.

Sign | Group 1 Nouns ⏲ 3s

2:53

15.

Understand | Group 1 Nouns

2:29

16.

Explore | Group 2 Nouns

0:39

24.

Learn | COMMUNICATION

1:36

27.

Sign | Group 2 Nouns ⏲ 3s

2:42

28.

Understand | Group 2 Nouns

2:14

29.

Explore | Group 3 Nouns

0:47

38.

Learn | DISCRIMINATION

1:52

40.

Sign | Group 3 Nouns ⏲ 3s

2:40

41.

Understand | Group 3 Nouns

2:08

42.

Explore | Groups 1-3 Test

1:51

43.

Sign | Groups 1-3 Nouns ⏲ 3s

6:52

44.

Understand | Groups 1-3 Nouns

6:04

46.

Inspiring Quote #1 | Decipher

1:30

47.

Inspiring Quote #1 | Answer

1:30

48.

Explore | Group 4 Nouns

0:43

59.

Sign | Group 4 Nouns ⏲ 3s

2:47

60.

Understand | Group 4 Nouns

2:13

61.

Explore | Group 5 Nouns

0:43

72.

Sign | Group 5 Nouns ⏲ 3s

2:53

73.

Understand | Group 5 Nouns

2:10

74.

Explore | Group 6 Nouns

0:39

85.

Sign | Group 6 Nouns⏲ 3s

2:59

86.

Understand | Group 6 Nouns

2:11

87.

Explore | Groups 4-6 Test

1:08

88.

Sign | Groups 4-6 Nouns ⏲ 3s

7:21

89.

Understand | Groups 4-6 Nouns

6:36

90.

Inspiring Quote #2 | Decipher

1:30

91.

Inspiring Quote #2 | Answer

1:30

92.

Explore | Group 7 Nouns

0:46

103.

Sign | Group 7 Nouns ⏲ 3s

2:44

104.

Understand | Group 7 Nouns

2:13

105.

Explore | Group 8 Nouns

0:41

106.

Learn | NEIGHBORHOOD

3:29

116.

Sign | Group 8 Nouns ⏲ 3s

2:51

117.

Understand | Group 8 Nouns

2:13

118.

Explore | Group 9 Nouns

0:45

127.

Learn | RELATIONSHIP

2:07

129.

Sign | Group 9 Nouns⏲ 3s

2:43

130.

Understand | Group 9 Nouns

2:12

131.

Explore | Groups 7-9 Test

1:44

132.

Sign | Groups 7-9 Nouns ⏲ 3s

6:48

133.

Understand | Groups 7-9 Nouns

6:37

134.

Inspiring Quote #3 | Decipher

1:30

135.

Inspiring Quote #3 | Answer

1:30

136.

Explore | Group 10 Nouns

0:48

147.

Sign | Group 10 Nouns ⏲ 3s

2:41

148.

Understand | Group 10 Nouns

2:05

149.

Explore | Group 11 Nouns

0:38

159.

Learn | TRANSPORTATION

2:32

160.

Sign | Group 11 Nouns ⏲ 3s

2:46

161.

Understand | Group 11 Nouns

2:16

162.

Explore | Group 12 Nouns

0:48

173.

Sign | Group 12 Nouns⏲ 3s

2:48

174.

Understand | Group 12 Nouns

2:25

175.

Explore | Groups 10-12 Test

1:35

176.

Sign | Groups 10-12 Nouns ⏲ 3s

6:50

177.

Understand | Groups 10-12 Nouns

6:35

178.

Inspiring Quote #4 | Decipher

1:30

179.

Inspiring Quote #4 | Answer

1:30

180.

Explore | Test Format

4:09

185.

Inspiring Quote #5 | Decipher

1:30

186.

Inspiring Quote #5 | Answer

1:30

187.

Explore | Test Format

2:08

192.

Inspiring Quote #6 | Decipher

1:30

193.

Inspiring Quote #6 | Answer

1:30

194.

Conclusion & Thank You

0:21
--

Beginner level

Intermediate level

Advanced level

All levels

Beg/Int level

Int/Adv level
Community Generated
The level is determined by a majority opinion of students who have reviewed this class. The teacher's recommendation is shown until at least 5 student responses are collected.
About This Class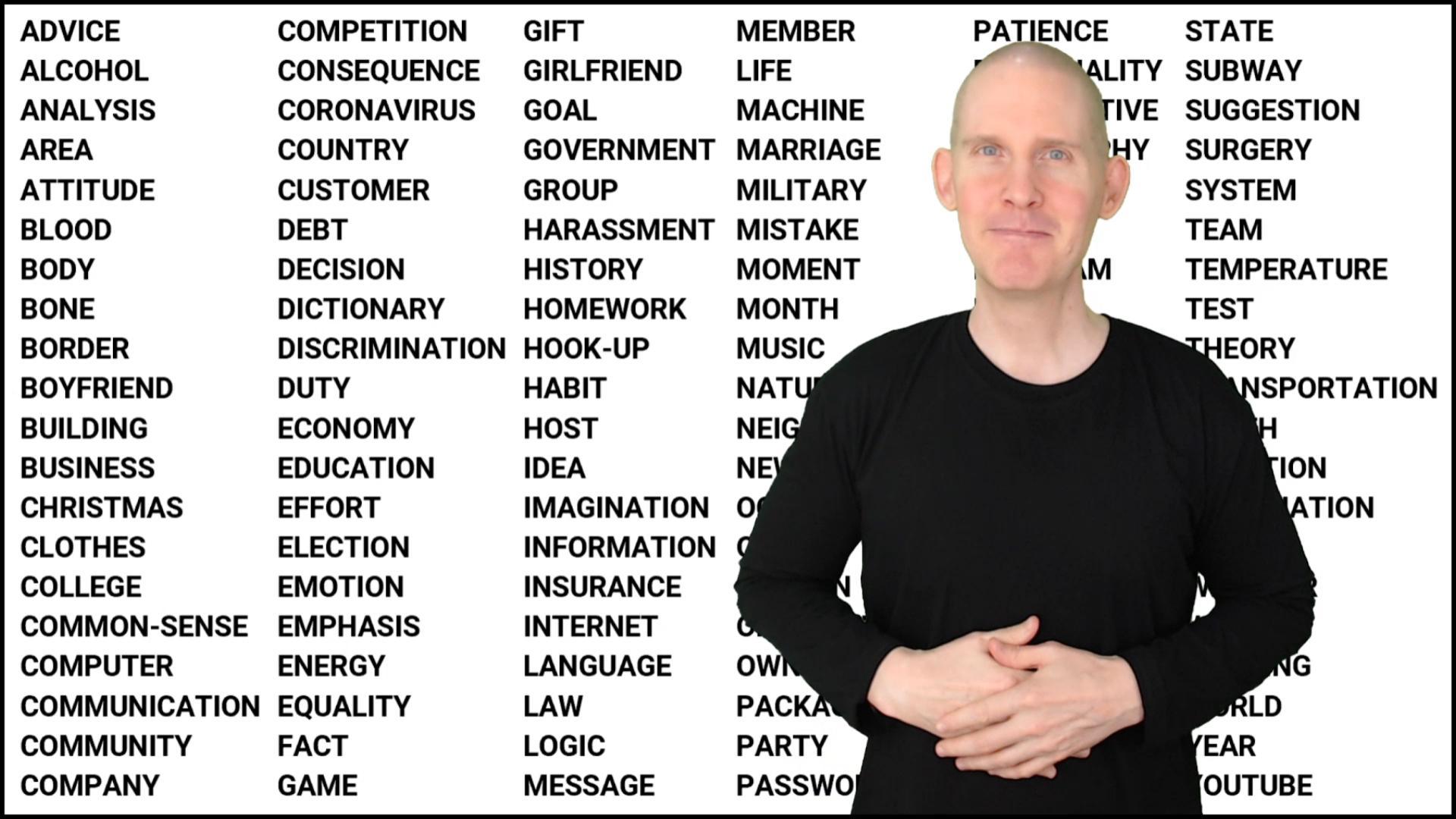 IN THIS COURSE, you're going to learn to sign and understand one hundred and twenty (120) common and useful noun signs in American Sign Language (ASL). The signs are divided into twelve groups of ten nouns. Each individual noun sign has its own video lesson where students can learn and practice handshapes and hand positions. Each group of ten signs has its own review and testing where students can demonstrate signing and recognition skills. As the course progresses, mid review is added which includes testing for three (3) groups at once. At the end, students are tested on ALL one hundred and twenty (120) signs learned throughout the course.
*** This course is designed to INCLUDE complete beginners without any prior knowledge of ASL. Previous ASL skills are welcome but NOT required.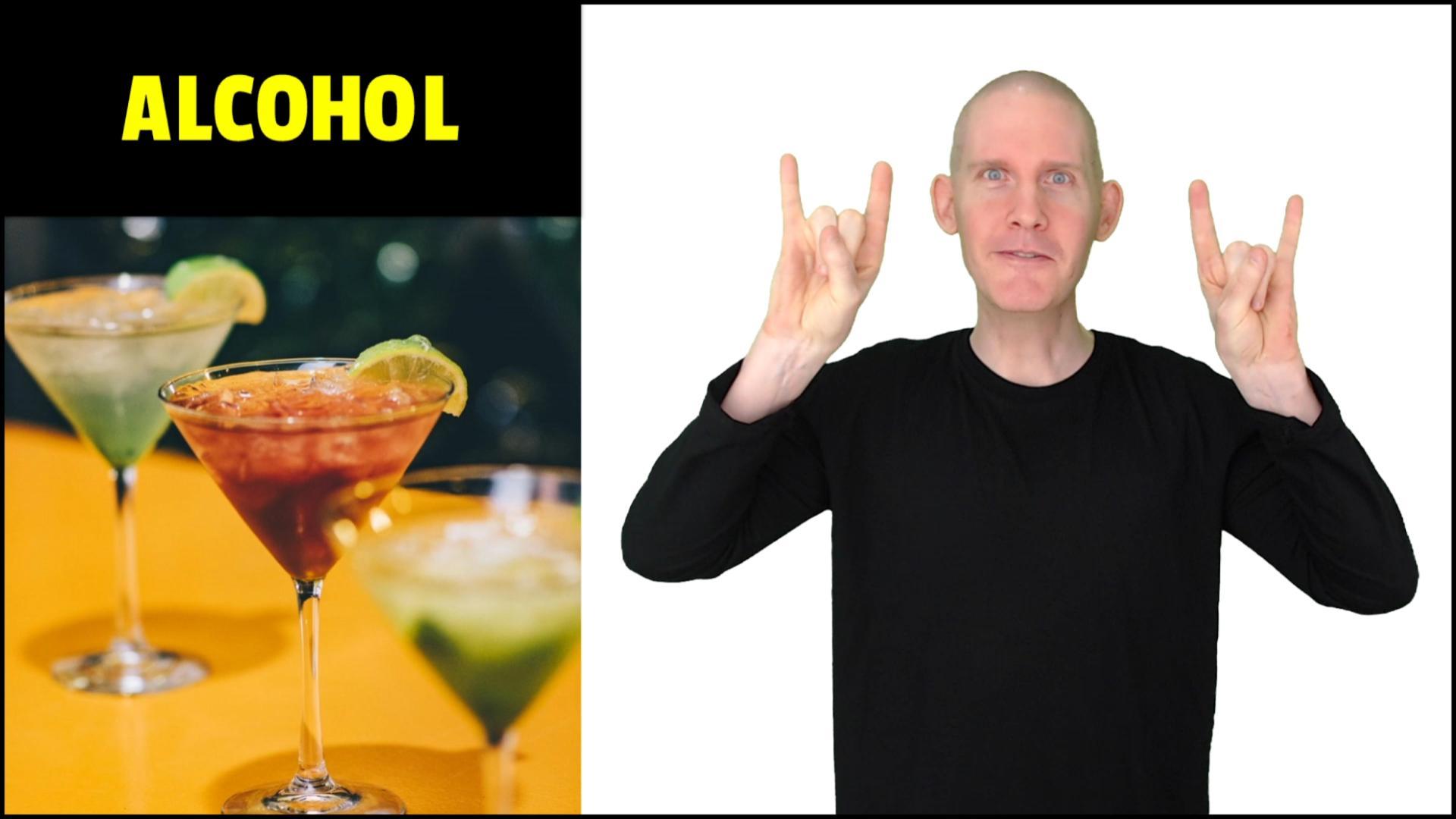 IN THIS COURSE: 
Students will learn to sign and understand one hundred and twenty (120) noun signs in American Sign Language

Group 1 signs: ADVICE, ALCOHOL, ANALYSIS, AREA, ATTITUDE, BLOOD, BODY, BONE, BORDER, BOYFRIEND

Group 2 signs: BUILDING, BUSINESS, CHRISTMAS, CLOTHES, COLLEGE, COMMON-SENSE, COMPUTER, COMMUNICATION, COMMUNITY COMPANY

Group 3 signs: COMPETITION, CONSEQUENCE, CORONAVIRUS, COUNTRY, CUSTOMER, DEBT, DECISION, DICTIONARY, DISCRIMINATION, DUTY

Group 4 signs: ECONOMY, EDUCATION, EFFORT, ELECTION, EMOTION, EMPHASIS, ENERGY, EQUALITY, FACT, GAME

Group 5 signs: GIFT, GIRLFRIEND, GOAL, GOVERNMENT, GROUP, HARASSMENT, HISTORY, HOMEWORK, HOOK-UP, HABIT, 

Group 6 signs: HOST, IDEA, IMAGINATION, INFORMATION, INSURANCE, INTERNET, LANGUAGE, LAW, LOGIC

MESSAGE

Group 7 signs: MEMBER, LIFE, MACHINE, MARRIAGE, MILITARY, MISTAKE, MOMENT, MONTH, MUSIC, NATURE

Group 8 signs: NEIGHBORHOOD, NEWS, OCEAN, OFFICE, OPINION, OPPORTUNITY, OWNER, PACKAGE, PARTY, PASSWORD, 

Group 9 signs: PATIENCE, PERSONALITY, PERSPECTIVE, PHILOSOPHY, POWER, PRICE, PROGRAM, REASON, RELATIONSHIP, RESEARCH, 

Group 10 signs: RESOURCE, RESPECT, RIGHTS, ROAD, RULE, SCIENCE, SERVICE, SIGNATURE, SITUATION, SOCIETY

Group 11 signs: STATE, SUBWAY, SUGGESTION, SURGERY, SYSTEM, TEAM, TEMPERATURE, TEST, THEORY, TRANSPORTATION

Group 12 signs: TRUTH, VACATION, VACCINATION, VISITOR, WEATHER, WEBCAM, WEDDING, WORLD, YEAR, YOUTUBE

Students will learn each noun sign individually to ensure correct handshape, hand position, and lots of practice

Students will be tested on their ability to sign and understand ALL noun signs taught throughout the course

Students will have breaks during the course where they can decipher inspirational quotes created with ASL letters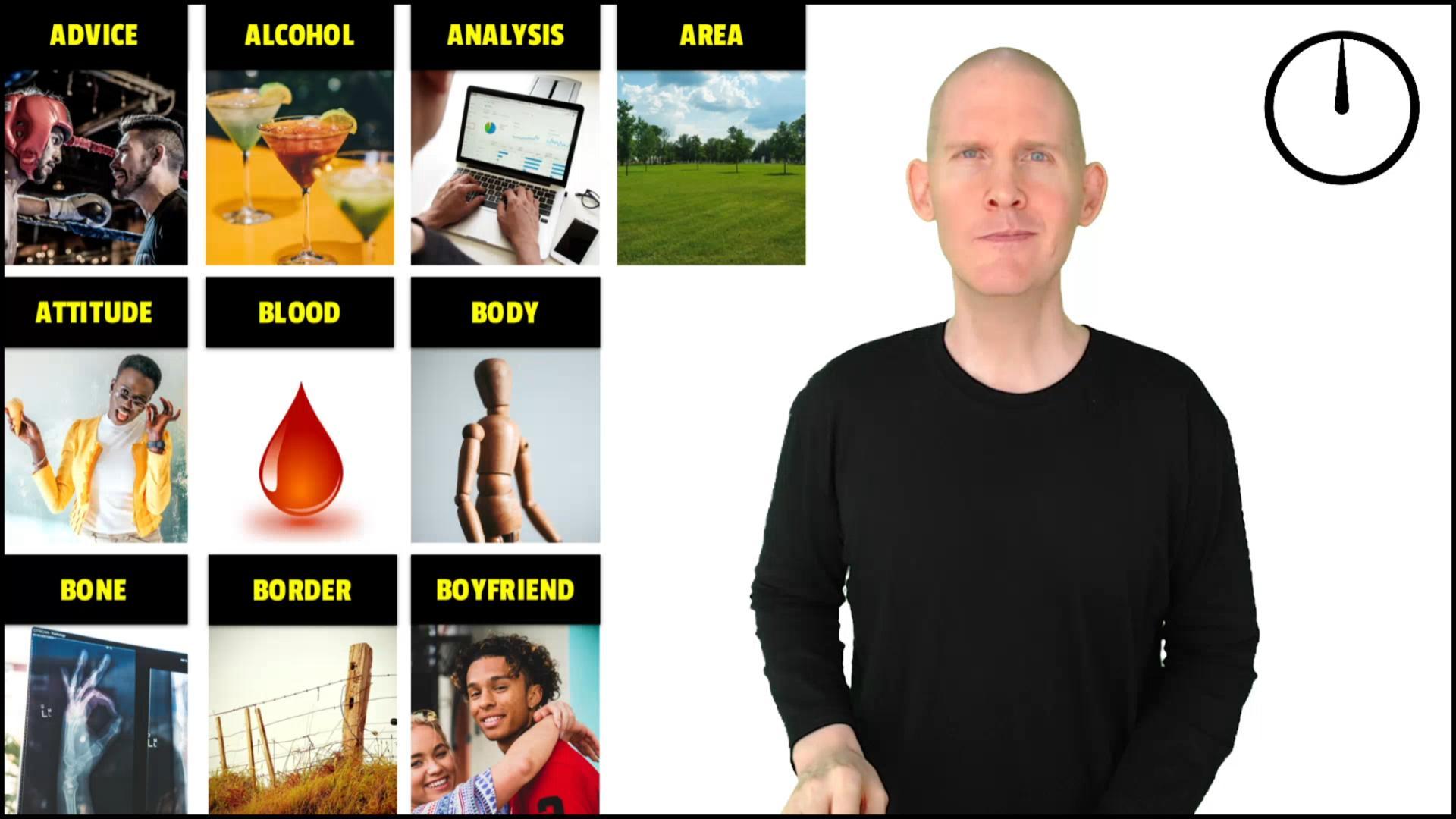 AFTER TAKING THIS COURSE:
Students will be able to correctly sign one hundred and twenty (120) ASL noun signs.

Students will be able to understand and recognize all of the one hundred and twenty (120) signs.

Students will have a larger vocabulary of signs to use when interacting with the Deaf community.

Students will feel more confident as they continue improving their ASL skills.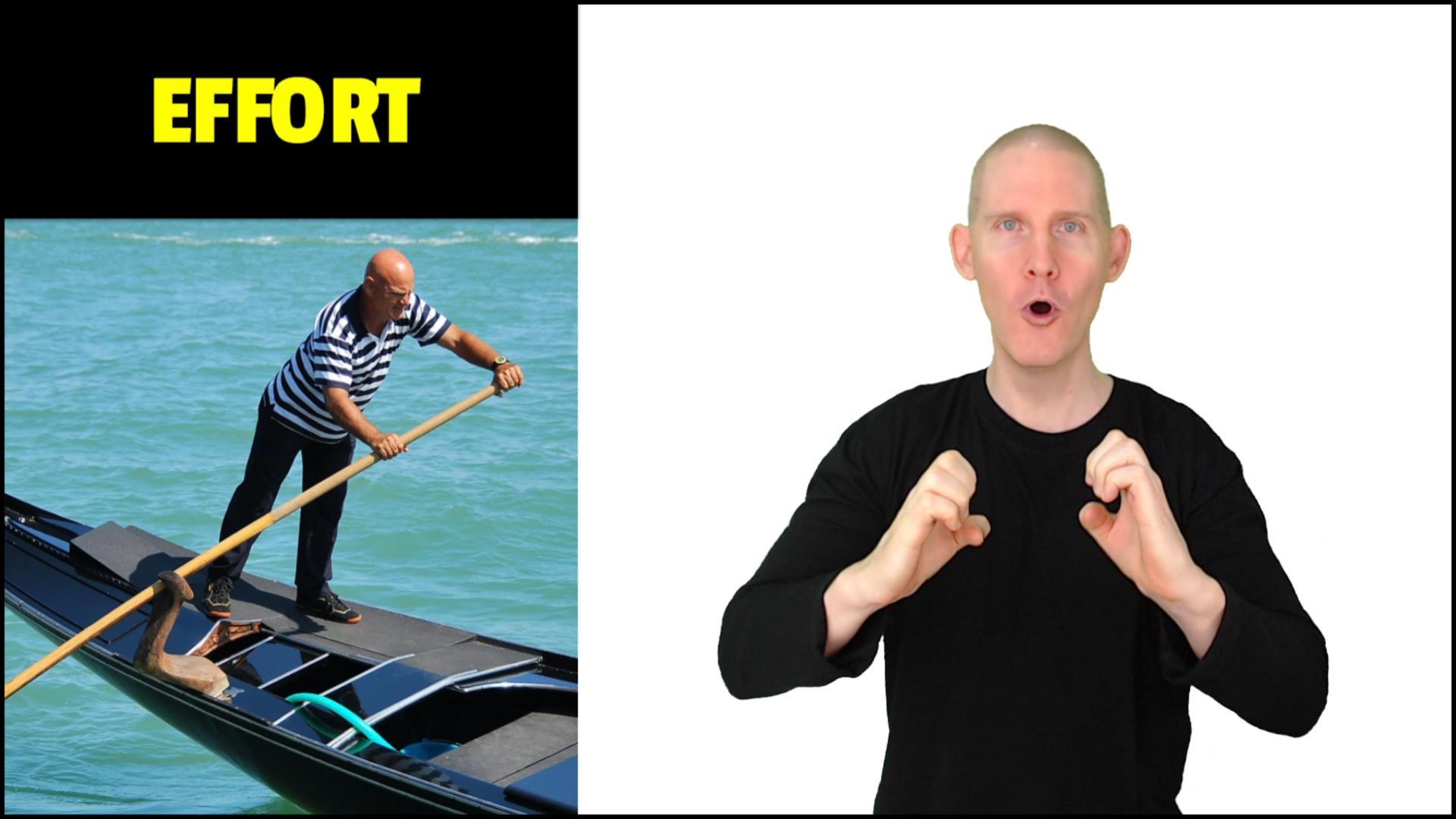 REQUIREMENTS:
A desire to learn, improve, and be more confident signing in ASL

A desire to enrich your ASL vocabulary and communication skills

A computer, tablet, or smartphone to access the study material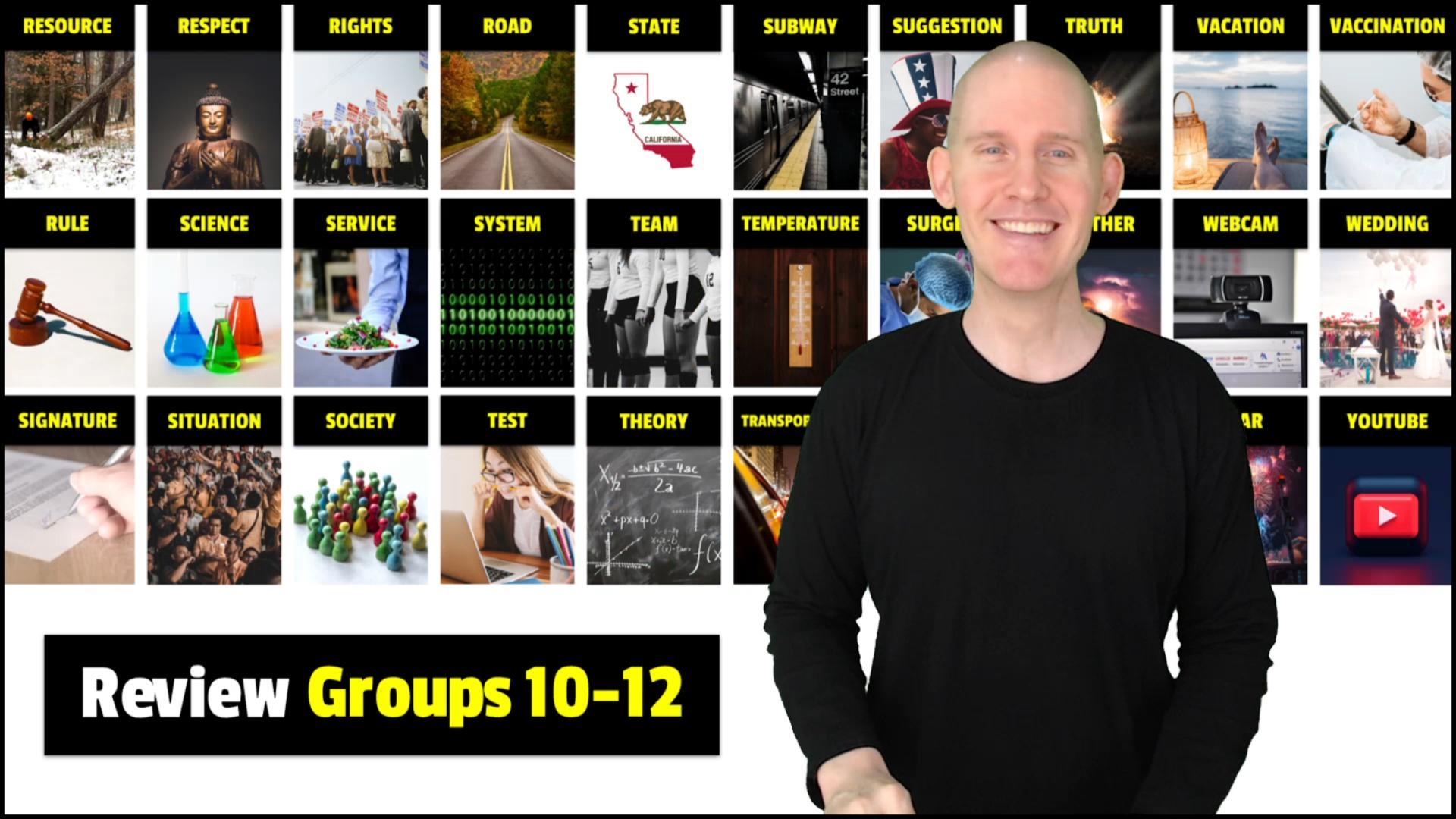 QUESTIONS:
What is the main focus of this course?
This course focuses on learning frequently used noun signs in American Sign Language. Students will learn one hundred and twenty (120) of the most commonly used noun signs in ASL.
Do I need to have prior knowledge or experience with ASL before taking this class?
No. This course is designed to include complete beginners without any prior knowledge of ASL. All necessary signs are taught step by step in the course.
Will this course test me on what is taught?
Yes. This course contains multiple review and testing sections where students have the opportunity to demonstrate their ASL signing and recognition skills.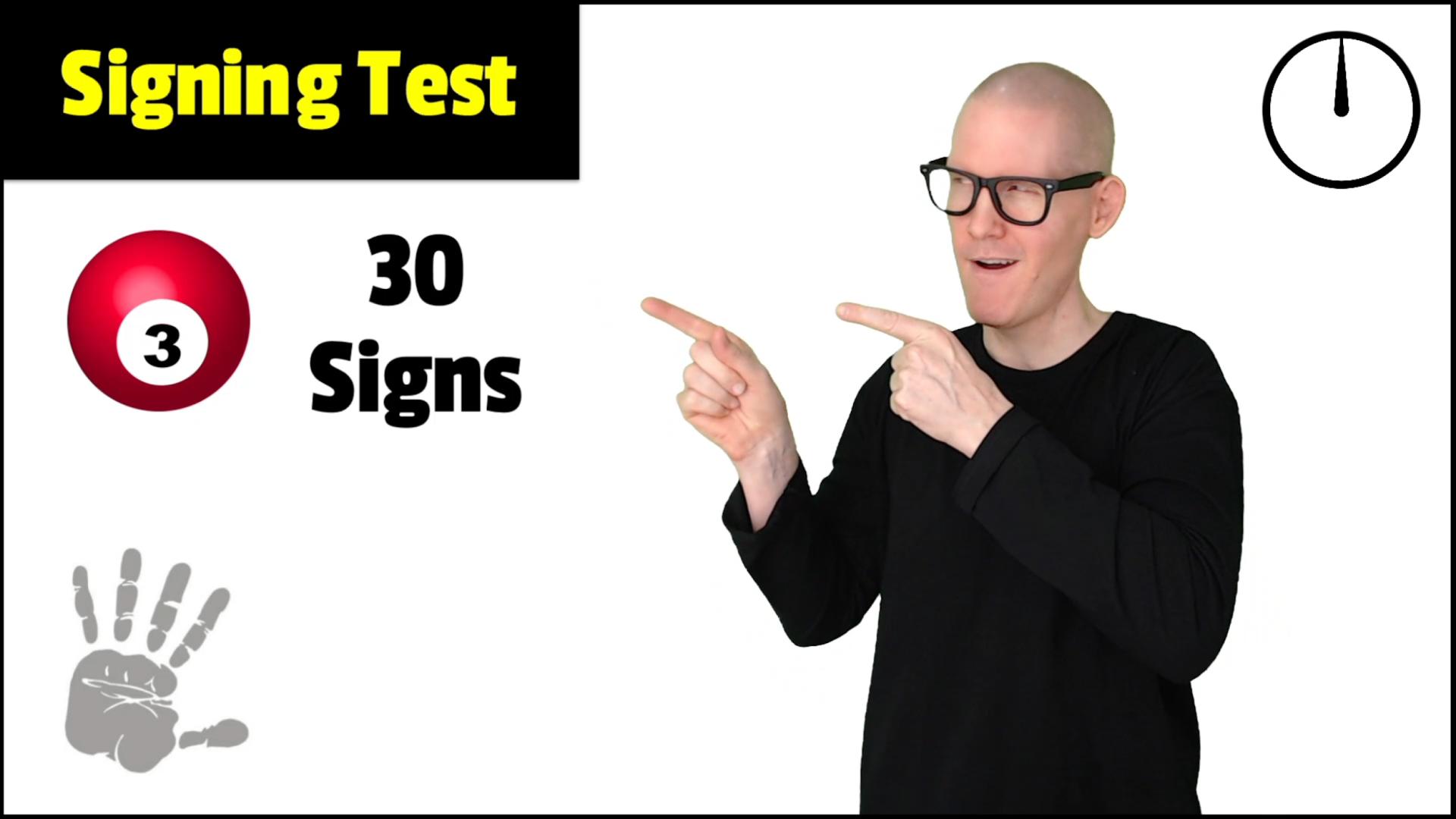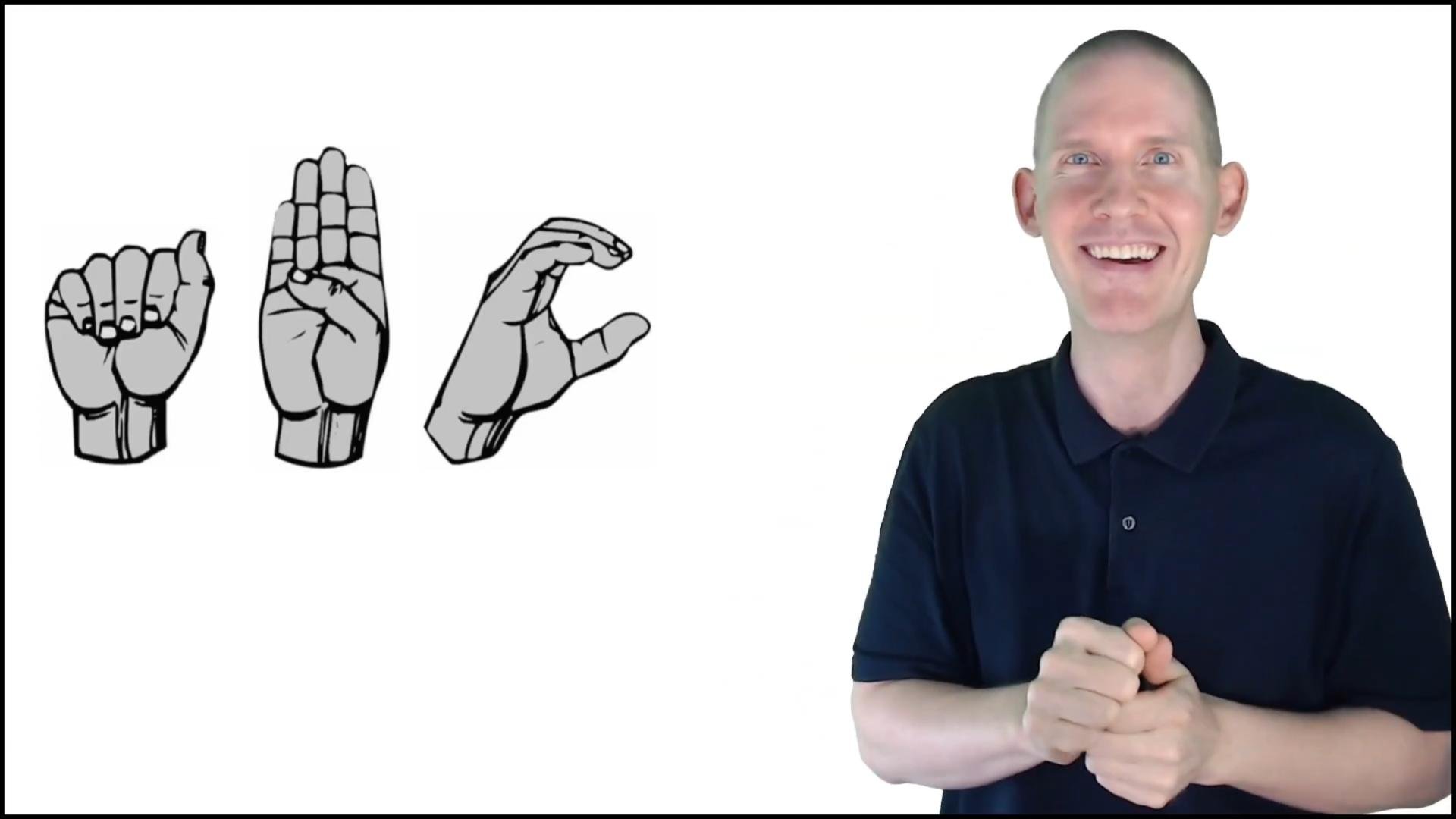 ABOUT THE INSTRUCTOR:
Hello! My name is Michael. When I was three years old, my younger brother became sick with spinal meningitis. In the process, my brother became deaf with an almost complete hearing loss. This difficult situation provided a unique opportunity for my family and I to become fluent in American Sign Language (ASL). My brother was not sent away to a deaf or hard of hearing school. He grew up with us, his hearing family, and we were active in the deaf community.

As a police officer and federal investigator, I often used ASL to communicate with and interpret for witnesses, victims, and perpetrators. I decided to create ASL courses because it's a useful and practical skill to have. Like learning any language, it opens your mind and creates the ability to communicate with a whole new group of people.
CLICK HERE FOR ALL OUR CLASSES

Hands-on Class Project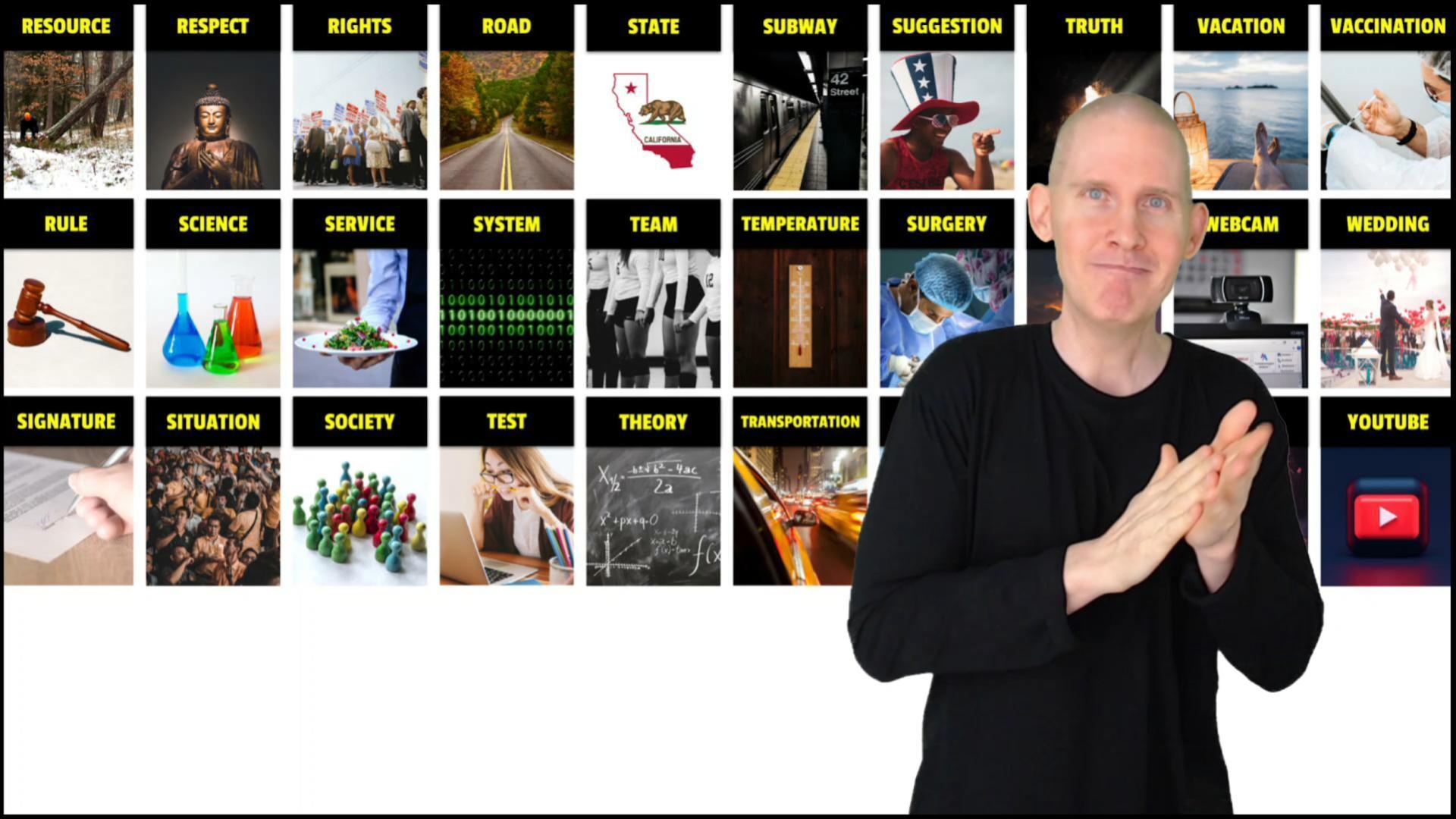 ASSIGNMENT
Put your new skills to the test and share your awesomeness with everyone.
STEP 1: Choose at least ten of your favorite signs from this course.
STEP 2: Practice the signs. Practice again and then practice some more.
STEP 3: Record a video of yourself signing the entire list of signs.
STEP 4: Upload your video to the Skillshare project gallery and share your accomplishments with everyone.
Have fun!

Continue your ASL studies with the following class:
Class Ratings
Expectations Met?
Exceeded!

0%

Yes

0%

Somewhat

0%

Not really

0%
Reviews Archive
In October 2018, we updated our review system to improve the way we collect feedback. Below are the reviews written before that update.
Why Join Skillshare?
Take award-winning Skillshare Original Classes
Each class has short lessons, hands-on projects
Your membership supports Skillshare teachers
Transcripts
1. Course Introduction: In this course, you're going to learn how to sign and understand noun signs in American Sign Language. How many? 120 of them, yes, that's right. Okay. We took those 120 signs and we divided them up into groups of ten. So that's 12 groups of ten signs, eat, okay? Each individual noun sign has its own video where we go over hand shapes and positions and movements would do it from side to side. So you can see all the angles. And we do lots of practice right? After we've learned ten signs in one group will do mini review. After we've done three groups of ten signs will do mid review. And after you've done everything in the whole course, we'll do final review and testing where we cover in test you on everything in the course? Yes. Okay. Now, what kind of testing do we do? Well, we always do it in two parts. We do signing and we do understanding. Very important to do both sides if you want to improve your skills, yes. And you might be thinking, okay, so what kind of nouns did you choose? Well, we took a long time to identify and make a nice long list. Nouns which will help you out in everyday use that are common, practical that you can use immediately, right? Okay, we got a lot of content. There's a lot for you to learn. You can boost her skills, sign practice, get tested, review. It's all in there. Okay. Have fun. Booster skills. 2. Explore | Group 1 Nouns: Oh, okay. The journey begins. Yes. Let's talk about what you're going to learn in group 1. Nouns. Advice, alcohol, analysis, area, attitude, blood, body, bone, order, boyfriend, okay, So we have a nice group of 10 signs, ten nouns. Now I'm going to teach them to you one by one. So yes, that means we have a separate video lesson for each sign where we're going to learn it, practice it, talk about it, hand shapes, hand motions, all that stuff. In After we've learned all ten signs. After you've learned all ten signs will have review. Yes. This means you'll be signing and you also watch me and try to understand what I'm signing. Well, Let's jump in. Let's learn these signs. Let's do it. 3. Learn | ADVICE: Here is the sign for advice. Okay, we're going to use both hands. I'm right-handed, so with my non-dominant hand for me left, I'm going to make this handshape right here. We're just gonna put the fingers together with Tom alongside. Now take that, put it down here. Pompeii seen down, That's our platform. With your dominant hand. I'm right handed. We're going to start by making this handshape right here. Basically just taking the fingers, putting them together and putting them down on the tip of the thumb. Okay. Now we're gonna put that down here about basically where your knuckles lineup just put it right down there and then we're going to go 1, 2. Advice. Advice. All right, once again, you've got that platform, this handshape right here, put it down there, and then just go 1, 2, right from the sign. Advice. Other side from the front again. All right. So starting from the rest position, sign with me. What's that? What is the rest position? Well, I call it the rest position right here where our hands are like this. If you've ever watched sign language interpreters when they're not signing, their hands are usually about here somewhere because PVD, they can quick springing action is start signing. Okay, So when we're doing practice signing, we're going to start in the rest position. So sine with meaningless started the rest position. We're going to assign advice three times. Here we go. Advice. Advice. Advice. Okay, So in this sign, to remember it, It makes me think of like someone is hiding in weight down here and they're just waiting to spring out and tell you what's on their mind here. And then all sudden law become Howard their advice. Or you can maybe like there's a horn or something. But either way, you have it down here and it just comes out twice. Now this sign, this concept also works for other words in English, couple are influenced like I'm under their influence on her influence. And what else? There was another one. It was Counsel? Yes. Council. Like I'm going to you for Council because I need your advice and counsel. Okay. So quick review. Non-dominant hand for me. I'm right handed, so my non-dominant hands right here make this handshape flat hand, put it down there, that's our platform. Now take your dominant hand, going to go like this, make this handshape. We're putting it right here about lined up with our knuckles. Start on one side, like you're hiding down here and then just jump out twice. 1, 2. Advice. Advice. Okay, we just talked about how to sign advice. 4. Learn | ALCOHOL: Here is the sign for alcohol. Okay. We're going to use both hands and the hand shapes are the same. Yes, we're going to use devil horns like Iraq in how these hand shapes right here. Now how do we make them? Well, sterling, this, the middle two fingers, you're going to go down and then you're going to pin them down with your thumb. We can say your thumb in front. So we have the horns, right? Okay. So I'm right handed with my non-dominant hand, my left hand, I'm going to put it about right there. Now me take my dominant hand. I'm just going to tap twice on top. So I'm using this part, the bottom part of the hand-write here, just going right on top one to alcohol. Alcohol from the sign. Alcohol from the other side. Alcohol from the front again. Okay. So starting from the rest position, sign with me. Let's do it three times. Alcohol. Okay. So maybe a way to remember is that in certain situations, alcohol is the demo. So remember the devil horns? Yes. Okay. Non-dominant hand put it down their dominant hand tap twice on top. Alcohol. Okay. We just talked about how to sign alcohol. 5. Learn | ANALYSIS: Here is the sign for analysis. Okay, the hand shapes are the same for both hands. Wonderful. We're going to use the letter V, both hands, right? We'd also say the number two. We can say Peace man, right? Now, how do we make a V? Well, go like this pinky ring finger down, thumb on the front, in the front, on top of the ring finger. Now we have our v's, Okay? Now the idea is look at them as kind of like clause you're trying to dig into things, are snooping around because you're analyzing the performance analysis. So you're digging around, okay, so that's the idea. Now, take those bees, put them above here, right palms facing forward. Now we're going to do two motions. We're going to go like this one too. All right. So there's a bag of information, whatever we're digging into it. All right. One to kind of a circular motion right here. One to like there's something there and you're opening it up, opening it up. And analysis. Analysis from the sign analysis. Other side. Analysis from the front again. Okay. Rest position, sign with me. Let's do analysis three times. Analysis. Analysis. All right, quick review. Hand shapes are the same letters V, or we could say Peace man, right? So we have those bees, put them in bold here, fingers straight at the top. Now we're going to bend the pink bunny ears down as we go down one and go down again. All right, so a straight curved, straight curved and analysis. Analysis. Analysis. Okay. We just talked about how to sign analysis. 6. Learn | AREA: Here is the sign for area. Okay. To use your dominant hand. I'm right handed in the handshape is just a flat hand, fingers spread apart. Now we're going to put it about here, Pompeii seen down, and we're just gonna do one circle, right? So it goes from the outside to the inside in that area? Area. From the side. From the other side. Okay. From the front again area. All right. Rest position sign with me. Let's do it three times. Area. Area. Okay. So what would be a way to remember this? Well, pretend your wife's unit car, you're watching someone watching a car and they're going to watch the roof of the car. So they go like this and they go like this. Same motion, same handshape for area. Area. All right. Remember open hand flat right there, palm facing down. Use your dominant hand and just do a circle. One time. Area. Okay. We just talked about how to sign area. 7. Learn | ATTITUDE: Here is the sign for attitude. Okay, use your dominant hand. I'm right handed. We're going to make the hand shape of the letter a from the alphabet a, B, C, write a. How to make an a? Well, go like this, bring us together, put them down here. Like you're going to start making a fist but just leave the thumb here at the sign. So we have a okay. So take that a, we're going to go about here. We're going to go a circle and then in, alright, so the A's here, bring it over here, do a little circle and then goes straight into your chest. So when you finish, you're still in a handshape reduce pressing against your chest in this part right here is what's touching your chest. All right, so we have added two. We have the circle and then bring it in. Attitude from the sign. Attitude. From the other side. Attitude. All right. From the rest position, sign with me. Let's do attitude three times. Attitude. Attitude. Okay. Quick review, handshape, going to use the letter a, put it about here. Do a circle. When you're doing the circle, you can approach to get closer to your chest. Just make sure you leave some space out there. So do that circle and then you can bring it in attitude. Now when you're signing this sign, facial expressions are so important in American Sign Language, they add so much information. So I'm going to assign this in two different ways. And you think, what extra information might I be trying to convey even though I'm not signing anything extra? Alright, here we go. Okay. Hopefully, when I went like this, you might be thinking, Oh, he's talking about someone with the horrible added to it and just don't want to be around them. Or when I went like this, there must be someone with an attitude we like. All right. Just by putting the facial expression, you get so much. Oh, right. Oh, we just talked about how to sign attitude. A handshape, make that circle, bring it in. Attitude. Okay. 8. Learn | BLOOD: Here is the sign for blood. Okay, we're going to use both hands and the hand shape is exactly the same for both hands. Were just can use open hand here, fingers spread apart, just a flat hand. We'd also say the number 5, right? Okay, So I'm right-handed, non-dominant hands still in the hand five handshape here. Gonna put it right here, right about right there. Pompeii seen in, now this one's not going to move, it's just going to hang out there stationary. Dominant hand for me, my right hand, I'm going to start on top a little bit on the outside, a little bit in front and I'm just going to bring it down and flood or the fingers. Blood, blood. Imagine like a trickle of blood and it's trickling down and we're fluttering to show trickling number like that. Blood from the side. Other side. Blood from the front again. Blood. Okay. Rest position sign with me. Let's do it three times. Blood. Blood. Okay. Quick review. Number five, handshape, just open hand, fingers spread apart, non-dominant hand. Put it about here. It's just going to stay there. It's not going to move dominant hand here a little bit up and a little bit out front so we can go in front. And as we're going down, we're going to have blood or the fingers. Blood. Blood. Okay. We just talked about how to sign blood. 9. Learn | BODY: Here is the sign for body. Okay, the hand shapes are the same for both hands. We're just going to use this handshape right here. Flat hand, start like this, bringing together tongues onside. Now we're going to turn them in and they're going to not be touching but parallel with each other. Straight line here. Now we're going to tap once on our chest, tap ones on our stomach, abdomen area. So we have body. Your body from the side body. Other side. Body. From the front again. Okay. Starting from the rest position. Sign with me. Let's do it three times. Body. Body. Body. Okay. Hand shapes. Remember flat hands here, fingers together, thumbs alongside, turn them in palms facing in there at about the same level. Now start on your chest, tap once, and then go down and tap on her stomach. Once again. 1, 2 makes body. Body. Okay. We just talked about how to assign body. 10. Learn | BONE: Here is the sign for bone. Okay, the hand shapes are going to be the same for both hands. Now let's start by making the handshape or the letter B. Let's make the letter V. Or we could just say Peace man, or the number two. How do you make a V? Go like this pinky ring finger down, take your thumb, put it in front on top of the ring finger. Now we have these hand shapes right here. Now pretend these are bunny ears. Now Ben the bunny ears down. Suddenly we have the hand shapes we need for bone. I'm right handed with my non-dominant hand. I'm going to put it here, palm facing in, okay, and a little bit space out with my dominant hand, I'm going to put it in front. Now we have a cross here and we're going to bring them together twice. 1, 2 bone, bone from the sign. Bone. Bone, other side. Bone from the front again. Okay. Rest position. Sign with me. Let's do it three times. Bone. Bone. Okay, quick review of the hand shapes. Start with the letters V. Take those bunny ears, curve them down. That's what we need. Non-dominant hand right there. Pompey's in, in dominant hand right here. We're crossing at about the risks. Now this one too. Now you can say they're moving in towards each other. You could just tap with one hand if you want. That's point 1. 2 is bone. Bone. Okay. We just talked about how to sign bone. 11. Learn | BORDER: Here is the sign for border. Okay, the hand shapes are going to be this same. We're going to use the letter I like from the alphabet, right? How do you make an eye? Well, just stick of your pinky. That's one way. The longer way we can say like this, bring us together. Index, middle and ring finger down. Put your thumb in front. Pinky stick it up there. That's an eye. Okay. Let's take those eyes. Let's put them here so the palms are facing in. We're going to touch the tips of the eyes and we're just going to pull straight out. We're going to make an imaginary line in the air, right? That is border. Border from the sign. Border. Border. Other side. Border. Okay. Rest position. Sign with me. Let's do border three times. Border. Okay. A few things about this sign. Let's see, where should we start? Let's start with an alternate sign for border. This is a different sign, same meaning, just another way of doing it. Okay. I've also seen borders sign like this. Okay. We're, the hand shapes are like this. Non-dominant hand goes in front, take this one and just slide up your arm. Makes sense. You know, there's a nice line there. There's a border. There's the border, right? That's an Alternate Version to be consistent in this course, I'm always going to assign border like this with the eyes border. Okay. Now this sign here, the same movement, the same sign can mean multiple different things depending on the context. Okay? So I've seen that this can be used for line, string, wire. Okay? So how do we know what it means? Right? Well, just think of it this way. It's spoken English is very uncommon for someone to walk up to you and say a single word like Pi. And expect you to know if they mean, you know, Pi, the prover to eat cherry pie, or the mean pi, like the magic mathematical concept 3.14. Now it's the same in sign language is very rare, probably won't happen, that someone comes up to you and just goes like this with absolutely no context. Well, we're talking about countries in a dike, this border, right? We're talking about fixing something. I might need the wire, like drawing something or I need a line or my shoe is I need to fix up the tie someone up string. So to make a long story short, you will have contexts to know what this means. Now in this course we're just going to focus on the sign for border. All right, so every time I be going like I'm going like this, I'm going to be talking about border o k. All right, quick review. Hand shapes going to be the letters I, the letter I take those tips of the eyes and put them together and just go straight out. Border. Border. Okay. We just talked about how to sign border. 12. Learn | BOYFRIEND: Here's how we assign boyfriend. Okay, now you're thinking, I think I said two signs there and I would say yes, just like an English, It's a compound word, boy, friend. Well, in American Sign Language we have boy, one signed in print, another sign. Okay. You're going to learn two signs in this lesson. Oh, right. Okay, so let's start with boy. Here's what it looks like. Boy, boy. Okay. So the hand shapes going to be like this fingers together. It's going to be coming down and touching the thumb right? Now, just close it up once you get to your forehead. Boy, boy. Boy. From the other side. Boy. Boy, front again. Boy. Oh, okay, now we need friend. Here's how we signed print. Alright, use both hands, we're going to use our index fingers. I'm right-handed, so my non-dominant hand, I'm going to put that one right here, palm facing up, index fingers sticking out. Take my dominant hand, that index finger, put it on top. All right, Now we're going to go one. Now we're going to flip over and do the exact same thing, just on the opposite sign. All right, so I'm dominant hand right here, that one's on top and they'll flip it. That is friend, friend, friend, right? Notice how the index fingers don't really stay straight. The kinda curb a little bit. You can see that print from the side. Friend and other sign from the front again. Okay. Now we have two signs. We have boy and we have friend. Now to make boyfriend, We just make sure there's not a lot of space in between the word to make it a compound sign. So you wouldn't go like this. Right? That would be two separate boy and then there's a friend we want boyfriend. So put them together. Just like that. There we go. Boyfriend from the sign. Other sign. From the front again. Okay. So basically it should just try to be fluid when you're going boy, to friend. Okay. Rest, position, sign with me. Let's do boyfriend three times. Boyfriend. Okay, good, good. So we learn quite a lot in this lesson. We learned three ways, three different words, really, boy, friend and boyfriend. Okay, so for boy, Remember, go like this. When you get to your forehead, close it up. Boy, boy. Brand index fingers, non-dominant hand, their dominant hand on top, one to print. Now for boyfriend, put them together. Nice fluid movement. Boy print. Boy print. Okay, we just talked about how to sign boyfriend. 13. Explore | Group 1 Test: Once this, you've already learned how to assign 10 nouns, 10 signs. Well done, way to go. Well, I think no, I know that it's time for testing. Okay. Right. And you may want to pay attention because this is the testing format for the entire course. All right, when we do review and testing, we do it in two parts. The first part will be signing, see that hand down there. The second part will be understanding recognition. Okay, let's talk about the first part. Well, better yet, how about I just show you, okay, We're gonna do a mini quiz, which is the signing portion. All right, so you watch me and then we'll talk about it. And I'm going to put on my glasses because when I put on my glasses for review, I don't talk. I'll be quiet or just communicate in sign language. Okay. So here's an example testing part where you sign, okay. Okay, So did you see how it worked? Well, first I did a little intro. Alright. So I said, You look at that, whatever's out there and you sign. Then I would think I gave you a thumbs up or something like that and you can do it. All right. Then I went to this screen where actually had the sign and it was something that we've already learned. All right. So I'm only going to show you things that we've already went over, right in this section is specifically going to be group 1 nouns. Okay. Showed it to you and I ran the timer. The timer is per three seconds. Now this is your opportunity. You can pause the video, pause the timer, and take your time and sign wherever I show you or you can raise the timer and try to do it more quickly. I'm going to show you stop in random order. Alright, so keep guessing. Right after the timer is up, then I'm going to sign, alright, and you can compare your answer with mine. All right. So that is the first part where you're signing you sign. All right. In the second part of review, in the understanding part, the recognition part, there won't be a timer, but you will have me. Okay? So I'm going to assign a 100 and you try to understand what I'm doing. Now let's do the same thing. I'll show you how it works. A little quick mini quiz here, and then we'll talk about it. Okay, glasses on. Okay, So that is how the understanding review sections work. Our right. So I did a little introduction. I said I sign. You. Take a look at me, watch what I'm doing is doing something and then ah-ha, when you understand what I'm doing, to shout it out loud. All right. So I signed it and then I showed you the answer and I signed it again. Okay. So remember when we do review in this section, this review part only, we're going to be doing group 1 signs always drawn a match, a random order. We were to review parts one, we're used sign and then also an understanding part where I sign in both parts of the review where in the glasses only communicated in sign language. All right. What an opportunity. Let's do it. Let's jump in and do some review. 16. Explore | Group 2 Nouns: Okay, We're in group two nouns. Let's explore and take a look at what you're about to learn. Building business, Christmas, clothes, college, common sense, computer, communication, community company. Okay, we're going to learn each of these signs one by one. We have a separate video lesson for each one. And after you've learned all the signs, we're going to test you? Yes. Okay. Let's do it. Let's jump in. 17. Learn | BUILDING: Here is the sign for building. Okay, we're going to use the same handshape or both hands go like this. Fingers together come alongside. Now we have these flat hands here. We're gonna take the fingers and bend them down a bit so we have these hand shapes. Okay. All right. So I'm right-handed with my non-dominant hand. I'm going to put the first one right here. Now pretend it's like the bottom level of the building that we're about to create, right? Take my dominant hand. I'm going to make another level. Now I'm gonna make another level, and I want to make another level. So we're just going to go 1, 2, 3. And that's the sign for building 123 from the side building. Other side building. From the front again. All right. Rest position. Sign with me. Let's do it three times. Here we go. Building. Building. Okay, So a quick review. Hand shapes like this. Bend them down and we have a level. Take make another level. We're going to slide out, make another level and make another level. So 1, 2, 3, we have building. So we're just building up, making a higher building and adding levels as we go. Okay, one thing about this sign, I have seen an alternate version. We're still building something, but instead of using hand shapes like this, it's going to be just two fingers, right? Like that. And go 1, 2, 3. So you may see that version of building 123. To be consistent in this course, I'm going to be signing building like this throughout with this handshape right here. Okay. So all right, so just build up the levels. You get to the top and that is building, Alright? Okay, we just talked about how to assign building. 18. Learn | BUSINESS: Here is the sign core business. Okay. We're we can use both hands. The hand shapes are the same. Yes, we're going to use the letter b for both hands. How to make a be, well, go like this. Fingers apart, bring them together, take their thumb, put it in front. There we go. We have two Bs. Now I'm right-handed. So with my non-dominant hand in the B handshape, I'm going to go like this. We have a platform. Okay? My dominant hand, I'm going to use the bottom part, the base of the hand here, and I'm going to make contact twice on my other arm, 1212. So we have business. Business. Okay. Notice I'm staying in the B handshape the whole time. Business from the side business. Other side. Business from the front again. Okay. Starting from the rest position, sign with me. Let's sign it three times. Business. Business. Okay, quick review. Hand shapes going to use the letters be like from the alphabet a, B, C, B. Non-dominant hand. Put it down there, make a platform dominant hand. Use this part here. It may contact twice with on your other arm, one to business. Business. Okay. We just talked about how to sign business. 19. Learn | CHRISTMAS: Here's how we assign Christmas. Okay, use your dominant hand. I'm right handed, so I use this hand and the hand shapes going to be the letter C, like in the alphabet, right? How do you make a C go like this? Fingers together. Now curve the fingers so you have something that looks like a C, a hub, okay, take that C tilted forward and we're going to start right about here. Now we're just going to slide up so that our c is basically upside down. Alright, Christmas. Christmas. Alright, so visualize with me for a moment. Imagine a Christmas wreath, alright, the big read as a whole in the middle, right? Kinda like the shape of a doughnut hole in the middle. So we have the wreath, the hole in the middle. And we're going to take our C handshape. We're going to go inside the wreath, like we're grabbing onto the reef and we're just going to slide up. So inside the wreath, grabbing onto the inside and this slide up, stay in the hand. C handshape the whole time. Christmas. Christmas. From the side. Christmas. Christmas. Other side. From the front again. Okay. Resting position sign with me. Let's do it three times. Here we go. Christmas. Christmas. Okay, quick review. Handshape. Letters C are right. Now. Imagine there's a big wreath here and imaginary wreath with the hole in the middle. The hole in the middle, stick your C in there like you're grabbing the inside of the wreath and just slide up. Alright, so we have Christmas. All right. We just talked about how to sign Christmas. 20. Learn | CLOTHES: Here is the sign for clothes. Okay, we're gonna use both hands and we're just going to use this handshape right here. We could say the number five handshape produced all the fingers stretched out. Okay, we're gonna use both hands and the movements are going to happen at the same time. We're going to use the tips of the thumbs and we're going to touch twice on our chest. Now it's a downward movement. Both loads from the sign. Floats. Other side. Loads from the front again. Okay. Starting from the rest position, sign with me. Let's do clothes three times. Clothes. Clothes. Both are right. Quick review hand shapes are the same just like the number five, I had to open hand, take those storms, use the tips of the terms. Go to your chest in slide down quickly, twice. Clothes. Clothes. Okay. We just talked about how to sign clothes. 21. Learn | COLLEGE: Here is the sign for college. Okay, we're going to use both hands and the hand shapes or this seam. We're going to use these flat hands right here. How do we make them fingers apart, put them together, them alongside. Okay. Now, I'm right-handed with my non-dominant hand. Take that handshape, put it down here. Now we have a nice platform, okay, with my dominant hand, I'm going to go like this. I'm going to tap once and I'm going to go up and make a circle, kind of tap and then hover. So we have college. College. All right. So you notice there's a tab and when I come back up, I'm hovering a go a little bit in front and then I come back. So when I finish, my dominant hand is hovering directly on top, above, above my non-dominant hand. College. College from the side. College. Other side. From the front again. Oh, okay. Let's do it three times, starting from the rest position, sign with me. There we go. College. College. College. Interesting note, the sign for school is like this. Alright, so you're going like this with open hands like that school. Now it makes sense that higher learning would be higher up the signs a little bit higher, right? So one tap. College. Okay. Quick review hand shapes, flat hands like this, bring you together thumbs alongside non-dominant hand. Put it down here, palm facing up that your platform dominant hand. We're going to tap and honor way up. We're going to hover, do a little circle, come back, and be directly above our non-dominant hand. College. College. Okay. We just talked about how to sign College. 22. Learn | COMMON SENSE: Here's how we assign common sense. Okay, use your dominant hand. I'm right-handed. Now we're going to use two letters from the alphabet. Those would be the hand shapes. We're going to start with a C, Then we're going to change to an S, right? So first, how do you make a C? Go like this? Fingers together. Now curve them down so you have a C. Alright, so that's a C. Now in S is just a fist and I put up your dukes, I have two Ss, one way we could say fingers together, come down the arm in front, That's an S, right? So we have a c, we have an S. Okay, so let's start with the C. Remember dominant hand. I'm right handed, so I take my C, I'm going to turn it right here. So the DMS right here, take the tip of the thumb, touch the side of my forehead. Nominee come out in Millikan, S, C, S, C, S. So that's the sign for common sense. From the sign. Other sign. From the front again. Okay, rest position, sign with me. Let's do common sense three times. Common sense. Common sense. Okay. The facial expression during this sign depends on the situation, but you know, the expression that common sense is not so common. So if you want to sign it, you might have looked like this. You know, like what happened to the commonsense? Just a neutral face. My work as well, common sense. Okay, quick review. Remember we started with that C handshape right here. Take the tip of the thumb, put it at the side of your forehead. Right. So we have the C up there, come out and make the S. All right? Common sense, right? When the S is up here, it's tilted kinda like you're holding a sign of a mug or a picture or something. Okay. We just talked about how to sign common sense. 23. Learn | COMPUTER: Here is the sign for computer. Okay, we're gonna use both hands with your non-dominant hand. So I'm right-handed, non-dominant hand, just make a fist. Alright, now lay it down here so we have a platform, okay? Dominant hand make the letters C like an alphabet, a, B, C. They have the C there. We're going to use the bottom part of the thumb right here, the outside partner. Suppose, now we're just going to go 1, 2 on the back of our forearm right here, but the wrist area, we're going to make contact. Okay. So one to computer. Computer from the sign Computer. Other side computer. Okay. From the front again, starting from the rest position, sign with me. Let's do computer three times. Computer. Computer. Okay. Quick review. Non-dominant hand. Make that fist laid down their dominant hand. We have the letter C. Okay, go like this, 1, 2, making contact with the back of the thumb. 12 is computer. Alright, note about this sign in alternate version that I've seen is using the same hand shapes C. But instead of doing something like this, it just uses the tip of the thumb and goes 1, 2 on the forehead computer. Computer. Now you might be thinking, we don't want to get out a real life. Which one should I use? Well, if you're not sure, you could just use one and see how it goes. If you're able ask your local deaf community and see how they do it and then sign it how they are. So in this course to be consistent throughout, whenever you see me signing computer, I'm going to sign it like this computer. Okay. We just talked about how to sign computer. 24. Learn | COMMUNICATION: Here is the sign poor communication. Okay, we're going to use both hands. Now there's different movements, but the hand shape is the same. It's going to be the letter C, like the alphabet. Right fingers, the other carbon down. So we have to seize. Now I'm right handed, so I'm going take my dominant hand. And when I put it here close to my chin, my mouth area, non-dominant hand. I'm going to put it about the same level just farther out. Now we're going to do is switch three times 1, 2, 3. Communication. Communication from the side. Communication from the other side. Communication from the front again. Okay. Starting from the rest position, sign with me. Let's do it three times. Medication. Medication. Okay. Quick review. Hand shapes using the letter C, dominant hand, starting closer to your mouth, don't actually have to touch just about here, but the same level as your tin, non-dominant hand C handshape, put it out there, seem level. Now we're just going to switch 123 medication. Okay. We just talked about how to sign communication. 25. Learn | COMMUNITY: Here is the sign poor community. Okay, the hand shapes are the same like this. How do we make it well, rehearsed together DOM alongside. Now we're just going to make like a little steeple appoint the mountain peak over here. We're going to go one and then do another one over here. Alright. Community, right? You probably noticed the tips of my fingers come together. They come apart slightly and move over. And then I go again, merely from the sign. Merely from the other side. Melody from the front again. Okay, rest position, sign with me. Let's do it three times. Immunity. Immunity. Okay. This sign like this works for community and it also works for city, city. Like a city, town like that. Now, thinking, how do I know which is which, right? Well, in any language, it's very uncommon for someone to walk up to you to say a single word. You know, all by itself. We usually have contexts. We almost always have contexts in spoken English, right? Someone walks up to you and says, pi. Now you're probably most likely thinking like cherry pie or delicious, That's eat. But maybe they're talking about the mathematical equation 3.14, right? How would you know? Well, you know, because there's contexts, it's really uncommon, never heard. So who just walks up and says one word? So the same for this. Is it city or is it community? Use the context, you're going to have more information. Okay, quick review and shapes you like this. All right. Go like this. Go one make a little steeple and another one over here. So we have community. Okay. We just talked about how to sign community. 26. Learn | COMPANY: Here's how we assign company. That's it. Okay, we're going to use two letters from the alphabet. I bet you can guess which ones are ready. We're gonna do a C and then we're just gonna immediately do an O. All right, so that's going to be how we sign company, right? How do we make a C? Well, go like this, bring us together. Now we're going to curve and it just looks like a C. Now how do we make an O? Just put the tips of the fingers together. So we're just gonna do it in a fluid movement. C o company from the sign. Other side. From the front ahead. All right. So our doing is a little bit of finger spelling, right? This is the sign for finger spelling. All right. Rest position. Sign with me. We'll say fingerspell with me. Let's do company three times. Company. Okay. When using this sign, I have seen sometimes where people will go see and then oh, they'll do all little bit to the side. Co, CO, It's also common this hominid do it throughout this course, just go like this. Ceo or the hand does it really changes. The sea. Just becomes an OH, so the placements not moving around. Co Okay. So great review for company. Just do two letters back-to-back, c, o. All right. We just talked about how to sign company. 29. Explore | Group 3 Nouns: Well, hi dog, it's grouped three nouns. Let's explore what you'll be learning. Competition, consequence, coronavirus, country, customer, that decision, Pictionary, discrimination, duty. Okay. You know, we have a separate video lesson. Each sign, we're going to practice it, learn it, talk about it, hand shapes, position, all that stuff. Right after we got through all the signs, we're going to have review in testing. Yes, we'll leave that for later. Right now let's jump in. Learn these signs. Here we go. 30. Learn | COMPETITION: Here is the sign for competition. Okay, we're going to use the same handshape or both hand is going to be the letter a from the alphabet like ABC a. How do you make an a? Well go like this. Fingers together, bring the fingers down like that, and then just put the thumb alongside. We have two a's. Okay. So I'm right-handed, so this is my dominant hand. I'm going to put my first a right here. Now it's tilted back a little bit. So the tip of the thumb is pointing towards my face. I guess I'm gonna take my non-dominant hand, take that a and tilted forward so the tip of the thumb is pointing away. Okay. Now all we're going to do is rotate a few times. We're going to go 1, 2, 3, as well as we could say, tilt back and forth. Petition. All right. So 1, 2, 3, competition. All right. And we're not they're not moving at the same time. They're not tilting together. They're tilting opposite. Competition from the sign competition. Other side. Competition from the front again. Okay. You started from the rest position. Sign with me. Let's do it three times. Competition. Competition. Okay? This sign can also work for the English words contest. I can work for sports. So all the same sign. It just depends on the context where we're trying to communicate, right? In this course throughout, I'll be using a port competition. Okay, quick review. Hand shapes are the same. We're going to use the letter a. Now dominant hand started here, tilted backwards tip of the thumb towards you. Non-dominant hand a over here, tilted forward. Now just rotate back and forth. Competition. Competition. Okay. We just talked about how to sign competition. 31. Learn | CONSEQUENCE: Here is the sign for consequence. Okay, we're going to use both hands. The hand shapes are different. I'm right-handed, so this is my dominant hand. With my non-dominant hand, I'm going to make the letter B, like in the alphabet. How do we do it? Well, put your fingers together, take your thumb, put it in front, that's a B. Take that b and we're going to lay it down here. So the palms facing in, we have this nice platform here. Okay, with your dominant hand, make the letter C like in the alphabet, alright, bringing us together and just curve down, we have a c. Now take this part right here. We're going to place it on top of our finger right here and just let it off and down. Those slide in, down. Consequence. Consequence, from the side. Consequence. Other side. Okay, from the front again, consequence, right? So you just slide it along the top of the finger once you get to the end off the cliff. Consequence. All right, rest position. Sign with me. Let's do it three times. Consequence. Consequence. Okay, quick review, non-dominant hand. Make the B handshape, put it down there, that's our platform. Pompey's in, in dominant hand, make us see Vitamix, the thumb here, placed it on top, slide down off the cliff. Consequence. Consequence. Ok. We just talked about how to sign consequence. 32. Learn | CORONAVIRUS: Here is the sign for Coronavirus. Okay. Different hand shapes. We're going to use both hands. I'm right-handed with my non-dominant hand. I'm going to make the letter S. Or we could just say a fist like Put up your dukes. We have a fist like this. Fingers together, fingers down them in front. Okay. Take that fist, put it about here. Now the top part of the fist is facing towards you. Dominant hand, just do an open hand. We could say the number five, okay, Now we're going to use the open part of the hand right here, and we're going to put it on top. It's tilted to one side. Now we just fill it across. Now I am making contact. I'm touching the top part of my fist. So we just go across coronavirus from the side. Coronavirus. Other side. Coronavirus from the front again. Okay. Rest position, sign with me. Let's do it three times. Coronavirus. Coronavirus. Okay, So this sign also works for the concept of COVID-19, and of course, coronavirus. Now works. Okay, quick review. Non-dominant hand make the S or if I put it right there, the top part of the face is facing towards you. Dominant hand. We have the open hand or the number 5, put it on top so it's tilted in. Now it's going to fan out. Coronavirus. Coronavirus. Okay. We just talked about how to sign coronavirus. 33. Learn | COUNTRY: Here is assigned for country. Okay, we're going to use both hands with your non-dominant hand. I'm right handed, so my non-dominant hand here, I'm going to make this handshape. Right winger see other thumb alongside. Now I'm going to turn it in, put it about here is my palms facing towards me, right? We have the arm down here. Dominant hand. We're going to make the letter Y. Y. How to make y star like this? Middle three fingers together and down, there we go. Why? It's like hang loose. Now we're going to take that y, we're going to use this part. We're going to turn it in, come down to this part of our arm and do two circles. Country, country, a hub and I'm lightly making contact and my arm. Country. Country from the side country. Other side. Country from the front again. Okay. Rest position. Sign with me. Let's do country three times. Country. Country. All right, quick review. Non-dominant hand. Make that flat hand shape. Turn it in right here, arms at an angle in front of the body, dominant hand. We're going to make the hand shape of the letter y, Aha, turn it in. Now we're just going to use this part to touch this part of our arm twice, doing a couple of circles, circular motion, one to country. Country. Okay. We just talked about how to sign country. 34. Learn | CUSTOMER: Here is assigned for customer. Okay, the hand shapes are the same in the more sins are the same, right? The hand shapes are the letters C, But the C irregular see would be something like this. We're going to take those seas and we're going to expand them, stretch them up. Alright, so first, how do you make a C? Well, start like this, bringing us together. Notice curve like that. All right, we'll do it both hands. Alright, so regular CEIS take those as stretch, stretch him up. Now turn them forward so they're flattened front of you. Start about here, about this bottom part, and now it just goes straight down. Customer, customer, from the sign, customer, other side. Customer. All right. From the front again. So it good. Rest position. Sign with me. Let's do it three times. Customer. Customer. Okay? So this sign, this concept also works for consumer. It works for a client. And of course it works for customer. You know, the person coming in to buy stuff. Okay, quick review the hand shapes of this seam. Start with the letter C. Now, just stretch it out to like a big open C. Alright, turn off forward, start up here and just go straight down. Customer. Customer. Okay. We just talked about how to sign customer. 35. Learn | DEBT: Here is the sign for that. Okay, we're going to use both hands. Non-dominant hand, I'm right handed this, my non-dominant hand. I'm going to make this handshape. Right wingers the other thumb alongside. Now we're going to put it down here kinda like it's our ledger, It's our platform or showing something that has just a flat platform, their dominant hand, we're going to use the index finger. We could also say the number one pointer finger. Take that finger, the tip of the finger, and just tap twice, poke twice on your platform on your open hand. Debt. From the side. Yet other side? From the front again. Okay. Starting from the rest position, sign with me. Let's do it three times. Debt. Debt. Okay. This sign this concept also works for Bill, you know, like the bill that you get when you go to the restaurant or something. Bill that just think of it like, you know, you're the debt collector and you're showing to someone you all this debt bill. Okay. Quick review, non-dominant hand, this hand shape right here, put it down there that your ledger that your book that you're going to show people right now, you're going to point to it, tap twice. Yet. Yet. Another version quite similar that I've seen for this to be signed is to first go like this and kind of like the idea of money, right? And then go like that. So altogether it would be like we better pay up. Okay, throughout this course to be consistent, I'll be signing debt like this. Okay. We just talked about how to sign that. 36. Learn | DECISION: Here is the sign for decision. Okay. You probably noticed it's a two-part sign. So literally we are going to be signing, think or mind and then decide. Alright, so think, decide or mine, decide and together IT, decision, make sense. Decision. All right, The first part is use your index finger and just tap on the side your forehead. Alright, the second part, we're going to use the letters F, right? How to make an F? Well, start like this. Fingers spread apart. Take the index finger and the thumb, put them together. We have two Fs, okay, now we're going to put them down here to there are tilted forward. The tips of the thumbs and index fingers are pointing together and now just go down. Okay, so we're gonna take the first part, think are mined and go to this side. And together, decision from the side. Decision other side. From the front again. Okay, Starting from the rest position, sign with me. Let's do it three times. Decision. Decision. All right. Quick review. It's a two-part sign. Literally we're going to be signing mind or think to side and put it together it decision, right? First sign. First part is index finger, tap on the side of your forehead. Now go to the letters F, Put them abroad here and just go down. Decision. Decision. Okay? We just talked about how to design decision. 37. Learn | DICTIONARY: Here is the sign for dictionary. Okay? We're going to use both hands, different hand shapes. I'm right-handed, so my non-dominant hand, I'm gonna make this handshape right here. Fingers the other come alongside. Now we're going to put it down here. That's our platform. We can say it's our open dictionary. I don't know, our book, something like that. Dominant hand. We're going to make the letter D, like in the alphabet. How do you make a D? Well, go like this. We're going to leave our index finger up, last three fingers, we're going to bring them down and touch the tip of your thumb. So we have a d right now we're going to take the tips of these fingers and we're just going to go 1, 2 onto our poem. Dictionary. Dictionary from the side. Pictionary. Other side Pictionary from the front again. Okay. Rest position, sign with me. Let's do it three times. Pictionary. Pictionary. Okay, maybe a way to remember this is pretend this is like your duster, your feather duster. This is your book version of a dictionary and your Dustin it off because, you know you usually use an online dictionary, your phone or something. So dictionary, quick review, non-dominant hand, make that platform dominant hand. We're going to make the letter D. Use the tips of these fingers and just go 1, 2. So I'm making contact. 1, 2, dictionary. Okay, we just talked about how to sign dictionary. 38. Learn | DISCRIMINATION: Here is the sign for discrimination. Okay. We're going to use both hands with your non-dominant hand. I'm right handed, so this is my non-dominant hand going make a plaid hand, fingers together, come alongside. Now we're going to put it here. That's going to be our platform. It's not flat like this is kinda tilted here to the side. Pompeii's in that way. Dominant hand. We're going to make the letter D, like in the alphabet, right? Like this, that we have a d, Okay, now we're going to use the tips and we're basically going to trace an x on our open hand. All right, we're going to use the tips of the D and go like this, 1, 2, discrimination. Discrimination. All right, so the first swipe are coming in towards our body, right? And the second one is we're going away. Discrimination, discrimination from the sign. Discrimination from the other side. Discrimination from the front again. Okay. And I am actually making contact and what you're going to hear that, but I'm making contact with my hand each time I'm swiping. Okay. Starting from the rest position, sign with me. Let's do it three times. Discrimination. Discrimination. Okay. Quick review, non-dominant hand. We have the platform here. It's going to be tilted facing that way. Dominant hand make the D. Now we're just going to swipe an x on our hand, one to discrimination. Okay. We just talked about how to sign discrimination. 39. Learn | DUTY: Here is the sign for duty. Okay. Both hands different hand shapes. I'm right-handed. So my non-dominant hand him and make this one by hand brings together tom alongside. Notice put it down here, flat Pompeii, seen down as our platform. With the dominant hand, we're going to make the letter D, right? Like this. Those figures come down. We have a d. Now use the tips of these fingers and just tap twice on the back of your hand. Duty? Duty. Duty. Other side from the front again. Duty. Okay. Rest, position. Sign with me. Let's do it three times. Duty. Duty. Okay. Quick review, non-dominant hand. Make that platform palm facing down, dominant hand. We have the letter d. Use the tips of these fingers and just tap twice on the back of your hand? Duty. Okay. Okay. We just talked about how to sign duty. 42. Explore | Groups 1-3 Test: Well look at that. It's already time for review of groups 1 through 3. Wow, time flies. That's right. You've learned 30s signs, three groups, 10 signs a peace. Do the math. That's 30 signs. Way to go. Okay, let's get focused here, review and testing. The first part is going to be signing, let me get my timer. The timer will be for three seconds and I'm just going to use all of the signs we've learned in the last three sections. And I'm going to throw Manchu one by one random order, right? So you see it, you sign it, you can raise the timer, pause the video, take your time Up to you. Right? When the timer is over, I will sign it. Okay. That's the first part were used sign that hand down there. In the second part is going to be recognition. We could say understanding until have me yes, I will be signing. So I'm going to assign and you're going to watch me, he's doing something looks familiar. Aha. So you shout it out when you understand what I'm signing. Now, I'm only going to sign it once. So if you need to have me repeat, pause the video, rewind in heavy, repeat as much as needed. After I sign, I will go to the answer right. Then I will sign the answer. Okay. So we always do review in two parts. First you sign, then you understand. Okay, so lots of signs, random order one by one. It's going to throw Manchu sign like crazy, watch me sidelight crazy. All right. Course, can't forget it's testing and this is kind of a major one is like mid review. Got my glasses on throughout all the testing. I won't be talking. Alright, let's do it. 45. ASL Alphabet Review: Hey, hi. Okay. 46. Inspiring Quote #1 | Decipher: Hey, hi. Hi. 47. Inspiring Quote #1 | Answer: Hey, hi. Hi. 48. Explore | Group 4 Nouns: Oh boy, oh boy, it's group for nouns. Let's take a look at what to be learning. Economy, education, effort, election, emotion, emphasis, energy, equality, fact, game. Okay, We have a separate video lesson for each sign. We're going to explore the sign, the hand shapes, hand position, do lots of practice. After that, we'll put them all together and do review and testing. Okay, Well, let's jump in and learn these signs. Here we go. 49. Learn | ECONOMY: Here is the sign for economy. Okay, we're going to use both hands. I'm right-handed is with my non-dominant hand. I'm going to make this handshake. How do we do it? Well, put your fingers together, thumb alongside. Notice put it down here, palm facing up, that's our platform. With your dominant hand, we're going to use the hand shape of the letter e from the alphabet. Okay? How do you make it e? Well, start like this. Bring us together. Notice curve the tops of the fingers down and put the thumb underneath. We have an E, Okay. So we have a platform, we have an e. Take this E with your dominant hand, flip it around, use the back of your hand and tap twice on your open palm. Economy. Economy. From the side. Economy. From the other side. Economy. All right. From the front again. From the rest position, sign with me. Let's do it three times. Economy. Economy. Okay, interesting note about the letter E in American Sign Language, right? It's common to see it like this. It's also common to see its sign like this, right? Where the tips of the fingers come down and actually touch the thumb. Right. So depending where you are where I grew up in the deaf community, we signed it like this. In other deaf communities, they may sign it like this. I would urge you to follow your local deaf community. But either way, if you cern like this or like this, you're going to be understood. Another interesting note, I have heard that this E right here is called the screaming, ie. This is the mouth, I guess, and it opens up and it's a screaming. So I guess this would be like the calm and relaxed e. Either way, it, to be consistent in this course are going to be signed in E like this. All right? Okay, so quick review for the sign for economy. Non-dominant hand mic, that platform, put it out there. Dominant hand, handshake with the letter E. Flip it over, use the back of the hand. Tap twice. Economy. Okay, we just talked about how to sign economy. 50. Learn | EDUCATION: Here is the sign for education. Okay, the hand shapes are going to be the same. We're going to be teens in them as we go, but the be the same for both hands. Okay, First we're going to start with the hand shape of the letter e. Like an alphabet, e, f, g, right? Ie. How to make an E? Well, go like this. Fingers together. Top parts, curve them down, put the thumb down in front. Now this is how I sign and E This is how I grew up. Sign in it are in and around the deaf community. You may see it in other parts where they put the tips of the fingers down. So that is also an E, hope you learned a like this great sign like that. I learned a group like this. This is how I do it. So it's an E. Okay? So we have two ys. Now we're going to take the sides of the index fingers right here, and we're just going to place them at our forehead, right either side of our forehead. Ok, and now we're going to bring them out and change to D. So we're going to start with ease and we're going to change to DES, like ED, ed, education. It makes sense. How do we make it d, Well go like this. These three fingers bring them down, touch the tip of the thumb. And we have D is right. So we're going to start with ease and we're going to shift to D's, right, So here we go. We have E going out to DES. All right, so that's sine is education. Education, education. Other side from the front again. Okay, so remember, start with the ys. We put them right here. I'm touching lightly. So as you would have to touch it, you get close. But this makes further up around there. Now just come out and go to Ds. Okay, Starting from the rest position, sign with me. Let's do education three times. Education. Education. Okay, interesting note, I have seen this done with just one hand, the dominant hand. So you may see like this, the movements the same, just using one hand education to be consistent in this course, I will be using two hands like this for education. Okay, quick review. We're just going to be transitioning from the E handshape to the D handshape. We'll start with the ease up here. This side of each each side of the forehead notice come out and go to D's. Right? So we have education. Education. All right. We just talked about how design education. 51. Learn | EFFORT: Here is the sign for effort. Okay, we're going to use the same hand shapes are both hands. All right, we're going to use the letter E, right? Like in the alphabet, how do you make an E? Well, go like this fingers together, tips of the fingers curved them down, bend them down and just put your thumb underneath. All right. Now this is an E how I signed it growing up in the deaf community, in around the deaf community, other deaf communities, you may see them sign like this. All right, where the fingertips come down and touch the thumb. Consistent throughout this course, I will be signing E like this. Okay, now we have our two E hand shapes. We're going to put them down here. So I guess the open parts facing towards each other like that. Okay. And we're just going to push out and turn up effort. Effort. And it makes sense you are pushing, it takes an effort to port effort from the side. Effort from the other side. From the front again. Effort. All right. Starting from the rest position, sign with me. Let's do it three times. Effort. Effort. Okay. But while doing this sign, I was thinking what is the weight? That would be an easy way to remember this sign, a memory device. That the best I could come up with with some sort of Zen master, right? You're just like. So if that helps you remember the sign for effort, maybe, well, let's do it. Okay, quick review. Hand shapes are the same. We're going to use letters E. Now turn them in, right? So the knuckles are here, they're kinda pointing forward like that. All right. Now we're just going to turn them in push forward effort. So when you finish, the palms are at that way before the palms are facing straight in effort. Effort. Remember Kung Fu, Zheng, ninja, whatever. Okay, we just talked about how to sign effort. 52. Learn | ELECTION: Here is the sign for election. Okay. Different hand shapes. We're going to use both hands. I'm right-handed, so with my non-dominant hand, I'm going to make the letter O like an alphabet. How to make an O? Well, fingers, the other ring, all the tips down and touch the thumb. It even looks like an O. Great. Now let's take that o and put it down here. Kinda like it's a cup, It's a little jar, something like that. Now with your dominant hand, we're going to make the letter F like an alphabet. How to make an F index finger, thumb bring the tips together and we have an F. Ok. Now to sign election, we're just going to go like this twice. 1, 2 election. You can kind of think that you just cast your ballot, you voted already folded up the piece of paper, you picked it up and you're putting it in election. Election from the side. Election from the other side. From the front again. Election. Okay, Starting from the rest position, sign with me. Let's do it three times. Election. Election. All right. Quick review, non-dominant hand. We're going to make the letter O. I'm right-handed this, my non-dominant hand. Right. Take that. Oh, turn it down, put it right there. It's just a cup waiting for something to be inserted. Dominant hand made the letter F right there we go. Take the tips of the thumb and index finger and go like 1, 2, election. Okay. We just talked about how to sign election. 53. Learn | EMOTION: Here is the sign for emotion. Okay, the word emotion starts with an E. So the hand shapes our Ha, is yes, good, good. How do you make an E? Well, star-like this fingers toge