Playback Speed
---
0.5x

1x (Normal)

1.25x

1.5x

2x
31 Days of Autumn Landscapes with Watercolours
Watch this class and thousands more
Get unlimited access to every class
Taught by industry leaders & working professionals
Topics include illustration, design, photography, and more
Watch this class and thousands more
Get unlimited access to every class
Taught by industry leaders & working professionals
Topics include illustration, design, photography, and more
Lessons in This Class
37 Lessons (17h 57m)
6.

Day 1 - Autumn Mountain

32:39

7.

Day 2 - Autumn Pine Trees

26:20

8.

Day 3 - Riverside Path

39:13

16.

Day 11 - Mountain Range

30:13

19.

Day 14 - Autumn Drink

43:05

22.

Day 17 - Water & Reflection

34:42

27.

Day 22 - Autumn Lights

32:40

28.

Day 23 - Halloween Pumpkin

32:19

29.

Day 24 - Leaf in Water

34:39

31.

Day 26 - Dried Flower

39:10

32.

Day 27 - Halloween Ghosts

30:39

34.

Day 29 - Autumn Through the Window

29:19

36.

Day 31 - Autumn winter

25:12
--

Beginner level

Intermediate level

Advanced level

All levels

Beg/Int level

Int/Adv level
Community Generated
The level is determined by a majority opinion of students who have reviewed this class. The teacher's recommendation is shown until at least 5 student responses are collected.
About This Class
Autumn is the perfect start to a cozy indoor weather where we can sip our hot chocolate and watch the trees change colours magically. Welcome to this class on painting gorgeous autumn themed watercolour landscapes.
Isn't it the perfect time to go mushroom picking or pumpkin decorating through the woods and tread on the fallen maple leaves? One can never get over all the autumn things around us. But wouldn't it be more fun to make a beautiful autumn painting everyday to adorn your wall with all the things that are autumn themed?
In this class, we will paint one autumn themed painting everyday for 31 days which will be the ideal way to enjoy, be it your morning art routine or evening craft time.
Each painting will take you less than 45 mins a day and is going to take you on a remarkable journey through a riot of autumn colours. Whether you're a beginner, intermediate or advanced artist, the paintings in this class is going to warm up your hearts to welcome this season with a smile.
You can join the class with the basic watercolour supplies that you have and don't need any prior knowledge with watercolours. every single step is explained in detail for you to follow through easily.
Right from explaining all the materials and colours you need, we will be going through the step by step process in each of the paintings so that it is easy for you to follow through. Nevertheless here is a list of materials that you will need to begin the class:
Watercolour paper - ideally 300gsm cold pressed 100% cotton paper (size 5" by 3" is used in the class projects)
Watercolour paints - any basic set would do
Watercolor brushes - a flat brush, pointed round size 8 or 10, pointed round size 6 or 4 and detail brush size 0 or 1
Water of course!
Pencil, eraser and ruler
Masking tape (optional)
See you in the class!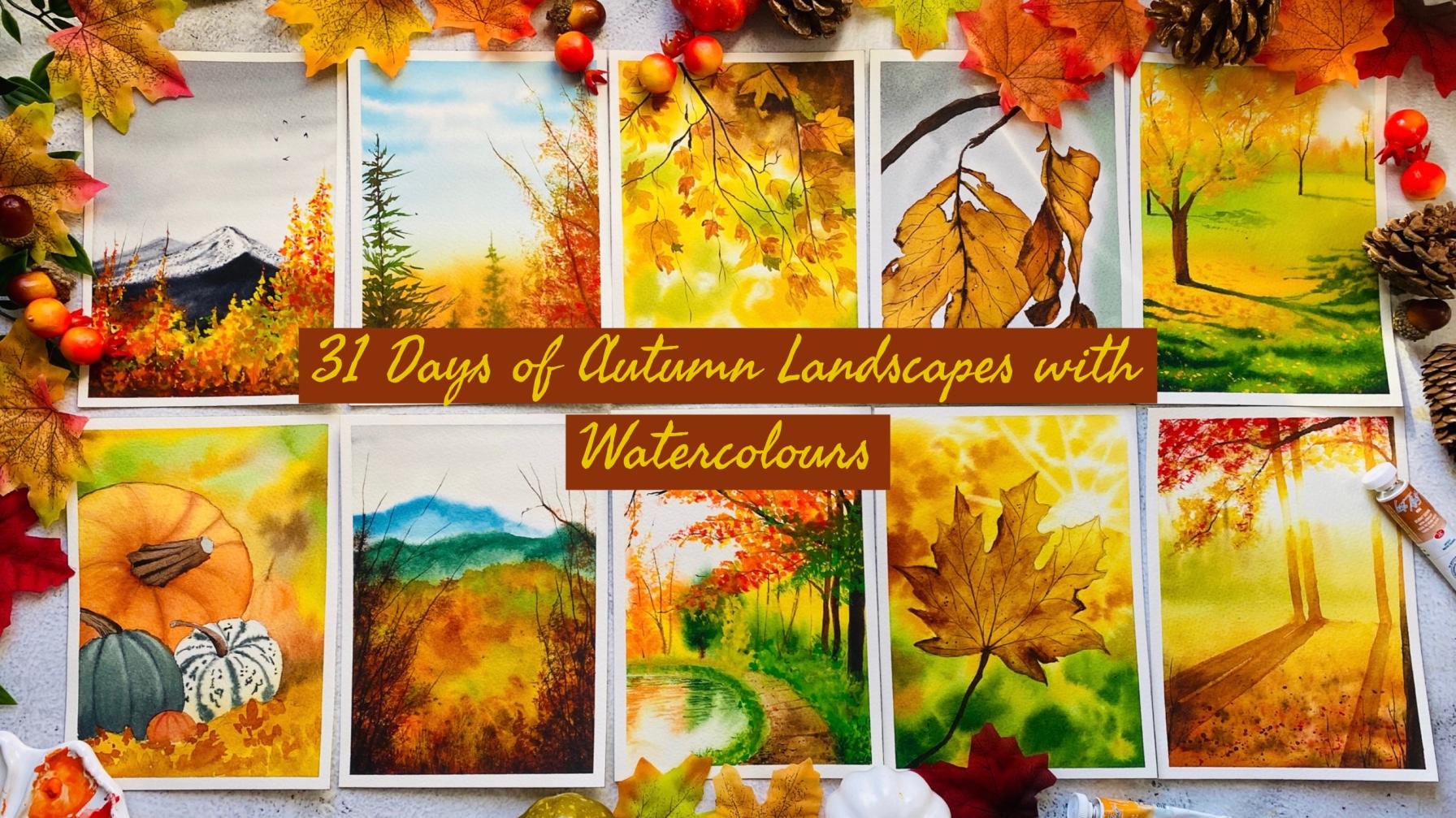 Meet Your Teacher
Every one us dream of travelling the world, exploring new places and cities and capturing those spectacular moments in our memories. Welcome to the first of a series of classes on painting cityscapes and urban landscapes. You are going to tread on an exceptional journey into painting the places in your dreams. We start the series with learning all the elements that make up a cityscape or urban landscape such as buildings, cars, street lamps, lights, people and anything and everything that you can think of and then head over to 6 gorgeous cityscape class projects.
1. Elements of Cityscapes and Urban Landscapes
2. Perspective - Painting Cityscapes and Urban Landscapes with Watercolours
See full profile
Hands-on Class Project
The class projects include 31 different small and quick watercolour paintings covering 1 Autumn themed painting a day. Each painting will be less than 45 minutes because I want you to be able to fit this into your daily schedule. All of the paintings will be beginner friendly so that even if you are a beginner you can paint them effortlessly. The entire class is in real time and each painting independent of each other, so that you can follow along and paint your hearts out. 
Each of the class projects will cover various Autumn themes such as autumn forests, pumpkins, mushrooms, acorns, maple leaves, autumn path etc.
We will be working with the techniques below in the class projects:
wet on wet technique

wet on dry technique

dry brush technique

water blooms
You can upload your project paintings from the class one by one each day, or week by week or at the end of the 31 days! I can't wait to see all your beautiful projects and your talent <3
If you like this class and its structure, please leave a review so that other students can find this class and join with us in this 31 days of enjoying the autumn season with watercolours.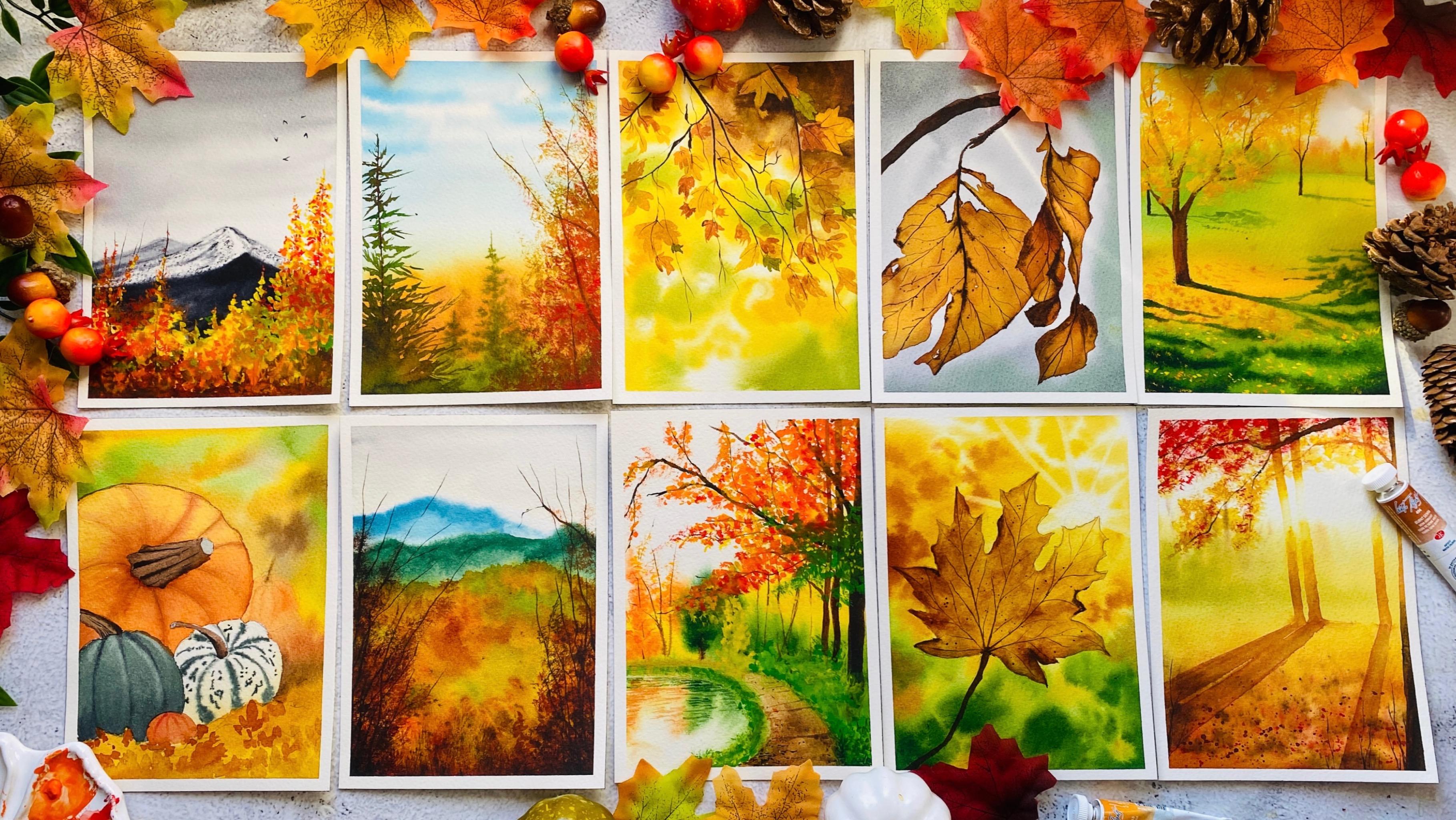 Much love,
Geethu
Class Ratings
Expectations Met?
Exceeded!

0%

Yes

0%

Somewhat

0%

Not really

0%
Reviews Archive
In October 2018, we updated our review system to improve the way we collect feedback. Below are the reviews written before that update.
Why Join Skillshare?
Take award-winning Skillshare Original Classes
Each class has short lessons, hands-on projects
Your membership supports Skillshare teachers
Transcripts
1. Welcome to the Class!: Autumn, is a second spring when every leaf is a flower, perfectly described by Albert Camus. When the sun's rays touch the fallen leaves, everything turns to gold. The gorgeous fall season has embarked upon us, showering us with golden shades everywhere. Hello everyone, I'm Geethu, an aerospace engineer, a watercolor artist, and an art educator based out of the UK. I have been teaching art for almost two years now and you can find all about me in my Skillshare profile. My works, in my Instagram handle, Colorful Mystique. Autumn, is the perfect start to a cozy indoor weather where we can sip our hot chocolate and watch the trees change colors magically. Welcome to this class on painting gorgeous autumn-themed watercolor landscapes. Isn't it the perfect time to go mushroom picking or pumpkin decorating through the woods and tread on the fallen maple leaves? One can never get over all the autumn things around us. But wouldn't it be more fun to make a beautiful autumn-themed painting every day to adorn your wall with all the things that are autumn-related? In this class, we will paint one autumn-themed painting every day for 31 days, which will be the ideal way to enjoy, be it your morning art routine or evening craft time. Each painting will take you less than 45 minutes a day and it's going to take you on a remarkable journey through a riot of bottom colors. Whether you're a beginner, intermediate, or advanced artist, the paintings in this class is going to warm up your hearts to welcome the season with a smile. Right from explaining all the materials and colors in it, we will be going through the step-by-step process in each of the paintings so that it is easy for you to follow through. The entire class is in real-time so that you can follow along and paint your hearts out. Without any further ado, let us jump into the class. See you there. 2. Art Supplies: Let us have a look at all the art supplies that we will need for this class. First of all, paper. I will be using this paper from Saunders Waterford. It is 100 percent cotton paper and it is cold-pressed, 300 GSM. The GSM is the weight of the paper, meaning that the paper is really thick. This is not the thickness, this is the entire pad. That is one paper and you can see it's really thick. This one is 10 by 7 inches. I'll be using half of these. I've taken out paper from this block and cut it into half. It's almost 5 by 3.5 inches, which means it's slightly larger than A6, it's not really A6. You can go for the A6, a square size, or even an A5 size or even bigger if that's what you prefer. I would recommend to go with 100 percent cotton paper for this class but obviously, you can always go with whatever art supplies that you have. Next, you'll need a board to tape your paper onto that board. I'm using a cardboard board like this. You can use anything like the top of a magazine, your table top, or any ball that you have. It's easy for us to work on when your paper is taped onto a board rather than a flat surface because then if we want to lift our board to get some gravity for the water to flow down it would be easier. Next, we need watercolor paints. I'll be using watercolor paints from the brand White Nights, which is my favorite brand of paints and I'll be using this palette to mix all my paints together and also this one for mixing my opaque watercolors. I will be explaining about the opaque watercolors and how to mix them in the next few lessons. Watercolor brushes, so you'll need a flat brush to apply the water onto the paper, or you can use the larger size brush that you have. I will be using this flat brush from Eskoda or if you have a flat brush like this one, you can also use that or go for the larger size brush that you have to apply the water onto the paper just because it covers a larger surface area. Then the other major brushes that you would need are a larger size brush such as a size 8, 10, or 12. Then a medium-size brush such as size 6 or 4, and a small detailer brush for the detail. Typically size 0 or size 1. I will be using this liner brush for most of the details. This is a liner brush or rigger brush. You can see the long hairs of the brush. These are all the brushes that you will need for this class, that's all. I might also suggest to use a synthetic brush at times. Don't be worried about the names. These are natural hair brushes and these are synthetic hair brushes. These hold a lot of water in them whereas the synthetic hair brushes hold very less water and paint in them which is why I sometimes switch to the synthetic brush when I don't want to have a lot of water or paint in my brush to add onto the paper. If your brushes are not that really expensive and you've just started out with watercolors, it would be so that you might be using a synthetic hairbrush, so it's all right if you don't have the natural hairbrush. Next you need two jars of water, one for washing off your paints and cleaning your brushes, and the other for applying freshwater onto your paper. The reason for using two jars is mainly because you can see that your water where you're washing off your brushes with the paints gets dirty and if you were to use the wet on wet technique, then you would be picking up this dirty water instead of freshwater. This is the reason why I recommend using two jars of water, a pencil, eraser, a ruler, and masking tape to tape the edges of your paper. I'll be using a mechanical pencil like this one because it is easy for me to use and I don't have to sharpen the pencil each time. Lastly, some autumn magic in your hands, just kidding. That was all the supplies that you will need for this class. Let us go into the next lesson. 3. Prepping the Paper: As I have mentioned in the art supplies, this is the paper that I will be using. It is Saunders Waterford, 100 percent cotton paper and it is cold-pressed. This is 10 by 7 inches and what I have done is I have cut it into half, so it's 5 by 3.5 inches paper. It's slightly larger than A6. It's not an A6 size. It's larger than A6 but then smaller than A5. These are the sheets that we will be painting on. You can go for any size that you prefer. You can even go for polaroid size, square size, A5, or even paint it big and make it an A4 painting. It's totally to you. Now, since the projects are daily painting-based, I will show you how we can prepare the paper for everyday painting. I've got my board here, which is a normal cardboard dive board here, and here's my sheet. Since we are going to be painting all of these paintings in the portrait mode, let's tape it down onto the paper. I've got my board here, which is a normal cardboard dive slightly thicker board, and Here is my paper. We're going to be painting all of the paintings in the portrait mode, so it doesn't affect you if you're taking the square format. Here I'll be taping this paper onto my board. This is the tape that I'm going to be using. It is from a brand called Tessa. It's the Tessa's perfect brand. I found that this is very useful and never bleeds out. That is the paint never bleeds out to the corners or anywhere. This is why I love this tape. I'm going to be taping down this paper but what I want you to note is that, if you're taping down your paper using any normal tape, it is absolutely fine. You don't need a specific branded one. The paper is what ultimately matters because it is actually the paper that causes the bleeding, not the tape. If you just have a normal tape try to tape down your paper and then press on the four edges to make sure that the tape is really intact. What I normally do is I use a ruler to press down my tape onto the paper so that I take off any air gaps between it. This also ensures that my tape is fixed firmly onto my paper so that my paints cannot bleed out. That's it. You can see the tape is now firm on the paper and board. That's it. This is how you can prepare your board and your paper for every day. I would recommend that you dip it down every day after a painting so that the next day your board is ready on your table to start with your painting. 4. Colour Palette: Let us have a look at my palette and the colors that we mostly need for this class. This is almost similar to my 100 day project class. It is exactly the same palette with just a few colors that I have added. The main colors that we need for autumn or the fall season is yellows, oranges, reds, and greens, plus some browns. These other shades that are there in our palette is for additional stuff that we might have in our painting like flowers or bouquet, basket, and things like that. Let me show you all the colors that I have here. This is Indian yellow, Indian gold, transparent orange, quinacridone violet rose, scarlet, cobalt blue, ultramarine blue, bright blue, indigo, viridian or emerald green, dark green, violet, raw sienna, burnt sienna. Then, this is permanent brown, transparent brown or burnt umber, sepia, and Payne's gray. These colors were already there in my palette from my 100 day project class, the two additional colors that I have added to this palette is this burnt sienna, which is from Mijello. This is because it's got a very bright golden shade to that burnt sienna and I love it, but don't worry if you don't have it because you can mix your burnt sienna with a golden shade or orange to get a similar shade. Then, sap green here, which is almost the same as mixing this green with Indian yellow. Apart from these, the additional colors that I would recommend having is some opaque watercolors which would be very useful to add in the end, that is the foreground details on top of darker colors. Here I've got cadmium yellow, cadmium yellow deep and cadmium orange. So these opaque colors that you can use are, cadmium yellows, cadmium red, cadmium orange, and also, I have found that this pale or green light from Sennelier is a very good option for painting on the top. That is, it doesn't say it is opaque but then it appears almost opaque in our paintings. So these are useful colors to have. But don't worry if you don't have these colors because you can easily mix this up using gouache paint or just using white watercolors or white gouache paint. I've got this Designer Gouache, permanent white from Winsor and Newton. If you were to mix yellow gouache using this, you would just need to mix a bit of yellow and orange plus this white together, a bit of orange because the more yellow you mix with the white, yellow is just going to turn lighter, so if you need it to be like a very dried yellow like this, add a little bit of orange to that. The same way with red, add more of red with the white but it's going to turn lighter. So try and add possibly a little bit of brown to that mixture and you might get a nice red shade. For the green, obviously, you can mix yellow and blue together to get a green but make sure that one of those colors is opaque so that you get an opaque green. Alternatively, you can go for an entire set of gouache paint itself, that is only when I'm using these cadmium colored pigments, then you can go for gouache pigment, otherwise, we'll be using watercolors itself. Now that you know the colors that we need, so let us dive into the painting lessons. 5. Mixing Colours: Let us have a look at some of the main colors that we will be using for this autumn season. All the yellows, oranges, and the beautiful greens that we will be using. The first color that I have on my palette here is Indian yellow which is a gorgeous transparent yellow. For this, you can go with any yellow that you have. You can see, it's a very nice and it's a transparent yellow. Then, I also have Indian gold shade. I will be showing you how to create all of these shades, so don't worry. This is a nice golden shade from White Nights. Then, I have transparent orange. This is again, another beautiful orange shade that I have. Then, we have permanent red which is another beautiful red shade. Alizarin or quinacridone rose which is slightly pinkish, red shade. Then moving on to the greens that we will be using. I have sap green, dark green which is a darker green from White Nights. Again, so you can see this green is very dark. Don't worry if you don't have this green because we can mix it up using just a sap green or Hooker's green, whichever green that you have. Moving on to the browns and grays, I will be using burnt sienna. This burnt sienna is from Mijello, which is a very beautiful burnt sienna because of the presence of a little amount of yellow in it. It's unlike any other burnt sienna that I have seen because this is more like a yellowish brown shade. Then, we have permanent brown, which is like a reddish brown shade, burnt umber or transparent brown and then sepia. Lastly, we also have Payne's gray. These are the main colors that we will be using apart from other colors which we might need for other elements. The main colors that we need for the autumn palette are these colors. I will tell you again, Indian yellow, Indian gold, transparent orange, permanent red, alizarin crimson, sap green, dark green, burnt sienna, permanent brown, burnt umber, sepia and Payne's gray. Now let us see how we can make some of these colors which you may all not have. For example, this Indian gold is not available in all of the palettes and many of you may not have this color. Let us see how we can mix this Indian gold shade. For mixing of the Indian gold shade, I would recommend starting with any yellow that you have. Let me pick up a fresh palette. There is the Indian yellow or any yellow that you have. Then mix a little amount of brown with it. Let's go with burnt umber. Here I have mixed my brown with it. You can see it's turned into a slightly yellowish brown. How do we make this golden? If you can pick up a little amount of orange and mix that to your shade, then you get a shade that is almost as similar to the Indian gold shade. A bit more yellow, then I guess that would be it. See, it's very much closer to the Indian gold shade. That would be yellow, brown and orange mixed together to get the beautiful Indian gold shade. Now, for the darker green. Let's say that you don't have a green as dark as this, then you can mix it up by using your green and any dark blue that you have. For example, if you have indigo or a dark blue such as Prussian blue and you mix it up with your green. Let's mix up. If you mix that, you should get a darker green. It's not dark enough. I think we need to add a bit more indigo and we'll get it as dark as that. See, now it's a darker green. Then for the sepia, you can mix your transparent brown with black or Payne's gray to get the darkest color that you want. Mixing brown with a little bit of Payne's gray and brown. I'll get a brown, very dark. If you add more brown and black mixture together, you will get the color like sepia. Now let us have a look at the opaque colors that I will be using. The opaque colors that I will be using are this cadmium yellow. It's very opaque. Unlike this transparent yellow, this is opaque which means that it will appear on top of a darker shade beneath it. Then, there is cadmium yellow deep. Cadmium orange. There that's cadmium orange. Cadmium red. Lastly, I have this Phthalo green light from Sennelier, which I have seen is much opaque as compared to other counterparts. These are the five opaque shades that I will be using. Let us see how we can actually mix these opaque shades now because many of you may not have these opaque shades. One option that you can use is you can use directly gouache paints if you have them because gouache paints are directly opaque and it is really easy to use on top of watercolors. But in case you don't have gouache paints and you would like to mix them using watercolors, here is what you can do. The only major thing that you would need, obviously is a white gouache paint or a white opaque watercolor paint. If you're using white watercolor paint such as titanium white or zinc white, then it should work because those colors are opaque. But, otherwise, you definitely need a tube of white gouache paint or white watercolor paint, just like I said, which is opaque. This is how you would check the opacity of a paint tube. If you see a filled square, that means that tube is opaque. We need that to mix any of the other opaque colors, so there is no way around but I suppose that most watercolor sets come with a watercolor tube of white paint which is really opaque. Using that, now we'll mix all of our opaque colors. First of all, let us mix up a nice yellow shade. Here is my yellow paint. I'm using the normal transparent yellow itself. Here we're going to make use of the property where transparent color if mixed with an opaque pigment will give an opaque pigment itself. It doesn't matter whichever yellow you're using, whatever you mix with an opaque pigment, you should be able to get a nice opaque pigment itself. Here I'm taking some white and I'm going to mix it up with my yellow. Obviously, when you mix up your yellow with white, it is going to turn lighter. How do we turn this a little darker? You can either mix a bit more yellow into it or mix a little bit of orange to that mixture and you should be able to get a nice yellow shade. More yellow. There, now I've got a nice yellow shade. You can see it's not as close as the other one. But then still now you have created an opaque shade. Make sure that you don't use a lot of water because the more water you add to it, your watercolor will become transparent. Now the next thing is, we need to make this closer to the permanent yellow deep or the darker tone. I'm mixing more of my opaque white watercolor. This time we're going to add more orange to that mixture. When we add more orange to that mixture, it turns into an orange shade. But let's try adding a bit more yellow so that we can make it into a nice permanent yellow deep shade. See, that's a permanent yellow deep shade. I know these two look similar. I should have added more white into this to get the nice lighter shade. Let's try creating an opaque orange. For creating an opaque orange, again, you would mix white. Let's mix up more orange into our mixture. If you mix more orange, I'm washing my brush each time because my brush has an opaque pigment and I don't want to ruin my palette. Picking up more orange and mixing it into that. There, it's obviously going to be lighter but this is how you can create these opaque pigments. If you actually want to make it a little bit more darker, you can add a little bit of red to that mixture. If you add a bit red to that mixture, then see your orange becomes a bit more darker. Now let's see how to create this cadmium red. For creating the cadmium red, pick up red and mix it into the white. Here's the white. If you mix it with the white, you get a nice red shade but you know that it obviously done a little bit lighter. In order to make it that darker, what you can do is, add a little amount of brown to it. Little amount of brown, if you add, then it should turn darker. Or you can add a little amount of pinkish red to that shade and it should become a nice red shade. See, that's the opaque red that you can create. Creating an opaque green is quite tricky if you try to mix it up using yellows and blues. But rather, let's just go ahead and start making our opaque green using the watercolor green itself. If we take the white paint and mix it with our normal green, you'll get a nice green. But obviously that green is going to be lighter. Like I said, in order to make it darker, you can just mix a little bit of blue to that mixture, that is now too dark. It is always the matter of just adjusting the color to your choice by mixing more of the colors that you want. See, I've added more green now and it's turned into a greenish mixture. Let's add a little bit more white so that it turns lighter. Obviously, because there is a little bit of blue in it, if we add a little yellow, I think it should turn into a nice sap green kind of color. See, that is the opaque green that you can create. It's just the matter of mixing up your different paints and trying to match the colors as close as possible to the opaque colors. But it is always better to have in hand a set of opaque watercolors which would come in handy a lot of times because it is really useful for when painting with watercolors and you want to layer down a lighter tone on top of a darker tone. Here are all the main colors that we will need for this class. Now that you know what we need, let us jump on to the first lesson. 6. Day 1 - Autumn Mountain: Let us start with our pencil sketch. I'm going to have a mountain here in the background, and then some autumn trees in the foreground. Let us sketch out the mountain. Just a simple shape for the mountain and maybe another one here in the front. Something like that. Actually, that is all our sketch is going to be because let's try to keep this as simple as possible. I'm going to start by applying the water onto my paper because we're going to work on the wet on wet technique. Here is my flat brush and I'm going to apply the water onto the whole of the paper Right now. Don't bother about the mountains and everything, just let it be. We'll just apply water to the whole of our paper. Make sure that you apply the water multiple times, and also to not form any large pools or blobs of water in the middle. This is the reason why I've held my board like this at an angle, so that all the water would flow down and it wouldn't form any large pools or blobs on my paper. The reason why I said that we have to apply the water multiple times is because we want the paper to be soaked in water. That is, when you apply multiple times, that will ensure that your paper stays wet for a longer duration of time. Especially if you're paper is not 100 percent cotton paper, then you definitely need to do this. Also, here is another trick that you can do. After you have applied the water onto your paper, try waiting for around 1-2 minutes where the water has soaked into the paper and the paper has started to dry. After that, reapply the water onto the paper. This time, when you apply the water the second time, your paper will stay wet for a longer duration of time because the underlying fibers of the paper has now water, and the water that you just applied on the top takes more time to sink into the paper. Here I have applied the water and I'm going to switch to my size 8 brush. We're going to start with a very light tone of Payne's Grey. Here is my Payne's Grey and I'm mixing a very nice, lighter tone of the same on my palette. We're going to start at the top. Start applying at the top. You can see I'm applying in a flat line going from left to the right. Then as you come towards the bottom, let's lighten it up. Also, note that I'm holding my paper here at an angle, so that my paint would also flow down in the water that I have just applied, and towards the bottom. I am just going for lighter strokes like this. This is like a typical autumn sky filled with just overcast cloudy condition. Let make it more darker towards the top. I've taken a bit of darker tone, but it's still not as dark as the original Payne's Grey itself. This is the reason why after I dip it into my palette, I mix it here so that I don't have too much dark color on my brush. Also, if you can't hold your board like this at an angle, you can place something there, and then it would rest at that angle, which would help you to work with the angle on the paper just like I'm doing. Here, I've applied the darker tone and I'm just going with some swish lines here, you can see. Do the same all the way up to the bottom, but make sure that when you come to the bottom, you make it lighter. Also, this angle is going to be really helpful. Whatever the paint is flowing down, you can see it is flowing down; let it flow, that is absolutely fine. Now, while the sky is drying, let us get down to paint some of the foreground elements, but the first colors of it. Here, I'm going to use my Indian yellow. This is a nice, dried, transparent yellow. You can go for any yellow that you have. You necessarily don't need the same exact color here that I'm using. Using the Indian yellow, let's just drop in some paint here to the bottom. Starting with our first autumn color, and drop in some beautiful Indian yellow shade. You can see, I'm just using this dabbing motion with my brush and trying to drop in those colors. This is just the background here still. We're still working with the background because our paper is wet. When we work with the foreground, we're going to be going with the wet on dry method where our paper will be dry. Here, I've applied some yellow. But as you know, the mountain is in the background, and we need our mountain to be seen in the background. Let us paint the mountain. Here, I have switched to a different size 2 brush. Also, it is synthetic, which means that it will not hold a lot of water. That is the major difference between a natural-hair brush and a synthetic brush. Don't worry that you need these specific kind of brushes because if your brush is not natural-hair brush, that is, it is not synthetic brush or not the natural, then you mostly must have this synthetic brush. The brushes that you actually buy from shops at the initial stage of our painting process is usually synthetic. So you might definitely have this brush, so there is no need to freak out. Let us get to painting. Now, we're going to go for a nice darker tone of Payne's gray. See, this is almost dark but make sure that you always mix it on your palette, so that you don't have any large blobs of color on your brush. Here, our paper is wet, so this is going to spread a little but then it's going to look beautiful as the background. Because as the background, we want it to be slightly blurred in vision like when you take picture of a DSRL camera and you focus on the foreground, you get the blurred images in the background. That's how this is going to be helpful, but not too wet. That's why I painted the bottom part first so that this part would slightly dry. Just use your brush to go along the shape that we have done. Also, you can see, I'm not going to paint the whole of it, just at certain places. Towards the top, just going to drop in slight amount of paint, so it's going to look like snow. The white areas are going to look like snow. Then let's give color to the foreground mountainous, so that foreground mountain, I'm going to make it slightly darker. It's not foregrounded still the background but it's in front of the other two mountains so that is why I said it's the foreground mountain. Lets just apply the paint. This time you can see I have applied a darker tone of paint's gray. Most as dark as black, but not entirely black. Let us apply this paint all the way to the bottom. It's okay if you go on top of these yellow areas because we will add some detail in later on so don't worry about it. Keep going over the white areas that you have left behind and it's okay to go in front of some of the yellow regions. It's absolutely fine. That the darker mountain in the front. Now that we have applied the darker mountain, let's add some more detailing on to the mountain in the background. Here, I've made my brush dry and we're going to work with some dry strokes. Here I'll take my paint on my brush and then make sure that my brush is really dry. You can see it's really dry, and then I'm going to rub my brush on the mountain in a sideways stroke. You can see I'm holding my brush here at an angle, and then doing these side strokes. Because my brush is dry, I would get those dry strokes are my paper. You can see just some dry stokes. Try to apply those dry strokes at random. These are dry strokes. It gives a beautiful texture to the mountains. Make sure you dry your brush if you take a lot of paint. This dry brush technique actually works best on drops and cold surface paper. If you're using a hot surface paper that is hot pressed paper, it's not going to work. The main reason is because this dry brush technique need some texture on the paper for it to work, so this is the reason. There, so I've added some texture to that mountain and it's looking so beautiful in the background. This one here. Let's not add too much, just a little because it's the mountain in the background. Now you can clearly distinguish between the three mountains. Now what we have to do is we have to wait for this whole thing to dry, so that we can add the foreground leaves. Here, so our mountains are not completely dry, let us go ahead and add some branches at first. Here I'm going to take sepia. If you don't have sepia, don't worry, you can mix your brown and black together to get a nice dark brown color, that is what sepia is. Here, I'm mixing this dark brown color and I'm using a liner brush, which is like a thin, long head brush because it would give me a really long thin lines. You can go ahead and use a size 0 or a size 1 brush. I'm just going to draw some tree branches like this towards the top, starting from the bottom, because if you start from the top, then your branches are going to have thicker edge at the bottom. It should be the other way around. This is the reason why we start at the bottom so that the thicker edge comes at the bottom and it tapers towards the top. Let's add some more. These branches, you can place them anywhere and make sure that the taper towards the top, the test, when you're doing this upward stroke, try to lift your brush off so that you get these smaller lines at the top, like that. We've added nice round strokes. Now let's get back to adding the foreground details. I'm switching back to my size 8 brush. Or you can go for an even smaller size, such as a size 4 brush here. Let's get back to adding the yellow. Here is my yellow. This is a transparent yellow, it's not going to come on top of the black. Let me show that to you. But first, we can obviously add at the bottom here. Just to add these tapping motion, I will show you exactly what I meant. Seem, and I'm adding the yellow on top of the black. It's not working because this is a transparent yellow. At the bottom, you can see that your brown that you just applied is mostly probably going to blend in and that's fine. Let's just drop this yellow on the top, at the base. Now that we have got the yellow, let's start dropping some orange. Here I've got a nice transparent orange. Again, this is transparent so you have to be ready that it's not going to appear on top of this. See, it doesn't become visible, but let's just start adding the autumn colors. You can see I'm just dropping on top of the yellow. Just because the yellow that we just applied is slightly wet, the orange that you are applying is going to spread out, and it's okay, let it spread. There you can see I've applied some orange. Now what I'm going to do is I'm going to take up some sap green color, and I'm going to add that as well just at random places and mostly towards the bottom, you can see. This sap green is actually going to mix with this orange and create an olive green color and that is also fine. Just at the bottom, I've applied the yellow at the bottom. Now is the time where we want to use some opaque watercolors like I had explained. If your watercolor is not opaque, that is you don't have an opaque watercolor, don't worry, just slightly mix a gouache with it and you'll be able to get nice opaque color. Let me just show you what I mean by opaque. I'm going to apply this yellow on top of the black. See, it is clearly visible. This is the reason why I said we need opaque watercolors. Let's start rubbing. You can use gouache paint here or you can use mixing your gouache with yellow or orange to get this nice color. I'm going with the dabbing motion again. Let's just add all of these yellows on top. You can clearly see it's visible on the top of the black as well. It is on top of the [inaudible] green and it doesn't affect the underlying color also. [inaudible] more of these and start applying to all of our trees. In the center here, I'm going to make it less tall, not as tall as this area, because we actually want some part of those mountains to be seen through the foreground leaves and cover up any white areas that you had left. You can see some white areas here where I had not been the black of the mountain, so those I will add the autumn colors because we just want to make it look as though it's completely the mountain in the background. I think this side, I'm going to reduce the yellow towards the top and add more of orange colors. I'm just dropping very little of the yellow. Let's get back to this one. Wherever you have white areas of the mountain, try filling it up with that yellow so that those white areas are not seen there, just like that. Now we have covered up with our yellow. Let's go with a darker dawn now. I'm going to go with an orange. This one is orange, that's cadmium yellow deep. Let's start adding the orange at the top. I think I'll go with a smaller size brush now because I want to get smaller leaves. Here I'm going to go with the size one brush, and I'll add to the top of the yellow that we already applied. Don't cover the entire area because we want to make sure that a little of those trunk is seen, just a little, but then add the orange on the top using your smaller size brush. You can now use a fan brush or a foliage brush. These are very good to get the foliage shapes. You can see how beautiful that already looks with the mix of the yellow and the orange. This is cadmium orange, and like I said, again, it's opaque, so it appears on top of black or darker colors. If you don't have cadmium orange, you can either gouache paint, acrylic paint or you can even mix it up with white gouache or white watercolor. The white watercolors that come in pallets are usually opaque itself. If you mix that white watercolor with your orange and red, you will be able to get a nice orange shade, and you can use that. Just adding it at the top and towards the base as well. I'm adding on top of the base because I actually don't want the trunk to be seen in that area, the entire trunk. Just little parts of the trunk, that's all I want. Go with a smaller brush for these detailings because we don't want it to be too big. We need to mimic the foliage and so it's better if you can make it smaller. This is the reason why I switched to size one brush. You can also go for a size zero or even smaller than that if you have. Sometimes dry brush strokes also work. If you can get your brush to dry and add the strokes on the top. For example, here at the top, I want to go as tiny as possible because these branches, I want them to extend outward without a lot of foliage there at the front. There I'm using almost similar to a dry method here. You can see, those are some dry strokes there. You can have these dry strokes at other places as well. See. Now that we have added orange, let's also drop in some bits of red to make this look beautiful. But remember, when you're adding these red strokes, let us try adding it to the top mostly because autumn plants, they actually start drying from the top and the darker colors usually appear on the top first. Make sure that you make them really small. See. Just some drops of red. Just like we added the orange on top of the yellow. Still the same to this side. I'm making it dry here. I'm not picking up more paint. I'm just making it dry. As in I'm not mixing a lot of water so that it will be dry strokes. We've added that. Let's also add some darker colors at the bottom to depict the depth in our painting. For that, I'm going to go with this transparent brown, don't worry if you don't have transparent brown, you can go for a brown and a red mixture. You add that at the top. I'm sorry, at the base. I meant at the top of the orange color that we had mixed. That'll give some depth in our painting. You can see how already this looks good because you've added a darker color to the base. It's looking as though this picture has a depth in it because when you add some shadows, that's when your painting has depth. Adding these darker colors towards the bottom ensures that there are some darker shadows at the bottom from the leaves at the top area. You can add even darker tone buy mixing bit of sepia. There I've have added that, let me go back to adding some more orange at the top of this just so that the brown doesn't stand out too much. There. If you want, you can also drop in some amount of green. Here this is the yellow green light that I was talking about and it's really good because even though it says that it is transparent, it appears on top of darker colors. See. You can drop in some of that green as well. I think that looks good enough. We can call this painting complete. Let us wait for this to dry so that we can remove the tape. Otherwise, if you remove the tape before the painting is dry, then your paint will seep out because it's still wet. Now my painting is dry. If you want, you can add some birds in the sky, which would just make this whole painting look beautiful. Actually, let's just add some smaller birds in the sky. I'm using my size one brush which is really small. What I'm going to do is just some strokes like that. Let me show it to you closely. What I'm doing is just trying some V shapes like that and try to add it in different directions. That will look like birds. See. Some some birds. It's absolutely optional. You don't have to add it. As I start, the sky looked empty so I wanted to add some birds there. Let us now peel off the masking tape which is the most fun part in a painting. Here is our final first painting. I hope you liked it. 7. Day 2 - Autumn Pine Trees: For this painting, there is no pencil sketch. Let us just dive into the watercolors directly. Here I'm using my flat brush and I'm going to apply water onto the whole of my paper. Make sure that you apply the water evenly without forming any large pools or blocks of water on the paper. As you can see, I'm holding my paper at an angle so that my water flows down if there is any pool in the center. Also, make sure to apply the water multiple times. This would ensure that your paper stays wet for a longer duration of time. I have applied water to my paper and I'm going to start with my size eight brush. I'm going to start with a bright blue shade. This bright blue is also known as Taylor Blue, is a very nice blue from White Nights. It can go with any blue that you have, ultramarine blue, cobalt blue, or whichever blue that you have, it doesn't matter. We're just going to start applying from the top. Observe this angle that I have on my paper. This is because I want the paint to flow down. Also towards the bottom, I'm going to go with a lighter shade, just picking up very little amount of the blue, and I'll go with a lighter shade. See. Adding a lighter shade towards the bottom. Let's actually go all the way up to around 1 by 1/3 of the paper. Towards the top, you can add any darker colors that you have, as in you can mix a darker shade for the top region but towards the bottom make sure that it's lighter. Now we have applied the blue for our skies. Let us start with the bottom part. For that, we're going to work with our wet-on-wet technique itself. Just adding a little bit more blue towards the base. Now we're going to start with a nice golden shade. This is Indian gold from White Nights. Don't worry if you don't have Indian gold, because you can easily mix it up by mixing a little bit of yellow, orange, and brown, you get this nice golden shade. We are going to apply this golden shade towards the bottom. I'm going to hold my paper again at an angle because I want my paint to flow down. You can see some of it goes up and that's absolutely fine but let's drop this paint here at the bottom. It's a very beautiful golden shade which you can easily mix. I added the yellow. Now, towards the bottom of it, I'm going to add some green. For the green, what I'm going to do is, I'm going to mix a nice olive green shade. For mixing olive green, I'm going to take this sap green, and I'm going to mix a little bit of burnt sienna to it. You can see as I mixed my burnt sienna to my olive green, the green starts to turn into olive green shade. This is what I'm going to apply to the base. As you can see, I'm holding my paper still at an angle so that all the paint would flow down. We want to go back to picking my Indian gold and add it at the top again. When you add the Indian gold at the top, it's going to flow down onto your green and create some beautiful texture, also create some beautiful colors by mixing on its own. You can see, I'm dropping the paint at random, completely random. Now we've got a base of dark olive green color and at the top some Indian gold shade. Let's also drop in some burnt sienna to it. I'm taking my burnt sienna there. As I said, this burnt sienna is slightly yellowish so try mixing your burnt sienna with a little bit of brown if your burnt sienna is not that yellowish in color. Next, I'm going to add a little bit of brown. Just dropping all of these colors at random places. You don't need to drop it evenly. I'm just dropping at random places. You can also drop in on top of the green. There. You can already see how that base is looking so beautiful. Now what we're going to do is, we're going to add some background trees in this wet paper itself. It's okay if your paper has dried because it's just going to look like foreground trees. Here, I'm switching to a smaller size brush and what I'm going to do is, I'm going to mix a nice olive green shade again. Here is my green and I'll mix burnt sienna with it. You can see now that's dark olive green shade. As you can see, I'm using my size one brush. Make sure that your brush is really small when you're trying to do this, and also, I'm trying to absorb all the extra water from my brush because that is already water on my paper and I don't want it to bleed. If you don't want your paints to bleed, then make sure that you absorb all that extra water, like here, I'm doing. Or you can use a synthetic brush. If your brush is synthetic, then you don't have the risk of your paint bleeding because your brush will not hold a lot of water. I'm just going to add some pine tree shapes. Like that. I just added some shapes and you can see it's still wet. I'm adding it onto the wet paper. Also, because my bottom part is still wet, I'm just dropping this olive green color towards the base of it. There. I'm going to also add another pine tree here. Like I said, I don't want it to bleed, so let me absorb the extra water. Using the tip of my brush to add some branches. There, added a pine tree. Now, what we'll do is, we'll wait for this whole thing to dry so that we can add in the foreground. Our painting is now dry and we can start adding the foreground. I'm going to start with burnt sienna. Here is my burnt sienna. Using my burnt sienna, I'm going to add a line for the trunk of the pine tree. This is really in the foreground, so I'm going to make it taller towards the sky. Because the sky is now dry, it's not going to affect the underlying colors, and also because the burnt sienna is a darker color, it would still appear on the top. There. You can see. Let's go with the darker shade again. This darker shade that we just mixed, Let's go with that. The same olive green. Note how I am going to do with the pine trees. I'm just going to add branches like this sticking out. Try to add them in different directions. You can also sometimes go for sap green, so that it gives a mix of colors on your pine tree. Here I'm taking sap green. Just adding these line strokes and try to add a mix of the greens. I'm mixing both sap green and my olive green here. Obviously, towards the base, we want to make it thicker. Because it thick, that's the reason why we don't see the branch towards the bottom, that is the main trunk. Also, there'll be less gaps through which you can see the background. I'm adding the darker color towards the base. Because like I said, it'll be thicker at the base such that you wouldn't be able to see much of any detailing. That's a nice pine tree in the front. Now, let's get to adding some more autumn leaves in the foreground on the right side. Here, I'm taking burnt sienna and let's mix it with burnt umber so we get a nice brown shade. Here, I've mixed it with burnt umber. What I'm going to do is, I'm going to just draw some branches and this time the branches are such that it's sticking out from the right side. As I have explained before, always start from the bottom so that your stroke or your branch would go thinner towards the top. That's absolutely essential. See, it goes thinner towards the top. If you start from the top, it's going to be thicker at the top and thinner the bottom. Always make sure that if you're drawing such branches, that you try to add it from the bottom. See, I started from the middle and I got a point there. What I'm going to do is I'm going to split it up and make it into a branch. There, just added some branches. Always make sure that your branch is thicker at the bottom, that's absolutely essential. Now that we've added the branches, let's go ahead and add some foliage. For here, for adding the foliage, what we're going to do is we're going to dig a nice old brush that you can press and use our new paper, for example, this brush. I'm going to press it down on my paper like that, see how the hairs go like that. It might damage the brush, to make sure that you use a brush which you don't use normally. Let us first mix the color that we want to do this. What I'm going to do is, I'm going to dig up Indian yellow and I'm going to mix it with this olive green so that it turns lighter. There, my Indian yellow is now mixed with the olive green which has made it turn lighter. Then I'll take some golden shade and we'll add that as well. This means that it's got a touch of the olive green, but also it's not that olive green; it's got dark yellowish autumn touch. These are colors that we can mix. Here, I've got my dry brush. I'm not going to dip it in water, what I'm going to do is, I'm going to to pick up the paint and I am going to dab it on my paper. See, when you dab it, you get those dry stroke, which is exactly what we want. Before you go over to the dark, make sure that your initial strokes after taking the paint is at the bottom, because you can see your brush, obviously, turns wet and you wouldn't be able to get those dry stroke. It's cool with more Indian yellow. You can mix it up on your own and just add these strokes. Then I'm going to slightly go towards the top, and you can see how my foliage is standing out. We want it to be absolutely dry, so this is the reason why I used a dry brush. If you're going to mix paint, use another brush to mix the paint, but then always pick up this dry brush and pick up the paint. I'm going to mix up more of Indian gold here. As you can see, each time I pick up the golden shade I add it to the bottom, because otherwise it'll be too wet for it to go over to the top. Once my brushes don't try again, that's when I go over to the top. We needed thicker foliage here so let's keep adding. Also, because Indian gold is transparent, you can see that it doesn't go on top of the brown that we have painted. Let's get to adding some orange on the top or red on the top. I'm going to mix my orange here and mix a little bit of the red so that my brush can pick it up. This is cadmium orange, and it will definitely mask out this brown line that we have. Adding some orange shades to the base, then let's pick up some red as well. These red and orange shade when you mask out the brown ranch enough for us to paint over it. Remember towards the top, only leave your brushes completely dry. I think this is good enough, we can stop there and wash our brush. This is already looking so beautiful. Now, we have to wait for this to dry so that we can remove the tape. Here our painting has dried, so let us remove the tape. Here is the final painting. I hope you liked it. 8. Day 3 - Riverside Path: Another beautiful landscape for today. Let us start with a quick pencil sketch. We're just going to have a small stream or river in this side, and then a part on the river side, then some trees in the background. Let us just add that river. It's going to come around like that. Then we're going to have some grass or something on the riverside. It's going to get thicker towards this side, there. There is the path. The path A is going to follow the perspective, as in it's going to come, expand, and come closer to us. It will be bigger when it comes near us. There, that's the path. Then behind there's going to be trees and branches. Lots of them. We don't need to sketch that. This is all there is for the pencil sketch of this painting. Let us start painting. First of all, we're going to start with applying the water to the whole of the paper itself. Let's apply water to the whole of our paper. Make sure that you apply the water nicely so that you get enough time to work on your background. That is on wet layer. We do not want our paint to be appearing as if being did on dry. We need to make sure that our paper stays wet long enough for us to work on. Apply the water multiple times onto your painting. As I had said before, you can also wait for your paper to slightly absorb that water, and then reapply that water. In that method, you'll be able to get much more time than when you just apply water in a single layer. I'm using 100 percent cotton paper, that's why it stays wet long enough for me to work on. But if you're not using a 100 percent cotton paper, then that is one trick that you can use. There, now I have applied the water and I'm going to start with my size 8 brush. I'm going to start with a nice yellow shade. That's my nice yellow shade. I'm going to apply here at the background. This is the really extreme background. Let's just apply. Towards the right side, I'll start applying a bit over the dot here, try to keep it towards the left side. But towards the right side, you can go up to around one by third of the paper like here I'm doing. Here again, I'm just applying the paint in a dabbing motion as you can see. This is starting with the first color, obviously which is the beautiful autumn color, Indian yellow, or you can use any transparent yellow that you have. Also, I'm holding the paper at an angle, so that my paper paint would flow down, or you can have an angle on your paper by putting something underneath like a masking tape, so that it gives you the perfect angle to work on. Then I have dropped in the yellow. Now let's go ahead and start adding in some of the other autumn colors. I'm going to switch to a smaller size brush now. This is a size 4 brush. Using my size 4 brush, I'm going to pick up some nice orange shade. There's my orange. Using my orange shade, I am going to just drop it here in these small, tiny drops here. Just mimicking the shape of a tree on top of that yellow. That's why I shifted to a smaller size brush so that I can get these tiny drops of paint. We're going to add here. Now the next color that I'm going to add is green. Here is my dark green color, or you can also use sap green. I'm using dark green because it's already yellow on my palette and when this dark green mixes with this yellow, it's going to turn lighter and into a sap green color. Here I'm going to place that green here. You can see how dark it is. You can also go with a sap green, but this is going to get lighter anyways. Just going to add this green and also mix it with some sap green there. This here is my sap green and I'm also going to add that. Now I'm going to work on my sap green. I'm going to add my sap green here at the base of that path, so that it will be nice and light green shade. You can see that all of these paints spread out and also moving towards the path area, but that's absolutely fine. Then I'll go with some dark green. Remember, if you don't have dark green, it's fine, you can mix your green with a little bit of indigo, and you'll get a nice darker green shade. I'm adding this darker green at random places on the right side, there. Now let's add the sap green to the edge of the path. There, I'm taking my sap green and adding to the edge of the path. This is the path. This here is the path. We've added the path, now let's paint the river part. For that, I am going to pick up my yellow again and I'm going to go in these vertical strokes towards the bottom because we want it to act like a reflection in the water. I'm going to also be the same with orange to create the reflection of that tree on the left side. Like that and some here. Then we'll do the same with the green color here. We want it to be dark green because we applied a darker green, so there, taking my darker green and I'll do the same. Now we've created a reflection, but we also need to make it look clearly distinguishable as the river itself. Let us try doing that. What we'll do is we can take either a flat brush or a smaller size brush which can absorb water and you'll also need some tissue. Here is the tissue and I'm going to use a small liner brush like this. I'm absorbing all the water from my brush and then I'm just going to absorb the paint from that side. This is bending too much so let me actually go ahead and use this brush, which is like a size two brush and it's synthetic so it won't bend too much, so it'll be easy to lift off paint. See and after you've lifted off, make sure that you dry your brush again because if you apply that back onto your paper, it's going to ruin that. Let's just create like ripples in the water, just small lines like that, which would make it look as though it's ripples. We'll add more later on, this is just for the initial stage, but you can already clearly see how it's looking as though if it's like the ripples. Before this whole thing dries, let's go ahead and paint that pathway. For that, I'm going to use burnt sienna. This here is my burnt sienna and I'm going to add it to that path on the top of the green also. It's fine if your green has spread into that region, that's absolutely fine. There, added that, then there is a little bit of that path there and there. Now we've added that path. Let's get back to adding more darker tones. This is like a darker brown now and adding this darker brown on the top. Add these darker sheets only towards the bottom. Towards the top, we want it to be lighter. Go with lighter tone. I'm still adding darker tone. Here I have sepia and we're going to add sepia to the base to get some slightly darker. That's good enough. Now we have worked on the background nicely. Let's also add some more trees in the background quickly before this whole thing dries. I'm going to take burnt sienna again. There, that's my burnt sienna and it may mix it up with a little bit of burnt umber so that I get like a nice brown sheet. You can go ahead and directly use burnt umber also. I'm using my liner brush now because I want thinner lines and using that liner brush, I'm just adding some thinner lines. As you can see, they will spread and I'm adding a trunk to this tree that we added. See and let's add another trunk to this tree. Then let's add more trunks in the background. I think my paper has already started to dry out a bit and it's not creating the perfect trunks that I want it to be, that is the wet on wet trunks, but that's all right. See. Some of those branches that I'm making are really thin, so try to use the tip of the brush to get that really thin strokes. Let's get back to adding some darker spots into our path. That's good enough. Now while our background is drying, you can work on other things that you want like for example, this tree here, I want to add some more paint on top of it and make it even darker. Just dropping some darker paint on the top so that that trunk is not that visible. There, I've added the darker paint on the top of it. Now, we'll wait for this whole thing to dry so that we can add the foreground elements. This was the background. Now I have dried the whole thing up with my hairdryer, and let us get to adding some of the foreground elements.. We'll start from the left side, the reason being this left side here is the furthest point and as you can see as the road turns towards this side, These here, are the closest points. This will be the furthest points, which will start first. Here I'm just going to mix all these paints and wet it so that I can use a dry brush to apply some of those backgrounds. Let me just wet all of these. Here I have wet all of these paints and so let us start by taking a dry brush. This brush is dry and I haven't dipped in water. We're going to use that dry brush to pick up the paint so that we get some dry strokes. What we're going to do is, we're going to use this dabbing method to get those dry strokes onto the paper. You can see how it appears on the paper. The strokes are really dry, you can see it up close. Dry strokes like that and make them thinner at the top because we don't want a lot of those dry strokes at the top. Let's go with some orange now. Added some nice orange, let's shift back to adding on the top here now, on top of this. As I've said before, these colors are opaque so it's going to appear on top of a darker background. Even though our tree is a darker color, this is opaque watercolor, which will appear on the top. You can mix it up with gouache if you don't have these opaque watercolors. Then let us have a nice yellow tree here. This is cadmium yellow that I'm using. Using this cadmium yellow, I'm adding on to the top, for the foreground details. I've added a tree there, maybe I'll drop in some green towards the base. This is very lighter green. Now that I've added all those backgrounds, what I'm going to do is, let's add some tree trunks first before we add any more leaves. Here, I'm going to start with my burnt sienna again. I'm going to mix it up with burnt umber. You can lighten up your burnt umber by adding a little bit of orange and you'll get this exact shade that I'm using, so there. Using the shade, I'm going to create some branches. I'm going to start somewhere around here. I'm going to create three branches all the way to the top, and I'm going to make sure that these are thinner as I go towards the top and thicker at the bottom, and I'll add more closer to it. For the ones closer, I'm going to make it darker by adding more burnt umber. You can see that one is more darker. Now, we'll go with an even darker shade, that is, we'll take sapphire. If you don't have sapphire, mix your brown with black or pink-green, and you'll get sapphire. That is the sapphire and I'm going to add that now. I'm going to start that right here at the base. This is obviously going to be much thicker than the other two. This is going towards the edge. Now let's add branches to each of these. For the first one, let's get back to the color that we used to add branches, that is, burnt sienna and a little bit of burnt umber mixed. Use the tip of your brush to create any branches like that. I've created a branch. Now, let's go ahead with burnt umber and add the branch to the next one. Now, for the one in the front, we'll go with sapphire, of course, which is the darkest of the branch, and we'll add bigger branches. I am going to have like a bigger branch going there and an even bigger branch towards the outside, extending all the way outward. I've added bigger branches, now to create smaller branches from that bigger branch, I'll switch to my smaller size brush because the tip of this brush is obviously huge. Now, I'll switch to my liner brush and we'll create smaller branches. Let us now start adding leaves in each of these branches. We'll start with all of these opaque colors. Starting with cadmium yellow, we'll start adding, so just drop little amounts of paint. Towards the edges here, I'm only going to add little amount of yellow because I want most of them to be in an orange shade. Just add little amount of yellow. I've added yellow. Let's go to the next color, which is going to be cadmium yellow deep. You can just mix a little bit of orange to get this color or use whitewash paint and use that. The orange shade is what I want mostly to these branches here. I'll add more of the orange shades more than the yellow and pick up a little bit more yellow and add. Now, let's go with an even more darker shade, that would be cadmium orange. These branches here towards the outside, they didn't have all leaves. Just at random, it's good to have some branches that are already shed as well, that is, shed their leaves. This part here where we're adding these foreground leaves is the most time-consuming part, but I love to do it because of how those colors pop out as soon as you start adding on top of them. That's why I love it so much, this part. If we had all the time in the world, you could just sit and keep adding all of these details. Wouldn't you do that? Well, I certainly would. You can even switch to a smaller size brush if you'd rather have your leaves as small as you want them. I think I'll add some red now. Now, I've added a lot of these colors in the background, as in the foreground, but at the backside. Towards the front side, I'm going to add a lot of green. Here this is the yellow-green light. You can mix up your yellow and blue together or you can use gouache, which would be the most ideal one to use if you want to get it opaque and appear on the top like this. Just adding at the top and also we'll start adding some to the base so that the edge of this pathway is covered up nicely. These edges off the trees, they don't look as though they are like standing in the air. Just cover the top with fresh patch of green. When I covered it up with fresh patch of green, it looks as though it's got some bushy edges at the bottom there. The same to this one at the edge. Then we'll also start adding some minute detailing to the bushy edge here. As you go further away, reduce the amount of the dealing so that it looks as though it's going towards that sea. See how we have done that. You can also add bits of yellow to give it a nice lighter tone. I've added the yellow. I'm going to go back with my green on top of the yellow so that it doesn't look too lighter. It's just going to be turning into a lighter green shade. See how that has turned out into a lighter green sheet. We've almost completed all the detailing on this painting, but let's just make this a bit more interesting. I'm going to add a little bit more of my green here. Now what I'm going to do is I'm going to get back with that dry brush and we're going to create some dry strokes. Here is the yellow and let's create a lot of these dry brush strokes in the background. See as soon as you add those dry brush strokes, this doesn't look as though it's got lots of dot structure. This is the reason why we do that. Just add those dry brush strokes. Let me get to orange now or the cadmium yellow deep and you can see that I'm using this dry brush to blend out the colors that are already there. You can see that dry brush stroke. Let's just apply those dry brush strokes on the top of our dotted leaves. Now with red. Now that red is done, let us add the last color, which is going to be green. Here I'm picking up dry green and doing the same thing. Here I've covered up that patchy green that we did. Let's do the same for the bottom slightly and also to this edge here. See just some dry strokes. Lastly, on top of that green, let us add some yellow. We're almost done. The thing this already looks so gorgeous. I'll pick up some yellow and drop some smaller amounts of yellow on top of this green here. Also, we'll add some yellow drops on the path. It's like the fallen leaves. You can also add some darker details, so the dried leaves. Just dropping some dots you can see. You can also create some dry strokes. You can also add some orange. I think this looks good enough already. In the water, if you want to have some more nice reflections, you can do that. For that, I'm going to switch to my smaller size brush and I'm going to pick up a nice, green shade and we're just going to add small lines like these to depict the reflection of this tree here. Just use a smaller size brush and just these small vertical lines. They'll be like the vertical lines in the water. We've added the green. Let's also add a bit of orange. Now that looks like the perfect reflection. We're done with our painting. Let's just wait for this whole thing to dry so that we can remove our masking tape. Here everything is completely dry, so let us remove the tape. Here is our final painting. I hope you like it. 9. Day 4 - Autumn Leaves: Let us move toward some beautiful autumn leaves today. We'll have some autumn leaves with some beautiful colors in the background, autumn colors. Let's have one branch like that, then another branch possibly like that. This is just roughly we build with later on with our brush properly. This is just like a place holder so that we can add the background. Then another leaf there. Then the autumn leaves are going to be, let's add them in the most common autumn shape. You know the shape. Let's just add in there. Just adding different shapes and these autumn leaves. Here it is. I actually I had this on my templates and so this is what we're trying to paint. When it's like bend or turning the other side, there will be looking like this. Half of it or all these different shapes. That's what we're trying to add. Here, you can use this as a reference if you want. Post it right here and you get the references that you want to find. This is what we're adding to the whole. I think most of it you can just add it with your brush itself in the end. I'm just marking these ones here because I want the color here to be a little darker. That's why I've marked out the shapes. Just some of them, there. I think the other ones we can go ahead and start with our brush itself. Let us paint the beautiful background now. I'm going to be using my flat brush to apply water to the whole of my paper. Don't bother about the leaves or any shapes you've added. Just apply the water nicely. I'm holding my paper at an angle, so that any extra pools of water would flow down rather than settling on my paper itself. You can see all of the water accumulating here at the bottom. You can actually use a tissue or something to absorb that water because we do not want that extra water there at the bottom. We applied the water, so let us now get to painting. What we're going to do is, we're going to start with a nice Indian yellow shade. This is Indian yellow, or you can use Aurelian transmitting any yellow that you have. We're going to start here at the edge. I'm going to place my paper flat for this one because I don't want it to spread. I'm just applying some random shapes, and most I'm trying to create some white gaps. But then because the paper is wet, I'm pretty sure that it's going to spread out and just go all over. But I've got to try. You can see creating some white gaps at random places and also in the side. But you can also see I'm going over the leaves and it's absolutely fine, because this is the background, and it will dry out. It will be lighter than when you've applied the paint. That's absolutely fine. Leave some white spaces at certain places, anywhere. You can see, I'm just creating great gaps at random places, and applying this yellow paint all over. Now that I've applied the yellow paint, and I'm going to add some green, but I'm going to add olive green. To create olive green, what I'm going to do is, I'm going to mix my green with a little bit of this Indian gold or brown shade. That will give me a nice olive green shade. That was Indian gold. You can also mix brown and green together to create Indian olive green. That olive green shade, I am going to apply at certain places. Maybe in some areas here. I'm not applying too divide areas that I've left behind. Note that, I'm just applying to other places on top of the yellow itself. Because olive green is slightly darker than the yellow, it'll just come on the top. We can put more golden shade, to mix my olive green shade. Now I'm going to go with a golden shade. Here is my Indian gold. I'll add that my Indian gold shade. I'll add that on top of my yellow. But again, only at random places and note my papers are still wet. That is absolutely important because if your paper has dried then your paints are not going to blend and you wouldn't be able to achieve this. Here I've added the Indian gold shade. Now I'm going to take burnt umber. That's burnt umber, then I'm going to mix it up with my burnt sienna. Like I said before, if you don't have such a burnt sienna, burnt umber just mix your brown with a little bit of orange and you should be able to get the shade. This is what I going to apply to the edge here. Because I was going to apply a darker tone here. This is the reason why I marked out the leaves on that area because I want to make sure that I don't apply colors to areas on top of the leaves. Here I'm actually trying to go around some of these leaves when painting. Just some background. I'll also add in a darker tone towards the edge here. Now that we have added that, I'm going to try to create some more white gaps so what I'm going to do is, I'm going to take our brush and dry it out quickly and I'm going to try and absorb some paint. See, I've tried to go around so that absorb it in a circle, just some small circles and try doing this at different places. I've got a circle there, maybe I'll try one here. Yeah, that's not bad. Those create nice bouquet effect. You can go for smaller circles as well and try doing this at random places. Obviously your paint, if it's too wet, it's going to flow back but don't worry too much. If you've left enough white gaps then it should be absolutely fine, so I think this is it for the background. We can wait for this whole thing to dry, so that we can start adding the leaves. Here, our background has now completely dried, and we can start painting. I am going to take burnt amber first, so here is my burnt umber, and I'm using my size 2 brush. Using my burnt umber, I'm going to paint this branch over here so that branch is going to come down like that. If you want, you can mix a bit of burnt sienna to it so that it gets slightly lighter, so see, or like I said, mix orange and this lighter shade did get up to this point. I think we can have small branches coming out of it. That is one branch, then let's go ahead and start adding the other two. For the other two, I want it to be darker, so I'm going to be painting with sepia. Sepia is darker brown, mix your brown with black if you don't have this darker brown. Let's take sepia and start adding the other two branches. Have I told you the story of how I never learn? That is, I know that I should always start painting from the left side so that my hand doesn't hinder the already drawn paint, but somehow I never learn. I always start from the right side and I think it's because mainly I'm right-handed. It's a funny story if you followed along in my 100-day project, you must have heard this like 100 times already. Taking sepia and adding the branches. Let's now add some smaller branches on top of this. Then luckily, this one doesn't have any smaller branch, otherwise, I would have struggled again. I added enough of the smaller branches. I think let's go and add some to the edge here. I think that's more than enough, now let's get to painting each of the leaves. For painting the leaves, I am going to be using Indian gold shade and don't worry, if you don't have Indian gold, you can mix orange, yellow, and brown together to get such a beautiful Indian gold shade. We're going to apply paint into those leaves. This is the reason why I say that even if your paint goes on top of these, it's fine because we'll anyways be painting with a slightly darker tone and also watercolor painting tends to get lighter. I think we can also paint with Indian yellow, which is a transparent yellow so even if your base is not that transparent you'll still be able to see the paint on the top because now you're painting with wet on dry, so watercolor paint typically appears nicely on the top of dry paint. I'm giving it a mix of Indian gold and Indian yellow. Like I said, the rest of it, you can just add with your brush itself. Like the majority of these leaves here, I'm going to add with my brush itself. This here is going to be the hardest part in this painting because we're trying to add a lot of these leaves and it's a repeated process but again, it's like a meditative process, you can use both yellow and Indian yellow to do that, so let's go and keep adding those. I think I'll switch to a smaller size brush because I want to get smaller strokes, so I'm using a size 1 brush. Now, you can actually go on top of some of those white areas as well. I'm going to have some branches extending outward using my Indian gold. This is one way to paint those leaves. That is, let me show it to you how you can make those strokes. Let me take one from here and then just press your brush towards one side. Then towards the next side and then towards the other side. See? I've created a leaf there. You can just modify according to however you want it. What I am going to do is, I'm going to paint with all yellow now. These will be the leaves at the bottom. They're all going to be having weird shapes because of the way they are bent. Just keep adding all of these leaves in different directions. Here is the leaf if you need it for reference. They'll all be pointing in different directions, so it's quite easy to make them. As in, you don't have to make them perfect, that's what it is. This is really fun, adding these leaves. I enjoyed a lot. I'm literally just adding some random shapes because it could be that the leaf is torn out. Then it has such random shape because it's not going to be every leaf in the perfect shape. I think I've added a lot of this yellow. Now I'm going to add some Indian gold ones on the top. On the top of any of these yellows that I have dried, let me go ahead and start adding some Indian gold ones. Take your time to do this. Don't rush because it's just meditative. Towards the edge of some of these, I'm going to just add bit of brown to the edge of some of these because I don't want all of them to be perfect Indian gold shade. Just the edge of some of these leaves. See, some of them are now dark. Now I'm also going to add some with olive green, so here is my olive green. I'm going to mix my green and Indian gold together to create that olive green shade. Here is the olive green. I'm just going to add one or two with olive green as well. It's just basically all those colors that we used in the background. Now we're going to use them in the foreground for these leaves, but just at random basis. Then, where else? Maybe add one of the small one here. We've added a lot of these leaves. Now what we're going to do is, using your small brush itself, let us pick up a nice dark brown color, almost the same color that we used for the branches which is [inaudible] or the burnt amber. We need a very thin brush with a pointed tip. We're going to create the veins inside of these leaves. Let those veins go from one end of the leaf towards the center, you got? Adding those veins will now make it look more beautiful. Make sure you use the pointed tip of the brush and we don't need to make it perfect, also, see how light that one is. It's almost not visible. Just adding these veins. Remember, it has to be very light. I've added the veins for almost all of them now. Now what we'll do is we'll draw some empty branches. Just use your brush and use the tip of your brush to just add linoleic empty branches hanging out, and you can go over on the top of these leaves. Let's extend that towards the base as much as you want and it's okay to have them broken. Now I've added a lot of the these empty branches. Now, the last thing I want to do is, you see this here it's not that clearly visible, so what I am going to do is, I'm going to apply water to the outside of those leaves, to the outside very carefully by avoiding the leaves as such, and apply the water towards the outside. Then, now we'll take a nice darker shade and we'll apply the paint. This is like outside of the leaves and we have to be careful not to touch the leaves or to ruin the shapes of the leaves. The reason why we are applying the paint, again on the top is now that you've applied a darker paint towards the outside, your leaf is going to pop out. We can see, now you can clearly see that leaf. Let's do this just at some places, just to make those leaves near the boundary regions to pop out. That's it. Applying the water because we want it to be wet on red stroke itself. Since then is a clear separation and it looks a bit odd, let's just apply a little bit of that water to this side as well, and then we'll lighten up our brown tone, towards this side. Here, we apply the same brown tone, so that there is a continuity from this side to here. See now there is a continuity. It doesn't look odd, but then towards the base of it, just apply water and spread it around so that now there is like a clear mix, so it doesn't look odd. too odd there. Just spreading out that brown there. I think that's much better, isn't it? We've spread out that brown. We can clearly see the shape of the leaf there. I think it's good now. Now we'll wait for this to dry, so that we can remove the tape. Here, everything is dry now, so let us remove the tape. Here is the final painting, I hope you like it. 10. Day 5 - Dry Leaves: Let us try and paint a gorgeous autumn leaf today, a dried leaf. Let us start with a quick pencil sketch. There's going to be a branch here, slightly bend towards the top. Let's have it go towards to top. It's an odd shape, like a one at certain places. That's how we're going to add the leaf. The other side, and this here, is the main line of the leaf. We'll have lines, the veins on the leaf. This shape doesn't have to be exact, that's what's most important, because you can just do it in any random shape. We're just trying to create a tone leaves. Don't fuss about getting the exact shape that I have, which is why I'm not showing any work because it's just a leaf and it's [inaudible] places so you can clearly understand. These veins can also be done later on with the brush, but I'm just trying to mark out little space for them and let's also have some gaps in which the leaf is tone like in the middle here. These three blocks are tone areas on the leaf. Maybe another one here, and some smaller ones there, then let's add this leaf. I'm extending and making the first vein first. That's the main beam, the leaf and we'll start to draw the leaf around it. Then this leaf can go on top of this. It's just some tone patterned leaf. I think that's good enough. We'll just crop it at that. Here, I'll show to you closely so that if you want to sketch it exactly like this, you can pause it right here and make the sketch. I hope we get to painting, which is of course the most interesting part, isn't it? I'm going to start applying water onto my painting. I formed my paper, the whole of the paper, don't bother about the leaf or anything right now because we're going to do the background. Let's just apply water to the whole of our paper. The background is going to be lead least quick in this one, doesn't have too much detailing. Most of the detailing are going on to the leaves, of course. You might have understood. I've got my water on the whole of my paper. Now that we've applied water let's get to the background. Here I'm using my size 8 brush and I'm going to be using paint gray. Here's my paint gray, and we need a lighter tone. First, I'm mixing my paints gray on my palette, and then I'll mix water with it to get lighter tone. There, I've mixed water with it to get a lighter tone, and this is what we're going to add, and we're going to add it all around the outside. You can see just along the upside and it's okay if some paint spreads towards the inside of the leaf because we also need some little bit of color in these gaps that we had for the leaf. It's just random. Let the whole thing spread. Any darker color they can go towards the outside. Towards the outside, try creating any random shape. Like here, I don't know, it's some shape that I'm trying to create and drop that color there. Then maybe we'll add a little to the side and that's it. Now we have added the gray, let's just drop in a little bit of green as well. This is a darker green, you can see that. I'm going to make this a little bit more darker by mixing a bit of indigo. You can see, now it's darker and this darker paint, I'm just going to drop it onto my paper, but just at the ends. This time, the green, I don't want to go over the leaf. Now be careful with the green because really the green, we do not want it to go over onto the leaf because the leaf is going to be yellow when we paint. It's going to be hard if it goes onto top of the leaf because as you know, the yellow is not going to work well with green, so there. It looks a bit more green and I love that green. That's all. This is where I said the background was going to be really quick and that's it. The background is done. Now all we have to do is wait for this whole thing to dry so that we can paint the foreground. Here the background is now completely dry, and let's start painting the leaf first, we'll get to the branch later on. I'm going to start with my Indian gold sheet. Picking up my mixture of Indian gold, make sure there's a lot of water in the mixture because we want the paint to be wet. Then using my Indian gold, I'm going to paint inside the leaf. What I am going to do is, I'm going to apply my Indian gold color onto my paper and I'm going to skip any of the gaps that we have on our leaf. Make sure that you go around. This is where a nice pointed brush would be useful. Get your paint to go around and inside. This is the reason why I said, you need your brush to have a lot of water as well because you want to have that wetness on your paper you can see this region is too wet. You don't want to make it dry. If you see that it's drying, go over it again and just wet it like here I am doing. Each time I'm picking up a lot of water and paint, we don't want our paint to be dry. This is something we have to be careful, if you're picking up more paint, then make sure that you water it down so that your mixture is wet. See this mixture here, it's wet and we need that wetness. We need our paper to be wet, that is, our brush to be wet and to have our wetness on that paper. That's absolutely necessary. We just go around the whole of the leaf. This left leaf is what we're painting first. Don't bother about the other one now. I know we've made the other leaf to go on top of this one, but let's paint this one first. As you can see, I'm going over these areas once more just to keep it wet. Just wetting it because like I said, don't let it dry. When you look at your paper, you can actually see whether there's any regions that is drying out. If you find those regions are drying out, then go over it again and apply the paint and just keep it wet. That's all we need for now. Keep applying. There, I've applied the paint. I'm just going to wet any region that I see. I'm not going to make it dry, let it dry, so here just wetting it again by applying more paint. See? We've added the Indian gold. Now, we'll go over on the top with some other colors. I want to switch to a different brush now. This is my size 6 brush and it's synthetic, which means it doesn't hold a lot water, so just use your normal brush. Don't fuss about it. As in the other brush that I was using was a watercolor brush natural hair that holds a lot of water. The first color that we'll go with now after the Indian gold is burnt sienna. Let's pick up a nice amount of burnt sienna. Here, I'm mixing burnt sienna. Let's take the burnt sienna and start applying. I'm going to drop it at the top here, on the top of our Indian gold. This is the reason why I said it needs to be staying wet so that if you let the paint spread on the top, if it was dry, then it wouldn't spread like this and we wouldn't be able to achieve this effect that we're trying. Here I'm applying towards the edge of these leaves, giving it a slight darker edge. We'll do the same for almost all the places. I've given it a darker edge here. It's not got too much around this area because obviously that leaf is there on the top and we need to paint it. Here I'm going outside of the leaf. Not inside. I've painted a little bit inside, but not too much. Then what we're going to do is let's add some color inside towards where the veins are, see the vein of the leaf. All of this, just go with your instincts. It doesn't have to be exactly the way that I'm doing it. Like I said, this is just a leaf, so every one of us, the leaves are going to be different. We just dropping a darker color onto it. Here I'll drop some darker color here. You see some darker shades. You can already see how it's turning out. So beautiful, isn't it? Let's go over in the center a bit. This is the reason why I said that we need our Indian gold to be wet and that we need to maintain it to stay wet. Otherwise, it wouldn't have been this easy to apply and blend that burnt sienna on top of it. Even now, when you're applying the burnt sienna, make sure that it doesn't dry out because we need to add the next color, which is going to be burnt umber. I'm going to take my burnt umber and mix it on my palette. Here is my burnt umber. Now we're going to add this burnt umber. This time, let's take a nice amount of burnt umber. Again, we're going to try adding it to the extreme edge at certain places. Not all, see, just dropped a little bit there. Then maybe we'll drop some there. Like I said, not all the places. Just try and drop in the darker color at certain places. Maybe a little here, then I think I'll add a little here. This edge a little. You can see how that makes that leaf so dried up. Then let's go around in the center as well. The center vein, this is where it's going to get exciting. That center vein of the leaf. The paper is still wet. Note that. Just join that and made some aligned with the burnt umber. Then the other places where you've drawn the line, the veins, let's drop in some darker pigment there in those center regions. Not as a line, but you can see just like set of paint strokes there. I think that looks good. I think I'm going to go around the edge of these holes in the leaf just to make it darker around the edge. Use the pointed tip of your brush because those are tone parts of the leaf, so let's make that clearly visible. I think that's good enough. We can paint veins later on, it doesn't have to be now. I think this region is dry. Yes, it's dry. Because it's dry, let's paint the other leaf now. For painting the other leaf, let's get back to it with Indian gold again, and again like before, use a diluted mixture, use water. There. We're going to go over. Like before, try to reapply the paint if you start to see that it's drying out, we shouldn't let it dry. Jut keep applying. These regions are starting to dry, so I'm just going to reapply. Just always keep a lookout for the areas that are starting to dry out. We have this region. This region now I'm going to go over with the Indian gold again on the top. It's absolutely fine to go over the other leaf because we're adding transparent color, which is going to appear in layers and the other leaf is just going to be seen through insight. Added the Indian gold. Let's get back to adding the other colors, burnt sienna first. I'm starting with the burnt sienna. I'm going to apply the burnt sienna at the bottom here. This leaf, I think, let's make it a tad darker than the other one. I'm adding a nice amount of burnt sienna to the top. Then in the other areas as well. This one, not just in the edges, but let's try to make it a little bit more darker. Again, darker color here. Let's apply the darker tone on the top. I think that looks good. Now let's get to painting the darkest color, which is burnt umber. I'm going to go with the dark color in the darkest of the areas, like the edge here. You can note my paper is still wet. That's one thing that we need to take care of, that all of these strokes are wet on wet. This is the importance of applying the paint and make sure that it stays wet like that. Center vein, like that. Some dark tones here, and I think some dark tones here and maybe another set of dark tones here. I'm adding some darker tones here. You can see that when I've added it in this manner, it looks as though this leaf is again bent at that place. Then let's go towards these edges here. We didn't touch that. Maybe go through the veins a bit. We'll darken the veins later on. For now, let's just add. I think that's good enough. Let's paint the top branch now. For that, I'll get back to my other size 8 brush, and we're going to paint it with transparent brown or burnt umber. Picking up the burnt umber, we'll just start padding. There just added that branch and it's good too adding the others. Just join it for now. We'll continue with the veins later on. Oh, my God, this is looking so interesting, isn't it? Now what we're going to do is, let us take some payne's gray or darker tone. That's payne's gray. Let's mix it with the brown so that we get a darker brown color. You can also go ahead and use sepia. We're going to create some shadows. Just towards the right side, I'm going to drop in that payne's gray. You can see either the right side or the bottom side. Half of it is going to be brown and the other half is going to be a darker brown, darker black shade. That gives it a shadow. Here, just at the bottom side is where I'm applying this darker shade. There, now you can see clearly there is a contrast between that. Can you see that? The painting is already almost complete, the only thing left to do is to add in the veins now, isn't it? Let's actually wait for this whole thing to dry. I think I missed out an extra part of the branch here. I think that's good enough. Let's wait for this to dry so that we can add in the veins and finish off. I've dried it up quickly with my hairdryer and here I'm going to use my liner brush for the details so we can go ahead and add sepia because that's a darker brown. Mix your brown with black if you don't have sepia, and that's what we will add for the veins. Let's add in the veins now. We're going to use a nice detailed brush and go over on the top, starting with the middle. This is where we connect the leaf to that branch there. Then use the tip of the brush and as you come towards the edge, make it thinner, like that. Now we'll just complete with all the other veins. Done that side, then the next side. See now we've added the veins. Let's just connect some smaller wigs to them so that it looks more realistic. Add the smaller veins with burnt umber so that it's lighter than the other ones. Remember to use a smaller detailer brush because we really don't want the colors to be blending out too much, so make sure you use a smaller sized brush. Added a lot there, now let's just complete this side as well. Now let's get back to this main one on the right side. I've switched back to sepia. Then this one. Now switching back to burnt umber for the smaller veins. I think that's good enough. Let's not ruin it anymore. But, oh my God, this is already looking so gorgeous, isn't it? I think the last thing I'm going to do is I'm going to add some splatters in the leaf, but very carefully, we don't want any splatters to go outside. I'm just going to hold my hand, hide out any other parts, use the smallest brush and just drop in some tiny splatters. Can you see that? I think it's going to be hard to achieve on this one because it might spread. Good. I'm not going to ruin it any more. Basically, that's it. I'm loving how this one has turned out. If you like this, let's peel off the tape. Here is the final painting for today. I hope you like it. 11. Day 6 - Mushrooms: Now let us paint some beautiful mushrooms for today. Just going to be some mushrooms growing out of bush or like part of a tree. We don't want it to be that clear. Just draw some random lines and then we add in the mushrooms. I'm going to have my first mushroom here, then the top of that mushroom. They don't have to be in any perfect shape either. Because it's just a photos mushrooms growing out of somewhere. Then we going to tab another mushroom here. It will be under the one in the back here. Just in a little seen. Then this one before its stem, let's add another one here. You can see some of those mushrooms I'm even distorting them because we don't want them to be perfect. Let me erase the stem inside. I think I will add a smaller one here as well. Let's not have it on the top of each other. Let's move out the stem of that. That gets slightly bent so that bent stem need to come towards the bottom and join the grass area there and also the stem of this one. Then maybe we'll add one, last one here because this area looks empty. To start this stem is like, car bent. I think that's enough for the pencil sketch. Let's get to painting. Again, we're going to paint the whole of the background first. Let's apply water. Don't bother about the mushrooms for now. Let your water flow to the whole of your background. Apply the water multiple times in order to make sure that your paper can stay wet for us to paint the background, especially if you're not using a 100 percent cotton paper lined paint. Water, I'm going to take my size eight brush. We're going to start adding the background. I'm going to start with a nice yellow shade. I'm just going to drop in that yellow paint to each of these areas here at the bottom. This is just because I want to create a lighter shade first. I'm not going too much towards the edges. You can see that, so at the base I've added. Actually let's paint the top regions as well. I'm going to mix a darker green. Here is my green. What I'm going to do is, I'm going to mix a little bit of indigo with it, so that will turn darker or you can mix Payne's gray. Here I've mixed indigo and you can see the shape that I have got. This is what we're going to use. Just adding some darker tones and careful around the mushrooms. We're not going to go over on the top of it. Because like I said, again, we need it to be nice and yellowish so that we can add. But don't worry about the stem. The stem is fine. Go at the base and keep adding. I think now i will go with the normal green as well. As you can see it's a different green and we've added that's outside of the line that we already have and the same here we'll add that green towards the outside and maybe a little bit of that green towards the edge here as well. Now what I'm going to do is I'm going to get back to that green, the darker green that I have. I'm going to apply it on the top of my yellow. This would make it like a sap green shade and also but have some yellowish shades in the background. Applying that whole of my green on top of the yellow and you can see how it's made it look like a lighter green sap green color there. You could have also gone and directly used sap green if you want. Now, I'll make some areas really, dark. I'm going to take my dark green. I'm going to drop in my darker green at certain places. Just cropped in the darker green. If you want to make it even darker, you can use a little bit of indigo on the top. I think that's good enough. I don't want to ruin it anymore, but I think that's fine. If you want to lighten some areas, you can go ahead and start adding some yellow again. Just be careful that you don't go and pick up yellow again after you've touched the green because I actually don't like to ruin the colors in my palette, because if I had touched here this area would have become green, which I don't want, so that's why. Just be careful to wash your brush each time before touching any areas. I think the whole thing has spread enough nicely. We'll create more background effects later on. For now, this is all that is there for the background. Let us wait for it to dry. Unless you want to create some background effects at the back like that, but I think that's totally up to you. See, just connected and added something. Now we'll wait for this to dry. Here, now the background has dried, so let us start painting the mushrooms. For the first few mushrooms that we're going to paint, we're going to start with Indian yellow. Let us pick up Indian yellow. Again, like the leaves that we painted yesterday, we're going to have to make it diluted so that we make up a pasty wet for us to work on. We're going to paint top region of the mushroom first, so apply yellow onto it. Using your brush, just apply yellow and just reapply the color so that it stays wet. Then we'll go on to Indian gold. Pick up a nice golden shade, but make sure that the golden shade is wet and we'll apply this wet Indian gold shade on to the top. There. You can see a little bit of yellow at the bottom, then a golden shade at the top. Let's keep our second brush in the hand, one that's got a nice point and we're going to add the darker details. Here is burnt sienna. Picking up a nice amount of burnt sienna and we're going to start adding it just to the top areas. Not the whole, just at the top and some of the areas. That's it. Let me blend that towards the bottom. I think that's good enough and we're going to repeat the process for all of the mushrooms. Let's take up yellow again and I'm going to add to this one, this mushroom here. It's got a lot of water in it, so I think I'll go ahead and start adding on some other mushroom. This is the reason why I said don't let your green to go on top of your mushrooms because see, it has a tint of green now. I think that's all right for this one. Let's get to adding for the other mushrooms. These two mushrooms are in the back and are going to have a lot of shadows and I'll show you that. Let's not add right now, let's add for these mushrooms here. Okay, added the yellow. I think I'll go and pick up the Indian gold now and I'll add to this mushroom at the top. As you can see, it spread a lot, so let me just absorb a little bit of the water. You can just absorb it with your brush if your brush is dry. There, I've gotten rid of any extra water. Now I'll just add the brown at top, the Indian gold at the top and maybe a little bit of burnt sienna to one side. I think that's enough. I don't want to put in all the sides. Then let's take for the next one, this mushroom, the golden yellow shade and a little bit of the burnt sienna. Just at the top. See, just add a little bit at the top, maybe let's add a little to the side as well. Now we've got the other mushroom, the greenish mushroom to add. That's added, the color, but it's too wet, so I'm just going to absorb a little bit of the paint. Now that's added yellow. Let's go over with brown on the top. There, I think that's good. Now, yes, I think this is dry, so because it's dry let's paint the other two mushrooms. This one I'm starting with Indian gold itself because I want it to be slightly darker than the other ones. With the Indian gold, let's go over on the top. Then I'll take my brown and I'm going to add it at the top, and also to the edge here, there. Now you can see I've made that mushroom a little bit darker than the other ones. Then we have one more mushroom at the back. I think we can't paint that right now because it's region is still wet, so if I apply the paint it's going to spread. Let's not paint that. Instead, how about we paint the stem? In order to be in the stem, start with the left one. I'm starting with Indian gold shade. I've taken the Indian gold and I've just applied, then I'll go over with my brown, my burnt sienna at the edge of it. See, so there is a touch of Indian gold at the top, then the burnt sienna. Then we'll go over it with burnt umber towards the base. This is how we're going to paint these mushrooms, the tricolors. See, I'm adding the burnt umber to the edge of the band sienna, so that it's darker and it's there. Just under there. Leave it at that point like that, for now. We'll add some foreground details later on. Let's get to adding the other one. Again, we want to start with my Indian yellow, move on to burnt sienna, then pick up the darker tone, there. We'll do the same for all of the mushrooms. Start with the Indian gold, then move on to the nice burnt sienna and then at the bottom with burnt umber, the dark brown shade. Like I said on the stem, having a little bit of green was fine because we're painting with brown and it clearly just appears on the top. For this mushroom here, let's start with burnt sienna at first, without the Indian gold, I'm just trying to bring in a variety of colors. Then go with burnt umber, there. Now that we've painted all of that, let me check if this is dry. Yes, that's dry. We'll paint that mushroom at the back. For painting that mushroom at the back, I'm going to start with my Indian gold itself. To just go over it. Then we take the nice burnt sienna and add it to the base. We need to clearly distinguish and show that it's got a bit of shadow. Here I've added burnt sienna to the base of it. Let's also add some burnt umber to the extreme end of the base. Now we can clearly see that it's dark and it's at the back. Well actually, there's a stem of this one. Let us assume that the stem comes in this way. You need to add in a little part of the stem there that is pending because I think it's still wet. I'm just using my brush to absorb the spread. Then [inaudible] here. That's the stem of that one. Now we've made all of the stems. What is left is to paint the inside part of each of these mushrooms. What we're going to do is, we're going to start with yellow. We're going to do with yellow and we're going to add yellow to the whole base of it. Let's not bother about anything else just let's add yellow to all of it's base since because mostly we're trying to make it lighter. We've painted all of them yellow but some areas we need them to be lighter. What we're going to do is we're going to absorb some paint. From the bottom areas we'll try to make it lighter. The reason why I didn't leave it white is because I wanted to have a tint of yellow. If we just use your brush and use the lifting technique. The lifting technique is basically just dab your brush and remove all the excess water. Then rub your brush along the paint and it will absorb the paint. Wash your brush each time because the brush then has the paint that you just absorbed. Let's do this for all of it at the bottom. The bottom side is where we're going to absorb the color. See, just a little. It will start absorbing and the same to this side. Now that we have absorbed, let's go in and add some darker tones to it. Here I'm taking my burnt sienna and painting along the edge. If you can see that it's dried up and doesn't spread, then just soften the edge of it so that it spreads to the bottom. Just soften out that edge the same for all of it. Soften the edge. Don't forget that. When you soften the edge, it looks as though it's spread out. But can you see now the distinguishing lines between the bottom and the top area? We can darken more of certain places by taking brown just like we did for the leaf. I've just dropped some brown there and I want to spread it out the same way. I think I'll go for this one. I just want this area of this mushroom to be darker. You can spread it out. Make sure that you soften them with just water on your brush. Soften your strokes. Now we've added the base on all of these mushrooms. While that dries out, let's add in the foreground. For the foreground, what I'm going to do is, I'm going to drop in some water. Just at this corner here. There, just until that point. I think the edge I'll just try to absorb with a tissue because I don't want the water to create like a dark edge. Then what we're going to do is, we're going to take our opaque green color, nice round of opaque green color and we're going to drop it onto our paper on the dark. Make sure that you apply it in the form of small grassy strokes. Like that, see. This area, I wanted it to be slightly wet. This is the reason why we're applying it like that. You can also apply some yellow strokes. It's just going to look beautiful by blending with the green. Then now we'll get on to adding other foreground details. Other foreground details, we're just going to add a grassy texture. Use a small brush and just add these upward strokes. Make sure that your strokes are upward because we need them to look lik