Playback Speed
---
0.5x

1x (Normal)

1.25x

1.5x

2x
21 Shades of Sunset - A Watercolor Journey
Watch this class and thousands more
Get unlimited access to every class
Taught by industry leaders & working professionals
Topics include illustration, design, photography, and more
Watch this class and thousands more
Get unlimited access to every class
Taught by industry leaders & working professionals
Topics include illustration, design, photography, and more
Lessons in This Class
25 Lessons (7h 39m)
4.

Project 1 - Lights Out

19:22

5.

Project 2 - Purple Seascape

16:39

7.

Project 4 - Multicolor Sunset

18:13

8.

Project 5 - The Mountain

13:54

9.

Project 6 - Green Grassland

20:34

10.

Project 7 - Evening Light

12:46

11.

Project 8 - The Waterfall

13:36

12.

Project 9 - Lavender Fields

19:01

13.

Project 10 - A simple Landscape

17:07

14.

Project 11 - Cityscape

23:37

15.

Project 12 - A dreamy evening

18:16

16.

Project 13 - The Road

19:18

17.

Project 14 - Old Barn

28:59

18.

Project 15 - Golden Hour

30:49

19.

Project 16 - The Bridge

29:07

21.

Project 18 - Winter Sunset

27:55

23.

Project 20 Flying Balloon in the air

15:16

24.

Project 21 Final Sunset

33:30
--

Beginner level

Intermediate level

Advanced level

All levels

Beg/Int level

Int/Adv level
Community Generated
The level is determined by a majority opinion of students who have reviewed this class. The teacher's recommendation is shown until at least 5 student responses are collected.
About This Class
This Class is curated for everyone who has for once fallen in love with the beauty of sunset. I first encountered the most beautiful sunset in Nainital a small hill station In Uttarakhand. Most of the sunsets are inspired across different Landscape, Seascape, cloudscape etc. This class is not only a 21 day exercise but a Journey towards self discovery of how different subjects can be handled with a curated sunset palette.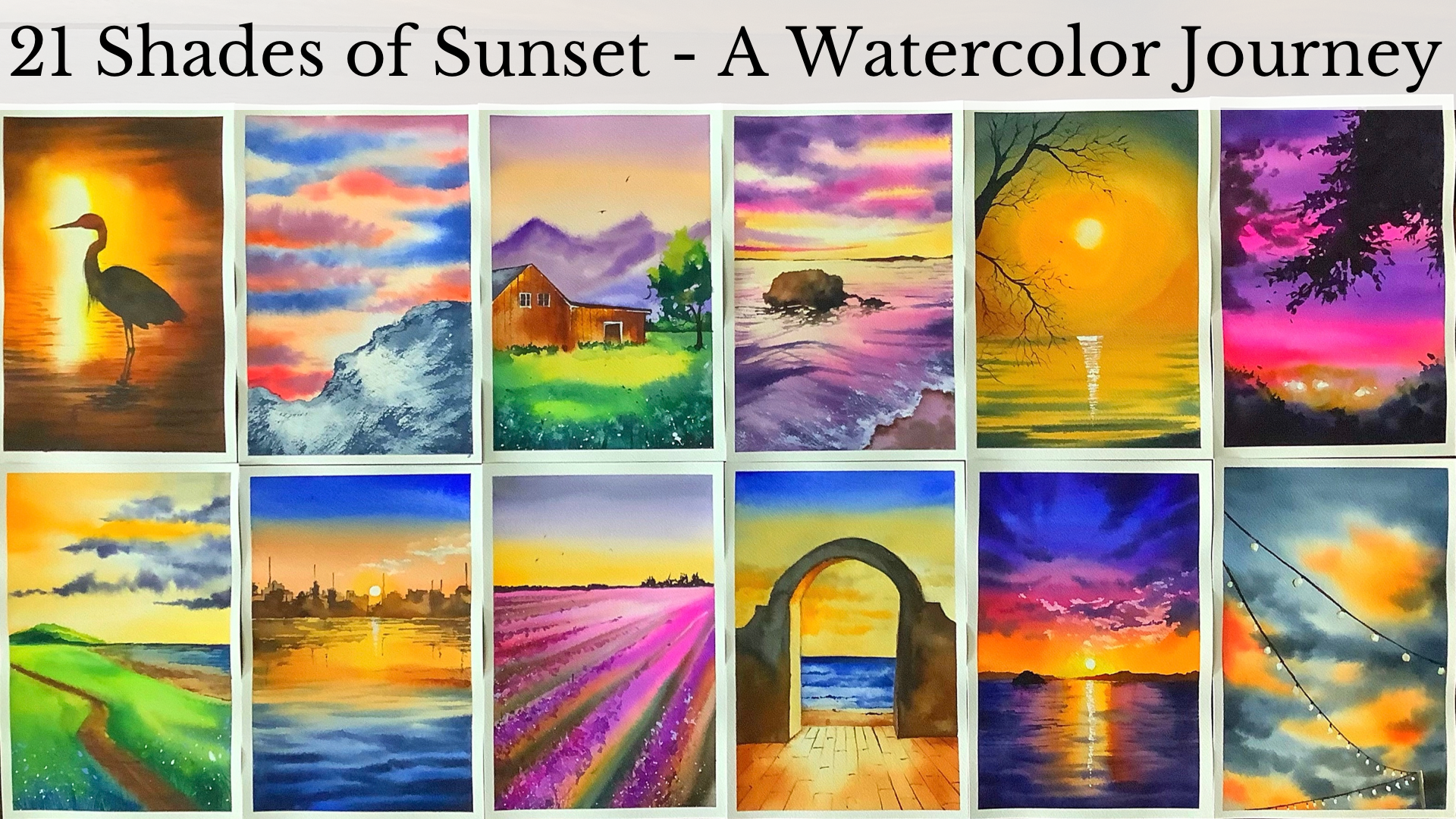 We will start by working on various techniques:
Wet on Wet
Wet on Dry
Dry Brush Technique
Creating Textures
Gradient Sky & various other washes
In total we will be exploring 21 different dreamy projects with the most beautiful medium watercolors. 
Meet Your Teacher
Hello Peeps, I am Dhritikana Nath an artist instructor, teacher, content creator from Delhi (India) and from the time I have started painting landscape was the subject that I did fall in love with. Among landscape painting lights with vibrant colors is my favorite. Overtime I am smitten by the beauty of water, clouds, sea, animals, flowers and everything that is there in Nature. I keep exploring all these subjects with different mediums like watercolor, gouache, markers, soft pastels and more.
I am a strong believer of the idea that anyone can paint if you put an honest effort and for excelling in painting there are only 2 rules practice and frequency of painting. I did start my journey in 2018 and I would say it's been calming, meditative and even helped me a lot to improv... See full profile
Hands-on Class Project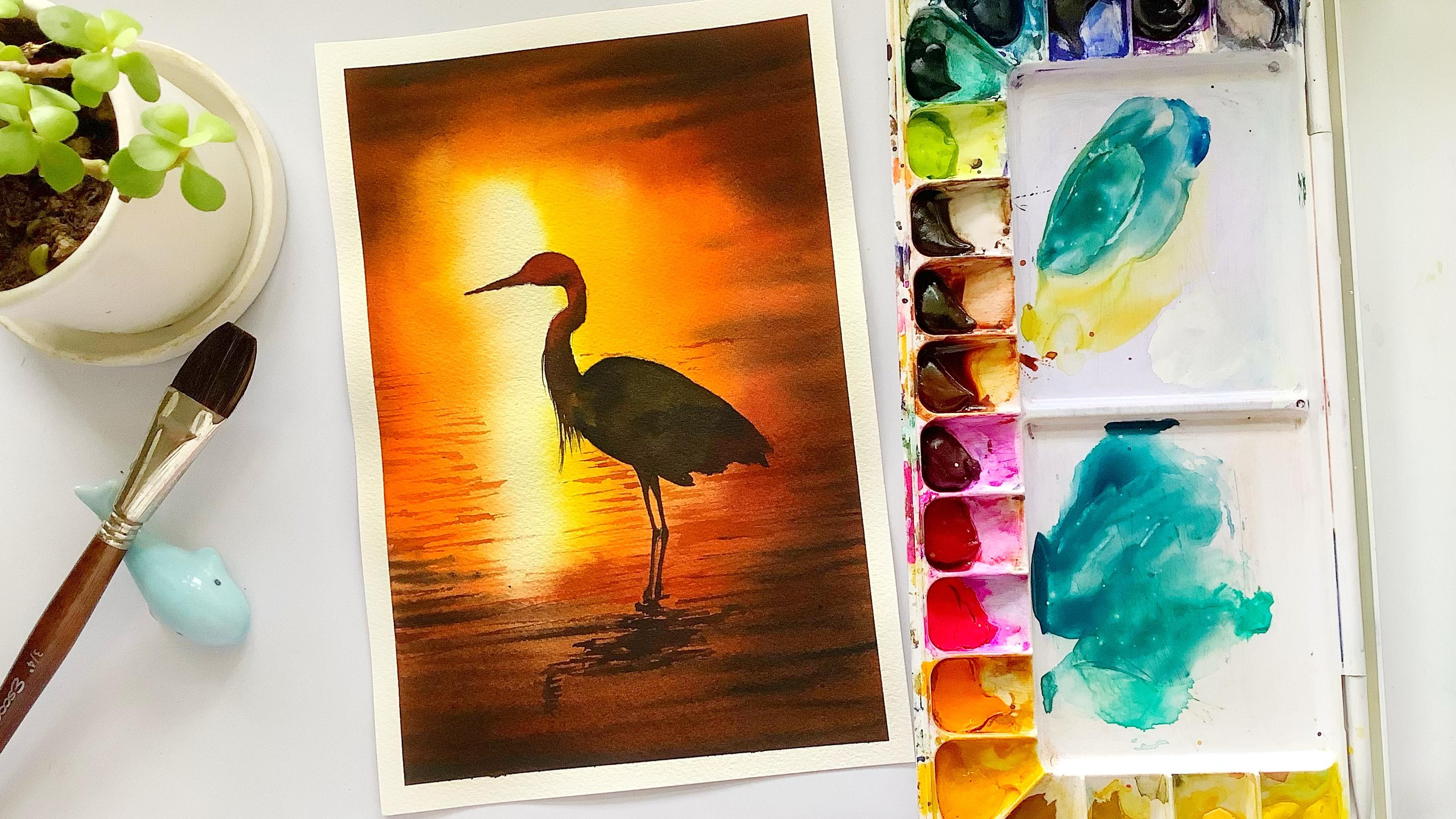 Just letting you know the first few Projects for the first 7 days:
Lights Out
Purple Seascape
A Bird
Multicolor Sunset
Mountain
A Country House
Green Fields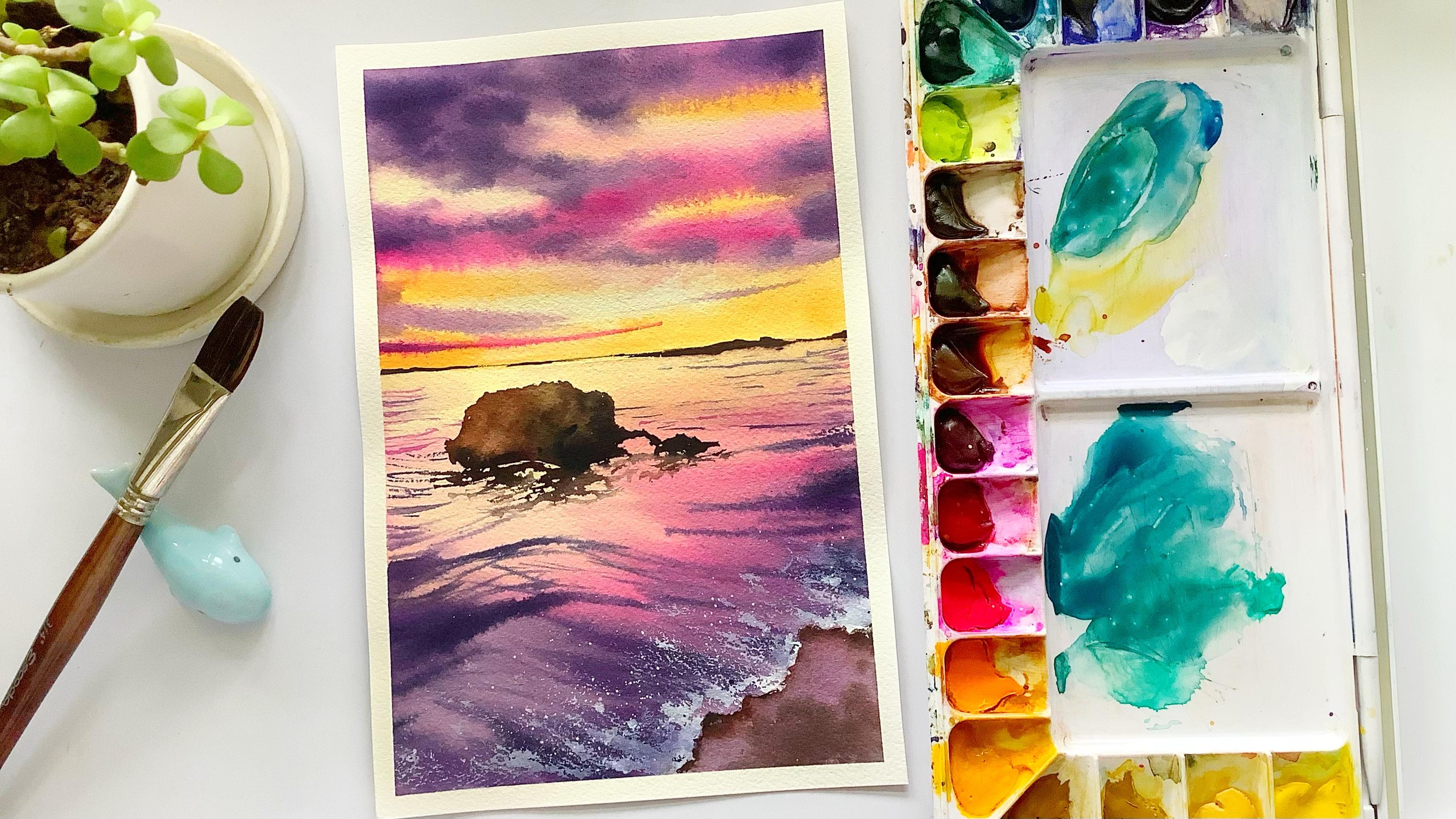 Materials Required:
Arches 300 GSM Cold Pressed – (Landscape size – 15*30 CM, 19*14 CM, 19*28 CM)
Any brand of Watercolor available with you
Silver black Velvet Size (4& 8)
Escoda Size 3/4 inch Flat Brush
Escoda Size 6 Optimo Brush
Watercolor Palette
Masking Tape (.5 Inch) 
**highly recommend you to use Arches 300 Gsm (Acid Free) CP paper to get the similar effects.
** Important - Do upload your class projects in the projects gallery so that I can have a look at your beautiful Projects and give my valuable feedback. 
**Music is taken from a copy right free website Evanto Elements.
**All the projects are uploaded under the resources section, please go ahead and download it for your reference.
Class Ratings
Expectations Met?
Exceeded!

0%

Yes

0%

Somewhat

0%

Not really

0%
Reviews Archive
In October 2018, we updated our review system to improve the way we collect feedback. Below are the reviews written before that update.
Why Join Skillshare?
Take award-winning Skillshare Original Classes
Each class has short lessons, hands-on projects
Your membership supports Skillshare teachers
Transcripts
1. Introduction: During my school trip to an Anita, I encountered a beautiful sunset where I saw the sun setting in between the hills of water. Ok, and we all, as kids, even in the cold weather, could enjoy the bright yellow sun, Dawn, the complete sky can do blue involved early on. That was the first time I got inspired by nature and it's magical colors if you do ever felt the same way and 12 captured it on a piece of paper, then this is the class for you. Hey guys. I am critical enough than artist, instructor, brand educator for when sedan, new angle mother to a newborn. Any of you might already know me and to the people who are joining me for the first time, I go by the name watercolor illustration dark later on, Instagram, more stuff my artworks and displayed over there. This class is for each one of you who wants to bank beaches, skies, white, trees, animals, and much more. We will be walking through 21 different ideas. Explore each of these ideas with one of the most popular and easy accessible mediums, whiter colors. All the videos are realtime so that you can paint along with me and suitable for every level of artist. We will walk through all the supplies, setting up your own sunset balance, and then painting your heart out. I will upload one painting from Monday to Friday as I do not want you guys to be working on Saturdays and Sundays because the weekends are meant to relax suddenly, I would like you to go through, might do after all your classes, magical sunsets, five, easy watercolor sunset and bigness guide to reflect in herself up. All right, series that would help you to get through this class easily. Finally, I would like to tell you that this class is going to be an experience where you will be dedicating 15 to 20 minutes in a day's time and become a master in watercolor painting sunsets. So grab your art supplies and join me now. 2. Materials Required: As all the materials which unique for completing all of these 21 ideas that fosters our arches. 300 GSM, watercolor, acid free people. It is nine by 12 inch. I would be cutting it into two equal halves. That is nine by six inch. You will get a size which is similar to this one. Let's discuss the brushes. The brushes is my wash brush, which is a SCADA three by four-inch. The next is my silver black velvet size eight brush. Silver black velvet size four brush has got a size six brush. I have been using this brush quite a lot because it has got a nice tip. And the last one is my liner brush, which is from Princeton. The next one is my pencil. I'm using a monograph pencil. You can use any pencil of your choice. Scale always handy. It helps us to meet the horizon or any other kind of lines. If you need half an inch tape for taping down your paper. This is a washi tape which I am using. You can use any kind of data that is available with you. It is a whitewash for painting. Rest of the details. Two jars of water. One jar would be for gleaming on the brushes, and the second jar for having any fresh supply of water which you need while you're keeping. I would be setting up my own palette for the sunset painting. I will walk you through all the colors which I have added and all this ballot. In the next video. We will need some tissues. Tissues are really handy while you need to paint any kind of clouds far, you need to pick up the colors or you have made some mistakes. That's all we need from the supply perspective. Let's move on to the next video. 3. Setting up Palette: Let us just set up the pallet which we need for our painting. And I'm going with the yellow. You can go for any yellow data's available on your palate. It is not painting kind of particular yellow that you need to have the next test, my Naples yellow. This is a very nice Kahlo on actually it is a bit opaque in nature as well as it doesn't give you the clean Kahlo if you applied with the blue hands, I am keeping this Naples yellow by my side. The next would be my yellow ocher. Number one non-data, a different yellow ocher and they have different kinds of pigments in it. Hence, so you need to check what kind of yellow ocher you would be using. After this, I would go ahead and just get some raw sienna. Now if you have a darker yellow OCO, you can't just go ahead with a single color, not a problem. I'm just keeping more options with myself. And it is, as you wish, group, Yellow Deep. This is a very beautiful orange timed, awful. Hello. And this is the Bowman and ghetto deep, which I really love from Magellan mission goal. After that, you can go for either yellow, orange, or you can go for cadmium orange, you can go form. And so orange, any orange status available on your palette? Oprah is a must, I would say for your paintings of sunset. Because Oprah really kids that guide of galleries and depth hospital as backgrounds what we need for completing these kinds of paintings. I would actually ask you to go for a key least one Oberon and he have quinacridone permanent. Now, to go ahead. After we have done with the operands Japan booths that I'm just starting to add my brown. This is my burnt sienna. After I've added burnt sienna, gone foreign read from tennis. When I came from. These are the two shades of brown which I would be added to my palette. I really love the red brown color. It would give you a beautiful outcome once you apply it on the papal. You will also read as admin, we are going ahead and adding the scholar on our paper. Violet this again and important Kahlo, why are you paying clients or while you paint? Any author painting now, there are always options that you can go ahead with. If you make some of your car mind with your wireless, you can get a color which is close to you or red violet. Therefore, you do not need to own up all these colors. It's just a few walk them that's unique. Like you would need your violet or bright violet. And I'm taking now some French ultramarine. If I'm going to head with the warm shade of blue, which is French ultramarine, I believe in go ahead with the Gucci dog bloated as my Prussian blue. It has to be a mix and match off your warm and cool colors always while you are placing it on your palette. Again, you do it. You can use these yellow and blue stew meat or green, or else you can have some of your green off your choice. Like I would be having one mine brag a little green from Sennelier. I really loved this collar on, would like to add that and many of my paintings, hence I am adding it. And after that, you can go for your forest green or hookers green or any ingredient that is available with you. I am not particularly inclined towards one shape, hence, so you can use Henning taking off your choice. He even you can go for sap green if you don't have this darker shadow being because Toklas, she don't recall. Base can be prepared with the hub bulky or blue sign, your yellow. So go ahead and fill up the ballot by whichever shade you already have. This is particularly the kind of palette which I would love to own for myself. Handsome, I think this Scholar, you'll do not need to also go ahead and have these shades for your paintings. Last one will be my Payne's gray now home or do both things gray zone. Let's go over so whatever I have I did on the ticket on my palate, That's it. Would need to in the next lesson. 4. Project 1 - Lights Out: This is going to be the first painting out of the 21 paintings we will be doing. It's going to be a journey. I can get piano that you would love doing all these sunsets because they are based on different teams on, this is the first one where we will be painting the sunset clouds and there would be lights in it. Let's start by adding a single layer or a clear layer of water on top of the paper. And this is my cold pressed Arches, 300 GSM paper. You can even go for 640 GSM paper. I have recently purchased. So 640 GSM because I live in the northern side of India where it is very hot. And hence, to work on larger sized paper, I needed to be more ticker. Hence, I will leave it up to you the kind of thickness you would prefer for doing your paintings, but less than 300 years symbol not be preferred. That's what I can tell you. Mix some amount of your yellow orange as well as your permanent yellow deep. Once you have a mixed type color, just go ahead and start your painting how you were hoping for see that there is a clear layer or you can say there's a sheen that you can see once light falls on top of your people. And then wherever there is some extra water, remove it with the help of your tissue. Once you have removed the extra water with the help of your tissue, just go ahead and start typing these clouds in a very, very random way. I'm using my escargot size six brush to add these clouds. You can use any six size brush for doing it. I would leave it up to you. What kind of brushes you want to use for painting. I am not going ahead and asking you to particularly purchases brush, no doubt about it. This is one of the best brushes that I have ever used to relate and I use it very often in many of my paintings. Cdc, there is no particular requirement of adding any thinner lines and not because of which I can tell you that any kind of a size six brush will be good enough to start it off with this painting. Once you are done with the first part, go ahead and start mixing some amount of operands with the with the mix of colors that you have already added to your paper. Once that's done, you can actually add some more opera and few of the areas if you observe. This is our top-down that you see and there is not much of change of the angles. And I really like to keep it this way because you can easily observe how I'm adding the colors, where all I'm adding the colors you see on the right-hand side, I have placed both my jars. Both of these jars are placed on the right because I love to wash my brush in one of the jars and I would keep one clear supply of water and you can use one jar, but there might be requirements and some point in time though. Actually take off the colors, or you can say take off the colors from your brushes. And then again, you might need to go ahead and change your water and combat. That actually leaves me with less time to work with the papal. And as you'll have told you, I live in the northern side of India where it has pretty hard right now. Hence, I would always need to keep my paper wet and walk on it as quickly as possible. Go ahead and start adding this layer of your Payne's gray. Few of the areas wherever it is wet, you know that I am working on the paper pretty quickly. It's within the first two are 56 minutes that we would get some time to work on the paper, and then we will leave the papal to dry out. Once your people is dry, we will go ahead and walk on the second layer. That's a very, very important whenever you are working. If your paper has dried out, let it dry out completely. Let it just become like a paper, fully dried 100 percent and then start working again. It's very, very important or else you might get some cauliflower effect which we do not want in these kinds of paintings. It is mostly the paintings where you will have soft edges and soft edges is very, very important. While you actually go ahead and paint these kind of soft and beautiful clouds, you'll see that I did allow my paper to dry out as I did before, but polio, and now I am applying clear there of water. I'm using my first supply of water to this earlier. Go with a very, very light pad while you are applying this layer, because we do not want the colors which are in the lower side or which are end the first layer to come out in the second year. That's a very, very important and we're not going to do that. Keep that in mind while you paint it. Just add some more darker layer of your Payne's gray in few of the areas. I do not always go ahead with our darker layer in the first goal itself, I always prefer to see how the colors are coming up in the first layer. And once I'm done, but my phosphate then only I will go ahead in my secondly with a darker value. And in the upper value is easier always on their first year. But you know that in watercolors, there is no coming back. And that's one of the reasons you need to be very, very sure how you go ahead and apply your colors. Whenever the cases like you cannot come back in any kind of a painting, it's important to go slow. Going slow and being more meditative with watercolors will actually help you to nail your painting. I can guarantee on it if you can't keep the required amount of patients for our painting, any of the watercolor paintings, it would make all the sense to go ahead and experiment with your watercolor. As I always see what the color has got its own randomness. But with that randomness, you would be in a position to understand that colors once they come in contact with water, they just bloom. And that's what makes it really random and beautiful. Whenever I walk with this medium, it's the most easily available anywhere. And you can frankly get one of the beautiful outcomes, whatever you try to paint, whether it be nature, whether it be urban sketching, whether it be water reflections, florals, anything that you want or do they give you the best outcome? According to me, That's, that's what makes us one of the favorite medium for me. But I would leave it up to you to always try out and then understand. I'm applying a few of the strokes here and there. I have taken a smaller brush right now it is size four brush. You can go ahead with any size four brush off your choice and start adding these colors. Do not think much value-add these strokes because any wastewater will do its job and it would remain very, very soft and nice when it comes to the final touch. Or you can say when you see this painting done and complete, you will be in a position to understand how beautiful it has turned out. We are done with most of the strokes that we wanted to add for these clouds. And now let your paper dry. Once your paper is dry, I will make three lines for my lights and you will see how beautiful letters turn. I can not actually scarf myself van showing you how even adding some details can prove that your painting has turned out so well. There will be only three lines for your lights. And I'm going to actually put the last slide on one-off. You can say big kind of stick which will be holding it. And that's all I would be doing. I am showing you exactly how I mix and match my colors. I'm going ahead with my red brown and with my dad brown, I'm adding the look Carlo, which was more darker in value. You can even go with only dead brown, That's absolutely fine. Don't think much because this is their Dakpo value which I need for painting my line. And on this we will have some beautiful lights which we will be placing. Do not worry, go with a free flow. Just put your hand to rest on the painting. Or you can even use a tissue or a towel if your hand has any kind of Hokkaido. By that way, you can make sure that your hand doesn't have any color and it is easier for you to take off the extra goodies, anything like that from your hand before you start painting this, I usually do that on Datastore time when I'd take a break and see that if my hand has any kind of an extra Kahlo, I remove it beforehand and then only start my painting. I leave it up to you what kind of a method you want to follow. And it's absolutely fine. We just need to protect our painting because I feel each and every painting, even if it is practice is precious to you. You know, how is your watercolor journey going on? And as I have told you beforehand, this is going to be a watercolor journey of 21 ideas. And that's why I am so, so excited as well as happy to teach you this particular subject because this is my own favorite and I haven't actually done anything like this in the past where B are going to learn together how to paint when p1 different ideas of only one single subject that a sunset. Sunsets have got the most beautiful colors I feel all times. We are going to use it for all our future projects. Keeping these lines are and use the tip of your brush for painting. These few of the lines on top of which we will be hanging our lights. Yeah. That's how it is going to be. Seriously. I'm already feeling so excited and I'm all day so pumped up to those lights. Those lights are white and yellow and they just aren't dark. Required amount of balance into your painting. Another aspect that I wanted to discuss with you is how you want to add these lights are incase you do not want to add these lights altogether? Yes, there is an opinion that you might be having that my clouds are they looked so poor. Why I'm going to add these lights again? So according to me, you can even go with the background sky if you love it that way. But just give this a try. I can tell you. Just believe me, that this is going to turn on Super. But in case you are in love with clouds, in case you are in love but sky, then you can go ahead and try this out on me for the sky and the clouds. Now's the time to pick up some of your whitewash on your brush. And you can use your size four brush or you can even go for size six brush, whatever is available with you. If you want to have more control, go with the smaller brush, it wouldn't give you way more higher control compared to any other brush up larger size, you have to keep in mind to use the tip of the brush in case you are going for a larger size brush, be very sure of what kind of a brush you want to use that way. I want you guys to have more control on how you add your colors. That's really important. Has, I always tell you there is no coming back and watercolors, hence, try to make these small, small lights more detailed and do not. Go ahead with smallest size about thank you. Weren't doing force to a series of lights. It is more closer to us, hence, they are bigger in size. And that's going by the rule of perspective. As you know, perspective is really, really important when you are working with any kind of medium. Whether it be watercolors, Petri peak wash, whether it be acrylics, anything. The last row of lights is going to be the smallest. Vp shunt to high. It's going to take a bit of a time. Series C, painting the clouds are just took us about seven to eight minutes. I'm not including the drying time, but arrested for your use your hair dryer. You will not experience a lot of time in terms of getting these clouds in shave band, doing it correct. But these small, small details which we usually add like lights and all, take more time. I'm using my yellow color. You can go ahead with any kind of yellow that is available. No need to go with only yellow ocher or you can say yellow, lemon yellow or even Naples yellow. I loved the Naples yellow color and that's my mind, the Naples yellow color into my these small, small bugs or white lights that I have added. Once you are done with it, then we will go ahead and add some black lines. You will see how these small, small details of adding black line, this yellow ocher or you can say Naples yellow into these bulbs at so much of difference to your painting. Details council lot always. But then again, I feel that whatever you are doing or do not need to worry, go with a free mind because we are not creating masterpiece over year. We are just trying to learn something. And learning always comes with lot of mistakes. And watercolor has always caught that song randomness, you know, there is no way you can say that. Okay, when I started creating with watercolors, I started making masterpieces in the first row. Not at all possible. I still did have or experience times when I'm like, I did not like the painting or I did not want it to turn it this way. But tax shield, I love it now one size see the amount of changes that has happened or the way did not go according to the plans, still have started enjoying that amount of randomness. Or you can say that amount of difference it makes every time I see this kind of painting or watercolors, when you apply on the paper, It's perfectly fine. Never think that it did not turn out the way I wanted just to enjoy it, enjoy the process. Don't think about the final painting. I'm pretty sure about it. If you enjoy the process, you will be in a position to nail the painting. I'm adding some amount of my darker value. You can go with any darker value, whether it be brown, black, whatever is available with you. I'm using the colors from the palette using a very, very thin liner brush to add it. Once it is done, I will remove the tape, by the way, forgot one thing. If you see that stick which we see for holding the light, I am not sure if it is visible clearly. Hence, I would love to add some amount of my Naples yellow into it or yellow ocher, as both of these colors are a bit opaque in nature. And that's why adding these will help me to get the required amount of balance and depth 0, which I do not need to for those take or four. I have for her for the wooden plank. Anything you can say whatever you have tried to add. First, going ahead with the whitewash, but I'm really not happy with it. I think I will go with my yellow ocher or enables you to do that would look better in this case, as the white quash is highlighting this sticker lot more than I would love to actually had it. I'm using my size six brush to pick up some of my Naples yellow. And then I'm going ahead and adding onto my painting. I would prefer you to do this before. You are actually done with taper pins. So be very short, draw before you peel off the tape for this. See you in the next lesson. 5. Project 2 - Purple Seascape: Okay, So this is the second painting and it is the purple seascape. Sad people pay to win. I am excited to teach you this one because it is going to be simple, easy, yet interesting. We will start by using our Naples yellow. Once you have your Naples yellow or any other yellow light yellow ocher can also work, but yellow ocher is a bit darker compared to the Naples yellow. That's one of the reason I like to use Naples yellow compared to yellow ocher, but as a replacement, of course, you can use it. I have not been discussing the colors every time because I did. Or detail you about how did I set up my palette or together during the initial part. And I would really ask you to go through that video if you haven't, to exactly know what are the colors that we will be using on and off for all these paintings. There. Next is, I'm going ahead and adding some amount of darker values for my Naples yellow on the sites. I did clean up some of the space for the white with my damp brush. And I did pick up the color, that is my Naples yellow from that part and it became a bit white, adding some more darker values of Naples yellow towards the top area. That said, I think you need to go on that way. And then we will be mixing up the colors like Oprah, carmine and some of your red-violet, as well as poeple and Payne's gray. Those are the colors so we are going to often use, again, I am picking up some of the colors from the lower part. I wanted to Britain lighter in value. If you have also committed the mistake of making it darker, you can also use your damp brush to clean it off. That's a very, very easy method by which you can now work it out. I am mixing some of my Oprah with any of the carmine or things that is available on your palette guys. Another thing that I always say in all my videos is that you do not need to go with the exact colors that you'll see on my palette. Anything that is closer to this column can be often used for your work. We are trying to only understand how you can use different values of color, as well as only sometimes very few colors to walk around, like a subset or anything else. So you practically do not need to only go with the colors that you observe or you need or not need to buy new colors. I have mixed some amount of purple or you can also make some amount of your ultramarine and get this kind of a color. And then add it towards the top left and their right hand corner. Along with it, tried to add very thin and smaller stroke. Towards the border media, because while you come towards the horizon line, it is always known that we will get the smaller clouds compared to what appears towards the top of the sky area. That's how you will call race absorbed in a painting or even in a photograph. That's how you will see the cloud secure. That's how you can always actually picture arise any seascape Cloud-scale quarter skip anything that you are painting where there will be some amount of clouds. I am mixing some amount of Payne's gray and adding it in few of the areas. Right now, I'm just dropping in a bit of colors. It's not like that. I am touching all the areas, only a few areas while you work with darker value to make sure that you are not going ahead and adding it very quickly or very fast, you have to go slow. But would that you need to keep in mind that your paper is not cry? Usually in India we do have fans and always we do not have, you can say ACEs, et cetera, working throughout the day. So usually I do not work when my fan and so on. I usually work or when I have some amount of AC running in the room though, it does take a lot of moisture. But still I would say it I can keep my paper wet for a longer period of time compared to if I have my fan running on top of my head. So that's one way how I have been working with my Paypal, keeping it more wet. And every time whenever I'm painting my sky, I do it within four to 4.5 minutes and that's the maximum time I usually get while I paint my sky. And that's the maximum or 300 GSM Arches paper. And during this hot summer season is where in the northern side of India. I am pretty sure you can understand my problems too. But you have to always figured out, walk around, It's absolutely fine. Go ahead and first draw these waves kind of structure. And in-between I'm did draw a small structure of a rock. That's it. It is very random that I'm doing and I'm only going ahead with my Naples yellow for Stan adding it, then you can go with your red violet or else you can go with carmine or any other color of your choice, which is a bit more pink, or you can say darker value, and then mix some amount of your ultramarine into your RAM. Red, violet and get a color that is darker, as well as some amount of your pins grain to it, paints trace a very beautiful color. It goes so well with your Naples yellow, it goes well. If you have to make any darker values for purples, for your opera, pink, anything. And I have been using Payne's Gray very often in many of my other paintings. Let's just keep adding these strokes to words. The left side, so it start from the right and make it towards the left. I have to show you are moving wave and I will show you how I draw that moving wave. This is right now. And I would be drawing some lines. These lines are going to be really simple and easy. Just make these random strokes. And again, it has to be into one direction. So you are starting from the right and moving towards the left bar tried to make it that it goes in one single direction. And your VBS dusk get some kind of a movement. And your base layer was to actually provide that forced lading for this kind of a moving wave. And the second layer that I'm adding right here, you can see the darker values of the color that I'm adding right now is wet on wet, which would actually show the movement in a better way. This exceptionally will teach you how you can show moving wave. And it is roaring and gushing towards you or it is just getting towards the right. It is originating from the left and moving towards the right. That's how you work this out. I will start from the left and again, go towards the right. I'm making thinner strokes while I am moving towards the rock, kind of an area. And while I am towards the bottom, the strokes are a ticker and broader compared to while I am towards the right top side. Use your Payne's gray again to get these different values. You can use our domain for us and go poeple. Then you can use Payne's gray to that darker value. It's a very simple access to be frank. It's not going to take you more than 15 to 16 minutes. So our maximum of 1718 minutes, if you even follow this video, it is for your time. And I'm going with my bowl and see it now right now and adding it on top of my rocks. Once I am done with this bunt sienna, I will even ask them Dakpo values, darker value is easily done. You do not need bent. I came down and all to be plank for this suggests rule with your paints gray and add the darker value. Keeping it simple is the major idea. Of course, you can go with Van Dyke brown, you can use any other darker brown available on your palette and go with the choice of colors of brown that you have. But easily you can just mix some amount of Payne's gray and burnt get the darker value that you need. That's what is important, as I always stress upon this fact that we need to keep it simple and easy. Let's keep painting this rock and I will add some amount of water. Once I have added the darker values in the rope towards the bottom, you can easily pick up the colors with the help of your damp brush. Just clean your brush, take off the extra colors on top of your tissue and then you can remove the paints from your people. Had some Payne's gray towards the right we left side of the rock. I have kept it lighter compared to the right-hand side. The water media becomes more ductile. That's how I go ahead with it. Now the fun part, what happens is that I want to do is plug in something water on top of my rocks and the water is not up to me, so it's flooded and the brush also have some amount of paint. Hence, the red droplets on top of the white part of the people. Hence, I just used my tissue as I always tell you, that user does show to your advantage to pick up the colors better than this city or even just talk, take off the extra pins if you feel that it is necessary. That's how you do it. A bit of reflection of the rocks that I would be adding, not a lot. Why I say not a lot of reflection that you should go ahead and add because it is a painting where my water is moving and moving water will not have a lot of reflection into it. The colors of the sky do get reflected in the water. And that's what I go ahead and paint. I am just starting very, very loose and small strokes while I am making some of the areas in the auto, which will depict the reflection. That's it. Let's just make the horizon line or a bit more prominent, I would say. And then you can just go ahead and start adding some of the white wash or even no shoulder wave in a bit. Okay. I've ever done you exactly how you can go ahead and do it. First to just take some amount of red brown and go along the sketching that we did. Just keep adding in some of the areas so the stroke is thicker compared to some of the years where the stroke is tenor. I am now washing my brush and taking or damp brush and blending this red plan with the foreground that I have already painted. This is again dry part. Saw the painting to dry up initially. And you see how the moving wave is. Now getting better. Do take some amount of white quash and we will be using our fingers now to paint it. Yeah, finger is a very good way to blend your colors. Or you can say, to show the effect of a dry brush. Either you can go with your brush, which is absolutely dry and made those white full of the water. Just the way I'm showing right now. Pick pick pick up the extra collars on your tissue and then go ahead and add it on the people. If you are doing it that way. That's one of the best rates. You have already some amount of water. Use your hand to blend it or use your fingers to blend it that so you would be pretty happy with the outcome. I'm pretty sure about it. So don't want too much, just go with free flow. That's very important for any watercolor painting. As I say, watercolor paintings are free-flowing with free mine. That's meditative. It's really nice to be there and I'm paying something like this which shows movements, which can actually show you how you can walk around with something. So pretty within very, very short period of time, mom, That's it. I guess. I would now slackers some amount of whitewash with the help of my brush. I'm just tapping on top of my brush and I'm getting those flatus variable you didn't because flatters just on again, use your fingers to blend it. I am using my brush as a restored gripping good to darker. So I'm using another brush, tapping it off. And then I am blending it. Again. You need to go ahead with a one more darker value. You can go with Van Dyke brown, R0. So you can go with even Payne's gray mixed with your blood sienna, and even that Brown if you want, whatever is available on your palette. I always say this that never go by the Carlo's. Just go with something similar and you would be in a position to me like I am blending it with already seashore that is existing and then splattering some dark brown color into it. That's all in DOM so of the wave movement that we would be doing, I need to add some lines are some movement towards the top or the horizon, a 0 where we will have shorter waves or shorter movement of leaves. I'm mixing my red violet are minor operator of whatever is available on your palette. Just show we'll hit and mix it with a bit of white quash and that's it. You are good with it at some shorter and smaller lines. Mucositis at a distance. Hence, you will not be in a position to understand a lot. Just don't take the already existing mix of paint scraper or a pole, etc, on your brush. And then some more shorter and smaller lines. Once that is done, I will blend a bit of my colors towards the horizon that is dead. And then let the paper trying remove the tape at an angle, you are done. I'm usually very excited to remove the Date button Hangzhou to know exactly how my painting has turned out. And I see that I get the clean edges. 6. Project 3 - A Bird: Okay, so we're going to paint a bird, I guess. So I am slowly complicating the subjects and more. And this one might look a bit more complex compared to others. But remember that if you don't like or if you are scared of something, you should get over it rather than allowing it to take it over. Hence, I'm just starting with a laid-off sketch of a bird. I am making a beak. And then I'm going ahead and starting with the head as well as the neck area. You will see that high myself, it is a lot. And then again, redo, it gets absolutely fine. We do not need to be perfect while we start painting. That's what I have understood from my own experience. We need to keep challenging ourselves, may need to go ahead and just take that. Okay. It might be difficult, but I wouldn't be in a position to do it. That's how I always try my level best to come up with many new classes with I usually do with Chai on my own. But then I feel that my students My to like it and hence, let's just do it. So I am now making the other part of the neck area. If you see it's very, very simple way. You go ahead and edit the sketch would take a bit of a time. It's not going to be very simple, as I told you, since it is avoided and it needs some amount of sketching, I am just not happy with the way it has turned out. I'm my eraser, come back again and then do it because I feel the neck is not proportionate to the body. Hence, there needs to be a bit of a change in it. Just use your eraser whenever you need it. That's one thing which I have understood from my experience. Erase it is added is if you're not happy, that's absolutely fine. You go do it, redo it till you are happy. If you are not fine with the way that I am moving along with the speed, which is jaws slow down the speed. You can always adjust the speed from bottom left-hand corner or the top right-hand corner. So I'll leave it up to you how and where you are watching it? Are you watching it on a phone or are you watching it on a laptop or an iPad? I would preferably asked you to watch it on a laptop or an iPad because that really helps to have loved that habit of understanding exactly how the other person is working and how the whole picture is coming together or how the whole painting us coming together. That's again, my view and how I approached Kenny painting. Okay, So I'm really not happy with the stadium. And I'm again, we doing it as I told you, there is nothing that can stop you from doing any thoughts. Can still go ahead and meet the head, just like one of the oval shapes. Or you can say that it is something like an egg shape. And then add the week. The week is a bit longer compared to what I did. Actually draw earlier. Go ahead and add the lakes. It could take longer than what you actually think. Always step back and understand that. Did you exactly do that the way you want or do you really need to again, trade-offs? I was initially not really liking the neck much, but I feel it's okay right now. And I would be looking at over here. I do not want to touch it more. I'm not your door. Look out for perfection because this would be, again, in some darker value. We do not need to worry much about it. Just a few more details on the thought. And then once we are done with this, I would just pick up my colors on the brush and start painting. And that's the best part of any watercolors that it's quick, easy, and the turnaround time as strictly less. First, just apply water on all the bugs of the people do across swatch. Use your flat brush to apply the water. I have been using this flat brush for quite some time and I'm pretty happy with your score down. Flat brush three by four orange. You can go ahead for larger flat brush if you want to do so. This is a sunset painting cans. I would be going ahead with more of colors like yellow, orange, permanent yellow, deep, et cetera. Well, this go ahead and start with your lightest value that this yellow, you can use any yellow off your choice. You do not need to go ahead with the yellow that I am showing those lights now. But don't apply it in a way that some of the area remains provide. Most of the other areas are in yellow. Hang do observe how I am applying the colors right now. Wherever I think God, I did apply column more than the quiet high would go ahead and take it off with the help of my tissue. I'm simply going with a flat wash. Then I'm adding some of my permanent yellow deep. It has got bigger for sure. Indicate that's how the scholar looks. So beautiful as always. This is one of my favorite colors which I have been using in many of my paintings. And I'm really happy, though we don't solve, don't just blended with with the yellow color that you have already applied. Go slow again to get the amount of time that you need for your painting, you need to have. People, which is 300 GSM. I am using my red prom right now and applying on the paper, just useful, very, very pretty color and you can use it very often. By the way, the first one was burnt sienna and then now it is the red brown. So they are very close to each other, whereas the red brown with a bit more darker in value compared to the burnt sienna that you do and can solve, keep applying the bunt sienna first and then mix it and blend it well, planning is very, very important concept over your Wherever. I think that my Paypal is actually more red for it is spreading the colors. I will just remove it with the help of my flat brush and dab it off on the tissue. And then again, start painting. That's absolutely fine. Go ahead and doors. And those similar, they apply some more red crown towards the bottom area as well as two words, the site behavior. We might go, go for one single layer, or we might even go for two layers. I would leave that decision up to you because depending on the colors that you have, your values might change. So if you are adding vibrant colors, because you have caught an artist grade pigment, you will get the required outcome within their first year. But if you don't have artists RootPane sand, you'll have only student grade paints. You might need to go with two layers and that's absolutely okay. You do not need to worry much value, apply the colors, just go ahead and applying the colors. The lower half will be more darker compared to the upper half. I'm now using Van Dyke brown adding heading towards the bottom area. My paper's still wet if you see whenever I apply the colors so they are wet on wet and wet on wet me. So the paper is wet and you are applying great colors on top of it. Whereas if it is wet on dry, your paper is dry and you are just applying red color on top of it. That's no difference between wet on wet and wet on dry. Meaning of you might get confused. Therefore, it is important to tell it. Right now. It becomes easier for many of you who I row and joining me for the first time to get used to it. I'm removing some of my other paints and I'm using my flat brush to remove it. It's really handy whenever you want to remove wet mix some of your red crown as well as urban II came round using my flat brush to apply the colors. Now it is quick, easy. I'm using Payne's Gray to get darker value of brown. You can also use black in case you do not have the Payne's gray. I would leave it up to you. What are the alternative colors you can use? I won't always, so keep on suggesting them. I'm mixing some of my famous jazz I've told you tag can be one of the option to get. Darker vernacular ground or you can only use Van Dyke brown. It is up to you how you want to walk around this. Then. Just keep on adding and blending the colors. We are not going to overdo this. Of course, my paper's wet right now. So I can, for width or darker values of bit more. There is water and borders are actually on top of the water hand side. I'm going ahead and picking up some of my darker value. Using my brush status Maya SCADA optimal, and then adding it onto the wet clear. I will again add it towards the top area. This is really important too. Now, rather than once the paper is dry, because we might go, still go ahead and add some weight on try Barto wet on wet gives a very nice effect to then you are going ahead with dark particular column. Once done, you need to just clean up some of the area. And as I'm doing now, with my flat brush, touch it and then the sides of the paper so that there's no doctrine of water. That's really, really important. I always say this orders you might get a cauliflower effect which we do not want or we do not need right now. Once you have added the colors, let your paper dry and once your paper is, try start writing your colors onto the board. But the paper needs to be completely dry before you add any kind of color mondo boards. Hence, just go head. And because quick pick, once you are back from the brink, you would see that your paper is absolutely dry. I will start with some lighter value and I will apply some of my burnt sienna or red brown, whichever is available with you for the neck of the board as well as for the head. You can use burnt sienna on my burnt sienna has got nice underlying detonate which I'm using. Go slow when you paint this part because this is important dark background and stronger pain nicely reaches need to work on other parts. Now you have to understand the lighter value will be two words. The area which is in white, reflection of the sun is warning on the water. Like a value needs to appear day, whereas the darker value will be while you go towards the body of the bird, as well as the legs of the word wealthy. More with the darker value. That's how you differentiate This whole of the body, or that's how you actually need to blend your colors while you've been to avoid. So go ahead and add some of these lines which will show the creditors. And then keep adding more and more colors. You can mix your paints gray brown or any other brown like burnt sienna. Then on the board, that's absolutely fine how you want to go about it. But if you see the whitespace is more of your light brown that I've added. And only the darker values I am applying it towards the body. Some of the areas I want to highlight where I have just started, a bit of the Payne's gray, That's it. Keep adding the darker values for the birds and delicately paint the legs off the birds. That's really, really important because they are actually very close to finishing off the painting, except the board and a few more lines which we need to add for the water. Nothing much kids left. It is almost close to being done. That's why I say when you are practically in the last part of the painting where only some parts of the detailing is left, we need to cause flow rather than moving quickly because this is the place where you might actually make mistakes. And we do not want to make any mistakes right now as VR. And most towards the end, as I say, keeping the body and I am actually going in between the bond body as well as the lead startups to be okay, you can complete the body and then go to watch their legs or you can just do it the way I am doing it. I leave it up to you absolutely how you want to work it out. This is pretty simple because we are just adding a few colors. Have already done the pencil sketch on going over it with the colors is the more student learn. Therefore, do not take much time. There will be a reflection, of course, of the bird on the water. And it would be the wet on dry method, as I have told you, the paints are wet and you go over your run dry Paypal Gartner's your wet on dry method. And I am using darker value and adding some amount of my red brown, picking up the colors and hiding it on the people. That's how do continue adding this color over and over again. And just go zig-zag while you paint the reflection of the word. It doesn't need to be perfect. Go absolutely random. Just made sure that while you are towards the body, you just painted below the legs and value are going to watch Don neck of the board. You need to go a bit towards your left and then painted mix-and-match your colors. If you want to. You can go ahead with the same colors that you'll take at earlier. That has some mics off your red brown as well as your Payne's gray. I'm mixing some of my other colors. That is the yellow which is existing then some of your orange, you can even take some of your carmine. I will leave it up to you. What do you want to mix and match dorm wanting much, you have to go over the colors which you have already added, which is more of orange, hence time going one shade darker than the orange. Hi, did add some amount of carmine. That's one of the reason you can go ahead at Carmine, think anything that is available, you don't need to think much value. And the colors, again, colors are just an indication of what you are having right now. You do not need to go buy absolutely this particular chain or this particular color that I'm using, go with whatever is available on your palette. If I have read valid, you might be having some other color on your palate which is closer to the one that I'm using or mixed some opera with your popup. And you will get something closer to a red violet. Don't think much, just mix and match your colors and add it onto paper. That's all I have experimented. And I'm pretty happy the way it turns out. Time to add some more darker value on. Then you can say that it's done as the last Lectio paper dry completely always like your paper. Try before you remove the tip. Always, always remove the tape at an angle. We do not want to repair, pay for if your paper's wet, your paper has a chance to rip off. So always let it dry completely in case your people is 25 percent cotton. Then also there is a chance that your paper will rip off. Again. One way is to blow hot air and then peel off your tape. That way you can have hot clean peel off. Those are one of the two quick ways. You can peel off your tape. Peeling off the tape and an angle is very, very important as I always say, have a final look at your painting. 7. Project 4 - Multicolor Sunset: This is basically going to be an evening sky and they are going to paint it in a very, very simple way. There will be clouds, etc. We start with our horizon line. When you are drawing the horizon line, makes sure that 65 percent of papal is two goods. The top and rest of the area is your water atria. Once done, do apply some clean water on the sky area. Use any brush to apply the colors or even the water that you are actually applying right now, I'm using my SCADA, three by four inch brush B2. You can go for any under wash brush types available with you. Even though it round brush has a wash brush is okay. You do not need the same wash brush that I am using. I have been saying this pretty often in most of my classes as well as, and most of my videos, you'll do not need to use the same brushes, whatever is there with you existing groups that I'm using my size four, silver black velvet brush, I'm picking up some of my yellow color. And then a small son, once you have added the sun, just to apply some more yellow color, move it from the middle towards the right, as well as moving from the middle towards the left. Not only that, you will need to even pick up some of the colors with the head of your tissue. I always say this. You can even use a wash at the end. That's absolutely fine. Even though you use the white of the paper or else you can use to wash that is dead. Once you have applied the yellow, either you can go with your permanent yellow deep that has caught or very light orange shade in it. And next you can go ahead with the orange data's available on your ballot in case you do not have this permanent yellow deep, just mix a bit of yellow with your orange, cadmium orange or any other orange. That is their pincer orange, anything will work, apply some more red, and then on the top it would pay some of your red violet. These are mixing and matching your colors. You do not need to have the same colors. Has an oil-based always say, I'm applying some amount of my ultramarine now, you can keep painting it this way. Your paper needs to be only wet during the time you are painting. We are doing a wet on wet process. As I have told you, wet on wet is a very simple process when you are applying some good colors on wet paper, it is wet on wet. I'm applying some amount of my red violet and red violet can be easily made. You can use your car, mine, and your ultramarine or road. So you can even use a very light shade of your poeple and your drum. Any kind of carmine. I'm using my size eight silver black velvet brush to apply the colors. If you see event with the horizontal movement initially. And when I would be applying my darker shades to even watch that the iron will go from the sides towards the middle. While I go to watch the horizon line, the clouds would be smaller. Whereas when I am towards the top area, the clouds would be larger. I'm going ahead and applying some more darker shades of purple over here. Once I keep applying the colors, you will observe how I'm going ahead and moving my brush towards the horizon line. You can use any brush of your choice, but many of you want to use the same supplies that you'll see. Do not go by that, but these are the brushes, et cetera, but actually give you a very nice outcome. So if cable you want to actually give it a try, I would say that go for the silver black velvet brush, you will observe how beautifully your outcome changes in that gray I'm using or tissue I did actually twisted and I am picking up some of the colors from few of the areas. You have to also test your tissue and pick up some of the colors. These will act as the white clouds. Picking up your colors this way. And once you are done picking up your colors, go head and then apply some more darker values as you will observe me doing it right now. Because my people is still wait until your people is wet, you can actually work with it. I'm going ahead with some purple and slowly, steadily high would be applying it in few of the areas which are red. If you have excess supply of your water on your brush, do pick it off on your tissue and then apply it as you observe it. I'm using my size four silver black velvet brush right now to slowly apply the clouds. So go slow at this point in time because we are almost done with the major area of the clouds. These are only some of the extra, or you can say some of the lighter and smaller CloudStack we need to apply. Hence, you need to be very careful at this point in time. One of the important aspects of watercolor is to go slow. Slow will actually help you to get a better outcome that so one of the reasons I have always told that watercolors need a lot of patients. And you need to give that amount of patients or keep that amount of patients with watercolor. It will work. You can partner with this medium. Only a few have patients, so yes, I am now again trying to paint on the area around the Sun. But I think that I already got a bit yellow, so I might go ahead and apply some amount of my white quash. Well, again, we do it at the end, so leave it at this point. It's okay. We do not need to always work. Whenever we needed. It's absolutely fine to go with your permanent yellow deep. If you see this yellow has got o light orange unit. That's what I say, that there are a few colors which I love because of the shade that comes on the people. Again, it's not a requirement. But before you start with this watery area, It's important that your sky area is completely dry. Do make sure that your sky area is try and then only start with your water area. Keep painting the water AVR. And if you see that I go from my lighter value to the darker value. I did first apply the color, which is my yellow or permanent yellow deep and 10 only, I went ahead with the other colors, whether it be carmine or whether it be read, whether it be any other color of your choice. You can go for any colors. That's absolutely fine. But always, always make sure that whenever you are applying the colors, the lightest value needs to be applied first. And then only you will go with all the other darker shapes if you see whenever I'm trying to apply now, the darker values, IEP will overpower the lighter value. That's one of the reason you go with a lighter shades first and then with the darker shapes. Keep working on the water idea of bit more. And I have used mostly my flat brush to apply the colors and I'm applying it straight. The way you solve factor I would be even I've been some of the reports, so it's okay. Right now you might not see it that you will have so that I will use my size four silver black velvet brush to add it. While you walk towards the bottom, the repulse will be more broader because they are close to your eyes while you move towards the horizon line, they will become more thinner. That's the only thing you should keep in mind while you paint these ripples. Rest, go very random and apply it. Some of the places you will be applying more pressure on your brush. Hence, you will get the ticker, or you can say the broadest strokes, whereas in some of the areas you will be not applying so much of pressure. Hence, you will get a thinner strokes. While you go towards the top, make sure that you only have more of thinnest strokes and less of broader strokes. While I am towards the left term, I have actually made it more thicker. Compared to white, I'm going towards the metal. So make it that way. You can try to cover those site areas with more of the darker values and the middle area needs to be teller. If you see, now I'm applying such tenor strokes. Why I'm, I'm going towards the top. Keep applying some more simple and easy strokes, but don't term and get overboard it just the way I did. And I made some restaurants by LeBron to its TED Talk. I let it dry posted. If you have already done something like this, don't try to, again lead to, well, that's one thing in watercolors you cannot do. Whenever you have applied the colors, let it be there. It's absolutely okay. Every time you're the person who is observing your painting might not think much and just give it a go. Because this is SSPR perspective. And every time the person who is observing it or seeing it might not be actually having a full idea about that. This is the way it should have been done. It's asked for perspective. We should have done it this way. That has much to do with our own minds than it playing a lot with the person who is seeing at ordre who is actually of solving it. I'm mixing some amount of my bond CNR right now as well as some amount of my carmine. You can also go ahead and apply the colors. This way. Make it lighter value while you are going to words the sun. Because just below the sun there is a lot of light dots. One of the reason you have to make it and lighter values while you go towards the right for the small hills, you can make it more, but they're darker values. I'm using my size six optimal brush. I have been using it pretty often for many of my paintings. If you are joining me for the first time, you might not know it, but if you observe my earlier classes or see my earlier classes, you will be positioned to understand that the survey nice brush that I've been using for quite some time and one more darker. You can say, small, little hill are all kind of stone that is stare. And then you have to even paint a bit of a reflection I'm making with the darkest value you can go for your pain screen if you have it. In case you don't have Payne's gray, you can even go for black. I'm adding the stone first and then I would be, I think it's reflection. Reflection would be not much because it is at a distance as well as it is kind of moving portal. Hence, I would ask you to not try to paint a lot of reflection, in this case. Bit of one or two. That's, that's it I think should be good to go. I will go ahead and add some more of my like brushstrokes. It would be very, very simple datas. I will make some lines for the brushstrokes on that's it. You need to go ahead and add those towards the top area. They are 10, ten lines. Just to show that your water is moving. Not much. Do make sure that you're painting doesn't go very dark. Because that is a tendency that we might make the painting dark as we are using a lot of darker colors in this case. Hence, go with the lighter values first and then only start with the darker values. You need to make sure that you are not going ahead and making it very, very dark. I always say this whenever there are darker values involved in a particular painting, we have to make sure that you're not using it in larger quantities. If we are going ahead and using it in larger quantities, then the whole of the painting might not come to life. I am using my Winsor and Newton whitewash hand, hiding some of it for those sun. And, you know, I told initially that I did not get the exact white which I wanted for my son while I started off. Hence, I just went ahead and use my wash. Wash is again an opaque medium for many of you who do not understand this medium much. It is opaque in nature and it can overpower the watercolor that you have applied. Go ahead and paint some reflection of the sun that you have had it. Once it is done, make sure that your reflections become thinner while it comes towards the bottom areas. When it is towards the horizon, they should be a bit broader. So that's how you even paint your reflection. These are small, small, important inputs while you paint your reflection or via to work on a perspective. Let your paper dry completely. It should be dried completely orange. That has a chance of ripping off the people. If you are not in a position to peel off your tape, easily just blow off some of the hot air from your dryer and then peel off the tape. I think I have caught those clean, beautiful edges and then have a final look at your painting. I always love to see my paintings a bit more closely and you can also have a look this way. 8. Project 5 - The Mountain: So we're starting with our next painting and it is going to be a mountain. Now, we are going to draw a very small sketch of a mountain, and it's not the whole of a mountain. They would be showing just a bottle offered and the rest will be this guy area. Yes, we are doing sunset, so more of skies will be there in many of the paintings and either be doing a lot of combination to like painting a hose are painting more of k bins and all you will see as we progress in this journey, how we continue to work on different subjects on practically, once you start painting, you will get into that habit of painting on a regular basis. This one is going to be an easy one because we have already done quite a lot of them which are really tough and I don't want you guys to be just getting over boarded with all the paintings that we have done. Done now, it's opened. Sometimes we need to relax sand, give something else a different shot. So go ahead and work this out. Once you are applying the colors, do make sure that you are doing, first of all, a wet on wet technique. So wet on wet technique means that again, the fullest here needs to be wet, which is your clean water. I'm Dan. You need to apply the colors on top of it. I have been repeatedly saying it because I'm not sure. Many of you might not go through the whole journey of this watercolor painting. Hence, it's important to explain an HFA VDO, what the technique is all about and how it works, if you will, are better versed with all these techniques, it's quite easy for you to go ahead and work it out. I'm stopping with some yellow orange. So this is any orange, either it be gamboge orange, cadmium orange hanging kinda foreign service available on your ballot is good to go. I'm even mixing some O'Brian to work as well as some permanent yellow deep. This is a beautiful color that I have been using for a lot of my other paintings. I'm going with a very, very light wash of it. It's good to go with lighter washes initially and then hide the Dakpo values. As I always say, that DACA values can be added whenever you are going ahead with any of your paintings. Even are, then you can add it. There is no way to come back and watercolors, if you are going with darker values and want to come back later on, it becomes really difficult. Dalloway mix some more Oberon as well as some of your yellow, orange or any orange has FW, then some red violet into it. And you will get a beautiful red eye or vermilion kind of color. As well as you can even use directly over me on Kahlo, I would leave it up to you. I'm mixing and matching these colors and then creating my painting. Always so walking with a limited palette does attract me a lot. And you will find paintings where we will be working with only two or three colors and the whole painting will come together that way. Add some more operand and some of the darker values. I'm going to head towards the bottom of this guy. I am using my size six optimal brush to add these colors. Once you have added the colors, go ahead and paint some of the media for this guy. Just add some burnt sienna into your colors or the mix of colors that you have, and then start counting it. Once target. We will just walk to the other darker values fit. I'm off your FERPA. Very hammy. Uh, yeah, I think that I've been using photo very often. And you might be even I'm solving it that many of our paintings are having open sky or purple seascape and so much of FERPA is being used. But seriously then I think of sunset there is so much of purple that comes to my mind that I am always taken away by it. I don't mind. If you see right now my paper is not as dry as I would think. So. It is not as red also. Therefore, I did pick up some of my freshwater and added it towards the top of this guy. Once I've added this photo kind of a shade, again, it's not exactly equal, but it's mixed with some amount of red or the whoami on that he did earlier with the mics. Keep adding the smaller sky or the smaller clouds into this guy AT and Lego paper. Try. Making your paper dry is one of the very, very important steps. One sloppy photos try. Then we will start adding the colors onto the mountain area. It's a wet on wet process. Again, we will do even Vic on where? For mountains as well as who went on trial for the mountains. So the JD for her, both of the techniques together. I am just adding the water right now. I did clean up my brush first on the tissue. I do use a tissue and key partitional day handy for myself that really helps me to clean up. That really helps me to even pick up the colors whenever I need it. Pick up some Payne's gray on your size fossil but black velvet brush and start applying it on the painting. Do check your colors, though it would be of little value because we did apply water. So when you are doing wet on wet, whenever you apply colors on office, it is normally lighter compared to if you do wet on dry. I have already told you the difference between wet on wet as you have water and on top of it you are applying the wet colors. Whereas red Andreas, you have simple dry paper and on top of it you are applying some red colors. You will just apply some lighter values while you are going towards the bottom of the mountains. Whereas while we are towards the top area, I would go for some of the darker values. Start with lighter values, as it always gives you way more confidence while you keep exploring. Watercolors, leave oil are on a journey of exploring what the colors. And that's one of the ways I have always trained myself to go for a lighter values and then start adding the darker values. Going with our brush like size for actually helps me do deep more check on where I want to apply the colors. If I'm going with a larger size brush, it might happen that I apply colors, do lot more areas and just ignore the areas which I want to keep it and hence, make sure that you are not going for a very thick brush. While you are applying the colors for the mountain area. Apply one more layer of water on top of the sky area that you did or they paint. This needs to be handled on a bit more carefully compared to the first layer. You will apply it with a very, very light hand and then go ahead and paint or work we do not want. And the first layer or the colors that you take applying the first layer to come up. Take some mix-up ultramarine and your pins gray that you already have available on your ballot and then start applying it on few of the areas. We're not going to overdo this. Do make sure that you are only applying more, touching it only over a few areas which you did keep in white. Why I am painting it with auto or you can say with ultramarine, because that really gets the sky color. And this is a more of a sky stared in the evening can't increase more of a clear sky. Hence, only a few colors of the evening have started coming up. And I still want to show those beautiful colors of blue. Ultramarine is one of my go-to colors and most of the cases hand side to use it pretty often in many of my paintings. Though it has got a bit of granulation and at which I am not very sure to be applying it for all the paintings. I will be touching on a few of the areas with my flat brush and it is again, read some of the areas. So when clearly try, That's one of the reason I am touching it with my flat brush and it is damp brush that have taken. You can also eat or the word this way or you let it dry and then go over to quit another layer if you want. Some of you might be also using your student grade paints compared to the artist grade paints. Hence, there might be or need for two or three layers. Sometimes it happens start, the student grade paints does not get the same outcome which you really want. Hence, artist grade paints are always preferred. Whenever you are doing professional being deployed, whenever you are doing what the colors you will see us down difference between your student grade paints and artist grade paints. I will use my dry brush technique. Really not happy with the way it's turning out with a flat brush. I would ask you to stop over here and not go for this one. Take any of your round brush and then just take off all the extra toppings on your tissue the way I am doing right now, and then apply it on the paper exactly the way you absorb it. It will give a very nice dry brush look. The flat brush did not go well. I feel you have to use the brushes to know exactly the kind of outcome it always gives. So making sure that you are not getting overboard and you can produce the effects that you want only by applying it on a rough paper first and then directly taking it on those final painting. Since I do understand that the flat brush did not give me the required effects, only we're applying it one or two times on the mountain. But whenever you are starting out on your journey of watercolors, it might not be the best case to apply it directly on the painting. Again, there are two parts to it. If you do not experiment, you will not understand. So I leave it up to you how you want to work it out. Being some of the areas with the darker value as I'm doing it right now. Once you are done with this part here, let the paper dry completely as we are not going to touch anything or we are not going to add anything extra onto this painting. This is it. I would love to keep it simple and easy. Then just peel off your deep and have a final look at your painting. Peeling off the deep has always been really interesting for me because it helps me to understand I am getting those clean, crisp edges for my painting or not. It's not unnecessarily to do it. You see how I'm using my fingers to just blend the colors? Use your fingers, use your hand. I'm telling you everything can be used for your painting. There is no problem at all. You always do not need only your brushes. You can even use your hands. You can use your fingers to keep blending and keeping them. Having our final look now. And I'm pretty happy with the outcome. 9. Project 6 - Green Grassland: So this is kind of really interesting. The would be painting some beautiful green grasslands in this case. And I'm going ahead with a very rough sketch of where I want to ping my small hill, as well as where I want to go ahead and paint my water. I did make us more alcove going downward starts actually the small area where there would be a small short line as well as some part would remain as the water area. There is a small part which goes into this grassland. I want to show a bit of perspective in this case. And that's one of the reasons I did add this small part. You will see that as we progress through all the projects, there is something not to adult that you could be learning as there are a lot of things which you need to even understand why you sketch. Though most of the paintings will involve very less sketching and more to do with watercolors and its technique. Still, there would be some parts to it, like perspective, or you can say how to add some of the lines into distance, how to add water, ripples, how to work on all these things out, those things. So you will slowly and steadily get it. I usually mix my permanent yellow deep as well as my yellow orange. Now, you might be thinking, why am I not giving you the names of the colors? I did already tell you all the colors which I am using. This is actually consciously, I have not given all the names because I see most of the people go by the name of the color and then only use or tried to use those colors. You can go ahead and use any color that is available on your palette. You can mix and match and the colors as you want. I did take some amount of yellow as well as Naples yellow while I did add it to the painting. And then I'm going ahead and adding some of my orange towards the left. Don't think much while you aren't these colors, it is very, very simple. Sunsets. Sunset colors are usually the orange than yellow, purple, pink. Most of these colors you will find it readily available on your palate. Stare at colors like Oprah, which usually is not there on your ballot. Those can be replaced with colors like Garmin or anything else, which is a bit pink and nature. That's all I would ask you to work out. Lego sky area dry now, there are some of the whitespaces which I did leave. And then I have started off with the grassland part. Go ahead and pick up some of the bright yellow green. This is bright yellow-green from Sennelier. You can go ahead with any other green, light green status available on your palette. The names of the colors on each and every brand or with each and every brand is very different. Hence, you can go ahead with bright yellow green or yellow, green or any kind of freeing data's available on your palette. You can even mix and match the colors, like take some yellow and add some amount of green in it and then you can get something closer to this one. Going with the exact color. Again, is not the idea. Yeah, I am repeating it in each and every painting because I see that many of the students do stick by this and I do not want you guys to be sticking by that. Okay, go ahead and start adding some of your darker value of green into your grassland. Why aren't the green? I do even some amount of Prussian blue and ultramarine to go towards the bottom because that is the darker stadio which is there for our grasslands. I am going to soften it a bit with the help of my clean water. You can even go for normal water. That's absolutely okay. I mean, whether it be clean, whether it be the warm water where you are cleaning your brushes, That's absolutely fine because you will get a soft edge once you start adding your brown. I'm going ahead and adding some of my burnt sienna and red brown. Start with the green that I already had during the initial part, which is my bright yellow green. And then go ahead and paint again with or Dakpo value of your brown. If you observe the road is going towards the horizon line and it becomes tenor. I am taking some amount of my yellow green on my brush and then blending it towards the top area. It's become a bit muddy, but still it's fine. You can always do one thing. Take the color or clean brush, just wash your brush and then dab it off on a tissue slowly. You can add it. That way. You can keep your brush clean as well as you will have a good outcome. Again, add some darker value of green. You can go for any green off your choice, hookers green or your viridian green, or even any of the other forests screen targets available with you. Every brand has got different names as I've told you. So go ahead with anything that is available just to soften it a bit. I usually use a damp brush to soften the edges. I am going ahead with my flat brush right now and soften the whole of the short line. For the short line, I will go ahead and start painting with my bond sienna and some amount of red prompt, I think blends CNL will be a better color if you want to go ahead with the lighter values first and then if you want, you can make it more ductile. Once you have added the short line, you need to also have some amount of water. So do just pick up some of your ultramarine on the brush and start painting it. The shoreline is getting a mortgage to wet your job water. So you will see that the colors blend together. While I keep adding some amount of blue and green on my green grassland, you would have solved this darker value, which we have added towards the bottom. We'll look very nice. So once we do further detail into wet, so wait for that time TO then go head and Pinto hill. Once. This is a very, very simple one packet distance, some of the areas I'm making it darker and some of the areas I'm keeping it lighter. Don't think much while you aren't the colors on the hill. It's again, no actor. Distance and not much of detail will be seen on top of it. Just picking up some of the colors of the blue because I feel it's just pick one Toccata. And what I would have wanted, I would be painting some of the pulsar into the water hand. So keeping it a bit lighter would be of great help at this point in time. Just add some burnt sienna and then blended with the shoreline. Now, you can add some clean water and blend it. Take some lemon yellow on your brush and just add it on. So first Tatas towards the bottom area of your painting, my area is still wet or you can say the paper is still wet enhance. So you will find that the colors that aren't even if a plateau, they will become bloom. That's absolutely cool. This is wet on wet technique. Then you can just to wait for a while with your tennis brush. I'm going with my liner brush. My liner brush has caught a nice tip at the end of the brush. Or if you just reverse the brush, you will get this kind of a tip and I start painting with it. You can even use a palette knife. If you don't have this kind of a sharp edge off your brush, as well as just had some straight lines with it. They will act like brush. Pins do get displaced from the ADL. Once you start using this kind of brush to add those straight lines, then splatter some whitewash. This looks really 96. Looks like a spring season and flowers and all are coming up. From here the painting starts becoming more interesting because so we are left with only the detailing part. Means your part o p have already done. I am going ahead and adding some white wash and he surely as some white drops because that would look like some of your flowers in the middle kind of give. And then I'm mixing some amount of blue into the white quash, which would give me some blue flowers. You can go ahead and do this kind of experiment. Always it's not important to own up different kind of wash. You can use one single guage that is white because that has all the properties of being opaque in nature, which can be absolutely use for other colors. Once done, I'm going ahead and adding some of my darker values to the green that I already had. You can mix your Prussian blue or your ultramarine whatever is suitable, and start making some shorter and smaller lines. These are shorter and smaller lines will act as grasses and they will look absolutely stunning. Once you're painting is complete. Keep adding some of the details. They are those smart, smart lines ask you'll have Macedonia reflect the grasses. Some of the lines. I'm done, I can distance, it would be smaller. Do not worry much a staggered there you are happy and satisfied. Once done, people even add some amount of yellow. The yellow will be nothing but some of the yellow flowers. And try it now, I'm just tapping over my brush to give that splatter of two small, small green grasses. That's it. You will observe now I'm against black ring some amount of yellow. You can eat those plateaus, the yellow, orange, you can even take it on your brush and add it with the help of the tip of your brush. That's how you can go about it. We do not want this plateau towards that top area. Hence, I'm protecting it with my hand. You can even covered it with their tissue and then added how you go about it. What is your method that's up to you? I'm just suggesting the way as far as I'm showing you the way which I have been using for some amount of time to have any kind of details. I'm taking some darker value now on my brush, which is basically my Van Dyke brown and I am adding some small, small lines or what the bot, they will look like, the shadow of the MS-DOS which we did all the paint. Okay. Keep adding some more smaller lines, pair of unnecessary and use your fingers to blend it because fingers actually does a lot of good plague. And the bot, you will observe that on the right when I had some amount of colors, I'm not very happy with a ten sizes, blend it with my finger and they look perfectly fine. You can see the amount of debt that we have created in the pot now, rather than it being flat without any texture, even the grounds are having a lot of texture. That's what makes it more detailed and that's what makes this whole combination so much interesting. I'm going ahead and adding some amount of my Arthur Murray. This are drawn many will be in terms of small, small lines on the ocean area that we did paint all your thoughts. One of the reason I did tell you initially to make it a bit more lighter compared to when we did add some amount of taco value with the ultramarine. You can even leave it. I mean, you might not like to add these kind of details That's apps absolutely up to you. I wanted to show some moving water. That's why I'm adding these kind of details. Even on the shore, I will go ahead and add some amount of brown. This brown, again going to be a kind of texture and I'm blending it with the help of my blending brush, blending brushes, nothing but a damp clean brush. And it does help to blend it with the calotype heated or B apply in our first layer. Always the detailing part comes in the second layer compared to the first year where we have just applied some amount of colors to make it more. You can say as the first or the most important step is to just depict that particular subject. And in the next school when you were adding the second layer, you just make it more detail. That's how I love to actually go about step-by-step and my painting. In some of the paintings, I don't go with the second layer where I feel that the painting is vibrant enough and I do not need to add much of colors. I just roll with only one layer. I'm mixing some of my green with the blue that is already existing and I'm adding one more smaller heard two words. The atrium, which I did all the pink earlier. It was lighter value. Now it is going ahead and just making it more darker. Go ahead and apply a clean layer of water on the sky. And then now he will just add some more darker value if you locked the sky right now, you can also leave it. I just want to add some clouds which are laden with some water. That's why I'm hiding this clean water onto the idea. If you'll see on my right I have two jars. One is absolutely clean towel now and the other one where I did actually take off all the colors from my brushes. It is always a good practice to have two jars of water BioCyc, one should remain clean. So whenever you need some amount of water, you can get it from there. That's how I love to go about for any of my paintings. I'm just blending the colors even but the background, the background is completely dry. That's one of the reason I just love to blend it more. You can go ahead and just add some amount of purple to your paints gray, and then add the clouds, some of the clouds or lightened value compared to some of the other clouds which are darker in value, it's absolutely fine to have a few clouds which are darker and a few clouds which are like, Oh, we always need to order the values. Otherwise you are painting will look absolutely flat and it would not get p to the eyes of the spectator. That's how I always see it and I always progress. I have been I think, a lot of details and you might be now a bit tired after like 20, 25 minutes of work. But believe me, it's almost close to being done. We will just let it go Now, you can rest after this and let your painting dry. Before you peel off the tape. Not much of CloudStack you should have only in the areas where it was more of why you should go ahead and add the clouds. Rest of the area should remain very simple, as well as the yellow that we did apply. Audio should be visible kitchen not like take you away from the beauty of creating those yellow colors for this onset, we should always keep it and the first year is really, really important that way. Once done, I have told you to let your paper dry and then peel off the tape at an angle. Peeling off the tape at nine goes very, very important. Or else you will rip off your paper, which we do not want. I see that. I have got those beautiful clean edges and I'm so happy to peel off and see those ads is, oh my God, now this looks absolutely stunning. Now it's your chance to go ahead and created. I will be waiting for your paintings on the project gallery. 10. Project 7 - Evening Light: Wow guys. It's already Friday and we are on to our next painting. This would be more of the colors that I loved the most. I'm picking up some operand randomly, practically I'm adding on top of my paper. This is to give you a feel that the watercolors absolutely random on it can create masterpieces even within 10 to 15 minutes of time. That's what I want to show you. This painting. They are going absolutely random, but do remember when you were working on your clothes there, it needs to be very, very light. That's the only thing if you can keep in mind rest, everything will fall in place. I am picking up some more opera and adding on a few parts for this painting. Once I keep adding the colors to keep in mind that you don't go overboard. I'm paying the whole of the paper flat with your opera. It's very light. Or the lightest value which I did pick up initially and then add it on the paper next time going ahead with my friend chart from marine, I am adding on a few of the ADOS, this branch or Germany, the rest of the ADRs, I'm leaving there just like that. It is again, an evening sunsets tie and we are going random, as I told you, it is going to be simple, easy adding some clouds, I think some random colors on top of your paper and you will see how our beautiful landscape Don's up. I'm adding some of my Payne's gray and few of the areas wherever I want it to be more taco. You can also add it in the similar way or else you can even forced to wet your paper completely and then add it. I would leave it up to you. I'm just adding some water towards the bottom area and then adding my colors because my bottom area has gone dryer and I do not want it to dry. I bought those soft and beautiful look through this painting. Add some more darker value towards the markup. And then you will observe that I am picking up some of my purple color on my flat brush and adding it. I am just blending the colors with the background. My background is wet, so the colors is again, getting easily blended with the band Chrome. You have to make sure that your background was red before you had any kind of colors as this is going to be pretty soft, what we are going to pink. Hence, as I am telling you, it is wet on wet, so keep you about ground written offs. You can add more and more colors on it. Make sure that the timing of your work is not more than four to five minutes. That's how you will absolve me. I'm in the colors in that initial for 25 minutes only. That's the maximum my Arches paper give me the time to work on. Hence, I also leave it towed. Did that I work within that particular time. I'm washing my brush and for starting my Naples yellow ones have added the Naples yellow, add some more permanent yellow deep. You can also go for any other yellow off your choice and then start adding some of your opera. And few of the sounds you will have again, very Veda and I'm very, very, and you can say absolutely like going ahead and adding anywhere, any place, any kind of colors. This is a test. I would say even for myself that how He Xie, I'm dragging down, they can go and still produce a painting which is eye-catching or which you are spectators might do like, go ahead and add some more darker values and few of the areas shows the way I am adding dike. Now, make sure while you do add these values to move, make your painting fairly very dark. Because if you're painting done some really dark, then it's very difficult to go back. This is only the layer we would be adding. Once this layer is dry, I would add some more clean water towards my left as I would be adding some amount of my flora or you can say flora, fauna in the background. Yeah, that is more to do with the trees, et cetera. And this tree is of course blur. It is at a distance. And so you will only observe that I would short and the software look rather than it being more hard. Hence, I am making sure that I do apply some amount of water in the background and then only add this color. I'm picking up some amount of my brown, which is my Van Dyke brown. You can mix it with Payne's gray or the purple that is already existing on the ballot and then add it on the paper. It's a choice that you make. You can even add dark color, like black are Payne's Gray, any other color of your choice? It's not that you have to go ahead with the same color that I'm adding. But usually I like to go far blurry effect too with the darker value of brown. Because the next one that I wouldn't be painting would be the foreground tree. And that needs to be more darker and value where I would be using more of my Payne's gray to paint that. Hence, I would leave it up to you as a choice to what you want to use. This is how I go ahead and work it out for my painting. Once your background is dry enough, go ahead and start taking the foreground tree. I'm using my Payne's Gray plus my purple color mix. You can even go ahead only with Payne's gray. Ours, even black can work in this case, start adding this color as your branches on the tree AD. I'm going absolutely random. If you see my brush movements in few of the places I am trying to add more pressure on a few of the places I'm releasing the pressure variable. I'm using the tip of the brush status to show the leaves. The rest of the ADA, I am adding more pressure and making it look more broader everywhere you do not need to add all the kinds of detail for your tree. That's very important in watercolor. You do not detail each and everything. Keeping it loose and simple is also very important. Hence, you will add the colors in a way that few of the places look simple, easy, and few of the places are more detailed. They look really interesting that way. Once you have added some of the creative or the branches, Alia, had some more details while you go towards the bottom, keep painting one not to lose branches. They should look that they are different from each other rather than all being together in one single cluster. Few of them are going out. Few of them are towards the bottom. Few of them are moving towards the top. And the way you place it is really, really important. Yes, but I guess I'm pretty okay with this spot because this is going to be simple, easy, and just look at the brush movement. It is nothing but adding one or two single, single line and completing the top Kavya with an absolute flat wash of paint scree. There is no other colors that I'm using. Complete the painting as you go forward. And over here, I can say, I will not be adding a lot of detail, only of few more details here and there for the branches. Then I will go ahead and paint some light in the background. How I do paint the light you will absorb heat could be of very, very simple way of adding some white quash. For the light white quash, I would be adding in two layers. So keep that in mind. Just somewhat details for the leaves. Once it's done. Let's move on to part. Pretty interesting, I would be telling your time. Yeah, last four minutes left. I think that's all I had for this painting. But do make sure that you apply the wash. There would be two to three lights which I want to paint. I'm going absolutely random and took blended with the background. I will either use my blending brush corals. You can even use your finger the way I'm using right now so that your white quash blends well with the background. That's how I approached this painting. Once KIT case a bit dried-up, just add some more fresh white wash. Or else you can even go for white postdoc Carlo. Or else if you have any other opaque white watercolor, roll with it just to make the bottom a bit too wet with clean water that you have. I've always told you to keep two jars of water handy, one chart for the clean water, and another job for washing brushes. We'll go with the darker value. And then again add some fluorophore dye in the background very, very randomly. That is to show your branches, leaves, et cetera, grasses, everything make it blue, simple one or two drops here and there. While I'm doing these colors, once done, again, there is not much that we are going to change from most of the painting is done right now. I think one thing that I want to change would be if you see this background lie, they look not exactly well blended with my background. So I might go ahead and use our blending brush to blend it a bit more with the background. I think that would be the last step that I would like to do for this light area. That S time picking up some of the colors and few of the ideas. I want them more lighter in value and showed that light and darker values separately. Few of the areas and the ground. I want to show light, some of the dark. That's how I changed the value. Okay, once the paper is dry, just peel off the tape. But do remember that one thing which I wanted to change. So once I peel off the tape, I think then also you can do that change or road so before beaming off the table so you can do there changes in jail sat it came to my mind and I might go ahead and do it only after peeling their tape because that's the one small improvement that I wanted to do. I am going ahead with my flat brush to do it once and done. Have a final look at your painting. Yes, we are done. 11. Project 8 - The Waterfall: We're onto our eight day and I'm pretty excited to teach you this lesson. Why altogether? Because this lesson is going to be pretty simple, easy, yet interesting. We're going to paint a waterfall. Waterfall in the easiest possible way. I am not going to complicate the subject much. We will first just to find the waterfall. Make very small line which would show the hill from which the waterfall is going down. And the top area, about 30 percent of the people will be my sky. I will apply call clean wash of water. Now this looks a bit yellow. I don't know why. I think there is some color on my brush, but that is okay. Again, the sky would be yellow in color, so I am not worrying much about that still. I would ask you to clean your brush well before you start any of your paintings. So do across much as you absorb over here. Once you are done with the cross-match, we'll go with the Naples yellow. Naples yellow is very beautiful and nice color. It is a bit opaque and nature wants to start with the orange. It is absolutely random the way I'm going right now, some of the spaces I am keeping in white. Once I'm done, I will add some yellow column. I could have easily gone ahead with the yellow color first, and then I would have gone with the Naples, yellow and orange. But all of these are from the warm shades. And that is not much in terms of change of values. Or you can say there are no dark colors that I'm using right now, or cool colors which I am using. Hence, I can easily go head with the lighter value or any one of these color like Naples, yellow, orange or yellow. So all of them I can go one after another, mix some amount of your Payne's gray with the purple that you have, Arles. You can also go ahead and just add some of your ultramarine into your purple. So I would leave it up to you. What is the color you choose? For me? I would love to add some amount of darker values now, quantum my cloud, hence, just mix some of your paints gray and the purple. Add it on the Cloud area near the hills. Just add a bit of the same colors or I would say add some amount of the same mix up your Payne's gray and your purple. Then go ahead and add some more towards that top area. I'm going with my size four brush, that is silver black velvet. I have been using this brush pretty often and it gives me the smallest shops which I need. Again, randomness is the key over here. Don't think much, but just make sure that you have some of the spaces which is in white. Once you do apply your colors on the top of the sky, start cutting some of the colors for the area of two hills. Hi, I am going ahead with some yellow and then I'm adding some green. Again, absolutely random. You can call wet-on-wet. So apply some water on the hip area and then aren't these colors do live the idea of the waterfall, absolutely clean. Do not add any water on top of it. Or else the colors will flow from the hills to that area. Hence, it would become a bit difficult for you to paint later on. I'm mixing some of the colors, few of the spaces. I'm keeping him in the light green shade and some other places in the dumpling shape, I am blending with my fingers. Yeah, that is a very good way to blend. I have not been using this technique much to show you guys because many of you might feel that, oh, it's pretty intimidating, but seriously, try, you will be very, very happy. I've been using it in many of my paintings as you progress, you will observe it more. So keep adding these colors. Once done, had their dark green. Now, while you are closer to the waterfall area. So this painting has got lot of use of your fingers. Use it wherever you want to blend. As I've told you, it is a great way to blend. And I'm adding some more green value. And to our painting while I go towards the bottom media and using the mics off my purple as well as Payne's gray to add it. Once done, just remove all the extra water or you can say the extra color from your brush and then start adding some dry brush into the waterfall area. So the waterfall area will have some rocks, et cetera, which will show from below. And this is one of the ways which you can use to do that particular work. Now there might be many other ways, but this is one of the easiest way. You can practically show that there is rock and you can show that there is movement of water. The water is falling, the color of the water anyways, I have told you build remain white because it is your waterfall. And the waterfall has got moving water because of which it will not reflect the color which is there in the sky. If it would have been more of a still water, or you can say C, et cetera. It work really reflect the colors of the sky. That's how it works. I will keep working on the water area for some more time where we will add these small, small spaces which are going to show the movement of water. And this is only by using a dry brush technique. I hiding somewhat darker value towards the bottom media of the greener side, towards the right. And then some more smaller strokes here and it majorly water is white. So if you are not adding even a lot of your strokes, that's absolutely okay. You do not need to always keep on adding the dry brush technique. That's one thing which I can tell you. You can go head can add only a few strokes and that's enough. I can go for many strokes and still I will not be in a position to get the exact colors what I want. Going ahead and adding some more ultramarine and a mix of my purple that I already had on my palette. The green of the bushes will also get reflected into the water. Again. Now the water has started moving and there will be some amount of the colors which are there. Either the sky, either the green will get reflected into the water area. Just under place where the water is falling will remain as wide as I want to show the roaring and the gushing water. Hence, because there will be lot of movement, we will leave it like that with more of whitespaces to rest had some movements that the small, small line with their hypothesized for silver black velvet brush. These are very, very small lines which I am going ahead and adding since the water area which where the waterfalls is very, very small and I'm not going to add a lot of lines are a lot of details over here, only a few details and then we will be done. Once you are done with this part of your paper dry, tried to lift out a little bit of colors if possible, but I don't think my green is lifting out anyway, even after adding the damp brush, I cannot remove the green, which is okay if you are using a kind of Kahlo where you cannot lift out, it's perfectly fine. Go with some white wash. And I think that's really important while you show the movement of the waterfall, yeah, I will show you how you are the white quash, I think are somewhat amount of this color of purple as well as the ultramarine is needed. Take some whitewash on your size four brush and just tap it with the finger, you will get these small, small dots are you can say small, small splatters. That's all you need to show that P have caught a lot of movement in the water. We'll even add some small, small lines and few places here and there, just Nieto waterfall where exactly the water is falling. I am not going to overdo this part. I'm keeping this painting really simple. I mean, again, the painting time is really small. It is going to be within 15 minutes. You can complete this kind of a painting with light. Some more details on the green part rests. I think I'm pretty happy with the way it has turned out in terms of the word retinal. I can't splash some water, wash in the right side of the waterfall. And I guess that's it. I am not going to do anything more. Pick up some of those darker values. And just started in few of the places as a dry brush technique. Just to show that there are some rocky kind of a structure. I am adding it even on the left side. Go ahead and toward, if you want to add any other darker value, that's also fine. I will not stop you from doing that. Go ahead with some dark green column now and we will add it on few of the areas as splattered. First. Splatter it do not. Derek on the water for Lydia. Yeah. Making sure that you're not flattering there. And just that much and then start adding some more of your watercolor leaves and flora, fauna wherever possible. I want to finish with some green areas. That's how I show it. It's not that I'm going to detail it a lot. As I've told you, it's going to be quick, simple, easy kinda for painting. Here it is still time they, you should step back, relax something. Do you really want to add anything more to this painting? I think I would love to add some more boats to the painting, or three or four rest, I guess I would leave it like this, except a few of the details towards the top left-hand corner and go footstep top right-hand corner. That's all you have. So if I'm using the tip of my brush to these kind of green color that I guess that's, that's, that's all I wanted to show. I am pretty much fine with tau. It is looking like now, use a liner brush to add your small, small birds, which are flying in the sky. They are returning to their home. That's what makes this painting really nice. And go head, have a look at your final painting. Let it dry completely before you remove the day. I am so happy to see those clean edges. That's one of the things I always look forward to when I complete the painting. I will wait for your projects in the project gallery. This one is super simple and easy. I hope you've tried some. 12. Project 9 - Lavender Fields: So guys, we are back to another painting. This painting is going to be very, very exciting. I can guarantee on that, as we will be painting a very beautiful lavender field. Now, lavender fields have always been one of my favorite subjects to paint. And I hope you do fall in love with painting lavender fields. We will walk on a concept called us, so vanishing point. Now a vanishing point is of a simple concept. We'll start from the left hand, although lines which will originate from the left, we'll move to the right, can go to one single point, that is vanishing point. Now you have to decide whether your vanishing point is on the people, whether it is outside the people, whether it is on top of the people where you want to place your vanishing point. Now my vanishing point is not exactly on the paper, It's just a bit outside on the paper towards the right. And it is on top of the O horizon line, which I did or they make. Now this horizon line is about 20, 25 percent of the paper. Rest of the area is all those fields that we will be painting. Now, since I want my lavender fields to look more interesting as a subject, I would leave my top area, which is majorly the area of the sky has very simple and easy. We are not going to complicate that part anymore. I will be doing a wet on dry method now, wet on dry method is always simple technique. We will start with very light color. Either you can go for Naples, yellow, permanent yellow, deep, whichever color you have available on your palate. Go ahead with that. I'm not going to define any colors for you over here, but these are the colors which have really made my sky look very, very interesting. I have added some purple on top of the Naples, yellow. And then just on top of the bottle, I have added some amount of Payne's gray. I cannot tell you how beautiful this combination looks after you complete the sky. I'm not going to complicate the subject. Has I have told you I would leave this guy has very light because our lavender fields are going to be really vibrant and bright. Sky will act as they please. And give my live in new fields more importance. Rather than people will be focusing on the Lepanto fields and not focusing on this guy. Just start adding some amount of water on the lavender fields. Once you have added the water on the lavender fields, make sure that the water spreads well across it. New cross-match. Cross-match is really, really important. I have always done across swatch. If I'm doing a wet on wet technique, I have told you a lot about the wet-on-wet technique if you have already taken the other projects, which I did explain earlier when I was painting any of the other seven to eight projects which you did till now? There I have told you a wet-on-wet technique is where the paper's wet and you apply some red colors on top of it. I'm going to head with operand, start making some lines along the line which I did already draw during those sketching exercise. Now, this sketching exercises very, very important. While you go ahead and do any kind of painting, sketching exercise actually gives you a lot more confidence and it helps you to understand how you can steep walking towards a particular goal. And it gives an outline Chatterton, you going without the sketch, it might look a bit difficult. Initially. I go head with my darker sheets status, the pulpal. I have been using this combination pretty much in many of my other paintings. Now since leaving, no color is purple. But I would love to use some amount of Opera. Opera is one of the very vibrant and bright colors which you can use in any of your paintings. I use my silver black velvet brush size to practice colors. Do remember that I'm keeping some white gaps in between white caps looks really nice while you complete the painting, you will observe it. Or else you can even apply some lighter values like yellow or some lighter green color. Anything that is of your choice can be a 100. Then I'm going ahead and adding some amount of my cadmium orange or any other orange that you have on your palate. It is not important to use the same colors that I have on my palette. You can go for any colors of your choice or whatever. It is closer to the color. That I'm using right now. Go ahead and keep adding this follow in the whitespaces which you did leave earlier. As I did tell you that you need to leave some of the places as wide, we will be applying some lighter values over there. That is really, really important. Once you start adding some of your dumpling color, I am really not sure that I would be happy with the outcome or not. But let's do it. We need to have some green color because the stem of the 11 offenders usually print. And I'm going ahead with the color palette that I usually see in the lavender fields. Now, this cadmium orange that I did use is majorly inspired by the soil that we have. Now, this might look good, this might not look good that we will be deciding later on, but this kind of a pilot, I think, will work. I'm going ahead and adding some amount of brown. Now this brown is the Van Dyke brown that I'm using, all the red brown that is available with you. Go ahead and use some brown on top of the green that you have. The green that we are adding on the ground right now that we're adding. All of these are basically the lines painted sketch on top of it. We are running time. You'll see that they are converging to one single point that is outside the paper. This might look as, yum, is it coming? Okay, where am I doing it correctly? Or whatsoever? Maybe the dots in your mind right now. But believe me, once we complete the painting, you would be really happy with the outcome. Go ahead and keep painting the areas. Now's the time to pick up some of the colors from fuel to places where I feel that it is necessary. I would go ahead with my flat brush. I do pick off all the extra water on their tissue that have placed on the right. I've washed my brush. Again. I do pick up some of the colors and then go ahead and make it a bit more lighter in few of the areas where I think it is necessary to be frank right now if you observe the whole lot of fields have already taken the shape, be exactly known that this is somewhat either a leveler field or a tulip or something like that. It's a field which is a floral. So do make sure that you are going ahead and doing something like this so that you get up the feel of a field. We are not going abstract of course. So you will see as this dries up, we would be adding some more details, 1411 new fields and the second layer where there will be some of the flowers, stem leaves, everything that would be, see. I'm blending it right-side of big war that set and picking up a bit of the color where I think it is necessary. Time good to go. I will just leave it over and move on to the top part of the painting. The top part of the painting near the horizon, it's only drive. I were cool with that gap wash of the screen as well as the bubble and meet some of the foliage over there. Foliage means that we are going ahead and adding some tree-like structures that is seen in the background. And not this foliage of causes in the background, which is one of the reasons that I will not detailing a lot. They're just going to argue with one single color. That's all will be required for completing the spot. I will add some more darker foliage towards, right. By painting the fields while you added the darker values, you do understand that adding the darker values are actually creates the depth in the painting. If I only add one single color, you will also authored the painting looks really flat. Whereas if we add two to three different colors, the painting will actually give so much often impression that it is a field or it is a flower area, or it is something on the UDL, which is exactly what you want to represent for your viewers are the subject that you are going to paint. I'm adding the darker values again towards the right. Has I did tell you earlier that the foliage would be a bit longer and broader on that identified compared to what I have added on the left-hand side. Take your paper dry and always check your people before you add any kind of second layer, or you go for a second layer. Or even if you aren't any kind of detail at this stage, always, always. It's very important to check the dryness of your paper. If your paper is dry, then only go head with your second layer. Orals. Let your paper drying, give it that time to get to a stage where no. If you apply on the people can actually become cauliflower or it gives you an effect which is like a wet on wet. Here we are trying to do a wet on dry technique. I'm going ahead with the colors like red, violet, and I'm mixing it with a bit of carmine. Or you can even go for our quinacridone, red, or any other color of your choice. It's not that you have to use the same colors that I'm using right now, go with a darker value, and that's it. Some more small, small dots while you move towards the right-hand side of the painting. Because although flowers which are larger in size while you absorb it, why it is towards the bottom of the painting when it goes towards the right-hand side to show the perspective has but the lines which we did draw, it has to become smaller in size. That's how you add on the perspective onto a particular painting. That's how you create a depth. That's how you actually work. How to show the distance, as well as how to show what case closer to you. Pretty amazed that the way you have these lines, you act, the perspective, you are, the details as well as you show the amount of depth that coping can show. Though watercolors which you add to a paper is usually transparent. We always use the white of the people. Do remember, the more you can use the white of the paper, the more beautiful or the outcome of your painting will be more beautiful. Hence, whenever you are going ahead and having these kinds of shades to make sure that it is somewhat the other white that is always seen on the paper. If you see towards the top side of the field, there is more of white that we have kept. This is an important aspect and this is one important rule that you should always note. I might make some purple and do the lavender fields. You'll see that I am not adding it everywhere. There are one or two dots data mining towards the middle or as I move inwards into the fields. Whereas there are more dots that I had while I am towards the bottom of the painting. You do not need to think much while you do this kind of an exercise. It is pretty easy and simple. You do not need to even body how this painting will turn up. I can guarantee on it that this painting will turn up very pretty. Just go with patients. That's the only aspect which you need to hold onto. If you have that patients with watercolors, I can tell you what the colors will act like a partner for you. It would work in your favor. But watercolors to need that amount of patients or love. I can tell you where you observe it to work in your favor. I am, I think one or two lines. I'm using my Esperanto optimal brush to do this. If you observe, I have been using this brush for pretty long time. This has got a very nice tip on the top. I have been using this size six brush. He most of my paintings. Yes. And it has done out really, really nice. It has got a nice edge sometimes I do not mean even my size by my size two brush. Just use this. When you are done. Go ahead and add some more details on to the hardware KVM of the field as I work through it, as well as not only this part, you can even add some more details while you go towards the left side. So though it would not be much that I would ask you to act and a bit here and there. So that would look really nice. And yes guys, so you need to keep in mind that we are towards the end of the painting where more of the details are left. The SEC, or the major wash, kind of a first year is already done. Here. What we are trying to do is create that depth, create that beauty, create that factor by which you are people or any spectator who is observing your painting will start liking it. Once I've added the second layer, I would go ahead and start working with my white quash. This, as I have told you, is the time where you need to just relax, not think much. We are done with majority of the work. It's only two to three minutes that is left, right now, go slow at this point in time, if you already want to take a break, go ahead, take a break. I always say this, that taking on break is very important within a painting. I know most of us how like let's work it out, Let's finish it and then we will take a break. But for me it's always been like Let's take a break and come back. Have a look at this painting and I might form that with the painting again. Let this dry out. Once this dries out. Do take some whitewash and splatter and few of the areas there are few areas which is still wet and I see that the white quash is becoming like a big big spot. But that's okay. I might just use my fingers and make it like a background. It's not much that I'm going to add in terms of the splatters. So let that be and I think I'm pretty happy the way the splatters are looking right now. You can either tap with your finger or else you can't even go ahead and use an adult brush to add splatters. I'm adding small, small dots now. I might even go ahead and add some lines. If you don't have this white quash, you can even go head with some posts to Carlos was two colors that are white, opaque. That would really help though poster follows a bit more coarse compared to the ones that we are using in terms of wash. So that's one thing you need to keep in mind. Adding now some of the birds on to this guy. And this guy looks really, really empty to me. You can also leave it at this part. You do not need to do what I'm doing. But I can tell you it would add a bit of beauty to your painting. Two or three very, very small birds. I'm not going to add a lot of them has it is the evening time and they all are returning to their homes. So two or three will do just fine. Wash your brush and then have a final look at your painting. Let it dry completely and removed the tape at an angle. Once you remove the tape at an angle, I can tell you you will fall in love with this painting. This is one of my own favorite projects from this 21 days of watercolor painting. I did keep it a bit later on cause I wanted you to understand the subject of landscape of bit more before we do dive into something like perspective. 13. Project 10 - A simple Landscape: We're on to our next painting and close SUV. I've done 50 percent of the class, you can say, or a bit less, but that's absolutely okay. I want to empower yourself through this class to understand what all you can do, what are the possibilities? Even a single subject like sunsets has so much of opportunity to experimentally are doing Dart in the 21 day series. You can pick up any subject of your choice and start doing it on your own. While I was actually starting out with this class, I was thinking about this part altogether. I was only having one single idea how I can help you guys to start off with such a beautiful medium like water colors. Even very simple ideas can actually make things look so, so interesting. I did apply one layer of water on the paper I did across swatch. And now I'm going ahead and applying some amount of red violet. Once I've applied the red violet, you can go ahead and apply some amount of your poeple on top of it. My purple is the bright purple that I usually use. Then I'm going ahead and applying or not, this is actually a work of water. Water will allow your colors to flow. And this whole of this background is only dependent on how your water flows from the top towards the bottom, and from the bottom towards the top. The middle area will be a bit in white, That's it. And water media we will be painting with mostly the orange and mix of orange, as well as your opera. That's it. Let your colors flow, let the water do its magic. And the most magical part of this painting is we are not going to sketch anything. We are going ahead and he will only paint, we will paint our heart out. And this yellow guys, this lesson, I know you have already done a lot of sketching, or at least you have done a bare minimum horizon line for all the other paintings. But here we are going to go absolutely with our widths, with what we feel. And we will paint out. We are just going to use a brush. We're going to use colors to paint the sunset. There is no use of your pencil. You can keep your pencil aside. Of course, you have done at least eight to nine paintings before it is. And that's what brings me to the point. To help you guys understand that watercolors can be done even without touching your pencil. I'm going ahead and applying some orange first jam. Then on top of it I'm adding some of my cadmium orange and opera together. Yeah, It's like you have to relate these colors. Do their own magically, their own song on your paper. Something like that. You might be feeling that what is this instructor's saying? But practically it is all going to be water, water and water. And the next thing that will help you as the pigments that you apply on this paper. I'm using my artist grade watercolors. I have already told you how I did set up my palette. I'm tilting my people, sometimes towards the bottom and sometimes towards the top. You will observe me doing it in pretty much I think the next 345 minutes to, because the whole idea is only about the sky. The better you can paint the sky, the better would be era. I am picking up some of my colleagues from the middle, the middle area. I wanted to keep it white as I did tell you earlier. So I would maintain that piece. With that, I do understand that sometimes this might might not be seen. Has my colors will flow, my water will flow, and hence, I might not get the exact match that I want. That's absolutely fine. Yeah guys. Hey, everything is fine. Watercolors, there will be lot of happy accidents. You need to embrace it. You need to accept it. And let me tell you they are going to be really beautiful. Once you have a final look at your painting, you see how beautifully the colors are blending with each other. I do not need to do anything. Only a few places I'm adding some of the water. And as I have told you, I'm and another outside of India, which means that there is lot of heat during this mean June season. That's how I would like to maintain my humanity in this case. We are doing wet on dry while we are doing wet on wet, where so much of water is not embolden those less amount of water involved. I usually switch out my AAC. I keep my humidifier in my room, switch off my fan. That's how I get the perfect. I would say the environment when my walker will stay on the paper for longer period of time compared to if I keep my fan on. So I mean, those are smart tips and tricks which I use sitting over here, you might have something different. Do go ahead, use your trigs, find your own ways. Because each and every place is different. And I know there are places which are really humid and sometimes it is even a possibility that Arches paper remains wet for a longer period of time compared to what you might need. Hi, I'm using three colors. One is my Van Dyke brown than the other one could be my Payne's gray, as well as my dog Prague, which is the red brown. I am very frank about this bag. Bag, you do not need to think much value. Apply the colors. Just go ahead once with a lighter value and then go with any on the current liquidate, it gives me pride bulb on it can be Payne's gray and applied on few of the areas. Once you are done, then we have to apply the colors for painting our tree. Yes, guys. It would be a treaty and I would go absolutely bear with my brush. I would use my brush just like that. Few branches I will get closed. And once my skeleton is ready for the tree, I would go ahead and start painting the other branches, the leaves, and I wouldn't build on that skeleton. Hi, Well they say this, the first part of the watercolors is basically on your skeleton or your framework on top of which you work better. To work on this part as you observe that I am going ahead. And using the tip of my brush to do that. This has got a very nice step. The brush that I'm using right now, it is from the SCADA company. And you can either use this kind of a crash orange. You can go for tunnel pressures like science for size to be an entertainer branches, whereas when you are adding the thicker branch, you can go for size pipe size 6. That's absolutely okay. You can order them kind of brushes that you use. It doesn't matter much. The whole of the idea about painting sunsets as more about capturing the techniques. How we can work around even without drawing. Just go ahead and paint. That's what is most important while we continue doing, or where we continue on this journey of painting. 21 different sunsets, slowly and steadily building on this tree. If you see, I went really slow. Initially, I just made a small framework of two branches on one tree trunk. Then I'm adding more branches. I would be even adding the leaves. The leaves would be absolutely lose leaves. Some of the dabbing off the brush on top of the leaves for the branches will only happen. That's it. I'm not going to complicate the subject at all as I want to keep it simple, easy, yet interesting. The background has turned out really pretty. I have made it really beautiful linearity of this blue order. I think you wouldn't elaborate like create this flow. You will fall in love with this kind of a flow seamlessly. Once I created this one, I was like, why did die? Actually try this out earlier for many of my other paintings, because this is one of the great techniques that can be used for many of your paintings. Not only while we are creating the sunsets, you can go certainly another lights you can use certain landscape painting, you can use it for any of the other kinds of landscapes, cityscapes, etc. Dark you plan to paint. I'm holding my brush at an angle which must be around 30 to 40 degrees. And I'm adding some brush strokes. It's absolutely loose brush strokes. I do not think much while I'm adding it. I did wash my brush, pick up some. Of the clean water. And then I'm going to hit the lighting for the on top of it go up and I came from that I do have on my palate. That's it. We're not complicating it anymore as I do see, easier than retiring water column. So it's not about complicating water colors is all about simplifying. And simplification means you have to go with the less or you get a few touches here and there and still should be in a position to get the painting which looks really impressive or rich, actually touches your soul. For me, painting for my soil is really, really important. Yeah, I think that this one and the other part that really attracts me to watercolor because it gives me a lot of freedom. Okay, Now, I did clean up some of the ideas which I had already applied in the brown color. But I did use my clean, damp brush to clean up that area and make it lighter in value as I would be painting our sun. Very neurotic. You know that earlier I did some of the paintings where there was some winded apply lighter values. We will certainly work on then when we went with the darker values later on. But here we are going on bigger friendly. We did fly the brown allele or we are picking up the colors later on, that there's actually another way to work it out. You would even see how I pick up the colors are, how the rays of the sun and go to this brown area. Now, if you're someone that's so close, you will have some of the rays pertaining to the land area. On dot-dot-dot, I have usually absorbed and photos. So let's just clean up the ADL, which is near the sun as you observe right now. And even being lighter values, just like we did earlier. And I am using my flagging damp brush to pick up some of the colors. Mean I don't land at see how beautifully we can think. Sundries, which is actually cutting through the slides. I just love it here. This experience together. I hope you do like it. And let's paint some frontal bushes and some of the small, small priest looking kind of stuff that would actually help you to paint this in albedo. We already can say it would actually help you do get this painting to the finish line. And hence, I think that's it. We are going to know. I mean, this is the time where you have to now take a break. I understand that we have done most of the painting time non stuttering some of my clean water onto the wet area, but I do not see much of an influence as it is not creating the textures which I really wanted. That's also okay. We can just try to have those sections if it doesn't come perfectly fine. No problem. We have a very beautiful taping and hand. I am going to head with some darker values of things. And I will just extend the colors towards the bottom. Once done vivo go heads for some of the branches, even on the right side of the landlady. Again, I'm using the tip of my brush to add some of the branches. I'll let it be simple and easy. At the end I will be using even my fine liner brush to add some more branches here and there. You will observe how do we practically this is all we're going to do. Two or three branches as I do say that they will even adding on the right side just violence to picture a bit more, I guess. I do like you to read it. So adding it, you weren't seeing a top-down approach. That's one of the reason you do not observe this really well. But go as you want. I can tell you as an artist that you will have to follow your heart for what colors? Red URL you think or feel that listeners Sydney, go head and goat. You will do your own mistakes. No one can actually guide you through your mistakes. I have done mine and they are failures that everyone does. It's absolutely fine. You do not need to worry about those failures. Go ahead and paint one smaller than solid dates. I'm using my fine liner brush eyes on you. Are you finding some are thinner branches? But getting back to where I was, that we do not need to think much water. Collins gives us a lot of freedom and you need to use that freedom. Do not, do not worry. Why do you think, yes, there is no way you can get back to work colleagues. So always start with the lighter value and then slowly under darker values. That's all we would be my suggestion on water cannons require strong practice. So practicing every day will help you to be more creative, will help you to understand the subject better, to help you get more water control. Those are the aspects that you have to learn on your own. No one can make you like or else naked me just a guidance, I would say more. So there would not be foolproof kind of plan that you can follow. That's the only thing. Okay, now let's remove the paper at an angle. Once you remove the tape, have you finally look at the painting and I hope you do like it. 14. Project 11 - Cityscape: So guys, yes. We are our two are the 11. Yeah. I think we have made a lot of progress on now. So let's move on to something really interesting. At this stage. You'll have all the painted one, seascape where we did with the clouds and C, et cetera. Here we are going to paint again as escape, but we would be involving some amount of reflection and towards escape. It will be painting or city. And B will be even painting. A water has well as how to paint the sum along with the light. First start by making a very rough sketch of any city of your choice. I just went with my imagination. Haven't added any kind of a city. Just started some 900. And in the middle, there will be a son around the sun. There would be lighter values which we will be applying on the K50 go away from the sun, there would be darker values. That's all you need to keep in your mind while looping the sunset. We will be using lot of burnt sienna in the sunset. That's one of my own favorite colors to go for. With time, I have realized that the benzene is a very beautiful color, which is not only applied for your leaves or any kind of trees or even soil. I think it is really universal color which can be used for any office cityscapes or evening skies, sunsets, anything. You will see more of sunsets with burnt sienna coming up next. So do not vary. There will be lot of lot of contact is coming up soon. Let's just add some more buildings towards the right. And then we will apply one layer of water on the sky area, orals. We will start with the watery area. Whichever you find more interesting, we would be doing that. But for me, if you pass, you should always go for this idea first. Because the sky only gets reflected in the water if you set the color of the water first and then move on to the sky area. It might not be the best way to go about. Start from the top with the sky and then move on to the bottom area, which is the water. I will add some amount of reflection. These are just small straight lines to show that this area will be more with the reflection part. Once done, let your paper BSS San apply some water on top of the sky area or OSU can even leave it there. We can even do a wet on wet, wet on dry. I have covered actually both of them till now. In the earlier sections of this same class where we have wet, wet on wet, wet on dry. Method side of the brightness. If you want more bright and vibrant colors, it would be read Han, try a few more softer and nicer look. It would be wet on wet. So here we are. Starting with the first part, data's my sky and I'm going wet on dry. Wet on dry means I have already told you what cell I would again repeat. We will be working with wet paint on dry paper. I'm going ahead with my lightest value, mixing it with some of the yellow. And I'm just trying to paint a small son and in an around it, I am painting it with the orange color after it. So the oranges that cadmium orange that I'm using, you can also go for any other orange of your choice. You just need the orange that is available on your ballot. Once that is done, go ahead with any of your carmine or any quinacridone rolls, anything that is available, which is those are due the pink color that you have applied on the paper. Once you are done with their data, we will add some more darker values. So go ahead and just keep adding the colors. That's it. You do not need to worry here because we are going with a very light value right now. Once we are done with this part, we will add the darker value. Wash your brush and then. I had some clean water onto the paper or on the sky ideals which you were painting. Go ahead with some amount of ultramarine. Ultramarine is one of my favorite colors. Do it has a granulating effect. So sometimes you might not even like it. In case you do not like the ultramarine, you can go ahead with cobalt or any other hue of your choice. I'm not in particular saying that you have to only use this column, whatever is available on your palette. Go ahead with that. I did that. I'll wash my brush and now I'm adding some clean water. You can hear birds chirping in the background. Yeah. It is really nice. I am doing my voice-over during the morning time and that's one of the reason you can actually hear the birds go ahead with some burnt sienna and mixed with the ultramarine fun CNL with ultramarine gives a very beautiful color. That's one of the reason I'm using it. After so many paintings, I already know that you guys have built up a very nice confidence as well as you guys know Attack. This is how unique to faint. This is how new need to go on. And you will find the best possible way. I did take some tissue. I am a right-handed person, so I always face most of the stuff on the right-hand side. And my tissue was also faced over there. So I did twist my tissue and now I'm picking up some of the brown that I did add onto that sky area. Once I have picked up the colors, you will see that there are some white kind of clouds that appear. They look very nice. I will actually complete the painting and you will observe how beautifully they turn out. The paper is still wet. That's one of the reason I'm mixing up some of the colors, which is my Payne's gray and then my purple and some of my heart for many. Hi, I'm going ahead and adding this darker value onto this guy. And you will see that my sky has a lot of water because of which this practically dark clouds which I wanted to paint has become blobs. So I would practically is remove this and then see how the clouds look. I think this looks better compared to what I did pay into or did add. So this looks much better than what I have or what I did earlier. Yeah, hence, I would keep it this way. And then now we will start painting the water area. And I'm pretty much happy with the outcome. So let's go ahead and start with the water area. We will keep things simple even for the water a year, we will start with yellow color first, and then we will go ahead and make it more darker. After I've added yellow color, I would go ahead and act some of my orange color. This orange color looks really nice and pretty on water. And we will make it more darker by adding burnt sienna. So do not worry, exact colors of the sky will get reflected on the water area. That's the basic idea. So water doesn't have any color of its cone. It does reflect the color of the sky itself. And then you actually get the beautiful hum, come off the water that you observe. I am going ahead and handling some more darker values to the middle of the watery here. Again, this is our wet on dry method. We are not doing our wet on wet method. So just go ahead and add some more clean water and merge this area. As you observe that, I always go ahead and pick up my ultramarine and hide it from just the water media. Or else I go head from the top area and then come towards the horizon line. While I'm working with the water, I go from bottom towards the top area. That's how I work out. The whole of the water and the whole of the sky high. Think that way I can always preserve the beauty of ultramarine as well as non getting kind of muddy effects. Which I always try to just NOR gate because those muddy colors look very bad and pathetic on your painting. And these are some of the quick tips and tricks that you can always use if you are starting out. This is very helpful. During your whole journey of watercolors. Go ahead and start running some of the darker values like mix your paint scree with your ultramarine and add it on the web. This is a wet on wet method. Wet on wet means you start with the red colors and then add it on top of the wet CALEA or simple pipe. If you have one layer of water, that's good enough. If you do not have any layer of water, you have to first year of your colors. I did not do it. Then again, you are having the next layer on top of the wet clear of the first layer that you did. So it's kind of a second layer that you are adding right now. I am going ahead and dabbing off some of the extra things that I pick up on my brush onto the tissue and then adding it on the water, some of the waves I may trying to interlock with each other. So be sure that you also do it with the help of your size four brush on the size of the paper that I'm using. In case you are using some thing else in terms of the paper size, you might have to even adjust the brush size. So brush sizes always Walker up. Or you can say the work best according to the paper that you are using power. So just adjusted accordingly. You don't need to worry much. If you're using a smaller people go with us 10 brush size, that would really help. I am going ahead and adding some lighter values or you can say some lighter tones and some very, very thin lines onto the brown area. Or you can see the bunt sienna, which we added with a mix of yellow. I'm really happy with the way my sky practically dot-dot-dot and the way it does even getting reflected in the water. The darker values are there towards the bottom if you observe, Hi and I'm slowly burning on with the help of my darker values on top of the lighter value of the ultramarine, which a 100 AD and the photosphere slowly, steadily. I'm adding some more darker shades into the water. And you will absorb once this paper gets dried up, it would be one layer lighter compared to what you have right now. Hence, it is always important to go with one darker shade and no one can tell you what's the best should, you should go ahead with it. I know it is an experiment and you might have to do this experimental, come up at what suits you the best. Once you are done with the water table later paper dry off and then had some of the brown. You can use Fred Brown you can use been sienna, as well as take a very light value of that brown, start adding onto cityscape, which you did want to paint. So whatever you have sketched, that's perfectly fine. Go ahead and add the colors to the cityscape. I keep altering the colors somewhere. I am adding only water, some when I'm painting some burnt sienna, I'm adding the darker values. So always altering the values is a good way to work on your cityscape and the buildings which you want to paint. Now this is a very interesting concept. If you can alter the values, they look really, really interesting to spectator. If you are not altering the values, yes, they will look nice and part of that extra edge which you get after adding or changing the values will work a lot better in terms of how you had the colors are how you go ahead and add our play with your brush strokes, as well as paint any kind of city. You will observe how many artists just change the values of a signal collar hand. They produce such beautiful paintings with it. So even with one single color are not even changing the color can help you to get some beautiful outcome. I'm using the same colors right now, which I didn't use for this guy and for the water area. I just love to paint with the same colors practically because there's no point changing or altering the colors much. Let's keep it the same way and then keep on adding colors to those City area. Mixing some amount of red brown onto darker sheets that you already have on the palette, which is a mix of brown down toward the blue, and start adding one or two windows. More than the windows, I think I would go ahead and add some more darker values and total area of two cityscape because few of the buildings I want to have in the darker shades and few of the buildings I would have under lighter values, as I've told you or bring the values is the best way. And by altering different values, I can actually create an impression to the eyes of the spectator that few of the buildings, there is more light, whereas too few of the buildings are not on the light side, they are more on the darker side. That's how we will create the impression of a lot more buildings compared to what we did draw or what we do. Usually add or do any kind of four people ADR view have to show some of the buildings in the background, some of the buildings in the foreground. They would look like a clustered together. And you keeping a few of the areas, I'm adding some smaller and shorter lines. Yes, I did add some towers and those towers will also get reflected into the water area. Lyman do my last few minutes of this painting practically there is not much to be done. Or me, some of the reflection area and some of this area where I'm adding this darker value, I am going very slow right now. I have already done most of the painting. Most of the painting has still not very pretty and beautiful data. So water, the sky, most of the areas do, done and these are the final details that you need to add on that I didn't side of the building is more wet or you can say the city on the right side has got more water as often now going to the paper, it's okay. Just let your pins flow. That is no problem at all. And then people start dialing smaller highlights. How you do this? Use your liner brush and then start adding the smaller details onto your painting. Smaller details make a lot of difference. Any painting, when you add these towers menu had small, small windows, your painting, those actually become more life. Or you can have a lot of life to your painting. That's how I usually work around my paintings. I usually do my stuff or you can see, I usually put more dimension and depth into my painting that way. My son, I would make the tower a bit more lighter in value. So I did pick up some of the colors from the yellow sheet. You can also mix your brown with the yellow and tickle like a value and P into 24. That's the easiest way you can go ahead with. I think I am 30. Happy and high would now start adding some of the areas. So it would be more about the reflection on the water. Here, we are not required to add much. Guess. You can pick up some of the colors for the head popular damp flat brush. That's a very good way to pick up the colors, hide to show this earlier also in my paintings. When you did painter live in new fields, there was for one of the techniques which was covered. Once done, start adding your reflection with the darker value. You do not need to worry much while you are this reflection it is wet on dry method. We will go absolutely random, just like structures which are getting reflected onto the water area. And then some of the towers that you need to go ahead and add. Why are these reflections to make sure that you use your brush very close to the papal, which means that you have to apply quite a lot of pressure while you are adding the strokes which are ticker compared to the strokes which will be thinner. And now you observed that I'm using the tip of my brush to have these towers. And I am just going ahead and making it a bit in a way that they're not straight, of course, because they are baby. So it cannot be an absolute straight line method. Be on the water area. And it would look like that your water is moving in this way. Time to relax, sit back tank. Do you need to add anything more? Or do you like the painting as it has turned out now, this is one most important aspect that I say to each and every one of you. Who's, whoever's taking any of my classes, that last few minutes is all about thinking, relaxing, and knowing that do you like it the way it is? Or do you want to add anything more to a particular painting because this is the day you go head and overwork on your painting, corals. A painting which is absolutely perfect. Either of these two happens in this case. And over here, I want you to be more confident about what you did paint, let it dry completely, and then remove your tip at an angle. They're moving. The tip at an angle is very, very important. That way you can always avoid tripping off your people. I did not report any of my paper towel. Now, while I did pay about 21 different paintings, though, I have done this kind of a mistake earlier and a few go ahead and check out one of my earlier classes where we are painting 21 different Polaroids. You will observe that I have even told you how to fix that. But it is always good practice to not do so. Hand get into that mode of fixing it. Let's go ahead and paint the reflection of the sun. We did not do that. The one sided finished the painting. Hydrolyze that we do not do it. So use your white quash and the reflection of the sun will be on the water. Some small, small lines that I would go ahead and add on top of the water and then take it towards the bottom of the painting. That's how I work this out. And then have a final look at your painting once everything dries out. 15. Project 12 - A dreamy evening: We're on to our 12. And this is a very exciting project. It is going to help you relax and just metadata at watercolors. Believe me, it's a very, very simple project. And there is more of blending and poking through different values of colour. That's all we would be doing in this project. You have worked really hard earlier in all the projects. So it is always good to have a relaxing project, at least end or middle of all the strain D1 days. So I would ask you to just make any hot or cold beverage, whatever suitable for your place and start off with this one. I have taken about 20 to 25 percent of the people for the Whopper area and for my sky, I have left rest of the space. I am going ahead and adding some tree branches towards the dark areas. So many of you have asked me how I think my crease, how I add my branches. That's one of the reason I just taught to do this special or specific project which would help you to work through any kind of trees. Now creases are very, very simple subject, though. Many of us are not happy with the outcome that we get for the trees. Trees do occur in nature naturally, and whatever occurs in nature naturally can take any shape and size. They will not be street, they will not be curvy. They can be of any nature. You can have twisted tree also. So there is no particular way of following or making your trees. I will give more insights into it as we progress in this project. First go head and do across batch for the sky area. This is absolutely clear wash that we are doing. Once we are done with this clear wash and go ahead and start adding colors. In the middle, you will find that I would keep some space and white for my son. I'm starting with the very, very light value of Naples yellow DOT. This project is a bit more vibrant compared to those last few projects that we did. Hence, I don't add more colors are more vibrancy into this painting compared to the other projects. Go ahead and add some orange color. Now this is becoming more wet on wet. When it becomes more wet on wet, what happens is that the middle area which either keeping white might become more with the colors or might be, might get occupied with the colors that in an air outlet. Hence, I have to keep learning now that area by or clean brush, you would see me doing that 23 times. But I worked through this painting. We'll be using colors like raw sienna, yellow, ocher, or else you can even go for burnt sienna. These are the colors we will be using for the sky more or click colors. And along with that, I would even use some Payne's gray. So go ahead and use these kinds of colors for your sky this time. Mixing some burnt sienna now with colors like raw sienna, as well as the other colors, yellow Ochre Naples, yellow, orange. I will be using some burnt sienna and then Payne's gray, as I've told you earlier, you need to keep blending the colors. That's one thing which I would ask you to do, so that you get a perfect blend while sky is done. And you will observe how beautifully this guy down so that we know for blending, I can see flat brushes are best. But since we are going from the middle towards the side area, that's why I'm using my round brush. You can even go for a small size flat brush if you want or give it a shot, I think you would be no better position to blend your colors and it would come together very quickly. As for my understanding. But again, that's like an experiment you can do and then understand. If you get the best blend, I think that's perfect. Everything in watercolors is kind of experiment day. Whatever you get, sometimes it's good, sometimes it's bad. You can't do much about that. You can't. Complete motivated to reply and a young watercolors. So work, watercolors will surprise you with a beauty. Watercolors will even give you a hard time for few of your paintings. So they're happy accidents, bartender accidents, which are actually accidents. And you'd feel it slowly and steadily as you progress in your watercolor journey. So keep blending your colors as I did tell you earlier, one thing that I wanted to even mention is that when you're doing wet on wet, wet on wet gives you an opportunity for blending on its own. It will not be that you have to do a lot of blending. In this case, it would be quite simple because water does its own shop and hence your colors will blend on its own. Only thing is if your paper has dried up, then the blending will take a lot of time or it will not do it. Well, that's one thing. I wanted to just tell you that and you can't have the best of the blending. So do make sure that your paper is wet whenever you are working on this chi or the water area. Both of them is really, really important. The wetness of the paper and two, water control. If your people is wet enough and aiming time of people will remain wet only for seven to eight minutes maximum. Even when I'm using my Arches 300 GSM acid free cold press paper, it is one of the best free product is available in the market. I cannot work on it for more than seven to eight minutes. So make sure that you are done with everything within those seven to eight minutes. You are not extending it more than that. So via going to apply some more darker values, which is majorly to do with raw sienna and that you will add. And once you have the raw sienna, just blend it with the yellow that you've already added to the water area. Blending is a very, very important concept in watercolors. If you can blend well, practically all your watercolor painting would turn out really well. So this is one of the basics for watercolor techniques signed. I really love doing these blending. I would go ahead and apply some amount of Payne's gray on the water area, all the cloud will only get reflected in the water. As I always say, water doesn't have any color of its own. While you are towards the base part, the ripples are moving. Water will be broader in terms of the leaves or the ripples that come various while you move towards the dog, they would become more thinner and smaller. That's how you go ahead and just keep adding these results. Once done, we will let the paper dry off. And then we will start with very simple and easy part that is painting the trees. How you use your brushstrokes, how much pressure to apply, how you control your brush. That's what is most important while you paint the trees. I can tell you if you can do these few things in a good way, you would be in a position to kneel this painting. There is nothing much that you have to do while you paint this, because it is a very, very simple painting in terms of the colors that we are applying its limited palette exercise, we are using very few colors. Most of the colors that you are using is used in the water than in the sky as well as in the tree that you paint. Now we will go ahead and Lou, lot more detailing on the tree compared to the initial tree trunk too that we did paint. Now create drunk while you paint, you have to apply more pressure and slowly, steadily while you move towards the top side of the tree, it could be less pressure that you apply. Go ahead and start making branches. Now these branches will be more like they have more and more smaller and smaller branches arising from them. That's how you keep adding it while you do these branches, make sure that you are using your brush to make these branches rather than going ahead and using the pressure on top of your brush and then applying the strokes, can that way your strokes will be way more ticker. I'm using the tip of my brush, which is my size 6, as SCADA optimal brush. And I have been using this brush for quite some time. And I know that it gives me very beautiful and nice effect kingdoms of the small, small branches or find me to paint. I hardly use any of my detail brush while we go head or I go ahead and paint any of these smaller branches. But still, I would say that, yes, there are times where I do need these. Smaller detailer brush which you will observe that how I will be using in the garden painting or so. So to be frank, I think that we are pretty happy with how this whole painting is turning out right now you will observe that there is lot more depth that you have added. How you create the depth or the transparency in water, Carlos's, you do not go ahead with very dark shades or you will not use the opacity more on the paper V are usually going to go head width, transparency of the watercolor. We go with lighter values and the inner shell part and then slowly add the darker values, which helps to give a very nice effect. As well as head shows how beautifully your painting has turned out. I usually use watercolors because they are quick, easy, as well as they give me so much of understanding in terms of what I want to use, how I want to use. Every day is a new discovery. Every day is a new learning, as well as everyday I get to understand so much more in watercolors. Guys, while you keep painting this, I would love to tell you a bit more about watercolors. Now, these are some of the most important aspects which I wish I knew. I was starting out on my watercolor journey. The first and the most important thing is to buy good paper. If you do not buy a 100 percent cotton paper, you will not get the effects that you observe right now. Or the effects which I get you, our effects would be absolutely the fruit. My watercolor journey really progress to well, when I started using a 140 LB, 300 GSM paper, or even higher paper, which were really heavy. And I always use cold press paper because that gives me way more opportunity that has got a nice texture. And water doesn't stay on that texture for a very long period of time. You have three kinds of texture that is available in the market. One is rough crane, one is called press tan, one is hard pressed for graph green. I am not very informed that kind of a paper because it is very quiet, very textured, I would say if it is very often that way. So I prefer mostly cold pressed paper, cold press paper is not having a lot of texture on it, so it is perfect for any kind of watercolor paintings. You can either use rough grain or cold pressed depending on what you exactly like. Hot press paper is mostly use for your watercolor. Floral painting. Watercolor floral painting requires your paints to stay lot longer. Hence, many of the artists love to use watercolor. A paper which are hard pressed for floral paintings, but I would love to use cold press Stephen for floral paintings. And then I would suggest that's the most, most important aspect in watercolors. You should buy good people. The second would be how you actually buy your paints. So you need the most important aspect of painting, which is to not buy all the colors together only by the colors that you think will help you progress. You can start with very basic like blue, then red, as well as yellow. You can only buy these three colors. Go for a color chart and check out the colors that you can make out of it. If you are not happy with it, you can keep adding the colors. You can even go for a dot card. Dot card is a very good way to understand what colors you really need and then you should bucket. So that is the second important aspect. I would say what to call it stick toward would be you are sketching now. Sketching sometimes we do very dark and the glorified mouse usually stay on the paper. That's one aspect that you should always avoid that never have your sketch marks or your graphite marks being shown from the paper. Because watercolors is always, you can say transparent and nature and because it is not opaque in nature, hence, if you have a very dark mark on the paper, it would be seen very easily once you complete the painting. The next would be how you would go ahead and protect your white. If you observe in this painting, we did not use any kind of guage for the sun. We did use only the white of the paper to paint the sun area. That is, you can say, always, always. Use the watercolor, paper, white in case you are painting your son. Of course, we would be doing some amount of reflection with watercolor or with the wash. Opaque watercolor or the wash, but use it as much as less you can use. You can also use masking fluid. A few happened, many of us do not have masking fluid. That's one of the reasons I always say that you may not use masking fluid. You can go for a goulash or your postal colors purchase white, stir titanium white, which is mostly opaque in nature. So these are the colors which are more opaque and hence you can use it for any of your paintings. Next, most important, most, most, most important. Like your paper dry after every layer. Do not hurry. Watercolors is all about meditation. Watercolors is all about freedom. Watercolors is all about not allowing yourself to Holly or to not like your paper dry off. And then just go to the next theorem and we will come at a lot of mistakes time. So these are a few tips and tricks that I have learned during my watercolor journey. I would be actually telling you a bit more while we progress. The next byte is one more thing. Keep two jars of water very, very handy. High would love to mention that. Again. Either you have to keep replacing your water orals. You need to keep two jars of water. One job for the first supply, and another jar where you can just wash your brushes. I think those are the major important points that I had TO tell you. We can go ahead and just finish off this painting and have we'll finally look at it later. Go wash and dry. 16. Project 13 - The Road: Hi guys. I am very excited to welcome you back. In the week 3 of this 21 sheets of sunset or watercolor journey, most of you have nailed all the paintings. I am so happy to see all my students doing fantastic work. And today we will be doing a small road with a beautiful sunset. We will be using some colors to paint the sunset. You will see how beautifully the sunset with donald, it is a very simple concept of perspective. Again, we are trying to make a road which would go to the middle of the horizon line. And that is basically my vanishing point. I have told you about the vanishing point during the 11th of fields when we were painting. But here again, we will be using that concept more as we are painting or road, the second partners. So from here on now most of the paintings that we would be doing will be more exciting as well as they might be a bit longer than what we were already attempting till now. It is because the subject is becoming a bit more complex. I will not say it will become complex. I'm here to guide you. It's just that we're also advancing in our watercolors skill and our watercolor journey. Hence, things are going to become a bit more complicated than what it was. Or you can say it would become a bit more advanced than what it was I have made to electrical lines. Once you have made this to electrical lines, start by applying buoyancy and not towards the top of your sky. Burnt sienna and Payne's gray is majorly the colors which I use for my sunset. Yes, you might think this is used to really less how come I'm using these kinds of colors. But frankly speaking, once you complete the painting, you will see how beautifully this painting has turned out. Without using much of vibrant colors for your sky, still you can get all fantastic outcome. Just start by applying the colors blended well. And then again, start applying your burnt sienna and go towards the top. I'm using my flat brush to paint the sky. Flat brushes really good while you go ahead and do any of your blending. Blending really requires a lot of patients, I would say. And this is wet on dry method. So I had a whit beings and which I am applying on dry paper. You are free to do as you want. What I mean by that is you can go for wet on wet or you can even go for wet on dry. Whatever you think is more suitable for you. Sometimes the blending is not perfect. That's one of the reason many of you might feel, why can't we do better on it? Of course, you can do wet on wet. I have been telling you a few tips and tricks each and every time. I have given out any of the other lessons or LEO about watercolors and even about the paper, et cetera, which I use. Majorly, the main aspect of watercolors, which we do not realize as PICC nurses. The paper, paper is really, really, really important. I know you all might be thinking paper is really paper right then why are we even saying that we need 300 GSM acid free paper? But frankly speaking, Google realized slowly and steadily that 300 GSM asset three people is very, very important for any of your watercolors. They are starting with yellow background for the grasslands or for the grasses and the, and the area which is in and around the world. I am going ahead with some darker green now. Some of the idea, I will keep her in my lighter value, which is the yellow that I've already applied, you will see that the sky is still wet and I'm even applying the colors on the road area. It's absolutely fine. Go ahead and do it in case the colors move from the area below the horizon line towards the top, It's okay. We will be painting some bushes to make sure that you are just applying the colors in a way that your yellow as well as your green border visible. That's all. I would request you in few of the areas wherever you think you want to pick up some colors, go ahead with a damp brush and pick up your colors, add some yellow if you want to. And then I think we are good to go. We are not going to complicate the subject a lot more as we would be working on the second layer for this piece. And then let the Savior dry off. Once the Savior dries off, we will start off with the bushes area. Bush's is basically the bank down, or you can say the horizon line above which you will add these flora and fauna. And basically it's fallen out, which is the green. So start with a darker shade of green. It would help you to define the horizon in a better way. Horizon is a very, very important line. And it basically differentiates your sky with your water or your sky with the land area. That really helps us to understand that our sky can and where does slow land he just starts. That's very, very important to define. Well, once done with this far, do make sure that you are blending the colors with no blending the colors. Well, why I am saying that? We might use more than one column. You always do not go ahead with one single dark green and make the bushes or the phonon looks absolutely flat. That's what we don't do. So you can go head with two or three colors. You can add some lighter values of yellow initially, and then add some darker value of green. I would leave it up to you how you want to paint it. I am going ahead with some lighter value of the same green and few of the areas. In some of the areas I am going with the darker value as this bump is really, really small and I do not want to complicate it much more. You can even use your yellow to nato lighter values as you see me also applying it in fewer areas, but it's okay. I think it's absolutely fine the way it has turned out time picking up the colors now from few of the areas and topping it off on my official. That's it. I'm pretty happy. The area on the sides of the road is also dry now. So go ahead and splatter some of your paints over there. Once you splatter the pins, just use your fingers. And on top of that, it is very, very simple exercise. Yeah, Why I say that right on top of that. It would not give you those plateaus at small, small town, it would have to flatten it a bit. And that's what we want. More natural way of applying the colors. Start using your silver black velvet size four brush. I'm using size for silver black velvet brush, whatever you have available that queue size four, brush, go ahead and use it in case you are using the same size paper. If you're not using the same size paper, then whatever size of paper you are using selective brush accordingly. I always say this, that if you use examples of people, you might be going for the bigger brushes. If you're using smaller paper, you might have to go for smaller brushes. That's how we work it out. So guys, this is basically addition of the second layer. And second layer is always some not done, has much, I would say detailed or it is not going to spread over the entire idea of grassland which you already have painted. So it is going to be in only a few of the ideas and I'm just going and dabbing some of my green on top of that and then trying to even just blend it with the help of my fingers. That's all. And go ahead and do it for the road. I am mixing some amount of my quash and some amount of the Payne's gray to get that color. You can also go for any grade that is available with you, or you can use the mix of colors like I'm doing right now. Once done just a 100. And from the left I'm going towards the middle. Again, from the bottom, I will go towards the top. That's how I keep adding my colors for the root area. Once you have added the green few of the areas, wash your brush and then start blending the colors with white of the paper, transparency of watercolor, all that we want. And that's the way you actually add beauty to your painting. I'm even going ahead and adding some amount of my Payne's gray to words. And the left side as well as I would add that even overt step I can cite this green is absolutely fine. But if you see the roots, they are usually made out of pitch. And pitch is a bit of black and gray in color. So I'm trying to match that natural color over here. It's okay if you are having any particular gray, you want to go ahead and apply that. Just don't make it flat time by flat, I mean that you have to alter the values. How do you alter the values? Just add it in few walk the ADS and blender to with some water so that it doesn't give a flat look. If you see now some of the areas that are a bit lighter and some of the areas that are a bit darker. I am even and they are splattering some of my clean water on the road area. I'll just stop your brush, which is so your size for silver document that I'm using. And you will get this kind of plateaus which will look or add more texture to the background. Or the background, or the place where I want to add texture is my root. Hence I have added texture. Go ahead and add some flowers kind of structure onto the road area. I do it with a very simple or easy ways. So splatter to a white quash or ankle white portion, touch of it, what they have particular meaning, detailer brush. Once you have this, just try to add one or two small, small lines as you already do, even in your part of the same CD status green grasslands, we did attempt old you are. And that also we did use a similar kind of technique and that's what we're going to use again over here. So you will see a lot of techniques do get those repeater to once again and again and again. Because those techniques are the ones which we will build on and slowly and steadily, you would see that these techniques can be used in many other places. Once this is done, start adding some of the details, even with the dark green. And this is a gap by using your midi data plush those details. Once you are done with this part, we will start on window electrical lines. Now, electrical lines are going to be a bit of a struggle if you can't think straight lines, but that's also okay. You do not need to paint straight lines. Absolutely. It's just that you need to make sure that your paper is completely dry and saw that the colors don't spread. That's the only thing which I feel is important. You are going in with a head with poor detailer brush which is very thin. You can also use any 0 or size one brush if you do not have this kind of brush. This is from Princeton and I've been using it for quite some time now. I really like this brush. It adds all the details which I want exactly the way I want. So that way I have been dealt with this brush. By the way, I'm using my Payne's gray to add all the details of this electrical lines. I have to tell you one thing, dark Payne's gray is a very, very versatile color. It can be used at any place for painting backgrounds or better be painting any other thing. So do not get carried away by that. I'm using any dark shades and how will it work, etc. This is one of the sheets which is fed into the full always. And I use it for my part, crowns and many other things. But you have to make sure that the darker shades are always applied at the end, because if you apply it in the beginning, they may spoil your painting. Darker values always goo and the end has, in watercolors you cannot come back. Hence, you have to make sure that this kind of arrangement is always there. Go ahead. And even heart of the electric lines for the background. Once you are done with the dollars of those electric lines, then we will actually are the electric lines. I will struggle with electric lines here, believe me guys, I still struggle with electric lines. That's one of the reasons I do not paint electric lines a lot. It's absolutely okay. You will see me struggling and the struggle is real. But whenever I feel that I am not adding in a correct way, I usually do a very simple exercise. Just do three more electric lines over there so that no one can actually guess that I made a mistake or I can't paint electric lights. That's one of the ways that I always go head and being these lines will start adding some more lines for the other one, which is joining these two towers. Once done, then I think you can add some more electric lines so that they do not look at you have committed with the intent of mistake. If you are also struggling like me, it gives you a not struggling the way I did. Then there's no problem. Go head on liberty and three electric lines. That's absolutely okay. I am on to my last three minutes of the painting. This is a very, very important aspect, or this is the place which is make or break for your painting. I only save the sun. Still. I continue to say this at each of my favorite things. I can't help it because I have seen this happening at so many times, those three to four minutes or so crucial while you and your painting, we are not going to do much now. It is just a few details here and there that he would be adding. If you see, I'm just adding a few more electric lines that set and then have a final look at your painting. It is very, very important to have her finally look at your painting now, do you really want to add any further colors or not? Do you see that there is something dark? You want them to pink part you did not end up painting and who still want to add that detail? Go ahead and do it. This is the time to do that. I would be, I think some of my yellow stripes to roared. And in the middle house you progress towards the horizon line. They would become thinner and smaller. That's the rule of perspective, how we go about it. Even on the sides, I will be adding a bit of white with the white quash. Again, I'm using gouache. I did have some amount of my yellow on my brush and then I might make these stripes. That's how I go ahead and pin this area. Start adding some amount of whitewash. Okay. Again, it has some amount of yellow in it. So if you do not have the yellow, you can even go for simply white brush. I usually like to use some white wash and continue using it. I good to do because I just keep adding some of my watercolors too dark wash and they give me the same kind of epic. But I need like if I knew to my whitewashed, I get some amount of blue opaque color. And that's exactly what I want, right? I think the sky looks a bit empty, so I would go ahead and add some goods. But some is a very simple way that you added. One, not too small, small boats can not going to overdo it. Again. Do three birds, let's say. And they're really small. I use the tip of my brush to add a small body and then just extend model wins. One stem lead to paper dry off completely and then remove the tip at an angle. I think you would be pretty happy with the outcome. I will see you in the next lesson. 17. Project 14 - Old Barn: Wow. I mean, we are on our 14 today. Yeah, it's very exciting. We have completed 2 third of our conflict journey of watercolors with 21 shades of sunset. And I hope that you are also excited to paint this one. This is not going to be a complex painting, but it is just a bit longer than all the other paintings as we are going to paint a small old barn. And I just pick a slanting line and then join again with a slanting line. That's all I'm going to look. I'm going to just draw one small line going downwards. And then I'm going to extend the bond towards the right. Once I've extended the band, I will crop again. One more line, which is again going down. Now, this is a very, very simple painting that we are doing. We are not touching much of perspective offering her, nor we are actually going to touch about urban sketching on play pair anything. I mean, it is going to be really simple and easy. This one. And then we are going ahead and adding some of the mountains for the area above the bond. It is going to be like an old place where you have lot of greenery and all banners their hand, some mountains along with it, there will be a small tree, grassland and everything. It's really exciting and absolutely you can meet your needs, has been a great source of inspiration for me, done now. And all the colors that I had. Everything that I do is usually inspired by nature. So start adding clean wash on the sky here, along with the area which is majorly our world. Mountains. So once you have added the water with the flat brush, go head and even just extended till the area which is above the bond. Once that is done, we will add some more water above the horizon line. I think that's it. I am going ahead and doing across swatch so that I do not miss out on any of the ideas. So which I need to keep wet because there's a wet on wet technique that we are going to do. So none of the areas can be dry hands. So just see that you are getting a rough idea that there are no whitespaces and clear sheen on the paper like a shining layer of water that is available on the paper. Once done now, just had some amount of your ultramarine. With ultramarine, add some of your car mine or something like that. You can even go ahead with the red validate correctly. This is how I mix my colors and then I added, it is a bit like bubble or you can say it something which is lighter than purple. Once you're done, just go ahead and had some amount of orange. Are any other shape that is available that tool it can be light orange, it can be dark orange, it can be permanent yellow deep, whatever you think is suitable. Go ahead and add that. I'm going with a very, very light shade for my sky ADR always, always do remember that your first shade which you apply for this guy needs to be lighter in case you want to add some more colors, go ahead and highlight later. As we do not want this guy to become dark initially, and then it does difficult for us to come back. You see how my flat brush, I just move from top to bottom and from bottom to top so that all the colors to blend naturally and it looks like a seamless blank. I have always told you blending is a very, very important technique and watercolors and it has really helped me to master watercolors in my own journey. You will see that watercolors always surprises you. And this is one of the things that I really like about watercolors set every time, whenever I have to work with watercolors, something or the other, like something new comes up each and every time. While you go ahead and paint the mountains to make sure that you leave some of the white spaces in between. And you all know the colors are back. Now here, water control is a very, very important technique. While we paint the mountains, your water should not be so much on the paper that your paints do. Dancer on. Don't move around and they should not be puddles of water that should be there on the paper. It should be semi wet, kind of all clear. Or you can say the humanity should be just enough so that your paints do not spread a lot. That's how I would ask you to go ahead and. I DO, Carlos, you see how I am altering the values of the color. Sometimes I'm going ahead and adding some lighter value of purple. Then I'm adding some blue fissile, one single color which I am following To be frank, I'm going ahead and using watercolors status, either you say your carmine or you say your ultramarine total possible or the fullest possible extent. And hence you see the values of the color do change so beautifully. Now, these are the small, small important things which I wanted to show you in this particular video. That's one of the reasons I have actually painted really slow. As such. I'm usually doing things so slow, but yes, fainting this law was genuine intent so that you guys actually get to know how easy it is to alter the values, get some new techniques, understand how you can even paint wet on wet. All of these are really, really important. Once you're done, do like your paper dry off, then had some of your permanent yellow deep, permanent yellow deep as a very, very beautiful color. I use it very often for many of my other objects or paintings or anything that I really like and want to show it in a lighter shade. I'll go ahead and use this column. I'm mixing up our majorly three colors right now you see the permanent yellow deep and burnt sienna. And the last one is your red brown. Go ahead and add this with the help of your size eight silver black velvet brush. Now if you are using the same size, but then you might be using the same size brush in case you are not using the same size brush. And then your paper must also be the, I would say that go ahead and choose your size of brushes according to the size of the paper that you are using. If I paint them bigger, I always go for large sized brushes. If I paint smaller, I always go for small sized brushes. While you know that I'm doing a wet on wet method over your butt. I start with wet on dry for my small bond that I have painted now, at least to start with their fainted. I go with my yellow and then I add my brown towards the right. You see how beautifully the colors match with each other. Mostly water does its own work. We do not need to walk a lot when we are doing watercolors. That. So one way to actually go ahead and add any colors to your painting. It's so nice to see how the colors blend beautifully with each other. But do make sure that your background is dry before you start with the heart or this old bond because if your color is not cry, then it might cause a bit of a problem though colors can move from urine there, which I do not want. Start with the bright yellow, green or any other green that you have on your palette. You'll see I had some brown on my brush. And now when I did pull out, some of the green, did not come as green. It's absolutely no need to think much while you add these colors. Again, we're not here for perfection. So know that we are just trying to understand how watercolor works and how we can embed this kind of a practice on each and every day. See, again, painting every day as a hobby might not be what you are willing to do or you might not be picking up your brushes every day. That's why I always say that with all the world that you have and everything, It might be a difficult option for each one of you. And it's important to pick a brick or else. And for people who are doing it as a hobby, you can come on Saturdays and Sundays and work this out. I think that way you also get to relax. And the people who are pursuing or want to do something with watercolors, who are really, really passionate about watercolors. I would ask you to relax on the weekends because if you are not relaxed person or if you don't relax on weekends, how you are going to get new ideas. How we are going to get going with new creative mode. So you need mood. And many times I have heard from the front artist side, we are struggling with creative block or P, are struggling with. Difficult times we are unable to get through this time. I am not happy to paint right now. I'm not in the mood for these kind of times. I think picking up a class and loading or even just picking up your colors, brushes, watching any of the classes and working it out really is fun. You might be thinking why I'm saying that you need to work it out because it has been always the case that if you don't walk out, the techniques are something that you are trying to paint will not turn out the way you want. Like I did apply some Payne's gray towards the top left inside of my rooftop time then I'm running even something scary or darker value of brown right now on the paper. And I'm using my size four brush. You can also go ahead and use your size, wall-sized or whatever is available with you and go more confident to use the brush. I would say use that. So being more confident you are with your brush is very, very important. I'm using my liner brush now to paint the right-hand side of the roof. I'm going ahead and painting some parts of it. It's not that I'm actually adding these lines throughout the whole of the area which I did sketch for my heart, or the old barn, you can say not. This is an important aspect of watercolors that you do not paint out each and every section. There has to be some section which you need to leave. And how do you know what you leave in what you paint is all with experienced guys. Let me tell you it doesn't come just like that. It takes a while to get it. And seriously, once you develop this practice, you would be in a position to get it. I'm now adding some lines because this is the wood that the bonus paid off. And I'm adding some lines just from top to bottom. If you have difficulty in painting these kind of lines, just go ahead and use your scale and then paint it with a pen. A few one. I am open to any kind of hacks or tips tricks that you want to use. Initially when you start off with your watercolor journey, everything is not smooth. Let me tell you. It takes a lot of time to get hold of. The techniques are to get hold of your brushes. Understand how you paint lines, even to paint straight lines is a big, big task. Let me tell you it happens to each and every person. I still have issues. Why Library twice electric lines? That's one of the reason I actually paint lot lesser electing lines compared to many other people do keeping these lines. And you might feel that this is a bit of a tedious task. Yes, it is a bit of tedious task. But that's what makes it very interesting. Rate again, it's not that though. Always get the required output within 10, 15, or 20 minutes. It sometimes takes more time. But seriously, I did try to break the subject into very, very easy steps which anyone can follow. I mean, you do not need to have any required specific skills for watercolors. I have laundered over time. I have picked it up over time. I myself do understand the techniques I read to a lot of books. I work on many kinds of videos and check myself, how can many of these watercolor techniques work? So all of this, like even the dry brush technique can be applied on this all bond. So you see I do dab off the extra paint on the tissue and then I applied on all bond. So this is how you keep learning, keep experimenting, you keep understanding. Go ahead and add a small window under door. There has to be a window, at least what I know Urban has to open some beret. I'm just trying to sketch stat window. Then I would go ahead and add that window altogether. I am doing an absolute flat wash water window as well as I would be adding some white quash to show it in a way, but I would be using like walk by Bosch for many of the highlights. So, so it's not that you have to do things right now or you need to Mascot. Now, many people might not have white quash. They can go for masking. But for me I think white quash works best here. Not much of masking is required. Data paintings where we do a lot of masking and that's okay. That you needed. Like I'm now adding our door and I'm blending it with the background. I'm making the bottom of the door really soft and simple. You just to wash your brush and then blend it with the background. You see how I simply blended and then dab off any extra water if it's there on the paper. It's a simple way you do it. It's not that it is really complex. That's important aspect, like the few complicated things they will become complex if you do not complicate the things, believe me, it would remain really, really easy. When you're painting the more ground you practically do not need to do a lot. You know that it is for the background. Hence, that is not much of work to be done over there. Just use some light green, dark green, and then just make some bushes like structure. That said, again, alter the values, values either it be likely in, in the reproduction into repeat the water consistency that you want to change. All these changes will make your painting look really, really interesting. That's how you carry on working on this painting. Once done, reveal them some more nicer. You can grasses towards the border media. I don't think the details are looking fine now because I'm adding the details yet term unable to show them off properly, occupying. Let it be as it is. So we'll see how you can now continue working on it. Just make sure that they should be a bit more visible. I don't think that really are clearly visible. Hence, you can even switch to a bigger brush, or you can say size two brush. Size one brush if you want. That's my big. But it's okay if you want to go ahead with the detailer brush also, that's also going to go ahead and do it. I am going ahead and right now I'm adding some more details. One more thing while I was painting. I think I did not do that. I did splatter some water on the lower side of the grassland, that is towards the bottom media now this water or clean water itself gives a lot of texture. Do not mean much assault or any other thing to get this kind of protection and keep looks really natural. They look like flowers or any kind of other texture in the grasses. You can keep building upon it later, like we're doing right now. You can say dots. Do we make sure that they do not go under sky and keep it handy so that if the sky, you can go ahead and move. These are some of the mistakes that I usually do. I would love to tell you how to avoid it. Use your hand if required, so that the splatters do not go here and there. And I'm using my hands initially like I'm using my fingers to tap the brush. If you do not find it useful, then go ahead and use another brush to actually make some more splatters on both water media. These are small, small details practically now that we are handing, it's not going to be really difficult. This painting is simple. It's just a bit what I'm taking or time consuming, I would say. Modality. Right now you are in a good space. You can practically see that you're painting has come together. I am hiding some model grasses near the old bond. You will usually absorbed as that data a lot of grasses near any old barn or any kind of small heart, which you see. I'm for styling the darker values and then I'm going ahead and blending it with my water. I'm taking some clean water as I show you now. So one of the water, I keep four cotton kills, which is basically to wash my brushes or any other thing. And the second one or the second jar of water, I usually keep in case I need any fresh supply. Keep it on the right. If you're right-handed person, you can keep everything on the left in case you are left-handed person. Those are the important aspects of watercolor that you should follow. It would help you to quickly use the water or it will help you to walk through the painting. Watercolors gives us very, very less opportunity. Oil. Measles has written very less time in terms of whenever we have to do wet on wet on wet on dry is still fine, but wet on wet really gives us way less time. Hence, these kind of small, small tips and tricks can help you in your journey. Now, I will add one small tree towards the right. This tree is, again, very simple. Make two or three branches of a particular tree and then put some lighter values towards the top and then some darker values towards some water for the green part of the tree. Snack or some white wash. And I'm tapping my brush with the help of my finger. And I'm getting these small, smaller dots. If you need to use your brushes, the tip of your brush to add some more. Mix some of your blue with your white quash that you have and make some smaller dots urine, Did I? Not this technique a lot and I've been using it pretty often throughout this whole sees, you will see even in the green grasslands we did you say hi and that worked out really beautiful. So over here, whatever you learn, you can use it in each and every different kind of painting. That's what I say. That keep on learning the techniques and keep on using it in your own name, in your own paintings. Start adding some more lighter green and then add some more darker green towards the bottom. This is how you keep on adding your greens. Hi, I'm washing my brush because I had done a lot more pain Stana do require. Hence, I am now going ahead and again adding dopings. I think golf, this is quite good or I'm in good shape right now. Just some more details and then I should be done because there's not much that I need to do anymore. Basic painting is done. Most of the things have taken shape, some more details. We'll have that depth and create that environment for a particular spectator to see or don't like it. Just in the post school. Use your God as Isaac spoke. Whosoever don't have this kind of a brush. You can use any of those smaller brushes that will give you a nice stroke. And I had a few strokes here and there, which will show your tree in a better way. I am going ahead and just making the trunk of the tree WHO bit more thicker compared to what it was. It is practically not amnesic, just that they can away with the greens that I have hands, I'm adding it here and there. I have it on my brush, so why not use it? It's like the dark green that I'm using, one or two dots here and there. That's it. And go one step at a time. We will go ahead and use our whitewash for some of the areas where I want to highlight for my heart that can be even done later. It's not that I cannot do it later, but it's good to do it right now. You will observe that I did that mistake and I did peel off the tape fascia and then I did darker or electron added to birds and they are flying in the sky. I made the body of the board and then extending towards the left hand to the right to make it more natural, some of the wings CY, make it shorter. One thing is shorter and longer. So it's just that you don't see even things when it is natured. So they are flapping their wings. They are going in all directions possible. So why have equal or you can see the Hadoop left side to be equal to the item set that started how you work it out over here. So pick some more white quash. I did remove the tape at an angle. That's my thing was already dried out. So I just talked to remove the tape and then go ahead and use my white quash. You can even use the white quash initially with it. And just do a bit of outline for your windows as well as for your door hand, even for the other parts. Maybe one or two lines. The lines can be off different thickness. It's absolutely fine. You do not need to have the same thickness. You do not need to maintain same thickness everywhere. That's a rule of what a color you can always choose where you want to paint. Took a lines and where you want to paint thinner lines up to you how you want to do it. Last two, I think are one minute over your eye. Adding again some highlights. Usually taking the paint from my tube directly and then adding it. If you do not have this white quash, you can always go ahead and use typing in wild-type is opaque and make sure. Or else you can even go for white poster Carlos. For Sukarno's, it is a big course, or the particles of the postal colors are big ticket compared to what we have for our wash hands. So I'm using wash but whatever is available but it was good to go. I'm not making full lines. If you see in few places, I am adding the lines and of different thickness as I have told you earlier. Yes. So we are done. I hope you like this painting and I will be waiting for your beautiful projects in the project gallery. Move on to the next lesson for the 15. 18. Project 15 - Golden Hour: Really excited with the 15 day and they are the last leg of our paintings. These are going to be not though, gay, easy as the orange. No one's, there will be lot of work involved like this particular painting involves perspective. And here I am first painting my horizon line. Over that. I will try to paint one small arc. And it would actually help you to understand a bit, at least about one-point perspective and how your vanishing point works, et cetera. We might even our tryout two-point perspective. So there is, there are different kind of perspective which works in urban sketching. Sometimes there is just flat one which is one-point perspective. Sometimes it's two points, sometimes it's even more complex. So how you build upon these perspective, it always depends on how you walk around with each one of them. I would go try to first make this arc and the left-hand side, of course, is more exposed. Hence we see more inside of the wall. In this case, it opens up to a nice beach area. Hang the top area is mostly your sky. I am in love with how this whole painting bird on out. You will also fall in love. I can guarantee on it. It is a great learning as well as along with third, you will understand how you can make things work to the requirement that you particularly have. We will work with darker shades, we will work with lighter shades still. You will see how you can build upon a lot more. This is neither of perspective class or you can say it is neither or urban sketching class or planar class. Therefore, I'm not going into in-depth knowledge about how you can work on this particular subject. I think you can refer to many other teachers who have given classes at these. So there you can work it out from their tutorials, rest, weekend start by making this kind of a drawing or sketch. Then I will go ahead and start building up on the wall. The wall part is really nice because of the simple fact the wall has beautiful art first of all, and then it ends towards the left as well as towards the right. So that is nothing much in terms of work that you need to do. It's very simple idea that we are putting into all this on the paper. So I am happy as well as I know that you would be in a position to nail this painting. It might take a while to work it out, but believe me, it is very clear time step-by-step process. You do not need to worry. You can paint along with me. I'm here to guide you with the entire process. There is not much of complexity that is there in this painting. It's only a bit of perspective which you need to keep in your mind while you are working. I will tell you how two-point perspective or even how does vanishing point works are together. Managing point is a point from there, all your lines will originate. Now, I have some tiles on the floor and this dials are originating from any point that is on the paper. Can have it on the horizon line, vanishing find you can have it on any other place. So it all depends upon where exactly you want to place your vanishing point. I would leave it up to you how you want to work it out right now. I just have blistered somewhere in-between the horizon line as well as though CAD. Hence, I'm getting these kind of lines and go ahead and mark these lines. While you are working with watercolors, make sure that you do oily. Ev is, and even work with lighter graphite marks. Why I'm stressing on this point is there are many times we have seen that watercolors, once applied on paper, you do not get an opportunity to erase the graphite marks which are there below it. It would shine through the paper. So I would always ask you to eat a set in a good way before you start painting. I'm going ahead and adding some cross style lines for the floor radio. That song. Then we will start with the sky area. Sky area is again going to be majorly with three different colors status, your ultramarine, your Naples, yellow, as well as your either you can use the orange setting have or else the permanent yellow deep, whatever works for you, whichever you have on your palette go head and you're stuck. It is some of the ideas, as I did tell you earlier, because we don't want those extra lines on the paper I am drawing up for those CAD. Once done, we will work with this guy. It's always good to go from lighter values to the darker values. Might I made a small change over here? I started with the darker value and then went to the lighter value, wanted to experiment altogether and it did not go very well. So I would ask you to just start with ultra marine and then go to the Naples yellow in case you want to experiment just like me, or I'll start with Naples yellow and then go to the ultramarine. That's the best way you can work it out if you are following this video. Absolutely. Go ahead with the way I am going now, but this might give you some muddy effects. So I do not want you guys to be actually going through all that problem. Hence, try with your Naples yellow fascia and then apply the ultramarine. I am now using my flat brush to apply this Naples yellow. One thing that I need to tell you is that by you apply the Naples yellow, make sure that you are not going ahead with a very thick brush. I'm going at with. So it's like that you have to go ahead with the brush of your choice, which can work on smaller area. Now, smaller area is what I mean that the size of paper is not too big. Hence, you need to use the brush which can walk with the smaller. Yeah. If you have I think if you can go with a half an inch crashed, I should be good enough for this kind of painting. You do not need to walk out any other way for completing this one. So I am going ahead with some Naples yellow for the area just above the sea, and it is below the arc that they make during the drawing part. And I'm going ahead and adding some water, our sienna, you can even use yellow ocher raw sienna for this part up to you what you want to go ahead and use it. You will get more clear sky over here. Because we did not apply any kind of ultramarine and it is not a Gone money. So do make sure that you do not make the same kind of mistake that I did a mistake. See, experimenting is always a good idea. I will never said some in-state mark venue know that going from lighter values to darker values as a good thing, you should always go head from lighter to darker values. As my sky is still wet. So I am trying to add some more darker or lighter values. So that is either Naples yellow or Dramamine and then blended. Well, I am washing my brush again and again so dark the sky looks really smooth. Sometimes it's even a task for me to actually get the perfect plan. It's not that we do not go through this kind of particular difficulty. That's what I wanted to show you. If you are making even a small mistake or even if you are experimenting. Sometimes it's possible that the experiment might not go well and it takes a lot of difficulty to fix it. So while you keep fixing this part, just add some clouds with your permanent yellow deep. You can even use orange or any other shape that is available with you. I'm not in particular thinking about that more shade, etc. Just whatever looks fine to your eyes or whatever shade is closer to the one that I'm using, use that. So I start adding these kinds of clouds. Now you are very much open to experiment by Typhoon that our paper is really small and the sky ideas not the really huge hands. So we should go ahead and use some detailer brush to add the clouds. I'm not too much of cloud should be also 100 orals. It might not give you the best effect in terms of the sunset, et cetera, the walls. And there's our glue, a lot done actually come together for this painting. I'm adding some amount of brown on my Cloud area. The darker as well as lighter clouds I'm hiding. Just start much. Once I'm done with this cloud area, I would go ahead and start painting my water. Water is mainly using the ultramarine color. I have limited my palette to be frank, with only few colors. That's one of the reasons I have been using very, very few colors for many paintings. Hence, you can also see that only 12 to 18 colors are good enough. If you want to go ahead and paint your sunsets, or in case you want to go ahead and paint your landscapes. It's not important to have all the colors and the colors, I would say more is the confusion part. These colors like cobalt green or you can say Dogecoin's detail or anything like this, which is a bit different. You can always buy one single deal, bend, keep it. I'm first applying a darker value on the water area with ultramarine. I did allow my sky to dry and then I'm adding some of my fresh water. I just dip my brush, pen the clean water and blend it with the darker values or blue. It is pretty easy to work this way you will get the colors as well as the just look excellent Has the area is really small and we do not need to worry much kingdoms of how the colors are turning out or how the seas turning out. It's very, very small area which you need to paint. So go ahead and even you can use a flat wash. I would leave it up to you For me, flat wash doesn't look great. Hence, I always love to go for changes in the values of the same color if possible. But you can always experiment, as I say, experimenting the works and sometimes it doesn't work also. So be open to accepting your failures as well as we all do. Even accepting the success that you will have once you start experimenting. Watercolors is more to do with all the kind of experimentation you have in your mind. I will take some of my yellow and again, I'm using my Naples yellow along with some burnt sienna. For the shore line. You can go ahead and use yellow ocher if you do not have Naples yellow, I would leave it up to you what you want to use an ad for those shoreline area. Once you have actually added the colors for the short line area, I would ask you to move on to the CALEA which you have the tiles as well as top floor because doctors the area where we keep adding to foster and then we will also walk on the walls. So all of this needs to go hand and hand. I'm starting from the top and moving towards the bottom. So many of you have this thing that Do we need to start from the top and move to the bottom or from bottom to the top, how you go about painting. And I would see when you are experimenting, when you are understanding there is no need to go from top to bottom are any other way that the artist have been following you should discover your own way. Initially, I was not going ahead with this guy first and then the water again, I had to just saying that okay, how it can work out the best. So all of this was more of experimentation and slowly standing. Now when I paint, I start off with my sky area and then move to my water media. So it is all a result of a lot of experimentation, failures and discovery. That's really, really important for an artist to understand how he can change or how he can develop himself even as a big nor I would say when you're starting out on your watercolor journey, if you do not make any mistake, students really, thank you. We'll be in a position to learn. We all have our own mistakes and that's absolutely fine. Whatever be the learnings from this particular lesson, you can always go ahead and apply in your own paintings. I'm again going ahead and adding some Naples yellow for the Florida. Yeah. It's kind of a flat wash with a very, very light value. I will start adding some more burnt sienna starting from the edge of the bottom of the paper and dead moving inwards again. Then I work from the right. I would start absolutely from the edge core over the tape can then move inside the stapes. Really simple 100. Yeah, I have used many different types of tape. And this is the absolute simple one that you'll get a new market. You can go ahead and use this type of tape. It's just doesn't look more fancy and that's at rest. I have been using more fancy Urvashi tips in many of my other tutorials. Go ahead and add a bit more defined know shoreline, I would say, how do you define your shorelines? It is just hiding some more darker values onto the shore area and you are done. That's how you define your shoreline in a better way, I would say any visitors at a distance. So you will not see much of you can say leaves or much of shoreline over there. I would let the paper dry off before I start with my walls. I going ahead with some burnt sienna and then I would wash my brush and some walkout to turn down my values. So I really work this way because it helps me to turn down my values as well as I can add some orange. Then again, I've washed my brush and just add the water. It will automatically become a bit lighter in value and you will get a very nice blend of colors. Blended though with some Naples, yellow if you are not getting this kind of a yellow, I think dipole really help you to make the light on the wall which is falling due to sunset, and it is on the inner wall on the left. And we will not have any other light consigned this part of the world. Why? Because we are just seeing the world from the inside, which makes it really darker in value compared to the lighter values which will be seen on the opposite side of the wall. Pencil. Go ahead and start adding the darker values. Now, I think the darker values I am starting from the right. There's nothing in particular that I need to start from the right. I'm using my fingers see, in each and every space variable, right? Think of that I have made a mistake. I can tell you, fingers work wonders in your fame thing and I've realized it like for the past four or five months, I have been using it very often in many of my paintings. I usually don't go electoral mandate initially when you are learning. But once you get with more experience, yes, it can really, really work wonders for you. Start adding the darker values I'm using of a nice tip of my brush is caught out. Optimal size six brush, you can go for a smaller brush if in case you have the option. And if you have a very nice step of size two sides, say silver black velvet brush go head with tags. That can also work well for these kind of thing, things you do not need to actually spend a lot of money on Russia's, you can slowly and steadily build up on your supplies. I have told that very often in many of my classes that you do not need to buy all your supplies at one go. As you continue painting, you will observe that. Hi, I'm adding some of my darker values now. I did make SMI when I came round with the ultramarine, coming back to the earlier topic, which was all about how you can build up your supplies. I would ask you to slowly and steadily build up their supplies by a few primary colors first and then experiment which colors you need and slowly, steadily build upon those colors. You practically need three colors, red, yellow, and green to start your watercolor journey slowly and steadily as you progress, you can add on the colors you want to experiment with or as you can. One more thing, why don't you go ahead and purchase a dot, dot, dot card is very good. The off purchasing your colors, you can always choose your colors from the dark part and then only go head and buy those colors. Why do you want to spend a lot of money buying their tubes and then not liking it ongoing by the recommendation of your educator or any kind of teacher or your mentor. But you might not end up liking that follow what colors they like. Doesn't mean that you might also end up liking those pilot. I have a very nice, beautiful looking red underneath the buoyancy and other tissues. And now I don't know that although particular brands by B having those same kinds of color or not, hence, always going ahead with band, dot card is advisable. You can choose your balance and then start chasing the ones you like. Go ahead and pick up some of your pains me on your brush and start adding on don't park. Okay, Let's continue adding some darker values and it is not running wet on wet. It seems like because I've already applied the dark brown to Woodstock bottom area and then I'm adding the Payne's gray. They all look good. So nice. I think cord of wood pieces coming up so nicely right now because the whitespaces have decreased. Stan, we can see how the whole of this area is getting worked out now, as well as developing this area was one of the challenges initially for you all because we are doing all of sudden perspective and it's not all of a sudden all together because we did even one lab window field. And there you did learn a bit about perspective and it's not an absolute new thing. But still I would say it's not a very, very easy concept to learn just when you start not with your watercolors, but still Boolean steady will be in a position to engage through it on the standard, how you want to place your objects, how you want to case your subjects, how all of this works. So we'll come together. Do not worry. Right now. Just go with an open mind for your watercolors. Watercolors is majorly like a meditation. I would say. If you go slow, if you keep your patients, it is going to reward you like can intake. But in case you want to go fast, you do not allow your paper to dry. You are not going ahead with the good paper, which is basically the foundation of watercolors, you might not get the expected results. Those are the things which I would always ask you to keep in mind while you paint and just keep adding some colors onto your paper. This is a very, very simple process, as I told you earlier, nothing much complex we are doing over here. Simple, easy, yet interesting, and hope you can also create it easily. So most of the work is done practically now we are left with only the three or four minutes. Last away we will be adding details to our floor tiles. And you can add, wanna do birds if you want. I haven't added anything for that matter, but yes, I would leave it up to you. I guess you feel this guy's MD, go ahead and add some birds, that's absolutely fine. I'm mixing my colors. Right now. I'm using my wife and I came down and I'm mixing it with the Payne's gray, which I did already apply on the wall idea. We would be even not drawing the lines. For the detail part, you will see how easy it is to add all your details. So while you are painting your perspective, it is a really, really simple process. So believe me guys, this is broken down and go as much as simple step as possible so that you guys can follow it along with me and reap the benefits out of it. Always go ahead and start adding the lines are the end because that really takes some time. You need to have that patients. At this point in time, I will ask you to take a break before you start working this out. And if you absolve, I'm not painting the lines in totality. Few of the areas I'm just keeping MD because that's how I go ahead and show my lines every everything you do not need to paint and water colors, that's the best part with watercolors. Even with very few lines and very few strokes. We'll be in a position to show exactly this object for exactly the way you want to show this object. I'm going ahead on top of the lines that I did draw earlier. And I would even put some lines to cross it so that they look more like dials. You see how I'm going over tonight? I'm adding the lines. While we are going to watch the shoreline. They will be closer to each other, these styles, whereas when it is towards the bottom media, they are far away from each other. That's how perspective works. So yeah, that's how you keep working around it. And then hovel. Final look, I DO painting. Once you're painting dries out, you will peel off the tape. That's yeah, the absolute complete outcome. I will see you in the next lesson where we will be painting of bridge. I, just extending this Perspective Part 2 bit more so that you can learn more than what I think you would have expected. So do join me tomorrow, even where we will be painting a beautiful bridge and it is during the evening sunset. So I think you guys will like it. And this is the final look I DO painting, I think. Now I'm just to overdoing a bit because I just want perfection and watercolors can never be perfect. Said no, it, that even if I dry, I will not get a perfect outcome. It's absolutely okay leveraged that the walls have guarantee or it will not be I'm absolutely clean wildlife. It has just been painted and you can apply a flat wash. All of those will not happen. Somebody it is with your detailer brush. You can base half was you size brush for the details. That's absolutely okay. 19. Project 16 - The Bridge: These extend pretty much happy to now though. We are watercolor journey shaping up. I hope that you are getting some time to get along as well as being toward me. I think this is one of those journeys which I am loving completely. I can't wait to show you what else do we have in DAM software projects, which you will be paying? Think, I am starting with a bridge right now, rewards work as such on a bridge. And this is a different topic compared to what we did attempt or 10 now, either it be landscapes, either be an old barn, either it be some kind of perspective. This is going to be simple, easy, and interesting. We will be working on how you can put details into or being dent in this project, as well as how you worked through very bold, vibrant colors. That's one of the major intent of this particular project. Hope you enjoy it down and then I will keep expanding you how we go and work each and every detail. I am starting by dipping down my people. Once I do Dave down my people, I would take 25 percent of the people to 30 percent for marking my bridge area. And then I will go ahead and just draw two to three mountain. Leo's. How you do layering. You draw one mountain and then leave some gap and Radha under mountain Arles, you can even do it like a hill. That's how we go about drawing the mountain. Once you are done drawing the mountain, you'll go ahead and add the details for your bridge. It is going to be simple. Seriously, I'm going with my skilled. Many people have told me, Why do you need a scale? Why are you even using a scale? But as a beginner, whenever we are working through any of the projects, do we have all the inputs of how we can manage your project, how we can draw confidently. And at that time, whatever works for you, even it can be a credit card or debit card. It has got a very nice, smooth, straight edge and you can use it for any of your drawing. So doors are dull. Quick hacks, which I always feel that a person should be using if they want to work around any watercolor techniques or in case you want to walk around the drawing part or any kind of, any kind of workaround is perfectly fine. You will need to use the hacks that is available. But do I always say this? Whether it be drawing, whether it be painting, keep adding more lines towards the left off the bridge. And once you are done with the left side of the bridge, go ahead and go to the right side of the bridge to add more lines. This is basically our suspended bridge, our events. If you see something like this, you would be in a position to figure out how you should add the lines. This is just one of the example so which you can use for any of your future projects where you see or suspended bridge, how you want to be in debt. This is one of the ways by which you can paint it. Of course, this is a very, very simple way of painting. If your mightn't like to add perspective to work, you might like to add other kind of important aspects to it. That's absolutely up to you. I have made it more beginner friendly, and it is just that we aren't adding more details into a painting. That's why this painting is a bit long or else it would have been really, really quick and easy. Just a detailing part will take a lot of time. We will be developing. How do I add straight lines with the help of your brush after you have your pencil sketch. Pencil sketch gives us a lot more confidence while we add any kind of lines with the hairball find detailer brush. I think I'm not really happy with dot-dot part of the left side of the breccia and I will change it a bit. That's online desktop, I guess so whatever I draw done now, I'm pretty okay with how it has turned out. Just the left side looks a bit. Yeah. Now if you see the curve looks better and everything, it's okay. We will come back to a particular drawing and then again, draw it. We will erase it. It's how you learn. Let's start now. The watercolor painting, the watercolor painting is the most interesting part and that's what the whole journey is all about. So start by applying across swatch of water. We are taking our flat brush tree by four-inch and 10. We are applying it from the top to bottom, from left to right as well as from right to left. There should be a clear sheen of water that should be seen on the people. You should always go ahead and check this sheen because once you get the xin, then only you will not have any whitespaces available anywhere. We're starting with all yellow. And this is any yellow that is available with you. Try to avoid lemon yellow altogether. Lemon yellows a bit opaque in nature. That's one of the reason I always say, go ahead with the yellow. That is like in in yellow or any other yellow, which doesn't have so much of capacity and is more transparent. And major watercolors is all about transparency. The more you have transparent watercolors, the better it is. I mean, that's how I have seen it or I have used it all together because of capacity or opaque watercolors doesn't go well with this medium, I would say. Whereas if you are working with quash, then that's the best way to walk around. I'm making up some Naples yellow now and applying it in an around the white area of the Sun. Once I have applied that, hello vivo, go ahead and add some more vibrant colors on the sky. You will see how we slowly developed this painting. And by handled this painting, it was really amazing to see the final outcome. We are going ahead and adding some yellow, then some amount of your orange or pink and as well as some carmine. Or if you have some red problem, you can also go ahead, put that. But the more you can select the colors from the warmer side of the painting, the better you will have in terms of the outcome. The red brown, of course, is one of the very, very favorite colors of mine. I'm going ahead and adding the red proud people towards the top area. I'm not adding it right now towards the bottom area. Do not worry that's coming because that is the area where I would like to add some of the darker colors and paint the mountains. Mountains are going to be really amazing. Iv Arctic mountains to my paintings and every time I haven't different technique while I add these mountains, you will observe that sometimes I go ahead and add with one single column monochrome. Sometimes I go ahead and change the technique where we did those old barn and all Barnhardt are different technique order needed wet on wet completely. Here we are going to go wet on wet as well as wet-on-dry. So both the techniques we are going to combine and painted. Learning the techniques is more important because that's what you would be applying in your final paintings later on, once you start working on your own projects or you want to paint something that you like. Either be afforded, either be plenty or whatever you like. You might love to paint that out on paper. That's what should be the idea. Whatever you see, you should be in a position to paint. If you will make some Payne's gray with the brown, then you will get this down brown color for this area. And once that is done, then go head and add the mountains. Mountains. How do you plan to add? It would be with the help of the lighter brown color. We will do that later on. First, let's move on to the clouds area. I'm going ahead with my burnt sienna. I'm adding the clouds. It's an absolute random manner. I'm going ahead and adding, if you see, I have taken my size four brush, silver black velvet. I'm adding the clouds over there. Once that is done, higher-order, go head and go for my next layer of clouds. There would be 23 years of CloudStack. I am planning to paint. But in a way that some of the area looks darker and values and some of the area looks lighter and values. So I'm not going to go ahead and have those same value of color in each and every piece. I'm going ahead with the Van Dyke brown or else the red brown that you have on the palette and add. Some more clouds, just the way I am doing route right now on the papal. I hope that you are enjoying this painting because I am really enjoying it as there is so much to do, so much of creativity that you can do in a particular painting. Usually we do not have each and everything. Like you had the mountains, you have a bridge, you have a sunset, you have clouds. What not everything is there in this particular baby. Go with the very lifetime and add some smaller clouds towards the right side. In between. We did paid earlier. Go ahead and take a lighter value now and start adding some clouds near the Sun that you did paint. And it is the dynamics offering ballot as well as burnt sienna that I'm adding this color. Once I have added this color, I would go ahead and start lifting up some of the areas with the help of my tissue. That's a very, very interesting part. You have already done it in one of the other paintings, which we did initially. And I'm bringing up the same kind of technique, again that you can use for this painting. Techniques will remain same as I always say. All of us will use the same kind of technique, but in a different way, in different kinds of paintings. And that's what makes us really, really interesting. I'm picking up some of the colors with the help of my tissue. Again, I'm picking up some of the colors near the sun area. And slowly, steadily as you move towards us on the colors that you would pick up will not be like absolute white. You will observe that. And I'm usually twist my paper towel before I pick up the color. You might not observer right now how I am picking up the colors. So as I continue to do the same technique, you will observe advanced side and move my hand. And now you can see how the Cloud, so give that inside the Shining. So we always say that there's a silver lining beneath every doc, Cloud. So that's what this whole painting is all about. I think you will see the beauty and this looks amazing right now. I feel already though painting has taken the shape. Let the paper dry completely. And then this is the part which is really, really low as well as interesting, I would say, why? It is long? Because we are adding enormous amount of details in terms of drawing this bridge. Yes, you might feel that that will not take a lot of time or something like that. But seriously, believe me, when you work with a very thin brush and you are the lines or you start filling up the spaces. It really takes a lot of time and it is time consuming along with editors. So again, now, very rewarding altogether, I would say it helps me to meditate. It helps me to think how I showed the go head and work out each and every detail in this painting. Since there is not much that I need to do, the background is all done. So major part of the work, to be frank is all done. We do not have a lot of elements that we want to show. Again, that's the simplicity of a painting. The more elements you have, the more difficult the painting might look. Whereas with the lesser elements, you will have less complexity as well as your painting will turn out really pretty again. Now, that doesn't say that we need to only paint off simple landscape or something like that. But while you're learning, I would say, you need to simplify this object o way more compared to what you can do later on. While you are a very established artist or while you keep painting something in your own style and nature here this is majorly to give the beginner so feel of how you can work through the medium, how you can use this medium to your own advantage. How it can actually create different kinds of effects which might not be seen or which you might not be seeing. Very often, orals, you might be wondering if you see on a painting that okay, this doesn't look very similar waters or technique that this particular artist is using. There is not much of techniques, I would say in terms of lifting or painting or anything like that. It's just one or two different stuff. Are different ways people like to paint and that's how you continue understanding. We are going ahead with the red brown, then some Van Dyke brown as well as some Payne's gray. You continue to build on the subject. And building on this subject is really, really important. If you see while I go towards the top of this hill area, it is majorly either burnt sienna or red brown. Whereas while I come down, it is some darker value of being screened. That's how you keep adding these kind of colors onto the painting. Believe me, once you have this painting ready, you will see even with minimal details or even with the details only got the bridge, the painting will come together to life. So I do say this very often that very, very few or very, very important subject, or you can say, this is the first and foremost important subject that I need to paint for this painting, or the whole of this painting is in and around this particular bridge or this particular subject which I'm going to detail, the rest of the area will basically remain as my background. Background will not have a lot of details. Whereas the bridge are the main subject that you want to show. We'll have all the details here. The main subject remains a bridge. So they are adding all the details. And it is near the sun. Hence, the area near the sun will be lighter compared to the area which is away from the sun. That's how it's always done because there is two feet through the alias as the sun is very, very strong and it is an evening sunset. It is not dawn, so the dawn is very different than sunset. Sunset will have the more darker or stronger colors, whereas the dawn have very mild and beautiful colors. So Don is the time where the sun is rising, you might have for LG, Oh my God, that beauty is just in front of the eyes. I can feel it, the colors of light Valmy Leon than light brown. It just so, so atmospheric UK and feel that it was fair. The flowers blossom during this time and you can feel the soft soil and the grass which has the small droplets of water that they settle on it because of the form. I can imagine all of it because that's creativity rate. That's the beauty of having your imagination. The more you can imagine, the more you will be successful as an artist, I would say artist, I'm not bound by any boundaries. And that's the best part about heart or any kind of other creativity in there you say for metallography or photograph, EV, or even any kind of designing. That's what creativity is all about. You can imagine, you can work out, you can do anything of your choice. Three important upstart I would like to give you while you continue your painting. Do not add a lot of water on your brush. Why I say does that do not are a lot of water on your brush while you add the colors on the paper. If you have lot of water in your brush, you will learn a lot of water on your paper, as well as your wash that you will have on the people will lead to your paper buckling up. Now, this even happens for 300 GSM paper. Sometimes if you aren't a lot of water, there are puddles of water and which leads to weigh more difficulty while you work through the colors, they will spread much more than you need. So this is one mistake that every beginner does while you start painting. The second is the quality of the watercolor paper. If you are planning to use a lot of water, at least 300 GSM is important. Orals the paper will incase you are or want to use higher than 300 GSM. Go ahead and use it. That would give you more opportunity that your people were not buckle. Then next would be what or how much paint you should be using. Always mix more colors or in greater quantities than you think that you might be using. Or else the way I take it on my palette, just take more colors than required on your ballot and then start painting. Because sometimes it just happens that you won't have the same mix of colors and there will be a difference in the colors that you paint. Therefore, it's always a good idea to go ahead and mix more colors compared to what you will actually need. That many of you have always asked me that why can't we go from Dhaka values for the lighter values has four legs or oil colors. It is always going from darker values to the lighter values. Now here it is a bit different. Some people even say that it is like bending backwards, you go from lighter values to the darker values. So the weight of the people is what makes it really interesting. When you apply watercolor, which is of lighter value on a white paper, it shines through and the transparency of the paint will allow the colors to pop up more. That's one of the reason we always see that go for lighter values first and then only go for a darker values. Since I'm adding more of lines over here and there is not much of explanation that I need to give. I am sharing some tips and tricks, which I always love to see what helped me in my own journey and what really works best for me. I love to share all of it as that is the knowledge I feel that I should share with you all. I do not want you guys to go with the same struggle or go through the same struggles that I went through. That's what we do not want, heavier rate. And that's how I always see myself, that whatever the goatee I had in my watercolor journey, I would love to explain all those difficulties as well as ask you to not come at those mistakes. If you'll see I have a very firm hand while I had these lines. So I am placing my hand on this cardboard and then I'm going ahead and adding these lines. Initially I did add only small, small lines which were basically the crosses. Then I'm going ahead and adding the straight lines even in between them. It's all good to join over your, Whereas while you are painting their bridge, you might have to go ahead with very nicely placed hand on the cardboard, which can help you to support and draw the straight lines. Dr. Onto the final 45 minutes on the painting on this is that I always say that you need to step back, relax and understand how much you should go ahead and add in terms of ego be the details. Are either it be anything else? I do not want them. This painting, we aren't any white highlights. I would leave it this way itself. And one more thing, I did not go ahead and add the background mountains, which were basically the layer of mountains that I was talking about. So that layer I would love to add and I will be using my size four silver black velvet brush to do that. There's only a bit of white quash which I'm using for my son. And it is only to the topic area as well as I would go ahead with my fingers to just dab off some of the areas so that it doesn't look inorganic. It should look really, really organic. That's the idea. There are no highlights, of course, on the bridge with the white etc. So do make sure that you are also not doing it. Just a bit of highlight for the sun area that's at hand? Yes. Neglect this area, dry off, and then go ahead and add Lear of your burnt sienna. I'm mixing some of my orange with the burnt sienna while I add this mountain. Once I'm done with the mountain area, then I would like to tell you that do not work because that's the natural tendency to overwork, then it becomes really difficult to come back to a nice stage. Yeah, I might be sounding like really, really different than what I usually see. But seriously, if you overwork on a painting, then it becomes really difficult to come back. And watercolors, as I always say, watercolors doesn't give us any second chance. It's only one chance that you'll get and you'll pink. If you can paint with watercolors, it has been said that you can paint or with any other medium. This is one of the toughest mediums. But again, it is very easily available with watercolor water and only the people that you need, but do not go for any cheap paper. I have been I treating it from the beginning of this whole journey. Along with that, I have also said this earlier in many of my classes and really, really do not go for cheap paper. You are going for cheap people. Your output would not be exactly what you saw on the people right now. There have been many cases where my students have come back and they did ask me that I did not get the same kind of outcome and our people was not wet for a longer period of time. I don't know what happened and I have just one question to them. Did you take 100 percent cotton paper, 300 GSM? And the answer usually is null. So I know where the exact problem lies always. So go ahead and go for a thicker paper. Seriously, that's the only trick. And that's the most most important tip that I would like to give you. I'm just cleaning off some of the area and then allowing this paper to dry. While, I mean, we can see three different layers of mountains. We can see a very nice and broach. The whole of the clouds looked, saw amazing. I am very happy with the outcome completely. Just remove the day bat an angle and you're painting is done. See you in the next lesson. 20. Project 17 - Plants: Let's finish this week with very light and easy painting. As I always believe, that it is important to take breaks and tomorrow and day after he will not be painting, we will again assume our painting should yield from Monday and rest, we are left with only four paintings. I don't believe that start this journey is coming to an end altogether. And this one, I hope you do like because it's going to be a simple plant which has a nice big leaves and it is shining in the sun. One of the favorite subjects of mine to paint. How to show the light within the leaves, and how to paint the light altogether. So pretty excited. And this painting is one part of this whole journey. I need to tell you some of the disadvantages also of being an artist, as well as how you can manage around if you are working really, really hard, like 365 days or the whole of figure, you haven't taken a break. What are the unnecessary difficulties you might face? Even if you are only pursuing this as a hobby. You need to enjoy painting. If at some point or the other you feel that it is just becoming too much for me, then there might be a lot of problems that might occur. I have gone through a lot of meltdowns, I would say in this past, yours, and I would love to share all my experience with you. When you draw the leaves. Do make sure that the top of the leaf is usually smaller and the bottom of the leaves that VC are more broader, RL. So when you paint the sun and the colors that we want to pink within the leaves might not work very well. That's how I would like to draw it. And let's get back to the topic which we were discussing earlier. Data is more about the burnout as well as if you are painting every day. It is a possibility that you might go through many meltdowns. Managing different platforms, managing work, our managing cows, managing your Aaron's, running for your events, as well as working day and night. Having a hobby like exploring watercolors might not be the most or the most important part in your life. But with Daddy, if you were forcing yourself to paint every day, it might become difficult for you. And it's not that I haven't gone through these kinds of stages where I did paint in the morning and the evening. During the day, I was doing bookshops. I was working through different platforms where I'm present. And it's really not a very feasible thing to do to yourself. I have learned over time that it's really, really important to take the required number of bricks that is required to pursue your dream. And a better way why I say this, because I have seen this happening and I know that at least you need to do is break to get better. And then again, start pursuing. In days, you will not forget everything that you've learned in watercolors, right? That's one of the reasons I always say that do not work on Saturdays and Sundays. New worker Friday and in case you are working and you want to pursue this as a harpy glue should actually paint your heart out on Saturdays and Sundays tattoo, you should limit yourself to the number of paintings you want to do. It's not important that you have to paint everything or you have to follow, showed you which their teachers are telling you to do, or which the instructors hotel asking you to do. That's the best way to work it out. You might have a different way, v, as each and every individual are discovering our own ways. Getting back to the painting, I have started off with yellow and I did turn wet on dry because I wanted some bright and vibrant colors. So I am now adding some burnt sienna along with some lemon yellow deep as well as some yellow. Once you did apply the yellow, take a clean brush and just call inside it to paint a softer edges as it is so wet on dry and wet on dry will give us a hard edge. Go ahead and add some more burnt sienna. Then we will add some red brown as well as something like a brown, more of brown colors that we're going to add. And I see a lot of Payne's Gray also that's coming up. That's absolutely okay. Because this Payne's gray is similar to the color that I'm addict right now, which is my Van Dyke brown. Keep adding the vernacular brown towards the side. As you observe, I am not very happy with the outcome right now. And I might go for a second layer on top of this only. So sometimes what happens is I go for one layer and before it dries, I go for another layer altogether. But do make sure that you don't have the time do that. Because that kind of a bug does need lot of blending. And lot of blending mightily to or difficult phase for anyone who has taught or learning watercolors. So just go Hegel with this painting. This will give you a rough idea about how you can even go for one more layer within the time limit or within the time, then you have the paper still wet and you can again go for another layer. I'm just backlinks some of my water onto the paper. This is the dean water and it gives nice textures just like a sort type you'll get, I hope you must have tried some sort technique. And because we all are doing watercolors for quite some time now in terms of that, we have already done 16 paintings. Hence, I am expecting that you should try this kind of technique or you should even add salt in case you want to do that. So go ahead and try these kind of textures. It gives really nice backgrounds and it will give you a very, very nice outcome. Van Gogh painting is done. I'm trying to add some darker values towards the right-hand side of the people were dumb. I think you can avoid this step because I will go ahead and add one more layer right now. I would leave it up to you if you want to add this or it's okay to not even I am, I'm absolutely okay with whatever you choose to do. Let's Just go ahead though with the yellow right now. And I think I would use my flat brush to start painting with the yellow once I'm done with the Naples yellow. So this is a Naples yellow that I'm taking and adding it to the background. Once I've added the Naples yellow, I will go ahead and add some brown. This Naples yellow is very pretty color. I have used it throughout the CDS. You might have seen that this has come as one of the very good to kind of colors. That's okay. We all have some of the other favorite color, and this is one of my favorite. When you come to even clouds, you would see me using these kinds of shades a lot. And that's one of the reason I use these kind of changes that Naples yellow will not give you the exact green if you mix it with ultramarine or any kind of other blue. Whereas the other colors will give you green. When you mix blue and yellow, it gives a green. So that's one of the aspects which I do not get when I mix these two colors, like blue and yellow. And hence, that's one of the reasons for me using Naples yellow in many of my paintings. Go ahead and blend well, go outside the tape if you want. That's absolutely okay to not keep puddles of water here and there. If you see, I would move my cardboard towards the top side and variable your water is going out of the painting. Just take off that excess water with the help of your tissue or there will be background. I have told about background and many of my paintings is just that your water will come back into the painting, giving you a cauliflower effect and which we do not want. And these kinds of paintings, I'm starting off with my Naples yellow and covering the first first leaf. Yeah. We are painting our first leaf going ahead with the Naples yellow and painting it some orange and brown sienna to add on. And then once these colors mix with each other, you will see how beautifully the blank and move into each other. We do not need to do anything. Water will do its own magic. As I always say, water is the best, best ingredient in your watercolor painting. Yeah. That's like, I would say it's like the best thing that you have. Make use of water. Use the water to your own advantage rather than water using you. I always say this, that the more you can use water to your advantage, the better would be your painting. Time to paint some leaves now, and this time I'm going ahead with some of my brown. You can use alternatively you are red brown, you upon sienna as well as your Van Dyke brown. These are the three different colors which I would be using to my advantage while I paint my leaves. While I would be using more of burnt sienna where I have to paint lighter values. And then I have no paint the darker values. I would go ahead with doll darker shades, which is more often I came round, not read Frank. That's how I differentiate between my shapes. Now, in case you are working only with a monochrome. I have a class even on that painting with monochrome colors. That also gives us a very nice outcome, but you need to do exactly the correct bend of colors to follow the values as well as unique or differentiate between each and every different element that you want to paint. So all these elements will have a blend of different values of one single color and how you differentiate with those values as the most important aspect, often monochrome painting. I have been doing monochrome painting for quite some time. And seriously, That's one of the best things and best subject to explore what I do understand along with a limited palette exercise, limited politics sizes, something that I do love again, it requires really less colors and you can have a fantastic outcome. When I'm working with watercolors, I don't only tell you about the steps that you need to follow, like working with the darker values are working with these colors. Because you can automatically see from my palette that I'm working with the darker values right now. But what exactly as important as knowing the particular technique that you are using likenesses, wet on dry technique that you're using you or going away from the light. When you are going away from the light, you will observe that the colors will be the more darker compared to what you did already applied when you are closer to light. Those are the most important aspects of watercolor, which you need to know. Why do you work with watercolors water so most important is to understand vertice go focal point, focal point on the main subject that you need to paint for me here. The focal point would be basically my lease of the particular plant that we have in focus. And this focal point really is the most important aspect. Now, when this is the focal point, what I would paint in detail would be this single part. I would not be concentrating on other things like adding more of leaves on the site, ideas, et cetera. So wherever you want to focus on that particular area, you need to keep more interesting. That is to say, I was working with lighter values and I kept changing the values just in the middle of the painting. While I go away from the painting, I would keep it more boring. I would say, I'm not adding much of any kind of subject over there or not much of interesting stuff to look at. It is just a plain, simple, pretty boring kind of stuff that I keep over there. Just make sure that your viewers are actually connected. What you want to showcase to them is the light and plant. And they are also seeing the same thing, what you want to show them in case. So the connection between what you want to show and the viewers doesn't happen, then that painting is not absolutely correct. That's how I see it from my point of perspective. Keeping thing with the darker values such as red and brown as well as the Nike brand, you need to observe and see and follow 1. And that 1 is not to paint solid shapes. Now what the colors I is one important and very, very beautiful medium. But in case you paint it with solid shapes, or you say that one single flat wash off any shape and size. It doesn't look interesting to the eyes of the viewer. That's what I would ask you to understand that del v should not feel the whole color. Or you say that there's a leaf and I'm filling that whole leaf part with only one single column. It would not be interesting at all in the eyes of our particular viewer who is seeing this. Therefore, you need to understand how you should think any of the subjects. So while you keep painting any of the subjects, I would further focus on like why you come to the bottom. I did apply one single layer of clean water with my brush. And then I do add some darker values. Once I do add these toggle values, it adds more depth and enhances the painting a bit more. That's what you need to understand how and what would exactly do this to your painting. It is just one way that I have done. You might have any other way to do it. That's absolutely okay. You just need to understand what makes it better is the most important aspect. Hi, I'm going ahead and adding one or two extra 0s, which might not be as planned. But it makes, this composition looks really nice and heavy, I would say. So, go head and had these leaves, the one which is close to the light ADL, go with a lighter value of that and add more of red brown in it. Once you add a red county, it would become a bit lighter. Time ten, just collect more downwards. I'm going ahead and adding some darker leaves. I have some of the leaves which I didn't draw and higher not add the colors. I will go ahead and add the colors. Now see how beautifully I'm just blending the colors with my finger. That's the vest body. You can use your finger like anything for your watercolor paintings. In fact, a needle sources is good for your watercolor painting. I haven't dirty shown you many of the other things that you can use for your watercolors, which I will follow up in my new classes. So there are many, many other small, small things which can be used for your watercolors and big and beautiful textures to your backgrounds. They will show how beautifully you are painting tones up. That is one leaf pending and I will just hide the some lighter values. I'm trying to add something in water, but notice no further texture that is created now because we had many loops that we did add to this painting. Hence, I don't think much of layers will come up. I use even the minimal colors that I see on my palette. So I did use that brown color which was dead on the right-hand side of my palette. And then I go ahead and add some more burnt sienna. Once I'm done with this lecture paper dry off completely, and we are done with this painting within like 20 minutes. Hi, I am happy with it. Let it dry and then remove the tape at an angle. My paper is dry now and I'm removing the tape. 21. Project 18 - Winter Sunset: This is the winter season and we will be painting a small hilly area where your sunset is happening. There is a sun and we will be having different set of trees. So many of you have told me that you have difficulty painting trees. So I just thought that this would be the best text size where we can paint the trees. And you will have different branches of these trees which are originating towards the right and towards the left. There will be three to four trees, which I am drawing. The one that is closer to the sunset would be in lighter value and the one that is far away from the sunset would be, and they're darker value more than anything. What you need to keep in mind, this star trees happen in nature naturally. Whatever happens naturally will not be symmetric. So you have to make sure that there is no symmetry. All the lights go here and there. They're called B-trees. And I'm not making any kind of street trees over here. Lew makes sure that you are going ahead with a wet-on-wet technique for this painting. I am using my size three by four inch flat brush as CTO. And it does help me to do nice wash. You can go head with any other brush that is available with you. I am not in particular thinking about the brush hard, about the quality of the paints that you have. Only one thing that you should keep in mind what you are doing watercolor painting, even as a big nor is the watercolor paper. I have been preaching this whole base in each and every painting of mine that your paper is a must. If you have a good paper, you will get a good outcome. In case you do not have a good paper, your outcome will not be so pretty. Therefore, do make sure that you have, are good people available with you. I am picking up my Naples yellow and I'm adding it on top of the paper. Write down, if you see I leave some whitespace over here. Don't make sure that while you are picking up the Naples yellow, you are using your flat brush in case you are not happy, are you do not have a very good control with your flat brush go head and user Hong brush. Round brush will actually help you to get a good outcome in terms of the effects that we need. You see how I am using my round brush right now. I'm going ahead and adding some of my orange. I think I had brown on this brush earlier. That's what I'm 37 I caught or different value initially compared to the permanent yellow deep, which I should have caught and tissue as your best friend, as I always say in watercolor painting, go ahead and use your digital wherever it is necessary. It is very, very important to have a good tissue BioCyc or else even or towel whatever you have been using can do the job. But artificial can really, really help you and save you. It has helped me and so many times I can't tell you wherever there is a small dot which I do not want him, this guy which is beautifully blended. I just take it off with the help of my tissue. Going ahead and adding some dark values. I did make some of my purple into dark brown that I already had on the ballot, as well as I did add some of the pauper, Bhopal Payne's gray and brown. So these would be the color which can help you to get the one that you observe on the paper. But in case there is anything different than what you are getting. So always test and try on a people and then apply it on the final painting so that when you are always saved, right, go ahead and add some more deeper values on to the painting area. Once you are done with this area, then while we go below, we will be adding some lighter values via AC lighter values because like a values can really help to show the background in a better way. And more of the Payne's gray and yellow I have been using you have seen it even earlier. I have used to a lot of Payne's gray in many of my paintings. This is a very beautiful grave which can be used and it doesn't give any other color. As I told you, I would be using lighter values as I go below. So I'm using my orange and then I'm using my yellow. Again, I'm blending it with some of my opera. So do whatever you feel like for this guy seriously, I just went by my God, there is nothing dark. I actually taught while I was painting this one. I was even not sure of that how it would turn out sometime. So you have to go buy a Garfield, whatever, whatever you think might work for you. It might not, it might not work for you seriously, I have seen that in my past experience, but watercolors is all about that, right? Every time it will not work out for you, there will be some happy accidents, as I always say add, there would be some failures. It's okay. It's good to feel because still you do not fail. You will not understand exactly how you wanted the painting to turn out. Okay, while you see me painting the sun in a better way because attackers main focus of the whole painting. You should know exactly what's the main focus of the whole painting. If you exactly know that this is the main focus of your painting, then you would be in a position to get a very good outcome. I have been telling this pretty often through my last few paintings that you should exactly know what does your subject, what you need to detail, what you do not need to retail. Keep the sides of the people pretty boring. If you see I add darker values towards the top left and top right corner. I do not make that pretty interesting because if the whole of the focus goes to the side areas, then you would not be in a position to show off the most important subject, which is in the middle. That is to paint the trees in the light of the sun. So I'm now adding some of my ultramarine in the background. Go ahead and add this I draw meeting with the help of your size for silver black velvet brush. If you do not have this kind of a brush, go ahead and use whatever brush that is available with you. I have been again preaching this dot whatever is available with you. Go ahead with that. Even if you do not have all the colors in the palette that I have been using, go with whatever colors that is closer to the ones that I'm using and then get the final outcome. You would be happy with the outcome that you get. Seriously speaking, that's how we keep on going and keep on understanding different aspects of a painting. My skies or leave it. So there's a possibility that the colors that I'm applying right now, which is my ultramarine, might flow into the opposite of this guy as it is wet. So these colors to flow water were the words sharp. Hence, once your paper is dry enough, you might see different term altogether. The bushes in the background, it's absolutely fine. Do not body as I always say, let water do its job if they are happy accidents, Let It Be happy accidents. We are not here to fight with water or not use it to our advantage. Always obeys user to your advantage. I am cleaning up some of the areas where I feel that it is too dark and the brown which I would apply formed my tree will not be seen. Hence, you can make it a bit lighter by using our damping Gosh to pick up the colors from variable you think it is necessary. Once your paper is dry, you will see these kinds of effects in the background. It's absolutely fine, as I did tell you earlier. Now, apply some amount of water on the white area which has left the r going from top to bottom area while we are painting our sunset. Now, there are many ways of approaching. As a beginner, I never knew that we have to go from top to bottom, and that's how the work should be done. But still I could produce paintings, which they're really nice and beautiful. That's what is the major intent you should be in a position to paint or something that you feel that I did paint where today and I did it for my soul. There are so many times I do only paint for my soul. I don't go ahead and record the class or I don't go ahead and record a particular video for any of my platform still on many platforms where I am there, but there are times where I just want a painting for myself. I just want to paint for myself. Watercolors is not just about painting, it's more about meditating, It's more about getting that amount of patients and yourself. Watercolors goes beyond only as a medium for me. It helps me to achieve that kind of piece. And if I'm anytime anxious, it helps me to calm myself down. There are many times I have seen this in my own particular way of lifestyle that I am just not in the correct state of mind that I just sit down and want to paint something. I paint, I might fail. I might succeed. It doesn't matter, but it helps me to come down. It helps me to gain the amount of patient. It helps me to actually understand how I should move forward even in my life. It has helped me a lot to understand the way I should go. Go ahead and start painting your branches. I would be using my size six brush. This is a top view which you are absolving due to which it might be seen that you are only seeing the right side of the painting and the right inside this, more often, you can say the ballot and all, but it's okay. If you see it on a bigger screen as I always see one my classes are meant for seeing on a bigger screen. Bigger screen means either you see it on a laptop or either you see it on an iPad, or you even see it on our desktop. Okay, so I have this passion of mine in which if you apply more pressure, it would give you larger strokes. And if you use it to your advantage by using the tip of it, you will get the thinner strokes. This is SCADA optimal brush and who have seen me using it in many of my paintings. This is why one of the favorites go to Brush for most of my paintings, I have assigned six Haskalah size 12. Size 12 I usually use for larger paintings where a size six I have been using for smaller paintings. Once you go ahead and try out these each and every small detail, I think you would be in a position to understand that how easy it is to pin these kind of smaller branches. And then you would be in a position to also understand that few of these branches so will become thinner and thinner as they move farther away from the trunk of the tree. While they originate from the trunk, they are more ticker while they move far away from it and the branch more and more they will become thinner. You can use any thinner brush that is size one, size two brush to make the thinner strokes, whereas you can use the thicker brushes for the thicker strokes. As I told you, I am using this vertical airbrush to my own advantage. If you have way more control on your brush, even one single brush can give you thinner and thicker stroke. So have one good brush. I would say that one good brush can help you a lot in your watercolor journey compared to having multiple brushes which are not of high quality. I have been through it, I have gone through it. I have been a beginner and watercolors. And while I was there as a beginner, I always knew that this is what they are. I do not want to do. So you will have to differentiate between what you really want to do, undo really do not want to do. That is an important aspect of watercolors. I haven't said a lot about watercolor brushes, but I would like to give some light on this subject of bit. Watercolor brushes comes in many sizes and shapes. For beginners, I would recommend that you have a few round brushes starters, size for size six and size eight. To start with. A flat brush, if you want. The highest quality of watercolor brushes status available in the market is Kolinsky sable. But that Poland's key schema might cost you a lot. And other option is square brush. It would hold a lot of water as well as color. But again, you can go ahead and purchase one or two, I would say a Kolinsky sable brush, which is synthetic but gives the same kind of output. In particular, what I have seen is that a brush can be actually broken down into by its performance, then it's resilience and cost. Her brush should be in a position to hold a good amount of water in its belly and then to maintain a fine tip and distribute the watercolor or the medium that you are using smoothly across the people or across the surface. On which you are applying any colors or water or anything that you were doing. So this is how our brush is usually judged. I would not recommend adding kind of particular brush to you, except the few good brands that I have been using for quite some time. And they usually last really long, at least like few years. I would say I have been using my silver black velvet brush for more than 1.51 years. Even this Kolinsky sable brush, about one year, you need to take good care of your brushes data so wash them regularly. The slope or the cleaner that is available with you, dry them well and while you're drawing it, it should be the backside of the brush should be a bit elevated so that the water gets soak into the tissue that is there. So this way you can keep maintaining on good tip of your brush. If you have a good tip, you would be in a position to keep using that brush for a longer period of time. The more you can keep using a good brush, the better it is. It would be more effective in terms of not spending more and more on brushes. Vanco guys here. And I don't have much to add in terms of what colors you should use or how you should keep painting these branches. I know the one that you were painting over the sun should be lighter in value as it was more with their light brown or red brown that you can use in this case. But the other branches you can use your anti K Brown are just mix some amount of your bone C and now with your paints gray and get their dog proud. Use it. Why I use moral dark shades in this because you will observe that whenever you are doing a painting which is in the Windows, windows, we'll do not give you a sunset, which is very vibrant. It is not art board, it is not that vibrant because there is no, And usually it is a bit dull compared to the ones that we did paint them now, hence, you should also keep in mind that the branches or the trees that you are painting, our bear as well as they are more darker as they are closer to you. The system forgot grounds that you are doing. Whereas whatever you did it in the background is perfectly fine. Go ahead and just paint your branches. I would say that this is a pretty easy exercise. It would help you to gain a lot of your brush control, as well as it would help you to understand the brush that you aren't using. In particular, if you are using only one single brush, supposedly that you have purchased your new silver black velvet size four brush that can be also used in terms of the tip for this particular smaller branches. Hence, at each and every point in time, well, you keep painting to make sure that you are adding those branches, you are adding those d's you are adding as much as possible for our particular painting, which can help you to enhance the output of these paintings. I think that's what I wanted to communicate through this particular exercise. And it is tedious. It is long in terms of what we are going to paint for these branches and freeze. But if you do not practice, that is, if you do not go ahead and paint again and again, these smaller branches, the smaller trees, these leaves, etc. Anything that you want to paint, well then you will not be in a position to pay in that. Hence, I added like too much of these branches and bare trees. But we waited. I would tell you you would be very happy once you see the final outcome. I was myself pretty happy to see the final outcome. We are just left with the last five or six minutes in the painting. And practically this is the time I would say that you need to come down, meditate with watercolors. Just think about it that we're not going to lose patients at this point in time. I have put together a painting which looks really pretty. I'm just need to add the branches that set and then we are done. That's why you keep painting these small, small branches. I would like to focus a bit on that. So many of you do paint these. And then you come back to me and say You're the painting and not turn out exactly the way you did paint and you do beat yourself up. So that's one thing that I need to tell you and stress upon that every painting that you are doing is as per the stage of our journey, you are into each of these paintings that I have done has been actually done at least twice. I have attempted this twice myself. And then only I come up with any of these classes. And there is practically so many paintings where I have failed. And then again, seeing are the bigger goal, which is practically learning watercolors. Learning watercolors is my bigger goal compared to what the outcome is. Always loved the journey that you are, and to always love to stage that you are in a while. You keep painting with watercolors. Always go ahead and check back on one of your old paintings, which you did at least to your back. And then you try to reattempt that painting. I'm pretty sure about the techniques that you don't use during the older times would be way different than the techniques you would be using now. And the outcome that you will have now will be different than the optimum you have den, seriously, that's how we all progress. Rather than beating yourself up thinking about how perfection, or how I can achieve this perfection, how this painting must look the way I wanted, how the outcome should be. Just tank that I need to keep moving and I need to keep doing this painting and just achieve desired result. Desired result might be exactly what you see or absorbed the instructor doing, or you might see your particular tutorial and you want to have the same outcome. But it might turn out that it will take you one or two or three attempts to get that outcome because that particular instructor has only one through the stages that you weren't going through right now in your art journey. So there are different stages of art which you all go through if you want or you love a particular artist world, you have a doctor now do really think that they were dark great artists during their initial yours? I do not think so. It takes a while to get there and to get there, it takes a lot and lot and lot of practice. It's okay to fail. It's okay to understand that this is not the correct output that I am getting. This is not how I want this to happen. So keep practicing. I can tell you at each and every step you will observe that you are improving and you would be in a position to get a better outcome than next time. There has been so many times that I did or particular painting in many different ways to understand that which way I will actually get a better outcome while you keep doing this, I would like to wet the lower part of the surface are you can say the paper. And because beepers this office which I am using, you might be doing acrylics than canvases yourself as that you are using. Then each and every kind of painting will have, or each and every kind of medium will have a different surface which you would be using. I'm going ahead and adding some amount of Payne's gray on this surface. Now this is more of wet-on-wet that we are doing. Hence, I'm keeping the lowest sides more boring as I always tell you that I love to keep the edges more boring. I do not want my spectators to look into those edges much whereas I would love them to focus on the middle part more where the whole of the subject lies, where the whole of the work lies. The last thing that I would like to tell you while you do this painting is that always focus on your own journey. Do not compare yourself to any audio pain though, because each and every Pinto will have a different journey and they have gone through their own failures. They have gone through their own perfection. They have gone through their own paintings. They have gone through a lot on their own. So we practically can't actually compare the journey that you are doing and what the other person is doing. And other weird to actually keep yourself motivated is keep painting for some good amount of time on different kinds of subjects like this. One has 21 days of painting where we are painting only sunsets, button different subjects. Sometimes we are painting on all bonds. Sometimes we are painting some windows seen, sometimes we are painting some other aspects like the clouds or sometimes we are going ahead and painting the sea leaves, et cetera. So each and everything will actually help you to grow as an artist with each and every aspect of landscape that has been covered. We might not be covering a lot in terms of any other subjects, but most of the landscape aspects have been covered. So yeah guys, we are close to being done now. It's just last few seconds that are left, I would say for completing this painting, Lego paper dry. Now I think all the details that I wanted to paint, I have added one or two branches here and there. If you want to add, go ahead and add it. Right now, lego people dry completely before you remove the tape. That is very, very important orals, you might go ahead and rip off your tape. Always keep this in mind that you need to let your people completely dry out the way you started using the paper when it was dry and remove the tip at an angle. That's always the trick. Usual. Go ahead with while you remove the tape at manga, do make sure that you have these clean, beautiful ledges. I am really happy with the final outcome. I hope that you do enjoy this painting. This might look a bit long, but you would be happy after you do this painting. Meet you in the next lesson. 22. Project 19 The Lamp: We're on to our next T, which is day 19. And finally, we are just left with only two days to go. Pretty long journey eight bar the higher already on day 19. And so many of you have been messaging me that this watercolor Jamie, for you, oil has been amazing. Date. I'm going ahead and trying to add a few more videos. Where two more, I would say yeah, from which you would be learning to other concepts. This one is also focused on Sunset in the city, where you are going ahead and learning two important aspects with watercolors, how to paint a lamp. Though I have done this kind of a lamp or you can say Lantern in one of my earlier classes about the Windows, where we did have four beautiful projects in the window season. And one of them was land are not offered. You can go ahead and check it out. I'm pretty sure you can see how beautiful those projects are due. So yeah, this is one of the lamps that you have in the city and you will have a beautiful background with the purple, yellow, red sand, all of those colors there as an evening sunset. Hence, the lamp is on with the yellow light. This city has a few buildings and you will also requires some trees to show that this is activity a city. So go ahead and do all of it. Just to follow how I do this sketching, it's simple. You just need to make a lamp, join it from three of the ends with lines and then just go ahead and make a rectangular kind of or against a rhombus kind of small one below line, which connects her with a long, long rod. That's all we are going to define. Our lamp. I think. I'm good now, but how I did the sketching, but there will be some more refinement which is required while I keep sketching this one. The sketching is of course, a Burke longer that studies and this whole of the painting has gone a bit longer compared to what I thought that it would have taken. Nevertheless, you are learning a new topic and I hope you like it. Go ahead and keep sketching. I think this would be a PECC longer idea or sketching part is done lamp one and next. Rest of the other things are pretty simple and easy. Sketching and drawing on one of the important aspects of watercolor. And lately I have realized it more and more that if you can sketch well, your outcome with the watercolors will be even better when you do any kind of cityscapes or any kind of plain air, you will feel the importance of this more and more. And I can tell you that sketching should be an important aspect in your watercolor journey. Though, I did not spend a lot of time on this particular topic. As I know, most of you are big nose and it is usually difficult for any beginner to do all great sketching. Hence, we most of the time went with very small or very light kind of sketching. Just that over here. As you have progress to a lot and we are on to the last few days of the painting. That's why I'm stretching on few of the aspects of watercolors, which I think is important in your watercolor journey. Once you progress, now I am at a stage in my watercolor journey where sketching is equally important as my watercolors. Hence, I would say that you should also keep focusing on it side-by-side. So many of you might have thought that what is it all about drawing, et cetera. But seriously, over time, if you do go to the past and they backed Dada artists tool where dead during the whole period. They have always told that drawing, it's very, very important aspect. In case you are starting with the drawing, then Google Harvey more edge than any other artist. Drawing also facilitates the creative process of an artist. Visualizing what you see or symbolizing your ideas, putting it to Paypal as well as the concepts that you think are going to work. The first step is drawing. So if you can draw well, you can always actually have a great final outcome of a painting. So there are many kinds of drawing start, you might have seen. There are like descriptive drawings than ornamental illustration. Drawing as many other means or how you crystallize your ideas. And as well as I have seen people who say that drawing is a self-expression. So, oh, these drawings have got a lot more aspect to it compared to when we just think about watercolors and drawing before it didn't many mediums through which people have done their drawing like graphite based tools for color pencils, charcoal, crayon, whatnot, pens, and everything has been used. You draw. So I think that since you guys are now very good with how you go ahead and progress with the drawing. You know exactly what to draw. And a very simple way I did draw the house as well as the tree. So go ahead. You can follow the same thing. Once done, you need to start applying the water on all the ADRs as you observe me doing right now on the paper, except the lab area. You need to keep this lamp area separate. You can also apply the water on the houses. That's not a problem, but I have genuine needs left the house because I did not want to add any colors on the part of the house as we progress. But the sky painting, we need to make sure that we are adding the yellow and the orange first. The yellow is my Naples yellow and my permanent yellow deep. Once I've added both of these, I would go ahead and start adding the pink onto my sky. I will start off with the opera Kahlo. And that's one of my personal favorite colors. I would say. If you can go ahead with the purple, I think now I'm adding a very, very light shade of purple. But it's always good to add some operand, some carmine RL. So you can also go with Quinacridone carmine or is read whatever is available with you. Those are the colors that would look really nice on this guy. I always say this Nebo, go ahead with the colors that you observe that I have. Whatever is close to the colors that you are having on your palette. Go ahead with those and you will get the desired outcome. We are not here to actually decide that we need the same colors, what the instructor has already two are going ahead with the colors which you observe the other people using it. The colors don't actually make or break your painting. What makes and breaks your painting is the people. If you have a good paper which is 300 GSM or 140 or B as well as it is acid free and a 100 percent cotton, I think you are pretty much secured and you would be in a position to create a good painting. Investment on good colors and brushes, of course, is an add-on. If you can't do that, nothing better than that. Why do you apply the colors on the sky? They should move in a slanting way. Datas from top-right towards the left, as well as from left towards the right. Once you keep adding the colors, do make sure that you alter the values of the colors. Sometimes you are adding the opera, sometimes you are adding the yellow, sometimes you are adding the permanent yellow, deep orange like that. So that you are sky looks really interesting and keep blending it in a good way. Hence, your colors will flow into each other and it would look absolutely seamless. There will not be any difficulty while you mix up the colors. I'm adding some of my darker shade status, my Prussian blue towards the top left-hand corner, as well as towards the top right-hand corner. This is my favorite color combination. I have been using this color combination in many of my earlier projects. I hope if you have gone through my audio project about painting sunsets, you would be in a position to understand those all fine magical sunsets were based on one single color palette. Almost. There was not much of change that I did in terms of the color palette. I'm going ahead and picking up some burnt sienna on my brush size for silver black velvet, but I think it's too small hands. I am changing my brush to size eight, silver black velvet, as well as applying the colors on the housekeeping area. Now this house or the City area is going to be really simple. The mean subject that we have right now is the one that you did detailed the most, which is a major Leto lamp. And hence so we are not going to actually change a lot or over your, when you are painting these small, small aspects of painting, we will keep these parts pretty boring and simple. We will just quartered or values maximum, which is like going ahead and using your bond CNI initially and then adding some more Van Dyke brown. That's how you go ahead and keep adding the colors to your painting area once done, then you keep adding some more paints like your Payne's gray. Payne's gray is pretty dark hand psi would just apply it towards the bottom area of the painting. Keep adding collars off, differentiate soft brown to what's the bottom area. As you all know, we are going to paint a house. No, not worry. They're not going to define a lot of things on the host hand. So once this paper dries up, you wouldn't be in a position to understand dot-dot-dot. These colors would be one shade lighter and we need to add some more for the colors to it. But as we keep painting these areas first, which are not so interesting, I would go ahead and add some more trees. Now these trees are going to be very simple with their DACA value. So go ahead, put any darker value that is available on your palette. I'm not going to think much while I add these colors as it is. Going to be a very, very simple and easy process. Only the tank that I feel is important for this painting is to look aesthetically a bit more beautiful. There are times where we are doing difficult painting and it might not appeal to the highest of the spectator. And there are times where we do few paintings with just have beautiful colors and they look just so pretty that they are just aesthetically woven together to be there. Hence, many spectators might like it. So even the choice of colors actually change a lot in your painting or has a major role to play in your painting. After DACA values of brown on the rod of the lamp. And it's going to be really simple exercise as always, I have done now. Very simple and easy exercises to start. This one had a bit of drawing involved. As I say, that we keep learning something or the other new to each of these exercises. Each of these exercises individually is very important and that's what makes it different from each other. I would not deny that. As you progress in your journey, there will be ups and downs. You will not like something. Like initially, I never liked drawing a lot. But over time as I am painting and I even do travel journaling and all of it. I started liking drawing pay more than what I did earlier. Hence, so over and over again, I feel that each and every thing is giving me more and more goals, more and more improvements to make sure that each and every month you are focusing on at least one technique or at least one new thing that you want to learn. If you keep learning something new, you would be in a position to fulfill your dream of actually working through watercolors better. That's, has been always the focus, which I have, or I have focused on this primarily through all my classes. And I want all of you to fall in love with watercolors, which has been my only intend to date. People have lost complete the darker shades, which you need for the lab that does, though darker values in the brown. Now, when you observe the background, which is majorly your cityscape, you will see there are 23 different colors that you can observe. There is Payne's gray, there is light brown than there is red brown. Whatever you are using, you can see those colors. And that's what makes any painting or any kind of composition really interesting. I would just go ahead and add on some of the colors to my lamp. And going with all Garfield that this is exactly how I wanted it to look like. And I'm using the tip of my brush to paint these areas right now. Once these areas are done, I will go head and heart. There are three on the left-hand side. And now the tree that is there on the left-hand side, again, we will be painting with 23 values. The lightest from the right hands, you can paint the left-hand side more DACA and the right-hand side more lighter. But it is not a lot of change that you would be in a position to do. As I know that it is sunset and in sunset most of the things that pure light, hence go head. And you can also painted with one single color ROC. You can mix and match the colors as I am going to show you. If you'll see again on the right-hand side, I'm ironing the lighter values compared to the darker values which I did had on the left-hand side while I was painting Pi. Keep this approach because my lightest from the right. And that's how I go ahead and go work things out. It is a very simple two dabbing off exercise. Had the colors slowly and steadily. Use your brush with a lot of confidence, I would say. Because now you're confident enough. You exactly know how to approach this object. You exactly know how to paint each and every subject. We have covered most of them in all the previous landscape exercises. Because one thing that I want to tell you is to not skip the exercises. They are actually done in an order which would help you do realize that one after another, it is actually unfolding new things for each one of you. I have tried to include easier exercise initially. And once you develop the skill set, you would be going on to tougher excises. Hardly you would see a longer exercise when you are starting out in this journey. Whereas when we are going now or when we are looking at our journey now, we see that there is a lot more work that is to be done on, a lot more stuff that you can do. And there's so much of learning through the whole of this journey. I'm going ahead and adding some more colors as I did earlier, and making my lamp a bit more darker. Once I have made the lamp bit more darker, I would go ahead and leave it there and then start adding the light in the space which I have kept as white. Adding a few trees, small, small of them here and there. That's it. So I am pretty okay. So most of the part that you had to paint hatcheries being done now, one important aspect where we need to focus on is painting the lamp. You're painting the lamp or take some good amount of time. But it's going to be simple and easy has the Detroit earlier. And sometimes you might feel the drawing did not turn out the way I wanted. And should I go ahead and painted case do complete a painting? That's one of the most important aspects, what I have learned in my journey. It's really, really important to complete painting. You never know how your painting turns out at the end. There have been so many times I've started out with the painting, thinking that I would do excellent and I did not do well in those paintings. Whereas sometimes I started out with something which I never thought would turn out so well. And hence, I would say that you should always go ahead and try out simple and easy stuff. Back with that, you would actually figured out how even some of the teams which you may or may not like gives you so much for pleasure and helps you to grow as an artist. While you paint the light, you need to understand that the middle area should be in white as the lightest places over there. And in an add-on should be yellow. You can either use your permanent yellow deep orals. You can even go ahead with Naples yellow or lemon yellow. These are the colors which are more preferable for painting the light. Now, when you are adding some white, you will see that it gives a better outcome just away I'm doing right now before this, I went ahead with my blending brush and try to actually get a soft edge for my light. But somehow I was not very satisfied. Hence, I added some auto white portion to it. Once done, we will start off with some burnt sienna. The light where it appears there would be one rod over it. That rod will be enlightened value of Brown versus the other rots would be darker value of brown. This, you all know that wherever the lightest it would be like, whereas when you go away from it, it would be dark. I'm using my Scott our brush to add all the colors now. And it is basically the darker values that I'm adding right now towards the base of the lamp. With that, I'm going ahead and picking up some of my burnt sienna. I'm adding it confused with the other areas. You might see a lot of green on my palette because the other painting that we did, or you had some greens on it. So I just get that color and I will be using it sometime later. Oral, sometimes I even wash it off. Usually I always try to use the colors that are on my palette because all these colors are pretty expensive as we are using or artist grade paints. Hence, it's a good practice to not waste any colors. What do you say? I'm going ahead and adding some more burnt sienna. Once done, rinse your brush, as well as wash your brush very, very well. Then pick up some of the water freshwater if possible. See if you see towards the right hand side, one has very dark values in it and one has a bit lighter yellow color in it. So I would say that is mode of freshwater come in. Usually I have one clean water. I'm not sure why did I dip my brush and the other one, but it's okay. Anyways, I just need a lighter value which I think I could manage to show the light. Now I'm going ahead and adding the other darker values. This lamps just revulsion. Who were That's App Studio. I always say this, that there is no perfection in watercolors. There is no perfection that you can achieve in watercolors. If you paint the same lamp after three years down the line, you will have a definite and different outcome compared to what you did today. Because the techniques and the work that you're doing today is absolutely different than what you will do yours later. Hence, do mock, compare your work right now or do not get de-motivated. Just go on and continue working. Touched a major aspect of watercolors. Watercolors requires a lot of commitment in terms of heavy painting. And once you are good to do that, I think everything else will fall in place. We are under the final dominants auto painting and practically there's nothing much that I have to explain you right now. You can go ahead and just paint the opposite of this small lamp and then we are done. I hope that you are now a bit confident about painting because that's all about this whole lesson that he did today. If you want more confident as a person while you paint, you will actually achieve greater results. That's how I have seen things happening for me. And I hope to preach the same to you guys. There are a few small, small aspects which you can always look into. The better details you want to add to a painting, the better outcome you might get back on it. Okay, level, if you can understand how to apply watercolors to your people, I think that's what makes the whole difference to your watercolor painting. Adding a few words here and there. Once done, remove the tape at an angle and you are done like your paper dry completely before you report your tape. Because if your paper is not right, you will for sure rip off the paper once you peel off the tape. So either you just remove the tape slowly at an angle that would really help you just the way I'm doing and get goes clear, crisp edges. I'm so happy with the final outcome. I hope to see your next TO with another lesson where we will be painting another landscape of sunset. 23. Project 20 Flying Balloon in the air: While printed. And finally tomorrow, how we would be N-linked this whole journey. It's been a tremendous one. I would say we have to get done so many paintings. We have learned so much in this whole journey. I can tell you that once you look back at all your paintings, you will form a law with each and every one of them. I'm going to make today's tutorial, or you can say to this video, pretty interesting and easy because I do not want you guys to struggle more as we have done pretty longer videos earlier. And I just wanted to add one gas balloon in this whole tutorial because they look really nice up in the air. And hence I'm going ahead and adding one layer of water. I did use my masking tape and draw this small circle. It is the sun that we will observe and then we will start painting with more of yellows and brown. There are many days you will observe that we do not get exactly the same kind of result what you want. Hiring through this painting, I want to tell you that you need to relax on a few days. You can't go on painting your best on all the days. Again, this painting is more about or limited palette. We would be using some of the yellows and Brown, which you can use on go ahead and paint this one. I'm using some of my Naples yellow and I have started adding it on the Papal now since you already know my palette. So there would be many times that I might not tell you exactly what color I'm using because you know that your I have put my permanent yellow deep ERF put my orange. You have been seen this same palette for past 219 radios. And I know you guys either have like this palette or you guys must have something which is similar to the one that I do have. So let's just see what we have added audio while we were booking initially v that co-head with the lighter values for us, which is more of Naples yellow than permanent yellow deep. Some of your orange wherever required. Once done, you go head but they're darker values to what's the impact of media. I've always told you keep the sides a bit boring, then people will be interested in the subject that you focus on. One status, Stan, start adding the darker values towards the top area of this guy. And I darker values Barto with a lot of water in it, which means that you are practically adding very lighter tone, softer, brown, and then let the whole paper drying. Once done, you just start adding the yellow now. And this yellow looks really bright and nice aquatic to me. So I'm using my size 8 brush to get this one. Once done, I will blend it with my flat brush. While I use this flat brush, you will observe that I'm just toggling mango. How does sides either you can apply one layer of water and then add these colors. I was not very okay with doing it. That's why I felt more confident adding the colors and then lengthening it. It's absolutely up to you how you want to go ahead and do this. Take some more burnt sienna and start running. What's the top area as well as the middle octo sky area as you observe me doing your drag. Now, it is going to be a very simple painting, believe me guys. So just to stay put and you will have a fantastic outcome doing the minimal work. Sometimes it's good to do some minimal work. Why do we always need to work so hard to get debt? And that's what is most important. There are days where you might feel that I want to be more accomplished as an artist. What do they? I do not want to work as hard as I have been doing to all the days. That's when you attempt something which is easy yet interesting and has some beautiful and great colors in it that can help to uplift your mood as well as it would give you a outcome that would even impressed the spectators. I think that's how I have always chosen my subjects. All these are not the same and there are days where I do not want to work so hard. Yes. And there are days where I want to explore more so I work harder and understand what and how I can build it for them. I did apply some clean water even towards the bottom area. Once I'm done, I start applying some darker values to leave the size of the Sun that you did paint earlier without applying any water. Because I want that to stand out a bit. For it to stand out, we will start applying the darker values in an around it. This is majorly your yellow data's your lemon yellow deep or you can even go ahead with the Naples yellow. I don't have any problems what you want to walk around with. So go ahead and do that. Once done num, start applying your colors in an around. Again, this idea. And as you are progressing, I think you will be in opposition to get better and better outcome. Because the more I see this, the more I feel confident about how my son is actually getting highlighted in-between this whole of clouds that I'm painting. To be frank initially, well, I was going ahead. I was not sure the pedal this painting would be the one that I would love to share with you guys. But slowly realize that this is all pretty beautiful painting and it is with a limited palette. We're not using a lot of colors and this yet something which will capture the eyes of a spectator. And most important of all, I really like. The simplicity did attract a lot in it. There are a lot of whitespaces that we believe I am not going to actually go ahead and hide more colors onto those whitespaces where I feel that I've added more colors. I'm going ahead and picking it up for the help off my brush, and then allowing this paper to dry. Once this paper has dried, there is another small flat brush which we did not discuss two ring how our materials section. Now this step is not necessary step. That's one of the reasons I did not discuss it. But I wanted to show you this technique so that you can use it in your folder or any future journey along with any photo projects that you attempt. So what I'm doing is I already have hard edge. When you have this kind of hard edge, you can soften it up with the help of loss. Flat, brush off around half an inch are you can say less than that. So this is not half an inch, this is one by four-inch and it is a very simple one that you get easily in the market. It is open set and Newton Cotman brush, I am using dark to get this kind of an effect. And then I will let it dry. Once this paper dries out, just add or gas balloon had, then we will paint in it. Make sure that you are adding the gas billion in a good way. How to do it in a good way. We just know that the half circle we can draw with the help of this tape that we have washington I am just extending that just like a droplet of water below and then attaching with a basket. Let's start adding the colors into this balloon. I am going to add some darker and some lighter values. Now call would be the Van Dyke brown that we would go ahead and hide and then later on the go ahead and add some more bonds sienna. You can also choose the colors of your choice, like initially in the top area, you can start with Payne's gray, like I'm doing right now. Then you can wash your brush, add some red round, or else, if you do not have the red drown, go ahead and add the bond C, and that's absolutely okay. You do not need to go ahead with the same colors which I have on the palette. I have been telling about this part quite a lot during my earlier. Although videos. So that factor means to save, you can go ahead and use any colors that is available with you. The most important aspect is to just keep adding the colors and get into the habit of painting. I am perform the lever that you need the required amount of breaks. Because over these past to yours, I have realized that my whole art courier has not only grown, but with that, I had saved on meltdowns. So with these meltdowns, I do understand that if you do not take the required amount of breaks, you do not come up with any fresh ideas, nor you get any further chances to work upon what you plan to do with your work schedule, how you want to walk out, everything in your part, how you want to shape up your journey. So for all of this, it's important to take the required amount of break. Now it's time for us to just draw two foliage or you can say the background is done. Now you need to add on some quality issue. The four crowds became the only done with the background. That's one thing. I think you want me to focus on that data to be something even for crowns or else it would not appeal to the eyes of the spectator if I just draw this balloon and delivered that. Yeah, that's how I see it over here. So always step back, relax and check what you are painting and how your painting is shaping up. Shaping up your painting is very, very important because if you shape it up, I can tell you that you will have a great outcome. So once you have added the bushes, I can tell you it would slowly look like bushes and trees. That's absolutely okay. You do not need to actually go ahead and add something extremely different or extremely difficult to actually impressed. As I always say, keep your sides or keep the corners pretty boring so that people can focus. Just in the middle area of the painting. There are many aspects that I further want to discuss. So with you about painting and how we can work on even more complex subjects. The next painting that we will do is going to be a bit harder than what we did there date as we are ending this lesson or ending this whole journey on a real high. And be sure that there would be some amount of sketching, some amount of watercolors and some amount of work involved. So do not do not find this as a difficult task. Just go with it. Always know that whatever you are painting is great. You have done your best, and this is your final outcome that you could managed to get. You should not compare your outcome with the outcome of the instructor. If right now I start painting florals, I might not be as good as instructor who has been painting florals on a regular basis for past I don't know how many years. So it's something like that. How you actually train your mind and how you start accepting your work is very, very important. The more you think positive, the more positivity or the more positive outcome also you will have. The mindset is really important in your painting or even in your daily Should you, when you work as an artist, start removing the tape and have a look at your final painting. I had darkly or clean edge. 24. Project 21 Final Sunset: We're on to the last day of our final journey of watercolors. And overall, I think that we all have grown over these 21 days. Yes. The growth cannot be judged just like that. You have to start with the first day painting that you did and then go on and check out the last day painting, you would be in a position to understand that you have improved. Let me tell you first how we will sketch this lamp. It is not going to be a very simple process. This lamp I've particularly chosen as a naught that you will need the one last challenging. Pick, our one last towns in painting that you should do. Most of the paintings that we did till now have not been dark, challenging except a few. This one I know you all will be in a position to me like I'm here to guide him. What I have done is I have divided this line that I made and then just took 1 in between, extended two lines on the left as well as on the right. And I'm joining it with the help of my pencil. This is a simple lamp which we are going to attempt. Believe me, it's a bit of drawing or sketching. That means sometime rest. Once you are good with that, you would be in a position to understand that you have practically panic. There is nothing much in terms of difficulty that you will face in drawing as well as painting this. Be with me. Understand how I'm going about it. Trying to walk out my proportions. We're dividing the line first into two halves and then again, dividing the top half of the line into two equal halves closely so that I can get easily this lamp using my monograph pencil. And it has got an HB lead that is really liked to work with. That's one of the reasons I loved this pencil a lot. I keep on adding more lines to my lamp and a few See, I just keep extending it towards the top. It's going to be all very traditional kind of, for lack virtue of solve anywhere in Europe, bar, even some of the other places. And I am hiding some lines. If you see what I tried to maintain as my proportions, the left-hand side of the lamp should be equivalent to the right-hand side of the lamps so that it does it look like that it is out of proportion are together. Drawing is very important in this case, I have been stressing on this during my last two videos that drawing and sketching gives you a really, really important edge. If you can do these two things. Of course, you wouldn't be in a position to paint the other aspects of any painting in a better way. Now, this is the first aspect that I have told you. Now the second aspect that I want to tell you is only having the knowledge about watercolors will not serve the purpose of actually working with watercolors. That's one of the very, very important points that I want to really highlight that if you feel that I have watched or read your and I really liked that and I would understand everything from there. Without any practice, you would be in a position to give the final outcome after five days or six days, practically speaking, that is not possible. Watercolors is something which I've absorbed in case I don't paid for 45 days, I will not be in a position to give a great outcome the next day. That has happened to me pretty often. And that's one of the reasons I always say that do not take a break more than two days from your painting. If you take a break for more than two days from your painting, I can really tell you that you are painting which you would be doing next, will not be as good as what you have done before it. Now, at this point in time, what really helps? What I understood from my own practical experiences that at this point in time, one important thing that has helped me is to watch videos and pain from the use of different instructors. It might look very much not like me. Yeah, I am a teacher or an instructor mentor myself. And now I am telling you that I go ahead and even watched the classes on Skillshare for other teachers? Yeah, I do. And sometimes, after all, not only watching the class, I tried to use the techniques that they have shortened me. Everything under the sun for even watercolors, I will not be knowing. And that's where this knowledge from different teachers comes to real help. That's why I say that whenever you feel that you are having a creative block or you are unable to paint exactly the way you want. Go ahead, use the knowledge that is available with you. You can even use any other instructors, videos which you really like. Who'll paint loose yet there are different styles of painting. I might not be using a particular style, or I might be using a particular style. You might find few of my paintings really loose, whereas few of my paintings really up to the mark, what you like. So there is wet on wet, wet on dry, lose, many kinds monochrome, et cetera. So all of these are a particular style of painting and you might fall for one style of it. If you fall it for one style of it Really, You are not experimenting much. That brings me to the third which I want to highlight, experiment, the experiment that is very, very important. If you don't experiment with watercolors, you will not find your happy accidents. I am. You will not be into your comfort zone. Watercolors is not comfort zone for any one when you start out. I would have loved to shore knew how I use to pain during my initial yours and how I paint. Now, I would say that my painting has improved a lot and that has only been done because I go for a regular practice. My brakes are limited. I know that where I need to take a break so that I don't go through any meltdowns. Yes. That again brings me to the fourth which is about meltdowns. Their real one after another point which I wanted to cover. And metadata is one important aspect which I have seen for myself. It's never easy to continue working and continue doing each and everything without having any meltdowns. There are times where you feel that you are not a good artist. Why do you feel you are not a good artist? Either you are comparing yourself to someone else or you are comparing your journey to someone else. Either you are comparing your particular platform, how much it has grown compared to any other person or it has not grown over the past few years. There are times when we are stuck. Now this is where I would say that you need to understand where you are stuck and why he was stuck. It has happened to me many times that I need to look back and understand at my art that what does not allowing me to grow any further? Is it a platform that is not allowing me to grow? Or is it me as an artist who is not growing? And most of the time the answer is, it is me as an artist to start drawing. Yeah, you might be surprised, but that's how it is that sometimes we do not look at our inner self and do not understand that exactly what we need to correct in ourselves to make things work for us. Sometimes it is possible that this particular trend is working on our platform, but if workers could, either today or tomorrow, it will get reflected. That reflection will take some time. You need to be patients, and hence the patients would be my fifth that I want to highlight patients is a very, very important aspect, not only in watercolors, but also in your watercolor journey. Nothing happens overnight. Let me tell you when you go to a particular job, you do not get the pay that you get after eight to nine years or ten years of your work experience. So how do you expect that your art career will grow within one year or two year span? It is very, very difficult. As well as you might be freelancing. Freelancing, there are lot of things that you need to look into. So while I say that art is always good and you should pursue it. But with that, you have to understand how can it be sustainable and how much patients you need to keep. There are so many times where you feel like breaking, but you cannot break. You have to wait and watch and just become and keep at it. That's one of the important aspects. Deep learning. Another thing, always, always keep learning even when you turn into someone has a greater test. I would say that learning is the first and foremost, most, most important aspect. You can be painting really simple, still doing some extraordinary things. How do you do that extraordinary thing? It takes some time. Nothing builds up overnight, nothing happens overnight. Everything will take a while to happen and you have to wait for the time to come. Right now when I apply some water on the paper, you would see that. It is a bit brown in color because I think my brush had some brown in it. So I would go ahead and pick up part of it where I want to paint white for the sun. And then in and around it I would go around with big yellow column. This last painting I wanted to keep as more of training or helping you out with a few of the tips and tricks that I have found really useful for myself during my own journey. So there might be times where you will not absolve me telling you about the painting or telling you what colors to apply. But frankly, by now, I know you guys are really good with their Daniel know what to do, what you should do as artists to work around this painting. So I am more comfortable now discussing the other aspects of a painting with you guys, even other aspects of being an artist rather than just working on the painting. So go ahead and apply some purple now. Yeah, the bubble looks very pretty. I know with the mix of orange, there are times where I loved this payload. You can also go with the permanent yellow deep that also has a bit of orange in it. And then I'm blending it with my flat brush. I do not have a smaller flat brush or I have not using that smaller flat brush for these kinds of paintings because I would go with limited set of brushes. And that's what I wanted to always also preached to you guys. Every time. You do not need to have the best of this applies or you do not need to have everything at your door steps or at your ease to make a great painting, you can have minimal supplies, you can have minimal paints and still have a good grade or Fantastic outcome. If you see VA, I think using maximum 18 sheets out of which few of the shapes are used 3D less compared to others. I don't have every kind of blue I'm using only Prussian blue then paint scree and ultra marine. Still we can now work with most of the paintings where we used to. Blue. Daughters of the painting is more about your sunsets and hence, the actually needed blue to a less extent compared to areas where you are going ahead and painting the skies where you might be needing much more of it. But still, I can tell you you need only few colors. If you have cobalt blue, if you have your brown, I think that's enough to even paint your skies. That's how I would say that many of the paintings work out well. With limited and few colors. You can have all the possibilities that you want to explore and you're practically not confused. There are times where we have a lot of colors and we are still confused which one to apply, in which one not to apply. That's the major confusion which happens with so many choices. If you have less choices, you would be way more or less confused. Moving around my car, I bought a bit more because this moving and out of cardboard railing helps me to actually take off any extra water that is there as paddles on the paper, as well as keep cleaning though water on the sides, but they help of your tissue. Tissue is your best friend and you can use it at any point in time. Go ahead and just add some lighter value of your Payne's gray onto third lamp area. I'm using my size six has caught up brush to do this. Had once this is done, I would go ahead and add some more colors into it. I would say this one in terms of even the lamp that I'm painting is way more loose compared to what we did already on. If you see, I did apply only one layer of quarter initially. Now I'm going ahead and adding some colors towards the sides. I'm using the tip of my brush, which is my size six brush. I'm adding that to my people. How beautifully the colors are flowing. And it's not allowing the colors to go at each and every point. It is only allowing it to go to fuel the areas because it is allowing it to go only to a few of the areas. It is more natural, it is more soft, it is more beautiful. Many of you might think that this is a very easy technique, but practically speaking, this is not an easy technique. It is a very difficult technique. That's why I came up with it at the end. Why I see it is difficult because we need to have lot of control on our brush. Sometimes we are using the tip of our brush. Sometimes we are using with pressure, sometimes we are using the brush which is having some palace only to a few areas if you see initially and started but Payne's gray now I'm going with a darker value of my brown, not allowing it to be flowing in each and every area. Some of the spaces, particularly I'm keeping the background wash. Again, there might be a question. Our background wash was pretty nice when eyes started or when you started off. Whereas now when you see after it did dry off, it has way more like I always say this type of an emperor. You are starting out with a background wash. Go with the color in wet-on-wet, which will actually help you to get the colors which you want. But they might be one shader to shade like though. So I really needed this soft and dreamy kind of color this time for my painting. And hence, I went ahead and only used this particular ADR for those lighter washes and it's not absolutely like, but while you were applying the wash, guess the colors look way more vibrant. But now they might not be looking as vibrant as you would have seen at early on. Go ahead and start marking or few of the areas. And again, while you actually go over this sketch, do not go over the sketch fully. Some of the areas keep the colors that are there for the background. We will slowly steady fill up the areas depending on how you want to develop the painting. Always note that just going for a flat wash will never give you the best of the outcome. If you always mix and match your colors, if you always change the tonal values of the colors, if you change, the colors are together, you get a way better outcome compared to what you usually think of. I'm going ahead and using some lighter values initially while I was working with this round area which you see. And then I am keeping some spaces and the background color, again, adding some darker brown colors and filling up this basis. You will keep observing that I am adding the colors only to a few areas, as well as there will be some of the areas which I would be adding some darker colors compared to what you have. Now. Once I add those darker colors, they would bleed into the soft looking colors and it would look so pretty. I can't tell you this technique, particularly I really love and I have been using it for many of my paintings. Use your tissue for any kind of mistake that you did. Or if you feel that you can have a better outcome, go ahead and use your tissue, pick up the colors and then again apply the colors, dishes ads, you're at your own disposal. Yeah. Going ahead and adding some more darker values, status of the brown on to this painting. And if you see, I'm just trying to give it a very light hand when I paint the lines and how broken and beautiful it looks now. Because every time you do not need to make flat washes, I always say the start. Sometimes. More of expressive watercolors can solve your purpose compared to only giving flat washes. This is a bit more advanced as I always say, that everything which I teach will not be very simple and easy. I would love to challenge you guys at each and every point. Hence, this was one of the paintings where I wanted you guys to be challenged, where I wanted you guys to be looking forward to and still feel that you have accomplished something. It might take one or two attempts. I will not deny that. It is not just like one who attempt. It would be a bit harder compare