Playback Speed
---
0.5x

1x (Normal)

1.25x

1.5x

2x
10 Day Art Holiday - Let's Create a Fall themed Travel Journal
Watch this class and thousands more
Get unlimited access to every class
Taught by industry leaders & working professionals
Topics include illustration, design, photography, and more
Watch this class and thousands more
Get unlimited access to every class
Taught by industry leaders & working professionals
Topics include illustration, design, photography, and more
Lessons in This Class
19 Lessons (7h 54m)
4.

What is an Accordion Sketchbook?

9:08

5.

Let's make an Accordion Sketchbook

31:57

6.

Quick fix Accordion Skecthbook

6:33

8.

Thumbnail sketch and its importance!

4:25

9.

Day 1 - Mount Fuji, Japan

41:13

10.

Day 2 - Kanas Lake, China

40:01

11.

Day 3 - Countryside, England

44:26

12.

Day 4 - Muskoka, Canada

36:49

13.

Day 5 - Pictured Rocks Michigan, US

38:24

14.

Day 6 - Kidelu Lake, Siberia, Russia

33:14

15.

Day 7 - Erawan Falls, Thailand

43:21

16.

Day 8 - Swiss Alps, Switzerland

41:44

17.

Day 9 - Seoul, South Korea

33:05

18.

Day 10 - Lake Tekapo, New Zealand

29:44
--

Beginner level

Intermediate level

Advanced level

All levels

Beg/Int level

Int/Adv level
Community Generated
The level is determined by a majority opinion of students who have reviewed this class. The teacher's recommendation is shown until at least 5 student responses are collected.
About This Class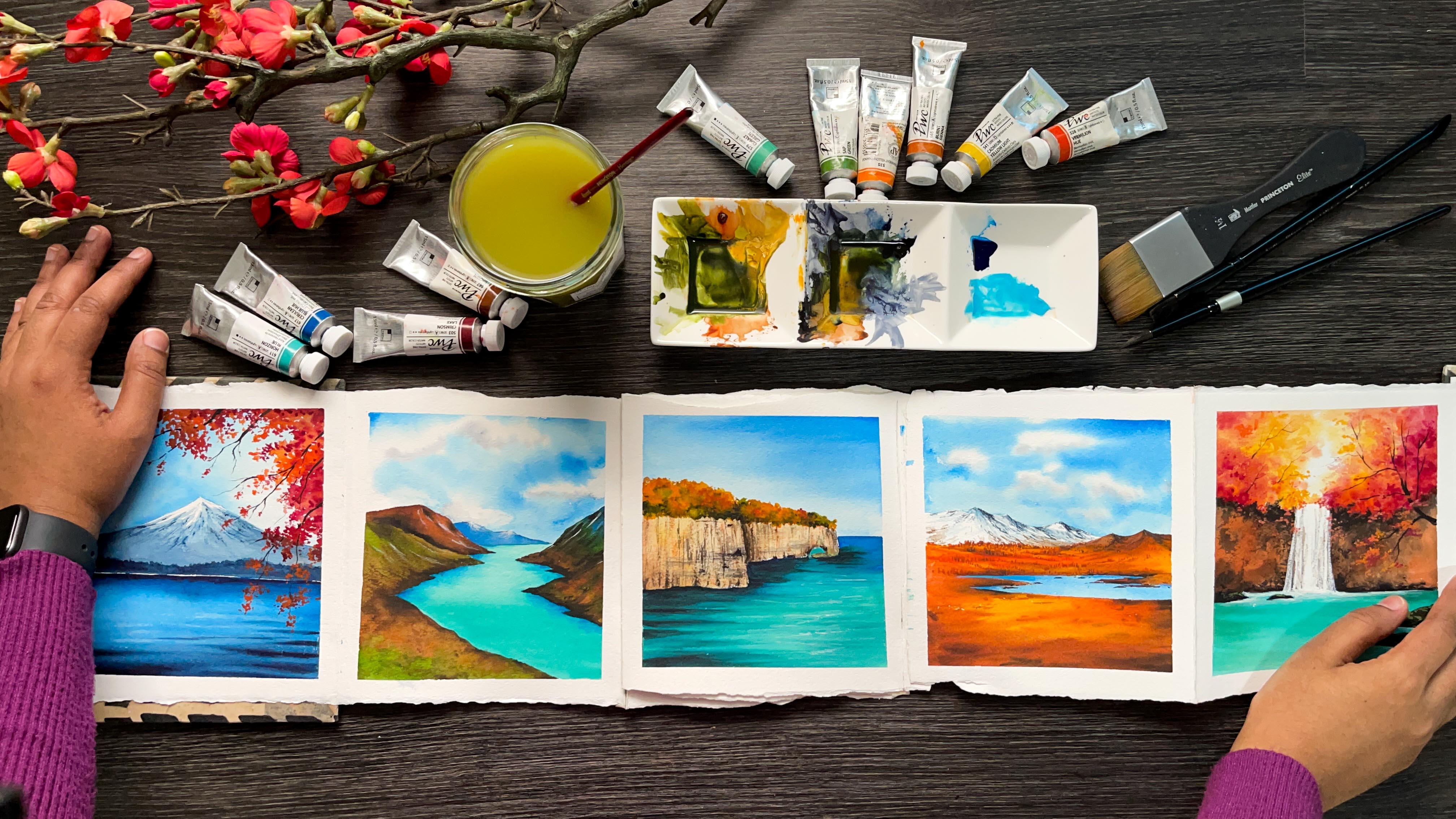 Art and travel are two things I'm really passionate about and I'm really excited to bring you a class where I'm connecting travel and watercolor. We will be painting 10 real places and we will create our own Fall themed Travel Diary.
Autumn season also known as Fall is the season of shedding of leaves from deciduous trees. The transition from green to light yellow, deep gold, orange, crimson and dark red is a beautiful sight to witness. That's exactly what we are going to try out in this class. We will be virtually traveling to 10  different places to experience the most beautiful fall foliage.
This class is designed in a daily challenge format which will run for 10 days, every alternate day we will  explore a real place and we will paint them on a handmade sketchbook. We will learn about fall colors and we will also learn to create a sketchbook in the most easiest way which is going to be our travel diary for these 10days.  
Watercolor is a beautiful medium which is known for its transparency and unpredictability. I have been using watercolor since my childhood and every-time I start a new painting, I feel as excited as I was when I started. This course is not just about creating 10 paintings but it is more about learning new techniques, its a power packed course where you will learn so many tips, tricks and techniques which is definitely going to be an asset for your future art practice. 
If you like this class, please leave a review that will help this class reach more students.
I'm so excited to have you here. Thanks a lot for joining :)
Materials you'll need :
Watercolor Paper – I recommend to use an artist grade watercolor paper which is 100% cotton 140 lb cold pressed paper.  I will be using Arches Cold pressed 140 lb.

I will be painting on a handmade 

sketchbook, you can either create a sketchbook with the given instructions or use a sketchbook you have with you already or you can simply paint on individual sheets. 
Brushes - 1 1/2 Wash brush,   Round Brushes Size 8, Size 4 and Size 2, Flat Brush - 1/2 inch
Watercolor - There is a color palette section included , please refer to that to get the complete list

A palette to mix your paints.

Masking tape

Any kind of board to fix your paper if you are using loose sheets

Two jars of water

Pencil and an eraser

Paper towel or a cotton towel for dabbing your brushes
Meet Your Teacher
Hey there! Myself Zaneena Nabeel, an architect by profession and an artist by everything. I'm originally from India, currently based in Dubai. I experiments and enjoys all sorts of medium. For me art is a therapy and I find immense happiness playing with colours.
Since early childhood I loved to draw and paint. when I joined for my architecture studies I totally gave up on art as I got so busy with my studies, but the love for art was growing deep inside me. Once I graduated and moved to Dubai I started investing little of time on art. I started visiting art events and talks and realized the endless world of colours waiting for me. Within no time I took my tools and came back in action and started an Instagram page and here I'm :)
Now I conduct local/... See full profile
Hands-on Class Project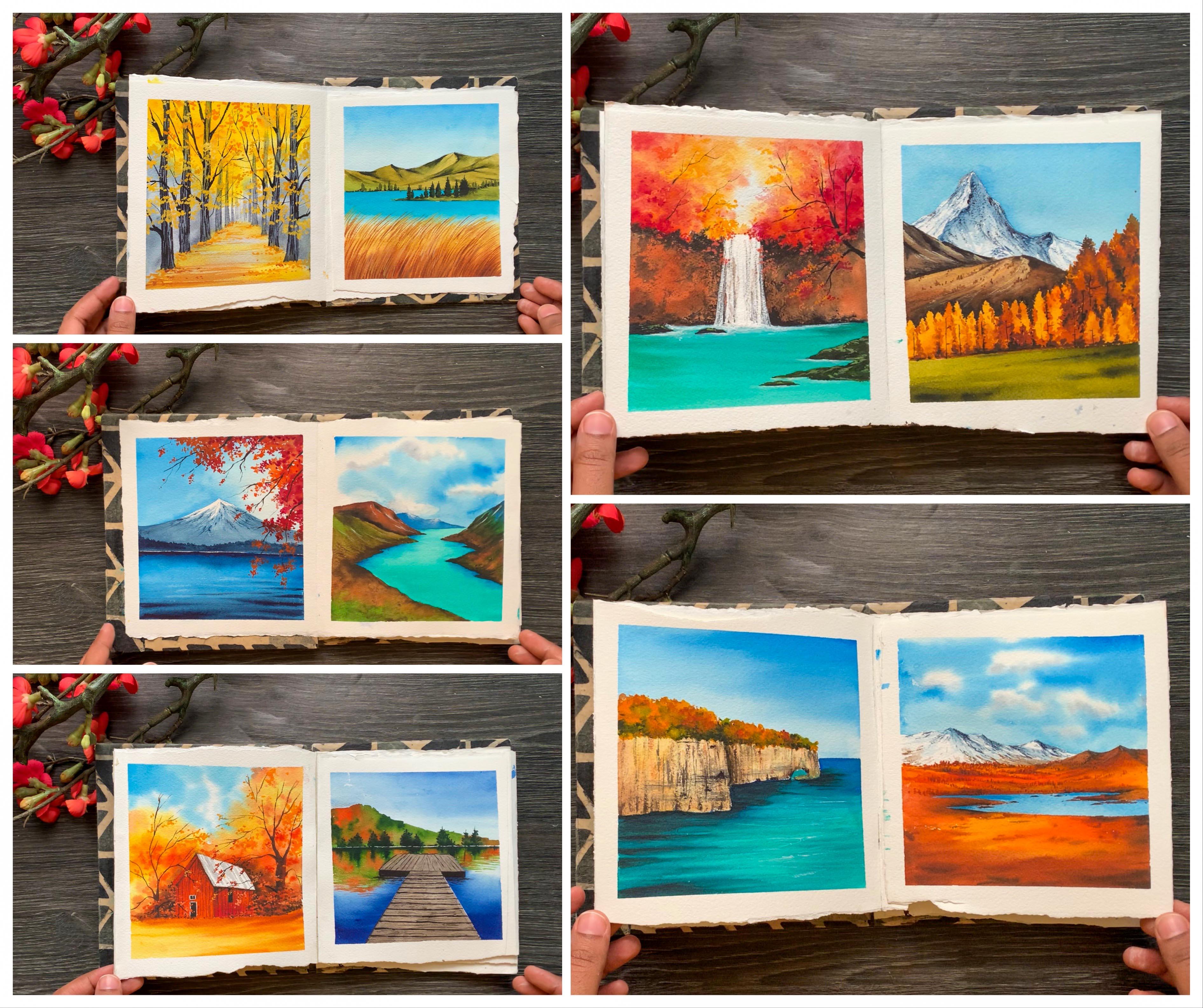 This class is project oriented! Your goal is to complete all 10 days of this class. You can either follow the same color combinations or you can go with your own favorite combination. Follow the techniques and create them in your own style.
This course is in a daily Challenge format, everyday we will be exploring a new destination and we will be painting it on our handmade sketchbook. So it is ideal to follow them daily to get more comfortable and confident with the medium, but you are welcome to come back and finish days at different times. 
All the projects  are unique and beautiful. Paint your favorite or paint them all. You don't need to follow the colors I have used, go with colors according to your choice/preferences.  Do upload your projects here in the project gallery so we all can have a look at each other's work. If you post your work on Instagram, do tag me @aurorabyz so that I can share your project in my stories! 
If you enjoyed my class please consider leaving a review so it can make its way to maximum students!
Thanks for joining and Happy Painting! 
Class Ratings
Expectations Met?
Exceeded!

0%

Yes

0%

Somewhat

0%

Not really

0%
Reviews Archive
In October 2018, we updated our review system to improve the way we collect feedback. Below are the reviews written before that update.
Why Join Skillshare?
Take award-winning Skillshare Original Classes
Each class has short lessons, hands-on projects
Your membership supports Skillshare teachers
Transcripts
1. Let's Go! : Art and travel are two things I'm really passionate about. Being an artist, I'm someone who's always looking for inspiration. Everything I see around influence my artwork in a way are on auto. There is no doubt traveling is a wonderful way to gather inspiration for your artworks. Whenever I'm traveling, I carry a sketch book with me and the moment I get a chance, I just sit down and add sketches of everything that inspires me. Hello, everyone. My name is Zaneena Nabeel. I'm a mother, an artist, and an art instructor. I'm originally from India and currently residing into Dubai. Today, I'm here to invite you all for a 10-day art holiday. I'm going to take you all on a tour to 10 most beautiful places in the world to experience [inaudible]. More than a class, this is going to be a journey where you will get to experience and explore a lot of things. I will walk you through a beautiful fall color palette, which I have curated for this class. I will also be teaching you how you can mix and create your own colors if you don't have a particular color. The most interesting part about this class is that we'll be making our own handmade sketch book, and we'll be creating a very personalized Fall theme travel dairy. We begin our art holiday by witnessing the [inaudible] Mount Fuji, which is surrounded by stunning red fall foliage. On the second day we'll be traveling to China and we'll enjoy calm and peaceful view of Kanas lake surrounded by foll tress. Likewise we'll be traveling to eight other places to enjoy the most gorgeous fall foliage. Be sure to join the class to see all these beautiful places we'll be traveling to. Don't worry if you're a beginner, I will walk you through each and every little detail to make this journey as beautiful as possible. We learn about [inaudible] sketches and their importance. We'll also be looking at the color palette for each of the painting in detail. Falls is a [inaudible] celebration off near-field color palette. Through this class, I want you all to get confident with your color palette and color mixing. There's a lot more things I want to talk about, but I will explain all those things as we travel together. Quickly go pack your art supplies and join me on a 10-day art holiday. 2. Itinerary: [MUSIC] Thank you so much for joining. I'm so thrilled to have you here. We are just about to begin a 10 day epic art holiday, where we're going to travel to 10 different destination to witness the most beautiful places in the world to see fall foliage. Our first destination is Japan. Japan is famous for its natural sites like cherry blossoms and Mount Fuji. Then the cutting edge technology like Japanese car and bullet trains, wacky inventions like karaoke and vending machines. They also hold a lot of cultural values like politeness and punctuality. The next thing they are most famous for is their mouth watering food like ramen and sushi. Tokyo is the capital of Japan, which is one of the world's largest metropolis. It mixes the ultra modern and traditional, from Neolithic skyscrapers to historic temples. There are many more interesting facts about Japan. It is one of the most gorgeous places in the world to witness fall foliage. That is exactly why we are here today. The place where we are traveling to is Mount Fuji. It is one of Japan's most famous volcano and a popular site for hiking and sightseeing. During the autumn season, the area around Mount Fuji becomes the perfect place for fall foliage viewing. Trees surrounding the Fuji Lakes turns into beautiful amber and golden sheets, and people from all around the world come to witness this gorgeous site. Here's what we're painting on the first day of our travel. You can see how gorgeous this painting is looking. What attracted me more to this destination is that sharp contrast. Those gorgeous bold red leaves and that snowy mountain makes a perfect contrast. I think it is the perfect place to start with our art holiday. That's what we're doing on Day 1. Now let's check out our next destination. On Day 2, we are traveling to China. China is very well known for its architectural wonders such as the Great Wall and the Forbidden City, its staggering variety of delicious food, its martial arts, and its long history of invention. More than just tea and temple, China is a fast changing mix of ultramodern and the very ancient. One-fifth of the world's population now lives in China. It would take a lifetime to fully explore this vast and wide country, the landscapes, its culture, and its food. The place that I have picked from China to witness the fall foliage, is the Kanas lake. It is the deepest freshwater lake in China. The water in the lake is usually a dazzling turquoise, and its color changes according to the season and the weather conditions. This is exactly what attracted me to this destination. It was so interesting to read about this place. It seems to me the water is plain blue. In July, the water turn into aquamarine blue, and in August the water change into dark green. Interesting. During fall, the forest around the lake provides a vivid backdrop of colors. This place is indeed a dazzling beauty which is rarely found throughout the China. We're going to capture this on our journal on Day 2 of our art holiday. From China, we are going to travel to UK on Day 3. The United Kingdom is made up of England, Scotland, Wales, and North Ireland. We're specifically traveling to England to enjoy the beauty of countryside. England is famous for its long history, its royal family, castles, and historic houses. It has some of the most famous universities of the world like, Oxford, Cambridge, and London universities. There are so many more things England is famous for. The next one is an ancient stone Road Stonehenge. It is the most important prehistoric monument in England. I'm not going to take you all through the history. Let's go to our destination. But it's a beautiful countryside. Here's what we're painting on Day 3. It's a beautiful painting to explore the fall color palette, we'll be working with yellow, orange, and brown shades. On Day 4, we are traveling to Canada. Canada is a diverse and fascinating country. It is the second largest country in the world. It also has a large domestic and foreign tourism industry. Most of the country's tourism are centered around Canada's four largest cities, which is Toronto, Montreal, Vancouver, and Ottawa. There are so many national parks and historic sites. Canada is also famous for its culture scenery. It is composed of beautiful lake centrals. It seems there are millions of lakes in Canada. On Day 4, we are going to visit one of them. We'll be taking a trip to this gorgeous lake in Ontario, and we'll be documenting that in our travel journal. Our next destination is America. It is by far the most famous country in the world. This country is a melting pot of cultures, cuisines, people, and even geographies, from bustling New York to chilled out California, and from frigid Alaska to tropical Hawaii. There are a lot of things America is famous for. The US is also home to some of the most spectacular scenery in the world, and some of the most recognizable icons on the planet. There are so many more top attractions in the United States, which are a bucket list destinations. The destination we are traveling to is Pictured Rocks in Michigan. I instantly fell in love with this place for its unique color palette of that blue waters and sandstone. It's one of my most favorite destination from this 10 day art holiday. On Day 6, we're traveling to Russia. Russia is the world's largest country, and it has the longest railway. It also has the second largest art museum in the world, and is home to many billionaires. The Russian landscape varies from sandy and frozen desert, tall mountains to giant marshes. To witness the fall foliage, we'll be traveling to Siberia, which occupies three quarters of Russia. Siberia is dominated by sprawling pine forest, and that is exactly what we're going to witness on Day 6. This is one of my another favorite from the destination we are traveling to, especially for the color palette. I really enjoyed working with this limited color palette. You are surely going to enjoy our travel to Siberia. On Day 7, we are traveling to everyone's favorite destination, which is Thailand. I think traveling to Thailand, is in everyone's bucket list. Thailand is most known for its tropical beaches. It is the perfect escape into nature. Not just beaches, there're so many spectacular waterfalls in Thailand. We're going to travel to those beautiful Erawan waterfalls, which is a nothing less than a burst of fall colors. Our next destination is Switzerland. I'm very sure the moment you hear about Switzerland, you'll be dreaming about the countryside. Yes. We are traveling to the gorgeous countryside of Switzerland. [MUSIC] On Day 8, we'll be just running around and enjoying those gorgeous hillside. That's exactly what we'll be documenting on our journal. On Day 9, we are traveling to South Korea. South Korea is known for its green hilly countryside, dark of the cherry trees, and centuries old Buddhist temples, plus its coastal fishing, subtropical island and high-tech city such as Seoul. Seoul, which is the capital city, is also famous for its autumn foliage and that is where we're going on Day 9. [MUSIC] Our last destination is New Zealand. New Zealand is truly one of the most picturesque photogenic place on the Earth. New Zealand is a rich blend of cultures and fascinating landscapes from spectacular glaciers to Ross plane to rolling hillsides, subtropical forests, volcanoes, miles of coastline with gorgeous sandy beaches. You'll find all of these in New Zealand. On the last day, I'm taking you all to enjoy a very peaceful and calm coastal side where we will enjoy this beautiful fall scenery. [MUSIC] Those are the 10 destination we are going to travel to in this 10 day art holiday. I hope you already have your favorite places in your mind. I'm really excited about the coming days. Without wasting any more time, let's get onto our first lesson. [MUSIC] 3. Materials you'll need: Before we dive into the class, let's take a quick look at the materials you will need. If you have taken my other classes, you might be familiar with the art supplies that I use normally, but there are few things which are really exclusive for this particular class. The main highlight is the sketchbook. We're going to make this all by ourselves. This kind of sketch book is called an accordion sketchbook, and it doesn't require any stitching or binding. I will be using a huge sheet of arches called press watercolor paper, which is a 140 LB, to create the sketch book. You can create the sketchbook using any of the artist grade of particular paper you have got. It doesn't need to be a huge sheet like this, you can even use smaller pieces, we'll just need to stick them together. In the next section, I'll be explaining how you can create a sketch book. It's a very easy one. I'll be talking about every little detail so that you can create your own sketchbook quite easily. Now, if you don't want to use a sketchbook, that's totally okay. You can use loose sheets. You can create your paintings on individual sheets of paper, it doesn't need to be on a sketchbook. As I'm connecting art and travel together, I wanted a more personalized look for my paintings and that is the reason why I'm going with the accordion sketchbook. Yeah, if you would like to know how to create the sketch book, be sure to check out the next section. The next thing you will need is a masking tape. I'll be applying masking tape on the four sides to get a clean border. If you're using loose sheets, you can get directly mask your tape on a port, so you will need a backing board to fix your paper onto if you are not using a sketchbook. Also, if you don't like to have that clean border, if you like to have rough edges, you can totally skip using a masking tape. Next, I will talk about the watercolors I'll be using for this course. I'll be using tubed watercolor. You can either use tubed watercolor or pan watercolor, both of them will work. The colors that I'm using for this class is from the brand ShinHan. ShinHan is a Korean brand and this their their premium range of watercolors. It's been awhile since I am using ShinHan watercolors and I'm really happy with it. They are discrete, they're vibrant, and they're highly pigmented. Compared to the other premium quality art discrete watercolors, they are quite affordable as well. You can use any of the artist grade watercolor that you've got, the brand doesn't matter. As I said earlier, you can either use pan watercolor or tubed watercolor. I have added a section called autumn color palette. You will find all the necessary details about the colors in that section, I have explained about the pigment number and art neat sheet if you don't have the same color that I'm using here. You'll find all the necessary information there. Now, to mix your colors, you will need a palette. This is the one I'll be using. It's a ceramic palette. You can either use plastic or ceramic. Or you can just grab a dinner plate from your kitchen, anything would really work. It just needs to be of a nonabsorbent material so that you can mix your colors. This was actually a serving dish which I got from home-based tour. I'm really obsessed with ceramic color palettes. The main reason is that it is very easy to clean and also the paint won't stain your color palette. If you're using a plastic mixing palette, you might have noticed those paint stains on your palette, which is so difficult to clean and how much will you try you will never be able to get that original color of your palette back, so that's one of the main reason why I switched to a ceramic palette. Next time when you visit a home departments store, be sure to check their dinner pair section and you will find such ceramic serving dishes which can be used as your palette. For now, just use any of the palette you have got. Next, I will talk about the brushes you will need. I will be using five different brushes for this entire class. Let's take a look at each of them. The first one is this one and 1/2 inch wash brush. This one is from Princeton, it's called our Mottler brush. This one is to apply a coat of water on your background whenever we are using wet on wet technique. The next one is a flat brush. This one has a 1/2 inch flat brush from the brand Silver Brush. You can use any of your medium to pick a size flat brush. Then you will lead a round brush. This one is again from Silver Brush, this one is size number 8. You can either use number eight or a size number 10. Next brush I have here is a size number 4 round brush. This one is from Princeton. This one is to apply all the medium detail. Finally, I have a smaller size brush, which is size number 2 and this is to apply all the minute details. So those are the five brushes I'll be using for this course. If you don't have a wash brush, you can use any of your bigger-sized flat brush to apply a coat of water. Also, regarding the sizes, if you don't have the same size that I'm using here, go with a similar size. For example, if you don't have 8, it's absolutely okay to use size number 10, or 9, or 7, so don't worry if you don't have the exact same brush and exact same size, go with something which is similar. Don't stress out if you don't have the exact same size or the exact same brand, use anything that you have got which is nearly similar. This applies to the watercolor as well. Just pick up the colors which are similar to that I'm using here. Don't worry if you don't have exact same shade. For most of the paintings we'll be doing, we'll need to add a light pencil sketch, so you will need a pencil and an eraser. The next thing you will need is two jars of water. One has to stay clean and other one as rinse off the paint from your brush. I'll be keeping one jar aside while I'm painting and I will grab that whenever I'm in need of clean water. When you're working with watercolor, always use two jars of water, make this a habit. I'm using heavy transparent glass jars here, you can either go with glass or plastic. The next thing you will need is a paper towel or a cotton cloth. This is to dab off the excess amount of water from your brush. It's a very important tool in watercolor painting. Those are the materials you will need for this class. I'll be talking about the sketchbook and the colors in detail in the coming sections. Now, if you don't want to use a sketchbook, that's absolutely okay. You can go with loose sheets like this. Just go with any size that you prefer. In case if you're using individual sheets like this, use a backing board to fix your paper. Those are the materials you will need for this entire class. Now, in the next section, I'm going to you how you can make your own DIY Sketchbook in the most easiest way. 4. What is an Accordion Sketchbook?: [MUSIC] Before we create our own accordion sketchbook, Let's take a look at what is accordion fold, which is actually the base of this sketch book. You just need to know how to create an accordion fold. That is the foundation of creating an accordion sketchbook. Making an accordion or a Japanese fold sketchbook is really easy and it's a very fun process too. You might be familiar with the musical instrument accordion. The design for this sketchbook is adapted from that musical instrument. It can open up like a paper and you can stack and fold it as a sketchbook as well. That's the beauty of this sketchbook. It can be made from a single sheet of paper or against multiple sheets together to make it longer. You can get them pre-made as well. The one you're seeing here is from Sennelier. Just check for accordion sketchbooks and you will find them in different sizes. Here's the one we're creating today. I hand-toned the papers to get a more beautiful look for my sketchbook. The best part of this sketchbook is that there is no stitching or binding involved. You can easily create them. I think this is just perfect for travel journaling. You can see all those beautiful places you visited in one single frame. It's gorgeous. Now, let's see what is an accordion fold and how we can create them. I have a sheet of paper here. I'm going to fold this paper. I'm taking the center of the paper and I'm folding it. The paper I'm using here is just a normal Xerox copy paper. I thought I will show you how you can create an accordion fold first so that you would be more confident in creating your sketchbook. I have folded my paper right at the center. You can see I've got a longer piece. This paper is quite thin. It is not at all thick so you can simply use your nail to fold them. But this one with the case with your watercolor paper, they'll be quite thick, so you might need a ruler or some other hard object to fold your paper. Now, I'm going to cut this paper right at the center and I'm going to make it two separate pieces. As I'm just giving a quick demo here, I simply folded the paper right at the center. The size of your sketchbook will depend on the size of the paper you have chosen. If you want to create a bigger sketchbook, keep that in mind. This one is going to be really small. I have cut my paper into two pieces. Now, let's take out one piece from this and I'm going to again fold that right at the center. Now, one more fold. I have folded that paper twice and I got a piece of paper which has four sides. If I open this, I can see a complete sheet, which is divided into four equal divisions. This is exactly what an accordion fold or a Japanese fold looks like. According to a number of sheets you want in your sketch book, you can create similar pieces and stick them together to create a longer sketchbook. Now, I'm going to repeat the same thing on the other piece of paper, and I'll show you how you can stick them and create a longer sketchbook. What I mean by a longer sketchbook is that when you open up your sketchbook, it will be much more longer and obviously, will have more number of sheets. Depending on the number of pages you want in your sketchbook, you can create different pieces and stick them together. Right now, we have them as two different pieces. Now, let's stick them together to make it a one single piece. Take out one of the paper and create a small flap like this. We're going to attach this onto the other sheet to make it longer. See that? This is how you should be creating that flap. Now, you can stick them together using a glue. With the paper here, we have taken, we have divided that into four equal divisions, but the one you are adding the flap has to be slightly bigger than the rest. Otherwise, you will end up having a shorter piece in between. When you're creating your sketchbook, you'll have to be careful. Now, I'm going to grab my Fevicol and I'm adding some glue over here, under this flap. Now, I'm attaching this onto the other piece, apply some pressure, and fix it. Now, fold it into one piece, so there you have your Japanese folder accordion fold. You can see we have got a longer piece here, which means we have more pages. All right. That is an accordion fold. I hope you all got a rough idea about accordion fold and accordion sketchbook. This is the same principle that we'll be adapting to create our sketchbook. We'll be going with watercolor paper and we'll be creating a cover as well. I really love the idea of an accordion sketchbook. You can open a band, bring that into one single piece, and you can see everything that I have created in one single frame. Also, you can fold and bring that into a small sketchbook size. This way, it is very easy to carry around and it's a wonderful way to document your travel sketches. Depending on the number of pages you want in your sketchbook, you can keep on sticking multiple pieces together. We'll be creating a sketchbook which has ten pages. This accordion fold is widely used in the graphic design industry as well to create turning catchy flyers and brochures. You might have seen brochures or catalogs, or road map in a similar design. You can open up the booklet and see the entire map and also you can bring that into pocket size. This accordion layout is widely used in the travel and tourism industry as well. All right. Now, let's take a look at the materials you will need to create an accordion sketchbook. The first and the foremost thing is the paper. I'm going to use a huge sheet of Arches cold-pressed watercolor paper to create my sketchbook. You can either go with a huge sheet like this, or you can cut and stick multiple pieces together. Again, just grab your watercolor paper pack and stick multiple pieces together to create your accordion sketchbook. If it's a bigger piece, there won't be much of cutting and sticking required. It will be a little more easier to create your sketchbook. Depending on the watercolor pad you have, decide on the size you want for your sketchbook and cut them accordingly. The size that I'm using for my sketchbook is roughly 15 centimeters square as I'm tearing the paper by hand to get that hand-torn edges. The size of the sheet may slightly differ from one another. But then the rough size is square of 15 centimeter each side. Now, the next thing you will need is a ruler and a pencil. You will have to measure and cut our paper. I'll be measuring and I'll be adding some reference lines so that it is really easy for us to fold and cut the paper. The second thing you will need is a ruler and a pencil. To cut your paper. you will need a scissors or a paper cutter. I'll be tearing the paper with my hands to get that hand-torn edges. Now, to create a hardcover for your sketchbook, you will need a hardboard. I'll be using this backing board of my Canson watercolor pad. I have finished using this, so this is just lying around here. You can use any kind of hardboard. I have kept a shoe box to create another sketchbook. We just have a bigger size. Just grab any kind of hardboard or cardboard, or any other thick paper, which is just lying around. Go with a cardboard, which is of medium thickness. Otherwise, it will be too difficult for you to cut them. We'll be adding a cardboard for the sketchbook, so don't worry if your cardboard is not looking that clean and neat. If there is some stains or some other marks on it, that's absolutely okay. We have chosen our paper and also we have taken a piece of cardboard to create a cover. Now, to make it look more attractive, we'll need to apply a piece of fabric or any decorative paper. These are two sheets of decorative paper I got from a local store. I think they are mainly used for craft purpose. You can either use a decorative paper or you can use a piece of fabric to create your sketchbook cover, or you can just paint and create your own. I have kept one of my old denim short aside to create my sketchbook cover. But then I realized I don't have a strong glue to fix this one to this cardboard. If you're using a fabric cover, you will need a good-quality glue to fix that. Sticking a piece of cloth on a cardboard wouldn't be as easy as sticking a piece of paper on a cardboard. If you're using a fabric cover, you will need a heavy duty glue to do that. That's the last thing you will need. A normal glue, if you are using a paper cover, or a heavy duty glue, if you're using a fabric cover. I'll be using for Fevicol, which is a PVA glue. You can use a wood glue or a school glue, or any other glue that works on a paper and a cardboard. You will need a watercolor paper of your choice to create your sketchbook. Then you will need a ruler and pencil to measure your paper. Then you will need a scissors or a paper cutter to cut your paper into the desired size. For the book cover, you will need a cardboard. Then to cover that to make it more attractive, you will need a fabric or a decorative paper. Finally, to attach all of them, you will need a PVA glue or any other glue that works well on a paper and a cardboard. Those are the materials you will need to create your own accordion sketchbook. Get them ready in time in the next section. 5. Let's make an Accordion Sketchbook: I have my huge sheet of Arches watercolor paper here. This one is 140 LB and it is cold press watercolor paper. Now, don't worry if you don't have watercolor sheet as huge as this one, you can create your watercolor sketchbook from the normal watercolor pad as well. The only difference is that you will need to cut and stick few more pieces together to make it a 10 page journal. Because we're documenting our 10-day travel, so you will need 10 different pages to paint all of them. If you're using a watercolor pad, you will have to cut and stick number of pieces together. That's the only different, but that's doable. If you don't want to stick a lot of paper together, there is another thing you can do. If you're using a 100 percent cotton watercolor paper, actually both sides work. You can use both the sides for your watercolor paintings. With Canson and Arches, I use both the sides of my paper. You can just create an accordion sketchbook of five pages and you can paint five of them on the front side and the other five paintings from the backside of that paper. That is one thing you can do if you don't want to stick a lot of paper together to make a 10 page journal. Let's cut the paper. I have my ruler had a pencil here. As I mentioned earlier, the size I'm going to go with is a square of roughly 15 centimeter. It won't be exactly 15 centimeter as I'm hand tearing the paper, it will be slightly on and off here and there. I'm marking 16 centimeters, so that when I hand tear, even if there is some error, it will be okay. I'm marking 16 centimeter on the lengthy set of my paper. This paper is almost 80 centimeter long. That means I will get five pages from this side. Fifteen multiplied by 5 with 75, so I'll have a little extra, which again, you see for sticking of the people with that second piece. I'm marking 16 there, I will mark another 16, another one here. Now, I'll join all those points and I will cut that piece. You can see that lengthy piece I have over the bottom, I'll be cutting that up, and I will fold that into five equal divisions. Similarly, I will need one more piece to make it a 10-page journal. Now, you can see the edges I have for this paper. It has got a beautiful decked edge. I'm going to recreate the same by tearing the paper by my hand, I'm not going to use a scissor. If you want to clean border, you can use a paper cutter or a scissor. I'm just tearing off the paper using my hand. I already have a guideline there. Now, let me tear that up. I hope I don't make any mistake here because it's an expensive watercolor paper and I don't want to spoil my paper for some silly mistake. Let's see how it goes. [NOISE] It isn't as bad as I thought it would be. As I'm hand tearing the paper, the size won't be perfect, it will have an irregular border and it would be slightly on and off here and there. This is how I want my sketchbook to be. But if you prefer having a clean line, you can use a paper cutter or a scissors and cut people to get a clean border. That's the first piece. From this, I will five pages. In a similar way, I'm going to tear another piece, and I will be sticking these two pieces together to make it a 10-page journal. If you're using a watercolor pad, it's going to be the same process, but instead of five pages, you may be only getting two or three pages. You may have to stick more pieces together to make it a 10-page journal. That's the only difference. In a similar way, I'm going to tear up another piece for stable mark 15 centimeter line, and I will follow that line and tear up the paper using my hand. As I said earlier, I'm going to go to 15 centimeter meters square side for my sketchbooks. You can decide on the size that you want for your sketchbook. It can be a 10 by 10 or a 20 by 20 square. Or you can go with the portrait or a landscape or [inaudible] , all those things are totally up to you. Now, let me tear this up. The second piece is also ready. You can see I have two longer sheet of paper here. This one is roughly 80 centimeter. As I said earlier, I'll be getting five pieces from each of these, so altogether, I'll be getting 10 pages or 10 sides. Our next task is to divide the paper into five equal divisions. I'm going to mark a 15 centimeter measurement. That's the first mark. I'm going to mark the second one. Now, I'm going to mark the third one. I'll get two more sides from the same sheet as is it is quite long. I'm marking the fourth one and there it is. We have a last piece which is a bit more than 15 centimeter. Now, I'm going to add a line along that 15 centimeter measurement, so that's going to be my first page of the sketchbook. In a similar way, I'll be adding under full lines so that I have five different divisions. After we have marked all the five sides, we'll be folding our paper along these lines we have added here. I'll add the second line. Now, I'm going to add third line along the 15 centimeter mark. Now, I'm going to add the last line, which will give me the fourth and the fifth side. There we have it. We have divided the sheet into five equal divisions. The last section is slightly more than 15 centimeter, I think that is 16. I have one centimeter thickness to create that flap, which is what I've been connecting to the other sheet to make it a longer sketchbook. Now, I'm just folding my paper along these lines I have added here. I'm just using my hands. The paper I'm using here is Arches 140 LB cold press watercolor paper, and it is quite thick, so it is a bit difficult for the people. It isn't that easy as that normal paper we did in the exercise section. Now, I'm going to grab my ruler and I'm going to run my ruler along that folder I have added him, to make it a small cline. Apply some pressure and turn your ruler on top of that line. If you have a bone folder or you could use that. I don't have one, all I have is a ruler, so I'm just using this one. Now, I'm going to go with the second fold. I'm folding my paper along that second line I have added, and I'm going to repeat the same exercise, fold it, and then run your ruler on top of it to make it this multiplying. Repeat the same exercise until you reach the end of your people, so you may have three or four or five sheets according to the length of the people. Let me quickly finish this. I have done two folds, I have two more left. You can see the way I'm running might've low. After you have marked the size of your paper, whether it's 10 centimeter or 15 centimeter or 20 centimeter, fold it and our new ruler on top of it to make it more smooth. [MUSIC] The first five pages of my sketchbook is here. You can see that accordion folds I have created. Depending on the number of pages you want in your sketchbook, you can keep doing the same and attach them together to make it a longer sketchbook. This is how it is looking. Making this equally sized pages is the major task of creating an accordion sketchbook, the rest is quite easy. Now I'll be creating a similar stack of pages. Maybe we can do that after we create the book cover. Let's do the book cover and we'll come back to this. I'll be again folding the other piece. I'll create a flap along this line and I'll be sticking that to the other stack of paper. Let's create the book cover and we'll come back to this later. Here's my storyboard I got in the sketchbook. You can see those neat pages nicely stacked together. It has got a hardcover. We're also going to create a hardcover just like this for our sketchbook, and that is the next step. To make it into a book format, you will just need to stick the first page and the last page onto a cardboard, which is again a really easy task, there is no stitching or binding involved. You just need to find a piece of cardboard which is of a similar size of your sketchbook. When you add a hardcover for your sketchbook, it will become a little more safe and secure and also you can carry around it in your art bag. If you don't want to add a hardcover, you can simply use the paper like this without having a cover. But it isn't a great idea to carry around a stack of paper like this. It might get dirty, so it's a good idea to add a hardcover. To create my hardcover, I'm using my empty artist paper pad. It has got a nice backing board, which is of medium thickness. The size is perfect for my sketchbook. I can easily create two pieces of cardboard, one for the front and one for the back. I'm placing my stack of paper and I'm adding some reference line. That's the first line. I'm adding another line on the top. That's going to be the size of my book cover. I'll need one more piece like this for the other side. What would be the size you have chosen for your paper? Cut out two piece of cardboard in a similar size, one is for your front cover and other one is for your back cover. You will need two equally sized pieces of cardboard. You can use any kind of cardboard, it doesn't necessarily need to be a clean one. The one I'm using here is white and clean just because it is of a paper pad. If you're using a shoe box or if you're using some other packaging material, there might be some stain or some sticker on it, that's absolutely okay as we'll be using a decorative cover on top of it. What is inside doesn't really matter. Maybe you can use two entirely different cardboard for the front and the back, that also doesn't really matter. Here's a shoe box. I kept this aside to create a bigger sketchbook and maybe the sides I will use for another sketchbook. Anyway, I'm keeping this aside, I have the habit of collecting nice boxes. I might be using this box to create endless sketchbooks in the coming months, or it might end up in the trash, let's see how it goes. Now let's create our sketchbook cover. I already have my cardboard here. Now we need to add a cover for our sketchbook, an outer covering, just like the green one here. It can be a decorative paper or it can be a book cloth. You will find lot of bookbinding materials in the craft store. There is something called book cloth, which is very easy to cut and stick. I have two decorative paper here, one is this beautiful brushes, and I have another one. I might go with the second one. If you like, you can use newspaper as well, that we'll also look classy. First let me cut the cardboard. I already have marked those lines here. I'm using a scissor and I'm following those lines and I'm cutting those two pieces of cardboard. Which is going to be the front cover and the back cover. [MUSIC] Here I have my first piece. In a similar way, I'm going to cut the other one. [MUSIC] We have two pieces of cardboard and our stack of papers here. We need to create one more similar stack to make it a 10 page journal. For now, let's finish the task for our sketchbook cover. We can create the second stack when we finish the sketchbook cover. I hope you all have chosen the cover for your sketchbook. The first step is to cut out a piece of paper or fabric but just slightly bigger than the size of that cardboard. Because we need to envelope this cardboard, so it has to be slightly bigger than these, maybe like a one centimeter or a two centimeter bigger than the size of your cardboard. First, let's cut out that. I really love the design of the sketchbook cover. If you're visiting any craft store, you will find plenty of beautiful designs. Sticking paper is very much easier than sticking fabric onto your cardboard. I would suggest you to go with any decorative paper, or you can simply use a thicker paper. You will find different colors of card stocks, which also works perfect for your book cover. I have just placed those two cardboards on my paper. Now I'm going to cut it over here, which gives me enough room for enveloping that cardboard. That is my sketchbook cover. I'll keep the bigger piece aside and I'll use that in the future. Now I'm going to fold this into two equal pieces. I will cut that right at the center. I have two pieces here, one for the front cover and the other one for the back cover. When you place your cardboard right at the center of this piece, you should have enough room on the four sides so that you can envelope that piece of cardboard. I'm not sure which is the right side of this paper, both the sides look the same. Anyway, whenever you're cutting your decorative paper or fabric, it has to be slightly bigger than the piece of cardboard. You can clearly see that here. I have like a two centimeter extra on all the four sides. We're going to wrap up this piece of cardboard using those decorative paper. See that? You will have to nicely cover your piece of cardboard, bring those flaps inside and we need to stick this properly. When you're cutting your decorative paper or fabric, just keep that in mind, you should have enough of space on all the four sides to wrap it like this. Now I'm going to grab my glue and I'm applying this sprite glue on this piece of cardboard. Just randomly applying this glue. Squeeze it and apply glue everywhere. You can use any kind of glue which works perfectly on a cardboard and a paper. I have applied glue. Now, I'm going to flip this and I'm going to attach that onto this paper. Apply some pressure and make sure it is nicely fixed onto that paper. Now take out a scissor, and cut these corners. We need to get rid of these corners, to properly stick it. You will get a rectangular or a square piece on all the four sides. Just cut that out, we don't need them. [MUSIC] Cut all those four corners. We have one more left over here. Just cut it. Now take out your glue and apply glue onto all these four sides. You have these four flaps on all the four sides. Apply glue on to that first side. Now I'm applying glue on the second side. In a similar way, apply glue on all the four sides. We need to repeat the same process to create the back cover as well. The first step is to identify the design for your book cover. You can go with the fabric or you can go with that decorative paper. You'll find plenty of crafts-paper, so choose any of them or you can go with a [inaudible] paper. Cut a slightly bigger piece than your cardboard, leaving some extra space on all the four sides. Then cut out those corners and apply some glue and fix that onto the cardboard. Choose like the way I'm doing it here. Apply some pressure and secure it properly. Do it carefully. Now onto the fourth side, I'm applying some pressure and I'm properly sticking that onto the cardboard, and here is my front cover, so this is how you create your book cover. No matter whether you're using fabric or paper for your book cover, you will need to follow the same step, maybe the glue might change, you may have to use a heavy duty, much more stronger glue if you're using a fabric cover. This is how you create your book cover, you can see how beautiful it is looking. Now in a similar way, I'm going to create the back cover. [MUSIC] I've folded all the four sides, now, I'm going to cut this corners. The same way how we did the previous one, cut all the four corners. I hope you guys were able to follow the process so far. It isn't that difficult. You just need to fold your paper into desired size, then you need to take out two piece of cardboard, one for the front cover and the one for the back cover. Then to make up a sketchbook more attractive, we are wrapping that with a decorative paper. That is what I'm doing right now. I have removed those corners, now I'm applying glue on all the four flaps and I will nicely stick that onto the cardboard to secure it. Let me quickly finish that off. [MUSIC] All right, so I have created the front cover and the back cover of my sketchbook, both of them has to be in the same size. Now it's time to combine the paper and the cover and make that into a complete sketch book. We have already folded our paper, here is what we had created earlier. This one has five individual sheets. They're going to go with a ten page journal. I will have to create a similar piece, with another 10 different pages. Then we'll stick both of them together to make it continues journal. Let me take out another piece of paper and I'm going to fold that into five equal pieces. I mean five equal divisions, just like the one you have here. Now when you're creating your second set of paper, at the beginning of this paper, you will need to create a flap, just a small flap of one centimeter or 1.5 centimeters, not more than that. Let me create that first, then the rest of the paper I will divide that into five equal divisions. I'm gong to get my ruler and a pencil. First I will mark that little flap at the beginning of this paper. I have marked a width of 1.5 centimeters. Now I'm going to fold it. You can run your ruler to make it smooth. I have created a flap at the beginning of this paper, we'll be applying glue onto this flap and we'll be sticking that onto the other set of paper to make it a continuous journal. Let me quickly fold the remaining of the paper into five equal divisions, which is roughly 15 centimeter as I'm going to go with a 15 centimeter square for my paintings. I'm measuring 15 centimeter and I will add a line along that 15 centimeter mark. Then I will fold the paper into five equal divisions. You can go with any size that you prefer. It doesn't need to be 15 centimeter square. As I said earlier, you can go with a portrait orientation or a landscape orientation. You can go with any size that you prefer. Let me quickly fold this into five equal divisions. [MUSIC] I'm really liking this decal edge of my paper, even though it is slightly on and off here and there. It has a more personalized look. I'm really loving it. I have marked 15 centimeter. I have divided my paper into five equal divisions. Now I'm going to fold it. [MUSIC] The second set is also ready. The only difference is that for the second set we have created a flap and this board board will sticking out to the other side to make it a continuous journal. Again, run your ruler multiple times to make it more compact. Now I'm going to take up my glue and I will just fix this black onto the other set. It is quite thick as I have to have used a paper 140 LB. Also we have ten sheets there. Let's fix this and start with our first painting. I'm really excited about this class. This is the first time I'm teaching something on a sketchbook and that do on a high made sketchbook. It is extra special to me. Now I'm going to apply glue onto the frame side of this flap. We'll be sticking that onto the underside of the other people. So apply glue on to that flap. Now, keep that under the other set and fix it. Apply some pressure and to make it really strong and firm. If you fold it, you will get a continuous journal. It doesn't stick properly. Let me run my ruler. After you have applied the glue, maybe you can leave it aside for few minutes, let it set completely. It will really depend on the type of glue that I have used. For some glue, it may take a much longer time. So don't rush, keep it aside, let it set completely. Now I will just run my ruler one last time, before I stick these paper onto those hardcovers. This will make my papers more compact. Here it is. If I open it, I have 10 different pages. The storyboard sketchbook looks more clean and compact. This is made out of a machine. The other one we're creating here is purely handmade. It has its own beauty. Now let's add the covers and that's going to be the last step in creating our accordion sketchbook. You just need to simply apply glue and fix the first page onto the front cover and the last page onto the back cover. Then you open up, you will have all long sheet of 10 individual sides. You can use it like a normal sketchbook. If you bring them together, it looks like a very normal sketchbook. If you open up, you can see all of your paintings in one single frame. That is a beauty of an accordion sketchbook. Now I am applying glue onto the first sheet. This is the front facing sheet. Now, we're going to fix that onto the cardboard. In a similar way, we need to apply glue onto the back sheet as well. It's pretty simple. This is your front facing sheet. We're applying glue on to that. Now I'm keeping that carefully on that hardcover. Press it. Apply some pressure and fix it properly. That's your front cover. Easy, busy, right? In a similar way, I'll be applying glue onto the last sheet and I will fix the other cover. With that, you have your accordion sketchbook. The front cover is ready. Now in a similar way, I'm going to apply glue onto the last sheet, which is right at the end. I will just stick that onto the back cover. I know at least some of you are really scared of using sketchbooks. The main reason is that if you make a mistake, you feel you have ruined the entire sketchbook. This is really common. Even I have been there, or I must say, I'm still there. I still have that pressure inside me whenever I'm starting off with a new sketchbook. I used to put a lot of effort in creating better paintings so that I won't draw in my sketchbook. If you are someone who has that fear inside, I have added another section where I'm teaching you how you can create an accordion sketchbook from your finished paintings. That is really easy. Be sure to check out the next section if you would like to start off with individual sheets rather than a sketchbook. We have finished making our accordion sketchbook and here it is. We have created a gorgeous choir sketchbook all by ourselves. It's 100 percent handmade sketchbook. I really love these decal edges and I really can't wait to start with the first painting. If you would like to start your paintings on a sketchbook, you can create this accordion sketchbook in advance. Or if you would like to create your sketchbook at the end, after you have finished all the paintings, you can check out the next section, either right after this video or once you have finished your entire paintings. You can see how you can open up this sketchbook and with all your paintings in one single frame. This is exactly like that musical instrument, accordion and that is how it got its name, accordion sketchbook. Decide on your action plan, whether you want to create your sketchbook right away, or whether you want to create your sketch book after you have finished your painting. Otherwise, you can just use any of the sketchbook you have already with you, you don't need to create a new one. Decide on your action plan and join me in the next section. 6. Quick fix Accordion Skecthbook: [MUSIC] First let me show you how your accordion sketchbook is going to look like once you have painted on all the sheets. [MUSIC] See that, you can also use it like a normal sketchbook, and you can also open up your entire sketchbook to see all the paintings in one frame. I cannot lift my camera beyond this, this is the maximum I can lift my camera. Otherwise, I could have showed you all the paintings in one frame. Anyway I hope you all got an idea about how your accordion sketchbook will look like, once you have painted on all the pages. It is really magical. I think it is the best way to create a travel journal, you can see all the places you visited in one single frame. Here it is. This is how your sketchbook will look like. I think now I made it little easier for you to decide on whether you want a sketchbook like this, or you want to paint on individual sheets. Now let me show you how we can create an accordion sketchbook from the finished paintings, maybe that is something you guys might be interested in. I have some paintings here, these are a few paintings I did earlier. I have different five paintings here, these are slightly smaller than my sketchbook. Never mind, I'll just show you how we can do this. You can decide on the size you want. Now for the technique that I'm going to show you right now, I'm going to use a masking tape to fix the papers. I'm using a one-and-a-half inch masking tape and I have two paintings here. Now, I'm going to take out a piece of masking tape, which is as lengthy as this painting. I'm applying that onto this painting. You can see half of the masking tape is on the painting and I have left half of it. Now onto this remaining half, I'm going to place the other painting. Place it close to each other without any gap. Now just run your fingers and fix it properly. Now fold it. You can again run your fingers to secure it. Now you can remove these additional edges to make it look more clean. There you go, you have attached two paintings together. This is the first step of creating your accordion sketchbook from your finished painting. Now, I'm going to repeat the same process. I'm taking out another piece of masking tape, applying half of it onto this painting here. This is a very easy way. You can create your accordion sketchbook from your finished painting so you don't need to create it right away, if you are scared of painting on a sketchbook. I have applied a masking tape over there. Now I'm going to take out another painting and just like we did earlier, I'm placing that onto this leftover masking tape. Now I'm just running my fingers and I'm fixing it properly. We have attached three paintings successfully. I will attach two more and make it a five page accordion sketchbook. I'll be following the exact same steps we did earlier and I will attach two more paintings onto this spread. [MUSIC] The fourth one is in. Now in a similar way, I'm going to attach one more. [MUSIC] Here you go. Here's your easy-peasy accordion sketchbook which can be easily graded from your finished painting. Now let's fold it like an accordion sketchbook. Super cool. If you're not confident enough to start painting on a sketchbook, I have got you covered. Here is the simplest way to create an accordion sketchbook once you have finished all your paintings. You will just need your finished paintings and a masking tape and you can do this right at the end of this class. Don't take any unnecessary stress to make your paintings perfect. Make enough of mistakes, and learn as you go. Now if you want to add any cover onto your sketchbook, you could do that too. Once you have attached all your painting, just fix the first painting and the last painting onto a hardcover. You can turn this into a sketchbook with a hardcover. Now there's one thing I forgot to mention in the previous section. To create a perfect accordion sketchbook, you will have to go with even number of sheets. It can be any number, but it has to be an even number. You can go with 10 or 12 or 20 or 30. Keep that in mind, otherwise you will end up having a hard accordion sketchbook. You won't be able to open up it into a one single frame. I really hope this section was helpful and I think I gave you a little more confidence to make mistakes. Mistakes are part of the process, that's how you learn. Don't worry if you end up trying a painting three or four times, that is how you excel in a skill. Now it's time to dive deep into the class. 7. Fall Color Palette : Before we start with the whole paintings, let's have a look at the colors you will need for this entire class. I think I will start with the blue shades, maybe we can start with the colors I'm going to use for the sky. The color I have here is cerulean blue, which is one of my most favorite color to paint blue disguise. For most of the paintings for the sky, I'll be using cerulean blue. You can either use Prussian blue or cobalt blue or any other blue of your choice. I'm going to squeeze a bit of cerulean blue. First I will squeeze out all the colors, then I will start swatching. That was cerulean blue. The next color I have here is indigo. I'll be using this color mainly for the snowy mountains, and also to add some deeper tones to the water. All the colors I'll be using throughout this class is from the brand ShinHan. These are their artist grade watercolor paint, it's a Korean brand. I really love this watercolor brand. It's been a while since I've been using their paint, and I'm highly satisfied. They're highly pigmented and they're quite affordable as for compared to the other artist grade watercolor paints. The next blue I have here is royal blue. This is not a very common color in the normal watercolor sets, so if you don't have royal blue, you can go with ultramarine blue. I'll be using royal blue for this particular painting here, especially for the water, and I'll be using a lighter tone of the same color for the sky. I think I'll be using royal blue only for this painting. You can use ultramarine blue or any other bright blue instead of royal blue. If you don't have any of them, just go with Prussian blue, that also works well, so don't worry if you don't have royal blue or ultramarine blue. We have taken three blue shades here. Now the next one, I'm going to go with this neutral tint, this one is more or less like Payne's gray. This brand ShinHan doesn't have a Payne's gray, instead they have a neutral tint, so it's more or less similar. Payne's gray is in the common in the normal watercolor sets, the basic one, so if you don't have neutral and dark Payne's gray, just go with black, we'll be using a light to tone of this one to add the shadow for the clouds and also to add the details. We'll be either using this as such whenever we need to add some darker tones, or we'll be mixing this with green or brown to make darker tones. You can use black, that's absolutely okay. The next two colors I have here is cobalt green and horizon blue; I'll be using these two colors for water. You can see those beautiful greenish-blue lakes in the background, for those, I will be using these two colors. Both of these colors are pastel tones, so if you don't have any of them, you can just mix a little white with your turquoise blue and create a similar color, and if you want to turn that more into a greenish color, you can just add a pinch of viridian green. Just by modulating the amount of green and blue, you can create different varieties of cobalt green and horizon blue. To turn them into [inaudible] shade, just add some white, it can be either gouache or white watercolor. For these two paintings, I will be using cobalt green. You can see that gorgeous blue lake I have over here, and also for this waterfall. For these two, I'll be using cobalt green, and for this one, I will be using horizon blue. Simply add a little white into your turquoise blue to create a [inaudible] shade. Also to turn that into more greenish, you can add a little of sap green or viridian green, and again add some white. Give it a try and see how the color is looking, try out different mixing options. In one mix you can add more white and in another one you can reduce them on the white and see how the color is looking. That is how you create a [inaudible] shade, it can be just white watercolor or white quash, give it a try. Now the next set of colors I have here is all the yellow orange, and browns, which are the real autumn colors, so let's check them out. We'll start with the yellow. This one is cadmium yellow light, it's a beautiful bright yellow. The next color I have here is permanent yellow orange and I have yellow ocher, which is a very common color. Then I have vermilion, another the common color, then I have crimson. I think this also comes in all the basic watercolor boxes. Then I have here is brown. You can also use brown cinder instead of brown. Then the last color is sap green, which is also another common color. Now I'm going to squeeze them all onto my palette. We just need a bright yellow. You can use gamboge yellow or Indian yellow or any other yellow you have got, it doesn't need to be cadmium yellow, any yellow will work. The next color I have here is yellow ocher, I guess you all have yellow ocher. If you don't have yellow ocher, you can mix a little of brown with your yellow, just a little of brown. Your mix should have more yellow and less brown, so you'll get a yellow ocher shade. The next color is permanent yellow orange; just like the name says, it's a yellowish-orange. If you don't have permanent yellow orange, don't worry, just mix a little of vermilion to any of the yellow that you are using, just a teeny bit of vermilion and you'll be able to create a similar color. The next color I have on my autumn palette is vermilion, which is another common color. I hope you all have vermilion. The next two colors are also quite common. This one is crimson, which also comes in all the basic watercolor boxes. Now we're on to the last two colors. The next is brown. You can also use brown cinder instead of this. The last color is sap green, which is another common color. Sap green is a very pleasant green, we won't be using it as such. We'll be mixing a little of orange, yellow, and brown to it to make it olive green, and we'll be using that color. I'll be explaining how you can create your own olive green as we paint. This is the painting I'm talking about, you can see that olive green over the bottom and also for this mountain, I'll be mixing a little of brown and yellow to make it an olive green. Those are the colors you will need for this entire class, now let's swatch them out. I'm starting of with cerulean blue, it's a beautiful bright blue. As I said earlier, if you don't have cerulean blue, just go with cobalt blue or Prussian blue. We'll be just using this for the sky, so it doesn't really matter whether using Prussian blue or cerulean blue or cobalt blue. Now let's write out the second color, which is indigo. We'll be using indigo mainly for the snowy mountains, we'll be using a lighter of indigo, and we'll create a beautiful snowy mountain, and also we'll be using the same color to add more deeper tones on the water. Indigo is basically a darker tone of blue, so if you don't have indigo, just mix a little of Payne's gray or a pinch of black or neutral tint to any of the blue that you're using to create a similar color. You may not get the exact same color, but it will be nearly similar. The next blue I have here is royal blue. As I said earlier, you can either use ultramarine blue or just use Prussian blue instead of this, this is just for one painting. I'll be using this bright blue for the water, so don't worry if you don't have royal blue, that's absolutely okay. We have our out three colors, now I'm going to go with the fourth one. Here's a closer look of all these three colors, cerulean blue, indigo, and royal blue. Now let's check out the next color. The next color is neutral tint, you can either use Payne's gray or black instead of neutral tint. I'll be using neutral tint to add the final details and also to turn the colors into a darker tone. I'll be just mixing a little of neutral tint to brown to create a darker tone of brown, same goes to green. If you mix a little of Payne's gray to your green, you can create a darker tone. Now I'm going to go with the next color, which is one of my most favorite color. This one is cobalt green, it's a beautiful piece with bluish-green. You can see those gorgeous blue you see in the background. To paint that clear blue lakes, I'll be using cobalt green. You can simply add a little of white quash into your cobalt turquoise or turquoise blue to create a similar color. If you want to turn that into a little more greenish, you can add a pinch of lemon yellow. You can skip adding lemon yellow if you don't want to make it more greenish. If you skip adding lemon yellow, you will get horizon blue. Otherwise, that will be cobalt green if you add a pinch of lemon yellow because it will be more greenish if you add yellow into it. I'll be showing you all these mixing options at the end of the session, so you will get a better idea. That is horizon blue. These are the two colors I'll be using for that clear blue lakes, it's a gorgeous color. These colors will instantly make a painting more beautiful. The next color I have here is cadmium yellow. I think I didn't wash my brush properly after using horizon blue, I can see some green over here, let me wash it properly. Now, going backwards, some yellow, that looks clean. This one is cadmium yellow light. As I said earlier, you can either use gamboge yellow, Indian yellow, or any other yellow that you got. It doesn't need to be cadmium yellow, just some bright yellow will work. The next color I have here is yellow ocher. These are the two yellows I'll be using for this class. The next one I have here is permanent yellow orange, it's a yellowish-orange. If you don't have this color, you can just mix a little of vermilion into any of the yellow you're using. Just a teeny bit of vermilion and you would get a similar color. The next color is a bright and bold orange, a darker tone of orange, which is vermilion. This is one of the most common color in autumn color palette. It will instantly bring in that autumn vibes into your painting. I hope you all may have this color. It comes in almost all the basic watercolor sets. The next one is crimson, another common color. Crimson is another bold and beautiful color to bring in the autumn vibes in your painting, especially to paint those red maple leaves. It's a beautiful color. Crimson is another color which comes in all the basic watercolor sets. I'm hoping you all have it. The last two colors I have here is brown and sap green. Instead of brown, you can also use brown sienna. Brown is more of a reddish color, and brown sienna is more of a yellowish color. That's the only difference. But it's absolutely okay to use any of these. You can choose whether you want a reddish-brown or a yellowish-brown. Now I'm going to go with the last color, which is sap green. I will be using sap green acetones. I'll be mixing some brown to it. We'll be turning those beautiful pleasant green into an olive green by adding some brown, orange, yellow into it. I'll be showing you that while we paint. It's a very simple process. Those are the colors I have chosen for this class. You can see all those gorgeous selection of colors. I have taken 13 colors here, it's absolutely okay to go with any brand. Also, if you don't have the same color, you can go with any color that is similar. Now, along with these colors, you will also need a white watercolor or white gouache. We'll need to add some opaque details on our painting. To turn our paint into an opaque version, we'll need to either add some white watercolor or white gouache. If you have white gouache, I will suggest you to go with white gouache. If you don't have white gouache, then you can choose your white watercolor. Either by mixing these two into your watercolor, you can turn your watercolor into an opaque version. Those are the colors I have included in my autumn color palette. I have given you the pigment numbers, so the name of the color may change according to brand. Even if two brands are using the exact same pigment, the name may vary, that is according to the brand, they can't choose the names for their colors. The information that you can trust on is the pigment number. Now there are certain colors I have included in my color palette which may not be there on your basic watercolor set, like permanent yellow orange, cobalt green, and horizon blue. I'm going to teach you how you can mix and create your own if you don't have an individual tube of these colors. We'll start with horizon blue and cobalt green. To create these two colors, you will need turquoise blue. Now, in case if you don't have turquoise blue, we can just mix a little of Prussian blue and viridian green and create a bluish-green, that also works well. The color might be slightly different, but that's absolutely okay. We're just using this for the water, so it can slightly vary. The next thing you will need is either a white gouache or white watercolor. My gouache is in a very messy condition. Just ignore that. I'll pick some clean white. You already know this cobalt green and horizon blue, they are pastel colors. To turn your color into a pastel shade, you will need white. Now I'm mixing that with turquoise blue. You can see that gorgeous color I have got here. That is very much similar to horizon blue. Just pick out your turquoise blue and add some white into that. It can be a white gouache or white watercolor, and see that color. It's exactly the same. The turquoise blue that I'm using from ShinHan, that is already slightly like a pastel shade. You may have to add a lot of white to turn that into a pastel tone. I have turquoise blue from other brands that doesn't look like this one. It is a bit more darker than this turquoise blue. So you may have to add more white. That is the only difference. The color may slightly differ according to the pigments, different brands I've used in the turquoise blue. You don't need to worry about those slight differences, every color has its own beauty. You just need to pick turquoise blue or cobalt turquoise from your watercolor palette, add some white, and turn that into a pastel shade. We have created a color which is very much similar to horizon blue. I will just add a thick line using this original horizon blue so you can compare them together. I'm just putting a disclaimer here because the color may vary according to pigments, different brands using their watercolors. Every color that I'm using here may slightly vary according to the brand that you're using. That isn't a big deal. Just go with the colors that you have with you. If you want to get to any of the colors that I'm showing here, maybe look at the pigment number and check for the brands which are using the same pigments. That is horizon blue. You can see those two colors, the original color and the color that I mixed and created, they are looking very much similar. Now let's check out the second color, which is cobalt green. Just like the name says, it has a slight greenish tone. We're going to turn the same color into greenish by adding a pinch of yellow, just a teeny bit of yellow, add that into this color. I'm using cadmium yellow here because that is what I have on my palette. But you can go with lemon yellow, that is what gives you the best cobalt green. You can already see that gorgeous color here. We instantly created a cobalt green by adding some yellow into the same mixture. This brush is too tiny, I think I should switch to my bigger brush. Let me grab my bigger brush. I'll make a little more cobalt green. I'm adding white, turning that into a pastel shade. I'm now adding some yellow, mixing them well. If you want to turn that into more greenish, add more yellow, and if you want a more bluish tone, limit the amount of yellow. That's the color. See that. It's a beautiful greenish-blue and it is perfect for that freshwater lake. Now adding some water, and making the color lighter. You can see the different tonal values of that cobalt green. This is the color I made. I think it looks exactly the same. Now let me swatch that original color so we can compare them. Now, these are the two colors I used, turquoise blue and cadmium yellow light. Along with this, I added a little of white as well to turn that into a pastel shade. Now, let me swatch out the original color so that we can compare them, the color we created and the original color. That's how you create your own cobalt green. You don't need to worry at all if you don't have horizon blue and cobalt green, we can easily create them. Now maybe we can try out permanent yellow orange. That is also a very easy mix. Just like the name says, it's a yellowish-orange. So obviously you will need to mix some yellow into vermilion. More yellow and less vermilions, so that you can create a bright orangish tone. I'm picking some vermilion, adding that with yellow. There you go, it instantly turned into a yellowish-orange. It's a very bright and beautiful color. Let me swatch that for you. If you want to turn that into more yellowish, limit the amount of vermilion, and you if want to turn that into more orangish, add more vermilion. That's our third color, permanent yellow-orange. Now I will swatch out the original color. All the colors I'm using throughout this class is from the branch, ShinHan. That's the original color. We got the same color. This is the color. You don't need to worry at all if you don't have these colors in your palette, you can easily mix and create them. I don't want any of you to stress out about the colors. That's the reason why I have added this color mixing exercise. Now, maybe we can try indigo. I often get questions asking how can I create indigo. Here you go. I'm going to pick a little of cerulean blue, and I'm adding that with some neutral tint. You can do the same thing with Prussian blue and paint spray, you will get a very similar color. I have created an indigo shade there. Now let me show you the color. See, it's a pretty indigo. I think I love this color more than the actual indigo I have on my palette. Just mix some paint spray with Prussian blue or cerulean blue. Don't use cobalt blue or ultramarine blue, you won't be getting a similar color. It will be very much different. The best color you can use is Prussian blue and paint spray. That is the indigo we have created. We had a look at the autumn color palette. We also checked out how we can create the colors which are not there in our basic watercolor set. We tried horizon blue, cobalt green, permanent yellow orange, and indigo. Give it a try if you don't have these colors in your palette. If you want to know how you can create any other colors which you don't have in your palette, just mention them in the discussion section, and I will be happy to help. Quickly go set up your autumn color palette and join me in the next section. 8. Thumbnail sketch and its importance!: [MUSIC] What you see here are these little pieces of paintings, are my thumbnail paintings which I created before I did the main painting. Thumbnail sketches can be simply defined as translating your ideas onto a paper, preferably a small size. It doesn't need to be detailed at all, this is just to understand the color palette and the composition. This is something artist grade for themselves to understand the idea they haven't planned to work or not, whether it is the composition or the colors. Here is my sketchbook and you can see all those little thumbnail sketches I have created here, I have made them into a bigger painting. If you closely look at both of them, you can see the thumbnail sketch is not at all detailed, whereas the painting I have created here is a very well detailed portion of that template sketch. When I decided on the countries and the locations tab we're going to paint for this course, I created some thumbnail sketches. For some of them, I went in the two or three tries. The reason I went in with multiple tries is because I wasn't really happy with the color palette. I wanted to change the color for the sky, or for the water or for the mountain, or I wasn't really happy with the composition; it was looking too busy and I wanted to eliminate some unwanted elements. That was the reason why I went in with multiple tries. But because it is a very tiny piece, it doesn't require more than 10 minutes. It's a wonderful exercise to do before you go with your main painting. You will get a better idea about the color palette, the techniques, the composition, and everything in a very small scale. This little sketch is more like a planning tool, whether you want to add more elements or you want to eliminate more elements. All those things you can decide from this little sketch. You can see my main painting and a thumbnail sketch here. I decided on the color palette and all those things from this little sketch, and I was really happy with this, and I tried to incorporate the same. This process is really important if you're trying out a painting that you haven't done earlier. If it's a bigger scale, please go with the thumbnail sketch first or if you're trying out some new techniques or an entirely different color pallets from your other paintings, do a thumbnail sketch first, this will help you understand the painting better. You'll be able to plan it, you will get to know which elements you should be focusing more on to get a better balance. Here's another thumbnail sketch I did for this painting. For this one, first I tried those four lids with yellow and orange and it was looking really dull. I tried it one more time with a different color and I was happy with this result, and I thought I'll go with this one. Those red leaves are something you add at the end of this painting. If I had not tried a thumbnail sketch at the beginning, I might have spoiled this entire painting. That little sketch really helped me here with this painting. In a similar way, the things you'll feel would really work for your painting might not really work. It happens at sometimes. It might be a small element, but then after you have added that, you may feel like, "Oh, I shouldn't have done that." I think you might have gone through that phase. I have been there a lot of times. Those confusions can be easily eliminated if you try a thumbnail sketch before you go with your main painting. I just wanted to let you all know about the importance of creating thumbnail sketches. For this course, you don't need to create them as we are painting together. But whenever you're trying something fresh, whenever you are exploring a new idea, go with that thumbnail sketch. It will make you entire painting process a lot easier. You can create as many as you want until you're happy with the color palette and the composition. Just keep in mind, this is something you create for yourself. It doesn't need to be perfect; it is just a rough idea. Whenever you're creating your thumbnail sketch, just visualize what you want to include in your painting, the color, the field, the message, and the overall look. Have a look whether they're working. If it's not working, take off another piece of paper and give it one more try with some other color combination or some other composition. This one is hardly seven centimeters by eight centimeters, it can be much more smaller. Also it doesn't need to be a colored version as well, you can simply use your pencil and composite as a pencil sketch and add in your colors on your main painting if you are confident with the color palette. I hope you-all got a rough idea about thumbnail sketches and it's importance. Now, it's time to start our journey. Let's explore our first destination. 9. Day 1 - Mount Fuji, Japan: [MUSIC] Hello. Welcome to Day 1, and the first destination we are going to travel to is Japan, and we're going to witness Mount Fuji, which is Japan's one of the most famous volcano. It is quite popular for hiking and sightseeing. During autumn season, the area around Mount Fuji becomes one of the perfect place to view fall foliage. The tree surrounding the Fuji Five Lakes turns to beautiful amber and golden shades. What attracted me to this particular place is that beautiful contrast of colors. The volcanic mountains stands in sharp contrast with the surrounding red and oranges during autumn. It's one of the most beautiful place to witness and to paint as well. I had looked at several photographs of Mount Fuji, and the painting you see here is an inspired version of multiple photographs. For the color palette, I looked at one photograph and for the composition, I looked at another one. I combined everything that inspired me and I created a thumbnail sketch, and that is what you see here. Now, let's look at the colors you will need for our first painting. We already had a look at the autumn color palette. I'll be picking few colors from that palette. For the sky, I'm going to use cerulean blue. It is a really gorgeous blue. I love this color. But if you don't have cerulean blue, you can use Prussian blue or any other blue that you have got. I'll be using the same color for the water as well. Let me sketch that for you. If you're someone who love doing verticular landscape, I would suggest you to get a cerulean blue. It's a very gorgeous color to use for the sky, especially for those blue skies with the white fluffy clouds. If you don't have cerulean blue, it's absolutely okay to go with Prussian blue. That's the first color. I'll be using the same color for the sky and the water. It's a beautiful blue. For almost all the painting for the sky I'll be using cerulean blue. As I said earlier, if you don't have cerulean blue go with Prussian blue, or cobalt blue, or any other blue of your choice. The next color we'll need is indigo. I'll be using indigo for that snowy mountain, and also to add the details on the water. If you don't have indigo add in a pinch of Payne's gray into cerulean blue or Prussian blue, just a teeny bit of Payne's gray and you will get a similar color. That's indigo. Those are the two different blues we'll be using for our first painting. Here's a closer look of both the colors. The first one is cerulean and the second one is indigo. Both of these are from the brand ShinHan. As I said earlier, the brand doesn't matter. Go with some low shade from any of the brand I have got. Now let's take a look at the colors you will need for that red foliage. I'll be using two colors for this foliage. One is vermilion, and the other one is crimson. These two colors are quite common in all the watercolor sets so I'm hoping you all have it. We'll just play with different tonal values of vermilion and crimson, and we will add a beautiful foliage. That's vermilion. Now the last color you will need is crimson. Those are the four colors you will need for this painting, cerulean blue, indigo, vermilion, and crimson. To add those branches, I'll be just mixing some orange and blue to create a darker tone of brown. Or we just need a darker tone which is more or less close to black so we can either use Payne's gray or black directly or you can just mix a darker tone of brown by the colors you have already on your palette. Now let's try this out. Here's my compare sketch. We are going to create a bigger and a better version of this one. We'll start by applying a masking tape. Here is my sketch book. Let me grab my masking tape and I'm going to apply that on the four sides. No matter whether you're using a sketchbook or individual sheets, apply a masking tape on all four sides. This will prevent your paper from buckling and also you'll be able to get a clean border for your painting. The masking tape I'm using here is half-inch. You can either use a masking tape or a washi tape. Apply the masking tape and just run your fingers on top of them and apply some pressure just to make sure there's no gaps in between. [MUSIC] I have applied masking tape on all the four sides. I have taken two jars of water, I'll be keeping one aside. Also l have my clean palette here. Everything is ready now I'm going to squeeze out the colors onto my palette. We already had a look at the colors you will need. You'll just need four colors for this painting. The first color, you will need is cerulean blue, which is the one I'm going to use for the sky and the water. I'm going to squeeze out that. The next color is indigo. This is the one I'll be using for the snowy mountain and also to add the reflection on the water. For almost 70 percent of the painting, we'll just need indigo and cerulean blue. Only at the end when we're adding those foliage, we'll be using orange and crimson. Let's start by adding the pencil sketch. We'll just need to add a horizon line and a mountain. It's a very simple pencil sketch so add a line a little below the center of the paper. Now, adding the mountain. We only have one mountain. That's a huge one. We have added the pencil sketch. Now let's start with the sky. For the sky, I'm going to go with the wet on wet technique. It's going to be a very simple sky. Just onto the left side, I'll go with a medium tone of cerulean blue and towards the right, I will make the color lighter because we're adding those foliage on the right side and I don't want that area to have a lot of blue. If we add a lot of blue over there, the red and orange wouldn't look so fresh. Let's add a medium tone only on the left side and we'll make the color lighter as we progress towards the right. Let's give it a try. l have my one and a half inch wash brush tool. I'm going to start by applying a coat of water onto the entire sky. [NOISE] I'm not going to add any water onto the mountain, I'm being really careful. I'll just add a coat of water only onto the sky. My sky is evenly wet. Now I'm switching to my round brush. You can either use a flat brush or a round brush, it doesn't really matter. [NOISE] We just need to get a medium tone of blue onto the left side. The one I'm using here is size number 8. [NOISE] Add few drops of water and create a medium tone of cerulean blue or any other blue that you are using. Apply that onto the left side. Follow your brush along the outline of your mountain, make it clean. Now towards the right side, just dip your brush in clean water and make the color lighter. It's a very simple sky, you just need to focus on medium tone on the left side and a lighter tone of blue on the right side. That's the only thing you need to keep in mind because over to the right we'll be adding those red and orange foliage. If you have a lot of blue there, it wouldn't look so fresh and bright and that is the reason why we are making the color lighter on the right side. Now you don't need to worry about getting a clean and a smooth blend. It can have some white patches. You can clearly see that here. My sky isn't perfect, but that's absolutely okay. When we add those foliage, those things doesn't really matter. That's the sky. Now let's wait for that to dry. You can either use a blow dryer and speed up the process or you can simply wait for it to dry. Maybe you can take a walk or have a coffee and come back by the time it will dry. [MUSIC] The sky has completely dried. Now, let's start with the scar just Mount Fuji. To get that snowy character, I'm using a lighter tone of indigo. [NOISE] You already know how to create indigo if you don't have one. You can either mix a little of Payne's gray or a little of neutral tone to cerulean blue or Prussian blue to create a darker version of blue, which looks like indigo. Go with a lighter tone of indigo and leaving a little of white cap over the top, adding some lines, just some random lines. You can see over the top I have left some white cap, which is going to be the snow. We're going to retain the white cap over the top to get that snowy character. It may look a little messy at the beginning, but then it's going to be okay, we'll be adding more texture and more darker tones onto this. Now, with the bottom along to the horizon line, I'm going go with a bit of darker tone compared to the top. [NOISE] See, it is just slightly darker, not too dark. Now add that over the bottom and gently drag your brush towards the top. It doesn't need to be a clean blend or anything. Keep pulling your brush towards the top. Now we can fill up the rest of the area. [NOISE] Just fill that in. [NOISE] Over to the tip of the mountain to get that snowy character, I retain some paperwhite then I went in with a lighter tone of indigo, and I simply apply that onto the entire mountain. Now I'm using a darker tone of indigo, just one tone darker than the previous color, and I'm applying that over the bottom. Now, I'm dragging that towards the top, keep pulling your brush towards the top, you can see the way I'm doing it here, I'm gently dragging my brush towards the top, it isn't looking that clean, it is looking slightly messy. But as I said earlier, we'll be adding more textures and more details onto this, I'm just dabbing my brush on a paper towel and I'm pulling that color towards the top, this is just to get rid of the strong lines , that looks fine. Now let's wait for this to dry, if you want to speed up the drying time, you can either use a heat tool or a blow dryer, the base layer has completely dried. Now I'm going to go with the smallest size brush, this one a size number 2 round brush, and I'm going to pick a slightly darker tone of indigo, not as light as the previous one. Now I'm dabbing my brush on a paper towel to get rid of that moisture content, I wanted very dry paint. To bring in all those textures on the mountain, we are going to add some dry brush patterns, and that is the reason why I'm dabbing off my brush on a paper towel, to remove the water condensed, so that I will have a dry paint on my brush. Now leaving that white space over the top, gently add some dry brush patterns using that darker tone of indigo, you can add them however you want to, there is no particular order or rule for this. The key here is using a dry paint which is not at all watering, you can see the way I'm adding them here, I'm not really worried about where I'm adding it and how I'm adding it, I'm simply adding some dry brush patterns, leaving that whiter space on the top. Pick your color and dab your brush on a paper towel and make sure the paint is not too watery and gently add some dry brush lines. [MUSIC] That's how our Mount Fuji is looking right now, we need to bring more texture, so I'm going with the much more darker tone of indigo and I'm adding some more dry brush lines. I won't be adding as much as I did earlier, just adding a few broken lines here and there very randomly. For these fantastical there is no particular size or order or shape that you need to follow, you can simply keep on adding some dry brush lines and some broken lines using a darker tone of indigo. You can see the way I'm adding the lines and pulling my brush down in an angular manner, this is just to bring in some texture on our mountain to make it look more realistic, otherwise, it will look quite flat, it wouldn't look like a realistic mountain. Once you are satisfied with the textures on your mountain, you can leave it there, we don't need a lot, we just need some textures towards the top of the mountain. Over the bottom we'll be adding some landscape, that area you can leave it as it is, you don't need to add any over the bottom. Here's a quick comparison, you can see the impact of those dry brush patterns, earlier our mountain was looking quite flat, it didn't have any textures, and when we added those dry brush patterns, it instantly made a huge difference. You can see here, it is some random messy patterns, it doesn't have any particular shape or order or size, you can simply keep on adding some dry brush patterns, using our medium and darker tone of indigo, just towards the top of the mountain. Now I'm going to add some random group of trees along the entire horizon line, I'm going to go with the darker tone of indigo. The color you're going with should be slightly darker than the color you have in the background, otherwise, this won't be visible, it shouldn't be too dark, you can see the color I'm using here. You can just use a color which is one tone darker than the color you have on the mountain, I'll just switch to my bigger brush, so that I can add them quickly. Now, I'm simply adding a shape over here just to make it look like there are some trees and plants over here. At some places, you can make it a little higher, and at some places, you can make it lower to make it look more realistic. First, add in a very organic shape then onto that outline, you can add some teeny tiny lines, just to make it look like there are some trees, simply keep on adding some lines close to each other, using the tip of your brush, it doesn't need to be a clean straight line, just little bumps. These trees are really far from you, you don't need to put a lot of effort, just add some lines close to each other using the tip of your brush, and use the same color and finish up that entire line. All those little projections you are adding on the top will add some realistic value to your painting. It is nothing very complicated, you simply need to add some lines, little bumps close to each other to make it look like there are some trees and plants over there. Now with the same color, you can add a clean line along the horizon line. [NOISE] I'm loving this painting already, that snowy mountain is looking so gorgeous, now simply add a straight line along the horizon line to make it look clean. [MUSIC] That's done. Our next task is to paint the water, for that, I'm going to switch to my flat brush and I'm going to apply an even wash of cerulean blue onto the entire water. Then we'll be adding more reflections and more details onto that but the first step is to apply an even wash of cerulean blue or whichever blue that you are using. Let me grab my flat brush, this one is a half-inch flat brush. Now, I'm going to load my brush with cerulean blue. [NOISE] I'll begin with a medium tone. Now I'm just filling up this entire area in this color, now when you're adding the paint, leave a tiny gap along the horizon line, a teeny tiny gab. There are two reasons for this, one is, it will define your horizon line, and the second one is that Indigo hasn't dried completely, [NOISE] this will prevent the colors from smashing into each other, just fill that up. [MUSIC] I have applied a medium tone of serene blue onto the entire water. It is just a flat wash, we'll need to add more reflection and details on to this. For that, I'm going to go back to my round brush, and I'm going with indigo. Go with a medium to darker tone of indigo. Something similar to the color you use for the trees. Now we're going to add the reflection of those trees. Along the horizon line, just as a mirror image, I'm going to drop in that indigo shade onto that wet background. Just load your brush with a darker tone [NOISE] of indigo and gently apply that along the horizon line. You simply need to drop in the paint, the background is already wet, so they will nicely spread into the background, leaving a nice blurry look, and it will automatically look like it is a reflection. There is no much effort you need to put just drop in the paint onto that wet background. You can try and follow a similar shape to what you have above the horizon line. It doesn't need to be the same. Wherever you have a taller group, make the reflection slightly deeper. Now I'm going to add in some lines using the same color. That blue background might be slightly wet so just add in some lines onto that wet background, just a few lines. Now I'm going with a darker tone of indigo, and I'm going to add that over the bottom. [NOISE] Add that over here. As you go up just change that into some lines. You don't need to worry if your background has dried. We will be applying a coat of water on top of this to make it look more smoother. Just keep on applying that darker tone of indigo along the bottom. As you go towards up, just add some lines. You can see my lake is not looking that great at the moment, but that's okay, we're going to fix it. For the next step, I'm going with the really darker tone of indigo. I'm loading my brush, [NOISE] a really dark tone of indigo. Now, dropping that over the bottom, I want this area to be really dark compared to the top. Just add some thick lines using that darker tone of indigo, leaving some gaps in between. When this area is almost drying, we'll be adding more ripples onto this using a smaller brush and using a darker tone of indigo. For now, this is fine. Now I'm going back to my flat brush. This brush is clean and I'm gently running my brush along these lines I have added here. These are looking quite strong and patchy. I want them to have a more smarter look. I'm just running my wet brush on top of these lines to make them look smoother. This is why I said earlier, even if your background is not looking that great, even if you didn't get a clean blend , that's absolutely okay. Now, again, the background is still wet, it's completely wet. Now I'm going to go with my smaller size brush, and I'm going with a darker tone of indigo. This one is size Number 2. Now let's add the final round of ripples and reflections. Just add some lines on that wet background. As I said earlier, you will have to lay some gap in between, don't add them too close to each other, and also we need them just over the bottom. Don't add a lot along the horizon line, or we are going to keep that area hazardous. Maybe we can add some more deeper tones along the horizon line to make that reflection more prominent. For now, let's finish this. I'm using my smaller size brush and you can see the lines I'm adding here, [NOISE] they're very thin. Just along the bottom, the area which is closer to the masking tape. Over they're I am adding some thicker lines, and as I'm going away from that bottom line, I am making my lines more thinner. Now using the same brush, I'm adding some deeper tones along the horizon line, just over here. If you want to make your reflection more prominent, maybe you can go with a more definite shape. Right now I'm just adding some darker tones over here. Maybe you can duplicate the same shape of those trees and just add them as a mirror image. I'm not going to focus a lot on that, I'm just adding some deeper tones over here. Also, I'm reaching that white space I have over there. Now, maybe we can add some more ripples. The background is still wet, it hasn't dried completely, so you can just make use of the time, and if you want to add more ripples just go for it. With that the major part of the painting is done. Now the only step remaining is to add the bright red foliage. Right now the fall vibe is missing, let's bring it on. I will just wash my brushes. I will clean them and I will keep them aside because I had the habit of leaving them dirty. If I don't do it right away, I will forget it. I have the habit of leaving my brushes dirty. Sometimes I just put them in the water as it is, and that's going to affect the long run off my brushes. These days I have decided I'll clean [LAUGHTER] them right away, no matter what. You guys also make it a habit, clean your brushes right after you have done your paint. Don't lead them in that dirty water. That will spoil the bristles and it will end up reducing the lifetime of your brushes. Always clean them. Our next task is to add the red foliage. Just like how I have added in this thumbnail sketch, I'm going to add some foliage using vermilion and crimson. When we were painting the sky, we intentionally made the right side lighter. This is the area we're going to focus on. First, let me squeeze out vermilion and crimson onto my palette. These are the two colors I'm going to use for the foliage. That's crimson. We'll be playing a different tonal values of these two colors, at some places will make the color lighter, and at some places will go with a darker tone. [NOISE] Let's start. I'm using my size Number 8 round brush. [NOISE] I'll just clean it thoroughly. I want that orange to be really fresh and bright. Make sure there is no blue or any other color on your brush. If there is some other color you will lose that freshness. [NOISE] I'm adding some drops of water, and I'm going with a very bright tone of vermilion. Now I'm just pressing the tip of my brush on the paper, and I'm creating these patterns close to each other. Just keep on pressing the tip of your brush and add these leafy patterns close to each other. I'll just change the water. I have my clean jar aside, so I'm just replacing that. Now, I'm adding few drops of water and I'm going with a lighter tone. I'm playing with different tonal values of vermilion and crimson. I'm adding these leafy patterns. Go with the combination of lighter and darker tone, this will make your leaves look more beautiful and natural. You can see here, right now, I'm using a lighter tone of vermilion. Now I'm going with some crimson, dropping that onto the orange. There is no particular rule, shape, or order here. You just need to simply press the tip of your brush against the paper and add these teeny tiny patterns close to each other. You can keep on switching from one color to another to make it a beautiful mix. Right now I'm using crimson. I will add some more leaves using crimson then I will switch to vermilion. I'll keep on repeating this until I get a beautiful pattern. As I said earlier, I'll be focusing more on this area. I'll be adding some on the top as well. Just play with it adding as many leaves as you want. Keep on switching from one color to another to make it a beautiful mix. [MUSIC] Now I'm adding some leaves on the top. You can see the way I'm adding them. At some places, I'm taking them little into the sky. This will make it look more organic and natural. Don't go with a very specific shape. Add your leaves in a very scattered manner. Gently keep on pressing the tip of your brush. Right now, I'm going with a very dark tone of crimson. It's a really dark tone. When you play with different tonal values of vermilion and crimson, it will automatically add a lot of realistic value to your painting. At some places use a darker value of crimson and at some places use a lighter value. Same goes with vermilion, keep on switching from one color to another. It's a very easy and simple trick, but then it will have a lot of impact on that foliage. Don't be lazy, keep switching from one color to another. Don't use too much of same color because if you have observed fall foliage, you can see there are multiple tonal values of different colors like yellow, orange, red, and brown. For this painting we are only using vermilion and crimson, so we have to bring in that color changes just using these two colors. It is very important to play with different tonal values. Just keep on changing from one color to another and gently add these patterns. You can add as much as you want. I'll be bringing them a little more down. I will add some foliage along the mountain as well. You can decide on the extend of leaves you want in your painting. I'm going to add some over here. I'm using vermilion and crimson on it's strongest form. Otherwise these leaves won't be visible here as we already have a darker toned background. Go with a very intense tone of crimson and vermilion and keep on pressing the tip of your brush and add some leafy patterns. You might have noticed, I'm intentionally leaving some gaps in between. You can see bits of sky through those leaves and this will make our painting even more beautiful. At some places, make sure to leave such tiny gaps. You can see that striking contrast of the snowing mountain and the red foliage. This is exactly what made me try this particular destination. It is quite easy to bring in that character. We haven't used any complicated techniques for this painting so far and still it is looking so pretty. Now I'm going to add some more leaves over here then I will switch to the top. I don't want a lot of sky to be seen, I want the major focus to be this red foliage. I'll just bring them a little more towards the left side. [MUSIC] Adding this leaves are really therapeutic. You never feel like stopping them. You always want to add more and more. Take enough breaks in between and just look at your painting. If you feel like you have added enough of for leaves, you can stop it there. I might go and add a bit more. I hope I won't go overboard and spoil the painting. See here, you can see how I have left those tiny gaps in between so that you can see the sky through the leaves. These are some very tiny simple details, but they're going to add a lot of value to your painting. I will add few more leaves, just adding them in a very scattered manner. I think I will switch to crimson [NOISE] and add some darker leaves as well. You just need to keep on pressing the tip of your brush. At some places you can add them close to each other and create a very dense and thicker bunch and at some places leave some gap in between so that you can see the sky through them. [MUSIC] Now, I'm going to wash everything paint to my brush. Now, I'm going to switch to my smaller sized brush and I'm going to add some branches in between. We need to add some thin and delicate branches. Go with any brush that has a pointed tip. To add the branches, I'm going to use a darker tone of brown, I'm not taking out any brown. I'll just mix this crimson, some vermilion, and some blue and create a very dark tone of brown. I'm just going to mix all those colors that I have on my palette. Let's pick some crimson, pick some vermilion, now pick some blue, mix them all together. You can see we have got a very nice brown there. It's more of a reddish brown because I added crimson, if you wanted more brownish tone or a brown reddish, you can simply add some vermilion and blue and skip crimson. Now using this color, I'm going to add some branches. I will just pick some random spots and I will add some thin and delicate branches. If you're using half bands or if you already have brown or Payne's gray or any other darker brown on your palette, just use them directly. I thought I will just make use of the left over paint on my palette. You can see the color here, it's really dark. It's more or less close to black. You can simply use Payne's gray acetate or you can go with bond amber or just add in some Payne's gray or blue to your brown to create a darker tone. Go with any color that you prefer, we just need a darker tone. The only thing I will be worried about is getting them very thin and pointy. You'll have to use a brush which has a pointed tip. Also you can see the way I'm adding them, I'm taking some breaks in between so that it will look like that foliage is really tick and they're covering up those branches. Rather than adding a continuous line, break them in between. This will make your painting look more beautiful. Go ahead and add in as many branches as you want. The brush I'm using carry size number 2 and it has a very good pointed tip. If you are not able to get these delicate thin branches, maybe you can switch to your pen. If that works better for you, just go with that. [MUSIC] I have added some branches using my brush. Now, I'm going to switch to a black pen, this one is a drawing pen. I will add a few more branches using this pen, I'll just randomly add a few more thin and delicate branches using my pen. This is absolutely random, you can add however you want to and as much as you want to. [MUSIC] This is where we have reached, let's take a step back and look at the whole painting. At times it is really important to take breaks from your painting and take a look at it. These past moments are really important, you might be taking the most important decisions for your painting at these little moments, so just take a step back and look at your painting. Just think about whether you want to add more details or whether you're happy with the result, no matter what the teacher is doing, just forget about that, ignore the rest, and focus on your painting. Maybe you might feel like adding a small port or a board or some other detail, and that might be the best decision ever, so just take out a 30 seconds to one-minute break and criticize and admire what you have done. Just like how they criticize your own work, saying this hasn't turned out well, I'm not happy with this guy, I'm not happy with the blend, just the same way how you see both things, it is really important to admire your painting as well, if you have done a great job, just give a pat on your back and say, well done. You-all are doing great already, I can already feel that vibe here. Now I'm going to add a few more branches, so I'm going back to that darker brown, adding some more crimson maybe a little more [NOISE] warmaline. Now that is brownish, I will add another branch over here, a slightly thicker branch. Depending on the size of the paper that you have chosen and depending on the extent of the foliage you have added, you can decide on how many branches that you want to add. For me, I have added quite a lot of foliage here, so it will be better if I add some more teeny tiny branches and that is the reason why I'm going with a second round, so I'll just add in a few more branches in between those leaves. I think that looks fine, I'm going to leave it there. Now, I'm going to wash all the paint [NOISE] from my brush and I'm switching to warmaline. Under these branches we have added here, I'm going to add some leaves not as thick and dense as the previous foliage, just a few leaves here and there, especially onto the tip of those branches. Go with the warmaline and crimson, just like how we did earlier, keep switching from one color to another, now keep pressing the tip of your brush and add some tiny leaves onto these branches. We don't need a lot, just a few onto the tip of these branches. [NOISE] Use the smaller size brush, otherwise, these leaves will look too big if you use a bigger size brush, we want some super tiny leaves. You can see how pretty our painting is looking already, I'm loving this color combination, maybe I might try the same thing with the yellow foliage as well but I was a bit worried about messing up the blue sky and the yellow foliage. If you don't put a lot of attention, you may end up having some green foliage and green sky in between, so blue and yellow is not that a safe color combination. Also yellow is a transparent color, so you wouldn't be able to bring in this impact in your painting. This one is a very safe color combination, what we're using here, which is crimson and warmaline. They're bright and pretty, and they're opaque as well. [NOISE] To make our painting a little more interesting, maybe we can add some tiny branches. I'm going back with that darker tone of brown and I'm adding some branches which are hanging down, I'll add the first branch over here bringing that down. This one has to be really thin, so you can either use your brush or a black pen. I will add one more branch right next to these so that I can add more red foliage which is actually the most interesting part of this painting. Depending on how much foliage you want in your painting, you can decide on the number of branches, I will just add one more. [NOISE] Now, I'm going to go back with red and orange, and I'm adding some more foliage over here. I'm going with a really bright on a warmaline and crimson, otherwise, it won't be visible, so use a really bright tone these two colors and add some leaves. You just need to keep on pressing the tip of your brush and add these colorful leaves, [NOISE] go with the smallest size brush otherwise these will be really big. Go ahead and add in as much as you want. [MUSIC] That is it, we are done with the whole painting for day 1. Now, it's time to peel off the masking tape. Wait for your painting to dry completely before you peel off your masking tape. Once it has dried, peel it at an angle, and here you go, here's the finished painting, you can see those gorgeous red foliage lead the Mount Fuji. I was quite happy with this stumbling sketch so I simply followed the same. I didn't really make any changes, if you want to add in some yellow or if you want to try any other color for your foliage, you could do that, maybe you can look at some reference images and try changing the color for your foliage. I hope you-all enjoyed our first destination, give it a try, if I had to try it and get ready to explore our next destination. [MUSIC] 10. Day 2 - Kanas Lake, China: Hello. Welcome to day two. I hope you all had a great time being in the majestic Mount Fuji. Today we are in China, and today we are painting this gorgeous freshwater lake surrounded by autumn foliage. For me, it was very interesting to know about how the color changes on this freshwater lake over the time during different seasons. From turquoise blue to pale green to aquamarine blue, the color of the lake changes throughout the year. The inspiration for today's painting comes from this photograph. I tried my maximum to replicate those real colors from nature. Here is what we are painting today. I think this is the easiest one from all the paintings that side going to do in this course. Before I went on with my main painting, I tried out a thumbnail sketch to understand the color palette. Here it is. I was actually planning to add some abstract trees, but then I was really happy with that calm and peaceful look of this painting, so I didn't want to add a lot of details and complicate it. Here's what we're going to paint today. Now let's have a look at the colors you will need. The first color you will need is cerulean blue. As I said earlier, this is one of the color that I'll be using for the skies mostly. For this painting, as well, I'll be using cerulean blue for the sky, and I'll be adding some clouds for this painting. For that, I'll be using a light tone of neutral tint. You can either use a light tone of Payne's gray or neutral tint. If you don't have those two colors, you can use black. It's going to be a really light tone. Even black will work. Because the nominal watercolor textures doesn't have Payne's gray or neutral tint, it just comes with the black. Now I'm scratching neutral tint. This one is more or less like Payne's gray. This branching hand doesn't have a Payne's gray. Instead, they have a neutral tint. They're similar. If you don't have cerulean blue, just use any blue you have got. Now the next color that I'm going to swatch out, this is beautiful bluish-green. It's a baseless sheet, is called cobalt green. It is this particular color which brings in that character of freshwater lake. There is no way you can use any other color in turn of this. If you don't have cobalt green, I have included a section at the end of color palette that you will find how we can create this color, so be sure to check out that if you have missed it. You will see me using this color in a few other paintings as well. If you really like this color, It's a wonderful addition to your color palette. I really love this color, I use it for my night skies, especially that not on light and also for the freshwater lakes. It's a gorgeous color. That's the thought and the main color I'll be using for this painting. Next, we look at the colors I'll be using for the mountain. The first color is brown, which is quite obvious from the painting itself. The two major colors I'll be using for the mountain are sap green and brown. You can also use Burnt Sienna. First I have a special brown, that's brown. You can use Burnt Sienna or brown. The next color is sap green. We will be just playing with brown and sap green for the mountain. Also, I'll be using a little of orange to bring in some more autumn wipes to our mountain. This again color is sap green. The final color is Vermilion. We'll be exploring some beautiful techniques in this painting. We learn how to paint a cloudy sky and also some gorgeous mountains. These are the six colors you will need for this painting, cerulean blue, Payne's gray or neutral tint, cobalt green, brown or Burnt Sienna, sap green, and a teeny bit of Vermilion. I'll be just using a bit of Vermilion over the bottom. Otherwise, it is just brown and sap green. I hope you all have these colors. I'm just worried about cobalt green, which is one of the major colors for this painting. If you don't have cobalt green, be sure to check out the color palette section. I'm sure you'll be able to create a beautiful version of cobalt green. Don't worry if you don't have an individual to. If you have any doubt to start a conversation of a discussion section, and I'll be happy to help. This one is cerulean blue, instead, you can use Prussian blue or cobalt blue. The next one I have here is neutral tint, instead, you can use paint gray or black. Then the third colors, cobalt green, brown, sap green, and Vermilion. It's time to explore our second destination. I have two jars of water here. One I'm going to keep aside. Whenever I'm in need of clean water, I'll be using that. The first place we traveled to was Japan and we painted this beautiful Mount Fuji surrounded by gorgeous autumn leaves. Now, our second destination is China. We're traveling to enjoy this beautiful scene of this freshwater lake surrounded by autumn foliage. This is a quick thumbnail sketch I created to understand about the color palette. Now let me apply masking tape onto the full sight of my second sheet. Then I will introduce you to the colors that we're going to use today. If you prefer having decal edges like this, you can skip adding a masking tape and go with the very organic component if that is what you prefer. When you're applying your masking tape, make sure to run your fingers or a ruler on top of it multiple times just to make sure that there's no gaps in between. If there are some gaps when you use wet on wet technique, the water can sip in through and create a very ugly border. In order to get a clean border, just make sure there's no gaps in between. I have applied the masking tape on all the four sides. We already had a look at the color palette for this particular painting. I'm going to quickly squeeze out the colors onto my palette. I have some leftover cerulean blue from our Mount Fuji. That would be enough, we just need a little for the sky. The second color is neutral tint. This is to add the shadow for the clouds and also to add the darker tones. Next one is cobalt green. Then you will need brown, sap green, and a bit of Vermilion. We have the colors ready. For this painting, we have mountains on either side, and that is a beautiful freshwater lake running between them. We need to add that pencil sketch before we begin. I'm adding a reference to make sure so that again, try and replicate the same shape for your mountain. I have added those mountains on one side. You can see the way I'm adding these lines. We'll try to make them look like a valley as we paint. Now let's add the other side. You'll find plenty of images of Kanas Lake with a different angle or a different view. If you want to change the mountains, maybe you can look at some images and try and go with a different profile for your mountain. I'm slightly tweaking the shape here and there. I'm not exactly following every bits and pieces. Those slight modifications are absolutely okay, but try to get that overall profile right. The pencil sketch is ready. We have added mountains on either side and we have a lake running in between them. We'll be focusing more on the mountains on either side, we'll add a lot of textures and different colors onto those. We'll just add a clean even wash of cobalt green onto the entire lake to get that freshwater feel. Let's start with the sky. For this one, we're going to add some clouds. It is not like the previous one. We'll try a wet on wet sky. The first step is to apply an even wash of water onto the entire sky. I'm using my one-and-a-half inch wash brush, and I'm gently applying a clean coat of water onto the entire sky. I'm not adding any water onto the mountain. I'm carefully running my brush along the outline of my mountain. Make sure water has reached everywhere. Keep running your brush multiple times just to make sure the papers is evenly wet. We'll be good with a medium tone of cerulean blue and we'll be dropping that wet paint on the wet background. While we're applying the paint, we'll be leaving some white gaps in between, which will eventually turn into your clouds. Let's give it a try. To paint the sky, I'm using my size number eight round brush. You can go with any of your medium-sized round brush. I'm starting off with a medium tone of cerulean blue, loading my brush with a medium tone. You can use Prussian blue or cobalt blue or any other blue of your choice. If you haven't tried a cloudy sky before, I will suggest you to give it a watch first, then give it a try. I'm adding that wet paint on the wet background. You can see I'm not applying that onto the entire sky, I'm leaving some shapes in between, which is going to be the clouds. Similarly, wherever you want clouds on your sky, leave some random shapes, which is the paper white, and apply blue on the rest of the area. At some places your color can be a bit darker and at some places it can be lighter so it will look more like a realistic sky. But there's no particular shape that you need to follow for your clouds. Simply leave some random shapes. You will have to do this before your background dries. My background is starting to dry. I will quickly add a little more on the top, and I will switch to a neutral tint and I will add the shadow for these clouds. Now, I'm going to wash out the paint. I'm cleaning my brush properly. Taking a bit of neutral tint, adding lots and lots of water to turn that into a lighter tone. Now onto these shapes I have left here, onto that bottom line, I'm just adding a bit of neutral tint. You can see the way I'm adding them. My background is starting to dry, so I'm going to do this quickly. It has to be really light tone. The one I added here was quite dark. It has to be in a similar shade. If your background has started to dry like mine, simply smudge that into the background. If your background is still wet, you don't need to put any extra effort in blending them. Apply blue, leaving some white gaps in between. Then onto that bottom part of our little shapes, add a lighter tone of gray or neutral tint or black. So over here my sky has completely dried, so I need to put a bit more effort in blending them. Over the top, you can see how nicely they have blended into the background. That is how your sky should be looking. Apply enough of water at the beginning and also do it quickly before your background dries up. That's the sky. I'm not really happy with it, but it's fine. I'm just going to accept it. The sky is done. Now let's wait for that to dry. The sky was looking far better in my thumbnail painting. But this happens, nothing is in your control. This is watercolor. This medium is so unpredictable. Sometimes when you're practicing, it turns out to be the best, and when you're really painting it, it would be a disaster. Let's forget about the sky and paint the rest. Meanwhile as the sky dries, maybe we can start with the water. After that, we can come back to the mountains. Clean your brush thoroughly and switch to cobalt green. Go with a really vibrant and fresh tone of cobalt green and apply that onto the entire water. Just fill that up. If you have cobalt, turquoise, or cobalt teal or light turquoise, I think those colors will also work. Go with any bluish green, which is kind of similar. If you go with any of the normal blues like Prussian blue or cerulean blue, you won't get that freshwater look. I applied a very Indian tone cobalt green over here. Now I'm going to wash out the paint from my brush, and I'm making the color slightly lighter towards the top as we are closer to the mountain in the furthest end. I'll just wash out the paint. I'm just taking clean water and I'm making the color lighter over here. Now using that lighter shade, I'm going to fill up the rest. Gently follow the outline of your mountain and fill that whole area. Next, I'm going to add some deeper tones along the bottom line of the mountain. I'm going with a bit of cerulean blue, mixing that with cobalt green. We want a really light tone. It shouldn't be too dark, otherwise it will be too prominent. We want a very subtle even and clean look for our water. Gently apply a bit of that blue along the bottom line of your mountain. Don't add a lot and don't go with a very intense tone, just a medium tone. That is the reason why I added a bit of cobalt green into this color. If I use cerulean blue as it is, it might look a little intense. Whichever the blue you're using, whether it's Prussian blue or any other blue, just adding a little of cobalt green and we get a little lighter. Now simply spread that into the background. I'll just wash off the paint from my brush. I'm dabbing my brush on a paper towel. Now, going back with a bit of cobalt green. Now I'm simply dragging those lines into the background. This is just to make these areas look very smooth and soft. I don't want those darker tones to be too prominent. That is the reason why I'm smudging this into the background. We just have some shadows and deeper tones underneath the mountain and they are not too strong. This is how your water should be looking. We'll just keep dragging those color into the background to make them look smooth. That's the water. You can see I haven't applied any darker tones anywhere else other than the bottom line of the mountain. This is how your water should be looking. It should be clean, soft, smooth and subtle. If you add a lot of shadows and deeper tones, you will lose that freshwater look of our lake. This lake and this color is the identity of our paintings, so focus a lot of over here, but don't add a lot of deeper tones and don't add a lot of shadows. The water has dried. Now, I'm going to start with this mountain here, these two little ones in the further end. We'll start with these. After that, we'll paint these two on the right. Then we'll go back to the left side, so by the time those two little mountains in the background would have dried. For the mountain, I'm going with a bluish tone, maybe something like indigo, but I'm not going to squeeze out any indigo. I'm just adding up a pinch of neutral tint to cerulean blue. We tried this in the color palette section, how we create indigo. I'm just using that technique here because I don't want to squeeze out any new color onto my palette. I'm just going to make use of these left over paint to have on my palette. I just added a pinch of just neutral tint to cerulean blue to create a color which is close to indigo. If you already have indigo on your palette or if you'd like to squeeze out a bit off indigo, that's totally up to you. You can readily use the indigo that you have got with you. You don't really need to mix and create a color. Now I'm going to apply this color I created onto these two little mountains. I'm just adding a plain even wash. Maybe I will just show you the color that I created. This is the shade that I'm using. It is so close to indigo. Now let me apply this color onto these two mountains. Again, see the color I'm using here. It's not too light it's a medium tone of indigo. Gently apply that sheet onto the entire mountain, following the outline we have already added there. This one is really far from us and that's the reason why I went in with a blue tone for this mountain. We'll be adding some snow onto the top at the end, we'll just use some white gouache and add some white tones on the top to make it look like a snowy mountain. Now we have two sets of mountain on the right and the left. We'll start with the right. Meanwhile, those blue mountains, will dry. Then we can continue with the left. I'm starting with a bit of blue, the thing indigo that I created. I'm applying that onto the top of this mountain here. We just need some blue tone from the top. The rest is going to be in brown and green. Now, I'm going with sap green. Adding that right next to that blue. Now switching to brown, I'm not washing my brush. You can simply keep on switching from one color to another and just add them how will you want to. There's no particular order or rules that you need to follow. We just need to get some blue and green tones on the mountain. Now I'm adding some more brown. Adding that along the outline of the mountain. I'm using a medium tone of these two colors. It's not that light. Now adding some more brown. Now switching to green. Adding that over here, some more green. Keep switching from one color to another. I'm using brown and sap green here. If you want to again introduce a bit of warmly as well. our intention is to bring in different tones of green and brown on the mountain. The order that you following doesn't really matter. If you want to add some green over the bottom or some brown on the top, that's totally up to you. Just keep adding them in any order that you want. If you would like to have more green in your mountain, that is also okay. In that case, you can reduce the amount of brown and add more green. Those things are totally your choice. Follow your mind. We are done with the base layer of these mountains. Next, I'm going to add some deeper tones, for that I'm using neutral tint and mixing that with brown to get a deeper tone. You can use burnt amber or again, just mix and create your own darker tone of brown. Now I'm just adding some random lines on the mountain using that darker tone. Also have lot of darker tone along the bottom line. Just add them as if they are sloping down. These mountains are still slightly wet. You can add them directly on that wet background. Don't add a lot of lines too close to each other and cover the background color. The major focus should be on those background color, the brown and green. Just a little of lines and also some along the bottom line of your mountain. You can see how pretty it is looking already. The brown and green combination has come out really great. Those darker tones made it even more beautiful. I'm going to add some more deeper tones along the bottom line of the mountain, I'm going to go back to that darker tone. I will add the lines in a way they are sloping down. Just drag those line towards the top in an inclined way. Adding some deeper tones just along that bottom line. Now it looks more pretty. Right now I'm going to very dark tone. It's not really a brownish tone, it's more of a blackish tone. I have added a lot of neutral into the same mix. I'm going with a really dark tone now doing the same over here. You can really see that contrast of that freshwater lake and the autumn mountain. The right side is done. We'll be adding some final touches on to this at the end. Now let's go with the left side. I'm going to bring these mountain as two different sections. I'm going to start with brown. I'm going with a very bright tone of brown. I'm adding that onto this entire mountain. For this mountain here, I'm going to focus more on brownish tones, for the ones in the foreground which are closer to the bottom line, I will introduce more off green, so follow that outline of your mountain and simply add a bright tone of brown. It can be either brown or Burnt Sienna. Add that along the outline. You can see I'm going with a really bright and intense tone of brown. Now I'm switching to neutral tint and adding that to our hill. Towards the top of the mountain, you have a really nice and bright tone of brown. Along the bottom we have some nice shadows and deeper tones. Now dab our brush on a paper towel and just blend them. It doesn't need to be a clean. Then just drag those darker tone towards the top and just get rid of that strong transition. The first step is pretty simple. We have applied a bright tone of brown onto the entire mountain. Along the bottom line, we apply some darker tones and we're smudging that into the background. Now I'm adding some darker tones on the top of the mountain as well, again in an inclined manner as if they are sloping down. The background is still wet. I have added these darker tones directly on the wet background. You can see those darker tones I apply. They're looking really soft and smooth. They are not looking too sharp. Now onto the same line, let's add a bit more deeper tone. This time, I'm going directly with neutral tint. That is it, I really love how this one has turned out. Slowly our painting starting to look like the reference image. Now let's paint the rest of the mountain. I'm going back with brown, mixing that with the lead law green to get an olive green color. Now I'm gently applying that onto the space here. Be a little careful the background mountain hasn't dried completely. Maybe you can wait and add these colors when the background mountain has completely dried. Be a little careful. See the color I'm using. I have added more green and less brown. I have got an olive green color here. Just like we did earlier, we'll be switching from green to brown and brown to green. There is no particular order for this one as well. Now I'm going to go with a bit of brown. Adding that right mix with the green, again in the sloping way. All the lines take them down. This way it will look like your mountain is not truly sloping down. Be sure to follow the outline of the mountain. I'm going back to brown, adding that over here. You can keep switching from brown to green and fill up the entire mountain. Just make sure you're not using green as it is. Just add a pinch of brown into it. If you use green as it is it will look really pleasant. We don't want that pleasant green in our painting. That is the reason why we are adding some brown to it. Now I'm adding some deeper tones along the outline of the mountain, just like we did earlier. Just add some deeper tones. Our mountain is still wet, so let's make use of that time. Adding our deeper tone right away. If your brush is too watery, just brush on a paper towel, then go back and add in those lines. Just make sure to add those lines as they are sloping. Just pull them towards the top or drag them down however you want to do. The idea is to make it look like there are some slope. Okay, back looks really nice. Now let's paint the rest. I'm going back with the brown. I'm allowed that to work here. Now I'm going to wash the paint from my brush and I'm going to introduce a bit tough Vermilion. This is just optional. I thought of introducing a bit of orange hill so that it will look a little more interesting. It isn't really necessary. Anyway, I'm just adding a little of orange hill. Now, I'm going to go back to sap green and fill up the rest. The painting looks already complete, but we can just add some more texture onto all these mountains here. I'm just going with a darker tone. As this background is still wet, I'm just dropping some dots and little buttons onto that wet background. They will nicely spread into the background, and create some texture over there. But this is really optional. If you're happy with your painting already, you can skip all these steps. If you're happy with that clean look of your mountain, you don't need to add any texture. I prefer adding some more texture, especially over the bottom, which is closer to us. Using the tip of my brush, I'm adding some darker tones. I'm using darker green and darker brown. I'm randomly dropping that onto this wet background. Don't add too many patterns and also make sure not to go with bigger patterns. We need some really small patterns. Maybe you can go with a lighter tone and drop in some tones over here. You can see I'm simply touching the tip of my brush on that wet background. I'm dropping some medium and darker tones of brown and green to bring in some textures. I'm really liking this texture, so I think I will add some more. Feel free to decide on what you feel is best for your painting. If you don't want to add a lot of textures, you can totally skip the step. These are some additional details which might add some more realistic character to your painting, but then it is absolutely optional. Now I'm using my clean brush, I'm dabbing that on a paper towel. I'm simply smudging all these patterns. I don't want them to look too strong and patchy. I'm just running my wet brush and I'm smudging them into each other. This will make them look less prominent. It will have a more blurry look, and that's exactly what I need. I don't want them to be too prominent. This part is done. Now I'm adding some more darker tones on that mountain right behind. Going back with the darker tone of brown. Adding some sloppy lines and also some darker tones along the bottom line. Just like how we did for the previous mountain. Either drag your brush towards the top or pull the lines down and add some sloppy lines using a darker tone. Again, don't add a lot. The major focus should be on the background colors. We just need some darker tones here and there to add in some realistic value. In between, you can add some dry brush lines as well. Just tap your brush on a paper towel and remove the excess amount of water and add some dry brush buttons. All these little things we're doing right now will add more texture on your mountain and it will make it look more realistic. I'm really happy with the painting right now. I think I will just stop it here. Otherwise, I may go overboard and spoil my beautiful painting. Enough of textures. I think there is enough and more. Next, we are going to go with the final round of details. For that, I'm going to use white gouache. You can either use white gouache or white watercolor. This one is a little jar of white gouache from White Nites. I will just need a pinch of white. It can be either gouache or watercolor. Both of them will work. We're going to add some snow on that blue mountain we have in the background. Go with your smaller size brush, I'm using my size number two brush here. I'm picking a little of white gouache. You will have to use any of your smaller size brush or any brush which has a pointed tip. Take out a bit of white gouache or watercolor, and we need to try wash out that white paint. Now, onto the top of these two mountains, just add some white. Again, you can see the lines I'm adding here, I'm making them as if they're sloping down. That's the first mountain. Similarly, I'm going to add few onto this mountain as well. I haven't added any water onto the paint. I'm using a dry white paint. I'm simply dragging my brush down and adding some white textures. For the previous painting, our Mount Fuji, leading in to the paper white to make it look snowy. For this one, we are adding white gouache to bring in the snowy look. Both of these are techniques that you can follow to paint snowy mountains. Now using the same white gouache, I'm adding few lines on other mountains as well. But I won't add a lot like the previous one, just few lines. This time I'm going with a little watery version of white gouache, I'm not using that intense white. Just adding few drops of water to your white gouache or watercolor and add some sloppy lines. Just make sure you're not adding a lot. Just three or four lines are all we need. That too, very thin and delicate lines, they shouldn't be too prominent. I will add another line over here. You can see, they are very subtle. Remember to add few drops of water to your white gouache. You don't want to use them in its intense form. Now in a similar way, I'm going to add some lines on the other mountain on the right side as well. Add them in a way as if they are sloping down. You can see they are very thin and delicate. Don't go with thick white lines. Now if you feel like those lines are really strong, just wash out the paint from your brush and run your wet brush on top of those lines. This will make them look less prominent. It will make them look more blurry. In case if the lines are looking really sharp and intense, just wash out the paint from your brush and gently run your wet brush on top of those lines. Now I'm going to add few more lines on the left side. That is it. You can see how soft and subtle they are looking. I didn't use an intense form of white. I've ended with a really light tone. Now, if you want, you can add some more texture over the bottom. This is just optional. You can go with a darker tone and add some dry brush patterns over here. I will quickly show you how you can do that. Just go with a darker tone of brown. Then dab your brush on a paper towel. Remove all the excess amount of water and the dub dry brush, just keep on scrubbing here and add some patterns, because this area is much more closer to us, and it would be great if we can add some texture. This is just optional. If you would like to add some patterns, it's totally up to you. You can go ahead and add some dry brush patterns over here. Otherwise, you can leave it as it is. The same mountains can be done with green. That will turn this entire painting into spring. If you check out other images of Kanas Lake, you will see that lush greenery and the color of the water slightly different. Just by tweaking the colors a bit, you can bring in a different season in this entire painting. That is it. Now I'm going to peel up the masking tape. You can see I'm removing it at an angle. Make sure you're painting has completely dried before you do this Here you go. Here is our second day of painting. I absolutely love the way this one has turned out, especially that freshwater lake. The colors are looking really fresh and great. I hope you all had a great time painting this beautiful scene with me. Give it a try if you're yet to try this, I would really love to see your project. At the beginning, I wasn't really happy with the sky, so I wasn't really sure whether this is going to turn out great or not. But other than the sky, I'm quite happy with this painting. I didn't change much. I just followed the template sketch. Thank you so much for joining me. I hope you guys are enjoying this art holiday. Also, if any of you are from China, we would love to know if you have been to this place and what is your real experience witnessing this beauty. If you have been here, do post your experience in the discussion section and also please share some images. We would love to see them. Thanks again for joining. I'll be back here soon. Get ready to explore the next destination. 11. Day 3 - Countryside, England: [MUSIC] Hello, welcome to Day 3. Today, I'm taking you all to a beautiful countryside in England. We'll be painting an all red barn surrounded by beautiful autumn foliage. Before we start, let's take a look at the colors. For the sky, I'll be using cerulean blue. We're not doing a lot of sky, just a little of blue is all we need. Any blue would really work. It can be Prussian blue or cobalt blue or any other blue that you've got. That's the color we'll be using for the sky. Now, the main colors you will need for this painting are some yellow, orange, red, and brown. These are the colors I'll be using. For yellow, I will be using Indian yellow, and then I will be using permanent yellow orange, vermilion, crimson, and brown. Along with this, I'll also be using a bit of neutral tint to turn the color into a darker tone. The yellow I'm using is Indian yellow. You can use gamboge yellow or yellow ocher. The next color you will need is permanent yellow orange. You already know how to create your own permanent yellow orange if you don't have one. If you missed it, please check the color palette section. The next color is vermilion, which is a very common color. Then we need crimson. We'll be using all these colors to create the fall foliage. These are the most important colors for this painting. You will need some yellow, orange, red, and brown. It doesn't need to be the same colors that I'm using here. The next color is brown. You can also use burnt sienna. Finally, to add the deeper tones, you will need either Payne's gray or neutral tint or black. The one I'm using here is neutral tint. You can go with Payne's gray or black, that's absolutely okay. Now, along with these colors, you will also need white gouache. We'll need to add some details onto the barn and also for the foliage. Along with these watercolor, you will also need a white gouache or white watercolor. Those are the colors you will need for today. I hope you all have these colors, so quickly go grab them. [MUSIC] Let's begin. I have my sketchbook here. We are on our third day, and today, we are traveling to a beautiful countryside in England. This is my thumbnail sketch. We already had a look at the color palette, so the colors you will need are more of warm colors for this painting, like yellow, orange, red, and brown. First, let me apply masking tape on all the four sides. I already have my clean palette and two jars of water here. I will quickly add the masking tape then I will squeeze out the colors. I have applied masking tape on all the four sides. Now let's squeeze out the colors. For the last two paintings we did, we played more with blue. We had lakes in both the paintings. So this one is going to be completely different from those two. The color palette and the whole vibe of the painting is entirely different. I think I will add the sketch first, then I will squeeze out the colors. As you could see here, the main focal element of this painting is that red barn over the middle. We'll be focusing more on that and we'll be adding more details and we'll leave the background a little blurry. I'm going to add the sketch. It's a very simple barn, so you can follow the pencils that I'm adding here or you can go with any other kind of barn if you prefer to go with a different shape. I'm starting off with a triangular shape. Now adding an inclined line over here, then adding another inclined line from that point. Now connecting these two points, so we have the roof. Now adding a straight line from here, another one from here. Now I will add a thickness for the roof over here. Then from that point, I will add another straight line. Easy, right? So that is your barn. This is the main sketch. We don't need to add those trees and all those plants and things in the background. Those things we can do while we paint. I'm just adding a line over here, which is the ground. All the remaining details we'll add while we paint. We'll have a tree on either side. Now let me add the windows and the doors. [MUSIC] We have the sketch ready. Now it's time to squeeze out the colors. For the sky, I will be using cerulean blue. We just need a little of blue only for the sky. The rest is all red and orange. You can go with any blue of your choice, it doesn't need to be cerulean blue. I already have a bit of leftover paint on my palette, so that's all we need. The next set of colors you will need is some yellow, orange, red, and brown. The yellow I'm using here is Indian yellow. You can use gamboge yellow as well, or you can use yellow ocher. Then you will need permanent yellow orange, vermilion, and brown. I already have shown you how you can create permanent yellow orange if you don't have one, so please look at the color palette section if you don't have a permanent yellow orange. I'm squeezing out the yellow. Next is permanent yellow orange, vermilion, and brown. Everything is ready. Now, I'm going to keep one jar of water aside. Whenever I'm in need of clean water, I'll be grabbing water from this. So it's time to start. The first step is to apply a coat of water onto the entire background, so I'm using my one-and-a-half inch wash brush. When you're applying the water onto the background, make sure not to add any water onto the barn, so be a little careful when you are closer to the barn. [NOISE] Now I'm grabbing some clean water and I'm applying that onto the entire background. Maybe you can use a smaller size brush when you're closer to the barn. Gently apply a coat of water [NOISE] onto the entire background. Turn your brush multiple times to make sure the coat of water is even. We just need a shiny coat of water. If there is a lot of water on your paper, the colors will start spreading into each other and it will be a bit difficult to control the way they are spreading, so make sure you just have a shiny coat of water. We don't need water to float around on the paper. If there is a lot of water, maybe you can wait for a minute so that the paper will absorb the water and it will leave the paper wet. Now I'm switching to my size number 8 round brush and I'm starting [NOISE] with cerulean blue, a medium tone. Now I'm just dropping this onto this left corner. I'm leaving some gap in-between so that this will look like there are some clouds on the sky. You can see the way I'm doing it. I'm not bringing them down, I'm just adding a little onto the left corner. That's it. That's our sky. Now, I'm going to wash out the paint from my brush and I'm going to switch to yellow. [NOISE] Make sure your brush is thoroughly cleaned because we are going with the yellow. If your brush is not clean, you will end up creating a green, so thoroughly wash your brush and apply yellow onto the left side. Be a little careful when you are closer to the blue. You can see the way I'm running my brush. I'm not making my yellow directly touch the blue. I'm very carefully adding yellow and leaving a tiny white gap so it will automatically look like there are some clouds and it wouldn't look odd. Now I'm adding yellow onto the right side. Again, I'm running my brush very carefully. Over here, it slightly touched the blue. It's okay, I will fix it later. If your background is too watery, you may not be able to apply the colors this way. It will start spreading into each other in a very vigorous manner and it will be very difficult to control the way they are spreading. That's the reason why I told you we don't need a lot of water on the paper, especially water shouldn't be floating around. So if you feel like there's a lot of water, maybe you can wait for a minute or two. Now, I'm going with permanent yellow orange and I'm just dropping that onto the yellow we have applied over here. The yellow is already wet and I am applying wet paint on that wet background, and you can see the way they are spreading. In a similar way, we'll be adding vermilion and brown onto this yellow background. We'll start with lighter tones and then we'll slowly progress to medium tones and then to darker tones. I'm using a lighter tone of permanent yellow orange here and I'm just randomly dropping that onto the yellow background. Now I'm going with vermilion. That's too bright. Adding some water. Now, again, adding some vermilion onto the yellow background. There is no order for this. You can add as much as you want. If you prefer more of yellow, you can limit the amount of orange and other colors you are using and keep more of yellow. That blue has almost dried. That's the reason why they're not spreading into each other. Now I'm just dropping in some more orange. You will just need to press the tip of your brush [NOISE] and create some random patterns. Don't worry about how they're looking at the moment, we're going to fix all of these. For now, without worrying too much, just drop in the colors however you want to. Towards the top, we'll be playing with more of lighter values, and as we come down over to the ground, we'll be adding more darker tones. For now, play with more of permanent yellow-orange and vermilion, go with a medium to lighter tone. Now, I'm going to go with brown, and I'm adding that over the bottom. My intention is to make the area closer to the barn look very dense and thick, and that is the reason why I'm adding more darker values here. Right now, I'm going with a medium tone of brown, but I'll be adding more and more darker values over here. Same goes to the other side as well. In between, you can leave some yellow and some orange, and make it as interesting as possible. The interesting part about this technique is that, we are making the background wet over in a wall. First, we apply the lighter tone of yellow onto the entire background, so the background was wet, and onto that, we started adding some orange. Then we went in with vermilion, and now we are using brown. We're going with different layers of paint and we're making the background wet for a longer time. You can see how I'm building those colors over the bottom. Now, I'm going with a bit more darker tone of brown. I'm adding that around the barn. You can really see the difference between the top and the bottom. Over the top we have more of lighter and medium tones, and over to the bottom closer to the ground, I'm going with more and more darker tones. This is just a medium tones, I'll be coming back with more and more darker values. Along with those using the same color, you can add some leaves on the top as well. Load your brush with a medium tone of vermilion or brown, and just press the tip of your brush on that wet yellow background. Don't go with a very watery paint, if you feel like your paint is still watery, you can just dab your brush on a paper towel. Because if the paint is too watery, you will end up getting big patterns, we don't need that big patterns. We want some smaller patterns. Use a paint which is not too watery and just keep on adding some teeny tiny patterns. Which is going to be the leaves. You can add as much as you want. I would recommend not to add much along the area closer to the sky. Leave that area as it is. We need that lighter tone over there. Other than that, you can add your leaves wherever you want to. Keep switching from medium tone to darker tone and adding those leafy patterns. This will bring in different tonal values in your background, and it will make it look more beautiful. Right now, I'm using a medium tone of vermilion and I'm gently touching the tip of my brush and I'm adding some leaves. I think we can go to a much more darker tone now. We have added enough of medium tones. For the next step, we will need a darker tone of brown. I have some leftover new tones into here. I'm just grabbing a bit of that and mixing that with brown to create a darker tone. You can use [inaudible] directly or just create your own darker brown by adding a little of Payne's gray or neutral tint or black into your brown. My intention here is to make the area around the barn more taco compared to the top. You can see, I'm going with a very dark tone of brown. I'll make it known darker. You just need to simply drop in those taco tones onto that wet background. Don't worry about how it is looking right now, I know it is looking a little bit messy. But that's okay, we'll be making it better. For now, simply dropping some taco tones around the barn. [MUSIC] You can see right now, I'm going with a much more intense tone. I added more nutrients into the same mix and I'm going with a very dark tone of brown. I'm gently dropping that around the barn. Again, clearly see the difference here over the top I have a lighter tone of yellow and orange. As we're coming towards the bottom around the barn, I have made the colors dark and intense. This is the base layer. Now, if you want to add more colors onto the same background, like if you want to add more taco tunes or if you want to add more orange, you could do that right now. I'm going to grab a little of Vermilion and I'm going to drop that over here, especially around the barn. I want to make this area a bit more intense. If you're already happy with your background and just leave them as it is, you don't need to have this. I just wanted to make this area a bit more intense than the top. That is the reason why I'm going with that second round. This isn't really necessary. Now, I'm going with some neutral tint and dropping that over here, fixing the shape. Now, this area is looking really intense, this is exactly what I needed. For the roof, we won't be adding a lot of colors, we'll just have two lines using a lighter tone of gray. We'll be retaining most of the paper white. If you have darker tones in the background, this would really elevate the beauty of that lighter shade, and that is a main reason why I added some darker tones at the end along that roof area. The background is done, now, let's wait for this to dry. You can see the roof here. I have just added some lines using a lighter tone of gray, and it is really starting out because we have those intense and taco tones in the background. We will be trying to do a similar thing on our painting. The background has completely dried, and here is how it is looking right now. The colors are looking a little dull, but that's okay, we'll be adding more taco tones on to this. Now it's time to paint the roof. For that, I'm going to switch to my smaller size brush. This one is a size number four brush. Now, as I said earlier, I'm going to go with a really light to enough neutral tint. You can either use Payne's gray, If you don't have Payne's gray, you can use black. Go with the really light tone and a lot of water and create a very light tone of gray. Now, just add some inclined line. That looks a bit too dark. I'm adding some more water, making it more lighter. That looks fine. Now, just add some inclined line which will be parallel to the line of your roof. I'm not really putting a lot of focus on making them equally spaced, I'm just trying to adding some lines. The only thing matters is, you should be going with a lighter tone and you're going to have a lot of lines. We need to see that paper white in between. Those are the things you need to keep in mind. Now, we will wait for this to dry. Meanwhile, we can paint the ground and by the time these lines dry, we can come back and fix the rest of things from the barn. I'm not adding any water, I'm directly adding the paint. I'm starting with Indian yellow. You can use any of the warm yellow you have got. It can be either gamboge yellow or yellow ocher. Now, go with a medium tone and just add that onto the entire ground, so that is the base layer. Now onto this, I'm going to drop in some medium and darker tones. First I'm starting with yellow orange. This one is permanently yellow orange, and I'm just adding some thick lines on that yellow background. Go with a medium tone and your background is already wet, so this will nicely blend into the background. You can add as many as you want, but make sure not to fill up that entire yellow shade in the background. At some places make the color more intense. You have different tonal values of yellow and orange on the ground. Now I'm going with Vermilion and again, adding some more lines. Right now we have three different shapes on the ground. Yellow, permanent yellow orange, and vermilion. Now I'm going to brown. Again adding some more lines. There are four different values on the ground, and this would make up our ground look more interesting. Focus more on the area closer to the barn. Over the bottom, the area close to the masking tape, you can leave as a lighter shade. It was just some random lines onto the anterior background, I applied Indian yellow. Then onto that I added some random lines using permanent orange, vermilion and brown. That's a ground. Now let's go back to the barn. I'm switching back to my size number four brush. I'm starting with Vermilion. We'll be adding some deeper tone into using crumbs on asphalt, so I'll just quit this onto my palette so that whenever I'm in need, I can just grab it. Just a little all we need. I'm switching back to Vermilion. I'm applying that on to this side. This particular wall here. I'm missing a really intense tone of Vermilion. Don't worry about those windows we'll be adding them later so you can cover them up. Follow the line of your roof and add Vermilion shade onto that wall. Now, onto the right side, I'm going to add a bit of permanent yellow orange to make that area little lighter. Just little over here. Now you can go back with Vermilion and add a bit of that over here. Now closer to the ground, I have left enough gap. Over there I'm applying crimson. I'm playing with different tonal values of orange and red to make it look like a really old barn. That's the reason why I am playing with different colors. I started off with Vermilion, then I added that at last permanent yellow, orange. Then along the bottom, I added crimson. Now I'm dabbing my brush on a paper towel and I'm just dragging the crimson into that orange background to give it a more drastic feel. I don't want them to have a clean blend or anything. It can be as messy as possible. Now, I'm going to paint the other wall. For that, I'm going to go with a bit more lighter tone of orange. I'm just mixing a little of permanent yellow orange and Vermilion together. If I use [inaudible] yellow orange as it is, it will be really light, and if I use Vermilion as it is, that would become too intense. That is a reason why I'm mixing these two colors to get the shade just in between these two. I'll go with an orange, which is not too intense, and not too light. You can apply that on to the entire wall. [MUSIC] Just because we played with different tonal values of orange, it is already looking so pretty. On the right, you have a dark and [inaudible] tone, and on the left you have more of a lighter tone. Now let's add more deeper tones and make it look more realistic. I'm going with a darker tone of brown. I'm using my same size number 4 brush. Now I'm adding that right underneath the roof. We will have some shadows over here. That's what we are adding right now. Go with a darker tone of brown and add some shadows over here. Now a little over here and also over here. Maybe a little over here as well. I would have loved darker tones along all the roof lines, just a little, don't add a lot. This is just to show those shadows. Again, just drag them into the background. It doesn't need to be perfect. As I said, it can be really messy. We are trying to get a really old and drastic look for this bond. It doesn't need to be perfect at all. This is where we have reached right now. You can see how gorgeous those colors are looking all together. Now it's time to add the trees. For that, I'm going with a really dark tone of brown. I'm mixing brown and neutral tint together to create a darker tone. You can either use bond number or you can just create your own version of darker brown. I'm adding a bit bulky and big tree, so I'm going to go with a bulky tree trunk. But if you want to go with a thinner tree trunk, you could do that. First, let me quickly add the tree trunk using that darker tone of brown. [MUSIC] I have added the base shape of my tree trunk. Now, onto this I'm going to add some darker tone. I'm adding some more neutral tint to the same mix. I'm making that brown more darker. Now at trunk's places, I'm just dropping that darker tone. This will make my tree look more realistic. First add the base shape using a medium tone of brown and go with one tone darker than that, adding some Payne's gray or neutral tint to the same mix. I'm just dropping that darker tone at random places. Now using that darker shade, adding some thin branches. For adding these thin branches, be sure to use a brush which has a pointed tip. Otherwise, they may look out of proportion, so go with a brush which has a pointed tip, you can use your detailing brush as well. Now add in as many branches as you want. When you're adding these branches, go with a very organic shape. Add some twists and turns and curves here and there to make it as realistic and natural as possible. That's my first tree. It's a bit bulky. Now onto the other side, I'm going to add a thin tree which isn't as bulky as this one. [MUSIC] I think I have added enough of branches on this tree. Now, I need to do the same thing on the other tree as well. It's a very simple step, but this is going to have a lot of impact on your tree. Don't skip this, go with the brush which has a pointed tip and add in enough of branches on both the trees. [MUSIC] I'm loving this painting already. Those colors are looking so gorgeous. We have used [inaudible] autumn colors for this painting. I'm drawing different from the other two paintings we did. I think I have added enough of branches. Now it's time to switch back to the barn. We're going to add the remaining details. This one is a wooden barn. The first step is to add those wooden slats, which means those divisions, those vertical lines you'll see on the barn. For that, I'm going to use my size number 2 round brush. I'm going with a medium tone of brown first. Our first step is to add some texture on the walls to make it look like wood. I'm going with a medium tone of brown and I'm tapping my brush on a paper towel. Now using that dry paint, I'm just adding some random lines and some random patterns. Be sure to use a lighter to medium tone. Don't use a darker tone. If it's too dark, it will be really prominent. We want a very subtle pattern in the background, so go with a medium to lighter tone of brown and add some random scribbles and lines on the walls. [MUSIC] That is it. That's the first step. Now we need to add those divisions. For that, we'll need to go with a much more darker tone of brown. Just like how we did earlier, you can either use bond number directly, or you can mix and create your own darker tone of brown. The same way I did earlier, I just added a bit of brown to neutral tint and I created my own version of darker tone of brown. Now first I'm starting with this roof line. I'm adding a line over here. That's done. Now with the same color, adding some darker tone right underneath the roof. Dragging them down and adding some dry brush buttons, just a bit. Don't add a lot. This is just to make it look like there are some shadows over here. Go with a color which is slightly darker than the color that you used earlier and add some darker tone underneath the roof. That's our next step. That looks too light. I'm going to add some more neutral tint to the same color and making it a bit more darker. Now again, adding some deeper tones over here. This looks perfect. [inaudible] It would really stand out, it wouldn't be too light. First we will add these deeper tones underneath the roofline. Then we will add those vertical divisions with the same color. You can see the color I'm going with. It's a slightly darker tone of brown. Plus you can fix all the outer lines. We have one more line over here. The basic shape of the barn is ready. Now using the same color, I'm adding those vertical divisions. The lines you're adding right now doesn't need to be clean straight perfect lines. It can be little irregular, messy, and a broken line. We don't want those lines to be really sharp and prominent. Don't take a lot of paint on your brush. If you take a lot of paint, you will end up getting thick and prominent lines. Just pick a little of paint and add some thin, delicate lines which can be a little irregular and dry. At some places, intentionally break the line. This will bring a really old and rustic look to your barn. Make sure not to add the more thick and bold lines. You can clearly see the way I'm adding them. I haven't taken much paint on my brush and I'm adding a really broken, dry, messy line. That is it. Now we can go with neutral tint. I didn't even do some of the tools. Over here we have a small window on the door. I will start with this one here. It's just a simple, thin, long rectangle. Use a really dark tone of neutral tint or Payne's gray or black. Just add that in. You can already see the impact of that little window. Our barn is looking so pretty. Now in a similar way, I'm going to add the other door and the window. [MUSIC] The doors and windows are in. Now using the same brush, using that same darker tone, I'm going to add some more branches. This time the branches I'm adding, I'm making them overlap at the barn to make them look more realistic. The brush I used earlier was a size number 4 brush. Right now, I'm using a size number 2 round brush, so I'll be obviously, getting more thinner and delicate branches. You can see the way I'm overlapping them with the barn. Under these, we'll be adding foliage. It will look more and more beautiful. You don't need to add a lot. Just overlap few of them onto the barn. Now we could do the same thing on the other side as well. These little branches and the foliage overlapping the barn is going to make a lot of difference, so don't skip this. [MUSIC] If you're not able to make these delicate branches using your brush, you can use your pen. It isn't a big deal, go with whatever you're more comfortable with. I often use a brush for those delicate details. I'm not ashamed of that. This is the pen I normally use. The very minute details which are really difficult to get using your brush, I just do them with my pen. I don't even take a turn, I just directly do them with my pen. Feel free to use your pen if needed. Now, we are moving ahead with the final detailing. First, I'm going to add a white outline for the doors and windows. I'm using a white gouache. You can either use white gouache or white watercolor or even a white gel pen. We just need to add a simple outline for this tiny window and also for the door next to that. The other one, we are leaving it as it is, we won't be adding any outline for that one. I'm picking a little of white gouache. I'm using my size number 2 round brush here. If you're using your brush and gouache or watercolor, be sure to go with a brush which has a pointed tip. These lines has to be really thin and delicate, it shouldn't be too bold. It is really important to go with a brush which has a pointed tip. That's the window. Now I'm going to add a similar thin outline for the door as well. Maybe we can add a division over here. Those are the doors and the windows. Now we're going to add the final fall foliage. I'm starting with vermilion. I'm going with a really intense tone of vermilion and I'm adding some foliage onto these branches we added at the end. Over here, we have a lighter tone in the background. These foliage will really stand out. You should be using a smaller sized brush and just keep on pressing the tip of your brush and add some dotted pattern close to each other, which will automatically look like the fall foliage. Wherever you have added those branches, you can add this foliage. For the branches along the roof, you can add these foliage using vermilion or a lighter tone of orange. It will be seen because we have a really light tone but if you add leaves over here using the same color, it won't be visible because we have a similar color in the background. We'll have to come back with a lighter or a darker tone to make them look visible. For now, we can just add few over here. It would make it look like they're overlapping those windows. Now using the same color, we can add some in the background. I will add a little more along the roof, then I will add some in the yellow background. Now these things are really optional and it is really according to your personal choice. If you want to add more, you could do that or if you want to add very little just over the bottom, that is also totally up to you. Just listen to your mind and decide on how much foliage you want in your painting. Right now, I'm adding some using vermilion. Now I will switch to permanent yellow orange. A bit in dense runoff, permanent yellow orange. Now I'm again adding some foliage on that yellow background. I wouldn't be adding a lot, I'll just add some random patterns. I'm just pressing the tip of my brush and I'm adding some leafy pattern. When you're adding these foliage, make sure not to go with a really dark and intense tone. Again, go with one tone darker than the color you had in the background. Go ahead and add in some random leafy patterns. [MUSIC] The right side is done. I mostly used permanent yellow orange. Now using the same color, I'm going to add some foliage on the left side as well. I'm going with a medium tone of permanent yellow orange. It is not too intense and not too light. Now I'm just pressing the tip of my brush and I'm creating these leafy pattern, especially under these branches. As I said earlier, this step is completely optional. If you're already happy with your background, and if you feel like you have already got some foliage over there, you can completely skip this step. Decide on what you want in your painting. Be your own critic and just go with what your mind is saying. I'm really happy with the way it has turned out, especially I have some brighter orange in the background, which I added in the first layer, which has came out really nice and I'm going to leave it here. Now onto these darker area we have over the bottom closer to the barn, I'm going to add some foliage using a lighter shade. You all know watercolor is not opaque. To make a watercolor opaque, we need to add a little of white gouache or white watercolor. I'm just doing that, I'm creating an opaque version of permanent yellow orange by adding a little off white gouache. I have made that mixture. Now I'm again adding those leafy pattern. First, I will start from here. We have a really dark and intense tone in the background, so this foliage is really standing out. The same way how we did earlier, keep on pressing the tip of your brush and adding these leafy pattern, especially on those darker area that this will be really visible. Now, to the same mix, I'm adding a little of vermilion to make it more orangish. It's an opaque version of orange and I'm again pressing tip of my brush. I'm making some foliage using that orange shade. Which will be the color that you want to go with, whether it's yellow or orange or crimson? Just add in a pinch of white gouache or white watercolor into that to turn that into opaque paint. Using that paint, simply keep on adding some dotted pattern and add in a fall foliage, especially onto the area where you have those darker tones. I have added some on the barn. We can see how pretty that is looking already. Now in a similar way, I'm going to add some around the barn as well where we have added those darker tone of brown. That's the next step. I'm using the same mixture I created earlier by adding some gouache into permanent yellow orange. Now let's add in some foliage around the barn. This tip is going to make a real difference in your painting. Keep switching from permanent yellow orange to a vermilion to yellowish tones and add in enough of foliage. At some places you can add them on top of the tree. This will make your painting look more interesting. You can see I have switched to vermilion right now and I'm adding some foliage using vermilion. I have different tonal values of orange and yellow in the background. This will bring in that real autumn look in your painting. Once we're done with this, we'll be doing the same on the other side as well. [MUSIC] You can clearly see how I'm switching from one color to our another. At some places I'm using a lighter tone and at some places I'm using an intense tone of orange and at some place I'm making it overlap with the tree and also with the barn. These are some little details which would make your painting look more interesting and realistic. That's the right side. I'm pretty happy with this side. We might add some more foliage using a really dark tone but for now, let's do the same thing on the other side. [MUSIC] I cannot tell you how much I'm loving this painting. Those foliage overlapping the barn and the tree has come out really nice. Now I'm adding some along the ground where those barn and the ground is meeting, just to make that junction more realistic. Simply keep on pressing the tip of your brush over here. We don't want a strong separation line over here. We want them to look as natural as possible and that is a reason why I'm adding these patterns over here. Now, we have one last thing left. I'm going back with a really dark tone of brown, just like how I did earlier. I'm just mixing some brown with neutral tones and I'm creating a very intense tone. Now I'm adding some more foliage in-between these ones we added here. These are going to make a lot of difference. Maybe you can just watch what I'm doing and then do that on your painting if you're happy with it. We don't need a lot, just a little in-between these patterns we added earlier. This will bring in a lot of impact as there is a lot of contrast between that dark and light. Just in-between those yellow and orange foliage we added, add in some darker tones. As the same way how we did earlier, you just need to keep on pressing the tip of your brush and add in some dotted pattern. Let's add a little on the ground and also on the other side. With that, we are done with the whole painting for day 3. I'm really, really happy with the way this mess turned out, especially the details around the bar. We made that area look really dense and thick. I was really happy with the colors I use for the thumbnail sketch. I was pretty sure this one is going to turn out really great and it did. Now let's peel off the masking tape. [MUSIC] Here you go. Here is the painting for day 3. I hope you all had a great time traveling to this beautiful countryside with me. Thanks a lot for joining me, give it a try, and get ready to explore your next destination. [MUSIC] 12. Day 4 - Muskoka, Canada : Hello. Welcome to day four. Today, we are traveling to a beautiful place called Muskoka in Canada. We are going to spend our day on this wooden deck enjoying the beauty of this gorgeous lake and the autumn trees. Muskoka is a place in Ontario, Canada, which has lot of scenic places. We're going to travel to this particular place here. This is the reference photograph I took. I just removed those chairs because that was a bit complicated. We're going to just paint the viewing deck and the surrounding autumn trees. Here's a quick painting I made. I tried my best to incorporate the real colors and I think I have succeeded a bit in that. Anyway, let's take a look at the colors. For the sky and the water, I'm going to use royal blue. For all these days, I was using cerulean blue. So today, I'm going to use royal blue. It's a bold and bright blue. If you don't have royal blue, you can use ultramarine blue, that is the closest color. If you don't have ultramarine blue, just go with Prussian blue or any other blue that you've got. The colors may look slightly different, but that's not going to affect your painting in any way. The next color you will need is sap green. I will be using sap green and vermilion for the mountain as for last for the reflection. These two are really common colors and I hope you all have it. That was sap green. The next one is vermilion. For this painting, we don't need a lot of colors. These are the three major colors you will need. Then the next color is neutral tint and brown. Those are the two colors we'll be using for the viewing deck. Instead of brown, you can use burnt sienna and instead of neutral tint you can use Payne's gray or black. Those are the five colors you will need for today's painting. Royal blue, sap green, vermilion, brown, and neutral tint. Let's start. First, I'm going to apply a masking tape on the four sides of my paper. We'll be painting a beautiful lake with the viewing deck and some fall trees surrounding it. Through this painting, you will learn several techniques. You will learn to paint reflections, then you will learn how to add wooden textures using watercolor and also how to paint a gorgeous colorful autumn mountain. I'm going to quickly fix my paper. I have added masking tape on all the four sides. I'm just running my fingers to make sure there's no gaps in between. The next step is to add the pencil sketch. We need to draw that viewing deck. This is the thumbnail sketch I created. To be honest, when I first attempted this painting, I didn't really get that proportion right, it was looking a bit odd. I think even in this thumbnail sketch, it hasn't come out properly. It is just some simple lines, but it is little tricky to get that perspective. I'm attaching the photo here. You can look at the image and adding your sketch accordingly. I think that will be more comfortable for you. Let's do this. The first step is to add a trapezoid. I have added a straight line. Now, another straight line parallel to that, which is a bit smaller. I have added inclined lines connecting those two. Now, leaving some space on either side, I'm adding another inclined line. I'm taking that to the masking tape. This one looks a bit odd. Let me change that. If you add a line at the center, there should be a mirror image. Just try to get a similar size and proportion on either side. Now from this point, I'm adding a small straight line. Now connecting that, again, doing the same thing on the other side. That's our viewing deck. I think it looks fine. Give it a try. Just take a look at the image I have added here. Or if you want to look for any other image and change the perspective in a different way, you could do that. Now, we need to add a mountain in the background. We have our viewing deck and a nice lake and a mountain in the background. First, I will add a horizon line a little above the viewing deck. It is just a straight line, some error work here. Now, I'm adding a mountain which is taller on the left side and shorter on the right side. I think I will reduce the height of the mountain a bit, otherwise I wouldn't be able to add any sky. I'm just reducing height a bit work here. Just a little. That is the pencil sketch. Now, let's start painting. For the sky and the water, I'm going to use royal blue. For the other paintings, I use cerulean blue. For this one, I'm using royal blue. You can use ultramarine blue instead of royal blue. We want a really bold and bright blue. Ultramarine blue is more or less close to royal blue, so you can use that. Or if you want to use Prussian blue or any other blue that is also up to you. I'm going to add a bit of water and I'm making the color lighter. I'm directly applying that onto the sky. I'm adding that onto the right side. That is too light. Picking some more paint. That looks nice. You all know when watercolor dries, it will tend to fade a little. It will be one tone lighter than when it was wet. Keep that in mind when you're applying the paint on the sky. The sky will dry a little lighter than the color you see here. I just applied a medium tone of blue onto the right corner. Then I simply used water and I made the color lighter. Over the bottom there I have the mountain. I made the color really light. That's the sky. It is pretty simple. I haven't added any clouds or I haven't used any other complicated technique for this. To paint the mountain, we'll have to wait for the sky to dry. Meanwhile, we can start with the water and we can paint the mountain at the end. I'm just making sure there's no caps in between my masking tape, because we'll be applying multiple layers of paint on the water. To get that clean border, it is really important to have your masking tape fixed properly. Just check if it's fixed properly. Now, there is a quick trick that I'm going to do here. I'm going to mask our viewing deck using masking tape. You can either use a masking tape or your masking fluid. As it is a clean shape, you can easily do this with your masking tape. Just follow the shape and apply your masking tape. That's the first side. In a similar way, I'm going to apply on the other side as well. Follow the shape, apply your masking tape, and tear it off. This viewing deck is quite big, so if you are using masking fluid, you will need quite a lot of it. Personally, I am not a fan of masking fluid. I have used masking tape only for some special techniques where nothing else would work. Otherwise, I just use masking tape like this. To make my life easier, I'm just tracing that shape on my masking tape. Once you have added the shape, gently remove it and cut it according to shape you have added and put it back. I have removed that piece. Now, I'm going to grab my scissors and I'm going to cut this shape and I will just apply it back. Wonderful. We have successfully mast out that viewing deck. Now we can easily apply paint on the water. We don't need to worry about adding any paint onto the viewing deck. We can go in a little careless I know. Let's start painting the lake. For the lake, I'm going to go with the wet on wet technique. I'm going to apply a coat of water using my size number eight tone brush, apply a coat of clean water. You can leave the bottom-most area as it is, you don't need to apply water over there. Because we'll be going with a very intense tone of blue over here, on to these two corners on either side. We'll be making the color lighter as we are approaching the horizon line. It is better not to apply water over here. If you add water, it will reduce the intensity of the color. Let's leave the bottom-most area dry and apply a very intense tone of blue over here. Now I have washed out the paint from my brush. Now I'm making the color lighter. As I go towards the top, you can see those different tonal values of blue here. Over the bottom, we have a really intense tone and I'm using the same royal blue. I used a very intense tone. Now adding some deeper tones right underneath the deck. This is how you should be adding your base layer. Just in case if you want to make the color more intense, you could do that right now as your background is still wet, and the color you are applying will nicely blend into the background. Make use of the time. I have applied a little more intense tone of blue around the viewing deck. Now, I have washed all the paint from my brush and I'm dragging those lines to make it look clean. You can see here I haven't applied any paint on the top, that area as left as white. We started off by applying a coat of water on the lake and we applied some intense tone of blue on the bottom corners. As we moved towards the top, we made the color lighter. As we have applied this masking tape, I'm not really very sure about applying the paint. Otherwise, you'll have to be really careful while you're doing this. I hope it was easy. Now let's wait for this to dry. The background has dried and you can see the colors have faded a bit compared to what it was earlier. You cannot help it. This is a common thing with watercolors, the colors will look super bright and pretty when it is wet and when it dries, it will tend to fade one, two down. Anyway, let's add the reflection. I have squeezed out some sap green. Now the next color I will need is vermilion. These are the two colors I'm going to use for the mountain and also for the reflection. First, we will be adding the reflection, and then we will paint the mountain. I have taken out the colors sap green and vermilion. I'm starting off with sap green, going with a medium tone. I haven't made the background wet, so I just have some white space on the top, closer to the horizon line and we have some blue shade over the bottom. Now, I'm going to directly apply this wet paint onto this dry background. I think you guys should just stop painting and give it a watch, and then go back to your painting and do the same. I'm using my round brush here, and I'm just adding some green. I'm just dragging my brush down from the horizon line and I'm adding some random shapes using sap green. You can see here, I'm not adding it continuously. I'm leaving some gap in-between. There is a level of cap here. I think the paint got sipped and through. Never mind, we'll fix that later. As you could see here, I'm leaving some gap in between. Also, some shapes are quite big and some of them are quite small. I'm just going with different shapes and sizes. Now, I'm going to wash the paint from my brush. I'm switching to vermilion, again going with a medium tone. Now I'm dropping that into the in-between spaces we have here. Just add that tone right next to the sap green. They will automatically start blending into each other as for the paint is wet. At this point of time, your painting might look a bit messy, but that's absolutely okay. Trust the process and keep adding the paint. I miss to mention something, we already have added the sketch of the mountain and you can see on the left side, we made it taller and onto the right, we made it lower. You will have to follow this while you're adding your reflection. No matter whether you're applying green or orange, on the left side, you can bring the colors a little more lower, and on the right side make it short. This is the first step, just keep on switching from vermilion to sap green and add however you want to. Onto the left side, you can bring them a bit lower and onto the right keep them short because that is the shape of our mountain. I have added vermilion and sap green. Now I'm going to just clean that horizon line. It is looking a little messy, so I'm just cleaning that. That's done. Now, I'm going to switch to my smaller size brush for the next step. For the first step, we went in with a medium tone of sap green and vermilion. Now for the next step, we're going to go with a much more lighter tone and I'm missing my sizable forearm brush for that. I'm adding some more water and making the green lighter. Now I'm just adding just some random lines that I stop these colors. It is really important to use a lighter tone don't go with a dark and a bright tone. Now I'm switching to a lighter tone of vermilion and I'm again adding some lines. You can clearly see the way am adding it. I'm simply adding some random lines using a lighter tone of sap green and vermilion. There is no particular order or rule or shape for this. We have added some shapes earlier using vermilion and sap green. Right underneath that, along the bottom of that shape, we just need to simply keep on adding some zigzag lines. You can see how instantly between that messy reflection into a realistic reflection. That is the trick here. Along that bottom shape, you just need to add some lines. At some places, you can bring them down and make it more natural. At some places, you can go with a wider line, and at some places, you can make it shorter. Go to composition, the only thing you need to keep in mind is that you should be going with a lighter tone. Now onto this, I'm going to add some trees using a darker tone of green. I'm just picking some blue and mixing that with sap green to create a darker tone. I'm still using my size Number 4 tone brush. I got a nice dark green there. The sap green and vermilion we have here are still slightly wet so we can make use of the time. You need to simply drag your brush down from the horizon line and make some abstract shape of pine trees. It doesn't need to be perfect. Don't do it continuously, leave some gap in between and very light. We want that background shapes to be visible. At some random spots, add in some pine trees. This little addition will make your reflection look more pretty. At some places, you can drag the line a bit more down. It will look like you have a taller tree there, and at some places, you can go with a shorter line. It'll automatically look like that shorter tree. I know that's pure common sense, but as an instructor, I should be explaining everything. We have added enough of trees. I'm just going to stop it here, otherwise, I may go overboard. I always have the habit of going overboard and spoiling the details which were looking decent. I was all prepared to leave here, but I thought I would add a little more vermilion on the left side. I'm going to go back and I'm picking some vermilion. I'm going to add some more lines using vermilion over here. I just felt like there is some vermilion missing here but this is optional. If you are already happy with your reflection just don't do it because I'm not quite sure how this is going to end up. Maybe you can check out my end result and decide on whether you want to do it or not. It isn't that bad. Maybe we have allowed a bit on the other side as well. See, this is what I told you earlier. I always have the habit of going overboard with the details. It was looking quite decent earlier. It isn't bad now, but I don't know. Maybe I think the previous one was better before I added the vermilion. Anyway, I'm going to take a turn and I'm going to add some more vermilion on the other side as well. With that, I'm going to stop it here, I promise. I hope you all got the idea. Onto the dry background, we simply applied vermilion and sap green. We switched from one color to another and we added some random shapes. We didn't really follow shape of a tree. We simply applied vermilion and sap green right next to each other. Then onto the bottom shape, we added some lines and we've made the reflection look better. Then we added some trees. I really hope you guys were able to follow. Now it's time to paint the mountain. We'll start with the base layer. I'm using my size number four long brush, and I'm starting off with sap green. I'm going with a medium tone, and I'm applying that closer to the horizon line. Those reflections might not have dried, so be a bit careful while you're adding paint along the horizon line, be very gentle. To make it look more pretty, I'm leaving a teeny-tiny gap at some places. It's a microscopic gap. Maybe like a one mm. I have added sap green now I'm switching to vermilion. I'm adding that right next to sap green. At the places where these two colors are meeting, you will get a coleus green. Now I'm switching back to sap green and adding that. I'm not really following the order of colors I have in the reflection. I'm just switching from sap green to vermilion and I'm adding them next to each other but in case if you have used lots of vermilion or sap green at a particular place, please be sure to follow that in your mountain as well. Over here, I haven't really followed any particular pattern but I think onto the left side, I may have to concentrate more on vermilion than sap green because I have used a lot of vermilion over here and also this side is quite visible than the right side over there, our mountain is quite short and the details are not so visible, but it is not like that. On this side, we can clearly see the reflection and the colors. I'm adding lots of vermilion. Now, I'm switching to sap green and dropping a bit of that on the vermilion. I'm not sure if you guys have noticed, just look at the outer shape of my mountain. I haven't gone with a clear line. I have made some little bumps here and there to make my mountain look more realistic. So going in a similar way, don't make the shape very clean and curly, make it a bit bumpy and messy. This will automatically add a lot of beauty to your mountain. Now, I'm creating some dark green just by adding some royal green to sap green and I'm adding those trees in and directly adding them on the wet background. You can see the way it is spreading. I'm just dragging my brush towards the top and adding an abstract shape of a pine tree. Now we have few more left. If your background is too wet you can wait for a minute, so that the color you're applying won't spread too much. In case if your background has dried, that's absolutely okay, you can still add in your trees. It won't have an abstract shape, it will have a more definite shape, that's the only difference, but you can still add them. I'm really happy with the way how the left side has turned out, but I'm quite sad with the way how the right side has turned. I'm going to give a makeover for those trees on the right side. I'm going to take them a bit more towards the top, maybe a little into the sky. I'm giving an abstract shape of a pine tree. That looks better. I'm going to do the same onto the other tree here, taking it a little into the sky, adding some messy lines, and making it look like a pine tree. I think the rest of them are looking quite okay. I don't want to put too much effort on them, let them be as it is. I just added some darker tones in between, and here's how it is looking right now. Now we'll have to wait for this to dry completely, and after everything has dried, we are going to peel off the masking tape, which is going to be the most exciting part. But I'm very sure there is some paint seeped in through, which I can already see here, but there's a trick, we can fix that. I'm glad the bottom part is looking okay, we have got clean lines there, only the top is a bit messy, but that's okay. Now I'm going to squeeze out a bit of neutral tint and brown. These are the two colors we're going to use for the viewing deck. Instead of neutral tint, you can also use Payne's gray or a bit of black, and [inaudible] brown, you can use burnt sienna. We just need a pinch of these two colors. We don't need a lot. We're going to go with a very light shade. I'm mixing neutral tint and brown. I want a color which is more or less like grayish brown or an ash brown. I don't know if there is a color in that name, I just made it up. But I think you guys got the idea. In your mix, add more neutral tint or Payne's gray and then brown. We just need a bit of brown. This is how the color is going to look like. Adding more Payne's gray, or neutral tint, or black, and very little brown. You will get a color similar to this. Now I apply that onto the entire viewing deck. Now along the top we have that area where the color got merged into. Over there I'm going to make the color a bit more opaque, so that we can cover that up. I'm picking on a white gouache, and I'm mixing that with the same color we created. l have done the same color into an opaque version, and now I'm applying that over here. You can see here how easily I fix that mistake. What I did was I simply added a bit of white gouache into the same color I created earlier, and I turned that paint into an opaque version. Now I'm using that opaque version of the same color on these areas where I had made some mistake. That is the base layer. This is still wet. Now onto this wet background we're going to add in some darker tones. To add the darker tones we're going to use the same color, but we won't be diluting it too much. Once you have applied paint onto that entire shape, just wash out the paint from your brush, and let's go with the darker tone. I'm creating a bit darker tone of the same color we created earlier adding brown and neutral tint. Now I'm just randomly dropping in some darker tones onto those wet background. We are trying to bring that wooden texture here, and that is the reason why we are adding all these darker shades, to make it more realistic. Just randomly drop in some darker tones onto that wet background. It can be messy. It doesn't need to be perfect. This is going to be your base layer. Now we'll have to wait for this to dry to add in the remaining details. I'm just pressing the tip of my brush and adding some more patterns on the top. Now let's wait for this to dry. Everything has completely dried, so this is how it is looking right now. You can see that messy patterns here. We'll be adding the remaining details onto this layer using our smaller size brush. I'm going to switch to my size number two round brush. There are two more different layers we'll need to add on to this base layer. First I'm going with a medium tone up the same color we created earlier, and I'm going to add in some random patterns onto this background. Just make sure your background has completely dried. First I will add this line here. This is just to define that top and the bottom. On the top, that trapezoid piece, you will have to add vertical lines, and over the bottom we'll be adding some horizontal line. That is a reason why I added that line first. We have separated both those sections. Now we're going to add some random lines and shapes onto this space here. It is really random, there is no particular shape, or size, or pattern for this. It can be curly, it can be straight, it can be anything that you want to add. There are two things you need to keep in mind, this shouldn't be too bright and this shouldn't be too bold as well. Go with a medium tone, and go with the brush which has a pointed tip, and add some similar pattern. You can see the way I'm adding them, they are really messy. They are absolutely random. Again, go with the combination of swirly lines, curly lines, straight lines, some bits and pieces, anything that you want to add. Our intention is to bring in that real texture of the wood, and that is the reason why we're going with multiple layers. Over here I'm going to add some swirly ovals, and with that this piece will be done. Now we'll have to do the same onto the top piece. Just don't worry, add any kind of patterns you want using a medium tone of brown, and you should be using a smaller size brush. That is the only two things we need to keep in mind. We'll be adding more details onto this. We'll be adding some horizontal lines at a similar interval. All these will bring that real feel of wood. We are done with the bottom piece. Now I'm going to add similar patterns on the top, but over here I'm adding my lines in a different direction, because over here the planks are arranged vertically, but on the bottom the planks are arranged horizontally. We'll have to follow that order. You can already feel that texture of wood here. Now once we add the wooden planks, it's going to look much more beautiful. That's done. Now I'm going to go with a darker tone of the same color. I don't have any brown left there, so I'm just picking a little of vermilion, and mixing that with neutral tint to create a really dark tone of brown. Now using this color we're going to add the wood and planks. I don't know if you guys are familiar with the word wooden plank. If you have seen wooden decking or wooden flooring, you might have noticed that vertical or horizontal divisions. Those flooring or decking are made by placing multiple pieces of wooden planks close to each other. Basically wooden plank is a long, flat piece of wood, and according to area of the size you want to cover up you will have to use multiple planks. You can either arrange them horizontally or vertically. That is the basic idea. I don't know if you guys know, I'm an architect, so we use these terms in our architecture practice. But it isn't necessary that everyone should know such terms. That's the reason why I just give you a small intro. Now we are adding the wooden planks. I'm just adding a straight line at a regular spacing. The major thing you need to keep in mind is that you should be using a brush which has a pointed tip. These lines should be very thin and delicate. It shouldn't be bold. If you add thick lines, everything will just go out of proportion. Just keep that in mind. Now keep on adding straight lines, parallel to the previous one, until you reach the bottom masking tape. Also these doesn't need to be straight, perfect lines, it can be a little messy, and it can be broken as well. Those things are absolutely okay. Just try and add these lines at a similar interval. Just go ahead and add in these straight lines until you reach the masking tape. You can see how we have got that real wooden texture here. This is just because we went in with multiple layers. First, we added an even gouache of that grayish-brown onto the entire background. Then we added some darker tones on to that. After that, we added some swirly curvy lines. Now we're adding the wooden planks. All of these made that wooden texture elevate quite a lot. Now in a similar way, we will need to add some lines on the top base as well. But for that, we will be adding the lines in a vertical manner not in a horizontal manner. You need to follow the shape of that trapezoid when you're adding these lines on that top piece, on either side you can add inclined line parallel to the lines of the trapezoid. As you come towards the center, it has to turn into a straight line. That is the way how we should be adding on that trapezoid piece. I will quickly run on my brush on top of these lines, and make them up the more prominent, some of the lines are badly visible. I'm just following the same line, and making it a bit more bold. I think now it is looking much better. I hope you guys are enjoying it so far. I'm really loving the way we created the wooden texture. It is going so well with that blue lake, also the colors in the background. I'm quite happy with the way this is turning out. This part is done. Now, I'm going to go with that top piece. The most time-consuming task about this painting is this wooden deck. Compared to reflection, it is quite easy, but it is time-consuming as we have to go in with multiple rounds of details. But this is the major element in our painting, so you need to put a bit of effort here. There is no way you can skip this. If you want to take some break in between, that's absolutely okay. Come back with a relaxed and refreshed mind, and start again. But don't rush to finish your painting. I'm starting off with this trapezoid. Over here, I'm adding some lines parallel to the line here. As I'm approaching the center, I will just change the angle, and make it slightly straight. I have added those lines on either side which is parallel to the shape of the trapezoid. Now I'm adding the lines of the center. I'm changing the angle a bit, I'm making it slightly straight. Make sure to go with thin and delicate lines. Don't make them too bold. We don't want these lines to be too prominent. We have added the wooden planks. Now, I'm going to squeeze out a bit more neutral tint. We're going to add the finer details of our painting. Just a tiny bit of neutral tint, or Payne's gray or black. Now apply that onto these pieces here. You have a similar piece on either side. Simply fill that rectangle. This is the thickness of your wooden deck. I'm not putting a lot of effort here, I'm simply applying a solid color. You could do the same. You can see that instant difference that darker tone made, it is looking so gorgeous. But right now it is looking as if it is floating in the air, we need to add some reflection over here to make it look more realistic. That's the next task. To add a reflection, I'm going to go with a lighter tone of the same color. I'm adding some more vermilion into this, and some water as well to make the color lighter. Because I don't have any brown leftover here, and I don't want to squeeze out any new paint for a tiny task. I'm just using that leftover vermilion, and I have here. Now using this medium tone of dark brown, I have just created, I add the reflection. Just like how we added the reflection of those trees, it's going to be some simple lines. We don't need a lot. Just add a few lines right underneath the wooden deck. You can make some of them wider, and some of them shorter. There is no particular shape or order for this. Just add multiple lines close to each other, leaving a tiny gap. We need to see that background blue shade in between those lines. These are the ripples. To make it look more natural, mix some of the lines more wider, and some of them more shorter. That is it. We are done with the reflection. There is one task left. For that, I'm going to switch to my white gouache, and I'm picking a tiny bit of white gouache. Now, I'm putting back that white line which I couldn't leave earlier because the colors floated into each other, and it all became one layer. I'm just adding a broken line over here using white gouache. You can also use your white gel pen. It doesn't need to be a continuous line. I do a line in a broken manner. It has to be really thin. It shouldn't be too bold. That is it, my dear friends. We are done with the our painting for day four. Now, I'm going to quickly peel off the masking tape. I'm really happy with the way this one has turned out, especially that color palette. It is looking so fresh and vibrant. I'm loving that combination of bright blue and the wooden deck. Hope you guys enjoyed today's destination. Thanks a lot for joining me. I'll be back soon with our next destination. 13. Day 5 - Pictured Rocks Michigan, US: [MUSIC] Hello, welcome to Day 5. We are in Michigan today. Here's the gorgeous place we are traveling to. It is called Pictured Rocks. It is in Michigan. It is one of the most gorgeous places in the world to witness fall foliage. I think the picture just explains that. Tourist destination is my most favorite from the entire series. Let me take you through the colors you would need for today. It's a beautiful color palette. Each of the colors we're using for this painting is complementing each other. For the sky, I'm going to use cerulean blue. I'll be using a bit of cerulean blue for the water as well, just to add some reflection and some deeper tones. But if you don't have cerulean blue, that's absolutely okay. Just go with Prussian blue or any other blue that you've got. The next color I'm going to swatch out this cobalt green, which is one of the most important color for this painting. It's a pastel color and I'll be using this color quite a lot in our paintings. We have used certain runoff for our other painting already. If you don't have this color, you can check out the color palette section. I'm teaching you how we can create a similar color if you don't have cobalt green. Next, we'll take a look at the colors you will need for those rocks. The base color you see here is yellow ocher. This one here is the yellow ocher. Now to add in those textures and deeper tones, you will need brown or burnt sienna. Then you will need neutral tint or Payne's Gray to add deeper tones. The first one here is brown. You can also use burnt sienna. Now for this foliage, we'll be using permanent yellow orange. That is the main color you will see here. We'll be applying that color on the entire background. Then we'll keep on adding different colors onto that background to bring in more texture. That's permanent yellow orange there. Again, if you don't have permanent yellow orange, you can look at the color palette section. It is really easy to make permanent yellow orange, so don't worry if you don't have it. The next color is vermilion. We'll be using this color to add in more texture on the autumn foliage. The next color, as you could see here, is sap green. Basically we'll be using four colors for the foliage. Permanent yellow orange, vermilion, sap green, and brown. Now the last color you will need is Payne's gray or neutral tint. We'll be using this color mainly to create a darker tone of other colors like green and brown. We'll be mixing a little of neutral tint to sap green and brown to create a darker version of those too colors. Those are the colors you will need for today's painting. Quickly go grab all the colors and let's start with our painting right away. [MUSIC] Today we are on day 5, which means we are already halfway through our holiday already and we have been to four beautiful destination. We are going to explore our next destination today and it is one of my most favorite from the whole series. Today we are virtually traveling to this gorgeous place in Michigan. This place is called Pictured Rocks and it obviously got its by by those beautiful rock formations. This is where we're going to try today. First, let me quickly add the masking tape. [MUSIC] I have added masking tape on all the four sides. Now we need to add the pencil sketch of this rock. It is quite easy. It is just a very basic form. It isn't that complicated. I'm attaching a photo here. You can try to replicate that. I'll tell you an easy way. You just need to add two messy rectangles, which has an irregular border. I'm going to start with the first one. This one is going to be slightly longer and shorter than the one we are going to add on the left side. That's our first rectangle. You can add an opening over here, then continue with the line. That's your first rectangle. Now I'm going to add the second one, which is going to be slightly bigger than this one. It's a natural rock formation, so it wouldn't have a straight line. That's one thing you need to keep in mind when you're adding the sketch. Go with an irregular shape for your rectangle. The first one has to be bigger and the second one has to be slightly smaller than the first one. Add an arched opening towards the end of that second rock. That is your pencil sketch. You can either follow the image I have attached here or you can look for a different photograph. Now, I'm going to squeeze out the colors. I'm starting with cerulean blue. This is the color I'll be using for the sky. It's a very simple sky. We'll be just applying our medium tone of cerulean blue on the top. As we come down, we'll make the color lighter. The next color you will need is cobalt green. As I mentioned at the beginning, this is going to be one of the most important color you will need for this painting to create that gorgeous blue lake. If you don't have cobalt green, just look at the color palette section. I'm explaining how you can create your own cobalt green if you don't have one. That's the second color. The next colors you will need are yellow ocher, burnt sienna or brown, and neutral tint or Payne's Gray. These are the colors we'll be using for that rocks. Along with these to add the autumn foliage, you will also need sap green and permanent yellow orange. I'm going to quickly squeeze out these colors onto my palette. If you don't have permanent yellow orange, you can use any other yellowish orange or you can just use vermilion. Those are the colors you will need. That's yellow ocher, brown, and neutral tint. These are the three colors I'll be using for that rock. Next is permanent yellow orange and sap green. We have the colors ready. I'm starting off with the sky. For the sky, as I mentioned earlier, I'm going to use cerulean blue. First, I'm going to apply a coat of water onto the entire sky. I'm using my half-inch flat brush and I'm just applying some water on the sky. Looks like there is some blue tint on my brush, never mind. We are going to apply blue on the sky, so that doesn't really matter. But if it was some yellow or any other color, it would have really messed my sky. Now I'm going to go with cerulean blue and I'm just adding a medium tone of that on the right corner. As I come down, I'm going to make the color lighter. I won't be adding any darker tone closer to the rocks. I'm washing off the paint from my brush and I'm making the color lighter. Usually, when the foreground have lot of details and when it's too busy, I go with a very simple sky. If the painting is quite simple, if there is not much foreground details, I go with the dramatic sky. For this one, I'm going to go with a very simple sky. You can see on the top we have medium tone. Over the bottom, we have a lighter tone. It's a very simple gradient wash of cerulean blue. If you would like to go with the dramatic sky, if you want to add some clouds or some other color, you could do that. That's my sky. Now I'm going to wait for this to dry. If you want to speed up the drying process, you can use a blow dryer or a heat tool or you can just take a walk and come back once your painting has dried completely. [MUSIC] The sky has dried completely. Next, we're going to paint those rocks. For that, I'm switching to my round brush. I'm using my size number eight round brush and I'm applying a light tone of yellow ocher onto the entire mountain. This is the brush I'm going to use. That's size number 8. It is from Silver Black Velvet brush. You can use any of your medium-sized round brush. Go with the lighter to medium tone of yellow ocher. Shouldn't be too bright. You can see the color I'm using here is quite light. Now, apply that onto the entire rock. This is the base layer. We'll be adding a lot of texture onto this to make it look more realistic. [MUSIC] I have applied a little ocher onto the entire rock. Now I'm going to pick a little of brown. Again, a very light one. I'm dropping that onto random places. You can see the way I'm adding it. I'm designing some random lines and some random shape. Now I'll add a little onto this opening area. Basically, I'm simply dropping in some darker tones of brown onto this yellow background. This is to bring in more texture on the rock. It doesn't have any particular shape or any particular order. It can be really random. Now I'm going to go with a darker brown. I'm just adding a little of neutrals into brown. But the tonal value is still light. I'm not using a darker tone. Now, I'm again dropping that onto this rock. At this point, your rocks may look a bit messy, but that's absolutely okay. Don't worry about that. Alternate especially onto the bottom area and also onto those junctions and the area where you feel like there will be lot of shadows. All there add in some darker tones. It can be any shape. At some places, I'm adding some thick lines, and at some places, I'm adding some random shapes. But you can see I'm not using a very dark tone, the colors I'm using here are really light. Starting from the background I use really light one of all the colors. This is our base layer. Now we have to wait for this to dry before we add the final details. Our next step is to add some dry brush patterns onto this rock to bring in those textures. Make sure your background has completely dried before you go with the next tip. I took a walk and I came back and everything has completely dried. You can see it is looking really messy, but that's absolutely okay. Now I'm switching to my smaller-sized round brush, this one is size number 4, and I have a paper towel next to me. You can see those textures I have added here to make it look like a real rock. That is all we're going to do right now. I'm going with a darker tone of brown, and I'm tapping my brush on a paper towel will. Use the smaller size brush. If it's a bigger size brush, the patterns will end up looking big. It is better to go with a size number 4 or a size number 6 brush, don't go with bigger brushes. I used a medium tone of brown, and I tap my brush on a paper towel and simply scratching my brush on this background and I'm adding some dry brush buttons. As you could see here, I'm running my brush in a vertical way so that I have some vertical lines added as many as you want. Again, at this point, I'll tell you your mountain may look a bit messy, but this is part of the process. You need to keep trusting your process. Trust me, this is going to look really pretty at the end. Go ahead and add as many patterns as you want. But make sure you don't go with that really dark tone, go to medium tone of dark brown. Now let's repeat the same thing with a darker shade of brown. It is just the colors darker, but I'm going to go with the lighter tonal value. Create a darker shade of brown and add a lot of water and make the tonal value lighter. Now add in some more dry brush patterns using that darker shade of brown. We will slowly start building the colors, we'll be going with a darker value at the end. But for now, all the colors we are using are in medium tone. You can see here I'm running my brush only in a linear way, and I'm adding some dry brush lines. Now, I'm going to repeat the same on the other bigger rock as well. [MUSIC] That's a full strand of dry brush lines. Now I'm going to make the color a bit more darker by reducing the amount of water. Again adding some more dry brush lines in a similar way. I'm running my brush in linear manner. It's all the same. I just have to add the color slightly more darker than earlier. We'll have to add these patterns onto this entire rock formation we have added here. You can clearly see here how we are slowly building those textures. First, we applied a lighter tone of yellow ocher, onto that we added some medium tones of brown, that was the background. Then we are adding some dry brush patterns. We started off with a medium tone of brown and now we are going with a darker tone. The more the patterns, the more beautiful your rock will be because it will have lots and lots of textures. You can add in as many patterns as you want. But the only thing you need to keep in mind is that you should be covering up that background color. We need to see that in between, so just don't go overboard. If you feel like you have covered enough of textures you can leave it there. I have added the medium tones. Now, I'm going to go with a really dark ton of brown. It's all dry brush line, so every time you pick up the color, you will have to tap your brush on a paper towel to remove the excess amount of water. Otherwise, you won't get those dry brush lines. It is these dry brush lines which make your rocks more textury. Please make sure to tab your brush on a paper towel. Only add dry brush lines. There doesn't need to be perfect. It can be really messy and random. That is what make your rocks more textury. Don't worry at all if it is not looking that great at the moment. Everything is going to look so pretty by the time we finish the painting. Right now just go ahead and add in as much patterns as you want using a darker tone of brown. [MUSIC] This is how the test turned out. I'm really happy with it. It has got nice texture. Our next step is to add in those art and foliage. I'm going to go with permanent yellow-orange. First I'm going to add a shape on top of the rock. I'll be just using permanent yellow-orange first, and onto this, I'll be dropping some sap cream and maybe some brown as well to make it a bit more interesting. Right now, just go ahead, add in a random shape using permanent yellow-orange. At some places, make it taller, and at some places make it shorter. This will add a lot of realistic value to your painting. Continue this to the other end. [MUSIC] You can see here I'm going with a very organic shape, at some places I'm adding them onto rock castle. This will add a lot more beauty to our autumn foliage. Go to very natural and organic shape at some places add in some bombs and some little patterns. This will automatically look like there are some trees and plants over there. We have added permanent yellow orange, onto the enter rock. You can see on the right side, I went in with shorter trees because that is quite far from us, they will appeal smaller. On the left end, which is much more closer to us, I went in with bigger trees. Now I'm switching to sap green. I'm going with a brighter tone, and I'm gently dropping few of that onto the orange background. We just applied that orange so it is entirely wet. It hasn't dried yet. You can make yourself the time and simply drop in some sap green at random places. You can keep on pressing the tip of your brush and add some leafy pattern selectors. Permanent yellow orange and sap green, go really well together. You can see that here, it's a gorgeous color combination, especially for autumn foliage. I'm going to add some onto the right side as well and it's already looking so pretty. Will be adding some darker tone unto this to make it even more pretty. I think we have added enough of green. Next, I'm going to do the same thing using brown. I'm washing of the paint from my brush and I'm switching to brown. I'm just using clean Brown. I'm not adding neutral tint or any other color into that. Now in between, I'm adding some brown as well. All I'm doing is I'm just pressing the tip of my brush and I'm adding some small patterns here and there, depending on which color you want to focus more on you can go with more of that. For me, I'm not really focusing on a single color. I'm adding three of them in a similar way. I'll have some orange in between, some green in between, and some brown as well. I'm loving it already. You can see those gorgeous colors here. It is going very well with that rock formation. You're going to love it even more when you add the color for the lake. I have added enough of brown. You can see that auto shape, I've ended up with a very random shape. Next, I'm going to wash all the paint from my brush and I'm dabbing my brush on a paper towel, and with that slightly wet brush, I'm just merging all the colors because I don't want these colors to be very prominent. I want a very blurry looking background. I want a really subtle looking background. I want the darker tone to stay prominent, which we'll be adding in a few minutes. This is how it is looking right now. You can see how gorgeous that background is looking. I just used a wet brush and I merged all the colors. Now it's time to go with a darker color. First, I'm starting off with a darker green. I just mixed up the sap and neutral tan into sap green. I'm adding some darker pattern along the bottom part. These are the areas where you will have those dense thicker looking foliage. Concentrate mostly on the bottom area and add some patterns like this. You can add few onto the top part as well. For now, keep on adding some darker patterns like this. Just like we did earlier. I will be washing off the paint from my brush and I will be merging these colors using a wet brush, let's do that. Wash off the paint from your brush, dub it on a paper towel and just merge those colors. This will make a real difference. See that is looking so pretty. In a similar way, if you want to add more darker tones of green, you can add that in. Once you have finished adding that, wash all the paint from your brush and merge those colors into the background using a wet brush. I'm going to add some more darker tones of green in a similar way. [MUSIC] Few here and there. I think that looks fine. I don't want to get all of that orange shade we have on the left. So I'm going to leave that area as it is. I'll just add a little here. That looks nice. Maybe a bit more darker tone over here. I'm really loving the way the foliage has turned out. It is looking more like an oil painting. The trick we use here to get that effect was pretty simple. We first apply the paint, then we wash all the paint from our brush and using a wet brush we smudge those colors and we got a gorgeous background here. That is it. I think now it's time to go with the water. Before we go with the water, I want to add some horizontal patterns on the rock because I just had them look at the photograph and it has some horizontal patterns as well, so let's add that in using a lighter tone of gray. That looks a bit dark. I'm dabbing my brush on a paper towel and I'm adding some horizontal pattern. Again, don't add a lot, just a few is all we need. Maybe one line over here and another one on the other part. Go with a really light tone of gray. You can use faint gray or black, but go with a really light tone adding a lot of water and make the tonal value really light. Now let's add a bit on the other one as well. We will again take a look at the photograph to understand the kind of pattern to have on those drop formation or we can totally skip this. That's absolutely okay. It is already looking so pretty with those vertical patterns. You really don't need to add these. You can see how I have added those patterns over here. I'm just dragging my brush in a horizontally way and adding some random patterns. I have quite a lot of students from Michigan and this place would be quite familiar for them. For me it is really important to make it as beautiful as the original picture of rocks and that is the reason why I don't want to skip this little detail, but if you're already happy with your result you can completely skip this. Finally, I'm going to add a bit more darker value over here because at this point the rock formation is taking a tone and it will have lot of shadows over here. I think we can call it done and we can go with the water. That blue lake is the most interesting part of this painting, it is what brings in that contrast. It is what makes the painting look complete. Without wasting any time, let's paint the water body. I'm switching to my size number 8 brush. For the water, we'll be using these two colors, settling blue and cobalt green. I'm starting with settling blue, I'm going with a medium tone and I'm applying that towards the horizon line and as I come down, I'll be switching to cobalt green. Here I'm applying a medium tone of settling blue, adding a straight line, bring it a bit more down. Carefully follow the outline of your rocks. Over here also, I'm adding some of settling blue. Settling blue and cobalt green goes very well together. This is the first time I'm using these two colors together and I loved it. I have added settling blue, now I'm going to wash the paint from my brush and I'm switching to cobalt green. This is a gorgeous color. I just love this color. Every time I paint with this color I feel like jumping into that water body. It is that fresh and calming. I'm simply blending these colors well, and I'm filling that entire area in cobalt green. [MUSIC] You can see that instant different set color made. Now, onto this corner as well, I'm going to add a bit more cerulean blue. Underneath the rock, you will have some shadows and some reflection. It's good to add a bright on a blue over here to bring in those shadows. It can be Prussian blue, cerulean blue, or any other blue that I've got. Gently blend that into the background. Now, we're going to add few more lines onto this photo to make it a bit more realistic. To add in those deeper tones and shadow, I'm going to create a gorgeous greenish-blue here. I'm picking a bit of sap green, mixing that with cerulean blue and you will get a gorgeous blue here. See that? It's more like a moraine blue. Now, using this color, I'm going to add some more shadows, especially underneath the rock. Now, I will add few random lines as well. I'm concentrating more on the left side. See that? Simply add in some lines leaving some gap in between. I will add few over here as well. Now, I'm going to make that color lighter by adding a bit of cobalt green to the same mixture. Now, I'm adding some more lines over here because the other color was looking too bright. Now, I'm dabbing my brush on a paper towel to remove the excess amount of paint. I'm just dragging those lines inward and outward to give it the most molto blend. You can pick some cobalt green as well. This will make the process more easy. If you want to add more taco tools, you could do that too. This is a very pretty color to use for the water. I simply mixed up the top saccharine with cerulean blue. If you don't have cerulean blue, just use Prussian blue instead. You will still get a pretty color. I have added inner fault lines using that medium tone. Now, I'm going to add a bit more deeper. tone right underneath the rocks. It's the same color. I'm picking some more sap green. This time, I'm going with a bit more darker shade. So I'm not adding a lot of water. That's the color. Now, adding that right underneath the rocks. See, it's slightly darker than the color we used earlier. I'm only focusing on the area closer to the rock. We'll have some shadow and reflection over here. You can leave the rest of the area as it is, you don't need to add any darker shade over there. Just follow the outline of your rocks and add some deeper tones following that outline. I really cannot tell you how much I love this color combination. It was foliage, the rock, and the water, everything was looking so gorgeous together. One thing I forgot to mention at this point, maybe your background has slightly dried. You can see the lines I'm adding here. They are quite prominent. They're not really blending into the background because my background has dried. But that's okay. Just add some lines over here. Only on the left side. Now, a bit over here, as well, right underneath the rock. Okay. I think we have added enough of taco tools. Now, I'm going to wash out the paint from my brush. The trick here is just switching the cobalt green and you're blending those lines into the background using cobalt green. Just drag those lines. You don't need to finish that entire line. Pick some cobalt green and try a new version on top of the lines you have added earlier. Just drag it into the background. This will smoothen everything. See that? That is looking so pretty right now. We have easily smoothened out those prominent and strong-looking lines. This is the trick. Add in your lines and go back with cobalt green. Then just keep dragging those lines into the background. This is how our painting has turned out right now. Now, I'm going to add few extra details which isn't really necessary. If you want to call it done, you could do that. That's absolutely okay. Or if you want to continue with me, you could do that too. Let's start with the first detail. I'm using my smaller size brush. I'm going with a really dark tone of neutral tint. This is the brush I'm using, its size number 2 round brush. Let's go with a really dark tone of neutral tint. I'm going to add some teeny tiny buttons here and there to add in some more realistic value to our rock. It is just some random small patterns. It doesn't have any particular shape. I'm just pressing the tip of my brush and whatever shape I'm getting there, I'm just going with that. I have added two patterns over there. Now, adding some bits and pieces here. Another tiny bit there. See that? It doesn't have any particular shape. It is just to make it a little more enhancing. I will be adding a few more patterns. Over here, I have lost the shape of my rock. I think I will come back with an opaque version of yellow ocher just by adding a little of gouache yellow ocher. I think I will fix that at the end because I'm really happy with the rest of the painting and I don't want to include that little mistake over there. Now, I'll add some more patterns on the left side. You can clearly see there's just some random patterns. At some places, I'm going with some dots and at some places, I'm going with a bigger pattern. These things are going to add some more realistic value to our painting. I think that's it. Now, I will quickly fix the shape of my rock. Even If you haven't made any mistake, you will still need a bit of white gouache because you will need to add a tiny piece along that opening. You can see the image here of the actual picture rock. There is a small piece over there, which we'll need to add to make it more realistic. First using white gouache, I'll add some lines on the water. Again, this is also an additional detail. I'm adding very thin, delicate lines on the water, especially on the right corner. They have to be very thin and delicate. Don't add thick broad white lines, otherwise, we can just ignore them, this isn't really necessary. But if you're adding them go with really thin, delicate lines which are badly visible. That is it. Now, I'm going to fix the shape of my rock. After that, I'll need to add that little piece along the opening as well, and with that we'll be done with our painting for day 5. We need to create an opaque version of yellow ocher. I'm going to pick a little of white gouache, and I'm mixing that with yellow ocher to create an opaque version. Now, I'm just filling up this mistake. See, it is very easy to fix your mistake if you have white gouache. I'm just adding that about the blue and I'm filling that area. This is how we rest on top. That is looking too prominent right now, so I'm just dragging those lines towards the top to make it go well with the background. Also, I will add some brown touches on it so that it will go well with the background. Otherwise, it will look a little weird. So that is it. I have easily fixed. It isn't looking that weird. Now, it's time to add that missing piece along that opening. I'm just using the same method, I'm mixing yellow ocher with white gouache to create an opaque version of this color. I have already created that color here so I'm taking a bit of that and I'm adding a tiny piece over here. You can look at the image. Just add in a small piece using yellow ocher right at the opening. I'm trying my level best to make this painting look like the real place. Right now, it is looking a bit odd. We'll need to add some taco tones onto this, so I'm switching to brown and I'm adding some little batons on top of this. I will also use a darker tone or brown, and I will add some random darker tones as well. I'm just pressing the tip of my brush and adding some brown tones over here. Now, it is looking a bit more better. Now, I'm going with a darker tone and again adding some tones. I think now it looks far better. It doesn't look like an odd piece. Here is a closer look. You can see those gorgeous textures. Oh my God, I'm really loving this. Now, as a final touch, I'm going to add some more darker tones along the bottom line of the rocks. I'm going back with that gorgeous mix of cerulean blue and sap green. First, I will add some over here. Because we just added this tiny piece to make it look more prominent, we'll need to add some taco tones underneath that. I'm not adding a lot just a few to make it a little more enhancing. Now, I'm going to run my brush one more time for the last time along the entire rock formation [MUSIC]. That is it. We are done with our painting for day 5. I'm really happy with the way this one has turned out. Especially the color combination, the texture, the water, the foliage. I think each and everything has come out really great. Now I'm going to quickly pull off the masking tape [MUSIC]. Here is our gorgeous picture rocks. I'm so happy. I cannot tell you how much I love this painting. I hope you all loved the process and you all have got a great result. Thanks a lot for joining me today. I'll be back soon with our next destination. [MUSIC] 14. Day 6 - Kidelu Lake, Siberia, Russia: Hello, welcome to Day 6. Our destination for today is Russia. I'm going to take you all to this calm and beautiful place called Kidelu lake, surrounded by the Altai Mountains, which is in Siberia. The moment I saw this image, I fell in love with the color palette. I thought, it's a wonderful painting to add in our autumn travel diary. [NOISE] Here's the quick thumbnail painting I created to understand the colors. It's an easy one and I'm very sure you guys are going to love this painting. I will quickly take you through the colors you will need for this painting. For the sky, I'm going to use cerulean blue, [LAUGHTER] as usual. As I've always mentioned, you can use any other blue [inaudible], it doesn't need to be cerulean blue. You can use cobalt blue, or Prussian blue, or any other blue. Today, we are going to go with the cloudy sky. You can't see those fluffy clouds there. The first color is cerulean blue. By now, you guys might have understood how much I love this color. It's one of my favorite color to paint skies so that's the first color. The next color I'm going to swatch out is indigo, which is a color I'll be using for the mountain, I'll be going with a very light tone of indigo. To add to final detail, we'll be using neutral tint. The second color is indigo. The next color is neutral tint, you can also use Payne's gray or black instead. We'll using a lighter tone of this to add the clouds. Also, we'll be using the same color to add the final details. The next color is permanent yellow orange. You can see that bright yellowish orange over the bottom and also a bit on the top so that's one of the most important color for this painting. The next color is vermilion. I'll be using this color to add the medium tones. That's the color that I'll be using to add the medium tones. Now, to add the deeper tones, I'll be using brown so that's a final color that you'll need for this painting. For that narrow lake in the middle, we'll be using cerulean blue. If you don't have cerulean blue, you can use the same blue which you use for the sky. Those are the six colors you will need for today's painting: Cerulean blue, indigo, neutral tint, [inaudible] gray, permanent yellow orange, vermilion, and brown. Also, I have my sketchbook ready here. We're going to start with our painting for Day 6. I'm really in love with the cities. Each of the painting has to come out really great. I can't pick one favorite. Anyway, let see? Maybe by the time, we finish all the 10 paintings, I will have my favorite one. Let me quickly add masking tape onto the [inaudible] types and we'll start with the painting right away. [MUSIC] For this painting, we'll need to add a simple pencil sketch. We will need to add those snowy mountains in the background as well as that lake over the middle. Let's start with that. First, I will add a horizontal line, which is going to be a bit about the center of the paper so that's a horizontal line. Now, I'm going to add a snowy mountain. I'm not going to go with a very huge mountain. These are a medium-sized mountains. I have added the first mountain. Now, I'm going to add another one right next to this, which is going to be a little more lower so that's a second mountain. Now, I'm going to extend that towards the right side. Now I'm bringing that down. From here, it will be more of orange and brownish tones. Now, I'm going to add the lake over the middle. It's a roundup shape and it has a very narrow shape. Go to similar shape, which is very natural and organic. That is a pencil sketch. I hope you guys are able to understand the sketch. We just need some snowy mountains in the background and Kidelu lake over the middle. The rest will automatically happen while we paint. Now, I'm going to squeeze out all the colors onto my palette. I'm starting with cerulean blue, which is the color I'm going to use for this sky. I color I have here is Indigo. I will be using indigo for the snowy mountains. The next three colors up permanent yellow orange, vermilion, and brown. Along with this, to add the deeper tones, I'll also be using neutral tint. Let me add all of them onto my palette. [MUSIC] We have the sketch ready and we have the colors ready here, so it's time to start painting. You can see that thumbnail painting knighted. They have ended with a very simple sky. I simply went in with a gradient wash of cerulean blue. But I thought, it would be nice if we can go with a cloudy sky. As the painting is quite simple, we didn't have much elements in this painting. I'm going to go with a cloudy sky for this painting. If you want to go with a very simple sky, just like a gradient wash like here, you could do that. That's absolutely okay. I'm going to start by applying a coat of water onto the entire sky, using my size number 8 brusher. Just apply a clean coat of water into your sky. Then brush multiple times and make sure the water has reached everywhere. Now, I'm going with a medium tone of cerulean blue. You can go with any blue that you've got. It should be a medium tone. Now, I'm applying that onto the right corner and I'm leaving some shapes in between. It can be some small shapes or bigger shapes as you prefer. These are the clouds. Before your background dries, quickly add in your paint, leaving some white gaps like this. Now I'm going to up the paint from my brush and I'm going to finish up the rest of the sky. I'm carefully running my brush along the outline of the mountain. It looks like the background is drying up quite quickly, so I'm going to wash out the blue from my brush. I'm going to quickly switch to neutral tint and I'm going to add the shadow of the clouds. Go to very light tone of Payne's gray, or neutral tint, or black. Add that along the bottom part of the shapes you have left in here. It can be any shape, you just take a lighter tone of neutral tint or Payne's gray, and drop that along the bottom shape. This will automatically blend into your background, you don't need to put in the extra effort here. We're just reading the paper why to create those clouds? First, we applied a coat of water and then we added cerulean blue leaving some white shapes in between, which have clouds. Before the background dries, we added the shadow of the clouds using the lighter tone of neutral tint. That is the sky. Now, let's wait for that to dry. After that, we can start with a snowy mountain. It's drying time. The sky has completely dried. I thought, before we go with the mountain, we can add paint onto the lake. I'm starting of with a lighter tone of cerulean blue, both are really light tone. From that entire lake and a lighter tone of cerulean blue. This is the color I'm using. It can be even more lighter, just like in the thumbnail sketch. I think, I need to make it a bit more lighter. I'm just dipping my brush in some water and I'm making it lighter. Now, let's go with a medium tone of cerulean blue and adding some shadows. We won't be adding any other details onto the water. This is all we're going to add, so it called a medium tone. Along these lines, you can add some medium tones. Just lighter, don't add a lot. The major area of your water should be a lighter tone. Also you can see the kind of shape I used for the lake. It's a long, narrow lake. Go to similar shape. That's the water. Now, let's start painting the snowy mountain. Now, to paint the snowy mountain, I'm going to use my smaller size round brush. This one is size number 4 round brush. I'm going with the light tone of indigo. Add in some drops of water and create a really light tone of indigo. It has to be really light, otherwise we won't get that snowy character. Now you've seen that lighter tone of indigo, I'm adding some sloping lines and some random shapes onto the mountain. That was a bit dark. I added some water and made the color even more lighter. This is the kind of lines I'm adding, I'm making them look like a valley so I'm adding the lines from the top to the bottom, in an angular manner. We don't need a lot. We have to read most of the paper white to bring in that snowy character. Go to a really light tone of indigo and add in some similar lines. That's the first step. The base layer is ready, now we'll have to wait for this to dry. After that, we'll go with a medium tone of indigo. Once your background has dried, load your brush with a medium tone of indigo and dab your brush on a paper towel. We don't want the paint to be too watery, that's the reason why we're dabbing the brush on a paper towel. Now let's add some deeper tones, especially onto the right side of all of these mountains. First I'm adding an irregular shape over the middle, starting from the tip of the mountain and I'm adding some deeper tones, mostly on the right side and a bit on the left side as well. Now I'm going to go with this one. First I will add an irregular shape starting from the tip of the mountain. I'm taking it down. All the lines I'm adding here, I'm adding them in a sloping manner to make it look like a valley. You can also do in a similar way. Just keep on adding some lines using a medium tone of indigo onto the right right of all the mountains. It can be a combination of dry lines and some solid lines. But make sure we'll have to retain most of the paper white, we just need some deeper tones here and there, not a lot. The majority has to be your paper white, otherwise it won't look like a snowy mountain. Keep that in mind, this is really important. The left side is looking quite empty, so I think I will go with a really light tone of indigo. I will add a bit of paint on the left side, just over here. This area was looking quite empty. Now for the next step, we'll have to go with brown. We'd have to go with a lighter tone of brown and have a lighter little of neutral tint to get a bond on both of the color. That's a color I'm going with, it's really light. I'm not going to apply a solid color. I'm just adding some teeny-tiny lines and some random shapes over here. Now the reason why I'm doing this is because after this point we'll be starting with those other mountains, we'll be adding some orange and brownish tones for the rest of the area. I don't want that transition from snowy mountains to those orange mountains too sharp. I want that transition to look very smooth and natural, that is the reason why I'm adding some brown tones over here. You can see I'm just adding some random shapes and some random lines. I'm not adding a solid color over here. I'm just scratching my brush and adding some brown tint. It is more of dry brush patterns, but in a very messy manner. Now onto this just like we did earlier, we can go with a medium tone and add in some random lines in between to make it look more realistic. I'm adding some more neutral tint to brown and creating a darker tone. It's one tone darker than the color I used earlier. I'm adding some random lines and some random shapes, again in a sloping manner. Also just keep in mind, we don't want these brown tones on the top, we want that bluish tones over the top so limit adding brown color only over the bottom. Now I'm adding some random lines using that darker tone of brown. They are very random, and I'm adding them in a broken manner. I will add a little more on the left side, and with that, we'll be done with this. For now, we can leave this here, but we'll be coming back to this to add the final detail. It's time to switch to your brown shade. As I mentioned in the color palette section, I'm using brown here. But you can also use brown sienna. Go with a medium tone of brown or brown sienna, which will be the color you're using, and applied that onto the top of the mountain. This is the foreground mountain. I will add a mountain over here. First I'm adding the shape, I do rarely add a proper pencil sketch here. I'm adding the mountain using my brush. I will add one more mountain here. Now filling that in brown. That looks nice. so we have two mountains there. Now for the rest of the area, I'm going to go with permanent yellow-orange. Just add the shape of your mountain using brown sienna or brown. For the rest of the area you can switch to permanent yellow-orange or any other bright yellowish orange. I'm going to switch to my bigger brush, this one is size number 8 round brush. I'm going to fill up the rest of the area in permanent yellow-orange. I'm using a really bright and pretty tone here, it isn't that light because this particular painting is all about that bright orangish tones and that blue lake and blue sky, so make it as bright and pretty as possible. Be careful not to add any orange here onto your water, let it stay as it is. We haven't made the background wet so there are chances it may dry up very quickly. We'll have to switch from lighter tone to medium tone as we paint. Now I choose [inaudible] and I'm adding some medium tones on that yellowish-orange I applied. Just some random lines here and there. There is no particular order of anything that I'm following here. In a similar way, we'll be painting the entire area. Now along the bottom, I will add some brownish dorms closer to the lake. Now let's just fill that up. We have a tiny piece of land over here, I will fill that also in brown. I started off with a darker tone of brown, and I dip my brush in clean water and I made the color lighter. These little decisions you will learn as you progress in your watercolor journey. But you want lighter colors and where you want darker colors, it should come from the tin. Now I'm adding small linear parts of land, just to make it look more interesting. This is under quick and simple addition, but it's going to add a lot of realistic value to your painting. Now I'm adding some brown over here and finishing that line. Just along this area which are closer to the water, you can go with brownish tones. We want this area to be a bit darker. For the rest of the area, you can go with vermilion and permanent yellow orange. Now I'm switching to vermilion. There is no particular order or there's no particular rule here, you can keep switching from medium to darker tone. At some places you can add some lighter tone as well. In fact, watercolor is all about playing the different tonal values. Now I'm going to fill up that remaining area and permanent yellow orange. I'm going to add a bit of a brighter tone, add a little of that, then switch to your medium tone, which is vermilion, and then add some medium tones. You can see how pretty it is looking already, those orange color and the blue lake is going so well together. Now I'm switching to brown and adding some medium tones over the bottom. You can see here, I played with three different colors, permanent yellow, orange, vermilion and brown. First I applied permanent yellow orange, onto that, I added some medium tones using vermilion and now I'm adding some medium tones using brown, especially over the bottom. You can see the three different colors I used here. Don't add a lot of medium and darker tone, don't fill up the permanent yellow orange. We want to see that also in the background. This is the first layer. Now under those, I'm going to add some random dots and some random lines using a darker tone of brown. The bile understood a little bit. We have to make use of the time, just drop in some little lines and little shapes using brown, go with a slightly darker tone than the background, and don't add a lot, we just need a little here and there. Now I'm making the color more darker by adding a bit of neutral tent, and I'm adding them along the bottom, especially closer to the masking deep. I want this area to be more dark in Indians and I want to retain those slight shades over the top. Over the top I just need to add some teeny-tiny lines and little dots. Don't add a lot of darker tone over here. Let's retain the lighter shade, and those orangish color. Let's add more of taco value along the bottom. Let's just add some more taco tones. You will have to be a bit quick, otherwise your background will dry and these lines will stay really shot and prominent. Now I'm adding some along the bottom part of this land as well. Just a little, I'm not adding a lot. I'm also adding some smaller patches. We applied a background wash using permanent yellow, orange, vermilion and brown, and onto that we added some medium tones and darker tones of brown. Now it's time to go with a really dark and intense tone of brown. I will just more or less close to black and we're going to add our final details onto this. I just squeezed out some brown. Now I'm going to mix that with a bit of neutral tent. I'm going to create a really talking in dense tone of brown, and along the bottom part of this land, I'm going to add some more darker tones. Just to elevate that shape. You can instantly see the different third taco tones made. Those darker tones instantly brought in a lot of emphasis to this contrast. You can see how pretty those colors are looking together. Looks like I added a lot of brown over here, I'm switching to vermilion, and I'm just blending that into the background. I think I went a bit overboard with the darker tones. Now it looks fine. But I'm really happy with the way this painting is turning out. The colors are looking so good together, I really cannot stop and practice the colors I chose for this painting, and also you can see how gorgeous that lake is looking. We just apply that even wash of serene blue and the color surrounding it made a lot of different. So far I'm really happy with the results [LAUGHTER] I have no complaints. The next step is to add the remaining details onto the mountain with a snowy mountain and the brown mountains. Maybe we can start with the brown and we'll go back to those snowy mountains at the end. We'll extract with a dark tone of brown. I just mixed up a bit of neutral tint, and I'm adding unusual color line over here, starting from the top of the mountain, adding irregular line and a little sloping [inaudible] and onto the right side at some taco tones, leave the left side hazardous, don't add much of darker tones over there. Once you have added that taco tones on the right side, wash the paint from your brush. Now using a lighter tone of brown, simply smash those colors into the background to make it a bit more smoother. I just added another irregular line, and I'm smashing that using a lighter tone. Now, onto the second mountain here, adding a neutral line starting from the tip of the mountain. Adding some darker tones. These darker tones will help define your mountain and it will automatically make it look more realistic. Starting from the top of the mountain, adding irregular line and add some darker tone either onto the right side or onto the left side. If you're choosing the right side, it should be similar for all the mountains we're doing for that particular painting. The darker tones we are adding right now are the shadows. It should fall on the same direction for all the mountains. That is the reason why I asked you to keep it in the same way for all the mountains. In fact, you can use the same technique to paint any mountain but if it's a green mountain or a snowy mountain, you can use the same technique. You would just need to play with different colors. If you're going with the green Mountain, you can add your basic shape using green. Then add an irregular line and some taco tones using a darker tone of green. So just by tweaking the color, you can bring in different kind of mode in your painting. I'm adding some old brown over here. The ones I added earlier wasn't really visible, so just a bit around the bottom line, that is it. Now I'm going to switch to indigo and I'm going to add the final details from the snowy mountain. This time I'm going to really tap to enough indigo and to have dabbing my brush on a paper towel, and I'm adding some dry brush lines. You can see it's a really intense tone. Now I'm concentrating on the area that we have added those medium tones. Onto these areas on the right side, I'm just adding some random lines. They are very tiny, thin, broken, delicate lines. You can see the way I'm adding it here, we don't need a lot, just contemplate on the area that you have applied those medium tones, and you can add some lines using a darker tone of indigo. Make sure not to add a lot and also good, very thin, and delicate lines. It shouldn't be too bold. But we still want to retain most of the paper, white otherwise, we would lose that snowy character. Be a little careful not to add a lot. I have added three mountains here and onto the right side of all these three mountains, I have added some deeper tones. Now I'm going to add few on the left side as well. Over here, you'll have to be really careful. Your land shouldn't be too prominent, so we'll dry the brush on a paper towel and add some very dry lines like this. I'm reminding you again, don't add a lot. They'll just need few lines here and there. You'll still have to retain most of the paper white. That is supposed snowy mountain. Now let's add the final details on the bottom area. For that, I'm going to go back with vermilion and brown, we'll first need to add some medium tones then we'll be adding some teeny tiny trees. I'm just adding some brown with vermilion to create an orangish-brown. I'm going with a medium tone and I'm adding some lines to make it look like a valley. The lines are going to be sloping down. You will have to go with the medium tone and add in some lines like this. Don't make it too dark and also these lines can be slightly thick. The only thing that you need to keep in mind is that these lines has to be sloping down from either side so that we can get the valley fill over here. No matter whether you're adding them from the right or from the left, make them sloping down. After those we'll be adding some teeny tiny trees along these valley lines we have added. Wherever you feel like you need a bit more medium tones, you can go with brown or vermilion and add some medium tones but make sure to add them in a sloping way. I think I have added enough of medium tones. Maybe I'll add a bit more on the right side. If you feel like you have already added enough of medium tones, you don't need to follow all these steps. I'm looking at my painting, in a similar way you need to look at your painting and understand what you feel is best for your painting. Because the colors I have added and the tonal values I have used will be slightly different from the ones you have added in your painting, so get up from your seat, take a step back and look at your painting. If you feel like there is some need of medium to darker tones, you can go ahead and add them. Otherwise, if you feel it's fine, you can just leave it as it is, you don't need to follow each and every step just because I'm doing it. I'm satisfied with the medium tones I have added right now. The next step is to add those teeny tiny trees. To add the trees we'll be using a darker tone of brown but at someplace we have just added the paint so those areas will be still wet. We can start with a dry area. Also, we'll add some taco tones along the bottom line. Also adding some teeny tiny rocks on the water. Just fill off them, maybe one over here as well, another one over here. I think I'm going to stop there otherwise, I may go overboard. That looks fine. Now we're going to go ahead with the last tip of this painting, which are adding some abstract trees. By By what I mean is just some lines. You just need to keep on adding some teeny tiny lines along that valley. We have added all here, it is literally some random teeny-tiny lines. These little lines will make it look like these mountains are really far from you. Use a brush which has a pointed tip and add some very thin and delicate lines. At some places you can go with a bit off thicker line, but most of them should be very thin and delicate. Also again, play with different heights. Some of the lines can be bit taller and some of them can be shorter. The next thing is you can play with different tonal values. Some of them can be really dark, and some of them can be using a medium tone. Again, use a darker tone of brown and also a medium tone of brown to add these lines. I'm actually filling all the valley lines I have added here and I'm adding some teeny-tiny lines along that sloping line. That is the only thing I'm doing here. It is really easy. But it is going to make a lot of impact in your painting. It will make it look like there are so many pine trees in the background. We add inside [inaudible] enter the Altai Mountains, which is really famous for its pine trees, so we really cannot miss adding these pine trees. The more the better, so along that valley lines you have added, keep on adding some teeny tiny lines. As I said, earlier, some of them can be a bit longer and some of them can be shorter. Also again, play with different tonal values on all the different thickness, it is nothing complicated. You just need to keep on adding these teeny-tiny lines using the tip of your brush. add them close to each other so that it will look like there are a lot of trees over there. Go ahead and add as many trees as you want. [MUSIC] This is a really simple step where you don't need to think a lot or you don't need to worry a lot. I'm nearly done with the right side. Now in a similar way, I'm adding some lines on the left side as well. You can see I'm carelessly adding some lines close to each other using a medium tone of brown. First I added some along the valley line we added earlier. Then I'm adding some along the bottom line, which is closer to the lake. There is no particular place or there is no particular order. You can add your pine trees wherever you want to. Now I'm adding some on the topmost area of this mountain. It is just some simple lines. I'm just reminding you guys again, don't use a bigger size brush, go with a brush which has a pointed tip, otherwise you won't get that proportion in your painting. If they are too thick and too big, everything will go out of proportion. Be sure to use a brush which has a pointed tip. Then you can add as many trees as you want. We're nearly done. I'm not going to add any other details onto the bottom part. I'm going to leave it as it is. I'm quite happy with the texture and those different tonal values I have gotten there. I'm just adding these trees over here. [MUSIC] It looks like I have added enough of trees and I think I can call it done. Officially, we are done with this painting, but there is one thing that I'm going to do right now which is really optional. For that, I'm going to take out a bit of white gouache. You can either use white gouache or white watercolor, both of them will work. We just need a teeny bit of white gouache or white watercolor. I'm going to mix that with some blue. The same saline blue I used earlier. This is just a tweaking. It isn't really a necessary step. You will see what I mean in few seconds. I wasn't really happy with the shape of my lake, especially onto these corners. When I added the orange and the brown, I couldn't really redeem that original shape of my lake. I wanted that sharp and very narrow corners like this. That is what I'm bringing back with this little tweaking. I just added a little of white gouache, with settling blue to create an opaque version of blue, which is something similar to the color I used in the background. I'm just fixing these corners so that looks too good right now. In a similar way, I'm going to fix all the corners over here also, I wanted a very thin and narrow corner. This is a reason why I said the step is really optional. If you are already happy with your lake and if you have got a clean and sharp corners like this, you don't need to follow the step. You can totally ignore this. But if you want to do this, just go ahead. It will make a lot of difference in your painting. Just decide on yourself whether you'll want those sharp, narrow corners or those rounded corners. All right. But that it's time to wrap up all it took to Siberia. Here is the painting. I'm quite happy with the painting, especially that blue lakes surrounding the orange autumn foliage. That has come out really great. Now I'm going to peel off the masking tape. Always wait for your painting to dry completely before you peel off your masking tape. Otherwise, this can rip off your paper, and here is the finished painting. I think, compared to the other paintings, this was quite easy, and I really love the color combination. I hope you guys enjoyed it too. Thanks a lot for joining me today. I'll be back here soon, with our next destination. [MUSIC] 15. Day 7 - Erawan Falls, Thailand: [MUSIC] Hello, welcome to Day 7. Today we are at Thailand, which is everyone's favorite destination. We are here to enjoy these magical beauty of Erawan waterfalls which is nothing less than a boast of autumn colors. When I saw this image, I really couldn't believe my eyes. This is such a pretty place to explore. I must say, this is one of my most favorite from the entire collection. I don't want to keep you all waiting. Let's have a look at the colors, and start with our painting. This is the thumbnail painting I created. I think I was able to capture the real colors to an extent. Anyway, let's take a look at the colors you will need. For the autumn foliage I will mainly using permanent yellow orange, vermilion, crimson, and brown. For the rock in the background, as well I'll be using brown. I'm going to quickly sketch them. First one is permanent yellow orange, then you will need vermilion, then at as crimson. So these are the three main colors you'll be using for the foliage. Then you will need brown, and to add the deeper tone you will need neutral tent or Payne's gray or black. Now, we'll take a look at the colors you will need for that lake. The base color as cobalt green, which is the most important color for this painting to bring that freshwater lake effect. Along with cobalt green, you will also need sap green, and cerulean blue or any other blue to add in deeper tones, we just need a tiny with that sap blue, and sap green. Don't squeeze out a lot, and instead of cerulean blue, you can use any other blue. Along with these colors, you'll also need a bit of white washer or white watercolor to add the details of the waterfall. Those are the colors you will need for today's painting. I cannot believe we are on day 7 already. Look at these gorgeous painting we did so far. I'm going to address up this sketchbook. It's time to start with that waterfall for days 7. We are in Thailand today, and here is the gorgeous waterfall we are witnessing today. One day I would really love to visit this place to experience these magical colors. I'm very sure it's going to be an incredible experience who witnesses place. For now we can explore this place with our painting, but I wish we all get lucky one day to witness this place. First, I will quickly add a masking tape onto the full size of my paper. [MUSIC] I have applied the masking tape, and here's my clean palette. I have a jar of clean water. I have one more general water which I have kept aside. I'll be just grabbing that whenever I'm in need of clean water. Everything is ready, first of all, start with a pencil sketch. It isn't a detailed one, we'll just need to indicate the area where the waterfall is happening. We'll just add these two lines to indicate the waterfall, and also we'll just separate the water. I'm just adding a line here, underneath the line we have our lake, and over-the-top we have those rocks and all those trees. Just add in a line a little below the center of the paper. Now, I'm adding two huge rectangles, and irregular rectangle on either side, leaving some gap in-between, that gap is the waterfall. This is the pencil sketch, it is quite simple. We won't be falling this rectangular shape. We'll be altering it as we paint. For now, this is all you need to add. Now, I'm going to take out the colors. I'm starting with brown. You can use brown in our asphalt. Next one is permanent yellow orange. Then you will need vermilion. Next one is crimson. All of these are pretty common colors. The only color you may not have is permanent yellow orange, but you already know how to create that one. Now, I'm going to take out a neutral tint to add those deeper tones. We can also use Payne's gray or black instead. Finally, you will need cobalt green or any other pixel blue or green for the lake. This is the most important color for this painting to bring in that mood. So if you don't have cobalt green, just look at the color palette section. You will get to know how to create if you don't have one, along with cobalt green to add some deeper tones on the water you will also need sap green, and cerulean blue. Using sap green, we'll add some green tones on the water. And you'd be using cerulean blue to add deeper tones. I haven't added those deeper tone to the thumbnail sketch, but we'll have to add them on our main painting. Here I have just a light, and even sap green. But underneath the rocks will need to add some deeper tones to make our waterfall look more beautiful. We have the colors ready. Now it's time to start painting. I'm using my size number eight brush, you can use any of your medium too, because [inaudible], and I'm starting with that huge rocks on either side. Now go to medium tone of brown, or bold sienna, and apply that on either side. Don't apply on the top part, leave a little if a gap over there. Leave an irregular shape on the top, and fill up the rest using [inaudible] or brown. So onto this area we have left on the top will be adding some autumn foliage. We'll be adding some orange, and red over there. You can just randomly leave some people white on the top, and fill up the rest in brown. You can follow the outline you have added there, and set that up. Now, on to those you need to add some deeper tone as well. You can either use [inaudible] or you can just create your own motion of darker brown just by adding a bit of paint gray or neutrons into Brown. So that is a next step. You can see the way I have applied the paint. I went in with a very catalyst, and draft mono because my intention is to create so many textures. I don't want to clean, and spot plant here. That is a reason why I'm simply dropping in colors. I'm not really worried about getting a clean plant. Now, I'm going with a darker tone. I just added a bit of neutral tint into brown to create a deeper tone. You can see the color here, and randomly adding that on to the brown background we painted already. You don't need to worry about how it is looking for right now. It may look a little messy, but that's absolutely okay. You just need to trust the process. For now. Just keep on adding some darker tones. We'll be coming back to this later, and we'll be adding more textures. This is it for now. I'm going to wash all the paint from my brush. Our next step is to paint the top part. There we're going to add those gorgeous autumn foliage, first we'll have to apply a quarter water for that. I'm switching to my one, and a half inch wash brush, and I'm applying a clean coat water. Looks like that isn't clean. I don't know where that blue came from. Never mind. I'll just apply another coat, and I will fix that. Now we cannot really see that blue, it looks better to apply the colors. I'm going to switch back to my size number eight brush, right at the center, almost all here. I want to retain some people white, I won't be adding any color over there. I'll just apply my colors around that. I want some lighter tones here to make it look like there is some sunlight coming through. So just reaching that area, and go with a lighter tone of permanent yellow orange, and apply that onto the rest of the area. You can play with different tonal values, just reading in that light area over the center, and the rest is all up to you. At some places you can go with a darker tone, and at some places you can go to lighter tone. Just play with different tonal values of permanent yellow, orange until you shouldn't be touching the waterfall asphalt, just leave it as it is. I applied a bit of permanent yellow, orange. Now I'm switching to vermilion, and I'm dropping that wet paint onto this wet background again in a very random way. I wouldn't mode of light tone toward the center, which is closer to the waterfall. I want the colors to be really bright, and intense around the corner, that is what I'm trying to do here. You can see I retained lighter tones over the center, and I'm going with a medium tone of vermilion, and applying that towards corners in a similar way, I'm going with a medium tone of crimson, and applying that towards the corners. Depending on the colors you want in your painting, whether you want more of crimson or vermilion, you can just go with that. If you want more vermilion, you can limit the amount of crimson or if you want more crimson, you can limit the amount of vermilion, adding colors accordingly. You can see I'm going with a really bright, and predict one of crimson, and I apply that onto the right corner. Now in a similar way, I'm mining some medium tones on the left side as well. Just like I said earlier, you don't need to worry about getting a clean plant here, that is not our intention. You can simply keep on splitting from different colors, different tonal values, and add them on the wet background. So just keep on pressing with the tip of your brush, and adding these leafy patterns using different tonal values of vermilion, and crimson. For the background we used to light to turn off permanent yellow orange, and on to that, we added some medium tone tones of vermilion, and crimson. Now I'm going with the really indent tone of crimson. I'm concentrating more on the bottom media. I'm adding that over here. I'll do the same on either side. Again don't worry about getting a clean plant. I'm just keeping on saying this because I don't want you guys to feel bad about the way your paintings looking at the moment. It may look a bit messy, but that's absolutely okay. We'll be adding more textures, and more details onto this. Gradually you are painting is going to look so beautiful. So just keep on trusting the process, and adding different tonal values of crimson, and vermilion. The only thing you need to keep in mind is that, over the center, we need some lighter tones. Towards the right, and the left corner you can add more brighter, and indents tone. This is how our paintings looking at the moment. Our next step is to paint the water. That is the most interesting part of this painting, before we paint the water, I'll start with a waterfall. We'll just add some dry brush lines, I'm going with the light to turn off neutral tint. I'm tapping my brush on a paper towel to remove the excess amount of water. I'm just adding some dry brush lines, just some random lines. Again, this also can be a bit messy, but just trust me, I'm going to help you turn your painting to the best one ever. I just added some lines using neutral tint. Now I'm going to add few using brown asphalt. This is just to make it look like there are rocks behind it. You will need to add a lot, just a little here and there. We'll have to retain most of the people white. This is it, I think for now we can leave it there and we can apply water onto the lake. You can already see how pretty that foliage and waterfall is looking. Now when we add paint onto the water, it is going to look even more prettier. That's our next step. As I mentioned earlier, I'll be using cobalt green for the lake. I already have taken the color on my palate. Using my round brush, I'm simply applying this color onto the entire lake. Just go with and even wash. You can use any color which is similar to cobalt green or you can create your own cobalt green. Now simply fill that entire area in this color. You don't need to leave any space next to the waterfall. We'll be applying white quash over there. For now, don't worry, simply apply cobalt green or any other peaceful green or blue you're using on the entire area. [MUSIC] That is the base layer. Now onto those, we're going to add some deeper tones using a greenish-blue or a bluish-green. I'm picking a little of sap green, mixing that with a bit of cerulean blue. I've got a beautiful bluish-green here. I'm applying that onto this area, which is right underneath the rock. Over here there will be some shadows and deeper tones, so that is what we are adding right now. Otherwise, our water will look too plain. It wouldn't look so realistic. Instead of cerulean blue, you can also use Prussian blue or any other blue. Just mix that with a bit of sap green, and add some deeper to ones on either side. You don't need to add much of darker tones at the center. I mean the area closer to the waterfall, you can leave that area as it is. Concentrate more on either side. You just need to add some lines using this medium tone of greenish-blue. You can see how pretty is looking already, the colors are looking so good together, it is such a refreshing color palette. The major color of your lake should be that cobalt green. Don't add too much of darker tones. Just keep that in mind and this is how our painting is looking at the moment. I hope you guys are enjoying it so far. I'm just cleaning my brush right away because I have a habit of leaving my brush dirty. I always forget to clean it. The next step is to add in the textures on the rock. You can see how pretty it is looking with the textures and without a texture, it is looking quite flame. When we add these textures using a deeper tone, it will automatically elevate the beauty of the autumn foliage as well as the lake, because then we introduce those darker tones. They are automatically introducing a striking contrast. That automatically resistant making our painting more beautiful. Let's add in texture. For that, I'm using my size number 4 round brush. You can use any of your smaller to medium-sized round brush. I will be adding more on the area where we have the foliage right underneath that. I'm starting off with the darker tone of brown. I'm mixing neutral scent and brown to create a darker tone. That is the color I'm going to go with, it's really dark tone of brown. We are going to apply quite a lot of dark tone of brown onto this rock to bringing in that texture. We'll take out a piece of paper towel and tab a brush on a paper towel to remove the excess amount of water. Now simply a scratchy or pressure on the paper and add some textures like this. There is no limit. You can add it as much as you want until you feel like you have gotten enough texture. First I'm going to concentrate on the area right underneath the foliage, I'm adding more darker tones here. This would automatically elevate the color and the beauty of that foliage. First, run your brush around that foliage and add more deeper tones over here. You can see how pretty it is looking already. We just need to simply keep on running our brush around the shape of the foliage and add some dry brush patterns. I created my own darker tone of brown just by mixing a bit of neutral tint to brown. You can also use burnt umber or you can just mix Payne's gray or black to brown and create a darker tone, which is more or less close to black. Now first apply that shade around the autumn foliage and just envelope that shape. In-between you can go with a medium tone as well. Keep on playing with different tonal values and adding some dry brush patterns. Our intention is to add an inner soft texture using different tonal values of brown. In-between, you can go with a slightly watery version as well. Because over here I feel like it needs a bit more darker tone. I'm just switching back to brown. I'm adding some solid color over here. Then I will simply smash that into the background. Feel free to take such decisions. If you feel like you need some more deeper tones in your background, just go ahead and add them. [MUSIC] Now I'm going to concentrate on the bottom line of this rock and I'm adding some deeper tones over here. I'm going with a really intense and darker tone of brown. I'm tapping my brush on a paper towel. I want more of dry brush patterns over here. You can really see the impact of those dry brush patterns on this painting. Just look at the right side and the left side. The left side is looking so lifeless and plain, whereas the right side is looking very realistic and pretty. This is the magic of these dry brush patterns. Add as many patterns as you can. The more of the petal. I'm going to stop the right side and I'm going to go ahead with the left. I'm going to do the same step I did earlier. I just took a darker tone of brown and I'm tapping my brush on a paper towel, now I'm enveloping this autumn foliage just to bring in that shape. I'm adding some dry brush patterns right underneath the foliage. You can see the difference here. These deeper tones are adding an instant difference in our painting. Just go with a darker tone of brown, tap your brush on a paper towel and add enough of dry brush patterns on these rocks. Let's do this. [MUSIC] You can see the impact of those dry bush patterns. Those textures made a lot of difference. Our painting is looking so beautiful and realistic as well. Now to add in some more details, I'm going to repeat the same step using a much more darker tone. This time I'm not adding any brown into the mix, I'm going directly with neutral tint. You can use black or Payne's gray. It is exactly the same stuff we did earlier, but this time I'm going with a much more intense and darker tone and I'm adding some dry bush patterns. This will make our painting look more and more beautiful. I'm concentrating more on the area closer to the foliage as well as the waterfall. Now using the same color, I'm going to add one or two tiny rocks on the water. You can see I'm going with neutral tint. It's a really intense tone. Now I'm adding two on the left side, closer to the waterfall, these are going to be really small, and I will add few onto the right corner, which is going to be slightly bigger than this. This is the first one. I will add one more onto the left side. This is going to be slightly bigger than that. I have added two rocks here. This is how our painting is looking at the moment. Our next step is to add details onto the foliage. Just like how we added those textures, we'll need to add some more leaves using a darker tone. I'm starting with crimson. I'm using my size number 4 brush. I'm using the tip of my brush, I'm adding some leafy pattern. I'm starting with this corner. Just keep on pressing the tip of your brush and add this leafy pattern. It shouldn't be too big, so go with a smaller size brush. I'm using a really intense tone of crimson and I'm adding some patterns in a very random manner. I will be repeating the same step using an intense tone of vermilion as well. Even though I'm using very intense and bright colors, I don't want these to be really prominent. There is a trick that I'm going to do once I have applied these patterns using an intense tone of crimson and vermilion. I'm going to run my wet brush on top of it. I'm just going to grab my size number 8 round brush. I just dip that in water. I'm just pressing my wet brush on top of the patterns I applied here to make them look a little blurry so it won't be that prominent and it will nicely go with the background. I'm going to repeat the same step. I'm adding some leafy pattern using my smaller size brush. You could see I'm going with a really intense tone. I will add few more patterns and also just notice the way I'm adding them. I'm concentrating more on the area that I have applied darker tones. Now I'm switching to my wet brush. It is just slightly wet. I'm pressing my brush on those patterns I applied earlier. You can see the difference here. These patterns are still looking very bright and intense, but they're not really prominent. They're looking a little blurry. We are smudging them into the background. This is what I'm going to do for the entire foliage. Use an intense tone of vermilion and crimson and add in those leafy patterns using a smaller size brush. Then just run your wet brush on top of them to make them look a little blurry and less prominent. Just make sure not to add much of deeper tones over the center where we have left those lighter tones. Concentrate on the outer corners. Just go ahead and add in enough of foliage using crimson and vermilion. [MUSIC] It's a very simple trick, but it has a different effect in your painting. Your painting will look like an oil painting. Apply your darker sheet first, then turn your wet brush on top of them to make them look a little blurry. Again, you can clearly see the difference here. I'm really loving the way this foliage is turning out. There is nothing tricky or complicated here. Just keep on pressing the tip of your wet brush and adding these patterns. You already have applied paint over there. Your brush should be just slightly wet. Don't add a lot of water on your brush. Just give it a try. I'm very sure you're going to love this trick. You can use the same trick to paint trees. [MUSIC] Under this left corner, I'm going to add some yellow foliage. I'm switching to permanent yellow orange. Just like how we added on the other side using crimson, I'm going to add some yellow leaves over here. I'm taking them a little into the waterfall to make it look more realistic and natural. Whatever you're adding in your painting, not for just this painting, whether you're adding foliage or rocks or trees, go in a very organic and natural sheet. Don't go with a definite and clean sheet. It may sound really silly, but these little details have a lot of impact on your painting. You can clearly see here, just by playing with different tonal values, we created a gorgeous autumn foliage. Towards the center, we used lighter tones and around the corners, we used darker tones, and really made a huge difference in our painting. I'm absolutely loving the way this painting is progressing. It is already looking so gorgeous. Now, we'll have to go with some final touches which will make our painting look complete. I'm going to go back with neutral tint, and I'm adding some more deeper tones around this foliage. At some places, I'm taking it a bit inside the foliage to give it a bit more interesting look. Go with a smaller size brush, and keep on adding some darker pattern using the tip of your brush. You can see how that foliage is popping out when we're adding these darker tones. Also at some places, just take them inside the foliage and make that shape more and more interesting. Now I'm going to do the same on the other side. Going with neutral tint, adding some more deeper tones. Just keep on pressing the tip of your brush. There is nothing complicated here. we just need to add those deeper tones around the foliage. On the side also, at some places did that taco dawns other the inside the foliage. Just extend that tree. This would make your follies look more interesting. That is set. Our next task was to add the final details on the lake as well as on the waterfall. But before that there is one small thing that I want to do, I'm washing off the paint from my brush and I'm switching to a lighter tone of Palmer yellow, orange, a very light tone. I'm going to add some leafy patterns, over here, right about the waterfall. At the moment it is not looking complete. That water far is looking a little weak. This little addition will make it look complete. I just added a bit of [inaudible] yellow, orange and added few medium tones using one limb. Again just a little don't add a lot. Now it looks complete. Earlier the shape of the waterfall was looking a bit incomplete because on the top we hadn't really defined it. Now when we added those medium tone of [inaudible] yellow orange, it looks a bit complete. I just added this bit over here. Now it is looking like those autumn foliage is coming into the waterfall and everything is going so well together. Our next step is to add the final details on the lake. First, I will add few rocks on the water, just like I said earlier, on the bottom right corner. So these ones are quite closer to us and we are going with a bigger shape. So I'm not really going with the taco tone. I'm going with a brownish-green, so I'm just picking some brown and mixing that with sap green. This is the color I'm going to use for the rock. This is a base color. Will be adding more details onto this. It's more like an olive green. So simply add a bit of burnt sienna or brown. Or a warmer lean-to sap green to create a similar color. Now adding, some huge rocks over here. This stuff is completely optional. If you don't want to add these rocks, you can skip this step. I'm adding these rocks because ill water the whole paper as the lake and is looking quite plain and empty. So I thought it looks better if we add some rocks over here, but it is just optional. Okay, so if you want to add them, just go ahead and add any shape that you prefer. If you want to go with much more bigger or much more smaller rocks, that's totally your choice. At some places go with, some smaller ones, like these floating ones as well, which will add a lot of blue detail painting. So the base layer is ready. Now onto those, I'm going to add some details to add the deeper tones I'm going back with neutrality. And I'm randomly adding some deeper tones onto this greenish layer we applied here. There is no particular order or there is no particular place I'm adding them. I'm simply adding some deeper tones. At some places, I'm adding them along the bottom line. And at some places I'm just adding them along the top line. So literally there is no particular order or pattern that I'm following here. I'm just dropping in some tree petals. Okay, so this is the second layer. We'll be adding a bit more details onto this at the end. Next using the same neutral tone, I'm going to add a tree. I won't be showing the anterior tree. I will just add some branches. I think I will go to the right side. If you want to go with the left side, you can do that. So choose your side and add in some branches. The main branch at the center can be a bit thicker and the rest of them can be thinner. So it is really important to go with a brush which has a pointed tip. Otherwise, you won't get these painted thin lines. I made the main branch thicker. Now I'm adding some thin and delicate branches. The brush, I'm using here is size number four, I think I may have to switch to my smaller size brush to add the remaining branches. Because I'm not that confident to add the thin branches using this brush. So I'll just switch to my smaller brush. This one is a size number two. I think this will work better. Okay, now I'm going to randomly add in some branches. [MUSIC] All right, so I added a couple of branches towards the top. Now I'm going to add one hanging branch as full. So it just bringing that line down onto this branch, I'll be adding some leaves using a brighter tone of orange and red, right? And that is going to have a different impact in our painting. So just add a hanging branch, no matter whether you add your tree on the right or the left, just add one or two hanging branches like this. And also if you want to add trees on either side, you could do that too, but go a different arrangement. Don't make it look like a mirror image. Maybe you can just add a hanging branch from the top, and one similar tree on the other side. For the next step you will need some white gouache or white watercolor. We're going to add the final details of the lake and go with the very fresh, opaque, and clean Bushnell white gouache or white watercolor. So I'm just picking a bit of paint. That jar is quite dirty, but I'm going to grab some clean paint from a corner. Now, just apply that right underneath the waterfall. I mean where the water is falling. So over here there will be some forming water. That is what we're trying to create using white gouache. So first, simply add some white gouache or white watercolor over here. You will have to use an opaque version don't add too much of water. Now once you have added that opaque white over here. We are going to simply smash the color into the background. See that? This is how you should be doing. If you're not able to smash the color, gently dip your brush in clean water. Then using that slightly red brush, you can smudge the color. Maybe that will work better. Now add another a little of white underneath the rock. We have to do the same for the other rocks, as well, and just much the color. You don't need to get a clean blend here, the way your smudging your white can be a little rough. It is not going to do in your painting those dry white patterns are absolutely okay. So first, go with an opaque version of white and add that right underneath the waterfall and also underneath the rocks you have added, then wash all the paint from your brush and go with a slightly light brush and match the color into the background. So this will give you a more smoother look. If you want to go with dry brush pattern, that will give you a more rough look. Both are fine. You can just decide on what kind of look you want in your painting. It is really easy, first apply your paint, then match all the paint from your brush and go with a slightly light brush and match the colors into the background. So this is the detail where the water is hitting the lake. Now we need to make the waterfall look a bit more realistic. For that, I'm going to go back with the opaque version of white and I'm adding some dry brush lines on the rock. See that? So you need to add some similar lines on either side. We don't need very thick opaque white lines. We need some dry brushed lines. So once you have taken paint on your brush. Remember to dab your brush on a paper towel. Otherwise, your lines will look really sharp and solid. We don't want such lines. We want some dry brush lines. Now keep on adding some more lines on either side. I'm adding these lines in an angular way. So over the bottom it is more wider. So just add some dry brush lines in an angular way. You can add them until you're happy with the result. Make them meet the water over there will need to add some more forming water. So first let's finish this. [MUSIC] That's a waterfall. We leave in most of the paper white, and first we added some dry brush lines using neutral sand and a bit of brown. To make it look complete. We went with white gouache and added some dry brush lines. Now we have few rocks over here on the right side. Underneath this as well, we'll need to add some white gouache and then we'll have to smash them into the background. First let's add the white gouache underneath all these rocks. [MUSIC]. I have added white gouache. Now, I'm going to wash off the paint from my brush and I'm dabbing my brush on a paper towel, and with a slightly wet brush I'm just matching these white color into the background to make it look more smoother. So in a similar way, we will have to complete the entire rocks. Also, we need to add some white on the top as well onto the right side. We haven't added white gouache over there, so that is also left. You don't need to add a lot of white over here. Whereas on the top we will have to add a bit more because the water is hitting the lake and there will be that foamy water formed around those areas. Now I'll need to add a little of white over here as well. I'd missed this area earlier. So just adding some opaque white, washing off the paint from my brush and dabbing my brush on a paper towel. Now smudging that into the background. That is it. Next I'm going to add some details onto these rocks. I'm picking a bit of white gouache mixing that with brownish green we created earlier. Now using that shade, I'm going to add some patterns onto the rock, just like some fungus. So it does add some teeny tiny pattern like this. These rocks are quite huge and they're very close to us, so will need to add some details to make them look more beautiful. Otherwise they may look really flat. So go with an opaque gouache of that greenish brown you created earlier. Just add a bit of white gouache or whitewater color and add some teeny tiny patterns onto the rocks. There is no particular shape for this, it just needs to be some random tiny patterns, and that is also done. Now we are going ahead with the last step, which is adding the final round of autumn foliage. I won't be adding any foliage on the top. I'm going to concentrate more on the darker area. First I'm starting with crimson. I'm using my size number 2 brush because I want these leaves to be really small. Now I'm adding some dotted pattern onto this branch we added earlier, the hanging branch. They aren't looking that bright, maybe we'll have to switch to a lighter tone. Maybe we'll need to create an opaque wash now forming a yellow orange, because the crimson is not really visible. So I'm going to grab a bit of white gouache and mixing that with permanent yellow orange to create an opaque version of that color. Now using this color, I'm going to add some more dotted pattern over here. This is visible depending on the color you have in the background, which will be the color that is visible on that background. You can go with that. It can be either crimson, vermilion or permanent yellow orange. I added a few leaves using permanent yellow orange. To the same mixture, I'm going to add some vermilion to make it more bright. Adding some more white gouache. Again, adding some dotted pattern. I think this color looks better. The other one was a bit dull, this is looking really bright and pretty. So go with any of these colors and adding these kind of dotted pattern using a smaller size brush onto those hanging branches. I'm not adding any on the top, but if you want to add some over there, you could do that. It's totally your choice. Now to make it a bit more attractive, I'm going to go back with crimson and onto these orange foliage I added, I'm going to add some crimson as well. So it will look like the cluster of all those different colors and it would be more pretty. So I'm just pressing the tip of my brush and I'm adding these small patterns which will eventually look like leaves. [MUSIC] Now I'm just adding some dotted pattern using crimson onto this area where I have darker tones in the background so they will be really visible and it will look really pretty. You could do the same on the other side as well. So just keep on switching from vermilion to crimson and add this dotted pattern. [MUSIC] If the color is not visible, just add in a pinch of white gouache or white water color. Don't add color into an opaque washing and then add in your leaves. It can be either crimson or vermilion or permanent yellow orange. Stick to those three colors because those are the ones we use in the background. We don't want to introduce a new color into this painting. Just go ahead and add as much foliage as you want onto these darker area. This is how our painting has turned out. It is really pretty. Just in case, if you want to add some more tiny branches, you can go with a pen and add some teeny tiny branches. Because with the pen, it is much easier to get those thin and delicate branches but the brush it isn't that easy. Just in case if you want to add them, you could do that. But adding very few, we don't need a lot. I'm adding few on the left side because I have enough on the right side. So this is it, we are done with our painting for Day 7. I'm dancing over here. I'm that happy with the result. The colors are looking so gorgeous together, I really cannot stop admiring my painting. I really hope you guys enjoyed this trip to Thailand and you enjoyed your painting experience as well. This is the painting. You can see those gorgeous details. If you haven't tried it yet, do give it a try. I'm very sure you're going to enjoy it. Thanks a lot for joining me today. I will be back here soon with the one next destination. [MUSIC] 16. Day 8 - Swiss Alps, Switzerland: Hello. Welcome to day eight of our art holiday. Our destination for today is Switzerland. I'm very sure the moment you hear about Switzerland, you'll be dreaming about the countryside and those gorgeous valleys. Yes, we're going to paint a curve just for our valley today. Here's the reference image I took, and here's the thumbnail painting I created. It is a bit more detailed than the other paintings fitted so far, and it's going to be a wonderful exercise to understand the fall colors. Also, you will learn quite a lot of techniques through this painting. Let's take a look at the colors you will need for this painting. For the sky, I will be using saline blue. I guess by now, you all know that. I'm very much obsessed with saline blue. As I always say, you could use any other blue for the sky. It was just a simple solid wash, so it doesn't really matter which blue you're going with. Now the second color you will need is indigo. We'll be using indigo for the snowy mountains. Now the next color you will need is neutral tint, or Payne's gray, or black. We'll be using this color mainly to add the final details and also the tone of our color into a darker one. That's a third color. Now for the mountains as well as those pine trees, you will need permanent yellow-orange as well as brown, so those are the next set of colors. The one I'm swatching here is permanent yellow-orange. If you don't have permanent yellow-orange, you can look at the color palette section. I have explained how you can create this color if you don't have an individual tube. The next color is brown. We'll be using brown for the mountains as well as for the pine trees. The last color you will need is sap green, so those are the six colors you will need for today's painting. We are on day eight already. I cannot believe that there are just two more days to go, and I'm really loving how our daily diary is filling up. We tried so many different color combination and each of them are equally pretty. For today's painting, I actually created two thumbnail painting. The only difference is that I just added a green patch over the bottom for the second one. On the first one, I simply added some trees, but then I thought it's nice to add some green patch. Just a bit of landscape over the bottom to bring in a different color. I think I liked both of them, maybe I like the tree on the first one more, so I'm going to combine these two. I'm going to quickly apply the masking tape, and I'll start with white painting right away. I have applied masking tape on all four sides. Now we need to add the pencil sketch, we need to add those mountains, the snowy mountain in the background and also the brown mountain in the foreground. The snowy mountain has a particular shape that is tapering, so we'll have to somehow replicate that shape. I'm editing a photo here so you can try to duplicate the same shape because it is the shape of the mountain which brings out the character of this destination, so you'll have to somehow get this tapering shape for your mountain. It is not that coy, it has a sharp tapering tip on the top. Now I'm going to bring it down. I'm adding a line here. That is a snowy mountain, you can see the shape here. It isn't that difficult, just focus on the top. We'll have to make that area tapering. Now I'm going to add the other mountain, which is in the foreground. I'm starting from the left side over here and making it higher. Now I'm adding another low-lying mountain over here, so these are going to be in ground. Now right in front of this mountain, we'll have our golden yellow pine trees. For now, I will simply add a shape. We can turn them into trees as we paint. Finally, I'm adding a line over here which separates the pine trees and that landscape part. That is the pencil sketch. You just need to focus on the shape of the mountains. The rest we can fix as we paint. Now, I'm going to squeeze out all the colors onto my palette. I'm starting with saline blue, which is the color I'll be using for the sky. Now for the snowy mountain, you will need indigo as the last neutral tint. Instead of neutral tint, you can also use Payne's gray. I'm going to squeeze out these two colors, that is indigo and that's neutral tint. Now for this mountain as well as pine trees, you will need permanent yellow-orange and brown. Those are the next two colors you will need, permanent yellow-orange. Then brown or Burnt Sienna. Now the last color you will need a sap green, which is the color we'll be using for this landscape part over the bottom. I hope you all have sap green, which is a common color in all the basic watercolor boxes. We won't be using sap green as it is. We'll be mixing a little of permanent yellow-orange, and brown to it to create olive green color. We have all the colors ready here. First, we will start with the sky. For that, I'm going to use my size number 8 round brush, and I'm going with the medium tone of saline blue. I'm going to apply a solid wash of this color. It's a very simple sky, so go with medium tone of any of the blue dye you are using, and simply fill up the entire sky. Carefully, take your brush along the outline of your mountain. We don't want any paint to get into the mountain, so be a bit careful when you're running your brush along the mountain. Now simply fill up your entire sky in a medium tone of blue. It can be Prussian blue, cobalt blue, or any other blue. There are quite lot of details in this painting, so I want to keep the sky very simple. But if you want to add some clouds or if you want to go with a different type of sky, that's totally your choice. I'm done with the sky. You can see here, I simply applied an even wash of blue. To paint the mountain, well have to wait for the sky to dry. Meanwhile, we can paint the area where we have those pine trees, so clean your brush properly and switch to permanent yellow-orange. Under this rightmost corner, over here, we have a little of sky, so they apply paint over there at the end by the time the sky will dry. Let's start with the left side first. I'm using a very bright tone of permanent yellow-orange, and I'm simply filling this entire shape in this color. Just onto the top, I will be adding little ups and downs like some random bumps to make it look like trees, like this. We just need to simply pull the paint up and create some random shapes over here. For now, you just need to add some rough shapes like this, don't worry whether they are looking like trees or not, we'll be fixing them later. On to the left side, we have shorter trees. As we're going towards the other side, we are making the trees taller and just make sure your sky has completely dried before you add paint over here. Otherwise, this may spread into the sky and can spoil your sky, so just make sure everything has completely dried. That is a base color. Now onto this, I'm going to add some medium tones using brown. I'm just dropping in some random tones here and there. There is no particular pattern that I'm following here. I'm simply adding some medium tones using brown. You can also use Burnt Sienna. Our background is still wet, so just make yourself the time and add some medium tones in a very random manner. This is the base layer. Now, we'll have to wait for this to dry before we add the final details. Meanwhile, this dries, we can start with the most snowy mountain. I'm going to change my dirty water. I have another jar of water here. I'm just switching to clean water. Otherwise, I may end up ruining my snowy mountain because we'll be retaining most of the paper white and you want some fresh and clean blue for the snowy mountain. If you use that yellowish water, there are chances it may spoil our mountain, so switch to clean water. Now, to begin the snowy mountain, I'm using my size number 4 brush and I'm going with a very light tone of indigo. I'm adding some water and I'm making it even more lighter. Remember, we had added this line starting from the tip of the mountain. We have added an irregular line here. Now, I'm going to add this light tone of indigo along this line first. I'm just following that line I have added there. I'm adding a light tone of indigo onto the right side. This is where I'm adding the shadows. On the other side, I will retain most of the paper white. Similarly, I'm going to add a light tone of indigo over here as well. We have added another line. I'm adding some over there. I'm leaving them in a very rough and messy manner. You can add some lines as well, just some random messy lines. Now, wash off the paint from your brush. Using a wet brush, smash those color into the background and make them even more lighter. This can be really rough and messy. It doesn't need to be a clean blend and it doesn't need to look very smooth. Don't try to make it smooth or don't try to make it look nice. However, it is looking at the moment, you can leave it that way. Now, we have the other side of the mountain. You can see those white patches on either side. Over there, I'm going to add some lines using a lighter tone of indigo. We'll be retaining most of the paper white, dab you brush on a paper towel, and add some dry brush lines using a light tone of indigo. That side is done. Same goes on this side as well. That is a base layer. Now, we need to add more details onto this to make it look more realistic. After that, we can paint the brown mountain and the pine trees. First, let's finish up this snowy mountain. We have applied some lighter and medium tones of indigo. Now, onto those, we'll need to add some deeper tones so I'm going with a really dark and intense tone of indigo. I'm dabbing my brush on a paper towel. This is really important. We don't want very solid and prominent lines. We want some dry brush lines using a darker tone of indigo, so dab your brush on a paper towel multiple times to make sure the water content has gone. We want some dry paint. Now, just add some dry brush lines. Onto the right side where you have added those medium tones over there, you can add more dry brush patterns. Onto the other side where you have left most of the paper white, there you should be adding very little of it. Let's add them in. Keep dabbing your brush on a paper towel if you feel like there is a lot of water content on your brush. Every time you pick color, you will have to do the same. I'm taking some more paint and dabbing my brush on a paper towel. Now, I'm adding some dry brush lines on the other side where we have added those medium and lighter tones of indigo. You just need to simply scratch your brush on the paper, add some dried lines like this, focusing on that line you have added over the middle. Add them in a very random way. Don't fill up the entire background color. We want to retain those paper white. Now, I'm again following this line, this irregular line in a similar way how we did earlier. I took some paint and I dabbed my brush on a paper towel, and I'm adding some deeper tones following that irregular line I have added over there. Now, I'm going to randomly add in some more deeper tones. It looks like I have added enough. Now, I need to add few on the other side as well. To create a snowy mountain, it is really easy. You just need to leave most of the paper white and add some dry brush back tones using a darker and a medium tone of indigo. It is really easy, you just need to get the hang of it. In our first painting where we traveled to Mount Fuji, we tried another way of painting a snowy mountain. This is another technique. Now, I'm going to go with one more round of deeper tones. For that, I'm going with neutral tint. It is the same stuff we did earlier, but this time, we are going with neutral tint. You can either use Payne's gray or black, go with a really intense tone, then dab the brush on a paper towel. Now, in a very random way, add some more dry brush lines. We just need a few of them, not like how we added that indigo. Go in a very random manner and add some dry brush lines using neutral tint or Payne's gray. First, you can focus on that irregular line over the middle and add some deeper tones over there. After that, you can go in a very random way and add everywhere you want to. It is exactly the same stuff we did earlier where you have added those shadows at the beginning, those lighter tone of indigo. Over there, we can add more ripe-ish lines. On the other side where we have retained most of the paper white, just add a little of them. That is our snowy mountain. I'll just add a few over here as well, and that is it. This is how our painting has turned out. I'm really happy with the snowy mountain. Our next step is to paint the brown mountain. For that, I'm picking a little of neutral tint and I'm mixing that with brown. I want a bond on both color. I'm not using brown as it is. This is the color I'm using. I'll just brush it out. See this? This is the color. It is more or less like bonds on both. You can add a bit of black or Payne's gray with brown or burnt sienna and create a similar color. Now, we have added two mountains here, one in the background and one in the foreground. I'm going to fill up the first mountain in this color I created. Just a solid color. Follow the outline you have added there and simply fill that up. That is the first mountain. Now, onto this, before it dries out, I'm going to add some deeper tones. I'm going with neutral tint. I'm picking a really intense tone of neutral tint and I'm adding some lines onto this wet brown background. Just some random lines. Just follow the profile of your mountain and add some inclined lines. That is a brown mountain. Now let's wait for that to dry. The first brown mountain has dried. Now let's go with the next one. For this one, I'm going with brown. We'll start with a light tone. Apply that along the outline you have added there. As you come down, when you get closer to those trees, make the color more darker. Simply start with the lighter tone, and as you're approaching the trees make the color more darker by reducing the amount of water. Now, simply take your brush around those trees you have added there. Now as well, you don't really need to focus on the shape of the trees. Just envelope those shape using a darker one brown, and apply them around those tress you have added there. We'll be coming back to this and we'll make them more defined. For now, simply apply the color. You can just drag the paint into that lighter tones and give it a more smoother look. Over here, just define the shape of the mountain, and isn't looking that nice over here. I'm just extending that shape, giving it a better shape. Now adding some deeper tones. This is a base layer, we'll be adding more and more details onto this. However, it is looking right now wouldn't affect your painting. In case, if you're not happy with the result, that's absolutely okay. It won't have any connection to the end result. I'm going to add some more deeper tones over the bottom, just a bit over here around those trees. We'll be coming back and we'll be adding more and more deeper tones, some texture onto this. Just like I said earlier, however, your margin is looking at the moment wouldn't have any connection to your end result, it is just the background. Don't worry a lot about how your mountain is looking at the moment. Now let's wait for this to dry. Looks like the background has dried. Now, I'm going to go to a really intense tone of brown. I'm adding some neutral tint to brown, and I'm creating a really dark and intense tone of brown here. Using this color, we are going to add more details onto the mountain. Also, we'll be defining the shape of the trees, so use any of your brush which has a pointed tip. Now, we're going to define the shape of these pine trees. We already have a base color here, that yellowish-orange. Now, define the shape of the trees using this darker tone. At some places, you'll be covering up that yellowish orange to define the shape of the tree, which is absolutely normal. Just keep on pressing the tip of your brush and create a rough shape of a tree. You can see the way I'm doing it here. At some places, I'm making the tree taller, and at some places, I'm making it shorter. Now over here, I just covered up a lot of the yellowish area to define the shape of the tree. I hope the idea is clear. Depending on how you want your trees to be, whether you want them as tall trees or what shape you want to go up, depending on all those things, keep on adding these darker tones. I have reached the end. Now, I'm going to wash over paint from my brush, and I'm going with a bit of brown. I'm smudging these darker tones into the background using brown. Right next to that, we have added those deeper tones, adding your brown, and try to blend them well. We don't want that darker tone to look too sharp and prominent, so try to blend that with the brown. For now, just focus on the bottom area and get rid of that strong transition. That's strong transition is gone. It doesn't look that weird now. For the next step, I'm dabbing my brush on a paper towel, and I'm dragging these lines towards the top, and I'm adding some dry brush lines. Simply keep on drying your brush towards the tip up the mountain, and add some dry brush line, which automatically will add some texture to the mountain. Simply keep on dragging your brush towards the top. Now, just like how we have that irregular line for the snowy mountain, I'm going to add a similar line for this mountain as well. Onto the right side, I'm adding some deeper tones, and I'm leaving the left side as it is. You can see the color I'm using here. I'm adding another line over here. These are just to add some texture and some interesting character to our mountain. Otherwise, it will look too plain, and it won't look realistic. Just add some lines using a deeper tone, and using a wet brush, just merge that into the background. It doesn't need to be very smooth and clean because it is a mountain. It should have some textures, which is actually what we need. Don't worry about the blend and how it is looking. Just add in some lines and smudge that into the background. You can see how slowly our painting is getting alive. I feel like this area is looking a little dull, maybe I will add some more deeper tones over there. I think the color I used earlier was really dull, so I'm just going with a bit of neutral tint and intense tone. I'm adding some lines on the top of the ones I added earlier. You just need to add them just in case if it is looking dull. Otherwise, you can leave it as it is. Now, I'm dabbing my brush on a paper towel and I'm adding some dry brush lines along the bottom part of the mountain. I'll just follow the bottom line, and to adding some dry brush buttons using neutral tint. I'm adding this only along the bottom line, you don't need to add a lot. I feel now it is looking far better. We are yet to add the final details of the mountain, as well as the pine trees. For now, let's leave them as it is, and let's paint the bottom landscape part. For that, as I said at the beginning, we'll need an oily brain sort. So I'm switching to my size number eight round brush. I'm picking a better permanent yellow-orange and mixing that with sap green. This is the color I'm going to go with. It's a beautiful green. See that? We would just need to simply be colored lot palmery yellow-orange, or any other orange, and mix that with sap green to create a similar color. Or again mix brown sienna. You will get a bit more brownish-green, but that is also okay. Now, for that entire area in that color. Now, let's add the medium tones and deeper tones onto this. I'm using the same green. To this, I'm adding a little neutral tint to make it more darker. I'm adding some lines using that darker green, just some random lines here, and there. You shouldn't be filling up the entire background. Make sure to leave enough of a gap between all of these lines. Don't add them too close to each other. Also, we don't want a lot. I finished my brown, I think I would need to squeeze out a bit more. I will take two parts of brown. One I will add next to the green, and the other one I will add to work here. This one I will take for the pine trees, and another one I will take for the landscape part. I have added brown, mixing that with sap green to create a darker tone. Now, adding some more lines, the background is too red, the color will nicely blend into the background, making them really smooth, and subtle. It wants to eat two prominent. If you want to add more and more deeper tones, you could do that. But make sure not to fill up the anterior background color. The majority of the background to be in that light to dark green, we just need some deeper tones around there. Focus more on reading the background color. I squeezed out to neutrons and Asphalt. Now, I'm mixing that with green to create a more darker green. I'm adding some more lines. This one doesn't need to be asked to class a previous one. You can just follow the one, have added there already, and add them on top of it. I think of a live band with more line over here. The serious-looking is quite empty. You can see how gorgeous that green is looking. It's a perfect color for your autumn color palette. Does green slightly bright. I just added some permanent yellow-orange with sap green. If you want to make it dull, you can use brown or brown sienna. We won't be adding any other details onto the landscape part. If you want to add more lines or more darker to it you could do that now. The background is still slightly wet, you can make use of the time if you want to add some deeper tones. That is it. Our next task was to add more details to the pine trees. We just added a background color, and some brown tone onto it. We haven't added any other details, it's time to do that. Our task is to define the shape of these trees. Right now it is looking like a whole bunch. We haven't defined each and every tree. For that, I'm using my size four and round brush, you can use any of your smaller size brush. First I will go with a medium tone. I'm picking a bit of permanent yellow, orange, and mixing that with a pinch of brown. That's a color. It is an orangish-brown. Now, I'm going to define the shape of the trees. Right now the entire thing is looking like one single shape. Now, using this medium tone of brown, I'm trying to define shape of trees. It is a random shape, it doesn't need to be perfect. You can simply run your brush, and any envelop that yellowish-orange and create some shapes like this. If you watch this carefully, you can understand I'm not adding any paint onto the tree, whereas am defining the shape of the tree by adding paint next to it. Just retain the background color you have there, and add an outline using that medium tone of brown. You can see we have already defined few trees on the left side. Right now we're using a medium tone of brown. To make it look more defined, will have to use a darker tone. I'm picking some more brown, and I'm changing the color into a darker one at some places. We'll have to play with different tone values of brown to make your painting look more interesting. Otherwise, it may look little plain and boring. Keep on switching from darker color, to medium color to lighter color, and just repeat the same process. Here I made a tree out of that medium tone of brown. On the other places, I was reading the background color. You can try, and go with a combination of different types of trees. You don't really need to focus a lot on the shape of the tree. Let them come as it is, it doesn't really matter. Our main intention is to play the different tone values of brown. Right now I'm using a much more darker tone of brown, and I'm adding a small tree at the bottom, and I'm reading the sheep on the top. In a similar way, at some places, I would read in the background color, and I will just add an outline using a darker tone of brown. Whereas, at some places, I will add a tree using a darker tone. I'll be using a combination of this, I hope the idea is clear. Now, let's finish this entire line. Over here, I added a tree using that medium tone of brown. Now, let's add the trees on the right end. On the right side we're going with taller trees. First, I'll add some shapes on the top. Adding a line and adding a variation of pine tree over here. I'm not adding the entire shape, just the top part. Adding another one over here, add a straight line, then add some messy lines on either side and create a rough shape of a pine tree. Now, I've allowed another one here. We're just focusing the shape of the tree on the top. The rest we're not really worried about. You again see I added tree shapes over there. Now, I'm going to go with that darker tone. Just mixing a little of neutral tint, and dropping that onto these shapes I have added here, just to make it look more interesting. As I said earlier, we'll have to play with different tone of values. That is what will make your painting look more interesting. Now, adding another tree over here using that darker tone. You can see here it's a very rough shape. First, add in a straight line, then just keep on adding some messy patterns on either side to make it look like a pine tree. A very rough one, not at all detailed. Now, I'm switching to permanent yellow-orange, adding that over here. It's matching those colors into the background because I don't want them to be too prominent. Just match those colors into the background, and make it a little blurry. Now, over the bottom, in a similar way how we did earlier, I'm going to add some shapes. I'm going to read in the shape over here by adding some outline using a medium tone of brown. That's going to be the same stuff we did earlier. Only on the top, I'm adding some shapes. I don't want to add really huge, and tall trees. I'm going as two steps. First I added some trees in the background. Now, I'm defining the shape of the bottom and a similar way how we did earlier. This will give me two different section of trees. It will look like there are some huge tall trees in the background and some shorter ones in the foreground. Let's define the shape of the tree. I'm going with a medium tone of brown and adding the outline. I'm reading the orange color in the background. You can clearly see here we have some huge trees in the background and some shorter trees in the foreground. This is how you should be adding your trees on the right side. Now, to make the trees more defined, I'm going to go with a darker tone, and I'm adding some darker tones onto the end day or trees we have added here, just like how we did about. Going with that darker tone, dropping a bit of that here, and there. There is no particular order that I'm following, I'm just randomly dropping in some darker tones. Again, don't worry about the shape of your trees. We're not really focusing on each, and every tree individually, we are looking at the whole picture. Choose randomly, add in new darker tones. We have already defined the shape of the trees. You can follow the same, and add new medium tones. Don't test the shape we have left there already, let them stay as it is, just add these darker tones around the shapes. You can see how gorgeous that right side is looking already. It was looking so lifeless earlier with just that background color. Now when we are adding these deeper tones, we are defining the shape of the trees. It is looking so lively. It's a beautiful technique. You can use the same in your future paintings as well. Instead of permanent yellow orange and brown, you can go with different tonal values of green, and create a large green pine forest. I think for all of the paintings we did so far, we didn't have these many elements in one single painting. It was more of lakes and mountains. But on this one, we have three different sets of elements. A snowy mountain, a brown mountain, and some pine trees. It's a gorgeous blend of autumn color palette. I'm nearly done with this side. Going with some more darker tone and adding that along the bottom. The technique is pretty simple. You can apply a background color. Here, we use permanent yellow orange, and while it was still wet we added some deeper tones using brown. Then we waited for that to dry and now we are defining the shape of the trees. We're going with different tonal values of brown, and we're adding an outline, and we're defining the shape of the trees. At most of the places, we retain the background color and we added the shape using a darker tone of brown. Only at some places, we added the trees using brown. This is how we have progressed so far. Now, I'm going to go with the last round of darker tone, and I'm going to add that along the bottom part to make the trees more defined. I think the right side is looking perfect with all those different tonal values. That is missing on the left side. In a similar way, we'll have to add more deeper tones and medium tones on the left side. That area is looking quite plain and boring. It doesn't look that realistic, so we'll have to repeat the same on the other side as well. You can see here how I'm enveloping those shape. I'm not adding any color onto the shape of the trees, I'm just adding them around it. That is how I'm defining the shape of the trees. Just by playing with different tonal values of brown, we easily define the shape of the trees. Officially, we are done with our painting. Now, I'm going to go with some last-minute details, which isn't really necessary. You can just take a look at what I'm doing, and you can decide on whether you want them or not. I'm going to pick a little of white gouache, and I'm mixing that with some orange to create a lighter shade. This is an opaque color as I added white gouache. Now using this color, I'm going to add some highlights on the mountain. It is just some sloping lines. I'm following the shape of the mountain, and I'm simply adding some sloping lines using that lighter shade. This will bring in more texture on the mountain. If you don't want to add this, that's absolutely okay. You can completely skip this step. They don't need to be too prominent. If you feel like those lines are too prominent, dab your brush on a paper towel and just smudge them into the background, or maybe you can dip your brush in some water, and then make it a little blurry. I'm really loving this mountain with those highlights. Make sure not to add a lot. We just need to add a few here and there. Maybe we can add a little over here, following that curvy line at the center. Now I'm dabbing my brush on a paper towel, and smudging those color into the background. This one is done. Now in a similar way, I'm going to add some highlights on the other one as well. Follow the profile of the mountain, add some sloppy lines. I'm just following the same shape of the darker tones, and I'm adding these highlights in a similar way, but that looks a bit prominent. I will have to wash off the paint from my brush and smudge them into the background. That is it, we are done with the mountains. Now we have two more task left. Two easy-peasy task. The first one is to add some tree trunk and branches onto these pine trees. I'm going to use my size number two round brush and I'm going with neutral tint. This has to be really thin and delicate, so go with a brush which has a pointer tip. You can use any of your detailing brush, or you can use a pen and add these lines using a pen. We'll just need to add very thin, delicate straight lines. You don't need to add them for all the trees here. Just add in a very random manner. First, I will add a few for these tonal trees. There's just some straight lines, and I'm adding some branches as well. It is pretty simple, the tree trunk is a vertical line and the branches are some horizontal lines. It's a combination of vertical line and a few horizontal lines. Just like I mentioned earlier, if you are not able to get these thin, delicate lines using a brush, you can go with your pen and do the same thing with your pen. It doesn't really matter whether you use a pen or a brush. Now we're going with the last step, which is adding some small, teeny tiny pine trees on the brown mountain. For that, I'm going with a medium tone of brown. Remember our trip to Siberia, remember the Altai Mountains? This is exactly like how we added those pine trees on the Altai Mountains. You just need to add few teeny-tiny lines using the tip of your brush, following the lines we have added here so that it will look like a valley. Go with a medium tone, which is slightly darker than the color in the background and add some super tiny lines. We are making it look like this is really far from us, and that is the reason why we're going with such a small size. It would be great if you can use a brush which has a pointed tip so that you get those teeny-tiny lines. Using the tip of your brush, add in some lines close to each other. At some places, you can create a denser cluster by adding too many lines, and at some places, you can leave some cap in-between and make it in a scattered manner. That is it, we are done with our painting for day eight. The painting has completely dried. I'm going to carefully peel off the masking tape. Every time you peel off your masking tape, wait for your painting to dry completely, and peel off your masking tape at an angle. I'm really happy with the way this painting has turned out. The color palette is really gorgeous. I think it is quite different from the other paintings we did so far. It is very well detailed, and all of the elements we use for this painting, for example, the snowy mountain, the brown mountain, and also the pine trees, all of these can be used in your future paintings as well. You can tweak the colors, and bring in a different season into your painting. Instead of that permanent yellow orange, maybe you can go with more of greenish color, so you will get a different pine tree. That's all for today. I hope you all had a great time exploring this gorgeous autumn valley. Thanks a lot for joining, and I'll be back here soon with our next destination. 17. Day 9 - Seoul, South Korea: [MUSIC] Hello. Welcome to Day 9. Today, we are in South Korea and today we're going to take a walk through this gorgeous road filled with golden yellow leaves. [MUSIC] First, let me quickly take you through the colors you will need for today. As a pretty simple color palette, I think again, guess the colors by looking at the painting itself. The main color you will need is yellow, and I'll be using Cadmium Yellow Light. You can use any of the warm yellow you have got. The next color you will need is permanent yellow orange. We'll be using this color to add the medium to one side of the foliage. Then we will need neutral tint as the last indigo. Instead of neutral tint, you can also use Payne's gray or black. Those are the next too colors. A last color you will need is brown, or brown sienna. We'll be using this color mainly for the road to add those medium tombs. Those are the five colors you will need for today's painting. Along with this, you will also need white gouache or white watercolor to add the highlights. Alright. So let's start. [MUSIC] As I mentioned earlier, the major color I'm going to use for today's painting is yellow, and the one I'm using here is cadmium yellow light. You can see the terminal painting here. Almost 80 percent of the painting is all of yellow. You can go with any other warm yellow you have got, it can be gamboge yellow, Indian yellow, primary yellow, or any other warm yellow. Choose any of the yellow you have got. That's the main color for the foliage. The next color is permanent yellow orange, we'll be using this to add the medium tones. Now for that foggy background as for last those trees, you will need indigo and neutral tint. We'll be using different tonal values of these two colors for the background to create that foggy effect, and we'll be going with a darker tone for the trees. The next color you will need is brown or brown sienna. Now I'm going to add a pencil sketch, which is just some reference line for us to understand where we should be adding the colors and also to get that perspective and proportion. I'm starting by adding this color at the center. Now from this square, from all these corners, I'm adding an inclined line towards a mass meeting. That's the road. Now on either side you will have trees. The trees which are closer to you will appear taller and the trees which are far from you will appear smaller. This is how our trees will be, you don't really need to add these lines. These are just some reference line for us to understand the perspective. That will be the top part of your tree. On the top, you will be adding the foliage or hill, and over the bottom you have your root. This isn't a real pencil sketch, it is just some reference line. Keep that in mind. When you're adding these go with very light pencil sketch, blue go with the sharp and bold line. Now I'm going to switch to my 1.5 inch wash brush and I'm going to apply a clean gold water onto the entire paper. Run your brush multiple times to make sure water has reached everywhere. We want a nice shiny coat on the entire paper. Our background is evenly wet. Now we're going to apply paint onto the entire background in one layer. I have two brushes with me, my half-inch flat brush and size number 8 round brush. I'm going to totally clean both the brushes just to make sure there's no any other paint stain on my brush, because we are starting off with yellow, and if there is any other color on the brush, it means by the freshness of the yellow. Just make sure your brush is properly cleaned. I'm using my flat brush and I'm going with the lighter tone off neutral tint. You can also use Payne's gray. Now within the top and the bottom part, apply this onto either side. We need to create that foggy background over here, also we'll be ironing the trees using the same color. Over here you can add more off neutral tint and indigo. You can simply keep on switching from one color to another and add both of these colors over here. On the top we will be adding more of yellow and orange, and over the bottom we'll have to introduce brown. For now, just concentrate on these two colors and keep dropping them onto the wet background. You don't need to clearly for the reference line we have added here, these colors can go a little into the sky as one. Also you don't need a clean blend here, you can simply keep on dropping different tonal values of neutral tent and indigo. You can see how messy my background is looking. That's absolutely okay. Now I'm going to wash the paint from my brush. I'm switching to yellow. To add the yellow, I'm using my size number 8 tone brush. I'm using a very bright tone of yellow and I'm applying that onto the top. This is where we have the foliage. When you're adding yellow, don't add a lot of water. We don't want them to flow down. Go with a slightly dry paint. Now, apply that around the indigo and neutral tint you have added over here. Don't try to blend them. Over here just keep on pressing the tip of your brush and leave it just the way it has turned out. Now under this yellow, I'm going to drop in some medium tones using permanent yellow orange. You can also use the light toner vermilion. Again, just keep on dropping the paint onto the wet background. Just add it however you want to, we just need a combination of yellow and orange over here. [MUSIC] The foliage part is done, the background is done. Now we have the road left. Maybe I will add a bit more of orange. We will switch to the road. Just pressing the tip of my brush and adding some more foliage. That looks fine. Now we can go with the road. For the road we'll be using a combination of neutral tint, brown and yellow. I need to take out some brown onto my palette. You can either use brown or brown sienna. Both of them will work. Go with one of these. Now, I'm going to switch back to my flat brush, and I'm going back with the neutral tint. I'm going to lie tone of neutral tint. Now I'm just applying some lines. I'm just dragging my brush and creating some thick lines. You can see I'm deliberately leaving some gap in between each of these lines. Now I'm going with a lighter tone of brown. I haven't washed my brush, you can just switch from one color to another. I'll add brown in-between these lines. Now you will have to wash all the paint from your brush because we're switching to yellow, so we want a clean brush. Now I'm going with yellow and adding that also in between. These are the leaves which are falling from the tree, and entire road is covered with those beautiful yellow leaves, so we can add a bit of orange as well. We can do the same on the other side also. We have only added yellow on the right side, same goes to the left side as well. All you need to do was just follow your reference line. Go back to your road and just drag your brush towards the center. At some places go with yellow and add some orange also in-between. That's the background. Now we can wait for this to dry before we go with the next layer. [MUSIC] The background has dried completely. Our next step is to add the trees. I'm going to go back with neutral tint and I'm using my size Number 4 round brush. Just like how we discussed earlier, the ones which are closer to you will appear bigger and the ones which are away from you will appear smaller. Over here, I'm starting off the first big tree. We'll have to go with a huge tree trunk. You can take it until the top. We'll be adding uniform trees on either side. The ones which are closer to us, we'll be going with the darker shade. As we are moving away, we'll have to make the trees smaller as well as we'll have to go with a lighter shade. This is my first tree. For now, I'm just adding the shape of the tree trunk. I'm not adding much of detail. We'll be coming back to these trees and we'll be adding more details at the end. For now, just add the shape of the tree trunk. You can see I'm going with the taco-dawn of neutral tint. The tree is quite huge, it's thick. Now we can add some branches. [MUSIC] Maybe we can add all the tree trunks first then we can add the branches so that we can arrange the branches in a way they don't overlap a lot. Otherwise, it might get a bit difficult to position the trees so let's add the tree trunks first. We have added one tree on the right side. I'm going to add another one on the left with a similar thickness and a similar height. [MUSIC] It's a very easy shape. Just take it from the bottom until the top until you hit the masking tape. That's my second tree. Now let's add the trees which are right behind these ones. I'm going to go with a little lighter tone and I'm adding the next tree right behind the first one. You can see the way I'm following that reference line. Just follow that angular line we have added at the bottom. The trees will get smaller and smaller as it is going away from you. That's the second tree. Now, I'm going to add the rest of the trees in a similar manner. Make that tonal value a bit more lighter just by adding some water. Now add in your third tree. I'm following that angular line we have added. This tree is shorter than the previous one. This is how you should be adding your tree. As it is going away from you, you will have to make it smaller. You will have to follow the same principle when you're adding trees on the other side, as well. You will have to keep on changing the tonal value of the color. It should be lighter as it is away from you and you should reduce the height as well. [MUSIC] You can see how I made the color lighter and I made the trees much more shorter than the previous ones. Now I'm doing the same on the right side as well. Adding the first two trees using a lighter tone off neutral tint. Now I'm making the color a bit more darker and adding the next tree. This is why I told you now the tree is overlapping that branch. Right now we're not adding any branches, we'll add all the tree trunk and we will add the branches in a way they don't overlap a lot. I think I will add one more tree on the right side using a lighter tone. If you have more space and if you want to add more and more trees, you can do it. You don't need to follow the same number of trees as mine. You can add how much volume you'll want to according to the space available. Now I'm going with a much more lighter tone and I'm adding one more tree on either side. That is it. Now let's wait for this to dry. Our next task was to add the remaining details onto the trees as well as the branches. I'm switching to my size Number 2, round brush. I'm going the really dark and Indian turn off neutral tint. If you're using Payne's gray, do the same using Payne's gray or black. Now what I'm doing is, I'm going to add some lines onto these tree trunks to make it look more realistic. Right now we have applied a flat, solid color. We haven't added any details onto this. The technique is quite simple. Could any of your brushes has appointed tip? Now add some lines onto this tree trunk. Just some irregular lines. It doesn't need to have any particular length or particular shape. At some places you can go with a bold line, and at some places you can go with a thin and delicate line. When you're adding these lines, leave some gap in-between. Don't add them close to each other. We need to see that background color, so make sure to leave enough of gap between all of these lines you're adding and also to make these lines visible, you have to go with the color which is slightly darker than the background color. The trees which are closer to us, the ones in the front, we use a darker tone. When you're adding these lines, you would have to go to really dark tone of paints cream or neutral tint. For the ones in the background, you can reduce a tonal value of your color and just go with a color which is slightly darker than the background color. Let's quickly add some lines onto all these trees here. As I said, it's a very simple step but just use a brush which has a pointed tip. We don't want a lot of bold and thick line so go to any of your smaller size brush, maybe we can add the branches at the end. For now, we can concentrate on adding the lines. Let's finish out that. Let's quickly add lines onto all these trees. I'm going with the next one, which is right behind the first tree and I'm simply adding some lines. [MUSIC] We are done with two trees. That looks a bit dark, so we'll have to add some water and make the color a bit more lighter. That looks fine, so go with a lighter tone as you are going away, and just adding some lines using a lighter tone. For the next two trees, we'll have to go with even more lighter color while you're adding these lines. The right side is done, you can see those trees in the background. For these ones, I used very thin and delicate lines. Also, I went in with a very light tone of gray. Now we'll have to do the same on the other side as well, for these trees on the left. I already have that lighter tone on my brush, so I'm starting from the far until end. I'm nearly done with the left side, I just have one tree left over here. This is a very nice technique, you can use the same for a brown tree as well. We just need to add a base wash, then add some lines using a darker tone of the same color. If you want to make the tree look more interesting, you can play with different tonal values. If you're using a brown shade, maybe you can go with dark brown and light brown, and add in some similar lines. It's a pretty simple technique, and you can easily create a realistic-looking tree trunk quite easily. Now, I'm going to switch to some white, I'm using a bit of white gouache, and I'm mixing that with neutral tint to create a light gray, an opaque version. You can either use white gouache or white watercolor, and mix that with black, or Payne's gray, or neutral tint, and create an opaque version of gray. Now, just the way we did earlier, adding some lines using that opaque gray as well, this will make your tree look more interesting. Just a few, we don't need a lot. I would just need to add this line to under the trees which are closer to you. For the ones in the background, we already used a lighter tone of gray, so these lines wont be visible, so there is no point in adding them. You can concentrate on the trees which are at the front, maybe the first two or three. We'll just add in some thin, delicate lines, using gray as well. That's done too. Our next step is to add in the branches. For that, we'll have to go with a dark tone of neutral tint, or Payne's gray, or black, and just randomly add enough of branches. You can add them wherever you want to. I'm using my size number 2 brush to add these branches, so that they will be very thin and delicate. For the ones in the foreground, maybe you can go with a thicker branch, and for the rest, please go with the very thin and delicate branch. It is very important to use a brush which has a pointed tip, you can go with any of your detailing brush. This painting is pretty simple actually, you can see all of the steps we followed so far, they're pretty straight. We didn't use any complicated technique, we first applied the base layer, which was pretty simple. We played with different tonal values of indigo and neutral tint, and then we added the foliage as per last rule. That was the base layer, then on to that, we added the trees. First, we used different tonal values of Payne's gray to add the tree trunk, then onto that, we added some lines using neutral tint, as well as a lighter tone of gray. Now we are adding the branches. I hope you guys are able to follow so far. Now, our task is to add enough of branches, so that is our next step. Just go ahead and add enough of branches, as much as you want. [MUSIC] Our painting is looking so pretty when we added those branches. I think I really love this color combination. For these trees in full ground, I'm making the branches slightly thicker than the ones we added earlier. These trees are much more closer to us, so let's make the branches more prominent. [MUSIC] Looks like I've had quite lot of branches. I'm not sure whether I painted it overboard. Never mind. I want to add something dry as well. So I'm switching to a pen and I'm going to add some more thin and delicate branches. I wouldn't be able to make these thin branches using my brush, so it is better to go with a pen. This tip isn't really necessary, but if you want to add some more delicate branches like this just grab any of your black pen, and in a very random manner, add in some more branches. [MUSIC] The tree trunk and the branches are done. Our next major task is to add the foliage. For that, I need a little white gouache. We have to create an opaque wash of yellow, as well as orange to add the foliage. It just makes either white gouache or white watercolor with yellow and orange. I'm using my smallest size brush here. Now, I'm going to simply keep on pressing the tip of my brush and I'm adding some leaves. Yellow is a transparent colors so you wouldn't be able to get this opaque look if you use the color as it is. You will have to turn your yellow into an opaque version by either using white gouache or white watercolor. You can keep on spreading from yellow to orange and adding foliage. At some places go with yellow and at some places go with orange and create a combination of these colors. You just need to keep on pressing the tip of your brush and add some leafy pattern. At some places, add them on top of the tree to make it look more interesting. You can add as many leaves as you want. There's no limit. Be the decision maker and add as much as foliage as you want. Just like I said, at some places, make sure to overlap them with a tree. This will make your painting look more interesting. This tip is also pretty simple. Add a bunch of leaves using yellow and orange. Without lifting your hand, keep on pressing the tip of your brush and add a group of leaves. There is nothing to worry here. You can add whatever you want to. Add some at the bottom and add enough on the top as well. Right now I'm using yellow. I will add few more leaves using yellow then I will switch to orange, and add leaves using orange as well. Before the two colors I'll be using for the foliage, I will be using brown. I don't want brown leaves. I want the entire foliage to be yellow and orange. I added enough of leaves using yellow, now I will switch to orange and add some leaves using orange as well. Once I have finished adding leaves using orange, I may skip back to yellow and add some more leaves using yellow. [MUSIC] The left side looks pretty full. We have added quite a lot of leaves over there. Now in the same way we'll have to add some leaves in the right side as well. This area is quite empty. I'm adding some leaves on top of the tree trunk. I will bring them a bit more down. On the side there's a lot of gray background visible. We don't want so much of gray background, so let's add some more leaves over here and hide that gray background. [MUSIC] I'm just using an opaque version of yellow and orange. I added some white gouache and I created an opaque yellow and orange. Now I'm adding some more leaves. I think I'm nearly done. Just get up from your seat and take a step back and take a look at your painting and if you feel like adding more, just go ahead and add in more leaves. If you feel like you have added enough, you can leave it there. I'm adding the final round of leaves just at the bottom. I don't want a lot of gray background to be visible. I'm randomly running my brush and adding some more leaves at the bottom area. [MUSIC] The foliage is done. I think we have added enough and it is looking like a yellow umbrella. Now just like how we have added that foliage, we need to add some leaves on the ground as well, just to make it look like there are some leaves fallen on the ground. Right at the bottom, keep on pressing the tip of your brush and add some yellow leaves. There is one more benefit for this. This will hide the roots of your tree, so you don't need to add any details over there. For this as well, you can use orange as well as yellow. Just add a little on the background. Focus more on the full ground. Just press the tip of your brush and add some teeny tiny patterns. This is the last step where we'll add few patterns using brown as well so it will look like there are some dried leaves also on the floor. [MUSIC] Along with those, we'll also need to add some lines, so just use the same color and same brush, and add some lines on the ground. Use a medium tone, don't use a very dark color and just add some lines on the ground. I'll need to switch to brown as well and add some lines on the bottom. I'll be using brown only over here. I won't be using brown in the background. Using brown you can add some leafy pattern as well, so just keep on pressing the tip of your brush and add some leaves also using brown. Just some random lines and some random leafy pattern. It's a combination of yellow, orange, and brown. If you want