Axelle Tessandier is a social media addict, writer and a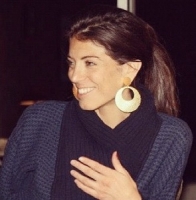 natural curator with a Masters in Audiovisual, Media Law and Communications from La Sorbonne in Paris. She has worked in the media, TV, press and cinema industries helping green organizations communicate digitally. Currently, she is both a curator and evangelist for Scoop.it, and dedicates time to be an advisor for the startup My Little Paris.

A couple years back, she was chosen to participate in the innovation program Palomar5 in Berlin, which led her to become a resident artist in their collaborative hub in San Francisco. She has written for different sites such as The Next Web and ReadWriteWeb, and has participated in new journalistic innovations like LongShotMag. Recently, she was the Marketing Director for the curation platform Scoop.it and was instrumental to its successful launch.
To check out other pariSoma CoLearning classes, click here.
Testimonials from pariSoma CoLearning  past class participants:
"Axelle was great at reminding me that for curation, passion and honesty is what it is all about"
"What made this class a home run for me was Axelle's enthusiasm"